Chipotle
Chipotle Complaints Continued... (Page 2)
80+ reviews added so far. Upset? Call Chipotle corporate: 303-595-4000

WORST SERVICE AND FOOD EVER.....250 granite street Braintree mass 02184.... where to start... your employee just looked filthy as all hell. her piercings and tatts didn't help. She was acting like she didn't want to be there. She just was nasty and dirty looking. FOOD SUCKED..... never been served a cold burrito before. Steak was cold and fatty. it was like chewing rubber. I just threw the 12.00 burrito away.... never going to that location ever again....

Laureatha
from New York, NY
The Chipotle in Clinton MD. Was a very good restaurant when it first open. But after the years I have notice that the meat (Beef) is very tough and has a lot of fat or grilse. At first I thought it may be all Chipotle's but found out quickly that it seems to be that one. I found with every bite I took I ended up spitting out the meat just wasn't good.

Jared Simpson
from New York, NY
Ate at Sawmill location this weekend in Powell, OH and I am sick as a dog. Had to take work off Monday and feel terrible at Work today.
What should I do? Do you need my receipt? I feel I deserve at least something back when you store is reopened and CLEAN!!!
Should I file a complaint with the health Department in Delaware County OH.

Lucia Venuto
from Brooklyn, NY
ordered online at the chipotle at 2940 Cropsey avenue Brooklyn New York 11223 - only one out of four orders called for beans and lettuce - ALL FOUR ordered came with beans and lettuce ....

Mario C Romero
from Folsom, CA
Would you please contact me at 916.804.6181 there are to many issues to explain, Thank you !

Dora Copeland
from Cleveland, OH
I have been going to chipotle for about seven to eight years and I recommend them to all I meet, but yesterday I had I really bad experience at the one in Cleveland at 3471 Steelyard Dr. receipt #527 time 7:10,pm. first there was a trainee o the on the line by himself, there was not enough rice to give full servings, then when we got the end my granddaughter asked for guacamole and got a half of scoop and some fell off and he used his finger to but it back on the bowl. We also asked for the burrito shells on the side and had to ask three times for them. next the person behind us had tacos and they were so sloppy that someone else came out and thru them out and stated over for them. When we got home I called to complain I was told that all he could do was remake our order if we came right back in if we had our receipt. when I asked for the corporate office they said they could not give it to me being rude. so I called the new store in Lakewood and they were so pleasant we will go there from now on they are so much closer and a lot more friendly.
Thank,you
Dora Copeland
757-407-7123
bubby122198@yahoo.com

i went to chipotle on georgesville rd columbus oh there no kids menu the supervisor only offer me a cheese quissadilla thatsnot anutrition meal for kids, the stuff not changing there gloves they be touching meat and cheese and lettuce for all the food even when you oreder veggie wich make no sense i didnt like it today not happy

Jennifer Alexander
from Cleveland, OH
On April19,2018 * A friend and I visited the location off Tiedeman Rd. in Brooklyn ( the Cleveland, Ohio, area) @ 9:35pm. The service was faster than a lot of other locations we have visited although the food that should have been hot was cold and the Barbacoila meat was extremely fatty. I understand it was close to closing time but when paying for hot fresh food we expected it to be close to hot. By that point of my evening we just threw our meals away and ate cereal to just call it a night. This is the first time I had an experience like this at Chipotle besides always having long lines which we can always call or online order now. I just thought that this issue needed to be addressed so that others don't have to experience this same issue when working a long day and not having time to cook before doing it all over again. Thank you for your time in this matter.

David Olson
from Minneapolis, MN
Unique code 020 002 100 040 110 159 74. I was at the Maple Grove store in Minnesota yesterday for lunch. I was #2 in line with a coworker in front of me. It was about 11:50am. They had nothing ready. No steak, chicken, peppers, white rice etc. etc. No one in back preparing food but plenty of talking going on. The guy at the beginning of the line to start the service was trying his best to get things done but nothing was happening. Eventually product started coming out from the kitchen. I didn't get what I wanted I got what was available. I finally checked out at 12:13. By the time I checked out they were lined up to the door and conservatively I would guess at least 12 people walked out. It was a joke. When I sat down at 12:15ish my co worker and I were the only one in the dinning area. at 12:30ish after choking down my food so I could get back to work we were still the only one in the dinning area (I took pictures because it was so odd). If I was the owner I would be very concerned. In Maple grove most restaurants are packed at lunch or dinner time. We have been eating at that location since it opened and the service has been going down hill recently. Help is hard to find and to keep but a good leader or manager can make a big difference. Im assuming the sales yesterday would reflect the performance and the video cameras would confirm my concern. I figured some one would want to know. David Olson 612-685-5211

Laura Trimboli
from Haverhill, MA
today I went into the Chipotle in Methuen, MA at the Loop waited 10 minutes in a line out the dorr only to find that you have once again run out of chicken, but this time run out of steak and fajitas as well. There was a line out the door because the people at the line were spending their time filling a 2 foot long to-go order instead of having someone else do it so their customer's could eat. Oh and the last few weeks were out of chicken for almost 2 weeks because the oven failed. Another time they ran out of forks at 11am!
This is my second official complaint (fewer than I should enter) on this branch. Who the F is running this place? It's a f'in disaster!!! I go to Chipotle a lot because it si a decently healthy fast option but today I think I want to ban my visit there for the simple fact that that branch is a f'in disaster. Almost every time I go there there is confusion on the line on who does what, some food is always missing whether it be rice or chicken or guac, I mean come on Chipotle!! So tired of big businesses giving shitty service and us dealing with it.
Get you S..T together!!

Kathy Spann
from Carpentersville, IL
I arrived at 11:50 a.m. I was asked what I would like and I told him I would like a bowl to go, he asked me white or brown rice, brown or black beans, meat? I told him-brown rice, black beans, chicken, then it was passed to a lady, I told her pico salsa, corn, lettuce and vinegarette. I paid and left. When I arrived to work and opened it up I didn't have my chicken??
This has happened before where they didn't give me my vinegarette? I don't have a lunch during my lunch time, I have to make another trip over after work. I'm really sad and upset about this.
Thank you for your time.

First of all I love your product. It is because I love your product that I'm taking the time to find you online.
I had a very bad experience with the manager of this location. she was serving the food on this day. she came off real cocky . she was serving meat at the time. she gave be half a regular serving , so I ask for a regular serving . she asked me if I wanted extra meat . I told her that I just wanted the regular serving that comes with the meal . she put one small piece of meat on my order . I asked her again, she said that it would be extra if she put any more on my order . she then walked away and handed my order to the next server in line . I asked the next server to add just a little . at that time the manager went to the cashier and told her to charge me for double meat . I then commented that she was very petty and I refused the order and left .
indeed if that is the procedure your company enforces I have no problem , but when it is enforced by a cocky disrespectful employee it is really hard to patronize your store sherry portis 614 717 5054

Alena V
from Nashville, TN
manager was rude and condescending when i asked for an entire refund on my order. They double charged me on purpose and I know this because they asked me if I got half or double meat TWICE. and i responded "half" both times. they literally charged me for another bowl which i did not realize until i got home. There were also only 10 or so chips in the bag I got which is insane. I know you're all trying to cut back, but come on. I should have been compensated for having to drive ALL the way back to Chipotle using my gas. I work for customer service every day, this is not the way to treat customers who come frequently. mangers name is Ronald Campbell at the Vanderbilt Chipotle location. My phone number is 615-602-7892.

Had an online coupon to get free chips and guacamole with my order, but, the store clerk in Eagan, MN would not accept it. Why not? It appears the people are not trained properly and give customers a hard time.

susan summerson
from Richmond, VA
Just got back to work with a 35 dollar Chipotle to go order, all four orders were wrong. First I had to wait for my order(put in on line). Then all four orders were wrong first one didn't have beans, or corn salsa, and was bland. Second one didn't have fajita mix in it, third order had Guacamole on it and no one ordered it. Fourth order had the sauce to the side, didn't ask for that. and tortillas were not toasted and were two different sizes. Don't know what happened but we were not happy with any of it. It will be awhile until we come back, we usually go at least once every week.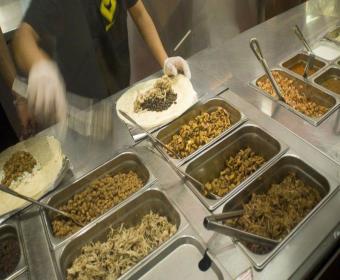 Abram M.
from Hyattsville, MD
On July 9, Saturday, 2:07 pm, I visited Chipotle to purchase a Sofritas bowl. The line reception was very professional and courteous. This has always been my experience during any visit to Chipotle. When I progressed through the line to the cashier, I encountered rudeness and a disrespectful employee. I ordered the Sofritas and I was charged for steak and extra chicken.
Here is a synopsis of what was said:
Me: " I ordered the Sofritas bowl."
Cashier: "The order was steak with extra cheese!"
Me: " That isn't correct---take a look inside to confirm the order is Sofritas"
Cashier: "I can see what is written on the pan!"
Me: "Perhaps it was written in error??
Cashier: "I am sorry that you are confused!"
Me: "How is it that I am confused about what I verbally ordered on the line?"
Cashier:" Well, this is what is on the top of the pan!"
Me: "May I see a manager, please?"
Cashier :"There is no manager here!"
I beckoned for another employee and he brought Mr. Jonatan Cordon, Apprentice, out to take care of the small issue that was made problematic by the rudeness of, Georgia, the cashier. He resolved the issue and she was rude to him for doing so. she stated: "He was confusing me and WHY are you giving him a refund?" She spoke audible enough for everyone in line to hear. I was disappointed, disrespected, and embarrassed from this experience. I look forward to hearing from corporate regarding order #261 from 10250 Baltimore Ave., College Park, MD 20740.
In summary, It took me a while to decide to write this; however, her rudeness was extra!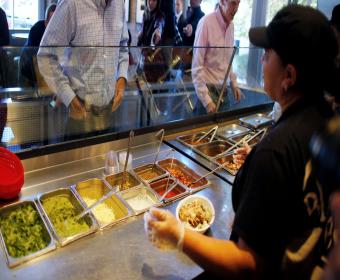 i asked her but cashier not helpful in preventing a double order, she then turned to co worker on line and shared a nasty comment at my expense so he ignored me as he prepared my order, then cashier rang up my order along with person behind me, oh yes she did charge my card, so she then called mgr who reversed charge but cashier still yelled "no one stopped me!" casting shade at me. The manager backed her up which makes me not want to return again so it is my fault? Very bad customer service and completely incompetent work.

Michael
from San Francisco, CA
I've seen one review on this site for the 865 Market Street, San Francisco CA location. I recently had an interview with Kathy and a crew member. Now, either Kathy was having a bad day or the customer who did the previous review on this location is hiding some extra information. Kathy seemed very optimistic with me working with Chipotle. Also, before the interview I saw she was running the register, and was smiling and being polite toward customers. Maybe something changed between the time of the previous complaint and now?
I don't know, but I find it hard to believe Kathy Gonzalez, restaurant Apprentice would attack someone, especially out in the public like that. Sounds like straight bullsh** to me. Sure, think that because I work for Chipotle I am automatically defending them. This is only a temporary job at this location, so there's no point expending time and resources to completely back up this Chipotle.
Tl;DR- Very nice management and crew. Talked with team members, all seemed joyful.

arthur macdonald
from Everett, MA
I was in your restaurant at Shoppers World in Framingham Ma. When i entered the men's room i quickly saw one of the most major violation of any cities health code. The restroom sink did no provide soap to wash your hands nor paper towels or any mechanical devises to dry your hands. When I return on Thursday, it the condition still exists I will file a complaint with the Framingham Board of Health.

Jessica Jameson
from Batavia, OH
I had visited the Chipotle on Beechmont Ave approx. around April 1, 2016. The night of I began to feel so sick, vomiting, diarrhea. I convinced my self to hold off to go to the Emergency Room at Anderson Medical Center for the night. I finally gave in the next morning around 9:00am due to bleeding out of my rectum. Soonly after arriving they admitted me to the hospital for Severe Colitis. (Cause by Salmonella or E.Coli) They had to pump me with antibiotics and fluids the whole night. The next morning I was put through a Colonoscopy due to gushing blood (GI BLEED) My point is this has been a continuing thing with Chipotles. I have considered hiring a lawyer so Chipolte can handle all the bills I'm going to have to pay, which is bull that I have to pay. Someone needs to contact me regarding this situation before I hire a lawyer to take care of it.

Dan Bloden
from Elgin, IL
Good day. I recently ordered soft shell tacos at Chipotle St. Charles, IL location. This was a to-go order. I ordered steak. There was only two small pieces of steak on the third taco. In addition, the tacos were EXTREMELY COLD. Being very cold, it was not satisfying to eat the tacos. I would like a refund in the amount of $8.10 for my order or a free Chipotle burrito for my next visit. Cold tacos are not a good look. Unless this is fixed, I will not go back and will tell all my friends online never to shop at Chipotle again.

Victoria Williams
from Santa Monica, CA
This took place today at the Chipotle at Brooklyn Kings Plaza Mall in Brooklyn NY, where I am part of the Management Office Team. I asked the waitress if the chicken was mild or spicy; she replied that it was not spicy. I also asked if it was "WHITE MEAT", meaning chicken breast. She said YES it is chicken breast. It was not breast and yes it was spicy. I get the food back to the office and open it and discover it's not white meat but thigh and darker and spicy. So I ended up wasting $9.00 today. Why lie? There are better ways to get and keep a customer. I have my receipt and I intend to await your response. thanks.

john fortino
from Gilroy, CA
Sunday, 7:30pm. Just wanted dinner. Went (for the last time) to your gilroy location. Out of lettuce, no napkins, veggies were burnt, burrito was cold, about 10 chips in the bag. I live and work near this libation. Used to love it. Last 3 times, something always wrong.... No chicken at lunch time, really? Food always cold. I'm starting to believe the press! I'm done!! Very disappointing. Worst thing, your employees don't seem to even care.

Sally Raehl
from Hemet, CA
Visited the Chipotle store in Hemet Ca. Located at 2465 West Florida Ave. My order #242/2 Dated 01/28/2016 Time stamped 4:17pm. My order consisted of Chicken Bowl, guacamole and a small drink, all totaled $11.39. First off, I would like to just say I much I enjoy the chicken bowl that I normally order. I have only had the chicken bowl with white rice, onions, peppers, chicken, mild salsa, cheese, lettuce and topped with guacamole. Very, very good. Now to my complaint. I ordered my favorite, being the burrito bowl, and was immediately informed that there was no lettuce or onions and peppers. The restaurant was out of them. Period, and no offer of extra this or that to make up for the shortage.
Being that the lettuce, onions and peppers are pretty much a great part of my burrito bowl I really felt that my burrito bowl was NOT going to be what I was accustomed to. I ordered it anyway hoping for the best....I know I had a choice, I could have left. Possible should have. The burrito bowl was OK, I ate it. However, it was NOT up to the usual level of excellence that I have become accustomed to. I was there for quite some time and another employee was, I believe sweeping the floor, and as she got close enough to speak she greeted us with hello, how is everything? I first spoke automatically and said everything was fine, then I quickly corrected myself and said everything was fine expect that the restaurant was out of lettuce, onions and peppers.
Course she again very nicely apologized for the shortage of lettuce, onions and peppers then disappeared only to return with a coupon, buy one get one free. Which she gave me. Very nice of her to do that. In fact, she somewhat saved the day. Before leaving I did get a card with the general manager's name, which is, Claudia Reyes. Someone from corporate should inform her that it is not acceptable that her restaurant ran out of lettuce, onions and peppers. I would be more forgiving if there was just one item that the restaurant was out of but three items that's is a bit much.

Luis Juarbe
from Mount Vernon, OH
I went for an interview at Chipotle and the general manager of the store came out to give me and interview. I understand you guys have your standards of hiring people but I felt he was really rude and inconsiderate and I have never had an interview that the employer has said that I had to have 13 points of character. I know good customer service, but that seemed over the top. That didn't make me ever want to ever eat at the store or any Chipotle store. It was the Mount Vernon, Ohio location. Perhaps the Chipotle corporate office should consider their hiring practices.

Jasmyn Butler
from Lanham, MD
I came to get some food on Sunday night at 9:45 and I asked for chicken, they said they were out of chicken. All they had was chicken, pork and steak which are all more expensive than chicken. When I asked them if they could charge me for the price of chicken and give me the pork or steak i got nothing but a rude response. I understand that you all weren't prepared enough for the day to have the correct amount of chicken to be sure that your customers were fed and happy with their meals but at the end of the I should not be punished and charged extra because you all didn't have the food that i wanted.
I have been to several other Chipotle restaurants close to closing time and if any one was out of what i was requesting for they would still charge me for the item that i wanted or give me a discount of some sort. On top of everything the food that i ended up getting was disgusting. There was nothing but juice in the bottom of my bowl so much that it broke the bag that you all put it in. The people who working in the front of the house were all rude inattentive and very immature. I don't believe i deserved to be talked to in such a rude way especially when these people who were running your store were little kids. Something needs be done about the management at that Germantown, Md store. A very unsatisfied Chipotle customer!

Nicole
from Homer Glen, IL
I placed an online order for 5 people at my business for pick up at the location in orland park, il. We order once a week from this location and usually had a good experience. When I arrived, I was told that only part of my order was ready and that I would have to wait until they weren't so busy to get the rest of my order. I sat for 20 minutes. In that time, I could have simply waited in line ordered my food and eaten there. I finally went back to the register to ask about the food and was given attitude by the cashier.
As they tried to hurry and make the remainder of my order, they are asking me what ingredients go on which orders when they had the print out in front of them. As they began throwing the food into the bags, I was trying to check the order to make sure everything was in the bag. They were missing many of the sides and when I told them that, they argued that everything was in the bag and continued to pile the orders on top of each so I could not thoroughly check it. Needless to say, this was a horrible experience and our company will no longer be ordering from here until something is done.

Tina Lowry
from Wylie, TX
Went to the Chipotle in Garland Tx at the Firewheel mall today. We were there at the start of lunch rush hour. There were 2 people working the line, one of them was making up the online orders. The 2 employees were having to fill the empty containers as well while there were 4-8 employees in the back doing who knows what! The line was backing up and while I'm waiting for my food to be prepped, one of the 2 employees yelled to the back that help was needed on the front line.
They all looked at her like she wasn't speaking English. I was in line for 10 min waiting for 3 ingredients to be added to my bowl. Again, she asked 3 more times for help and they just looked at her.. The line had backed up to the door. No manager was up front, no one came to help until 5 min after I paid for my order (that became cold while waiting to ingredients to be added)
Chipotle states that they hire energetic people and people that want to work there. Well, I dont know who hired the people that works at that location. No one wanted to work. No one was working as a team or helping out... I wont go back.

I am a foodie and love visiting Chipotle for the kind of food they offer. Everything they make out there is fresh and served well. The rice items, espceially the lime rice is simply unique and the tangy flavour is mouth watering. Chipotle has burritos, bowls, salads as well as tacos. Last week I had arranged a gettogether at home and Chipotle helped arrange the snacks. We asked for The big spread which includede 3 meat items and fajita veggies. Guests could create their own style. Chipotle ensure they get their own utensils,napkins, stands, fuel to keep things hot and fresh. I really like the way it was organized. No issues and happy guests on that day.
Have feedback for Chipotle?
Thanks for your feedback!
Sorry. Please try again later!