Chuck E. Cheese
Chuck E. Cheese Complaints Continued... (Page 2)
149+ reviews added so far. Upset? Call Chuck E. Cheese corporate: 1-888-778-7193

Curtis Coleman
from Flower Mound, TX
9/22/2018.. I'm at the location North Little Rock Arkansas.. I've order XL wings party tray. @ 4:15. It's 4:48.. hv not came out.. this is so so ridiculous that is taking so long to order food and it take an hour hour-and-a-half for the food to come out just chicken wings either Pizza

Davenport IA. Location.
Went in there with my two kids and husband to celebrate a birthday. Birthday boy wanted to eat pizza there and play. After seeing how filthy and disgusting the front area where the soda machines were didn't want to imagine the kitchen. Couldn't even deal with the bad odor coming from kitchen and soda area. I didn't want my family to get sick so I asked for a refund and left the place. Obviously, nobody cares for any cleanliness, whoever is running that business don't care about anyone or the place. Will be calling the health department because the nastiness in this place is real.

Julia Ephraim-Riggs
from Atlanta, GA
Chuck E Cheese' has always been apart of our family's birthday party traditions for our children and grand-children, until recently sadden by an incident. My sixteen year old daughter applied for a job with Chuck E Cheese' and was hired on August 16, 2018 @ the Chuck E Cheese' located on 500 Old Town Rd, Birmingham, AL 35216. She was sooo excited about her first day of work and was eager to work and be apart of Chuck E Cheese; ' because she has so many childhood memories of family and birthday parties at Chuck E Cheese'. On September 5, 2018 @ approx 8:23 pm, my sixteen year old daughter was the Chuck E character for this night, she did ticket giveaways, danced and took pictures with patrons. While in character her breasts were poked and pinched by a fourteen/fifteen year old female customer,
she immediately felt uncomfortable and violated. My sixteen year old daughter then turn and walked away from this customer entering into the room where she had dressed for the character, while being followed by Ms. Sherry, (manager on duty for this particular night) yelling and screaming at her face-to-face contact about ratings, making the customer happy, also stating that the parent of the teenager was upset and that all of this was apart of customer service. Ms.Sherry, (manager on duty) not once did she ask my daughter what happened and neither did she allow my daughter the opportunity to explain the incident. Ms. Sherry, told my sixteen year old daughter to clock out, leave and go home. Let me inform you that I am my sixteen year old daughter's transportation to and from work, (Ms. Sherry knows this from day one when she introduced herself as the manager). Let me remind you that it's approx. almost 9 pm by this time and dark outside but my daughter clocked out and left as she was to do and walked across to an bowling alley that was opened and then called us to pick her up. I told my sixteen year old daughter to stay put and to not go anywhere, that we are on the way now. She was there safe and sound when we got to the bowling alley (Thank God!), but she was emotionally shook up and uncontrollably crying her eyes red. We have deemed this a form of (possible sexual) harassment and never have we heard of any such thing as to harassment nor sexual harassment being apart of the kid entertainment business. We feel that Chuck E Cheese' should not just be a place "Where Kids can be a Kid", but also an atmosphere where kids (teenagers) feel safe working and enjoy creating childhood memories for other kids and their families. We would like for you to consider implementing the "Hands Off Policy". The "Hands Off Policy" will still allow the Chuck E character the ability to do ticket giveaways, dance and take pictures with the patrons, but patrons would have to adhere to an "Hands Off Policy" were there is no hand contact with Chuck E while present ( the announcement can be announced just before Chuck E comes out). It can read something like this: Get ready kids! Chuck E will be out soon to take pictures, dance and giveaway tickets and for your safety as well as the safety of our employees please adhere to the "Hands Off Policy", there is to be no hand(s) contact with Chuck E while present. Thank you, have fun and enjoy the show. This ensures the safety of your employees and patrons. We feel that this is not too much to ask and we also feel that families just like ours will continue their Chuck E Cheese' family traditions.
Sincerely,
Julia Ephraim-Riggs
ephraimriggs@yahoo.com
'

Rhonda Allen
from Marion, IN
I took my grandson 5 years old to the Kokomo Indiana chuck e cheese we had pizza I order a small then I ask the waitress if it was to late to order a large she said let me check well the cook came out and manger talking among them self i said forget it I didnt mean to cause a confessing the young girl that waited on us said no its fine , I could tell the manger was under stress it was pretty busy with a couple birthday parties goin on I said thats fine leave it with a small pizza its fine, then after 45 minutes later my grandson won a spongeBob card and it didnt drop down this young guy said he would help us very very nice he couldnt get it to drop down said he'd have to get the manger well 15 minutes went by and the kid said im so sorry and went to get the manger the manger was checking people in and a friend of mine happen to be ordering her pizza and i went up to her and said to her I hope your experience was better than mine today I was telling her about my pizza and the manger said to me we gave that to you FREE I said you did ??? where is the money then..... and was telling my friend about the card and the manger Vince said leave I want you to leave now I said we have 300 points to spend then I will He was the nasty person if he cant handle people any better than this he needs to be FIRED he was so upset and ugly and my friend said he wasnt really friendly with them .

Mary Ann kelley
from Austin, TX
We were at the Chucky E Cheese located in South Austin to Celebrating my grandson's third birthday I'm very upset for the fact my sister arrived about 30-35 minuets after us placeted her order and she get her food before us When the young girl brought my sisters food out I Adked herb where is our food and she said oh we have been looking for y'all I said ma'am we have been sitting here for the longest time . She was like did you have your number up I was like yes she's like let me go get your pizza . I told her ma'am I don't want that cold pizza . She was like well then I will go make you some more pizza she walks to the back and she brings me out the cold pizza I told her I did not want it she snatched it very rudely for my table so I went to the register and I said you know what I will just take my money back after receive my money back mind you we had not eaten dinner I was sitting with my family members my husband comes back and says that they are all talking about you making fun of you because I asked the manager for the young lady's name he said which one and I said the colored girl . To me that is very uncalled for very immature you're in a place of business and you're acting like young kids which they are very young kids that work there . It's very sad you go to a place and spend lots of money and get treated very Bad

Michele Perkins
from The Bronx, NY
Went to Chuck e cheese with my daughter ordered 1 adult lunch buffet and 1 child lunch buffet after I paid was told to wait a couple of minutes for them to prepare the salad because I was the only customer that ordered it at the time . Then when I go to get the salad I was told by the manager sharissa that I wasn't entitled to the salad because I paid for lunch I was only entitled to lettuce and croutons. I informed her that I was not told that when I purchased the lunch special the sign posted is missing advertising I then ask for a refund she told me no refund then I ask for a regular salad she said I can only get lettuce tomatoes and cucumbers that's all. Me and my daughter left without eating anything and I spent $15.00. the manager was not sensitive to me or my daughter especially with since Chuck e cheese is for children. I had to explain this to my daughter. I had birthday party there for my daughter and son. Due to the circumstances I should receive a refund . Thank you in advance Michele Perkins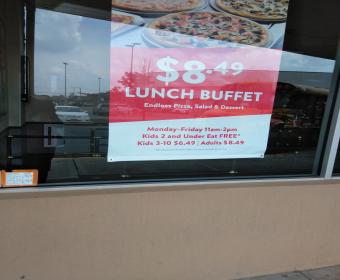 The mgr & 3 employees told me they dont take MC prepaid CC.then i recieved a response from Thomas Levell about my complaint. 1st he spelled Chucky instead of Chuck E then he said MC told him my card was not activated. I used it for gas right after i left.

Lora castillo
from Sandy, TX
I have not been to chuck e cheese in Arlington Tx for almost 7 years. How it has changed I remember having birthday parties for my 4 kids loved it. We came here tonight with my sister and her 1st grandson.The place was a mess none of the little kiddos rides worked not even the one that takes pictures! The salad bar had no salad when my mom asked if they could refill it the girl shroud her shoulders.The drink station had only 2 drinks working.asked to speak to manger informed him of the issues.He told me that he was new and was trying to work on it. So my complaints are customer service needs to be worked on,games need to be attended,drink machine needs to be fixed,and clean the place up!!! Thats a shame these families spent this much money here and its a mess.

Gail hatch
from Houston, TX
Nobody was at the door stamping our hands or watching to make sure nobody left without being scanned when we arrived. Ordered pizza and family size chicken wings player. Says family size, we got four small wings, three celery sticks , few fries and bread sticks. Really four wings! Was not worth the eleven dollars that is for sure. Pizza was so-so. Was very disappointed.

Wynoma wilson
from Carrollton, TX
Would like to have a call back in regards to a horrible experience at Chuck E. Cheese in Weslaco after spending over 58 dlls and not being to enjoy what we wanted, my number is 956-373-8777

Jennifer flickner
from Houston, TX
,my name is Jennifer and I have befriended the sweetest mom and little. Boy named Curtis this family is homeless .I had promised this child 6months ago at Chuck E cheese and let me telling ui is all he talked about ..it was the worst experience no cake until hours later no happy birthday song and way overcharged we spent 200 for what. Please call me I have so much more ..it was a true disappointment.. Jennifer
832 _8559063. I was at your Westheimer and dairy Ashford location.. arrival time 3pm and it is now almost 6 pm I am in the car waiting and still no cake

Ivette
from Fort Lauderdale, FL
Helo my name is ivette serhan
I went with my 8 year old yo a Chuck E. Cheese in aventura
O had a very bad experience
I bought a card but the options I had where not given to me and when I saw all the options I had already bought a card and they would not exchange it for me and on top of that the manager was rude

The Chuck E Cheese located in Fairfax, VA has been a place that my family has been going to for over 30 years now. I remember having my own birthday parties there when I was young and I am now 38. Anyways, my son is probably Chuck E Cheeses biggest fan. No seriously he is. Every time we go he doesn't care too much about playing games, but would rather sing and dance with Chuck E Cheese all day long if he could. He even acts and dresses like him at home while he watches his videos on YouTube. He has had his last two birthdays there and wants it there again this year. We take him there AT LEAST once a week if not more. My complaint is over the years my wife and I have seen a big decline in the staffs attitude and how the place is kept up. Sometimes Chuck E Cheese will not come out to do his ticket splash song and dance routine for hours. Also, every interaction we have with a staff at this location seems like they don't care or we are bothering them. If we ask a simple question like "when will Chuck E Cheese be out to do his song and dance routine" we get a response stating "he will be out soon" or "I will go ask" and we never hear back unless we follow-up. Now, one other complaint is when Chuck E Cheese does come out the dance routine at this location is so pathetic. Why you ask? Well the song starts about a minute BEFORE he even comes out then once he does come out he moves very very very slow like whoever is inside hates life and does not want to be there. My son knows the words all his moves, so when he sees Chuck E Cheese acting a certain way it kind of upsets him. Like I said earlier all he looks forward to is dancing with Chuck E Cheese. He even tries to dance with the robot Chuck E in the back until the 'real' one comes out. This location is turning out to be a not so fun place to go to anymore. However, luckily for my son there is another Chuck E Cheese about 30 miles away from us that we will take him to which we think is so much better, but the drive is 30 miles away when the Fairfax one is only 5 miles away.
What I would like to see is an improvement with the staffs demeanor and a more positive attitude from Chuck E Cheese just so that my son always experiences a great time each time we go. Don't get me started on how much my wife and I have spent on Chuck E Cheese toys/dolls etc... If you want to see how much Chuck E Cheese stuff my son has and videos of my son dancing like him at home I would be glad to share it with you. He really is Chuck E Cheese's biggest fan.
Enjoy the rest of your day!
Thank you,
Ayoub Family

Crystal Cabrera
from Littleton, CO
On my recent visit to Chuck E. Cheese in Littleton Co. I had the worst customer experience ever. I arrived at around 2pm and no one was there to stamp us in. After we had already allowed our selfs in and preparing to order some food, a gentleman finally shows up stamps our hand and takes our food order. I wanted to order a salad but he mentioned it would take about 45mins for the salad station to be setup so we decided not to wait that long and went ahead and order some wings Instead. The gentleman also mentioned that he was short staff as three people called off for the day. I felt really bad and explained that I understood and would be patient. A half hour went by and I went to the counter to see if we could at least have our soda well we wait for our food, then after what seemed like another 20mins I asked how much longer would it take to get our wings the gentleman said he would find out and I never heard from him. What really frustrated me was that they managed to make an order for another customer that showed up an hour after we did before us. They to had wings in their order. Once he delivered the other guest food, this is when I placed a call to guest relations and spoke to a women by the name Maryana she mentioned she could give the location a call. The gentleman must have heard me on the phone because couple minutes later he asked what I had ordered and said he would reimburse me and get started on my order. I had a toddler with me and she was fussing ready for a nap and I still had to wait an additional 20 mins for my food this was unexceptable. Forgot to mention by this time it was 4:00pm and we had to take our food to go as our little one fell asleep, and after two hours of waiting they still didn't have the salad bar setup. That's ridiculous. I understand they were short staffed but to forget our order completely and not give a update when asked is unexceptable.

Connie Smith
from Prattville, AL
On April 19,2018 we visited your location at 500 Old Town Road, Birmingham, AL. It is the first time for our granddaughter along with her parents to visit a Chuck E. Cheese. Our total bill was a little over $84.00. My son in law ordered a beer but the lady said she couldn't sell him one because she was not of age. We asked for someone of age to get him one. She said she would get the manager to do it, at which time I told her to go ahead and add it to our bill. When my son in law went back to get the beer, she finally called the manager to get it but informed him I didn't pay for it. The next issue came when we were brought our food. We had ordered a sampler of wings, bread sticks, fries and celery (10.99). We were instead brought a large order of boneless wings ($17.99) and even though we ordered the $10.99 sampler, they refused to refund the difference (they charged us $17.99. I asked about the refund in the difference of what I was charged and what I ordered and was told no refund because they mistakenly brought the wing (which by the way was not our fault) and then he walked away.
We often visit Chuck E. Cheese in Montgomery with our other grandkids and this visit to Birmingham was a total disaster.
I usually don't complain but the customer service we received and the way they handled our situation was totally unprofessional and as a former owner of a restaurant, I find this totally unacceptable customer relations.
I just wanted y'all to know how we were treated in case someone else has the same issue with this particular Chuck E. Cheese.
Thankfully I can still go to the Montgomery Chuck E Cheese where the staff is well trained and friendly.
Connie Smith

MARIA ARROYO
from Baltimore, MD
I've been sitting here at Chuckie E Cheese in Takoma Park, Md 4 hours waiting for my grandson to see Chuckie and nothing every time I ask the young kids that work here they don't or lie to me about when Chuckie is coming out. It's a house full of kids and waiting to see Chuckie. I asked the manager Julio Castro and he laughs about the situation and tells me about another 2 hours. I think this is not professional. The kids want to see Chuckie that's why we bring them and spend money. I come here once or twice a week and it's always a problem with Chuckie coming out. I think that if no one is here to dress like Chuckie the manager should step up.

Dayle Secret
from Troy, OH
I have been going to chucke cheese withmy children for over 15 years.On Sunday 15,2018 i had a small gathering for my grandbabies at the Mentor, Ohio location..only being 2 hours i had to make a quick decision to leave, two employees of chucke cheese engaged in a fist fight in front of all the children.. I have never been so disappointed in this abolishment I will never take my family again

Paula Villarreal
from Pasadena, TX
I placed a complaint several weeks ago and nothing has been done. Is this how you really run your business? It's a disgrace! My 2 year old Granddaughter was so heartbroken! I have no choice but to out your company to all my friends. Thanks!

Javier Ayala
from Tempe, AZ
Store on 6773 w. Bell Road Glendale Az
I talked to Steve the store manager at the time and i had ordered 4 pizzas and my group wanted more pizza so i asked him why it took over 45 minutes to get my pizzas and he says thats how long it takes and that it was real buzzy, it is Wednesday afternoon and hardly anyone here I told him I come here all the time on the weekends and theres usually nowhere to sit and place is fulll of oeople and it never takes over 20 minutes which to me is reasonable, and because i told him that he tells me I get what I ask for because I am coming at him with an attitude, simply I am trying to feed my group but dont frel it is necessary to wait over 45 minutes to get a couple of more pizzas, I work with service and I could tell as soon as I started talking to him that he was not approachable, he asked me what I wanted him to do for me but I did not want anything free I just wanted the service I always got I dont think I was asking for too much.

Mechelle Coleman
from Riverdale, GA
Horrible experience for my first Birthday Party there...kids were served watered down punch...table wasn't set up with decorations nor balloons and hostess thought was about to start the party until I told her no... due to the fact what we paid for wasn't set up or done we had 8 kids and had THE MOST...expensive package per kid...not satisfied at all..wouldn't never have a party there again!

Izora Smith
from Murfreesboro, TN
The management is atrocious. I have rarely been treated with such condescendtion- and from a teenager in a tie nonetheless. Johnathon, the manager at the Antioch Tennessee location was unprofessional and rude. The store is filthy. The employees don't cate. Games are broken. This place should be shut down for health violations.

Darren Gray
from Ventura, CA
1) My two year old opened an unlock cupboard full of harmful cleaners. (Mom saw GOO GONE in his hands and flew across the tables to save him) Poison control said as long as the cleaner did not go into the lungs he would be alright.)
2) My pizza was on a metal plate that was so hot that I had to use paper plates as oven mitts.
3) SERVICE IS TERRIBLE.
4) MANAGER WOULD NOT GET OFF THE PHONE TO HELP.

Rosa Ramos
from Bell Gardens, CA
I was in your place on 1/25/18
I'm really upset because the floor from the men's restroom was wet and my 5 yrs old kid felt down and hurt himself. You should be more careful and check your restroom more often.

Carrie
from Kansas City, KS
The woman's bathroom was disgusting. Toilet paper every where

Michael Musgrove
from Norman, OK
We found a hair in our food. Didn't want to make a scene and effect other customers. So we didn't say anything. I would like to know if you can help me with this situation.

William Smithers
from Glen Burnie, MD
it all started whenI came into you're establishedment.I tried to you a Groupon and nobody new how to use it.they got the Manger finally .he could not get to work he blamed groupon. there were also a lot of games broken and also other games not given tickets. you're Manger did not seem to care.it was also very dirty.

Vanessa ramos
from Newark, CA
Went to chuck e cheese in newark ca and very rude worker rushd my kids to pick a price they hade over 3000 n she was hurrying them up throwing any kind of toy at them gave bad attitude i go all the time n this the very first time i get horrible. Service.

andrew saenz
from Boerne, TX
went to enjoy a nice party at chuck e cheese as i always do,, when i got to the store table was not ready,, my party was at 3pm was not in my party table till 10 mins later,, section was still dirty from the last party that was there ,,didn't get free promotional cotton candy,, online post said i would get free cotton candy with 12 or more kid purchase ,, in the back of my mind i knew i was supposed to get it but never said anything ,, didn't even get a little comp on the side for the my troubles,, didn't get a invite back so they could make it right ,, will not return ,, done with this location ,, and will share with others to not book parties as well..

I am regular customer of your place . my daughter is love your place fort worth tx .i celebrated my daughter birthday in your place . we are going once a week . today i went there is too much crowded . i went for order something . when i reached she told me sorry i have to go . its ok . when we stared play game we few machine mostly was not working properly . they took my point and when i reach sponge bob machine i played too long all most 30 token i got two card but machine did't give anything and its stop to working . i played more but i west my token . and when i called to help they come too late . and when he come he told me he don't know anything about machine and he left . i told him i used my 30 token here . he said me sorry and he left . i was too much disappointed .
thank you

Melissa Howard
from Belleville, ON
I took my daughter to Chuck E Cheese last night for her birthday. I didn't book a party, just went with my family. I asked if she would get anything for free seeing as we drove for almost 2 hours to get there, I was told no, But I could purchase a party package. Which would include, 1 hat, 4 drinks, 1 large pizza, a party platter, and a dessert, 100 tokens, and a visit with Chuck E. This cost me $75.00. I got a very quick visit with Chuck E, and then when he left, he started throwing a ton of coupons out,Leaving my daughter out. He should have handed her some. But instead went around the corner so we couldn't see until it was all done. The party platter, had 2 pieces of celery, 5 wings, and like 10 little hash browns, and a very small piece of garlic bread. I was absolutely appalled and not sure if I will give Chuck E Cheese any more of my business. I do have several friends and family members who have small children, who often visit Chuck E Cheese. After my poor experience last night, I have brought this to all of their attention. I would like to be compensated for this one way or another. I went to the location in Scarborough ONTARIO Canada.

I found a fly on my salad. When I told the manager she got so upset was being very unprofessional. She asked me for the receipt and gave me the money I payed for the salad taking the salad plate away like if it was my fault! She was so rude. She didn't let me take a picture for proofs. She took the plate away from me right away. This is chuck e. cheese in Norwalk California managers name is Cecilia

Shykita Delu
from Houston, TX

Alainah Long
from Chicago, IL
Today is my daughters 3rd birthday. We had original plans to go to key lime cove but our plans didn't work out. We decided to take her to chuck e cheese. We went to the one in oak lawn il right when the doors opened. I told the lady that was there it was my daughters birthday. My daughter was so excited. The lady name was Ashley. She looked so not excited. Didn't even smile at us. Wasn't really nice. I showed her a birthday coupon on my phone.
For free tickets with a food purchase she said she couldn't use it that i need to print it out. When i asked for a fresh cotton candy for my daughter she had an attitude. Then my daughter was ready to get prizes and she wouldn't even open the glass case to give my daughter The last lollipop that was available. Overall it was a horrible experience for my daughters 3rd birthday. I spent almost $100 for out family of 4 and i just cant believe the horrible experience we got on her special day.
That lady was so not magical to be working at a kids place where its known to celebrate birthdays.

April Grondahl
from Evansville, IN
On November 12 my family had a small party for my son's 4th birthday. When we came in are party got two different numbers even though I told the lady we where together. When went to find seats they where dirty and had trash on them. We asked several times but no came and cleaned them up. Also I asked for forks but before I could get any after waiting for 10 or more minutes the guy said let me get these people first. The big issue was when we left they didn't check my number with my families and party members number and let four party members walk out even through our numbers didn't match. That is a safety problem. I won't be taking my family back to Chucky E Cheese. I wish this place was more like DZ it had a bigger play area and wasn't focus just on games that over stimulates children.

My son had his token card stolen and the manager refused to pull up the security camera footage to show who stole it even though the kid who stole it was seen by another parent. We are never going back and will tell everyone how crooked this organization has become.

Sandra hunt
from Houston, TX
We took our granddaughter to Chuck E Cheese in Pearland, Texas 10-10-2016 about 730pm, the place was a mess tables filled with uneaten food, food on the floor, we ordered pizza & drinks, the tea was nasty tasting as if it had been there since they opened the day before, service sucked, the when it did get to our table was not cooked the supreme pizza we ordered was cold, the peppers & mushrooms was uncooked raw a better term. When you go spend good hard earned money on food you expect to get what you pay for something you can actually eat not leave on the table uneaten, we work hard for our money the sad thing is we don't live in Texas we drive 4 hours from Louisiana to Texas Children's Hospital for my granddaughters doctors (oncology & cardiology) so we are not out only on food we have hotel, gas & other expenses as well.
My opinion is Chuck E Cheese executives need to send in your upper folks to go in and be a patron undercover to see for yourselves, this way you will have first hand experience as your real customers has had to deal with. If yall don't do something your business is going to be in the Red if it's not already. On the games you have a lot that does not work, you don't know this because there not tagged as out of service & you already put the tokens in. This was once a great place, I use to take my kids to Alexandria, La to Chuck E Cheese, it could be made Great Again with the right management & staff I and I mean upper & lower employees. Everyone has a part to play in a business a business doesn't run itself.

Kristal Ramirez
from Las Vegas, NV
I attended a Chuck E. Cheese party and it was the worst experience I had. The customer service was horrible and then to find out these new play cards a waste of my money. My kids were so disappointed that they run out so quick, since they are not even sure how to use it no one is there to help. They messed up our food it was a disaster. This makes me never wanna return to a Chuck E. Cheese. I hope something is done with this issues this location was in California Vista off university drive.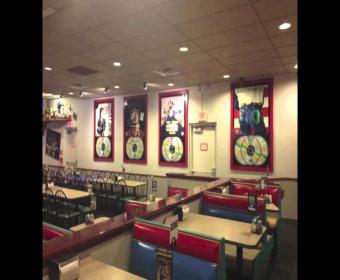 I went to Chuck E. Cheese in york pa with my son around 4:50pm and Had the worst service with employees ever. One game had broken down, balls were jammed, so I went up to them to let them know that the little boy was waiting, I spoke to Q. I waited with him so they would see where they needed to go. After about 10 minutes of her just standing there talking and texting on her phone she came out, and went to play other games, she saw we were waiting and ignored us! After I saw that I went back up to the counter and asked for someone else to help me, I spoke with Chrizma, and she went and told the same girl Q. Q looked at us and went to stand with another employee completely ignoring the request for help.
I was really upset at this point, because by this time it had been at least 20 minutes. I went to the other employee standing at the door to complain about how Q was ignoring me on purpose and she jumped in and said her job was to play games, and that she had already fixed the game. I know this was a lie because I was standing there with the little boy. she finally went to help him.Then as we were going to cash in our tickets to the machine, they were all full and my husband went to tell them that they were all full, Of course Chrizma went back to Q and told here. Q's comment was Im right here nobody said anything to me, do you wanna do my job. By this time I am really upset with how she spoke around my son and treated his friend. I took my son to the table with his dad and went to the counter where Chrizma was again and asked to speak to the supervisor. she went to get him.
As I explained how rude she was being to us and the children, and explained we come here every week and spend a lot of money, even held birthday party's here. and I don't expect to be treated like that. As I walked to the door, Chrizma was at the door letting us out and she stopped us took the uv light over our head and told Q we had filed a complaint. This may seem childish but I don't come out to this place to spend $100 to be treated like this. I had to call back and speak with Brandon to get The employee names. Q's name is just a nick name. I was planning on having my sons 5th birthday party here with all his class mates, but now I think I will go else where. As long as Q is still there I will not be taking my son back.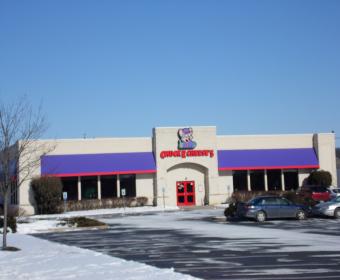 Stephanie Rosenstein
from New York, NY
I went to the Manhattan, N.Y. Location on St. Nicolas Avenue today 9/17/16 at 5:00. The children there were not running, they were charging up and down the aisles with no parents in sight. Then, a child tried to take my son's tickets from the machine he was playing on. Then when my son and I were on a simulated ride, a 10 year old boy came up to me and yelled in my face that he was "here first", when my son and I were there minutes before trying different options on the same ride. Then, he put his face in between our seats and hung onto the ride.
I asked him to get off, and he wouldn't. It was complete chaos and mayhem. There was one management person that quietly muttered "stop running" as children raced past him, but it was free reign for all of the children there. If they haven't already, someone will get hurt and end up suing you guys. I have spent a lot of money at Chuck E. Cheese, had a birthday party there, but I am not coming back. There needs to be at least one security guard there to manage the incredible amount of rif raf.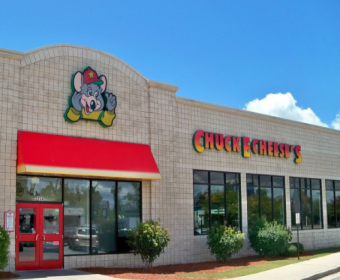 Jeff Hennecke
from Pewaukee, WI
On September fourth 2016 at 11:30 in the morning we brought our grand daughter here for a fun filled day. Sad to say what a big disappointment, the parking lot was full of garbage, trash cans over flowing. So the workers felt it was not important to clean up last nights mess or empty garbage cans? Went to use the restroom once again garbage not emptied in stalls, not clean and no paper towels to dry my hands. Games were not working, and so I told worker they said when he fixed the game would return tokens back to me.
He fixed the game and walked away i was sitting right there waiting. I will say the food was outstanding l loved it. Service for food was great. I want to have her birthday party here in November so I sure hope Chuck E. Cheese corporate gets their act together, and fixes the problem of staff not doing their job. This could be a great place just need the right management to make sure when closing things are done right. Will give it one more try before her birthday in hopes thing are turned around. Address of the one we visited is 19125 west blue mound road, Brookfield Wisconsin.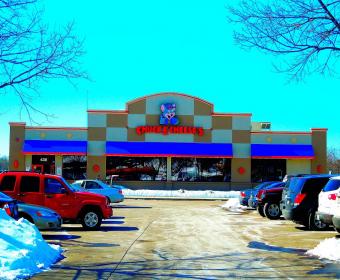 I was just there for my niece's birthday party while there was another party next to her going on. Extremely disappointed for the Middletown New Jersey location. No one was paying attention to my niece's party. The staff was all about the other party and making sure they all had fun while my niece's party was completely ignored by the entire staff. When Chucky came for pictures and to sing Happy Birthday for the kids, the staff and Chucky we're all around the other birthday party table and never came over to my niece's table. Your sign advertises pictures with Chucky so that kids can get their picture taken with the mouse but yet as soon as the singing was over he disappeared.
Not one picture was taken because he left so quickly. The only time the staff came to my niece's table was to give her cupcakes for her birthday dessert. Extremely disappointed that her party was forgotten about and ignored and the entire staff was focused on the other party including Chucky. I am definitely not coming back here again. I was thinking of having my son's birthday party here but after what I witnessed if there's more than one party you will not be getting my business. I think it's horrible that all the attention was only on one party and not my nieces. This should have been coordinated better and time should have been split between both parties. You certainly have lost my business along with other people I know.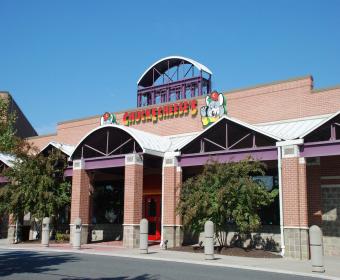 Rocky
from Dearborn Heights, MI
I an my wife and daughter and 4 year old were at a chuck e cheese and for at least 20 or more minutes teen agers young kids and what looks like a 30 year old man were throwing basketballs from the isle about 12 feet away from the game and balls were bouncing very hard at people security and workers walked right by them in fear. We had to try to keep my grandchild out of the area and it spoiled the time and money we spent even teenage girls were just walking over kids and leaving kids in buggies why they took videos.
I had to get my trapped in the corner 4 year old granddaughter from behind a girl taking a video and the girl started yelling and treating her baby like a rag doll mad ay me for trying to get my granddaughter moved. No control or ownership care for people in there trying to keep this and other kids happy. In the video you can tell no one working there wanted to say any thing when safety of my 4 year old granddaughter was a issue or other kids or adults. So sad. Worst time ever in business. I was so unhappy I had to make the family leave and my wife was mad at me for days.

Sharon Culler
from Johnson City, TN
I am so disappointed in Chuck e cheese. They are applying for a beer and wine permit in Johnson City, Tn. "A kid can be a kid" Safe place for kids. Really, there is enough places that serve alcoholic beverages. Why would you want this around children? Chuck e cheese is a place for little children to have parties not for adults to go get a drink. I have over 1,500 friends on FB. I will post. Maybe we can put you out of business and you can open a beer joint in your facility. Money, Money, Money, that is what everyone is after no matter what the cost.

Debra Nelson
from Butler, MD
We went their for my grandson's birthday ordered one large pizza and four drinks waited over an hour had to go ask about pizza they said they were sorry it must have went to the wrong table had to wait another half hour then they brought a medium instead of a large like we originally ordered never replaced our pizza all the sodas were out and they did not fix.
I think we should be compensated something for this terrible visit. We were reimbursed our money but don't feel that was enough because they were nasty and made the comment don't complain about the size at least you were reimbursed your money instead of fixing it. When I called Chuck E. Cheese corporate headquarters they decline to refund my money.

Hayk Avetisyan
from Los Angeles, CA
This complaint is for the Chuck E Cheese location in Burbank, CA. My 12 year old and the 7 year old are going to this place since they were born. We never had any issues, in fact we've done several birthday parties there also. Today we went there for 2 hours, after they were done playing, we went to the machine that takes the tickets and gives the receipt with the number of tickets you have. When we were done the machine said 1011 tickets but it wouldn't print and the screen was showing "print error".
I went to the girl in the front and told her about it, a minute later another girl comes in, checks the machine, goes to the back and comes back and says " I'm sorry, there's nothing wrong with the machine and I can only give you 500". It was the most embarrassing thing for me when someone calls you and your kids liars like I was trying to score extra 500 to get what? A plastic ball? I called the manager Leydy Frausto. She said that th girl can only give you 500 and the rest you get at the counter which I never heard her saying it.
After expressing my frustration she offered me 2000 tickets maybe so I could shut my mouth about how extremely embarrassed I was. Of course I didn't take the tickets and took my kids and left. I will never go back to that place again. It's really sad for my kids because they really like it but they also saw how they are treated there. This has nothing to do with the amount of the tickets which most of the time I don't even let my kids use it anyways because I don't care what they get from the ticket store, I care about their fun. Teach them customer service.
Teach them not to call people liars cause at the end they're just tickets ! And ironically her business card even says "every guest leaves happy. PERIOD DOT. " I've been in customer service business all my life. And I don't go by "customer is always right" all the time, but when a 12 year old kid tells you how many tickets he's got and you look at him and call him a liar, that's the worst kind of service you can offer.

Humberto ocampo
from Los Angeles, CA
The Chuck E Cheese manger would not change my tickets when I went there. One week I took my entire family to dinner and spent 150 a week. He told me he was callings the cops. I am outside with my kids waiting its now 10pm, its the store at 13101 on harbor in Granden Grove in California. This is unbelievable. How can I call customer service dept. and report this to the Chuck E Cheese corporate office?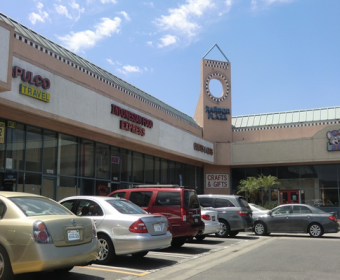 Otis Massey
from Washington, DC
I was at the Chuck and Cheese at 1127 Universal Blvd Tacoma Park MD 20912. With me was my wife and two grand kids. We visit Chuck and Cheese at least two to three time with in a month period. My grand kids, wife and myself always had a good time until today. I was eating a salad from the salad bar and discover a tie that they tie around the cotton candy bag. As I was chewing I thought I was eating a hard piece of hard onion. I notice it wasn't breaking down like the rest of the salad and pull it out of mouth. All I could see was my 8 and 2 year grand kids swallowing that tie with the metal in it. Believe me giving me my money back would not have stop me if one of them had swallow that tie. At first I didn't know what to think as I searched for how it could have gotten into the salad. As I looked around for an answer, because it was an open bar, I noticed the same type of tie on the cotton candy bags. I put the salad on my plate myself and could clearly see what I was putting on my plate. The only thing I couldn't see was the dressing that I put on top of the salad from the bar. You can not blame it on the kids that it was in there. After investigating it myself it could not have been any kids that could have done that because most kids only ate the pizza's and drunk the sodas. Most adults ate the salads there.
The first thing I thought about was not just my grand kids but all the other little kids that was there, and what if they had eaten from the salad bar. The manger did give me my money back however; I was looking at my 8 and 2 year old grand kids and the other parents kids who was there at that time. The more I was thinking what if, I was getting madder by the minute. I almost went off because if my grand kids had swallowed that piece of tie nothing would have stopped me from going off. We got there about 1:30pm and left after 5:pm. Right now I'm thinking about seeing a lawyer because I can not stop thinking about my grand kids and all the other kids who come to Chuck and Cheese who think that it's a safe haven and a place to enjoy the nice games. Up until that time I was looking forward to going to Chuck and Cheese. Like any other place that serve food we hold them responsible for the food that they serve. My kids, wife, and myself was having a great time and to have to pull them out crying is not a good thing.
My granddaughter was crying because of having to leave. I'm mad because there's no telling what goes on when they serve food and stock their salad bar. It's not right. It's just not right because if a child had got hold of it and went home the parent would have thought it happened in their home, This should not have happened. I will never get over that. I would have rated Chuck and Cheese at 5 star just because of the fun my grand kids have when they visit there. Now no star and I will find it hard to take my grand kids there again because of that. Not happy at all!!!!

Wow !! Chuck E. Cheese is a complete fun filled place. My kids always wants weekend time to be filled with games and yummy food. I found that Chuck E. Cheese is the best place to step in. It is the best place for complete family fun, Birthdays and get-together events. Online games, best pizzas, cheesy breadsticks and many more on the menu for us. Do visit Chuck E. Cheese and have more fun.

Keiandra B.
from Bedminster, NJ
Tonight my husband and I decided to celebrate our daughter's 2nd birthday. We arrived at 7:30pm, ordered our food and point cards. Once we were done, we found a place to sit. All the tables were nasty that could accomodate us. Luckily, my cousin cleaned the tables off herself. We went to play as a family. However, it was super strange that our order was never ready. Finally, the buzzer went off and my husband went to the window. There was no pizzas there. My husband asked and was told 10 minutes. That was 7:50pm. He decided to stand there and stood for 45 minutes, and finally our pizzas came in the window. He reached to grab them and the worker told him that they weren't his pizzas. He told him yes they were, grabbed them, and we were finally able to eat. In this time frame of waiting, I went back to get a salad and the bar was packed up. The associate with a big bowtie apologized, but clearly it wasn't sincere because she didn't make any attempts to offer a salad. At 9:05, our family was packing to leave. The same associate with the bowtie came to my husband and said sir, standing in front of the stage is for paid party customers, and we closed so yall can leave now. I told my husband this will be the first and last time we come to this horrible place. Our $92.90 transaction is clearly not enough money to get respect, decent customer service, and our money worth.

Donna Ventrice
from Cleveland, OH
This is so heartbreaking to me, the entire staff has changed at the MA location on Endicott Plaza. I have been coming here for years, today was the worst experience of all of those years. Birthday parties included. It is very sad to see this establishment fall so downhill. I have been use to everything being executed perfectly 99 percent of the time. Well the last few visits have been bad to worse. If you actually read these, and actually care about your locations, give this one a visit. I spent over 100 dollars every time I walk in. My son got the huge hampsyer which was 8000 points, 4 Birthday parties here as well. I will miss coming here, not going to lie, but your staff needs to learn about integrity and hospitality. When someone has a coupon from being a loyal guest, you honor it.
If I listed everything that had gone wrong, it would be too much for me to type. Just please don't let this place become somewhere like Everett, where parents are afraid to take their kids/grandkids. I hope whomever reads these, does let someone in upper management know this. I will not be back, and neither will anyone in my family.

Sandy Phillips
from El Cajon, CA
My family visits the location at 5500 Grossmont Center Drive in San Diego once or twice a month. We visited on 3/24/19. My daughter ordered two individual pizzas (one cheese and one pepperoni) for her daughter and herself. I did a separate order for one pepperoni individual pizza. My pizza was delivered and I started eating it. I was almost done when my daughter came back to the table and her pizza had still not been delivered. We asked about it and found out the pizza was delivered to the wrong people. They told my daughter it would be 10 minutes to make another two pizzas. Twenty minutes later, the pizzas were still not delivered. We both went to inquire about them and they told us it would be 10 minutes more. During this entire time, nobody went back to check on this order. The two ladies, I think were named Kay and Elva. Elva tried not telling me she was the manager until I repeatedly asked her if she was and she said she was one of them. Neither lady cared if the pizzas were being delivered. My daughter finally got the pizzas only because we had to stand at the counter and ask about them. We cleaned up our table to play some games and my daughter was told by people sitting next to us that the same thing happened to them and they got a refund because they waited so long. I accidentally threw the receipt away and the women refused my daughter a refund AND they took the trash out of the trash can. What is going on here? We have gone to this location for a year and I have been going there for about 4 years. This is the first time I have seen these women. Usually people are helpful and caring, but this day was horrible. My little granddaughter was really hungry and tired and I felt bad that she waited so long. I think it had to have been about 50 minutes with absolutely nobody caring about the order. I would like to hear from your organization. So many people still need jobs. If these two women don't care maybe somebody else will. I think the least they could have done for us is give us a coupon for a percentage off or something. It wasn't a pleasant time AND lots of games were not working.

Actually I can not find a spot to say great job. The manager at youngerman circle Jacksonville went above and beyond in making sure my granddaughter had a great time. The Chucky was so was kind. I personally had tears of joy before the visit over. Thank you so much

We was there for a private bday party we had tables everyone pay for their own food so our order we place was 72.00 we order med boneless wings plain with bbq and mild sauce on the side when our food came out it had bbq sauce all over it and the manager took our order we told them is was what we order it was a while and I went up there and ask how long because the food we order was almost done they told me we had to wait to get our wings because they had other customers order to make I was not happy they did not apologize or nothing we had to go up there and ask about it ourselves it was the chucky cheese store on sawmill road we go there alll the time they didn't offered us anything I even told them that I want my money back they mess it up when they brought to the table we told them that it is not right they should made it right then between our 3 tables we spend almost 300.00 so i like to get some kind coupons for the way we were treat us I don't even think if I should schedule my grandson bday party there the way we got treated about our food order and telling us we have to wait I don't think so customer should get there order right the money we spend

Cindy Sikes
from Paris, TX
We were in Sherman location 3-24 with My son, daughter-in-law and 2 grandsons. We had a wonderful experience until we left around 4. The attendant scanned my sons arm, one grandson and my arm. She tries to scan the 3 yr old but he would not put his arm out. So she let him go thru as well as my daughter-in-law. We all got outside and looked at each other. What if he had not been ours?

I was at the Chuck E. Cheese on 7142 Carpenter Rd on Friday 3/22/19 Akram took my order I never got the cake I order for my daughter it was her b-day after we were done eating and playing the games getting our thickets and her prize I told Akram the supervisor that we never received the cake and that I would like my money back he said I could not get my money back because he didn't have access to the register so I asked to speak to the supervisor he said he was the supervisor and to take the cake to go take the cake to go I told him that I wanted the cake so we could enjoy it at Chuck E. Cheese's and that I wanted them to sing to her their he said I couldn't get my money back and to take it to go I told him to let me talk to his supervisor because I would please just like my money back he started yelling at me telling me I could not get my money back and to take it to go this is a family restaurant it's an environment for children he had no way to yell at me specially on my daughter b-day please have him train again he does not know how to treat costumers thank you.

Jacquelin Roman
from North Hollywood, CA
I waited for 40 minutes in line to turn in tickets. I then had to wait 40 more minutes for someone to make my cotton candy. I had a horrible experience. Murcel is the manager. He didn't seem to care. Poorly ran company.

Crystal Hernandez-reynosa
from Las Vegas, NV
We visit the chuck e cheese in Las Vegas, NV weekly and during school fundraisers. Our favorite location is on Stewart and nellis. I have a teen who started working there about a month ago. She kept saying she wanted to quit because her manager Maggie spoke ugly to her and her other high school friends who work there. It was her day off and I told her to come with us and the little ones on our usual kids date night. I told her maybe she was just stressed since it's her first job. We go and her coworkers see her say hi she smiled at the manager and the manager had a blank face. A girl took our order and sent us on our way. We're there having a great time like we usually do. When were done we go cash our tickets and head to the prizes area. The same girl who took our order tells my teen , Maggie said you cant use your tickets here you have to go to another location. I said why and she said because Maggie said you cant be here when you're not working. So my teen says ok il save mine and she puts her print away Then my 8 year old and 6 year old give their printed ticket paper. She then says they cant use their tickets here either . So my kids get all emotional. I go up to the manager and ask her for corporates number and she asks why. She should have told us something was wrong as soon as she us stand in line to buy our play cards I tell the manager I dont think its right she ruined my little ones experience when they dont work there. She said Destinee(my teen) should know not to be here when shes off the clock. It's in the handbook. My teen says she didnt receive one ,so manager says it should be in the online app. My question is , Do I have to make my teen quit because we go every week. Now my small children say they hate chuck e cheese because of the experience this manager gave them. It's a weekly thing for us to visit the restaurant and i dont want every experience we have in the future to go like the one we experienced.

Demetrius Dority
from Jonesboro, AR
On March16,2019 I had my granddaughter a birthday party there it was so filthy in the restroom. I asked two employees about the restroom they went in the restroom and came right out . Our children had to be held up in order to use the restroom so the filth wouldn't get on them. They had bloody tampons and dirty diapers on the floor of the restroom. The floor in the restaurant was dirty and the service was awful. I spent $242.15 in there to be treated bad.

Gwenyetta SEabrooks
from Macon, GA
I had my son a and grand-daughter a party on Saturday March 16 and my experience was horrible. First off the party was suppose to begin at 5:30, at 5;45 all I had was paper rolled on the table. 6:00 I had to ask a manager for things that was needed for the kids to play and for their name to be displayed on the table, balloons weren't brought out until 7:00. I had to find a host to get what I needed, not once was I asked did we need anything. I ordered extra pizzas that were suppose to also come with drinks. My pizza was brought to the table, no hostess to serve, I served my own pizza. 2 pitchers of drink was brought out with no cups to drink out of, I asked to speak to a manager and she then went and got the head manager that was very rude upon arrival, cups still not brought out for kids. Chuck E proceeds to come out and greet the kids and I was not aware no one comes to my table to get my cake ready for the singing of the birthday song. Neither of my kids got to do the ticket blaster. I paid $319 on a party that I didn't get any compensation for. I would really like to speak with someone about this matter because I am very upset about this matter. My call back number is 478-335-0458.

Marvene Jordan Watson
from Sanford, NC
We was at the location in Goldsboro NC when we notice the manager and a kitchen employee..Manager making pizza doe with no gloves on, jewelry on arms covered with pizza doe. Playing with pizza tray by smacking other employee on the butt. Employee biting off corner of paper or something and spitting it out her mouth on the floor. When they notice I was observing what was going on in the kitchen the manager came out and ask me if I had a problem and she call the police and had us escorted out

Michelle Toland
from Los Angeles, CA
My 10 year old daughter was brought the by a family friend where I later on met them there with my son, during our stay there the family friend left about an hour before us also leaving my daughter there ( with a different stamp number than mine and my son). As we are leaving the gentleman at the door checked all 3 of our stamp clearly showing the numbers and still allowing the 3 of us leaving together. My complaint is the fact that a child's safety is not being taking seriously!!!!!!!!

Gilbert Hernandez
from West Covina, CA
My family came in on friday, 3/1 around 8:10pm. It was crowded and busy, so we expected a delay in service. However, there was an extreme delay in food and horrible customer service. When we ordered, it seemed the young lady taking our order was either new or just didnt know what see was doing. We ordered a stuffed crust pizza with all pepperoni and a regular half cheese/half peppeponi with 2 salad bar plates. When we slide over to the salad bar after ordering, there wasnt any salad what so ever and even the sides were depleted. It took over 15 min to get the salad bar refilled after constant questioning and asking. It seemed after getting our salads we would be ok but after over an hour of waiting with 3 hungry children our pizzas were finally on our way out to us. When they arrived to the table, we noticed the pizzas were opposite of what we ordered. So we informed the person dropping off our food that the order was wrong and reversed. When asked how long it would take to get the order remade and delivered we were told with attitude, "I Dont Know". So we took the pizzas since by this time we were famished. But this is the most horrible experience I've ever had at a Chuck E Cheese with the most unprofessional staff. I can say as a guarantee my family will not be returning to this location and will be very skeptical about going to any other.

Dear Thomas Leveton,
On 2.24.19 my family and I visited Chuck E Cheese located at: 3717 196th ST SW STE 100 LYNNWOOD WA 98036. First I would like to state that upon entering this establishment, it felt as though we were visiting inmates in a prison setting. They displayed no smiles nor a welcoming demeanor. We looked pass that and decided to make the best of a fun filled Sunday.
In between the food counter and ticket counter sat a food menu. I picked the menu up and brought it back to our table. We decided to go for the 1 large pizza a 2 drinks at the price of 19.99. I went up to the food counter and ordered. The young lady behind the counter stated the order placed would be 21.99 plus tax.
I explained to her that the menu I was holding in hand displayed a different price of 19.99. She located her GM. I asked why was the price more than what was displayed on the menu I was holding? The GM stated that these menus were old menus and these prices had not been in effect for some time. I then asked why an old menu would be in reach of the customer's. She stated that people make mistakes.
I agreed with her, however; for this menu to be accessible to the customer's I did not quite understand that. It was nothing the GM said it was clearly how she said it, with discourteously. I will have second thoughts before deciding to visit this and all of the Chuck E Cheese establishments.
I was so taken back with the GM's behavior I made the decision to ask for a total refund on the food order. It was granted and my family and I left this location with thoughts of never returning again.
Sincerely,
Extremely Dissatisfied Customer

Ashlea
from City of Saint Peters, MO
We have been to chuck e cheese at least 50 times. This time today was the worst. A friend of ours had trouble also with tickets and getting someone to help her. We also pushed the button for help to ride the bumper cars. After waiting for about 10 to 15 min. I went over and finally asked a worker and said I pushed the button for it. She acted like she had no idea what I was talking about. Said someone would help us. But they still sent noone. The customer service has really went downhill. Hopefully there will be some more training on how to treat customers. St Peter's, mo location

Tomika
from Minneapolis, MN
on 2/17/ 19 I had a walk in birthday for my daughter and invite 3 friends with their kids ordered 3 large pizza and 12 cups because we was told we can't order like the large jugs because we didn't had a reservation which was totally fine since I've enter and took a table that was cleaned I went up to the cashier and ask for the other tables around me to be clean because no one was sitting at them and my invites would need place to sit it was 5pm the tables was not clean my guess was standing. It was still fine. so one of my guess went to ask for a cup which she didn't know she had to pay for it and she was talked too rudely like No u have to pay for it with an attitude so she took the cup her son had and the cashier when then said he was the manager accused her of stealing the cup from the table the table we was sitting around she got upset and told him he neeed to apologize for the way he talked to her and he then called the cops and said we had to leave because he refused to apologize to her for accusing her of stealing a cup I paid for like I paid a lot of money there tonight to be treated like this

We were in the restaurant at phillips hwy,there was a repairman working on one of the machines, he had the emergency door open and his work bag open. My 2 year old granddaughter heads for the door then proceeds to get scissors out of his bag.Needless to say that was an accident waiting to happen. I thought that your establishment was kid safe. Needless to say it's not. Sincerely Catherine Lamphier

I'm complaining on the management there my granddaughter work there and she was a TM going to be a team to and he did motor for no reason and when he came in and he's yelled at her and belittled her and I am he fired her because nothing she did it was somebody else I don't know his name is Chris and he shouldn't be a manager I worked in human resources for 30 years and I would never trade in employee like that especially a 16-year-old something needs to be done at the Greenwood Chucky cheese

Racquel Trimmer-Edmond
from Alvin, TX
On February 3, 2019, I attended a birthday party. When I arrived, my cousin ( a paying customer) was complaining that she has been there for almost 2 hours and she still hadn't received the things she requested for her party. As Tia, was walking by, my cousin stopped her to ask several questions and Tia responded in a negative and rude way, stating that she paid her deposit but she would have to move even though she hadn't received the food items she was billed for. After about 2 minutes of not getting any response to the questions asked, Tia walked off. The next person that was stopped was NICK, and he couldn't give a valid answer was well. I personally asked Nick for the GM and he told me that Lincoln Stouder was out of town on vacation. I proceeded to get all employees name and positions. He then told me that TIA was the best manager and my response was she cant be. I think notice Nick signal for TIA to walk to the back. When they came out she was on the phone. Later 2 Brazoria County police showed up and stated that we harassed them. As I was talking to the police, he informed me that Tia said that threatened her. I never had a personal conversation with TIA. One officer proceeded to ask me for my ID and he called my ID. I was simply embarrassed. After one officer talked to Tia she asked that we be removed. We couldn't understand why. As we were walking out, Tia stopped the officer to tell him she informed the kitchen manager Saul not to cook the food that was requested. The officer went to talk to the Kitchen manager and it was confirmed that Tia told him that. After being escorted through the entire establishment, the police officer said that my cousin owed a TAB. Funny. She went back in and there was Lincoln Stouder ( the same person that Nick said was out of town on vacation.) These people that are in charge are rude and have no clue what customer service. I think that they all should be reprimanded and taught how to treat their customers. I will be a advocate to make sure that all of my people understand that we will not support this location until things and people have changed. After everything was done you can't take back the embarrassment that we experienced.

Sharon Heslin
from Hartford, CT
I am beyond livid over the way Groupon handled my simple transaction
I had to speak to 3 different reps, there is no phone number available to speak to anyone personally
All I wanted to know is can you please send over the Groupon that my daughter was going to use once I realized it was still unused
I might add that there is no expiration date to use that Groupon
After finally sending it to her so they can bring my 4 year old grandson and my 2 year old granddaughter, once arriving they were told by manager at Chuck E Cheese that they do not accept coupons and that they can purchase tickets there
What in the hell did that mean? And their customer service was totally unacceptable and ridiculous
After going back and forth with the manager, the kids were getting restless
It was not the point of paying, they would have, but they had a Groupon to use, and the manager said "fine, I will allow this one time only"
Adding that Groupon takes it upon themselves to offer these discounts, Chuck E Cheese does not
I have no words over this whole incident
Adding that I am angry she had to deal with that once there
Nice job Groupon, nice job!

The customer service at this restaurant is the worst customer service that I have ever had. I called today to talk to the store manager and she just give excuses about why it was like it was and she was going to talk to the cashier that left the counter know it wasn't the cashier's. It was the managers that were on duty she told me there was three managers on duty the very worst customer service I spent over $300 in your facility and I didn't feel like I got anything for my $300 I didn't want to draw attention to me saying something about the customer service only because I had my children in my guy children there. just know I will never step foot back into this Chuck-E-Cheese the very worst experience ever and whoever the store manager is that I just talked to on the phone let her know she is not a good store manager you need to find someone else to run your store because she's going to run your store in the ground.

Joyce Morgan
from Northbrook, IL
My daughter and I took my granddaughter to Chuck E Cheese's in Grand Prairie TX at I20 and Great Southwest. We have been several times and never had a problem. My granddaughter had received two $25 gift cards so I went to purchase her game card. I wasn't familiar with all the deals and the customer service rep wasn't very helpful. I saw there was a deal for 64 points for 21.00 and then I noticed 120 for $25.00, so I asked for that, she went to get help and the other lady explained we would have to get the options 1, 2, 3 or 4 deals for food for this option. I said "Oh I want that" but the other customer service lady had already gave me the option for the 64 points. I said well I want the other option, we are going to have to buy food and she told me she couldn't credit it because it was a gift card. When my daughter got ready to order the food, we were going to use the other gift card and they still didn't give her the option for the points. Before leaving, my granddaughter went to cash in her ticket, she is (3) she wanted a sucker which was on display and the same girl said there wasn't any in stock. My granddaughter was upset because she wanted a sucker. I came and noticed there were suckers for on the display to purchase. I go to purchase the sucker and then she said do you want to pay the difference from her points??? So why was that not offered in the first place. It was extremely upsetting, I felt my granddaughter was cheated out of the additional points if the offers had been explained corrected and it doesn't matter how I pay, the other should have been cancelled and submitted correctly. If the represents would explain the orders at the beginning it would save time, money and frustration. The situation with the prize should have been explained the first time my granddaughter couldn't get the sucker and if you don't have something in stop (they are children) take it off the display. My granddaughter first party was there and we have taken her numerous time which is why she got the gift cards. I had an expectation she would have gotten her full experience of play time at her favorite place. It was extremely disappointing.

went there tonight with my daughter and her cousin I ordered a xl large pizza half pepperoni and have sausage with the cheese crust when I received the pizza the women 0k who rang it up only rang it in as a cheese with stuffed crust so I went to get it fixed and the lady at the desk said it would be 2 dollars I then asked how did this order get entered wrong when she repeated it to me she said I don't know and that it is still 2 dollars I don't care about having to pay more I care about the way I was treated I turned and started to walk away and said well let me get my fucking wallet not directed to anyone but in general know I have to wait again for food and as well wait in line for the other customers to be done when all I needed was my food made correctly, while waiting on the women to come back out the manager came out and did not ask me what happen all he was concerned about was did I cuss at his employee I said no I did not and he said well once u cussed you are no longer a customer while speaking with him the employee came back out and said you pizza is done I said I don't want something you put topping on that has been in the window for 10 minutes then the manager refunded my money back and asked for the cards to take the time off of which is fine at this point he handed me the cards and then tells me I need one back to take the time off of it I told him I was taking my daughter wrist band off then he could have the card while handing him the card it bounced off the counter and he said I suggest you leave before I call the cops. not once did he ask what happen or how can I help you just out right rude and not one bit caring about the customer horrible customer service I have ever seen and I work in food and am a general manager so I deal with customers all day long and not once have I acted like this towards a customer I could understand if I was causing a seen behind it all I wanted was the pizza made right so I could feed the kids that were with me. I have my kids party there all the time and have never been treated this way or had any problem like this its ridiculous that as a manager you assume as is wrong is from the customer instead of trying to find out the issue and resolve it how are u going to be in customer service if you don't stop and listen to you customers.

Heather Kelly
from Louisville, KY
I booked my child's birthday party at the Columbus, Indiana location on 1/12/19 and had a total of 7 children in attendance. I paid for them all to have the mega star package which, per Chuck E Cheese website states that they get 2 hours of unlimited play which begins at the first swipe of their card. Our party was booked from 10a-12p. Everyone in the party was 15-60 minutes late arriving due to snow. We were the first to arrive at 10:05 and I asked (I assumed the manager but she wasn't wearing a name tag nor did she ever introduce herself) the manager to confirm that even though everyone was late due to the weather that they still got their 2 hours of play and at noon I understood that we may need to vacate the party area if they had other parties scheduled. She was not concerned about us vacating the party table but she did tell me that the unlimited play time was from 10-12 because that is when my party was scheduled for. I informed her that the company website states it is unlimited two hours of play starting at the first swipe. She said it didn't matter and she doesn't know why it says that but she would not honor it. Had I known this location would refuse to honor what their website advertises, I would have not paid the extra money for each child to get unlimited play. Additionally, she did not inform any of our party that we could pause our 2 hour unlimited play. So while we all took a break for pizza, cupcakes, and presents all the kids just had their time wasted. She was incredibly rude and I am amazed that she has maintained a position that deals with parents and children. If the company does not feel the need to make this right, we will be sure to never spend money with them again. I paid for a service and was denied the service I paid for.

Darlene
from Los Angeles, CA
I had a birthday party for my son and one of the the employee by the name Vanassa , had humility me and embraced me after I spend 456.00 over a plate of salads which I thinks was most in the Prejudice side which is on the same level they were also to Customer with hispanict background and I am as an African-American was embarrassed about the same situation at the moment. I don't think she his should be the place for prejudice or favoritism because of a group it is a family oriented place. Am looking into taking this to the media.

Autumn Copus
from Milwaukee, WI
I reserved a party for my child got there they had nothing ready for me said I don't have a reservation didn't accommodate me anyway kept blaming me that I didn't reserve I showed them my bank account with the deposit taken out then attitudes changed a little I was still not accommodated I was treated as a walk in didn't receive a host or anything I was unable to enjoy my sons birthday I had to clean up and was embarrassed in front of my guests. The staff was unprofessional. I always did walk-in party's in past and wanted my son to enjoy the full experience this time but that didn't happen then to top it off what really made me furious is we worked hard and spent ALOT of money to win 4000 tickets to get him the big Chuck e cheese stuffed animal to be told we no longer can buy it with tickets and need to spend cash to get it. I could have done that from the beginning. So we got stuck with 4000 tickets we could only purchase bullcrap we didn't want with them. How. Dare you guys take away the fun of the kids winning prizes no-one comes to chuck e cheese to buy prizes they come to win them. Get rid of the time play then if it's getting to expensive n you guys don't wanna let kids win stuff it's a complete rip off I spent 300$ and my son didn't get the B-Day he deserved it was a real bummer. I will not go back to chuck e cheese again until it's back to normal.

ray reyes
from San Jose, CA
My complaint is based on one of the manager that manages one of your restaurant in Cupertino California . Restaurant # 786 manager's name Erica Valencia , my son works there he loves his job and takes pride of his job . There's not a day that goes by that my son don't complains about the way the manager treats all the Employees she makes some of the girls cry but no one complains because they'r afraid of losing their job . My son called us today from work for us to pick him up his blood pressure was low n he was dehydrated he told the manager if he could go home that he had two episodes that he almost pass out ,she did't care didn't want to let him go home we went to pick him up anyways,if my son would have gotten worse because of her Negligence i would file a lawsuit.If there's nothing you guys can do about it then i will talk to my Attorney. Thank you . My name is Ray Reyes (408-717-1958)

ray reyes
from San Jose, CA
My complaint is based on one of the manager that manages one of your restaurant in Cupertino California . Restaurant # 786 manager's name Erica Valencia , my son works there he loves his job and takes pride of his job . There's not a day that goes by that my son don't complains about the way the manager treats all the Employees she makes some of the girls cry but no one complains because they'r afraid of losing their job . My son called us today from work for us to pick him up his blood pressure was low n he was dehydrated he told the manager if he could go home that he had two episodes that he almost pass out ,she did't care didn't want to let him go home we went to pick him up anyways,if my son would have gotten worse because of her Negligence i would file a lawsuit.If there's nothing you guys can do about it then i will talk to my Attorney. Thank you . My name is Ray Reyes (408-717-1958)

latoshia dawson
from San Diego, CA
the manager was rude and screaming at the kids when asked a question he ignored you talking to the employee very mean and wasnt trying to here anything no one says

Lauren Thomas
from New Orleans, LA
I purchased a defective watch so
I asked can I swap it out. The cashier than told me to leave the watch on the game for a couple of seconds.I did that and it still was taking too long to work. I told the cashier that it still was not working and he told me I had to purchased another one. I then asked to speak to a manager. Daniel came up telling me he can put it on a card. so i ask can i just get on another card.he said its 7.99. I told him why i have to purchased another one and I already purchased this one. He said its nothing he can do about it. He was very argumentive. So I told him i was going to report him to corporate. He then hunted his shoulders like he did not care, and told me I have an attitude. Who talks to a customer like that? He finally swap the watches and it work perfectly. I asked to speak to Jimmy who I thought was the GM. He hardly let me get a word out. He never apologize just kept making excuses. This is the was the worst service ever.

ANITA HAYNES
from Jacksonville (Maxville), FL
I booked a party online and the time on my reservation noted 5:30-8:30pm and that's what was on the invite that made during my reservation online. On the day of the party I found out that my party could not stay at the table i reserved for those hrs on the reservation site, but only 2hrs. My guests were still eating when we were asked to move and find another booth or table to seat everyone at. I was very upset thinking after I spoke to the manager those hrs will be honored since that is what I booked it for but even after showing her a pic she still refused. After all this I still had to pay the total amount due. :
Zarie's 2nd Birthday Bash
Saturday, December 15, 2018
5:30-8:30
Chuck E. Cheese's
Image
View invitation
Advertisement:
If you are unable to see the above invitation, click here.
We will never sell your email address. Privacy Policy
Add mail@mail.punchbowl.com to your address book to ensure you receive all invitations and cards in your inbox
Punchbowl, Inc.
50 Speen Street, Suite 202
Framingham, MA 01701

Sheila Senk
from Akron, OH
I take my grandkids here all the time. Disappointed with my last visit. Spent 47.66 dollars and didn't get the amount promised with purchase of two watches and my pizza was dry and hard. This is the first time I experienced any problems. I am on a fixed income and that's a lot to spend for me.

Loretta tiede
from Westlake Village, CA
Many. Please call me. This is terrible!!

Tara Aguilar
from Kennewick, WA
The machine are some of our tickets and the person next to us, they gave the people next to us a few handful of tickets and we were not refunded ours. We got an all u can eat salad and they had no salad in the salad bar. I told them And they still did not restock it. They were very rude. I called on Oct 23 to complain to a manager , he giggled a little and told me someone would call me back, and noone ever did. I live in pasco. Wa. . Thank you Tara Aguilar

Zahieh jamal
from Philadelphia, PA
I am disgusted with chicken cheese employee. I purchased pizza, salad, fries, and unlimited cards for my children. Yet when I want to bring in my outside food to feed my daughter. Jessica the manager wouldn't allow me to bring it in. After explaining the situation that my daughter can eat only certain foods. She still didn't allow me to take my food out of the package. She insisted on opening my bag of food to hand it to me. Then tells me I would have to bring an empty plate and show her the food. I have never in my life been treated like this before. I have done plenty of birthday parties here and I take my 4yr old to chuckee cheese WEEKLY. This is not how you treat people. She embarrassed me in the store. Which is disgusting and I am livid with chuckee cheese and this is not the end of my complaint. Who are you to tell me what I can feed my daughter.i have all my receipts for that day and this is the last time I came in this place. I would rather pay twice the amount than get treated this way.this is the chukee cheese I Parma Ohio.

Georgia Lilly
from Bedminster (Pluckemin), NJ
Upon arrival they were very rude they just mingle the pond each other no one could help us with the machines were having problems with when we were leaving they never check are stamps on our hands or our children's that was very upsetting and the food was not up to par at all we just walk straight out never even got to look at that is very scary nowadays I will never go back there again and I will let a lot of my friends know that used to be a safe place to take kids but the staff is definitely gone to nothing lately


Delisa E Thompson
from Los Angeles, CA
This location has to be one of the worse for Customer service. The manager needs to be re trained. The employees are rude and no one looks happy. If you don't want to be at work Go home because no one is making you stay

Caprice Rose
from Jersey City, NJ
My daughter applied for the as a team member. It took them a long time to get the job after the Managers gave her the run around on what day to come for training for the position. the Manager that hired her was resigning from his position , collected her resume and working papers, but never told passed on the information that he had hired her. The person that was replacement manager gave my daughter the run around for about a month or so telling her to come back next week and so on this back and forth was a challenge for her but she was persistent on getting the job and when she did get the job she was happy to get her first real job with Chuck E.Cheese located in Jersey City Rt.440 near the Hudson Mall. She worked 5 months and was never trained to do any positions not even the one she applied for but kept at kid check which is stamping hands at the front door. She would come home and complained about how RUDE, DISRESPECTFUL and INAPPROPRIATE the MANAGERS was towards some of the line staff. Because she was not one to smile, laugh and gossip with them she became a out cast. They used her not smiling as a excuse to not train her. Once my daughter called to inform them that she was not going to make it to work because I her mother was sick, That Manager asked her was there some else to take care of me because she was had to be at work and if was unable to come in she must find her own coverage. I asked to spoke with the manager she was speaking with and the female manager was very disrespectful and rude and went on to say that their POLICY was not to talk to any parents because the parent did not work for Chcuk E. Cheese and they only deal with employees. Keep in mind that my daughter is a minor 17yrs. What corporation have a POLICY like this.My daughter complained to the head Manager that travel around and checks on things at the sites. When the Head Manager looked into what her compliant was they she was told all negative things about my daughter. My daughter friends was asking about jobs and she informed them that her job was looking to hire and they came in for interviews, Long story short my daughter could not take it anymore and QUITE. Check E Cheese called all the kids that my daughter sent in and told them there was no need to come back and that they had FIRED my daughter. Her friends began calling her to find out what happened She had applied for job at Marshall upon them checking her work ethic at Check E. Cheese a manager told them that my daughter was disrespectful towards managers. This was told to my daughter when she called Marshall's check on the status of her application.Who blackballs a 17year old whom is just starting out for not wanting to be apart of negativity in the work place. SHAME ON CHECK E CHEESE ON RT.440 JERSEY CITY,NJ

cynthia morris
from Philadelphia, PA
i attended a first birthday party at you Roosevelt blvd location in Philadelphia Pennsylvania, upon arrival on 11/17/2018 with my three grandchildren and myself we were told the bathroom is flooded and out of service, but you can still attend your party, so we proceed in and we waited for pizza from the birthday party and was told there will be no more food served or cooked due to the flood, i bought my grandchildren to chuckie cheese to their cousins first birthday party and they couldn't eat and we came at 6:00pm for our party so my children didn't get to eat, i had to take them some place else to eat after a poor time at your establishment, the staff didn't come around to clean it was a very disappointing experience and i was just saying that i like chuckie cheese, again but i feel that the they didn't try to accommodate us in any kind of way, and it was a Saturday wasted, i wish i had taken pictures
sincerely a dissatisfied customer of chuckie cheese for over 20yrs
cynthia morris

Marie Kaar
from Lincoln, NE
On a recent cold Sunday they kicked out an 11 year old autistic child along with her 16 year old sister after the 11 year old screamed when the person in the costume approached her she was caught off guard. They also don't wear gloves when preparing food they also have machines that are never up to running order and they do not work with you on the pre-paid cards.

Ciro Castro
from Baltimore, MD
Had a confrontation with the floor manager who was upset because no one stamp us on the way in and wanted me to show him a stamp on my way out with my son. He approach me in a aggressive manner and I push him back because I fell treaten by the way he approached me as in a fighting stance. I am regular costumer at these chucke cheese and bring my kid her all the time. If stamp is so important there should be someone at the entrance at all time and have managers that know how to talk to people and not threaten customers. He still fallowed me outside and made comments that I was hiding behind my girlfriend for protection from him as drove off. Is a shame a great time that I had with my son had to end in these manner.

Hi I was at the Rutherford location today and I'm always here with my kids. I was treated so bad this time by the manager in charge. We got pizza and my husband got salad bar for one person as my husband was busy with my kids he asked me to get a salad for him as I was doing it the manager made such a big deal about it. So I will never come back again. The time was around 5 and 7 pm

Rhonda Melvin
from Conyers, GA
Horrible restrooms, long wait time for food. The place was not clean and the Birthday specials offered were late to include chucky coming out. Party was booked 3-5pm he did not come out to 4:18. The Kids were disappointed in the crowded space and poor performance.

Jesica
from Lincolnwood, IL
I had my daughters 3rd birthday party yesterday. My host was very distracted i had to go and find her 3-4 times because she just disappeared and it took like 5mins or so to find her each time. She only half helped with the pizza and she gave my daughter cake without asking. We wanted to do pictures which we didnt get like we wanted. She only filled half the kids drinks and said she was getting more and she came back after we did everything when i took the cups up there to fill them. The only time she was really around was when we did the ticket blaster and the singing with chuck e and to cut the cake and pass some out and then right after her presents she came to collect her money even though i was trying to handle my daughter. I had 15 kids and i paid the 24.99 each kid and bought a extra pizza. I then calles the manager after i left and he asked why i didnt say anything there i told him i was with my excited daughter who was go go go and i couldnt get to one and be away from her. He said as long as she had fun is all that mattered. The manager was don at the fort wayne, in location. He said he would send me coupons and i said we arnt going to be returning because we went through the same thing 3 years ago with my sons party and we decided to try it again and it was just as bad if not worse. I asked for a refund and he didn't want to do it then got an attitude and finally said he would give me half of what i paid but not my deposit. I said no if your gonna give me half back it should be the total amount of what i paid. I feel if i paid $405 i should be satisfied with my party which i wasnt at all. I watch the party right by me go great and all of my adult guest said something. And the host had an attitued because i wasn't adding all the adult stuff on my bill they paid for there drinks separately. I feel after the disrespect from the server and then the manager after a horrible party i should get a 100% refund.

The manager was arguing with me would not help me with my play point card my kids lost the card they would not give me a new one I ask them for refund would not give me my money back had attitude and was rolling eyes at me my sister mom and uncle came from out of town and I was imbarest the way the managers were treating them and myself will never go there again and want a refund and a better time at another Chuck E. Cheese

Price, price price....!!!!!! 25.99 a child for a kids party and the rewards are cheep plastic import junk. Come on you guys get us coming and going who wants to drop pover 500.00 dollars on 16 kids and parents for only two hours for poor quality food lots of noise and cheap prizes peer pressure and people stupidity allows you to rip off the average person not me lower your prices by half customer first

Jesse A. Mcnulty
from Atlanta, GA
Have feedback for Chuck E. Cheese?
Thanks for your feedback!
Sorry. Please try again later!