Gillette
Gillette Complaints Continued... (Page 2)
74+ reviews added so far. Upset? Call Gillette corporate: 1-800-445-5388

Rachel Gillette
from Manchester, ENG
HiI've always used The Gillette razor as I think it's by far the best plus my sure is Gillette too haha. But unfortunately the latest one I bought i used once and it ripped a long peace of my skin of my leg. So I checked the blades and they were all bent. So I'm wondering if you could send me some vouchers as I cost £15.

John Fitzpatrick
from West Yarmouth, MA
I paid over twenty dollars for five blades. I was only able to get about six shaves from each before the blade dulled. This is outrageous and extortion. What are customers going to do about it? I hope we can boycott Gillette until they decide to make blades more affordable.

Rami Fakhouri
from Amman, AM
After buying the Gillette Fusion machine and using it for almost one year, it suddenly broke at the top without exerting extra force to it. Attached photos shows how the machine broke while shaving. I tried to call the 800 number to ask for a refund but was only put on hold. How can I talk to a live person about this issue?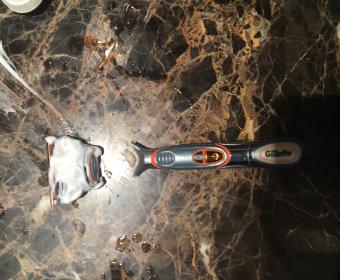 Sean Conner
from Indianapolis, IN
I purchased the Gillette pro-glide shave cream. The tip wouldn't let any of the shave cream come out. I figured it was just that one, but I went and wasted another 5 dollars on a second one and it's the same. All I wanted to do is shave but now I have to go waste another 5-6 dollars on another shaving cream. I haven't quite.decided Wether I'm going to give up on Gillette and go with a different cream or give you one more chance.. Regardless I'm very upset that I've wasted over $10 on your product!

Sean Martyn
from Sligo, C
What is this 100 word corporate headquarters stuff all about with Gillette? This the second time I sen a complaint to which I am still awaiting for a reply. The mach 3 blades I bought recently were blunt.

Sean Martyn
from Dublin, L
I purchased my usual Gillette Mach 3 replacement blades. The first blade appeared to be blunt then used the second and it was the same. Then purchased another pack which is fine. What do I do with the blunt blades? I have looked online for a refund number but it looks like billing department does not have a phone number.

John Kelleher
from Sydney, NSW
Good morning I have been a user of your mach 3 for several years and found it very satisfactory and was able to get at least 20 shaves from one blade. I find now with the replacement blades I buy I am only getting no more than 6 shaves from them the quality seems to have fallen back and I might add that I am 69 years old so don't have very hard whiskers and just wondered if any other men had any trouble with them. My rating to start with would have been 5 but now I could only give 2.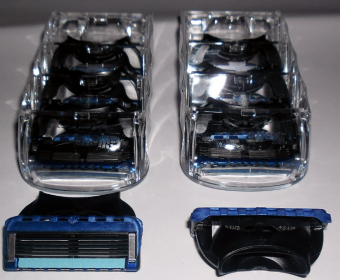 edward szuluk
from Stroud, ENG
I purchased the Fusion pro glide and found it was missing blades. Only 4 came and there was supposed to be 6 in the package. I demand a refund!

Mahmoud Magdi
from Cairo, C
Hope this mail finds you well. I faced with skin problem when I get my shaving cans from P & G (Gillette shaving foam) rusted and i received below email when i complained which is emphasize that his can is not rust resistant , and they didn't mention on the can anything as caution and when they use tinplate can they were know that it will use in bathroom and didn't use aluminum cans like the others in the same product. Kindly help me to avoid any potentially harmful effects to any person in the future. And kindly don't reply with it's not my responsibilities.
No it's your responsibility as human towards your brother in this world to avoid tetanus infection As a result of P & G Gillette rusted cans. kindly find the attached files you are now in front of cheating company as you see in the attached the rusted cans and the effect of rust on the healthy and the reference (handbook of Cosmetic Science and Technology) and the contributors in this hand book are consultant from P & G so they are good known and their email which is acknowledgement their can is not rust proof and from their web site.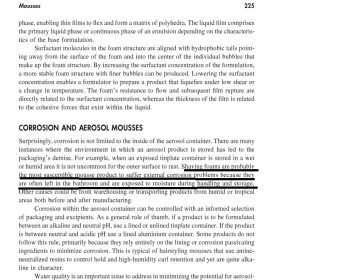 Tony Da Silva
from Hanover, ON
Good day, I have been a user of Gillette razor products for approximately 25 years. i have never purchased any one of the Gillette products that did not help me until now. I've been buying the Mach 3 razors for a good 20 years and the most recent package that i bought did not last as long as the previous packages that I've gotten. With one cartridge it was very rare that it would complete my face without having to change it for another one. It kept leaving out spots and the blades would go dull very fast. Seeing that I only shave once a week due to the fact that my facial hair doesn't grow that much in a week.
I always purchase the Gillette 8 pack and it usually lasts for a good 3 months. This time however, the 8 pack only lasted 1 month and a half. You have a good but expensive product, to go through a package that fast, it will not make it economical for myself. I'm not sure if there are any other packages that are defective like that one, but to be honest, i was not impressed with spending that kind of money to last such a short time.

Mike Odell
from Norwich, ENG
Hi, I bought a pack of Mach 3 blades from the far east. They look the real deal but are blunt when compared with the blades from my local chemist. I guess I got what I paid for, but would Gillette be interested to see them or is it a common source of complaint?

Tonya Gonzales
from Chicago, IL
I purchased refills for the Venus razor and there's a malfunction with the lubrication around the razor. It swells up and you can't shave with them.

Ricahrd Turkentine
from Cheltenham, VIC
I have used Gillette shaving products for many years and have always found your products to be very good. However I brought a packet a Gillette Sensor Razor Blades this week and they are over sharp and slightly jagged making for an uncomfortable shave and a number of cuts. I have had to stop using them. Have you had manufacturing problems with some of your batches?

otis smith
from Paris, TX
My blades was broke loose in package after I bought it at the store. I was wanting you to send me a free pro shield razor, but the corporate office declined my request for a full refund by check or cash. I guess this company no longer stands behind it's product?

Pietro
from Manchester, ENG
I bought a pack of blades and 2 of them were blunt, this is unlike Gillette can you help me contact corporate headquarters with my concerns?

George E. Lewis
from Grand Prairie, TX
I am finding it hard to find Good News shavers. I shop at Walmart,Kroger food store, and CVS,I am having trouble with those places with the shavers. Those shavers are very good, for the price, and shaveing experience. Please don't mess with a good thing, if that's what happening. I don't want to spend money on fancy shavers. I'm an old married guy that doesn't need to look like a male model when I shave. OH but back in the day. Please see what you can do about this. Don't force me to use a Buck knife to shave with. Come on Gillette, your an American icon for pete sake. Anyway,thanks, from the Lone star state, George Lewis.

liam cain
from Liverpool, ENG
Where do i start with my complaint? Well as i don't have a great deal of money but have always used Gillette products which i cant bloody afford! And the reason i use your products is because my mam used to buy me the razors and foam because she said that the cheaper products were no good for my skin. So now i am 32 and have left home and have to buy my own, so i have been using your products for 15 years in all.
Any way I seen your offer in the sun regarding the free new pro glide razor so i bought the sun everyday and sent my addressed envelope and stamp as requested along with the bloody tokens. And its now February and its still not arrived, and to make matters worse i am a bloody Liverpool fan and its against my wishes that i buy the sun. So if you could find it in your hearts to send me the razor it would make my day as my beard as you can imagine is pretty messy and long now because of you. Next time I am calling Gillette customer service and giving them a piece of my mind!

gabriel ramirez
from Phoenix, AZ
This is a poorly manufactured razor. I have been using your product before 1968 ,and this are the worse I have ever used. They pull your whiskers out instead of cutting them off. I went and bought a second package and they are also defected what is wrong with your razors?

David Sargent
from Hamburg, NY
I purchased the Gillette fusion beard trimmer! Sorry it sucks just doesn't perform. Gillette razors are awesome but this trimmer just does not work as advertised. Wouldn't normally complain but it was $29.00. Any way to get a refund don't think I can return it because I used it?

John Solari
from Scituate, MA
I've been buying your Fusion razor blades since introduced, but recently have been dissatisfied! I used to get 5-6 shaves from 1 cartridge and the last 4-4pack purchases I've only gotten 2 shaves before the blades start to irritate and cuts appear. I thought this must have been a rare/short term problem, but the down grade in quality seems to be more consistent and problematic for myself. I would hate to change brands but maybe you could explain or make good of the purchases I've made to keek me as a loyal customer.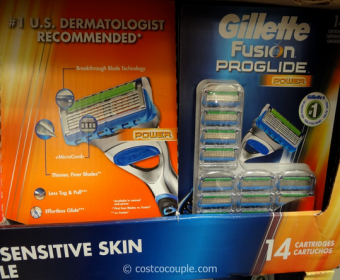 Best razor I have ever used. Never lets me down. It is truly a high quality product. It was seamless and gentle and pleasant, even. This razor is just fantastic. Gillette makes the best razors hands down. And the Fusion blades gives you the best 5 blades out there with the single blade for precision! here razors always leave my skin feeling smooth, no irritation left. I would recommend everyone to use this and definelty not stop using this one.
Have feedback for Gillette?
Thanks for your feedback!
Sorry. Please try again later!