Pottery Barn
Pottery Barn Complaints Continued... (Page 2)
68+ reviews added so far. Upset? Call Pottery Barn corporate: 888-779-5176

Melissa
from New York, NY
I ordered a bed July 2018, it is now October (end of) and no idea where this bed is and no customer service is getting back to me. E-mailed the CEO, she is worthless and no response. PB did take the $1500 out of my account, so at this point they have stolen from me. Not OK. I will never be a PB, West Elm, or WS customer again...will also let everyone I know, know.

Elsbeth Higdon
from Marble Falls, TX
Let me preface this by saying this is the first time I have ever written an online complaint.
Is there anything less than one star? The worst customer service I have ever experienced. NUMEROUS calls to resolve my issues (notice plural). Endless hours on hold, I was told a supervisor would call me, who never did, I asked to hold for a supervisor, and was put on hold for an hour or more only to be connected with another "Customer Service Agent," or cut off. I was finally told tonight by a Customer Service Agent, that it is impossible to connect you to a supervisor, all they can do is send a message for a supervisor to call you, haha jokes on me.
First, there was a "Rewards" Certificate credit on a purchase made in July, that was just resolved last week, then a furniture delivery which was scheduled for delivery on Sept. 28, 2018. That morning I received a message saying they could not find part of my order so it would not be delivered that day. I called the next day to get an update and was on hold forever. I was told they could not figure out what was going on and they messaged the warehouse to contact me for an update. No word from Pottery Barn, SUPRISE. I called the next week and told them if they could not deliver by that Friday, to cancel the order. Online the order status is "Return in Process or already returned." I called after holding for an hour or more explained the problem, was put on hold and disconnected. I finally, filed a dispute for the purchase on my Pottery Barn Credit Card. Today I received a letter from Pottery Barn Credit Card (Comenity Bank) asking for additional missing information which I already provided over the phone, to process the dispute.
Two days ago I received a call to schedule the delivery?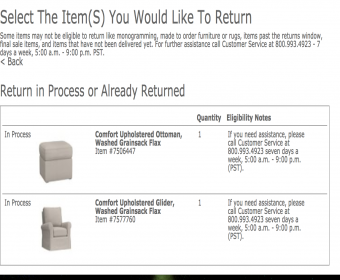 Cathy Jordan
from Burlington, MA
I placed and order on September 15, 2018 for Penelope lace Wall Art Medallion. It is now a month later and I am still waiting NOT just for the order but also to at the very least be provided with accurate information regarding the status. After making at least 10 phone calls to the customer service number and having been put on hold for 20 minutes or more after reaching a representative, and been disconnected 3 times, as well as having been told false information such as a delivery date, AND a promise that an email would be sent to me in 48 hours from the distribution center (of course I did not receive one and it has been a week) who was suppose to contact the vendor, I am still WAITING!!!! POOR customer service and a lack of professionalism.

Tiffany Eddy
from Dunbarton Center, NH
Shame on you Pottery Barn!!!! I am a single mother of two and have previously loved decorating my home with your beautiful items. I have been a faithful customer until this recent experience where I have been treated so poorly I don't plan to work with you again.
On August 31st I decided to move forward with the purchase of two Irving Leather Armchairs. According to the website with the Quick Ship option that I chose I would receive the chairs in 2-4 weeks. I bought them on the "Buy More Save More" promotion and as with any new purchase couldn't wait to get them in my house to see how they looked. Let me preface this by saying that I have LOVED Pottery Barn! Pull up my account, right now, my living room, my kitchen, my home office, and my bedroom are all decorated in Pottery Barn – I have spent tens of thousands on your furniture and always found the quality to be high and worth the price tag. Our relationship has always been positive with the deliveries on-time and friendly service. But my latest experience has been a disaster - the delivery service - horrendous.
My first delivery for these chairs was scheduled to take place on Monday, September 10. I scheduled time off from work in order to be home to meet the delivery. On Saturday the 8th (on the weekend when it's too late to change your Monday work schedule) I received a phone call from the Pottery Barn delivery service that my delivery was postponed because the chairs didn't get shipped up from North Carolina. I was disappointed having already scheduled my time off from work but understand things happen.
My delivery was rescheduled for Saturday, September 15th. My daughter had a soccer game, so my timing for the delivery window was tight but I had a kind neighbor next door who was willing to help and be at the house. When I called to find out when they would arrive they told me they had already been there and that they took pictures of my house. I asked why they didn't call me and was told that they had phoned me. I NEVER received any call. Again, I asked what number they called and they gave me the correct cell number but my phone NEVER received any call from PB or their delivery company.
My delivery was then rescheduled for Wednesday, September 19, between 1:00 and 3:00 pm. I took the afternoon off from work to ensure that there was no miscommunication. I was so excited to get the chairs and see how they looked in the house. At 3:00 after not hearing anything from Pottery Barn, I called the delivery company to inquire about the delay and I was told that they had been forced to cancel my delivery because trailer with the chairs coming up from the south had been delayed. My response: that can't be correct because the chairs were allegedly here this past Saturday. The woman on the phone told me that they had sent me an email and called me to tell me about the delay. I NEVER received any sort of communication!!!! I told the service representative that I hadn't received anything from Pottery Barn and she told me I needed to look in my junk email and that something must be wrong with my phone. (There was nothing in my Inbox – junk or otherwise and my phone is working perfectly). I have received all my other emails regarding Pottery Barn and deliveries with no issues.
The woman on the phone offered to reschedule this delivery yet again for two weeks from now telling me that they were still within their 4-week delivery deadline, so I had no reason to complain. When I mentioned that I have now taken two afternoons off from work to be home for the delivery and I would now be forced to take more time off from work she could have cared less.
Sorry Pottery Barn but this is disrespectful and unacceptable and terrible customer service. Buying new furniture should be a positive, exciting experience. However, somehow in this process, you have made it frustrating, stressful, and I have now lost a full work day waiting for items that were never coming. There has been poor communication and honestly, when I finally get someone on the line, they could care less about my customer satisfaction.
I notice that Ralph Lauren has leather chairs that are just as nice and according to their website can be delivered in a timely fashion. This situation with Pottery Barn has been wrought with horrible communication and disrespectful employees and not something that I will be coming back to experience again. I don't need to be treated poorly and lose money by missing work when I am paying over $1,800., for a chair and ironically $229 is for the shipping which has been the point of contention.
I went through all of my records and know unequivocally that I never received any notification either in email or phone (as I was told I should have by this unhelpful customer service woman). I was left to wait for a delivery that was never coming. I took time off from work to be home TWICE and never had the courtesy of being told that I wouldn't be getting a delivery. If I treated my clients the way I have been treated by Pottery Barn and their delivery company I would be broke. To be so cavalier with a customer and treat them so poorly is a headscratcher and bad business. For future purchases, I am definitely going to look elsewhere and advise my friends to do the same.
- Tiffany Eddy

Linda Lord
from Chesterfield, MO
The worst company that I have ever dealt with in my life. I ordered furniture on June 16, 2018, with a 5 business day turnaround. I still to this day, August 8, 2018 do NOT have my furniture. I have spent the last 2 months on the phone, placing calls every 2-4 days a week talking to customer service, the warehouse, managers, everyone and anyone who would help. I got no where and no one could find anyone to help to take care of this issue. To begin, I ordered a sectional that had 7 total pieces with 7 cushions. For the last 2 months I have received piece by piece and still do not have a full sectional. I paid over $3500.00 and they have had my money for over 2 months, getting interest on my money, without me getting my furniture. Now I am on the phone again, August 8th and was told my left arm chair and right arm chair are back ordered until September the 8th and this is still NO guarantee I will receive it in the month of September. I would and will NEVER purchase another item from this company and will tell everyone and anyone I meet to NEVER trust this company or order from them again. What a horrible run corporation!!!!

Angelina Armeiskaya
from Rockville, MD
My complaint is about a product and a customer service as well. I have purchased a PB Comfort Square Armchair Sleeper a little over two months ago. I had my son sleeping on it for 3 weeks in June. On July 3 I flipped the mattress over to only find out it's all molded, the cover, the mattress and the base. I called customer service right away and sent them a few pictures of my discovery. I requested a removal of this whole Armchair Sleeper. Haven't heard from PB since. I keep calling their customer service that takes up to 30 min wait time. Then I get told the supervisor will be calling me back in the next 24 to 72 hrs. What is with PB customer service? How hard is it for a supervisor to call back and schedule a pick up? Not only do they sell toxic Chinese made components, but they also do not provide any help when they have to. I say improve your customer service before you go out of business.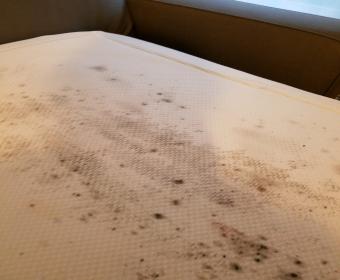 Nancy Zeigler
from Normal, IL
Ordered an item online and it didnt show final price somehow...so then i looked at my paypal email and discovered id been charged $199 for " white glove shipping. " i called immediately and was on hold for 30 min. Finally was told my paypal acct would adjust....? So then i noticed itd been withdrawn from my bank. I tried to call again and put on hold again and recording said itd be another long wait.. i sent 3 emails during the day. Never heard back. Tried again last nite to call and same recording about long on hold time. Finally i wanted it resolved today before it was shipped so i waited another 30 min on hold and cancelled order. Im more than appalled at such poor customer service and the fact that the site didnt show total when ordered or would've cancelled then.

Olivia Flanagan
from Albany, GA
I have spent hours on the telephone with your company returning a coat rack. UPS picked it up at my house the day after your representative called to say you were picking it up. Now you say you don't have and want me to pay for it.
I have purchased thousands of dollars of furniture from PB, all of which I paid for promptly. I don't need to steal your ugly coat rack. And that is what you are accusing me of and I am furious.
I will never shop with you again, no matter how badly I want or need it. I will share on every social media I can find that if you return something to PB, you should jump on the UPS truck and ride to PB to be sure it gets there. Or be prepared to be accused of thievery.
This is the most time consuming, insulting, disgusting customer service I have ever heard of. I am going to pay for something I do not have or want to keep you from comprising my excellent credit rating. That is blackmail in my eyes.
Olivia Flanagan.
P.S. your automated telephone systems does an excellent job of keeping your customers from easily speaking to a human. Now I know why.

Kate Kim
from Lawrenceville, GA
I am about to put a complaint about the customer service at the Mall of Ga with Ms. Amy by misinformed to customer and change the story about the rug being clearance with extra 15 %off but didn't by changing story that it was not even though it was and didn't appear on the receipt. Mr. Matt who I was talking on the phone hang up on me when I complained about it. I will put a compliment at the business buero with code of ethics by lying to the customer which I found out after I got home. I will never go there and do anything about this incident ... horrible customer service and not admitting that they were wrong by telling customer wrong information and deceiving customer.
I will write a letter to the corporate office, business beuro, web, maybe sue them? My husband was next to me and now they are changing story and telling both of us lier instead of apologizing to us about the wrong price. I will make sure either I get the credit or they telling me "I am sorry for telling wrong information and a lie to customer. I've been shopping there over 10 years but never experience this kind of Bs like this.
Do something about this two employees
Amy & Matt #121636 employee id.
Well, it was worst experience in my life at the Potterybarn and never shop there until this resolve.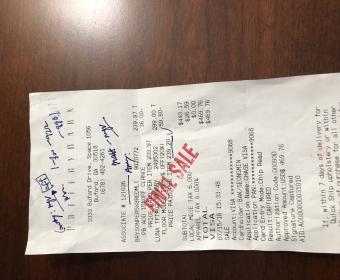 I have been a loyal Pottery Barn customer for 15+ years. I have purchased thousands of dollars of furniture and bedding from PB. I wanted to let you know about the WORST customer service I have ever received from a retail brand.
I ordered the Chatham Outdoor sectional – Order number 081287554152. This morning they delivered the sectional WITHOUT the cushion set The cushion set is sitting in the warehouse and could have been delivered with my sectional. However, they told me the truck was full so I had to wait to receive the cushions until 6/27.
I have my sons' graduation party tomorrow night and have no cushions to place on my furniture. I will be sure to tell every person that asks about the poor customer service experience I have experienced with Pottery Barn.
When I was talking to the service rep from PB she said that this was my fault as I should not have scheduled the party – and that PB was not at fault. Please feel free to pull the call and listen to it. It was the worst example of customer service I have experienced in my 50 years.
I know PB has deliveries on Saturday and the cushions COULD be delivered tomorrow (or overnighted). But the customer service reps said that they could not make that happen.
Therefore, I will continue to spread the word about the service I have received on Twitter, Facebook and Instagram.
Lisa Wittenberg
404-218-2415

Karen Brimhall
from Corvallis, OR
Order #080736283642 Placed on March 14, 2018. Initially received a estimated delivery date of 4/4/2018, then was extended out to between 4/10 to 4/19. Didn't here anything from anyone so I call cust. service on 4/16. Spoke to Eve and she sent me to Shelby in Furniture. Shelby relayed to me that my order was sitting in warehouse and ready to ship. I should receive a phone call the next day. She gave me a schedule number, HUZ0020088 , so that I could ref. the order when they called. Waited for the phone call. Never came. Call Cust. Serv. today, 4/18, spoke to Tamiko who tried to be very helpful and locate the problem. Admittedly, she could only go so far, apparently no one can speak to the delivery company. In other words Pottery Barn and the delivery company don't communicate. When I insisted that I speak to someone that could speak to the delivery company, I was transferred to Jessie, one rude man. I was informed that the two arm chairs are somehow missing (?) from my order and the delivery company won't deliver until the order is complete. It's all a little confusing ( the story became somewhat convoluted). In essence, Jessie said he could get my table and 4 chairs delivered and the other 2 chairs would be UPSed to me and I could assemble them myself. What ??? I could understand this if you were Ikea, Walmart, Target or some other.cheap furniture store. Help! Karen Brimhall #541-981-2872

VICTORIA FAKHOURI
from Wappingers Falls, NY
To whom it may concern, 
Earlier today I visited the Pottery Barn in your Danbury CT location ready to purchase the Banks Dining Room Table (link at bottom of email).
I walked in with my husband and my 2 children waiting for someone to assist me. After about which seemed longer than 20 minutes of associates passing me and not awknoledging me, I walked up to the register to ask for help and the associate said "I'll be right with you".
Another 10 minutes go by of no one helping me, meanwhile my two kids are playing with their own stuffed animals not even touching anything in the store just minding their own business. I was SHOCKED to see an associate at checkout eye me across the room and told me to shush my kids waving her hands up and down RUDLEY and extremely unprofessional. 
All I came in to do was ready and willing to purchase this table and be in and out. I'm extremely appalled and in disbelief that no one offered to help me and literally scolded me kids.
I have been a loyal customer to pottery barn since I started a family and this experience in this location has greatly altered my view of the brand. I want to have someone aware of this incident as it is unacceptable.
Regards,
Victoria 
Banks Extending Pedestal Dining Table, Grey Wash
https://www.potterybarn.com/m/products/banks-pedestal-table/?pkey=e%7Cba...

Kevin Farrell
from Brooklyn, NY
I was just asked for feedback by Pottery Barn Customer Service. The interaction with their representative (Brianna) was pleasant. She addressed the shortcomings (and apparent incompetence) of personnel involved in the order-taking and shipment of the items we ordered. Unfortunately her efforts were not successful.
In brief our first order was #062529896272. It was for three (3) gift wrapped wedding gifts (1 duvet cover #4032280, 2 shams #4036745, and 3 sets of flatware #6887702). The difficulty was that all items were assigned one tracking number. The subsequent delivery of only three items (the flatware) (in a carton #1 of 1) caused all three items to be marked as "delivered". Fortunately we were able to question the UPS deliveryman who we know for years. There was no other packages.
I then called and spoke to Brianna, who tried to arrange for replacement items. She said that someone would come to examine the delivery carton on Saturday. That never happened, although we waited in the house all day. The remaining two items (Duvet and shams) were delivered today (Monday) in one box today. We paid for individual gift wrapping for each of the original 3 items.. one gift wrapped box for 2 of them is not usable as the gifts are intended to be from different individuals.
We have now had a second conversation with Customer Service (I did not get the representative's name) and are awaiting two separate gift wrapped packages, at which time we will return the now unwrapped items we received today (It was necessary to unwrap the package to determine what was inside). All in all, a thoroughly unnecessary experience with Pottery Barn. The Customer Service people are doing their best at dealing with the Shipping Department's errors.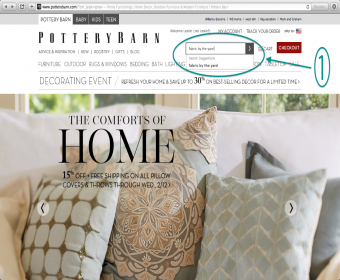 Louise schuster
from Camp Hill, PA
Used the online Pottery Barn and ordered a light scone. At the delivery page, it listed one page delivery and stated it would be delivered the next day if ordered by 6 p.m. I then received an email indicating it would take 2 days to receive the item. When I contacted customer service I was informed there was not next day delivery available and only two day delivery. If I selected and paid for next day, I expected to receive next day. Pottery Barn is engaging in deceptive practices on their intent site. Here is information from webpage:
Shipping Method, View Shipping and Processing Charges - Standard, Next Day (+$17.50)
- Orders placed before 6pm PT Monday–Friday will arrive next business day.
- Orders placed from 6pm PT on Friday–Sunday will arrive on Tues.
- Gift card orders placed before 9am PT Monday–Friday will arrive next business day.
- Monogrammed items take additional days.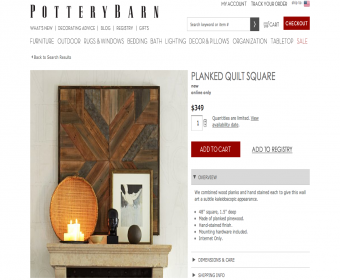 Karen Carl
from Ashland, OH
On January 8th I ordered a quilt and shams from Pottery Barn online, order #060079755782 and 060079764802. I have not received them yet which I expect to next week. My complaint is I ordered this in 2 orders because I should have received a 15% off coupon and then I was going to order the quilt to receive the discount. I did not receive the discount and for some reason I went ahead and ordered it, now I see you have 20% off 2 days after my order. Should I reorder and send the original one back to receive the discount. I am a first time customer and a little upset about this.

Valorie K
from North Las Vegas, NV
Ordered furniture online. Delivery email sent. On hold 28 minutes to set up delivery date. No luck. Called Pottery Barn customer service and got date. Date cancelled and rescheduled by email date and time to be delivered. Received email confirm of date and time. No delivery at appointed time. Customer service said delivery was cancelled. No one notified me. Now, customer service trying to figure out what is going on.

Pottery Barn has some amazing furniture and home furnishings that one could really love to have. I have gifted a modular bar buffet to my husband and he really loved it. At Pottery Barn one could really find some good collection of furniture that suits your home. I purchased some drapes and curtains for my apartment. They have good quality products which I am impressed and would recommend this to anyone who is looking to buy some home furnishings. My order was delivered on time and they kept me posted on the status of delivery.
Have feedback for Pottery Barn?
Thanks for your feedback!
Sorry. Please try again later!