Waffle House
Waffle House Complaints Continued... (Page 2)
86+ reviews added so far. Upset? Call Waffle House corporate: 877-992-3353

Charlotte Moore
from Los Angeles, CA
I went to Waffle House this morning 7/6/18 on my way to work. I only ordered a Pecan Waffle. Sara Sue was waiting on me. She charged me before I got my food and the bill was 4.78 and I gave her a dollar tip. I waited literally fifteen minutes on my waffle, then I asked how long does it take to cook a waffle? Then another work checks it and says did you want it dark. I told her know and to give me my money back. That is when another worker Myte intervened and said I will cook you another one and it will only be a minute. Sara Sue this entire time was walking back and forth, not working, playing and my food was burning up. Very poor service and since I paid in advance she even got a tip. This was store 1697, 375 N. US Hwy 67, Florissant, MO 63031.

Sabrina Parks
from Indianapolis, IN
My husband and I visited Waffle House on Blythewood Road in Blythewood South Carolina the window was lined with flies and we asked the waitress to see if they could put something down to clear the Flies she said we can't do anything about that while customers are here so I didn't say it to her but when we move she had at least 7 minutes to put something on a cloth and wipe the window sill down to repel flies and she did not her name was Ruby on July 4th at 8:15 a.m. I think this was very unprofessional and nasty with a capital N. Thank you Sabrina S.Parks

We travel a lot for my disabled sons doctor appointments so we eat out frequently. We stopped by the plant city waffle due to the bad weather on the road. We were there about 3:30 and the only customers in the place. The floor had lots of food all over it, the window we sat by has something black on it and there was a funny smell. We only stayed because with my son once we go into a restaurant he won't leave until he eats. The food was good, but the waitress seemed like she was bothered by our presence. She did not refill drinks and was not friendly at all. She did spend quite a lot of time talking to two girls who came in whom I assume were her friends. We still left a tip, because regardless of service I believe it's rude not to but we will not be going back! Thanks for your time.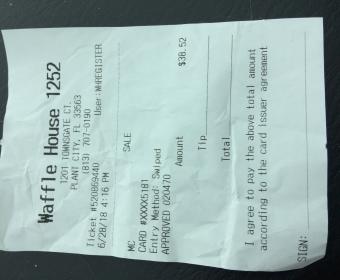 Crystal Blaney
from Ashburn, VA
I filled out an application to become a manager, well I went through the process and spoke with Kashara Moorman and Inge Werts, everything looked good, they set me up to do an in unit to learn what the managers do for the weekend of 6/22-6/24, and then today I received this email...
 June 26, 2018
                                 
Dear Crystal,
Thank you for your interest in the Restaurant Manager opportunity with Waffle House.  We are honored when an individual considers a career opportunity with Waffle House.  We receive many applications for the Restaurant Manager position and unfortunately, we are unable to select all job candidates for further consideration.
 
We have reviewed your electronic application and have determined that other candidates more closely meet the qualifications of this position. We will not be pursuing your candidacy for Restaurant Manager any further at this time.
 
We appreciate your interest and the time you have invested in interviewing with Waffle House.
 
Please accept our best wishes in all of your future endeavors.
Sincerely,
 
 
Kashara Moorman
Area People Director
Waffle House, Inc.
 
 
Kashara Moorman I Area People Director I (404) 719-0602 I 5986 Financial Drive,  Norcross, GA 30071 I  kasharamoorman@wafflehouse.com
I feel like I wasted my time doing the in unit to not be hired, I am very upset by this and would like for someone to contact me about this matter at 912-341-5063 or clea1810@gmail.com
Thank you,
Crystal Blaney

Food cold!!!!!! Visited WH Phenix City Alabama @3 am 6-22-18 while traveling to Savanna. Food was cold and guts tasteless and lumpy. Ordered scrambled eggs, raisin toast, bacon and grits. Asked waitress to heat it up. No microwave so they recooked order minus the cold hard bacon. Barely, I mean barely, warm. So tepid the butter wouldn't melt on toast or grits the second time!
Was not busy, only 2 other customers! Waitress was nice but you could tell the cook ( listening to his music with earphones completely disinterested) had an attitude. Place is old and greasy with dust stuck to grease on the tile walls. This place needs a serious cleaning at the very least! It'll be a long time before I visit another WH and I've loved them for years!!

Jane White
from Richmond, VA
Our waitress was not at all attentive. She waited 10 minutes after taking our order before she called it out to the cook. She never came and asked if we needed drink refills or anything else. All the staff was very loud, yelling, laughing and cursing. A man came in with a bag and box of frozen shrimp for one of the cooks who wasn't working then. The waitress threw the shrimp in the ice they use for customers' drinks. I had to clean food off my seat before I sat down. Also, when the waitress handed me my change she was eating something, and in amongst my change was what looked like a butterscotch or caramel morsel used in baking. This was in Richmond, Va on Willis Road and our waitress was Donna. We are staying in a nearby motel for a few days, but we won't be eating there again. (We visit this area quite often.)

Corey Prince
from Ormond Beach, FL
I went to the waffle house in port orange on nova rd in florida and i experienced some of the worst service i ever experienced,, our server clearly didn't like us, she never acknowledged us or nothing, our food was as horrible as the service,, normally we eat here once a week and look forward to doing so but this experience is a potential game changer,,, i needfor someone to contact me so i can give better details,, my name is Corey prince and my number 386 451 3397

Kevin Abel
from Atlanta, GA
This is a compliment. The workers hustle and move fast to serve food. I think they deserve credit for their effort.

Maria
from Sterling Heights, MI
The waffle house on NC 54 Durham Nc doesnt care about their customers, we were in there for 40 min waiting to get a table wiped and in the end the server just ignored us, customers were walking out and they made no effort to clean the 3 empty tables so people could sit its not the first time this has happened in fact this has happened four times already

Jason Robbins
from Charlotte, NC
My complaint is very disrespectful lady does working at the waffle house here in Decatur Alabama Beltline when having really really bad major problems with my knee and I have my knee propped up in a chair in the lady wants to take another chair and hit my leg with the chair you know it's very disrespectful you can see I really did not appreciate that the restaurant because of the way she acted like it was just nothing to it wouldn't have my leg propped up if it was just nothing to it

Will Gegenheimer
from Gretna, LA
Waffle House on Manhattan Blvd., Harvey LA. Needs management.
I am a regular at Waffle House And am only sending this message to help improve this location.
I have not been to this location in about 3 weeks. Today March 29, 2018 was not a good day. The counter to my left never got cleaned the entire time I was there. Service was slow then non existent. I ordered the All Star breakfast and coffee. Coffee came in about 10 min. Bacon came in about 10 min. Waffle came about 15 min later, a drop and run (no butter or sirup), eggs and toast sat by the cook on a plate for about 5 min then the grits were put on the plate. The plate sat for about 6 min. waiting to be picked up by my waitress. I got sirup from another customer 3 stools down. Finally received my eggs, grits and toast. Asked for butter and coffee, I received butter, coffee never came. Terrible morning at Waffle House. The table to my right with two ladies received the same royal service. Different waitress. None of the servers seem to pay attention to the customers. Something is wrong at this location. The two Gretna, LA locations have been very good. Also Hammond, LA and Macomb, MS. Good service.

Jeremiah Payne
from Montgomery, AL
The waffle house in Franklin KY where my wife works got off at 9pm and at 9:30 she got in car well the waitress named Shannon came running out to car and demanded my wife go sweep under a table she said I'm off the clock sorry you should have asked me before I came out and she started saying oh OK bitch we will see. I started to say we have a sick 3 month old in car and need to get home bit before I got it out she was on my side of car treating to beat my ass and knock my teeth out and told me to watch out my day is coming. So they let crazy people serve food now days. My wife did not even have to stay the extra 30 mins she did. But it's uncalled for and she should be fired. I will take this to court if I have to cause I don't like being threatened with my baby in the car by a crazy woman who another server was holding her back or she would have attacked me. This is uncalled for I ask that she loses her job or I will be taking legal actions

Ronnie Giles
from Phenix City, AL
The service at a waffle house in Ozark Alabama the waitress do not smile to do not greet you they do not come back and check on you the service is really bad the food is OK I've been there the last three times this month in the service is the same does not matter which waitress waits on you I couldn't give y'all a one rating on this place

You changed the coffee. and it is terrible. I will not go back. It is ruined.. It is so strong no one likes it.Kathy Brown

Felicia Rogers
from Stone Mountain, GA

Tracy Weston
from Lawrenceville, GA
Rude waitress her hame was Mandy from the 351 store on 1724 Walnut St Cary Nc 919-467-5950. She was very rude we made a mistake about cooking our eggs and we apologized, she said she did not have time to fix our order. Then came back and grabbed our eggs we apologized again. The the other person with me never got her sausage until we were leaving. Needless to say there was a hair on it, she said it's not a hair and grabbed it again. Oh and the fridge needs to be cleaned out it smelled horrible. After we left anotherlady was leaving she told us people complain about her all the time. Also I called to complain to the manager on duty she answered she she said she was doing the best that she could then hung up on us never got to speak to anyone but her. The bad thing is I love Waffle House but you can't have an attitude like that working with people. I manage a finance co and I know Customer is always right. We some times hate to admit it but it's true. Also never ever tell some one you can't. I don't believe in the word. Thank you have a great day!!! Sorry!!!!! Any question please contact 919-2229679

Normajaybertrand
from Tampa, FL
On Friday Nov,13,2017,at9;00pm me Norma Jay and my son sat down to drink coffee,injoy a meal and music we played on ur jukebox off Maggie street,across from McDonald's restaurant,no one bothered to come and wait on us for 4solid hours,sir and they said we wasn't inportant enough,the bar run was more important than we were,one black male manager said it was because of the country music we played,really we r the customer correct,we'd already at there twice earlier during the day paid my two bills,left good tips,$3at the max Brice knows,he was one of our waiter,then we leave came back to this!a meduim build black women manager with short curley hair,who made the comment,we wasn't inportant enough to wait on sir and a employee black girl maybe in her twenties who wore brown glasses never once offered to get me a cup of coffee,but she sure was quick to cause me to get kick out and threatened by her manager who made fun of my son by stated he was retarded looking!for liking Elvis presley music,really hurt my son,

Heres my complaint.im a disabled vereran .and have eaten at several waffle house restaurant up and down tge east cost as i travel offten.abd even gere in my home town on a regular basis.but as veterans day approaches.ive notice tgat waffle house dosent offer anything to vereran on veterans day nothibg free not even a cup of coffee.not even a discount.as many resturants as waffle house has up and dow. The highways.its beyond me why they cant afford to offer vets something during this time.i mean mist other chains offer atleast something.so from now on i will not be spending my money at any waffle houses.and i know from my experience.that wgat it cost to eat a waffle house.tgey could afford to do something.this in my opinion.is just sorry.

edward murray
from Kingsland, GA
we had a hurricane in Georgia and waffle house was open so my family and I went there to eat something we do about 10 times a month.when we went in and sat down they gave us a revised menu with inflated prices and gouging people who just went thru a disaster and because of this I will no longer be going to waffle house facilities. I think this was in very poor taste to rip off the public.the waffle house was in kingsland Georgia.

Dempsey Hydrick
from North Myrtle Beach, SC
9/10/2017 served 8:30 pm
Service was awful. Waitress had to be asked three time to bringsilverware after being served coffee that took two times reminding to serve. Did not know what a omelette included and had to be asked to ask.
Grits were stone cold and lumpy. 3 egg omelette was very little egg overcooked with a lot of cheese after asking for light cheese. Ordered raisin toast served white bread.
Wife's hash browns were raw and undercooked, bacon was left off. This entire crew should be replaced. They can't be this incompetent. It was although they tried to be horrible and succeeded.
Will never go back.
Dempsey Hydrick
N Myrtle Beach, SC

Gene A. DeMarie, 1051 South Highland Street, #7B, Mount Dora, Fl. 32757
from Mt. Dora, FL
At 9:30 this morning, I visited the Waffle House in Mount Dora, Florida. I had no choice - with a hurricane coming, everything else was closed. My experience was a classic example of being ripped off during a crisis. I am a disabled senior citizen, so my options were very limited.
The menu was reduced to a few items on a xeroxed sheet of plain paper. No regular breakfast items like bacon and eggs. Mostly lunch items with hashbrowns Supposedly, the very limited menu enabled the restaurant to serve as many people as possible, but everyone saw through that excuse. .
The food was terrible and grossly overpriced. I had one under cooked waffle ($3.50), two small and tasteless sausage patties ($3.50), and a cup of coffee ($2.00), That cost me $9.00. NINE DOLLARS!!! Unbelievable! I will never again patronage a Waffle House, no matter the weather conditions or any other condition.

Rebecca smalls
from Bluffton, SC
Derrick Murray is very unprofessional at times and as I know he drinks on shift I have smelled it on his breath multiple times his employees have also chattered with me on this particular situation Also I hear he has had relations with many of his employees and I think that is very unprofessional and also a rule of some sort? I cannot believe the things I hear of this particular individual. I believe he need to be removed of his position.

Mary Beth Tyus
from Atlanta, GA
I visited the Zelda rd locations and purchased ham and cheese omelet with hash browns. The ham in my omelet was spoiled so I said sum to manager and they said 10% off was all they could do. What I don't understand is why would I have pay anything for sum I can't eat.

William Foley
from Charlotte, NC
Every Waffle House I have been to around the United States has more parking then they do seats inside of the restaurant. Will someone please explain to me why in the hell this is how can you get people to eat in your restaurant if there's nowhere for them to sit butt you can park a football team in the parking lot?

Shirley Brightbill
from Tallahassee, FL
So cold in there could not eat food. Food turned cold before a chance to eat even. Was 45 degree out side this morning and House felt even colder then that. Ever one complaining even workers wore sever layers of clothing. The location is 777 Capital Circle NW in Tallahassee, Fl. Always too cold in there. Menus flapping on counters from blowers. I paid $6.35 for my meal and just drank coffee then hurried back to my warm car. Please management, will you turn down the air condition and save your self money also. Older customers can not cut these cold condition and you will find a lot of seniors eat there or try too.

Robert
from Stockbridge, GA
The Waffle House (2195) had just opened this location in our neighborhood so we was looking forward to going this morning and trying it out. Apparently we arrived at the end of the night shift the morning of 6/4/16 we sit down and wait hoping for some coffee to start off with and after a 5 or so minute wait our waitress comes up and takes our order which is fine, so we ordered asking for some coffee mainly at the moment and the waitress leaves and puts our order in, so we wait and wait and no coffee. look for our waitress and she had gone to the other end and sat down.
Finally another waitress says something and she gets up and we say can we have some coffee and she said it is making and I said Mam it stopped making when you went and sat down, she was looking right at it. She was not polite from the get go. never brought our orange juice, the cook had to do that. Bottom line I will not be in a hurry to go back. Granted if I had to work night shift putting up with a Friday night crowd I probably would have the same attitude by morning. Not a job for me. I did not go into all the details but the experience has always been better at other waffle houses I just hate this is the one closest to work and home and the North side of Aiken needs to grow in this direction. That I guess is more of the reason I am speaking up because I do not want to see it fail.

Darius Plank
from Bellefontaine, OH
My wife and I ate supper at 5 pm February 29 at the Bellefontaine, Ohio store. Our visit and meal was ruined by a waitress named Rhonda who was so loud with her constant talking, not from placing orders. I could not carry on a conversation with my wife sitting in the same booth as me. I even looked at her at her worst times and received an apology from her, but it didn't stop or change her loudness with the other workers. Left Waffle House very stressed and upset. The food and service from our waitress was fine.

Eric Singleton
from Clayton, NC
I call about every morning to place and order at the waffle house at1617 Julian R Alllsbrook Hwy Roanoke Rapids NC. Most times they don't answer the phone and when they do answer they tell you to call back in 5 minutes. I know they are not that busy that someone cant take a phone order If this is the case then the restaurant is being manage very poorly and should consider hire more people that can take orders. Plus the wait staff can sometimes be very rude if they don't want to work why bother coming to a job where they give you a pay check for doing absolutely nothing.

Here is my complaint about Waffle House. Our food was not good. My husband's egg and sausage was fried too long. The hamburger roll was semi-hard and his milk was warm. My hash browns were no done. Our biggest complaint was an employee on maternity leave (I know because I asked) sat behind us and takes very loudly about her personal business to all the employees working. We did not need to hear about her doctors visits etc. we just wanted a peaceful breakfast. Maybe if the management and employees had spent more time working instead of standing around talking to her, our food would have been better. We will not go back. Also I think the Waffle House corporate office needs to take a second look at their strategy. Their prices have gotten too high. By the way we have been going here for years. It has been going down hill for a while now.

Mercades Payne
from Chicago, IL
As I and a family member were eating inside Waffle House in Missouri. I am assuming the gentlemen is the store manager because he was wearing a gray manager shirt, humiliated another employee about the price of a drink and whatever else she had gotten to go home right in front of us. I am not very happy about this experience and will be informing the Waffle House corporate office, and I am not pleased with the gentleman's attitude towards everyone including his customers and my family.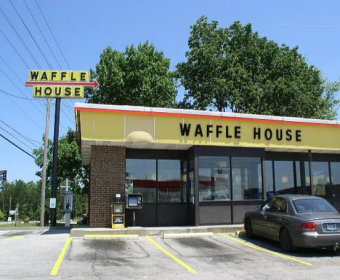 Beverly Aitken
from Springfield, MA
On Sunday November 22, 2105 at 12:10 we went to Waffle House in Springfield Mass. When we arrived we had to go and look for a waiter, once we got one to take our order which was about 12:30 pm, we did not receive our food until after 2:30 pm. When I asked where was our food, a waitress whose was not ours, stated that there were still 6 orders ahead of us. We got to leave and just then our food came. We waited two hours for EGGS. Now the waiter did give us our food for free, but that was not the point. I would have left earlier but I am a Diabetic and did not want to go to another restaurant and have to start over again. I am not one to complain, however I am sure you would agree that waiting two hours for eggs is unbelievable.

John Perlander
from Sorrento, LA
Excellent service. Very polite staff. In town for "Crusin the Coast". Been there every mornings. Please pass along to the staff and corporate leadership at Waffle House. I could not find a place to file a compliment online, so I did the next best thing I could thing of.

The one and only time I went to Waffle House was with my fiance.  We went to a conference that went later than planned and Waffle House was down the street and open.  The first sign of disaster was the sticky floors.  I felt like I was in a movie theater walking into the restaurant. The second sign of dissatisfaction was when our teeny bopper waitress gave me my glass of water with lipstick on the rim.   The third sign of debacle was the runny eggs and burnt sausage my man ordered.  The eggs undercooked and the sausage overcooked, how does that happen?  My fiance kept asking why I didn't want to eat anything, but salmonella just didn't sounds appealing to me.  Needless to say, I am thankful that I only ordered a water, the coffee would probably have been bad too.  Never going back.
Have feedback for Waffle House?
Thanks for your feedback!
Sorry. Please try again later!