Nabisco
Nabisco Complaints Continued... (Page 2)
138+ reviews added so far. Upset? Call Nabisco corporate: 1-855-535-5648

Mrs.Michele Rose
from Dearborn, MI
My complaint is about the purchase I made of two 24 packs of the variety cookies I paid $16.99 for each, I was very upset some bags had nothing in them and some bags had little or nothing also a few bags were plenty of crumbs this purchase was for a sleepover for my grands on friday 9-1-17 which we end up barely makin out I would appreciate if this matter can be brought to the attention of the distribution manager, and with the kids and shopping I have misplaced the receipt. Please respond at your earliest convenience. Thank you Mrs.Rose 716-602-7700, 135 Kay Street Buffalo NY 14215 Thank you for your time.

Amy Castner
from Germantown, MD
Bought a package of Double stuff Oreos and it was missing like 10 of the cookies. I wonder if management at Nabisco knows there are problems at their factory?

Joseph DeVita
from Brandon, FL
Have been buying Nabisco Premium salt topped saltine crackers all my life. In the last several years they have gotten so ridiculously thin for the retail price we consumers pay it a shame,and their Quality has suffered also being so thin almost like eating a Matza cracker. Going to try a different brand for sure, so disappointed and not looking for extra coupons for my complaint. Crackers are way to thin now. Nabisco other cookie products have also become so skimpy for the price.

Jon McDonald
from Sahuarita, AZ
Bought 3 box's of Original Premium Saltine Crackers and reported to them that each box that was open were nothing but crumbs. I went to their web site filled out the form which took a bit of time. When I finished and pressed enter nothing happened, took a while and up came due to technical difficulties we can not continue. Then I tried their Facebook act. We will get back to you in one hour or less, That was two days ago. They ask for upc code 44000 00057, 230CT16XKS211.

Vera Harrison
from Raleigh, NC
I recently purchased a box of Premium Rounds original. I had not seen before and thought they would be good to have with t he pimento cheese spread that I had made to take to a church luncheon. When I opened the box, the crackers were mostly broken. Loose pack is not good for these crackers. Also, they are tasteless. The box states, "topped with sea salt" Mine were saltless. Luckily I had a fresh box of Ritz crackers that were in sleeves so all was not lost.
I am 87 years old and have been cooking for a long time. I do not buy many cookies anymore and was really surprised when I read all of the complaints. Glad I didn't waste my funds. Pinwheels were my favorite, but I will not try them. I will look in some of my older cookbooks from days gone by and try making my own crackers. Sorry Nabisco has gone down hill. I ate saltines etc since I was a kid.

Andrea Adams
from Barrington, RI
I purchased one box of Famous Chocolate Wafers and opened them the same day, but the smell was very bad and the taste was rancid. The expiration date is December, 2016- and i write this on 10/3/16. I would like to request a refund but the 1-800 number places me on hold each time.

Janie Ricciuti
from Aurora, OH
I recently purchased a box of Nabisco saltine crackers and they are so awful that I don't know how you can sell them. They are labeled original but no way. I hadn't bought any in years because we normal buy club crackers and I will never buy them again unless you bring back the older cracker. You should be ashamed selling that garbage, throwing them in the trash.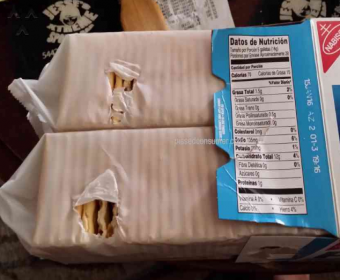 Annie Burchell
from Port Isabel, TX
I have cooked with Nabisco Vanilla wafers for years, even though it was more expensive, but the last couple of boxes are not up to Nabisco standards, they are really thin and not as flavorful. I will buy the less expensive brands from now on. It is deplorable for you to downgrade your product, probably to cut expenses. Sadly I can not recommend your Nabisco Vanilla Wafers any more.

I am glad to hear that after numerous customer complaints that Nabisco will start selling the original Pinwheel Cookies at the end of Sept. 2016. They saw that their fudge version of the cookie didn't sell and they see they lost sales as a result of changing the original recipe. I congratulate Nabisco for coming to their senses and producing the original Pinwheel Cookie. They can bury their Fudge Cookies or add it to the museum of bad ideas with the New Coke.

judy layfield
from Wichita Falls, TX
I bought a box of Honey Maid Graham Crackers and was severely shocked and disappointed. They were not even half the product they were a year ago. Literally. They were thin, narrow and crumbly. Made a mess out of the recipe I was making. I will more than likely go to another brand. I was so angry especially for the price charged for such an inferior product.

Pat Campbell
from Greenbrier, AR
Have always bought Nabisco Premium saltine crackers for as long as I can remember. What have they done to them? They do not taste the same and several boxes have been burnt. For about a year at least the crackers have had no taste, are extremely thin, or are burnt. I have thrown so many packages away. They just taste stale like the cheaper brands. Please how can we get them to change them back?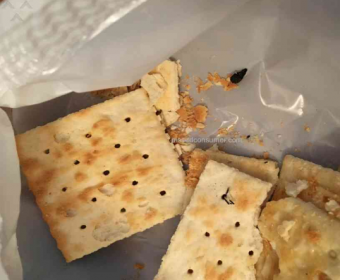 Mona Brunk-Moore
from Dallas, TX
I love Nabisco Ritz crackers however the last few stacked crackers have been crumbly. I would like them to improve them please.

Suzanne White
from Fairmont, WV
I have eaten the Pinwheels forever until recently the change is horrifying. They use to melt in your mouth made your taste for more. Now this is my 3rd package in 2 months and it will be my last. They are dried out and no creamy marshmallow taste. My apologies but I am very dissatisfied.

Becky Turk
from McComb, MS
I bought some Oreo cookies last week that was labeled double stuffed. I opened them and realized that they were the original ones not double stuff. Well I go back and buy the golden double stuff today and just imagine my surprise when I opened the package and saw that they too were the regular ones not double stuff. I don't like to complain but 2 bags of cookies with one label but wrong cookies inside. I don't intend to keep buying your cookies if I don't get what I want on the inside.

Lisa Gordon
from Toronto, ON

Karen Bozich
from Beaverton, OR
You shouldnt have changed pinwheel recipe will not buy these again terrible!

Terry Peterson
from Schofield, WI
I purchased a package of golden Oreo s and noticed that they did not seem to be the same quality as in the past. The cookies were uneven and not put together well and were lighter in color. I looked at the package and saw they were made in Mexico. I was very disappointed and threw them away, like many americans, I don't buy food that is produced in other countries.

Joseph Pilny
from Middletown, NY
Nutter butter product is just fine but the packaging sucks. Why don't they have a resealable package. It's 2016, but sometimes I think Nabisco packaging says 1955.

Sally Baldino
from Wallingford, PA

Mary Landenberger
from Bismarck, ND
I bought two boxes of Nilla Wafers, one box was fine the others was so over baked and smaller. Quality control really missed the batch this time. I took pictures and I will send them if anyone cares to see them.

Dale sayre
from Delaware, OH
We used to love the Nanisco Ritz Roasted Vegtable crackers. Now the quality is so poor. There dry and powdery the majority are broken when you open the package and there is normally about an inch of crumbs at the bottom of the cellophane envelop where they just break down in shipment. You had a good product but have turned into an undesirable product with the texture of kitty liter. You have failed miserably.

Ron Green
from Pocatello, ID
Dear Nabisco corporate office. You have moved your Oreo Cookie bakery to Mexico. Our family has purchased Oreo cookies for 50 years. Due to your greed for more profit at the expense of American workers we will no longer buy your products. As far as we are concerned, Nabisco is not American.

Shirley Sherrill
from Seaford, DE
I been buying your products for years my favorite is the Oreo double stuff cookies I recently on 3-23-2016 bought 4 bags of the cookies and 2 of them were all broken up I've seen this before but this time they were crushed like they were either damaged during shipping or a stock person did it and didn't tell anyone.
I would really appreciate if someone would be willing to replace them for me considering I spend a lot of money on your products every week when I shop I have 4 children I feed on a daily basis and your products have become a household requirement, according to my kids and I would like to keep it that way we live on a fixed income.
I just cant afford to throw more than 10 dollars worth of food in the trash like that because the product was not edible-I would like to thank whoever took the time out to read and honor my complaint we sincerely appreciate it.

Richard Simerlink
from Chardon, OH
New Nabisco cookies taste like saw dust now that there is no high fructose corn syrup in them....so take the word HONEY off the box and refund my money for the 28 oz box.

Kerry Goold
from Asheville, NC
I recently bought a 13oz bag of Original Chips Ahoy. I bout them at the Food Lion in Fairview, NC. When I opened them up at home the majority of them were broken. They are pricey to begin with and I would like a coupon to receive another bag if possible. Broken cookies in Grandma's cookie jar doesn't sit well with the Grands.

Patricia Ann
from Jackson, MS
I purchased a bag of your nutty butter peanut butter cookies yesterday from Kroger's on Hwy 80 in Pearl, Ms. Upon opening them this morning and beginning to eat them they have a fruity taste. Not sure if it is simply this bag or what but figured you need to know about it.

gary carpenter
from Waterloo, IA
I'm sorry to say, but after 20 years as a liker of ritz crackers, and using them in my small buiness, I will have to change brands of cracker to town house. My problem is the flavor has dropped and so many complaints about broken crackers in the box. I know there is always some broken, but we have seen at least 40 to 50% broken. If this is the way I'll have to change brands, my name is on the line too.

George Cox
from Springfield, MO
Went to HyVee Grocery this morning, Springfield, Missouri, and took a package of Oreos down from the shelf. As I put it in my shopping cart I noticed that it was made in Mexico. So, I put it back on the shelf! I do not buy food that is not made or produced in the United States. Oreos are one of my favorite cookies, but I will never buy them again, as long as they are not made in the United States. And that goes for all Nabisco products. You have lost a good customer. I hope that all patriotic Americans will quit buying your products, and we will see if Mexicans can support your company!

Christine Dwyer
from Baraboo, WI
I just purchased a package of Pinwheels with a "Fresh Look, New Recipe" message below the Nabisco Logo. If this is the way you are going to be producing one of my favorite cookies, I will NOT be buying them from now on. I can tolerate the smaller size, but the "new" chocolate coating is terrible, and there is no comparison to the taste of the older version. It used to be worth the extra cost for these, it certainly is not now. I just wanted to express my unhappiness with your decision to change this product, as i imagine it is cheaper to make Pinwheels this way, and you won't return to the original recipe.

Janet Orvis
from Shelburne, VT
I love Fig Newtons cookies, however, the last package was very stale and hard--had to throw them out. Very disappointed. Even with a cup of tea they were not edible. The expiration date is May 18, 2016 so thought I would be safe. Other numbers with the date are MM30103:43D. Usually they are soft and nice to eat.

F. Gammon
from Brossard, QC
As I bit into my Nabisco Shredded Wheat & Bran this morning, I bit down onto a chunk of plastic. What are you going to do about it?

Joseph Marino
from Boca Raton, FL
My last two purchases of Oreo Heads or Tails Double Stuff have be short product. Both times 6 short 2 per row. I have been eating Oreo's for the past 62 years, and this is the first time I have seen a shorted package of Oreo's. Still the best cookie in the world, but I'd suggest the Nabisco corporate office take a look at your quality assurance process!

Shirley Lauer
from York, PA
I bought a package of the Nutter Butter Wafer Cookies at Giant Food Store on Palomino Road in Dover, PA and upon opening found only 1 layer of the entire cookie. The other layer that should have been there only had the very bottom piece of the cookie....no top and no peanut butter filling. I bought these cookies on February 1, 2016 at a cost of $4.29 and would either like to be reimbursed for this amount or receive a coupon for another free package of these cookies.

I love the home maid crackers especially oreo cookies. Although I will see normally I have compaints about the way Nabisco makes and sells their products. I make toppings for it and ensure to have it during my snack time. My kids enjoy it as well as my hubby. It is a sure time pass. The taste is good and the packaging is good as well. It ensures that the crackers are fresh and crispy. One should definitely give it a try. I give them to my kids as a snack box while they go to school and they enjoy it.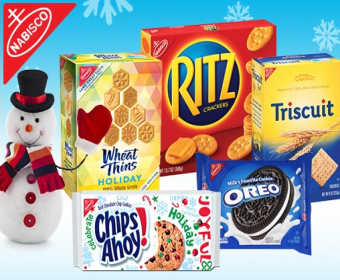 Bought 3 boxes of Lorna rooms cookies code 16jun19ap328 4 space 3 space 1and opened 1 put in each box and were all crumbs afraid to open the rest. Judith Weisenritter 8800 s Harlem ave #2049 Bridgeview,Illinois 60455. (773)206-1834. Thank you.

I BOUGHT A PACKAGE OF CHIPS AHOY TO SNACK ON, ON MY WAY TO WORK. UPON OPENING THEM AT WORK, THEY WERE OLD AND EXPIRED!!! VERY DISAPPOINTING!!!! I HAVE ALWAYS LOVED CHIPS AHOY AN THE LAST 2 TIMES I HAVE PURCHASED THEM THEY WERE STALE. LOOKED AT THE PACKAGE AN THEY HAVE BEEN EXPIRED FOR ALMOST A WEEK

The Nabisco Soda crackers have either been burnt or taste like a perfume. I have been so disappointed in the last 5 packages I have bought. All of the Snack packs have been burnt and the original size pack has a perfume taste to it.. Not happy..

I just wanted to let you know that the cookies I got were not the same as i use to get.,the teast was not the same.I think it was over bake
the cookies was was the even the same texter I have not got any of tham because for years because the price as goting ot much.last week
i bought some . I am the saying the price is to much .but i would like to get what i pay for.I am on a fixet in come so this was a treat for me
Hope this will come to someone attition.
Thanks for your time LEO GAIL

Charles Neuenschwander
from Austin, TX
Every morning, we have Nabisco Honey Maid Graham Crackers with our coffee. We give a small tidbit to the dogs. For the past several months, every single box has roughly 50% broken crackers as we take them out of the box. We thought at first it was due to rough handling by our local HEB Store, Lakeway, Tx, but the nature of the breaks is so consistent it has to be a problem at the factory. It's not a problem for us, but we keep thinking about kids trying to make smores. The crackers (the ones that are not already broken) are very difficult to break on the perforated lines. What has happened to this mainstay of American snacks?

Donna Wilkerson
from Boston, MA
I have bought several boxes of original crackers and all of the crackers in each of the boxes were burned. Not only are the crackers burned but they taste burned as well. I don't know what has changed in the making of the crackers but it has certainly changed the quality. I am also not sure if it is just a lot of the crackers but the number on my current box is 02JUN2019KE1306.
I will more than likely start to purchase another brand.
Thank you for taking the time to read this note.

Mike Berrick
from Deer Park, NY
It Seems That It Is Impossible To Buy Containers Of Oreo Doublestuffs Without Both Cookies Being Broken. You Know How Most People Eat These Cookies. So Scraping The Cream Off The Cookie Is Impossible And Messy. I Have An Idea That Will Fix This Problem Without Retooling And Appearing To Be Conssious Of The Problem And Have Found A Fun Way To Deal With It. I'm An Ex-Design Engineer Who Is A Fixer. I Was In The Food Industry Years Ago If You'd Like A Videoof The Problem No Problem. I Can Draw Out A Solution. If You Are Interested, Reply To My Email Or Call And Leave Message On My Cell 631-807-0982, And I Will Get Back To You.
Cheers!
Mike

HAROLD Lee Wright
from Arlington, TX
I just opened a box of saltines the freash stacks .I found the entire box product burned bad taste . I have never before experianced this I hope it does not happened again .The date marker said 25APR 2019KE2306.

Belinda isler
from Atlanta, GA
I just wanted to let you know how disappointing that I am in your Graham crackers and bills wafers. When I was a child, they were the best in the market. They taste as if you don't care about your products anymore. What happened to the original recipe? Name brand products was a big deal when I grew up.

Belinda isler
from Atlanta, GA
I just wanted to let you know how disappointing that I am in your Graham crackers and bills wafers. When I was a child, they were the best in the market. They taste as if you don't care about your products anymore. What happened to the original recipe? Name brand products was a big deal when I grew up.

Constance Mead
from Conway, NH
I am so upset with your corporation, Mondelez.
You have totally destroyed every product, of every company, you have purchased.
Ritz Crackers are not recognizable, top flies off when you try the to spread to cheese' etc.
on, there is no salt (important feature), no color, substandard ingredients from god knows where.
Saltines is now a ridiculous name, cause there is no salt. Stop with the sea salt, it is horrible, with no flavor.
We need iodized salt! Put the salt back on on all crackers. You have totally ruined Wheat Thins. I pay a lot more
for other crackers now, but I can and do enjoy them.
Also, we need gluten, only a very, very small portion of the population are allergic to gluten. The rest of us actually need
it.
So many things have been altered by inferior ingredients, uninvested labor in under privileged countries, unsanitary conditions. Live worms in chocolates, some chocolates contain beetle bugs, etc., no extra charge.
Vegetarian soups have "try me with free mystery animals"added, again no extra cost.
All of the above so you make money without spending any. You think you are fooling us, or worse that we are too stupid to know or care what we consume. As of late, if I eat or drink an item I am familiar with and a find that is "off", I immediately check to see if the original manufacturer sold out. Every time a sale has happened!
We have a right to know where our purchases are produced and processed. You don't want us to know it comes from Thailand, for example, where they feed the shrimp to be exported, pig poop. What happened to pride in your products, ethics, and self esteem?
How do you sleep at night?

Patricia Brooks
from Newark, NJ
Ritz crackers have been my favorite for as long as I can remember, however for the past several months they have not only changed in packaging but it is impossible to spread anything on a ritz without the cracker crumbling in your hand. I am sick of crumbs and will not buy another box of nabisco ritz! Half of the sleeve is useless!!!!!

Ann Golden
from Maryville, TN
Where is the salt? I think your "Sea Salt" just falls off before it gets to my mouth. So dry, not like it used to be. Boo Hoo. Ann

Tahany Botros
from Newark, NJ
I bought two boxes chips ahoy original .when I opened I found one of the completely scrumbeled . it's not chocolate chips its like bread crumbs

I am not sure what the company has done to Chip Ahoy cookies but they are awful. They tasted doughy and lack some salt for a little taste. They taste old and stale. I usually but the Ahoy cookies but it will be awhile before I buy them again. I don't like spending money on something that I will probably throw out.
thank you
beth

Glenda Flynn
from Gainesboro, TN
My husband has Ritz Round Crackers and peanut butter for supper. He has eaten this same thing for years as usually he eats late at night and this digest better. For a long time, we have been very dissatisfied with the crackers. They are so crumbly that it is impossible to spread peanut butter on them for they fall to pieces. They seem to be not cooked well or the ingredients are not right. The boxes of crackers I purchase at Sams Club are absolutely terrible, and the boxes I purchase at Wal Mart, so far, have been good.
I sure hope this problem can be corrected because my husband sure does love Ritz Crackers.
Sincerely,
Glenda Flynn

Jean Matako
from Canton, OH
What in hell have you done to the Keebler products?!!!!! They are terrible! Way to go Nabisco! Ya just committed retail suiscide!!!!!

What in heavens name did you do to the CHICKEN IN A BISKiT baked snack crackers? Did you bake them too long?
They used to be so light and airy - now they are as hard as pretzels.
Will not buy these any more cause I doubt they will ever come back to the light and airy they used to be.
You killed a delicious cracker.

Linda Bell
from Osprey, FL
I love the Premium Saltine Mini' s. However, I recently purchased 3 boxes (44000 01777, 04050044682200), and all were burnt to the point of being inedible. Most were black, not even nice to look at, I was very embarrassed when I opened them in front of guests, not to mention these were the only crackers I had. Unfortunately, this makes me very weary of purchasing additional Mini' s. Just so you are aware, I purchase a minimum of 3 boxes every week. Thank you for your attention to this unpleasant situation.

David Byford
from Parafield Gardens, SA
I like your Nabisco Premium snack biscuits BUT I was. Very upset at the latest packaging.
Plastic and more plastic. Twelve packets of plastic in a bag of plastic.
Is anyone at the corporal level paying attention to the pollution of our lands and seas.
I will not buy your product again until you take a more responsible attitude to pollution.
Annoyed at you insensity.
David Byford

David Joseph Vinson
from Crossville, TN
I bought a box of Chicken in a biskit and they have zero flavoring. I have the box and the crackers. I will keep both for future reference. I would like another box of 12 oz chicken in a biskit provide by the Nabisco company.

Grant Fisher
from Manteo, NC
I purchased a box of 12 Oreo Handi-Snacks for my family vacation to the beach. I opened the box to take onto the beach and the first one I pulled out had no cream. The next three I pulled out the next day had almost no cream. That makes four in total from that box with little to no cream. My children were all very disappointed seeing as Oreo dippers are among their favorite snacks. The pack with no cream and the three packs with almost no cream are pictured below.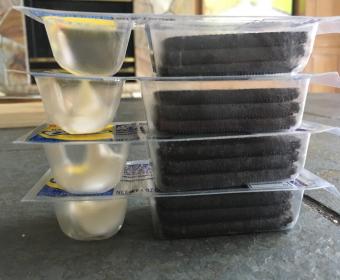 Mary Huntone
from Rochester, NY
Ritz crackers. I purchased at Tops market (receipt gone) and tried to use for a party tonight. EVERY sleeve dis.integrated to crumbs! I have never been more disappointed in a product, had nothing to make party favors on. The amount of crackers already changed to much fewer and the price increased 30%. Now the products is useless.

Allison Moore
from Dallas, TX
We have purchased and loved wheat thins for many, many years, however it seems lately we keep buying boxes with burnt crackers. Is there a particular reason for seeing these more often?
It is a disappointment because the original crackers are so delicious.

Charese Pelham
from Charles City, VA
You put LEMON in "Nilla" vanilla wafers!!! You not only ruined a previously perfectly good wafer, you did not even bother to make the counterfeit wafer obvious! No big pictures of lemons, only a little "artifical lemon flavor" note on the box. I have been (note: "past tense!") a fan of Nilla vanilla wafers for years, using Nilla vanilla wafers as the only brand of vanilla wafer for my stovetop cooked, home-made banana pudding. Not even my 15 year old boy, who eats anything and everything, would eat it. We THREW AWAY a huge double recipe banana pudding, complete with meringue! Such perfidy! For shame! Who would have thought for one moment, that I cannnot trust Nilla "lemon" wafers!
If you want lemon, then change the name! Lemon wafers! Whatever, but do not ruin a classic! Sadly, you have already done so.

Patti Brandenburg
from Cleveland, OH
Are you kidding me 100 words, I can tell you my complaint in about 20 words or less. I bought Ritz crackers for a party that I was having. The crackers were unable to have a cheese spread put on them without breaking. I'm not sure what you guys have done to these crackers, but they are obviously much thinner but at the same price as always. Shame on you for trying to decieve the public. Do you really think no one will notice.

Timothy Henderson
from Colchester, VT
Ginger Snaps... used to be your best product, but I had to stop buying them because your prices got too high. Recently, however, I scraped together enough money to buy a box because they are a warm memory. To my amazement, they are not the same. They used to be crisp with a wonderful texture. Now they are just thin flavored flat disks without the texture.
What happened? Insane profits weren't enough? you had to ruin them as well?
Sign me... disgusted in Vermont

Kathy McKellar
from Charlotte, NC

Raina Asia
from Honolulu, HI
About 3months ago, late 1 night i want a snack. I went and got nutter butter wafers from my pantry went back to bed. I ate a few and on the last bit crunched into something really hard it was a screw. I spit out the screw and threw away the nutter butter. When i woke the next morning i realized my tooth was cracked in half. I have no dwntal insurance and was crying wondering what to do about this. I decided to take eveeything outta the trash but found the trash had already gone. So i could not prove what had happened to me. I just want u to know that everyday i suffer since biting into that wafer. Its to the point where every bite of food hurts to where i dont wanna eat because of how much it hurts. I am so dissapointed in nabisco that i refuse to eat my favorite snack since childhood. I want so badly to sue nabisco for at least the cost of fixing this now decaying tooth but cant cause i have no evidence. Instead im writing to let u know my story and gow much ive been suffering ever since. I wish i could explain better the amount of pain and suffering im going through daily. But im no much words. I wish nabisco could help me but without any evidence i know u wont. All i can do is make sure i buy no nabisco products which is a lot of stuff. It hurts so bad at times that i just wanna shoot myself in the head. Iif i do i will make sure i let everyone know that a nutter butter drove me to do it.

Paula Cornell
from West Hartford, CT
It is one thing to "bring a product back"but you should be ashamed at the wicked taste and overbaked color of the Milk lunch crackers..I was brought up on the "real" thing..too bad you do not care about the people out here that made you so wealthy..also..your Ritz crackers cost more..are paper thin..crumble ...and are much smaller..looks as though Nabisco is headed for a real Crash.

Coleen Kennedy Nelson
from Flower Mound, TX
I used to buy your honey graham crackers I'm 63 years old and have been eating them for years I don't know what you guys call this crap you're putting out now and I'm sorry to be rude about it that is most disgusting thing I've ever experienced there's no cinnamon and sugar it's like cardboard just regular plain honey made are fine but the ones that are supposedly quote cinnamon-sugar they're horrible but not anything like they used to be I threw the whole box away I would never recommend them to anyone they're disgusting why did you change the recipe what is wrong with staying with something that was successful I've discovered this with other products like vanilla wafers there's a change in taste why people change recipes that were successful that started years ago as a success story I will never understand when you could do that you have to shake the cinnamon sugar off that's all I've got to say

Mari Briggs
from Greencastle, IN
I have tried for 45 minutes or more to make contact with the HR department of Nabisco. I have called many phone numbers. The first call which was a robot was not audible. The female voice was too low to understand. When I did get some one they said to turn up my volume on my phone. I don't have such a feature. I asked them to speak up. One phone number where I was transferred to is 800-572-3847. There was a message that the number was not accessible from my phone. It was a dud. I received another phone number is Chicago, Illinois - 801-973-7753 and again there was a voice mail message about not being able to take my call and the mail box was full.
All of this time and no response or help from a corporation that sells cookies and crackers. This is why corporations are failures!
My recommendation is to have a living human being answering the phone and give service to help the inquirer.

Sandra Gould
from Clermont, FL
I have been buying Nilla Wafers for the past 11 years and never had a problem until the last two packages I purchased from BJ'S Warehouse in Clermont, Florida.. The wafers have been over baked, almost burnt. Is there a difference in the product when purchased from a grocery store versus purchasing them from a BIG box store? I would like to purchase some that aren't overbaked.
Sandra Gould
402 Silver Maple Rd.
Groveland, FL. 34736
E-MAIL ADDRESS tanquesma@cfl.rr.com

Veronica Lang
from Escondido, CA
The last 3 boxes of original saltine crackers have been half crumbs when I pull the sleeve out of the box. Not just one sleeve but all of them plus the ones left whole crumble in my hand. Why is this happening. U til this problem is resolved I will no longer purchase them.

B. Sivca
from Wappingers Falls, NY
Hello..
Always enjoy Nabisco products.
However, I tried a NEW good thins product.
Oat, sweet oat and flax. I purchased them
At Shoprite, Poughkeepsie, NY at the price of
$3.59
90 percent were broken to pieces and I could not
Put out a nice presentation for my company.
Box info is:
Upc
0 44000 04545 6
Ex. Date
02AUG18 AH 215
I was disappointed and do not know if there
Was a problem in packaging or ?
Thought you should be aware of this flaw
In the batch.

Mia Jones
from Tamaqua, PA
Nabisco Stopped putting red plastics cheese scoopers in the RITZ crackers n' cheesy dip and are making me eat like an animal and I have a cheese stain on my favorite shirt because there are no red plastic cheese scoopers. SUCH A TRAGETY!!!!!!!!!!!!!!!!!!!!!!!!!!!!!!!!!!!!!!!!!!!!!!!!!!!!!!!!!!!!!!!!!!!!!!!!!!!!!!!!!!!!!!!!!!!!!!!!!!!!!!!!!!!!!!!!!!!!!!!!!!!!!!!!!!!!!!!!!!!!!!!!!!!!!!!!!!!!!!!!!!!!!!!!!!!!!!!!!!!!!!!!!!!!!!!!!!!!!!!!!!!!!!!!!!!!!!!!!!!!!!!!!!!!!!!!!!!!!!!!!!!!!!!!!!!!!!!!!!!!!!!!!!!!!!!!!!!!!!!!!!!!!!!!!!!!!!!!!!!!!!!!

Donna Cordeira
from Boston, MA
I am a 67 year old woman I ate your graham crackers most of those years they use to be delicious now I don't buy them anymore.They use to be of a dark color cracker now they look almost white with a terrible taste.What did you do to this great cracker from years ago...why change something that was so good and I know it's not only me..
Go back to the way you use to make them then I will buy again..thank you

Amy Smith
from Oshkosh, WI
Bought a bag of regular Oreos and opened them up, and found cookies missing. This is the first time this has happened and was disapointed.

Richard Frattesi
from Ludlow, MA
My complaint is that the new format for Nabisco Premium Round Saltines is disappointing. I miss the square crackers....the new round crackers I have found that in my purchased box were at least 25% broken...and the fact that are it seems less than the volume than in the old 4 sleeve previously done packaging...which never broke down to the degree these round saltines did....I feel I just didn't get my moneys worth.... Disappointed customer.

Sylvie M Gauvin
from Myrtle Beach, SC
Purchasing packaged peanut butter crackers 3 out of the box were not sealed and caused them to go stale. it is my breakfast at work. very dissappointed

Beverlee Denneen
from Pittsfield, MA
Months of Saltines with many broken crackers, friends saying the same thing. This time I'm very cross, TWO boxes of Saltines with very over cooked crackers. Brown almost to the point of burnt. Saw on line another customer stating the same fact!
I tried calling phone number in NJ. HA, not the correct phone number.
So on my limited income I toss both boxes into the dumpster.
Perhaps making your products in Mexico is not a good idea.

John Hall
from Wedowee, AL
I bought a box of your Ritz Crackers yesterday and when I got home I got a big surprise. Instead of 4 rolls of Ritz Crackers in the box there was only 3. You have cut the number of your rolls of crackers from 4 to 3 rolls and the price is the same. I have been buying Nabisco products for over 50 years. You should be ashamed of yourselves cheating consumers like this while making more money off this. I know my one complaint will not make a difference, but all of us Americans are sick and tired of getting the raw end of the deal out of big companies like you!!!!

Winnie Decurr
from Moultrie, GA
My mother received regular Oreos instead of doublestuff in a package labeled doublestuf. The number of cookies in the package is aslo decreasing. This package has room for eight or nine more cookies. Other packages routinely have room for a minimum of six cookies to fit comfortably. Trying to lodge a complaint has been very difficult. I stumbled on this site by accident. The population here over 70 years of age wish to lodge a mass complaint (18 people in this club) in this email concerning the previously expressed complaints. They would also like to include that complaint that the current packaging of Nabisco cookie products reduces the number of cookies, and sometimes the size of the cookies, and makes much more waste in the garbage can.
Thank you for your time, and we look forward to your response.
Winnie and friends.

Winnie Decurr
from Moultrie, GA
My mother is trying to lodge a complaint about receiving regular Oreos when the packaging states the Oreos are doublestuff. The website will not let her lodge a complaint, saying the best by date is not recognized. She, then, called the international number and so far has been on hold for over five minutes, and just hung up. I was able to send a complaint by finding a differently formatted site. Is this the new way to say that you do not receive complaints?
Have feedback for Nabisco?
Thanks for your feedback!
Sorry. Please try again later!