Nabisco
Nabisco Complaints Continued... (Page 3)
138+ reviews added so far. Upset? Call Nabisco corporate: 1-855-535-5648

Joe Bowie
from Spring, TX
In the last 2-3 months I have had several boxes of RITZ crackers that appeared to be undercooked, very light in color and flaky beyond use.
My most recent purchase was on 2 occasions during Hurricane Harvey. We live in Tomball, Tx a community on North side of Houston. We have 2 grocer chainsthere, Kroger and HEB. Wednesday following the storm HEB was able to reopen. There was no bread and very little supply of crackers. I eat RITZ frequently. I purchased Ritz and was disappointed to find they were not up to par. today I purchased another box and they were terrible. I may have to switch to HEB version of crackers. They are not as good asRITZ can be but they are consistently bad.

Debbie Younkin
from Fort Collins, CO
Chips ahoy packaging is terrible. The cookies are always broken. Over half the package!!

Mrs.Michele Rose
from Dearborn, MI
My complaint is about the purchase I made of two 24 packs of the variety cookies I paid $16.99 for each, I was very upset some bags had nothing in them and some bags had little or nothing also a few bags were plenty of crumbs this purchase was for a sleepover for my grands on friday 9-1-17 which we end up barely makin out I would appreciate if this matter can be brought to the attention of the distribution manager, and with the kids and shopping I have misplaced the receipt. Please respond at your earliest convenience. Thank you Mrs.Rose 716-602-7700, 135 Kay Street Buffalo NY 14215 Thank you for your time.

Joseph DeVita
from Brandon, FL
Have been buying Nabisco Premium salt topped saltine crackers all my life. In the last several years they have gotten so ridiculously thin for the retail price we consumers pay it a shame,and their Quality has suffered also being so thin almost like eating a Matza cracker. Going to try a different brand for sure, so disappointed and not looking for extra coupons for my complaint. Crackers are way to thin now. Nabisco other cookie products have also become so skimpy for the price.

Jon McDonald
from Sahuarita, AZ
Bought 3 box's of Original Premium Saltine Crackers and reported to them that each box that was open were nothing but crumbs. I went to their web site filled out the form which took a bit of time. When I finished and pressed enter nothing happened, took a while and up came due to technical difficulties we can not continue. Then I tried their Facebook act. We will get back to you in one hour or less, That was two days ago. They ask for upc code 44000 00057, 230CT16XKS211.

Vera Harrison
from Raleigh, NC
I recently purchased a box of Premium Rounds original. I had not seen before and thought they would be good to have with t he pimento cheese spread that I had made to take to a church luncheon. When I opened the box, the crackers were mostly broken. Loose pack is not good for these crackers. Also, they are tasteless. The box states, "topped with sea salt" Mine were saltless. Luckily I had a fresh box of Ritz crackers that were in sleeves so all was not lost.
I am 87 years old and have been cooking for a long time. I do not buy many cookies anymore and was really surprised when I read all of the complaints. Glad I didn't waste my funds. Pinwheels were my favorite, but I will not try them. I will look in some of my older cookbooks from days gone by and try making my own crackers. Sorry Nabisco has gone down hill. I ate saltines etc since I was a kid.

Andrea Adams
from Barrington, RI
I purchased one box of Famous Chocolate Wafers and opened them the same day, but the smell was very bad and the taste was rancid. The expiration date is December, 2016- and i write this on 10/3/16. I would like to request a refund but the 1-800 number places me on hold each time.

Janie Ricciuti
from Aurora, OH
I recently purchased a box of Nabisco saltine crackers and they are so awful that I don't know how you can sell them. They are labeled original but no way. I hadn't bought any in years because we normal buy club crackers and I will never buy them again unless you bring back the older cracker. You should be ashamed selling that garbage, throwing them in the trash.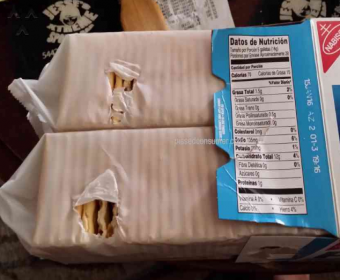 Annie Burchell
from Port Isabel, TX
I have cooked with Nabisco Vanilla wafers for years, even though it was more expensive, but the last couple of boxes are not up to Nabisco standards, they are really thin and not as flavorful. I will buy the less expensive brands from now on. It is deplorable for you to downgrade your product, probably to cut expenses. Sadly I can not recommend your Nabisco Vanilla Wafers any more.

judy layfield
from Wichita Falls, TX
I bought a box of Honey Maid Graham Crackers and was severely shocked and disappointed. They were not even half the product they were a year ago. Literally. They were thin, narrow and crumbly. Made a mess out of the recipe I was making. I will more than likely go to another brand. I was so angry especially for the price charged for such an inferior product.

Pat Campbell
from Greenbrier, AR
Have always bought Nabisco Premium saltine crackers for as long as I can remember. What have they done to them? They do not taste the same and several boxes have been burnt. For about a year at least the crackers have had no taste, are extremely thin, or are burnt. I have thrown so many packages away. They just taste stale like the cheaper brands. Please how can we get them to change them back?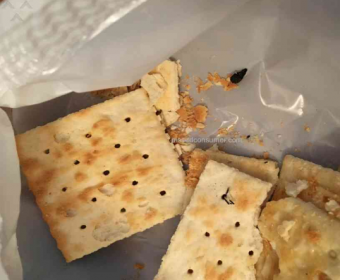 Mona Brunk-Moore
from Dallas, TX
I love Nabisco Ritz crackers however the last few stacked crackers have been crumbly. I would like them to improve them please.

Becky Turk
from McComb, MS
I bought some Oreo cookies last week that was labeled double stuffed. I opened them and realized that they were the original ones not double stuff. Well I go back and buy the golden double stuff today and just imagine my surprise when I opened the package and saw that they too were the regular ones not double stuff. I don't like to complain but 2 bags of cookies with one label but wrong cookies inside. I don't intend to keep buying your cookies if I don't get what I want on the inside.

Lisa Gordon
from Toronto, ON

Karen Bozich
from Beaverton, OR
You shouldnt have changed pinwheel recipe will not buy these again terrible!

Terry Peterson
from Schofield, WI
I purchased a package of golden Oreo s and noticed that they did not seem to be the same quality as in the past. The cookies were uneven and not put together well and were lighter in color. I looked at the package and saw they were made in Mexico. I was very disappointed and threw them away, like many americans, I don't buy food that is produced in other countries.

Joseph Pilny
from Middletown, NY
Nutter butter product is just fine but the packaging sucks. Why don't they have a resealable package. It's 2016, but sometimes I think Nabisco packaging says 1955.

Sally Baldino
from Wallingford, PA

Mary Landenberger
from Bismarck, ND
I bought two boxes of Nilla Wafers, one box was fine the others was so over baked and smaller. Quality control really missed the batch this time. I took pictures and I will send them if anyone cares to see them.

Dale sayre
from Delaware, OH
We used to love the Nanisco Ritz Roasted Vegtable crackers. Now the quality is so poor. There dry and powdery the majority are broken when you open the package and there is normally about an inch of crumbs at the bottom of the cellophane envelop where they just break down in shipment. You had a good product but have turned into an undesirable product with the texture of kitty liter. You have failed miserably.

Ron Green
from Pocatello, ID
Dear Nabisco corporate office. You have moved your Oreo Cookie bakery to Mexico. Our family has purchased Oreo cookies for 50 years. Due to your greed for more profit at the expense of American workers we will no longer buy your products. As far as we are concerned, Nabisco is not American.

Shirley Sherrill
from Seaford, DE
I been buying your products for years my favorite is the Oreo double stuff cookies I recently on 3-23-2016 bought 4 bags of the cookies and 2 of them were all broken up I've seen this before but this time they were crushed like they were either damaged during shipping or a stock person did it and didn't tell anyone.
I would really appreciate if someone would be willing to replace them for me considering I spend a lot of money on your products every week when I shop I have 4 children I feed on a daily basis and your products have become a household requirement, according to my kids and I would like to keep it that way we live on a fixed income.
I just cant afford to throw more than 10 dollars worth of food in the trash like that because the product was not edible-I would like to thank whoever took the time out to read and honor my complaint we sincerely appreciate it.

Richard Simerlink
from Chardon, OH
New Nabisco cookies taste like saw dust now that there is no high fructose corn syrup in them....so take the word HONEY off the box and refund my money for the 28 oz box.

Kerry Goold
from Asheville, NC
I recently bought a 13oz bag of Original Chips Ahoy. I bout them at the Food Lion in Fairview, NC. When I opened them up at home the majority of them were broken. They are pricey to begin with and I would like a coupon to receive another bag if possible. Broken cookies in Grandma's cookie jar doesn't sit well with the Grands.

Patricia Ann
from Jackson, MS
I purchased a bag of your nutty butter peanut butter cookies yesterday from Kroger's on Hwy 80 in Pearl, Ms. Upon opening them this morning and beginning to eat them they have a fruity taste. Not sure if it is simply this bag or what but figured you need to know about it.

gary carpenter
from Waterloo, IA
I'm sorry to say, but after 20 years as a liker of ritz crackers, and using them in my small buiness, I will have to change brands of cracker to town house. My problem is the flavor has dropped and so many complaints about broken crackers in the box. I know there is always some broken, but we have seen at least 40 to 50% broken. If this is the way I'll have to change brands, my name is on the line too.

George Cox
from Springfield, MO
Went to HyVee Grocery this morning, Springfield, Missouri, and took a package of Oreos down from the shelf. As I put it in my shopping cart I noticed that it was made in Mexico. So, I put it back on the shelf! I do not buy food that is not made or produced in the United States. Oreos are one of my favorite cookies, but I will never buy them again, as long as they are not made in the United States. And that goes for all Nabisco products. You have lost a good customer. I hope that all patriotic Americans will quit buying your products, and we will see if Mexicans can support your company!

Christine Dwyer
from Baraboo, WI
I just purchased a package of Pinwheels with a "Fresh Look, New Recipe" message below the Nabisco Logo. If this is the way you are going to be producing one of my favorite cookies, I will NOT be buying them from now on. I can tolerate the smaller size, but the "new" chocolate coating is terrible, and there is no comparison to the taste of the older version. It used to be worth the extra cost for these, it certainly is not now. I just wanted to express my unhappiness with your decision to change this product, as i imagine it is cheaper to make Pinwheels this way, and you won't return to the original recipe.

Janet Orvis
from Shelburne, VT
I love Fig Newtons cookies, however, the last package was very stale and hard--had to throw them out. Very disappointed. Even with a cup of tea they were not edible. The expiration date is May 18, 2016 so thought I would be safe. Other numbers with the date are MM30103:43D. Usually they are soft and nice to eat.

F. Gammon
from Brossard, QC
As I bit into my Nabisco Shredded Wheat & Bran this morning, I bit down onto a chunk of plastic. What are you going to do about it?

Joseph Marino
from Boca Raton, FL
My last two purchases of Oreo Heads or Tails Double Stuff have be short product. Both times 6 short 2 per row. I have been eating Oreo's for the past 62 years, and this is the first time I have seen a shorted package of Oreo's. Still the best cookie in the world, but I'd suggest the Nabisco corporate office take a look at your quality assurance process!

Shirley Lauer
from York, PA
I bought a package of the Nutter Butter Wafer Cookies at Giant Food Store on Palomino Road in Dover, PA and upon opening found only 1 layer of the entire cookie. The other layer that should have been there only had the very bottom piece of the cookie....no top and no peanut butter filling. I bought these cookies on February 1, 2016 at a cost of $4.29 and would either like to be reimbursed for this amount or receive a coupon for another free package of these cookies.

I love the home maid crackers especially oreo cookies. Although I will see normally I have compaints about the way Nabisco makes and sells their products. I make toppings for it and ensure to have it during my snack time. My kids enjoy it as well as my hubby. It is a sure time pass. The taste is good and the packaging is good as well. It ensures that the crackers are fresh and crispy. One should definitely give it a try. I give them to my kids as a snack box while they go to school and they enjoy it.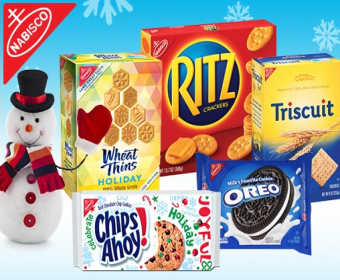 Have feedback for Nabisco?
Thanks for your feedback!
Sorry. Please try again later!