Amazon
Amazon Complaints Continued... (Page 13)
679+ reviews added so far. Upset? Call Amazon corporate: 206-266-1000

Bill Schmalle
from Spokane, WA
I am a member of Amazon Prime and have been for a few years. On my recent order I checked the 2-day shipment box. Amazon indicated the item is in stock. Now I know it is Labor Day weekend. There were 3 free shipment options for what reason I can't imagine. I wanted the item for a project I am working on now. I ordered it on 5 Sept. I get a order confirmation telling me it will be arriving on the 12th of September. It looks to me like someone decided to go and just select the longest shipment route of 4-5 days. I paid $99 for Prime for 2016. Part of the deal was the option of 2 day shipping. If that were the case the item would arrive at least about the middle to the end of the week of 5-9. If there is a reason for this I would like to know. Why pay $99 for PRIME if this is going to start becoming the "norm"?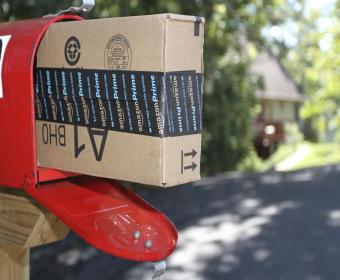 My wife ordered items for delivery at our French home. One of the items was a fridge freezer that never arrived and to date we have had not support from the European Amazon.fr office to help resolve the matter. We have sent numerous e mails and had no response. The item was ordered in June with other items that have arrived. We would like the money returned to our account. Reference below
Numéro de la commande 402-7120392-0786723.

Robert Gauvin
from Frisco, TX
Send me an email account and I will send you pictures of the truck license and driver. September 2, 2016 about 12:40 pm Amazon made a delivery next door and upon leaving drove onto our yard and over an irrigation head and then tried to leave but we stopped him but he kept denying that ran on to our property until we informed him that he was under close caption camera and had left tire prints on the sidewalk.
He then tried to move me out of the way with his truck and I asked him several time to see his driver's license and insurance papers but he refused and also denied working for Amazon. He tried to convince me that it was ok because he was working. I estimate about $200 in damage but I prefer his termination because he should not be driving if he cannot accept responsibility.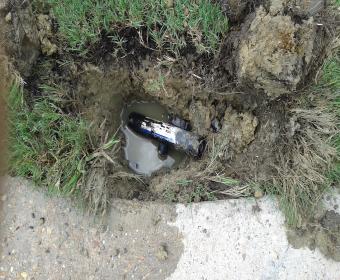 Pam Myers
from Ft. Washington, MD
I ordered one AT&T CL2909 phone, order no. 108-2165736-6628233 on Aug 29th and paid extra for one day delivery. To my disappointment the item did not arrive and when I checked Amazon status I saw it wasn't scheduled for delivery until Aug 30th., which would have normally been free 2 day shipping. If I did not need this phone right away I would never have paid for 1 day shipping! I initiated chat with Nikhil at 01:14 PM PDT (cannot upload it for your review) and was really surprised, no unhappy to see there was no tracking info for it and all she could do is reorder the item and (hopefully) refund the shipping charges I paid.
I've been an avid Amazon shopper for years and love Amazon prime, but this is really making me think twice about ordering from Amazon. Is Amazon getting too big to handle their orders? Is deteriorating customer service going to be the norm? I felt I needed to make you aware of this situation so hopefully steps can be taken to prevent future shipping errors for me as well as other customers.

Brian L Gorst
from Birkenhead, ENG
A week or so ago I purchased a tube of Loctite 243 Lock 'N' Seal Henkel medium strength from Amazon. It contains a type of adhesive which helps to stop nuts and bolts and metal items from unscrewing. Imagine my surprise when I discovered that the tube contained little more than about three drops of the Loctite 243 fluid. I thought that the tube would be full. The picture on the on-line catalogue certainly led one to believe that the tube should be full. Could you please help me contact Amazon customer service so they can give this some consideration re. compensating myself (it was certainly not cheap), and preventing future purchasers from falling into same trap.

Mrs Rosemary Ryan
from Rochester, ENG
I am a regular Amazon user. I purchased a telescopic ladder through Amazon from BuyDirect4u in January 2015. It has only been used on about six occasions and has developed a fault in that two of the rungs are not straight and the ladder has slipped when in use. I reported it to the supplier directly but as the very short one year guarantee has elapsed were not interested. To be fit for purpose a ladder must be safe and should carry a much longer guarantee period. I cannot believe how quickly this defect has appeared. A ladder should last for years. I look forward to your comments and appreciate you providing the contact info for Amazon head office.

Linda Carr
from Portsmouth, ENG
How does an unauthorized purchase get past Amazon billing department? I have just been refunded for a bread bin that l did not order and was charged £13.19 for the postage which was NOT refunded. I then had to pay another £10.50 to return it so in fact l am out of pocket for more than the bread bin itself!!! How is this rectified?

Tia Williams
from Anderson, SC
On 8/16/16, I made an order with a $20.83 Amazon card. I hadn't heard anything about it until yesterday when these "workers" claimed that I hadn't covered my bill. I did and didn't hear this none sense until two days later. One item was paid for,but not the other. Something is wrong with Amazon's customer service staff.

I purchased cool pad note 3 lite on the amazon website with an immediate delivery option by paying 100 bucks for that, It was a gift for someone on her birthday, on the very next day after it got delivered on time. After i sent it to the one for whom i bought it for, she called back on the very next hour saying it is not working. It was so embarrassing moment at that point of time which amazon would never be able to pay back. The again it started playing hide and seek games, means sometimes working fine sometimes not.
I called up amazon, they said you purchased it 22nd of June and its now 31 july the return date is over , we are unable to help you. I asked for the supervisor, lady said we cannot escalate the call, there is no supervisors available. It was a wrong decision to make a purchase from amazon , highly disappointed, dissatisfied. Now Finally after a heartbreak fight with these illiterate people i got a slot for this Saturday which is yet not sure whether someone will be coming or not because now i doubt amazon and their customer relations. Now this replacement which is still doubtful for me is happening but the trouble, embarrassment, time wastage you can never pay me back.
I am going to share my complaint on fb, twitter, everywhere. It must be easy for you to say sorry but it is difficult for me to digest.

Sue Lyons
from Sutton Coldfield, ENG
For the second time I have a complaint about Amazon. Purchased Orange flavour Naked fruit bars unhappy at the price which was 125% more than retail price in Tesco.

Sue Lyons
from Sutton Coldfield, ENG
I know I miss read either the quantity or single price but was amazed and disappointed to find I paid over 125% above market price for my order of Naked Orange bars. They retail at 75p you charge £2.

Janice Matuch
from Naperville, IL
On Saturday, July 30, 2016, the buzzer sounded for my condo. For as long as I can recall, I have trouble with fainting when startled or getting up quickly. It was afternoon and my mail had already been delivered. I was not expecting anyone and almost blacked out as I approached access door. When I cracked open the door, the delivery woman sheepishly admitted that she was playing "buzz all the condos until someone answers" and the package was not for me.
I will not hesitate to close the door on the delivery person and deny access/delivery should this EVER occur again. Furthermore, I have told my family and should I ever fall and injure myself in an attempt to answer "buzzer tag" delivery person, I will sue Amazon for all related expenses. I mean business. Find out who delivery person for Naperville Illinois 60563 was on July 30 and reprimand them. I would appreciate confirmation that this has been done.

I have purchased HP 14-AC171TU from Amazon on 17th July 2016 (on two day delivery service but received on third day. Very disappointing service form amazon courier service. When I went to avail extended 2 year warranty on this laptop, this product laptop model was not mentioned in the list. this link provided in amazon site to avail 2 year warranty offer. I feel cheated by Amazon. I called to Hp customer support they said to talk to amazon, I tried to talk in amazon but no body given justified answer. So what is the problem and how I can avail this offer.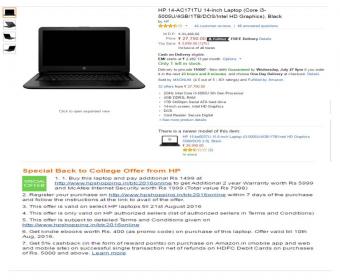 Reena Agarwal
from New Delhi, DL

Doc Ross
from Berthoud, CO
I got advice to try and sell my book on Amazon. I went through their process and all was working for a while. Then after a few months I set up a "promotional" that they recommended and my book disappeared. As in most complaints against amazon, there is no contact; the numbers they give you go to a non-English speaking person with a bad phone (four calls, same results) that either cannot or will not help but will waste lots of your time. We have been buying less and less from Amazon because of shipping/packing issues, but this is going too far. Too big to care.

Antonio Barilone
from Billerica, MA
I received an oven I ordered damaged. First I ordered it on Amazon Prime and paid shipping, why? Secondly I reached out to the vendor and made arrangements for them to send out damaged parts and they have done that. Because of time restraints I had to install the damaged oven. I dealt with the vendor because I got no respnsee from Amazon. I applied for amizon prime and am not thrilled with service, so I am going to cancel my application. Thank you for opportunity to join Prime, but right now I'm not impressed.

Brenda Clark
from Lancaster, WI
Amazon Prime package I ordered was not delivered on time because my apartment number was not pit on the shipping address. It was on the billing address, but your personnel did not print it on the shipping label. Therefore I had to wait an entire weekend to receive my package. It will be a long time before I order from your company again. I will order my items from any other company but yours.

Shantell Greene
from El Paso, TX
I placed an order for an item and never received the item. All seller will say is, " I sent it to the address as indicated". I'm out $27.95 and zero products.

E Crozier
from San Marcos, CA
As a long term seller on Amazon, I have a 4 star rating and have had no trouble until recently. On two separate orders, the buyers rejected the items I sold because the items were not, in their opinion, pristine. The items were both sales rep samples that had been in storage, and were never used, but simply shop worn. I've sold countless, similar items with no complaints.
That being said, I have absolutely no problem issuing refunds, but I expect to have my rejected item returned. After contacting these buyers requesting my item back, neither responded. I contacted Amazon about this, and was told that the buyers are not obligated to return the items, even though they received a refund. This is not fair! I don't know of any retailer (including eBay) who operates like this. What's to prevent this from happening repeatedly, with buyers getting free stuff?
I'm fed up, and If this continues, I'll relist my inventory on another site that treats its sellers fairly.

Richard Ladden
from Milpitas, CA
Wrong item sent. Two seller complaints before any myGoods response which was: "After looking into this more closely we realized there must have been a listing error internally." Translation: Incompetently advertised wrong item. myGoods statement: "There will be no cost to yourself in order to return your order." Had to pay for packaging materials to return. Avoid myGoods like the plague. Error in refund amount. $17.45 rather than $52,35.

Amazon has a delivery sticker on the door that says if no response to leave product at address if no response. Well my product was left out side on the ground in front of the garage out in the open right off the street. The Amazon delivery driver could have left it in the yard by the front door or if they would have knocked on the door some one could have taken it into the house. But they didn't even make the effort to see if any one was home if my the people next door would have not seen it who live right next door had not of seen it some one could have picked it up and that would have been history.
As of right now i am looking into how to take action so that this does not happen again this is the second it has happened. How can you fix it? Leave a return slip if know one is home. I dont feel comfortable ordering and paying in advance when the delivery service is on a scale of 1-10 is a (5). I am looking for a special offer from amazon to make sure that this never happen again if you do not agree the let me know. I like to shop on amazon but don't do me like that with my product.

Carmen aguallo
from el Campello, VC
I had a 30 day free prime trial but as I live in spain. It sent for me I used it once I was given no notices monies coming from my account and £79 has now been taken. I will now be overdrawn I do not want prime so ease put back my money. I expected more from Amazon's service department.

rahul singh
from Nagpur, MH
I was told that I'll receive my product on or before 25th may but i haven't received any delivery till 28th may. On tracking i has found the product has reached where it should have been on 19th may still delivery has not been done. Now you have revised your delivery without any reason. Now you should deliver it by tomorrow & refund the order amount as compensation.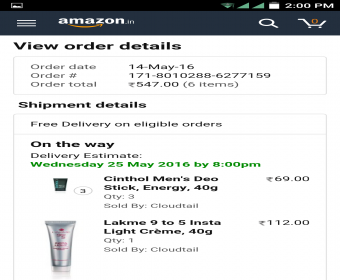 Paul Harmatuk
from Austin, TX
My service rep refuses to return my e-mails on a issue that I have. Give me an e-mail address and I shall forward the documentation on my issue. Truly an unhappy Amazon Customer.

Paula rumpsa
from Saint Paul, MN
I have cancelled my Amazon prime many times! I did so online and talked to about 5 different customer service reps, after they deducted 99$ from my checking account. Then I discovered they were double billing me on my charge card! After straightening this out , they agreed to refund my 99$ and I told them I will never get Prime again. Now 2 weeks later, they charged my account 99 again. When I called the customer support number, they said it automatically renewed. I cancelled it many times, how can it renew? It is a scam. Never do business with Amazon.

Brenda Herring
from Alma, GA
Yes i have ordered twice from amazon and both times after ordering. I have a charges on my debit card from the state of pa which i was not even in. I'm letting you know someone is using my card number to get things at other places so i have had to cancel my debit card after each order. Not sure how this is happening thought you site was secure but Im guessing its not.

Lee Dillon
from Harmony, PA
I've been trying to sign up for amazon prime and I cannot reach any one to apply. The confusing and vast systems of contacts has led me through an incident of fraud from an illegitimate site, and multiple efforts to get through on a phone (the numbers listed put me through to operators who don't even know how to direct me.) for such a successful business it is unbelievable to me that things are managed so incompetently. For all I know I might have prime with my 30 day free trial of free streaming, but we have heard nothing in the way of notification. I (and the amazon organization) are very lucky that our bank notified us of the fraudulent charge. W are supposed to get our money back but it hasn't happened yet. In any event we will be covered by our bank. In my mind, that's customer service!

Noma Crolley
from Olive Branch, MS
Made the decision to upgrade our Sprint flip phones on Amazon and we went to the Sprint store in NLR, Arkansas. Talked with a pleasant young lady who suggested the LG Tribute 5 phone at $260.00 + a $60.00 account fee (?) w/unlimited data - also to make the change on 6 May 16 so no pro rated charges would be incurred. Went into the store today talked with the same young lady who lost our telephone number and could not call us to say that the LG 5 phone were on a universal back order, and brought out a Samsung @ double the price.
We are retired, on a fixed income and can continue to use our 15 yr old flip phones..(we are old, not stupid) Do not care for the bait & switch tactics. Came home and found the LG 5 available at Amazon for $50.00 each to be delivered on Monday. Have tried to call Sprint Account services to check the process to change to the unlimited data plan (Told to leave a number and they will call us back) Do you not want to retain customers?

Edmond Aiken
from Atlanta, GA
This is in regards to a complaint forwarded to the Better Business Bureau and the FBI. Recently Amazon suspended our account for totally unsubstantiated reasons and in the process have decided to hold on to funds for up to 90 days accumulated by our company after products have been delivered and no claims or returns have been lodged against us. Secondly, I am a unemployed Veteran officer and I made it clear that those funds were sorely needed. They base their decision on comments an/or hearsay from customers of our products, however, only (1) out of (10) products were returned.
All of the complaints dealt with issues regarding wrapping and being new to the process I admit that our budget was low and shipping through the US postal Service can sometimes be risky as many of the packages wind up damaged and/or unraveled. Nevertheless, there are no open claims against our business but they "Amazon" insist on holding the funds for a prolonged time period without justification which leads us to see probable cause for claims of "Money Laundering" since if they can do this to us than there's a probability that they are accumulating vast suns of unmonitored funds and/or revenue and we intend on passing this info over to the FBI as I believe that companies of this nature often go unobserved while practicing these activities.

Rebecca Poole
from Commerce, GA
My husband purchased some shoes from a third party seller. Poor thing didn't realize that's what he'd done, and that this seller wasn't backed by Amazon. At any rate, if the shoes had fit, I wouldn't be writing this. What do you do when you buy something that doesn't work out? You return it! No shame in that game. Unfortunately, that is not what has happened. So, as a former Amazon customer, I say tread lightly. Amazon is showing its true colors: that it is not a user-friendly, customer-oriented type of business. No longer is customer satisfaction at the core of its business practices; it is simply a company comprised of rogues looking to prey upon unwary, inexperienced online shoppers. Wolves in sheeps' clothing. Hey, if the shoe fits.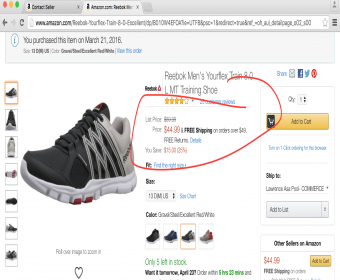 frank cox
from Charlottesville, VA
My order was sent through a supplier named "OTCRX4U" 4201 Tonnelle Ave., North Bergen NJ (201-880-7532). It was for 3 bottles of Lucky Tiger Deodorant. Though the packing slip indicated the deodorant was enclosed, I received 3 bottles of hair wax. The company's phone doesn't answer. It's mail box is full. I would like my money back or the proper order sent ASAP.

Lucy dinner
from London, ENG
Amazon has stolen money for me. For some reason my account has closed and so therefore all orders I made I was not allowed to recieve yet Amazon has still taken almost up to 500 pounds out my account. It's absurd how Amazon is trying to bully me into following nonsense instructions before giving me back the money they have stolen from me.

Mark H. Hofstad
from Bartow, FL
All I want to know is if I can rent a video to download onto my K10 to be used in flight to Europe. Your people do not seem to be able to answer a simple question without a blood test first. I think I cannot do what I want to do without buying the movie. I expect I would need internet to rent the movie. However, I cannot even get an answer to this question without giving my address and a bunch of other stupid questions. I gave my Email address. That should be enough. Amazon is now very difficult to use. The Prime scam just ticks me off. I never get a properly packed shipment. The CD containers are always cracked and books bent due to VERY POOR packaging. Now it appears that I have wasted my money on a Kindle 10 because I am not able to use it on a plane. All in all, you folks are doing a poor job.

arnold torchin
from Arverne, NY
I am trying out you new home advisor repair service. I can't contact the contractor thru your email to let him know where and when to come. Your reply service does not allow contact information to be added in a replay. How to I send him my contact information. Do you have another place? Your service is not going to work if I can't contact a service I need.

Geoffrey Phillips
from Port of Spain, POS
I am subscriber to kindle unlimited which my wife uses to access books to read. Recently she is unable to Download free books. Yet my account has been charged $9.99 this month.

Robert Harper
from Jersey City, NJ
Amazon is engaged in fraud. The product that they sent me was not the product that they advertised whatsoever. I also paid an additional $9.00 to send the product back thru U.S. Postal mail with a tracking number in case there was additional fraud going on. The company does not have a phone number whatsoever. They do have an address but no real website that I could find. They did not send me Rose Hip Oil as I ordered. They sent me RoseHip Seed Oil, a room fragrance. Please investigate these fraudsters. I put that room fragrance on my face. I'm pissed as hell and I want them investigated with all of my money back not just simple refund of $35 dollars.
I emailed Amazon support at payments-messages@amazon.com but did not hear back. This refund is for the following item(s): ArtNaturals Rosehip Oil - 100% Certified Organic - Pure Virgin, Cold Pressed & Unrefined 4oz - Best Natural moisturizer to heal Dry Skin, Fine Lines.

Gene Groeneveld
from Marshalltown, IA
I am being billed $10.00 a month from Amazon billing department for a service I did not ask for. Please stop this charge to my credit card!

Richard Stielow
from Neenah, WI
It started with a download update on a Kindle Paperwhite. I sent you a e-mail about this earlier and never heard back. Short and brief I could not delete books after the update. I talked to someone at Kindle and we agree to send me a new kindle and when I received I would return my the Kindle I am having issues with. This never happened 4=5 days later I got a e-mail stating they didn't get my Kindle. I called Kindle and got a return label. Mailed up and you received on March 9 I tracked UPS.
I keeping asking when am I going to get my replacement and they keeping saying when they get my old one and I keeping saying I having from UPS you have it. I have chatted and talked to several people and I only get the run around. I wanted copies and chats and I never get, What am I to do. Total I have spend over 6-8 hour between the download update and this issue. Can you please look into and respond to my complaint?

Hi my Amazon.co.jp account name is Coka Yu, I have a serious issue with Amazon Japan Customer Center, I need to complaint and report, require Amazon US Headquarter go out and resolve for me. I ordered two bottles (500ml x 2) face cleansing on Feb 21st, 2016. My order number is #249-9043179-0216606. However the product delivered to me is two bottles (180ml X2) and the order number is different #503-0719790-6128642. Because it's not my order and I can't believe there is cheating in Amazon, I contacted Amazon Japan customer center very soon, however they refused to product return and they refused to refund total amount, one of Amazon Japan customer center leader, 白柳 ( Mr. Shirayanagi) couldn't explain why different order came to my place, but he just insist that the products of #503-0719790-6128642 is my order and push me to receive it.
I couldn't understand all, called the customer center again and again, then they cut off all my phone call regarding any inquiry about this order. To be honest, I feel my moral rights is insulted, I am hurt. Also it's very strange that there is no statement of volume in my original order paper #249-9043179-0216606. I did check very carefully about the volume (500ml X 2), confirmed it before the order and even notified my friend that I did 500ml x2 order.
I require product return and refund total amount. And I require an explanation from Amazon Japan customer center leader, 白柳 ( Mr. Shirayanagi), why I have to receive the wrong #503-0719790-6128642 product? Why he cut off my call to Amazon japan customer center? Why my person information appeared on a wrong order number? Why I do saw the volume is 500ml x 2, but no any statement on the details of order #249-9043179-0216606? Amazon HP to the product I ordered now shows being sold out, 180ml x 2, the HP was updated and corrected in fraud. Attached is a screen shot of my order #249-9043179-0216606

charles buckshorn
from Cincinnati, OH
Ordered a digital tachometer on feb 11/2016 and Amazon customer support guys sent wrong thing. I sent it back with the ups tag that you sent you said it was reordered you said it was delivered but not to me! All i get is the run around online.

I placed an order (002-4693745-9667435) for a $100 gift card to my son to be sent to me so I could include it in a birthday card to mail to him. I evidently misread or misunderstood your instructions because you added $100 to my account instead of sending me an email attachment that I could mail to him as you had done before for a prior birthday. I then tried my best to have your reply redone or even cancelled but could not find out how to do it.
You also have no telephone number I could use to work this out with you. Your 'arms length' relationship and inability to credit my account for the $100 and reissue a birthday greeting to my son for me to mail to him is annoying, making me skeptical about ordering from you in the future. Can you help me with this? I don't want to add $100 to my account which is what you did.

Joffre Lewis
from Reading, PA
An Instant Pot 5 qt. pressure cooker was listed on Amazon for $80. I clicked on it and purchased it. When I viewed my invoice 1 week later I noticed that I was charged $109.95 which did NOT include tax or shipping. I e-mailed and called Amazon expecting to get a refund for the difference. Instead I was told that it was my fault. Before clicking on pay, I should have reviewed the order more closely. I agreed that was true but it did not change the fact that I paid much more than the listed price of the item.
I was also told that &80 was the price for the item at Amazon but my order was re-directed to a seller. that is of no importance to me. The fact is the price on Amazon's web site was $80 and how the order is processed is of no concern of mine. Customer Service, now obviously out-sourced to India, hung up on me. I e-mailed the seller who said that the problem is Amazon's--not their fault that Amazon listed the item for $80 which is not their selling price.
I remember when you could buy with confidence through Amazon. No longer. I can find the same products at the same price through many, many other sources so will now use Amazon to get information about products, read customer reviews, print photos, etc but always order through another seller.

Miller
from Bradenton, FL
I have twice ordered books for My Kindle and only gotten summaries of those books. I paid for the book (I thought) but no book only summaries? I want the books.

Jason Cint
from Saint Paul, MN
I paid full price for a movie to be streamed and I could hardly watch it with such poor streaming quality.

Lou Ann Britton
from New York, NY
I have received two shipments in the last two days which were shipped by Amazon. I live in an apartment complex which has authorized all deliveries be left at the Leasing Office if recipient is not home or does not come to the door. This has been arranged for the safety of the residents and to protect shipments they receive from being left at the wrong resident or confiscated by someone else. This is a recent occurrence as I have not had this issue with UPS in the past. Perhaps there is a new driver on the route. In any event, if I have a package go missing as a result of this driver's laziness/incompetence, you will hear from me again. Shipments tracking numbers are 1ZWX93280322344051 and 1ZW473R20331524222.

Mary Ann Frasher
from Brooklyn, NY
I ordered Amazon Basics DVI (Order #112-1831376-5000209) to be delivered today. I received a notice the item would be delivered by 9 pm. When there was no indication the order was going to be delivered on time, I checked email. Upon opening my email, there was a notice the package was delivered and left at the front door on the front porch of my apartment building. I immediately went downstairs to look for it, and there it was - laying inside the outer door where anyone off the street could open the door and take the package. And someone almost did.
As I was approaching the entrance, someone off the street picked up the package. If I wouldn't have said that's my package you have, that would have been it. Amazon has delivered many packages to my apartment. After you come into the outside door, you have to be buzzed into the building, and then buzz my apartment to gain access. I have had this problem with some UPS delivery people before. I have called them and complained, but they just brushed it off. I told them I would be willing to come downstairs to get the package if they buzzed my apartment. I have done it on occasion because some don't want to climb 12 steps. I can't fault Amazon as they have been very good.
But I would hope they would contact UPS and complain about their delivery and try to rectify the situation.

Alexandra Robinson
from Virginia Beach, VA
I had package today from Amazon mail person refused to deliver it at my home.I spent almost an hour on phone with Amazon Rep and all she eventually was told was "sorry!". I was told on the tracking number I had that USPS would not deliver as address not valid. This was a lie. My address on package clear and as other mail delivered here there was simply no way it could not be left at my house doorway. Told USPS will deliver tomorrow the 4th February from office on Viking Rd in Virginia Beach VA. This package paid for as urgent I expect it delivered on given date. I am very upset with this as no reason for not delivering today.

Charles Mallow
from Snohomish, WA
I was buying a denture adhesive from Bartell's. I was told that the company stopped making it. Went on Amazon and happened to see it for sale' At Bartell's it was $ 5.99 and at Amazon it is $ 129.00 for the same 1 oz. tube. I think this is considered price gouging. The products is called Cushion Grip and it is for sale on there web site.

Karen Crawford
from Alpharetta, GA
Amazon closed my account. They say it is because I returned too many items. Prior to them closing my account the last email that they sent to me said not to worry that my account would remain open and that I could return items. Also when I email them which is the only method they have to respond to me they do not answer the questions I am asking. They also have stated they are not going to refund my Prime Membership that I have already prepaid for due to that I somehow abused my account by returning too many items. What should I have done kept Items I did not want or like? Email them each time to see if it was okay to return a certain item or items? They told me to read there return policy. I did no where in the return policy does it say anything about a limit on returns. Please advise?
Have feedback for Amazon?
Thanks for your feedback!
Sorry. Please try again later!