Amazon
Amazon Complaints Continued... (Page 14)
678+ reviews added so far. Upset? Call Amazon corporate: 206-266-1000

Allen
from Saint Paul, MN
Now every time I try to order something it won't go through. As a company it's been too many times now that I can't get my orders through and it won't work. All I get is having to order through an operator consistently. I'm tired do wasting my time on hold. I will move to a different place to order. Goodbye Amazon after 15 years. Cancel my tax free account.

Robreisha Fields
from Alexandria, LA
I bought a scooter earlier from Amazon.com that was way to high being a single mother of 4! I wanted to get the 2 year protection plan but couldn't afford it with the scooter. Now the scooter plus protection plan are cheaper than what I purchased it for, from the same company! That's just wrong. There should be a price comparison at least. How can I contact the Amazon.com corporate office with my complaint?

Dawn Hauck
from Bettendorf, IA
I placed an order and it was to be shipped on Dec.29 or Jan.12th way too late for Christmas. It was coming from the United Kingdom. I don't understand this third party shipment. I probably will not order from Amazon again as this was my second complaint this season. I really liked the convince of the wish list, but will not use it again!

Dawn Hauck
from Bettendorf, IA
I placed an order and it was to be shipped on Dec.29 or Jan.12th way too late for Christmas. It was coming from the United Kingdom. I don't understand this third party shipment. I probably will not order from Amazon again as this was my second complaint this season. I really liked the convince of the wish list, but will not use it again!

I ordered a watch off Amazon 27 / Nov /15 and received it 30 / Nov / 15 anyways I heard the FedEx truck outside and went to go get my package from the Lady and she personally handed me two packages. One was my bath robe and the other was my $600.00 REACTOR watch, she had put the shipping box w/ the watch in a clear plastic bag and I'm thinking she did that because she was going to leave it outside because it had been raining. Ok so I get inside and my box w/ the watch inside has a judge hole in it and a large portion of the box was torn away and missing.
The lady carrier did not inform me that there was this judge hole in the box PERIOD AT ALL whatsoever nothing :( and you can't tell me that this lady carrier didn't see and know that this box had been damaged because she handled it with her hands and put it in a plastic bag. My package wasn't damaged it was ripped into and that's why I'm so highly upset :P the watch was also missing the band links and the instructions that were supposed to be in the bottom of the watch container itself.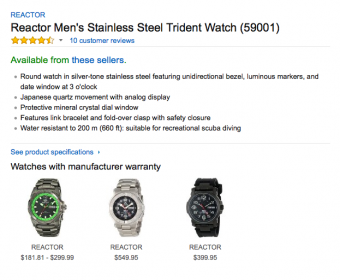 Tracey Maloney
from Pascoe Vale, VIC
I have been an amazon customer for a while now I collect my fav tv shows and movie items what is the difference in me buying seasons 3/4 box set of Stargate Atlantis trading cards but nobody will send seasons 1/2 and 5 nor will they send me the Stargate Keyrings of any kind nor can I receive any more torchwood items I don't buy these to resale I buy them for me as I love collecting what I can but why send me half a card set and nothing else I also tried amazon Australia and now I know why I don't us them all they have are books I have never had a problem never had to send anything back not a happy customer anymore why do they have to be so mean my ratings used to be 5 stars now they are o and I don't like doing this. I have had over nine items that I wanted to buy but can not I brought 7 items and have received 6 so far.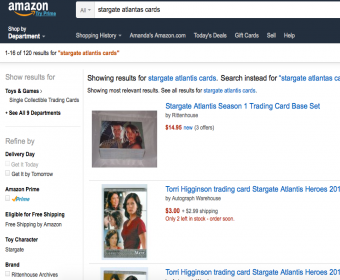 JoAnn Yoder
from Batavia, NY
Wednesday, October 21, 2015 I received my credit card statement and was charges $106.92 for an Amazon Prime Membership. I did not request a membership and I do not want a membership. Please credit my credit card for the amount of $106.92 and explain why this amount was charged to my account. Please someone help me, so far I cannot get Amazon to reply to my complaint.

JoAnn Yoder
from Batavia, NY
I received my credit card statement yesterday and there is a charge for $106.92 for an Amazon Prime Membership. I did not sign up for an Amazon membership and I do not want this membership. Please credit my credit card for this amount and explain why this was charged to my account. I am hoping someone from the corporate office will reply to my complaint.

William C Dugard
from Benton, LA
Recently ordered book thru you to Hippo Books for a book titled Things to Come by J Dwight Pentecost with a cost of $15.99 on order #119919442 on date of 8/23/2015 (Hippo Book sales order #97572770). Did not receive this book but one titled The Gunsmith 394 #6009-1-835-165200 and the USPS tracking #9241 9901 0154 9266 4107 53. It has cost me $15.99 and did not receive the book I ordered. Looked up the company Hippo Books and found unsettled complaints and find it hard that you do business with this type company. I have used amazon.com for many orders and you can verify this. Sad, we are now on a bad foot because of this type business from someone you transact business.

Karen Belan
from Mukwonago, WI
We placed an order for some jewelry for my daughters birthday on July 27 2015. the order was for over 70 dollars. we paid an extra 10 dollars for 2 day shipping. We got a confirmation notice that the order will ship on Aug. 20, 2015. My daughters birthday was on July 30th. What can we do to expedite this order? Her birthday has already passed and we are not happy with how this has played out. There was a mention that an order over 35 dollars would have free shipping, but that had strings attached and we decided to pay the extra money to ship in 2 days. We have not had a problem like this in the past and we felt like we would increase the amount of purchases over time. Our daughter lives in Ca and it is so nice to be able to shop this way. It is unlikely that we will continue if this is what we can expect for delivery. Please let us know what we can do to submit our Amazon.com complaint to the corporate offices.

I have received four messages from Amazon advertising their products. these messages were received 14/6/2015 at 00.07am. 17/6/2015 at 00.08am.and 18/6/2015 at 01.02 am . I made a complaint about this unacceptable anti-social behaviour, or so I thought. I have received a further message today 23/6/2015 at 01.01. This problem needs immediate attention by Amazon. It is not so much the unwanted advertising but the times the messages are being sent, why in the middle of the night to disturb people who are asleep. This definitely not good business practice.

I used to work for Borders and I can tell you it was going down hill before Apple came out with the iPad and before Amazon came out with Kindle. There was a lot of theft from customers. At least three employees I knew of stole from the store while I worked there. One employee liked young girls so much so, some of the female staff changed their work hours to avoid him. When I mean young girls, I mean my former colleague talked about dating high school girls. He was in his early 30's and as creepy as they come. The general manager was indecisive to such an extreme she was replaced by another general manager who fired an employee who for the past 5 years would come up with every excuse in the book to come to work late or leave work early, or not come to work at all. The excuses were inappropriate.
Anytime a rep from Ann Arbor, the headquarters, would come over there was no discussion of how to make the store more efficient or the work environment safer for the workers. I was once told to engage in a conversation with a thief whether that person was carrying a weapon or not. The pervert of the store, I mentioned him earlier, chased after a robber before face planting right outside the store. He was trying to impress a group of teenagers. Another employee over another incident was physically threatened by a customer who yelled out: "I'll cut your pockets!" I left after I realized my life was worth more than a paperback.

Susan Ivison
from Midland, TX
I was given an Amazon Kindle fire for my birthday on 5/15/2015. Worked fine until 5/27 and then I couldn't get it to come on. I asked my daughter for the receipt and took it to the local Best Buy. The girl at customer desk acted like it was an inconvenience to wait on us. Snatched the receipt out of my hand and and started counting on her fingers then told me the 15 days was up. Informed me I would have to call Kindle. When asked if there was anybody that could help me she said Nope call Kindle the 15 days are up! Basically handed me the receipt and walked off. That's not the first time they have been rude! Last time I ever go thru the doors at any Best Buy. Will suggest that my family never buy me anything there either!

I have been happily ordering from Amazon, same items regularly every 1 -2 months, with no problems. Orders were sent by regular US Post to my post box. Last week my items did not arrive on schedule. I then received emails from Amazon saying "Shipping address is undeliverable - items have been returned to sender". I noticed that for the first time the order had been sent by FedEx, not US. I phoned Amazon customer service - what a joke! Spoke to 2 different agents who could not explain why a change had been made in the method of shipping. I asked to speak to a supervisor - there were none available.
Then I am told that.....the shipping department decides how an order will be sent. So I reply that US has worked perfectly for 2 years. Sorry, it is not possible to ask the shipping department to send an order by a specific carrier. But this is the same regular order that always arrived just fine. Oh Sorry, that can't be done. I then tell her that I will be forced to cancel all my regular subscription orders. I am told that she will send an email to somewhere telling someone that I am unhappy.
Then I am told that she will make an exception for me and will send my order by special delivery to my home. I explain that there is no home delivery, just post box. So I give her the address of the post office and she assures me that it will be delivered the next da. An hour later I get an email saying that I have been issued refunds for all the undeliverable items? So I am cancelling all orders with Amazon. There is no customer service from this company.

The listed and publicized date for the rate increase for Amazon Prime is April 17, 2014. Today when I attempted to sign up for Amazon Prime at the rate of $79 I was informed that signing up at this time would cost me $99. At this date it is the one(1) month free trial period that is pushing me beyond the April 17 deadline. When I offered to decline the one(1) month free trial period which would now make my signing up date before the publicized increase date of April 17. I was informed that I would still be billed the new not yet in effect rate of $99.
It is abundantly clear that the one(1) month free trial period in this case is designed to deliberately push anyone new signing up past the date of April 17th. when the increase is supposed to take effect. By this very shady maneuver it is in effect making the date of the increase actually March 17, 2014. I thought that Amazon was a much more reputable company with the integrity to stand behind it word and publicized dates.

I've purchased several downloads from Amazon. Here lately I went to sample a song and it automatically downloads as mpu (whatever that is). I called to report it, a complaint was submitted, that was about 2 wks ago and I still haven't got a response. I went through checking all the songs I've downloaded and they are not complete. I called in 2 days in row concerning this problem. My account was reset, they gave the go ahead to re-download, i received a message saying they were sorry, there's problems with processing my account. This was during and after the call with the rep. I don't know about ordering anything else but I can say the last couple of times I've purchased the mp3 downloads there have been nothing but problems.  I will be looking for another site t purchase my music from.

I bought a control panel from Universal Pneumatic & Electric Group – Amazon Marketplace Out of Atlanta Georgia and when i ordered it said 3-5 day delivery 10 days later i filed a complaint. I recieved a call from Universal telling me to remove my complaiont as its hurting his bussiness. I told him that i never usually complain but the delivery is not what was promised and he was hurting my bussiness and that shipping was Anazons problem not his.We responded to e-mails where he is calling me and he was stopping shipment of my order even thogh its paid for.

I recently sold a set of vhs tapes on amazon.com, the tapes were in great condition, I just made dvd copies of the tapes before I shipped them out and made sure they were rewound and the packaging was in great condition. I sent them out at a good price and within a week, I get an email saying that two of the tapes were not rewound and that they were jamed! The seller claimed that they were recieved that way. The seller is demanding a refund and shipping cost to return the tapes. What can a seller do as I don't want to get a bad report.
I have also had buyers claim they never recieved the cd's that I sent and I have started using tracking and if it is an expensive disc I request that the cd be signed for. I wonder if amazon.com tracks the deadbeat buyers that constantly do this? It seems strange to me that I have so many problems with buyers when I check my sales items and make sure they are good quality when I ship them and what can you do when they switch out their broken vhs tapes or say they didn't receive items?
You can't accuse the buyer of anything as you will get blacklisted and it sure seems funny to me that I have so many problems with buyers. Something is fishy here and I would like to know what can be done about it.

I applied for the Bank of America credit through Amazon because it held a big discount for purchases for a limited period. When it arrived I decided not to use it and cut it up and threw it away I contined to purchase all my christmas shopping thinking that I was paying with my usual debit card. Unknown to myself Amazon had placed it on the account as my default payment. I complained to the Financial Ombudsman and Amazon or Bank of America contacted me to see if things could be resolved. Incidentally, I did not receive the discount either and have been charged interest.
The lady on the phone was very clear about her side of the story and practically accused me of lying when I said I wasn't aware that I was using the card when buying things. I asked her to put things in writing and she because very rude indeed. I wonder if anyone else has had this experience. Is outrageous. I have been a loyal 10 year customer of Amazon and spent a ton load of money in that time and am seriously considering not paying the bill just so as they'll take me to court and I'll be let people know exactly how they treat their customers.

Chefs Depot has been serving customers for over 30 years. Do you think that there are complaints from the general public about them? Sure and also about everything else on the planet. They are a good company and I have been buying from them a long time. I got shafted by Amazon, people search Amazon Complaints! Chef Vlad

1st time customer.purchased pedal tractor with gears today — add says goods over 25£ free delivery to Ireland — confirmed by Melanie at Amazon by phone prior to purchase.based on this info I promised this gift to my grandson. However delivery to Ireland was refused –no choice but to use UK address and pay delivery charge. Now faced with extra cost and hassle of getting the gift to Ireland. I feel cheated by this false promise of free delivery using the Amazon website and false advertisement. 1st and last time customer of this service.

Amazon charged illegally (or rather stole) my money on the first day of my credit card billing cycle for last month. Amazon was smart to do so because the victim I would only get a chance to know that my money has been stolen after one whole month when I receive my credit card bill. I ordered items from Amazon awhile back. However, I didn't buy anything at Amazon.com anytime soon. It is weird for Amazon to start charging/stealing money from me, which is only special in that this day is the first day of my credit card billing cycle of for previous month! Some bad guys in Amazon intended/determined to steal.

after ordering an item from Amazon fri.15th Feb for £14.95 and been quoted £2.49 p&p and promised confirmation of order, which l didnt get, l check the order myself and see l have been charged £18.99 for a £14.95 item which is ludicrous. l've sent emails of complaints and spoken to a rep. from Amazon this morning who promised to email me back within 30mins – nothing!! what do you do now?

I received a book, the 17 day diet-Dr micheal rafael moreno without any amazon order No. or other info. required for returns. It was sold by:twentyfourseven-books,which is the reason I didn't get free shipping. I couldn't get a phone no. to call and discuss my problem with amazon. I am not going to order any thing from amazon.com anymore.

I'm hoping that someone may be able to assist me or at least look into this situation. I'm dealing with a bait and switch situation with Amazon.com and at this point I'm getting absolutely zero assistance from their own customer service. I purchased an expansion pack from Amazon. It was available from Amazon, not their "sellers, " and they advertised it for $9.99 plus shipping. As of October 25th, my order had still not even been shipped. I contacted Amazon customer service, via e-mail, and was told that the product is not available through Amazon and that I would need to cancel my order and purchase it from one of the "Sellers" on the Amazon product page!

I have been hissing about this all day – I love finding this site. Amazon has suspended me from selling on their site. Just because my email was accidentally entered incorrectly because I had added an extra .net. –their form is too short to show the entire email at once –not their fault –and I'm just guessing that's why- they won't tell you why you are suspended or work with you to correct anything. The Gate keepers do an excellent job. Does any one else think the amazon smile is an erect circumsized male organ? Maybe it's because I feel screwed. They are as bad as Walmart ruining local business. Boycott Amazon. How long will it be before they get this scrubbed? If you want to do business you need to bend over and grab your ankles.
Have feedback for Amazon?
Thanks for your feedback!
Sorry. Please try again later!