T-Mobile
T-Mobile Complaints Continued... (Page 8)
854+ reviews added so far. Upset? Call T-Mobile corporate: 425-378-4000

I was giving inaccurate information from a t-mobile rep. I called about upgrading my phone and changing my plan. The rep I spoke to informed me that she could lower my plan and I could get me a new phone if I renewed my contract. I agreed and renewed for another 2 yrs. Now I am being told I cannot keep this plan and upgrade my phone. She never told me if I upgrade my phone I would not be able to keep the plan I have now.. I tried to get a new phone through wirefly and t-mobile did not approve it. If I would have known I would not have renewed because my contract was up in two months.

I received my T-Mobile bill and it contained a 200.00 charge for two phones for a cutoff fee and I did not know that until I called the customer service rep., at T-Mobile and she told me what it was. When I went into the T-Mobile service center to purchase something the gentlemen asked me if I wanted to save money on my bill and I said sure if it did not effect any kind of changes for the end of my two years and he said no it would not so I made them and now this is what I get not happy about it. I would like to have it removed, I have left one phone with T-Mobile and if you will see I have not been late on payments for T=Mobile. So if I could get that removed I would appreciate it. Thank you for your time and I would like to here my email please.

Dear T-Mobile, I have a contract with you i don't recall it but not later than June 20th 2010.. I have a family plan with 3 lines.. for bad services with the phone and the wireless services my wife and mother in law got a new phones with other companies with different lines.. I have been paying for 3 lines at T-mobile for the past 3-4 months and finally my wife got a new phone and new line with different company for the same reason I mentioned before.. I was still paying for 3 lines.
Then I waited till today 7/31/2012 to canceled their lines and keep mine with you. However I was surprised that your customer service telling me my contract will end on October 2012 not June because " the discount I get it from working with the State Of Texas."
I don't recall that I was told on the phone my contract will be ended on october 2012 not on June 2012... However I am entierly sure I don't have any documents saying my contract will end on October 2012 even on my web page. I really appreciate if you consider not telling your customers by phone especially something about their contracts ... although what you have all my contact information..
I really appreciate if you consider waving the disconnecting fee...

T-mobile extended my contract without cause or notice to me. I am still under my contract from approximately Dec. 2010 or Jan. 2011, which is due to expire in Jan. 2013 I was told today that on Dec. 5, 2011 my contract was extended to 12/13. Why??? There is no change to my phone service or devices.
I plan to look over some of the new plans you are offering and the new phones, but I was told several months ago to wait until my contract was up or at least close to the end of it and that if I elected to go to the lower plan $45.00 per month per phone, it was only 3G, it was slower and it did not offer as many Apps, which my grandson uses and I would be penalized in all future free phones etc.
I elected to wait until my contract was up. Now I was told by the Loyality Dept. that my contract was extended. Please investigate this matter and get back to me as soon as possible.

I was charged an additional charge of 100.00 for termination og my ph0ne. My account number is 170245515. I was not aware that I had a contract. I have been with T-Mobile for twelve years. When I switched to a track phone I was told that my services would still be with T-Mobile but no monthly fee.
Just charged for my minutes. I know that you are still getting conpensated for me choosing a track phone. You are confusing the public when you are charging me this amount and putting taxes on top of it. I am considering turning you into the Better Business Bureau of Pa. Please look into this matter as soon as possible

I was told to contact "ContractReview@T-mobile.com" to file my charge dispute....I have not been able to get to the actual site after many attempts. This site will hopefully contact the T-mobile review dept.
I have been paying for 4 lines with T-mobile for about 7 years. In the past 4 years, the connection was horrible, difficult to do business or contact my family (often within the same house) by calling or texting half of the time... Very frustrating and not good for business.
2 of my lines were out of contract as of July 27,2012...( I confirmed this many times by calling t-mobile and checking my online account many times, it was written there).. I knew I would have to pay $200.00 for each of the other 2 lines which were still under contract.
I cancelled my T-mobile service Aug.12,2012.
I am unfairly being charged early termination fee for all 4 phones, $800.00 instead of $400.00..
Plus, all of the sudden, excessive Tax and Surcharge Fees. Normally my tax and surcharge fees are $17-20...I am being charged $142.63!! a difference of $124.63...(September's Bill)
In October I received a bill for an additional $325.00. The bill says "One Time Charge". When I called to question the fee since we had not used the lines since Aug 12, I was told it was the service fee for the phone usage last month??? Our usual monthly total bill for 4 lines has been $262.00. So I don't know where they are getting the $325. fee...
September 20,2012 I did pay $400.00 for the 2 phones under contract because I feel that is fair. I was always told there would be a $200.00 per line early termination fee.
The other charges are unfair. I am being charged an extra $1,104.33 !!!!`
Just because T-mobile is a strong company they shouldn't take advantage of their customers

I just went to cancel my contract at T-Mobile account #818094301, and was told that i still have a year, cant cancel till July 13th, 2013, i signed a contract with T-Mobile on Oct. 18, 2010, a two year contract, so i want to cancel on Oct. 18, 2012, they informed me that i had a flex account and then when that ended my contract started.. I did not authorise a contract extension from Flex pay to classic plan. I want to cancel my plan, i have met my two year plan, on Oct. 18, 2012. Thank you, Vicki Davey

I had been a tmobile customer for 12 years. I called in December to inquire about when my contract was up, I was told that 2 of the phones on my family plan were not under contract. During my conversation not at any point did this person send my call to the retention department. I changed plans with the 2 phones that were not under contract. I went to the Tmobile store to change from a family plan to a single plan, at this time the representative did not inform me that by going to a single plan, my contract would be extended another two years. I was very disappointed with my single plan coverage. I opted to leave Tmobile. I did understand that I would be charged a fee, but I thought the fee would be 100.oo considering I only had 10 months left on my contract. To my surprise I was charged 200.00. I hope that you will be able to help me with this discrepancy.

Customer since 2006 - good standing. For the past 2 years the quality of phones being sent to us (for my daughter) has been truly unacceptable. For numerous reasons we have had to return phone after phone and even purchased a phone on my own. My understanding was that my contract should be ending Nov. 2012 but I was informed that it had been extended until June 2013 and this is not what I want. My satisfaction with T-Mobile has been totally lacking and I would like to terminate my contract without any termination fees because of the service I have had to endure for the last two years. I would like to go from the current contract to a month-to-month deal immediately. I pay way to much money for the service I receive. This issue needs immediate resolution. My daughter needs her phone so much for school and work and she has had to go without a phone on several occassions for a few days or more.

I placed an internet order on October 24 2012. Paid the required deposit by Mastercard. On the 25th I called in reference to the services I ordered and was told that there was an error in processing and my order had been canceled and I would receive my funds credited back to my card in a day or two.
Its been a week and I still have not received my $225 back. Each time I call I am told things from there is no record of the order to we have to file a lost money claim which by the way takes four to six more weeks, to give it a few more days we are not holding your funds your bank is (all lies). They also promise to investigate and call back and they never do. All I want is my money I am a single parent and full time student and I can't afford to have my money STOLEN! Its real simple release my funds thieves. My next report is to the better business bureau. I regret ever doing business with t mobile.

4 months ago I got a free t'mobile galaxy phone with a contract that I been a customer for 8 years, I have a number 919-730-5555 to renew my number for 2 years, but the lady put a second number that I never ask for or used or nobody ever called me on , so I get a bill today of 489.00 and I talked with them when I saw that they put a 2nd line on my contract so they tell me to hold on to my number 919-730-5555 my org number , I would have to close out the other line 200.00 but they were gonna give me 150.00 volcher then u will only see a 50.00 charge and we will give you a new contract, and 3 months ago I said fine and he said you will only see 50.00 more on my phone bill and they will wave the line I never ask for, today I get a bill of 489.00 which my bill is never over 100 dollars, I been on the phone for 5 hours today and 3 hours over the last 3 months, I have a unlimited plan I had for years and I been with suncom and never had to go through this in my life, my phone was cut off today, and I talked with your manager and she said to file a complaint, and ether you don't resolve this or I want out, I never been so unhappy in my life, I had this number 919-730-5555 for over 15 years and today I was ready to walk and I refuse to pay 200.00 terminate and 2 months of a line I never ask or used in my life and I don't even know the number they gave me, he is my claim number 589162910 your manager was very nice and she said I was in the right that you would help me.... please call me 919-730-55555 to get this off my back esp the holidays are here ... thank you , Joe Posillipo attorney at law...

I have been a T-mobile customer for at least 10 years. Last summer (I can't remember exactly when) I stopped at the T-mobile store in Lexington, Kentucky for the purpose of upgrading my plan. At that time the salesman did ask if I wanted to obtain a new phone but I did not do that and now wish I had. In October I began having several problems with my phone including not being able to charge the battery. I went to the same Lexington store to see if I could get a new battery. They said they could not replace the battery and did tell me the name of a store that sold just batteries and might be able to help me. After some discussion about that option and possible success I might have with that path, I decided I should just buy a new phone. I paid full price for the Samsung Galaxy XIII S because they said I should have bought the phone when I last upgraded my plan. I accepted that and went ahead and bought the phone which is paid in full. The problem is that I'm now under a new two year contract and I am thinking of changing carriers to have more coverage. Do I have any recourse that would let me out of the contract without paying $200 for breaking the contract?

On October 5th, 2012, I spoke with Crystal, your customer service representative regarding a upgrade on my phone. We chatted for a few minutes on what I was looking for. I was offered the Galaxy III phone for 130.00 and the LG my touch for free, 2 phone lines unlimited everything, $10.00 off for being a valued customer and 500 minutes for my third line for $5.00 . Per our conversation, she was well aware on how much I wanted my overall bill. She told me that my total bill will be $114.00 a month. I proceeded to ask her several times ( is what I will be paying every month)and she replied back yes. She never once mention to me the that tax was not included which would bring my bill to $154.00, which I cannot afford at this time. I have never been so dissappointed with your company to allow this kind of deception to be acceptable. I will hope that you will take the time to review this case. I will most definitely end this contract and inform everyone I can about how this company manipulate their customers

T-Mobile Customer Relations
P.O. Box 37380
Albuquerque, NM 87176-7380
December 1, 2012
In November, I call to upgrade my phone to the new Samsung Galaxy. I was told that I needed a new plan for this phone. We discussed it and I said I would change to go along with the phone. Ordering online the upgrade priced showed that I would pay $150. I explained to the rep that I didn't have that amount at that time. I asked about installment and she said that I could pay $78.00 and could pick the phone up from the store at the mall that was close to my residence and the rest would be spread out. Again I asked about the cost and she said I would only be paying $150. I went to the store the following day and after waiting in that store line for 2 hours was told that I couldn't get the phone because the $78 was only the deposit for the Blaze. I said that I never discussed the Blaze and didn't even know what the Blaze was. I came home and called T-Mobile and spoke with another rep who said that she could help me. Again no one even mention that I would be paying $600 for the phone. I'm still under the impression that I was paying 150 with the difference of $72 as my installment cost. When I received the electronic contract I looked at the bottom line and saw again that $600 number. I called back and told them that I didn't want the phone and to put everything back to my original plan where my contract expires in January 2013. I was told that my plan would go back to the original since I wasn't getting the new Samsung phone.
On December 1, 2011, I called to find out what day my contract would end to verify that it had been changed back to the original and was told that it expires in 2014 since I had upgraded my plan. I got very upset because I didn't agree to a plan upgrade on my old phone. The plan upgrade was to be on the new phone that I thought I would be getting. I spoke with Kevin ID# 0623071 who stated that he was sorry that things were no explained fully. I told him no that It seemed that the reps omitted a lot from their explanations as far as I am concerned this is like a switch and bait.
It seems as if your reps were only writing /putting things in where they would benefit from a commission and omitting what the fine print of the sale. Not noting everything that the customer has requested.
I never authorized it or renewed it or consent of extending my contract. I am so unhappy and want this fixed.
I am requesting that my old contract be restored back to the expiration date of January 4, 2013.
Thank you,
Roslyn C. Avant

After about one year i came to know that i am in cotract with t-mobile. Year ago i requested to add 2GB data value with my plan .Before that i was pay-
ing whatever i was using which was little expensive than this $10 plan .store person did not told that he is puting me into contract otherwise i might
have refused that time. I am with t-mobile from so long and i was on special valued customer plan .very few people had this plan back then.This is what
happens to valued customers with t-mobile As your valued customer i request u to cancel my contract s soon as possible.

T.mobile Rep put two corporate lines to our account, with no similar cards and no devices, we are being charged for them and the lines are not being used. He said to me that it will make are bill lower. And that he could. Make an profit. Also if my sister. The account. Holder would. Agree we called her and she spoke with him, he told her the same thing. He told me and she agreed. After this our bill went very. High for the last few months, making it hard to pay on time, we do not need thease two extra lines, #646-236-9074 #646-243-5107 or01 the Tmoble. Store. Is not an corporate store, it location is west40 Th and 7 thave please we need u to look into this matter ASAP in order to get this off our account its not fare my sister had been an loyal. Customer. For almost 15 years can u please help thank you Debrah. Smith brother. James smith., my mobile # is 914-426-8087 the account, holder account # is-851368686 the last four digits to social. Is. 6140. There. Is an corporate store on 610 9 Th Ave where the sales Rep herd my complaint. And told me that two other T-Mobile customers was treated the same as me from the sales Rep at the west 40 Th and 7 Th Ave Tmobile store please investigation. On this matter the 9thave corporate store sales rep# is 2025817 she has my name and mobile # I gave her the complaint, thank u, contract. Review. For your time I'm waiting. For. Your responce on this matter, loyal customer Debrah., james smith

I was a long time customer of T-Mobile company. I purchased a Garmin phone from them and paid for insurance coverage for it. In September 2012 I started experiencing problems with my phone. It would shut off and come back on several times during the day. I went to the store in Greenwood and complained that the phone was not acting right.
The clerk there told me that the phone was shot and that I needed to purchase a new phone. I explained that I had insurance to cover the phone and was told that he couldn't do anything about it. Then a few days later I went to another store and was told that the phone needed to be updated. She did that and it was fine for a few days. Then I started experiencing the same thing again. On and off all day long with no service in most of the areas where I live.
I proceeded to go back to the store in Indianapolis in January 2013 and the young lady there witnessed that the phone was going on and off by itself. She told me that I could get one of the cheaper phones to replace the one that I had. I did not feel that that was fair to me considering that the phone that was acting up was an expensive phone to begin with. She told me to call the loyalty department of T-Mobile which I did.
The young lady at that department told me that I could get one of the top 3 phones but I would have to sign a 2 year contract., which I didn't want to do. I felt that this was not right considering that I had a phone that was not working and that I had paid for the insurance to cover it for over 18 months.
A few weeks later (February 2013) I went to Best Buy and purchased another phone with a different carrier. This was necessary because I was going to a place where there wasn't a land line and I needed to have mobile service. Now I am being charged for a termination of service when in reality I haven't had very good service from T-Mobile since September 2012. I feel that this isn't right. If you purchase insurance to cover a certain item it should be covered if that item quits working.
My husband and I live in an area where the coverage has gotten worse over the last few years and feel that since we didn't have good service with T-mobile and that they didn't honor the insurance replacement that we were in our rights to find another carrier who would take care of us. If they had treated the situation differently I would probabily still be with their company.

My name is Janika Padio I have started services with T-Mobile less then a year ago. Since then I have several problems with my phone after several calls and going into an authorized store a warranty exchange had been put in on January 26th 2013 at the time my address was 2902 Deats rd. apte4 Dickinson, Tx 77539. I have never received the replacement phone each time I call customer service I am told that the phone was mailed to me. my problem is that I am being charged for a phone that I never received. I feel that no one at T-Mobile is listening to me and is only concerned about charging me for a phone that I never received my current information is Janika Padio 8601 Emmett F Lowry apt96 Tx City 77591 832 561 6837

I been Having Problem with My phones and My bills I wast tall Before I buy and Sing contrac the person sales was layer because never respec my contrac he tall me I only have to pay $210.00 Amounth and since Octuber 8 , I been pay more money and I dont Agree this Because I been call coustomer services and they tall me to go to T-Mobile and I go to The store and speack to a person at the store and they tall me I have to call you back because they cant do anything They check the phones and they orther a new phones and ,I only recived two phones and the 3rd phone never show I call back and they tallme I have to waite intull they recived de phones, my phone dont work , and the oter phone Dont turn on either I bring this two phones to the T-Mobile And they check and trid to turn On and dont work this is the second phone , I Am so desapoiment At this point because the services you provime is not good please take care this or gime other new phones Before I take this to legal department If you dont responding me I need to Cancel this services because I never Have this Issues and another company Before and I like to responde before I cancel my services and chargme for this cancelations My Phone # is 925-565-5801 and 925-339-0816 and 925-956-3009 please Call me at 925 565-5801 is My husphen phone . Thanks

I was having trouble with my phone, so in may of 2012 i went into a t-mobil store on 14th and university in des moines iowa, I was not told that my contract was up, and by getting a new phone i would be getting a new 2 year contract, I am on disability and 78 dollars a month is hard for me to pay, I stopped in that same store today to pay my bill, and told the store clerk what had happened to me,they told me to call customer service and my contract would be voided, I have always paid my bill on time so there should not be a problem, I went home called costomer service and they told me to go to this e-mail and write out what happened to me, I know I still have a year left but as I told you the bill is hard for me too pay, If the store clerk would have told me by getting a new phone i would have a new contract, I would of never done it....the lady I spoke to in cutomer service today also told me there should be no problem in having the rest of my contact cancelled...

I signed up for t-moble, I was told the only way that I could get $49.99 A month is A 2 year contract.I found out later that you can do $49.99 on A month to month.I also found out that I was over charged on my cell phone G2X cost $400.00 every one else was chargeing about $120. to$150.I put my trust on the sales associate.I for got he works on commission.Now the fun part,They gave me A used phone ,had someone else E mail and numbers on the phone already.
Now the service,they showed me the map.It's all green in sutter creek and jackson CA,but no service,when I went there.I have A 4G phone ,but only got 2G 90 percent of the time,and getting charge for 4G.I was told that I have 4G unlimited,but it's only for the first 2.after that it's slow not 4G any more.It's funny cause even before the first 2G I'm not even getting 4G.
I should have listen to my gut when I was reading the contract without A magnifying glass the lettering were so small.now I see it was for A reason.For this I canceled my contract.I,m not going to pay you over $3000. for 2years.Yes you made some money of of me,but what you do after you read this make's A difference on your future,Because A person's voice is louder and faster than lightning,but lightning also don't happen much in stockton depending on your forecast so Please help me help you,remember your customer's make you who you are.

I have a contract with T-mobile until May 18th 2012. On March 30th I called T-mobile customer service to see what my options would be and was told that my best option would be to go with your prepaid plan as I am a senior citizen that is on a fixed income as well as being disabled. I was told that my prior contract was taken care of with no penalties or fees.
It was a 2 hr. conversation as I wanted to be clear about my choices and responsibilities. I realized after trying to use my email on my phone that it was not working. I then contacted T-mobile the next day and found out that I was not told the truth as my phone is a Blackberry and I would need to pay an additional $10 per month in order to use my email services.
I clearly asked the representative about the email as I have transitioned before and had problems with email. She assured me that there would be no issues. I was also informed that I would need to pay an early-out fee for changing my contract which contradicted what the representative told me.
I immediately asked that I be transitioned back to my old contract to be allowed to complete my contract as I was concerned about completing my obligation and this transition took place. I was told that "your credit will not be affected" but yet T-mobile turned around and reinstated me on to a new contract without my knowledge. My understanding is that there has to be "offer and acceptance" for a contract to be valid and this did not take place.
Because of the aforementioned deceptive practices, I will be completing my business relationship with you as of the end of my original 2 yr. contract date of May 18, 2012. I did not request that I be given a new 2-yr contract. This change was made in error and without my permission. My request was to be returned to my original contract as I could not afford to commit to another 2-year contract. It was very clear to the representative what I was requesting .
She went behind my back and wrote a brand new contract without my knowledge or permission. You did not even have the decency to give me the greatest benefit for my money. You had free phones and a $59.99 plan for unlimited text, unlimited web, and unlimited talk with a 2-year contract pus my email would be operable without any additional fees. I was offered this and I clearly said no because I could not afford it. In my opinion that is worse than stealing and/or literally robbing someone. Its common sense.
Why would I commit to such a thing without taking advantage of the available contractual benefits to a customer that is taking on a brand new contract? This entire venture occurred between Friday the 30th and Sunday the 1st of April, so there are no ussage issues.

I was lied to by a t-mobile associate to make me agree to a 2 year contract with t-mobile. The associate said that my phone bill will be cheaper and i was eligible for a free phone, she said if you do the contract it will help your phone bill and go along with the phone. bottom line she said i needed to do a new contract for 2 years to get a decreased phone bill and free phone so I did it. She said with the contract my phone bill would be $57.61 monthly.
I call to purchase my new phone and another t-mobile associate says I cant get a free phone since im an existing t-mobile customer, and says I will be charged more than i was before by 10-15 dollars. She said with the contract my phone bill would be 71 dollars and some change.When discussing the contract and free phone with the other associate she never said anything about the contract making my bill increase and the phone was not really free.
So now Ive agreed to a contract that has nothing I want, because she said i was going to get a free phone and my phone bill would be decreased. Im upset that this is how T-mobile treats a veteran customer, I've been with t-mobile for 4 or 5 years and this is how they treat me. plus i had the run around by several employees who lied constantly and would send you to another department that would not help but transfer you to another dept. that was no help either.
They would say the same things over and over again with out solving your problem. I was lied to by an associate so they would get me to agree to the 2 year contract. Then I could not do the loyalty rewards because I forgot my password and my phone was broken and as ridiculous as it sounds they can only send your password to a T-mobile Phone by text message. so nobody at the t-mobile database could help how stupid.
So after devoting 4 or 5 years to t-mobile I am excluded from this loyalty rewards. because there isnt a t-mobile outlet where I live. what a waste people can only use it in stores so they cant do it over the phone or online how ignorant!!! worst phone company experience ever!!

Feeling the need to rant a bit about TMobile. I've been with them since day one for cell service. In September of last year, we went into their store to inquire about my daughter's account (she is on my plan). She was hoping to either upgrade her phone or switch to her father's plan. We were told by the store clerk that she was eligible to switch on October 20th. She checked with her dad and it was determined that she could get a better deal by switching. Just to be safe, she waited to switch until October 28th.
A few weeks passed and I got a text message from TMobile indicating my bill was past due and needed to be paid. I went online and discovered my balance was significantly higher than normal. This led to a call to their customer service line. I was told that I was charged a hefty "early termination" fee for Morgan's line. I was outraged. I explained that we went into the store before she switched just to be certain this wouldn't happen.
The person I spoke with transferred me to a supervisor then it was taken ever further up to a manager. The end result, they refused to credit this back to my account and I was stuck paying. I was furious. And, I'm stuck with them until my other 3 lines are up for renewal when, you can bet, I will be switching to someone who wants my business and employs people who are trained in what they are selling and DO NOT misinform their customers. THE END.

in October I went to a T-mobile kiosk at the Paddock Mall in Ocala Florida. I told the girl I wanted a new free phone which I am entitled to every two years (according to my contract). The girl proceeded to show me the free phone. I said fine I,ll take it. She said that would be $9.99 which turned out to be $14.19. While paying the bills today my husband read something on thge bill that startled him and me. It sail equipment installments Plan IN-STORE Purch. 10/20/11 - Pmt 3 0f 21 - $3.00. I immediately called 611 on my cell and talked with a worker who told me that I have to pay $69.99 for the phone according to my contract. The salesgirl in Ocala never told me the phone was $69.99 and that the 14.99 was for sales tax.
I already submitted my complaint in the T Mobile contract review site and I haven't receive any response, it's been a 4 days ago now. anyway, I have been waiting for my contract to be over for a long time now, my son paid cash on his 4G phone for $500.00 just so my contract won't be renewed because our bill has been going up and up and they change my payment due date without notifying me, so I end up paying late fees. my contract was suppose to have ended last Nov.12 and while I was in the market for new phone service, I called and I was informed that my contract was extended until Dec 2012. I never authorized it or renewed it or consent of extending my contract. I am so unhappy and want this fixed. T- Mobile illegally renewed my contract. also every time I call, their customer service people are rude.

As of september 2011 i have canceled my t mobile contract using contractreview@t-mobile.com. The reasons for this outcome could be summed up in one word, but i think its more appropriate to give some details. Flat out T mobile insulted me several times and ill type how below because i hope others will avoid this company as a provider. I had two lines on my account, one was my cell phone & the other was my internet connection, beware mt4g internet not unlimited. Overall the phone service was ok even with the excessive static in spots however the internet coverage was terribad. As many can verify im a reasonable guy, i wasn't expecting anything from t mobile besides good service for the good payments on my account. Anyway i tried to get options from the customer service rep so i didn't have to cancel, and so here are the highlights...
First it was suggested after reviewing my internet usage, that i pay for a higher plan to add only another week of fast connection (and still have two slow weeks a month) uh, no ty. I still used the email address. Second, i was told that i could buy some kind of home device to slit time with my wireless connection..so for the cost of this home device & extra $20 service fee i would receive the exact same slow service i had before. (lol@urideas) So After i made it clear this doesn't help me, now come the insults. I was told by this agent (robert) the fact that i had a slow connection didnt stop me from using the internet, as in why am i complaining if im still signing in?
Again I say, beware mt4g internet not unlimited! I ask is a joke? uhhh how about because im still required to pay for the service anyway! plus its a big difference between enjoy it & deal with it. Still more insults, i was next told that a connection card isn't meant to be my main source of internet service (no joke) well im not buying both a desktop & laptop, plus pay 2 monthly connection fees! Last before i hung up i was told (appreciate the honesty) that the equipment on tmobile towers are not fully operational. So tmobile i ask if my car wasn't fully operational and i couldn't get to a store to pay my bill, are we even? If you need to use it, then try contractreview@t-mobile.com. Otherwise I suggest you avoid this company people and enjoy life more

Jessica Watkins
from Bird in Hand, PA
I had recently called months ago to get my web removed from my phone. The guy I talked to on the phone twice had said it was removed, and in the last month I was being charged for something I was not using. I now called a third time and the lady I talked to was very nice and helped me out with situation I was trying to deal with months ago. The lady also had mentioned from my phone history that my account history was never updated when asked the first time. Please resolve the situation and make sure that your employees are doing what customers want or you will lose customers in the future.

Chris Simmons
from Greenwood, IN
Consumers beware!!! Absolutely the worst cell phone company, if not the worst overall company I've ever had to deal with. Coverage is god awful, driving by one tree could mean a dropped call. They are always trying to "upgrade" their service for a "better experience" but literally everytime they do it gets worse. Just trying to pay your bill is a huge hassle all in itself, either they are working on the system or keep you on hold forever only to give you a representative that can't speak English. Everybody do yourself a favor and pay a few extra bucks for a hell of a lot better service. Hell I'd even go for cricket wireless.

Edwin Henry
from Brooklyn, NY
T-mobile is stealing my money. My account has been "double-dipped" and I am filing a police report. I bought a new phone at T-Mobile on January 16th. I paid the taxes and now T-mobile is double dipping my money. I did not expect this from a company are large as this but it's costing my money. My bank is going after them Big Time!

Bonnie Wagner
from Jacksonville, FL
I was with Tmobile for many years and had good service with them. I had to move out of state and there were no towers there so I called tmobile to discuss this with them. They agreed because I could not get service in the area to cancel my contract with no fees.I received a bill with a 0 balance at that time. After 1 year I came back to Florida and decided to go again with tmobile and was told I could only open a prepaid account. This I did for a short time but never received the bill which should have been only 100.00 at the most. I found through my credit report that it was showing a balance of 1500.00. There is no possible way I could owe this amount and when I call no one can tell me anything.

Stephanie James
from Miami, FL
My account # is 918338740 and last month i made arrangements to pay my bill on Jan 14th and was told to make a 1 dollar payment and i did. on the 14th i paid the remaining balance but the day after the dollar was paid on my account t-mobile turned my service off and they were not suppose to. i spoke with a representative and she assured that i would not have no late charges and i have been charged those fees and i am very upset. my bill should be 165.00 not 184.00. this is a mess up on t-mobile end not mines.

Peggy Schuhmacher
from Marysville, WA
My service with t-mobile myfamilyplan was cancelled on december 20 2014 to buy another phone. My last bill was paid on december 30 2014 in the amount of $92.32. Now i have another billing for $92.46 due on february 1 2015. I am asking for that bill to be adjusted to settle my account with you. I am aware i owe for service from december 14 2014 to december 20 2014 but not after that. We have not used t-mobile since december 20 2014, we left wal*mart t-mobile to buy a galaxy note 4 which wal*mart didn't carry at the time we bought the new phone. My husband and i were very satisfied with your service for the 2 years we used t-mobile.

marquitta
from Belleville, IL
Went into a tmobile store today, had the worst customer service ever. My plans were to go into the store pay my bill,upgrade phone, change my calling plan. Walk up to the register..speak with Rep presentative name Rebecca. I hello I need to pay my bill. Give Rebecca's my name, address,even provide her with my passcode..she says well I still need your id. I said well I came in 2 weeks ago.spoke with a Rep..gave her the same information. That I gave you..she discussed. My account. With me..Rebecca says i hate to ask this, but was she African American, I said excuse me. Shocked at what I was just asked. I said what does the ethnic group have to do with my bill, I said no it not the black lady..I said it was another lady. Rebecca's began to laugh and and said, was it the blonde. I said let me pay ky bill and get. Out of this store.

T-Mobile
from Englewood, FL
I have been paying $63.00 for a phone that has no activity or usage the phone number is 810-814-1285 I have asked several times to take that phone off that particular account because I do not have that phone. My other phone was disconnected several times then re-activated within several hours. Please turn my phone back on the 810-814-1383 back on or put the $37 dollars back on my credit card please.

tim beale
from Gainesville, GA
I got with t-mobile and they told me that I would be able to get my employee discount, now every month I have to call and complain about my bill. I agreed to a new plan for my Samsung 4g and was told that I would be paying a certain amount each month, and it is the same old mess. I would like to have a set bill every month, and not have to call every month to fuss about my bill. I want my employee discount applied and my monthly at 80.00 like they quoted me. PLEASE PLEASE fix this problem ASAP. Thank you

Bobby
from Hanover Park, IL
On December 1st I placed an order for 5 phones, including a couple iPhone 6's and iPhone 5's. The order was supposed to be delivered on December 3rd but never made it to my address. It said on the tracking that the box of phones were left on my porch. After I called T-Mobile, they told me that the UPS driver could have left it in the bushes, on my patio in my backyard or somewhere by my front door, and told me to look around. After doing so and not finding anything, I asked them why $2500 worth of items being shipped to my home didn't require a signature and they responded by telling me that UPS doesn't require that. After filing a missing phone report, they put another order through for me and guaranteed me the phones would be at my home by December 5th, in time for Christmas. On December 5th, I waited for the delivery of the phones and nothing arrived. I waited the weekend and finally Monday December 8th I called T-Mobile Customer Support and they told me that phones were on back order and would arrive before Christmas. I waited another week and they still kept telling me it would arrive before Christmas. Finally on December 23rd I received a call from the escalation department at T-Mobile and was told that my phones would arrive on January 2nd. At this point I couldn't do anything because Christmas was 2 days away and I had lost all the other promotions that At&t and Verizon were offering. So I waited till January 2nd, and again I got another email saying the phones were on backorder and they had no idea when they would arrive. Todays date is January 17th, 2015 and I still don't have my phones. I have contacted T-Mobile at least 15 times and every time get the same generic response from customer service, "We don't know when your devices will be shipped to us from Apple and we don't know when you'll receive them." Now I should have cancelled my order from T-Mobile a long time ago, but it's the principle of it. They lied to me 3 times and now I am going to wait to see how long it takes them to finally deliver my order and tell everyone I know about this story and why they should avoid a company like T-Mobile.

anthony rollett
from Pittsburgh, PA
I was in Germantown (39.180865, -77.255053), in a building, with 4 (full strength) or 3 bars signal and Edge ("E") connection. There was no problem with texts but for most of the day there was zero response in terms of cell data. It was very peculiar because it worked early in the morning, and then again late in the afternoon. I don't expect high data rates on Edge but I do expect to get something!

lasonya mccloud
from Charlotte, NC
I have been paying for a line that should have be taking off like 3 month ago or long and i am being bill for it month after month please fix the problem thank you

Denise Sargent
from Brooklyn, NY
My experience does not deserve any stars. I've been going through this for the past 6 months. I've put out so much money with T-Mobile to have had such bad experiences. I also sent two letters to corporate office two months ago with no response. I paid full price for samsung S4. Less than 2 months in phone case dropped it, screen cracked. With insurance I had to pay extra $175 for a refurbished phone. Less than two weeks, that phone screen started turning black.
Customer service rep wanted me to troubleshoot with him over phone. I told him it looked like in was spilled inside and didn't want to factory reset, because I didn't want to lose my data. He said it was only was to have new phone sent to me. It didn't help & I do I lost all my data. Next was sent a wrong phone, had to send that one back. Then had to send this phone back ,but was not sent return parcel. Spoke to customer service said they would send it to me, they didn't, but now sent a bill for $572. I've had to go back & forth mailing these phones back. Now I had to go in my pockets to pay for parcel to send this phone back. I am seeking some compensation for this shoddy treatment , with all the money I have put out to T-Mobile. I ve been a T-Mobile customer for years.

On 04/05/2014 at about 1700, I went to your Tmobile store at Nostrand and Flatbush Aves junction, Brooklyn, New York. I had a lengthy visit with a representative Al Rodriquez. When I went into the store, my phone had been working properly. After leaving the store my phone store began to get dark and over a period of time I had not been able to make or received calls. M Rodriguez handled my phone away from my presence. the shows an a force impression that had not been there prior to going into the store.
I visited the store with the intent of switching from Sprint to Tmobile and wanted some time to make my decision. Now, I am unable to use my current service and provider and at this point just DO NOT TRUST getting service with Tmobile. This a total violation to my rights as a consumer and will make a report to consumer affairs and BBB, and furthermore to Attorney General Office in my area. I strongly believe that this is an act by Tmobile representative to force consumers in business with Tmobile and expect Mr. Rodriguez to denial this doing.
Because to this damage done to my phone, I had to stall my employment search and business contact due to lost of my contacts and data relative to such. It is painfully ridiculous that consumers have to deal with such dishonest act and suffer loss because of irresponsible business as Tmobile.
I am asking a prompt reply and solution into this matter.

TMobile messed up my account from day one. First, they shipped the phones to the wrong address. Then they shipped 6 phones instead of the 3 I ordered. Then they shipped the wrong phones. I was charged $900 on my credit card bill for a phone I never ordered. It took a month and a half for them to straighten this out.
Almost immediately we had issues with the phones. Dropped calls, static and sending text messages more than 4 times to send. We had no service if we ventured too far from the home. I remember the rep telling me that coverage in our area was 100% and there were at least 4 towers. TMobile lied so much we don't know who to believe. We would call and complain about the service and a supervisor would tell us that they are aware of the service problem and a tech has been sent out. We would call days later and another supervisor would tell us that Tmobile doesn't have any towers in our area and there's not much we can do. Fed up I cancelled the service when they refused to credit me for a week when I didn't have any service at all.
I was told because of the issues I had all I needed to do was return the phones and they would credit my account. I wouldn't owe anything. The account balance would be forgiven. I shipped the phones UPS, got a tracking number and followed up a week later. When I spoke with the rep I was told it would take at least 30 days to process the phones. After they processed the equipment they would contact me to let me know what my balance would be. TMobile never called. They never sent me a letter. They never emailed me. But, 3 weeks later I received a letter from a collection agency stating that I owe money to TMobile.
I called TMobile to find out why they never contacted me and no one I spoke with could answer my question. I asked them to at least retrieve my account from collections since it was their fault it went to collections in the first place. I have called and emailed TMobile no less than 10 times in the past two weeks. And as it happened when I had my account I am told a different story every time I speak to or write to a rep–they will retrieve my account, they can't retrieve my account, they have the equipment and will reprocess, they can't find my equipment, we will forgive your balance, we cannot forgive the balance.
I'm tired of TMobile and their lies. I cancelled my service in December 2013. It is now April. I want to rid TMobile of my life once and for all.

I purchased a phone over craigslist and confirmed twice with tmobile reps if the IMEI was clean. They stated yes and activated my device. Today two months later they put a block on the phone not telling me why.
Now they want me to buy another phone for $709. I refused because I had bought the phone from craigslist for 500 only based on tmobile's reps approval.
Your Customer service sucks and gladly told me to switch over to verizon and even gave me the account number to ort phone numbers seemlessly. Unacceptable.
Please call me at 510-755-0988 which is also my account number. but my phone doesnt work. I am pissed off.

Since the day I started with T-Mobile has been nothing but lies and broken promises. My bill is higher than the CONTRACT I signed. They didn't pay off my previous phone bill as per our contract. They have over-charged me and now they District Manager I was told to go to Vivki Morse, won't return my calls.

Hello
My name is Kimberly Dodd I have a been a t-mobile customer for the past ten year and very happy with the service up until the past two months ago I had up to 5 lines on my account the service Jan 2014 whenever you make a call you have to can about 8 or 9 times to get the call to go thru and when people call you it ring and then go silent like a drop call this has gone on for two months making using the phone difficult and i have continue to pay my bill with no problem well i had to paxs one number out today because he uses his phone for business and yesterday had no service at all everytime you call the line you got a busy signal well my question is i need to get out of this contract without an early termination fee because im paying for full service and not getting even half the service i have called serveral times and told a number of different thing as far as why my phones wasnt working but the lastest was the towers in my area wasnt working i have a line that will be out of contract Nov 2014 and one that will be out May 2015 I feel i should not be charged a fee because it is not my fault

I used the T-Mobile phone for two years , wasn't able to send and receive picture message. Every trouble shooting call no less than 20 Minutes and problem not solved by their experts in tech support. You judge you pay for a service you didn't receive what you do? Last week I found the problem by myself, the t-mobile Phone was the problem and i call them ask for credit or a replacement phone. Their offer was to reduce my bill $ 5 every month i refuse their excellent customer service generous offer. At first there is breach of contract. In 40 Days my contract Expires i am taking them to the court i think this is the only way to get paid for the time ( Hours ) i spend with them troubleshooting.

I have my prepaid phone number since 2009. My plan is Pay As You Go plan, with around $24 worth of minutes still on it and it's not expired until April 21, 2014. On Friday March 21, 2014 I still can used my phone. But on Sunday March 23, 2014 I can't made a call anymore. My cell stated unregistered. My friend told me someone pick up the call when she tried to call my cell, but it's not me. It freaked me out. How come someone pick up my cell while my cell and the sim card still with me.
After I called the Customer Service, I got an explaination if my number is being used in post paid account by someone that I don't even know who is it. So in the other word, TMobile stole my existing number n give it to another customer without my authorization. Monday, March 24 I called the customer service from 8.15 am to 1 pm, so for almost 5 hours on the phone and after being bounced from 1 department to another department, I just to got a temporary prepaid number with no balance on it and a promise my old number will be return back to me within 24 hours. I just need to wait for a notification message that will tell if my old number is back. But of course, as we all know, it's not gonna happen like that easy. So Tuesday, March 25 I called again in the morning for at least another 2.5 hours, being bounced again, to only got another promise that my number will be back to me within 2 hours.
After I waited for 6 hours, I checked, I still got temporary number. I made another call, get another promise said within 24 hours for sure will get the number back. But it really pissed me already. I don't know why TMobile give me a hard time. Please respond ASAP. It's not even my fault, it's a mistake from TMobile. After so many hours that I already wasted to talk to customer service that not helped at all, I just want my old number and my minutes that left that time ($24) being return back to me.

I've had this company's service now almost a year, and have been being charged every time i send or receive a picture even though it's supposed to be included in my plan. This is false advertisement, and the disrespectful customer service reps are ridiculous! Im tired of dealing with this company and the lack of respect they offer.

Worst experience ever with T-Mobile. My sister passed away on 11/27/13. We have sent all the documents and requirements to have her number cancelled and a second phone number that is on my sister's name changed to my mother's name. Again, today is 3/17/14 and after talking to five different operators no one can find anything. Very frustrating and disrespectful at the same time to repeat over and over again that my sister passed away, and that the documents have been sent in three different ways. In the mean time we been paying for the unused service all this time. My mother's phone number is attached to that same account reason why we needed to have that number put on her name. This is a request that should be taken more seriously due to the uncomfortable nature of the matter. I am on the phone 1 hour now, getting transferred from one operator to another.

I am absolutely disgusted with the service I have received that when my contract ends I will be leaving t mobile I was on the phone for so long trying to sort out charges I have .for failed delivery. Now I was in for every single delivery and each time my phone didn't turn up I called t mobile I waited in for every single time in the end I had to get my phone delivered to my work. I had terrible service that I also cancelled clone phone. In the end I had to get my phone delivered to my place of work which wasn't really suitable. I would like these. Charges removed I believe one has been removed I need the others removed as I am absolutely shocked I can be charged this after the terrible service I received when my phone was damaged. I would like to take this further as I will not pay any of these charges.

I had started with Tmobile in Fl about two weeks ago. Ever since day 1 we have been having dropped calls, no signal, no internet connections etc. I use my phone every day for work! I was paying for a brand new 4 G I phone 5 and for my husband as well. They kept telling us at the store level it's because of the porting of the numbers. I called customer service and they let me know there were no 4 G towers in the areas where I live and work. Customer service has been very helpful to us, the store not at all.
We would call to try and find out what day we were on to the store and we would get hung up on, or say we can't give that information out over the phone. Then when calling 611 as prompted to do by the store, the customer service let us know we were on day 13 and could return the phones at anytime tomorrow. Upon walking into the store they stated we were at day 15 and outside our contract. I had the reluctant sales person call 611 and they got the same answer I did, Day 14, since they gave us wrong information the store manager (who is never working after 5 ) finally after much grievance returned our two Iphone and a Tmobile Hot spot.
This is a no brainer, why pay for 4 G phones and service if no 4 G towers, do you research! They made me pay the day I gave them 2 4 G Iphone 4 cells phones I didn't get back and also I didn't get back my hotspot. They kept this and made me pay a 50.00 restocking fee per item which I completely intend to get back! I want consumers out there to do you research. Customer servic Tmobikle was great! Stores were disrespecrtful, hung up the phone on customers and wouldn't give out any inofrmation to help any of their customers out, Never again! I have never been treated this way in my life its a lower class company who has to do this and fool people to keep sales!

My wife has had no signal on her mobile since the 7th march, rung t mobile on 8th march was told theres a fault with sim card, after speaking to family and friends found out that most of the village that were on t mobile couldn't get no signal. another friend rung t mobile finally admitted a fault and engineers were trying their best. been on to t mobile today to give my mother in laws number as she hasn't got signal either and being monthly paid customers are not going to pay for a service we haven't got. my biggest problem is my wife is ill and therefore needs her phone.
I haven't been able to leave her this last seven days as she cannot contact me, I have asked t mobile to GIVE her a new phone on their 4g network but they never replied. my wife e mailed t mobile but they didn't reply, whoever you speak to give you different reasons for the network, they blaming sim cards, old mobiles etc anything rather than admit the problem is with them, they are quick enough taking the money and letting people take out contracts which as far as im concerned are false contracts and I could see earlier people are going further about this situation.

I bought a fone in the middle of may and was told it should only take 8-12 wks I checked the web page and it still says received ad waitig for further processing. it been like this siince may and it is now going on oct. I called
several times and keep on giviing the runaround it isnow going on 6 months and still no rebate.

I've been a t-mobile customer since 2003. I bought a NOKIA 710 windows phone in 2012 for top dollar — no discount for me and no indication it was being phased out. Now apparently they discontinued it 4 months later and the accessories are no longer available. My phone started heating up to the point of damaging the case. After calling t-mobile they advised me to go to a store to purchase a battery. I went to one of their retail stores that very day and was told that they didnt stock the battery and to go on Amazon to order one!!! I also was told that if during by wait for the battery to be delivered my phone got damaged to the point it wouldn't work, not to worry because my insurance would cover a replacement! Great customer service– NOT!!!! Thus will be my last year with t- mobile.

Hi, my complain about pay, you take out £433.24 on 3april 2013 it's your foult to forgot cancell my cancelation then I have overdraft my bank charge me one pound a day so I have £17 pound has been charge, I already phone 5 April and talk about this they said we will credited after 14days then I phone again on 26april then they said we will credit after 21 days, so I need my overdraft charge as well £17 if you has not credit my money with overdraft charge till Tuesday then I will take legal action agains you, it's your fault you did mistake and I m struggling I have very bad experience with t mobile I m so disappoint with your service

I purchased a new cell phone in march 2012, for $240 and it carried a year manufacturer warranty. In july 2012 the phone stopped working, took it back to the the store and it was replaced, (never did they tell me this was a refurbished phone) The phone worked ok till April 2013, then this phone stopped, I called customer service and was told by the rep that the phone was under warranty until 2013, but I had to go to a metro pcs corporate store. I told her fine, and asked her to put a note on my sons account so that there would be no problem, well he went to the metro corporate store and was told there is no warranty on this phone even though the rep I talked to on the phone told me it was under warranty even though they gave me a refurbished phone in july 2012. My complaint is I brought a new phone for $240 and now am stuck with a refurbished phone with no warranty. I manager DJ from trenton location called and said ok we will replaced the phone with another refurbished phone for $30. I asked him I feel that is an insult, NOW I would have almost $300 tied up in a used phone. Dj said he was going to pass my compalint onto someone else but didnt know if they coudl do anything. I dont think it is right that Metro takes you money for a new phone and then when there is a problem with the phone they give us a used phone to replace it. so they are in aa win win situation, they collect from the wearranty co for the phone and pocked my 240 and then they want another $30 to replaced a used phone which they gave me that for my new phone, seems like this is what they call a switch and bait. Now I am going to wait to see if someone gets back to me to resolve my problem I am sure there are a lot more people out there that have been scammed by Metro, seems to me there should be some kind of class action suit against them for this type of fraud.

Getting through to anyone in the customer service is horrendous. You wait an awful long time to speak to representative and when you do you reconnected to staff who have no clues about Tmobile product. Once it's 10pm they deliberately disconnect you despite the time spent waiting to speak to someone. I have spent hours today to get a resolution to my iPad to no avail. My iPad only works within my wifi zone in my house but once out of my house all l get is no network connection. My children have iPad but their service providers Vodaphone and orange provide them excellent service. Please give me assistance in this regard.

Early this april i was contacted by tmobile customer service about what they termed reward offer for having been with them long. Was offered iphone 4 white free,100mins,1GB,unltd tmobile calls to tmobile & 500 text for £21 including tax.Unfortunately missed my package due to my working schedule,i reached tmobile to ask UKmail return my pckage to them so i could be able to collect it from any near by sore which they did.Reaching tmobile store stratford centre i aws asked to pay £29 for the handset because the deal was not from them,i didnt like this and i explained to their staff Joanna.It was only 4days past and i was told in store i still could cancel my contract if i am not happy because there was an ongoing deal that was much far better i decided to ask the team cancel my contract so i could go in for another contract which was done but cancelling still in process.I continued to call & remind customer care why my line was still on contract yet i had cancelled it ,they later got it back on pay as yo go, now with surprise tmobile cut off my two lines insisting i owe them £29 for the cancelled contract despite all the effort done explaining myselt to its customer care team and promising they had up dated my account i will not have to pay because i didnt use no minutes nor GB and cancelling was in time! Iam soo stressed and feel ignored now that they have gone to cut off my lines.

We have been with T-Mobile for 2 years now. Our monthly bill is about $140 a month. This past month we missed a payment and immediately our phones were shut off. When we called to make the payment we were told we owed over $800 and had to pay a minimum of $500 to get our phones turned back on. HOW does someone owe over $800 when they only missed one payment of $140? That does not make any sense. I told my cousin about it and she said they did the same exact thing to her, she is happily with Verizon now. I did some research and apparently there are a lot of people who have had this problem. We will be leaving T-Mobile as soon as possible, they are nothing but greedy a**holes! I will advise anyone who is thinking about getting a plan with this greedy company not to.

I have been waiting two and half months for my refund. I have made 4 visit to where I bought it 13 miles away.. I have made 7 or 8 phone calls. They make promises, keep me on hold for ever, give me one person to another to talke to, but nothing ever happns. I am reporting to this to the Mall in Yuba City. I am filing a complaint the Best Bussiness office and checking with TV station that follow through on complaints. I have never worked with any place that cheats the customes like this.

I visited this T-MOBILE store at 2900 Peachtree Road on Tuesday 4/9/2013. What happened on my end i lost my T-249 charger. I phoned T-MOBILE to find out if i could get another charger and have it added to my account or be billed. The representative told me to go to any store location and they would take care of it! I phoned the store and informed "Ryan" i needed an charger for my phone and she said the cost was $29.99. I went to the store to see if they had the charger T-249. I asked "Ryan" a Black girl did they have any T-249 charges and she said before looking or checking "No" and the young lady working with her said they did and it was red! So, i said ok and informed them about the arrangement T-MOBILE had made with me! and "Ryan" said they didn't or had no way to put the charger on my account! I called T-MOBILE they spoke to Ryan (a black girl) and came to a conclusion that i would need to purchase it myself and T-MOBILE would credit it to my account, which i thought was alright but then i thought about and thinking i could probably get another cheaper at Radio Shack or Walmart.
Ryan at this point was unconcerned about my situation and showed no remorse as if i wasn't suppose to be in the store with this issue anyway! She talked to her co worker the whole time i was in the store and acted as if she didn't care what happened. T-MOBILE said they would make the agreement with me since i have been a
valuable customer for eight years (2005). Ryan had no suggestions for me and i left the store very upset! When i got home i called T-MOBILE and asked for management! I asked who she was and she said the manager "Keisha" and she said she had stepped out the store when i was there! So, i was in disbelief and thinking it was "Ryan" and/or somebody pretending to be the manager, so i told Keisha i didn't need anything and looked for other ways to complain! So, here i am! I was so upset i forgot my sunglasses! and they were talking and ignoring the fact that i left them! Little did "Ryan" know! I ran into another customer who said they will be making a complaint as well about "Ryan". At least that's what her name tag said! and she was black ans petite with long weaved hair. I ended up ordering a charger from amazon for $4.00. Also, my contrat is up in August! and from my understanding was suppose to be in March! but was extended due to my lost phone and having to get a replacement. I am very disappointed that T- MOBILE hire people who don't care about whether their customers are happy or not!

If I complain aboput T-mobile does this e-mail get the them to deal with as Im about to get an ombudsman involved and need to know that they have recieved this complaint thankyou.

I have tried unsuccessfully for weeks to contact you regarding my phone bill last month which was £235 and a few pence. Very expensive seeings that it is normally £21.99 and I know for certain the useage was no different that month to previous months. I have written to you asking about this and eventually got to speak to a customer services man who's manners and customer skills can only be described as appalling. I have no phone currently as I refuse to pay for a bill I know is wrong. I have had no advice or guidance and have only been told to pay it. I question anyone who would pay a bill over £200 more than they know it should be. I would like assurance you will look into this matter and contact me through the email address provided above.

Four weeks ago I wrote to you as I had a large payment coming out of my bank account. You called me to advise you had investigated and it was a scam and the fraud department was investigating. I have heard nothing since then and want the money refunding to me as a matter of urgency. The number I have supposedly called I cannot conect to from my phone yet I have been charged for 2 calls totalling in excess of 3 hours to this number. My number is 07535701123 and I have had a contract with you for a long time but will be changing if this is not resolved immendiate. I want all costs for calls to this number refunding together with the cost of paper bills which I had to order to find out why the bill was so high. I also need compensation for time and associated costs due to the length of time this is taking to resolve.

After 4 years of sprint service and the same phone I decided to get a new phone htc 8x from tmobile. I went to your store #9789. I purchased the phone and was very happy with the sales people. I bought a otter box defender for maximum protection of my new phone. A week later i noticed color stripes on the phone. I took it back that day and I found out the hard way that even though i had it for a week i had to pay to get it fixed.
I explained it to them that i didnt drop it or apply physical damage. I realized at that moment ive been wronged and it is a scam what you guys are doing. There is no customer protection here. I will never ever use your service and i will make sure everyone I know on facebook, twitter, etc to not buy phones from you guys. I now owned a 400 dollar door stop. Thank you for this experience.

To whom it may concern- I browsed for a new cell phone today at T-Mobile in Eagan MN approximately 4:30pm today and found two I liked. They checked my account and explained that due to my credit I had to pay a higher amount for the phone to buy it. They suggested I call customer support for further assistance since I just checked my credit and am in good standing.
Upon calling T-Mobile a total of 4times in 4hours thanks to them disconnecting me, while on hold I was told by 3 different representatives that T-mobile bases my credit on when I signed up with the company 9years ago. Also, that no one can do anything about this or are able to work with this situation. In other words, my best bet is to cancel services and go to Verizon who will look at my current credit rating and treat me appropriately.
I didn't ask for a lower price on a phone but that with my loyalty, payment history and current credit rate, that I be treated right, however T-Mobile reps appreciate my loyalty will not show any respect towards me or my long service with the company.
Since, I have been with T-Mobile for 9 years I am willing to continue service if they are willing to make this right. In short, I ask that T-mobile update my credit standing with them, provide a cell phone of my choosing or release me from both lines of service without charge so I can do business with a company who will respect me.

Hi i am contacting because i have constantly been in contact with t-mobile over varies problems the 1st is that i telephone to get the t-mobile app off my computor so that i could access my internet and it is impossible to get rid of with out having to telephone in the number is a number and i have to wait for so long it is running up my bill i am a 62 year old lady on a small state pension my last bill was 5800 plus which is much to much for me as i only keep a landline for emergencies only. 2nd I am with Sky for all my broadband needs telephone and internet.
At Christmas i had a problem with Sky on my line which Sky was putting right over the Christmas hol;iday and so icould accesses my internet i bought a t-mobile dongle and bought a sim and put money in the t-mobile pay as you go account so i could use the internet while they were repairing the problem Sky that is. 2rd t-mobile kept sending messages to the dongle sim card that could not be retrieved even though i had emailed and told them that on several occassions they still didn`t read the emails properly otherwise they would have know i couldn`t retrieve the messages.3rd i telephoned up again and again trying to get these problems sorted out but to no avail.On one occassion a young lady signed me up for a contract off which i did not agree to and since then i keep getting bills and warnings of late fees i have told i don`t know how many people at t-mobile that this has been done without my agreement and still nobody has listened.
When that young lady had done that i had 37 pounds on the t-mobile pay as you go account and suddenly that disappeared and asked me for more money of 15 pounds for a month I feel as i have been cheated out of some of that money and noone listened to about what has been going on .I had one women i believe out in India which i couldn`t understand what she was saying and she also didn`t understand what i was saying. I am at this moment still using my dongle. I do hope you can get to the bottom of all that has gone on and can send me a letter telling that the contract that was set up without my consent has been closed for good.And that money is not owed to t-mobile on that contract.
Also i would like you to look into the money that i have paid and at least make a goodwill gesture of some extra time on my dongle to use for the internet for all the trouble i have suffered with no end of emails and telephone calls trying to get this all sorted out and for that young woman signing me up for a contract that was neither needed or wanted. If this doesn`t sort it self out now i will be next contacting the trading standards people and put in a complaint i have now done more than i should have to get this straight and i will go to them if nessercary.

Good Day,I signed a 2 year contract with T-mobile in January 2011. On January 13th I called customer service to inform them that my contract was over; I was told that my contract was extended to 2014 with no reason as to why or who extended my contract.
I was told that in order to end the contract that I would have to e-mail to contract dispute which I did not several occasions, I was also informed that I would hear back from them within 10 working days..a month and a half later still have not heard anything.
I then faxed twice to contract dispute and no reply. I called customer service over 25 times to try to get a answer as to why my contract was extended and again no help. I went into a t-mobile store and spoke to the manager and was put on the phone with customer service and was told I would hear back from them in 3-4 weeks.
I asked for a name or someone I can speak with at the corporate level and was told by the manager, they have no names, phone numbers, e-mail addresses of anyone in the corporate level. I finally called customer service again informed then that my contract was up and I would no longer care to have t-mobile as my provider.
I am very disappointed in the no service I have received from this company, I have been so stressed out due to the service that I have received. I work in the Hotel industry and we would never treat a customer as I was treated by t-mobile. I have never had a issue with any other provider as I did with t-mobile.

In october 16 – 24, 2012 varrious unauthorize electronic debits where withdraen from my bank account. When the bank statement arrived i complaint to the bank. The bank reverse the charges. Now in feb 10,2010 the bank notofty me by letter that one of the electronic
debit we charge to my account. If i still wish to dispute this i must detail with T-Mobil. I called T-Mobil the bank gave me. I gave T-mobil the Transation number and all bank information and ask why they debit my account and i dont have service with T mobil. I cant believe T-mobil dont know who account they credit with my bank account. I dont believe T -mobil condons ID Thief? You may call 310-202-8956 (9 – 4pm) PST M -F . If T mobil corp Really dosnt condon this type of profit making would be rsolve this matter.

The sales representative mislead me to sigh a 2 years contract when I ask for a prepaid card since i am an exchange student overseas for a year here. He was saying that I don't need to pay any penalty when I cut my phone number since its a prepaid card. However, T-mobile kept sending me the email saying that I need to pay 200 penalty if I want to cut the number.
Or I can send them my permanent resident ID and address and my passport . I sent them the documents as they required but they said its not acceptable since there are Chinese and English on it. They accept only English document. I don't understand what's the point when my documents have Chinese as well, they can just read the English. Nobody was trying to help but sending me the same email ask me to pay 200 dollars for early termination

I have been a customer of t-moblie almost since the beginning. I have given t-mobile a lot of business through telling my friends and family abot the service. However, since december, t-mobile has been charging me 168.00 a month for services. I was told by the young guy that he could lower my payments and still give me the unlimited services such as web, text etc. I am truly dissatisfied with t-mobile because nothing was said concerning an early termination fee. I am told that I owe three hundred dollars. This is not fair. I don't think I owe anything Please help me resolve this matter.

I've had TMobile for a long time, but when I moved to Dayton, Ohio, service changed. I have called to speak with tech support numerous times about lack of coverage in my area, and have tried all they have suggested. In early December 2012, I spoke to tech support again, & they referred me to accounting to see if an upgraded phone would help. After researching my situation, the person I spoke to said that because service towers are mainly near the highway systems of Dayton, service inside Dayton & surrounding cities would NOT improve with an upgraded phone.
She suggested that I contact you to see if I could get an early termination waver. As a nurse I need more reliable service, & tho I've contacted takeaction.com, I've received no assurance that more towers are set to be added in my area in the near or distant future. I would appreciate an early termination fee waver from TMobile. Please call my cell to discuss this matter as soon as you receive this notice.

This is regarding account # 804551646. I had a 2 year agreement which ends in March 2013. I was reviewing my account and saw that it states that my account ends in September 2013. My account was open in March 2011 so a two year agreement is the end of March 2013.
I went into the store and they had offered to change my plan from 750 mins to unlimited mins and never informed me of the extention plan. I never knew about my agreement extending 6 more months. I know that t-mobile has 2 year agreements and maybe 1 years agreements, but not 6 months agreements. Please help me with resolving this issue.

I spoke with 4 different T-Mobile employees at different times and received different information each time. I spoke with Teraneka the week of 01/07/13 about adding internet to my four lines. She stated to me that if I did it this week I would have no bill due the month of February and that the new monthly rate would be $209.98. I told her I needed to speak to the individuals on the plan and she asked me for my number and if she could call me back the next day. I replied yes but never recieved a follow up phone call from her.
Then on Friday (01/18/13) I spoke with Isaiah because my son lost his phone and Isaiah deactivated the phone line so know one could use it. Then Isaiah and I started talking about adding internet, so I told him I spoke with Teraneka and she quoted me $209.98. He said he didn't know why because by looking at his computer the monthly bill would be $157.23. I asked him if he had a phone number or an extension so I could call him back because I was driving. He said no but that I could call 611 and any T-Mobile representative could help me. I talked with Ebony on 01/21/13 about adding internet and prices because I had recieved several different quotes.
Ebony said that the other quotes I had recieved were incorrect and then went on to quote me 154.32 after taxes. Then I asked if she was sure that was after taxes to which she replied, "I always add my taxes in to give the customers exactly what their monthly bill would be." She also said that if we switched over today, March would be free and if we wanted to wait on purchasing phones we could take advantage of the upgrade in March.
I went on to ask her because my son needed a phone since he had lost his she said she would put in for a free SIM card and that I could go in to any T-Mobile store and get a SIM card for the phone that was lost. Then I asked if my old SIM card would be compatible with any T-Mobile phone and she said yes. So we went to store #9381 to get the SIM card and began to brose the selection of phones. I was under the immpression that when you sign a new two year agreement with T-Mobile you are elligable for an upgrade and discount on a new phone.
That is when the sales representative proceded to inform me that I was not and had to purchase my phone in a T-Mobile phone which was not discussed with me over the phone. She informed me that I was on the value plan, not the classic plan, which I had never heard of because the plan I was on was never discussed with me. I became upset and frustrated with all of the false information after signing a two year contract with four phone lines.
I asked her if there was a manager or a number for a manager that I could call to speak with about this matter and she very rudely said call 611. We left the store and as we were getting in the car my son informed me that she was rolling her eyes at me. I called 611 and spoke with somebody named Tammy. She was very nice, after listening to what happened she transfered my call to a man named Joseph. Joseph again listened to my story, apologized and gave me this website to write the complaint. He also told me to go back to the T-Mobile store and that I could pay the down payment of $25 for each phone and he would take care of the rest. My sister and I went to store #9385.
We were looking at phones and asked the sales asscociate Bob why the same phones at store #9381 were $0 and the phones here were $29.99. I asked him if he could call the other store and see what the difference was and he very rudely said,"No, I will not call the store for you." I was furious from the rude service I had received from your employees. I was heading out of the door when Danielle, another of your employees, came to us and helped us. She had excellent customer service skills and was very helpful. She told my sister and I that T-Mobile was trying to do away with the classic plan and that is why nobody mentioned it.

Like so many others here I called and was told I can change my contract to value plan. When I asked if I would be able to get new phones at a discounted rate, I was assured that I would be able to, when I went on line to order the phones I was being offered phones at 650 with the option to pay 200 down and 20 a month for 20 months! I called right back and told them about being misled about the phones and that I wanted to cancel my renewal(I only had 2 months left on my contract) I was told oh well your contract is renewed and there is nothing you can do about it.

I wouild like to say that , when I purchase my phones with T-Mobile the manger gave me price that would be our monthly payment , I ask him several times would it be this every month , he said yes , but time when on it came up to be about 38.00 dollars more. also before I purchase the phones my wife stop in and look at phones, he took all her info . but when it got down to cost she told him that she had to talk to me , the next two days I went to store to look , I purchase the phones but also he went and did a contract on her with out her consense . cause she got bill month later , all this is being going on for year to get this straight out this man is not at store , anymore . the people in service just don't understand this , I finally got a person on 1-15-13 , to help me , and tell me to email service contract . the store were I purchase the phones all they doing is asking to send then boxes of contracts until they find my, this is not right . I want service and I want my contract to be voided . this is been to long and we paying to much , cause we just can't drop it , it go toward my credit .

I would like you to review my contract, because in december 2012 I had talked to a rep that helped me with my bill because it was too much. Since i had this problem she suggested a plan that made everything unlimited so that all 4 phones on my bill would not go over minutes. She also added that i would get january free, I asked the rep to speak to my wife before deciding on the dealand she told her the same thing. My wife asked since our contract was going to be over in march if it would effect it because we planned on changing our phones and she said it wouldnt so we agreed on the contract. When i had called back another time because I was still having issues with my bill being too big the rep told me that two more years had been added on because of the contract I recently did so it would be over til 2014. It is not right that the rep lied so that I can change my contract, I would like to get full credit to get new phones. she could have told me the truth so at that time I couldve changed the phones.

My name is Shannon Beard ACCOUNT NUMBER: 587738796 Phone number (803)221-6010. Email address: sgbeard@peoplepc.com
I finally decided to add the internet to several of my phones and per the employee there would not be any extra charges for going over the coverage. It would just slow down because it was the unlimited package. I then replied during our phone conversation to make sure that I underestood that when the max limit was reached it would just slow down but no extra charges for over usage.. He guaranteed me that was correct. When receiving my next bill it was over $1800.00 because he did not set the plan up correctly as discussed during our phone conversation. I called when I received the bill and spoke with Emma and was told I would have to change from the Suncom plan to T-mobile to keep from paying the amount due. I explained to her that I was already having trouble with two of my phone lines not being paid from other people and that their contract was ending 12/25/12 and was there anything I could do to keep them from changing to the new plan. She told me that she would only be able to do one line which was suppose to be (803)221-2649. All my lines where change now having a 2 yr contract on each. I feel that if the original person would have done their job correctly setting up the internet I would not be in this situation. I have been a customer for 8-9 years and I feel that I have been taken advantage of and should not have had to change my plan because of someone not doing their job correctly and as I was told how it worked. If there is anyway please review the information or phone call on the date I added internet and when I spoke to Emma and had to change plans.. I do not agree with the contract this should have all been handled differently. This should never be at the expense of a customer it should be followed through with the employee that made or makes the errors. This has gotten me to where I do not trust anything when it comes to my phone coverage plans . Please look into this and see what can be done. Thank You in advance for your help. Shannon Beard

I have an identification card and I began a service with T-Mobile in 2008. Up until this year, everything has exceeded my standards. I have three lines on my account and I would like to cancel one line. T-Mobile is asking me a payment in order to cancel my line. Number One: I am using a prepaid line and the company put me in a contract. I have an I.D. but I do not have a social security number. Why did they put me in a contract, especially when I never signed any paper work accepting or acknowledging that I was or would be in a contract with them? I still am currently using three lines on my account, but I do need to cancel one line. Can you please offer me help, if not, I would like to terminate my service completely with T-Mobile. If I have ever signed any paperwork accepting a contract between myself and T-Mobile, please send me copies of those. I need a reply as soon as possible, within seven days preferably.
Thank You,
Krunal Patel

The contract with t-mobile was extended to October and I did not hear the sales rep say that the contract would be extended. I have called and ask to hear the phone conversation because that was brought to my attention that the contract was extended. They say in the notes they told me and that is not true. I was the contract back to February and I will pay the outstanding bill. I informed the people in November that I was no longer going to be able to pay for the phone after February. Members of my family have had t-mobile in the past and they were always a good company. I want to hear the phone conversation stating that the extention would be to October. I would like the contract back to February please. But again, I want to hear the phone conversation to hear the sales rep tell me that the contract would be extended to October because I would not have extended the contract. I want to know if the sales rep just put in the notes that I was aware of the extention or not. I want to hear that phone call. I want my contract back to February because I have always paid my bill until all of this happened.

I am an adult and my boyfriend got us phones from Tmobile under the friends n family plan after i found out he had me marked as under the age of 17 i called tmobile and explained to them that i was in fact not a minor and was being tracked and located costomer service rep. said she would fix that and she wasnt aware i was an adult she said she was sorry again and again saying the problem would be fixed now i have found out not only has the problem not been fixed it has gotten extremely worse now my cell phone numbers, texts, voicemails, email, and all accounts trusted through my tmobile plan have been willingly given through tmobile to violate my civil and constitutional rights as an adult.

I have tmobile serviceand on Nov 14, 2012 my phone service was cancelled stating that my someone reported the phone stolen which i didnt do..and this was the day before my birthday— image no phone on your birthday and the only thing they could tell me that dont worry we already sent you another phone..but the point is i am without a phone for my birthday and they charge me for sending another phone when all in all i never reported my phone lost so i cancelled my service then get a bill for $642 charging me cancellation fee which they are the one too turn my phone off that was so called stolen and charge me for another phone

seven months ago i was approach by the salesperson to get a family contract , which it would benefit us because my husband travel to different countries. previously he is in monthly free paid from t mobile. which is a good idea $100. per month for three phone verses one for $50.00 per .my husband only comes home every 7months. of the year.according to t mobile my husband can use the phone where ever he goes but we find out the phone cannot be use for the of 7month because it was unlock. according to the salesperson the phone was unlocked. i have paid monthly $100.00 permonth without my husband using the phone. ill be great appreciate not to be in the contract with t mobile anymore. because the breach their contract with me. i have spoke to rebecca from t mobile about this situation.

On November 28 2012, I renewed my contract with T-mobile by phone. The person who I talked to is Noralee D. I told her that AT&T was trying to give me a good deal with free cell phones with a 2-year contract and I asked her that if T-mobile were to give me the same deal I would stay with them with a new 2-year contract. She said that she would give me the same deal and that it would be in the new contract, so I signed it, and now they are trying to charge me the phones. Everything is recorded in my contract that I did by phone that day, my number account is 674406369. Thank you for your time.

I called both myt.mobile account and went to a T-Mobile store to try to get satisfaction over a problem with the sound coming from the receiver as being totally unintelligible, hence unusable. They didn't even look at the phone and just said that maybe the speaker wasn't any good and they would sell me a new phone with an upgrade. I did not want this as I had planned to cancel my service with them as soon as the contract was up. My online screen showed that the end of my contract would be fullfilled on January 24th of this year. I had determined that when it was up, I would seek a different company. I found a good offer/plan elsewhere and told them that I wanted to begin service with them on the 25th of this month. I contacted myt.mobile.com to tell them to cancel my service and was told that my contract would not be up until Septemer–9 months away and that I would be expected to honor the 9 months of fees. The rep did not listen or care what I was trying to communicate to him and treated me in a condescending manner, whereupon I received this address to voice my complaint. I am a disabled senior and am dependent upon the cell phone, as I do not have a landline. I was left with the situation of paying $48.00 a month for a phone that was unusable.
Account #: 787488888 Phone #: 520 891-0187

when i did the contract on dec. 26 2012 . I call back on the 27 of dec. to cancel it . The person I talk to told me i call in time to cancel the contract that when the phone come in just return them back to them not open. I did that , Now they tell me i can't cancel my contract. I talk with four people before that time noone told me that . they told me that when i return the phone back , I would be able to cancel my contract. I wont my contract to end in jan. please let me out of thia contract. I can't used my phone when i go home to see my mother. I need my phone at all time. when i go into building my phone is dead . I need a phone that would work for me now. I used my phone now more than i did before so i don't need for it to go dead on me for just going out of town to see my mother.

On November 9, 2012, I came into T-Mobile store 8717 in Louisville, KY. I came in for an upgrade to a newer phone. I chose the Galaxy SII. Prior to me purchasing this phone I had a blackberry than was on a single plan. I wanted the same plan when I bought the new phone. The sales person that I was dealing with had no idea how to upgrade my phone and get my current plan to work with my new phone. She did not tell me that she was giving me a family plan. I did not receive a bill for the new changes until January which showed a $95.00 increase in my bill. I went online to check out my plan and noticed another line was added. I called T-Mobile to have this plan cancelled but was told that I had to go back into the store to get the account fixed. Today, January 7th, I went into the store where I purchased the phone and they were no help. All they did was pull the contract that I signed that was not explained to me. The print is so small on this contract I can barely read it. I do have a photo copy that I would be more than happy to provide anyone reviewing this complaint. I want my plan returned back to the original plan I had before all this was messed up. I will not be paying the difference up to the $209.00 bill and if this situation is not fixed, I will be leaving T-Mobile after many, many years of being a customer. There are other cell phone services out there that want to keep their customers and will go above and beyond to fix their mistakes. The sales person that I had in your store was incompetent and didn't ask for any help from any other sales person. She called into T-Mobile 4 different times because she didn't know how to set up my plan. T-Mobile also has on file an address that I had back in 2005. Doesn't seem like T-Mobile has their act together too much. I would like to have my account reviewed and given a call at 502-210-9744 or email micky8970@hotmail.com of your decision. Thank you.

I would like you to review my account as I am being charged a fee for ending my contract. I don't feel I should have to pay the fee or any charges after the date of Dec. 7th 2012. The reason I am disputing this fee is because I moved about 4 months ago and I had no reception in my new home. I had to walk down the street about 3 blocks before my phone would work. My phone also didn't seem to have reception inside buildings, such as walmart and grocery stores in the area. I called 2 months ago and explained this to one of your customer service agents. He told me that I would be able to get out of my contract with no fees as this was an inconvience to me and there was nothing that could be done to increase my reception in this area. I went to St. Cloud and spoke with a Verizon wireless person about reception in my area and was reassured that my reception would be much better if I switched over. So I switched to verizon and now I can sit in my living room and talk to my family and friends without having to walk three blocks down the road. I can also make and recieve calls in my work building at walmart and in my car with no hassel. I have always been a good customer to you and would have stayed with your services had they not inconvienced me. I am asking to cancel my contract with no fees, I don't feel this is too much to ask, especially since one of your representatives told me it wouldn't be.
Thank you for your consideration on this matter and will be looking forward to having this issue resolved promptly.
Tara Jo Nash

i am cancelling 2 of my 4 lines when called to cancel they told me of 200 cancellation fee never renewed contract had service for 8 years these two lines are my daughters which lives in hazlet phones do not work in location she curently lives she called numorous times was told she would get call backs to come up with a solution never was contacted never got new phone they told her if she wanted service were she lives she would have to buy a wirless router and get new phone and even then they could not guarentee service becouse of were she lives she was paying for a service she could not use pationtly very unhappy with customer sevice at this point im actually considering cancelling my other two lines if this matter doesnt get resolved i have no problems with my other two lines becouse i live in red bank but she lives in hazlet please take in to consideration how long i have had service with you guys and if her new provider doesnt work out she may even consider reconecting with you in later future thank you amilcar rivera acc#554705823 for numbers 7328958100 7327639101

bought a t.mobile samsung galex.2 phone from frenie a.at t-mobile store at mall in el centro and was suppose to get a 150.00$,rebate plus175.00 dollers that they owed me for and over charge i paid to them so he told me to call this number he gave me so i walk out the store and called for rebate and was told that the store i got phone had to call and give the info they needed to send me my rebate so i went inside well on the phone still and told frenie that they are saying he needs to call and give info. was giving him my phone he said no dont worry about it i will call in a few minutes and set it up for you i ask what about the 175.00 you owe me he said come back in2 days and i will give it to you ok.well then my wife ask me fined out how much it would cost to add her prepaid phone from costco on my account with no contract he said oh yeah no problem no contract and your own number would be10.00 a month so i said ok do it well he did but he put her on a contract even though we said no contract told us it was done we asked for my paper work for both phones and he said when you come back for money we owe you i will give you paper work for both because i will need it when i call for your rebate in awhile so i said ok that was on october 30 2011 went back two days later and was told that the main office would not let him give or put that much at one time on credit for my account so he would put 50.00 dollers a month till i got it all well he gave me 130 or 140 credit then he stop paying me the rest so i would call and ask about my rebate and rest of my credit owed to me he said he had called for rebate of 150.00 and the credit would be put on my account next month well he never did and then he would not answer my calls went down to store they told me he was not in yet so i asked for manager who i saw when i walked in store and told them what was going on he said hold on let me get him so he comes back and says oh he is not here i said i saw him when i walked in was told yeah but he left out the back door he will be back later so i left my number name and asked if he would call me they said ok well never got a call nor was able to talk to him when i would call to talk to frenie or him could not get ahold of both now its jan.7 2013 still cant get my rebate nor my credit owed and and found out he put my wifes phone on a contract he never gave me any paper work or receipt for my phone and i am paying almost 200.00 for both phone that was only supposed to be like 78.00 plus 20.00 for my phone till i paid it off and called main office lots of times and was told i had to get ahold of you and let you no about contract we never signed for or ok'd plus my rebate and unpaid credit being that i could not talk to manager or person that sold me phone and help me at store will you please help me i im very upset and i have put it in our news paper but if you do not reply back to me or help me with my problem i will have to take the next step and contact a tv show so i can go and tell my problem i am having with t-mobile and will have my lawyer with me on show and i have all times dates emails text and confersation i have had with all your staff show it all for public to see and put a discremination andworng full contract exsedra. law suite on t-mobile and store i bought phone.this is the second time writing your office and have got no respond nor have tried to speak to main office manager but will not take my calls so was advise by my lawyer to resend my complaint to you agian to see if i would get response back or problem would get taken care of before we went to the next step i told you we wuold do thank you and hope to hear from you soon .my name is raymond neri cell#760-960-2569or760-351-0020 leave message my address is 1134,welcome street in brawley,ca.92227 my email israyabarca50@yahoo.com or ivfisherman@yahoo.com

My name is Franklin Morton and I was deceive about phone rates to renew a two year contract.
Last month I had went into a T-Mobile store and Quoted a rate of $45 a month this was suppose to be for as follows.
500 minutes, text messaging , for $39.99 and keep my home line for an additional $5.00 a month.
So I renewed the contract for two years.
I later learn T-Mobile Customer Service that the offer was not true.
The charges was as follows $39.99 moble line service,$15.99 text messaging and $9.95 for home line service.
This come to a total of $65.93 Plus Tax this is not the contract that I agreed to renew. One of the things that get me the
most is the store manager misleading customers to renew contract.

My bill shows a $200 termination Fee on it for phone # 253.632.3729 and I was told when i called to get me a new phone on 11.24.12 that all 3 lines are done with contract (2 years over) so I ask them what would happen if I got rid of this line and upgraded mine 253.334.3367 . They said no fee will be added.
Well they added $200 fee to my surprise when I opened the bill yesterday.
Question: why would someone want to add a large fee if they knew about it. This should of been upgraded without doing anything to my other 2 lines….

I have been a T-Mobile user for years. I have put up with their service ( or lack of ) for a long time. Over the last two years it has gotten worse. I live in north central Indiana in a city named Kokomo population approx. 50,000. I do get service here. But, my dad lives in Tipton 18 miles southeast of here. NO SERVICE. My grand children live 7 miles west in the town of Russiaville. NO SERVICE. My wifes daughter lives 10 miles east in the town of Greentown. NO SERVICE. My brother lives in Elwood which is 35 miles east . NO SERVICE.
I have called several times. I get the run around. Always told we will send a tech out and check the towers. I call back and tell them its no better. Then they say according to our maps there is service in that area. LISTEN there is NO SERVICE in those areas.
If that isn't bad enough. Tonight , the wife and I look at our phones GUESS WHAT? NO SERVICE EMERG. NUMBERS ONLY.
I have done my part. Paid my bill. T- Mobile has not done theirs.
I would like out of my contracts.
I am so tired of getting jacked around. I am paying for a service. I am not getting the service I was told I would get.

I have been a loyal customer for over 7 years, but due to financial difficulties I had switched services that offerred me the same services at way better rates. I kept my current phone number and T Mobile services were discontinued on Oct. 31, 2012, but T Mobile kept billing me till November 23, 2012. The only explanation I had gotten was that I was still obligated to pay to the end of the billing period, which doesn't make sense if I had no service during this time. I understand and and willing to pay for the 6 days that I still had services from T Mobile till the ending of October, but having being billed for services not rendered is not fair. I cannot believe I am treated this way after all my years as a loyal customer. I'd like to know what are my rights and if I can hold T Mobile liable for their daily harassment of trying to collect on services not rendered?

I live in Bayville NY and i have always had spotty service in my local area. Since hurricane Sandy the service has been terrible. Since the storm we must use a detour to get in and out of town, it takes about 30 minutes extra and it will be like this for about one year. We come home late over dark country roads and we lose service!!!! My wife is disabled and i am afraid that she may have car trouble sonetime and not have phone service,I have been dealing with people for three days now and they say it could take a week or more to find out whats wrong, we are senior citizens so this more a safety issue than an inconvience. at first i just wanted it fixed but after all the run around now i just want out!!!!! we are on a fixed income so i can not afford to pay a penaltyfor something that is not my fault Please contact me with help My cell number is 516 528 7669

My contract was up July of 2012. I changed carrier in the beginning of December of 2012. I received a closing bill of $317.08, I was expecting the $117.08 but not the $200.00, I called in and was stated to me that when i came in to buy another phone for line 720-401-0898 due to the phone got lost on a trip, the contract for this line was changed to another date. I am disputing this for several reasons.
1. I was not informed.
2. Did not sign an updated contract., nor would I. I'm sure I signed for the new phone of course.
3. 720-401-0899 is the main line not 720-401-0898.
The reason we changed carrier was because of the flexuating bills and we do not want to be on contracts anymore.
I thankyou for checking into this matter.
Rosemarie L. Sanchez

On December 3rd, 2012 I spoke to Rep. Amber regarding the end of my old cell contract ending on December with a final payment of $49.84. After negotiations, it was agreed that my new cell plan would start on November 27th, 2012 with a monthly charge of $29.99 minus a $10.00 discount (per month) as recognition for being a loyal customer. It was understood, by both T-mobil Rep. Amber and myself, that my new cell contract would come down from the old grand total of $49.84 to the new grand total of approximately $23.71 (after discount) per month for a total contract time of 24 months. Today I received the first bill statement showing a grand total of $38.21 which doesn't reflect neither the grand total amount I had agreed to pay back on 12/03 nor does it show the monthly $10.00 loyal customer discount. In conclusion, I did not agree to enter in another T-mobil contract for any other grand total monthly amount that exeeded the agreed amount of approximately $23.71 per month for a total of 24 months term. Today, January 3rd, 2013, I spoke to Rep. Alisa who would tell me that T-mobile isn'r able to honor my contract agreement grand total amount because my current monthly charge is of $29.99 and thus making it not eligible for a monthly $10.00 loyal customer discount resulting in a new grand total of approximately $23.71 per month for a 24 month duration. The new contract grand total doesn't match the agreed monthly grand total discussed back on December 3rd, 2012 when I spoke to Rep.Amber and the new contract grand total was reached!! Today I got the first cell statement showing a total current charge of $38.21 instead of the agreed monthly total charge of approximately $2371.

Mine is not so much a complaint as it is a request. I have been with T-Mobile for 8 years…. I recently on Nov. 4, 2012 lost my wife of 20 years… I have 3 lines on my phone service that are not in use. When my wife past she left me with bills so high that I can not afford to pay for these other 3 lines.. I am requesting that tmobile please disconnect these 3 lines at no charge to help me get back on my feet. My account number is 403429136… My phone number is 1-856-236-0690 this is the line that i want to keep. The lines I would like cancelled at no charge are 1-856-294-7050….1-856-542-8774 and 1-856-803-4657… If you look at the usage on these 3 phones you will see that they are not being used. Please consider mt request.

A couple months ago, I went to T-Mobile and requested that one of the phones on my plan be reduced to minimal usage. The T-Mobile representative did so, but what they also did is NOT okay with me. They had apparently reupped my contract WITHOUT my knowledge. I only recently discovered this when I went to upgrade my phone. Because of the T-Mobile representative's mistake, when I went to upgrade my phone, they told me I had to pay FULL PRICE for my new phone!! When I asked if I could just cancel my service, I was told that I had to pay over $400 to cancel because they had already renewed my contract with them.
I do not understand how someone could renew my contract without my consent! I fully intend to dispute all charges! And I am going to cancel any further service through T-M0bile.

On Friday December the 7th 2012 I called to sign a 2 years contract for a hot spot and the lady I spoke with told me first I'gona have a free phone I don't receive it, second she said I gona have 20 days to try it and the 20 days started the day I received the device I don't receive I waited 1 week and I called back to ask them about the device they told the UPS guy left front the door I don't see it and they said the UPS guy don't suppose to leave it front the door I have to sign a paper to make sure I received it and they told me they investigated for that and they send me a new one and I received December the 21th 2012 I called them back and asked when the 20 days started because I just it received they told me the 21th the day I received before the contract I asked how mega bites I have They told me unlimited it's not true because I can't open any video I want to watch the news from my country I can't I want to cancel it and they ask me $200 for cancellation fee and it's not 20 days yet I'm not paying nothing & I'm ready to cancel all my services.

On December 1st my mother Esther Zedon notified T-Mobile that she had just moved from Florida to New Jersey. She called them to change the address. A representive asked her if she would like to renew the contract, she told them she would renew. When she got off the phone and told me r T- Mobile asked her to renew the contract, I REMINDER HER, she had just lost her home and job. This is why she moved to NJ, she had to move in with me because she lost her home and job. I had her call T-Mobile back immediately, to tell them she would still keep the service, but not RENEW THE CONTRACT, as she doesn't know if she would have the money to pay for future service because she does not have a job. She did reach a represntative immediately after the first call, and told them she would keep service but doesn't want to be locked into a contract. A week later she receives a bill charging her $2.69 to renew the contract. I called T- Mobile and explained all that is written above; The representative I spoke with said they did receive the call 10 minutes after the first call, letting them know she did not and could not be locked into a contract becuase she doesn't have a job. However, the representative told me it was too late because they already renewed 10 minutes earlier. New Jersey State Law give a person 3 full days to change their mind on a contract. My mother called on the same day 10 minutes later. She does not have a job and no home, she is living with me. Please send notification that you have received this email and you acknowledge she will have service but not locked into a contract.
Esther Zedon,
Lisa Petrie – daughter

Anthony Mannino
from Rockville Centre, NY
After purchasing a screen protector for my new cell phone at the Massapequa mall I began to install it based on the salesman saying it was easy to do. After noticing some bubbles the salesman had stated it was self healing and would go away in a short time. I then left the kiosk only to turn back because the bubbles were bothering me. After returning back the salesman claimed he could fix it, he then took my phone and began strenuously depressing and rubbing on the screen.
This force caused numerous scuff and scratch marks on the screen protector and had done nothing to remove the bubbles in which he stated he could do. At this point I asked for a refund due to the fact that I should not have had to pay for a damaged item. The salesman refused to issue a refund stating "there is nothing I can do". I was very shocked to see the level of carelessness shown by the 2 employees. Additional information as follows: Item=. 1 SUPM46710 Samsung GS7 PG roll-on extreme impact $27.15. T-Mobile 4369, 10 Sunrise Mall STE 10, Massapequa, NY 11758.

Brenda Charette
from Panama City, FL
I placed an order on Jan 5th 2016 The rep told me I was getting a I6 plus w/128gb, they would pay any fees for transferring from my former carrier, I could keep my existing number, and a 2GB plan, I was rushed into a quick Esign and after printing off contract within 3 minutes.
I called T-Mobile to cancel, it said a 6gb plan and a 16gb iPhone along w/a new phone number. I was told they had to ship the phone, I returned next day and still haven't had my almost $400 returned that they took out of my account. I've called 17 times and I'm ignored at least 8x and each time I'm promised my refund, I still have not received and it's almost 4months, plus they keep sending me a monthly bill.


Shawn Hardin
from Aurora, CO
I have a feeling this will be ignored, but I must speak out. I bought a hot spot and refill card in September 2015. In October I used a credit card to purchase data. The following month I decided to use my debit card instead. I was told I could do that online, which I did. Then I find that the credit card and debit card were both being charged since November. I certainly never received twice the data. I spoke with billing and customer support on 3 different occasions (no one has a clue about anything by the way)they said credit card would not be charged again. Didn't happen had to put a block on credit card to stop the charges.
Now your horrible web site won't let me do anything...can't purchase data at all I have to call which takes way to long or go to the store and purchase a refill card, and then find out your refill cards don't even refill I have to purchase a new card every time! I am extremely dissatisfied with T Mobile. I was with Virgin Mobile for years and never had an issue, not one! Guess where I'm going! If I could give you minus stars I would. The worst customer service ever. It has been a nightmare trying to get my issue resolved.

Danielle Bush
from San Francisco, CA
I received a replacement phone from T-Mobile in November, and I shipped my old phone back in December. However T-mobile states the phone was never received. But, I was not made aware of this information until the charge was placed on my account. I visited the UPS store I sent the phone thru, after spending 2 hours there only to find out my phone had been sitting there the entire time and was never shipped. So, that day I made sure the phone was shipped, well T-mobile states because its outside of the 60 days I will still need to be charged $699.00 for the phone. I don't understand the integrity of this decision especially since this phone is now with T-mobile, and can be sent thru the refurbished process and then sent back out to sell to another customer.
I even advised the Manager, that in part to my phone being shipped in December, that I visited your North Richland Hill Store Multiple times because the store rep erased all my information by accident, and the store was trying to come up with ways to retrieve my information instead of just admitting the ball was dropped. Overall I spent about 15 hours with your in store support and still the problem created by the store rep was never resolved, and never was I offered compensation for the huge financial problem this caused me. I've lost about 400 clients and still have not recovered the entire 400 lost. I do not feel the $699.00 is valid and when I inquired about the charge to cancel my account your staff pretty much gave me the red carpet to leave. I've never witnessed a Customer Service so eager and happy to lose a customer. Your assistance with resolving this matter will be greatly appreciated.

Abdulrahman Alabdulwahab
from Seattle, WA
I am charged for $10,000 worth of minutes use. I have been calling internationally without being alerted that I am over using international calls. I feel exploited especially when I was asked to pay this huge bill and CAN'T. When I over use my data, the company notifies me about it so why didn't they do the same with international calls?

Vanessa Wright
from Los Angeles, CA
I've been a customer with you for 3 years, and I would like you to look up my account. I have never missed a payment and I am now complaining because recently, to be specific November, 2015 I added my friend and landlord Lawrence Spearman to my line thinking that we would with combined bills (because he had a T-Mobil account also), our bills would be less.
T-mobile customer service representatives never told me that if I put him on my account that the extra equipment he was still paying for would not be able to transferred again if I want to go back to my original account. I talked to your specialist who told me that he should have paid the equipment in full before your company could switch him to my account.
I was not under the impression that Mr. Spearman had extra equipment on his account (an I-pad and key board) that would make his bill higher. So after an month of seeing how much the bill was and finding out all the extra-charges on the bill. I preferred to go back to my past service paying only $156.00 give or take more or less each month.
Which we did, he agreed also to go back to his original account and he would be responsible for paying his account. Now your customer service reps will not transfer his monthly payments for his I-Pad equipment back to his account. They never even told me they were leaving his extra bill on my account and now I am responsible for his payments because none of your employees told me your policy that they cannot transfer his equipment to his account with his phone.
My complaint is your that customer services representative should did not properly explain my responsibility to me and I am stuck with his bill after I pay for my service.

V. Coulter
from Brooklyn, NY
I've had to have an adjustment to my bill since August, 2015. Every month my bill increases. On Tuesday, 2/9/16, once again, I had to go to my "home" store to have it adjusted. This time they tod me it was for taxes that the T-Mobile store was in aware of. So, when I went to change my service a few months ago when 10 gigs was being offered, my monthly bill, including taxes was calculated at $170 & change. WHY is my bill $192.47? For the December, 2015 bill, it was $179.22 & adjusted to $167.22. My Nov. 2015 bill was $154.73 after adjustments. My September, 2015 bill was $193.08 & adjusted to $167.43.
My August bill was $211.03 & adjusted to $170.34. June & July bills were $150.87 &$151.53 respectively. Granted, after June, I increased my services to 10gigs. Before I decided to increase my service, told them I wanted to know what my bill was going to be. So, if I was informed that my bill would be approximately $170, give or take a few cents, why oh why is my bill $192?

Jack Killoren
from Tampa, FL
Tried over 2 days to invoke auto pay. Went through credit card data, etc, etc. time after time. Each time it goes to the confirmation of terms and conditions and you are asked to press "1" to accept. When you press 1 it takes you to a sales associate and the cycle starts over. Each time this takes 30 to 45 minutes. Each time the sales associate states they can do nothing but transfer you to a billing specialist who then transfers you back to a sales associate who then takes the information again and so on and so on. When I asked for a manager I am told they can not do that and transfer me to another person that can not help. We have wasted hours and hours on this. I vote with my dollars. If someone does not call to get this working for this employee I will change carriers.

Ruben Carter
from Detroit, MI
My husband purchased a new phone for me called the Grand Prime on December 24th. This phone has been giving me problems every since I bought it. I took it back to the store and they have swapped it out two times already. On January 23 I took it back to the store again. I let them know that this phone is not working again and this time I asked them to give me a refund. They told me that they cannot give me a refund. I asked then if they can give me another phone comparable to what I have. All I want is a phone that works. The customer service guy said he would have to e mail some higher up person to get the okay. I asked how long will this take. He said she is pretty good about getting back with them rite away. I said okay. About 45 minutes goes buy and this women still has not e mailed him back. That is when the owner of the store at least that's who he said he was says to the young man, she probable will not get back with you until Monday the 24th.
I said to him, if you knew she was not going to respond until Monday why didn't you say something. That is when the customer service next to the person waiting on me started rolling his eyes and snickering like this was funny. I told him this is not funny then he said in a sarcastic voice you have a good day now. That when I got really upset and told him loudly, what he could do. Then the owner of the store told me to get out of the store. At the same time he started walking up fast behind the counter with his fist balled up like he was going to come from behind the counter to hit me. I believe he was going to call me a nigger but he stopped short of saying it. the look he gave me was a look of hatred. I told him if he puts his hands on me, there is going to be problems. Then he said I am going to call the police.
I said go ahead I am not scared of the police. I told him very loudly if you are the owner, then give me a refund or a phone comparable to the one I have. He said he couldn't. The police came and asked me what the problem was and I explained to him what had transpired in the store with these two men. They told the police that they would take care of my problem January 25th when the store opens. I called them on the 25th of January they told me in light of what happened on Saturday they refuse to help me. In summary I am a 62 year old women, I need a phone that works. I cannot afford to keep buying phones. A hundred thirty three dollars is not a lot to your company butt it is a lot to us. I need a phone that works.

Yasmin Fernandez
from Winter Haven, FL
I switched to T-Mobile in April of 2015 and was promised a reimbursement of up o $350 for each of he 4 lines I switched. Uploaded my final Att bill in June and within a few weeks I received 1 Visa card for aprox $350. I called to find out why the other cards weren't sent out. I was told that they only received the bill for 1 line,which is ridiculous if all 4lines were on the same bill I sent. On Aug 6th 2015 I was contacted by Kristin from the merchant solution center (I had a business account) and was given a fax number to send back my AT&T bill. I did on Aug 13th. T-Mobile is claiming that I uploaded the information to the incorrect website so my reimbursement was put under review.
I have a screenshot from their website with the approval of $921.23 dated Nov 6th and my account was in good standing but they never sent out my reimbursement card. Fed up with their false promises I left the company on Niv 17th. I had filed a claim with the FCC so now TMobile is saying that since I owe them they will not issues he reimbursement. The point is that they were suppose o issue my reimbursement in a timidly manner just as was making my payments in a timidly manner and sent in all required documents.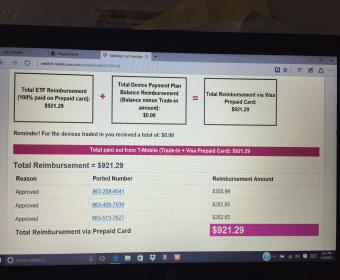 Maria Muller
from Newark, NJ
I have been a customer with T-Mobile for years. The Customer Service has always been excellent and anytime I have called, the representative has been helpful and would help me with any issues I had and in way they could and would. I have called in the last 6 month to complain about my phone not working right and not one person would help me, and just call again today 1/21/2016 about the raise in Premium Handset Protection. Yes, it's only $2.00 but my Union has been on a freeze for two years now and since you can't raise the price of the phone you raise the price of the protections. But the phone in garbage. I told the rep. that I was cancelling my service. She said, ok well thank you for your time. This is the kind of Customer Service you give your people now. I'm not the only one, many of my co-workers and friends have had the same issues and have left T-Mobile, and I'm right behind them.

Lisa Sombra
from Puyallup, WA
My complaint is on a specific store and employee.The store is located in the South Hill Mall in Puyallup, WA at 3500 S Meridian Ste T25, Puyallup, WA 98373. The employees there say anything to make the sale. This specific employee is blonde with fake long eyelashes she assured me by changing my jump it would actually save me $1 and my Daughters previous phone would be paid off.
I have had T-mobile for over 12 years I was hesitant to change anything on our plan, but after spending over a hour in the store and having this employee break down the charges on paper showing that I would save money and get to upgrade my Daughter's phone I agreed to change to the new jump. This employee lied to me and said the previous iPhone 6 would be paid off as it would have on our old jump program. A month later I see a huge increase in my bill I called customer service they said it was due to a credit not being applied and would fix it. (That also was inaccurate) Now 2 months later I call again after seeing my bill is over $300 and finally someone named Paris looks into my account and see's that I'm still required to pay off my Daughter's old phone.
The employee had assured me the phone would be paid off otherwise there would have been no reason for me to change my jump program to the "newest one" I spoke with customer retention who was very nice his name was Devin. I now have to go confront this employee so she can admit in the notes she gave inaccurate information to me so I can get my account fixed. This is a huge inconvenience employees should be trained to tell the accurate info without lying to benefit themselves and make a sell.
I've had T-mobile over 12 years and def considering looking elsewhere because of this lying employee who's caused me a lot of time and inconvenience trying to fix this mess! I want my account back to the way it was with the same jump program I've always had and same bill. This is outrageous I would have had no reason to change other then I was lied to. Bad customer service in this South Hill store and by the looks of their reviews this isn't the first time this has happened.

Teresa Wertz
from Madison Heights, MI
I recently been having financial difficulties because of out of pocket medical expenses. Because of that I've had to postpone my pmt due date. This last week I phoned to set pmt on test 22nd of jan, rather than the 20th. An auto pmt was set up by the train need who, specifically tells me at the beginning of the call his supervisor is listening. The pmt was verified to deduct for the 22nd. This morning my banks calls to tell me I have a pending pmt from T-Mobile. I borrowed & made a quick dep, called Cust Serv & got an apology. Then 1/2 hrs later receive a text verifying the deduction for today. This is horrible, especially when I had a supervisor listening to the pmt arrangement. I don't know why but I feel intruded on my personal account and more uncomfortable with this company more so now than ever. I'm not happy with my service anymore and feel stuck with them.

I have to say i am disappointed with the t-mobile phones. I have been with out a working phone for 6 months. Every phone i trade in has the same problem. I have been with t-mobile for 14 years and the phones are horrible. the color fades and all my pictures look like negative this happen twice with exchanged phones. I brought a brand new phone h20. Several times i had to get technical support to help me with the data, the phone would not turn on, then the phone dies. I am so not happy with the t-mobile phones.

I purchased a new phone for my daughter's birthday in April of 2015 a couple of months later the battery started to overheat so we exchanged it. The new one came with the box to ship back, we followed all of the instructions sent it back and never heard a word. Then in September I was charged over $600.00 for the phone I had sent back. When I called I was told it was scanned no worries your service will not be interrupted again. So I went about my life. Between September and January my service was disconnected every 2-4 weeks, each time I called I was told to sit tight not to worry they would run a search on it and once the phone was located all charges would be removed.
After several months of this just before Christmas I asked. "what if I can track down the phone on my end and return it to you will we be all good then? Yes of course I was told. "Even though we are past the 60 days?" Yes I was assured by several customer service reps. So I tracked down the phone and sent it back, they received it, and my service was once again shut off for the past amount of the returned phone. So I once again I call customer service and am once again assured that the charges will be removed service restored and all will be right with the world again.
Wrong 2 hours and 3 people later I am informed that no the 12 customer service reps. including the one I spoke with that morning were all wrong and thank you for returning the phone but your still going to have to pay for it, we show no memos of anyone telling you this information. So after a decade of being a loyal Tmobile customer I will be canceling my service and will not be paying for the phone I have now returned twice. I will also be posting my experience on all social media and review sites and will no longer refer anyone to Tmobile (of which we have done several times in the past)
I am confused how something is clearly stated in your policies yet none of your staff actually helping your customers are aware of this policy. Or maybe they're just told to outright lie? Very disappointing experience, very rude customer support person towards the end, and very poor customer service.

Alberto M Soto
from New Port Richey, FL
T-Mobile scam me, I got an offer to upgrade my phone and I will receive $ 175 for my old phone in credit and my monthly payment would be $ 19 for the new phone plus all the services, well 3 months later they couldn't find the phone that I sent so I was paying full amount, not what I was promise then suddenly 3 months later they found the phone but apparently there is some problems with the phone so I was told I can NOT get the credit that I was told and the monthly payment is $31 not $19, they said they can do nothing.
I have been a customer since 2006 and I cant wait to change carriers, I spoke with so many representatives and no one told me the same thing, every call was a different answer, I'm done with T-Mobile and I guess stuck too paying my old phone and the new one.

Susan Holm
from Portland, OR
I was told I could upgrade my phone (iphone5C) to an Iphone 6S or XL if I outright paid for the phone I have. I went to a T-Mobile store and had the unfortunate luck of having one of the most idiotic rep. I told him that I wanted to upgrade my phone - "ok you will need to pay 137.00 and we can get it started for you." I paid the 137 and had some problems logging into my icloud and to download all my contacts and such to my new phone. Well, I was locked out so I was told to contact Apple directly to get this issue resolved.
Mind you - Ty (the idiotic rep) held my phone - looked at it for nearly 30 minutes to try to figure out how to unlock my phone. To no avail, I had to leave so I told him "I want a receipt for the monies I paid you and I will have my husband come back to finish the upgrade." Ty replied "No problem I will have the phone waiting for you." My husband comes back to find out that he could not upgrade my phone because the iphone 5c has a crack on it! Wait... we were looking at this phone for nearly 45 minutes together and you took my money. Okay, fine - my husband then asked for our money back.
Nope Tmobile responded by saying they are unable to process refunds. Wait. You didn't deliver what was promised--after this incident, it has been one lie after another with their 611 "customer service" line. I am so done with T-Mobile. I cant wait til all 3 of my lines are paid for so I can terminate my contract and go on to a better company.

zorka kelly
from Chicago, IL
I attempted to leave my mobile number at least 5 times, on the T-Mobile customer service voice message system regarding a return call, to no avail. I am disputing my statement initiating a new phone, and for the fact that I was being charged $100.00 for a new phone as a new customer when in essence being a long time subscriber, and what is "simple starter", never explained this, I will not pay for this billing complaint, and if I need to go to another carrier, so be it. Very dissatisfied, and for the fact that my wireless phone was not functioning correctly.

Frank Titone
from Central Islip, NY
I purchased a pre-paid plan and bought a new phone from T-mobile in Nov. 2015, within the 14 day return period my phone started to act up by freezing and getting very hot. I took the phone back to the location were i purchased it. The manger told me i could return the phone because it was on a pre-paid plan. He told me i would have to purchase another phone. The phone in question was the Samsung Prime Core. I needed a phone so i purchased ANOTHER Samsung Prime Core thru T-mobile.
It is now close to Christmas and i went into a different T-mobile store to look at better phones. I now own a Samsung S6 which i like much better than the prime Core. I feel that the manger from the first T-mobile store didn't treat me right by not allowing me to return the first phone and made me by a second phone. I would really like some kind of a refund for the unnecessary money that i had to lay out for the 2 phones that i had to purchase from T-mobile.I feel like the Manger took advantage of me. I would like the T-mobile customer department to respond to this complaint.

Robert Murphy
from Clearwater, FL
On November 30, 2015 I upgraded my Samsung S5 cell phone to the new iPhone 6 (at the urging of my son in Los Angeles) through the Jump I pay for monthly on my invoice.I can not seem to master the iphone. I even purchased an instruction book from Barnes & Noble without success. It took me one year to master the Samsung Android system. I realize at 84 years old my brain doesn't function as well as it used too. for the past 10 days I tried reaching the associate at store 7842 in Clearwater Fl where I live. He helped me with that purchase & transfer of the data from one phone to the other (very helpful) He was always very busy with the Holiday season or not working at the time.
The reason I was calling & Not going to the Store is/was because I was taking care of my sick girlfriend in Treasure Island who is recuperating from an operation. So today I went to the store at 3pm when he started work because I wanted to trade back the iPhone 6s for the new Samsung s6 because I can now work well with the Android system. I was told by your store manager that I am now week to late & I would have to pay $ 300 to do so. Under the circumstances I hope you will reconsider & allow the exchange. I believe he doesn't want to do it be a use the Samsung s6 is on sale until the 23rd for $498 which is less than the iPhone 6s. Since time is running out on that holiday price I hope you will clear this up to my satisfaction immediately.

Hoan Vu
from Missouri City, TX
In September 2015 T-Mobile ran an ad - to trade in a phone for i-phone 6S plus and receive a credit. I traded in my Samsung 32GB Galaxy S5 in perfect working condition. I called in to check with T-Mobile service representative and was informed that it will take two billing cycles before they credit to my account. I then called in two more times and was informed that the warehouse has received my phone and they will credit to my account. I did not see any credit applied to my account after the second billing cycle. I then waited until the the third cycle to call them back.
After a long waiting and research on their part. They came up with an excuse that my phone did not power on. That phone was in very good shape and I bubble wrapped it carefully when I sent it to them. I tell them that it is not possible because I used the phone just before I sent it in and I asked them to please verify my usage just before I sent in and they will see that the phone is good. They just said that they are sorry and claimed that the phone did not power on. I asked them then please give my phone back as I paid $500+ for that phone just over a year ago. They said that they are sorry but they cannot send it back to me.
So the way I see it is that T-Mobile has orchestrated a perfect fraud scheme here to trick customers to trade in their phone so they can legally rob the phone from an honest customer. Is any thing that I can do? I feel that I am a victim and being treated unfair by T-Mobile here I have attached the pictures showing how the phone is bubble wrapped along with the IMEI when I sent it back.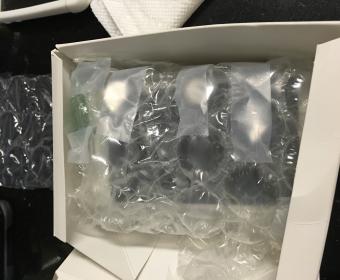 Janet Matejka
from North Olmsted, OH
I bought 2 phones during a rebate period. At first I was denied the rebate because T-Mobile said I didn't buy the phones during the proper time. I returned to the store of purchase, they called customer service, I was approved for the rebates. I checked on the status of the rebate, tracking ID: BMHM-7673-5380, found I am again denied. Was T-Mobile hoping I would just forget about it so you wouldn't have to pay out the rebate?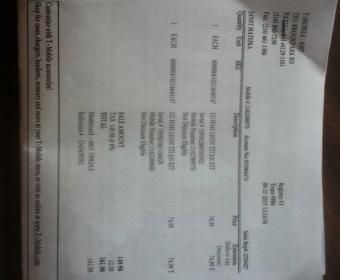 Chrystal Payne
from Houston, TX
I have a defective phone from T Mobile. They give you 14 days to trade your phone from the time you purchase it. Its called the :Buyers Remorse". The store manager refused to make an even exchange because the phone was purchased on Black Friday for 579 and after that the price went up to 679. The manager wanted me to pay the 679 to exchange the exact same phone with receipt in hand. He also wanted to change a restocking fee. I was in the store for four hours and still walked out with nothing.

Tracy Perry
from Atlanta, GA
I purchased 3 phones on Sept 26, 2015. I received the phones about a week later and returned them the next day after receiving them. The phones were 16 gigs and we wanted 64 gigs. To say the least I've been waiting on my refund because I cancelled all services, since and I've have not received my refund. I've talked to several customer service reps and each one is worse than the one before. How long does it take to receive a refund of $138.36. This service has been terrible and one of the worst experiences I've ever had.

Carrie Jones
from Tampa, FL
We have had the worst experience ever with any phone company. First order your online got my social security wrong and would not let us know anything on that order we had to have that order canceled so they could create new account but still got charged for their screw up. Now new order ships and we get wrong phones on that order. We are now charged again for these phones. Now t-mobile is into my bank account for over 500.00 and we are told that we have to wait for our money. Never had t-mobile but you would think that when you have business you would want to give good service but we get no help from anyone.

Lenell Williamson
from Joliet, IL
I tried to buy a iPhone 6 for me and my daughter. I am a prepay customer but I couldn't qualify for a no money down on the phone because I was late one time on a payment. So I had to pay 60% to get the phone. Ridiculous. I have been a T-Mobile customer for years because of this I am switching.

Alicia Negrete
from Houston, TX
Dear t-mobile corporate office, someone is opening up T-Mobile accounts without my consent! My IP address on all my phones correlate and are connected to a mysterious identity theft farmhouse in Wichita Kansas which I have fallen victim to! I have been reporting this matter many times and yet still my iPad address on my phone and all my phones are connected to this mysterious place! My phone is controlled remotely and my gps is way off not working because my location is unknown equaling that of Wichita Kansas!
Also, my location should be very able to tell me that I am in Chicago it's not hard to find Chicago now is it? But you people do nothing about this until I report you to fcc for fraud!!! My identity has been stolen and it is all because my phones are stubbornly connected to this up address which is always located in latitude of 38 longitude of -97 !! If you look up this. Location you will clearly see that it is a location that is linked to fraud and identity that if you agree or are part of that ring I want nothing to do with you so it is to your advantage to do something about this matter because it could turn to a scandal be possible lawsuit you don't want to enable and conspire with these thieves do you?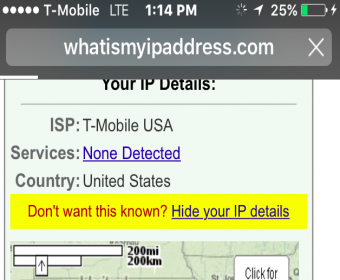 Bridgett
from Los Angeles, CA
I was abruptly disconnected from internet while I was working. I spent several hours and 18 persons of whom said "I care and will resolve this issue". After being transferred, disconnected, repeatedly asking for my personal information over and over and over...I gave up. It was crazy and one should not have to endure such an experience to get re-connection. I want a resolution/ compensation from T-Mobile corporate headquarters. Yes, I went back this morning after holding off a day and half of work. The cycle started again! However I was able to bare patience and get service.

Bridgett Stone
from Pomona, CA
My T-Mobile service expired unbeknownst to me last night. I tried for a couple of hours last night trying to get it to work. I called T-Mobile customer service this a.m. To get it fixed, took me going through 14 persons over 2 hours of being told "I care" give your cell # in case disconnect.

On Nov. 28, 2015 me and my family went into the T-mobile store at 9930 and purchase a phone. But there is a BIG problem my old number was ported to a customer that was already possibility has an account with T-mobile. We was customers of Sprint for a while and we had to come to this. And as of right now I am unhappy and I have to wait 24 hours to get this ported correctly. The customer service rep. by the name of Daniela was wonderful as a agent but the music was to loud and had to many people hang around for no reason. The neighborhood is high crime but safe. I am a hospice chaplain and it is very important that it is fix. I have important numbers in there and I need some kind of discount to this issues. Maybe I should escalate to the corporate office?

Greg Vicars
from Federal Way, WA
I went to use my phone insurance after I accidentally dropped my phone and broke the screen. I went to T- Mobile store . I was told that I need to call insurance company directly, which I did they gave me wrong number . got right number for Asurion . Try phoning in but could no get through long wait time. SO I tried to file on line only to get an error. So I call back Asurion finally get through to agent only to learn the G4 is out of inventory and unsure when I would get new phone so much for overnight replacement. I had to escalated issue talked to manager only option he had was to reimburse me for cost of phone less deductible then I could go to T-Mobile store a buy one. IF I can buy one why is not available to ship? This was a very poor customer service experience from the store to Asurion. I will be waiting for check to arrive from 3-5 working days. So when you say that you will have a replacement phone in 24 hours that is not true. I very unhappy long time user of T-Mobile not sure where your customer service went. Please review your insurance policy and make changes.

Calvin Ellis
from Boca Raton, FL
Fraud. Someone fraudulently obtained multiple phones from T-Mobile. Initially, it appeared that they obtained two phones but I recently received 3 notices from Assurant Solutions regarding 3 device protection plans. The 3 phone numbers they provided were (954)371-6856, (954) 371-7132, (954) 371-6965. I have never applied for or cellular obtained any phones or services from T-Mobile and this is a matter involving identity theft. Please have the numbers disabled or at least tracked, and have your Fraud Department fix this!

brandy smith
from Cleveland, OH
I was given the 3rd degree about a charge t-mobile alleged I did not pay, after having my bank confirm the charge, I then made a request to set up payment arrangements manually with a supervisor, and was told that it was put in place for 2 payments along with dates and that my service should not be interrupted. One payment was scheduled for the 19th and at 430am my phone was temporary suspended. I am overly pissed since this is the 3 time in less than 30days that i have had to call them to dispute discrepancies with my account

Tatiana Shulga
from Staten Island, NY
I bought a family plan (4 lines). I cancelled on October 25,2015, as was confirmed by Christopher. The other three were cancelled October 30th, 2015. Today (November 18th, 2015) I received a bill, and discovered that the line that I closed on October 25, 2015, was being charged, as it was active. T-Mobile is charging $111.15 for the service between November 11th, and December 12, 2015. Today I called Customer Service, and talked with Ariel (1271635); I explained that I stopped using T-Mobile, and started using a different provider; as well as that it is not my fault that Christopher made a mistake. When I made the family plan, I was scammed. They promised that because of a promotion, there would be free equipment, however there were charges for the equipment. Now, you are attempting to deceive me further; I have no other option, but to sue. If you have an ounce of righteousness, i plead for you to resolve this situation. The total is $115.15 service that I do not receive, and that you offered in a deceiving way.

DeAngela Seltenright
from Lansing, MI
It is going on the third week and dozens of staff to still not have resolve this problem with T- Mobile. On November 3, I purchased a sims card over the phone from T-Mobile for $1.05. Thats all, I have never made any other purchases from T-Mobile. But on that same day T-Mobile put through a unauthorized charge of $68.20. After 11 days on the phone with T-Mobile know one can help me. This has caused many problems and T-Mobile is not resolving this with me. And I'm still with out minutes on my phone as I don't want your service because of this problem

Michael Baumann
from New York, NY
I'm sorry to say that it's not worth saving a few dollars on a plan if part of the price is lousy customer service and being without a phone for two weeks. My wife took my phone for servicing to the local T-mobile store in South Orange, New Jersey, on Tuesday, November 3, explaining that it wouldn't hold a charge. The sales rep took the phone, asked my wife for $5, and said a replacement would come in the mail, Monday, November 10. Not same-day service like other vendors provide, a never-before-mentioned charge, but "acceptable" as trade-off for a cheaper contract that works well in large cities.
November 10 -- no phone. My wife called customer service and was told (for the first time), "Sorry, backordered. You won't have it until Monday, November 16." After an escalating conversation with periods on hold, my wife was successively offered $20, then $25, then $30 to hang up and go away. I have to tell you that when anyone mentions T-mobile, this exchange will be the first thing that comes to mind to mention.

Mardry Puente
from Beijing, 11
I have had the worst experience with T-mobile. I cancelled my account back in April because I moved to China. However while in China I realized that my credit score went down and this seems to be due to an account sent to collections which surprisingly seems to be my old t-mobile account. I decided to contact t-mobile, but they do not have access to the accounts, so I contacted the collections agency and they referred me back to t-mobile, after much back and forth the collection agency was able to tell me that this balance was owed due a device charge since my device was payed in installment plans.
However, when you request to cancel an account in order to do so you must pay your device in full. I requested a claim to be filed on this account, and again, for three weeks I had no sort of notification nor did I heard back from t-mobile. After calling many times and being transferred to many departments because apparently nobody has full access to my accounts, or they just don't want to bother, I was able to reach someone who seemed to have access and that wanted to help me, everybody else didn't seem too customer service oriented, and if anything they seemed annoyed at my request for more information for they claimed they did not have it.
Sadly, I did not get her name and for some reason we got disconnected. She told me that I was sent a refund back in may for $145.39 because I over payed my bill when I closed the account. in the form of a card, which is very interesting because I cancelled my account because I moved to China, and of course I never received that refund. Now what doesn't make sense is, how come t-mobile refunds me $145.39 and then charges me $189 for device charges in May. I payed off this phone, and I did not use the t-mobile account in may because I believed I had cancelled it. As far as it goes nobody has been able to help me in this situation, and the last I got was a number to a different collections agency, which I called, but they couldn't transfer to the right department, which I called and it just said that it had no reprensentatives available at this time.
For me it is 3:30 am here in China, and I've been on the phone since 2am. And I do have to work at 8, so you can only imagine how frustrating is to have to be up this late dealing with a situation that apparently could've been avoided. This experience has been the worst, and I have spent so much time and money trying to solve this issue and still nobody is able to explain things clearly to me. I never got access to the refund, so what happens to that money? How come I cancelled my account in April and I owe $189 for device charges in May? What kind of fees are these? I would really hope you fix your customer care system, because you may be a big company but it should still appreciate each and every single one of their customer, and value their time.

Gislene Hart
from Málaga, AN
I got 4 I-phone 6S in Danvers, MA Customer Service rep. told me about the 14 days policy. Unfortunately the area I work and around my town my phone has absolutely zero bar connection, went to the other store and got new phones and went back to the Danvers store to return still under the 14 days policy and they refuse to take the phone back even I am paying the 50 fee for stock. I don't understand, have being T-Mobile for over 10 years while lived in other town and now this is the treatment I get? I don't know why they are so difficult to deal with.

My husband and myself recently switched with the promise that it is hassle free. All we have to do is give them our phones and they will pay for what is left on them and the cancelation fees so there will be no cost to us just send in a form and our last bill. So we did. 5 weeks later we get a letter saying that they need a bill with a break down on it, which our previous carrier did not provide. We went to our previous provider and they were able to pull it up. My husband faxed it in to the representative and called her back to confirm she received the fax. Now almost four weeks later and late fees adding up from my previous provider they send me a card worth half of what is owed. I call the number for customer service that came with the card and the gentleman tried to help me but had to pass me off to another department.
This guy started off nice and admitted the reimbursement was wrong but the number he gave me still didn't cover the phones and cancelation fee. So then he proceeded to tell me that he was going off my final bill and they had no record of the breakdown that my husband faxed in. Not having much confidence in them at this point being we just got notice from Experian that our information was part of the recent data breach and now they have lost a fax with my personal information on it?! The guy gave me an attitude that he was doing me a favor then transferred me to another department that transferred me back, but this time his department was closed for the evening. This is the worst service I have ever received anywhere and I work in a retail environment that would have my job if I ever treated a customer like this. The only reason I gave two stars was or the two representatives that really couldn't help me but were very pleasant.

James halikas
from Tinley Park, IL
I have been a customer for over fifteen years and have three lines total and my bill has escalated to twenty dollars more than I usually pay due to and this is your reps explanation that there is no more 20 dollar loyalty discounts and no more contracts right later that evening I watched a T-Mobile commercial that advertised unlimited talk text and 10 gigs of data per line for 30 dollars per line up to four lines and a 18 month contract and I told that to you rep and she said your commercial was wrong and I clearly read and saved it watching and reading all the particulars on freeze frame and your rep told me a bold face lie that it is 100 dollars for the first two lines and 20 dollars every line after that would actually increase my costs.
I told her that she was totally incorrect because that is not what you commercial depicts no where in your ad she was rude and told me that the ad is not what it states if that is the case then that is fraudulent advertising and being a long time customer to be treated that way is unheard of I need a corporate rep to contact me in this matter at my t mobile number to resolve my complaint and get to the bottom of this or this . If not on I will go to the proper authorities on how blatant the discrepancies are from your ad to what your reps in your resolution dept tell your customers I still can't believe how you have your reps trained to be so rude and unhelpful and talk to your customers like they are stupid.

Laura Santiago
from The Bronx, NY
I purchased a Studio 5.0 Blu Android 1 week ago and two online SIM cards from T-Mobile. The phone was not reading the SIM cards and after speaking to a tech from T-Mobile, he was suggested I go to a T-Mobile outlet. I received the worst customer service from a woman by the name of Ashley. After I explained what had transpired with the phone and SIM card, she kept telling me "I did not make sense." To boot, she took out the SIM card and adopter out. She proceeded to insert the adopter, and inserted it upside down, without the SIM card. The adopter was stuck and the manger had to flat small silver instrument to retrieve the adopter out.
The fibers that make contact with the SIM Card have been damaged because of Ashley's carelessness and belligerent behavior. The outlet is located in the Bronx, New York 10451 on the corner of 149 Street and the Grand Concourse. Another issue, was that, the music in the store was so loud I had to speak above my regular volume. They need to be trained in Customer Service relations. It was an absolutely horrible experience. They are young and hopefully, more trainings will continue to enhance their professionalism and public service attitudes.

Sharon Bodiker
from Newport, RI
Ever since I updated to lollipop 511 on my phone, I am not getting phone calls, calls are not even registering on my phone, voice mails come in 1-3 days after the fact, and basically over all my service is awful. My husband has contacted customer service 4 times now with various T-Mobile complaints. Every time it is something different to resolve the issue and every time before disconnecting with customer service my husband is assured the situation is resolved. Last night we were told that we were talking to a supervisor, Lou was his name. After Lou did everything in his power to blame the issue on us and continually refused to even hear that the issue started after the 511 update, the issue remains. Lou went on to tell my husband the issue was a result of my phone not being on wifi calling.
Really so for my t mobile phone to work I have to be constantly connected to wifi calling and I have to stay home to receive phone calls? What I do not understand is how did my phone work so well before 511 and now my phone does not work? Lou was rude, accusatory, unhelpful and simply put an ass! Lou finally said well since you have insurance on the phone I will send you a new handset at a $5 cost to us, and proceeded to lecture my husband on how the phone that I would be returning better be in mint condition. Not worried about that because my phone is not even a few months old and basically is in mint condition, but then he tells us that I may not receive a new phone but a refurbished on. Come on! I send my new phone back to T mobile because of an issue that is obviously their fault only to get a used phone in return.
Then Lou repeats that the issue is all our fault because we don't use wifi calling and he would be happy to sell us a router for my house to make wifi calling even better. Give me a break! This is the worst customer service I have ever experienced. Being that I am someone who has worked in customer service for 20 plus years, I can tell you that someone like Lou would never be employed by me and T mobile would never be some place I would ever recommend to my family or friends. I am sharing my T-Mobile complaint with everyone I know.

Thomas Jenkins
from Detroit, MI
In the Beginning of October 2015 I purchase three devices and paid with them with my debit card, then on October 27, 2015 the same charges were applied to my debit card again, causing my account to be over drawn and have numerous of over drawn fees. After talking to over ten people, countless hours on the phone, being told they couldn't find the charges and being hang up on i was finally informed that there was an issue with the system causing charges to applied twice.
From there i was told that I have to wait twenty-four to forty-eight hours to wait until my money was return that I never authorized to be taking out of my account. I have only been a customer for twenty days and this is horrible service that i have never experience form any other phone carrier in my life. I would not refer anyone to this company, poor customer service skills, holding time for resolution horrible and horrible results.
So at the end of the day Im out of $305.21 that im waiting to receive back in my account with over $70..00 worth of overdraft fees, but hey at least the Customer Service Rep did notify me there nothing else that can be done.

Sam J. Smith
from Paris, KY
I have a Microsoft Lumia and it's not allowing me 4g service which is what I have been paying for since day one of purchasing this device at the local Walmart. I don't know if I'm doing something wrong or not but I know that I'm only getting 2g. Help me please the T-Mobile service department is not responding and I cannot find their contact information anywhere on the web.

Corina Aguilar
from Peoria, AZ
I cancelled my t mobile service due to repeated dropped calls and the high fees. I am now being charged a cancelation fee when I was not under a contract and have not been for about 3 years. I have been a long customer but lately your fees became unmanagible. Am also being charged for a table that at the time i went in that they were offering a free table. i flat out asked him "what is the catch' He said no catch it is free a we're having a promotion and just want you to connect service with Tmobile and that was it. Well I guess he lied to me. If this doesn't get taken off billl I will have to complaint with the attorney general's office. This is not right.

letitia reynaud
from Seattle, WA
I called tmobile yesterday concerning the security breach to make sure I was one of them that wasn't affected and when I gave the verbal password that has always been on my account since 2011 the young man I spoke to which happen to be very nice and professional told me that wasn't it and that wasn't it that my password was numbers which has never been so he changed it back however every other time it has been the right password and they say there was nothing showing it had been changed I want to know how a number password before the young man I spoke with changed it back got added and no one can answer that

John Amrich
from Youngstown, OH
First off their service coverage is not that good at all. I eventually got fed up with all the non covered area and dropped calls. Never under contract or had a phone purchased through their store or website. My phone was a T-mobile bought at Walmart! Now 2 years later found a friend of mine needs a phone for ATT network. I cannot get my phone unlocked from T-mobile now till they send me a code by email so I can give the phone away!! WOW. BTW Metro PCS is an affiliate of T-mobile companies for anyone interested. Also did you know T-mobile is owned by a foreign company that operates under that name in the USA!

Emily Smith
from Sofia, 22
I have been a customer of T-mobile for more than 10 years. Not a day late with a bill. Later they put some charge for a service that I have deactivated. Called 4 times to remove. Recently, I have tried to cancel my account due to travel, and the representative did not follow trough...Then call internationally, chat, call, chat just to cancel. Altogether, around 8 times at least. Meanwhile, they withdraw money from my debit/credit card and sent me a final bill + international call charge and with a collection notice. Until I am not even around. They refused to remove any charges. Unresponsive management/ customer service. I guess some commission is everything for them. Do not switch and be very careful. Just an advise from experience.

Maureen Lynch
from Brooklyn, NY
On June 26th, 2015 I called T-Mobile to switch my service from Verizon to T-Mobile. The customer service rep. I dealt with was very nice. I received the new phones but did not like them. I called T-Mobile to let them know I was returning the phones and would like to get different phones. I was asked to verify the last four digits of my social security number and was then informed my social security number does not match, therefore they are unable to give me any information. I returned the phones to T-Mobile by tracking number and the phones were received by your receiving doc in forth worth TX. on July 9th at 10.00am. My bank of America account was charged $285.63 on June 29th,2015 and I would like to have my refund back in my account. Furthermore I received a letter from T-Mobile denying me approval, so why was I sent phones and charged?
Have feedback for T-Mobile?
Thanks for your feedback!
Sorry. Please try again later!