Best Buy
Best Buy Complaints Continued... (Page 4)
512+ reviews added so far. Upset? Call Best Buy corporate: 1-888-237-8289

Milton Callahan
from Oak Lawn, IL
Hello, My name is Milton Callahan I had a terrible experience visiting one of your locations on 11/24/17 at 2:30pm. Me and my mother entered the store located at 4925 Cal Sag Rd in Crestwood, IL, to purchase a new TV and Computer based on sale prices we seen online. The first thing we noticed upon entering the store was a 65" inch Samsung TV for 399.00 near the entrance. The price was on top of a group of the TV's and a big crowd was standing near waiting on a price check. Me and my mother waited patiently with the other customers but no one came to assist any of us. At this time I asked a few of the customers how long they had been waiting. Many of them stated over 30 mins. My mother has a fracture toe and a visible orthopedic shoe and I was very shocked not one person came to ask the group if we needed help. After 12 minutes of waiting and my mother needing to move or sit down. I decide to request the price check myself and one of the younger store attendants came over. I explained the price of the item and told him many people wanted to know if that was the actual sales price of the product. He scanned the item and said the item was $849.99. At this time many customers became upset. Many of the customers including myself should not have had to wait so long to get a price check on an item that was priced so much higher than the listed sales price on top of the TV's. Many of us thought it would be a few hundred off the incorrect pricing seeing it was a sale but not 400.00 additional dollars on a black Friday sale and the entire staff allow us to linger around this product knowing it was incorrect. It was unacceptable and I requested to see a manger. I wanted him to verify the store clerks scan and see if the price was indeed correct that he had told me. The clerk took the 399.99 sales tag off the product and put it behind his back as the other store clerk notified the manager. It took about another 15 minutes to see him. Once the manger (Doug) arrived I explained the issues and requested he check the product himself to ensure the price was correct. He stated " The clerk already told you the price" I said Sir can you verify it because it's 400.00 more than the listed price he has behind his back on the tag. He stated " hey people move signs around all the time " I stated sir as a manger it's your responsibility to make sure pricing is correct and if it is not to verify it for the customer so can you please check the pricing for all of us because we have been waiting a very long time. His reply was " you better tone your voice down a notch" I said sir I am loud so you can hear me over these customer's and I am a customer you should not be talking to me about my tone. I need a price on this item and I am very upset at the treatment I am receiving today". He grab a phone with a picture on it with the price of the item from the store clerk and said this the price wanna by one" (laughing) I said sir this is not funny and I am really upset is this the sales price for black Friday or the regular price. He said " this is what it is wanna buy one" looking at the other clerk. smirking. I told him I would be contacting the complaint department about his behavior and also let him know that it was not proper management. Not one time did the crowd or myself receive an apology for the wait and confusion. These people was angry and this behavior could of cause a store riot as many people got very upset. Base on the crowd and there looks I walked away and told a few people to contact customer service. I believe had I continued to push the issue the store manger would of cause a big problem within this crowd. I did purchase another TV after walking through the store only to witness the store manger discussing the matter and laughing about it with other employee's . The manager Doug was very inappropriate and should not be engaging with customers on any level. I do not know if he is the store manager but I intend on calling the store but wanted to have this address on a higher level seeing I work in management an felt it was inappropriate for him to tell me to " I better tone it down" I felt like that was a threat and so did the other customers. Doug has a problem and is not the type of employee you want helping customers and definitely should not be in management. I think a hard look at your surveillance camera's will show this could of went really bad and with my mother having a bad foot I did not want the crowd to get out of control based on his behavior so I left the crowd without the answers I needed about the product. After going through the store I found many items without a black Friday sales prices including one of the Items I purchase. I also seen and heard the Manager (Doug) talking and laughing about the issue with other employees in the TV department. This employee needs some type of corrective action so he can take his job duties seriously. I would like to hear a response in this matter as I feel the BBB should be aware of this but I like Bestbuy an based on this I wanted to notify the company about this first. Please feel free to contact me via phone or email regarding this matter my direct contact is 708-477-7437 my email is marksmenp@hotmail.com thank you for your time on this matter. I hope the company can resolve this behavior and also give me answers to the 65" UHD TV 6 series Mu6290 listed at your store for 399.99. I believe the price on black Friday was 749.00 but the store should honor listed pricing on black Friday but I was just trying to get the TV at the actual sales price. We purchased a 55" me and my mom that is on delivery but we would have love to have received what we wanted. Thank you for your time in this matter.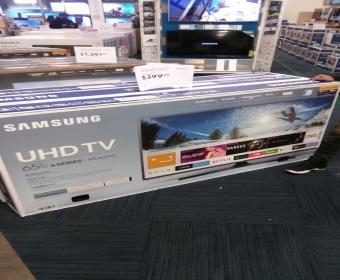 Dawn Mihaliak
from Lancaster, PA
I went to the best buy in Lancaster Pa. on Thanksgiving day for the 55 inch tv for $179.00 I stood in line for 3 hours which I expected to do so when the worker inside came out to hand out tickets for the tvs he told everyone in front of us they could have up to 3 tickets per person was this an inside job that these people got these tickets or was this legit because if it was 1 per customer I would have got 1, these people that got the tickets were trying to sell them for $400.00 this was insane then they said we could buy the tvs for $400.00 when they buy them what a scam. I feel I should be compensated for what I experienced. Disappointed customer Dawn Mihaliak

Sheryl Smith
from Crofton, MD
My son purchased a Black Friday deal "online" that was guaranteed to be "in stock" at his local Best Buy store in Bowie, MD. He arrived at the store on Black Friday morning and was told that "they couldn't find the phone that had been guaranteed to be in stock that morning". He told them that he needed the phone "unlocked" so he could take it to his "own" carrier. He paid an extra $200 for an upgraded phone that they DID have in stock, and after they processed his money, he found that the phone was NOT unlocked, and was dedicated to a carrier that he did not want. They said, "oh, we're sorry". He asked for his money back, and they said it would take 48 hours for him to get his money back. I am DONE with Best Buy for good, and I intend to tell all of my family and friends of his experience and of my own lousy experiences with their stores in the past year. Their customer service has gone into the toilet. I personally have walked out of Best Buy twice in the past year when one of their employees attempted to "switch" me from a product I had gone in to purchase to one that was "better and more expensive". Both times I went in for an advertised product that "wasn't in stock" even though the application online said it WAS in stock in that particular store. I believe that is called BAIT and SWITCH. I thought that was illegal.

Jeanne Leonard
from Springfield, MO
Your Customer service is the worst that I have ever seen. I have spent couple of evenings trying to ask for help from Best Buy technical support. I have spent several hours at a time to only be switched from person to person then to finally be disconnected. This has happened at least 6 times! I have even tried at the store level, store manager and best buy direct and still can't get any assistance. I was told on one call they were aware of the problem due to others having the same issue. I can not log in on bestbuy,com. I am not able to login to my account. It will not allow me to reset anything due to the fact I can't get an e-mail or text with verification code but yet I receive your daily specials, promos ect. I went around the system to place an on-line order last night but I can't even get a confirmation of my order by e-mail. This is unacceptable!! I'm supposedly an Elite member but to get this level of service is not acceptable. Your people call themselves "Specialist" but yet they are unwilling to help. I'm on the phone now, I explained my situation "AGAIN", only to be transferred to someone else. Been on hold going on 40 minutes so I'm sure it's just a matter of time, I will once again get disconnected. I get your "Specialist" is someone sitting in a cubical somewhere but surely they are trained on how to satisfy a Customer. I'm sure I won't get any response with the complaint so the bottom line is I'm done with Best Buy and as much as I hate Wal-Mart, I will take my business there. Next time, I hear Best Buy sales aren't where they should be, I will know why. I wish you the best because with the Customer Service you provide, I don't see Best Buy remaining in business. The last time I check if you don't have Customer Service, you don't have business! IF a Manager (that can help) would like to call me to discuss then you have my contact information on file.

Tom Markle
from Oroville, CA
I purchased an Arris router, SURFboard SBG6900-AC from Best Buy. I think it might have been around April 2016. We have had on going issues since then. I didn't suspect the router because it was brand new and came highly recommended by the Best Buy sales person. I have had Comcast/Xfintiy out here twice and Dish out here twice to review my system problems which consisted of frequent short outages interfering with our TV and our Pandora music station and internet connections. This week, I called Comcast back and a knowledgeable technician went through our entire system, upgraded it and rebuilt our Dish outside LMB. We still had issues and the technician suggested that our router may be the culprit but he couldn't touch it himself. I went to Comcast and rented their router, installed it and - guess what - our problems were solved. Everything works now. I realize it has been a while since I purchased your router but I'm unhappy that it was actually the cause of my year long problems. I don't know Best Buy's limits but I certainly believe Best Buy should give me a full or partial rebate on this dysfunctional router. We are excellent Best Buy customers as you can verify and have supported you over many years. This is the first product we've purchased that turned out to be bad. I would like a response ASAP. Thank you.

Bob Steven
from Fort Wayne, IN
Hello,
I went into Best Buy on 11/10/2017 @ 3:45 pm. NORTHCEST SHOPPING CTR. FT. WAYNE,INDIANA to buy a Sony 75 inch television and couldn't get any service. Then I went to buy some ink for my printer
and printing paper. Once, at the counter I needed to pay my monthly payment, alone with some ink and printing paper for my computer. There was a new guy there that didn't have a clue on how to ring me up. A employee name Kathy ask for my ID and I said not to make my monthly payment you don't. If I was buying something on my card then you would need my ID. She got real nasty with me and said that's the store policy and I can't change that. I can close MY ACCOUNT that's for sure. I suggest that you give her more training or fire her, she is bad news for this company.

Carol Magliochetti
from Bridgewater, NJ
On August 5, 2017, my husband and I purchased an LG refrigerator from the Bridgewater, NJ store. We also purchased the insurance policy on the product at a cost of $299.99.
On November 8, 2017, the fridge stopped working. My husband called the Geek Squad to make a time and date for repairs. He was informed that the first available time and date was November 16, 2017. EIGHT DAYS!! without a refrigerator--UNACCEPTABLE!
We could get a local repairman in one day. However, we already paid $299.99 to Best Buys because they bragged about how excellent their insurance was when needed to make repairs quickly.
We will NOT be fooled again by promises and insurance policies made by Best Buys! We will inform all our friends and relatives about the time response for repairs needed on Best Buy merchandise. Your insurance is as rotten as a hot fridge"s food!

I went into a Best Buy store in and told the Agent that I wanted to renew my Tech Support membership. The agent pulled up my account and stated that they tried to automatically renew it on the due date but my credit card was declined. I was going to pay cash to have it renewed and he told me that I were not permitted to renew the membership with cash. It had to be by credit card or debit card only.
I asked the agent why did they attempt to automatically renew my Tech Support membership without my knowledge, permission or consent. He said he didn't know. That was the way Best Buy was doing it.
My complaint is why did Best Buy attempt to automatically renew my membership without my knowledge or consent? Performing a financial transaction without a person's knowledge or written consent if illegal. I'M BEING FORCED into a renewal whether I want it or not. Best Buy does not have the legal right to make financial decisions for me!
I remember several years ago Best Buy was losing customers because they were being pressured by the employees to purchase an extended warranty. That practice forced consumers to go elsewhere.
If Tech Support is to be an automatic renewal, the customers need to be made aware of this at the time of purchase or notified through the postal system (not email) or phone call and given the opportunity to decide whether they want to renew or not. This practice of automatically renewing Tech Support membership without the consumer's consent needs to be stopped immediately. YOU SHOULD NOT ASSUME that the consumer wants to renew their membership and make this financial decision for them in order to increase your profit.
A very annoyed customer
Frank

Gerald Nelson
from New Haven, CT
On Saturday 28 Oct 2017 I purchased a new TV at the North Have, CT store. There was no problem with the sales person assisting me in getting the product which I wanted. Then today 30 Oct 2017 my wife happened to check our bank account a discovered that an additional $53.00 (fifty-three) dollars had been debited to our account by Best Buy. After some length of time and multiple phone calls and transfers she was finally connected with a representative who told her that a virus protection plan from three years ago was reactivated for the new TV. As I was never informed that this might occur and I never gave any consent for this transaction to occur I consider it a case of theft and bank fraud. My wife was informed that a refund would be made in 7 to 10 days. I have contacted the state attorney's office for North Haven, CT and if the money is not refunded as promised I will be filing a criminal police report with the North Haven Police Dept and push for criminal prosecution. Any company that feels they can take a customers money without prior approval or contract cannot be trusted and I intend to no longer do business with this company and will by all means warn my friends and family of these underhanded and possibly criminal activities of Best Buy.

tim berry
from North Richland Hills, TX
I cannot click off the one star. I wouldn't even rate you at all. I am absolutely po'd about my Roku purchase I made. I brought the Roku device back after having trouble with with them. I had to cancel my debit card because of it. Security reasons. I wanted to get my money back for the device with receipt in hand and was refused cash back! I have my receipt, my card is cancelled, so I can't have the money returned that way. The only way is get cash back. The manager refused to do that, stating the system will not allow him to give me cash. How can you be a retailer and have a system in place where money cannot be refunded? That makes no sense. The manager was glad to give me a gift card. Are you serious? You won't refund my money for an item and you think I'm going to spend more money there. Not only did I refuse that option, I was offended. This is not the way you do business, since this isn't a two way business arrangement you have setup.

Jim Macholl
from Lorain, OH
Great products and staff. Tried to renew Webroot and customer service 27 days prior to their ending. Went to store in Elyria, Ohio. Best Buy policy, will not accept check or cash.. I hear that Best Buy is in financial trouble. Could this be part of the reason --- DUH !!! You've lost this customer. I wonder how many more?

larry baufield
from Des Moines, IA
your credit card department is not very good first opened an account did not recieve card or statement to pay my bill tried to get help talked to three different people at city bank all did not speak very good english if your service is over seas I will not use your service anymore I hope they got this straight but?

Tawanna Collins
from Brooklyn, NY
Hello I purchased a refurbished Samsung 55" tv with cuts and bruises in it model # un55ku6500fxza on oct 18 2016 I was told to get insurance of the tv if it was to give me problems . The tv doesn't cut on and I bought it refurbished and it was working fine had I know the disadvantages of buying a refurbished tv I wouldn't . I had the geek squared which covers my protection come out to tell me there is nothing they can do about this . Iam very disappointed and was mislead about this tv warranty . I am writing before I make this a small claims situation .

Allan Rose
from Fort Lauderdale, FL
I went into the Planation store to buy a cell phone. I asked the clerk if he could set the phone up. He said the company cell phone company would ask him questions, then he would have to ask me the same questions. He would not set the phone up. I did not buy the phone. However I would like to recommend 2 clerks at the Coral Springs store, who went out of their way to help me with a cell phone I had previously bought there. They tried everything to help to get my phone to work, especially the young lady. She gave me a refund without any trouble. This was on 8/30/17. If it was not for these two clerks. I do not know if I would purchase additional items at BestBuy, as I have numerous items there.

Rick Freeman
from Galt, CA
Starting in July 2017 I ordered a Whirlpool microwave oven from Best Buy online. When the oven arrived at my home, it was defective. I drove 30 minutes to the nearest Best Buy store. I returned the microwave and ordered another. To make a long story short, I received a total of five microwave ovens before I finally got one that worked. I returned four microwaves to the same store and obtained receipts. The purchase were put on my Best Buy credit card which is handled by Citi Bank. I looked at my Citi Bank statement and have been charged for two of the returned microwaves. I have contacted both Best Buy and Citi Bank and explained the problem. Best Buy insists that this is a Citi Bank problem and of course Citi Bank states otherwise. Here it is the 1sr of September and the 2 microwaves are still on my bill. I will never buy another thing from Best Buy. I will pay off my Citi Bank Best Buy card and will never deal with either company again.

annonymous
from Mays Landing, NJ
I went into Best Buy in Mays Landing NJ last night to purchase a cell phone. the female sales associate who helped me with the phone was fine...although there were two other female sales associates who, when I asked if they could activate my new phone and transfer my information, told me that they didn't do that and acted as if I were crazy. I proceeded to tell them that just the night before, I had a friend who had also come into the store to purchase a phone and they were treated completely different....their phone was activated for them and all their info had been transferred over as well. I won't even get into the amount of trouble I had trying to get this activated.
If there is some new rule at Best Buy, and employees are not allowed to do this anymore. please inform me...very odd...especially since I know someone who just had it done the night prior. Also, I had a very strange experience when I asked someone how the virtual reality headset for Samsung works...the female associate was on her cell phone the entire time and acted as if it were such a bother to explain things, then walked away while I was in mid-sentence asking a question.
Needless to say, Best Buy lost a sale, and I wouldn't be surprised if many sales were lost. Everyone who I dealt with looked as if they were about 10 years old. It's a real shame....I know darn good employees who do work at this location and it's just a shame for the good ones. Best Buy needs to really look at their floor help in mobile. They need some sort of training in basic common courtesy, although, that really can't be taught.

Joseph Bond
from Columbia, IL
You may also contact the CEO, Hubert Joly at the corporate office address, 7601 Penn Ave. S, Minneapolis, Minnesota 55423. Corporate office phone number is 877-415-3487. Was assaulted tonight by store manager. Would like to speak to Hubert Joly. Will also be consulting legal advise for liability. Does anyone care about their customers?

Stacy Karron
from Pompano Beach, FL
I am a new Geek Squad customer, having purchased a year's subscription of tech support on 10/29/16. I had an appointment for service, and despite that, waited 20 minutes before someone acknowledged that I was waiting. One technician was helping another customer and it was only after 20 minutes that he asked me if I was being helped, as he assumed someone was already helping me.
The reason I went in for technical assistance/support is because I purchased a Lenovo laptop just 13 months ago at the same location, and was having issues with signing in with my admin password. I contacted Microsoft as well as Lenovo regarding this, however they were not able to assist/remedy. I searched online for information on how I might handle this myself but was also unable to remedy the problem. As it turned out, the reason I was unable to sign in is because the number keys were non-functional, and my password contained numeric as well as alpha digits. When I searched for information on how I might remedy this myself, one of the first things all the online tips suggested was to make sure that the numbers pad is not locked.
On newer laptops such as mine there is no numbers keypad but rather the numbers run across the top above the letters. I purchased the Geek Squad support and it was only after two days that one of the technicians called me to tell me that the reason I was having a problem signing it is because the number keys were nonfunctional. My question is, why wasn't a diagnostic test run to determine the functionality of the keys before my entire system was wiped out in an effort to bypass the password?
When I had received a voicemail from the servicing technician asking me for some more information before she was able to go further, I returned her call. After pressing the prompts to direct me to Geek Squad, I waited on hold for almost minutes, but no one answered, though I called during business hours. The phone just kept ringing and ringing and ringing. Attached herewith is a snapshot of my phone screen showing the amount of time I waited before hanging up. I called back again and it was the same, but then an outside rep answered the called and asked me which store I was calling.
He then connected me and I waited again for several minutes but no one answered. I called one more time and if I had not been connected with someone, I would have gone back to the store in person to cancel the service altogether as I was entirely frustrated. On the third call attempt, someone finally answered and placed me on hold for another few minutes before obtaining the information the servicing tech needed. Needless to say, I'm unimpressed with the whole thing, as I would have used the $200 I paid for service and put it toward the purchase of a new laptop rather than be stuck with a still non-functioning unit, and a service plan with lousy customer support and that only covers software issues.
I want to cancel the service plan altogether. Between the issues I experienced (as a new customer) coupled with having a laptop that is no better than when I brought it in, I am very dissatisfied. Diagnostics should have been run to determine if a hardware issue (non-functioning number keys) before the system was wiped out, because now I'm left with a shell of a laptop and it's useless to me without the number keys, the letter P, and backspace keys - all non-functional. If it is standard to check to be sure that numeric keys are not locked regarding password sign-in issues, why wasn't this checked first?
The only compliment I can give is to an in-store tech agent named Jaylen who was courteous and apologetic.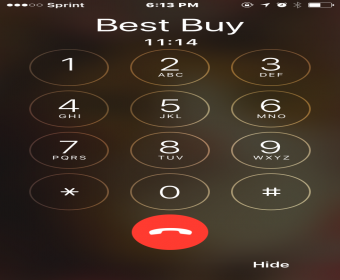 Kathleen Dunne
from Wilton, CT
There should be an option to give 0 stars based on my experience with Best Buy. We placed on online order with them but cancelled it and received acknowledgement of the cancellation. Best Buy ships the order anyway so now we need return labels to send the product back. We've been trying, through their customer service number, to get return labels emailed to us for the past two weeks. Every rep we speak to gives us a new excuse as to why we have not received the labels despite giving them 3 different email addresses.
The latest from this morning is calling Best Buy and spoke to a rep who could barely speak English and she informs me that perhaps the reason we didn't get the labels is that the product we received isn't eligible to be returned via return label. Go figure. Got cut off from her and when I called back, the next rep I spoke to decided that she could not speak to me, she had to speak with my boss since his name is on the account. Didn't have a problem speaking on his behalf to the other rep I spoke to not 5 minutes prior. Extremely frustrating and time consuming and would not do business with them again.

Daryl Rotman
from Littleton, CO
Best Buy didn't put the Apartment number on the package so I spent a day waiting for the damn thing and it didn't come because some one didn't do there job. This will be may last order with this company. I even had to fix the problem after UPS sent me a text saying they couldn't deliver the package. So don't do anything now because I did customer service and the job of Best Buy and took care of getting the apartment number on the package. If I could have given you 0 stars I would have.

Maryann Grookett
from Alexandria, VA
My brother an I co-own an house in South Philadelphia. We are getting ready to sell and are replacing the kitchen appliances. My brother lives in Florida and went to Best Buy there to buy the appliances. Last week we were supposed to have a Refrigerator delivered to the house in South Philly on Friday, October 21 between 12PM and 4PM. My brother received a phone call saying they couldn't deliver it and would have to deliver it on Saturday October 22nd. They said it would be delivered by Noon. Friday evening he received a phone call saying they were delivering it at 8PM on Friday, this is after he and Best Buy agreed on Saturday. He told them no, they would have to deliver it on Saturday. They called Saturday and said it would be there between 12 and 4PM (don't know what happened to the "By Noon" agreement).
They finally called, after 4PM and said they were on their way. When making the arrangements my brother told Best Buy that the Refrigerator would not fit though the front door and they would have to take it up the alley and deliver it in the Back. A lot people in South Philadelphia have to get deliveries that way since the doors on the front of the houses tend to be so narrow. When I told the delivery guys they were not happy, even though the alley was very clean, more than wide enough and free of debris. In order to get it into the Kitchen it would have to be lifted over a counter. The counter is a little less than waist high.
They said they wouldn't do that and we would have to . The one delivery man was very arrogant about it. He kept giving us an argument about the delivery. My contractor and my two sons were present and said they would lift the refrigerator over the counter. We just needed the doors of the appliance removed. The deliverymen left the refrigerator in the alley and went back to their truck. Since it appeared that was as far as they were going to take the Refrigerator, my contractor started to remove the doors himself.
When they came back, the "arrogant" deliveryman demanded to know who the owner was. I told him I was co-owner of the house but he kept saying I wasn't the one listed on the work order. I told him that was my brother and he lived in Florida. He then insisted that someone sign the work order saying that because we (the contractor) took the doors off, the work order had to be signed immediately. I told him I wasn't signing it until they removed the "Old" refrigerator, as stated on the work order. He kept arguing with me about it and even threatened to take the new refrigerator back.
Then he started arguing with the contractor saying that he was going to take the doors off, that they just had to go to the truck to get the paperwork. My question is, why did both of them have to go to the truck to get the paperwork? Why couldn't one stay behind and start removing the doors instead of just dropping it in the alley? They couldn't at least take it to the back door? Did it take two people to "Lift" the clipboard containing the paperwork? He kept arguing with me about signing the work order and I kept telling him I'd sign it when he removed the old refrigerator.
I need a washer/dryer and Refrigerator and was thinking about going to Best Buy, but not now. I'll go to Lowes or Home Depot. Not because of your products but because of your deliverymen, one in particular, and the total mix-up of when the appliance was going to be delivered. Also, when my brother called Best Buy on Saturday to make sure the refrigerator was being delivered, the Best Buy person he was talking to called the Dispatch and the person said "It's not on the truck" and hung up on her.
They were even rude to your own people. Normally I let things like this go but the attitude and arrogance of the one delivery man was unprofessional. All he had to do was take the Refrigerator to the back door, take off the doors and my sons and the contractor would get it into the kitchen, then put the doors back on. They would of been done instead of standing there arguing with us. I believe they didn't want to take the old refrigerator because they would have had to take the doors off in order to get it through the "Front" door. (Yes, that one fit through the front door, it did not have to be lifted over the counter.) My experience doesn't even rate one whole star!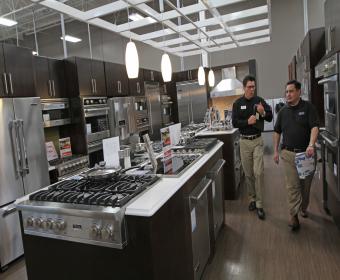 Ronald W. Benson
from Pittsburgh, PA
When delivering a Samsung refrigerator in June of 2016, one or two of the delivery personal stole money out of our house. We filed a police report and contacted a detective to investigate. A Steven Waligoski with the Executive Resolution Specialist department, was not very helpful in the investigation. In fact, if you interfere in an investigation, that is a crime. He gave the detective leads that led to a dead ends. I guess to get his position, you need low qualifications. The detective was extremely frustrated with Steven and said to me, you should sue Best Buy.
This employee is a subcontractor with Best Buy but it seems that they are content to continue to employ a criminal. I asked the detective if a lie detector test could be administered. She said yes if I can get them to my precinct. Best Buy had no interest in doing that. In the last two years, my wife and I have spent approximately $5000 with your company. In the years that we have been repeat customers, we have spent approximately $7000. Steven told the detective that I was lying about this. That made me angry. If spending that kind of money with your company, why would I try to beat Best Buy out of $170. Go figure. To any customers that are getting anything delivered to your home, beware.

Bought an Epson printer for my son for college. He left for school two weeks later . Set up new printer at school and it didn't work (defective). Best buy said after 14 days they were no longer responsible for product even though it had never been used. This is the fourth consecutive time I have had a bad experience at the store. They are very uninformed about their products, very inexperienced and clueless about their jobs and don't support their products worth a crap. I am a best buy cardholder, but it will never be used again! Totally worthless entity.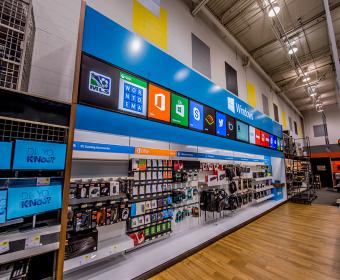 Ed McGarvey
from Norristown, PA
I have experienced the worst customer service I have encountered with any company in my dealings with your Plymouth Meeting, PA. store. I have been a loyal customer of Best Buy for a number of years. In the past 12 or so months I have spent approximately $5,000 at this store.
I ordered a Dishwasher over the Labor Day Holiday taking advantage of what appeared to be a nice sales promotion. I ordered a Kitchen Aid appliance and was promised delivery and free installation in one week. I received a phone call about a week later saying that my appliance would be delivered the next day between 8am and noon. The next day came and went-- no delivery—no phone call. I went to the store to see what had happened and was told they were unable to give me an answer. They said they could reschedule and the next available date was one week away. I asked why it seemed like I was being put to the end of the line when I already had one promised date and was told that is the way it works.
The next date came—Sept 19. The installer showed up and looked at the old dishwasher and told my wife he could remove it but could not install the new one –something about it being ½ inch too high?? There was a bit of a language issue and my wife did not clearly understand what he was trying to convey. Unfortunately I was out of town and did not hear this conversation. I did measure the space and can see no reason why the new dishwasher would not fit.
I am certain a professional installer could have solved whatever issue existed. The store Manager spoke with my wife and assured her that he would work to either resolve the problem with the dishwasher or find a comparable model for her. He promised a return call no later than the next day. I think you know what is coming—no call. My wife tried to call the Manger several times but heard nothing.
Long story short we have canceled the order. What was a good deal turned out to be not so. I will shop for a dishwasher from a competitor. I am aware that losing one customer is of little concern to you but rest assured that I will warn friends and neighbors of the horrible customer service that can be expected from Best Buy.
If you should happen to care at all the order was placed on my wife's Best Buy Credit card on Sept. 4, 2016.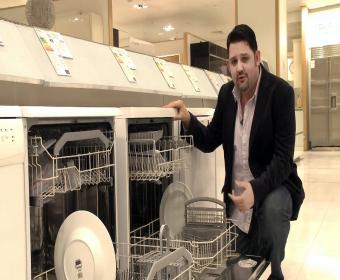 I bought a washing machine on August 20th at the Westbury NY location Order number 1116233273254. The delivery was made on Tuesday Aug 23 however they didn't complete the install and I was provided a hose which was kinked. I called the store spoke with 2 people one of them the Manager named Paul, they claimed to put the issue on an email to customer service. I got a call and schedule an appointment for Monday 29th at 4pm to finish the install. On Monday August 29th I got a call at 9am stating they will be there in an hour. I was at work and clearly I asked for after 4pm install, the person said they will reschedule.
I never got a reschedule back. I visited 5 times the store called numerous time and no resolution has been given to me. I tried the machine this weekend and there is a delay on the on button. I am completely frustrated, way past disappointed on terrible their customer service is. At this time I am requesting a new machine to be delivered. Attached please see the deplorable way my install was left by technical service. I got hung ups after calling Best Buy customer service.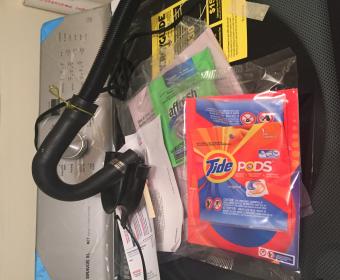 I've been a customer with Best Buy for many years now. My last purchase has been a total nightmare. I purchased a fridge, stove, and microwave. On the delivery day, I received a damaged fridge and also, the delivery company did not relocate the original fridge as was the deal when i did my purchase.
Not only that, I have been calling many times, complaining to all the customer services answering to my calls,about the fridge inside my daycare area. I was promised to get reimbursed 478.00 for the damage only, not for the inconvenience and service they said they would provide. They gave me an appointment for 09/13/2016 to deliver, install and relocate my fridge. I told them I have daycare and it is not safe for the kids to have a fridge in their way.
On 09/13/2016, the stove was not delivered or installed, and i have too pay an extra 255 dollars to do it. The water line for the fridge was not installed as promised two different times, and the fridge was not relocated as promised again. Both times delivery company came, no one took responsibility for the movement of fridge. I spoke to Best Buy customer support by phone for hours, the only compensation she wanted to give me is to reimburse me for my money which is $139 I payed to install the gas line.
I need this problem to be resolved a-soon as possible, and to be recompensed for the inconvenience, headache, and careless effort and responsibility on Best Buy's part.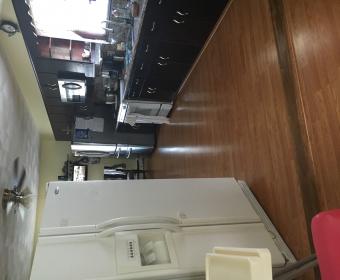 Brian McDonald
from Towanda, PA
I called with two issues. Not realizing that I would encounter another phone robot. Nothing like having your "problem" reduced to someone else's criteria. So finally figured out how to summon a human and was able to make a payment. But no one to deal with the fact that the website is not user friendly or guide me through how it should be used to make a payment.
The second issue I called about was the fact there were 4 items in my checkout box that I did not put there and did not want. All I wanted to do was to have someone kindly remove them from my account. After being transferred twice..and having to deal again with a robot, I finally hung up in total aggregation and exasperation. Best Buys Customer Service needs an overhaul from top to bottom.

vern defehr
from Clovis, CA
Just a note to let you know why I am no longer a best buy customer. About 4 years ago I opened an account and bought a couple of thousand dollars' worth of merchandise. A week later there was a charge of about $750.00 that was not mine on my statement. I called and that was taken care of quickly. On 8/8/16 I went into best buy, my account was at (0 balance) and bought a 28 dollar battery, the next day I bought a printer for 98.86. I checked my email and found an order received, order #BBY01-788164062371 for an apple watch being shipped ($411.03).
I called and Best Buy customer service said everything was ok. Next day got an email, order received for an apple 9.7 inch iPad ($987.65). Not mine and shipped to the same address. I live in Clovis Ca. After more than a few phone calls I was told everything would be good. They canceled my card and sent me a new one and assured me that the new card would have the correct amount billed. Good luck with that. Got my new card and a few days later my new statement saying I owed $509.89.
More phone calls with very little understanding on your peoples end. I told them to cancel my card they told me I had to sit and listen to them read some kind of policy. I told them to let me talk to a supervisor. The supervisor came on and said the policy was that if I canceled my card I would have to re-apply and get a credit check for a new one.
My credit is over 800. After wasting many hours of my time and effort to help best buy deal with this fraud and then needing to cancel my card because your people could not deal with it, I get punished because of your people's incompetence. So I solved the problem myself, don't shop at Best buy any more. I can get the same merchandize for less money and a lot less head aches.

D. Matthew Evans
from Providence, RI
I am a long-term customer of Best Buy, having purchased 3 computers, 3 TVs, 2 entertainment systems, a Bose system, etc over the years. Overall, I have been very happy with my experiences at Best Buy especially the customer service. So, when I needed to add 2 phones to my existing Verizon Wireless account, I decided to shop at Best Buy (Seekonk, MA) on 08/15/16 and was pleased to learn from Monica (rep) that there was a promotional BOGO on the IPhone 6s....perfect. I was unable to finalize the purchase at that time and asked if the promo would still be available on 08/19/16 when I had more time to devote to the purchase. Monica (rep) checked the flyer and was unable to determine the expiration date.
She called her manager (Dylan) and then reassured me that it would still be available on 08/19/16. As planned, I purchased the phones on 08/19/16 and once again was reassured by Josh (rep) that the BOGO was available and was given instructions on how to redeem it (yourdigitalrebatecenter.com). When I attempted to claim the BOGO there was a problem....no promotional match found. I called Best Buy for some help and after some research was informed that the BOGO had in fact expired on 08/19/16....the date of purchase.
Had I been correctly informed of the expiration date, I easily would have made the purchase ahead of the deadline. The advice I received was to send an email to Verizon Wireless requesting that they reconsider the BOGO. This should not be my responsibility to resolve. Best Buy Seekonk clearly made an error, which they acknowledge, that if unresolved will cost me $750.....totally unacceptable. The offer to comp me the accessories I purchased (2 screen protectors) is borderline offensive. And, to expect me to resolve this issue is infuriating.
Best Buy customer service needs to support me in this by admitting their error, honoring the BOGO I was repeatedly promised was available, and fighting Verizon Wireless on their own time for not clearly indicating an expiration date on the flyer. Very unhappy.

I just saw a back to school commercial that shows bullying. A kid is studying in his room and another person comes in and shoves the note book on the floor and says the kid should be using a computer. Please try to make the commercial less bully-ish. Why not a comparison and have the kid with the book ask about the computer?

Coralie Wallace
from Parker, CO
This is the worst Best Buy customer service experience I have had. I have had two Samsung refrigerators go out within a 15 month period. Lucky I had an extended warranty? Wrong--I had the warranty but cannot get my refrigerator (bad compressor--15 months old) replaced for another 8 days!!! This after waiting until day 6 after reporting the problem for technicians to come out. I have tried to escalate the problem to no avail. At each level of Best Buy management, you are told "you can talk to my supervisor, but they will tell you the same thing." And the sad thing is, that is true. No extra effort to help the customer at all. I have been a loyal customer for over ten years, purchased all of my appliances and appliances for other family members from Best Buy. Add me to the long list of unhappy customers. I will look for another appliance store in the future. I would not even give the service a single star!

Patricia Crane
from Webster, TX
7/2/2016 ordered convection single wall oven and over the range convection microwave, plus induction cooktop over $5,000 in merchandise. The month before we purchased Samsung French fridge over $2700. Delivery was made properly. After paying communication by Best Buy was non-existent. Delivery was scheduled four times and none were delivered. Lost two days of work because of the no communication. 7/26/2016 I cancelled order after being told system said we had wall oven (which we did not). No one would try to get to the bottom of why delivery could not be made or to get it resolved. I will never buy appliances from Best Buy again and have done so for over 20 years. They no longer care about their customers or service.

Thomas R. Burgermeister
from Markesan, WI
I purchased a TV & stand on 6/9/2016 from Best Buy In Oshkosh, WI. My salesman was Micheal W. At the time of the sale he told me that there was promotion going on and that I would get some rewards if I bought the TV and stand now and took out a Best Buy VISA credit card. He said the amount would be about $175.00. I made the deal and waited the appropriate time to receive my rewards money. Now, after checking with Best Buy Corporate, the store manager, and VISA (spending 1.5 hrs on the phone), I am entitled to only $110.00 of in store credit. This isn't right. I was misled.

Saleanna Case
from Millington, MI
My oven went out so I looked online to buy a new one since I have bought my entire kitchen appliances with you in the past and been very satisfied. I spoke with a lady on the telephone that said she would be happy to place the order in for me (order number above.) She said that it would be delivered on the 19th and installation in my area was free.
It was a sacrifice to wait since I had no oven but I agreed and also purchase the gas line too. I came home 5 days later and had a message on my telephone answering service telling me to call and reschedule the delivery. I called up and spoke with a Ken that said he was from Best Buy Corporate and he said that they would honor another stove that was 20 more for the same price but the installation would be 160 dollars.
After being upset again I told them that I would take the stove and my husband would set it up. Then they asked for my credit card again. I said why cant you just switch the order it is the same exact price. She informed me that I would have to pay again and that I wouldn't receive my first refund for 3 to 5 days. By this time I was really upset. I said you mean to tell me that I have to buy 2 stoves in order to get one that was promised to me the 19th. She stated yes you will.
I told her to cancel the whole order that I was going to be making my purchases at ABC from now on. I spoke with another lady and she told me that they didn't even debit the cost of the stove out of my Best Buy account just the connector. I told her why didn't the lady tell me that? There is a communication skills that are lacking with your staff. I will be searching for a new oven from a different company because of this.

Caitlin Pierce
from Worcester, MA
I purchased a fridge and scheduled delivery. Delivery was rescheduled 4 times and pushed out over a month. I have called several times and visited the store I bought the fridge at and still cannot get the fridge delivered to my house. This last cancellation notification came at 2AM

Mary Krebs
from Absecon, NJ
On May 16 2016, we ordered a washer and dryer (Bosch) Order #111613727016. The order taker (Nancy Castro of your Mays Landing store) failed to tell us that we needed a 4 way outlet for the dryer. Delivery was scheduled for June 4. The delivery men could not install the appliances because of this "small" detail she left out of our conversation. I scheduled an electrician to install the outlet and then called Best Buy back to reschedule. I talked to your customer call center and after an aggravating one hour of disconnections and misunderstanding what I was trying to do (they thought I was rescheduling the whole delivery and were giving me a new delivery date three weeks out), I finally spoke to someone named LeeAnn.
She got in touch with the warehouse and assured me that the technicians would be back today, June 13, that I would receive a call the night before confirming the order, and that I would receive a call in the morning regarding the time period they would be here. Since I did not receive a call on Sunday night, the 12th of June, I called the call center and after being put on hold for approximately 40 minutes was told they did not have anything scheduled for today. Right now I am waiting a call from a "supervisor" to try to resolve this. I am extremely frustrated at this point and will NEVER buy another thing from Best Buy again.

B. Johnson
from Gilbert, AZ
I purchased an antenna that a sales person said would work so I could drop my cable co. It did work to some degree I was able to bring in some stations but 50% were Mexican stations...My biggest complaint is with Best buy on how my money was refunded. I used a debit card for the purchase and the money was taken from my account the same day. But on the return I have to wait 3 to 4 days for the money to be put back into my bank. This is not fair and Best buy has lost me as a customer. I will do my best to keep my friends from going there also.

Paul Carroll
from Scranton, PA
I bought a dell computer around Black Friday. 11/27/15 @14:58 at store #341.. We were going for an extended visit to my daughters in Pittsburgh, Pa. and My wife reminded me that I NEVER even plugged the computer in and the 30 days return was going to be up and I better fire it up and make sure it is OK. Slipped in the virus disk that came with it fired it up and put in a password did it twice for confirmation OK. Went to my daughters for a very nice visit, came back home fired up the Brand New Lenvo $455.78 that I SAVED $199.99 on and it LOCKED ME OUT This computer Geek guy that sold it to me, When I Asked Him About a START UP disk told me I DON'T NEED one it's Built In. THIS GEEK GENIUS assured me it wasn't needed.
I Asked him Repeatedly, said Your Covered, Everything is in there! My Uncle Tom had a saying, " It's important to be understood But more Importantly to NOT be Misunderstood!" Thanks Uncle Tom. When I called the store they got real snotty with me and said for $37.00 they would UNLOCK IT! I told them it was Never used, said they don't care $37.00 is what they charge to Unlock My Brand New $455.78 + $199.99 savings computer. I asked to talk to a Manager, was told makes No Difference, he will tell you the SAME $37.00 to unlock your brand new computer If they Do Not Unlock & give me an Apology THIS $455.78 is the LAST Penny you will ever get of of Paul & Doris Carroll of Taylor ,Pa. 18517 They should ALL be Ashamed for this behavior. I must be getting Mellow at 6'5" and 245 lbs. There was a time the police might have been called.

Manuel Salgueiro
from Miami Beach, FL
My last payment on my former best buy credit card was on March 3 2016 for 90.36. I checked my card balance and it should have been 0.00. I looked at the statement and saw 49.79 as a balance. I called best buy customer service and asked her were this balance came from since I knew my balance was 0.00 She stated that this was a charge from 2012 webroot purchase. Now I would like to know how you can try to collect on a bogus charge like this.
I have since cancelled my best buy card and will never buy anything in your store ever again. I do not intend on paying this since I know my balance is 0.00 Please remove the 49.70 from that credit card. If I get no satisfaction from here I will gladly call the CEO Herbert Joly at 877-415-3487 and express my dissatisfaction to him. I pretty sure he`ll take care of this issue.

Ray Kuzminski
from Jackson, MI
After waiting for a Geek Service call, Best Buy called and said it would be another ten days before the replacement part comes in. I called the BB 800# and the CSR told me to return my flatscreen to the store. I did and was told at the store did not have any information and to take my TV and leave the building. I called back to the BB800# and at first they denied that the CSR told me to return the TV and then after pressuring them they fed up in saying that even though she did say it, it was not corporate policy to exchange my TV and would not honor her mistake. Still, waiting for a simple two dollar backordered part!

Lela Diggs
from Baltimore, MD
I went to the Belmont store in Baltimore , MD on March 5, 2016. All of the sales representatives were very helpful and I ordered a refrigerator and a cook top. These items were not delivered together. One I received on March 24 and I have yet to receive my cooktop. When I received the refrigerator, the delivery person could not get the water to come out and stated he would bring another one, I never heard anything more about that. Using his own initiative, my husband read the manual, and called the Frigidaire Company and now we have ice and water.
The is the first time getting appliances from your company and I wanted to get all of my Kitchen appliances from Best Buy. I have had quite a few delays I might have to shop elsewhere. I would like to know if I can be compensated in any way for having my kitchen looking a wreck, not being notified, and not getting my order in a timely matter. I think I'm almost ready to cancel my cook top and close my account.

As a lady who has been a very good customer of Best Buy, I feel it is incumbent upon me to tell you how disgusted and offended I felt in your retail store located in Lake Charles, Louisiana, #1080, last night (April 9, 2016) because of an arrogant so- called "manager," namely his disposition and treatment of me. I have spent $1,106.92 at Best Buy since December 2015...Order No. BBY01-773187004597, $525.59 on 12/8/15; Order No. BBY01-773850020760, $443.97 on 12/13/15; Order No. BBY01-776235015854, $137.36. I purchased an ethernet cable at the Lake Charles, Louisiana store for a total of $27.42. I do not live in Lake Charles and have to drive a round trip of 60 miles from my house to that particular Best Buy store because it is the nearest Best Buy store to where I live. I had bought the ethernet cable because I thought I needed it for a device for my TV.
I wasn't exactly sure how to attach the device, and a friend of mine came to help me with that task on Friday, April 9, 2016. As it turned out, the ethernet cable was not needed, so I made a trip to the Best Buy store in Lake Charles, Louisiana, to return the ethernet cable for a cash refund. A nice male clerk waited on me and advised me that there was a 15 day return policy, but that he would check with his manager to see if he would make an exception. I thought that was very nice, since I had not asked him to do this; he volunteered to do so. I had not read the receipt and had assumed that I had 30 days to return the item, since that is standard at most any store.
He said he could only give me a store credit, which I had to take, because he refused to give me my money back. I didn't and don't want the store credit, as there is nothing I am interested in buying anytime soon. I want my money back. He said that I had bought the cable a very long time ago, and I couldn't believe that! WHAT A RIDICULOUS EXAGGERATION! I had bought it 22 days prior, which is only 1 week over the 15 day period. Are you kidding me? I mentioned that the item wasn't for a large sum of money...$27.42, and he said, "Exactly," as though I was making a big deal over nothing. Is this any way to treat a customer who values her hard earned money?
Customers should be rewarded for their patronage and loyalty. I have my own business, and I can tell you that I bend over backwards to satisfy my customers. I would never treat any of them this way. It pays off in the long run to bend a little and go the extra mile, rather than be so rigid and uncaring as MICHAEL SONNIER. I did not witness a store manager at work, but rather someone who thinks he is Master of the Universe. I am disgusted with customer service behavior and lack of respect and will be disgusted with Best Buy if you do not do something to rectify this matter. I am asking you to please refund the cash amount of $27.42 to me. I hope that you do not want to lose a good customer over this matter.

Mike Griffen
from Sherman, TX
Went to Best Buy in Sherman TX, bought a "new" Xbox, got it home and the thing was literally in pieces. Took it back to exchange it, was refused an exchange and got accused of doing it myself. Because that makes sense obviously. All in an hour!

Donna Hague
from Los Angeles, CA
I Pre-ordered Game of thrones DVD set a few weeks ago. Release date 3/15. I received a call from a local store employee (Apple Valley, CA store) AND a 'corporate email' on 3/14 stating my order/DVD's were available for pick up "NOW" and up to 3/24. I go to the store for pick up, show them the email, ID and CC. They would not release the DVD set stating 'release date is not until tomorrow'. Again, I had them read the email. I left w/o the DVDS, very angry. At home there was a vm from a store employee, stating the same "I can pick up my DVDs 'now'."
I called and spoke to "Jenna" the acting gm on duty. Although apologetic, it does not solve this problem. I find it appalling and horrible customer service that a patron would be notified by the local store and corporate email stating their order is ready for pick up "NOW" and yet the staff refuses to release the product until the next day. This is incomprehensible and needs to stop immediately. Either do not call and notify the customer for order pick up "NOW" OR honor the notification and release the order per the notifications. If this isn't changed at the corporate level on down to line staff, this problem will continue. I personally will not shop at Best Buy anymore. And yes, I have the email saved.

I was in the Honolulu store on 23rd of February trying to purchase a Bluetooth transmitter while walking around the store I approached one of the sale person and ask could he assist me in finding the item. He had some paperwork on the counter and a cell phone on his hand, the minute I asked if he could assist me he started dialing the phone and informed me it would be a few minutes before he could assist me. I told him at this point not to worry about it being the phone call was more important than waiting a customer standing in front of him.
I noticed an other employee could I ask him a question I was told again by an other of you employees it would be a few minuets. This was around 1:30pm and the store was not busy. The second employee never came back! Another employee finally came by and did ask if he help me find something, we did find where the item was but there where none on the display, he did check an returned and then I was told the item was sold in that store. I had checked on line and had found it online at that store and had checked at another store and was told that they had it at the Honolulu store. I left the store very upset and have no plans of ever going there again and if the store employees have a problem waiting on all of there customers then they really don't want everyone businesses.

Brian Peterson
from Moses Lake, WA
We have come into the store in Yakima, Washington to purchase a television and for the last two times have been ignored they say they will be right with us and after waiting. Twenty minutes with no help we leave the store in frustration. I am calling the Best Buy headquarters tomorrow with my complaint!

William & Diana Spires
from Lombard, IL
Everyone told us not to buy from Best Buy because once they have your money they could care less about you, their customer & today this was proven true. You can be assured this is our last purchase from Best Buy. The Kitchen Aid downdraft vent that was delivered to us was a used, returned item, and a defective vent. We paid full price for a new vent. Our contractor returned the vent to the Bloomingdale store today, a credit was issued & he was advised a vent would be reordered & would be delivered in about three weeks! We have already waited several weeks for this one. When our contractor stated this was unacceptable Dan Cavazos, your employee stated he could ask for a rush.
But our contractor felt that Dan had no interest in doing this & probably wouldn't. Our contractor was able to temporarily install the Kitchen Aid cook top, also ordered from Best Buy. But now we have to pay him additional fees to return here to install the second vent. Why should we have to go this additional expense plus be so inconvenienced. We now have a gaping hole in our counter top & the cook top is just temporary. We have a large family event planned in less than two weeks, with out of town guest staying with us & our kitchen is a mess.
Best Buy is a large organization, why on earth are they not able to get an inconvenienced customer a replacement for a defective item sooner than three weeks. Since Best Buy can give us no service,you can be assured tomorrow we will be at HHGreg & other stores to determine if they can give us better service than you organization. I have also sent an email to Kitchen Aid letting them know how disappointed we are in there product.
This is a copy of the email I attempted to send to Best Buy through their customer service email. What a joke, the site continually gave a message that the email could not be sent.

Lori
from Vernon Hills, IL
I put a item (computer monitor) into my cart for the early access president's sale yesterday morning. I took a screenshot to send to my husband to see what he thought and waited for him to respond. When I came back to complete my purchase the price went up to regular price. I tried to log back in and the price would not come back. I went to a local store where they told me they could not do anything because it was early access.
I called 1-888-best-buy customer service phone number and was literally on the phone with customer service for an hour before the manager hung up on me. They told me there was nothing they can do because this item is not part of the sale. I said I have proof. I took a screenshot. She got her manager and said there was no way for me to send them my image and they would not honor it. This is false advertisement and rude customer service.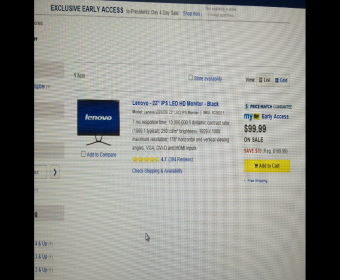 Alicia
from Youngsville, LA
Best Buy in Lafayette la would rather watch me carry a infant seat and printer with 10 people standing around not one offered to help. Customer service also gave all kinds of issues picking up my purchase. Buggy is not made to carry infant and purchase.

Ben Best
from Gastonia, NC
My husband to our laptop computer into the local Best Buy this morning with an issue of a darkening screen. We have a current maintenance contract, When the technician plugged in the computer the screen was completely black. Ben was told the back light was out. He was told it would cost $250 to repair and recommended a replcement. Ben discussed prices on a new computer and left with our computer. When he got home I plugged in the computer and the screen was still slightly dark BUT NOT BLACK. I am now very suspecious of Best Buy's motives and WILL NOT but from them when I do replace our current computer.

Carlos Gonzalez
from Miami, FL
I purchased a Surface Pro 4, item# 4523700 on Jan. 8, 2016. Purchased at store #552, 12495 SW 88th Street, Miami, FL 33186. Purchase price $1,299.99. I visited Best Buy online on Sunday Jan 17, 2016. Found the same item on sale for $300 less at $999.99. Contacted live chat support. They were not able to price match and asked that I visited the store. The store was closed and I needed to wait until Monday, Jan. 18th.
Visited the store Jan. 18th. Customer service said they could not help me because the price had gone back up to $1,299.99. They would not honor my online contact the day before when the item was on sale at $999.99. Not the first incident at this store. I had wireless earphones given to me as a gift for Christmas, purchased at Best Buy. They did not work. I went to the store for an exchange. I did not have the original receipt nor was a gift receipt provided to me. I did provide however, the complete package with merchandise to the customer service rep. She went somewhere to a back room to speak to a manager, manager did not make an appearance, and she stated there is nothing that could be done in my case.
I like the purchasing experience at Best Buy, but anything on the other end is not pleasant to deal with. On a go forward, I plan to take my business to a competitor, even if it results in paying higher prices.

I placed a order for a electric range on DECEMBER 5,2015 at the Best Buy store on Ritchie Hwy in Glenburnie Md 21061. at that time I was told that my order would take 2-3 weeks to come in. The 2-3 weeks turned into a month which made my appliance to be set up for a delivery on 1/5/16. I received a delivery time frame for 1/5/16 between 2-6pm. After waiting a month for my purchase once the delivery man arrived at my home he once then brought in the range which turned out to be the wrong item. At this point I'am furious because I had waited a month for the range and now was sent the wrong order. I then made several attempts to call the Best buy store but was unable to reach someone.
I then drove to the store and spoke with the gentleman who originally placed my order and he said after checking the order that he had made a mistake of placing the wrong order. So now once again I have to re-order another range and wait another couple of weeks for it to be delivered. So in the mean time I placed another order and picked a new delivery date of 1/9/16. The salesperson confirmed my date for 1/9/16 and said that someone would call with a time frame a couple of days prior to the delivery. So on 1/9/16 I waited for my delivery between 2-6pm and no one showed up with my order.
I then at about 6:15 pm called the the store and spoke with a salesmen stating that my order did not make it to the warehouse so a new delivery date was set up for 1/13/16.First of I never received a call from Best Buy customer service stating that my order was not in the warehouse, secondly no one ever call me to ask if I was available for a new delivery date. I then had to go to the store once again after missing work for a delivery that never showed up and driving again to speak to someone about this situation. The manager came out and had no remorse or and concern for what had happened.

Zadok Stewart
from Magnolia, AR
I was charged the monthly fee and was going to be selling the phone so I called to cancel so that when the month was over that I would not be charged again.. Well I call to make a claim on the phone and the guy wanted to get smart with me and said it was canceled and I was getting a refund then. I said that the person did not tell me that nor did they tell me I was getting a refund. I did not ask for a refund cause I was under the impression that it was still under contract till the end of the month. Now I am waiting on the phone for his supervisor and its been over 20 mins. wow great customer service.

Judy Frye
from Atlanta, GA
I purchased an open box smart tv from Best Buy for a Christmas gift. When the tv was plugged up it did not work. The nearest Best Buy to the family that the tv was given was 1-1/2 hours away but they drove the tv there. All information was given to the customer service people and they were able to pull all information up and see the tv was paid for, etc. There reply was they could not do anything to help us but would send a label within the next 5-7 days and once the tv was back to the distribution warehouse, they would return the money within another 5-10 days. This is truly unacceptable for consumers to be treated this way when the tv was bought in good faith accepting their word that the tv was just an open box and there was not anything wrong.

Gary Debevec
from Marshall, VA
My wife and I went to our best Buy in Winchester, Va. on black Friday to purchase a smart phone for her. She was pretty excited about it until 4 and 1/2 hrs. later we finally left the store, the hold up was no one could get through to corporate to issue the $250.00 best buy gift card. Finally we had enough and told them to send it to my e-mail. Got a phone call saying that it would be issued in 24 to 48 hrs. Well three weeks later I went to the store to find out what happened and boy you sure have a lot of love for your customers. I was treated like I had robbed the place, and was waiting for the cops to arrive. I will be honest with you we finally did receive the gift card, but once It is spent I will never shop in your stores again

I purchased a Dell laptop and have had continued issues with it and it's software. I purchased a GEEK squad service package and have called a minimum of 20 phone service calls in less than 10 months. I finally agree to pay the $49.99 in home service call, took off any entire day from work (my appointment was schedule for between 12:00 and 4:00 pm), sat the entire day only to receive a call at 3:45 pm saying that they couldn't find the home. 12 years ago I lived in Riverside county, then I moved elsewhere and live there 7 years and now live in LA county. They had my appointment scheduled at my address from 12 years ago and the technician said. Sorry he couldn't help me and that I would have to reschedule. No one would take responsibility and Best Buy customer service, well they gave me a sorry-ass apology!

John Kuehn
from Rosedale, NY
I went in to get a new Verizon phone contract for 2 phones on 10/30/15, at the Best Buy Baldwin NY store location. The sales person Nick (employee# 1200258) had totally misrepresented the pricing for my contract. I did keep the paper work which he wrote on (attached), because there was another lady there, complaining about her bill. First, I was told there would be no upgrade charge. This is represented by a $0 charge for each phone on my credit card bill (attached) The problem is that Verizon charged me. They said speak to you. The Best Buy manager said speak to them.
Second, the plan was presented as $20/month access fee per phone ($16.20 with the school teacher discount of 19%) plus the $45 3gb shared plan. I could either pay a $25.42 charge each month for the phone, or buy the phone for $100 each and avoid the installment charge. I commented who in their right mind would pay $610 in 24 months, than pay $100 one time. He replied some people do not have the money.
I restated that I would be responsible for $16.20 for each phone, and the $45 for the data, plus taxes. About $80 plus taxes. He said yes. I said I would take the phones, which when he put them in the system, said they where now on sale for $49.99 each. What he didn't say was that the access charge would go to $40 each, and that the teacher discount was on the $45 data plan, and not the access fees. He basically got everything wrong.
The person trying to rectify this said, I can do nothing. This was a Verizon plan, I was past the 14 day return date (I didn't know of the problems till the phone bill came 30 days later). Verizon said this was a best buy problem. Even the person looking at this problem, tried to get me to change to the installment plan, thinking it would be cheaper, but forgot to add 1 phones $25.42/month into the calculations. The manager Yohance Anderson, was sitting right there, and had no time for me. I waited 20 minutes)
So basically I had to pay the $80 one time upgrade fee, and an extra $40 month for access ($960). So I paid the bill (so as not to ruin my credit). I will no longer shop here, will boycott Best Buy corporate offices, and I will cancel my Best Buy credit card.

sharon m kalasky
from Youngstown, OH
My son and I each have best buy visa cards. because the item my son wanted cost more than his credit limit we chose to use both cards, because I was to be out of town, my husband, an attorney, drafted a power of attorney granting my son the right to use my card to make a purchase. When my son presented the power to customer service at your boardman, ohio store he was told that my legally binding power was absolutely worthless. In a very short time each customer service rep became extremely rude. One of them started yelling at my son. My son, matthew, is autistic. When he got home he was visibly shaken and began to pace around the house. pacing is a coping mechanism matt uses when he is extremely upset.
Best buy's corporate policies leave much to be desired. in fact, your online cancellation policy clearly violates federal law. your policy states that cancellations must be made within a mere 30 minutes of the moment of purchase. However, the commercial codes at both federal and state levels grant the buyer the right to cancel up to the time at which goods are shipped. Amazon recognizes the law. Why do you choose to break it? Greed, perhaps.
should my son not be handsomely compensated for his mental anguish caused by your employees, my husband will file complaints in each and every appropriate forum. your litigation costs would be extremely high. I am also considering to notify 60 minutes to tell them how your company treats those afflicted with autism. I anticipate your prompt and considered attention to this matter.

Juanita L Hand
from Fredericksburg, VA
On December 3, 2015 I drove to Delaware to pick up my Grandson's desk top computer, along with the graphics card purchased from Best Buy online, and drop off at the location above. The computer was working fine, with no issues. We just wanted it to have a better graphics card installed. Throughout this process, I told the Best Buy associates that we needed the computer back before December 14, 2015. I was told that the install would take 3 to 5 days. When I checked the status online, it indicated "Checked in and will be assigned". I called the store on December 6, 2015 and the phone rang for 30 minutes, with no answer. I went to the store and the Geek squad associate told me that the computer was currently being worked on and would be ready for pickup the next day. I had to return to Virginia to work. I called several times the next day, but once again nobody answered the phone on the Geek Squad extension.
When I checked the status online, it indicated "Checked in and will be assigned". I call the Geek Squad at 1-800-433-5778, explained the situation, and they attempted to contact the Delaware store for me. When they could not get a response, they told me they would email the manager and have him contact me with Status. I did not receive a response. I checked the status online, it indicated "Checked in and will be assigned". I called the store today and got a sales associate, explained the situation to her and she walked over to the Geek Squad to get status for me.
She came back to the phone and told me that the Agent she spoke with told her the computer will be ready in 48 hours, because the computer had to be taken apart to perform the repair. As I mentioned above, I was told the on December 6, 2015 that the technician was working on it. Throughout this process, I told the Best Buy associates that we needed the computer back in time for a December 14, 2015 departure date. At this point, I felt that it was time to contact you.
Keep in mind, I am doing all of this from Fredericksburg, Virginia. I purchase electronics. for family members living and attend school in other states, from Best Buy. Our experiences with Geek Squad service on these products have always been favorable. I have always been informed of my service status if it can't be performed as planned. I understand this is a busy time. However, at a minimum, I should have receive an update from the location performing the service if they could not deliver as promised? This would have allowed me to make other arrangements, in order to meet our deadline. At this point I do not have time to make other arrangements.
Please look into this issue for me as soon as possible. My Grandson is leaving College and entering the United States Marines on December 14, 2015. We are all sad that he will not be with us for the holidays and hope that you can ensure the return of his computer prior to his departure. He doesn't drive so we need to know the service is completed, before we can make arrangements to have pick it up.
Thank you in advance for your attention to this matter.

ed english
from Haverhill, MA
My complaint is that I was double charged. Best buy says they never too ANY money Well, I conference called in my bank and they verified double charge. Best buy again says never charged. Even after calling their billing number to complain. I actually received my item and was charged for 2 they say NO CHARGES. Never shopping at Best Buy again.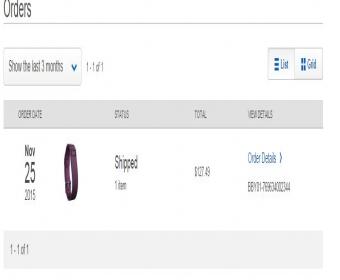 Angie Gumbs
from Kissimmee, FL
Hi, I purchase a Toshiba Laptop in August of 2014. about 2 months into having the computer, I had to take it back to the store because of technical difficulties. During this time, I explained to the geek squad agent that my mouse pad has been sticking and I have to constantly tap it for it to work. A few months after I had to return the laptop again because I received a message stating that my 1 year subscription to Microsoft 365 has expired way before the expiration date. I complaint about the mouse sticking again and still nothing. All I was told is that the mouse seems to be working fine. I then inquired about returning the computer because I am having so much issues with it. I was told that I could not return because of a mouse issue, if it have to be something more serious of a matter.
Feeling like I am stuck with a product that was obviously a bad choice I took my lap top home and left it untouched for a few months. When I finally decided to use the computer again, I encountered another issue with Malware, although I purchased the protection plan from best buy. Seeing that I couldn't take any more of this obvious defective product, I inquired about my warranty again, this time I was told that my warranty has expired and there is nothing can be done. Called the phone number to complain to the Best Buy corporate office, but they did not answer either.
I was really disappointed at this point. I have made several complaints about this laptop which I feel had a defect from the beginning and no one did anything. Now I am stuck with a laptop that has a defective mouse pad and the solution that I was told was to purchase and external mouse for the laptop. My experience with this service was really unacceptable. I feel that the customer service representatives are trained to not honor the warranty that a customer paid for to ensure quality product. It was just a total rip off to pay for a warranty that could not be used although I complained about the defective product. No one did anything to assist, not even document my complaints now I'm stuck with a laptop that continuously gives my problems and to top it off the mouse pad decided not to work at all anymore.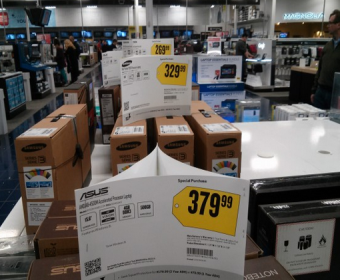 Michael kegley
from Kingsport, TN
Went to the Best Buy Black Friday sale for the 50 inch tv for 149.99 was in line for a ticket the people in front of line kept letting their family an friends get in line with them. A lady complained to the person who was in control of the line he said he could not control that they should not let people skip line that he could not do anything about it. Which caused me and my son not to get a ticket for the TV. I know it just a TV that why I did not complain or cause fuss a the store I just thing they could have handle it better.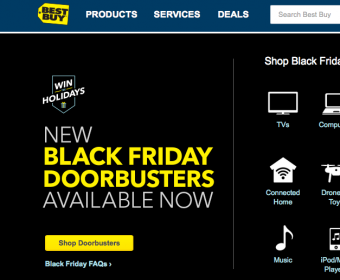 Rouel Paz/Rosalie Go-Paz
from Charlotte, NC
My husband, Rouel Paz, purchase ipad-mini via online on 11/23 and we have 4 gift cards amounting to $350,00 (3 - $100 and 1-$50). When he finalized his order he noticed that he forgot to include the $50 gift card and cancelled his order. When he redo the order, he noticed that the other $100 gift card is reduced to $50. And today, November 24, we called customer service to complain as to why the gift card balance got reduced. The first person my husband talked to was able to add 34.58 to the missing $50 and will send the remaining balance via mail. When my husband checked the amount again it is now showing a balance of ZERO. We were transferred to supervisor and now they are telling us to wait 3-5 business days to have this fix. We are on the phone for more than 3 hours and they cannot return back the original value of $100 to our gift card. This is a very bad customer service.

Jim Title
from Braddock, PA
2 days late on returning item. Went on vacation after spending $248.00 on a vizio sound bar. Was told to purchase a digital optical cord ($24.00). Best Buy would not issue me a credit for the cord which did not fit my tv. I left the cord and told them to keep it. What was I going to do with it? I have spent a lot of money there over the years and to be denied the credit is just not right. Now they get to re-stock it and profit twice on the cord. This is the second complaint I have filed with you. Looking for help.

O. Joseph Spagnolo
from Dearborn Heights, MI
I am so tired of trying to buy something on sale at Best Buy. You weekly sales or Deal of the Day are just a way to get people into the store. You never have the product or so limited that they try to sell you something else or just tough! With no availability of a rain check online or at the store. I have had this experience on more than one occasion. Once for a TV, Samsung Tablet, and now for a cell phone.
You had a special on the Samsung Galaxy S6 edge + 64 GB Gold Platinum for $249.99 with a 2 year contract with Verizon. A saving of $ 200.00. The sale was from 11/11/2015 to 11/14/2015. I called my Best Buy store first thing on 11/11/2015 @ 10:00 AM when the store opened to find out (as usual) that they were our of stock and to try to get it on line. How can you put stuff on sale when you do not have it in stock? I went on line and guess what no phones available.
Only one phone available in black and it was 32 GB. The online customer rep checked all the stores in Michigan and none available. She was very helpful and noted that this is not unusual and so did the store manager at my Best Buy. I am a senior citizen and try to save money where possible and when I cannot even get a deal that you falsely promote and you will not even honor it with a rain check you should be ashamed of yourselves. I will never, ever purchase anything from your company again. I was so mad and very disappointed and I will make sure I let everyone know that I possible can. I will post it to social media for sure and make sure I put a complaint on every website I can find about Best Buy. I know this email will not make a difference, but I home someone will have the respect to respond and if possible honor you sale and find the cell phone for me!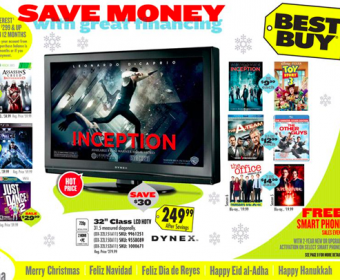 Kristina Orth
from Carlisle, PA
My daughter's ipod touch 5 would no longer turn on. We took it to best buy to replace back in Sept, because we purchased in Nov of 2014 That time they were willing to replace, then I asked them if they could transfer everything that was on the defective ipod to the new one. But the problem was my daughter couldn't remember her icloud password. So they told us to call Apple and made us give back the replacement. SO I call Apple but my daughter still could not remember her security question answers. SO I just decided to go back to Best buy(today Nov 8 2105) and replace the ipod and start fresh and make this one under my Apple id. They wouldn't do it. The jerk you have working as the Group Leader in the Customer Service Dept at the Hagerstown, MD store, wouldn't know customer service if it bit him in the ass.
He could have cared less about my situation and my frustration. He told me my warranty was almost up, but still wouldn't help. How can you tell a customer that your warranty is ALMOST up but not help. I worked in Customer Support. Warranty at for 9 yrs and if I ever told a customer that their warranty was ALMOST up but not help with something or all. I would have been looking for another job. Your company does not put the customer first. I even lost out on the money that I paid back in Sept for the difference of cost for the replacement one. All he was worried about was getting an a defective ipod back that your company wouldn't be able to refurbish because it would be locked. If my warranty was still in, I should still be entitled to a new ipod.
If you are not willing to make this right, then I will never spend a dime in another Best Buy I will also spread the word that Best buy can not be trusted and do not value their customers.

Daniel
from Asheville, NC
Approached by Steven, a store sales person (looks like a clown) and accused me of stealing a memory card out of a camera and I was then told that the cameras didn't have a memory cards installed. When I showed him that the cameras didn't display functions for the many buttons attached he said it was because the memory card wasn't installed. Then accused me of arguing with him. I told Steven I wasn't arguing with him and that other stores had cameras on display without memory cards and they displayed the functions for all the attached buttons. That's when he finally offered to install a memory card (carried in his pocked) so I could check the functions of the cameras. After returning home I called and talked to a manager named Mason from store #445. He told me this sales person was a supervisor and one of the best sales personnel he had. I ended the call with; Sales persons should look and act professional. So what can corporate do for me. Just take a look at Sales Person Steven ( if you can without laughing) and tell me he looks like a professional. And if that is true, then why do all the other sales people look like normal Professionals!

Christine Harper
from Orlando, FL
I placed an online order and I called Best Buy customer service on 11/06 /15 at 4:59 PM because UPS lied about attempting to deliver the package to my daughter who stayed home all day expecting this delivery. They usually leave the package at the door, or leave a slip on the door. This was not done, so I asked the Best Buy Agent to contact UPS. She was very reluctant to do so, kept me on hold for over 30 minutes, then hung up on me when I asked for a supervisor. No one called me back, and they have all my contact information. I called back several times after that, and was on hold each time for more than 20 minutes without anyone picking up the phone. If their calls are recorded as they state, they should review the call. I was not rude. Their agent was very passive-aggressive. I just wanted them to intervene on my behalf with UPS, not act as if it was no BIG DEAL that a re-delivery attempt would be made on Monday 11/09/15. My daughter is a college student who stayed home on FRIDAY for this delivery. I'm very upset. Worst Customer Service ever!

Larry Majors
from San Antonio, TX
Best Buy's new TV commercial suggestion to go "Elfing around" is unnessecary and unacceptable. My family will not be purchasing our electronics from a company that uses disgusting innuendos to be trendy. I will also make sure my church of 9000 attendees (Community Bible Church - San Antonio, Texas) is aware of your unproffessional attempt at advertising.

Brenda jolly
from Wilson, NC
The 53"inch Samsung TV"my Husband and I, bought from Best Buy around 4years ago needed service the first month.and now it's no longer usable because of ticking noises. We paid a lot of money for your product and we're out of a TV". Hopefully you value your customers and your product to try and appease your customers some way to fix this problem. Also learn on the Internet that there was a large suit against you all about this probably we are experiencing now with Our television. Will be faithfully waiting for a response from your Company.

rick labrecque
from Battle Creek, MI
I took back a Linksys router that was not used and was told there was a 15 day no return policy that I wasn't aware of and did not get a refund. so I now have my own policy, I will never buy anything at best buy again! I own 3 businesses, I buy printers, I am always replacing TVs I own 36 TVs and replace them occasionaly, replaced a 60 inch today at ABC, bought an Epson printer at staples today am adding to my sonos and camera system, ink, dvds etc. I will never make a purchase at Best Buy again. I hope the $249.99 was worth that business to you.

Michael Berry
from Yorba Linda, CA
Best Buy used my credit card without my approval. I had a Geek credit for a year but apparently it closed on Sept 22, 2015 and I thought the credit ran through the 22nd. Instead of telling my credit ($199.00) ended they never said a word and in fact paid via my credit card. As I said, I never authorized this and shouldn't have to pay for this. If I knew the above I would never have allowed Geek people to work on my computer. This happened at the Fullerton Store on Imperial.

Steven & Aloma Cardoza
from Coeur d'Alene, ID
My protection plan had lapsed one month, I found out that it had not been renewed (one month later) I called and asked to renew the protection plan Best Buy will not honor a one month lapse at all. this is totally unfair as my husband travels the united states and can not all ways check our email. We have spend thousands of dollars at Best Buy, I find this to be just outrageous. So much for shopping at Best Buy we are done with this store.

Chotika Annillo
from Jacksonville, FL
I bought a Hotspot device at Bestbuy it would not work with the ATT Gocard. I received a refund for the Hotspot device. However I could not get a refund for the ATT Gocard $53.90 The order number was 0350 070 1751 July 1 2015 I returned it the same day about 4 hours later. The hotspot kept cutting off every minute. Both the Customer service dept and Store Manager at 9930 Southside Blvd Jacksonville, FL 32256 would not refund my money. Of course I'm very disappointed, you would be too if a device would not work and you could not get a refund. I believe this is an unsatisfactory business practice. Of course my experience is a 0 not even a 1.

Charlayne
from Atlanta, GA
I purchase a refrigerator and when it was delivered it was damage so I rejected the delivery. I had to reschedule. This is where my nightmare begins with this company. They have the worst costumer service I have ever seen. No one from the warehouse call me the day before to give me a window for my delivery so the delivery came when I was at work and they advised me that I would have to wait another week because I was not home to receive the refrigerator. I was told that I could cancel and go get another refrigerator from someone else because it was nothing they could to help me for their mistake.
I stayed on the phone for hours trying to explain that I was never called. So I guess they wanted me to have ESP on when they were going to deliver my refrigerator. I was given the run around to find out that I would not be able to receive a refund and cancel my purchase until the truck return back to the warehouse. They really lost me as a customer and I will never shop at best buy in life! please take your business elsewhere.

I have shopped at Best Buy for years and consider it to be a good store to find anything electronic. I was just in the Pineville NC store and was appalled at the apathy the workers showed and to be honest just basic rudeness.
I had trouble getting anyone to help me when I first came in. Normally I know where to go but I live in Greensboro, NC. I finally just walked up to someone and they told me where to find my item but I was an obvious interruption to their day.
Finally, I get my item, I'm ready to checkout and there is NO ONE at the checkouts. I stand there confused but no one tells me what to do. Finally, I find a sign at the very end of the checkouts saying go to customer service which is no where close to the checkouts.
Well, here is the final insult. The woman who checked me out was Monica (African American probably 25) who is rude (mainly in an unresponsive way) but also chewing gum very loudly in my face. When she asked for my best buy shoppers card, I responded I didn't have it with me and she rolled her eyes at me and asked for my phone number.
I just felt like the whole experience should have been better. The one shining moment was the lady at the door when I left. She was older and very friendly and thanked me for shopping at BB and to have a great day. She is the only reason I'm even giving this one star. When you spend hard earned money you expect better.

Tom Miedema
from Hudsonville, MI
I went to Best Buy to purchase a new phone. I wanted to upgrade to either a Samsung Galaxy S6 or a Samsung Galaxy S6 Edge as I already had the Samsung Galaxy S5 for quite some time.
After speaking with someone in the Samsung department, I was convinced the Samsung Galaxy S6 Edge would be my phone of choice if it held up to vigorous use. After speaking with someone in the mobile department, I decided to either rent or purchase the Samsung Galaxy S6 Edge as I was assured the phone was durable, had no issues and a full replacement warranty policy was available if I wanted to pay for it.
Since I have purchased several new phones from Best Buy and always done the same basic procedure to get one, I purchased the phone, a case, a screen protector and a replacement policy should anything happen to the phone. Although I was confused why I HAD to purchase the phone rather than take advantage of the lease/rental option, I made the purchase and had the mobile department set my phone up.
My current number was to be put on the new phone, but I was told I needed to go to a Sprint store to have them put my number on my new phone, so I left the store with a new unactivated phone with a screen saver installed by the Geek Squad and several accessory items.
I used the phone for two days and was disappointed to see the screen saver starting to peel. Since I was told I had a few days to have the screen saver reinstalled at no cost, I went to the store to have it replaced. As I got out of my vehicle, I accidently dropped the phone and when I picked it up, I noticed it was flashing an array of colors.
I noticed that although I had a screen saver on the screen and the phone protected in a flip case, the screen was destroyed on the upper tight hand corner. Further disappointment followed as I went into the store to show them what happened to my phone. I was told that if I wanted to make a claim, I would need to pay a $200 dollar deductible. I was then informed that although they had NO contract to show me where I agreed to pay $200 deductible, I had to pay it if I wanted a phone.
I had never experienced this before and I was taken back by shock! Does this mean that every time my phone is slightly dropped, it will crack and I will need to pay another $200 deductible?
Since I was told I had several days to return the phone if I didn't like it, I then decided to pay the $200 dollar deductible, replace the phone and replace it with a hopefully more durable standard Samsung Galaxy S6. I was then informed that although they had NO contract to show me because "it is all electronic" and no warranty stating "the return time frame was void if I had a replacement phone for the one that broke"
Later they stated that I was given a hard copy of the Geek Squad policy, but I had NOT been. I was then told I would be E-mailed a copy of the document I had signed and a copy of the warranty stating I cannot return an exact replacement item issued by Best Buy.
I am extremely disappointed with the attitude and service I have received and surprised Best Buy would do this since I spend thousands with them every year! I know the majority of the people by face and several by name now! Is this now the new normal for Best Buy??

Normalyn Szudarski
from Hialeah, FL
My granddaughter needed an adapter for her laptop when to the Best Buy in Hialeah Fl. and was looking for the one she originally had since I saw it on their website. When she went to the store they said they didn't carry that one and sold her a more expensive one she even showed them the ad and they just shrugged it off. I guess Best Buy is into False advertising now. I suggest you check out store #555 and see what's going on. Thank you for any consideration in this matter.

greg desmith
from Westlake Village, CA
I purchased two laptops online with store pic up the next day. Total price for both was $504.78. Whenever there is action on my card I get a text from my bank, within a minute. Right on time I got an text telling me there was a $504 hold put on the account. The available balance now should show the hold with the pending transaction later.
So about a minute later there is another text for the same amount. Now there are two holds totaling $1008. This has happened before and it messes up the whole account. I'm there at the store picking up the laptops, and for some reason they refunded me $6.48 off the $504. Tis plays a part later in the story.
I asked about the other hold. They were rude and talked to me like I was stupid. I'm 64 freakin years old. They say that they did not charge my card, which is right, But a hold is like spending it. WE go around for a while and they give me a phone number in Atlanta. I'm in the California desert here. So after the robot gets done I explain this whole thing again. They tell me they will send a letter of release.
I need this money. I'm on a fixed income. This account is only for SSI, and a couple pensions to be direct deposited in. I can't add money to it. I have automatic payments coming out and like that. I wait all day and then I call the bank. They got the release form, but the dollar amount was wrong and the authorization number was wrong. Back to the two hour sessions. Best Buy tells me it will drop off in a couple weeks. REALLY??? I tell them I can't wait that long and besides it was there fault it was on there, not mine.
They send another FAX Same thing and the bank cannot accept the number from me, it has to come from Best Buy. In between these FAXes. I'm dealing with really rude and stupid people. So my bank tells me they will FAX them a letter and all they have to do is sign it and return.
So back to pending transaction. So back to Best Buy I go. This time they will not give their FAX number saying the can only send but not receive. I lost it. This is the sixth day SO I go down to the store and demand a refund on the laptops. Just like the movie Ground Hog Day, I explain the whole thing. Then they tell me it will be 3 to 5 business days for the money to be available. I took the laptops back and told them I'm getting some legal advice. And that is where I am now.

Anthony Perry
from Strongsville, OH
I bought an iPad and had it 3 weeks and it would not charge. I took it back for a return and they said no because I did not purchase the warranty they had to offer. After I complained again they exchange it with another which I did not want. This is the 2nd iPAD in 3 months that I have bought along with 2 cameras, computer, monitor, vacuum, games and much more. I feel that other stores have 30 days and Best Buy just wants to sell you the warranty. I have the Best Buy card and I want them to know this is the last time I will ever deal with them. Just 1 week over they want to get hateful and not help a loyal customer, that's poor business.

Christopher Emerson
from Victoria, TX
I found an ad on Xbox home about a trade in for 360's. ANY 360! "ANY WORKING 360" was the ad.
I take my console up there and it's 15 minutes until they figure out its a 20g. They say trade in value is 0. It's a working 360 but it has 0 value. The service people had no knowledge of this rebate, even tho I had called to ask about it several hrs before, and it was validated fully at that time. I returned home with console and looked up ad again. It said "ANY WORKING 360". I called best buy and spent 20 minutes, 15 of which on hold. Then I'm told it's a minimum of $125 for 'any' followed quickly by $175 for a 250g. Then back to a 20 g having no value.
This was all in one breath with me asking no questions. I fully understand the younger generation is better w computers but when it comes to getting your knowledge correct and customer service, this young generation sucks! I will still buy an xbox1 but I'm in no hurry and will prefer to buy from anyone other than Best buy.

Maurine Hampton
from Springtown, TX
I wanted to buy a new phone and have everything from my old phone transfered over. ( I did this 4 or 5 month ago at the same Best Buy..different salesman). A lady waited on me and said that I would have to wait till another salesperson was through because he was the only one that could do the transfer. I waited till he was through, the customers were looking at a phone and other items much more $$$ that mine. He looked at the phone and told me he couldn't transfer it over to another phone and suggested I go to Walmart or somewhere else. I told his that one of the salesmen did it for me before. He jerked the monitor around and said that it can't be done. Then he got up and left. We just bought a 56in TV and several Christmas present from Best Buy this year and you can believe that we will be looking else where next year, maybe Walmart!

Vicky Howard
from Jefferson City, MO
My complaint is against Glenn, a member of the geek squad store #30 in St Louis. I bought a tablet there and it got a crack across the bottom. I went to the store to let the geek squad look at it. Glenn took the tablet out the box said someone applied pressure to the back, and that's why it cracked. He was very rude and arrogant. He spoke down to me has if I was stupid, and I inform him that he will not speak to me in that manner. He continue to do so. I didn't receive any customer service from him. I didn't go into the store for a refund, I wanted my tablet repaired.
I asked for the manager and he stated the manager will tell me the same thing, but the manager was helpful. He tried to solve the situation. He gave me a number for the manufacture customer service. This is not the first incident with the geek squad they are arrogant and disrespectful, and they DO NOT! know how to speak to customers. SOMETHING NEED TO CHANGE ! As a consumer spending money with your company, the customer service is HORRIBLE !

Brenda Green
from Norfolk, VA
My Problem is shopping off of the website and buying such a large item sight unseen. I cant say that this is a complaint directly about Best Buy but I need Best Buy to relax their policy for me this one time. I purchased a refrigerator for the first time my refrigerator went out and so I was under pressure to make this decision that would be costly and fast. When I arrived to the store I had no idea how much these units cost ( I live on a tight budget) but I knew I needed this item. One of my dreams is to get my kitchen remolded with new counter tops, refurnish my , new sink and new appliances. I wanted to do this all at once, having the time to decide just what would fit my needs a capture my heart without breaking the bank. But there I was in the store about to make what I considered as a major purchase. While the item I saw on line was in the store put was not on the floor it was a Fridgedare 22.6 cu ft refrigerator with an ice maker on the outside something my child always wanted.
I purchased it sight unseen and once I got home it dawned on me that the unit may not fit into the slot that I had. Looking at the specs I noticed it said that the height was slightly over 68" which would not work for that space. So the next day I returned to Best Buy and exchanged the item for a Whirlpool note that the Whirlpool was not in stock either it had to be shipped from a warehouse and there was no floor model to see , so I purchased this too sight unseen . When the whirlpool arrived I was relieved to have a refrigerator. About a week later I went to my family member's home to retrieve my frozen goods that they stored for me during this unexpected ordeal. Too my dismay the food I once housed into my old unit would not fit into my new unit. I had to give over half of the frozen items away because I had no room for them. So that the end I still lost. So here is the kicker today at work in the break room is the Frigidaire unit I wanted. I opened it and wow! What room …what space…I fell in love….but then I remembered why I pass it up it wouldn't fit in the space I had…or would it. I notice that the even though the measurement stated the height of the unit slight above 68" that that was only for the doors.
The height of the body part of the unit was well under the 68" enough to fit into the space I needed. So now what can I do. So I called the Best Buy store I purchased it from I told them that I purchased the refrigerator and that it was slightly over the 15 day return exchange policy but I wanted the other unit badly. The two refrigerator cost the same amount in fact the lower the cost of the Whirlpool to match the cost of the Frigidaire because it needed to wait for it to arrive. I know that I should have moved quicker in making my decision that is my fault but have a heart Best Buy I'm not asking for money back all I want is the Frigidaire that I wanted from day one. If I show them both on the floor I would have made my choice then I would have seen that the measurement of the door was what the company was disclosing and that I would have been happy from day one. But now I have a unit that is too small for storage and makes me not so happy to see. Please have a heart and bend your policy just this once. You are a huge company and people would like to know that you think of us consumers has people and not just as numbers.

Linda McClellan
from Wilmington, NC
My husband and I bought a dishwasher on 4/6/2015 and was told that it had to be ordered and would be installed on 4/11/2015. Well, on that Saturday ( 4/11) the man (Craig) called and then came to our house and walked in and said quote "I cannot put your dishwasher in today because I don't have a pipe long enough. I'll call you on Monday." He left the dishwasher in the middle of my living room floor. He called on Monday evening a little after 6 p.m to say he would be out Tuesday to install our dishwasher. Well, my son had my truck and was gone to work and about 12:50 I took my dogs outside, and I went to go check my mail to see Craig's van sitting in my drive way. This man did NOT knock on my door, ring the door bell or nothing; if he had knocked or rang the door bell my dogs would have started barking.
I went to the back and let in my dogs to put them in my bedroom and when I went back out front, he was gone. I called XP Last Mile and I called the store, Best Buy, here in Wilmington, NC. I got NO WHERE with either place. The store manager here in Wilmington wanted to take my name and phone number to call me back because they said that he was busy with a customer....REALLY?! Somehow he was aware of the problem, and I had not even talked to him. When I called XP Last Mile, the girl put me on hold; now I know why. She called and talked to the manager of Best Buy Store (Sean). That is the ONLY way he (Sean) could have been aware of my complaint. Sean would not talk to me but he talked to these people, says a lot about his being professional. So I called best Buy Corp. offices and spoke to a guy there. He was very nice and told me that he was sending me a $50.00 gift card and would follow thru on the complaint. He put me on hold and when he came back he said quote "I called XP Last Mile and told them to send someone else to your home and to call you before he was to come out."
Well, on Wednesday, Craig, who was not suppose to come out by what Sean at your Corp. Office had told me, came back to my home. He NEVER called before coming to my home and when he came in and replaced my dishwasher, he left wet paper towels under my sink and water all over my floors. It went from my kitchen through my living room right on out my front door, and Craig NEVER bothered to clean up after himself. I called Best Buy Corp. Office again to speak to Sean and he was not there yet, so I talked to Drew and told him what I just told you. He assured me that he would give the message to Sean so he could call me back. I left my name and phone number with him to give to Sean and to this date 4/20/2015 Sean has NOT called me back.
I'm am so mad with Best Buy and this XP Last Mile group. I have told everyone that I have talked to NOT to buy a dishwasher from you guys. I told Sean that I wanted my $139.99 back due to fact of all the hell I've been through just to get a dishwasher installed. I guess I should have contacted the Better Business Bureau along with everyone else. I would like to hear back from someone about my complaint. I do have a justifiable complaint at that. We went back to Best Buy because we had bought a washing machine from you guys and had great service but NOT this time and I can tell you trying to buy me off with $50.00 gift card isn't going to be enough with me!!

elizabeth blanco, acct # 6035 3502 0875 3496
from Pottstown, PA
I bought a dishwasher from Best Buy in November 2014 from the Pottstown, PA location. After it was installed, it worked for about 3 weeks, then totally broke down. I called Best Buy numerous times to cancel the order & have it returned. It took several weeks before they came out to pick it up, but they finally picked it up on 1/8/15. The customer service department assured me that after it was returned, my account would be credited for the full amount. I had made only one payment on the credit card, due to fact it was being returned.
After about 3 weeks, I called & the account was not credited. In addition, the Best Buy Credit Card department called me several times to ask for a payment. I explained the full situation that this item was being returned, therefore, I would not be making any more payments & to note this information on my file. Two days later, I received a bill with a late charge. I called customer service several more times after this, & each different person I spoke to said they knew nothing about this, & there were no notes on my file. However, Best Buy sent my husband an email stating that they did receive the dishwasher back & a credit would be coming soon.
In the meantime, I received several calls in the next few weeks (honestly every other day) asking me for a payment. Not one representative I spoke to said there was anything on my file indicating the item was returned. A few weeks later I received another bill with a second late charge. I called the actual store I purchased the item from & they said they did not know what I should do.
Finally in April, a credit came through, but they did not credit the entire amount. Even worse than all of the time I have wasted on phone calls, is that my credit rating was adversely affected. I tried to apply for a car loan & was not approved as it stated this charge changed my credit rating from Good to Fair, so I could not get the loan on my own. I am furious beyond belief. I don't know if anyone in authority will ever see this, but I would never enter a Best Buy store again for any reason.

Franklin Guerrero
from Annandale, VA
I bought a 60 inches Samsung TV last September and the service plan for $200, all together $2000 dollars. Last March 21st the TV was dropped by accident by my 7 year old, and the screen was minimally damage, but enough to affect the screen. And now, I can watch, all distorted or no image. I called Geek Squad they came and said we don't handle accidents, and we can do nothing, and the technician left with good bye. I have check with MicroCenter, competition and they have said their guarantee cost the same and includes accidents and is for 3 years. The Protection Plan sold by Best Buy Geek Squad is a rip off. I believe that the right thing would had been to repair or replace my TV. I hope you can reach back to me.

I purchased a Vizio 48 in flat screen tv and was told by the lead salesmen in the department that if I purchased the insurance for it and it get knock off of if someone punch my tv the insurance will replace it. The tv got knock off and now the salesman has lied about telling me this and they a have a new manger and it happen before his time. I have called the the custmer service number been put on hold, spoke to someone name Evet Taylor who says she will call me back its been over 24 hours and have not called back. On Friday 17th have been just tranfered from one person to another and then the last one agent Tiffany had the nerves to tell me to call the manufacturer . I told her I'm paying Best Buy for the insurance! I want my tv replaced or fixed.

floyd Harrison
from Oklahoma City, OK
My wife went to the Midwest City Ok. store to make a payment on our account. The clerk asked for her drivers license and since my wife is not named on the account the clerk refused to take the payment. My wife returned home and I had to drive the 16 miles to the store. My wife was not on the card when she used it to buy a $600. camera but now she can't make a payment. This makes no sense.

Ordered a 7 inch tablet online with the 1yr warranty # 4419883966 on 3/3/15 we took it back 4/16/15 we never got it to working. This store in Amarillo stole money from me for the original tablet total cost was 135.48 trace #13622.Refund total is only 84.39. This is nothing but out and out Theft. We are telling every one we know on Facebook, church postal etc do not buy anything from Best buy as they do not honor geek squad or stores policies

Ok we have bought 2 items from the store here in Lake Charles and something went wrong with both items. The first was a bundle pack with a tablet charger and case. When the tablet messed up I brought it back to be looked at and was told it was never purchased in the bundle so they could not do anything. The next item we bought and tried to return was a tone Bluetooth headset. The incompetent clerk who checked us out at the register messed up on the receipt and saying that it had been voided and we hadn't purchased the Bluetooth nor the 2 year warranty we purchased with it. Is this common store practice so you dont have to replace or repair items when they are broke or defective? Is this how it is done? One very dissatisfied and angry customer .... Duane Spearance

tasha thigpen
from Portsmouth, VA
My name is Tasha 3 years ago I walk into best buy and bought my first laptop computer then I ask about a dragon naturally speaking system. Which I also purchased when I got it home I tried to install the dragon only to find it had no cd drive and the customer service rep told me it did not only did best buy not take the computer back but didn't give me my money back neither. So I kept it only now to find out now without the cd sleeve I cant program it to my computer. I was told to go back to best buy I did the girl at the customer service desk said I didn't need it only the numbers on the back of the box I call 18773145225 nothing I called 16129657670 nothing. I spent 100.00 dollars and I can't even use it .I love my computer I found so much with the chrome google book. But I have no idea what to do with the dragon.can I return it for a new one.

roald allen
from Beaverton, OR
on 04/09/15 I went to Best Buy to buy a Nikon lens for Nikon d3200 camera. Got there about 1:30 pm was directed to camera lens section. I waited in section for over 25 mins and was not ask if I was being waited on etc. Finally, after waiting for over half an hour, I walked the front of the store and ask for a manager. A manager finally arrived and made some excuse about shift change i didnt by that the lens I was going to buy cost $1700 to 5000 dollars. Apparently they didn't want to sell me this lens (wide angle lens )for my d3200 niko camera. I buy a lot of things from best buy afer this experience. I think if their staff kick ass even just to see if people are being served

Mark Petersen
from Frisco, TX
A lap top repair (replace screen) began on Feb 19, 2015 and it has been sent back and forth to the service center multiple times due to the incompetence of the service center and at one point the lap top was also not able to be found and was actually in the store where the repair began (additional incompetence)! I've already spoken with the store's General Manager (Ken) and he was anything but helpful. So, now in an attempt to rectify the situation the store involved (Frisco, TX) has offered to replace the lap top and transfer the data from the old system for the original price of the screen repair. Nice offer (made by John, the Geek Squad MGR) except for the issue with re-installing MicroSofet Office 2013. The Microsoft Office package was something that was added by BestBuy, charged for by BestBuy, paid to BestBuy and not the manufacturer (Asus) and now the package can not be re-installed without a MicroSoft code that I do not have or have ever had. So, why am I going to have to pay for the office package again? I have the original receipt that shows a MicroSoft serial number but this number is of no use in this situation. All I want is to be able to use my lap top in a normal manor and I can't really believe the amount of time, grief and hurdles that I've had to go through!

Phyllis Winslow
from Tucson, AZ
This afternoon, I brought over a new computer to the Geek Squad to transfer data from my old computer which was no longer functional to a new computer, and the man gave me excellent service. And then I WAITED 20-25 minutes for YOUR COMPUTER SYSTEM to function properly and print out the new data. The problem was in your computer software which the man said needed to be updated. Here you have some of the best computer tech guys in the world and YOUR OWN COMPUTER NETWORK WAS WHAT HELD US UP!
IT NEEDS TO BE UPDATED AND FIXED!

valerie collins
from Reseda, CA
I went to the store today 4/7/2015 to buy a fax machine and a printer. The associate Edgar #1058477 waited on me. He told me that there were no fax machines anymore that all that was available were the all in one with fax, printer and scan abilities. So I listened to him and took his advice I bought the HP Envy 7640 all in one printer series because he recommended it. He also stated that it was easy to install and I should have no problems making it work for me. After opening the package plugging everything in and looking at the instructions for the CD provided the instructions said that if I had internet it would be better than using the CD provided. So I went to the site and with some work I got the fax to work and the printer. The Scanner however is not working I have gone through every bit of the instructions again and there are no specific instructions to fix the scanner or make it work.
The Printer just says that there is no computer connected. So I called the store after approximately 5:30 I started the installation approximately 2:00. 3 1/2 hours seems like a very long time to do simple steps that I followed with an associate to a tee. The agent transferred me to the Geek Squad they wanted me to bring it back also they had no info to help me. I just paid 225.89 for something that no one can help me with over the phone. What a shame. So I have 15 days to bring it back I am going to try a few more times than I will bring it back get a refund and go else where maybe another company that sells these products will be able to help me.

Mrs. Annette Giordano
from Lowell, MA
I was returning my "Apple IPhone 6" to the same agent that sold it to me. The reason for the return was that it was too High Tech for me, I needed to down grade, I tried to get 2 other phones, Out of Stock. I called before I took the ride from MA-- NH and the Lady I spoke to told me there were 3 in stock? I tried one more model & it only came in Black, no Thank You, (I had to return the case 2 x's because they were defective, water went through & did not close tight. Those were returned @ the service desk. No Problem) I spent a lot of time trying get a New Apple I-Phone. So I went ahead to return my Apple I Phone. While Best Buy 0534 was waiting on me I asked him to be sure there was not any mistakes in the credit on my Credit Card because I did not have my Reading Glasses with me. I did not want to return again, only to buy a new I Phone. I had my Granddaughter, she was checking everything, but I could not see the screen. The man who had come over & sat beside him said "Why would any store give a customer 1/2 Credit back I have never heard of such a thing" in the MOST Nasty tone of VOICE. "That isn't what I said" & answered him back & told him to mind his own business. He did not stop with Nasty remarks. I was getting very upset & he knew it. He just did not stop! We argued more. I went to the Store Manager & told him everything.

Aaron Fletcher
from Temecula, CA
I have ben in to the Temecula Best Buy ( on Temecula pkw ) # time this month to bye a tv ( 50") and an xbox 1 for my kids. All there times I have ben there I have not got anyone to help me. I have asked and ben told they would be right with me but then never show up. This is the last time. I will never BE BACK! NEVER!!!!

Victoria henderson
from Evansville, IN
Bought a washer and dryer it was delivered yesterday. Did one load of laundry grease came out of bottom made noises and would not get water or spin water out of clothes called store I was on hold over forty minutes was told I would have to wait 24 hours for someone to call me and they were using an outside repair person I need new washer delivered!

I purchased a HP laptop for my daughter. while setting up the laptop it got a virus. Your geek squad informed me there was nothing they could do for me,accept charge me $200.00 to repair it.I have spent quite a bit of money over the years at Best Buy, but you will never see me in your store again.

I ORDERED A WD-EASYSTORE 2TB EXTERNAL USB 3.0 PORTABLE HARD ON 3/17/2019 FOR $69.99 AND WITH SALES TAX $4.20 THE TOTAL CAME TO $74.19. THE EMAIL I GOT BACK FROM WWW.BESTBUY.COM/CHECKOUT/R/PAYMENT SHOWS MY NAME, ADDRESS,CREDIT CARD NUMBER AND EXPIRATION DATE. THIS EMAIL THAT I GOT BACK SAID "GET IT BY TUES 3/19/2019. I HAVE BEEN GOING OUT EVERY DAY WHEN THE MAILMAN COMES BUT NOTHING AS OF 3/23/3019. I DON'T HAVE AN ORDER NUMBER ON THE EMAIL I GOT BACK FROM WWW.BESTBUY.COM/CHECKOUT/R/PAYMENT. CAN ANYBODY HELP ME.
MICHAEL FORTUNATO
EKIMF@EMAIL.COM
TELE: 703-620-6432

Best Buy Sucks! Stacy purchased a ring doorbell pro model. Wanted to wait until the house was painted to install. When we called geek squad to come out and install, they opened the box, looked at our intercom system and said they could not install that model and we needed the battery powered one. We went to exchange it at the best buy store and was told because it was opened and over 15 days since we purchased it, they could not take it back, even as an exchange. Told us to call corporate. Spent two hours trying to talk to the right person. Overseas call center kept sending me to the wrong person(s) who continued to tell me I needed to take it back to the store.. Absolute runaround. So i get on their website and click on the customer service link only to get a new window that says the customer service link does not exist, I thought No Shit! Neither does their customer service. Here are the problems with all of this. CAVEAT EMPTOR FOLKS, DO NOT BUY A CHRISTMAS PRESENT AT BEST BUY MORE THAN 15 DAYS BEFORE CHRISTMAS BECAUSE YOU WILL NOT BE ABLE TO RETURN IT! NO WONDER THEIR STORES ARE CLOSING AT RECORD NUMBERS.. AMAZON OUT PERFORMS THEM AT EVERY LEVEL. WELL WE HAVE LEARNED OUR LESSON...BEST BUY - HOPE ALL YOUR DOORS CLOSE AND DO SO SOON. CAN'T WAIT FOR THE GEEK SQUAD TO CALL ME BACK.....

RICHARD PAULSON
from McGregor, TX
BOUGHT ALMOST $800 DOLLARS WORTH OF CAR AUDIO
5/1/2019 INSTALLED 5/13/2019
DID NOT RECIEVE ANY PAPERWORK OR WARRANTY PAPERWORK
THEY THREW THE BOXES AWAY SO NOT I CANT WARRANTY THE STUFF AND
DONT KNOW HOW TO OPERATE ALL FUNCTIONS DUE TO NO PAPERWORK
CONTACTED STORE AND I AM NOT HAPPY WITH NO PHONE CALL BACK
FROM INSTALLER THAT SAID HE WOULD CALL BACK THREE DAYS AGO
THEY WILL NOT MAIL ME OPERATION MANUAL
STATED I HAVE TO COME TO STORE TO PICK UP WCICH IS 82 MILES ROUND TRIP
I WILL NOT DO BUSINESS WITH YOUR COMPANY AND WILL NOT RECOMMEND YOUR COMPANY
TO ANY ONE IF THIS IS NOT FIXED RICHARD PAULSON

had a repairman come to my home
he was at my home previously and mentioned to my husband he needed a part to be ordered
when i asked about the part he denied that he said he had to order the part
words were exchanged and he walked out
i would like to speak to a supervisor about this
the repairman's name is Jeffery, and he covers the Middletown, NY area
Thank you,
Sandra Rubino

Jacqueline Childress
from San Leandro, CA
I purchased a Hamilton Beach-Artisan dough and bread maker as a gift about a week before Christmas ($87.79). The person I purchased it for was in the hospital and was only recently able to try it a few weeks ago. The machine is garbage. It doesn't mix very well and the bread just falls apart. I have a bread machine myself and I think the blade is just to small for this machine. I went to their website and started a return. I was directed to print a return form and label. It was not prepaid. I am disabled and gave it to my husband to take to UPS. He was under the assumption I was being reimbursed for the shipping cost to return it to them ($60.00). When he told me the price I called Best Buy and spoke to a very rude man who informed me that not only would I NOT be reimbursed for shipping but that they would be sending it back to me once they receive because it was past they'd 15 day return policy. I was not even offered a store credit. I had even given a review on the product on their website before I returned it. I filed a complaint with the BBB and is currently in process. A woman called me the following day after filing the complaint. When I returned her call I was not directed to her and someone else helped me. By the end of the conversation she told me I would be getting a full refund for the machine itself. I questioned about the shipping cost and was told she had to look into that further and would get back to me that day. She never did. Now yesterday I get a phone call from the original person who called me and was informed that I would not be getting that refund even though the other woman told me I would and it's still going to be returned to me. So now I will be stuck with a useless bread machine and out of $87.79. Plus out of the $60.00 to return it to them. Plus what it cost me to buy my friend another replacement gift. I will never purchase anything from this store again.

Best buy is false advertising with cell phones. Don't advertise a phone that you can't keep your promise with. My daughter got screwed from you guys on buy one get one free S10 phone. Telling her oh well the new white ones phones haven't came in yet. Called Saratoga Springs New York talked to Tyler on march 12th said she would receive an email on the phones between 13th and 15th never received it. I'm putting in a complaint to the better business bureau also and tell ATT&T about her experience as well.

RandyRandolph
from Las Vegas, NV
Went to the Best Buy this afternoon around 2:45 p.m. located at 6455 N. Decatur in North Las Vegas. made a purchase and when the Best Buy rep name Victor gave me back my change, some of it dropped out of my hand onto the counter. Not a major thing, but most customer service reps would have simply said, "I'm sorry, or My bad" and picked up the loose change again and put it in the customer hand. Victor just stood there and looked like "next person in line." There was a manager by the name of Jonathan standing right over him as he was there to approve my exchange. I told him he was a poor manager if he didn't speak to his worker about his attitude and how to "PROPERLY" deal with customers. Fortunately, Mike Isabelle, the head manager said he would address it and totally understood where I was coming from. It's small stuff like this that causes people do bad mouth an organization on social media and it's small things like this that can send a "unstable or a person already on edge over the cliff and cause a serious problem where every local news station will have to cover."

Hello and Good Day,
I purchased a camera for my son at Christmas time. We just opened the camera due to saving it for a vacation.
There seems to be issues with this camera. It keeps shutting off and the zoom lens gets stuck in the in position and at that time the camera keeps shutting on and off.
We went to the Customer Service Department at the Best Buy near our home , in which they said they could not do anything about the camera, that we needed to return the camera to Sony. The claimed it was not their policy to do an exchange on the camera. We never did ask for a refund. Unfortunately, we have discarded the receipt not even giving it a second thought that we would have theses issues with the camera.
Description of the Camera:
SONY - Cyber Shot
DCS-W800
SKU 4349004
MODEL DSCW800/8
20 Mega Pixels
26 mm Wide-Angle lens
HD Movie 720p
I paid a little bit over $100 for this camera and we are so disappointed Best Buy could not help us.
Please advise
Thank you
Sincerely,
Nancy Lee Straube

yes I did try to up date my service on my 3 year old hp computer before it was out of date they told me late to last day 1/19/2019 or day after that on phne calls sevice on line calls all I got was run around all time after 3 years servies on computer they can keep iti got rerd of best buy card and will not shop there any more all I ask for new price for computer services and just wait to long you wait I did what they said to and know this is how customers get help

michael patena
from Strongsville, OH
I purchase a Samsung 40" flat screen TV two years ago and added and paid for a 2 yr extended warranty. The TV failed a week ago and Out of Warranty by two months. The General Manager (Dan) indicated that they could do nothing, even the Geek Squad indicated they cant repair TV's. I contacted Samsung direct and they indicated that the extended warranty that Best Buy offers should start at the end of the 1 Yr Factory warranty. I believe this Best Buy product is a Bait and Switch. I indicated to Samsung my disappointment in their Reliability and their relationship with BEST BUY. Samsung did offer to cover the Parts but nothing else which would cost in excess of $200 which was over 50% of the cost of a new TV. I will be making a formal Complaint to the State of Ohio Atton. Generals office.

Pissed off customer
from Panama City, FL
more like "Worst Buy". You don't need my name, address, phone number, email or any other bit of personal information for me to make a purchase. This is how purchases work: I place an item on the counter, you tell me how much I owe you, I pay it, I take item and leave. PERIOD. You have zero need for my personal info and zero right to even ask for it to start with. I though the little bitch would get the hint after I said "Do you need my Social Security number and blood type too?" but no, the dumb little bitch just kept asking for info, so I just said "Can I just give you my money and leave?"

Scott Brammer
from Miamisburg, OH
If I could give my experience 0 stars I would. I set a pre-order with this location to come in at 10am this morning, 3-9-19 at the Dayton Ohio location (General Manager Ruben Ortiz) I received a confirmation phone call, an email, and 2 texts regarding my appointment! My order # is 3319062918178. This is for a blue Samsung Galaxy S10+. Sku # 6326993. I drive home from Indiana on the weekends. I work in the field and travel Monday-Friday. After these FOUR confirmations, and an appointment, I bring my son into this location. Providing my paperwork, I was then told my phone had not arrived. The general manager, Mr. Ortiz could only blame the 3rd party provider...in this case Verizon. If Best Buy has my information, which they DID, I should have received an email delaying my appointment with an apology. While Mr. Ortiz was not personally involved in this process, there MUST be some accountability for wasting my time and even more for upsetting my 11yr old son who really wanted to see a smart switch on my phone for the 1st time. How many other customers will this affect?? I am an Extremely Disappointed customer to this location. You set appointments, you better be darn sure there is follow-up communication and/or an action plan if something hinders this process! I expect a call ASAP to address this situation and receive contact information from a district or field manager!

I have been trying for weeks to purchase a TV and sound bar system. First I went into a store and was ignored very unprofessional. Then I called customer service and they said they could send someone out to my home to measure my wall for a TV. That was this past Saturday I stated to him a needed time to think about it. Now I've been reaching out to the person and haven't received a call back. Now the prices I was gone up much higher now. I am a loyal customer and I think I haven't been treated well at all. Something needs to be done about this. If not I will no longer be a customer of best buy Thank you Shaquita Boyd

debbie seibert
from Poway, CA
For the first time I had to use the geek squad repair, I have been a fan of best buy until now, I drive a school bus and the 4 hr window is not very customer friendly, My washing machine was having issues, and I tried to change my home number to my cell so I could maybe talk to the driver, not a robot, I am off from 10 to 1pm every day, kind of in the middle of the 2 repair sessions, I was unable to get off from work and had to ask my 86 yr old mother to drive over because Nathan never changed my home number to my cell, and I didnt want to miss my appt. People have jobs, why dont you have a late session, you claim 24/7 , I would have had to wait 2 wks for a Sat. I tried to talk to a manager, I called several times got disconected several times. I was finally able to talk to Nathan, to maybe get scheduled not the first appt. he said he changed the contact number which didnt happen when I got my robo call the night before on my home phone, Nathan was robotically apologetic, in fact everyone I talked to was nauseatingly robotically apologetic, to the point I no longer believed them. I was very pleased that Vincent was able to repair my machine in one visit, so I didnt have to wait any longer for doing laundry, but I will seriously have to consider buying the extended warrenty on my next purchase unless something changes.

Aaron Whitsell
from Owensboro, KY
I ordered a media storage unit from you guys online and received a box that clearly had been opened before. So in checking the contents of this box I found broken pieces , a opened nuts and bolts package with bolts that had spilled out into the box. Also there was little to no protective packing. Why we were sent an item that was clearly returned for broken pieces or what ever really makes me wonder about your quality control. Or lack of? I ordered another one and im having it shipped to my local store so I can check it there verses breaking my back lugging another bad one back. Very concerned being we are long time customers of Best Buy. But now im kind of reconsidering continuing to buy items from you in fear im getting broken returned or low quality. Im not expecting anything from this complaint but REALLY want to stress the fact that im disabled and having to load up the heavy box into my car and then unload it at the store was complete BS.

Velma Murphy
from Lynn Haven, FL
I purchased a computer in Panama City and was to pick it up in Tallahassee. Before I could pick it up, management gave it to someone who did not present ID or receipt as required by their policy. I have been threaten with ruining my credit if I do not pay for it, so I am now force to pay for an item that I did not get. I filed a complaint with the local police, went to the store and also talk to the store manager, alexis I will never purchase anything else from Best Buy. This item was purchased around 8/8 thru 8/10 and according to the store it was picked up 8/27. I never pick up the item.

On 2-19-19 I was told by Sharron if I combined my GEEK Squad protection I would get a $20.00 discount on WEBROOT. Today Ramses told me I could not get the discount. The notes are in my file. Why is the agreement not being applied. Been waiting 30 minutes to talk to the supervisor, Sophi. Phone is still ringing

I have filed an insurance claim for damages on the delivery and installation of a washing machine.
The Claim number is: 301917145570001
You/he has all the records on the issue. ie. Damage claim, Photo of the damage, repair bill, photo of repair.
I have sent many e-mails to your Armando Reyes (armando.Reyes@bestbuy.com)
I have yet to receive my money and follow up from you/him.

I bought an LG 65" TV on Dec. 22,2018. When I was checking out I was asked if I wanted to purchase the warranty for this product. I mistakenly thought that this would cover all damages like the WALMART SERVICE PLAN! I had a problem with the screen becoming cracked and spider webbed. When I tried to return the TV I was told that because of the Spider Web the service plan would not cover it. I asked where this information was at and after 20-25 minutes of looking (yes I timed it) the person at the service desk came up with the service contract online. I was then told I should have read it. Then I asked him to show me where it said it was not covered in the contract and after minutes of searching we found it on page 35. Let me ask a question here: Am I supposed to read a document of considerable length at least 50 pages of Legalese and I am sure most of your customers do not have a legal degree nor do I. I am now going to replace this TV with a new one. I plan on going to Walmart to make this purchase and also purchase the warranty. I have triple checked that it covers the cracked screen which it does and it was not on page 35! I would be ashamed offering such a pathetic form of insurance to your customers (the lifeblood of your company) and also the way it is handled by telling me I can check with LG and maybe they would fix it for free. I had this TV for a month when this happened. I used to shop at your store for many items in my household, you know little things like Washers and Dryers, IPADS, IPHONES, and computers. I cannot get myself to look again at TV's there when I go shopping this weekend but I can tell you I will be at Meijer's, Walmart and Sam's Club. I need to feel secure when I spend $800 that I am getting what I pay for. I would like for you to spend my money well as it is the last you will be getting from me.
Chris Inde
chris_inde@outlook.com
Cell (260) 341-1075
LG - 65" Class - LED - UK6090PUA Series - 2160p - Smart - 4K UHD TV with HDR
Purchased on December 22, 2018
You've seen all your devices!
LG - 65" Class - LED - UK6090PUA Series - 2160p - Smart - 4K UHD TV with…
________________________________________
Nickname: -
Purchased on: December 22, 2018
Model: 65UK6090PUA

I purchased 2. Door 2 units for my home on Tuesday or Wednesday of last week at your location in Hammond, Louisiana
I paid 269.99 for each.
I decided to bring one back and exchange it for a mounting door bell unit which at the time of purchase was $269.99. When I returned on Sunday, the price for the mounted door bell went up to $199.99. I was told that the sale ( of which I was unaware) was over and the price went back up in Sunday. If I had realized there was a sale of the unit, I would have returned before Sunday.
I was very disappointed that the unit will cost me an additional $30.
I love Best Buy and the Geek Squad.
This is the first time that I have been so disappointed with this company
Dan Keen
Kaykeen@att.net
985-597-0526

Vicku snider
from Birmingham, AL
I have been calling Hoover Al. Store since 3:00. Finally got a answer at 6:30!!!!. Spoke with salesman last night SAHAB OR SABR. ?? Needsd a sd card and he left my plug adapter out of bag. Told me i DIDN'T need internet in order for it to work. Which i told him i did not and would not have purchased the sd card. Called today he said no he did leave it out which obviously he did when i got home not with it. Rude. Transferred me only to hold again. RIDICULOUS HOLDING 3.5 HOURS FOR ANYBODY TO ANSWER AND WHEN SHE DID I TOLD HER AND SHE SAID SHE KNEW CALLS GO THRU ANOTHER PLACE?????? . RETURNING MY PURCHASE. IMMEDIATELY.

I have been a Best Costumer every since a store opened in the Mobile,AL area. The problem I had at the store today was horrible. The supervisor working the service desk could not have any people training at all. When I tried to explain my problem he assumed I was lying and had attitude with me from that point on. For official uses he was working the service desk between the hours of 1 and 2:00 pm central time I kept asking for a store manger he replied every time I am the manger when his name tag stated that he was just a supervisor as if I could not read. And finally after my time wasted.He called for the assitian manger her job skill was just as bad as the other employee and she has racial issue I will never shop at this store any more and maybe never at any best store or even online. The service I got today was not even 1 Star. This is just how i feel thank you Nathaniel Washington Mobile,Al

Refer to Insurance Claim Number: 301917145570001
I have constantly been getting the run-around/No response to my damage claim.
I request am immediate response as I must have have my claim money

I have purchased the Geek Squad program on several major appliances over the past two years. Every time I call when I need service it states over 30-45 minute wait. I have stayed on the phone several times for over 45 minutes and I never get to talk to anyone. If they are small appliances you can make an appointment online but not for large in home appliances. Its so not fair when you pay all that money and then can never even get a person to request the service call. Horrible customer service, Just horrible.

paul drew
from Quincy, MA
I bought a dell inspiron tower key board @mouse got home mouse is every hard to move took just mouse back a the manger said no return u have to bring back whole package I said no I have everything is downloaded to my computer well we can't help you I said are u kiddin it a mouse you can't exchange it he nothing I can't do I said that don't sound like good customer services weather I spend 10 dolloar or in my case 700+ do you want a good custumer happy or disappointed can't do even exchange for another one said no again so I spent another 29 dollar for a mouse that I already paid for this one crazy best buy westgate Brockton mass hopping to do more business with you we'll see no happy at all Paul.D

Greg Cerillo
from Levittown, NY
I entered in to your store on Sunrise Highway in Patchogue this past weekend, ready with my flyers and adds to get my best deal on an upgraded aftermarket radio for my Ford F150 Pickup.
Your sales folks were great an knowledgeable. I would up getting ready to purchase a radio far more expensive than my original plan because of the product description by the Sales Person. I was even going to add a back up license plate camera to my purchase because it was compatible with my upgraded purchase.
Here is where my experience went a bit wrong. The advertisement stated free installation on the radio purchase. However the license plate camera, truly an add on to the purchase, I was going to be charged something like 120-130 dollars to put on. Really? Seems silly that a radio can be installed for free, but a license plate camera would exceed the purchase of the camera itself (I believe around 79 dollars).
Is this right?
I canceled the entire sale because of it.
My cell number is 1-631-365-9285

John Dowd
from The Villages, FL
In December I purchased a MacBook Pro from your Plattsburgh, NY store. I paid over $2,500 for the computer and additional devices. I had to take the device in twice for issues I had with the computer. The Geek Squad in Plattsburgh were helpful but issues kept coming up that did not cure my problems. I was told that Best Buy cannot get into the computer due to some arrangement with Apple. I am in Florida for the winter and I am having more issues with the unit. I made arrangements to have the Best Buy store in Lady Lake, FL. look at the unit. This was a big mistake. I brought the unit to the store. The Geek Squad section of the store is obviously employed by several individuals that are not trained in how to handle customers and the individuals I spoke with did not know anything about Apple products. They wanted to take my unit and send it to an Apple store. I expended the $2,500 plus on a new Apple unit, I purchased the year repair agreement and now I have to take the unit to an Apple store. My mistake was not buying directly from Apple. I will not make this mistake again. In fact, I will not be purchasing any products through Best Buy. If your Geek Squad cannot repair or have knowledge about Apple devices, you should stop selling Apple. John Dowd

We purchased an entire kitchen from your company. On Friday 2\15\19 it was delivered. Our kitchen was left in the boxes in the flyer of our home. We called immediately Friday afternoon and were told someone would be out Saturday 2\16\19 to take appliances out of their boxes and would put on the handles and take empty boxes and Styrofoam(we have no where to put in our trash barrel). No one came Saturday. We called and were told there was nothing on our account about the Saturday appt but he booked an appt for Monday 2\18\19 and said we would get a call Sunday to confirm a window of time for Monday. Sunday we got no confirmation call so we called again, Dave said there was nothing on our account and then we spoke to Rachel who said the best she could do was Friday 2\22\19, and we should call Monday to discuss an earlier date for someone to come out and unwrap boxes and install handles. We called Monday 2\18\19 to be told by a miserable women in your delivery department that our appliances were label Drop Off only and quote "gotta pay extra for that cause that's installation, I asked to have them come back for the boxes and Styrofoam and she said she'll send someone out Wednesday 2\20\19 between 7am-1pm. I am not getting on it but we had to open boxes ourselves and put on the handles, now we have boxes and Styrofoam in the plastic from refridgerator. At no time did anyone tell us prior that it was extra to unwrap our appliances until that woman who made everything worse said it is your policy. I have never had such a bad experience like this,unfortunately I will never do business again with your company.
Regretfully.
Sharon R Blye

I ordered a Toshiba 55 inch television via the best buy website. I advised the best buy, that I was hearing Impaired and looking for a television, that I could attach my hearing impaired devices to, by taking them from the old set and attaching them to the new one. The hearing devices are 1. a mobile head seat and 2. a Samsung soundbar. buying a set without the attached devices would be idiotic for me to do, being I couldn't hear anything on it. I did advise the best buy of this and was provided limited product information. they were not able to provide me with any information in regards to attaching my hearing devices to the television I was purchasing. In fact, sales and service were not able to provide any information on television that this procedure could be done. purchasing this tv, I have already had issues, being the tv after being delivered and set up, without my headset has been found defective. I am now awaiting a replacement television, with still the unknown question, will my headset be attached to the television after installation.

I have spent several thousand dollars over the last 2 years at Best Buy. When I call for information on a product either before or after purchasing, I am on hold for 30 to 60 minutes with nonsense irritating "music". This is a serious customer relation problem that makes Best Buy less than concerned with the customer.
Either take care of your customers or shut the doors.

RAY LUDWICZEWSKI
from Las Vegas, NV
I PURCHASED A LG GAS RANGE FROM BEST BUY ABOUT 2 YEARS AGO. I WENT TO USE MY OVEN AND SUDDENLY SPOKE AND A FLAME WAS COMING OUT OF THE REAR OF THE OVEN.
WE CALLED BEST BUY (GEEK SQUAD) ABOUT THE PROBLEM. GEEK SQUAD SENT A REPAIRMAN, WHO ORDERED A PART AND MADE AN APPOINTMENT I WEEK LATER. THE SECOND REPAIRMAN ARRIVED A WEEK AFTER THE FIRST ONE AND INSTALLED THE PART. iT DID NOT WORK, FLAMES STILL COMING OUT OF THE STOVE. HE ORDERED MORE PARTS. A WEEK LATER ANOTHER REPAIRMAN ARRIVED. HE INSTALLED THE NEW PART. THEY DID NOT WORK. HE ORDERED MORE PARTS.
NOW A FOURTH REPAIRMAN HAD AN APPOINTMENT FOR 2/13/19. I RECEIVED A CALL FROM BEST BUY CONFIRMING THIS APOINTMENT AND A SO CALLED SUPERVISOR ALSO CALLED TO CONFIRM.
IT IS NOW 12:40PM AND NO REPAIRMAN.
I CALLED CUSTOMER SERVICE TO FIND OUT WHERE IS HE. THEY TOLD ME THE APPOINTMENT IS NOW FOR SATURDAY 2/16/19. NO ONE CALLED OR ANYTHING TO SET THIS NEW APPOINTMENT.
IN TALKING TO CUSTOMER SERVICE THEY TOLD ME THEY HAD TO ORDER NEW PARTS. I ASKED WHAT PARTS HAD TO BE ORDERED. THEY Said A FAN ASSEMBLY. IT WAS A LIE. THE FAN WAS HERE A WEEK AGO.
THIS IS THE 4TH TIME TRYING TO FIX MY STOVE. WITH IT IN NOT WORKING ORDER FOR OVER 30 DAYS.
I GUESS IF THIS REPAIRMAN CANNOT FIX IT HE WILL ORDER MORE PARTS.
MY EXPERIENCE RATING IS A QUARTER STAR AT BEST.

jerry rakestraw
from Lawrenceville, GA
2-12-19 Went to your store in Snellville, Ga. to purchase TurboTax Deluxe. I asked Anthony for the downloadable version. He got the item from behind the counter and rang me up. When I got home I discovered that he had given me the disc instead. I returned and he said he didn't have the downloadable version. He started to process my return and called for an override. The manager who responded said since the seal on the package was broken he couldn't refund my purchase. Even with your employee admitting it was his mistake he said no. I told him I would guarantee him that it would be refunded if I had to contact corporate. He then told me I had threatened him but couldn't tell me how. I asked to speak to the store manager and was told no. He then said he would go see if he could do it. I waited 10 minutes for him to return and finally left. He never returned.
I asked 2 different employees if there was a local corporate office and they didn't think so nor did they know of a District Manager. This situation needs to be resolved and it was your employee's mistake

Julie Carstensen
from Medford, OR
On December 15, 2018, I purchased a portable 26 lb ice maker for $99.99 as a Christmas present. The person I gave it to did not need it, and wished to have the money or store credit instead. Twice before individuals have tried to return the ice maker, but because it was not returned during the 30 day store policy time period, it was declined. Today I personally tried to return it, but received the same rejection due to store policy. I expressed my disappointment as I have been a long time loyal customer of Best Buy, as has my family. This is the first time we have ever tried to return something, and though the information is written on the receipt, I did not know about the unusual return policy (as standard practice from my experience is 90 day return policy.) I feel that if the return policy is only 4 weeks, that should be verbalized at time of purchase as not many people read details in their receipts. I asked that an exception be made in this case due to: 1) My family are long time loyal customers of Best Buy 2) The return policy is an unusual policy and we were not educated of this at time of purchase 3) We are not requesting a refund, but for store credit 4) We, as customers, are not habitual returners of product, and therefore, the oversight could be excused this one time.
The manager, Miranda, was professional and apologetic, but refused to make an exception for us. I told her that my family will not return to Best Buy as customers if we do not feel we are valued. Miranda verbalized understanding.
I am asking for approval for store credit, showing that a policy does not take precedence over the satisfaction of a loyal customer with the understanding that we now know the policy, and future late returns will not be accepted. Otherwise, as explained to the manager, my family will not return to Best Buy, choosing to patronize a business that shows they value our business.
Thank you for the consideration to a mutually beneficial resolution;
Julie Carstensen
458 220 8624
BEST BUY #2517
2370 POPLAR DRIVE
MEDFORD, OR 97504

George Wood
from Wytheville, VA
I have always had good service when patronizing your store in Charlottesville, Va. The people are friendly, courteous and professional. No complaints there. I have purchased computers, TV's and other items with no issues. In the past I have also returned TV's, VCR/DVD units and such and was not charged when returned to this location for recycling. Recently I purchased a TV/DVD combo unit to replace an older TV and stand along VCR/DVD player which I returned for recycling. This time I was charged a $25.00 fee to have it recycled. When I was told I would have to pay this I asked the associate why did I have to pay to have it recycled and she said it was store policy which I informed her I had not had to do it in the past. I then told her where is the incentive to recycle these items if you have to pay to do it. No response. My feelings are if you are going to charge me to purchase a new item and then charge me to recycle the older unit, I will just shop at your competitors and take the old units to the dump. At least I can take a whole truck load of junk to the landfill for a whole lot cheaper. I am requesting you reconsider your policy on charging to recycle and it would be most appreciated if you would send me a $25.00 gift card for free to replace what you charged me on my last visit. Thanks.

Michelle Mork
from Traverse City, MI
I have an issue with the printer ink replenishment program. I have an Epson XP 6000. Mine has run very low on black, and is getting low on magenta. It did what it was supposed to do with ordering replacements. The magenta order went through fine and I received that one today. The black ink was "unable to be fulfilled" I still don't understand why. I have called Best Buy support and talked to 8 different people there. Was referred to Epson, where I talked to 2 there (lost the call once there), and was referred back to Best Buy. After 9 more people and still no help so far, lost connection again. I seem unable to see if I am able to get any other color then magenta in auto replenishment. I keep cycling through the pages over and over and find no answers, and those that I have talked to have no answers either. I finally tried cancelling the replenishment and now cannot get back into it no matter what I try. I have spent 3 hours trying to get this resolved and have gotten nowhere. Can anyone help me with this? At this point I am extremely angry unhappy with this replenishment program that should be saving me money and time!

Michael Aldea
from Port Moody, BC
Hi,
I have a Best buy receipt with this content:
81131 GSP 4YR* CP
GSP 4YR* CPU/MON CL
SKU #10298741
EXP DATE 05/04/2019 $299.99
This Geek Squad Protection was for 1 DELL Computer Tower X8700-3131B bought on 05/04/2015 = $899.99
I would like to know if this computer is covered for Antivirus Infection until 05/04/2019 when this GSP 4YR* CPU/MON CL will expire.
Thank you for your prompt response,
Michael Aldea

I writing to inform you of the horrible GEEK Squad service I have received from Best Buy. In December of 2018 I called bestbuy to schedule my machine to be serviced due to my machine not draining the clothes, the person who is scheduling the appointment takes all my information and we schedule an appointment for Friday January 4th 2019.
First attempt to get my machine serviced:
On January 4th 2019 before the person who is scheduled to service my machine arrives at my house, he contacted he and stated that he is 10 minutes away and than proceeded to ask what service is needed. I explained to the person on the phone that my machine is not draining, he replied that he is a delivery guy. My response to him was did he not realize before he made his way to my house that he had nothing to delivery . So bestbuy caused me to miss a day of work for nothing. I called bestbuy to reschedule for another day to have my machine serviced.
Second attempt to get my machine serviced :
On January 11th one of Best Buy's geek squad members James contacted me prior to arriving at my house, and inquired about what service was needed, I explained to James that my machine is not draining and before he arrived at my house he was able to tell me he would possibly need a water pump for my machine. James arrives at my house in 5-7 minutes tells me the machine will need a new water pump and theres nothing to be done today and they would have to order that piece. This is the second day of work Best Buy has wasted of mine to not service my machine so now I missed two days of work to still hav nothing done.
Before James left I asked for his managers number. I spoke with the manager and explained to the manager the horrible service I have been receiving with Best Buy and he told me he would over night the the piece that way my machine can get service as soon as possible which means me missing another day of work. This was Friday January 11th the manager promised to over night the piece. The piece was never overnighted my machine has still not been serviced.
I did not bother to contact Best on Monday January 14th 2019 I was giving them time to contact me regarding the piece.The piece was never overnighted my machine has still not been serviced.
January 15th 2019 - I contacted both James (geek squad member ) and garon forester ( manager ) and not response
January 16th 2019 - I contacted both James (geek squad member ) and garon forester ( manager) finally I was able to get through to the manager who pretended he had no idea what was going on. He never took my name nor number but claimed he was going to follow up.
So I am reaching out to corporate. I spoke with Linda from the corporate office who said she will follow up.
Linda still has not followed up with me. Linda has tried to contact James and his manager no response, so unprofessional.
THIS IS THE WORST CUSTOMER SERVICE I HAVE EVER DEALT WITH. I WOULD NEVER RECOMMEND ANYONE TO PURCHASE FROM BEST BUY THE WAY THEY TREAT CUSTOMERS IS HORRIBLE.
James (geek squad member 347) 909-9365‬.
James (manager) ‭(917) 648-1285‬
Linda ‭(612) 292-0916‬
Miguel from the 86th street store in Manhattan,NY is horrible.
OVERALL BEST BUY SERVICE IS HORRIBLE WHEN IT COMES TO HELPING CUSTOMERS 2 MONTHS AND I STILL DONT HAVE A WORKING WASHING MACHINE EVEN THOUGH I PURCHASED THE PROTECTION PLAN...
YOU CALL CUSTOMER SERVICE THEY DONT EVEN SPEAK ENGLISH. THEN YOU TELL ONE REPRESENTIVE YOUR ISSUE THEY TRANSFER YOU TO SOMEONE ELSE THAT PERSON TRANSFERS YOU TO SOMEONE ELSE TO TELL THE NEXT PERSON AND TO JUST TO KEEP GETTING TRANSFERRED AROUND JUST TO STILL NOT HAVE YOUR QUESTION ANSWRED. Horrible

Edward DeBruyn
from Dundalk, MD
Best Buy FU my refrigator order and deliveried the wrong one and after I confirmed with the sales person the proper meausrements needed. Now I have been out of a refrigator for a week and this is the worse service I ever got from Best Buy. They suck!

Leah Alsanders
from Columbus, OH
On 2 February I went into Best Buy (8210 Agora Pkwy
Selma, TX 78154) to purchase a new TV to replace the one broken in my move. I went in for an $800 TV and walked out with a $3100 bill but Briana the sales person that helped me was super knowledgeable and for once I actually felt like I was talking to someone in Best Buy that knew the area she was working in. I could not have been happier with my purchase until I was walking out the store.
When I went to walk out the store the alarm went off and I didn't think twice about turning around because it's an electronic store and there was probably a sensor on one of the products I had in the bag. In the bag was an HDMI cord and the kit to move the electrical sockets when they mount the TV. When I got to the man at the door he takes the bag and says "it can't be what's in the bag go back through without the bag" it took me a few seconds but I realized this man was indicating I was stealing something. I got so mad I just left because if I had said anything at that time it would not have been nice. I believed he realized what he said and instantly scanned the product which was the problem.
I went to go get the truck to pick up my 65 in TV and sound bar and when I came back I was standing at store pick up watching him because I was still very angry and wanted to go say something but I know myself and it would have been a scene. Two black men was walking out and the sensor went off and he checked them before the bag.
I am not sure what type of training the Best Buy employee get when they are door monitors but the man that was there around 1:30pm that day need additional training. A great buying experience was reined by one obvious untrained or prejudice employee.

George Mason
from Portland, OR
I spent time with a sales associate at my local Best Buy (Clackamas, Oregon) to purchase a new iPad. I reviewed how to use the pencil with him, debated about other models, and went ahead and bought the 11.5 iPad Pro, plus asked the salesman for the Bluetooth keyboard/cover. Turns out you didn't have it. Finally had him find a case that he showed me had a special area for the pencil. Got home and opened the box and there was no pencil. I called, three times to speak with the salesman. No answer. Finally spoke with another sales person who got ahold of him and was told there was some mistake, to come on in a get it fixed. Once more I drove back where I was told the pencil was sold separately. No where did it say that, and I was not told that, despite the fact that the pencil on the two floor models were attached to the iPads, and as you walk in the door you're greeted by a large poster for iPad showing the pencil. I asked for the manager who came and found at the far end of the table a small sign listing all the benefits and wonders of the iPad, at the very bottom of which, in 6-point type was a paragraph in which was buried the statement that the pencil is sold separately. Really? It's attached the model I'm buying, touted in a large floor poster as I walked in, I'm given a demonstration of how to use it, sold a case to hold it, and made a second trip after calling to discover it is sold separately? I returned the iPad, angry, and now must make yet a third and my last trip to Best Buy to return the other assessors I purchased, (HDMI connector and case, that guess what, holds the pencil that doesn't exist).
I have been a loyal customer for years, purchased loads of things from you such as appliances, computers, equipment, etc., and this will be my last purchase. It should clearly state on the table at the iPad models that the pencil is not included, despite being attached. I should have been told that as I was purchasing the product an the case to hold a pencil that was not included, and at the very least, I should have been informed of all of this when I called and spoke with your customer service, rather than having to make a second, and then a third trip to the store.
Yes, I feel really put upon, and I'm not happy.

John Graham
from Nanaimo, BC
I purchased a refridgerator at your Nanimo bc location In mid December and received shipment In late January. The freezer unit Is icing up so I contacted best buy In nanimo and spoke with four different reps and got four different return policies. First they told me they would just come and get the fridge and replace It with a new one, They then phoned back and told us we would have to wait two months for a replacement. I then asked for my money back and told me that would be no problem they would come and get the fridge and I could go instore to get my money back. They then phoned back and told us they cant do that and we would have to wait for the replacement.
NOT ONCE DID ANYONE APOLOGIZE FOR THE INCONVIENECE AND A S MATTER OF FACT YOUR MANAGER LYLE WAS VERY RUDE AND MOUTHY. They told us they would phone with a date on the replacement that was three hours ago and nothing. I realize you no longer want to do business with us but playing these games Is very unproffesional. We expect prompt and curtious service!

George Wood
from Wytheville, VA
I have, in the past, purchased TV's and computer components along with having your tech support repair my pc and all experiences were great. I have also turned in items for recycling in the past and on those occasions did it for free. I recently purchased a TV/DVD unit to replace an old TV and stand alone VCR/DVD player. This time when I took it to your store in Charlottesville, VA they charged me $25 to recycle it. I personally do not think this if good customer service especially since I bought the replacement for these units from you. I asked the employee where is the incentive to recycle if I have to pay to turn items in especially since I had bought a new device from them and she didn't make any comment. If you are going to charge me to recycle old devices after purchasing a replacement item, I will consider buying items from some place else. At least when I take an old device to the landfill it's cheaper to dispose of it.

Chris Cole
from Mettawa, IL
They don't really give a military discount. Went into the store, my son showed his ID and they balked. Excuse, we don't do that here. Do yourself a favor, but from Amazon or somewhere else. Feels like just another scam. $2000 computer

Cassie zambetti
from Scranton, PA
Best Buy ripped me off 600$. My family bought a television from Best Buy in Wilkes Barre Pa. We went to pick up our TV and all was fine, the workers at Best buy loaded my new 65" TV in our truck, ...its snug as a bug, fits perfectly in the back of the truck. We get home and take our old entertainment system down, we proceed to pull the TV out of the truck with absolute care for new item. I myself open the box and remove the foam over it. Before I pull the television out of the box, I see a huge crack in my TV, my brand new TV. It looks as if it was hit with a hammer. I call Best buy instantly where they tell me "Come on up to exchange it." No issue right? Wrong! My husband rushes to best buy because they close in 30 minutes and we need the TV. We live 24 mins away. He gets there and suddenly there is a problem, first Kyle the sales manager says he can not replace the TV because the box is not damaged, there for he is implying I took it out a dropped it, when confronted about the accusations, he denied it and says "That's not what I'm saying." My husband then says, "look bud, the TV never even left the box. I would not make this up. " In the meantime I'm calling the store because I'm livid. He gets on the phone with me, I explain the situation again. He tells me it's a LG issue and I have to contact the factory if it came that way? What? I just got this TV 45 minutes ago!!!! As all this is happening. Kyle wants to go home. He began closing the gates half way and his employees are putting on thier coats rushing Carl to "TAKE HOME THE BROKEN TELEVISION HOME!" is this a joke? He leaves after some heated words and left the TV there, comes home, he then calls corporate where they tell us they can not override a store decision and to talk to the GM, he should give us a TV and if it were up to them we would already have one. We figured we would give it a chance and sleep on it. The next day I call the GM of Best Buy, where he tells be the Kyle lied! He said he saw my husband repeatedly slamming the truck door on our new TV. Would the box not be damaged if this happened? I would love to see this footage. The TV I got at Walmart today fit perfect, same size and all. The manager lied, flat out. I have no reason to make this up. It is not a money issue. I spent 200 extra on another TV where I got good customer service. Best buy can keep the broken TV. Kyle the sales manager has it. Kyle was trying to save his but and covering up for selling me a broken TV. I am so disgusted and will never shop at best buy again. I spent another 800$ at Walmart on a new TV today. They will get my business. You can keep your broken TV best buy. I have disputed the charges and if I win, you will lose put on 1200, the broken TV you tried to sell me and the 600 I would have spent. This was the worst experience I have ever had at a store.

JoAnn Warner
from Valdosta, GA
My daughter loss her sim card tray. I called the store in Valdosta Ga to inquire if they carry them. They told me yes, tray and card for 9 bucks. Husband and daughter went down. They took the sim card they got from verizon to show the size. The lady that helped them said that she cant handle that sim card and conversation ended there. Husband told her he needed the tray. Not impressed with the customer service received. All she needed to do is ask a few questions.

I called Best Buy at 7:35pm a Black Sounding Female answered the Phone and would not assist me in making a order. After the second call see put me on hold for One and half hours refusing to give me a associate, it just played music and then a statement would come up. I notified customer service on another phone where she listen toi the Best Buy recording, I wasted 1 and a half hours on this employee lack of customer care. I would like to have someone call me in reference to this Gerald Soper 903-244-9532 I bought a item for $450.00 without getting advise from any Best Buy Employee.

Linda Davis
from Philadelphia, PA
Went into store #582 on 1/28/2019 Wanted to know why I was told the plan I had purchased 12/27/2017 was for two years. So why did Best buy go into my Discover credit card and take out $215.99. I was informed by person in service that I had call 1-888-237-8289 because they don,t handle that at store. called that number and spoke to Riz a Geek squad agent, she informed me the plan was only for a year Iinformed her that when I brought my Laptop I was informed By Stephen M That plan was for 2 yrs, I also informed her that I gave no one at Best Buy permission to go into my Discover acct. she informed me that only 197.99 would go back on my card. Iinformed her I wanted 215.99 to go back on my account.Because I did not give anyone permission to go my account that I paid for my Laptop with.. I informed her that I wanted to file a complaint against Stephen M and Best Buy. She told me I had to call Corporate office to file a complaint gave me # 612-291-1000 I called that number spoke to R J . He told me I Had to go back to store to talk to manager . I informed that I went to store and was given number to call. He stated their was nothing he could do for me he handles account that are ordered on line . I request for supervisor or someone to call me back.He stated his boss did not call customers back. I was on phone with 2 people from Best Buy for 11/2 hr still have not gotten a returned call

Marla Glover
from Reynoldsburg, OH
January 27,2019
Best Buy
Corporate Offices
7601 Penn Ave S,
Richfield, MN 55423
Re: Return w/o Receipt
Hello,
I am reaching out to let someone know about the most unpleasant experience that I have ever had as store number #292.on January 26th of 2019 approximately 3:00pm. I presented to the Customer service desk with my ink cartridge all I needed to do was exchange it for the right number. I got the wrong number, I bought 61 and I needed a 63. Once I preceded to customer service desk and was asked if I had the receipt I told her that I did not and she said that she needed the receipt and the only way she could return it is if it's in the system under my phone number, so she checked to see if it was in there under my phone number it was not .that is the store way of tracking customers receipt by asking their phone number ,he asked for my phone number but did not put it in the system, she was not able to locate the transaction.. She then explained to me that she would have to give me an in-store credit but only for the price of the item and not the sales tax, which was ($1.45).She then swiped the in-store credit card for a $19.99 and then made me give her a $1.45 for the tax in order for me to exchange my ink cartridge. I explained to her that I've never heard of anything like this before. I also explained to her if her employee had it done his job and put my phone number in the system she would be able to locate the transaction even though I did not have my receipt .I left the store I went to my car I look for the receipt and I found it the receipt was a little torn but the numbers and the date need it where on there. So I went back into the store and I gave her the receipt and I asked her if she could scan it in to give me my $ 1.45 back, she didn't Spider-Man she could not really read the numbers but they were clear on there as you can see attached to this email I did take a picture of the receipt that I brought back to her, she then had me waiting at the Customer Service desk for another 10 minutes as she went to go and talk to another manager and then came back and said that she would have to make other transactions in order to give me my money back.. I told her I cannot believe a manager is putting a customer through all of this just for $1.45.it doesn't really work like that, customer service is number one and I don't feel like I was treated properly or fairly and that I was being discriminated against..
Also by the looks of your website, Best Buys' overall rating is (2.0). I guess that does not bother you that you have a "POOR" rating with customers!
I will wait for your response and I appreciate your attention to this matter..
Sincerely,
Marla D. Glover

the first dishwasher did not fit after they refused to look at our measurements! it was a borsh or something like that so they put ours back in said it not their fault it is not adjustable-back to the store bought a kitchen aid it was replacing a kitchen aid. more waiting- an 700 or 800 dollar purchase- this one rattles everytime you start it and while it runs it is so loud you can hear it upstairs in our bedroom easily over the tv! They came back today said without checking it or looking at it that after hearing it only that it is so powerful it rattles the pipes -really- the store manager gave me abunch of baloney- the second and third call to corporate got me the company that makes it to laff at me for the explanation- said they never heard such a thing but offered to send someone at OUR EXPENSE!!! to look at it - its brand new-so you have lost us as customers because we are not stupid- our children- relatives anyone else we can get to listen- you will lose like the 7 or 8 hundred we have lost over this-not to mention two tries at the store two deliveries of machines- bad install 2 to 3 hours on the phone trying to get help- maybe I will call the local tv help departments where they will put it on the news section about local store problems to get even for all my trouble!!!!!!!

Linda Davis
from Philadelphia, PA
went into store #582 0n 1/28/2019 wanted to know why I was told that the plan that I had purchased 12/27/2017 was for 2yrs so Why did Best Buy go into my credit card and take out $215.99 .I was informed by service dept that I had to call 1-888-237-8289 because they didn,t handle that in store.Went home called that # spoke to Riz she informed me the plan was only for a year I told her when I brought the Laptop I was informed by Stephen M THAT PLAN WAS FOR 2YR NOT ONE..And I never gave Best Buy permission to go into my credit card account and take out money. She informed me that plan would be canceled and part of my money would be refuned.I informed her that I wanted all me money put back on my credit card. informed her I wanted to File Complaint against Stephen M and Best Buy .She told me That I had to call Corporate Office to file complaint she gave me #612-291-1000 . I spoke to RJ at that #he informed me that their was nothing he could do for me to go back to store I informed him that is what I did first. I asked him to have someone call me back he stated their was no one to call me back.. I told him I was going to file complaint with better business buearu.Iwas on phone with these 2 people for over 1hour . Have not gotten call back
Have feedback for Best Buy?
Thanks for your feedback!
Sorry. Please try again later!