Denny's
Denny's Complaints Continued... (Page 3)
379+ reviews added so far. Upset? Call Denny's corporate: 1-800-733-6697

Nichole Kacsur
from Washington, DC
I went to Denny's in Allentown off of airport rd. to celebrate my sons 11th birthday. I brought a cake, asked if they could bring it to the table after we eat. Most restaurants will and sing as well. We ordered, ate, and waited. Waitress was busy but motioned as if we could wait she would bring it. We were there 3hrs all together, until we asked for cake and she said she couldn't do it. We still had not even gotten a check. I was mad and went to pay. They couldn't find our check, I paid another bill, then they found mine and I paid difference owed from correct bill. I believe mgr was the one who took the money. As I complained about my sons birthday surprise being ruined he never even apologized. I paid $63 and was very unsatisfied and quite angry. An apology and some discount would have been appreciated.

Elaine Ingerson
from Jamestown, NY
The food was horrible! We paid 17.00 for becoming ill as soon as we left! We both had hard stomach cramps and then we both became very ill! We did not enjoy the experience at all! Also ,it took a long time to check out when leaving. I had a club sandwich with very little bacon,lettuce,and tomatoes. My friend had ordered a southwestern dish and he said it lacked flavor and was served cold . We ate in Fredonia,NY. WE both felt the prices were too high for the quality of food and both of said we would not return. We both felt we could have ate at Wendy Restaurant and had better food.

Yollanda
from Fort Myers, FL
There were 8 of us total that had a really bad experience. Our party got seated and our server took our drink order. 20 minutes later another party got seated, (during this time our server is getting our drinks )the other party was done eating we just got a our drinks and our waiter was taking our order. Then about 30 minutes later our order comes out. My child did not get her meal. Why you ask, the cook did not make it. So we now wait for her meal to come out. Needless to say that all of our meals did not come out together. So some of our party was almost done eating and other were starting to eat. As we are waiting, all of the servers are talking in one group, dancing around having a good time, and this fat waitress starts flirting with my husband. Now I am pissed about the whole situation. When it was time to leave my husband went to talk to the manager (which was a little Asian lady) she roller her eyes at us when we told her what was going on and just stared like she didn't even speak English. When I start talking then all of the waitresses are standing around listening to the complaints and not doing there jobs and are so freaking nosy. This is the worst experience that I have had in a long time. The manager asked what we wanted from her, of course we want a good experience, my kid didn't get her meal until later later, she then took it off the bill but she was rude. So who is going to do something about the staff at this location? This location is the Fort Myers on Summerlin Rd.

Mary Johnson
from Norwalk, CA
Have not been to Denny's in years. Now I know why. My visit was in Des Moines, Wa. The highlight of the visit was the very sweet waitress. I had a sticky menu. Season fries were cold. Never received water my husband requested. Chicken strip, very dry. Order no tomatoes in the super bird, received tomatoes. And talk about an old, tired building! I predict the end of Denny's if you don't take a serious look at your business.

James A. Nye
from Willingboro, NJ
This facility is located/ connected to the Fly J Travel Plaza in Carlisle, PA. At around 10pm local, decided to go inside and get bite to eat. Longer than normal wait to get seated. There where approximately 10 to 15 patrons. Was supplied with coffee and water and order was taken. As my visit extended, there was a surge in patrons. Of the five employee's there, this was based on name tags present, only one was trying to accommodate all the tables. Dirty dishes where piled up on lunch counter and on several tables. Several patrons upon trying to leave where left standing at cashier counter for 10-20 minutes while that individual was standing behind service counter talking and enjoying a beverage. Two tables near myself where concerned that it was taking so long to get service and then their meal. Both tables expressed their displeasure to their waitress. When she passed this on to what appeared to be Manager, his reaction was to hide in back of kitchen for about 20 minutes.
The collection of DIRTY dishes was passed over by same manager several times, even though he looked at them in passing. When I asked if he was manager, he replied in the affirmative. Asked same individual why there was so many dirty dishes in the service area, he rattled off several excuse's. One in particular about the cook had cut his fingertip off, this after or during the preparation of my meal?? In the end his excuse's and complaining about lack of good help, told me he was looking for another job anyway and really didn't care. His followup actions to the complaint's by the two tables was to go back and holler at Employee's. In particular the only one that was trying to take care of all customer's. As a 37 yr. Customer Service Based career, this entire situation was the Acting Managers FAILURE.
His overall appearance and attitude was one I expect from a much younger person. To have subjected every patron to the site of dirty dishes everywhere and possible exposure to blood in their food, is totally unacceptable. And when approached by PAYING customer's complaint's, excuse the cause he is looking for another job, just out right WRONG. Yes, asked for his name, due to no tag on the dirty and frumpy clothes, it was given. Mr. John Torres is the representative of the attitude and appearance of this location. Thank you for the forum to vent this concern. As drivers we really don't expect our concern's to be taken serious, but some of us still try.

Dha Unicor
from Corona, CA
We live in Thousand Palms and enjoy the convenience of your Denny's #6863 on Varner. However, you only have shade cloth on your windows and our desert sun is way too hot for this thin covering. When the servers pull down this shade cloth the sun still hits you directly in the face for your entire meal. You need to install blinds that can shut out the bright sun after 4:00 p.m. in the afternoon. Without blinds we won't be eating at this Denny's until winter. We are already 90 degrees in this area, with bright sun hitting directly on the entire row of booth seats in this restaurant.

Heather Tumlinson
from Stafford, TX
This Denny's restaurant on 27960 Southwest Freeway Rosenberg Tx 77471- is in not such a great location BUT they are often VERY busy; mostly any hour of the day and week. I haven't had really any issues with the service, just the place itself. It is sooo terrible. Run down, and needs a remodel. The ceiling is nasty, cushions on the seats are falling apart, and the walls are yellow amongst other issues. I took pictures if you would like me to email them! PLEASE help this place!!!

Scott & Wendy Davis
from Florence, SC
We love our neighborhood Denny's due to the excellent service we are given from Jamie Lee. She always makes us feel special with be Bright Attitude. This young lady is a real asset to your company. However While we were at this location Sunday 03/22/15 It was the first time being there during a shift change. We felt very uncomfortable due to the fact of a young lady named Sonya speaking negatively about Jamie Lee and made it very clear she didn't care who herd it. Complaining Jamie Lee doesn't do side work. The other lady that was talking with her tried to make it clear Jamie works hard but she just kept on complaining. Jamie came and asked us what was wrong (she could see it in our face we wernt happy) She asked the ladies to please keep it down her regulars didn't like the conversation. Sonya then left and went to the front. You don't need this negative attitude bringing down this group of awesome people.

Mike Yoos
from Arlington, TX
Ordered kids breakfast chocolate pancakes with bacon and a side of scrambled eggs, no eggs with meal, hot chocolate didnt have whipped cream as had in previous trips , ordered a meal to go , ultimate omelete and left my nine year old at the table with my coffee while we were waiting i paid the bill, turned around to see bus boy take my coffee, waited additional 15 minutes for replacement coffee , then no spoon and no cream, totally frustrated by this terrible service, will be choosing a different company for our dining from now on. Cant give you the ticket number cause i wasnt given the receipt, but was at the dennys on north central express way in mckinney texas.

teresa jeffries
from Columbus, MS
My husband went to dennys this morning at approximately 7:30 22 March for breakfast at the restaurant in starkville Mississippi location. He said there was only 2 customers there so he thought quick service. It took 20 minutes to get waited on, coffee was cold ,hash browns were burned, eggs were cold, and sausage was inedible. No waitress would come back to see if anything was ok and when he paid and told them how bad it was, they told him "whatever". We had heard this place was bad but couldn't believe it. Now we do. We won't go back. Someone really needs to look into how this place is being run.

Susie
from Middletown, DE
I was very upset when the waitress Angie made the remark don't bother coming in here if you cant leave a better tip because I only left her a 5.00 tip. If 5.00 isn't enough tip for her then I will take my business else where and make sure my family and friends do to. Once we had to wait till she came in from outside smoking to get our food that was setting up there waiting for her to bring it to us. The place of business was Denny's at 41 Heather Ln, Perryville, MD 21903.

Brenda Henderson
from Ridgeland, MS
I waited 45 minutes for my food and still did not get my food. It was only 3 customers at the restaurant and the employees was eating before the customers. The employees was constantly playing instead of cooking the food. I got up and left because service was very poor and the manager cannot control her shift.

Stephanie chambers
from Clay, NY
My boyfriend and I went to Denny's on brewerton rd/ route 11 in Mattydale NY ordering to go. A few minutes into being there, a cop and two men walked in and she started talking to the cashier/ waitress, explaining the situation. The waitress then called over the manager at the time (Tina) and the cop then also explained to her that the two men were traveling all the way from Canada and were just involved in an accident on the highway caused by a drunk driver. They had suitcases with them and their car was now totaled, they had no where to go for the time being so she was kindly asking the manager if they could stay inside Dennys for about 3 or more hours to sort everything out.
Tina refused the cops request, saying that if someone was to ask why they are there for so long it would put her in a bad situation. She also said something about it being in Dennys policy of a time limit. She then states to the cop "I'm only here for the next 2 or 3 hours anyways and I'm the last manager on for the night so I don't care what happens after I leave." Why state such a strict policy if you don't even care about it being implemented? She turned down a cops request for these 2 stranded men in a terrible situation for some policy that doesn't even matter to her. I would love for someone to email me about what can be done about this. She does not deserve to be a manager anywhere, especially at a family diner. Thank you.

Taylor
from El Dorado Hills, CA
I had the worst server of my life at Dennys in Cameron Park CA. His name was Trevor. He was the most unfriendly rude server I have ever had. Didn't smile once, didn't ask how my day was going or tried to be talkative. He brought out food and walked away. He came over to my table and said "you good" I have never once heard a server say that to a customer. You say "how is the food tasting? everything okay? is there anything else I can get you not "you good". I was very disappointed with the service and will not be coming back again.

becky
from Bonney Lake, WA
Went to try the hot sizzleing filly steak breakfast when it came it ws cold cheese already thick from cold did not cover plate as it shows this was at centralia wa. we not go back we always go to the one in chehalis wa so we know how hot and how much is surpost to be on plate. Thank you

becky
from Bonney Lake, WA
Took 8 min to just get water, then finally we ordered we both were trying the new sizzling filly steak. When we got it, no sizzle was cold, you ever eat cold cheese an peppers with cold eggs, yak. This was at Centralia as we always eat at Chehalis Dennys. Now I am done with centralia. The plate were not only cold bet there was not a cup full on each plate, nothing like on tv. Sorry!

I went to Dennys in Apopka. They had nothing that they offered on the menu, avacodo, mushrooms, etc... The manager wasn't even a where of it. I ordered clamp chowder, it was very waterI went to Dennys in Apopka. It took over 40 min. For my mom and daughter to get chx. Fingers. They had nothing that they offered on the menu, avacodo, mushrooms, etc... The manager wasn't even a where of it. I ordered clamp chowder, it was very watery. The manager said, that's how he thought it was supposed to be. Steve the manager was very unprofessional. The server Sabrina was training someone, and complained to us and all her tables about her. This was the worst experience. We will not be returning! y. The manager said, that's how he thought it was supposed to be. Steve the manager was very unprofessional. The server Sabrina was training someone, and complained to us and all her tables about her. This was the worst experience. We will not be returning!

Vicki hayes
from Kent, WA
On Wednesday nite 3/11/15 around 8:30 pm. Me and a friend went into Denny's to have some dinner. Immediately when we walked in, no one greeted us At All. Finally a lady sat us down, when gave us our menus she just dropped them on the table and walked away. It took her 5-10 minutes before she even asked for our order or drinks. The whole time it just felt like we were bothering her and she really didn't want to serve us. I ordered a appetizer, a quesadilla it was not good at all more vegetables then meat. The food was at least hot. We received our entree and it was OK very greasy(southwest skillet). Server did not check to see if we needed anything or if we were pleased with our meal, did not offer to refill drinks. Awful customer service. I know how to treat customers I used to be a server at Tony Roma's. To end the nite I went to pay and she (Paula I believe her name was, only reason I know that is because I over heard her being nice to another customer) Really? Gave her my money and she was very rude Bucked her eyes like as if she was trying to say something. This is unexceptable service!!!! I will NEVER go back to ANY of your restaurants. And I will tell everyone about the awful service....

My husband daughter grandbaby and I went to eat at dennys on university dr in Huntsville Al when asked for a high chair I waa told to sit the baby ona chair because they didn't trust high chairs eggs were not cooked right they were still raw potatos were not cooked thruly sausage was cold the waitress didn't even ask if we wanted a refill on our drinks or coffee and to topit off we were being rushed to hurry up and pay never eeating there again thats for sure. ..

Ted Klink
from Galion, OH
Went to Marion Ohio Denny's at 1:00 pm. We ordered at 1:10, 2 pancakes and a value slam dinner. 45min. later at 1:55 we got our meal, which not only was it cold,but was also smaller in size.we have been having problems not only at Marions but also at Mansfield, which has a attitude problem. Sorry, NO MORE DENNY'S. Have a great day.

Wayne Bertrand
from Lufkin, TX
Took my wife and I 20 minutes before we got our drinks. While waiting for our food, we witnessed a customer trying to speak to a manager after sending her food back twice. (potatoes were hard and uncooked). She wasn't making a big issue out of it until the plate was sent back to her the same way. Then she walked up to speak to the manager, and he yelled from the kitchen and told her he was the only one cooking and he was the manager. She then stated that she had asked to speak to him, he then yelled at her and told her to pay her tab and leave. By this time we get our food, mine was highly over cooked and my wifes was ice cold.
I didn't dare say anything, as if he would have yelled at me like he did her. It wouldn't have been pretty. He then walked out into the dining area and yelled at her whole table and told then he refused to serve them and they need to pay and get out. He was so rude, I will not ever go back if that manger is ever working. He was a total ass and never apologized to the woman nor did he offer to correct the issue. I have never had an issue with this resturaunt. I am in the customer business, and I would never let my manager speak to a customer and handle things the way he did. This was in Lufkin Tx.

marvin kimbrell
from Reno, NV
went to have breakfast at location at 8734 at 205 nugget drive sparks Nevada. 89431 They wanted to seat us next to a table with 5 or 6 men having a meeting. we ask for a table that was quite. The person tried to seat us only one table away. We walked several tables away to a more quite table. Then we heard the staff asking why we were sitting there. One said to the other we wanted to sit there. Then the manager ask the same thing to his staff where we could hear. There were only three or four tables occupied. Before they took our order we almost got up and left. We were thinking who would to set close a table 5 0r 6 men having sales meting. The food was not that good, the toast was cold, we never got an offer of more coffee until it was time for us to leave. We eat at Denny's a lot, but not this location ever again. You go out have a nice quite breakfast and this is what we got. Of the five or six Denny's we have gone to in the Reno area this location is a joke.

Debra Sposito
from Sharon, PA
I live in Sharpsville Pa, I am a regular customer @ the Hermitage Pa. Denny's. Overall service is good. The wait staff and cooks have always treated me well. My problem is the manager. This man, ( name is John) has not only degraded his fellow manager's but has been downright rude and obnoxious to his wait staff /cooks. He follows certain waitresses around, creating a sexist workplace, many have seen him degrading the women. He has been too forward to one particular employee, I believe she is in her 20's and is very pretty, I am not the only witness to him talking too personal and I believe she could end up a sexual victim. I do not agree with his code of ethics, he does not respect his peers at all, and I do not think he should be sitting in a position of authority if he's constantly breaking the rules that he SHOULD be enforcing by setting example, since when does the manager not have to follow the rules?? How he ever got that far in a corporate business is only unjust and rediculous.

Went to meet son and wife for my b- day breakfast with daughter and girlfriend . Son and wife already seated at small table ,not enough chairs after hostess was told there would be 5 people.had to get another chair. By the way ,was not busy. Waited for ever to get coffee and Orange juice was ordered and was told after food arrived that they were OUT OF OJ,ARE YOU KIDDING. Oh also didn't get silverware till after we got food. Had to stir coffee with plastic straw! Got almost all of our order. Had to wait on toast ,tortillas and silverware. Manager ask how we were and when we told her about OJ she looked dumbfounded and said she will check for us. Came back and said OJ WAS still frozen. When she brought bill she said she took $7.00 off for inconvenience. We looked at Bill and the OJ we didn't get was still on Bill. Had to tell her at checkout to change it.
The level of incompetence was amazingly high. It started at manager and down to waitresses . Your hiring practices need to be 're evaluated so the people you hire are capable of doing their job . I have seen other complaints similar to mine so I guess your complaints fall on deaf ears. Dennys on Everhard rd in Canton will be the last place I ever eat. Your service ruined my time with my kids. If you need help on what good service looks like go to Texas Road house . They get all 10 s as you get all 1 s

donna devalkeneer
from Mukilteo, WA
Just a few hours ago I was almost shot by the police over a dirty bathroom. Early this am friends and I met up at Denny's.. store # 7873 address 108 college st. se Lacy, Wa 98503 and I arrived first. Since I arrived first I used that time to use the bathroom. When I walked in the restroom it was vile; urine, food, caked on human droppings and tp all over the pace. The bathroom was in rough shape and had not been cleaned. I had to squat to relieve myself and use my shoed foot to flush toilet. piss every where.. Any who there is a sign that tells you to notify manger if bathroom is dirty and I did so nicely. Rachel the manager did not like my confronting about the bathroom, she became curt and made her way to the restroom. Only to return moments later accusing me of breaking an item. again, bathroom trashed.. After our encounter I said my good byes and explained to her because the conditions of her restaurant I could not spend our money there.
I walked out to inform party and everything was great.. as far as I knew.... My friends and were talking in parking lot, I ran to grab my car and as I was getting out I was surrounded by the police. We all put our hands up dnt shoot! They had their darn guns out threatening to kill us! We were surrounded by cops with their guns pointed right at us. I stated I was going to grab my cell phone to officer and the other officer pulled out his weapon and hubby jumped in front of the barrel. That cop was going to shoot me in the back! Denny's I am filing a lawsuit! Clean your bathroom!

Enclosed you will find a copy of my "birthday event" at one of your locations. My husband and I went to your location at 3832 Blue Ridge Cutoff, Kansas City MO. 64133, on February 17, 2015 at about 6:45:00pm. I got out of my truck and when I stepped to close the door, I slipped and fall between the truck and the door, hitting my back on the footing of the truck door entrance. When I looked down, I saw a clear sheet of ice on the parking lot where we parked. My husband helped me up and we went inside Denny's. I told the manager that I fell outside, in the icy parking lot. A person folding utensils into napkins asked if I was okay, I said it scared me. I informed them that maybe they should put some de-icer out and she said she would take care of it. We were to be seated, we ask for a booth by a window, no problem. We both went to restrooms to wash up and sat back down ready to order.
We waited on a wet table and no napkin to dry it off. Finally after flagging waitress down, with lots of apologies we were asked for our order. Got our drinks and dinner, then we asked for silverware. The bread on the roast beef was hard and the amount of the roast beef didn't look like what my husband was accustoming too from previous orders. The roast beef on the menu did not look like what he got. As a customer from another table was leaving, he made the comment about "of all the time he was sitting there, he was never offered a second cup of coffee. Anyway we ate and waited for coffee and drink refills and waited. Finally caught the waitresses attention again and she came over and we ask for seconds on our drinks and we waited again till we noticed that where they serve the drinks the waitresses were standing there eating cakes off the counter instead of getting our drinks.
So we just got up and asked for our receipt at the cashier's station. I was given my order ticket and it was for two full meals. I was getting ready to mention that it was my birthday, when the waitress apologized again and said she forgot to tell the cashier. So my bill was adjusted and as my husband was paying, he commented to the cashier that she could pass a message on to the manager (who was not available or we would need to wait for) we had bad service and they need to fix it or your losing customers and out the door we went and we noticed that we had to be careful because they hadn't salted the parking lot yet.
After getting home, my husband checked my back (where I hit it when I fell) and found some bruising. We thought about our experience and thought we should share it. I would not like for someone else to go though what we did. It is one thing when your businesses is busy, and you at least get your drinks, but when you have about 5 tables of people and your waitress's were eating from behind and in front of the kitchen counter, or not around and or forgot us, well it doesn't seem like the service we are accustom to from Denny's.

Hello, I have been a loyal, bi-weekly customer at your establishment in Merrillville, IN for almost three decades. However, due to some extreme managerial issues, I regret to inform you that I will not be returning. Today when I sat down, there was no silverware at my table, nor any tables around me. For the third visit in a row, the orange juice tasted something awful. Aside from the juice, another consistency of your business was the manager's habitual "chit-chat" with employees; it is rather quite distracting.
Now, I may not run a restaurant, but for eleven years I have been a CEO for a rather large grocery store, so I know how to run a business. I know that is it a manager's obligation to perform any task needed when it can not feasibly be done by other employees, no matter how minute. Our server was adaquately busy with tables, so it would be the manager's duty to make sure that I had silverware. Instead, she stood gossipping with two of her servers. Throughout my meal, she ceeased only for a brief moment from her drivel. When I went to go cash out, I overheard her (I believe her name is "Cindy") talking very inappropriately about a pregnant server of hers. She was speaking very personally to three other servers. This type of behavior from any manager is unacceptable . I find it funny though, because the server she was reffering to, I have had on numerous occasions, and not only is she a dilligent worker, she is extremely delightful. It made me sick to hear your employee talk so ill of her server.
In addition, a few weeks ago I find myself coming out of the bathroom when I overhear your manager send two of her cooks on break. A server replies: "But Cindy, we'll only have one cook, and the rush is about to come in". Cindy replies: "no, we'll have two cooks". The server replies, " 'So-and-so' is just a trainee, he's not ready yet". Cindy replies, "No, he'll do just fine." Unfortunately, through no fault of his own, he didn't do fine; my bacon was burnt, there was no ham with my Lumberjack Slam, and there was no butter on my toast. Instead of putting all of her faith in a trainee, your manager should have been back there herself cooking my meal. I feel highly embarrassed for your company that your hourly employees seem to know more aout how your business should be ran than their superior.
For every successful business, there are successful people running it. There is nothing about your business in Merrillville that says "success" except for the serving staff, and on a slightly milder note, the cooking staff. There are serious flaws in the chain-of-command, as I have heard numerous employees use profanity and disrespect towards management to get what they want. But the thing is that it works, so who can blame them. As I have said, I attend your establishment twice a month, and let me tell you, business for you today has declined rapidly over the past 18 months. I implore you to fix your problems before customers like myself, begin to dine elsewhere. I am highly disappointed that my nostalgic days at your restaurant have come to an end.

We arrived at the Denny's store number 8633, at 1305. E. Monte Cristo Road, Edinburg, Tx. Flying J at 9:30 pm on Jan. 18, 2013. There were 6 in our group. We were seated then waited 15 minutes before a server came to the table, the business was not busy. After our order was taken, we waited 30 minutes and then asked where our food was and the server said they were waiting on the cooks. Another 15 minutes and part of the food came out, but it wasn't right, still no silverware. We had to get our silverware ourselves from a tray. 10 more minutes some more of the orders come. We have complained to manager, he comes back and writes down what we are missing, another waitress comes over and asks what we are missing. 10 minutes more food comes, but some of it is wrong. They do not fill water glasses, but when they finally did, the glass they brought back were dirty with yellow water in one and a lemon seed and debris in the bottom. Another 10 minutes the rest of the food comes after telling 3 different people what we were missing. Altogether we were there 2 hours!!! I had ordered a hush puppy sundae and it took an hour and a half to get it. Then the hush puppies were fried in old grease. Then the manager only was going to give us our AARP discount, I argued and finally he gave us 50% off. It should have been FREE.

Wow Denny's way to go!!! Plain clothes detectives in the city of Belleville, Illinois decide to patronize the local restaurant and are treated like criminals. Police officers that risk their lives everyday. Supposedly after a diner complained they are asked to remove their weapons or leave, because they are following department policy they cannot remove their weapons.
Their badges were visible and they identified themselves and were still asked to leave! So once again anyone carrying a weapon is presumed to be evil. I cannot believe a place of business would not welcome a police presence, I am not a police officer nor am I related to any, or close friends with anyone in law enforcement.
Now you claim it is a misunderstanding how can that be they had badges, identified themselves and were still asked to leave. The only people I believe would feel uncomfortable with armed police would be a criminal, perhaps the person complaining had something to hide. The manager involved should be fired.
Remember these are the same police officers that serve and protect with the very weapons they had on them! Denny's should be ashamed an official apology from corporate is in order.

On Monday 10-01-2012 at approximately 5:10 and Monday 10-15-2012 at 5:20pm my daughter (10yrs.) and myself chose to eat at Denny's. Both experiences were similiar but on 10/15/2012, it was worse. Denny's was not busy and had approximately 10 tables occupied. We waited approximately 10 minutes staring at a sign which read " It will be our pleasure to seat you", yet it did not feel that way. Then we were greeted by a guy in a tie who apparently could only say, "booth or table", which I responded "booth". Another 10 minutes went by until a waitress came to the booth. We got drinks and ordered, and then waited 45 minutes for a Jr. Grandslam and a Blueberry Pancake meal (i.e. one hour and five minutes). My daughter initiated the idea that we shouldn't come here anymore, "cause its so so slow". Yet we watched at least 3 cooks and 6 waitress act like they were having a great time. We ate it in 10 minutes, and waited again 10 minutes for a check. As I paid, the young girl said, "how was everything?", so I said, " It was terrible, we waited too long, and it ruined the rest of our plans this evening (i.e. which was dinner and a movie). The young girl replied with a dumb young chuckle, and took my money. It made me wonder why she was even trained to ask that question (i.e. since she didn't want the answer or the truth). It was a great evening with my daughter but a very lousy place to take her and wait a hour and a half to have some pancakes. I got her that evening to take her to the movies, and the delay and poor service, effected the remainer of our evening. We could have gone several other places, or have just cooked the pancakes myself at my home without any problems, which I'll probably will do next time.

Entered at 2:30 am New Years Eve /Day next to me and wife dirty unbiased table.food took 38 minutes to come to table during that time table next to us remained dirty. Upon receiving our food Burger looked in like a Burger top bun rock hard 8 fries on the plate no Bacon on Burger as ordered and burger ice cold.
No manager on duty to address the problem they apparently had left for the evening /morning so just hourly employees server cook OVERWHELMED in ALL areas.

5/1/2013 Went into Denny's resturant in Amarillo, Tx for breakfast 9:55 in the morning. Waited approx. 15 minutes to be waited on. Finally made our choices off menu and waited another 20 minutes for the waitress to come back for our order. Got that taken care of and waited another ( I timed this part to the minute) 48 minutes to get our food. This kind of service is bad enough but, when your food is cold when you get it and by that time squeezed for time, we did our best with eating it. I asked to see the manager and was told she wasn't there. While this was all going on we started noticing folks getting up and walking out in disgust. This was the first time we'd eaten at Dennys in a good while and, will be the last. It's I-hop or the Waffle House from here on. DONE WITH DENNYS.

I was in the denny's sunday february 24th in the evening and the dirty person cooking was discusting and servicce was to be desired. we had to ask several times for refills of coffee, extra napkins and waited for service. tried again tuesday february 26th in the morning with a party of 26 and the floors were wet and dirty, coffee cups dirty, and waited for almost an hour for coffee because they "only have 1 coffee pot. alsso didn't take our orders and when they did take the orders, there was a very rude and nasty server that wasn't even helping had to mouth off to a few of the patrons. another thing one of the men went into the restroom and said there was mold growing on the urinal. discusting!!! i have been in there before and cups still had lipstick on cups that were supposed to be clean. ugh. another thing there was water all over the floor behind the counter and surprised the servers didn't fall. wish you would clean up or close your restaurant. not fit to even go there.

On Monday October 29, 2012 around 11:30 AM I went in to Denny's 1493 US 74a Byp Hwy Forest City NC to eat. There was a man and a woman sitting at the table across from me with a poodle dog in his arm at the table where you eat. I asked the manager about the dog she got smart with me with tone in her voice and said, they have papers for the dog. Then she went on to say to another person at the bar that I said something about the dog. I let her know that it is nasty. I dont think dogs and people should eat at the same table.

I have never seen something like this. 12 at night and the manager leaves with dirty tables and costumers coming in with one server on there are 6 full tables right now full with people n 4 groups of people. O. Wait one girl that's been waiting for 20 min for take out n didn't get to order and left. I sat and waited for 15 minutes before the server gave me my check. It is very wrong that the manager just left the reasturant like this. I do not appreciate his actions what so ever. He should of either stayed a while to help or had another server to come in and help.

I went to the Denny 's on Northampton Blvd, in Norfolk, VA around 745-800 am on Friday, March 29, 2013, which happened to be my birthday and I was going to get my birthday grand slam. We walked in the restaurant and there were 3 tables full and 1 waitress on the floor.
She said I will be right with you, went to the back got a full tray of drinks for 2 of the tables brought them back delivered them, about 5 minutes later, and again said BE RIGHT WITH YOU, instead of saying seat yourself or something like that...so finally after about 10 more minutes, we LEFT!!!
I was so upset because she should have had someone there with her....instead of still waiting on the tables, and it was NOT BUSY!!!!.....This is not the first time I have encountered this problem with this restaurant, but it will be the LAST time i go there. .. Obviously it is POOR MANAGEMENT....NOT TO HAVE 2 WAITRESSES FOR THE BREAKFAST HOUR....please!!!!
So finally my friend said lets go over to the Newtown Road one, which we did....We walked in the place, and got seated as soon as we sat down, and the service was EXCELLENT....I spoke to the manager there and they said they have heard that several times about the one on Northampton.... you all need to get better MANAGEMENT there.......

Denny's #7287, Santee, CA. When I ordered the senior turkey dinner at 12:48 pm yesterday, I was told I could not have the green beans and that they did not come with the dinner even though they were shown in the picture. I then changed my order to the regular priced dinner (9.49) in order to get the beans. The waitress came back and told me that they were out of green beans for the turkey dinner. So, I changed my order to the senior dinner (7.59). The salad had a strip of cellophane in it (ugh!) and I had to insist that I be given a new salad.....the wait staff was reluctant to do this as they stood gaping at the strip of cellophane and trying to figure out what it was! The manager checked on us a few minutes later and said no apology and did nothing. The turkey, dressing, and potatoes were so bad that I couldn't eat it and just sat it aside. My husband paid the bill so it wasn't until this morning when I looked at my receipt that I saw that I was charged for the regular priced dinner! After clearly telling both wait staff that I was changing to the senior price since they were out of beans, no one bothered to change the receipt. I am FURIOUS at the really poor service, the bad food, and the lack of consideration! Is there anybody at #7287 in charge of quality?! I was charged the regular price for the senior portion... The way I see it, Denny's owes me and my three friends a refund!

The Denny's store in Kansas City, MO near Bartle Hall on Broadway is TERRIBLE! I ordered a dish thinking it was chicken but it was fish. When I got it and found out I told the waitress I made a mistake. She said I could return it for chicken. But then the manager Jim Solomon came over and was VERY and I mean VERY rude. He said that I HAD to keep the dish and that Tilapia was fish and acting like EVERYONE knew that. I actually just ordered by the picture and didn't even read what the description which was my mistake. But the A-hole MADE me keep it. I should have just walked out. I have NEVER in my life had a restaurant MAKE me keep a dish that I did NOT want. NEVER. AVOID THIS PLACE LIKE THE PLAGUE!

Hello today i took my wife and kids to the new Dennys in East los angeles on the corners of cesar chavez and mednik first of we sat down the weiter took 15min to take our order when he did he seemd kinda bothered becouse i asked twice for service then he comes to take our order he brings a hot skillet in front of my 8 month old son then tells us be careful guys he could of burned my sons hands then we wait another 20 min for the food it comes cold and the weiters hands were dirty gross to top it off i wanted to use the restroom but it was just as bad.a a park in skidrow toilets were full of paper not flushed the urinal was baged with urin in it the trash can full of napkins to the rim and on the floor

My boss vincent ford has had a sexual relationship with a employee thats young enough to be his daughter, the way they carry on on the job is sickning, and to have her tell me she got pregnant by him how degrading now i see why he didnt mind her working overtime,if i got off at 1 he want me gone bt 1:15 her she will work hrs over, i think that no manager should stoop to that level should this be accepted ? Not only do i know but cooks, and other servers has witness this is just a shame i see where sleep ur way to the top come in at .im going to go much further with this complaint it dont stop here,people should know what goes on behind the doors of dennys

We were waiting for a long time for the second time going there. The store on Kings Highway barely had anyone in there, yet we were waiting for over 20minutes with no one asking us what we wanted to drink. When we asked when is someone going to serve us, the waitress said we weren't waiting that long. This is disheartening and we are totally turned off by the lack of service.

On 5/7/13, I ordered a peppered Bacon avocado omelette at the Pecos, Texas Denny's #8584.
After I began eating the omelette, I noticed that there were no avocado slices inside the egg. When I complained, I was then told that they had no avocados in stock. I let that go, but after eating another bite of the omelette, I noticed that there was no cheese inside either. I waited for my server to come by so I could inform her, but she basically ignored me.
When she finally did come over to check on me, I explained that there was no cheese in my omelette either. She then huddled with the manager (I assume) and gave me a receipt to sign. I signed it, and then she handed me a bill for $6.92..a discounted price off of the omelette, and something that I neither wanted or requested. I simply wanted them to take back the remaining omelette and make me one that I could be pleased with. I had no interest in getting cheap or discounted food.
In any case, I felt that I was treated uncharacteristically poor for a Denny's.

My boyfriend and I went into Denny's in casa grande AZ and the service was horrible and the food was cold. My boyfriend got breakfast and all of it was cold, the bacon eggs pancakes and hash browns. Gross much? All the servers were goofing around they really didn't seem to care about their guest. Our food sat there for a good ten minutes Til she brought it to us. Will never go there again. Maybe they will learn to hire good help.

After shopping in Waco, Texas my wife and I went to the Denny's in Waco on New Road. We were promptly seated, given menus and drinks. We waited, we waited and we waited but no one came to take our order for over 20 minutes. We left that location after being abandoned then proceeded to Denny's near the Baylor College campus.
And there received excellent service as well as very good food in a very well managed location. The manager on duty and waitress were very friendly and prompt in taking or order, delivering our food and providing refills as needed. I must say the two locations were as different as night and day. Way to go Denny's 8104 for delivering exceptional service.

I recently visited the Denny's in Fayetteville, NC address 5505 Raeford Rd, Fayetteville, NC 28304 and was at the bar when the Health Inspector was there, what I watched and herd was AMAZING. Things such as, when he leaves we will put it back, lets just get through this and go back to what we where doing. They ended up getting a 92.0 I believe. OK, Looked over that. My family and I went late night one evening and we waited 2 hours for our food. They kept running out of glasses, silverware and the cooks didnt seem to care when thefood came out even though their manager stood in the kitchen THE WHOLE TIME, and let two of her cooks go on break in the middle of people not getting their food. Iasked my server, which i could see in her eyes how sorry she was and i watched her battle for our food to get out seeingt how we had been their 2 hours sitting. I asked my server if it was indeed the manager in the back cooking the whole night and while two cooks took what was probably at least a 30 min break maybe less but, thats beside the point. I asked my server who the manager was the night this all happened she told me Ms. Rebecca Mackey, excuse my spelling if wrong. After watching this circus show and leaving my server was still apoloigizing I never saw the manager on the floor I know things were wrong where a manager needed to have helped, especially as I'm leaving and I see REBECCA MACKEY on the front door of the Denny's resturant. I couldnt believe it. I felt sorry for the servers and I feel sorry for whoever owns this store because the management is going to run this buisness right into the ground. Never in my life haveI seen anything of this nature. Also, forgot to add as I was sitting at the bar the one day just the drama and things being said in front of customers and this one saying stuff about this one like high school. I suggest they re-oil their machine or this place will go down. It's rediculous!!

Dennys at the Flying J truck stop in Pearl/Flowood, Ms. Waited 45 min. for a to go order. Finally got our food and left going down the road. Food was not right. Called to complain. Debra answered the phone, listened to my complaint and she said"Let me get a manager." Rhonda got on the phone. I asked her was she the manager and she said she was. I told her my complaint at which point she started arguing with me. I asked her for the corporate number 4 or 5 times before she gave it to me. I said thank you very much( boiling mad by now) and hung up. One minute later my phone rings, I answer it and the woman says, "This is Debra, the manager at Denny's. Apparently Rhonda did not satisfy you. How can I help you?" I said, This is Debra? The same Debra that answered the phone, listened to my complaint and then put Rhonda one the phone as the manager Debra? She replied yes and that she was the manager but she was busy taking inventory. Uugghhh!!! They kept wanting me to turn around and come back. I didn't have time to wait 45 min much less turn around and go back. But even after the extended and unnecessary wait and the food being wrong what gets me the most is the manager heard my complaint and then passed me off to somebody else. VERRRRY poor way to do business. I will Not go back and give them another penny of my hard earned money and I Will tell all ky other truck driver friends of this horrible experience.

Today on Jan 8th 2013 me my wife and son came to eat at Dennys and received rude. She was not very attentive and did not inform us of anyway to talk to a manager when asked.. And I ordered the new mozzerella grilled cheese with the new frIes and litterally got the smallest portion if fries i have ever received. And upon telling the waitress, she told me there was nothing she could do about it..
Im also unhappy with the small end piece of bread I got..
The Denns's I ate at was on Somersviille Rd. In Antioch, Ca. And we spent $26.18

I am a regular customer of the Denny's Restaurant at 105 E. 17th St Costa Mesa. I generally eat at this location at least 2 times per week and many times much more. I have generally been pleased with the service but an event happened today (Thursday December 13, 2012 around 10 a.m.) that greatly disturbed me. I was eating while taking a business using a headset. One of the waiters came up to me and told me to quiet down. I was surprised as I typically eat and handle business calls at this location all the time and had never received any type of complaint. It was particularly puzzling to me when at another table 4 gentlemen were talking and laughing quite loudly and received no complaint. I may be sensitive as I was the only African American in the restaurant. In light of the fact that there were clearly others that were quite audible I had to wonder if I was somehow being targeted. Thank you for your attention. Thomas H. Fisher, IIA, CPCU jelanifisher@hotmail.com

I live in Alberta, Canada and vacation in Florida for over four months every year. When we drive down and back we always make a point of stopping at a Denny's for a meal. The food is the same from one location to another and we can always expect a comfortable and satisfying meal.
Today my wife and I along with two friends stopped at the Titusville Denny's located in the Ramada at approximately noon for a light lunch. There were about a dozen tables occupied and none with more than four patrons. The drink order was taken quickly but it took a longer time to place the order of one chili dish, one senior cheese sandwich and one moons over my hammy. Another long wait and eventually the order arrived. The moons dish was perfect, the chili was cold and the cheese sandwich was so cold it had congealed. Those orders were sent back and obviously "nuked" as the chili had localized hot patches and the cheese sandwich was like cardboard. Over an hour passed before we actually got the order. Two cooks were on and observations showed the waitresses were not at fault as the orders took so very long to be produced. The waitress did mention they has past problems with the heaters. We did raise a concern with the manager who told us that she had actually been in the cook area helping the cooks. Dripping vents from the air conditioner, a poor manager and inept cooks do not inspire us to ever return.

Very disappointed with your food quality with the chicken Wrap.
I was dining last night and order the chicken wrap and it was gear, so I brought my whole family tonight to get disappointed with the product they served the chicken was diced in small pieces??? And hardly any sauce on it and covered with lots of lectuce.
When I mentioned it to the server she said she will get the manager, we waited for 15 minutes no show from MAnager or the server.
Is this how you take care of your customers. Sad to see your business going in that direction.
Our food went cold and the whole experience will be shared with all the people we will encounter during our holiday time.
Thank you

My fiancé and I went to the Denny's in Belleville IL. located on route 15 and 255. It was the worse service ever. We got there around 11:00pm and took a little longer to order but not bad. I should of thought that the security officer standing by the front asking how many to be seated was strange in the first place. All the customers and help were African American and we were the only Caucasian but that didn't bother me at first.
I'd say we ordered around 11:10pm we placed our order consisting of breakfast food. We ended up leaving at 11:50pm still without our order. The waitresses seemed to cater to everyone else except us and kept telling us our food is on the way but never showed. People that came in after us were getting food before us. I felt as though since we were the only Caucasians in the restaurant we were the rosa parks of this establishment.
I will never go back to this Denny's. this manager should be fired. I love Denny's food but this experience has given me a bad taste in my mouth.

My family and I went to Denny's Diner on the Westside of Evansville, IN tonite. The waitress came over to our table and ask what we wanted to drink we told her we just wanted water to drink and she said she would be right back, we waited for almost 10 minutes for her to come back and she didn't have our waters with her, I ask her for our water and she said that they were setting on the counter and she would go get them. We ordered our food, I got up to go to the restroom and she stopped me and ask me what kind of side did I want with my meal, I ordered the Senior fit fare Chicken, It comes with grilled chicken, Broccoli and Corn, and a salad, she told me I got 1 side and I told her that the menu said what I was suppose to get. When she brought my food out my chicken was really hot and good but my corn and broccoli was cold, I took my food to the counter and ask if I could have hot vegetables, she went and suppose to have put them in the microwave when she brought my food back to me the corn and broccoli was just barely warm. I ask my waitess if the corn and broccoli was frozen and she said she didn't know and that they sell alot of those meals and no one else complains. I feel that if I'm going to pay $7.29 for a meal I should be able to eat hot food not luke warm. I ask another waitress if she could answer my question and she answered it for me and told me that the vegetables were frozen and microwaved. I told them that I probably wouldn't be back and they told me OK and have a great night. I thought that was so rude and I will not go back to that diner again. I don't know what the waitress name was but I do know she had short blonde hair and was a very rude young lady.

I am/was a frequent customer for about ten years at your Mechanicsburg, PA store. Over the years this store has gone up and down in quality but recently it is at an all time low due to many valuable employees leaving the store or quitting Denny's altogether. Current management there is horrible and the waitstaff leaves much to be desired both in skill and personality. Current management has no idea how your 50 States app works and told me I could not use any discounts or free items because the promotion had ended when in fact it continues until June 03, 2013. The menu portion has ended but the discounts and check ins have not. She was a newer girl and was really rude to me and my guests. I had rather poor service but it turned rude and upsetting when the manager informed me I could not use my app coupon for Denny's 50 State Challenge because it was over. I told her my app said it was still valid and I showed her my coupon on my phone that said it was valid until the next day. She then started slamming stuff around and told me that she was doing this for me one time and that's it. She told me to delete my app and I told her I certainly would because after ten years of coming there, I would not be back. She was incredbly rude about the whole thing especially since this is a pretty big promotion to be MISINFORMED about! Makes me wonder how she treats her employees. It's incredibly sad that a year ago this restaurant was doing so well and now it is so bad. It has become dirty, unfriendly and I don't think I'll be returning especially since there are so many other restaurants nearby that are consumer friendly.

Was at Dennys on 11/17/2012 for celebration Dinner. We got there at about 9:50 pm. We were immediately seated. Another party came in and was seated 15 to 20 mimutes after us. The manager came out to help them while we were made to wait. It took us over 30 minutes to ask whether we wanted somethimg to drink. The mamager walked by us several times without inquiring if we meeded anything. We asked if we can get anything to drink, we were told he was busy to wait on our waitress. However, all other non black cusgomer he readily helpped. I was veey offended

On my last visit to Denny's restaurant in Columbia MO my fiancee and I were seated and asked what we would like to drink. I ordered decaf and he ordered strawberry lemonade. He recieved his drink while I recieved nothing. After waiting for someone to take our order for more than 30 minutes I walked out. Several wait staff people walked by us or stood around doing nothing but did not wait on us. The manager spent the majority of his time on the phone. We used to regular customers there of at least once a week. I would have been more understanding had the restaurant been busy but there were only two other tables.

I'm a regular customer at Denny's on Sunset and sometimes I come in to just take a break and get some tea. I know a lot of the employees there from the years I've been going there and the customers that are regulars like me. Last night a drunk couple and their friends came in the restaurant. I had finished eating at the bar and took a seat in the lobby where others were. I knew the guy who was with the crew. The girl was drunk and kept walking in and our and they started arguing. Well the girl got in the officer's face and he told her he'll arrest her. So I'm shocked, I get my phone to update my status to a crazy night and the chic thinks I'm taking a pic. I told her I wasn't and was on FB. So she's calms down then she starts again like she wants to start a fight with the guy they came with. All of this is in front of me less than a foot. So she starts with me and I'm like you're drunk go home. Didn't touch the girl at all and my friend calls me saying her boss said I couldn't come back up there! In respect to mg friend Denny's can forget my money, but I wasn't the drunk and loud person. I was a customer. I feel like because I'm there at least 4 times a month I was singled out. No police report saying I'm banned from the restaurant, I feel it's unfair and my friend whose a manager it put in an unfair situation as well. I could say that the Denny's on Sunset is very

In Sunbury, oh my food took 45 minutes to be served. Breakfast food at that. Then the food was undercooked because they had realized they lost the order. Had to send hash browns back. When the waitress brought them back I was finished eating. Then they tried to charge me for the darn things. Not only did they not apologize they acted as if I was in the wrong! The whole time I was waiting my waitress never once came by. I had to call for her all 3 times I needed something. Not only will I not darken another Denny's door I will make it my mission to deter anyone I can from going there. This is the worst I have ever been treated by restaurant personnel in my 47 years.

This occurred 01-20-2013 at around 5:00pm at the Dennys in Kaufman , tx.
My family is my wife, two daughters (3and 10) and me. Well when I entered the restaurant
I noticed that every table was full except a couple tables. But on the other side that completely empty. I asked
the waitress if we could have a private booth on the empty side. She told me no and that side was closed.
I then told her we want to eat in a private table or booth or we will go elsewhere to eat.
She then told me they were short staff. I just repeated what I had said before. She said okay and we left .We then went elsewhere to eat.
Not very good customer service and you shouldn't lose business cause of either short staff or a lazy employee.

My parents have frequented a local Denny's for years. That was up until 5 weeks ago when my dad passed away. I also, there son had frequented this restaurant with them as well as continued taking my mother in there since my dad has passed. Now the only way my mother can get to this restaurant is by me because she is wheel chair bound. In my frequenting this restaurant with my mother I had met this waitress. I had asked her out and we had dated for approximately 3 1/2 months. We had since broke up. Approximately a month ago I went in for breakfast and requested to sit in a different servers section not to have any contact with my ex-girlfriend. I left without incident. After my ex got off of her shift she went to the police department and filed a complaint That I was harassing her. they had contacted me by phone and stated I was know longer allowed to go up there when she was working. 3 weeks later, but not the first, I took my mother up there knowing what the ex's shift is, took her there on her day off. We went in there and was seated by one of our regular waitresses. Approximately ten minutes later we found out by our waitress my ex was called in to manage and that she believed my ex called the police on me. I immediately got my mother in her wheel chair and took her back out to the car. Just as I got her in it 3 police cars surrounde

My daughter and I went for breakfast at The Denny's at 2701 Atlantic Ave, Daytona Beach Florida, and I will NEVER go back!
I've been to that locationin the past and it was fine...but this trip will be the last. We sat, and one girl asked what we wanted to drink. We gave our drink order and I had to use the restroom. It was disgusting...sanitary napkin wrappers on the floor with full napking disposal trays...my shoes were sticking to the floor. I went back to the table, and expressed to my daughter that usually you can tell how clean a kitchen is by the condition of the bathrooms (I waitressed for 20 yrs). I had asked for extra cream for my coffee, and when it arrived it was filled to the top with cofee, but "poof", waitress was gone (the place was NOT busy, being it was 9:30 am). Probably 15 minutes later an older woman came and acted like nobody was going to take oour order so she would...I wanted 3 eggs and bacon. That's all. She said I couldn't get one egg cause they come in 2's. I said, "can't you just charge for an extra egg"? Nope, needed to order 4 eggs. My daughter wanted a moons over my hammy sandwich. 40 minutes later, nobody came to refill my coffe cup, or explain why we were not getting our food. Waitresses walked around and wouldn't make eye contact. The people in the booth behind us left without their food. I finally put a $5 bill onn the table for my one cup of coffe and mmy daughter's orange juice (ONLY because it was the only cash I had on me, and I didn't want to be arrested for non-payment). While walking behind the blg to our cars, i saw a woman and guy smoking with Denny uniforms on. I asked the woman if there was a manager I could speak to...she identified herself as the manager and asked what the problem was. I started with the service and then the disgusting bathroom, and she replied "Oh, that must have just happened because I've been in ther numerous times today". I said the f loor was so sticky, my shoes are still sticky...we went to IHOP, and I'm out $5 for a HORRIBLE EXPERIENCE I PAID FOR!
MAKE IT RIGHT! HIRE A NEW MANAGER AND STAFF. I want my money back!

My husband and I eat at dennys (store #6861) all the time and last night we went there to get some dinner and it took the cook 25 minutes to get our food out to us and there was only one other couple in there eating right before us! Each time we go there its always a hassle either getting our coffee or getting our food cooked properly and the service is so bad and there are always people in there causing fights that come from the Buzz bar and last night there was a guy that come in that was drunk and was demanding service and got rude and ignorant with a lady out that just came in to eat because she was standing in his way and your employees did nothing to help the lady. The man had actually cursed the elder lady and she was very upset and my husband had said something to the man about being rude to a woman in front of him and the man then threatened my husband to beat him up and none of your employees did anything about it except tell the man to sit down and be quiet. If it was properly handled which it wasnt the man who was being a nuisance should have been asked to leave but he wasnt so i really dont think we will be back there to eat at your restuarant again.

On Friday the 5th I took my family to Denny's on E. street in chula vista Ca, for dinner and the food was great so was the service. After the meal we left and headed home. Upon arriving home I couldn't find my headphones to my phone. I asked my daughter and she said she left them sitting on the table. We went back to the restraunt and was no more than 15 minutes, the manager said the tables were clean and the last shift usually turns property in. This time they didn't turn in anything to lost and found. The last shift had gone home and they couldn't contact them. Me and my family have been going to Denny's for years and nothing has ever happened like this when forgetting something. The headphones were a gift and cost almost $200. The manager said he will ask if anyone has found them.

Restaurant #8682 was a quick stop for a salad. Worst decision ever!!! While the server was pleasant enough, her attention to detail sucked!!!! I ordered the Dixie Fried Chicken salad with holding the onions while opting to have the cheese and the salad dressing on the side. My order was to go, not to dine in. When I received the order, the cheese and the dressing were on the top in a different container which fooled me, because once I got to my destination ans opened the container I was very upset to say the least. My salad was flooded with dressing , so much so I barely saw any foliage. The chicken was so hard and dry and minced up so tiny it might as well have been bacon bits!!! The lettuce was soft and mushy and had a lot of brown spots all over!!!! The salad was disgusting and a waste of $10.

I am a regular customer at Denny's and frequently order dinner from the senior menu. A choice of soup or salad is included with all of the senior dinners. I ordered the senior turkey and dressing dinner fron the current seasonal menu and assumed that soup or salad was included as it is with every other senior dinner. WRONG! The server returned to my table and said that the turkey was the only senior dinner that does not include soup or salad.
My complaint is that the menu needs to indicate that soup or salad is not included with the senior turkey dinner since this is a deviation from the usual menu. I am quite sure that I am not the only one that assumed soup or salad was included with the senior turkey dinner as it is with all other senior dinners. A simple disclaimer on the menu would have kept me from getting upset and leaving the restaurant without having a meal.

On May 6, 2013. We went to our usual Denny's Resturaunt at 3096 Aloma Ave, Winter Park Fl. for a late breakfast. It was very empty but it was Monday. We were promptly seated then the issues started. A waiter named John, and a waitress name terry were working We were seated in John's sections, but after 20 minutes wait Terry came over to see what drinks we would like, We explained we also wanted to order. She took our orders, no conversation, suggestions or anything , 15 minutes go bye again and then John comes over to take our drink order. We explained Terry had already taken our complete order.
10 more minutes to get our Sweet Tea and Coffee. In the mean time a table behind us has 3 adults and 3 kids trying to speak with Terry because their order is all messed up and what they did get right was COLD. She didn't do anything (whether she new how or what to ask she sent Manager over) He didn't even apologize or ask he could get anything else or refire the food. he just stood there. he walks away and they all walked out. Well our food had still nto come and we are getting ready to get up and walk out. Nobody came by to ask how things were, or offer more coffee or anything.
It was like watching everything in slow motion. Nobody cleaned tables, reset tables or anything. After what seems like an eternity or our food finally comes after sitting up on hot plates waiting for somebody to deliver it. We get our food and are more dissappointed,y i could only eat my hashbrowns and coffee, everything was cold. My husband was so hungry he ate, but i couldn't Terry the waitress comes by to give check, she says, "here's your check, when ready pay at register" No questions about how is food or anything.
So from the time our order was placed in the machine, and we got the check 48 mnutes had passed not taking into consideration all the time before our order. We are weekly visitors on the weekends at this Denny,bu tnow i don't know if i will even return. We asked to speak with the Store Manager when we went to the register and hes like what do you want me to do, he took only $3,00 off our check, He didn't care or anything. I was expecting my meal at least to be taken off, but just $3.00. It will be along time till i even consider going back to Denny's.

I seriously love dennys but when im budgeting every dollar for a trip im taking and dennys suprises me with $2.65 for a small glaas of milk & i had 2 of them. Just felt like i got ripped off since for one more dollar i could have bought a gallon

Good Morning, I would like to put a complain on the Dennys located in El Paso, Tx on 9567 Dyer st 79924. My family and I went in for breakfast today on the 14 of January 2013, and the staff treated us horrible we waited in the lobby for 5 minutes, finally the lady at the register told us to sit where ever. She seemed like she didn't want to be at work which is clearly not our fault.
We sat at a booth and were waiting for a waitress which never came to welcome us, nor give us menus . We waited for a good 10 minutes and the waitresses were helping all the other tables except ours. After noticing that we were not getting service my family and I got up and left.
This experience gave me a different perspective of the restaurant and more than likely I would not go to a Denny's again. My suggestion is to hire more enthusiastic staff that are happy they have a job instead of people that dread going to work and take it out of the customers.

Good morning! I am a 55 year old male who has had a lifetime of wonderful service from the Denny's restaurant around the country until last nite. I retired from the City of Detroit in the year of 2008 and moved to belvidere illinios , Any state we flew too for conferences we made sure that there was a Dennys close buy. We made sure our hotels were located close to a Dennys restaurant. In 2008 we found a Dennys on east State street in Rockford Illinois Wonderful Staff, Wonderful Service, Wonderful food, A wonderful time, This was me and my wife date spot anytime anyday . Until last nite! They have changed Managers but the one last nite was the worst one that we encountered . The procedure of table assignment has changed to a fault the you lady name Stella took our names ands told us that there was a 15-20 minute wait wrote our name down on a sign-in sheet , Ok we said this must be something new . but we counted more than twelve empty tables, Than a White gentleman came in 2 minutes behind us and commented on stellas wig. And she quoted oh you like it and his name did not go on the list. He went and seated his self while the line grew at the door. The manager seen what had happened and came and found us a table out of many tables after 10 minutes of waiting. The manager took our orders, I decided to try the all you can eat fish for the first time and my wife ordered the hamburger combo. We never waited longer than 10 minutes for any kind of breakfast, lunch , or dinner and or dessert that we ordered. Last nite 30minutes and no waitress until the bill, The order of fish came with four fish sticks mash potatoes and corn. No pop refill or water. The manager told me that she hada put in another order of fish for my all you can eat order OK! maybe she noticed that she had treated us wrong in service.Qk 10-15-25 minutes pasted no fish ,no refills . I told the wife lets go its horrible service in here. Then the waitress came and said oh ill be back to fill you water and sprite and she had 1 fish stick in her and and said this is your all you can eat fish that the manager had put in. What a insult to the menu it states all you can eat fish on Fridays . I got up told my wife lets go. What a insult , Horible service,food,Manager. Stella asked how was the service and food and I told her horrible. Afetr we went to the car we were parked in front of the window the managers came out from hiding and here and Stella had a laughing good time. We will never go back to a Dennys restaurant if this is the service that you are now offering your customers you keep. You will be the topic of my Sermon Sunday Titled God is the only Service that will forever please you man will let you down.

I have been working a Dennys for a month and two weeks my first week was ok but after that I have been yelled at in front of my customers cursing at others employees including at myself..the managers speak to the employeees as if we where animals...thetheanagers have favortism there's waitress tere that are dating the dishwashers and have all kinfs ogf drama but are never told anything..the waitress there spit in the drinks drop food and give it to customers..I thinks the managers are crazy frustrated women who spend to much time smoking and chatting with other employeees not doing there job..I had never been yelled at the way they do to me...its a horrible place to work at but until I find onither job I will leave

Thsi restaurant has the worst service of any Denny's I have been to. I was just in there and left( right behind another couple that left) There were 2 tables of 6 and 2 tables of 2 in there. it took 10 minutes to get a coffee, and it was brought to me on a small dinner plate with the coffe spilled on it. He took it back, I waited another 5 minutes,no coffee and no order! I have gone in there around 6 at night, with one guy only working! I am not kidding, this place is terribly run. I drove to the Dr nys on State street, Santa Barbara..this one is a gem.

I've been a customer of Denny"s for over 25 years and eat at a Denny's at least 4 or 5 times a week, mostly breakfast or lunch. In all these years, I've had only one problem, which they took care of gracefully.
This Sunday morning, March 17, 2013, my wife and I were having breakfast when I was brought a new bottle of hot sauce. I could not get the top off and tapped it with the palm of my hand and the bottom of the bottle blew out. Hot sauce went all over my clothes and sports coat. I told the waitress that they should either take care of my breakfast or get my jacket cleaned. She told the manager, Angela, what happened. At this point, manager Angela, came over and insulted me by calling me a liar.
I am 69 years old and have been in business for myself since I was 18 years old and this is very poor public relations. I paid my bill and left and will not return. This is store #6848 on Memorial Hwy. Tampa Fl 33615
Sincerely
Tony Leon

We went to Denny's on North State Line Ave in Texarkana, Ark. There was no one to seat us to start with. We finally took a booth. The booths around us were dirty. Even though there were few people there. No one waited on us. The dish washer eventually brought us menus.
We never received water or had our order taken. One waitress took water to one table. The other stood at the register and talked to her friends. The first one then took a cell phone call and never got up again. Eventually my wife and I, as well as another customer got up and walked out.
We ate at a competitor across the street. They said they got a lot of business that way. It was 5AM on a Sunday morning andwe wasted 30-45 Moises of our time. No more Denny's for us.

My family usually eat at Denny's especially after our night out affairs. Today, 1/11/13 at 1:53am the food served to me was not satisfying. I ordered the Latin dish pork chop. The beans looks like a soup beans ~ very different as shown in the picture. The rice is not cooked. You would feel the hard grains. The. Pork chop does not have taste at all and cooked very light brown. As much as I want to return my food, I'm scared of returning it coz my sister complained about the manager who was so unprofessional when our food were being served, I'm worried if I return it, they might mess with it. And since its past 1:00 am with no dinner yet, I have to just have to bare with it. We were in a different state at Orlando and Denny's were one of the familiar place to go to near our hotel. Maybe, we should have transferred to IHOP instead but we just feel bad about our server who was too nice serving our family.

3-15-13. Myself along with a few close friends went to Denny's Because its the local hangout at night. We all have our own conversations an the manger kicked out my friend because the server which we had was doing a terrible service.
So we were talking about it in a calm respectful manner and we get kicked out due to the manager being rude instead of talking to us. I come to dennys several days out of the week, I've never nor my friends/family have never been disrespectful at all.
3-22-13. I have the Denny's app, which is free that Denny's offer on the iPhone. Everytime we come to dennys we check in, along whenever I travel. The same manager that kicked us out before, again came up as we was leaving an paying out being rude, over talking us an saying we was cheating an scamming the app.
Okay we'll if you check in you get free food, drink,dessert,etc. well we was using it. End of story why aren't we allowed to use the app whenever it's offered.
Denny's Seagoville Texas

Dennys Restraunt in Cape Coral Florida is one restraunt I will never go to after my expirence this past week..my waitress was very pleaseant evetythinh was great until I hear the manager y yelling at her with horrible words. The waitress broke out in tears..the waitress couldn't even smile she tried to hold it together buy she couldn't..yelling at an employee while on the floor doesn't make a customer want yo come back againg..the Managers name is Petra I wanted to tell her how II felt but I didn't want to mame things worse for yhe waitress

Today was the worst experience I have ever had at a Denny's Restaurant before! When I came in the GM was taking a smoke break in the front right next to the door & followed us in only to begin yelling at the employees to take our orders. Every employee was new with exception to only a couple & boy did they seem stressed. He took our order, and had a unexceptional attitude. We ordered the build your own burgers and some pancake puppies, waited about 30-40 minutes for two burgers! Our FOOD sat on the counter for at least 10 minutes and to make that worse the pancake puppies that were given out the first time were about as dark as the jet black box that they served them in. When asked politely could they redo them, the chef agreed but the general manager went on a wild tangent on me & an employee!!! He stepped in the kitchen, held the batter bucket up and said "this is why they are dark, but I will still cook them". Everyone began to look at him in a crazed manner. Within 2 minutes tossed some up in a to go box with a complete disregard for who may have been on the other side. The puppies were only browned just a tad on the outside and completely undone on the inside!!!!!!!!!!!!!!!!!!!!!!!!! Wow thanks Mr. Mamul for the best late night dinner & customer service I have ever had! *sarcastically said in every instance*

I was in on the night of Cinco de Mayo (Saturday)at your Cockrell Hill location in Dallas, Tx. The food, while it took a while to arrive, was delicious. And you can't beat that $2, $4, $6, $8 menu! My only complaint was with the (im assuming) manager, Susan. Our waiter, Ia'Jan, was such a sweetheart. He smiled, made suggestions, came back repeatedly to offer his services to our party of 8. However, when we all went to check out and split our bills he was unsure of how to do it without making a mistake. And, on top of that, we were using coupons for each one. He asked Susan to make sure he was doing it right, and she was beyond rude to him. She was LOUDLY saying how everyone needed to learn how to do their jobs, she was tired of babysitting people, she was too busy doing their other jobs to be bothered with it, etc etc. Now, telling your employees they need to step it up is one thing. Making them feel like idiots is quite another. And to berate them in FRONT of customers? Unacceptable. I felt horribly for our waiter. He didn't say anything back, but he was obviously confused on things. As his superior, it is her job to make sure he knows how to do his. And then to mutter and complain about it the whole time she is doing it is just bad manners. She was sweet as pie to us. And she kept apologizing for the "slow service" and "people not knowing how to do their jobs enough to assist us" and I almost told her to shut up. I cannot imagine how HE felt. It was just really poor judgment in handling problem with her employee. And even if we hadn't been around it is NO way to talk to a person. If she does have any position of authority other than tenure, she should be chastised for speaking to her employee like that. Definitely not management material.
I just wanted to make that known. Noone is going to be happy in their job or be encouraged to do it above and beyond if they don't have some sort of positive reinforcement and an environment they feel comfortable asking questions in. Everyone knows happy workers work harder. Well, I thought everyone did. Obviously she doesn't.

Just had the worst experience ever at a Dennys. Waitress very rude and did not get order right. Tried to blame it on us to the manager. Said already put order in and could not change 3 orders of french toast to french toast meal (had added each side as al la cart). Meals oredered with toast did not receive toast until meal completely eaten, did not receive grits or hash browns on 3 meals until half of what was brought out was eaten. Six people had water, one had coffee and one dr pepper. When asked for refills, waitress brought out 1 glass of water and the cup of coffee. When other 5 asked for water waitress said " I haven't even waited on that table yet! Will get you a pitcher of water to keep on table, just don't make a mess"..ages at table ranged from 15 to 66 years of age. What an insult to injury. Daughter had to go up to cash register to finally get the toast. When waitress brought 2 of tickets to table, told manager was still trying to figure out the wrong orders on third ticket (1 1/2 hrs. after order taken), then proceeded outside to "smoke". At least 10 more minutes of waiting. the waitress came back inside and ask if we needed anything. When reminded waiting for 3rd ticket, she went to register and rang up a receipt and gave a $6.00 coupon to be used later because couldnot figure out how to "fix " what she had put in. Yes, it was a very busy night after Friday night HS football, but no excuse for rudeness or bad service. The waitress made excuses to the whole section we sat in that she was in charge of. Would leave in middle of taking orders because she would remember what she was suppose to already have done! Our table of 8 would not even had gotten silverware if it had not been for another waitress seeing our needs when food brought out! Manager was not seen in the 2 hours we were in Denneys except for when waitress brought her to table to see if order could be corrected after waitress put it in, useless!!!! The Denneys I'm complaining on in on East Dixon Blvd., Shelby, N.C. which my family has been going to since it has been open. Will probably try The Waffle House from now on.

I am writing to you from Hamburg, NY the location of your camp rd location. I will start that saying I am in the professional EMS field, I also am a Volunteer Fire Fighter. I am sad to say that along with the police agencies boycotting your restaurant, the EMS field will be added to that after today's incident.
Me and six other on duty EMS Paramedics went to breakfast at the camp rd location. We parked all three ambulances in the parking lot, and all walked into the restaraunt in uniform, (jackets, hats, uniform shirts, radios, and bulletproof vests) we were taken to a large table where we were waited on by Carmella, a very nice waitress.
We ordered our breakfast, and several glasses of OJ. While waiting on breakfast, Carmella brought out all separate checks for me and my other paramedic coworkers. I was extremely thirsty after working a grueling 13hr shift so I drank my OJ rather quickly. We were talking for a bit, waiting for our meal. Eventually it arrived to the table at a Luke warm/cold temperature.
We were less than pleased but ate the food none the less. Before Carmella took off, I asked for another OJ, to which she replied "sure, is this your check? I have to add the second OJ to it". My partners all looked at me in disbelief. Not only was our breakfast mediocre, you are going to ask for the check back to add a $2 glass of OJ onto it?
Now I wasn't as mad at that part as I was the next part. Upon paying for our meals, we were notified that there is no discount for EMS or Fire, the cashier says she only has a Police discount. I am in complete shock... I would like to be contacted via cell phone to speak further about this issue.

When walking in this morning into the dennys located at 9545 W Flagler st I was prepared to wait for a table as well as for my food but I was not prepared to be skipped while waiting for a table because the gentleman at front serving as the host was calling the wrong name or to be treated as if I was out of line for pointing out that my husband, young child and I were skipped. Nor was I prepared to wait while sitting at the table for over 20 minutes to be acknowledged by a waitress who's walked by our table at least 10 times now or to have to flag down a bus boy just to get a glass of water. I understand that they are busy but at the very least I expected to be acknowledged and told that they would be with me soon. It has now been 30 minutes and throughout the process of my writing this message I have yet to be tended to.

Myself and two grandsons went to Camp Road, Hamburg, NY location on 08/27/2013, arriving at 11:00. My grandson's 8th birthday, because they love your pancake and pancake balls. Was seated right away...never saw anyone for 10 minutes..finally hostess took drink order...10 minutes went by. Asked when we could place order..she said she did not know..another five minues.i asked if we would be served if we moved (about 10 tables were filled). She said that she would have to find one to clean off!!!
Finally waitress comes, says she is really busy and would get to us when she could. Another 10 minutes..realy should have left but the kids wanted pancake balls (THAT WAS ON THE MENU I WAS GIVEN).Placed our order of tow pancake meals/one kids meal. Then told they don't have the pancake balls that we wanted. Food came...1/2 of one meal because she sent back burnt eggs (burnt over easy eggs??) cold toast,no butter, one syrup to split...then I finally walked back to kitchen where everyone was just standing around..because the macaroni and cheese was ice cold. Waitress handed me the eggs to take back to table, reheated the m&c probably for the 10th time that day. To beat it all
we were just trying to get thru this meal when the BUG EXTERMINATOR walked thru the restaurant to the kitchen!!
NEVER, NEVER, NEVER, NEVER AGAIN!!!! PUKE WOULD BE BETTER!!! SERVICE WAS THE WORST. I even told a couple coming in to leave as fast as they could. oh, and while sitting there, a man told the air head hostess that it was the worst service he had ever had, she just smiled and said "COME AGAIN". Another couple had their bill taken care of by some unknown woman who came out of the kitchen.
All the free coupons in the world will never get me back there, but you can be sure that I will tell everyone I can about the terrible service, food and attitudes at this restaurant.
I never should have paid for the $28.00 worth of food that I imagine is still sitting on the table.

Really upsetting when the restaurant requires you to print up the coupons that are on my iPhone app when there is a code that they get from the app and they can enter it into the register without printing out a coupon. They had taken it before and entered it and now there is a sign on the door that they require a printed out coupon and will not accept coupons that are on the I phone without it being printed out....what is the sense in having the app then in the first place especially for us that have no printer. Wish Dennys would get together on this and before offering anything like this all need to agree to it....in the beginning some had not even heard about the app and had to ask th to inquire about how the 50 states challenge works for their restaurant...I have 11 coupons on my app and cannot even use them now. I am so disappointed because I eat at dennys quite often and cannot take advantage of these coupons that I have earned. Makes me want to find a different eating establishment that will stand behind their offers.

Me and father went to diner on 02/05/2013 in Moses Lake, it was the worse place to eat, food was cold, the service was horrible it took us over 30 min to get served and on top on of that when we did get our food it was cold it was wrong stuff we order .
There was no manager on duty only a cook who was horrible and a waitress who was the only one working with at least 15 tables who did not know what she was doing. there was Other people complaining in the restaurant as well.
When I call to complain the manager NEVER called me back so he does not even care as well.
Spent 30.00 on a horrible dinner, it was not worth it.
I will never go there and never recommend it to anyone

Early one morning, about three weeks ago I was having breakfast at Denny' located at 11320 North Freeway Houston, Texas 77037. I was sitting at the counter eating breakfast when a young black employee came out from the back kitchen removing his dirty uniform shirt and tossed it on the counter where I was eating.This employee was waiting for his ride home. Please train him, his actions were rude and nasty. Also on 5/1/2013 I had breakfast and find some of your Spanish speaking staff to be very unfriendly . I used to go to this location very often because I live near by and the food and service was great but I find that the Hispanic wait staff is not very friendly. I see that they don't like to greet customers as they walk in. I believe that this is something in their culture that they do not do. I also am Hispanic and I find your Hispanic staff unfriendly.

I was eating breakfast here when i saw the sign underneath the tv with the channels listed. One of them was CMT Country Music Television. So i asked to have the channel turned on. This restraunt had all african american workers who were obviously offended by the country music. A worker came out and said nothing but news and sports on the TV and changed the channel. Needless to say CMT is written on the sign in the upper right hand corner. I spoke to the manager she said im sorry gave me my coffee for free and asked if i wanted the channel changed back i said no im leaving. How ignorant and rude to change the channel? Definately a racial issue if i wanted BET on i bet there would be no problem.

I ordered a simple grilled cheese sandwich with fries. What I got was two pieces of buttered toast with a slice of cold cheese, straight from the refrigerator, of course, in the middle. The fries were less than half cooked. All of this was served without silverware and a napkin. Despite asking for them. And the manager was "awfully busy right now so she can't take your complaint. She also won't get any more of my business.

my family and me went to dennys today to eat lunch and to get a to go order. when they brought our coffee out it was cold and while we were there we got it refilled one time. and we were there for about an hour. then i order my son a strawberry banana smoothie and he ended up getting looked like strawberry blended with ice. which he did not drink so i wasted $1.49 on that. not counting the 2 coffees we had that we wasted 2.49 on. we got our food which looked like they put kid size amount on for fries and hashbrowns. the one had pancakes and they were over cooked and rubber. after we ate we had to remind our waitress we ordered a 2 go order. she ordered the sampler to go and subsituded chhese fries for the onion rings. well we got a half order when we ordered a full order. when called and asked to speak to the manger he told us that he made a half order and argued with us that the half order is what we ordered. when i told him we had the reciept he then said well come back and he would refund the difference is all. the service was rude. i now decided i will either not go or to drive across town to the other dennys.

My family and I was going to eat at Denny's in Franklin, Ky. We were waiting to be seated and no one even acknowledged we were even there. After about 20 minutes or so, the people that came in right in front of us was taken to their seats and then the hostess came to us and told us we were goingto have to wait til they had time to clean tables and it will be at least another 15 mins . There were a dozen plus tables empty and wasn't any reason to make us wait any longer. I told her we were not waiting and she acted happy we weren't. Well Denny's, I am sure Cracker Barrel was glad to get our $50.OO plus. You need to give your employee some training in customer satisfaction. This happen March 17, 2013 about 1pm

Just heard about your franchisees comments about Obamacare. I've been eating at my local Denny's 3-5 days a week for over a year now, but no more. I didn't even vote for the guy, but that's one of the few things he at least tried to get right -- he just didn't go far enough! Please pass my condolences along to your franchise holder in Houston because I won't be going back again, ever. That's what happens when business tries to throw its weight around in politics in this country -- you alienated HALF your customers. I just hope it gets more coverage on the news so ALL your customers hear about it.

on 2/12/2013 my grandmother and I came into Denny's located at 110 Bonita RD Chula Vista, CA 91910 . I was served food off of a dirty plate. i noticed it after i had consumed almost a majority of my food. once i noticed it i brought it to the waitress attention. I specifically told her this is how people get food poison. They removed the fee for that item i purchased, but we honestly we do not know if every plate we ate off of was dirty as to the silverware. i noticed dried up green stuff under may pancakes. if i didn't remove my pancakes to another plate i wouldn't of know that i was eating off a dirty plate. I am curious that when the plate was plated did the chef see that the plate was dirty? i felt the whole bill should of been dismissed and we should of got a gift card to eat a free meal at our leisure, at any location we chose. i haven't called the health department yet because i wanted to address this issue with your company first. Thanks , Angela order#617971 table 16 guest 2 server Alejandra D. i do not blame he server as much as i blame the person who plated the plates.

I was in the Denny's in Jackson TN on 3/5/13 at around 11:30 am at exit 85 on I 40 I set at the counter for 20 min no one asked to help me two other people set down two waitress help them right away did not even ask me anything . Took there orders and walked off . As a business owner my self of a trucking co. Who's driver eat at Denny's all the time because pilot is my full stop maybe ill just put a stop to this and change my full stop and not eat at Denny's ever. This was the worst treatment I have had in a business.

Me and my wife sat in the parking lot 8/17/2023 about 7:30sm a car pulls up you can't see in our windows so we watched a female passenger and a man driver drinking little wine bottles. To my surprise the passenger was a waitress at Dennys. I'm a business owner myself. This real disturbed me while they drank wine an used the n word about 100 times. The passenger get out and she's a server. I tell my wife let's go sit in her section. Not only did she smell like a bar her additive was crazy. we heard her cursing under her breath every time she walked away. She had a cell phone that kept ringing that was more important to her. That's sad I would never hire someone to represent my company like that. Her name was Natasha Jackson. The alcohol on her breath was so loud it ruined our appetite. Our kids were disappointed in the service. We got ready to leave we hear naytasha threatened an other waitress there. The other waitress had tears coming down her face. Thank you. Worst drunk waitress.

The dennys on sand canyon in canyon country ca . If I wanted to wait an hour to eat then I would of just came in and sat down .... I called and placed an order to a rude and short waitress who still made me repeat my order 3 times before she got it right . She says 15 min and hangs up . No price no nothing . I show up 20 min later and see this angry Asian woman asking me if I need some help and I just want my food .
She say five more min makes me pay and then avoids me for an hour not just her the whole staff Untill my order was ready ........ I just ordered country fried ste ak and a blt sandwich .... She hands me the order faces the other way stretches out her ARM and says bye bye thank you .
I tell her I want to complain she ignores me . My experience sucks , my food tasted like shit under cooked and how do you make a toasted soggy sandwich ?!?!?! Today was the final straw that broke the back . I WILL NEVER EAT DENNYS EVER AGAIN.
I'm going to tell all ky costumers and friends work collegues and everyone to never eat dennys . Only reason I ever go is because everything else is closed . Next time ill go to 711 and buy a hot dog . I perform in front of hundreds monthly .. I will be advising them too .. it wasn't just this one time this is atleast the 10 th time I've been dissapointed

None of our three orders were received correctly. One order was T-Bone/Shrimp. Her order had no shrimp., and the steak was well done not medium rare. My order was Sr. Shrimp,green beans, mashed potatoes, country gravy and soup. My husband ordered Sr. Country Fried Steak, Mashed Potatoes, Corn, Soup. My Husband and I had to switch veggies. Our soups were all luke warm, and my potatoes were cold by the time I got the gravy.
I realize the server was new, but she did have a trainer, and the restaurant was not busy at all for a Friday Night @ 7:30 pm. I know the order
didn't go in the computer correctly as the check had an open item for $2.00 and when I asked what the charge was for they said that was the amount added for the shrimp on the T-Bone Steak Dinner. In other words to whole order went in incorrectly.

My brother and i went to denny after church hoping to enjoy a great meal. Most of the evening was fine but i just got hone to look at my recipt and realized i was overcharged! We made our own burgers and ask for a 2nd patty which is said to be 150 but i was charged 439 on both of ours which iis ridiculous.

on 2/12/2013 my grandmother and I came into Denny's located at 110 Bonita RD Chula Vista, CA 91910 . I was served food off of a dirty plate. i noticed it after i had consumed almost a majority of my food. once i noticed it i brought it to the waitress attention. I specifically told her this is how people get food poison. They removed the fee for that item i purchased, but we honestly we do not know if every plate we ate off of was dirty as to the silverware. i noticed dried up green stuff under may pancakes. if i didn't remove my pancakes to another plate i wouldn't of know that i was eating off a dirty plate. I am curious that when the plate was plated did the chef see that the plate was dirty? i felt the whole bill should of been dismissed and we should of got a gift card to eat a free meal at our leisure, at any location we chose. i haven't called the health department yet because i wanted to address this issue with your company first. Thanks , Angela order#617971 table 16 guest 2 server Alejandra D. i do not blame he server as much as i blame the person who plated the plates.

There was approximately 5 customers in seats, I waiting to be seated for 12 min and then when I sat down at my table it took literally 20 to get a drink order, when it was time to order my food I did not get my appetizer, when I got my food I only got half of what I ordered! I am sad to say each time I come to this astablishment I get poor service! I will not be coming back to this Denny's ever again.

The wireless internet service for Denny's restaurants in the Columbia,SC area has not been working for over a month now. This service is provided to Denny's by TurnKey Solutions. ALL customers with laptops or tablets are unable to get past the login screen, indicating a network problem affecting several locations causes by software failure or corruption or physical failure of a router or server at a regional level.
The manager of the store on Fairfield Rd. in Columbia has made several efforts to get this looked into by Turnkey Solutions, who don't take this matter seriously because she isn't a networking or IT specialist. Well I am one. This problem is causing a lot of dissatisfaction among regular customers and truck drivers who expect a working internet connection at Denny's nationwide.
It's also costing the restaurant to lose customers, and money. Prompt attention to this matter at the corporate level would be greatly appreciated.

i went into denny's for brunch in Lynwood, CA by imperial and long beach blvd with my sister and her kids and the wait to even get our drinks was horrible. the restaurant was not even full. the waitress by the name is jocelyn must have been having a bad morning or something because she even started arguing with me about what wanted to get telling i was dumb.
they messed up our order and she was upset at us for sending the food back. we could even hear her in the kitchen talking about us. the restroom was so dirty as well. when i talk to the cashier she dismiss me and when i spoke to the manager the waitress was standing behind the counter talking about us in a horrible way. its not like we did not pay for the food because we did. this was the worst service ever. i will never go back there again!!!

To who it concern myself and some friends come to eat last night to the Denny's on Atlantic blvd. What we got was a dirty place servers out front smoking in front. Server Kim uniform is so dirty how could a business let a server work there, I watched her pick shit up and not was her hands. Then she rubbed her hands on her clothes then fixed a customer something to drink. The night time manager looked stone she didn't care the place was dirty. Them my friend asked a server name Kristen something to drink she never came back but was spending time at some table on one side which only had one person on it. Overall will not recommend this place to no one but will put it out to people that this the worst place to go at night. Bravo to the black male server. On Thursday night for taking care of his customer and getting my other friend a glass of water. I think his name was Kenron

Joe Shapiro
from Tampa, FL
Service is terrible, Waitress really did not care if we ordered anything, something must be on her mind but not her job. I have been going to Denny's all over the US for 30 years before they were even called Denny's. Food not acceptable to my standards, cold, too long to arrive. I really enjoy Denny's as I like their breakfast 24 hours a day. Since this is the closest one to my home I will be going less as I have to drive much further to a better managed and serviced location. Someone is definitely not managing properly or does not know how to hire employees that are interviewed properly and screened to be people friendly and competent. I have run a small comply of over 200 employees and my managers are and were responsible to hire qualified people. Sure at times there are slip ups but my managers would retrain under achieving employees to give them a chance to improve there job skill before they need to be eliminated. Everyone deserves a chance, but I will avoid the business on Fowler Av. Tampa
The good side. I am taking my family and grandkids out to Denny's within a few days or but not to this location. Thanks in advance Joe S.

MD MCAFEE
from Kingman, AZ
Denny's,3300 E Andy Devine Ave, Kingman, AZ 86401 (928) 681-4983,Last week my wife and I who are in our 70's and senior citizens of this town, went into Denny's as we usually occasionally due and grabbed a bit to eat. "While" we were eating, 3 tables away and man and his "DOG" was seated inside the restaurant. Are you kidding me???? Animals in an eating establishment now????? My wife and I quickly finished our food. My wife went out to the car, while I went to the cash register to pay and complain about the "DOG"! I did not get the fat mans name at the register with a Denny's black shirt on but I began to inquire as to "why" is there a DOG in the eating area, when he "bluntly" said "Service Dogs are allowed in our restaurant, what's your problem?" Not only am I in my 70's and now living "unheard of" antics by today's society like DOGS in an eating establishment, but with no remorse this fat man (manager?) just kept sassing me one rude phrase after another, "Can't help that you don't like it", "Service Dogs are allowed in the restaurant", "it is now an ordinance that we must let Service Dogs into the restaurant'. Guess what Denny's,,,,,,,,,,,,,we will never go into a Denny's again !!! You can take your 2,4 6, 8 and shove it! There are many many many other eating establishment to choose from. This crap with Service Dogs has got to stop some day, Because as you well know society will over due any and all privileges you give them. then he noticed that I was a Marine Veteran, and made an attempt to probably give me a discount - when I say "are you kidding me"? And after I paid I walked out. There was no yelling or confrontation other than at the cash register. Others looking and listening smiled at me when I exited. That is all Denny's, all indeed! Do not email back with some "stupid cloned response", I do not need it.

Courtney Whitfield
from Long Beach, CA
Ordered online today to pick up and literally EVERYTHING in our order was wrong.
Ordered french toast slugger, only got the french toast.
Ordered the new berry pancakes, and they forgot the strawberries.
Ordered a loaded breakfast sandwhich, with gluten free English muffin, got regular. I order
ALL eggs were ordered over easy, ALL eggs came out over hard.
Called a manager as soon as we got home (10 minutes after picking up) was told to go back and once we got there they said they didn't know what we were talking about!!! What the actual heck.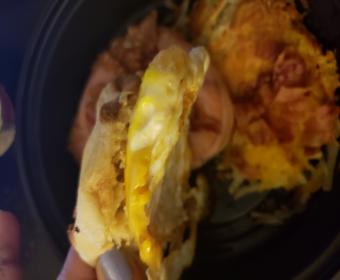 Alicia Espinoza
from Hurst, TX
I had breakfast at the Denny's Restaurant i#7231 located at 8025 Glenview Drive, North Richland Hills, TX (Tel.# 817) 284-8991).
I have an issue with the 10% -Discount offered to Veterans. When I paid for my meal, both Cashier and Manager refused to honor the percentage and only credited $.44 when the 10% on bill was to be $1.03. I can't believe these people couldn't adjust my bill and/or give offer the difference back. This is what other restaurants do. Furthermore, these two made me feel like I was wrong instead of the cash register and/or restaurant practice being wrong.
This is not the first time this has occurred at this restaurant. Something needs to be done, like a correction. I refuse to dine there anymore.
Thank you for your time....
Alicia Espinoza
Cell: (817) 584-1402

The wife and I went to the Denny's in Warrenton Missouri ( July 4th). After we where seated we waited 15 minutes for a waitress to take our drink order, never happened. I'd say there was maybe 4 or 5 tables with other customer's so being busy isn't a excuse. For some reason this location is always under staffed. Every since this store reopened after being remodeled its been bad. Several thing's taken away, biscuit's, dip able veggies. People leaving.

David Edmond
from Las Vegas, NV
On July 3, 2018 I was working our high school football firework stand adjacent to your Denny's located at 6300 W. Charleston Blvd, #110, Las Vegas Nevada 12:00 am to 6:00 m shift.
At approximately 4:00 am I had to use the lavatory and walked to your facility and the above address. No familiar with the establishment, I accidently walked through the emergency door at which time an employee approached me and asked if he could help me. I explained who I was where I was from (Bonanza High School) working at the firework stand adjacent to his facility.
He informed me that I would have to order a "side order," in order to use the rest room at Denny's. He proceeded by saying that they had a number on non-paying customers coming in to use the facility just to use the restrooms and directed me to use the bathroom at the Mobile gas station "down the street." I reiterated that I was on the coaching staff at Bonanza High School with my picture identification around my neck. I even pulled my identification up closer for his review and he proceeded by saying "well we have had people tow years older than you," (as if he knew my age) coming in to use the rest room. He indicated that they had the policy posted on the front door (which I admit I didn't enter). I then ask him if I purchased a cup of coffee would he allow me to use the rest rooms and he said yes.
I left and drove about a half mile east to Starbucks.
I did speak with the manager Penny Kevorabouth July 4, 2018, who understood my concerns and explained that a non paying customer O.D. in the rest room recently while this same employee was on duty and he almost lost his job. This wasn't my concern because opioid use and O.D. can happen with paying or non-paying customers. She did agree that the employee should have used better judgment once I showed him my Clark County School District identification.
I ask if he would deny an off duty law enforcement officer access to the restroom he/she requested to use the restroom without making a purchase?
Posting the on the front door of the facility "Res Rooms are for Paying Customers," appears to be a practice not policy. If you say it is your policy then if I request to review your policy then you should be able to produce it otherwise it doesn't exist.
My number is 310 367-3659.

Sonja L Smith
from Orlando, FL
Went to Danny's about 2 am the service was horrible . The waiter came out took our orders. The food was prepared and sat in the window about 15 or 20 min the waiter was told by another waiter that she had a order up . i hear the other waiter say that the food had been sitting there to long and it was probably not warm .even after being told she still proceeded to do everything else but bring the tray. I spoke to the manger on duty he was so nonchalant . i eat at Danny's all the time i don't think after this i will return.
Thank you

Lyle L Young
from La Crosse, WI
My wife and I stopped at your diner in Hudson WI on 06/26/18 we waited a short time to be seated, upon getting seated we were ready to get up and leave, the floors were filthy with garbage, napkins, paper, dirty all together, and most of the seat booths were all taped with duct tape! really, you call this a restaurant, we are both retired and were hungry, so we stayed, but thought your prices seem pretty high also, quality of your food was not impressed, we are going to take Denny's off our list to stop at, you should be ASHAMED because it sounds like most of your Diners get the same reviews. WAKE UP DENNY'S

Sharon Madden
from Riverside, CA
Went in. Not acknowledged.seated down far away from entrance with no hello, be right with you or anything. Sat there for over 5 minutes with no service. They were not busy. We left. Denys on main street in Hesperia, ca

Jolanta Mulcahy
from Las Vegas, NV
Hello there,
We were coming back home in Las Vegas from CA vacation and stoped by Denny's in Barstow, Ca on 2511 fisher rd to have some dinner. Omg...we got a table under the ac vent, in a corner (5 people)..while we re eating, something fell on my plate...bug!!! Crawling larva!!! From dirty, dusty vent in a ceilingDisgusting..the server Cassandra took it to manager in a napkin. Manager didn't come..nothing..I went to pay a bill $42.93 and my mom mention not having a pleasant experiance. What did mgr say?! "I know, I will take care of it, I will clean it up" No sorry, no explanation, nothing! It should be taking care before we came, not after!!! I didn't even finish my meal. Still can't eat anything. Bugs, larvas falling on your plate while you are eating. Let me just say if I would be a mgr there, I would pay for our meal from my own pocket! What a shame and lack of basic customers skills.
Jolanta Mulcahy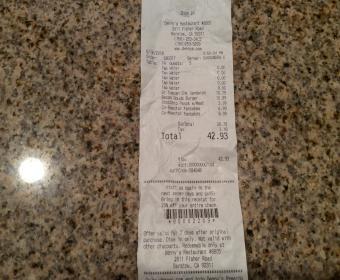 Reid Paez
from Boca Raton, FL
I ordered using the Uber Eats app. When I got my order I was shorted my hashbrowns. I called the store and they put me on hold for a very long time then Evelyn came on and said she was the manager. Her attitude from the start was rude. I explained the situation and she said she wasn't sending uber eats back and could not refund me either as I will have to call Uber. She was so rude and unconcerned that her store screwed up and is now causing me to have to waste my time calling her rude ass as well as now I have to go spend time on the phone with Uber to get a $3 refund when all I wanted was hashbrowns with my eggs. I understand people make mistakes but Evelyns attitude was so rude RUDE when she was the one that made the mistake. Cannot express enough how pissed I am at the way she treated me. I am definitely spreading the word on this. Eveylns store is: 1311 W Palmetto Park Rd, Boca Raton Fl 561-368-3212

Donna Kitaoka
from Gardena, CA
My family went to the local Danny's in Gardena on western ave. My daughter and I had the grand slam special for 5.99. My daughter usually loves the pancakes but there was a hair cooked inside the pancakes and it was sticking out! The waitress said sorry and took it without asking if she wanted a replacement which she didnt. The waitress came back saying the cook is making another my daughter said no thanks and I wouldn't touch mine. Needless to say the manager Never came to apologize and the waitress said he would give us 10% off our meal which to me an insult. The cooks weren't wearing any caps or protection from this their hair can go in anything giving me. $4 off a 40 bill with no remorse Insulting!!!

debbra yaccarine
from San Jose, CA
My friend and I went to lunch, I ordered Salad with Fried Chicken, my friend ordered a Bird with French fries.
My Chicken was so crunchy I thought if I ate it, I would crack a tooth. My friends fries were cold and over done, actually orange colored. She asked for them to redo the fries and she was told the oil was OLD, they were working on changing it right now, she brought out more fries but this time they were floppy and undone, like they were dipped in cold oil, kind of water logged, hot, but still yucky, by the way, the waitress said, sorry the oil hasn't been changed yet so that the best she had. My chicken was cooked in the same raunchy oil. She offered a 20% discount, however I was more worried about my tummy.
very disappointed.

Gary Mixson
from Atlanta, GA
I went into Denny"s .And the watier came to the cash register.And I told her that I had a call in order.And then I told her that I would like order a drink and. Was tell what I wanted and. then started walking away and I this what I wanted and I said I need you to come back and take my order and she refused to take my
Order.So I went and told the manager there water wouldn't take
My order .And I. had my video camera on and the manager was apologizing for the behavior of the
Watier.I was discriminated against
She refused to take my Order.

William Christopher Jones
from Denver, CO
The employee did not acknowledge that I even existed once I asked if he took orders he yelled with an attitude telling me to wait while he did something on the pos and approached in a way I considered to be hostile. I think it was racial discrimination upon speaking to others who shared similar experiences and seen likely accepted behavior by management. I don't expect anything to be done and am sure Mr. Todd will continue his lack of customer service.

Denny's Restaurant #0818 on 4/13/2018 at 2:23 am Order #431764 Server: Elizabeth R
Table:162
Ordered 2 Spaghetti & Meatballs with extra meatballs and extra sauce. I was not given extra sauce and the orders were half the size they should have been. It didn't taste near as good as the last time I ate here. The waitress overly flirted with my husband. She was so busy flirting, my order was all wrong.

Mary goff
from Columbia, MO
The service was bad we waited to get all are food the server want on brake didn't make should that we got are hole order and more coffee had to wait for bill twenty minutes or more the girl hostess came by I call her over to ask her where the waitress was the waitress name was Kevin a the hostess was good her name was Deja

Olivei Field
from Kansas City, MO
The waitress brought us menus, brought us water, took our orders, cleared & washed a different table, swept the floor,
refilled a syrup container, and then picked up our orders and brought them over to the table all without washing her hands.
I WAS WATCHING HER the entire time and hoping that she would wash her hands before handling our orders, But she did not.
We were at the Dennys Restaurant on 3832 blue Ridge Cutoff., KCMO. We arrived at Dennys on March 4 th at around 3 0'clock.
There also was a Caucasion cook who was hollering at an African American waitress. The race really does not matter, but I am just
trying to point out who was involved. The cook was irritated because we ordered something that your restaurant was out of and the waitress had forgotten. I know that when people go out to eat they are spending their money and want to leave their problems
at home. It was disturbing to hear the cook's continual comments about this mishap. She told the other cook, "I told her before
that we are out of that dish!" I thought that this was disrespectful and showed poor judgement. We really did not enjoy our stay because of the friction between your staff members. Your staff needs to speak and treat each other with kindness and respect, even if they are under pressure. The restaurant was not that full for there to be that much pressure. The customers should be able to have a pleasant, stress-free
environment away from all the the confusion (of their own everyday life.) They --we-- should not have been forced to go thru these
"negative changes" while we were trying to eat out, get away from our problems, and have a good outing. Your staff messed up our day.
We were celebrating my husband's birthday. We are an older couple and we have enough problems due to age and finances. Please tell your staff that they are being watched and heard and that every customer's experience should be one that is pleasant, enjoyable, and trouble-free.
There should not be so much tension and disrespect shown toward staff members.

Raeann Cushing-Laurent
from Renton, WA
We were in Las Vegas last week and on Saturday night we decided we would go to Denny's just off of Freemont Street. We were seated right away, the restaurant was not busy, and we waited about 20 to 25 minutes and no one came up to us to ask if we were ready to order or just to ask us if we would like something to drink. We got up and on the way out the door, my husband told the guy at the front that next time he sat someone around the corner to maybe remember to tell the waitress. Friends of ours were also there for the race and they stopped at that Denny's for breakfast. When she got her coffee the coffee cup had stuff on the handle and the side of the cup. She asked for a new cup that was clean. They did give that to her, but when they got their breakfast it was cold. Now I would think that a restaurant in that popular of a place would be a bit more mindful of their jobs and how they are representing your company. Because of this experience, I am going to think twice before I ever step a foot in another Denny's and believe me when I say that I will let my friends know not to visit the Denny's just off of Freemont street because of dirty dishes, cold food, and the nonexistent service.

Glen Thailing
from Mentor, OH
Hello, I'm not the type of person who spends time complaining about bad service. I would usually just never go back to a place if I was unhappy about bad service. In this case I just wanted to let you know how bad this is.
I placed a order at dennys.com and headed to the restaurant to pick up my order. I showed up 20 minutes after placing but when I got there she said it would be a few minutes. It took them 20 more minutes to come out with my food order. When I got back to my hotel there was no plastic ware or napkins in my bag. No condiments in my bag. When I opened the food it looked like it was sitting around for awhile already but worse of all my cheeseburger was not made to order as described on my receipt. After all that I said o well and went to pick up my burger. They did not put a bottom bun on the burger. No joke. I felt like I was on candid camera or something. The worse part is, the restaurant was near empty and really zero reason they would be so lackadaisical ???
I'm attaching my order confirmation,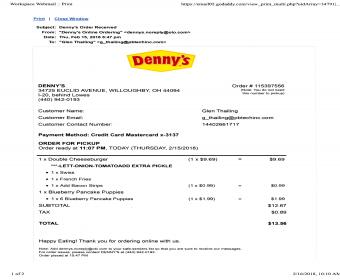 Sandra Nunez
from New Port Richey, FL
I went to eat my birthday breakfast on January 31, 2018. It was my 51st birthday with my cousin. We received absolutely terrible service. We waited 20 minutes for a waitress. I asked for 2 eggs over medium with hash browns. We did not get our order for 30 minutes at least. When we got it mine was not over medium because the eggs were so runny and cold. The hash browns were hard and dry. I didn't send it back because we waited so long for our order. I ate the hash browns and toast. I was so sick to my stomach when I got home. I've never had such terrible service at 4442 US hway 19, S New Port Richey, FL 34652

Nadine Hoffman
from Altoona, PA
Went there on lunch break about 12;45....it took over 40 minutes just to get an order of egg whites and an English muffin. No offers for refill of drinks or coffee. No apology made. This was by far the worst experience ever at any restaurant. Poor slow service.

Lisa Abdelmalak
from Dearborn, MI
On February 8th 2018 around 8 p.m. My family and I went to Denny's located on Brookpark Road in Cleveland Ohio. We were seated asked what we would like to drink I ordered a dr. pepper, my husband ordered Coke, my mother ordered coffee and my four-year-old son ordered chocolate milk, we then proceeded with our order. We were very unhappy are sodas were watered down, my mother's coffee was lukewarm, I was really upset when my four-year-old was served spoiled chocolate milk and the waitress was very rude took the chocolate milk to the front where another employee started laughing because my four-year-old was served spoiled chocolate milk, our food did not taste fresh, there was a hair in my French fries, the bathrooms were not cleaned and the restaurant itself smell like mildew. With having a bad experience like this makes me not want to return to Denny's.

Judy husk
from Lafayette, IN
Today (February 7th) my husband and I went to eat after i got off work and when I ordered the pot roast melt and potatoes and gravy my pot roast and bread was burnt this happens all the time when the cook Robert is working plus I had to pay extra for the gravy we went in couple weeks ago and my friend has never been in Denny's before and her pot Roast dinner had no carrots or celery that goes with it and they turned 10 people out because the cook Robert couldn't handle any more orders plus the waitress told them to go to ta or Denny's in lake Station the attitude of the cook is horrible he yells and argues with the waitresses and all of us customers hear it I been going in Dennys in portage for a long time and there is no sense of the treatment you get in there the one that was manages today was Patty and she has a attitude also if it keeps up my husband and I will start going to Lake station denny's !

maritza garcia
from Fort Worth, TX
I had pancakes and there was hairs in my pancakes. All the server did his give me a 5.00 to discount my food manager never come out to talk to me I find very rude it a disgusting.I work doing taxes in buckeye and have over 320 I will tell them what happen
I went to the buckeye az 85326 order -366641

DALE
from Chula Vista, CA
On Thanksgiving night I know you were one of few restaurants open in Corpus, but Denny's is around the corner from the house on South Padre Island Drive. I went there about 7 PM for a cup off coffee and a chicken avocado salad. The waitress took a while to bring the cup of coffee and then walked off, when she came back by with a tray of food I asked her to stop back by the table.
I want to know what kind of waitress brings you the coffee, no spoon, no napkins and no cream. I let the coffee set there for about 15 minutes, I did notice one of the managers kept looking at me and I took a pack of sugar and had it in my hand and was kind of lightly tapping it on table wasn't making any noise. Finally after I was totally ignored, I just got up and walked out the door without drinking the coffee and I hope the waitress enjoyed paying for my meal I did not eat. I must say the Whataburger was very good and the Service was much better and politer.
I am an old person and very financially stable and can do what I want. I must say Denny's won't be seeing my business and I also told my room mate who often goes there and is in the restaurant service business as well.
alternate contact dale.dubose@navy.mil where I am at today.
Corpus Christi Resident

Linda White
from Sacramento, CA
I was at Demny's San Pablo Dam Rd in San Pablo the waitress was coughing on the floor wiping her nose i ask that she work wih a mask or in back she continue to cough on customers these guys got up a left very unprofessional her name is Sondra the Manager didn"t want to give her name she had frosted blonde hair will be contacting health department days later i had symtons of a cold

María Isabel
from Houston, TX
No good service and propale that arrived there after me got their drinks and their food first than us even though we got there first and they had the same amount of people. We waited like an 1:30 and we had to leave. I prefer ihop now after this experience. They dont go by órders which i find as Band service.

Joanna Garcia
from Rowland Heights, CA
I usually call in my dinner ahead of time & go pick it up to enjoy at home. Today I did the same thing & I always check to make sure everything is ok like no lettuce in my sandwich & pickles on the side. Well when I was checking for all this I noticed how little bit of french fries I was given & I really thought the guys were playing a joke on me & I asked the Manager (he brought my food to the register) if this was serious about the amount of fries given to me & he said yes that's the amount we always give. I said NO way!! I order almost weekly and have never ever received such a little amount of fries and I went on to count them in front of the manager and there was literally 9 french fries spread amongst the sandwich like 2 on the right side & 2 on the left etc... I went on to ask him if this was serious & not a joke!! He said well I can add 2 more fries!! I started laughing and said no thank you if you are saying this is the amount you usually give then so be it. I KNOW I always get way more than 9 FRENCH FRIED!! I even get more Onion Rings at Jack in the Box!! I get 11 Onion Rings because I have worked at a Jack in the Box many years ago. I then checked the ONE piece of bacon that was hanging out of the sandwich & it was crispy as I requested not knowing I'd ONLY get ONE piece of bacon!! I also asked for CRISPY WHITE TOAST for the bread and if that bread wasn't drenched in so much Mayonnaise it might not have been so soggy!! I DON"T understand what's so hard about making a damn Club Sandwich!! Unbelievable!! I'm thinking about changing my Saturday night dinners for something else like maybe Jack in the Box!!!!
Feel free to call me at 626-626-5522
Or Email me at sisjoanna@aol.com
I went to the #8508
Server was: MONDO
Customer Order # 233655
Rowland Heights Denny's at approx. 7:13 p.m.
I paid $12.01 & was HIGHLY DISSATISFIED!!

Trevah Thompson
from Des Moines, IA
Me and my husband live very close to this location and we love that Denny's restaurant. the people have always been pretty good . They are nice, even tho they usually mess up our food but we didn't mind so much cuz they're always so courteous and made it up to us ,well I can't say that for this time as I placed my order I was asked repetitively the same question over and over as if she wasn't even listening then I said to her for the third time did you get everything would you please repeat it back to me and she did it sounded okay. my husband gets there , brings the food home there's no mozzarella sticks , the ranch dressing was not ranch dressing they screwed up my entire dinner so now we had to pack up the food like they asked us to do and bring it back to the restaurant so that we could then enjoy waiting on them to complete our order that should have been done in the first place. I find this highly ridiculous. by the time my husband went back for the second time and when I spoke to the girl she was the one that took my order originally she was not sympathetic at all she could seem to have cared less that she screwed up the order nobody offered us any compensation for us having to drive back out at a cold night to get our food we can even eat dinner together he couldn't eat his Burger in front of me knowing I'm hungry and he's starving and then now I'm having to get on the phone and deal with people and this is just ridiculous I have not in a million years ever experienced such bad customer service this is truly just disappointing all the way around the Spectrum I'm a supervisor for Starwood Hotels and Resorts worldwide who have now joined with Marriott to become the largest hotel company in the world I am a manager in the customer service department so working in customer service I don't normally complain because I do understand how things go but this was truly truly sad I hope that someone does something about that very soon because you're going to lose a lot of business and there's going to be a lot of disappointed customers if this continues moving forward I expect some sort of compensation to make it right I do not like walking away from one of my favorite restaurants with a bad memory knowing or feeling like spending my money is a waste of our time there.

Sonny kitzmiller
from Honolulu, HI
Hi today me and my family had came to Denny's restaurant on Oahu and we went to Kapolei and it was so terrible ..... First of all I want to say that I hope that waitresses never get in trouble because it wasn't her fault.... I want to make a complaint because we had order and our food and we had to wait along time.. The girls name was ashlyn and we had watch her because it got busy and she was asking her servers to help her and they didn't want to help and she was the only one who was working I guess cause the other two workers had they never help the poor girl... And since we had to wait a very long time we decide to leave and we didn't eat the food we had order we left and so I hope she never a had to pay anything for what we order but we was not goingto wait anymore cause we had to be somewhere at one certain time ..... But me and my family that was 8 of us in our party to eat so we feel that u guys need to get better people working there cause if only get that poor girl the only one working I feel bad because she was working very had plus dining it by herself that's to much .... We really felt for her because she was asking for help but they never like and I feel that was wrong.... And we came today Oct.30,2017 we was the party of 8 and we came around 10 am -11.... thank u kitzmiller family.

Sonny kitzmiller
from Honolulu, HI
Hi today me and my family had came to Denny's restaurant on Oahu and we went to Kapolei and it was so terrible ..... First of all I want to say that I hope that waitresses never get in trouble because it wasn't her fault.... I want to make a complaint because we had order and our food and we had to wait along time.. The girls name was ashlyn and we had watch her because it got busy and she was asking her servers to help her and they didn't want to help and she was the only one who was working I guess cause the other two workers had they never help the poor girl... And since we had to wait a very long time we decide to leave and we didn't eat the food we had order we left and so I hope she never a had to pay anything for what we order but we was not goingto wait anymore cause we had to be somewhere at one certain time ..... But me and my family that was 8 of us in our party to eat so we feel that u guys need to get better people working there cause if only get that poor girl the only one working I feel bad because she was working very had plus dining it by herself that's to much .... We really felt for her because she was asking for help but they never like and I feel that was wrong.... And we came today Oct.30,2017 we was the party of 8 and we came around 10 am -11.... thank u kitzmiller family.

Howard & Barbara Roosevelt
from Florence, AL
Dirty atmosphere, burned pancakes, false advertising (overcharged), cold food & coffee. Terre Haute, Indiana, north on third street.

DIANA HAWLEY
from Las Vegas, NV
The restaurant on Eastern,in Las Vegas or Henderson NV.It was a terrible experience.Dirty on everything.Horrible food ,the burger was really bad and too greasy,cold fries.My pumpkin pancakes good,my beacon was terrible.Hamburger and fries,terrible too pricey.THANK YOU DIANA AND JOHN HAWLEY 702-492-0477 8854 COLBURN LN,LAS VEGAS,NV.We were in today at 2PM.I called Headquarters,a very nice young lady to my complaint.THANK YOU 10/20/2017

Peggy curry
from Lincoln, NE
This for Omaho nebr instate 31 there is flying Jay's as well there. I have made complaint about denneys there as noting been done about the problem with bed bugs. They are even in the bathrooms. I wrote about it nothing as been done about I haven't hard from you . I quess you guys don't care about your customer. As much you say you do. I wrote this couple of weeks ago. I had 10 bugs on me what in the bath I was wearing pick Jack I had 6 more inside. This manage did nothing to solve this problem so I am going to take manners in my own call health dept . In Omaho nebr. Have this place shout down until the problem is solve. I haven't been in the place since fear hAppen me again. Bed bug are nothing laugh about. And plus is not ran right as well not enough works to run the place. Running around heads cut of. I can't understand how big business not take care of things. By the way if don't get responded back right away. Mon morning well then call health human service about the problem. Peggy curry

Nichole Murrell
from Dearborn, MI
The food was good, waitress was nice the ONLY issue is I was over charged, the explanation of why it happened was a runaround. Highly Dissatisfied with being overcharged and both Josh and Natasha had a nonchalant attitude about the situation. I sent Natasha a copy of my bank statement showing that I was overcharged and she gets back with something that had NOTHING to do with the incorrect transaction. I will NOW on just be using cash IF I go to Denny's and I won't be going to the one on West Ridge Road in Rochester NY.

Amanda
from West Babylon, NY
Went to Denny's Sunday around 10 ask if I could get a booth to set at with a high chair was told there will be a wait I said ok since it was busy well 20 minutes went by and I ask they said there is only 1 booth they can set me at with a high chair one booth are you kidding me I ended waiting for 2 hours with 2 screaming kids plus I placed a to go order and was missing food when I got home so very unhappy spent over $60

Margaret Holsonback
from Tonopah, AZ
Had breakfast on 09/16/2017 in Wickenberg Az at 9:11. Decent breakfast until a bug crawled out of my plate and ran, I managed to kill it
took it up to cashier to ask for manager and his quote was mam he is cooking. I showed him the bug and said I was not happy and could
not eat my food. He said that happens it is monsoon season in Az. ( which Monsoon season has been over for a couple of weeks)
and rang up the register and charged me for the food to a total of $15.49.
Not happy with Denny's at all!!!!!!!!!!!!!

G. Longoria
from Houston, TX
Service was horrible waited for more than 30 min customer who ordered after us got there food and were about finished before we got our food and never got my toast till I was finished worst experience I have ever had in any restaurant.

Sandra williams
from Wichita, KS
We went to Denny's at 4024 e Harry in Wichita ks on 9/1/17 around 12 noon they weren't that busy . it was a small black girl don't know name had us stand to clear table about 10 min. Then told us were to go didn't even take us to table waited another 10 min. To get menues didn't ask about drinks . because she was to busy chatting talking whatever u want to call it with 2 other tables. After about another 5 min. Which by the way they're was 6 of us we all got up and left so she took money out of your pocket for talking and it wasn't anything to do with her work . the only reason I know this is because we were sitting between both tables.

Bob
from Salt Lake City, UT
I go in store #7480 twice a week. Monday's and usually Thursday's. Every Mon. seems like they never have enough staff, but the girls working they do Awesome. Except a supervisor, Brenda, she's lazy loud and rude. A group of workers at around 1:00 pm stop working and all gather in the far room. Last week 2 servers once again were left to do it all. How is that right? Every now and then the GM they call Sengua , joins right in. Not with the ones working but with the ones who are enjoying themselves while others work harder then seems fair. I just thought maybe it's time you see who deserves a pat on the back. The 2 Mon servers young girl and a server named Kittie thank you ladies for doing what you do.

Zanetta Motley
from Albany, NY
On Sunday a friend and I went into the restaurant were seated and ordered our food. The food came to our table cold. We then asked to see a manager and a gentleman came over to us. Never introduced himself to us. He asked us what was the problem. We then explained to him that the food was cold and we were drinking our hot coffee to warm the food as it went down. He did offer to make us another meal. We said no because we didn't want to receive another dish of cold food. He then said I can give you a dessert. We declined so he just walked away from us and said okay. I thought for sure that he would at least offer a coupon on the restaurant or even a small discount on the bill. That did not happen. As we were standing in line waiting to pay our bill we noticed that there were at least 12 plates of food awaiting to be picked up to be served to your customers. The manager never said to anyone to pick up the orders. Just wanted to let you know that we will no longer be going to this location of Denny's ever

Judy G King
from Canadian, OK
My husband and I were very displeased with the service and food we received at Denny's in McAlester, OK this evening. I feel that it is imperative to let you know why we will not be returning in the future. As soon as we entered the restaurant, we were met with very loud music. When the waitress came to our table, we asked politely if she would mind turning down the volume. She said that she would have to ask the manager since "she has the keys." After about 20 minutes, we asked her if she had mentioned it to the manager. She said that the manager said she turned it down a little. The music volume had not changed and the awful music continued to blare.
The waitress seemed embarrassed, so we didn't say anything else about it. Then we ordered. I ordered a 55+ steak skewer with mashed cheddar potatoes and broccoli. My husband ordered a BYO burger with bacon. The waitress came back and said the steak skewer didn't come with sides. I said that the menu stated that it did, but I said, "Just give me whatever comes with it, not wanting to cause anymore problems for the waitress.
When she brought it out it, was in a skillet with scrambled eggs in top! No skewer at all. Definitely not what I ordered, but I didn't want to have to sit and listen to the music any longer than necessary. I told her that I would just eat it. My husband's burger did not have bacon. Our bill came to $19.21 for a miserable experience. I usually do not complain, but I feel that the corporation should know what kind of manager they have at the McAlester Denny's. We have no complaints concerning our waitress, only the manager and cook.

I had an issue with my Ameriprise investment account. The rep was incredibly helpful when I called the phone number, but said the corporate wouldn't allow him to let me withdraw my funds without signing forms to close down my account. Funny, it was so easy to sign up, but when I want to cancel they make me jump through hoops! Maybe I should write a complaint letter to the CEO at 2923 Ameriprise Financial Center. Has anyone else had success doing so?

Kenneth Gonyea
from Lexington, VA
My wife and I travel often we were in Wytheville VA July 22nd for an overnight stay. We went into Denny's and had A very nice young man wait on us. Very pleasant you could tell he liked people and enjoyed his job. I enclosed an image of the receipt. So the next morning around 10:00 A.M. we returned for breakfast. We were greeted with the hostess telling us they were short handed could be up to 45 minute wait. We decided we had enough time we would wait.The young lady that waited on us had no personality at all. Not A hi how are you nothing, asked for our drink order and also order at the time. 2 waters no lemon 2 value breakfast both scrambled eggs, 1 bacon,1 sausage.
In the mean time to older waitresses we watched smiles very friendly. So our waitress returned with our food still no smiles nothing,she did come back asked if we needed anything else and left our bill.We go to pay and we got no receipt or i would have attached that one too.So we don't have her name but young shoulder length hair reddish. So the morale of my story if she doesn't like to work with the public or can't handle the pressure maybe she needs a different job.My wife does keep track and she has already made note to not return.

Corinne hahn
from Hartford, WI
Very poor service, it took 2 hours to receive our food and the stack of pancakes was missing. Never did get those pancakes and had to get 2 table settings myself and even my own coffee also. Location was Wauwatosa Wisconsin on North Avenue. People that came in after us got served first including a group of 25 people, I just did not get this. Should have got some free meals for this but the manager offered us nothing. My address 3035 Smith Lake Road, West Bend Wisconsin 53090. I will see how Denny's treats me now maybe some free meals? Your decision will affect if I ever eat there again.

Ed and Linda
from Irmo, SC
This is definitely NOT a complaint. Our son is active duty US Air Force and my wife and I have gone to visit him and his family in both Fairfax, Virginia and at Virginia Beach as well over the last several years. We are weekly visitors at the Denny's on Harbison Drive in Columbia, SC, and always try to get Beth as our waitress. She's a really top notch waitress, knowledgeable and always smiling; happy and usually very cheerful. We have been long standing Denny's customers (40+ years), and it's people like her that keep us coming back. Happily. Please let her store manager (and John, her previous manager) know that we now not only value her as our "Special" waitress but also as a friend.
When we travel we usually stop when hungry at one of our favorite chains. Most often, it's a Denny's. We're always expecting to get good food at reasonable prices. Service, on the other hand has not always been so great, but those one or two (one in Texas and one in Tennessee) are exceptions.
The primary reason for this message (secondary reason is Beth, above) is to give a compliment to the manager and her staff at the Denny's in Battleborough, NC, at 7136 #4. We stopped there on our first trip to Fairfax and got hooked! The staff is friendly, ready to have a conversation during ordering, very attentive to the customers and we've never had a complaint about anything there. The condition of the restaurant is always "impeccable". Every time we've stopped my wife and I have commented to each other about how clean and neat everything is - almost as if they'd just finished a complete 'Spring cleanup'! We now watch for this particular store when traveling through that area, and are sure to stop.
The last time there, 1 June, we were so impressed with the waitress, the food, and the amount provided that we asked to speak to the manager, who turned out to be a rather smallish woman of oriental lineage. We wanted to compliment the staff but have been unable.
Why have I not sent in this message before? Because we had asked her to give us her name and store number. She wrote it on a piece of register paper - which we lost. Neither of us could remember her name. We have hunted through all our recent receipts, but that all-important paper seems to have vanished. Never-the-less, we still wanted to give her the compliment she and her staff deserve, so we went online and hunted, and on Google-Earth, and checked the Denny's along I-95. When we saw the street-view of the store in Battlesborough we were certain we'd found it.
Please convey to that store manager what I can only say is my highest and fully unreserved compliments to her and her staff. They are great! And...next trip, we WILL be back!

Denise
from Los Angeles, CA
The food was messed up or slam burger eggs were over cooked the off duty manager was going around and checking on customers with hid pants halfway down with his underwear showing it was un professional a manager should have respect for his or her work place this was at the location on Juan Tabo and Menaul in Albuquerque New Mexico I am also attaching a photo of the manager and he is in a grey t-shirt.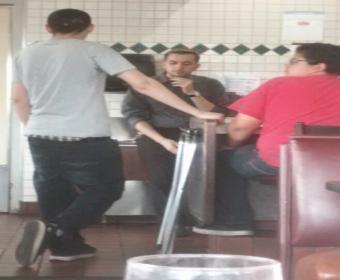 heather lamb
from Los Angeles, CA
Came in family of 7. Waited 20 mins till we asked to order drinks. Asked for the manager he sent another server. 1/3 of food was brought out.7min later another 1/3 2 people still no food everyone else is done. Still manage will not come out.worst experience of our life.
Have feedback for Denny's?
Thanks for your feedback!
Sorry. Please try again later!