ESPN
ESPN Complaints Continued... (Page 2)
404+ reviews added so far. Upset? Call ESPN corporate: 1-888-549-3776

Kelly lara
from Seattle, WA
I want my money back on my card .my boyfriend in prison never got his magazines I'm very upset with y'all I payed for the subscription and didnt get one magazine when for the month of October I was supposed to receive 3 .I don't want to deal with y'all anymore I just need my money back on my card ending 9145 The order was for Jonathan Orozco #01962086 4304 hwy 202 Beeville Tx ,78102 ...I'm so upset and so is my bf .My money should equal to 14 dollars and some cents i want my money asap ty

David Walker
from Lancaster, PA
Your first have coverage of tonight's Monday night football, Giants and Falcons, was absolutely terrible. Constant complaints about Manning, praise for over paid loud mouthed players and no replay of penalties. Terrible coverage.

Craig Cox
from Pflugerville, TX
ESPN announcers are biased against the University of Texas (UT) covering the UT Baylor game. They should just cover the game and not pick favorites.

Please review your NCAA football camera angles. It is very frustrating to not be able to see the teams as they prepare to line up between plays. We don't even know who has come in/out because your cameras are on fixed screens (graphics, etc) or shots of cheerleaders, coach head shots, fans for such long periods of time that the viewer has no idea of how the team is lining up. And at times we even miss the beginning of the plays. We've noticed this all year and am so very frustrated.

Don chubb
from Baltimore, MD
Feels like I am
Watching the penn state network while trying to watch the pitt-penn state game which I now have to turn off because of the bias of Todd blackledge. They talk so little about pitt, was hard to realize who penn state was playing. So for programming, you assign a biased former player and bore the hell out of your audience. Onto a different game, can't watch it anymore

Robert Ziner
from Theodore, AL
During both of the last two college football seasons, I have complained to you about the unbridled display of large, boldly painted, dominating religious signs that kept appearing in your Game Day program broadcasts. I'm not anti-religion but do resent anybody trying to force his religious beliefs on me.
Last week, the opening week of the new season, the religious signs became increasingly obnoxious and increasingly overbearing as the program progressed -- they were probably the worst, most annoying I've ever seen on Game Day -- and it was obvious that the program directors were doing nothing to reduce their impact. By the end of last week's program, those signs completely dominated the background of every shot of the panel of announcers. I cut ESPN slack last Saturday only because the program was broadcast from a religious school in Notre Dame, and I wasn't sure whether the school was sponsoring the signs. Shame on them if they were, but I doubt this was the case. Anyhow, I was prepared this week to turn off the broadcast if this happened again, never to watch another Game Day program unless somebody informed me that you had brought this situation under control, and to notify you that you had lost a faithful viewer from virtually all of the years that Game Day has been on the air.
College football season is my far and away my favorite sports season of the entire year. I also love the Game Day program. I love the creative and imaginative signs that the students and fans make and try to read as many of them as I can. I love watching and listening to all of the announcers on the show. I love Bear's insights and predictions. And I love seeing Corso's end-of-program game winner predictions. And alas, today's Game Day program was completely devoid of anybody trying to shove his religious beliefs down my throat. This permitted three hours of enjoyment instead of three hours of distraction, aggravation, and resentment. I don't know what you did to bring the religious zealots under control, but thank you, bless you, and thank you again. The entire program was a joy to watch without any dominant religious signs. I hope that whatever you did this week is what you will do every week in the future so that I, and I'm sure many others out there who don't like you enough to let you know when we're completely disgruntled, can continue to enjoy a great program sans the distractions.
Thanks for listening.

Mitch Arnold
from Longwood, FL
Neil Everett & Stan Varett make a mockery of ESPN sports reporting! I can't stand watching those two idiots. Get Up w Greenie & Beadle is terrible too. RB_Mrs B just does the job. It's not that difficult. You are very close to losing a 30+ yr viewer if you don't rid of the comedy & talk show crap: I just want sports news pls!

John Jose
from Monroe, NC
Max Kellerman at First Take is the biggest problem i have with ESPN today.With Max's constant hatred for Boston professional sports keeps me from respecting what he does at the show.I fully understand he is a Brooklyn born native New Yorker.All New York professional sports seem to be his pride and joy.Theres nothing wrong with that,but with a job that calls for a lot of give and take,where he's judging all professional teams on a daily basis,his comments need to be fair and balanced.Im not trying to call for his job but "give me a break",M.Kellerman is far from being fair and balanced when it's comes down to anything Boston professional sports.First Take can be very entertaining most of the time most .The most hurtful part to Max's unwillingness to be fair to BPS,is knowing how well educated and seems like a well informed person.If Max was someone of lower intelligence and lack the right tools to judge anything properly,it could be excused but not accepted.
It's becoming less entertaining as the football season kicks into gear because we the fans of First Take already know upfront how it's going to go...it once held suspense,intrigue to the program,now lost.Iguess it boils down to,First Take is becoming boring and less interesting by the day..."Its Predictable"
Peace

Not only was the split screen was on while trying to watch the game, but the commentators were talking about anything but the plays that was happening. Then, they interviewed someone while the game was being played and you couldnt watch the game! PLEASE ESPN, don't cover another Alabama game, I want to SEE and HEAR what is going on on the field. Awful.

is not showing a love game when the description on guide says they will. who cares about tennis, out soccer on when you say it will be on

John Clark
from St. Petersburg, FL
Dear ESPN,
I try to no longer watch this channel but just wanted to watch some of the US Open Tennis. And unfortunately clicked on First Take with Max Kellerman. I'm disabled vet. 3 PURPLE HEARTS and a SILVER STAR etc. with the 5th Marine Regt. I know that I speak for a couple million Marines dead and alive when I tell you that I hate your left wing Socialist garbage and I know you have lost many viewers. As for little Max and his whiney snow flake attitude. Take it home to mommy. He should every once in awhile visit a military cemetery and try to think about how many guys have given their young lives for this great nation and they didn't do it for whiners like him to abuse the privilege of free speech. They died to protect the little snow flake. Stick to sports.

Larry Griffith
from Boaz, AL
I watch First Take most everyday. I will usually change channel when Stephen A. and Max get into the political topics or the black and white debates. I watch for sports. Their knowledge on sports are what I thought the show was. After watching the show today with their topic of Odell Beckam Jr . I've decided that I'm done with the CNN or Fox news type show this has become. I'll get my sporting news and etc.. on a different network.

Gerald Gulick
from San Marcos, CA
You have been on record as RECENTLY proclaiming that ESPN will abandon any political talk and focus on what fans really want, and that is a strictly SPORTS network.
I concur with this objective.
However, on Monday, August 28, 2018, Max Kellerman violated your message to all ESPN associates by engaging in a lunatic-like tirade about the vanilla comments Tiger Woods made concerning this country's President, Donald Trump.
This was a HIGHLY POLITICAL and unacceptable rant by a person who is clearly unable to obey ESPN's own rules. Kellerman even called Tiger Woods, "STUPID," caps intended to show his actual voice inflection.
Please show the integrity of your recent non-political policy directive by either suspending or firing this ESPN employee.. I see where he has been suspended by ESPN in the past. That should have been a clear warning to Kellerman to reign in his vitriolic, highly racist and politically charged comments. He should be fired.
Trusting you and ESPN will do the right thing,
Gerry Gulick (ESPN viewer/customer since your inception in about 1979)

Gerald White
from Las Vegas, NV
SportsCenter started at 8 PM (PT)/11PM (ET) on ESPNEWS (Tuesday, 28 Aug). At 8:20 PT/11:20 ET, they announced SportsCenter was moving to ESPN as the match was wrapping up and ESPNEWS started showing the 3d (4th? 5th?) repeat of PTI. Meanwhile, Sharipova spent the next 40 minutes trying to lose the match so no SportsCenter until 9PM/Midnight. This is not the first time; tennis matches, baseball and basketball games are notorious for going long, overtime/extra innings, often an hour or more past their "scheduled" ending time and of course, ESPN "knows" we would much rather watch that or PTI (again) the 3d (13th? 23d?) Top Ten for last month rather than a live SportsCenter, which, interestingly, is described as ESPN's Flagship program. Is flagship some kind of code for treated like dirt? How many hundreds of hours a year of scheduled SportsCenter time gets cancelled for boneheaded decisions like tonight's? How badly does one have to fail an IQ test to get the job there at Bristol making those decisions? The only thing ESPN does better than not broadcast SportsCenter is broadcast commercials...

Judith Major
from Cottage Hills, IL
Max Kellerman Was "out of line" when interviewing the famous golfer
Tiger Woods, Kellerman was asking Tiger questions about President Trump
and Tiger replied " you may or may not agree with the President, but
everyone should respect the office of the President and the President".
That quote is what I taught my children and they taught my grandchildren.
Now I thought reporters was non-political, after Kellerman's
interview, later he started ranting and raving that Tiger's answer wasn't
what Max Kellerman wanted hear. Max's comments was outrageous and inappro-
priate and he should apologize to Tiger Woods and the American people who
view ESPN.

I tuned in to watch the US Open and the Madison Keys' match. Instead, you showed the conclusion of the Kyrgios's match followed by Federer's interview, which they did not do a split screen while she was playing. Then you showed Keys' match until Sharapova's matched started. Once Sharapova's match started, you switch to that match. Madison Keys is an US Citizen playing at the US Open who is ranked and seeded higher than Sharapova. And Madison Keys was a finalist in last year's US Open. So, why are we forced to the Sharapova's match until it was in the 2nd set at 3-2 in the Keys' match before you switched over?

Anita Blice
from Washington, IN
My father and some of my friends fathers fought and died under the flag which gives these thugs the freedoms they have today. Instead of being profusely gratefull, they sully that flag by turning their backs on her and complaining! So, we're wondering why they're still here ignoring the wishes of the people who pay their salaries! Living in another country for a while would most likely have them begging to come home! You—and they, are self aggrandizing buffoons who don't appreciate all they have! So, we have a message for you——
If you can't play-and respect- our anthem and our flag at game time don't bother to show the game! We certainly have better uses for our time and money! And do remember—you reap what you sow, what goes round comes round and Karma's a bitch! Shame!!!!

Bill Lawson
from Dallas, TX
How dare you cut coverage of the National Anthem before NFL games. You are making the controversy about players taking a knee worse. This is nothing short of a coverup. You are cowards.

Lynn Reid
from Kokomo, IN
No National Athem . Poor magement.
As a war veteran this hurts. When we honor this, it means freedom is honor. You'all enjoy it and I will bet those people on knees and your policy. It means also to honor war vets who
gave all. From day one in a free country. This does show what freedom means to ESPN, NOTHING. If you served you would change thoughts. You are only a leach. NASCAR considers this honor for the real meaning and remembers what it feels like to be free and with prayer. Guess which one vets watch. The people who gave us free Country had balls and a vision. ESPN and NFL have no balls when your knees are on the ground. Meaning it represents being a WHORE.
Lynn Reid

Johanne Vaters
from Sanford, ME
The announcers for the Red Sox , Yankee game didn't talk about the game. Too much giggling talking about themselves etc no play by play. It was like watching a talk show with a baseball game going on in the background. Having A Rod in the booth at a Red Sox home game didn't help either. Watch O'Brien and Remy on NESN and see how they stop their stories when a play happens then go back to it.I was trying to watch it with 2 visually impaired people. They also thought it was very annoying. ALL of my friends throughout the country that watched it had the same complaint.

Espn customer "care" did not help me. They repeated there answers took a long time to get back to me then just completely ignored me. Wouldn't get someone that would or could help after I asked. Disney employees are extremely rude and disrespectful and I still have no answers.

James howard
from Norman, OK
As a sports fan I watch ESPN 99% of the time . And I'm tired of hearing host and guest bash and criticize our president . I did not realize your program was a platform to bash and criticize the president . I thought your program was about sports and not a program to promote a polictical party . If this is what your program is then you have a obligation to announce this to the public . So at that time supporters of the president and a different party can boycott your program and not support espn and any employee .

Trisha Gritzuk
from Chicago, IL
While watching the cubs game - not only are the announcers not calling the game but we have to hear about the Mets and Yankees for about an hour - call the game .

Kristin Bauer
from North Hollywood, CA
Your coverage of Wimbledon is astoundingly frustrating. Its just bad. This has been happening through out. Your editors choose, over and over, to only cover the first boring games of every match INSTEAD of the LAST GAMES OF A LAST SET. Right now I've been in hell as you don't cover ANY of the most epic Federer/Kevin Anderson match. Right now it is at 11 games all in the fifth set. And ESPN cuts away to this first set Nadal match. Watch this tape!!! ESPN did not show ONE SECOND of the fed match until the FIFTH set games 2 all. AND it is almost never put on the big screen. It just SUCKS AND THERE IS NO WAY TO REACH OR GIVE FEEDBACK ANYWHERE. NO CUSTOMER SERVICE, NO FORM TO WRITE IN - AND I PAY FO THIS CHANNEL!!!??? ESPN SUCKS. I'm calling tomorrow to get Tennis Channel or anything to not watch this irritating editing.

Jerry Knaub
from Las Vegas, NV
ESPN used to broadcast World Series of Poker all the time until the last 2 years.
They must have sold some "rights" to Poker Go.com and now they share the broadcast with them.
Poker Go is not the website to be doing this:
1. Their website is not easy to navigate
2. Their index is not good.
3. i do not know when they are broadcasting World Series of Poker FINAL TABLE or not and when.
4. Due to broadcast restrictions, this video is not available in your region. Please check your local listings for viewing information. THIS WAS ON THEIR PAGE WHEN I CLICK ON LIVE BROADCAST FOR WSOP.
5. Nothing makes sense on what they are doing. You would think a multi million dollar business would be better than this. I could do better than what they are doing.
6. the 2 guys they have moderating it are not good.

Norma Shelton
from Los Angeles, CA
What is going on with your audio? Seems to be a problem as there is no audio at Wimbledon.

DON DIZZLE
from Memphis, TN
BRING NEIL AND STAN BACK TO DO SPORTS CENTER IN THE MORNING. THE PEOPLE THAT YOU HAVE USED IN THE INTERIM SINCE THEY WERE PUT ON LATE NIGHT HAVE MADE THE QUALITY OF YOUR SHOW STEADILY DECLINE.

john manderscheid
from Houston, TX
I was trying to watch the world series of poker 2018 last night. the hands were shown in such a small format that it was very difficult to tell what the players had. and of course a person could not read the amount bet nor the percentage of the chance for the winners. in previous years all of this could be seen and understood with no problems. this made for very poor viewing. in the end I had to change channels to watch something else. the picture was great and it showed the players very well. if only I had been able to read the text,
i did notice that several of you other shows had gone with this small text but i cannot give you any names.
thank you
john manderscheid
jcmander@yahoo.com

Allan Kartun
from Dallas, TX
Your baseball coverage - particularly tonight's Cubs/Dodgers game - relies more on stories by your commentators rather than coverage of the game. When you brought in your anchor Neil for additional color - inane conversation ensued rather than talking about the game. Your on air folks would do well to listen to games broadcast by Vin Scully or Bob Costas - pros who know how to convey the excitement inherent in the game

Sandy Caseltine
from Cedar Rapids, IA
We look forward to watching Dodger games wheneve they are televised. But your announcers spend more time talking about everything except what's happening on the field. We can deal with that by just turning down the volumn but when the camera is on the announcers so much of the time while the game is on we don't get to see the game or hear what's happening. They just seem to really enjoy talking about themselves...what's their favorite beach, what time the got to the stadium when they were playing, a book one of them is/has written. Just keep the camera on the field and we'll be very happy.
Thanks.

Tammy Roberson
from North Little Rock, AR
The commentators for CWS need to realize there are 2 teams on the field!! All you hear is Oregon this and Oregon that. If they are fans then go to the stands and get people who will call the game as is!!!! It has been this way all the way through!!!!! At this level there is no room for mess like this!!!

Fredia Gosser
from Murray, KY
ESPN announcers are suppose to announce, not tell stories from fifty years ago, tell jokes, and carry on. Please shut up and announce what Is going on on the field. I love watching baseball, especially the Cubs, and the last two games I have watched in LA, I couldn't believe the amount of talk that was not about the game. Try to get the announcers to quit talking so much and stay focused on the game.

dennis hartman
from Muskegon, MI
Why does ESPN advertise for Cubs @ LA game and instead have college would series game o
This is only one example, but this happens all the time and is extremely embarrising and for loyal
fans ,they don't get their show.

Jerry Cockrum
from Roseburg, OR
I believe the people of Oregon deserve fair and impartial commentating for a change. We have never recieved before. It is embarrasing for you, because we are tired of you disrespecting our state. It is organized group of people that listen to the radio. Your constant attack on Luke is a effort by your business to hurt and take away his furture. You don't lnow what happened amy more than me. Many people have agreed to plea guilty even though they were in innocent. Your move to hire A-Rod shows you really don't care about right or wrong. Money, Money, Money. That is what your all about. Your morality is way below anything may have done. If he decides to take legal action against you, I will be a contributor.

Andria Dunham
from Los Angeles, CA
Very disappointed that you played a phone sexy advertisement during a NCAA tournament game! Our family was watching our beloved OSU Beavers play and it was very inappropriate for my young children to see! Good grief they don't even serve alcohol at these games because they are family friendly but you can play commercials like that!

Scott Holshouser
from Fuquay-Varina, NC
ESPN needs to show more ACC teams in the first day of the College Baseball World Series on the East Coast. I as an ACC fan do not care about Texas A&M, San Diego state, Indiana, etc.

Ron Fontes
from Farmington, MN
I do not understand why you would compare LeBron James to Michael Jordan. When all of your shows and correspondents make these comparisons it she that ESPN has no sense of history. Michael Jordon one 6 NBA championships with one team. LeBron has to go to another team - Miami to win. There is not comparison. How about Bill Russell that won 11?????? Kobe won 5. It is not that I love Michael Jordan. However, LeBron James should not be in the same discussion unless he get a few more rings which he never with Boston and Warriors in the way. You will see a decline once a team puts a body on him and starts to defend him like Indiana and Toronto did not.
Thank you,
Ron Fontes

Dennis Blankenship
from Hogansville, GA
Steven A Smith. Loud,egotistical,annoying and an insult to your fine programming.

danny busseni
from Cocoa, FL
I will really look forward to watching college gamely and getting fair treatment per
College Gameday analyst Lee Corso said wearing the Florida mascot head is his least favorite to wear on Gameday and that is not all, Lee Corso said he hates the Florida Gators as well.
"I hate the Florida Gators anyhow, being a Florida State man," Lee Corso told AL.com's Mark Heim in a recent interview. "I hate to put the Florida Gator head on. The Florida Gator head is long and funny looking. It scrapes my nose. Every time I put that thing on I get scraped and blood comes down my face."

Karen Mata
from Panama City, 8
Watching via espn deportes.
They are calling Miami Tennis between "Isner" and "Juan Martin."
More than a bit biased. Of course their race hasn't had much to cheer about over their 500 year or so history, but gmab.
Sincerely,
km

David Perez
from Jonesboro, IN
I am 70 years old a cubs fan live in chicago for 30 years now I live in Angola indiana 20 some hours from Miami and you guys block opening game in the areas

Jeff Terry
from Lincoln Park, MI
Apparently you have forgotten how to broadcast racing. I tune in to watch the f1 race and you have some other crap on. No wonder you lost NASCAR and I hope you lose f1 as soon as they wise up to your incompetence. Very disappointing and as much as I love racing I will turn your channel off and read about it the following day

Gary Knight
from Venice, FL
Am I alone in my thinking? Is ESPN causing me such consternation that I see no alternative to find a true SPORTS CHANNEL on the air today other than Fox Sports?
Such ESPN sports personalities as "Stephen A", Jamele Hill and Stephen Smith caused ESPN to change
Into a racist trash can! Doesn't anyone else notice how Stephen A shows that big smile and refers to
Those black athletes as "Brothers" and seems to have a glow all over his face when he uses that word,
"Brother"? Doesn't anyone else notice that those persons of the Caucasian decent are not given the same big smile by this racist so-called, "Personality"?
I, for one, feel quite strongly that ESPN is no longer a "sports network" but is more of a commentary on ethnic and social justice. I am fed up with the social slant to almost everything which espouses the hatred of those who would ridicule the politics of today's most successful politicians in the USA today.
Ignoring the statistics which confirm that most people of color are living better that they have for decades proves that ESPN's upper management is on a political vendetta to deceive the public and tell lies to those who KNOW BETTER that our country is on an upward trajectory and sports is all but second
To a political agenda which goes along with CNBC, CNN and NATIONAL PUBLIC RADIO!
Love for our country, love for our flag and love for the origins of the greatest country on earth is all but ignored by ESPN and its "social commentators". These people are not putting sports above all else! They are under the impression that the present on-air agenda will simply continue for years to come.
I submit to you that this agenda by ESPN is about to end. Disney, the parent of this network is about to dump ESPN and in its present state, no prudent suitor will be found. Only those would continue such racist rhetoric would pay a dime for such hogwash.
Stephen A, Jamele Hill and Steven Smith all belong on the Black Entertainment Network not on ESPN a supposed sports network. I would even bet that these racists would fail even there!
As a true sports fan, I speak for myself. This racism must end. We, as a nation must stop watching this junk NOW. The airwaves were never created to allow just one side of every political issue, especially a supposed Sports Network. Keep politics out of sports!
I and millions of others will NOT pay the exorbitant prices at the game to watch spoiled athletes take
a stand against the very center of our Democracy, "The American Flag"!! If you hate America, simply LEAVE!!!! There is no place on this earth where you will be welcome if you show that you are against the very country in which you reside!!!!
Imagine if Jamele Hill had ridiculed John F Kennedy in the era of "what you can do for your country"?
Imagine if Steven Smith had denounced saluting the flag when Dwight D Eisenhower brought this country to victory against Adolph Hitler's troops? ESPN wouldn't exist for one minute after such anti-American criticisms. USA the greatest country in the world, LOVE IT OR LEAVE IT!

Brentent Burlingame
from Pleasanton, CA
Watching Sports Nation today and you played Taps for a player making about $35,000,000 a year that got traded.
That's I really don't know how many worse that is then kneeling for the National Anthem. I guess I should thank you. I fine most of your program and host this year so bad I am watching less sports. Happy Sad

Rita Munzenmaier
from Hudson, WI
As a notre dame fan I find it incredible that ESPN chose to spend many minutes with the 3 broadcasters yakking among themselves and showing half screen of the game. The announcers did not even tell us what a whistle was for when one blew. DISGUSTING!!!!! This has happened before but now decided to say something about it.

Jeff
from Crawfordsville, IN
Watching the Iowa vs Purdue game today on 1/20/18. Can't stand to listen to Dan D. He never shuts up. The other announcer can't call the play by play because Dan is still talking. He gets on a topic and 10 points later they get back to the game. So annoying. I listen to the game on the radio.

In your (ESPN's) coverage of the Australian Open, we are occasionally presented with split screen coverage of two matches in progress.
Not only does the immediately diminished screen size makes the match I was watching difficult to follow, but the sudden appearance of another match in progress is distracting, and has the effect of ruining the entire viewing experience for either match. Very annoying, and I usually end up "clicking" to some other (TV/cable) channel. If my experience is widely shared, doesn't the fewer the viewers mean the less you can charge for the advertising? Hmmm?

Mike Dusoe
from Sandy, UT
Been watching the Utah BYU broadcast. However had these complaints watching Walton on ESPN and PAC 12 broadcasts before. No one needs to hear a comment every second that's available from a color man or an "analyst." I have never heard so much garbage garnish from a broadcast team in my wife and I have lived a while. Walton was a great basketball player and has a great basketball mine but nothing is bigger than his mouth and his crazy rambling dialogue about Irrelevant babble. I have had to turn the sound off to her three times because of his rants. I don't care what team he favors I care about the noise he is making basket to basket, change to change, and about people and things he's learned about in the last week. " I playing here 45 years ago." Who gives a rats patootie it tarnishes the ESPN image and makes the whole ESPN experience non-worthwhile. You need to give it serious thought.

ald william silva
from Santa Cruz, B
t6he pogram director should be shot.all the big college football games this weekend and your clown in argentinta has rugby on all day Saturday.all of south America does not have a rugby team,but argintina.by the way,i live in Bolivia AND NOT ONE PUBLIC TENNIS COURT. COUNTRY CLUBS ONLY,SO WHY PUMP TENNIS IN HERE.THIS JOKER IS PLAYING TO THE ELITE ONLY,NOT THE MASS.THERE IS A LARGE GROUP OF GRINGOS HERE THAT ARE STARTING TO COMPLAIN TO YOUR SPONSOR...GL.........ME

Don Garrett
from Indianapolis, IN
Just watched unc vs Arkansas. It was the poorest announced game I have ever witnessed. Bill Walton and other announcer continuously talked about anything but what was happening on the court. Worst yet was the split screen showing them frequently, reducing the game to half the screen while the two of them jabbered on incessantly about who knows what. Worst job announcing I have ever heard !!

Courtney sheppard
from Little Rock, AR
I watched and listened to the PK80 tournament yesterday and today. Bill Walton has got to be one of the worst announcers I have ever heard. His comments are distracting and do little or nothing to color or illuminate any aspect of the game at hand. Had I not been interested in in watching Ark play OK and NC I would have changed channels.

Charles R. Ralls
from Atlanta, GA
Today your host of coast too coast...was inapporately dressed. Women at ESPN has worn attire that is not appropriate or professional. It might be "Eye Candy" for many but, in our time of sexual allegations, no one needes any inspiration to commit any type of sexual actions. One particular day your host wore a short dress and sat at a high desk/glass table, making her attire more attentive. It seems as though, there is competition from your females. Who can wear the shortest, tightes, and most revealing, sexual attire. I want the sporting news. Not some woman standing, legs wide apart, in a short dress. Save it for the club. And you wonder why men are accused for making sexual overtures to fellow employees. Here is an Idea....Uniforms..jackets and slacks/skirts/with appropriate length.

Linda Brown
from Los Angeles, CA
The announcers for the UCLA/USC game was so biased it was disgusting. Josh Rosen this, Josh Rosen that, Josh Rosen Josh Rosen. Really? He's mediocre at best as is the whole UCLA team. Disgusting play calling. Can't you find unbiased announcers?

David Wyatt
from Milton, MA
Please tell the announcers on the coverage of the UNC-Pitt football game that the game is about the players on the field. Not a former player for Pitt, and certainly not about the announcers. I turned the sound off.

Frank campisi
from Riverview, FL
I see you've got Jamel back I guess I'm done with you all as long as she does not control her political views I will not be watching you anymore it's been many years that I've watched you guys it's pretty sad that I have two listen to her views thank you for all your old views new views are not appreciated I hope you last long but I don't think you will you killing yourselvesm

richard j. bukowski
from Shrewsbury, MA
The statements made by Miss Hill about President Trump are totally out of line and ignorant. He is not a racist as Miss Hill suggests. First, you called me a racist because I have no respect for those athletes who will not stand for the national anthem and now you expect me to watch your network and listen to people like Miss Hill. I'm a Veteran and I sure its just a matter of time before ESPN comes after me.
I will not watch ESPN and I wish I could remove it from my TV package.
Sincerely,
Richard J. Bukowski

I watch sports for a diversion and entertainment, not social comment. I start my day with Mike and Mike and end it with espn news. But I have a real problem. Ive been with espn for over 25 years. I block out the social comments for the most part, but will not support a bigot and racist, whether they be white or black, especially one that feels free to criticize me or my political beliefs.
She obviously thinks her understanding of this world follows her opinion. They don't.
I am now off of espn, not just because you employee a mouthy bigot and obvious racist, but when you could have corrected the problem, you covered and explained that she was talked to.
She should have been fired, told that pissing off 50% of your viewers and listeners was not her responsibility.
Concentrate on the escape and joy of sports and forget you social agenda.
Do that and I will be back.

Burt McCarty
from Myrtle Beach, SC
A waste of time by a bunch of second guessers on all of your programs this week dealing with who will be the chosen four teams of the college playoff before the college football championship games this weekend. Face the fact that none of your football so called experts have a seat on the playoff selection committee and none of them know what will happen. You are wasting your time and what's more the time of your viewership by all of these different shows beating a dead horse fifty different ways. Get over yourselves and put something on in those time slots that are interesting. What a joke and waste of time.

A J Koenig
from Swedesboro, NJ
Please get rid of Paul Finebaum as a commentator on your "CFB" broadcasts. The man is so biased against Brian Kelly;it is an affront to anyone who has to listen to his diatribes against another individual.

The announcers for the Ark-LSU game on 11/12/16 completely forgot their responsibilities for the play by play during the second half of the game! They were more interested in bantering back and forth about how the final four teams would stack up with the day's wins and losses than doing their job and calling the game. It was disgusting! They must have thought they would use that time to "shoot a pilot" for a better job at ESPN --talking before, at halftime and after games like the "authorities" get to do...
Whatever! It was insulting to fans from both sides. Ask the LSU fans how they felt when one of their players went down, the trainers went out, and the ESPN guys did not even notice until the player was getting up. Your guys did not even call the player's name. They were too engrossed in the college playoff. They never missed a beat. Rude, rude, rude. This was the worst coverage I have ever heard. If you really care, just listen to the second half. All of it. It will make my point.

My husband and I are going to piggy back on the woman's comment we just read. Jon Gruden. We love football and watch every Thursday and all day Sunday, but we are considering giving up Monday night because we can't stand his constant babbling and talking just to hear himself talk. Please find someone else to narrate. We also have started watching with the TV muted in order to not hear all the ridiculous things he has to say, about every team and every player. He is either going on and on in praise of them or he is tearing down every step they make and have ever made.

C.W. Abercrombie
from Soddy-Daisy, TN
Alabama game ruined by having 4 screens on. We don't want to see the staff sitting at desks making comments. We like the screen to be filled with the plays only, not chatter by individuals taking up half the screen. 30 people here watching the game. Poor choice to split up the screen. The football game is what we tune in to see.

David Motson
from Blackwood, NJ
I just got done watching the Tennessee v Texas A&M game. My wife and I are fans of Bama. Your announcers doing the Bama vs. Arkansas game should call a pop warner game. They in no way should be doing the #1 team in America. The telecast sounds as if they're in a phone booth. You should get a feeling they are at the game. Simply put, they have no sense of being in the game. The one announcer seems like he is the most boring person in the world. Give me a break. SEC football is the most watched football on TV and this is what you can find for announcers? Sorry ESPN, you need to go recruit some announcers that give insight and energy. Go listen to Vern and Gary.

Matt Gorman
from Montvale, NJ
Stephan A. Smith should be fired. ESPN should also issue a warning prior to his on air time that the volume at which he screams can lead to ear damage & loss of hearing. Discourse doesn't require literally screaming at each other. What a terrible example to America for how to debate. He is classless in how he uses his over the top decibel level to silence anyone he disagrees with. Talk, emphasize, use all the nuanced techniques professionals employ instead of yelling at everyone.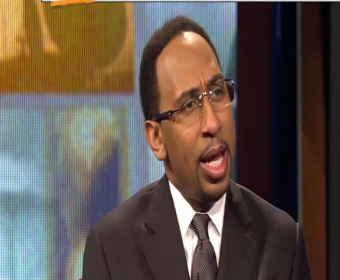 bill pell
from Spartanburg, SC
I am writing to complain about Brent Musburger and Mike Golic. Musburger's performance on the SC game Saturday evening was beyond woeful. I only watch him when it's impossible not to, and I wanted to see SC vs. KY. As expected, he irritated with his comments and lack of preparation. His errors and stammering only increased as the game went on. Palmer tries to prop him up, but Musburger is good at controlling the mike, and Palmer disappeared for long stretches. I've complained before, and I was happy to see Musburger often got the least desirable SEC game. Still, he works on.
For my small part, I always boycott any products advertised on games he covers. I don't see how the advertisers put up with it. I have also complained about Golic, but he continues to stammer, shout, repeat, repeat, repeat, and make everything too personal. Give him broadcasting lessons for goodness sakes. Tell him to model his comments after the other Mike, a true professional in every sense of the word. Golic is also woeful, and it's beyond me why you keep him on the air. All in all, I continue to admire ESPN. I was glad a woman finally got to do PTI, but I wish it had been McMullan, one of your best of either sex. Kudos for working in more and more women throughout and not just as sideline reporters.

Matthew O'Connor
from Moyock, NC
I am never watching ESPN again due to political correctness and derogatory comments against police officers. I used to watch the channel for sports coverage, not political viewpoints. Was a big fan of PTI but the obvious disdain for police officers is a bit much for me.

Jon Gruden. Need I say more? Try listening to a Redskins game. He is so bad and so prejudice against them we have to mute him. He is terrible. Not just for Redskin games either. Knowledgeable fan of NFL Football that used to live for the season beginning to loose interest. Announcing is very important to the game on TV/Cable, thus to the NFL I hope. When it's that bad, someone should be held accountable.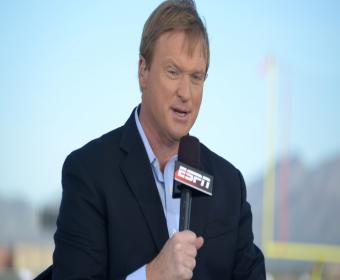 After supporting ESPN and sports my entire life it is very disappointing for normal and USA values for a regular person/family, to be left with no choice but to remove those channels and future support. The Heineken commercial you allowed today is totally inappropriate, especially when a 10 year old is the one that came and brought the indecency of such commercial to her parents. It goes to show you what kind of respect and values ESPN actually stands behind. I guess it is true across the market and many viewers are starting to make more sense of why they would support such a station. Hope the college teams/universities accept the complaints and support the values of the people, not the minority.

Gary Campbell
from Manassas, VA
I will never again watch ESPN, and have deleted your app from my smartphone. At tonight's 49er v. Rams game your cameras dwelled on the cowardly, ignorant punks unwilling to stand for our anthem. Clearly you support such anti-American behavior. I'm disgusted with you!

Joyce and Tom Dill
from Friendswood, TX

mike broccolo
from Buffalo, NY
Will somebody at ESPN please tell all the black and white people that not standing for the national anthem and even debating it shows there ignorance. People died for this country so that people could have the right to say what they want.

Paul Carter
from Fort Lee, NJ
Jason Goodall's character assassination of Daniel Evans during the match with Stan Warwinka was inappropriate. He should be ashamed of himself. he should be educated as to what can be legally said in the US. He could be sued for slander.

Dale Garrett
from Ozark, AL
I'm discussed with the political correctness and pandering to Black Lives Matter supporters. Paul Fienbbaums original criticism of Colin Kaeprenick's actions was sincere, and justified. His retraction of those comments, and apology are no doubt the result of pressure from ESPN. Racism exists in this country, but the true division comes from radical black organizations like BLM.
After 20+ years, I'm pulling the plug on ESPN. It's unfortunate that we can't keep athletics above the politics. I'm watching just enough to determine your advertisers, because I'm boycotting them too. Your empire is crumbling around you! BLM won't save you.

Randy Collier
from Asheboro, NC
On First Take this morning I listened to your racist commentary from Steven A Smith on the subject of Colin K-neck's remarks and discussed actions amidst the sitting of the National Anthem during a Pre Season NFL game! Steven A. Smith said racist comments about law enforcement and American White Citizens that were disrespectful and uncalled for. I think ESPN should fire him. ESPN has fired other Commentators for much less. Steven A. Smith is a disgrace to this Country!

Kd
from Nicholasville, KY
Your Sunday night baseball trio couldn't be any worse. Fire them. Broadcasters should be more like radio broadcasters and talk about the game rather than themselves or yukking it up. Also, ESPN radio never, ever streams. It's a joke. Fix it or drop it. ESPN has become a joke.

Thomas
from Riverside, CA
Who are these people on your N.F.L. talk shows? Never heard of any of them. What happened to the sing retired ball players. Just like the baseball games you need former players. For Sunday Nite baseball how about Curt Shilling and Pete Rose, now that would be a real Dream Team.

Barbara Kuchta
from Blue Springs, MO
Well, the scores are never accurate and always a inning or two behind. I don't know why scores can not be updated like MLB. Also, constantly the pge will not come up if you start checking other games. Happens on a daily basis when I use ESPN. Rarely happens with MLB.

Lindy
from Rancho Palos Verdes, CA
Please Get rid of tennis commentators Chris Fowler and Chris Evert . Their tennis commentary has always been banal and boring. Their recent commentary of the exciting Wimbledon women's final was lackluster. Anyone with a modicum of tennis knowledge could do better.
Men's matches get exciting and sometimes controversial commentary by the McEnroes, Brad Gilbert, Lindsey Davenport and other retired players that delve into player's technique and playing style. Fowler and Evert comments about player's "tenseness" and desire to win is condescending and offensive. It feels as though commentary by Evert and Fowler was dumbed down. Women's tennis at the level of the Wimbledon final deserves the same quality coverage as the men receive.
Are women still fighting for recognition as athletes?

Gillian Sanders
from Sarasota, FL
Could you have the tennis commentators stop talking during the actual play. Chris Evert, Chris Fowler and John McEnroe cannot stop talking, they love the sound of themselves. We just watched the Women's semi-final between Kerber and Williams and Evert and Fowler talked constantly throughout the match. Next one we watch, we will put the mute button on. There is nothing more frustrating than hearing commentators talk nonsense and missing the actual play they should be commenting on.

Frank V Mariani
from Newark, NJ
Your broadcast comes on the air @ 7 am. Here it is @7:30 and all I hear is 3 of your commentators pontificating about their worthless opinions. Can you please show some early round competition? Something tells me you really don't understand the tennis playing, past or present, viewer audience. 7:35am and McEnroe still yapping.

Paul Jacobus
from Central Point, OR
Here's the deal. First, I realize that no one will bother to read this email. I get that. Nobody at ESPN or seemingly anywhere else on the planet cares anymore. Nevertheless, I thought, just to make myself feel a little better, I'd send off this message. Your web site is just awful. It's just a mess with no apparent organization to it. I was looking for a way to contact somebody at Pardon the Interruption.
I wanted to tell them that I will no longer be a viewer. Tony Kornheiser has always been annoying. He's arrogant, thinks he's always right, and has always been rude and impolite. Lately I notice that something has changed. He's become a jerk. And I don't want to watch him on TV. I want to watch intelligent people discuss issues politely and in a civil manner. Please tell Kornheiser how I feel. Make sure you tell him the part about being an asshole. That's important.

Herb Thompson
from Perth, WA
When watching baseball, please inform all the announcers that I'm interested in the game - not their history, or guests that are interminably interviewed while play is going on, or what the Mexican League used to be compared to AAA baseball. For heaven's sake they should all take a course with Vin Scully as to what announcing a Baseball Game means. The latest is to film a kid in the crowd staring at the camera while the game is on and the announcers think it is the funniest thing they have seen. Then we get in on the latest birthday of one of the announcers with a dumb cake. Why do you need 4 people announcing the game. Let them all get jobs with Sports Center and get ONE "Vin Scully" type person to talk about the game. You have Baseball Today, and Sports Center for this kind of frivolous nonsense. I want to watch the GAME. Cut the BS to zero.

Bob Fernandez
from Vacaville, CA
I am greatly disappointed with the performance of your ESPN announcers on both Mondays and Wednesdays Dodgers national broadcast. I am here to watch the game and have them report on the progress of the game. They have spent way to much time with self promotion and stories that I do not care to hear about. Please remove Rick Sutcliffe and anyone who you might be thinking about partnering him with from the announcing booth. Their behavior has been disrespectful the the players, fans, and the game of baseball.

Bob Fernandez
from Vacaville, CA
The announcers working the Dodger - nationals game tonight were terrible. I gind them to be disrespectful to the fans and players with their discussions. The cake and not following the games action. Should this continue I will stop watching ESPN.

thomas lavera
from Riverside, CA
What a mess with Sunday night baseball. You need two former players in the booth and at least one of them needs to be a pitcher or catcher. Poor Aron Boone just does not have anyone to talk baseball with. Get some help up there. Would like to see Kurt Shilling back, as he knows baseball and he is great at this job.

Tom Potter
from Reedsburg, WI
For three years I have been sending you complaints about Stephen A Smith and Skip Bayless if what I hear is true that they are both done at ESPN. Now get rid of about Serina Moralus and life will be good she is a no talent idiot and I refuse to watch while she's on the air.

Charlie White
from Clemson, SC
On Sunday, May 29, 2016, I hosted a viewing party for the ACC Men's Baseball Championship game between Clemson and Florida State. Due to rain delay, we watched coverage of the Indy 500 on ABC and continuously switched back to ESPN2 for updates of the delay. About 2:50 PM, ESPN2 reported the delay was ending and the game was now scheduled to resume at 3:15 PM. At 3:15PM, ESPN2 began showing the SEC Championship Game between Texas A&M and Florida.
I spent twenty minutes frantically searching all ESPN televised channels, both on TV and Internet, to locate broadcast of the restarted coverage to no avail. We saw no information about where the game had been moved on the scrolling information feature on ESPN2, et cetera. Finally, our group decided unanimously that ESPN, the official network of the Southeastern Conference decided that the SEC Championship and all the myriad minor sports coverages were more important and Clemson-FSU fans could just reschedule their lives and watch the game replay at 7:00 PM without any knowledge that the replay would be of the entire game or just repeat the earlier day's experience of just the first three innings.

Stop putting Jeff van gundy as a commentator for the Spurs game. Disrespectful I will stop watching ESPN if it doesn't get fixed I will be posting this on my social media and will be shared throughout the world!!

Harry Tate
from Tucson, AZ
I am mostly happy with ESPN but your baseball television schedule is horrible anytime you put the Yankees and anyone else on the tube....but don't get me wrong, I loved the Yankees when they could play, but now. You know, you have the miserable Yankees on when you could be showing the Cubs and the Nats.....a real game between the two best teams out there right now. And even though you think there is a big audience for the Yankees and Boston, you don't.....no baseball fan is interested in them.

Ken Haney
from Sebring, FL
ESPN's website now locks up my computer with live streaming videos and sales trash. It is impossible for me to read one page without constant page pausing advertisements. You win, I will find my daily information from a lessor advertiser and switch sports sites to Fox or CBS.

Larry Stockert
from Reno, NV
Your recent Business decision to renewal the contract of Ray Lewis, whose crimmial/violent past is well documented, while terminating Schilling for speaking his "personal opinion," I find to be truly gutless & must actually reflect your true corporate culture in 2016. I will be using other means to follow my Ohio State Buckeyes after all of these years plus encouraging others to do the same.

Stephen Francz
from Mount Holly, NJ
I am deeply saddened by the Dan Lebatard show being placed in its current time slot. His is racially biased and attempts to impose his opinions on others, not to mention that the whole concept of a sports radio program has diminished from previous. I am not writing this because Colin Cowherd is not there, but how horrible the current lebatard show is and the time slot it occupies. I have watched ESPN since its inception and still do! The only radio I listen to in the car and at work is ESPN radio, have for years, 24 x 7. It is with great sadness that the lebetard show is so putrid that I have to change my radio station every day @10am to another station . I am just one person and I realize different folks like different things but bring back a sports related show please! If I wanted to listen to a racial debate Ill turn on Al Sharpton. What a waste of a time slot!!!! Thank you, a loyal viewer and listener.

By firing Curt Schilling, You have showed us that you are an integral part of the group of corporations that hate America and are trying to destroy the society of our country. Curt was accurate and brave to say what he said and a great many of us applaud his comments about letting male perverts into the womens' bathrooms with our wives and daughters. You can be assured that I and many other Americans will no longer watch ESPN and its advertisers. Your corporate ideals are stupid and disgusting. Shame on you and You Go Curt!!

The firing of Curt Schilling is the last straw for me! So farewell ESPN, I don't need or want you in my life anymore. Where and when will this insanity stop? Freedom?

Jim Braswell
from Birmingham, AL
I have a question. Has the management at ESPN gone completely nuts? Are all of you gay? It doesn't take courage to dress up like a woman. Will you take responsibility the first time a woman is raped in the woman bathroom or a child is molested? We need to feel compassion for these people because they obviously have problems, we do not need to embrace their lifestyle. Please employee a few real men within the upper management their at ESPN.

Wendy schipper
from Kalamazoo, MI
Very upset you fired Curt Schilling on his remarks about transgender bathrooms. I have 4 children and you should hear my voice and freedom of speech for me in saying this is inappropriate.

Kenneth Allen
from Long Beach, CA
I understand that ESPN has fired Curt Schilling for his comments about Transgender people. The majority of the people in the U.S. feel the same as he does. I am very much disappointed in your action and am calling Dish net work to take ESPN off my cable programs. I will no longer watch any of the ESPN programs.

Kendall Bake
from Charlotte, NC
I am reporting unnecessary profanity on a prime time show. 8:55pm Jon Gruden was hosting a football show where is used the word " god***m." I am very disgusted and offended as a Christian that this language was used on a football show. ESPN should be more responsible with their content. It was TOTALLY unnecessary. I will no longer watch Jon Gruden again. If he is on monad night football I will not watch. Please take the correct stance and properly train your employees to be respectful and more responsible with their words.

Linda Bousquet
from Cary, NC
The commentators at the Spurs Warriors game were obviously pro Warriors. That gets very annoying. You can't be acting like a Curry groupie and call the game fairly. Or just keep your opinions and enthusiasm to yourself. Every time Warriors made a basket they were happy and shouting. Spurs could do no right. Sickening.

Jeffrey Gerard
from Clay Center, KS
The ladies announcing the women's national championship basketball game, we're absolutely sickening, they did not even talk about the game itself, but rather spent the whole time gloating about UCONN players, past and present.... please do everyone a favor and don't let these two ever announce another game, not ever.

This morning, 8/28, Colin Cowherd took my Lord's name in vain TWO times within one minute by swearing "Jesus" on his radio show in referring to the Stone article on Hernandez. This is inexcusable !!! Colin may not be a Christian but he has no business swearing on the air by profaning my Lord "Jesus".

I do not appreciate the continued harassment of Tim Tebow by ESPN. I am a Saint fan and have no real connection other than the fact that I am a Christian and it appears that your network is trying to make fun of Tebow and his relationship with God. That is a freedom he has and I would hope that you could communicate to your sports announcers that they are not nearly as cute as they think they are. Knock his abilities and point out his flaws, but don't tie all that to his right to be a football player who has a relationship with God. Thank you for your time in this matter

Mark St John
from Dobbs Ferry, NY
I have never seen such misinformation in my life! I thought I recorded the Australian Open this morning, but no it was not on the channel you said it was on, When you pull up the guide, it gives you another channel, BUT THAT CHANNEL IS WRONG TOO!!!!!!! What in the hell is so difficult about giving the proper channel, Kobe's death is not an excuse for you to be incompetent Pathetic

ken clark
from Fullerton, CA
I am so tired of hearing a sports station comment on their political views. ESPN has truly become trash tv with a lady on every show and has overcompensated to the extreme. My current complaint is with Dan LEBATARDS rant about the presidents comments. IF I WANT TO LISTEN TO BULLSHIT VIEWS I WILL TOON INTO FOX OR CNN. I DONT NEED TO LISTEN TO SOME BLOWHARD THAT HAS HIS OLD MAN ON A SHOW TOO BOOT GIVING HIS POLITICAL VIEWS. YOUR LEFT ATTITUDE AND ALLOWING THESE DUMBASSES TO CONTINUALLY SPEW THEIR VIEWS ARE A TURN OFF TO YOUR COMPANY. WAKE UP AND PUT SOME GUIDELINES IN PLACE OR YOUR RATINGS WILL CONTINUE TO DECLINE.

Today is 7/18/19. Just turned on Lebatard. They were discussing R.Kelly. Come on ESPN. please leave politics off the air. SPORTS, IT'S SPORTS. Doug Gottlieb did this all the time. I'm glad he's gone. I know Lebatard could care less what I have to say. I do enjoy his show as long as it's about sports.

Mort Glazer
from Tilton, NH
I am watching the Dodgers v. Red Sox tonight, and being a Sox fan for over 70 years, I am not particularly happy about how the Sox are playing these days, so admittedly I am feeling a bit grumpy. However, i find Jessica Mendoza very annoying. Not because she is a woman, or an analyst, although it does take some time getting used to. The thing that really others that she is always laughing at comments by her co-analysts that are not funny. Now Jerry Remu genuinely cracks me up, and we love him for his sense of humor, and his humility to say nothing of his courage in the face of personal tragedies. But I don't understand her giggling at inane comments. She is very knowledgeable, and she has a good voice. (Sox just tied game.) Maybe she is trying too hard, but she can be taxing. Not too crazy about the two other guys with her.

Jessica Mendoza & Alex Rodriguez are hard to listen to. They both talk to much instead of letting the game speak for itself. Jessica thinks she to explain everything to the viewer as if we've never watched the game before

jake brown - US-Army retired - hoping ESPN has not lost its vision for customer service and TV sports quality that is disproportionately missing.
from Bethel Park, PA
Your TV telecasts of every sporting (most recently Wimbleton is a disservice to the viewer and the sport itself. In its every competition 75% of the camera-vision was not in the spirit of the sporting event). Every televised sporting event has a plethora of TV cameras that bounce around from facials in syncronized ping-pong fashion without a pause for fresh air. It is evident that TV crews have succumbed to pre-talkies camera fixation. With todays digital technology, the constant movement of camera shots is annoying and adds to a dizzy-like experience. A normal flow of sports coverage has turned into an overwhelming viewer punishment with facials or some other type of non-consequencials. Perhaps it's time to bring in more cameras and add more incompetence features for the TV directors, and give the viewer an added treat of vertigo. Sports is not Hollywood drama or media theatrics. Get a grip ESPN!!! P.S. I.E., NFL games have cameras dial in into the player's facemask, tc. during huddles, give it a rest ESPN.

Michael Navarro
from Dublin, CA
When are you going to drop Highly Questionable it has to be the worst program in your history and you've had some bad ones.

You really screwed up the WSOP main event this year. What's with no coverage on Saturday? And you skipped another day, so you couldn't follow who lost. I've been watching the WSOP on ESPN for years and every year you cover less with poorer coverage.

Keith Gerberry
from Phoenix, AZ
I was truly offended by Tracie Morgan's monologue all his racial remarks

Mike Aram
from Mt. Pleasant, SC
Last nights coverage of the HR Derby was hard to watch without the volume down. The
announcers were talking the whole time about things other than the Derby. People actually
want to watch or hear what's going on and not have them talk about the season and what
the players are doing with their lives and stats, etc... The announcers are doing that during
games also and it's hard to watch. Think about getting people that are actually going to
call the game and not divert the viewers attention from it.
I've been watching ESPN for over 25+ years and since you've added mostly former players
from every sport to talk in the booth during games, it's been getting harder to watch every
year.
Mike Aram

Ed adolph
from Royal Oak, MI

Sam G. Roney
from North Augusta, SC
Your new scoreboard on the screen of
College World Seried baseball id way too small for viewers to see much lesd
Read it. Whats wrong with you people.
The regionals were much done. Very
Disappointed in the scoreboard on tje
Screen.

Spencer GOLDSEN
from Scottsdale, AZ
I am an avid golfer and fan of watching tournaments on ESPN. However, when are you going to realize that most golfers want to see more of what is happening on the course and less talking from former players and others.. This is the opinion of almost all the members at my golf club.

Larry Bennett
from McMinnville, OR
Canadian F1 Grand Prix was scheduled to air on Dish at 6 pm Sunday! The race didn't actually start until 7:45 pm. Then halt way thru the race, around lap 35 off 70 lap race it shut off!! I don't understand why you would do that to someone who is paying for the service!! Very unprofessional.

j. olson
from Sunnyvale, CA
You are a complete disaster in everything you do with NCAA baseball. Your channels are screwed up your ESPN app to go to is screwed up you never allow enough time for these teams to play don't you understand college baseball is at least a 3 to 4 hour event you get all the advertising you need it's not like professional baseball. If you can't afford to cover it then get out of it turn it over to somebody else that can do a hell of a lot better job than you guys are doing

DONNA GRAHAM
from Arcadia, OK
WOW---I'm trying to watch ESPNU---Texas Tech and Oklahoma State baseball game 6-8-2019---The camera people are doing a horrible job---The cameras are shaking so bad that it's making me ill---I can't even watch it---come on really ESPN this sucks

d whitehead
from Accrington, ENG
Would you please remove David Ross from your Baseball broadcast team, I enjoy your coverage but I can't stand his horrible, horrible grinding , monotone voice, and his stupid rambling opinions , they really annoy me.
The rest of the team are exellent and I enjoy them very much and they are amusing and fun to listen to and know what
they are talking about. This is a genuine complaint , and not a vendetta against him, afterall I'm a cubs fan
Please get him out of the broadcast booth, so I can enjoy my Baseball again..
Thankyou for your concerns....
D Whitehead..

Rayner Colton
from Hollis, NY
During the second week of the wimbildon fortnight last July I signed up an downloaded the ESPN app, including the paid portion. During the trial period I had no problems. However after the trial period I could not get the app to work. As a non nerd I may be doing something wrong. I really want to get my tennis back. I have waited for a long time due to illness. I still have a lot of trouble speaking making using the phone difficult. I can talk but it extremely uncomfortable and includes a lot of coughing. Please get back to me ASAP, as I am missing most of the French Open.
I thank you very much! Rayner Colton chatul2341564phite@icloud.com. Although it is difficult I can speak on the phone, just make sure the number is identified. 646-912-0867

Watching the NCAA softball World Series right now and can't believe how unprofessional the program is. Who the hell cares to watch someone stuff their face with food for two innings. They barely talked about the game. Grow up ESPN - this is the Women's World Series, not a backlot Little League game. Disgusting.

I've been watching MLB for many years. Over that period of time I've listened to some of the best and worst of play-by-play and color analysts for the Yankees and Mets, being a native NYer. I can now include Alex Rodriguez in the category of one of the worst. Aside from a vocal range that seems to be one of a pre-pubescent high schooler, his commentary is mundane at best. At worst his comments are self-conscious, forced, and in many cases outright ridiculous. For example tonight when another booth analyst was showing a player's shoe that had been purchased for $1500 by the player who then had spikes attached. A-Rod's comment was that the shoes cost more than his car. What a buffoon! Is anyone supposed to believe him, much less feel empathy that this millionaire many times over is supposedly driving something like a 1969 dodge dart?! Probably more like a Bentley. Even the expected player insights are muddy and contorted. His delivery is just not believable. He's definitely no Phil Rizzuto, Tim McCarver or Keith Hernendez! Much less Joe Garagiola! Hey, Mark Texiera is unattractive and a bore, but at least he sounds like he knows what he's talking about! What MLB or ESPN exec does A-Rod have nasty photos of? The guy brings the broadcast down so low that I mute the volume when he's on. Please send him back to the golf course, or make him a AAA batting coach - or J-Lo's travelling food taster.

George Galeana
from Bedminster, NJ
Can my complaint I'm watching the college girls World Series Alabama Oklahoma your two announcers on those two ladies you got to get them off they know nothing about baseball and the way they talk they don't explain nothing much going on the game they explain everything else but but nothing they are lousy you know I have no idea what they're doing you got to get them off really you can't have those two notch in the World Series I swear to God they are so crappy

App needs refreshing.Not showing basketball boxscores...

Do your announcers on Cards/Phils realize its not memory lane time, or try to impress time AND there are 2 !! Teams playing..not just one..if I were not a lady I would have some vile names for these clowns..disgusting...oh..too kind niw they r doing an interview with a Phils player and kaughing at our mgr

You have at least three commentators with the Cardinals and the Cubs game with only the knowledge of a wiffle ball game Carpenter on 1st base hit to left field if it's fielded cleanly you never go to third especially in the third inning I am 51 years old I have been playing baseball since I could walk

Judy Gonzalez-Massih
from Berkeley, CA
Why are you advertising roundup!
Despicable!

Keith Baty
from San Jose, CA
Can we listen to two non-bias commentators calling the rockets & warriors game, all season long you had these two looser calling the warriors games. Enough

Why did u dis the Detroit Lions 2nd pick in the second round draft

Dear folks and deciders at ESPN,
while I love your NBA coverage with the always entertaining and insight sharing crew Mike Breen and the wonderful Coaching-Duo Mark Jackson and Jeff Van Gundy, I have to admit that I am more than disappointed with your decision, for whatever arbitral reasons, to put Kobe Bryant's Detail on your exclusive Platform ESPN+ to ostracize fanatics of the Game outside your beloved land of the FREE and home of the brave.
If it wasn't for a lovely and truly brave person on YouTube that put out some of the Videos of the first season in 2018, which were taken down quite quickly, as well as only a handful of ads, quite a few people would have never even heard of it.
I worked as an Analyst in Soccer at the biggest Club in Germany and one of the most successful ones in the world (you'll figure out which one) and I am eager to learn more from arguably one of the TOP 3 TO EVER PLAY THE GAME about insights, that maybe no one else could provide with such clarity and that cohesive.
My simple question after this extensive, and fully intended passive-agressive Message: What are your reasons for not only making this valuable content seemingly just available in the US but also make sure none of the full Episodes are maybe uploaded by a single person who just wants to share this great information and vantage Point of a player that great with as many people as possible?!
As I (unfortunately) read enough about some business handlings your Company made in the last few years, I am simply expecting a generic, non-answer from your PR-Dept. like maybe Facebook or apple would provide.
Greetings from all across Europe - maybe some of you have to rethink why they got into journalism. I don't believe it was because for the love of declining information.

Your supposed to have the Phillies on. But you some stupid interview with some stupid guy that can't speak English.this is why I don't watch your stupid channel anymore

Announcers of Rockets/Jazz games are horrible and so obviously bias. We don't need them to count down how many shots Harden misses. She is probably the worst announcer I ever heard.

Get the BIMBO'S off of MEN'S SPORTS. NO MAN in his right mind wants to hear the opinion of a dumb little girl, who's never even caught a pass in her entire life, give her opinion about if she thinks it was a good catch or not. She CAN'T RELATE ! She's never played at the INTENSITY of MEN and has absolutely NO CLUE the level MEN play at. If you all want your ratings to continue to FALL, then keep letting completely LOST little girls comment on MEN'S sports. Especially when there is 3 or 4 ex-players or coaches of the NFL or NBA and ONE DUMB ASS BIMBO who's never even bounced a basketball DEBATING or CONTRADICTING what PRO-PLAYER or Coaches have to say. It's a fn JOKE. Let them report on women's volleyball, or something. ANYTHING but MEN'S SPORTS ! Men don't give a RATS ASS what the dumb little BIMBO thinks. Explaining the highlights of the game, I don't mind. But, to argue or contradict what a PROFESSIONAL Player or COACH had to say, is COMPLETELY FN RIDICULOUS !

Philip Saunders
from Bedminster, NJ
ESPN + requires a subscription fee but they only show portions of the events supposedly offered on the site. They send other portions of the program to ESPN watch making it more difficult to view the entire program. They also have decided to now air certain boxing programs under a pay per view format that we were lead to believe would be offered inside of ESPN +. In short you guys really suck when it comes to boxing broadcasting!!

Thomas Guy
from Bedminster, NJ
If Denver does not make it to the finals your announcer's will have a heart attack. This is pathetic. What are they all from Denver? It's really a joke. I live in Tennessee and the bias in this game is unreal.

Michael Cheers
from San Jose, CA
I have no complaint about the content nor service. However, I don't understand how Stephen A. Smith can continue to be so rude and arrogant towards everybody - all the time! I appreciate his knowledge and debate skills, but his constant bragging and whining and "he's always right and everyone else is ALWAYS wrong attitude", is causing me to consider stop watching First Take. Today, his constant whining about how his vacation was disrupted because of the Magic Johnson story was way over the top. He's a professional, and is paid handsomely. Can't someone in ESPN management speak to him about his behavior? I'm sure that I am not the only viewer who feels this way.

Danny Belyeu
from Naples, FL
Will you please instruct the gentlemen announcing the Masters golf tournament to unbutton their sport coats while seated
They are meant to be buttoned while standing. Surely someone there knows this
Thank you and I'll be watching for the change

Robert Garcia
from Lincoln Park, MI
I have a complaint that involves sports broadcasting. Mainly Tiger baseball. I tune in to watch baseball because it is, or should I say use to be a relaxing enjoyable time for me. It seems that who ever does the broadcasting takes away from the game by a steady stream of chatter. I can appreciate an occasional comment or description of the play or players but I feel it has gotten to be all about the product in the booth and less about the product on the field. Imagine going to a movie and having three people talking constantly about the movie,telling you all about what you have just seen and giving you the complete history and life experience of each actor. They out talk each other by showing you how many movie stars they met and their lifetime experience with that person. It is annoying and distracting. You did not come to listen to the commentators you came to see a great movie. That is how it has become with baseball broadcast. There has been times when something has happened on the field and the camera and conversation was so directed to the booth that I found myself wondering what the heck just happened on the field. Is there a way to cut back on all the noise in the booth. I am tempted to go back to radio. A friend of mine turns the game on the radio and mutes his TV. Thank you for your time. I don't know if my complaint will have any consideration but I am not the only one that feels this way. I know of people that no longer watch sports because of similar feelings. Warm Regards, R. Garcia

I wish that the ESPN would get off the University of Kentucky's back especially John Calapari. The sports announcers with ESPN stink and most are ACC biased. The comments and picks that these announcers make are completely in left field for the most part. Kentucky's loss to Auburn was a bad loss to a good team. You very seldom beat a good basketball team three games in any given year especially without one of their best players not playing, Auburn not only beat Kentucky but Kansas and North Carolina as well in their last 3 games but all you could hear from the announcers early on was likelihood of three ACC teams were going to be in the Final Four. Well they aren't! With Three of the No. 1 recuirting picks Duke didn't make it, Auburn beat North Carolina just like Kentucky had beaten North Carolina earlier in the year but no one mentioned the ACC teams on Neutral basketball floors. Let's go Auburn TIGERS to the heck with ESPN.

Jay turner
from Bedminster, NJ
You suck espn ...with all the hype for duke and Zion ....they are not the only college team out there...makes me sick to my stomach....lost my respect for you ..hope you lose a lot of supporters over this bs !!! Hope you crash and burn !!!!!

bhupinder khurana
from Hewlett, NY
unable to watch that i paid for espn plus
extremely unfriendly site.

Doug Crawford
from Oklahoma City, OK
Prior to the elte 8 broadcast you braodcast infomation about the teams players. Yet many times you mentioned u of tennessee they were eliminated a couple days ago. Texas Tech is going to the final 4 yet hardly a mention. Who in corporate is a tennesee fan? espn on their knees as buttchugger u. Check out you for butchutter u. For real.

Judy Keeler
from Syracuse, NY
I appreciate that we can watch women's march madness on ESPN, but listening to blabber rather than calling what is happening on the court is so annoying. When there is a call on the floor, it would be helpful to have information on what is happening in the game, rather than an ongoing discussion on new diabetes monitoring system. It is good for diabetics to have the system, a mention could send me to google for more information. Is the ESPN expectation of announcers that they should continously chatter? We love basketball, but hate to have to mute the sound rather than face the irritation of endless, pointless commentary that has little to do with what is happening on the court. It is refreshing to find an announcer who recounts plays and doesn't feel the need to fill every second with verbosity. This is an ongoing complaint, not restricted to the Baylor vs. S. Carolina game. (The fourth quarter was better; it's a relief that announcers ran out of stories.)

Keith Blabbermouth goes on a rant about someone shooting a white turkey and he wants everyone to make the hunter's life a living hell. I am only one person but as long as that egotistical blow hard is on your staff ESPN will not be shown on any of our televisions.

David L Committe Sr
from Mount Holly, NC
My complaint concerns a comment a reporter made on ESPN's "Around the Horn" show on March 26. 2019.
She tells the audience that everyone is light years behind the times if they do not approve of sodomy, which is one man sticking
his penis up another man's rectum. Does she also approve of a man sodomizing a woman as well? She needs
serious help.

Why does ESPN allow Tony Realli who hosts Around the Horn to wear the same clothing every day of the week.? Hope he washes them out nightly

Dave Keenan
from Northampton, PA
What do you have against Notre Dame? You switch broadcasting when ND is winning, especially on Women's Basketball. When UCONN is killing their opponent, you broadcast the complete game. What's with that?

I was just watching NFL Live, and you need to do something about the way Josina Anderson
dresses ! She was showing off her legs thigh high wearing black stockings with ribbons or
something at the top then bare thighs again.It's not for a sports talk show, it's offensive ,and
remember kids watch this show.You go back and look at the tape where they are all at the
draft board, and pay close attention when she reaches all stretched out.It's something
out of Victoria Secret.Her thigh shows all the way uo with those slits in her dress.
You need to stop it .

i just wanted to make a suggestion and it is such a pain in the ass to just find a place to make a comment or an idea to improve your site but it is impossible to figure out a way just to send it to you..
so after all the frustration... when you are looking at the scores at any sport u are interested in, I would like to suggest that you provide a way to slide the scores or change the order listed. so that the ones you are interested in you can organize it so that they are together.
such a simple idea but now I feel stupid to bring it up after all the pain in the ass it was to find the place just to say it..
thank you for your time

Earnest Combs
from Alexandria, KY
Please..........do not use Dick Vitale on big games ,i.e.,Tn vs Auburn. All you get as a fan is ongoing never stop BLUBBERING...mostly about the past,and his theory of success , of which most runs together along with one cliche
after the other. Sadly you can only understand every other word. Move over Dick,,,,!
Thanks for your feedback!
Sorry. Please try again later!