ESPN
ESPN Complaints Continued... (Page 3)
404+ reviews added so far. Upset? Call ESPN corporate: 1-888-549-3776

Bruce Richard
from New Hartford, CT
While watching the NCAA Women's tournament, Doris Burke needs to know that this is a Basket Ball tournament and not the Doris Burke Show. People like to hear stats, or when a whistle is blown, what the call was, or who made the foul, or why someone was taken out. With Doris, we turn off the audio and listen to WTIC radio for play by play action. I am sure she won't hear any of this nor will you ESPN do anything to correct it. It seems like this falls on deaf ears

Lorrie Amadio
from Imperial, PA
Watching RMU - uconn game - I don't know if they realize RMU is playing - didn't recognize RMU at all - was calling them Colonel instead of colonials - they were so rude - they didn't even show the cheerleaders for RMU how low can you get. In addition the ncaa needs to rethink these brackets - and keep it interesting instead of the same teams all the time - thanks for insulting RMU your a classy act ESPN.

Anne Comerford
from Sarasota, FL
St Bonaventure University mens Basketball has a higher RPI than Monmouth and St. Mary's! Tell Dick Vitale to get his facts right. Sick of hearing Vitale continue to repeat wrong facts.

Maria Caudill
from Louisville, KY
Dan Dakich needs to either learn how to pronounce Kentucky players names, or just shut up. He has to be one of the most obnoxious people on ESPN - and believe me, that is saying something.

J wright
from Hilliard, OH
You should be embarrassed at how one sided the broadcasters are in the Akron vs OSU game- obviously against the Buckeyes! Making very negative almost condescending remarks about the Buckeyes. Absolutely ridiculous- guess that is why they are calling the NIT not NCAA.

Jerry Lubs
from Houston, TX
In the last few years someone decided that adding more crowd noise was a good thing to do. It isn't ! So many games are ruined because the customer watching can't hear the announcers. If this is going to continue you should consider reducing the live fan noise so the rest of us can at least hear the announcers. I am watching the Purdue vs. Illinois game and turned the volume up so loud the neighbors can hear it. Still the screaming and noise takes over. If you are going to keep doing this you might as well not have any announcers!

Mike Amos
from Cincinnati, OH
I'm trying to watch the IU VS ILL. Men's basketball game on Feb. 25. The commentary for the game is very distracting. The back seat coaching is taking away from the game.

Maggie Steffen
from Tucson, AZ
What happened is that once again I am subjected to Bill Walton announcing an Arizona Colorado game. We have to put the tv on mute. If there was any other choice we would watch the game there. Please retire Bill now before more customers are damaged. Do I have to go straight to the ESPN corporate office?

Eddie Hughes
from Washington, DC
I don't know if you get many complaints about Mike Tirico, but he is the worse sports announcer on TV. He has absolutely no knowledge of what's going on in anything he is on. Your network always surround him with people who take up the slack for him

Stewie
from Colorado Springs, CO
I am sick of Stephen A. Smith crying for black people when there is no reason for it. Black people are not denied there rights anymore.

Probably not in right spot, but I want to complain about Ohio State MIchigan basketball game on ESPN. I though the sideline view was terrible. I could only see one side of the court. I am not interested in looking at the refs back. I can not see through player to other side of the court and can not move my head like the people sitting side court. I probably could have had a more enjoyable experience if I had listened to Ohio State's broadcast.

Dave
from Bloomington, IL
Watched OSU/Mich basketball game tonight. Did not like the camera angle from the floor. Could not see the plays. Not good. Couldn't see under the basket. Not many replays shown either. Don't do this angle the whole game!

Leta Hutchinson
from Florence, SC
Trying to watch game between Gamecocks and Tenn. Announcers are way too busy just "running " their mouths!!! Half the game has not been announced properly... Ready to turn volume off!!

jerome bartkowiak
from Bay City, MI
I tune in to watch a basketball game and I get a conversation between two guys trying to prove how much they know while the game goes on in the background. I find this very annoying. Their chatter does nothing to help me understand what is happening on the floor. I have yet to talk to a basketball fan that tunes in to watch and listen to the commentators. We want to watch the game and listen to an announcer that helps us understand what's happening on the floor. Not what they think, how they would do it or what they have done in the past.

Sharon David
from North Vernon, IN
Please do not allow Dan Dakich to "announce" any more Purdue basketball games. We have to turn down the sound when he is talking. He loves to talk about what a player did wrong, along with what HE would have done in the same situation. He sounds like he is trying to let everyone know that he knows more about basketball than anyone else in the gym or the listening audience. He does the same thing to whomever is playing, but mostly we watch Purdue and HATE to listen to Dan Dakich. Please find him something else to do. thanks.

Rob Phillips
from Inman, SC
Watched the crossover broadcast of ND vs Miami. The announcers were more interested in socializing, reminiscing, and discussing everything except the game. What a bust. Three good announcers but one super poor telecast. Nice try, but what a failure. Stick to what you do best. You totally ruined the game for me.

Christina Churu
from Irving, TX
The women's tennis quarterfinal match between Maria and Serena was fun to watch I did not like Chris Evertt's comment that Serena wants to beat Maria for personal and professional reasons. It was very unprofessional. Ms Evertt needs to comment in a more professional manner.

Joe Di Girolamo
from Egg Harbor, NJ
I like to see ESPN move the Dan LaBatard show to a late night time frame or remove him completely. I will continue to change the channel unless he is moved. His show are not about sports I speaks about nothing.

Michele Wittling
from Ashburn, VA
I have been trying to complain that the coverage of the Australian Open is marred by the poor graphics that cut off the score box. I cannot submit that complaint because each time I try it tells me I am a bot. I am not a bot. I have completed each field of the form personally - there is no captcha to complete. I guess you only allow compliments? Not only is the graphic issue annoying - this poor customer service is frustrating.

Marikay Vander Ven
from Dayton, OH
I just finished watching the Indiana -Illinois game and am so annoyed and sick of Dan Dakitch! He is VERY critical of Indiana and as an Indiana Alumnus feel he should not be allowed to announce IU games. Furthermore he is insulting and negative about most teams and ruins the viewing experience!

Bomani Jones is a joke. He degrades every active professional football player. Loves to attack Peyton Manning. The subject came up on one sports cast about is Nick Saban one of the greatest coaches. He quickly started talking about Eddie Robinson. He is a borderline racist. His show is the most negative show on ESPN. He should be fired! Bring back Colin Cowherd.

Jay Memler
from Naperville, IL
The announcers on the MSU- Iowa basketball game were not up to ESPN's usual standards. John Calhoun is in a training process, so some of his untimely comments can be overlooked, but the play by play announcer Tim B. did not stay on task. Way too many times, they did not say who was fouled, who was shooting the free throws, or who had the ball. They spent too much time talking about records, Calhoun's experiences and other items that did not pertain to the action. The timing of some of the video replays was off at times, causing some of the actual action to be missed. I certainly hope these can be corrected in the future. ESPN is a great asset and it needs to be kept up as a world-class broadcasting entity.

Martha Moore
from Seneca, SC
Don't know who to complain to. Please send to appropriate person(s): The singing of our National Anthem at the NCAA National Championship was very disturbing. This is a program watched by children as well as adults. It's not Dances With Stars or the Oscsrs. Her clothing or lack of did not fit the occasion. Very poor taste. I think the cameras tried to stay off of her butt -- plus her rendition was not very appealing.

Knud Larsen
from Corvallis, OR
What is the matter with ESPN, they are ruining the National Championship Clemson/Alabama by filling up the screen with their STUPID commentators. Are they insane. We want to watch the game not commentators. I have hung a screen over the affected third and used my mute. Too stupid for words.

I would rather watch the alabama/clemson game without 3 guys on the side blocking part of the telecast. They can't see properly either to commentate. Get them off the sideline and back in the booth and get rid of the tweets.

Audi Carter
from Raeford, NC
Thanks for the love you guys showing "East Caroline Universty" lately. However, please tell our commentators that we are East Carolina and not eastern Carolina. Bad bad bad if they say eastern. Some not experienced enough to know the difference.

Billy Luther
from Weaverville, NC
This is simply a gripe about how selective you are in what you report. Intelligent viewers understand how you control and influence what we see and hear in the medium of sports television. That being said, where the hell is your typically incessant coverage of a despicable human being such as Terence Cody? And worse yet your obvious lack of guts to truly investigate and demand of the NCAA an explanation as to why UNC's proven cheating scandal has yet be be addressed after over two years of public disclosure?

Jack Seamon
from Fort Myers, FL
Sound on the Sugar Bowl was terrible! Field noise drowned out the commentary! This is an industry-wide problem. Hockey games are bad too. Ice level mics pick up too much noise which again drowns out commentary. I want to hear analysis, not some drunk bozo in the stands. That sound level needs to be monitored and toned down. The announcers don't know since they're wearing head sets.

Steve Jarvis
from Bowie, MD
I want more of Uncle Brent. Please stop delegating one of our finest broadcasters to your 3rd tier network (SEC Network) which many of us do not receive. His coverage of today's Orange Bowl was exceptional, as always, and I request that you either return him to covering the top games or release him altogether so that another network can make use of his untouchable broadcasting capabilities.

Dan Kealey
from Payson, AZ
You treat your viewing "FOOTBALL FANS" like we are stupid & cannot remember what broadcast we are watching and who sponsors the event. The constant (after every play) display of ESPN college football is in "your face mentality", annoying, unnecessary and a distraction to the game. Furthermore it servers no useful purpose. The production people that think this is "cute & necessary" should be FIRED. I trust this will be corrected in future broadcast.

Robert MacDonald
from Fox River Grove, IL
Many years ago, in your first year of the magazine, I was a member. I have been to Bristol because I grew up in Naugatuck, Connecticut. I am in Madison, Wisconsin now. I use to love you guys. Now I do not. You have made watching sports a mockery. You are money mongers now. All the bowl games on ESPN. Nothing substantial on the National affiliates anymore. No cable or satellite, tough.
Try on line, no cable or satellite, tough, you can't watch it. Oh, watch the highlights then. Every highlight with a commercial before it, over and over again. You have sold out the common sports fan. I will never think of ESPN, Sports Center, Bristol, where I have two cousins working, or watching College football as the same now. ESPN, Yeah Baby.....you ruined sports with your money grubbing ways. " As Shixxy as the other side of the toilet seat!!"

Susan McCarthy
from Panama City, FL
Why do you let Herbstreit call Michigan State games when he is so clearly biased against them? Do you listen to his commentary? He is NEVER impartial. I will keep writing ESPN corporate until you make a change.

Betty Hughes
from Jackson, TN
I am watching the Birmingham Bowl. The woman broadcasting the game sounds as if she is straining every muscle in her body to talk. It is highly irritating to listen to her. Both teams are, "Tigers," and several times she has said, "Go Tigers." Then she just talked about the, "Tiger Defense." Which Tigers? Unless you were looking at the tv screen at that moment, you had no idea. Is she ill prepared or just plain dumb? Whatever the reason, you need to get her off the microphone.

Debbie Martin
from Sylacauga, AL
Watching the Birmingham Bowl and was wondering why the commentators are interviewing Memphis State's new coach and not commenting or showing the plays on the field. I tuned in to see the ball game, not an interview with a team's new coach who will not take over until after this bowl game.

Teri Hachey
from Santa Clarita, CA
The announcers for the UCLA and Nebraska football game on Saturday were completely bias against UCLA. I refuse to watch any ESPN until they hire some creditable people.

Jeff Boyer
from Anderson, IN
I was watching sports-center when one of your commentators stated (I would like to regurgitate what you just said). Perhaps that is what he meant but i doubt it. Many of your announcers have a terrible grasp of the English language, and present a very bad example to the youngsters watching your shows. The fact that the people he said this to did not burst into laughter is a good reflection on there upbringing.

Patrice Klein
from Las Vegas, NV
I was trying to watch the Laker game and I didn't appreciate being preempted by the Warriors. Who cares if they are undefeated?

martin d lockhart
from Lawrenceville, GA
Monday night football was presented by your channel, with Jon Gruden trying to rep both teams and I noticed that he kept referring to Jay as hidden as it was presented, he was trying to help his brother. Jon should carry himself more professional than this, but he really showed which team that he was pulling for. If he is going to represent ESPN then he must remain objective for both teams.

Clemson and South Carolina game. Between plays the band is so loud can't hear the announcers. Speakers must be right where the band is sitting. Is that what ESPN wants, can't hear the announcers 1/2 the time for that is what is happening.

Regina Bear
from Pooler, GA
Specifically, I do not like Beth Mowins commentating. Cringeworthy. Please don't do this to the fans. I can't watch tbe Georgia rivalry. Just thankful that if she's at this game, she won't foul up the others. Please remove her from college football commentating. Many, many thanks!

Wayne Weirick
from Las Vegas, NV
The announcer Bill Walton is not good too much complaining and thinks he knows everything. Not Good.

Linda Johnson
from Louisville, KY
I have been watching the IU vs St John's basketball game from Maui, the commentating is terrible, Jim is talking about his personal life instead of the game, he has given me a headache. He can talk about his bike riding and swimming with turtles and back surgery at the bar. Give us a break we want to watch the game.

Bill Walton calling this ball game at the Maui Invitational. He is really being RUDE to the guy that he is working with, calling this game. I thought that all the people calling the game are supposed to be impartial. He is so anti Indiana about this and really calling for an IU loss. I am ready to shut off the volume on the tv and listen to this on the radio. His voice is making my skin crawl.

I have 2 complaints with ESPN. I've been watching ESPN since middle school in 1992. I'm a huge fan. First, why is Dan Le Batard filling Collin Cowherd's previous time slot. I'm sure it's to try and reach out to the young, slacker generation, but it looks and feels like the sports version of the Howard Stern show. The content is gimmicky and immature. Second, and more importantly, I feel that ESPN has made a shift from pure sports coverage to sensational journalism.
I realize the need to compete with a plethora of suto journalistic programs, but a large portion of your base only cares about sports. You can leave all the theatrical stuff on gay marriage, dying children, wife beating athletes, and towns impacted by natural disasters to other stations. I tune into ESPN as a break from TMZ, 20/20, and CNN for a break from the strange reality of life. Thanks for your time. Please consider my recommendations.

Jerry Hardesty
from Harrison, AR
Every time Arkansas plays on ESPN it's as if Arkansas isn't even there. The announcers spend the majority of their time talking about the opposing team, irregardless if Arkansas is winning or losing. It's getting to the point that I almost don't watch the game, even being a die-hard fan. Try giving us a break why don't you? Very unprofessional announcing.

Ann Monty
from Roseville, CA
The announcers for the BSU vs New Mexico game on ESPN U on Sat. Nov. 14, 2015, was an agonizing experience. I understand that these announcers are either the bottom of the barrel, or young guys trying to make a name for themselves, but... Bad is bad. What twiddly dumb and twiddly dumber are not smart enough to figure out is that most games on ESPN U are not the BCS top 25 teams. Fans specifically chose that game to watch. Fans of both teams. I get it.... Everyone loves an under dog. However, isn't it the job of the announcer to be impartial? You might be thinking, Sour Grapes? Maybe a bit.... These announcers wanted a good game so bad, that they were blatantly rooting for New Mexico. Therefore, making it even a more difficult experience for a BSU fan. I don't live in Idaho and depend on your station to be able to follow my college. I will not sit thru another game listening to these two announcers. I can turn off the sound and get the game on the radio.

Mark Frisbie
from Los Angeles, CA
Bill Walton is terrible. I'm trying to watch the Texas v Washington basketball game, but commentary is making it a miserable experience. Questioning how to pronounce a high school of one of the players? Remembering when Wilt scored 59 in his first game? Who cares. If he is the best play by play you can find, I won't be watching much basketball on ESPN.

Rosalind "Roz" Fahey
from Marathon, FL
I, and my friends, are very upset because you aren't allowing the broadcast of the National Anthem on TV before NFL games. I am hearing lots of complaints. It almost gets a person to the point of not wanting to watch Professional football. Please give me an explanation why you are not broadcasting (1) the National Anthem (2) the coin toss.

Michael Tinsley
from Birmingham, AL
ESPN's customer feedback form won't process to submission after i go to all the trouble of filling it out because the webpage thinks I'm a bot. How can a bot fill out all the necessary information on all the lines ESPN requires? That is absurd nonsense. I think EPSN just doesn't want to have to read people's emails. Especially considering my emails on other websites aren't denied for any reasons much less because they think I'm a bot. They also have my email address to which they send emails of their own _and I belong to EPSN's websites. I'd call them but I don't want to say something I'll regret. Well, maybe I wouldn't regret it but I still don't want to call them.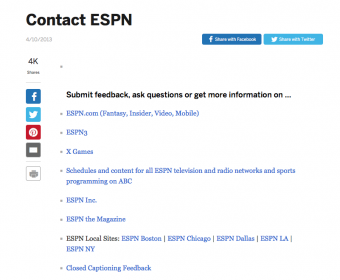 Joanne Tiedeken
from Sylvania, OH
I watch the Sunday sow of Top 25 Ratings every week and every week your analysts get worse, if that is even possible. Mark May and Heather Dinich are the most biased analysts I have ever heard. This morning was the worse show I ever listened to, if that U.S. even possible. There is no professionalism from these two at all. Heather is bad enough, but, Mark Msy us the worse. I don't care that they don't like Ohio State, that U.S. there prerogative, but when he reprimands the football team the way he did this morning, it is downright disgustingly rude. That was the worse thing I ever heard an analyst do. It wasn't bad enough he and Heather made a remark about giving Ohio State a bone by putting them in the Top a Four, but,what he said to those kids at the end of the show was crossing the line. They actually degrade the quality of your show. Oh, Go Bucks!

Jo Anne Spooner
from Carlsbad, CA
I walked in on the last few mins. Of the fourth quarter of the Florida-Vanderbilt game that my husband had on. There was a woman commentator for the game. If I had to listen to her for a whole game off it would go. Her voice was very nerve wracking. Send her back to the office and let the men do their job. This is carrying political correctness to far. She is a woman trying to do a mans job. Not very good either.

Carole Reed
from Jacksonville, FL
The woman announcer on today's Florida vs. Vanderbilt game has the most horrible and annoying voice I've ever heard on ESPN Broadcasting. Get rid of her! She is not suited for football game announcing. I am going to mute it and put on 930am and listen to game.

Terry Kelley
from New Port Richey, FL
Heather Dinich is the most unprofessional and completely Bias writer against Alabama, why im not sure , Alabama has done nothing to her, she simply has no clue about college football obviously. I am extremely dissappointed in her obvious dislike for a single team like that, where did the professionalism go, the knowledge of what she is talking about was obviously never there. She gives ESPN a very bad name in her unprofessionalism.

Lynn Crabtree
from Charlotte, NC
The commentators and production for the UNC vs. Pittsburgh football game which was broadcast on oct 30 were horrible numerous times they called unc players the wrong names. His name is Elijah Hood not Wood. Too much talkabout #23 for Pitt and no respect for the team that won. Yikes ESPN time to step your game up or more employee complaints are coming.

Franco Vincente
from Surprise, AZ
I have been an ESPN viewer from your beginning. Start my day with MIke and Mike. My car radio stays on ESPN network 60 percent of the time. I am a veteran. A tea party patriot. How can you let Tony Kornheiser get away with comparing me and my family and millions of Americans to ISIS? He needs to keep his leftist hate-mongering to himself. Shame on him! Shame on ESPN for letting him continue to represent the greatest sports network in the world.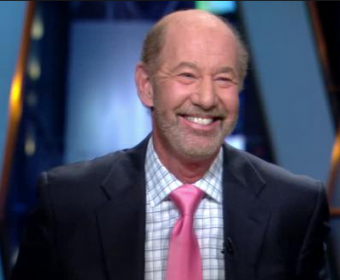 John Weber
from Seattle, WA
I was expecting to watch the Washington Huskies play the Stanford Cardinal at 7:30pm PDT and the stupid Texas A&M vs Mississippi game was still going on. They said something about the Husky game would come on ESPN News channel until the other game got over and then they would switch back over to ESPN.. First of all I have never heard of ESPN News and have no idea of what channel it is on or if we even get it. Why not do like the pro games do on CBS or FOX when an earlier game runs long they switch the game over to the markets that these two schools would be interested in watching. It is now 7:50pm and I am not going to watch the game even if that other is over since I have already missed quite a bit. If you are planning on stacking several games in a row on why don't you allow for more time in between as this really pisses me off. It happened to one of the Husky games that you sadly were going to broadcast but at least there was no game on ESPN 2 and used that to start the game until the other game got over. That is the next channel higher so I knew where that was at and didn't mind but I have no idea were your news channel is at or if our cable company where I live even has it. I wish you would stop broadcasting Pac 12 games as they evidently are not as important as the SEC games or probably any games west of the Mississippi River. Thanks for nothing.

I watched a few seconds of your Ray Lewis book promo show , and or interviews on sports center and multiple other shows. Did you also show the persons and family of the victims of Ray Lewis and his friends assault on them ??? You did a book promo of an athlete who could buy his way out of prison as an athlete... then did a promo on his book? Wow...the hardships this poor man went through having to prove himself not guilty....or his money to buy lawyers and or the price that this poor man had to pay to quite the people that he and his friends hurt. Just sad that you judge NFL players like Greg Hardy. but he only bought his way out of prison.....aka Ray Lewis ...yet you just don't care.
I will never watch your Sunday morning pre-game because he is on it , but you just don't seem to understand that free by money does not count as not guilty....Last off.....this idiot made mention that he is 5 inches taller than the average man ...thus he has no need to fight them and you idiots aired that? I am bigger than the average man ....but in a bar environment guys still try to act tough and mess with me....difference is. I don't have a dozen followers by my side to play tough. I have called a friend or bouncer to aid me against a drunk tough guy and his friends...but no one got shot. Why is it that fame is so much more important to ESPN than class.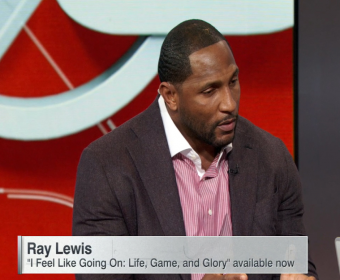 Sharon Edwards
from Fort Worth, TX
It was not an enjoyable evening watching ESPN2 last evening. Beth Mowins is not a top notch announcer. She come across as a woman wanting to sound like a man. I am a TCU fan and wanted to watch the game but it was hard to do with her voice.

cecil sedberry
from Copperas Cove, TX
Tonight's TV game with TCU no, 3 in the nation and you assign 3rd. rate announcers for coverage. The female announcer is terrible also uses very poor grammar. Very disappointed in the coverage. Will turn the sound down and tune to radio instead of listening to ESPN.

Sharon Edwards
from Fort Worth, TX
I am trying to watch ESPN2 and the TCU vs Iowa St game. Why do we have a second rate announcer? Beth Mowins voice sounds like she is trying to be a man. She is really not a first rate announcer and it is difficult to listen to her. Sure do hope that if TCU is on ESPN in the future, we do not have Beth as one of the announcers.

John Jacob
from Panama City, FL
Not only did you no switch over to the gator game when it started, because that is understandable, but you waited too freaking long after the game ended to switch over to the gator lsu game. No one cares about the Michigan st game. We all know they don't have a chance because hey play nobody. The lsu gator game was the most important (Alabama A&m was a close second) and you disappointed millions of people by not showing Florida's touchdown. If you are going to show the game on a different channel, show it on one that everybody has. Not ESPN news!!! Very disappointed.

Peggy Edgerton
from Denver, CO
I agree with removing Colin Cowherd from the radio because he sounded like a sexist pig who regularly denigrated women. But at least he discussed sports some of the time. I wish you would remove Stu Gotts (spelling ?) and his cronies from the air...they don't often talk about sports, they don't know what they are talking about and it is just a lot of blather! They think what is said is funny, but it isn't. I tune in to espn to listen to intelligent sports talk and this does not make the grade.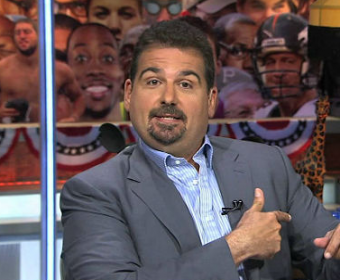 Robert Morrison
from Mount Pleasant, IA
ESPN cut off the last minute of Saturdays Iowa Illinois football game and went to paid programming. Even pro games are allowed to run overtime into the next time period! Unacceptable for a regular and loyal ESPN viewer.

Dennis Lance
from Salt Lake City, UT
Thanks for the great Utah/Cal college football Game-Day opportunity here in SLC today. That was very well done and enjoyable. But I do have a complaint about Brian Griese. I just finished watching the Utah/Cal game this evening and had to endure 3 hours of Brian Griese drool over Jared Goff the entire time. Your cameramen were in cahoots by spending most of the camera time on Goff. Even when when Utah was on offense you showed Goff the entire time, talking about him etc., until an actual play started. Then as soon as the play completed the shot went right back to Goff to stay another 20-30 seconds nonstop until a play resumed on the field. In my opinion, this was so biased that it became deplorable and irritating to watch.
Seriously, it makes me not want to support ESPN in watching any of your sporting events. I will watch when Utah is on but that is because I have to. Why can't Brian Griese be more neutral? Why can't the camera shots stay more on the Utah players and their side of the field when they made great plays. After a great Utah play, they would ever so briefly show Utah and then get right back to Goff. It is not just biased coverage, it is extremely poor coverage. If Griese was not going on and on about a great Goff play, then he went on and on about his bad decision and constantly made excuses for him and of course the cameraman was zeroed in on Goff for as long as possible.
It was truly bothersome, frustrating and nauseating for me, as a Utah fan to watch, and Utah won, Utah was the #5 team in the country not Cal, the Utah defense was outstanding, 5 pics and the pressure on Goff went on all game long. But we had to endure Griese for 3 hours - very very poor color commentator. ESPN management should have a serious sit-down discussion about how he comes across when he comments so one sided like that. I get it, Griese is a former quarterback and will naturally lean to towards favoring a great QB like Goff, but he went overboard and so did your cameramen. Does anyone on the ESPN side see this?

JoArnn Belgin
from Windsor, CO
I am playing College Pick Em. Today my pick for 10 points was Boise State. In the final results you said I had picked Colorado State and I got a loss for the 10 points. I live in Colorado and never would I have picked Colo. St. I know I picked Boise. Please check back & correct this. If you want customers to play a game online you need to make that game better.

Reba strickland
from Spring, TX
Your web site (ESPN.com) has become so dysfunctional that I can't even get scores for today's football games. Since the site was dramatically changed, I have found it extremely difficult to use the site. I have always relied on ESPN.com for sports scores, game cast and news. Since the change it takes forever to load scores (and I am using high speed internet in my home) and sometimes the golf leader board information wasn't even available and the college football rankings are always slow to be posted when other sites have them as soon as they are available.....today I literally could not pull up current scores for college football....took up to 10 minutes for the screen to refresh while other sites come up instantly ...it is not my device nor my internet slowing things down. The current web site is just too frustrating for me to use. I have had to find alternative sites to use, really wish someone would find a way to make this site once again the reliable excellent source for sports information that it once was. Truly sad to see such a decline in service.

Patricia Lyons
from Oshawa, ON
We own an android box and have shown over the course of the last few NHRA_Drag Racing Live TV events that we have not been able to get into the feed or links have fowled up with my Internet provider and they say if its showing being aired it should be on no issues or problems unless its network or weather related. We are big time Drag racers and live in Ontario Canada and are unfortunately are unable to travel to the USA for these events in person so watching live on TV is our only option.
Just wondered what is going on I know that you are losing the contract at the end of this season but don't think its fair for your customers to be treated with such little regard and disrespect when its posted. Your live broadcasts that we have been able to get have also been terrible as well the Cameraman and announcers have been cutting out the programming and the talking as well. So if there is anything you can do to fix this for us we would be internally gratefully. So we can continue on to having the experience we have had originally enjoyed previously to all these issues. Sincerely yours Patricia Lyons- One Of your Biggest Canadian Fans.

In 2015 fantasy rugby world cup my team Boklash scored points from 3 springbok players in the match against the USA on 6th Oct 2015. Bryan Havana played a full match and scored 3 tries but you only awarded him 3 points. I thought that the time that you had not yet updated the results and would complete it later. But later on when I tried to enter my account, I couldn't. I have tried other devices as well as the library computers and still I can't manage to access my ESPN fantasy rugby account. I can access other sites like this one but not the rugby one. So I ask that you fix this problem by unblocking my access and award my player Bryan Havana the points he earned.

Richard Linville
from Kernersville, NC
If you think your viewers are stupid enough to think when you cut away from the Clemson game Saturday night you need to think again, we know as soon as you heard the Clemson Coach use the NAME GOD you cut away and let me assure you that the game sponsors on ESPN will hear from the public.

Todd Carter
from San Antonio, TX
Steve Levy can't get names of the players right. Calling Desmond King - Derrick? Also has called them the "Hawkeyes" the "Buckeyes" early in the game. THAT IS UNACCEPTABLE FROM A SO CALLED PROFESSIONAL. Then again, I guess since we're not in the SEC with your nose up our ass, this is what we get.

James Hart
from San Jose, CA
Please, please, please get rid of Beth Mowins. Her voice is terrible. It's almost so bad that I don't want to watch at all. Don't we have any good men to announce a man's game?

Marty Durden
from Pearland, TX
Please muzzle Keith Olbermann. His political views keep surfacing. You reprimanded Schilling for his conservative views but repeatedly overlook Olbermann's liberal stance. How about we stick to sports in an atmosphere free of personal views. After all, isn't objectivity the benchmark of good journalism? Thanks for listening.

Doug White
from Marietta, GA
The play-by-play announcer for the Cleveland/Oakland football game is so bias for the Oakland team that the viewers are not getting a true play by play analysis. Who does this guy think he is? He's terrible! I have finally turned the sound off so I don't have to listen to his terrible one- sided abnausium dribble. Please do your listeners a favor, get rid of this guy.

Watching SEC football with my family. I have a young son and daughter, 8 and 3. The viagra commercial comes on talking about the obvious erectile dysfunction. Now I don't have a problem with the commercial but I do have a problem with having to explain to my young daughter what an erections is. Why do you have to air this during family times? A little distasteful.

I'm a big fan of First Take and I love Steve and Skip, but the new host is terrible. Bring back Carrie, Jameile, or get a new host please.

Tony Vespoli
from Ashtabula, OH
As a regular listener of ESPN Radio, I'd like to comment about the La Batard and Stugotz radio show, Mike Ryan is the Executive Producer. The name or term "Stugotz" is Italian-American slang for F- - k-it. Now I'm not offended because it's part of my regular vernacular, but there must be lots of other listeners who get it, and may or may not be offended. What's his real name anyway?

Barbara Bridgwater
from Louisville, KY
I have tried to watch the WKU and Indiana football game but I changed channels a half time because I couldn't stand the announcer that was doing the color for the game. He talked all the time. He said the same thing several times and had stupid predictions. Doesn't he get training that less is more. Take an example from John Madden or more recently Chris Colinsworth.

george evans
from Phoenix, AZ
I assume ESPN wants some level of objectivity from the analysts, Teddy brings none of that. If you really need a man to just be an apologist for the NE Patriots, then maybe you can find another spot for him.

Rich scola
from Madison, NJ
I am a college football fan, but I can no longer enjoy a game in which Kirk Herbstreet is doing the color analysis. The man is beyond annoying and never, I mean never shuts up! Is there no one at your network with the sense to tell this guy to put a sock in it? I can only thank God that I have a mute button on my remote.

I am not happy that ESPN has elected not to show the WTA tennis matches that are part of the Western Southern Open. The matches that are being shown are the men's matches or the ATP matches. That is not right. All matches should be shown. Not just the men's matches.

K Saka
from Castro Valley, CA
I for the first time watched ESPN MLB, Dodgers vs Giants. The announcers were horrible! I think the three guys that announce are under the impression we turn on the game to hear them talk about themselves. If it was a talk show and someone asked them a question about them great, but it is not, it is a baseball game and we are watching to hear about the two teams that are playing. Sincerely, Disappointed Viewer.

During a commercial on 710 ESPN radio Marcelis stated neighborhood rolling 60. That is a L.A gang that is notorious for killing, who just killed a young man on June 10, 2015 and shot two innocent bystanders. Please don't condone gangs.

John Friendly
from Salt Lake City, UT
Once again ESPN has sold out to sell more advertising over quality. ESPN decides to choose Caitlyn Jenner for the Arthur Ashe courage award is nothing but a decision to help sell more commercials. When there are so many more people who deserve this award. I for one will not be watching the ESPY's! Boo to you ESPN.

Al Murray
from Van Nuys, CA
What has happened? I think much to my disappointment you are giving Bruce Jenner a reward that in my wildest Dreams, and I am somewhat up to date in current affairs in the world. Although I believe in live and let live. what has he done to earn this award? There are so many more people in the world that are worthy and could have been acknowledged for a award of this nature. Being a supporter of the Jimmy V foundation, he must be rolling over in his grave. As a world Olympic champion who has chosen at 65 years old to live out his life as a female, good for him and Gods speed. This has changed my view of ESPN and all the good you have accomplished over the years.

Linda Anderson
from Orange, CA
Women's college NCAA softball has aired EVERY game on ESPN and the FINAL game tonight is blacked out in Southern California. I have Direct TV who says they have no control over the black out. This is a shame for us who want to watch the championship game. I am so disappointed.

Carolyn Cohen
from San Carlos, CA
Where the heck did you find the 2 goofs who are announcing the A's/Tigers game today 5/25/15? They NEVER shut up and they can't pronounce my A's players correctly. They are very negative. Sam Fuld is an amazing player who has made some super amazing plays lately and these goofs say he's a little player. They know nothing about the A's ability, therefore, make them out to be sub par. Our one player Marcus Semien who has made 11 errors in 16 games they say is a good player. I hope they don't announce anymore A's games. They need more training. They are for some reason hooked on the pitcher green and don't feel our pitcher Hahn is good. Get rid of them.

Ann Barkman
from Bowie, MD
Your coverage of women's lacrosse championships was not adequate. My daughters and I sat down to watch the women's final four and had to streamline it on ESPN3. It didn't work so we couldn't watch. You air all of the men's game yet we had to streamline the women's final four. That's ridiculous. There are a lot of people that would rather watch women's lacrosse and not men's.

Douglas Merrill
from Portland, OR
I attempted to watch tonights Red Sox vs Ranger game tonight. It turned out to be a terrible experience in viewing. If I wanted a Japanese lesson, I'd go back to school. Then to make things worse, you bring on that disgraced clown Bobby Valentine, the master of disaster! Please stick to baseball, couldn't find out the averages as the announcers were overloading my circuits on the Eastern culture etc etc. Have you no shame? Please from now on show baseball not Asian culture. Thanks for ruining my game experience.

ralph lambert
from Rio Linda, CA
The background noise is so loud you cannot hear the play by play or color men. I have started turning off the audio on my TV. Will you please address this problem. I know I am not the only one with this complaint. A friend suggested that I turn the audio off, because that is what he says he does.

benjamin
from San Antonio, TX
Heard you are letting bill Simmons go, not sure of your reasoning there. He's only the best writer you have and the only one who's arctic I actually look for. Seems to me you would rather be associated with someone like brit than someone who actually had the talent to be at the top of his profession. Bills columns have me laughing so hard my s sides hurt but oh well. Plenty of other places to get sports news from.

Ron Goldfaden
from Belmar, NJ
The Sunday night MLB announcers John Kruk and Curt Schilling repeat the same things all game long. Please listen to the Red Sox /Yankee game on May 3. They spent the first 4 innings repeatedly discussing Joe Kelly's 2 seam vs 4 seam fastball. Really, have someone from your company listen to how much time they repeatedly talk about Kelly's fastballs. Schilling knows nothing about hitting and only talks about pitching nonstop. Horrible and boring.

Firstly, let me start of by saying, I've been a long-time fan and have never filed an email complaint form to ESPN in my life. However, the actions of Mr. Marcellus Wiley last night were both appalling and disrespectful. For one, how does an ESPN colleague, may I also add, also a co-host colleague to Michelle Beadle go so far off as to rant all night on how much they love and RESPECT Floyd Mayweather, when only a few hours earlier he and his camp shamelessly took her credentials away and banned for her the fight.
It's one thing to have opposing views and opinions, but it's an entirely different thing to disrespect your colleague Michelle Beadle by using those words and profoundly ranting about your love and admiration for Mayweather. I am so appalled by his actions, that I will no longer be watching ESPN, and turn to Fox Sports.

donald caccavo
from Sarasota, FL
Stephen A Smith should be suspended for his outspoken support of Floyd Mayweather who is clearly an abuser of women 5 times over. Stephen also accuses female victims of provoking them into being abused. This is totally outrageous of someone who is a host of a tv program!!

I cannot believe you have chosen not to fire Britt McHenry. She is a bully in the truest meaning of the word. You slapped her on the wrist, which tells me that ESPN approves of bullying. She is so full of herself and knew that she could bully and do anything she wanted to do and would still have a job. What would you have done it it had been a male employee who bullied a female? Shame on ESPN. Until she is fired, l will no longer watch ESPN. After all, We now have SEC to watch.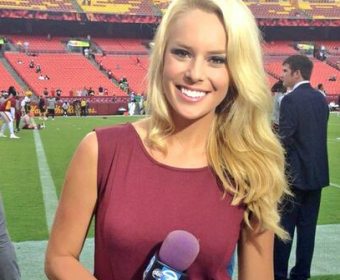 Billie Jeanne Passer
from Raleigh, NC
I am once again very disappointed in your decision to have "Britt McHenry" hosting your programs. I am truly saddened by your support of your employee's behavior. I am not interested in having this "Bully" review any games or sporting events! I do not agree that this woman has had enough time to think about being a professional and redeem the consequences.
I know so many more talented women who would NEVER consider being so CRUDE!! Please reconsider this plea, and give her a better, more respectable sanction.

william
from Hackettstown, NJ
Its absurd that mature adults have to watch a baseball game with a box to let us know where the pitch goes!we don't need it we don't want it its a distraction and it should be removed! Never to be seen again during a baseball game!it's useless technology that doesn't help the viewer see the ball go over the plate with that box there! Please remove it.

Angie Jones
from Lenoir, NC
Britt McHenry should be fired. She was mean and horrible. She bullied, berated, and belittled that woman. She was even told she was being filmed and that didn't stop her. She has been exposed for what she is, and she needs to be held accountable for her actions. I don't wish her physical harm. I just hope that you reconsider her employment. I am sure there are plenty of nice "college educated" women and men out there who would be happy to take her place. Please start interviewing them...

Kevin chance
from Columbus, OH
I'm certainly not the fjrst....and I won't be the last, but I'm begging you to give your loyal customers a classic website option. I'm not sure what prompted the change from the old layout, but this new unveil has me completely baffled. I wouldn't be commenting if this didn't truly affect the way I've browsed online sports. This new website layout I've tried for a couple of weeks to adapt to, but the old layout was by far superior

The new website is worse than the old one. Things are too hard to find instantaneously like before. Go back to the previous website.

darrell
from Louisville, KY
get rid of dick vitale what good does he do he is so annoying,love to see somebody take him by the collar and escort him out of the building,i know there are a lot of complaints about him

What happened to my College game pass? It looks completely different and totally confusing. It's black and white, double image and faded. I want my original one back. PLEASE!

Get rid of Dick Vital. He needs to learn his audience. You don't sit and spend your time praising the rival of the teams playing. It make you want to turn off the TV

michael hale
from Newburgh, IN
Get Dan Dakich off tv. Zero as a coach and zero as a broadcaster.

hardly workin'
from Longmont, CO
To whom it may concern:
Please bring back Will Buxton to F1 on ESPN. His on-track live commentary with a mobile camera before each race is excellent. He is never boring, like some of the people on the F1 broadcast ( no names). He is the face of the new Formula 1 on ESPN. You humans at ESPN should know that. He is dynamic, energetic, and brings a realism to F1 coverage that no one else does.
Thank You, and GOD Bless you all.

second complaint about west coast espn announcer, bill Walton. bill Walton never presents what is happening on the basketball court, he is still talking about himself, what he has done, and about other teams and what other teams are possibly going to do. have talked with other people and they also say that bill Walton is absolutely the worst announcer that espn has on the payroll. time to get rid of him, as there are plenty other good announcers that can follow the game they are announcing.

I an trying to see my CONF. USA track feed. I am lucky to see maybe 5 min. Of the total airtime right now. I am paying for this program. What the He'll are you guys doing over there.

Fielding Walker
from Versailles, KY
1) your complaint process is not user friendly.
2) College basketball with commentary by Dick Vitale has become extremely annoying. He talks about anything but the game in front of him as compared to Jay Bilas who is excellent. Coach him or fire him; he has become a liability. My friends and I who watch now mute the broadcast.

Burton F. Williams
from Sparta, TN
Why do you people not show the NASCAR race results on your scroller ? My wife and I are watching the Tennessee/Ketuncky game -- and all you show is the same thing over and over. No NASCAR results from the Truck race, nor the Xfinity race ? WHY ??

Robert Banks 913-685-4568
Not only do you preempt the start of the next programming schedule (KU vs WV game 2/16/2019) to finish the previous game that ran over the time slot, but you also cutoff the end of the KU vs WV game to show Duke preparing to play. This is really cutting the Kansas area out of the picture twice! Why do you do that? It's a disgrace the way you treat the local customer viewers in my area. I would really like to hear your reasoning for the lack of consistency in your lousy handling of game endings and game beginnings.

Howard Friedman
from Kent, WA
I HATE Bill Walton. A total jackass. Way too dramatic. Has the irritating habit of comparing college players to old NBA greats. Thinks he's smart and funny. He's a total JACK ASS! I can't watch a game he announces. GET RID OF THIS FOOL! HE'S A TOTAL ASS!

Kevin Durant is right in his assessment of media coverage. He just didn't go far enough.
at the end of the day, you have no job if not for sports. But who do you answer too except your consciences.
Yes, people want to know all kinds of stuff that isn't their business. Stuff that distracts athletes. Let the man play ball.
Reporters make a living and rep by one upping each other.
How is it not annoying to have to answer the same question over an over again?
You're all blustering for a scoop. That's how you make a living. Fine.
KD lives in a world of what have you done for me lately. He needs to stay focused on the real.
Titillating as our speculations may be, they are not the bottom-line. What's wrong with an athlete asking for a break?
Isn't that the gist of his complaint?
Certainly an industry that thrives on critiquing the rich, famous, successful and even the miserable and down trodding, can take a little criticism themselves.
Your how dare he response to KD's comment is downright Orwellian.
Being an athlete doesn't make these guys perfect. Criticizing reporters is no assault on the fans.
Grow up.

Mel Powell
from Bedminster, NJ
Commentators are opinionated in their coverage of sports teams and biais remarks negative statements make it hard to enjoy any game!

kevin robert ahles
from Tampa, FL
Max Kellerman went on a rant today about how blacks in the projects on probation get rearrested for just being in the vicinity of a gun or drugs. How does he know this? What projects does he live in or hang around where he's seen this happen? There has to be probable cause, the accused can get attorney, the states attorney has to agree with case to prosecute, case can be taken to judge or jury for decision. Kellerman made it sound like cops can just arrest whoever they want and affect the outcome, just doesn't happen! He and others on your network need to stick to sports and lay off the liberal social causes. I and people I know watch you less and less cause of this nonsense. Kellerman is an ass!

ronald opp
from Circle, MT
when is espn going to get rid of a couple of their announcers?
on the west coast, you have bill walton who cannot keep into the game and just talks about himself and what he has done, books he has read, bikes he has rode and on and on. on scale of 1 to 10, he might be 2.
on the east coast, you have dickie v. who is living on his brothers accomplishments. as for announcing, he is never in the game and goes on and on about nothing. he is way past his time. there are so many good announcers out there that can do way better than dickie v. cant understand him half the time, and oh baby oh baby is getting real old.
both these announcers are being overpaid and the audience dont really care for them.
thank you for listening.

John H Harrison
from Culpeper, VA
Coverage of the Duke vs Virginia men's basketball was THE MOST ONE-SIDED I have ever seen, in favor of Duke.

Rosemarie Sherman
from Wheelwright, KY
Why show a game with a commentator like Dick Vitale. Trying to watch Kentucky vs Auburn. Dick Vitale and Charles Barkley show is what it is. Nothing being said about the game. The other Commentator (don't know his name) is trying to do his job.

Cathy Smith
from Northport, AL
we cannot concentrate on the game for the sports casters taking up the screen and talking over the game. Please get them off to national championship game!!!!!!!!!!!!!!!!!!!!!!!!!!!!!!!!!!!!!!!!!!!!!!!!!!!!!!!!!!!

mike white
from Bellingham, WA
Booger McFarland ruins Monday Night football. We watch with sound off. Get him out of cat bird seat.

Darrin Kelly
from Arvada, CO
I wanted to drop a complaint about ESPN+. While this subscription service is not terribly expensive at $60 per year the whole idea smacks of overly greedy suits. There's no reason to have an up-charge on top of the already egregiously expensive amounts charged for Cable TV service to have 6-7 ESPN channels of various flavors in my lineup. Out of which I may occasionally watch 2 of. I'm sure the Cable TV providers are already paying ESPN a good chunk to have the ESPN networks included in their packages. Enough is enough for this viewer. The advertising revenue that ESPN rakes in from companies that want to be on their network should be enough. I won't even mention how badly the ESPN+ app functions. I'm done with you and your blatant greed.

Great article on The Undefeated about the rise of Black Quarterbacks! Are you serious first of all this all about black and white on ESPN is disgusting you want people to be civil but you push the controversy. Then ESPN show there pictures Murray for Oklahoma he is mixed not just "black" and then Tua of Alabama man that dude is far from "black" last time I knew he was Somoian. Patrick Mahomes to isn't just black hi Mom looks pretty white to me! Also of course the writer is black and he has no clue the rise of a black quarterback again is a terrible topic and racists. Wasn't this a topic when Russell Wilson was a rookie? This article should be pulled from The Undisputed and ESPN should fire William C. Rhoden we dont need is Black live matters on ESPN. Scott Van Pelt at Midnight is the real ESPN!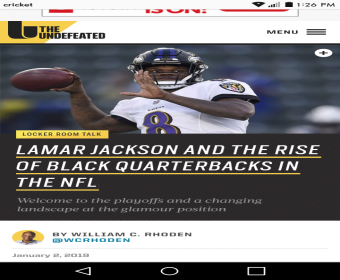 Douglas Bowen
from Chicago, IL
Your split screen/multi screen broadcasting of the Rose Bowl & Sugsr Bowl SUCKS!!!!! Please QUIT and go back to a single screen. Keep this up & it's GOOD-BY ESPN for this household!!!!

Tom Culpepper
from Dothan, AL
Trying to watch Sugar Bowl and video kept going off and on, just the game never the commercials, what the devil is going on

I did not pay for a 60 inch tv to watch 4 screens during the bowl games. It SUCKS..

Jeff Stringer
from Morton, MN
You took the joy of watching the ncaa football playoffs by putting up the split screen.

Ron Butler
from Sherman, TX
With five shots on the screen at once it is hard to watch. Take 4 of them off.

David Hinkle
from Dallas, TX
I am watching the Cotton Bowl and your tv display is horrible. Everyone I talk to says the same thing. You have split the screen in four different pictures, No one wants to watch the coaches stand on the sidelines for one thing. We buy big screen tvs to have you cut the screen size to a fourth of the total screen?

Terry Ryan
from Dallas, TX
I am watching the college playoffs, Clemson and Norte Dame. Why do you have a five way split screen during this game. I have a big screen TV made to take in the whole field. I am not interested in watching the coaches on the sideline. I am not interested in a running account of yardage gained,etc. I am interested in seeing the players big and bold in action.
Is this the first time doing this? Haven't seen it before and hope never again.

Jerry eidemiller
from Linglestown, PA
Cotton bowl coverage is terrible . Who wants to watch sports commentators. Play be play not close enough. Too much commentary.

Michael Groff
from Kansas City, KS
I just watched the Kansas vs. Arizona State basketball game. Please take Bill Walton off the air. He is an embarrassment to ESPN, basketball and himself. The relevance of his comments are non-existent. His broadcast partner should be given a raise for just having to deal with him through a game. I don't know if he has a no cut clause in in contract, but buying him out would put you dollars ahead. I will not watch another game where he is the color commentator.
Please take action, NOW

Cecil Morgan
from Las Vegas, NV
Is McFarland paid by the word? This is not radio and every second of every
y minute needs to be filled with useless commentary. Almost impossible to
focus on the game.
Shut him up or remove him from the broadcast. A picture is worth a thousand words!!!

Gordo Burke
from Germantown, MD
I watch ESPN offen and respect most of the commentators. Until last night I resected Jason Wittin very much. His last comment that the New Orleans Saints didn't belong in the play offs was very biased and un professional and uncalled for and I think he owes the Saints and the fans of ESPN a appoligy. It doesn't matter if the won scoring 12 points or 50 points the fact is the deefennce played excellent and the offence didn't in that game. the good teams always find a way to win though.

Darrell Bible
from Bradenton, FL
Why do you waste time broadcasting poker ? It is not a sport and how watch compared to a real sport..

Mitch Farley
from Austin, TX
Why did Charles Woodson have to make the comment that the NFL was not ready for "Black" quarterbacks. It is comments like this that continue to perpetuate attention to racial issues. Why could he not say the NFL is not ready for that style of quarterback and not make it a racial issue? I have lost all respect for Mr. Woodson and in all honesty for ESPN for allowing him to say and portray that narrow minded point of view. An athlete is an athlete so why is the color of his skin even an issue. We as a society need to get past the stigmatism and ESPN as a mainstream sports broadcaster needs to lead the way.

Daniel Greeley
from Boston, MA
I called the espn customer service department in regards to an issue with my espn account and I had extremely poor service by an individual named Mark Martinez. He failed to help me at all with my issue and acted rude on the phone, then hung up on me abruptly with no warning at all that he was going to do so. People like that should not be in any service departemnt at all and In my opinion is a complete jerk. Please review my call with him the other day and act accordingly if you think he should be working at espn. I have never experienced anything like a person like him in my life. Biggest jerk I have ever come across and im shocked he even has a job anywhere. especially espn. Thanks for your help
Sincerely, Dan Greeley

ronald silva
from Santa Cruz (Centro), S
My god,who iss running the show on espn.I liv in Bolivia and you have total asshole maqnager ouof argentina. We get polo,we getrugby and e get tennis.Now,listen to this....no polo field.Not one public tinnis court in all of Bolivia.o one here likes rugby,,thisguy thinks he iis in europ,not south America....fore the jerhk...ask you staff,,,,ever pay to watch a polo match?

Thomas Shimanek
from Long Beach, CA
Friday, November 30th - the Texas Longhorn/OU football game. I was working during the game so I spent the day avoiding all information. I get home, ready to watch the game, exciting. I made it the whole day without hearing the outcome. Except, during the first commercial break on your streaming service - you run a Dr. Pepper commercial that congratulates OU for winning the Big 12 game. Thanks for ruining games ESPN. You suck!

Perry LaGrange
from Ashburn, VA
I'm sitting here watching the Duke/Stetson game and I might as well be in the nosebleed section. Why in the heck is the camera shot so far away from the floor. Not even worth watching. It's the worst. Fed up, gonna switch to the football game where I can see the players.

Don Yoder
from Kalona, IA
I was looking forward to watching a basketball game on espn. The Michigan north Carolina game. What disappointment to find out Dick vitel was Color commentator. He never shuts up nothing but bull shit from the mouth. Yap yap yap. Fire that SOB.
I was disappointed. my choice was to watch something else or hit the mute button. I watched Hogan's Hero's instead.
so long espn

Brad
from New Philadelphia, OH
For the love of God, please, please get rid of Molly! She makes my head hurt. I mute the show every couple of minutes, and I DON'T want to mute the show, I want to hear what the analysts have to say, not loud mouth Molly! My wife cares less about football, but even she hates her. She talks over them, cuts them off, and is causing them ALL to talk at once. I am begging you, can her.

Annie evans
from Cape Girardeau, MO
I am sick sick of bill welton and his idiotic announcing h. He does not call the game , just blabbers and shows of. I listened last night and he is on again ai the Maui tournament it is terrible and gave turned the off. PLEASE get rid of him. You are rapidly loosing viewers. , including me. Will watch on the internet

sam lickliter
from Dayton, OH
I love Monday night football and don't have a favorite team but I'm not enjoying it this year. The announcers are terrible. They talk too much trying to impress with their knowledge. Jason and Bogger are unbearable. Please make an adjustment next year.

Ron Van Damme
from Spokane, WA
The color coverage for the Maui Invitational with Bill walton is the some of the worst i have seen. Its more like a travelog of hawai then about the game and players. I have never made a complaint before this. he is terrible

sam lickliter
from Dayton, OH
I love Monday night football and don't have a favorite team but I'm not enjoying it this year. The announcers are terrible. They talk too much trying to impress with their knowledge. Jason and Bogger are unbearable. Please make an adjustment next year.

mike banners
from Clermont, FL
The Play by play announcer for the FSU-BC game and many other games is terrible and very annoying...So bad I shut the sound off..Please NO MORE of her....Stick to womens Golf or Tennis...PLEASE..So annoying voice for football Again shut volume off if it wasn't FSU would not watch...shes really bad

Mike H.
from Mechanicsville, IA
Watching the Real Salt Lake/Sporting Kansas City 11/11/18 match. I would hope an ESPN televised game would incorporate non-biased announcers. These two announcers are so biased towards Sporting KC, I had to leave the room. The clincher was the comment made after Sporting's second goal, "Real Salt Lake, GOOD LUCK". It may not sound like much in type, but the audio infuriated me!!!
In the future, I would hope ESPN would find individuals that could announce the game in an unbiased manner. If I could give this broadcast a "0" rating I would. The "1" rating is a gift to ESPN!!!!

Kevin Green
from Mansfield, OH
Jason Whitlock fire man set Dak Prescott sounded like a civil war name and that he was on the wrong side you're nothing but a bunch of closet racist 10 of us retired guys will never watch you again and we'll talk bad about you everywhere we go thanks for nothing is PN you stink

Jason Lewis
from Aurora, CO
Please stop with the terrible camera work for the Champions Classic. ESPN gets worse and worse every year. Nobody wants to watch a basketball game from the ceiling nor do they want to watch from a camera angle that is constantly spinning. If I go to a game and pay tickets for the best seats in the house, they are not on the ceiling, over top of the player, under the player or behind the basket or from the other end of the court. The best seats are in the middle and up high enough to see the whole game. Show all the angles you want for the replays but stop the stupid angle changes during play. It's unbelievable how ESPN has no clue when it comes good camera work. Please stop!!!

William Hupp
from Winter Park, FL
You refuse to show the UCF standings and I find that Racist bigoted I needless to say discriminatory ESPN stinks to high heaven.
Thanks for your feedback!
Sorry. Please try again later!