ESPN
ESPN Complaints Continued... (Page 7)
404+ reviews added so far. Upset? Call ESPN corporate: 1-888-549-3776

Dennis Lance
from Salt Lake City, UT
Thanks for the great Utah/Cal college football Game-Day opportunity here in SLC today. That was very well done and enjoyable. But I do have a complaint about Brian Griese. I just finished watching the Utah/Cal game this evening and had to endure 3 hours of Brian Griese drool over Jared Goff the entire time. Your cameramen were in cahoots by spending most of the camera time on Goff. Even when when Utah was on offense you showed Goff the entire time, talking about him etc., until an actual play started. Then as soon as the play completed the shot went right back to Goff to stay another 20-30 seconds nonstop until a play resumed on the field. In my opinion, this was so biased that it became deplorable and irritating to watch.
Seriously, it makes me not want to support ESPN in watching any of your sporting events. I will watch when Utah is on but that is because I have to. Why can't Brian Griese be more neutral? Why can't the camera shots stay more on the Utah players and their side of the field when they made great plays. After a great Utah play, they would ever so briefly show Utah and then get right back to Goff. It is not just biased coverage, it is extremely poor coverage. If Griese was not going on and on about a great Goff play, then he went on and on about his bad decision and constantly made excuses for him and of course the cameraman was zeroed in on Goff for as long as possible.
It was truly bothersome, frustrating and nauseating for me, as a Utah fan to watch, and Utah won, Utah was the #5 team in the country not Cal, the Utah defense was outstanding, 5 pics and the pressure on Goff went on all game long. But we had to endure Griese for 3 hours - very very poor color commentator. ESPN management should have a serious sit-down discussion about how he comes across when he comments so one sided like that. I get it, Griese is a former quarterback and will naturally lean to towards favoring a great QB like Goff, but he went overboard and so did your cameramen. Does anyone on the ESPN side see this?

JoArnn Belgin
from Windsor, CO
I am playing College Pick Em. Today my pick for 10 points was Boise State. In the final results you said I had picked Colorado State and I got a loss for the 10 points. I live in Colorado and never would I have picked Colo. St. I know I picked Boise. Please check back & correct this. If you want customers to play a game online you need to make that game better.

Reba strickland
from Spring, TX
Your web site (ESPN.com) has become so dysfunctional that I can't even get scores for today's football games. Since the site was dramatically changed, I have found it extremely difficult to use the site. I have always relied on ESPN.com for sports scores, game cast and news. Since the change it takes forever to load scores (and I am using high speed internet in my home) and sometimes the golf leader board information wasn't even available and the college football rankings are always slow to be posted when other sites have them as soon as they are available.....today I literally could not pull up current scores for college football....took up to 10 minutes for the screen to refresh while other sites come up instantly ...it is not my device nor my internet slowing things down. The current web site is just too frustrating for me to use. I have had to find alternative sites to use, really wish someone would find a way to make this site once again the reliable excellent source for sports information that it once was. Truly sad to see such a decline in service.

Patricia Lyons
from Oshawa, ON
We own an android box and have shown over the course of the last few NHRA_Drag Racing Live TV events that we have not been able to get into the feed or links have fowled up with my Internet provider and they say if its showing being aired it should be on no issues or problems unless its network or weather related. We are big time Drag racers and live in Ontario Canada and are unfortunately are unable to travel to the USA for these events in person so watching live on TV is our only option.
Just wondered what is going on I know that you are losing the contract at the end of this season but don't think its fair for your customers to be treated with such little regard and disrespect when its posted. Your live broadcasts that we have been able to get have also been terrible as well the Cameraman and announcers have been cutting out the programming and the talking as well. So if there is anything you can do to fix this for us we would be internally gratefully. So we can continue on to having the experience we have had originally enjoyed previously to all these issues. Sincerely yours Patricia Lyons- One Of your Biggest Canadian Fans.

In 2015 fantasy rugby world cup my team Boklash scored points from 3 springbok players in the match against the USA on 6th Oct 2015. Bryan Havana played a full match and scored 3 tries but you only awarded him 3 points. I thought that the time that you had not yet updated the results and would complete it later. But later on when I tried to enter my account, I couldn't. I have tried other devices as well as the library computers and still I can't manage to access my ESPN fantasy rugby account. I can access other sites like this one but not the rugby one. So I ask that you fix this problem by unblocking my access and award my player Bryan Havana the points he earned.

Richard Linville
from Kernersville, NC
If you think your viewers are stupid enough to think when you cut away from the Clemson game Saturday night you need to think again, we know as soon as you heard the Clemson Coach use the NAME GOD you cut away and let me assure you that the game sponsors on ESPN will hear from the public.

Todd Carter
from San Antonio, TX
Steve Levy can't get names of the players right. Calling Desmond King - Derrick? Also has called them the "Hawkeyes" the "Buckeyes" early in the game. THAT IS UNACCEPTABLE FROM A SO CALLED PROFESSIONAL. Then again, I guess since we're not in the SEC with your nose up our ass, this is what we get.

Marty Durden
from Pearland, TX
Please muzzle Keith Olbermann. His political views keep surfacing. You reprimanded Schilling for his conservative views but repeatedly overlook Olbermann's liberal stance. How about we stick to sports in an atmosphere free of personal views. After all, isn't objectivity the benchmark of good journalism? Thanks for listening.

Doug White
from Marietta, GA
The play-by-play announcer for the Cleveland/Oakland football game is so bias for the Oakland team that the viewers are not getting a true play by play analysis. Who does this guy think he is? He's terrible! I have finally turned the sound off so I don't have to listen to his terrible one- sided abnausium dribble. Please do your listeners a favor, get rid of this guy.

Watching SEC football with my family. I have a young son and daughter, 8 and 3. The viagra commercial comes on talking about the obvious erectile dysfunction. Now I don't have a problem with the commercial but I do have a problem with having to explain to my young daughter what an erections is. Why do you have to air this during family times? A little distasteful.

I'm a big fan of First Take and I love Steve and Skip, but the new host is terrible. Bring back Carrie, Jameile, or get a new host please.

Tony Vespoli
from Ashtabula, OH
As a regular listener of ESPN Radio, I'd like to comment about the La Batard and Stugotz radio show, Mike Ryan is the Executive Producer. The name or term "Stugotz" is Italian-American slang for F- - k-it. Now I'm not offended because it's part of my regular vernacular, but there must be lots of other listeners who get it, and may or may not be offended. What's his real name anyway?

Barbara Bridgwater
from Louisville, KY
I have tried to watch the WKU and Indiana football game but I changed channels a half time because I couldn't stand the announcer that was doing the color for the game. He talked all the time. He said the same thing several times and had stupid predictions. Doesn't he get training that less is more. Take an example from John Madden or more recently Chris Colinsworth.

george evans
from Phoenix, AZ
I assume ESPN wants some level of objectivity from the analysts, Teddy brings none of that. If you really need a man to just be an apologist for the NE Patriots, then maybe you can find another spot for him.

Rich scola
from Madison, NJ
I am a college football fan, but I can no longer enjoy a game in which Kirk Herbstreet is doing the color analysis. The man is beyond annoying and never, I mean never shuts up! Is there no one at your network with the sense to tell this guy to put a sock in it? I can only thank God that I have a mute button on my remote.

I am not happy that ESPN has elected not to show the WTA tennis matches that are part of the Western Southern Open. The matches that are being shown are the men's matches or the ATP matches. That is not right. All matches should be shown. Not just the men's matches.

K Saka
from Castro Valley, CA
I for the first time watched ESPN MLB, Dodgers vs Giants. The announcers were horrible! I think the three guys that announce are under the impression we turn on the game to hear them talk about themselves. If it was a talk show and someone asked them a question about them great, but it is not, it is a baseball game and we are watching to hear about the two teams that are playing. Sincerely, Disappointed Viewer.

During a commercial on 710 ESPN radio Marcelis stated neighborhood rolling 60. That is a L.A gang that is notorious for killing, who just killed a young man on June 10, 2015 and shot two innocent bystanders. Please don't condone gangs.

John Friendly
from Salt Lake City, UT
Once again ESPN has sold out to sell more advertising over quality. ESPN decides to choose Caitlyn Jenner for the Arthur Ashe courage award is nothing but a decision to help sell more commercials. When there are so many more people who deserve this award. I for one will not be watching the ESPY's! Boo to you ESPN.

Al Murray
from Van Nuys, CA
What has happened? I think much to my disappointment you are giving Bruce Jenner a reward that in my wildest Dreams, and I am somewhat up to date in current affairs in the world. Although I believe in live and let live. what has he done to earn this award? There are so many more people in the world that are worthy and could have been acknowledged for a award of this nature. Being a supporter of the Jimmy V foundation, he must be rolling over in his grave. As a world Olympic champion who has chosen at 65 years old to live out his life as a female, good for him and Gods speed. This has changed my view of ESPN and all the good you have accomplished over the years.

Linda Anderson
from Orange, CA
Women's college NCAA softball has aired EVERY game on ESPN and the FINAL game tonight is blacked out in Southern California. I have Direct TV who says they have no control over the black out. This is a shame for us who want to watch the championship game. I am so disappointed.

Carolyn Cohen
from San Carlos, CA
Where the heck did you find the 2 goofs who are announcing the A's/Tigers game today 5/25/15? They NEVER shut up and they can't pronounce my A's players correctly. They are very negative. Sam Fuld is an amazing player who has made some super amazing plays lately and these goofs say he's a little player. They know nothing about the A's ability, therefore, make them out to be sub par. Our one player Marcus Semien who has made 11 errors in 16 games they say is a good player. I hope they don't announce anymore A's games. They need more training. They are for some reason hooked on the pitcher green and don't feel our pitcher Hahn is good. Get rid of them.

Ann Barkman
from Bowie, MD
Your coverage of women's lacrosse championships was not adequate. My daughters and I sat down to watch the women's final four and had to streamline it on ESPN3. It didn't work so we couldn't watch. You air all of the men's game yet we had to streamline the women's final four. That's ridiculous. There are a lot of people that would rather watch women's lacrosse and not men's.

Douglas Merrill
from Portland, OR
I attempted to watch tonights Red Sox vs Ranger game tonight. It turned out to be a terrible experience in viewing. If I wanted a Japanese lesson, I'd go back to school. Then to make things worse, you bring on that disgraced clown Bobby Valentine, the master of disaster! Please stick to baseball, couldn't find out the averages as the announcers were overloading my circuits on the Eastern culture etc etc. Have you no shame? Please from now on show baseball not Asian culture. Thanks for ruining my game experience.

ralph lambert
from Rio Linda, CA
The background noise is so loud you cannot hear the play by play or color men. I have started turning off the audio on my TV. Will you please address this problem. I know I am not the only one with this complaint. A friend suggested that I turn the audio off, because that is what he says he does.

Ron Goldfaden
from Belmar, NJ
The Sunday night MLB announcers John Kruk and Curt Schilling repeat the same things all game long. Please listen to the Red Sox /Yankee game on May 3. They spent the first 4 innings repeatedly discussing Joe Kelly's 2 seam vs 4 seam fastball. Really, have someone from your company listen to how much time they repeatedly talk about Kelly's fastballs. Schilling knows nothing about hitting and only talks about pitching nonstop. Horrible and boring.

Firstly, let me start of by saying, I've been a long-time fan and have never filed an email complaint form to ESPN in my life. However, the actions of Mr. Marcellus Wiley last night were both appalling and disrespectful. For one, how does an ESPN colleague, may I also add, also a co-host colleague to Michelle Beadle go so far off as to rant all night on how much they love and RESPECT Floyd Mayweather, when only a few hours earlier he and his camp shamelessly took her credentials away and banned for her the fight.
It's one thing to have opposing views and opinions, but it's an entirely different thing to disrespect your colleague Michelle Beadle by using those words and profoundly ranting about your love and admiration for Mayweather. I am so appalled by his actions, that I will no longer be watching ESPN, and turn to Fox Sports.

donald caccavo
from Sarasota, FL
Stephen A Smith should be suspended for his outspoken support of Floyd Mayweather who is clearly an abuser of women 5 times over. Stephen also accuses female victims of provoking them into being abused. This is totally outrageous of someone who is a host of a tv program!!

I cannot believe you have chosen not to fire Britt McHenry. She is a bully in the truest meaning of the word. You slapped her on the wrist, which tells me that ESPN approves of bullying. She is so full of herself and knew that she could bully and do anything she wanted to do and would still have a job. What would you have done it it had been a male employee who bullied a female? Shame on ESPN. Until she is fired, l will no longer watch ESPN. After all, We now have SEC to watch.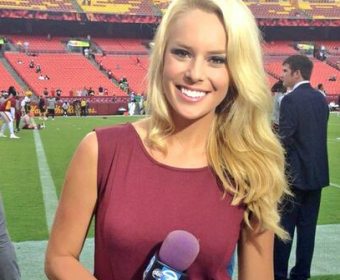 Billie Jeanne Passer
from Raleigh, NC
I am once again very disappointed in your decision to have "Britt McHenry" hosting your programs. I am truly saddened by your support of your employee's behavior. I am not interested in having this "Bully" review any games or sporting events! I do not agree that this woman has had enough time to think about being a professional and redeem the consequences.
I know so many more talented women who would NEVER consider being so CRUDE!! Please reconsider this plea, and give her a better, more respectable sanction.

william
from Hackettstown, NJ
Its absurd that mature adults have to watch a baseball game with a box to let us know where the pitch goes!we don't need it we don't want it its a distraction and it should be removed! Never to be seen again during a baseball game!it's useless technology that doesn't help the viewer see the ball go over the plate with that box there! Please remove it.

Angie Jones
from Lenoir, NC
Britt McHenry should be fired. She was mean and horrible. She bullied, berated, and belittled that woman. She was even told she was being filmed and that didn't stop her. She has been exposed for what she is, and she needs to be held accountable for her actions. I don't wish her physical harm. I just hope that you reconsider her employment. I am sure there are plenty of nice "college educated" women and men out there who would be happy to take her place. Please start interviewing them...

Kevin chance
from Columbus, OH
I'm certainly not the fjrst....and I won't be the last, but I'm begging you to give your loyal customers a classic website option. I'm not sure what prompted the change from the old layout, but this new unveil has me completely baffled. I wouldn't be commenting if this didn't truly affect the way I've browsed online sports. This new website layout I've tried for a couple of weeks to adapt to, but the old layout was by far superior

The new website is worse than the old one. Things are too hard to find instantaneously like before. Go back to the previous website.

Michael Dolan
from City of Saint Peters, MO
This balls and strikes square on the screen has to go !! I'm from St. Louis where we have very knowledgeable fans, and I talked to a lot of my friends, and customers at the casino I work at, and not one of them likes it, in fact they hate it to the point of not watching it when ESPN broadcast, and listening to the radio with Mike Shannon, and John Rooney! This is worse than the red line following the puck in hockey. When on the air why not have fans call in and vote on it, and post the results in the 7th inning or so? I know I'm just speaking for St. Louis, but I'm pretty certain that the whole country will feel the same way! Thank you for your consideration in this matter. Go Redbirds !!!!

Parker Davis
from Wilmington, NC
As a long time loyal viewer, I have never seen an ESPN employee get so much deserved hate. Britt McHenry shows such poor character and only gets a one week suspension? After hammering down on Stephen A Smith for saying something that was nothing more than wise words about women not provoking or escalating a fight if your in a domestic dispute. He got two weeks for something that you should tell your own children: Not to provoke a fight or escalate a situation. I hope you make the right decision and let her go. I do believe in second chances, but I for one, and many others I know, will not view any programming that involves her after this tirade. It is one of those things that will not be erased from viewers memories and will always be associated when she is seen.

Tom Rice
from Bentonville, AR
Why does ESPN support Tony Kornheiser as he uses his ESPN radio show to further his political views and agends, rather than only report and and share his opinions about sports. Friday, Tony chose not to discuss one candidate because they were low hanging fruit. Instead, he chose to slander another candidate. In fact, he accused a United States Senator of lying. He also pased judgement on how that candidate's family chose to deal with a child's physical handicap, and how an eight year handicapped boy would / could / should find encouragement and inner strength.

Neil Mc
from Victoria, BC
As a long term viewer of your network I feel it is my duty to provide you with my feedback. The recent events involving Britt McHenry have really struck a cord with me. She came off as a self-entitled brat who is full of hate. It is unfortunate that the video was leaked but there is no going back now. I feel that if you do not cut ties with her, ESPN will be associated with this disgusting behaviour. As a public figure she should of known better and its time for you at ESPN to do the right thing.

Fire Britt McHenry! For a person to get mad at a company is one thing but to attack a person concerning his/her ability's shows a clear lack of respect on her part. McHenry is just a sorry individual .....no integrity.

April Sorbonne
from Salt Lake City, UT
ESPN shame on you for slapping Britt's hand instead of where it would hurt, her wallet! Fire the girl. If somebody signed me up for ESPN magazine I will refuse payment, should it arrive.

James E. White
from Saint Petersburg, FL
Keith Oberlander - inept, incompetent, is not familiar with his topic, dated appearance, rude and an embarrassment to ESPN and the sports world. Now fast forward to your long standing joke, Kornhowisier or however you spell it, who got fired from Monday Night Football (what took them so long) Another political agenda brought to a sports show with no integrity or credibility. Just get rid of them - I spoke to several groups today referencing these fakes (never played high school anything) and fully exposed ESPN and their apparent new agenda for what it is. Sometimes if it looks and appears to be pathetic it is. Get rid of them.

carl strange
from Rogers, AR
A longtime arena football fan, I tuned in to ESPN2 to watch the Arizona Las Vegas game on Sat. 4 April. The game was a very exciting and enjoyable event, however, the broadcasting coverage, if you want to loosely call it coverage, was the worst I've ever seen over my many years of sports viewing!!! It was plain terrible, to say the least. All you could hear was the Arena and crowd noise with occasional audible words from what was suppose to be an announcer!!! This only got worse as the event progressed and when it was over, there were no "sign-off words or comments" from anyone and the programming just meshed right into basketball! Never seen anything like it before and hope not to in the future. It was the worst broadcasting I've ever seen anywhere. Please look into this situation and make it right by doing whatever it takes to bring reasonable broadcasting back to this programming.

Jack Omohundro
from Colorado Springs, CO
I am currently watching the April 12th 2015 Boston/Yankee game. The broadcasters in the booth are talking just to talk. The drivel they put out is inane. None of them knows how to call a ballgame. They are always trying to get their opinion in, talking over each other. I will probably follow my brother-in-laws example, just mute the sound. When want to watch a game, that's all I want to do: watch. I grab a beer, some snacks, and put my feet up ready to relax for the next few hours. Only, it's not relaxing when you have commentators talking over each other. I understand that baseball games have a lot of "down time" but that time should not be spent with grown men arguing over asinine opinions. ESPN, get some qualified commentators for your sports broadcasting and not just ex-players that like to commemorate about the good ol' days.

Dennis Toscano
from Woodside, NY
Please for the love of Zhod get rid of that Damn strike box on your ESPN broadcast. This is the worst and the second week in a row. Please do your viewers this common courtesy!

I put on a baseball game and your stupid K Zone was up. I am a fanatic fan and watch as much about baseball in general as i can. I have been an ESPN fan since you started on TV. I will never watch ESPN or a baseball game again on your broadcast. You ruined the pitch, the swing or not and the umpires choice for numerous reasons. You ruined fans debating and arguing which has been going on since baseball started about strikes and balls called by the ump Simple as that. I have many friends who are following me or stopped before me. Goodbye ESPN. Someday you'll actually care about us fans.

Your new format on you web page sucks. The old one (red) was fine and easy to use and find information. I am switching to foxsports.com

James Lowell Reynolds
from Tallahassee, FL
I have just watched the Florida State - Notre Dame baseball game on ESPN 3 and the televising was terrible. The picture was blurred to start with and the whole game was televised thru the net which made it awful. The camera was shaky to the point it hurt our eyes. If you didn't know the player you couldn't see who it was. The game never showed the angle from the pitcher to the plate. Always thru the net and couldn't see the pitch. To say the least I was very disappointed with ESPN 3.

Could your reporting of the NCAA Frozen Four game between Boston University and North Dakota be more one sided? Let's see, you shown the Boston pregame message from their coach, interviewed the coach during the first period, interviewed a parent of one of the BU players and then interviewed the BU player. Gee, I thought you were a national sports media outlet, but your reporting seems to indicate you're not. Hopefully, you correct this error in the remaining two periods.

I don't know what you've done to your website. It used to be fairly cumbersome to navigate but eventually you could get to items of interest. Now your site is just a bunch of useless garbage. I for one will no longer be using your useless site.

Bob modeski
from Dover, NH
I opened my espn app and found a new format. I don't recall ESPN ever advertising a new format so I was a little excited to see what it was all about but my excitement was immediately squashed with utter frustration and disappointment. I don't like having to sign in to see what's going on in the sports world but even more frustrating is the fact my screen constantly freezes up. This never happened with your old format so I'm convinced this new format was never tested before it was forced upon the public. It's time for me to find a new sports venue until you work out the bugs with this piece of garbage!
Thanks for your feedback!
Sorry. Please try again later!