ESPN
ESPN Complaints Continued... (Page 6)
404+ reviews added so far. Upset? Call ESPN corporate: 1-888-549-3776

Stewie
from Colorado Springs, CO
I am sick of Stephen A. Smith crying for black people when there is no reason for it. Black people are not denied there rights anymore.

Probably not in right spot, but I want to complain about Ohio State MIchigan basketball game on ESPN. I though the sideline view was terrible. I could only see one side of the court. I am not interested in looking at the refs back. I can not see through player to other side of the court and can not move my head like the people sitting side court. I probably could have had a more enjoyable experience if I had listened to Ohio State's broadcast.

Dave
from Bloomington, IL
Watched OSU/Mich basketball game tonight. Did not like the camera angle from the floor. Could not see the plays. Not good. Couldn't see under the basket. Not many replays shown either. Don't do this angle the whole game!

Leta Hutchinson
from Florence, SC
Trying to watch game between Gamecocks and Tenn. Announcers are way too busy just "running " their mouths!!! Half the game has not been announced properly... Ready to turn volume off!!

jerome bartkowiak
from Bay City, MI
I tune in to watch a basketball game and I get a conversation between two guys trying to prove how much they know while the game goes on in the background. I find this very annoying. Their chatter does nothing to help me understand what is happening on the floor. I have yet to talk to a basketball fan that tunes in to watch and listen to the commentators. We want to watch the game and listen to an announcer that helps us understand what's happening on the floor. Not what they think, how they would do it or what they have done in the past.

Rob Phillips
from Inman, SC
Watched the crossover broadcast of ND vs Miami. The announcers were more interested in socializing, reminiscing, and discussing everything except the game. What a bust. Three good announcers but one super poor telecast. Nice try, but what a failure. Stick to what you do best. You totally ruined the game for me.

Christina Churu
from Irving, TX
The women's tennis quarterfinal match between Maria and Serena was fun to watch I did not like Chris Evertt's comment that Serena wants to beat Maria for personal and professional reasons. It was very unprofessional. Ms Evertt needs to comment in a more professional manner.

Joe Di Girolamo
from Egg Harbor, NJ
I like to see ESPN move the Dan LaBatard show to a late night time frame or remove him completely. I will continue to change the channel unless he is moved. His show are not about sports I speaks about nothing.

Marikay Vander Ven
from Dayton, OH
I just finished watching the Indiana -Illinois game and am so annoyed and sick of Dan Dakitch! He is VERY critical of Indiana and as an Indiana Alumnus feel he should not be allowed to announce IU games. Furthermore he is insulting and negative about most teams and ruins the viewing experience!

Bomani Jones is a joke. He degrades every active professional football player. Loves to attack Peyton Manning. The subject came up on one sports cast about is Nick Saban one of the greatest coaches. He quickly started talking about Eddie Robinson. He is a borderline racist. His show is the most negative show on ESPN. He should be fired! Bring back Colin Cowherd.

Jay Memler
from Naperville, IL
The announcers on the MSU- Iowa basketball game were not up to ESPN's usual standards. John Calhoun is in a training process, so some of his untimely comments can be overlooked, but the play by play announcer Tim B. did not stay on task. Way too many times, they did not say who was fouled, who was shooting the free throws, or who had the ball. They spent too much time talking about records, Calhoun's experiences and other items that did not pertain to the action. The timing of some of the video replays was off at times, causing some of the actual action to be missed. I certainly hope these can be corrected in the future. ESPN is a great asset and it needs to be kept up as a world-class broadcasting entity.

Martha Moore
from Seneca, SC
Don't know who to complain to. Please send to appropriate person(s): The singing of our National Anthem at the NCAA National Championship was very disturbing. This is a program watched by children as well as adults. It's not Dances With Stars or the Oscsrs. Her clothing or lack of did not fit the occasion. Very poor taste. I think the cameras tried to stay off of her butt -- plus her rendition was not very appealing.

Knud Larsen
from Corvallis, OR
What is the matter with ESPN, they are ruining the National Championship Clemson/Alabama by filling up the screen with their STUPID commentators. Are they insane. We want to watch the game not commentators. I have hung a screen over the affected third and used my mute. Too stupid for words.

I would rather watch the alabama/clemson game without 3 guys on the side blocking part of the telecast. They can't see properly either to commentate. Get them off the sideline and back in the booth and get rid of the tweets.

Audi Carter
from Raeford, NC
Thanks for the love you guys showing "East Caroline Universty" lately. However, please tell our commentators that we are East Carolina and not eastern Carolina. Bad bad bad if they say eastern. Some not experienced enough to know the difference.

Billy Luther
from Weaverville, NC
This is simply a gripe about how selective you are in what you report. Intelligent viewers understand how you control and influence what we see and hear in the medium of sports television. That being said, where the hell is your typically incessant coverage of a despicable human being such as Terence Cody? And worse yet your obvious lack of guts to truly investigate and demand of the NCAA an explanation as to why UNC's proven cheating scandal has yet be be addressed after over two years of public disclosure?

Steve Jarvis
from Bowie, MD
I want more of Uncle Brent. Please stop delegating one of our finest broadcasters to your 3rd tier network (SEC Network) which many of us do not receive. His coverage of today's Orange Bowl was exceptional, as always, and I request that you either return him to covering the top games or release him altogether so that another network can make use of his untouchable broadcasting capabilities.

Dan Kealey
from Payson, AZ
You treat your viewing "FOOTBALL FANS" like we are stupid & cannot remember what broadcast we are watching and who sponsors the event. The constant (after every play) display of ESPN college football is in "your face mentality", annoying, unnecessary and a distraction to the game. Furthermore it servers no useful purpose. The production people that think this is "cute & necessary" should be FIRED. I trust this will be corrected in future broadcast.

Robert MacDonald
from Fox River Grove, IL
Many years ago, in your first year of the magazine, I was a member. I have been to Bristol because I grew up in Naugatuck, Connecticut. I am in Madison, Wisconsin now. I use to love you guys. Now I do not. You have made watching sports a mockery. You are money mongers now. All the bowl games on ESPN. Nothing substantial on the National affiliates anymore. No cable or satellite, tough.
Try on line, no cable or satellite, tough, you can't watch it. Oh, watch the highlights then. Every highlight with a commercial before it, over and over again. You have sold out the common sports fan. I will never think of ESPN, Sports Center, Bristol, where I have two cousins working, or watching College football as the same now. ESPN, Yeah Baby.....you ruined sports with your money grubbing ways. " As Shixxy as the other side of the toilet seat!!"

Betty Hughes
from Jackson, TN
I am watching the Birmingham Bowl. The woman broadcasting the game sounds as if she is straining every muscle in her body to talk. It is highly irritating to listen to her. Both teams are, "Tigers," and several times she has said, "Go Tigers." Then she just talked about the, "Tiger Defense." Which Tigers? Unless you were looking at the tv screen at that moment, you had no idea. Is she ill prepared or just plain dumb? Whatever the reason, you need to get her off the microphone.

Debbie Martin
from Sylacauga, AL
Watching the Birmingham Bowl and was wondering why the commentators are interviewing Memphis State's new coach and not commenting or showing the plays on the field. I tuned in to see the ball game, not an interview with a team's new coach who will not take over until after this bowl game.

Teri Hachey
from Santa Clarita, CA
The announcers for the UCLA and Nebraska football game on Saturday were completely bias against UCLA. I refuse to watch any ESPN until they hire some creditable people.

Jeff Boyer
from Anderson, IN
I was watching sports-center when one of your commentators stated (I would like to regurgitate what you just said). Perhaps that is what he meant but i doubt it. Many of your announcers have a terrible grasp of the English language, and present a very bad example to the youngsters watching your shows. The fact that the people he said this to did not burst into laughter is a good reflection on there upbringing.

Patrice Klein
from Las Vegas, NV
I was trying to watch the Laker game and I didn't appreciate being preempted by the Warriors. Who cares if they are undefeated?

martin d lockhart
from Lawrenceville, GA
Monday night football was presented by your channel, with Jon Gruden trying to rep both teams and I noticed that he kept referring to Jay as hidden as it was presented, he was trying to help his brother. Jon should carry himself more professional than this, but he really showed which team that he was pulling for. If he is going to represent ESPN then he must remain objective for both teams.

Clemson and South Carolina game. Between plays the band is so loud can't hear the announcers. Speakers must be right where the band is sitting. Is that what ESPN wants, can't hear the announcers 1/2 the time for that is what is happening.

Regina Bear
from Pooler, GA
Specifically, I do not like Beth Mowins commentating. Cringeworthy. Please don't do this to the fans. I can't watch tbe Georgia rivalry. Just thankful that if she's at this game, she won't foul up the others. Please remove her from college football commentating. Many, many thanks!

Wayne Weirick
from Las Vegas, NV
The announcer Bill Walton is not good too much complaining and thinks he knows everything. Not Good.

Linda Johnson
from Louisville, KY
I have been watching the IU vs St John's basketball game from Maui, the commentating is terrible, Jim is talking about his personal life instead of the game, he has given me a headache. He can talk about his bike riding and swimming with turtles and back surgery at the bar. Give us a break we want to watch the game.

Bill Walton calling this ball game at the Maui Invitational. He is really being RUDE to the guy that he is working with, calling this game. I thought that all the people calling the game are supposed to be impartial. He is so anti Indiana about this and really calling for an IU loss. I am ready to shut off the volume on the tv and listen to this on the radio. His voice is making my skin crawl.

I have 2 complaints with ESPN. I've been watching ESPN since middle school in 1992. I'm a huge fan. First, why is Dan Le Batard filling Collin Cowherd's previous time slot. I'm sure it's to try and reach out to the young, slacker generation, but it looks and feels like the sports version of the Howard Stern show. The content is gimmicky and immature. Second, and more importantly, I feel that ESPN has made a shift from pure sports coverage to sensational journalism.
I realize the need to compete with a plethora of suto journalistic programs, but a large portion of your base only cares about sports. You can leave all the theatrical stuff on gay marriage, dying children, wife beating athletes, and towns impacted by natural disasters to other stations. I tune into ESPN as a break from TMZ, 20/20, and CNN for a break from the strange reality of life. Thanks for your time. Please consider my recommendations.

Jerry Hardesty
from Harrison, AR
Every time Arkansas plays on ESPN it's as if Arkansas isn't even there. The announcers spend the majority of their time talking about the opposing team, irregardless if Arkansas is winning or losing. It's getting to the point that I almost don't watch the game, even being a die-hard fan. Try giving us a break why don't you? Very unprofessional announcing.

Ann Monty
from Roseville, CA
The announcers for the BSU vs New Mexico game on ESPN U on Sat. Nov. 14, 2015, was an agonizing experience. I understand that these announcers are either the bottom of the barrel, or young guys trying to make a name for themselves, but... Bad is bad. What twiddly dumb and twiddly dumber are not smart enough to figure out is that most games on ESPN U are not the BCS top 25 teams. Fans specifically chose that game to watch. Fans of both teams. I get it.... Everyone loves an under dog. However, isn't it the job of the announcer to be impartial? You might be thinking, Sour Grapes? Maybe a bit.... These announcers wanted a good game so bad, that they were blatantly rooting for New Mexico. Therefore, making it even a more difficult experience for a BSU fan. I don't live in Idaho and depend on your station to be able to follow my college. I will not sit thru another game listening to these two announcers. I can turn off the sound and get the game on the radio.

Mark Frisbie
from Los Angeles, CA
Bill Walton is terrible. I'm trying to watch the Texas v Washington basketball game, but commentary is making it a miserable experience. Questioning how to pronounce a high school of one of the players? Remembering when Wilt scored 59 in his first game? Who cares. If he is the best play by play you can find, I won't be watching much basketball on ESPN.

Michael Tinsley
from Birmingham, AL
ESPN's customer feedback form won't process to submission after i go to all the trouble of filling it out because the webpage thinks I'm a bot. How can a bot fill out all the necessary information on all the lines ESPN requires? That is absurd nonsense. I think EPSN just doesn't want to have to read people's emails. Especially considering my emails on other websites aren't denied for any reasons much less because they think I'm a bot. They also have my email address to which they send emails of their own _and I belong to EPSN's websites. I'd call them but I don't want to say something I'll regret. Well, maybe I wouldn't regret it but I still don't want to call them.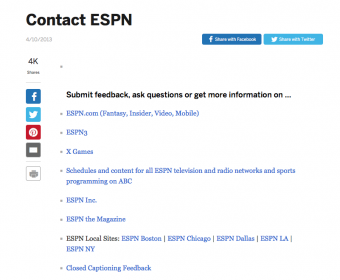 Joanne Tiedeken
from Sylvania, OH
I watch the Sunday sow of Top 25 Ratings every week and every week your analysts get worse, if that is even possible. Mark May and Heather Dinich are the most biased analysts I have ever heard. This morning was the worse show I ever listened to, if that U.S. even possible. There is no professionalism from these two at all. Heather is bad enough, but, Mark Msy us the worse. I don't care that they don't like Ohio State, that U.S. there prerogative, but when he reprimands the football team the way he did this morning, it is downright disgustingly rude. That was the worse thing I ever heard an analyst do. It wasn't bad enough he and Heather made a remark about giving Ohio State a bone by putting them in the Top a Four, but,what he said to those kids at the end of the show was crossing the line. They actually degrade the quality of your show. Oh, Go Bucks!

Jo Anne Spooner
from Carlsbad, CA
I walked in on the last few mins. Of the fourth quarter of the Florida-Vanderbilt game that my husband had on. There was a woman commentator for the game. If I had to listen to her for a whole game off it would go. Her voice was very nerve wracking. Send her back to the office and let the men do their job. This is carrying political correctness to far. She is a woman trying to do a mans job. Not very good either.

Carole Reed
from Jacksonville, FL
The woman announcer on today's Florida vs. Vanderbilt game has the most horrible and annoying voice I've ever heard on ESPN Broadcasting. Get rid of her! She is not suited for football game announcing. I am going to mute it and put on 930am and listen to game.

Terry Kelley
from New Port Richey, FL
Heather Dinich is the most unprofessional and completely Bias writer against Alabama, why im not sure , Alabama has done nothing to her, she simply has no clue about college football obviously. I am extremely dissappointed in her obvious dislike for a single team like that, where did the professionalism go, the knowledge of what she is talking about was obviously never there. She gives ESPN a very bad name in her unprofessionalism.

Lynn Crabtree
from Charlotte, NC
The commentators and production for the UNC vs. Pittsburgh football game which was broadcast on oct 30 were horrible numerous times they called unc players the wrong names. His name is Elijah Hood not Wood. Too much talkabout #23 for Pitt and no respect for the team that won. Yikes ESPN time to step your game up or more employee complaints are coming.

Franco Vincente
from Surprise, AZ
I have been an ESPN viewer from your beginning. Start my day with MIke and Mike. My car radio stays on ESPN network 60 percent of the time. I am a veteran. A tea party patriot. How can you let Tony Kornheiser get away with comparing me and my family and millions of Americans to ISIS? He needs to keep his leftist hate-mongering to himself. Shame on him! Shame on ESPN for letting him continue to represent the greatest sports network in the world.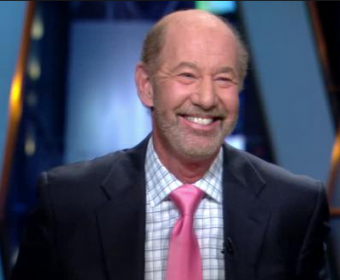 John Weber
from Seattle, WA
I was expecting to watch the Washington Huskies play the Stanford Cardinal at 7:30pm PDT and the stupid Texas A&M vs Mississippi game was still going on. They said something about the Husky game would come on ESPN News channel until the other game got over and then they would switch back over to ESPN.. First of all I have never heard of ESPN News and have no idea of what channel it is on or if we even get it. Why not do like the pro games do on CBS or FOX when an earlier game runs long they switch the game over to the markets that these two schools would be interested in watching. It is now 7:50pm and I am not going to watch the game even if that other is over since I have already missed quite a bit. If you are planning on stacking several games in a row on why don't you allow for more time in between as this really pisses me off. It happened to one of the Husky games that you sadly were going to broadcast but at least there was no game on ESPN 2 and used that to start the game until the other game got over. That is the next channel higher so I knew where that was at and didn't mind but I have no idea were your news channel is at or if our cable company where I live even has it. I wish you would stop broadcasting Pac 12 games as they evidently are not as important as the SEC games or probably any games west of the Mississippi River. Thanks for nothing.

I watched a few seconds of your Ray Lewis book promo show , and or interviews on sports center and multiple other shows. Did you also show the persons and family of the victims of Ray Lewis and his friends assault on them ??? You did a book promo of an athlete who could buy his way out of prison as an athlete... then did a promo on his book? Wow...the hardships this poor man went through having to prove himself not guilty....or his money to buy lawyers and or the price that this poor man had to pay to quite the people that he and his friends hurt. Just sad that you judge NFL players like Greg Hardy. but he only bought his way out of prison.....aka Ray Lewis ...yet you just don't care.
I will never watch your Sunday morning pre-game because he is on it , but you just don't seem to understand that free by money does not count as not guilty....Last off.....this idiot made mention that he is 5 inches taller than the average man ...thus he has no need to fight them and you idiots aired that? I am bigger than the average man ....but in a bar environment guys still try to act tough and mess with me....difference is. I don't have a dozen followers by my side to play tough. I have called a friend or bouncer to aid me against a drunk tough guy and his friends...but no one got shot. Why is it that fame is so much more important to ESPN than class.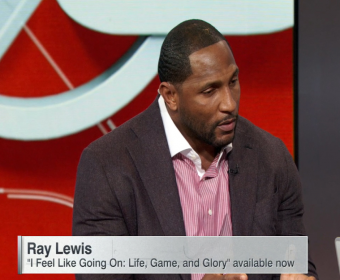 Sharon Edwards
from Fort Worth, TX
It was not an enjoyable evening watching ESPN2 last evening. Beth Mowins is not a top notch announcer. She come across as a woman wanting to sound like a man. I am a TCU fan and wanted to watch the game but it was hard to do with her voice.

cecil sedberry
from Copperas Cove, TX
Tonight's TV game with TCU no, 3 in the nation and you assign 3rd. rate announcers for coverage. The female announcer is terrible also uses very poor grammar. Very disappointed in the coverage. Will turn the sound down and tune to radio instead of listening to ESPN.

Sharon Edwards
from Fort Worth, TX
I am trying to watch ESPN2 and the TCU vs Iowa St game. Why do we have a second rate announcer? Beth Mowins voice sounds like she is trying to be a man. She is really not a first rate announcer and it is difficult to listen to her. Sure do hope that if TCU is on ESPN in the future, we do not have Beth as one of the announcers.

John Jacob
from Panama City, FL
Not only did you no switch over to the gator game when it started, because that is understandable, but you waited too freaking long after the game ended to switch over to the gator lsu game. No one cares about the Michigan st game. We all know they don't have a chance because hey play nobody. The lsu gator game was the most important (Alabama A&m was a close second) and you disappointed millions of people by not showing Florida's touchdown. If you are going to show the game on a different channel, show it on one that everybody has. Not ESPN news!!! Very disappointed.

Peggy Edgerton
from Denver, CO
I agree with removing Colin Cowherd from the radio because he sounded like a sexist pig who regularly denigrated women. But at least he discussed sports some of the time. I wish you would remove Stu Gotts (spelling ?) and his cronies from the air...they don't often talk about sports, they don't know what they are talking about and it is just a lot of blather! They think what is said is funny, but it isn't. I tune in to espn to listen to intelligent sports talk and this does not make the grade.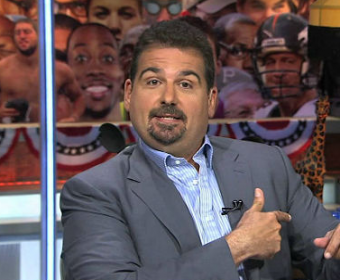 Robert Morrison
from Mount Pleasant, IA
ESPN cut off the last minute of Saturdays Iowa Illinois football game and went to paid programming. Even pro games are allowed to run overtime into the next time period! Unacceptable for a regular and loyal ESPN viewer.
Thanks for your feedback!
Sorry. Please try again later!