Lowes
Lowes Complaints Continued... (Page 2)
932+ reviews added so far. Upset? Call Lowes corporate: 1-800-445-6937

WORST CUSTOMER SERVICE EVER!!!!
Purchased an Upright freezer and had it set up for delivery on Monday, May 27th, 2019. I was told by the manager in the Greenville, Texas store that he couldn't give me a time frame for delivery which I was fine with, I was off work that day since it was Memorial Day. Around 10:30 AM i received a call from the delivery guy stating he would be at my house between 4-5 PM, again i was fine with that. 5:30 rolls around, no delivery and after calling the store for AN HOUR i finally get ahold of the Store Manager and i was tol that my delivery will have to be made at another day since the delivery truck is runnung late. Did not receive a call from the driver who called me from his personal phone and when i tried to call him 2 times he didn't answer. As much as i hate shopping at Home Depot i will from now on. I'm done shopping at Lowes! This is the 2nd time I've been treated this way after ordering something from them and having it delivered.

Dear Mr. Ellison,
I am writing to you today to share my experiences with your store and express my extreme displeasure. My intension is to keep this letter brief and on topic. Our family made a decision to renovate our home last year. Our modest 3-bedroom home was somewhat dated and in need of some work. After a long search and much thought, we chose Lowe's for our renovation. We were impressed with the care and support we found in the early planning and decision-making stages. 5 months ago, we walked in, spoke with our PSA and wrote your organization a $36,000 check. This amount of money constituted the bulk of our savings as well as the equity in our home. We were told that it would take 4-6 weeks for the custom cabinets to be delivered and then a week to 10 days after that to complete.
On the day that the work was to begin, we were informed that our PSA, Jessica, was no longer with the company, and in fact the Job of PSA had been discontinued. From that point on we were directed to deal with Tammy, the "installation person". Since that time, we have never spoken with her without having to call the store at least 3 times. We have been hung up on more times than I can count. When we have gotten her on the phone and the 2 times she has come to our home, she was disinterested, rude, and dismissive.
The Sub-contractor, Neil Carpenter, has been another disappointment. Just a few of the items that have happened include no plastic sheeting being hung to protect the rest of the house, paint and drywall mud in the bathtub, an entire wall of cabinets being installed several inches off so they could not be opened, and our house left in total disarray on a daily basis. This is far below the industry standard of practice. The week to ten days that he promised was more like 4 weeks, with a long 6-week gap in the middle. When these things were brought up to Tammy, I was informed that I was "nitpicking" and that I should have know it would take more time.
So, here we are 5 months into a renovation of our kitchen, living room, and dining room and still no end in sight. For 4 months we ordered take out, ate microwave meals, or sandwiches. Our Son has found nails, tools, and chemicals more than once, and our garage was used to store things and was unusable to us. Our deepfreeze was unplugged by your workers and left for weeks. Luckily it was bitterly cold here. Our bathtub has been used as a utility sink, and the communication from your employees has been next to non-existent. Any time we have asked for time lines or dates of work, we have been told "Sometime next week".
2 events finally pushed me to write this letter. The new dishwasher we purchased did not work on installation. Tammy was called and told me she would have to send a warranty service call in and would get back to me. She did not. We went in to the store and talked with another person who was able to get the new dishwasher switched out immediately and, in the process, informed us that Neil no longer works for Lowe's due to poor work, but was allowed to finish our project. So, we are now depending on a former employee to care and respect our home.
Secondly, When Marie and Tammy came to do our final walk through, I was asked to sign off on the finished product even though there is a list of things that are not complete. I was again told that I was nitpicking, and not answered when I asked about a promised refund on cabinets damaged by Neil. Marie told me that she would get right on the list and have Neil back to my house immediately. Today, 8 days later, I got ahold of Neil and was again told, "he would be around to finish sometime next week."
This is an unacceptable way to treat a customer, particularly one who spent such a large amount of money with your organization. I am disappointed and dismayed that this is has colored how I feel about my new kitchen and that my excitement and flexibility were exploited by your people. We went out of our way to be understanding. My Husband and I work very hard and realize that things happen and there are delays. This whole experience, however, has been far more than life getting in the way or simple miscommunications. This was one of the saddest displays of poor service imaginable.
Angrily,
Katherine & Bryan Sullivan

David tuck
from Greenville, NC
I've purchased pine straw twice in last month and had to wait over twenty minutes in extreme heat for someone to unlock truck. Today a young boy came out to load pine straw and saw trailer was locked and radioed for a manager to unlock. The young boy preceded to help another customer and forgot about me. After waiting for about 10 minutes I called Lowe's operator at store and asked for someone to come out and unlock truck. I waited for a while and no one shows up so I called again. Finally lady comes out (I think Gloria was her name) to unlock truck. I suggested it might be a good idea for someone to be responsible for unlocking truck every morning. Her response was that sometimes things were beyond her control...like when people call in sick. Unlocking a trailer in the morning seems like a simple task to me and could be done in just a few minutes so loyal customers like me (67 year old veteran) would not have to wait for a long period of time in the extreme heat. Also I feel like a better response from Gloria might have been "great idea, I'll tell the manager" and would have defused me. I seldom make complaints but eight hours after this Lowe's purchase I'm still very annoyed especially since it's happened twice in the last month. I'm retired and have been spending several hundred dollars a month for years at Lowe's (ask my wife). Honestly I would like to have some sort of credit toward my pine straw purchases for the long periods of time I've had to wait for someone to unlock the trailer. Thank you.

WAYNE D EVANCHIK
from Green Cove Springs, FL
Lowe's disrespects American flag this Memorial Day Holiday. The Lowe's on 1700 Blanding Blvd, Middleburg FL , Store 2970 has on display, just inside the main entrance, a picnic table (one of your $ 69 specials, painted as an American Flag. The flag covers the table and 2 side benches. It is a disgrace. The American Flag should never be sat on or have food served on it. Check with the Flag Code.
Early last week I protested to the customer service lady but to no avail. I stopped several times throughout this week to talk with the real store manager, Clint Nelson, but he was never there, or didn't want to talk about it. This morning while I was there I spoke with a supposed to be manager and she said it didn't bother her. I asked if she was from a military family..she said no. My niece placed it on Facebook. Unfortunately this store is too wrapped up in making money this Memorial Day weekend, they will do anything for a buck. So maybe corporate can do something about this. Besides myself there are a lot of retired military here.
If you can't do anything about this maybe the local TV stations can. They are always looking for stories involving large companies disrespecting the
American flag for profit. "Lowe's disrespects American Flag this Memorial Day holiday should title their story.

David Jacobs
from Vincentown, NJ
5/25/19 Went to store in Lumberton NJ at7:00am to purchase a new 46" riding lawn mower .Waited in department for assistance ,passing employee asked if I needed assistance and I replied was looking to purchase a riding mower ,employee told me to go to any register and they will ring it up and the department employee will come out with key to unlock mower as they are outside in front of store .After going to the 1 and only register open and waiting on line for 25 minuets the cashier told me she was unable to locate the SKU # for that item and I will need to go to the department to have the employee check and get the proper SKU #.I went back to the department and waited 25 additional minuets for employee to assist me, We finally figured out the proper SKU # and was able to go back on line and pay for this tractor was again 20 min . Now I had to wait for a manager to come out with a key for the locks that connect all the tractors ,in the mean time the department went to get the owners manual and the keys for the tractor .
I took the key and checked to be assured the key fit and worked ,the tractor did not engage and the employee told me that was due to no gas in the tractor . I advised the employ I am 55 years old and have worked on Lawn equipment and it was not due no fuel in the tractor.
I asked him for the manager and upon the manager returned he told her I did not know my *** from *** in the ground the tractor is fine ,I explained to the manager the battery is dead .The employee reiterated that I was wrong and she should just give me my money back and get rid of me …. so I said fine give me my money back and I will leave ,manager was rude and taking employee side and had no regard to making this right .
Reason of review: Poor customer service.
Preferred solution: Let the company propose a solution.
I liked: Brand.
I didn't like: Anything about their customer service.

Dianna Sakacs
from Lanham, MD
Mr. Niblock:
I am not a happy customer, thumbs down to your corporation!! First let me tell you I have had several storm doors ordered from Lowes. Two from the store in New Carrollton – one of which was delivered to and installed in my Mom's home in Ohio with no supervision from me – I was here in Maryland at time. That's the good news; the bad news is that the customer service is slipping badly in this store; you need to send someone to figure out what's going on.
In a nutshell: I ordered a door on May 15th. Paid $35 to have the door measured and was told it would happen in 48 hours and I would hear back from the store in about 4 additional days to come in and pay for the actual door. I waited an entire week.
On May 24th I tried to call the store four times without anyone picking up the phone!!!!!! So I called the Customer Care 800 number and voiced my complaint about the lack of attention to my order and not being able to contact anyone. She asked if I would go on hold so she could contact the store; came back on the line and told me she had called 7 times with no answer! She apologized and told me she would contact "senior management" and someone would get back to me within 24 hours. 24 hours came and went and no one called so I called Customer Care back again and told them I was done unless someone called me back by 10 a.m. the next day (May 24th). Did not receive a call back. Surprise. So I called my bank, reversed the $35 charge and called Customer Care a third time and told them to cancel the order and informed them I had reversed the charge. She said she was sorry. It had been 48 hours since I voiced my complaint to Customer Care. If I had this much trouble just getting the door measured, I had no confidence that a door would be delivered and installed in a timely manner – meaning before the snow came in January. I'm serious. I know it's only May but given my experience…
THIS MORNING (May 25th – Saturday – a full 10 days after placing the order), l received a call from Coffers Construction offering to come measure the door. I told her the contract had been cancelled. She claimed she wasn't told.
This is even more laughable because in the Detailed Expectation Sheet under the "Why Lowe's for Installation" it states "We'll keep in contact throughout your installation experience." I'd be interested to hear your defense of that statement.
For the record, I have now ordered my storm door from Home Depot. They'll be here Tuesday to measure the door. They would have been here Monday but it's a Federal holiday.
In addition, I visit this Lowes frequently this time of year to buy mulch, top soil, lovely plants, etc. I usually take a member of my family because at 82, I can no longer lift heavy bags of mulch or what have you. One day no one was home and I needed top soil so I went and was able to tip the 4 bags onto the flat bed with no problem. (No one was around to assist me.) Asked at the counter if someone would help put it in the car. She called for help over the speaker system. Waited at least 15 minutes and no one came. Finally a lady came by and asked I needed help – NOT A LOWE'S EMPLOYEE, A CUSTOMER. I told her yes but that help was supposed to be coming. She told me "honey, neither of us will live long enough for someone to come out to help. I was here a half hour last week and no one came so I did it myself." She then proceeded to lift those bags into my car. I felt awful – poor lady – she was considerably younger than me and told me she was a "farm girl" but she shouldn't have had to do that. I thanked her profusely and decided not to go back to Lowes's if I was buying something I needed help with.
I'm wasting all your time telling you this because this store needs help. Literally. Either the manager needs to be retrained or replaced or you need to hire more help. Retail 101 – someone should answer the phone by the 3rd ring (if only to put you on hold); Management 101—someone should call back immediately when a complaint is voiced. Will I go back to Lowe's. I don't' think so. Home Depot is a little further from my home but seems to be less aggravating, When I went to get the storm door, I noticed 2 instances where employees were dragging flat beds filled with mulch to someone's car. It was a weekday around 11 a.m. They seem to have it all together Maybe you should contact them and ask for pointers. Since they are able to hire help I can only surmise that you guys just don't care.
A very disappointed EX-Lowe's Customer,
Dianna Sakacs

Hello,
I am a United States Marine Corps Veteran with six years of service and I have been refused your veterans discount at Lowes store #2505 more than once just because I do not have a "my Lowes" account or card. This is totally unacceptable! Even after showing the associates my VA card, plus my North Carolina veterans drivers licence I was refused!!! Isn't this enough?!? I don't want to join your little club because I don't want my purchases documented and categorized!! My privacy is important!! But not to you people.
I was visiting the Lowes in Jasper Ga last month and the associate checking me out noticed my U.S.M.C. hat and shirt I was wearing and didn't even ask for a "my Lowes" card or even a V.A. card. He automatically applied my discount and thanked me for my service.
This is something the Murphy store does not do or know how to do. I showed him my N.C. VA drivers licence anyway, but to get back to the subject. WHY IS IT ONE WAY IN ONE STORE AND ANOTHER WAY IN ANOTHER STORE!! You guys are a miracle!!
Starting this day, Me or my family will never set foot in any of your stores again! Discount or not...We will be taking our business to Home Depot. Its another 15 miles for us but at least we will be trusted and taken at our word. Even the local hardware store ( ACE in Hayesville NC) . Takes me at my word!!
I hope you go out of business.....sincerely CW

To whoever reads this:
You advertise Comfort-Bilt storm windows, Single-Glazed Aluminum White Window, Model C 2033255, Item# 7744 32x55 for $54.00 and 32x39, Model C 2033239, Item # 7492 at $48.00. I need 14 of the 32x55, for a total before tax of $756.00 and 2 of the 32x39 for a total of $96.00 before tax. When I called my Lowes here in Conyers, they said that they are not available; nor would they ever be. Why do you advertise something on your web page that can't be bought?
I'm on SSI and get $791.00 a month. Your folks told me, basically, too bad we are out and are not getting anymore.
This smacks of "bait and switch" tactics. They are more than glad to sell me windows at $80.00 and up.
As you can tell, I'm not happy at all about this situation. I buy all of my Home Improvement needs from your company. Granted, I'm not a "big dog" as far as your other accounts but I have been loyal to you since you opened this unit.
I would hope that accounts for something in your corporate eyes.
Yours,
S. Kurt Jocoy
788 Greenwood Trail SE
Conyers, Ga.
30094-4548
E-Mail: kjocoy@yahoo.com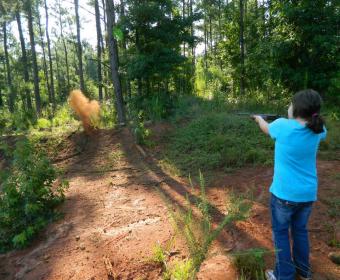 My name is Barbara Kirby and live in Richmond Va. I used Lowes installation for a new range I bought.
they came and picked up the old one and put the new one in. It is beautiful and we love it and everything
worked out fine until we went to cook that night...I realized I had not taken out the pots and pans from
the bottom. Now, right off I would say that is my fault....what disturbs me is I called Lowes right away
and they said the truck would be in and I could pick them up. So I went when they told me to at the
customer service desk and they said the truck wasn't back yet....please wait until tomorrow to pick
them up....so I ventured again to pick them up and no one could find them. I finally talked to the man
that sold me the range His name is AJ at the broad street store. He could not have been any nicer and
walked me over to where the truck was....The man he talked to told him it went to the Spotsylvania store.
so Spotsylvania store is far from me. And like I said it was my fault in the beginning but what I want to know
is how did they not hear the rattling when they took it out. Something seems fishy to me and I would like
you to look into for me PLEASE. We are an older couple and things like this frustrate us.
If you need anymore information please let me know.
Thank you we have always loved shopping at Lowes and have done it a lot but this upsets us.
Barbara Kirby

Had a flooring installation project thru' Lowe's (Hampstead, NC) with excellent in-store assistance. Purchased and picked up tile for the project, and set up an installation thru' Lowe's Serve Pro (contractor I presume). Paid for measurement of the space which was professionally done in short order. Worked with in-store reps & paid for estimated installation. Next came a review of the install which called for additional materials to be purchased & delivered. From there it was passed on to the Serve Pro people who subsequently contacted me.
Once Serve Pro had "the ball" it became a delay, delay and lie game - "I'll call you back this afternoon to schedule the install" lapsed into nothing for days. I asked if the installer could at least visit the site before the installer appeared with men & materials. I got a call from some lad who said he would be here Memorial Day to look over the install - OK.
Today, a call from some clerk about starting installation over the weekend - Saturday & Sunday (do contractors do that??) - to which I grudgingly agreed. I made the mistake of telling her that someone from Serve Pro was stopping by Memorial Day(Monday) for I could only guess to look at the job-site. She said nobody from Serve Pro did this, I was mistaken and it must have been another company. So I gave her the lads phone number.
Well, yes, it was Travis from Serve Pro, and since he was coming on Monday (Memorial Day) the install would start at 8 AM on Tuesday.
I commented that Travis was gumming-up the works, holding up the install. She got upset about this (boyfriend?), and lied to me that he wasn't delaying the install. I assured her he was, since she now wanted to start the install on Tuesday, not on Saturday as she had initially said. She doubled-down and continued lying about the delay. I got irritated by her insistence that it wasn't a delay (Duh!) ... with her finally deciding that they wouldn't do the install.
I know it wasn't a big job & we're just "small potatoes" to you, but the aggravation and delay in having to deal with this petty snowflake certainly un-did all the positive work accomplished by your in-store sales people. If you're going to allow your contractors to hire thin-skinned high-school dropouts to deal with the public, expect to lose business. For me, it's just an inconvenience and leaves a bad taste in my mouth - for you it is lost revenue and a kick in the teeth to all the good people who represent you in the store - they did a great job, it was your contractor who dropped the ball.
If I didn't like the tile we bought you'd get everything back and I'd just go to flooring shops in Jacksonville.
I'm not sure I want to waste my time further with you because of the bad experience with your contractor, Serv/ice Pro.

In March of 2018, I had Lowes install new luxury vinyl and carpet on my stairs. In early April 2018, a ripple in the floor developed. I have had to go through the channels at my local Lowe's to file a complaint. On May 14 someone came to assess my floor and he felt it could be fixed. The initial floor installers through Lowe's apparently installed the floor incorrectly. They did not leave 1/8 inch all around the floor since it is a floating floor which is what is causing the ripple in my floor when my house shifts. Today the individual that was suppose to be at my house between 9-10 to fix my floor has never shown up. I have tried to reach the install manager to no avail. I called the subcontractor and he says the individual that looked at my floor on May 14 never put this on the calendar. So as of now it appears there is no end in sight for my floor to be fixed and the corner of one of the planks is poking up creating a sharp edge.

I was recently at your Lowes in Queensbury, NY. I needed help in the plumbing department, which was something simple, but I couldn't locate it. I spent more than half of an hour waiting for help and finally a man from the electric department. Another man near me had the same issue. It took two intercom calls and 4 pushes on the help button to finally get the wrong person.
It's my understanding in checking with another Lowes that managers are paid better if they can cut down on the employees hours. My opinion is that you need to have better service and forget this policy before you lose a lot of business.
I have always liked Lowes better than Home Depot, but I'm not so sure now.
Sincerely,
David Atkinson

I ordered a hose reel and hose on line 3 weeks ago from your store in east Patchogue the hose was delivered but the reel was returned by Fed ex because of damage some one by the name of Crystal signed for it and I have been calling the store and even drove 30 minutes from my home to ask about it because no one there could tell me why it wasn't in their system I was finally told it was being shipped out last week and it never was now my wife called 3 days ago and was told it would be here by today may 22 nd. They still have not sent it out and no one gives us any answers but of course I've been charged for it and also was told they couldn't cancel the order. I have been shopping at Lowe's for years and have never been treated so poorly i will pay off my card cut it up and start going to the home depot this is the worst experience I have ever had with any retail store and it's employees.

i was humiliated in front of the public which disturbed by son. i am thinking of contacting

I have purchased a suite of 4 kitchen appliances from Lowes. The range and refrigerator were special order, because of the items purchased. I was out of the country for 2 weeks, and when I got back, I was expecting to hear from Lowes. I had to call, at which time the refrigerator and microwave delivery were done the next day. Great. The range is still not in. OK. But, today, I was supposed to have a dishwasher delivered by an installer who would install the unit. The time window was between 11:30 am and 2:00 pm. NEVER CAME. This is when the fun starts.
Contacting your company and getting help is nearly impossible. I have placed at least 5 phone calls today, maybe more. I was passed from phone to phone, only to wait for the phones to ring until they hang up. Nobody at Lowes answers phones. NOBODY. When I finally got in contact with people that said they could help, the answer I always got was, it's the installers job to deliver and install. They would have him contact me. It's now 5 pm. No calls. I've called back. Twice. Still no solid answer, except to be told "we have to find out why the installer didn't do the install". I guess that means I have to sit in my home and wait for a call. WHENEVER. What kind of solution process is this?
I wasted a whole day on this situation. I emptied under the sink, removed everything that might be in the way, and patiently waited for my dishwasher. My time is valuable to me.
So, to sum this up, let me say this. I purchased 4 appliances for $2,400. Not a ton of money, but a lot to me. I've already paid for them all. Your business practices are, to say the least, sad. I have purchased a washer, dryer, and gas grill at Lowes in the past. You can be sure, everyone that I might ever talk to, I'll mention the wonderful customer experience I've had with your company. To not even get back to me with a reason for the situation is not acceptable. Your installer could have been in a car accident, injured in some way, or sick. I understand the human side of life. But why can't you at least contact people and inform them why they wasted their whole day? No more large purchases at Lowes for me. And, if I don't get a resolution to my satisfaction soon, I'm contacting Visa and sending everything back. All of it. I'm very upset.

Purchased major appliances 5/17/19 going to 2 different address's. Both scheduled for 5/20 Monday delivery. 8859 Sissy Lane address, Lake Charles la rec'd phone call on their way and was delivered. The 1301 E. McNeese ,ste 304, Lake Charles La., have not rec'd as of 5/21.NOT notified by the local Lowes store on where or when the delivery would be made which is unacceptable. I called 5/21 and talked to Mitch in delivery , he was unclear on what happened but I never rec'd any information about this and had to call the delivery dept to locate the order. WHAT happened?? Need my order....

I am complaining about the Waterloo Lowe's policy regarding refunds. Almost a year ago I purchased a new refrigerator and was told I had to buy a water hose connection. After the refrigerator was delivered and installed, I was given the new hose and told I didn't need it so I should return it to the store for a refund. When I attempted to do so, I was told I could not receive cash but would have to spend the approximately $10 dollars on store credit. The person in the customer service department called the manager on the phone when I protested The manager said that was their policy and I would have to find a $10 dollar item. Given the fact that the original purchase was not my idea I did not feel I should have to find an item to receive the credit. For $10 Lowes has lost a customer. I had also just purchased a new dishwasher and stove at the Waterloo store. I will go somewhere else to replace my washer and dryer as I feel I was treated unfairly in being forced to purchase something that wasn't needed and then couldn't get a refund. It was only $10 to me, but it will end up costing you much more in lost future sales. I don't expect you to do anything at this time, but thought you should know how this policy affects your customers. I know this is not the case at some of your rival stores as they willingly give you cash for a returned item.

We purchased a washing in July last year and has been messed up for over four weeks. We have called every week and keep getting the run around that they can not find anyone to come repair. We even bought the extended warranty and for what? We were told on the Monday April 29 that someone would be here on Wednesday of that week to repair. We are very frustrated at this point. Would someone please help with this, four weeks of have to go do laundry else where is not why I bought a new washing machine. If no one can help I would like all my money back an I will go somewhere else.
Thank you
Rickie Rogers
843 672 4831 please leave message

On 5/13/2019 I purchased a Whirlpool Dishwasher from Lowes Surprise, AZ store on Grand ave. at approx. 7:30 PM. I clearly asked for installation at my rental home, 12742 Crystal Lake Dr. Sun City West, AZ 85375. I arranged to have installation call my renter and supplied a phone number and address. I was told that the installer would call within 24 hours. The installer left a message or me on Thursday, 5/16 at 4:45 PM. The message was unclear and quite garbled. I called the number associated with the message and encountered a female who was most uncooperative, hostile in that I did not know who called me. She asked my name numerous times and seemed totally unconcerned about providing installation service. I became irritated with her ( I did not use profanity). She refused to help me and hung up on me. I was in the process of calling back when someone with a decidedly British or Australian accent called back and began berating me for how I had communicated with his workmate. In a very bravado manner he announced that he would not be installing the dishwasher and hung up. At 7:30 PM I called the 800-445-937 and spoke to Alia in customer service. She said that I would receive a call from installation on Friday 5/17/2019 that would result in installation. At 4:00 PM that day I called 623-975-6020 and spoke with Brian who said it was impossible to help me and that perhaps installation would call on Mon. 5/20/2019. I was not happy with this information and told Brian I was going to speak to Corporate. Later Brian called back to say installation would be on Tuesday, 5/21/2019.
I WANT THE MACHINE INSTALLED AND I WANT A REFUND OF THE INSTALLATION CHARGE. I WANT TO REWARD MY RENTER WHO HAS HAD A BROKEN DISWASHER FULL OF WATER AND HAND WASHING HIS DISHES FOR SEVEN DAYS AND COUNTING. THIS HAS BEEN HORRIBLE SERVICE. I rely on Lowes for all my home repair and replacement. I am a loyal customer and will continue to be, but heads must roll after this catastrophe. Respectfully, G. David Wilson, 12503 W. Banyan Dr Sun City West, AZ 85375 623-229-6903

It started when I ordered some items online, Lowe's contacted me to say my order was being transferred to a different store because the store my order went to (Rogers Arkansas) could not fill the entire order. My original order cost was $358.21. Then again I was contacted by the alternative store to say they could not fulfill my order for the next several days and sent me a new invoice, I noticed the delivery charge had been increased too. I decided to cancel. Also Lowe's had taken $727.47 from my account. I contacted both my bank and and manager David Dotson at the Rogers branch, it took many phone calls and ten days for me to get my money back. I asked to be compensated for my out of pocket expenses and for the time it took to resolve this mess. Nothing was offered.

I purchased a John Deere lawnmower on 3/12/2015 a D105. First time I used it it would not turn. Called Loews and they picked it up and replaced it with a D110. Being nervous about a big investment your sales rep suggested I purchase a 3 year extended warranty which I did. The lawnmower now has a bad engine - cost is about $600.00, told them I had the extended warranty. Called Service advantage and they told me the extended 3 years was up? Said it has been a little over 4 years leaving about 10 months left. They told me the warranty started when I purchased the mower, said John Deere covers the first 2 years then the 3 years kicks in was what I was told 5 YEAR COVERAGE! Your sales rep misled me. I am a 70 year old veteran who was misled by your sales rep. Lowes service advantage kept telling me sorry but it expired. Told them I was misled and again more I'm sorry - they see my point but cannot do anything. Years of buying from Loews is now over, also going to YELP so other people do not get misled. Very disappointed in Loews - everyone was right - you are small compared to the Giant Loews they don't care.

Store 0588. Approached 7-8 associates. Trying to locate an item. All just said go here and pointed. I had several items in my buggy to purchase. Everyplace a went that they told me to go I was unable to find the product. One associate said "it's out front". I was like where? "Idk, but it's there". Stopped at the customer service center. 3 associates setting there. Ask one who told me no it's not out front but in lawn and garden. As I walked away I heard her tell the other ladies. " I pretty sure we don't have that anymore." So sent on a false hunt knowingly. I arrive and item not there. I ask another associate bout the product. He said it's out front somewhere probably by lumber. I make it from one side of the store to the other. I find it. Yayy. I ask a associate if he knows the grade of silica in the product or could he look it up for me. I need a specific kind. Idk how to do that sorry. So I'm upset by this point so I left you store after probably stepping on every square foot of it. Empty handed mind you. I left my buggy full of items as well. I'm very disappointed in the service I received. In this area we live in service is what keeps people coming back. I did drive 45 minutes to Home Depot and purchased my items. I know I'm not a big spender but I have purchased a lot at that store in flooring,Appliances,bathroom fixtures and riding mowers along with miscellaneous stuff. With that service I may just drive the distance to get treated someone.

Hello,
I would like to say my husband and I visit Lowes for our home improvements. This time we are thinking of going elsewhere. We had visited your store Niles Mi for carpet and got a quote. My husband returned to Lowes and guys came to house for measurements. To our surprise the quote was more due to Lowes employee not knowing how the carpet is laid. (coming from the Lowes guys who measured) It was Monday the 13th when the measure crew came to the house. Two days later my husband gets a message to call back for final price for carpet install. Later that afternoon he calls and is told from the same employee who he has been working with that he would have to call him back that he was busy. Now here it is Monday the 20th and we still haven't heard from Lowes. I would have thought service would have been better. I'm not sure the quality of employees Lowes chooses to hire is up to par with other competitors.

This is the worst Lowes that I have ever been in . I went in to buy lumber there was people standing around on the phones at the cash registers while customers was waiting to be checked out the store was nasty not cleaned up materials laying in the floors , I watched one cashier walk outside and use her phone instead of helping check people out . This happen two days in a row so it was not a one time thing . I will not go back to this Lowes I will drive to Spartanburg or Hendersonville just to go to Homedepot from now on if this is what I have to deal with. This is the store in Boiling springs South carolina.

Called corporate office about labor my husband and I did on removal of a fence, before installation of a vinyl fence costing over five thousand dollars. Was hoping to get some kind of re-imbursement of the 650 dollars charged, because we removed half of it. I was told I signed a contract, and pretty much nothing could be done. The corporate office was to get back to me the same day or the day after, but nobody does their job, therefore I have yet to hear from anyone. Doesn't surprise me. They are just hoping I will go away, so I guess you got what you wanted because I will be going away to another place of business for my home improvement needs. I would have thought you would want to make your customers happy so they will come back, but once again I was wrong. Have a nice day!

I PURCHASED a natural gas room heater from LOWE'S over two years ago, took it back right after I purchased it and got a new one. I called the factory but there phones don't answer give you directions to different web. sites. I spent $300.00 on this room heater. It was a 32,000 but heater. I finally got an answer via e-mail told me sounds like thermocouple is bad and they don't have any, factory is out also. Don't know when they will get them in. I know the weather has broke, I would like to get resolved before next year. If there is anything you can do for me I would appreciate it
THANK YOU
TOM MCGIVERN.

We placed an online order for LASKO 22" box fans and when came to pick up, they were the wrong item. Lowes Associate did reorder the LASKO 22" box fans but cost was higher and when they came in, they were again the wrong item. It takes a lot of time and gas for us to go to your Lowes in North Charleston SC, we live 1 hour away. To travel that distance and then be wrong item twice, is not acceptable in any way. I asked to speak with store manager but waited over 30 minutes and was a no show. I left and most probably will not be visiting this store again...EVER. Very poor customer service!!!!

I wrote a check for over ,11k to have a vinyl fence install, your store has cash my check and I still have no fence, all i have gotten is the run around, i have ask LOWES to either assign to another contractor or give me my money back so I can find another company. i work hard for my money and deserve better than this.
i know 11k is not a lot to a corporation like lowes, but i worked hard for it. I will never again use LOWES.
-------------------------------------------------------------------------------------------------------------------------------------------------------------- Below is notes I sent to lowes.
Re: 1122 Weston Fence
Mon, May 6, 2019 4:24 pm
ryw626 (ryw626@aol.com)
To:bill.a.white + 1 more Details
Have not heard from the contractor, UNACCEPTABLE is an understatement.
-----Original Message-----
From: White, Bill - William <bill.a.white@lowes.com>
To: RYW626@aol.com <RYW626@aol.com>
Cc: Garrido, Amilkar - Amilkar F <amilkar.f.garrido@store.lowes.com>
Sent: Fri, May 3, 2019 6:39 pm
Subject: 1122 Weston Fence
Mr. Weston,
Thank you for time this evening discussing the delay in getting your fence installed. As I indicated, we are waiting to get a gate lock from the manufacturer. This has yet to come in. You have asked that installation be started on the fence, with the latch being put on when it comes in. I have requested the installer to get in touch with you to get an installation date.
Thank you,
Bill White
Project Coordinator Exteriors
Ph # (317) 675-4848
Fax # (855) 358-0422
Bill.A.White@lowes.com
General Office Phone: 877-505-4923
Lowe's Companies, Inc.
NOTICE: All information in and attached to the e-mails below may be proprietary, confidential, privileged and otherwise protected from improper or erroneous disclosure. If you are not the sender's intended recipient, you are not authorized to intercept, read, print, retain, copy, forward, or disseminate this message. If you have erroneously received this communication, please notify the sender immediately by phone (704-758-1000) or by e-mail and destroy all copies of this message electronic, paper, or otherwise. By transmitting documents via this email:

donnie swan
from Louisville, KY
I prepaid & ordered blinds to be installed 6 weeks ago. I was told that it would take 4 weeks maximum for them to come in & my installation to be set up. no one at the store level can tell me anything about the order , other then to blame the vendor. the sales people are untrained, short staffed, & useless. the managers are hiding somewhere & not responding to pages. wth is lowes doing?? I want my blinds!!! either compensate me for my trouble or cancel the order & refund the measurement fee & the cost of the blinds. this is no way to do business!!!

I'm a 68 year old service connected disable veteran, I also own an operate a small ranch. I have been a Lowe's customer since the Texarkana store was opened. On Sunday May 5 I went to the Texarkana store to pickup fencing materials to complete a fencing project. During checkout I informed the clerk I wanted my Veterns discount the store offered an I also wanted farm tax exemption on the items. The clerk, his supervisor and several more employees told me I couldn't get two discounts on the items, I stated that the farm tax was not a discount from the store, but a agriculture exemption that I could use because of farming and ranching operations. I told them just the week prior that I had purchased over $500.00 of paint to paint my shop, an had no problem. Your employees told me I was all wrong that they never did that and very disrespectful insinuated that I was lying. After being insulted an feeling very disrespected an feeling Lowe's really don't care about their customers or veterans, I ask them if they were going to let $15.00 of taxes run a old customer off that had been a deviated customer for many years. My wife an I have been planning some home improvements, just a few days prior we had Shawn in roofing to plan a roofing job approx. $9600.00 for us, also Shawn had an appointment to meet with us an plan for vinyl siding. They seemed not to believe me when I told them this, an that I told your employees I was going to cancel the order and find a place that showed more respect to their customers. I believe I qualify for your stores veterans discount of 10% and the state agriculture exemption tax, if I am wrong, please forgive me, I mean not to cause any problems to anyone. Sincerely Ray Haddock

We special ordered blinds on April 13, 2019 and was given an estimated transit time of 14 days (note: NOT 14 business days). The last tracking says delivery will take place May 8th, 2019, 25 days transit time. Please understand, the employee at Lowes in Redmond (Pattie #4330) has provided good customer service, but the transportation assurance we were given has been far from accurate.

order and had laminated flooring installed. Lowes ordered the wrong Quarter Round that goes around the edge of the floor. Lowes want me to pay for the new Quarter Round which is $280.00. I paid $163.36 for the wrong one that they order. I said I would pay for the difference between the amount but they want me to pay the full $280.00. It was not my fault that they ordered the wrong product, in fact what they order is wood and had to be painted. I would like for Lowes to settle this matter immediately. It has been over a month with not results. I paid a total of $5073.36 for the complete floor.

My name is Latricia Williams and I will never shop at Lowe's Home Improvement again!!! I was recently in the Langhorne, PA. store and received extremely rude and insulting customer service. I was shopping in the bath department getting ideas for remodelling my master bathroom. I needed some help and guidance, but wasn't ready to buy anything that day. I pressed the need help button by their desk. A man by the name of Unis came over and said abrubtly, "What do you want?" Right from the get go he gave me attitude. I told him I wanted to get some ideas and advice on my bath remodel. He asked me if I was looking to purchase anything today. I told him no and that I wasn't at that stage yet. He threw a couple of pamphlets at me and said here. I told him I wanted to get pricing and some pictures of different designs. He said he couldn't do that. I also told him I was on a budget. He didn't want to hear that it seemed. He then mumbled quickly under his breath, ghetto nigger. I said what did you just say? He said nothing. I told him to go to hell and that I was going over to Home Depot where I would be appreciated and valued as a customer. They would help me regardless how much I spend. He said, "Do what you need to do." I walked out. I was so angry I wanted to slap him. I didn't know that Lowe's hires racist people to work in their stores. I was thinking about notifying the NAACP regarding this matter. I'm thinking about letting the entire African-American community to boycott Lowe's and only patronize Home Depot where customer service is better.

I BOUGHT CARPET FOR MY BOAT AND GLUE. THIS IS WHAT LOWES RECOMMAND. WE PUT IT DOWN JAN. 2018. THE FIRST TIME WE WENT OUT AND RAIN ON IT. IT WAS A NITE MARE. IT STARTED COMING UP. WE ARE NOT PLEASED WITH THIS. WE HAVE MANY MANY HOURS PUTING THE CARPET. WHAT CAN LOWES HELP WTH THESE? I HAVE SHOP WITH LOWES FOR MANY YEARS. THANKS I KNOW YOU WILL DO THE RIGHT THING. ANNELL BROWN FROM CARTERSVILLE Ga.

Ordered 5-2-19 internet 100 bags of Scott brown bark chips with preen. My internet Order confimation said the chips would be delivered today May 5th. Delivery from your Commerce MI Lowe's store. Order number 375099006 invoice 73815. As of today I have NOT RECEIVED ANY EMAIL UPDATE ON MY ORDER DELIVERY. I DID CALL LOWES S COMMERCE STORE YESTERDAY was on phone for a long time to confirm today's delivery.....Finally I was advised that my bark chips would be delivered today MAY 5TH between 8 and noon. However I DID NOT RECEIVE A CONFIRMATION CALL LAST NIGHT FROM QUERIES. HAVING NOT RECEIVED QUERRIES NIGHT BEFORE TENTATIVE DELIVERY TIME PHONE CALL TODAY I WAS WORRIED ABOUT THE SCHEDULED DELVIERY. Today I am here waiting or my deliever of 100 bags of chips. Need to be here to open gate and most important tell the delievery folks where to put the pallets. I called Commerce to verify delivery and was again told that the chips were on their delivery schedule. AS IT IS CLOSE TO NOON END OF TIME FOR SUNDAY DELEVERIES, I JUST CALLED AGAIN YOUR COMMERCE STORE. i was transferred to Commerce Delivery department. I was told by Pete (Delivery Department) that on Sundays BARK CHIP PALLETS ARE NOT DELIVERED AS FLAT BEDS TRUCKS DELIVER BARK CHIP PALLETS WHICH ARE NEVER EVER SCHEDULED for Sundays. Pete apologized. Pete did not know WHY I WAS TOLD REPEATEDLY MY ORDER WOULD BE ARRIVING TODAY. I BELIEVE MY CREDIT CARD SHOULD BE REFUNDED THE DELIVERY CHARGE OF $59.00. I was put on hold often for long periods of time. Transferred often back to the store operator to begin again my delivery inquiry. Gvien several times erroneus delivery information. SPENT THE ENTIRE MORNING WAITING FOR A DELIVERY THAT PETE SAID IS NOT SCHEDULED FOR TODAY AS FLAT BEDS ARE NEVER EVER SCHEDULED FOR SUNDAY. PLEASE HONOR MY REQUEST TO REIMBURSE ME FOR THIS VERY TIME CONSUMING SUNDAY non DELIIVERY. Pete said I should call him 7 am tomorrow and he could give me a time frame when to be home for the bark chips. Thanking you in advance for honoring my DELIVERY CHARGE request. You have my phone number on file with the Confirmation Email of May 2nd, Order number 375099006 if you need to call me for more information. Off i go out to kill my weeds before spreading the chips. .KEEPING MY FINGERS AND TOES CROSSED THAT THE PALLET ARE DELIEVERED TOMORROW ON THE FLAT BED. HAVE A NICE DAY. THANK YOU VERY MUCH.

Sheila Harding
from Douglas, GA
I'm very saddened by the lack of care and knowledge in your outdoor gardening center in Milledgeville, Ga. Although most are trying hard to help, there is not enough people to help customers and to take care of flowers. Distoressed plants they are clogging the isles. It appears too many were ordered at once instead of staggering orders. The workers are left to deal with the mess. This is a management issue to me.

Larry Batie
from Marshfield, WI
I purchased a riding lawnmower from your Fultondale, AL store on May 02, 2019 and they delivered it on May 03, 2019.
The mower stop working before I could finish half of my yard.
Now I have to wait several days to get it resolved. I am highly disappointed with your product and service.
A disappointed faithful customer.
Larry Batie

I bought this room heater on 11-24-16. And returned it on 11-28-16 and exchanged it for another unit of same size. The first year and the second year and now this year nothing but troubles. I could not get a hold your factory outlet, they don't answer their phones any more, I tried to reach out to them by Email. And all they could tell me is that I needed a new thermocouple and they were out of stock even at the factory. I don't know if you can do anything to help me but I'm out $300.00 dollars on this Thermablaster Heater. I noticed you don't handle these heaters anymore. It was a 32000 btu furnace. THANK YOU FOR YOUR Time..

I had a scheduled delivery for this morning. They did not show up, call or e-mail. I called the local store in Auburn where I placed the order. Their automated answering service kept taking me in loops. I select delivery option, it rings and rings then go back to main menu. I called the 800 #, she checked and called the Auburn store, then told me they will call you right back and let you know. This was 45 minutes ago and still no idea. I wasted most of my day just waiting. This is a very bad experience. I have lots of things to do. They were very specific on early morning delivery. Well what happened. I am not sure if I will ever go back to Lowe's especially Auburn branch. Home Depot is only few miles from here. I am still waiting. Why do they even have a delivery dedicated option when we call and no body is there? What kind of training do they give their employees. Its up in the air, I don't know if anybody will even read my complaint.

Kyle Reese
from Poughkeepsie, NY
Lowes doesn't stand behind their products or installations after they get their money. All the employees do is socialize. The managers are incompetent and have no product Knowledge or customer service skills. No one says hi or even acknowledges you, it actually seems like they run away when they see you. Their deliveries are never right or on time and their products are subpar at best. I will never shop there again.

The Havertown store is the worst customer service I have ever witnessed, the Garden section is staffed with just 2 check-out positions while there are long lines of customers left to waiting to be checked out, there are 2 other check -out positions empty and could be used to service the long line of customers. Home Depot has 4 check-out positions that are used to get customers thru and checked-out. Whats the matter with this Manager cant he run a store more efficiently....please RSVP this complaint....

purchase water heater Oct 19, 2013 - warranty on tank says good for 6 years which would bring us to Otober 19, 2029 - Called manufacturer, they told me warranty begins when the unit was made not purchased, so I am out of warranty according to them. This is the 2nd water heater we bought from Lowes, the first one was purchased a couple days before the last. had to take that one back because it was leaking - now this one is leaking.
I call Lowes, only to get the run around, wanting receipt number, date of purchase, and more questions, and then they tell me I would have to go . thru the manufacturer. tried that......Seems they are anxious to make the sale, but when the customer needs help, it is never in our favor. guess that is the price we pay for buying at your big box stores. I have been a loyal Lowes customer for years, but this episode is pulling me away quickly. I expected more from our neighborhood Lowes.

CHARLES B JENKINS
from Slidell, LA
Placed an online order Saturday night. I will not go into the myriad of phone calls I have placed, the time spent on hold, the number of calls that went without anyone picking up the phone (including your customer service line), and the misinformation that I received from your employees. Bottom line is my order has bounced between 2 stores, neither seem to want to deliver the product to my house even though I paid the delivery fee. I just cancelled order number 374503723. This is not the first issue I have had with your store in Slidell with regards to extremely poor service, actually rude service. I will leave my number for anyone who cares. This is a first for me, having been in retail all my life I certainly understand that retail can be very difficult and it is hard on store level employees, BUT! We are the life blood of your Company and should be treated fairly and with respect, certainly when we have done nothing to offend. You have just lost a customer to Home Depot...……….Brad Jenkins 214-675-6954.

Jeff Bogin
from McLean, VA
I put an order in for delivery to the hotel to be delivered on 5/1/19. The store calls and says tat the driver called out sick and they cannot deliver anyone's orders. So nobody gets their orders because Lowes cannot find a way to get it done for their customers. The lady then tell me that I can come and pick up my order. The reason I paid $80 for delivery and asked for it today is because I have a project I have to finish up and I don't have a pickup truck to come and get it or else I might have come and picked it up the day before. Seems as though Lowes would have something in place in case these things happen other then telling their customers OH WELL OUR DRIVER CALLED OUT. 407-497-8549

I purchased carpet and wood flooring from Lowes for my second floor. As a result of banging on my second floor there were many nail pops on my first floor ceiling. To fix the nail pops and paint the ceiling it would cost $600. Lowes REFUSED to pay for repair and painting of my ceiling. They suggested that they would provide the paint for the ceiling but that was it.
The flooring manager at the time indicated that he would reimburse me for the painting. However, after following up with the Installation Manager, he indicated that the store Manager would not honor the reimbursement. The Installation Manager then indicated he would follow up and get back to me. He NEVER got back with me. I called again and asked to speak with the Store Manager directly, however, she was on leave at the time. I spoke with an Assistant Manager and explained everything. She said she would speak with the interim Store Manager and get back with me. AGAIN - she NEVER got back with me.
I am extremely frustrated with the inadequate customer care and lack of communication from this company.
All I am asking for is to paint my ceiling which was fine before this process began.

I purchased a grill Sunday April 29th at 2pm, I was told I could pick it up Monday by noon. That was fine I told them I would be there at 5pm Monday. When I ask for the grill I was told they did not have one, she couldn't seem to find anything or anyone that knew anything including the manager Juan. The lady dragged a floor display out asked if I wanted it ,it was very scratched up .She said for full price I said no ill take my money back please and I'm not going to shop there don't need poor service like that really bad training. Manager should have stepped up.

We were shopping your Carrollton TX location this past Saturday. We were going to purchase many items until we arrived at the check out line. The Store has 30 plus customers standing in line waiting to be checked out. The Store had 2 registers opened. Several employees were walking around but would never made eye contact with the customers. I ask management if more registers could be opened to avoid the long wait in checking out. I was told...its been like this the entire day. No additional registers were opened, therefore, we left the basket of items we were going to purchase standing in the isle and drove to Home Depot. Home Depot had several customers as well with no waiting. Several registers opened along with Self Check Out..
Your managers at the Carrollton location on George Bush and Old Denton could care less..
Thank You,
DBrown

First and foremost I have always shopped at home depot. Because Lowes was having a better sale on retaining walls I decided to start shopping at Lowe's instead. I orded the block with no trouble. The store employee said the delivery company would deliver the block on Sunday. I thought that was unusual but fine with me. I waited all day Sunday and no delivery. I called. No one in the store knew what the problem was. They gave me a number for the delivery company. I waited 30 minutes and called. The number had been disconnected. I called the store this morning. After being connected to 4 different departments and NOBODY answering I went back to the operator who looked up my order and said my delivery had been rescheduled for Tomorrow. I asked why no had not been notified. She said they would call me tonight. We shall see. I know I am small potatoes to you guys but I do still have several hundred dollars of stuff to order. Can't anyone just say what they are gonna do and DO IT????

Awilda Gonzalez
from Covington, GA
On 4/18/2019 I order three picnic tables for an event on 4/27/19. I paid for the table to be assemble, $30.00. I was told to go on Saturday to pick up. I paid someone with a truck to pick up. The worker at Lowes informed him that they could not find the order. We wait and on Friday April 26,2019 he want to pick up and the order was not ready. I called and spoke with Ms. Nikita (very professional), she could not find the order but she spoke with a manager and assured me that the table will be ready for 4/27 they day of the event. I told her we will pick it up on the 4/28 since I did not have a way a transportation. I hired again the person to pick up the tables for Monday April 29. 2019. The person showed up at Lowes located in Conyers, NO PICNIC TABLES. Finally they found two and could not find the keys to take the locks off the table. My worker left.
What is going on with Lowes Conyers?

I decided to use Lowe's for my kitchen cabinets and have them installed by Lowe's as well. So I started this process on or before March 22 2019 and paid for everything as well at the Newburgh NY Store. Janice who is no longer employed by Lowe's was the one who helped me (which took over 2 Hrs to do because of the new system no one knew how to do.). I purchased the Allen and Roth kitchen cabinets (luxury). On 3/30/2019 I was called by Janice and Advised that she forgot to collect a $300.00 home delivery charge and if I could come in and pay for it. So without hesitation about an hour later I showed up to the store and was going to pay for it. When I seen her she was busy with another customer and said she wasn't able to get the paperwork done and she would call me back. On 3/31/2019 Sunday she called me and said I was all set. I didn't call her back until the following day which was April 1 and paid for it then. A few days past and I looked on the Allen and Roth website to review my order and when I couldn't find it I called them. To my surprise I learned that the cabinets where just ordered on 4/2/2019 and won't be shipped out until 4/26/2019!!! Now mind you I don't have a kitchen or a sink. The entire kitchen has been gutted. So that meant my entire order was held up for two weeks because of a $300.00 shipping charge that wasn't collect because of Lowe's. So now I wait until I get a call from the trucking company on 4/27/2019 that they are going to deliver my cabinets on 4/1/2019. Ok great about time. I call Lowe's install department advise them so I won't have a delay to have them installed because I still need to have my counter top done as well. I spoke with a representative and he said he would contact the installers and get back to me. Well the day came and went and didn't hear from anyone so the following day I called and spoke with someone again but this time I was told that Torrie was the person handling my install and she would call me back and she did. I spoke with her on that day 3/28/2019 and she told me she spoke with the contractor who is going on vacation. I explained everything that I just typed to her she said she would reach out to them again. A short time latter the contractor called me back and said the soonest they can install the cabinets is on 4/10/2019 when they return from vacation. At this point that just won't work so I called Torrie back at (317) 675-4081 and told her what just happened she said she would try and get another installer to install the cabinets. Just before the end of that day she did call me back and said she didn't forget about me and is working on it. So I waited till noon the following day and when I didn't hear from her I called and left a message. Another 4 Hrs pass and still nothing so I left another message. As of this e mail being typed and sent I still haven't heard a thing.
I guess Lowe's really doesn't care about the little man. My purchase wasn't big enough I guess. And to think I need all new appliances and a counter top. At this point being a loyal Lowe's customer counts for nothing and is really disheartening. I am so lost for words and completely besides myself. what can be done to rectify this? I knew I should have been hesitant from the get go when it took about a week to have the contractor come out and measure for the cabinets a total debacle from the start.
Feel free to contact me at 845-554-7898 if you need any further information.
Dan Tarantino

Juanarosario
from Philadelphia, PA

we went to lowes to buy a floor for our house the person who took care of us larry marshall sold us the wrong type underlayment for the vinyl floor we pick he sold us underlayment for pergo floor we perchest the floor march 15 2019 paid 714.95 do to the wrong underlayment if we put furniture and move it there is already a dent on the floor lowes will not give us any money back today april 28 2019 we purchest a second floor for the house went with something cheaper 240.00cause we still have to paid for the first one can yah help us ty lowes home center east Roosevelt blvd.

I'm terribly upset, I've shopped with Lowes for over 25 years just about on a daily based. I was in Lowes in wise va my hometown store and they had a generic generator on clearance. I came home, my truck was full of multch and also to talk to my wife. We talked no later than 10 min and I called Lowes back we live 20 25 min from the store and I had a previous engagement so when I called I first spoke to John In lawn and garden l told him I would like to purchase the generator with a credit card. He gave me the numbers to use when I spoke to customer service. I spoke to a young lady and explained I like to purchase the generator and pay for it on a credit card. She said she could not take a credit card over the phone. I than asked her if she could put a hold on it until the following day (Sunday) she asked for my name and said she would have John put a hold on the generator. Well when I came in to pay for it John had sold it that morning I talked to the store manager (josh) I think and very rudely he said there was nothing that could be done they don't hold clearance items. Had I been told that I could have made special arrangements to go in and pay for the generator. I really think Lowes owes me a 22kw generator for the clearance price of $2,484.62
Thank you I will be awaiting to here from you
Billy J Hogg Sr

justin franks
from Huntingdon, PA
To whom it may concern.
My name is Justin Franks of 8123 Shively Rd, Huntingdon PA 16652(814)599-6320. I am writing my complaint today about store #0446, Altoona PA Lowes.
My reason for writing it that on three different occasions to this store I have been mislead. On the first time, it was the beginning of April 2019. I drove up to the store which is a 55 minute drive from my house in Huntingdon to order Cabinets. Earlier in the day I had spoken to a custom service agent and was transferred back to that department. An appointment was made for that evening at 6 o'clock. We drove up to find that the person we were to meet with had left for the day and no one called to notify me.
Then again on April 25th I had called and made an appointment to order Countertops for my cabinets that I ended up ordering from lowes. The departments custom service agent advised that there would be someone available until closing that night. We again drove up to find no one in the countertop department. After expressing my sheer disappointment with a manager they were able to pull a man from plumbing with knowledge of countertops to help us. While we were there we chose a flooring we liked. We talked to "brad" in flooring and he adviced that since we had our car to come back up Tomorrow(27th of April) and pick it up. I drove back up to lowes to find that the flooring I wanted was only special order and there was none available. Again another wasted trip!!
I am writing this letter to tell you that a few years ago I had the same problems at this same store and told myself I would never go back and would advice everyone of the same. I am a Christian and believe in forgiveness so I told myself id give it another go with my recent home purchase with the remodeling it needs. I guess I was wrong and the fact is that some things never change!
I opened a lowed credit card and spend over 10,000 this past month at your store. I wished now looking back id of taken my business elsewhere.

I received your new flyer on April 25th. You have on sale a Sliding glass door with blinds inside. Model #'s 331806 and 331813. I checked at my Lowes in Hamburg NY and it said they were out of them. I then proceeded to check others store and all of them were out. How can this be. Isn't this FALSE ADVERTISING? When I opened up a chat with someone on line, he proceeded to tell to go to the store and see if they would be willing to order one. He then proceeded to IGNORE me and kept coming back saying I will be right with you. As the minutes ticked by, I would get another message saying I am sorry but I will be right with you. Then minutes ticked by and another showed up. I am really turned off about the flyer you put out and the lack of customer attention I got. I find it hard to believe that a day after the flyer came out that you sold out in a day. I took screen shots off my phone from my discussions with the customer service person of yours and the flyer and I am sending it to the AG.

Despite the sales representative's comment …"I must have bought my mower many years ago..." I bought it in Stafford VA's Lowes I believe within in the last 5 years; It's a John Deere 21" cut self-propelled push mower. It runs great but needs a replacement blade. According to another sales rep, the only Deere blades stocked are for riding lawn mowers! However that should no be a problem I thought as there are universal blades that should fit. There are, you just don't sell them! I went to Home Depot and bought a blade there.

1. According to Lowe's manager, asking an employee to hold a cart full of merchandise for a few minutes so a customer can go get a wallet is standard for Lowe's. I asked for this consideration, was told that it would be held. Came back in a few minutes and the cart and contents was gone. So I had to start shopping all over.
2. At check out I purchased several items along with several bags of yard soil to be picked up in a drive-thru service area. The check out was cumbersome as there was not any listing source of soil products or pricing available. A printed product should have been clearly placed at the check out counter. Later I was told by a manager this information had been on display, but it sure wasn't when I checked out. The cashier couldn't find the printout either. When the store manager was asked about why someone hadn't reported the printout was missing there was not a reasonable answer. When asked why there weren't more copies available for clerks to put up, there was not a reasonable answer.
3. When going through the drive thru area to pick up the soil products the attendee noted that the products had not been available for several days. Asked if there was a substitute and the answer was "NO", there was not anything that could be provided as a substitute. When asked why I was allowed to purchase the soil products the attendee did not have an answer.
4. Went to customer service and explained the situation and asked to address this with a manager. Discussed this whole situation. Asked the store manager why the soil product was sold? He informed me the soil vendor had failed to deliver the product. When asked why the product was still being sold, he noted there had been an effort to remove product from the electronic sales tools that are used, but that not anyone would and that nothing had been done otherwise to remove the product from the sales options at check out. WHY?
When asked why the attendees didn't have authority to provide a suitable alternative to avoid ill feelings and address the Lowe's shortfalls, the manager said that is not how things work. And, that this is a time of year of significant theft of product. Mind you, I made the effort to make a purchase in good faith without seeing the product in the fenced area.
The manager offered to provide a refund which was the least he could do. He offered to provide a 20% discount when the product arrived. I informed him that I would not be visiting Lowe's for a long time.
Now tell me WHY would I should do business in Lowe's in the future? Lowe's has a lot of things to correct to ensure good business practices are implemented and followed providing good customer service.
You do not have authorization from me to share my contact information or send other messages or mailings or solicitations, except in response to this Lowe's failure.

I purchased 8 can's of paint spending over $300. Two of your sales reps sold me the product with the expectation I was going to get 50
% of the total purchase of the paint. I was explained at the register that it was a "buy one get one free" sort of rebate. When I filled in the rebate information online and read my receipt closely I couldn't quite understand the wording on the rebate. When I finally received the rebate it was half of the amount I expected. I received a check for only $75.96. I went to the store I purchase the paint at and was told to call the on the receipt but guess what, the only number on the receipt was the local store I had just been at. I spent 45 minutes trying to reach the correct department and a real human to talk to. I was told that it was half the amount of the 2nd can of paint. The customer service rep just apologized and offered nothing else than, "is there anything else I can help you with". I feel this rebate is falsely advertised. The sales reps do not explain rebates correctly and the call centers are horrible. I feel it's intentional in order to frustrate the customer and discourage them from following up with their complaint or situation. I have been a loyal customer since Lowes opened up in my area many years ago and sadly, I am very discouraged from shopping at your stores in the future. I have a large family and circle of friends who will surely here about this experience.

Robin Scott Andresss
from Phoenix, AZ
We ordered a security door from Lowes on Thunderbird in Phoenix, AZ. At store person came to take measurements. We specified the door we wanted by pointing to the door style we already had in another location. We specified the door knobs we wanted. When we picked up the door knobs they were not what we requested. We easily changed them. It took many weeks for the security doors to arrive. We were told they would come one week but it was the next week. We scheduled the installation. The installer had problems with an earlier installation and never notified us we would not be installed that day. We rescheduled. When the installer arrived, it was not the door we had ordered. We were told we could refuse and it would take weeks to get the order redone. That was not an option for us so we had the doors installed. Not happy. Will not trust Lowe's again. Will inform friends of our experience.

After years of shopping at lowes I have made my last purchase. I will not support a company that does not live up to their word. And further more I will let others know of my opinion. I believe your rebate program is definitely a scam.

Donna Prowell
from Roseburg, OR
I ordered online a trash compactor on April 7, 2019. I have called the Roseburg Oregon store numerous times regarding when they will get it. I was finally told April 22 2019. It still has not been delivered to the Roseburg store and when I contacted them again today, I was told it could be up to 7 more days. Meanwhile, we have a gaping hole in our kitchen, company over for Easter....not a good look. I am very disappointed in Lowes. I would hesitate to order anything online again and would not recommend that my friends and family do either.
Donna Prowell
541-679-8613.

Seth Benator
from Atlanta, GA
Things not done right
1) Lack of doing mitered waterfall edges for entire bath
2) bath extends into shower an extra inch beyond the notch in vicostone
3) shower door transition vertical was specifically removed and should never have been produced and definitely not installed. Need it removed and refunded.
4) shower seat was ordered as half bullnose edge and inexplicably changed without our authorization to eased edge.
5) Response from lowes was that the person on site had permission to make all said changes. Only the client was also an AIA architect and was in charge of everything. The contractor was there to let in and point to the right area and all design decisions were to be made by client (us). However when we said this they said we gave permission for the person on site to make decisions. We asked when we did this and they could not find the form that said that. We later found out (and have a copy of) the form we were supposed to sign that would have given this permission. Had we seen and signed that form, we would have realized that Lowe's had no intention of working with us from a distance, that we had to be on site or else they would assume this. However our contractor did not have the knowledge and in fact, when asked about things specifically deferred to us. yet we were never called or contacted at the time or after.
6) According to the contract we signed, the installation is not complete until the client approves it by signing a COC - certificate of completion form. We never signed it and when we asked for a copy we were shown a form that was signed by the INSTALLER saying it was not signed. So if we did not sign that it was installed correctly, and we complained about the installation, this should not have been considered a proper installation.
Remediation: We want the problems above fixed or be refunded for the full amount we paid for these services that were not performed right.

I bought a dishwasher and they told me even wrote in my paper work that it would be delivered and installed said we would be receiving a call in a day or two to set up install appointment three days later the day before it was to be installed we called the number on paper work and they told us they didn't even have the unit yet but when we purchased they asked us if we was taking it with is or delivery the service line person who was a total butt hole said the sales person shouldn't have told us a date or wrote it on the paperwork they acted like they didn't care at all so I asked to speak with a manager on the service line and it was the same he didn't give a fu_k to so I asked for a refund and am waiting on a call to get my money back will never repeat never buy anything from lowes again thanks for nothing the whole thought of sales is to be honest with the customer not tell them what it takes to get the money then treat them like crap later

I purchased a Maytag Washer and Dryer on 4/5/19. I was told they could be delivered on April 24. I never received a phone call stating otherwise. I called the morning of 4/24 and inquired about my delivery. After being jacked around I finally got what I thought was the delivery department. He stated it wouldn't arrive in the store until 4/26 and would be delivered. I explained that I planned my schedule this week around this delivery. I was originally told it could be delivered on the 21st. That was not able to fit within my schedule as it was a Sunday and it was Easter Sunday.
He then stated that he had no control over the vendor and when it gets shipped and it wasn't shipped until 4/19. Now my question is why would they tell you it would arrive in the store on the 19th and schedule delivery if it wasn't shipped until the 19th. And how can they tell me it will be delivered on the 26th before 4 if it isn't in the store and by their own words have no control over when it will get there.
So then I called back and asked to talk to manager of the store and after finishing my complaint he said mam I just talked to you about this, he never once referred to me as being the manager. He then said I am working on this and you will get your appliances on Friday. I can do nothing more than apologize for things that are out of my control.
Needless to say I am sorry just doesn't get it. I told him I would be contacting corporate and his reply was mam you can do that but all they will do is refer back to me to take care of this. All I am saying is a simple phone call keeping me aware of the situation would have been sufficient. I get the feeling that my appliances were given to someone else that would have caused them to lose a sale and then mine were resent on the 19th.
I am very busy and have a tight schedule, my time is just as valuable as your employees and I would hope they are trained to understand this. As I have rearranged my schedule once again to accommodate LOwes and it should be the other way around or at least communicate as to why the delay.
Whatever happened this is poor service and I quit shopping at Home Depot for this very same reason. Big box stores may not be the answer, you may be less expensive but local businesses do know how to take care of their customers.
Have a nice day.
Betty McCracken
559-960-9869

I placed online purchase order # 371427574 that was completed on 3/25/2019. When the items were delivered to my condominium in Renton, WA we discovered that the 20.4 cu-ft. refrigerator [Item #: 852902] was too tall. I contacted the Renton store and asked that the refrigerator be returned to the store and replaced with a shorter 18-cu ft. refrigerator [Item #: 852888]. On 3/27/2019 the refrigerators were swapped out.
My first concern is that I have not received a $656.10 refund for the returned 20.4 cu-ft, refrigerator.
Second, the replacement refrigerator arrived with a dent in the door. I contacted Lowes Renton who indicated they had a replacement door in stock, but could not deliver it for more than one week. With Lowes Renton's agreement my agent returned the dented door and picked up the new door. The transaction cost me over $100.00 to conclude.
On an early contact with Lowes Renton, they promised a discount for the dented refrigerator but I did not receive that! I have contacted Lowes Renton on multiple occasions and to date have only been told that they are waiting for information from their own pickup and delivery department.
I have been a customer of Lowes for many years and have never experienced such a poor response on issues. I don't complain much because until this issue, there have been no concerns for otherwise exception service from Lowes.
I am requesting your assistance to investigate and resolve the concerns that I have. I will be satisfied with the refund as noted and also a discount on the damaged item.
Your assistance is appreciated.
Herbert A. Stewart
herbstew@msn.com
937-546-9139 (cell)

you have cut workers and hours so much my 67 year old wife had to help load cinder blocks and large bags of garden soil at the summersville wv store. I think that is disgraceful. I never thought lowes would be that low. I will take my business elsewhere. I have always enjoyed going to lowes.

Nancy Beach
from Vero Beach, FL
2 roofing jobs , started Nov 2017 . Jobs were both very poor craftsmanship . I just made my last payment of a 20,000$ charge. The roofs are still not right . I've spoken to cooperate 3 times and they say they will call back and never do . I'm very displeased with the job s.
This will be the second summer I will be trying to get them to correct things. They never vented the one roof, the water has run down the side of the house due to miss rehanging of the gutters now for 18 months . The front porch ices up after replacing the the front roof. The list goes on and on.

Michael Ellis
from Spokane, WA
Gentlemen:
Today I was shopping at your Lowes store, 5204 Sprague Avenue Spokane WA and was serviced by salesperson named Jeff in the garden department.
After buying large quantity of garden supplies and loading it into my truck I noticed that the salesperson had mistakenly charged me for things I did not buy, about a $90 overcharge. I returned to the salesperson and pointed out the error and what transpired was most discouraging:
1. The salesperson refused to acknowledge the overcharge and did nothing to rectify the situation, instead standing helpless and smirking at me the entire time. He said that I would have to unload the truck and bring everything back in the store, which I refused to do, he the laughed in my face. Let me be very clear: your salesperson laughed in my face and stood there smirking at me without providing any assistance at all.
2. I asked for a supervisor, which he refused to do, I had to go and find a supervisor myself.
3. The supervisor was quite helpful, checked the contents in my truck, and acknowledged the mistake and refunded the overcharge. All the while the original salesperson was smirking and laughing at me.
Everyone makes mistakes, that is not the issue, but when one of your salespersons does make a mistake then they should make a decent effort to correct it and treat your customer with respect. This salesperson was rude, insolent, disrespectful, and completely incompetent. I have shopped at this Lowes for years and never experienced such a situation. You need to do something about this else other customers will be treated in a similar disrespectful manner.
Michael Ellis

Dennis Todd, SR
from Cambridge, MD
I am a licensed contractor/electrician and frequently shop at Lowes' in Seaford, DE & Salisbury, MD. This evening 4/23/19, I shopped at Lowe's in Seaford, DE. I could not get checked out with my items - all self check outs were down[red lights flashing] @7:00 pm. I asked the clerk standing at the doorway if she could check me out she said "NO"! So I put my items down and walked out of the store, I can shop at Home Depot and by the way I have never had an issue like this before at Home Depot nor have I had any issues previously at Lowe's like this happen.

As much as I want to like this store they just keep getting worst. Have to do a complete remodel of an apartment so figured I would try them once again. I wanted to start with carpet price so here we go, once there it was very apparent I was a bother to the sales person, explained what I wanted after heming and hawing she decided to help but just enough they will call me well guess what bought in at home depot this AM.
Everytime I go ito the store I always get someone with an attitude won't go back.

mrs. B
from Bay Shore, NY
Purchased Magtag washer and dryer from Lowes about 3 years ago. Needed servicing on both, was covered by extended warrenty I wisely bought. Made appointment through lowes for a company called Mr. Appliance. I had to take the day off from work as they could not give me a time frame (morning or afternoon) until that morning at 9:00 am. After calling at 9:00 was told they would be there by 11:30. An hour later, the service person showed up. Was also told they would call before arriving. That didn't happen, he just showed up.Service person came, found the problem and told me the parts would be ordered. 3 weeks later, I still had not heard from them. Called one day and was told they would call me back. They never did. Called again 2 days later, was put on hold while they called parts dept. Rep got back on phone and said no one in parts dept was picking up. Was told she would call be back.She did not. So this morning I had to call Lowes who then called Mr Appliance and now finally they said part would be in 3 days. (I think never ordered the parts to begin with). Now back to trying to schedule appt for them to come. Well, they only work Mon - Fri 9:00 to 5:00. So once again, I am forced to lose another days pay waiting for them. Was told the computer does the scheduling so I won't even know a time frame until after 9:00 that morning as to when they would come. Lesson learned: NEVER BUY APPLIANCES THROUGH LOWES. Extremely disgusted customer.

On or about 4/10/19, I purchased 9 bags of stones,25 bags of garden soil and 30 bags of top soil to be delivered the next day, at 4:00PM the next day I call the store to find out about my delivery and was told it would not be delivered today that I need to make a new appointment for delivery. At 6:30 PM I came in and spoke to a manager who apologized and took of the delivery charge and said I would receive my delivery tomorrow. At 2:00PM the next day I again came into the store and spoke to another manager who again apologized and gave me an additional 20% off, and a shored me I was going to get my delivery the next day, That I was made priority and early delivery in AM. The next day at 11:00 AM I again went to the store and spoke again with a different manager who said my delivery is on the truck for delivery today between 1:00 and 4:00 PM, I asked her why it wasent deliverd on the original secheduled day and she could not answer me, I asked to speak to the store manager and she said she would have to look in to it. she then went in to the computer and said Oh I see you are getting and addition 20% off, I will approver the 20% off one you get your order and call me you received it. TO ME THIS WAS A THREAT THAT IF I DID NOT CALL HER I WOULD NOT GET THE 20% OFF, I DID CALL HER. To this day I have not had any responce why my order did not come on the original delivery day, poor service from Lowe's Hudson, MA

Wish Mr. Marvin Elliott would go to the Only At Lowes facebook pag and read what the employees really ahve to say about all the changes that are being made! Employee morale is at an all time low and good, dedicated employees are so frustrated nd leaving.

Order#371740581
We ordered a Microwave, Wine Fridge, Stove and Dishwasher to be delivered to our condo in Chicago. It was to be delivered on April 16th. The delivery crew showed up and my wife went to the dock at the back of the building to meet them.
The delivery crew "determined" that they could not fit the truck in the alley. They then went around to the front of the bldg and saw that there were 3 stairs and determined that they could not deliver the items bc they "do not do stairs" and they didn't see a ramp. They then took off and called their "dispatch" to let them know they could not deliver the items. They did not call or go back and let my wife know they were leaving so she was left sitting in an alley thinking they were still there when she later got a call from dispatch that the drivers had left.
My wife also said that the drivers were rude.
I called the Lincolnwood Il location to advise them what happend and express how upset I was. I was told they would reschedule and call that evening to let us know the new window for the next day. We never got a message about what the new delivery window would be so I had to call back the next day to find out (so we wouldnt sit around all day).
We were finally delivered our items. The second driver was very polite and executed the delivery within 30 minutes and had not problem bringing everything up. However after he left my wife opened the boxed and discovered the microwave was serverly damaged (dented).
April 19th I have made 5 calls to Lowes to schedule someone to come out and swap the damaged microwave. Each time I was told someone would call me back. These calls were made over the course of 5 hours. I have yet to hear from anyone at Lowes.
It would be nice to hear from someone since I noticed today that the payment went through. This has been the worst purchase experience I have ever gone through. The customer service we have received has damaged your brand to with us and I honestly can not recommend anyone order anything through Lowes.
I am trying to be hopeful that we will eventually get a microwave that works but I am not optimistic that Lowes will ever call back to rectify the situation. I can not overstate my frustration. It is almost as if we are being taunted by the lack of customer service. (1. We have your money. 2. You dont have what you paid for - a new microwave 3. We are not even going to call you back to fix the situation)
Please tell me what our next step to rectify this should be. My wife is in Chicago at the condo until Tuesday and I cant even stomach the thought that she may have to schedule another flight back just to be there to meet delivery guys for a third time to get a microwave. At that point we will have spent more on travel to meet delivery guys than the cost of the appliances themselves.
Help!!!!!! (312) 622-6719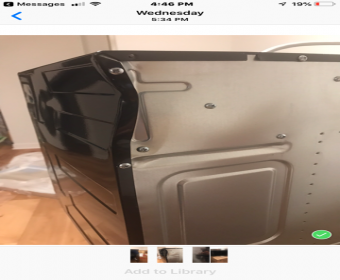 Bought rose bulbs last year at millsboro store 50 of them for $20 only one came up took picture was told by store manager to dig the 49 up that didn't bloom and bring back have bad back spent $20 to have a landscaper plant them for me drove up there 30 minutes back and forth they said too bad please advise

richard bailey
from Pleasant View, TN
poor service at 1747 store is just dirty looking old banners in garden flapping in wind 1 person ck out we waited in line mngr said we could get in another line I said where girls light not lit he asked her to turn on light she said no she was going on break. could mngr not run register after all that I noticed she double charged me .I wrote a ck but got a store credit back 30 dollars of my money is tied up for 4 days ken cross your mngr needs some lessons from whoever runs Madison st lowes in Clarksville teenneessee wont be shopping at springfield anymore Madison st lowes is always clean and organized

Sharon Campbell
from Matthews, NC
We have been doing business with Lowes for years. My complaint is concerning our delivery today. with a 12:00-4pm delivery. The delivery person called at 7:30 this morning and said I will be there in 15 minutes. and I advised him my husband was in a wheel chair and was not up yet. he needed to give me 390 minutes and then he came at 8:30.
Why give us a window if you are going to change your mind and just deliver when you want. The delivery person was so ugly and unprofessional and would not give me his name. We ask for help transporting insulation to a building and be said he did not need to help us. So my husband from a Wheel chair attempted to deliver the Insulation to the building. I carried 2 rolls and my husband carried 1 and then finally over guilt the delivery person started carrying insulation. There is supposed to be a storm today and our products were supposed to have been delivered on Tuesday or Wednesday this past week. There was absolutely no reason for the delivery person to be ugly. He was in the wrong and we were at a loss.
He has been ugly with us before with a contractor and acted the same way . He had parked in a church yard across the street at 10:30 on a Sunday and we were on our way to Church and he bought our products. and the Church was not pleased with his actions. So again he was a hot head.
This delivery person's name was Pete. There has got to be a better route than this for customer service.

CAMILLE PIROLLI
from Ormond Beach, FL
This is worst customer service I've ever experienced in my lifetime, I am 81 yrs old. This is 2nd time in 3 days I've had to deal with unsatisfactory service. The store I am speaking of is in Ormond Beach, FL on Granada Blvd. Two days ago I placed an on-line order for 2 cases of bottled water plus other items. Was notified order was ready for pick-up. Go to store and employee can not find the 2 cases of bottled water; so he goes to look for it. After waiting 10 minutes + he returns and tells me it is still up on pallet and was not unloaded. I cancel this portion of my order. Go home and reorder. Next day I return after receiving notice it was ready for pick-up on 2nd time around.
Come home and realize I must order a plumbing Item. Go on line and order returning to store this morning (next day)as I received notice item was ready for p/u. Go to P/U desk and two men are waiting in front of me. I wait 10 minutes and make a statement to them about where are the employees that work at P/U counter. First man in line tells me he came in and 1 of the 2 personnel went to look for part of his order 25 minutes ago and the second guy took off after 10 minutes to help #1 find it since #1 hadn't returned. I said this is unacceptable and left. I walked thru store looking to purchase the plumbing item I needed and left. Now I have to try and call store and get my credit for item in P/U area on hold.

Maureen Clark
from Strongsville, OH
I was approved for a lowe s card on 4/19/19. I went to Strongsville Loses and inquired about a Husqavarva Riding lawn mower. The sales guy said he just got stuff off the shelves and delivery would be 3weeks. Asked a manager, who got me help. A $1499 lawn tractor and a $429 Whirlpool dishwasher was written up to be deliver April 30. I was approved for 6 month 0% financing. Total $2129. I was told to go to the register and give my name After being at Lowe's for over an hour i went to register and was asked for my credit card. I said I was just approve d he said I can't help you here! I was already at the service desk for 20 minutes! Please please cancel my credit with Lowes. I will never walk into Lowe's again! Very very disappointed.Maureen J. Clark 22437 Jonathan Dr, Strongsville, Ohio 44149

Harriet Raia
from San Francisco, CA
Hello , I purchased a kitchen last month or so and spent about 19000 dollars plus in the South Philadelphia store, I own 10 properties and shop here often. I am so stressed out but all the nonsense its beyond words. First let me start by saying the Manager Joe and another manager tried to assist. However everything keeps going array. Mainly the vendors. Cindy has been working with the vendor on my cabinets because I have had such poor craftsmanship. 8 grand for boxes with doors and the doors have things here and there wrong. The Countertop people Top Line sent me to the worse neighborhood in Jersey 40 mins away to pick out my countertops to find out all I had to do was drive to the airport which is 15 mins away. That's 2, I bought my appliances there Dishwasher and Stove, Stove was on display however I asked if they can put the stove on the delivery with the dishwasher it was agreed however it was missed and had to be sent the next day. That's Fine, I survived because they had to come template my countertops the next day. The guy comes a week after I picked out my Countertops, now I come to find out the slab hasn't even been shipped yet and its over a week. So now I don't know when the countertop will be installed. Its just insanity!!! there is more I cannot recall but that's it for now!!! So Let me explain doing a kitchen is Difficult and stressful enough!!!! I am spending tons of money on installation (not from lowes) thankfully, eating out this that and the other. There is dust everywhere my house is in shambles , I have cabinets on top of cabinets, stuff everywhere in my house from my old kitchen in boxes, no sink to wash a dish, no where to cook etc. its insanity. Not your problem I decided to do this however trying to help you see. Perhaps they should tell you all the stuff that comes with this while your buying. The money that it costs is insane and the constant things going wrong 1 after the other is (well put it this way I cried several times) The kicker is after all this I go back to Lowes to by a Microwave and the girl walks away from me to speak to another customer. Just non stop! Again I have no complaints about the managers, they have been wonderful in delegating my issues etc but nothing seems to be getting resolved. I to get this over with and any assistance would be wonderful! Top line really took me to a new level with all of this sending me on a wild goose chase. They sell countertops shouldn't 3 different people know where to send a customer. IM still Pending Kraftmaids response and that has been addressed. I cannot do anything though to move forward because I am waiting on my countertops and wont open the other cabinets until they come I have something that goes on top that's why. The time and Money I have spent running back and forth to Lowes is just insane!
. thank you for your time!!!
Harriet Raia
2673031996

Linda Ransom
from Columbus, OH
Initially, I have no date to explain stopping by the Columbus, Ohio store in Whitehall to look at washing/dryer machines. I liked the prices ($699 each) and decided I would definitely purchase a pair, at that store. The young man I spoke with was courteous, walked with me, listened to my concerns and provided me with three printouts of w/d pairs that met my specifications. I was so amazed at his friendliness and expressed my thanks for a seldom seen customer service approach. My thankfulness ended at that moment. I went home to review my printouts and research the products. On 16 April 2019, I decided to purchase my choice. I stopped by the store, but no one was in appliances. I asked a female in paints for assistance. I noticed her hands were very grimy and continued with the purchase. She yelled at a man on machinery "Cator" to assist her with the transaction. He informed me I needed new water hoses for Lowe's liability and recommended stainless steel. I said okay. She asked me if I had existing duct work; I said yes. He asked if I had 3 or 4 prong dryer outlet. I did not know. He said for me to call the store when I have that information. I said okay. He asked about extended warranties; I said yes. He recommended at least 3 years; I said that would be fine. The transaction ended at $1,751.31. Later that day, I called the store to inform that I have a 3 prong dryer outlet. I did not get the first person's name (because again I felt this was a routine call). The person sounded busy and I was having problems hearing him because of beeping machinery. He yelled to someone that I could not hear, but the beeping continued. He asked me who was my salesman. I said I did not know; no one introduced themselves to me. He looked up my order and informed me Eric Cator was my salesman and that he was away and for me to call back. I said okay. I felt his customer service approach was questionable and called back and asked to talk to the store manager. I talked to Darryl and he pulled up my order and said I would also need new duct work. I explained no one told me that. He tried to reach Eric Cator and said he was not available and would leave him a message to return my call. I'm beginning to feel concerned about how this transaction was being handled. I called the store again and was disconnected after being transferred to Eric Cator. I called again and talked with Eric Cator. After discussing the price of the 3 prong dryer cord and dryer vent, Eric Cator hung up on me. I had another question. I called the store again and was put on hold for a long time before a "Sheila Jones" was reached. By this time, I'm very upset. I will admit I began to use profanity. As I was describing the situation, she begins to time me. "I've talked to you for 15 min, 30 min, 45 min"... what do you want? I'm so upset about the treatment I'd received, I said cancel the purchase. Then another dilemma began, She was determined to refund me one price $15??.00 I told her that was not the refund amount. My receipt shows $1751.31. She tells someone to get her the receipt I was looking at. She continues to say the refund amount incorrectly. She tells me how much of her time I have taken up. We ended the call. I decided to go to the store with my receipt. I went to appliance and saw a female. She asked could she help. I am very upset, at this point. I began to cry while trying to explain the situation. I saw Eric Cator and told the lady he hung up on me. She gestures to him to leave and continue doing what he was doing. She motions to me to go the customer service desk and said I would not give her a chance to talk. I said okay, let's go the patio furniture and do it her way. While I sat waiting, another female appears. She is Sheila Jones. She asked the other female if she had given me the return receipts. I expressed handing me an envelope was not a good resolution. I opened the envelope and determined the amount was not the correct amount. Sheila Jones took my receipt from my hand. I said for her not to take my receipt. She took it to the customer service desk and told them to issue me a third return receipt for the warranties. I tapped her on her left shoulder to express the correct amount. She responded (while customers are watching) with "don't put your hands on me". I backed up to the light bulb section. She then turned to me, gave me the third receipt and said, "You do the math" and left. I went back to patio to make sure the correct amount had been refunded to me and left the store.

jeffrey goddard
from Fremont, MI
I recently puchased a new dryer and wall planks for about 1100.00 I purchase a lot from Lowes--I added a warrenty for the dryer but have not received confirmation or the name of the warrenty company (Lowes in Kentwood Michigan)
I addition I received e mails from Lowes that i could receive 15% of purchases over 400.00. No one at lowes seemed to know how to do this --It appears you owe me about 165.00 I have the email and all reciepts but I do not know how to upload these. Where can i send then them to -please resolve and advise Thanks Jeffrey Goddard

I wanted to applaud the customer service at the Hanover Lowes. I had some concerns about a purchase and throughout the process of correcting the problem, I have felt real concern for my situation and a desire to make it right. This is extraordinary and exemplary. I compliment Anna, manager; Dave, appliance department; and Connie, returns. The good will that they generate is your best product and will bring me back to Lowes for my major appliance purchases. I will share my experience with my friends and neighbors. Thank You

Barry McNorton
from Tucson, AZ
Purchase a display model Samsung Refrigerator from Lowes Tucson. Sales # S1754C01 Transaction # 23524998 on 4/17/2019' The model number of Samsung was RF28HMEDBSR.
Delivery was arranged for 4/21/19 and I completed my transaction ( including 18 months special finance ) using my Lowes Credit Card.
A manager approved the purchase and I departed the store.
After getting back to my office I received a voicemail informing me that " The product did not work and needed repair "
I called back and was told that I could not order the same item and I could wait for it to be repaired but that they did not know how long this would take ! The only other option I was given was to have a refund.
This is totally unacceptable, there was no indication on the item that it was not for sale and/or was not suitable for purpose.

Marjie K Hartz
from Hummelstown, PA
Incident # 1-28969550610 Please read. Finally received a call from asst. mgr. Millsboro DE store. After at least 3 attempts to delivery 3,000.worth of appliances, mgr. now informs me that the refrigerator is not in store. It was in store, received a call from sales clerk Roger it was received. NOW not in store. This is has been an absolute nightmare, I will inform all owners in our condo assoc. 48 units of your terrible customer service. There should be a place for 0 stars. Still have not received appliances, need to revisit third party delivery to accommodate customers.

Stephen Jellen
from Unicoi, TN
We had aluminum fence installed approximently August 2018. The initial installation process was a joke with no coordination between the store, installer, and myself the consumer. A few months after installation the fence ripped away from the anchors holding it to the side of the house. I've been trying to get it repaired for the last 6 months to no avail. I get apologies, excuses, lies, promises, and unfulfilled commitments. I had to make temporary repairs myself and both of the gate latches are still broken. The gates, portions of the fence were improperly installed by an incompanent foreman from the fence company. Wrong parts were installed and I still have missing parts and broken parts. These comment only touch the surface of my experience it's Lowe's. You wanted money up front and on top of it I don't believe I ever got my military discount. I'm done dealing with the store and the local Lowes installation division and I would like to discuss with corporate. My phone # is 908-752-3933, the store in question is Johnson City TN. A further note is that I have spent around 20K with Lowes since I moved to TN. In June of 2018.

William Rucker
from Mooresville, NC
I purchased a refrigerator on 3-19-19, transaction 79002430, and this is the way it has gone:
1. First refrigerator delivered on 4-7-19, damaged refused and requested replacement
2. on Friday 4-12-19 I checked on it since I was at Lowes and was told it was in and to be delivered on 4-14-19, I asked o move it from Sunday to another date. I asked the sales person Anthony to move it to the Wednesday date.
3. Was called on 4-16-19 for delivery on 4-17-19
4. On 4-17-19 received a call stating that the refrigerator was not in to be brought out to me but was "suppose" to be in by end of week.
I have not had the courtesy from Lowes of Orangeburg SC of receiving a call letting me know any of the things that have taken place but according to the conversation on 4-12, the refrigerator was on hand and to be delivered, here I am still waiting on the delivery. It's like I am just to wait and do the best I can to get the merchandise at the Orangeburg stores convenience of getting it to me. I think some one needs to step up and take charge of getting me my refrigerator immediately even if it cost Lowes overtime for the aggravation I have had because of no one letting me know what has taken place.

harry parker
from Kansas City, MO
bought a Samsung washer from lowes, joplin, mo 8 months ago. about 3 weeks ago it quit accepting water and i called lowes and they sent me to lowes repair, and they sent out national repair and tech said it was a water valve, they did not have one so had to order it 1 week, they get the part but still doesn't work, they decide its the mother board, they don't have one have to order it another 2 weeks go by and they install new mother board on 4/16/19. iit lasted my wife 1 load and then the same thing happened again. They want me to go thur the whole thing all over again and i called Samsung and they say its a new repair order and they want to send a different repair tech to work on it. i am very upset and i am just about ready to tear up my lowes card and my Samsung. I was sold a lemon and i believe lowes should replace the washer. my wife called lowes last evening and they assured her that they would get in touch with Samsung today and recommend a washer replacement, but with the way i am being treated i no longer trust anyone. I want the unit replaced!!!

Michael Schexnayder
from Lafayette, LA
Went into Lowes store in Carencro store to exchange cordless drill driver set. This Kobalt set had a life time warranty. Lowes has exchanged it several times over the last few years with no problem, no questions asked. If only 1 tool within the set broke, the complet set was exchanged. Not this time. The returns sales person immediately gave me the number to call Kobalt myself. After being on hold ten minutes or so , they told me it had only 30 or 60 day warranty. None in stock. She asked me to find a Lowes manager that she could talk to. I handed my phone to manager, but she really didn't want to get involved. They spoke several seconds, and told sales clerk to find item number of my set on the computer. We did. Kobalt didn't honor the warranty and Lowes supervisor walked away. I found her a few isles away trying to avoid me. She said nothing she could do and walked away. Seems like Lowes is more interested in selling Craftsman and abandoned Kobalt and honoring warranty. I always shop Lowes, not Home Depot. I use Lowes for my business and rentals. Very disappointed in Lowes. I have never seen a don't care attitude like this ever from Lowes.

On Fri. 04/11/2019 we purchased a Samsung 28.15 cf refrig. It was a floor model, the last of that model in stock. The sales person checked with her manager and it was approved for sale. We established that the refrig. would be delivered the following Mon. 04/15/2019. The delivery time was verified on that date between 1pm-5pm. In the interim we sold our old refrig. to be picked up before delivery of the new one. Around 3pm we called to know when it would be at our address. We were told that the order was cancelled. We ask by whom and were told that it was never put on the delivery truck. At this point we have no way to protect our frozen items or refriged. products. The response by Lowes to our situation went from bad to worst. It would take far more space than I have to document the stress and anger we have experienced.
This morning we went to the Santa Marie office to register our complaint to the manager. The best he could offer was a delivery time sometime around 8pm, 04/16/2019 and a $100.00 discount for our troubles. We already have spoilage and not enough time to cancel and find the same model elsewhere. This the most stressful experience we have encountered over a such a simple purchase. We do not feel we were adequately but no time to make a alternate substitute.

I bought a 5 year protection plan from Lowe's on my washer and dryer purchase. Each time my wife called to request a service on the dryer, the representative wouldn't make the appointment without additional information; ie, the serial number, then they argued with her that the serial number wasn't the right serial number, stating it was "policy", and "there has to be a letter at the end". These protection plans are purchased by the customer; not the protection plan representative. We went into the store, and the salesman that I purchased the washer and dryer from was able to pull up in his computer the date of the sale, and all the information on the five year plan I purchased. These ladies..Patricia and can't remember the other one...have no business calling my wife a liar that she isn't giving them the proper information. If you want folks to continue buying products from your store and purchasing these extra items, it would be in your best interest to have the technician get the specific information you want, rather than the paying customer doing the work for you, especially if you aren't going to take the information given. If the store sales clerk can pull up all the information, what's up with these ladies? Both times were bad experiences with very rude technicians. I personally will now make Lowe's my last store to shop for products, and will be sure to spread the word about your protection plans.

Ralph Braun
from Bradenton, FL
I order a dishwasher from you Venice, Fl store (invoice# 85180) which was in stock and a scheduled delivery for April 10th. The driver of the delivery contacted us to inform us that that unit was not in the warehouse and could not be delivered. When the store was contacted to find out what the problem was they told us they would call back with an answer. No reply. I continued to call back and either getting put on hold, or we'll call back. The store was showing two in stock. The manager would not answer my calls when transferred and I finally got a customer service person who transferred me to a man named Keith in the install department and told me that it wasn't in stock. I have never heard or seen so much disregard to customers in my lifetime as well as incompetence ever. This is supposed to be install so my 100 year old friend can function. This was put on my Lowe card ending in 307061-6. I have asked the Venice store to find one and get it in of either equal value or better or refund the money today!

Patrick Wu
from Chattanooga, TN
I ordered a gas range on Lowes online on 4/6/2019. I got text message from Lowe's that it will be delivered on Sunday 4/14/2019, then I got a call on 4/14 afternoon, they said the range were overbooked, they did not have any on hands, so rescheduled to Monday 4/15/2019 between 3pm and 7pm delivery, and I also received the confirmation text message too about the schedule. Then we waited after 7pm EST on 4/15/2019 MOnday, no call, no delivery. I called back to ask about it. A moment later they called me back, said it was scheduled tomorrow 4/16/2019. I am very disappointed at Lowe's delivery service, not surprised a lot customer complained about it online. I actually have been appreciative their customer services overall in store and a big fan of Lowe's. They are friendly, always ready for help, easy to return any items, etc. But delivery service is a weak spot they really need to improve. If such issue keep happening, I will definitely consider to go for other stores to order online.

I started a bath remodel with the Morristown tn, store on November the 30th 2018.The contractor started on our bath on Feb 12th and said it would take 2 or 3 days to finish the job.During installation of the shower unit he broke one of the panels and had to stop.the rep at the store told us the panel had been reordered and he would contact us when he got a ship date on the panel.after not hearing from lowes after 2 weeks i contacted the manufacturer customer service to see if i could get a ship date from them.they told me that a replacement had not been ordered.i contacted shawn i think who is a manager at the store and told him what i had found out he said he would check on it and call me back.i did receive a call from grant who said he would take care of my problem and get the panel ordered.the replacement panel was finally delivered on mar the 28th.when the contractor started installing it on mar the 29th i noticed it was a different color and had him take it out.i contacted grant and told him of the problem he came to my home that same day and took pictures of all the panels and said he would get with US Marble to see when they could have another panel. he called me the next morning and said they could have another panel in 2 weeks.i told him to reorder the panel and please rush all they could because my bath had been torn out for 2 months now and i am really at my patients end.i tried contacting grant this morning apr the 15th but could not get a reply so i contacted US Marble customer service who told me once again the panel had not been reordered any help you could provide would be greatly appreciated because my only other option at this point is to hire another contractor to tear out what has been done and start over.

Very Disappointed
from Peru, IN
Ordering online. DON'T DO IT!!!!!!!!! I have had two bad experiences. After the first one, I gave Lowes the benefit of the doubt. After this time(2nd time), I definitely will over look Lowes with any more needs. The first time, I ordered a gas water heater for store pickup. If they don't have it in stock, it takes forever. Lowes finally sent me an email that it was in and ready to be picked up. When we got there, we went to the online order counter and let them know that we were there to pick up our order. 30-45 minutes later, we were told that they didn't have it and to come back the next day. I asked if they had any gas water heaters in stock that we could look at. They said yes, so we went and looked and low and behold we found the gas water heater that we had ordered! The second time, I ordered(3-17-2019) an upright freezer for delivery and to pick up the old one. On 3-28-2019 I received an email that my delivery date would be Sunday 3-31-2019 between 8AM and 8PM. I called and said that I would only be available after 2pm, and they noted that. Sunday 3-31-2019 at 9am, they said that they wouldn't be able to deliver until after 9pm, so they wanted to reschedule. So it was set up to be delivered on 4-4-2019 after 4:30pm. I had to call and found out that they thought that it was delivered on 3-31-2019. Since it was NOT delivered, they scheduled it for 4-9-2019. On 4-9-2019, I received a call saying that the driver was sick and they could deliver on 4-13-2019. We finally received it! It was delivered unboxed, even though I stated that it was going in the garage. It had marks on the back, cardboard rear vent that was pushed in with a coolant line visible, and when I removed the front plastic vent cover, the metal was bent. For paying over $700(including tax and old pickup), I felt cheated. Not to mention almost a month wait to receive it.

Norma Yvonne Castro
from El Paso, TX
My complaint is the lack of service I have received in getting a washer, which is under warranty repaired. I purchased a Maytag TL Washer, on May 22, 2018, and it started having performance problems in February 2019. I immediately called customer service to have a repair man look at the problem. A repair man showed up during the second week of February 2019, and he reported that he has never encountered a problem like the noise our washer was making. He stated he would order a part and it would be ready in 7 to 10 working days. After two weeks had passed, I called the customer service at 1-888-775-6937, to inquire on the status as too much time had passed. I was advised that the part was on its way. Thereafter, another two weeks passed and I called again and they advised me the part was on back order. I then waited another two weeks, and they advised me the part came on March 19, 2019, and they would be here that week to install the part but once again, no one has shown up. During this time frame, I went to Lowes store identified as Store 1146, and I spoke a manager at appliances. He advised me that a technician would call me the following day and still no one has called. Thereafter, on or about April 9, 2019, I called claims service again and spoke to a woman who advised she would email corporate because this was unacceptable and had gone on way too long and wanted an approval for a pick and exchange for any other washer. However, again, we continue to wait and as of this date, no response.
I find this treatment of us very unprofessional given that we spent a lot of money on the washer, which is defective, and the warranty, which is a scam, as the warranty is not serving its purpose. I will soon be contacting the Better Business Bureau if this is not remedied as your business practices are not in good faith given the fact that over a few months have passed and we are still getting the run around from representatives of your store and agents in which you hire, to fix our washer. Again, we have a warranty and your store has not in good faith served the intent of this warranty.
Respectfully,
Norma Yvonne Castro
915-449-7247

James McCrory
from Dayton, TX
Hello. My name is James McCrory. I am 66. I live in Mont Belvieu, Tx near Baytown, Tx. My
Lowes did not have the lumber I needed, so I drove to the Webster store at 19225 Gulf
Freeway - Store 0651. I wanted to purchase an 8' 2"X4" cedar board. I am in a sedan and
needed it cut in 2 pieces. I was instructed by store personnel that the store policy was not to
cut the board. I have shopped in Lowes and Home Depot since both started to do business in
this area and have spent Thousands of dollars betweed the two. They have both always cut
lumber when I needed it cut. My Home Depot in Baytown has a station set up for customers
to use to make such cuts. I asked the checker to contact the store manager and ask if he
could make the cut. Manager Felicia (no last name would be provided) told the teller store
policy would not allow this. So I went to the car for a piece of paper and pen and called the store
operator who transferred me to someone other than Felicia. I was told that the store would
not provide me her last name. I explained that I need to contact your corporate office and
needed the info. After not being supplied the info, I explained that the person I was speaking
to could be responsible at which time I found him to be the store manager. He said his name was
Robert Viser and that his name was on the receipt. He was the store manager. He asked that I
meet him in front of the store and that the cut would be made. He said that in the future if I needed
a cut to contact store management. I said that would not be necessary because the policy was bad
and needed to be changed. And that I was one of many customers who needed this service. I have s
spoken to other Lowes employees in other stores. They do make cuts. Some are free and some make
the first cut free and then charge $0.25 cents per cut afterwards. So, what is the corporate policy in
regards to this issue? Surely, this is an inexpensive form of advertisement. You did not respond to my
first complaint. Please take time to respond to this one.
Sincerely,
James McCrory
My first complaint was issued shortly after my visit to Lowes on 3-31-19.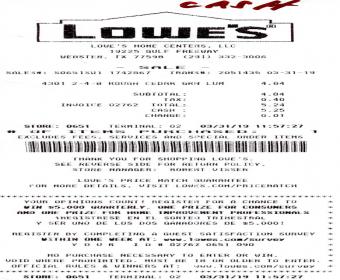 Joe Williams
from Hendersonville, NC
another wonderful experience at lowes. went to get 20 bags of mulch) on sale-good deal. However, the gentlemen directing me to the pallet of mulch was "on his last nerve". JOHN was irritated when I got out of my truck to check if I would hit anything backing up. I am partially blind in my left eye. backing presents a problem. Things were getting heated when another employee DYLAN came to my rescue. Promote DYLAN, retrain JOHN. Joe Williams

Joyce Grissom
from Rock Island, TN
I buy lots of home improvement items from Lowe's each year, even weekly in the spring and summer months. You employ some really knowledgeable people, but you also employ people that don't have any knowledge about the department they are working in. Your employees need training. It is very aggravating and time consuming to have to look for everything I need by myself, I come to Lowe's not only to buy merchandise, but for some help, expertise and courtesy of the employees knowing their job.
Some employees do not know their job, and only are looking forward to their break and going home. I know that is probably hard to find qualified employees, but if you train them and pay them then they will make you good employees.
I taught school for 30 years, it is hard work to train people, but you have to do it, if you expect performance.

Ronald Mayer
from Prescott, AZ
The phone at your Prescott, AZ store is not answered, other than the automated announcement. No depts. answer.

Dhanuj Putta
from Farmington, MI
Lowe's - 2745 West Maple Street, Commerce Township, MI
Engineered Woodflooring - purchase of wood floor & Installation Service
I am not sure where to start with my disappointment with the entire experience but it has been very painful. This is a never ending experience, started with placing the order for wood flooring in the month of May and the saga continuous with the flooring not done yet. I have replacing my entire 1st floor space with bamboo engineering wood replacing oak & carpet. It has been a struggle to find out anything over the phone regarding the delivery of the product or about getting somebody over the phone. My product finally arrived/delivered after clearing a lot of confusion around delivery, cannot explain cuz that was a confusion with multiple interpretations. Anyway, the installers came and installed with additional wood floor and carpet re,oval request which was paid by me. Appreciated that they accomdated and I paid which was fair. The floor was left incomplete for lack of transitions, and weeks passed by with me not knowing what to order and unable to get hold of somebody at store. Everyone who had seen the floor has told us that it was not needed to have that many transitions all over the floor which sort of diminished the look. I am never one of those people to complain considering that it is always a human error with not bad intention and this has been my first official complaint at a store as my patience ran out not on people but on the organizational culture.I invested approx 13k into the project thinking that I will enjoy the floor for summer but everything went in vain. My only consolation was the product, I loved it. I thought getting Lowe's do the installation would help with warranty/Service but looks like I am wrong.
I know my experience might not be common for other Lowe's customers but the quality or culture of an
Organization should come out the best in situations of mistakes not when everything works out the way one expects.
Hoping this gets resolved soon.

Unprofessional customer service from Don that goes out to estimate jobs at Newport Tn store . Never returned calls, always blaming someone else for his mistakes. Scheduled delivery for supplies totally wrong day. Will not be giving Lowes our business anymore. Home Depot will get ours. Will tell friends, family about treatment!!!

Cynthia Scott
from Hammond, LA
I purchased a refrigerator on Memorial Day 2019, the product was in stock and it is July 4th, 2019 and I still have not received the merchandise.

Michael Mitchell
from Philadelphia, PA
I feel like I'm in a three ring circus. Although ALL the employees that we've dealt with about are complaint, are very polite, and try to help me, they seem like they can never get the right info off the computer to see where our last two windows (we received 7 of them and ALL with the wrong screens) are. Every time we go to the store, we have to tell our story over & over again because we keep getting different assistant managers to help us. I can't understand why Karl Graybeal can put info about orders for his clients, and than goes on vacation, and nobody else can get into the order.
We are very upset & unhappy with the gentleman who wrote up our contract, Mr. Karl Graybeal. He said if there is any problem, call him because he will be our "go to man." Ha! He is of no help at all! Doesn't look into the matter & doesn't call you back. We had the first seven windows installed on April 29th. The other two were taken back to the store because they were cracked, plus, the contract says half screens & I got all whole screens, which I don't want. It's been a real fiasco ever since. First, the windows & screens were never ordered, than we were told they were ordered two weeks ago, than another person checked & said they were back ordered. By this time, it was the end of June. They didn't know when they'd be in. Back to the store again, and this time we were told they were never ordered! WTH?? Once again, we were told the order would be put in. No calls, so back we go, and this time we were told the order was cancelled!! This whole time, Karl doesn't seem to be in the picture. So, as far as we know, they were just ordered, with all the proper screens a week ago!! It seems like the left hand doesn't know what the right hand is doing down there!
I finally got in touch with Christopher Spinx, project coordinator. Don't know how he can coordinate a project in Newark, DE from Indiana, but that's what he said his job is. He looked something up while I was on the phone & said everything was ordered & the company will have them at the store on July 22nd!! What???? I have to wait all this time, paying on windows that are NOT complete, and this is the best Lowe's can do?
We are senior citizens, get upset very easily & are very tired of getting into the car, driving down to Lowe's & getting no where!! I can't be the nice customer any longer. I'm so tired of NOT getting answers, OR the ones I want, so I am calling the BBB, Harry Hairston of channel ten news, and the Delaware news journal, to try to get some help & find out why these windows were never reordered, with screens, until last week.
I was just diagnosed with stage III lung cancer & starting chemo & radiation treatments next week. I don't have time or the energyto keep calling or driving to Lowes to see where my windows & screens are. I will be feeling ill, therefore, I will be seeking help from those mentioned above. If this was my only complaint, I would not be writing to you.
Since Sept. 2018, until March of 2019, counting the windows, I've spent over $14,000 in Lowe's. (and that's not counting lots of small items for a home I purchased last Aug.) I purchased $5,200 worth of flooring, & of course, when they installers showed up, parts of the lamenant were missing, so they had to take a couple of hours to go back to the store, look for it, and come back to install. When I bought my refrigerator, stove & small stand up freezer, we had trouble getting the right refrigerator, so we were compensated by buying a higher priced one off the floor with dents & scratches on it for the same price as the cheaper one. I purchased a washer & dryer, and thank goodness, no problems there. I recently purchased a riding mower & they sent me one that was already used!! It was replaced in two days with a brand new one, and now, that brings me back to my last two windows & half screens that I have NOT received since April 29th!!
I think Corporate needs to come down to this store & rattle some cages, because surely, some people there are NOT doing their jobs, and certainly aren't doing anything to make any repeat customers. I still have my kitchen & bathroom to remodel, but after this fiasco, the OTHER big box store will get ALL our business for any major items that have to be ordered or installed.
I apologize for having to get nasty & take action to get someone to listen to me, but I'm just plain worn out & have too much on my plate to keep messing around with assistant managers who end up not helping anyway.
I am 70 years old, worried about my cancer treatment, can't sleep very well at night, plus worrying about if this will get done in a timely manner. I appreciate you taking the time to ready this lengthy complaint, but I just had to get it off my chest so I can get some sleep tonight.
A used to be loyal customer,
Michael Mitchell
302 994 1738 is land line Don't want you calling my cell, because I try to lay down in the afternoon to take a nap. You can leave a message if I'm not there to pick up OR speak to my wife.

My son is working on his Eagle Scout Project, and his project is rebuilding an Observation Deck at the local elementary school. I, myself have never built a deck in my life and didn't know the first thing about it, but a friend of mine said if I went to Lowes to the "Pro Desk" they could help him basically design the deck. I took him to where the deck is and we measured everything and took pictures and went to Lowes. I do not remember the mans name who was at the Pro Desk when we went, but my son explained to him that it was for and Eagle Scout Project and the school board needed an estimate before they would approve the project and that we had all the measurements and pictures. The guy said if we made him a exact list of what we needed he could get us a price but "the computers are to slow to design a deck". He told us we could go home and do it on the internet and bring the papers back and he would give us a price. We went home and tried to do it online, but when we would go to print it would say i had to enter my information, when i entered my info and clicked submit it would clear out all my info and tell me i needed to enter my info. at this point i called home depot to see what they could do, they guy told me to come down and he would fix us up. Went to home depot, the guy designed the deck had a list printed of exact materials he needed and a price, then he ran it through a program and it took acouple hundred off of the price, and informed us that when we were ready to pick everything up he would talk to the manager and give us a discount off of the couple hundered that was already takin off because its for an Eagle Scout Project We left home depot and went back to lowes with a detailed list of what was needed, back to the Pro Desk and they guy says "we will just match their price, and as far as the discount you have to talk to Karen the manager" so we went to find Karen, found Karen when my son (who is already nervous talking to all these people) is trying to explain everything to her to see if Lowes would give him a discount, she couldn't even take the time to look at him when he was talking, and when he was done her reply was "you have to write a letter to corporate and maybe they will do something for you". when we left Lowes he looked at me and said "that's pretty bad, we have been in this store 3 different times, spoke to 4 different people and not one of them would give me 5 minutes of their time, guess they don't want my money", and the bad part is i agree with him, every person he tried to talk to in that store was to busy to even look at him when he was talking let alone help him out with any of it. When we left the store i made up my mind that i will never step foot in a Lowes again, and when he orders all his supplies for his Eagle Scout Project they will be coming from Home Depot, im going to spend my money at a store who is willing to help people out, especially a kid doing a Eagle Scout Project. Thanks for you time, any questions i can be reached at Wr.mills79@gmail.com

Eddie Thomas
from Wetumpka, AL
My zero turn Hustler lawn mower that I purchased from Lowe's in 2016 caught on fire. I pulled the wires to prevent the lawn mower from bursting in flames. I bought an extended warranty, which expires 7-3-2020. Lowe's contacted me accusing me of tampering with the mower and therefore invalidating the warranty. They said I would have to pay for the mower to be repaired, over $500. I did not tamper with the mower, I merely prevented a full blown fire. The service center (Polly) contacted me and said the mower was under warranty and would be repaired, after I went to the Wetumpka store and talked with Steve, the store manager, who stated there was nothing he could do. Today (6-14-19), I am again contacted by Lowe's (Donovan) and told I will have to pay for the mower, as it has been tampered with. Donovan would not say how the mower was tampered with, just that it was, and was not warranted. I would like to have my mower repaired and returned promptly, as I have waited since April 2019. I had to beg Lowe's to come pick up the mower. I am very unsatisfied with this transaction, and would like to be made whole.
Eddie Thomas
Model #934778
Serial #16050434

Leonard Hymes
from Rockingham, NC
Unable to obtain refund for generator which approved.

Richard Schremser
from Redondo Beach, CA
I am extremely dissatisfied with their Appliances Dept. Most every time that I go there for assistance on purchasing an appliance, there are no personnel there to help me. When I call for assistance, 90% of the time, no one answers. I recently purchased a refrigerator from Lowe's but an having a problem in having it delivered. Attempts to resolve the problem have failed. I have purchased several appliances from this store in the past but I definitely, in the future, will shop for appliances from another appliance center.

John F. Hall
from Cincinnati, OH
We purchased a LG refrigerator in Aug.2014 and a 5 year Extended Protection Plan. Since the purchase, we have had service visits 5-6 times to correct ice buildup behind the crisper drawers. Parts have been replaced and the problem continues. The unit is model LFX25991ST.ASTCNAQ. Serial no. 407KRBY02717. According to service technician on 7/12/18 "All updates have been applied to this unit over the last two years".
Another tech came today and because of the history of parts replacement, could not make any repairs other than to duplicate the previous.
It is time for Lowe's to step up and DO SOMETHING

Khalilah Scott
from Dayton, OH
I bought a LG refrigerator with an automatic water and ice maker. The cords leaked immediately after instillation. The service tech came and fixed it once. After moving my refrigerator again the same cords came out. The tech was scheduled to come out 6/10/19 between 9-1. He never showed u. He called me after 1 to say he was running late but the appointments they have are only afternoon and apologized. I called the warranty department to see what they could do since I am now without water or ice for a week and I am buying these items where as I purchased a filter for the fridge.Now the rep says the technical ordered a freezer door and I will have to wait 6-8 weeks because the order just went in on 6/14 that should've been done 6/10. I am frustrated that I will have to spend more money because of he features not working properly and the warranty I pad for has such a long delay. What can you do to fix this issue?

denise dellisanti
from New York, NY
I walked into Lowe's Nnanuet NY store to buy a over the range microwave. I waited 15 minutes for anyone to help me, went to customer service waited 15 more minutes. I walked out. I bought my microwave from Best Buy. When Florida get snow will I walk into that store again. I went early thinking they won't be busy 8:15 am. Then I called the store to complain and the Store Manager Lou Riccardi, I was not able to reach. The persons who pick up the phone put me through however after a few rings the line was disconnected.

michael heidlebaugh
from Denison, TX
I recently ordered over $70,000 worth of windows and doors from Lowes. Many of the windows were made incorrectly. All of the doors were made incorrectly. Now I have many windows at the house and they are refusing to install the windows that are at that house, until all of the windows arrive. The mistake is entirely the fault of the Lowes staff. I have been patient and understanding, but now there is a 3-4 month delay in completion of my project, which is costing me thousands of dollars a week! The local Lowes staff have done little to facilitate this process. I met with multiple Lowes staff about 1.5 weeks ago, they promised me that the windows that were at the house would be installed two days ago, both verbally and in writing. They have not kept their word, which is an ongoing problem. They continue to cause delays and errors in window ordering. Now they are refusing to even help me out at all and install the windows that are at the house, which would enable me to move forward on at least half of the house. Not sure what to do next, but I am hopeful that upper level management will step in and make the local place honor their contract and install the windows. The lead salesman is Shawn, the Lowes of interest is in McKinney Texas. Thanks

James Douglas
from Chesapeake, VA
Been in the store waiting to purchase a freezer. It's over 45 minutes. Nobody in appliances. Asked for paging twice and they paged. Still nobody helping me. Should I go somewhere else

Able to use gift card to pay purchases made on credit.

This is BOTH a complaint and a sincere compliment!
I live in Colorado Springs, CO and was back in Farmington Hills, MI as my older brother was in the final stages of Alzheimers. My brother's home needed some minor repairs, storm door, plumbing and electrical parts that were needed to make the repairs. On 6/2/19 at about 6:20 am I entered the store on Telegraph road. I am a loyal Lowe's customer as I appreciate Lowe's special acknowledgement of Veterans and I am part of this group. I am certainly familiar with our local store, but this store's layout was different and looked like the staff was in the process of rearranging the store and I knew I would need some help locating my needs. Initially, no one greeted me and when I asked the first person for some help in the electrical department, as I was looking for a ceiling fan speed switch, the response was "That's not my department" and walked off. I proceeded to the lighting department as memory said that the switch might be there, but I did not locate them. Needing a storm door part I went to the millwork desk to find an employee working at the computer. I had to interrupt him to get him to acknowledge me and it was clear that his work was more important and I was a mere irritation to his morning tasks. His initial response was that he could not help but reluctantly, after my request, looked up a part on his terminal which he determined was a special order and not in inventory. Well, my day was not going well until a young man, whose name is Brandon Blair, asked me if I needed help, to which I said yes. Brandon, and the phone like device he carried, helped me to find, not by telling me, but by taking me to every location where the items I needed were found. I thanked Brandon personally and wanted the store manager to know he had a very good employee that put the customer's needs first, but did not have the time at that moment.
My brother did pass and we did return home to Colorado Springs and this morning I contacted store #1604 and asked for the store manager. The operator inquired as to the reason for the call and I stated it was to compliment one of the employees. After a few minutes on hold I was connected to Customer Service and I asked again for the store manager. I was then informed that the manager would not arrive until 1:00 pm, so I then asked for the assistant manager. I was placed on hold and after a total time of 7 minutes on the phone, I hung up and chose this route to offer my thanks for the help that Brandon Blair provided. I trust that the store manager and Brandon will receive the compliment that is intended in this memo.
I continue to be a loyal Lowe's customer (store #2086) where the employees are quite a bit more proactive in engaging the customer.
Sincerely,
Oscar Hughes

Francis Coyne
from Portland, ME
1) this complaint I can understand a bit of research, What I got was DAH
the question I had was The Dyson cordless I see listed 2 ways one saying V11 Absolute and yours listed as V11 Torque
I wanted to know what the difference was in the two ? DAH This Dyson cost $700.00 so I need to know !
you carry the "torque" I assume that they are the same but need to be sure.
2) 2 Times I called and chatted with your agent. Both times I got frustrated Just a half hr ago I chatted with your chat line person
I asked "What attachments came with the Dyson V11 torque. I waited and finally got a reply.
(reply) what do you mean attachments ! Ok good by guess you never have used a vacuum before.
What is so difficult in both questions ? I give up
Frank Coyne

Marion Kavanaugh
from Enid, OK
I find it offensive when the checkout person finds it necessary to tell me to have a "blest day." They could thank me for my business or tell me to have a good day but when they find the need to bless me it is wrong. I called the store and spoke to a Jennifer and she didn't think there was anything wrong with it.

Visited Lowes in Lacey, WA on 6/11/19 looking for a foam type strip to seal around a window with panels from a portable air conditioner. First person asked location of such huffed and puffed and was annoyed I interrupted him - I think he was in the pick up counter area. He said go to hardware - we actually decided to look in the air conditioner area and found an empty box of what we thought would work. Went to hardware again and low and behold who is in the hardware department? The same guy who was annoyed the first time I asked. He was more annoyed now and I just said, "forget it, you don't know anything" and left the area. I ended up purchasing a Vornado fan and went to self checkout where a nice gentleman was helping there. I asked him about the foam strip and he said he didn't know, but that I should go to Home Depot! What? Really? Lowes employee telling customers to go to Home Depot? Unbelievable. I have shopped here for 1 year and have never had this experience. Very disappointing.

wayne
from Wilmington, NC
I have a john deere riding mower with less than 5 hrs on the unit ,it has BEEN IN THE SHOP 3 TIMES and recently just got it back and it ran for 20 mins and started shutting of again ,ive been told bad gas bad seat switch and bad hours timer I just want what I paid for ive looked at the model on line and everything points to the fuel shut off solenoid on the bottom of the carburetor but when I said something about the look elsewhere i'm fed up and need help

Rebecca
from Indianapolis, IN
I contracted with Lowe's for a fence installation in the summer of 2018. My experience was less than stellar and I still have issues that are unresolved. I continue to be given the run around and have lost all patience. It all started with no communication as to when the sub-contractor would begin the installation, materials just arrived one day and then a few days later the installer was there to begin. There was absolutely no communication from the installer or my Lowe's project manager unless I initiated it. I signed the contract 6/30/2018 and the installation did not begin until October. At the time, I signed the contract I was given an ECD of 8/2018 pending vendor shipment schedule. So the vendor was apparently 2 months behind. Fast forward to the day the install was completed...the installer was there and then all of the sudden I look out my window and he was gone. I immediately noticed the gate to the fence was installed uneven and called the project manager right away to notify that I was not happy with the way the installer installed the gate and that I was not pleased that the installer did not communicate the gate would look that way and give me another option. I immediately requested that the gate be fixed or moved. The fact that the installer left without requesting a walk around from me to make sure that I was satisfied, tells me that he knew I would not be pleased. Now, we receive the first snow of the season and I knew the installer would not be back to fix the gate any time soon. I call the Lowe's project mgr again in early spring (end of April 2019). I am now being advised that I will have to pay to fix something that I was not given the option to agree or disagree to (absolutely unacceptable). The project manager who is very empathetic but obviously cannot resolve my issue on his own, advises he is working with management on an acceptable resolution. I feel as if I am being given the run around since I have been calling every 2 weeks since April and still do not have a solid plan of how this will be resolved. I have other projects that I need to have done in the yard, but are dependent on where the gate will be relocated to.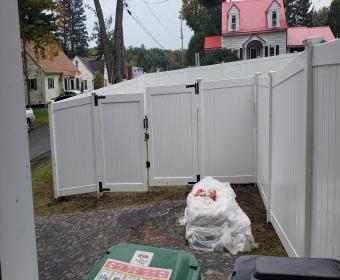 we ordered a new air-conditioner from lowes, it was put in within 24hours there were to floods of water leaking from the ceiling they came and fixed the problem. We learned that they ( Gordons) the air-conditioning company, did not put the heating system in a new box, they used the very old one . The old box is a mess it needs to be replaced, we wanted to know why? We were informed that cost more money and one has to request one and pay separately. No one told us this not even Jim who works for you. We want the new cover for the heater and we do not feel we should pay for it. I called and spoke to Jim from Lowes, he told me he would let me know the next day he has not called it has been over a week now, no call. Also we have not received any paper work so we can get the rebates on the air-conditioner. We are seriously thinking of telling Lowes to take it back and give the old one back to us and never doing business with your company again. I hope you will fix the problem. thank-you. Alice Pizzini Lowes, Moore, Oklahoma

DAMIAN ALVAREZ
from Visalia, CA
I HAVE BEEN A LONG TIME CUSTOMER OF LOWES 2 YEARS AGO I EXPERIENCED A FINANCIAL HARDSHIP. I REACHED OUT TO YOUR COMPANY AND WAS GIVEN A HARDSHIP PROGRAM WHICH I WAS VERY GREATFUL FOR. I MADE THE PAYMENTS AS INSTRUCTED AND RECENTLY MY PICTURE GOT MUCH BETTER AND I PAID OFF THE ACCOUNT IN FULL.
YESTERDAY 06-10-19 I APPLIED FOR YOUR CREDIT CARD AND WAS DENIED THAT WAS A BIG LET DOWN. I DID NOT BURN YOUR COMPANY AND STILL NO CONSIDERATION FOR THE HISTORY I HAD WITH YOUR ORGANIZATION.
I APPLIED WITH YOUR COMPETATOR HOME DEPOT AND THEY GRACIACIOUSLY GAVE ME A $2,500 LINE OF CREDIT DO YOU BELIEVE THAT THEY HAD NO EXPERIENCE WITH ME AND THEY GAVE ME A LINE OF CREDIT. I LIVE ABOUT A MILE FROM LOWES AND HOME DEPOT IS ACROSS TOWN I WIL NOT DO BUSINESS WITH LOWES. I COULD HAVE FLAKED OUT AND NOT PAID YOUR ACCOUNT OFF BUT I AM NOT THAT KIND OF PERSON. YOU HELPED ME WHEN II WAS DOWN AND WHEN I GOT BACK UP YOU TURNED YOUR BACK ON ME. PROBABLY THINKING WE GOT OUR MONEY AND LETS CUT HIM OFF. GOOD BUYE LOWES I KNOW ONE CUSTOMER MADES NO HARM TO YOUR COMPANY BUT THANK AND NO THANK YOU

CELIA ALCANTARA
from Callahan, FL
My name and Celia Alcantara on the 10th of this week I bought a washer machine from the Lowes store in Fernandina, and next day two employees came to deliver the machine to my house and caused serious damages to my house. I sent emails with photos to manager Daniel Foster, I went to Lowes to talk to this manager but this guy was at lunch time, I talked to another employee and nobody from this company call me!
I am completely disappointed and waiting answers and repairs of damages in my house.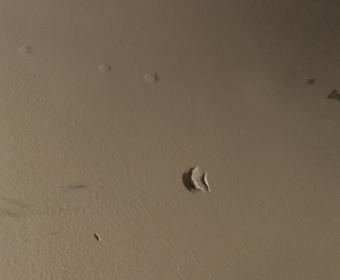 craig Unke
from Lompoc, CA
I went to Lowes in Santa Maria, CA on 6/6/19 to purchase a security door. First of all couldn't find anyone to help me and when I went up front it took three people to try and find someone to help me. Cass was very helpful when we placed our order and she told us someone would be contacting us within 48 hrs. Well that didn't happen. Today on 6/11/19 I went in to be refunded my deposit. I could understand if your store would of contacted me and said they were behind but nothing, obviously you didn't care. The thing is we are doing home improvements and we're also going to purchase flooring for our kitchen and dinning room, paint for our house and other incidentals we needed. So I guess its home depot for us now.
Craig Unke

Peter Kalan
from Lake City, SC
I started out about two months ago to buy and install flooring from your Lowes at Sumter South Carolina. The entire experience has been more than a total disaster. When I chose the floor ( Woodford Oak Vinyl Plank Smart Floor Ultra), I told the flooring representative Sheri that I needed this installed the week of june 10. This was over a month ago, I live in Ohio and was only supposed to be a our new condo in Somerton on Lake Marion for that week only. The installer I think they say Keller company ( not sure) said they can't install the floor until June 18 or 19. So I called the store manager and told her of the problem, she said that she would call the installer and see if she could resolve the issue and she would call me back. That was last week, June 1. SHE NEVER CALLED BACK. They called me either the 6th or 7th and said the materials would be delivered on June the 11th. The truck came placed all the flooring in my condo which I looked at and it was the WRONG FLOORING!!! Since then almost an hour has passed and I have been trying to get a hold of the manager at Lowe's in Sumter. First I spent almost 20 minutes before anyone answered the phone. This is not the first time I've called this Lowes and no answer even at customer service. After over 20 minures today on June a finally got to speak to one of the assistant managers. This is the worst experience I have ever had with Lowe's. I used to work for Lowes in Warren, Ohio and never remember that store having such bad overall service. Something needs to be done with Sumter Lowe's.

Linda Balderas
from Modesto, CA
My husband is a frequent costumer of Lowes and purchases thousands of dollars of merchandize weekly. Early this month he went into Lowes to return some merchandize that he did not use on a job along with a slue of receipts that pertained to that particular job. The clerk went through those receipts and said that those items did not appear to be on any of the receipts. My husband was not surprised as this has happened to him in the past but at the very least he is offered store credit and because he is a frequent costumer that is ok. On this day however he was told that he was denied a credit because these items are ones that tend to be stolen so without a receipt no credit can be issued. I was shocked by that this would be the policy so attempted to return them myself only to be denied. I did visit your policy posted that says credit will be issued without a receipt. There is however not a sign posted with items that are excluded from this policy as I was told that there are a list of a number of items that will not be credited. My concern is that patrons are not aware of this list and are therefore being mislead by your posted policy. I am not a satisfied customer and will be seeking another avenue to report this matter like call Kurtis customers need to be made aware that Lowes has a misleading policy and does not value their costumers. If there are any others avenues within your agency I can reach out to please let me know.
Discredited costumer, Linda Balderas please reply

This is not a complaint, unfortunately I was very busy and as such unable to take your survey in time, so this is the only place I could tell you about the great and efficient service I received from your staff at the Piscataway / South Plainfield NJ Lowes.
My husband purchased a refrigerator online and did not realize he had to choose the special financing at the time of purchase (this is not to say that your website didn't tell him to do so, it just means he wasn't paying attention to the details). Once I received our statement, I inquired with your online chat as to how I would (or could) get the special financing, the online chat person explained I would need to go into my local store and have the situation taken care of there.
I went to the Piscataway / So. Plainfield Lowes on Friday 6/7 and was helped, but due to the nature of my "return / resale" I was unable to get my situation rectified partly because of my "involved" return and also too many other people waiting to return things (although your staff tried diligently for more than 40 minutes to try to fix my problem).
The following morning I went back again and I spoke to Tranchina and Matt. Wow!, what a team. Tranchina knew exactly what to do to take care of the very convoluted mess that was my "refund/resale", it took her 20 minutes and alot of moves on the computer, but SHE DID IT !!! Give this woman a raise, she knew every system and every move on your software to get it done. I would surmise Tranchina has been there for a number of years; speaking as a general manager of a restaurant, I have seen very few people handle the amount of multi-tasking she did that morning with such ease. This (multi-tasking) can only be accomplished when you have a good manager to back you up; several times, while I was waiting, I saw employees ask Tranchina for (or to do) things only for her to say "Matt is already on his way there or he just took care of that".
While I have always been met with a smile and a kind hello or "welcome to Lowes", my problem was met with such professionalism and expertise I had to take the time out to apprise you of these two exceptional employees. Congratulations, I hope you realize what you have in them and treat them as such.

Bought 5 gal paint that was specifically stated to have a $45 rebate only to be notified after filing for rebate that it was not. Now I'm out $45 & no positive response from Lowe's to resolve this. I also went to buy another paint today & was told they are unable due to being out of magenta for 1 1/2 months. Blue is a pretty basic color so I will need to go elsewhere. It's to the point any longer that it's worth the time & effort to go elsewhere & totally ignore this place exists

Unfortunately this site does not allow you to delete all stars. I was approached by a dog that was out of control, it had on its head what looked like a muzzle but apparently was an apparatus that was meant to try and control the dog. the dog lunged at me, the woman holding the dog tried to control him/her but the dog only failed to touch me because I quickly backed up, unfortunately I backed up into a pole and hurt/ brused my tail bone. the woman did not apologies she just left, I was stunned. Then I went out to her and told her that the dog was not in control and she should not be bringing it in public places. She was Asian and spoke broken English so I did not catch everything she said, however specifically she said the dog was sweet. How was I to know what it was going to do? also it could have knocked me down or worse yet knock down an older person (it was a Doberman so that could have happened) the individual knocked down by a large dog could get a fracture one of the worst things that can happen to a person of advanced age. Then I returned to the store and the man she was with, came in and started yelling at me and tried to intimidate me, pointing two fingers inches away from my face/eyes. I am a strong senior female citizen, I refused to back down. I was not going to give him the satisfaction even if he hurt me, I was not going to let him do that to me! He was screaming in English (mainly) with a thick Asian accent, so I do not recall specifically what he was saying. I reported the incident to a nice stock man in the pesticides area, there was a nice woman who had witnessed most of the event and she confirmed everything I relayed. The stock man contacted the store manager who did nothing! I called later and talked to the manager who did not do anything further other than saying dogs are allowed in the store. WHY ARE DOGS AND DOG PEOPLE GIVEN PREFERENCE OVER THE REST OF US WHO MAY BE ALLERGIC, MAY HAVE BALANCE ISSUES OR MAY BE AFRAID OR MERELY JUST NOT LIKE DOGS!

Asha Imani
from Chester, NY
On May 23, I ordered a beautiful Merlot washing/drying set with the base and all the connections. My nightmare began.
They scheduled a delivery, (5/19) but the ticket would not print out. The Delivery Manager, Nikki Ruch, stated it was my fault because I applied for a Lowes credit card, was approved, but it was my fault.
The ticket got printed, but then discovered the delivery address was incorrect. This order was placed online with a representative. When the address was corrected, it changed my delivery date. *5/20)
I live four (4) hours away, so I scheduled the next delivery on a Sunday, (5/26) paid a friend to sit at my home from 11am - 3pm, which was a no show. I called Spirit and they stated because the appliances were not ready at the Conyers store, they were running late and would be there around 3:30 - 4pm. My friend could no longer wait and had to leave. When I called Nikki to reschedule again, her statement to me was "well is was just 30 minutes, but they could not wait. I tell my customers they need to allow a whole day for a delivery". I found this to be very inconsiderate, rude and unprofessional as it was not just an issue of 30 minutes. The person would of had to wait for them to take down the existing washer/drying downstairs and put in the garage and then bring the new washer/drying up stairs and set it up. This could of been an additional hour.
A fifth (5th) appointment was scheduled.(6/6) I drove up 4 hours the night before to be at the residence to receive the washer/dryer. They came at 11:00 am, however, they did not have the ordered, installation cords. I called the store and they used cords from another washer/dryer on the truck. They installed (so I thought) the new washer/dryer. Once installed, I had to drive back four (4) hours.
When my family tried to use the pretty, new appliances, (6/10) found out the hot water was not turned on; however, someone was there who turned it on, but the dryer vent was not installed, so it could not be used as that can be a fire hazard.. Family members had to go next door to a neighbor to dry the wet, washed clothes.
I called again to schedule someone to come out and install the filter, no one will wait on Lowes, so I have to schedule it for Saturday, 6/15; when I will be driving back up to again try to get a working new washer/dryer.
No one should have to go through this to simply purchase appliance. I made numerous calls to Customer Service wanting to speak with a Manager, District Manager. However no one called me back. I was told the District Manager was Dan Fagan, but he never called me. I talked to a Carl in Store Support, who was to call me regarding a morning appointment, never received a call back. I talked to a Steven, Assistant Manager, at the Conyers store who is trying to help resolve this. He did get me a morning appointment on 6/6 so I was able to drive back. He is trying to get another morning appointment and stated they should have installed the vent. I will try again on 6/15 to have a workable new washer/dryer. Who knows what will happen.
I was give an adjustment, however, I believe I deserve another one due to the continued inconvenience to myself and my family.
I will NEVER step foot in a Lowes store again, even to purchase a hammer or nails. I have told everyone I know about my experience and advised to not purchase appliances from Lowes. I sell Real Estate and will advise my clients to not purchase their appliances from Lowes..
I am going to send this message to JD Powers, Better Business Bureau and any agency that should know. This should not of happened to me and it should not happen to anyone.

Donald A Creighton
from Ponchatoula, LA
Been with lowes for 15 years as a card holder I have always made my payments over the amount. I have just received a letter from them saying they are closing my account because of a credit check. They the bank will make up a report and then grade you on it based on there crazy bank world. This has me so upset that I will not shop at the big box stores any more. The have lost a customer for life good job. Support your local hardware store.

Marsha J. McCain
from Oklahoma City, OK
Re:. Lowe's, Moore, OK, Manager Shay (first name)
I previously purchased several 1-gallon cans of Assure Olympic exterior paint from Lowe's a couple or three years ago. I purposely did not have the paint tinted at that time so that color could be determined at time of use. I was assured by the sales manager then that I could have them tinted and matched later, as needed.
Today I experienced excellent customer service as well as poor customer service.
The store on S. Santa Fe and I-240 tinted and matched my paint without drama and with full guarantee on their matching. Matched perfectly to my existing Assured product, yielding a new formula mixture of numbers. They actually dipped their paint stick in my existing paint and matched that way. It worked!!! Yeah, and thank you! Jenny was the manager/go-between and Carlos was the paint mixer. Please give them my compliments and gratitude.
The store in Moore, Chris in painting, told me on the phone that he could tint, but when we went in the store with the Assure paint (as I told him I had), he said he would take the formula printed on my paint cans to mix the paint. He then said that it probably wouldn't look like the paint color I needed to match, and furthermore, the manager, Shay, confirmed to me that that Lowe's would not stand behind the matching, if it went wrong.
That goodness the OKC store on Santa Fe was able to help me get my paint tinted.
I do wish you wouldn't have discontinued the Olympic paint, but glad to know Carlos can hook me up!
Marsha

I went to return some items at my local Alpharetta store. I had a receipt for one of the items, but two of the items I had lost the receipt. This is the first incidence like this ever anywhere for me and I was humiliated and appalled. The cashier asked for my I.D. as usual, then refused to give me a store credit for the items that I did not have a receipt for. She told me that my I.D. was flagged due to too many returns. WTF!!! I buy a lot of stuff there as I have rental properties, a commercial building and I also do home renovations.
The other employee, who was helping her said "You have to call this 800 number". At which point I told her that I did not have to do anything. I could walk out and never come back.
There was a line, and I asked for the manager. He came after a long delay. He told me the same thing. I gave him my Lowe's loyalty card and told him he could put it anywhere he wanted and how far he wanted and that I would never shop at Lowes again. Home Depot is just down the street and there is a Home Depot on every corner where there is a Lowes.
I'm outraged at their refusal to give me a store credit. I had some other Items I was going to purchase there. The credit would have been less than $20 and I walked out and took my money to Home depot and spent over $100 there. This is bad customer service policy! Especially since I have a loyalty card. Lowes has lost my business although I have bought remodeling supplies there since they were in their original location with a lumber yard back in 1981. I was so sad when it closed and happy to see the new stores spring up now I'm hurt and disappointed. I will also not use any materials bought at Lowes by my subs on my remodeling jobs. They will need to show the receipt that they bought them elsewhere. Lowes disrespected me and sent me away now they can forget me. I'll never be back.

Jerry Whichard
from New Castle, DE
Ordered a double vanity by Scott Living Durham with a marble top and had it delivered to my home - it was an on line purchase. The delivery men would not open the package for me to examine the vanity said that they do not open packages after much back and forth I said I have to see the ordered to make sure I received the correct vanity - then they would only open the top of the box I could not examine the full vanity. I don't know if the vanity is damage or any flaws because delivery men would not open the package fully. When I made my online purchase it was supposed to be delivered to the second floor of course they, the delivery men, would not take the vanity to the second floor said that it was too heavy. Very disappointed with delivery service. I was charged $75.00 for delivery service. It should have been a free delivery charge.
Rate experience on a scale of 1 to 5 is ONE

sandra Biggs
from Murfreesboro, TN
Some one in the Smyrna lows is telling people that washers start them self that is wrong they do not start themselves.

The store is terrible. No one answers the phone. I have had a lot of problems with this store. First I bought a $2000.00 wood door a while ago and the installer took out the grout and told me to replace it. Called the store was told that was my problem by the manager Then I purchased a storm door and it was not measured correctly and it took a month to get it installed. Now I ordered a dishwasher and I ordered a different color and was told it would take a week This on was May 28th it is June 9th no one has called me I have called and was told by two people it would be installed on June 13, but the manager of the store said it would be on the the 22nd. I am very disappointed in this store I feel i am getting the run around I have purchased a new stove a storm door and the dishwasher and also two toilets that my handyman purchased I am very disappointed in this store

Anne Fountain
from Fairfield, CA
I purchased a Bosch dishwasher 2 years ago and Lowes installed it. The warranty on service is only a year; my dishwasher is not stable, but freeflowing in the area it sits; i had a professional from Bosch come and evaluatee it. They said it was not installed properly. But Lowe's wont help with this situation without charging me I'm sure; I've spent well over $10,000 at lowes with all my appliances; i am disgusted that Lowes won't fix it's improper installation of my dishwasher that cost me 1,000 at Lowes; I've had lowes install all my Samsung products; washer/dryer; Refridgerator;oven, microwave and more; this makes me very unhappy and i don't think i will be shopping Lowe's anymore
Ann Fountain
]

Jesus Agostini
from Cambridge, MA
I don't even think it's fair that I am not unable to uncheck even a one star rating because of right now I am completely dissatisfied with your Saugus, MA store as well as the delivery manager and her proposed manager. I ordered a 3.6 cubic ft Manual Chest Freezer ( White ) item # 1218880 Model #HCM4SMWW which was supposed to be delivered on Monday the 10th, 2019. I received an email stating that they had rescheduled the delivery date to Sunday the 9th 2019 between the hours of 7 am to 9 p.m.. No where did it mention that I would receive a call on the day of delivery to notify me that the delivery person was about to deliver my item. When I heard that a message was left Sunday morning stating that my freezer delivery would have to be rescheduled for a different date because I was not reached by phone so the delivery was off I immediately call and spoke with the female delivery manager. She was very rude when speaking with me. She stated that she had tried calling 3 times time and the delivery guy called once. Since both myself and my wife are hard of hearing I did not hear these calls. Nor, did any delivery truck show up at my residence. Despite her saying it did. No one rang a bell or knocked on a door. She became frustrated when I insisted no one came here she hung up. My wife call the store once more requesting to speak with the delivery manager. This manager started to debate the facts with my wife in a loud rude manner once she realized it was indeed my wife calling to find out why we had to reschedule a delivery date since no on had showed up in the first place. My wife at this point became frustrated. My wife requested to speak to this managers supervisor or manager and a gentleman came online and basically began to say the same thing that they tried to call but no one answered. He also became rude in tone until I told him to let's keep it professional. At this point the gentleman agreed and even stated that the delivery man would be coming to the address to delivery the freezer. Going so far to have my wife provide him with clear driving instructions for the deliveryman as this is a new development. STILL no DELIVERY!!!! Very upset with this matter and unprofessional behavior of your employees.
Sincerely,
Jesus Agostini
857-246-5853

Augustus L. DeBella
from Provincetown, MA
Drove one hour from ptown ma to Wareham ma for some supplies including a box of nail.. Once we got home the box of 100 nails had 25 which means i have to drive another 2 hours to purchase a full box and not finish the project till the next day

Was in your Enterprise Al. store yesterday. Not the first time but last. The customer service in that store is the worst I've ever seen. I use to travel allot, so I've been in allot of Lowe stores. However the one in Enterprise Al. is terrible .Employees will walk past you and around and never acknowledge the fact you alive .Much less offer you any help.
Your store in Enterprise is the closest one to me but I will drive the extra mileage to another store. or will go to another retailer.
Regards,
Barry White

Deborah Porche-Smith
from Chicago, IL
I purchased with installation a fence in April. The came May 30 to start the installation , it took three working days but they failed to return to complete the job. Was told they would be back the next day to finish and the gates wouldn't open. The gate has no latches on either gate and my dogs got out without me knowing. I contacted the fence coordinator Carley and left several messages but no response. Today is June 6 and someone called and stated that someone would be out today its after 5pm no show. I didn't think Lowes did business like this after receiving a full payment. NOT AGAIN

Deanna Shelton
from San Antonio, TX
I bought an 18,000 BTU room air conditiioner on 5/29/19. I was told I would be called by the installer in 48 hrs, which would have been by Friday afternoon, I got no call Still no call by Monday afternoon, so I called your installation department. They tried to call and text installer with no luck, but they did leave an email for them to call. Still no call on Tuesday, I called your installation dept. again, they connected me to installer, I was told the job would be done on Thursday between 1-3 and would call if not coming. At 4:l0, no show, no call, so I called your dept. again. They said installer had no signal and could not call me, but would come today. We will see. I am a widow, neighbors and friends are older with bad backs and my son does not live here. I have been without AC for over a week, I have chronic bronchitis which makes it hard to breathe hot air. I do have a little AC in my bedroom, but who wants to live in their bedroom for over a week! This has been very POOR service on your part. The installer is l hr and 25 min from my hometown, makes not sense. If you have a Lowe's in a city, you should hire local installers, just saying. I have been tied to my phone all this time awaiting a phone call and my house, today, waiting for an installer. Even if he comes today, it is still poor service..

Lyman Smith
from Scottsdale, AZ
I purchased a $1199 Samsung Range at store 792 in North Scottsdale on 27 May 2019. At time of purchase I was promised a June 10 delivery and installation. Since I had heard nothing from Lowes and since June 10 is near, I called customer service this morning to determine status of the order (#69998625, P.O. #105834256). The Lowes service # I called was 1-800-445-6937 and I got nebulous info from the female service rep. After 10 minutes, she told me she would have to call the vendor and find out delivery status. She put me on hold for 35 timed minutes (by my computer) and I finally hung up and called the above # back and spoke with a supervisor and told him about the previous call. He got back to me in 4 minutes and told me the vendor would ship to Lowes in 6-9 days. He also apologized and indicated he would discuss appropriate customer service processes with the original service rep who put me on hold for 35 minutes. I believe the customer (in this case, me) should be compensated for the poor service proffered by Lowes as well as for the inconvenience and now late delivery of my purchase. In conclusion, I have decided that I should have bought the range from Home Depot or Best Buy!
Thank you, Lyman Smith

Richard Clifton
from Jacksonville, FL
The manager at your arlington store running coustmers off telling them they cannot shop at this store.Manager running people off.there is lots of trouble in your Arlington store you need to look into (Manager is causing great deal of trouble) running people off. Jacksonville,Fl. arlington store

James T. Clark (renter) and Montreal Newkirk (home owner)
We contracted Lowe's to replace a fence at residence 2218 Wallington Dr, Albany, GA 31721 around December 2017. We have had problems with the gate not opening properly to the latch not going smoothly in the hole to close the other side of the gate, my neighbor had his fence replaced last week, and it was discovered that the contractors that Lowe's sent out did not do a good job making sure the fence could stand-alone, they leaned the end if the fence against the neighbors old fence for stability.
I need this rectified as soon as possible.
James T. Clark
Jtclark2@me.com
2293473113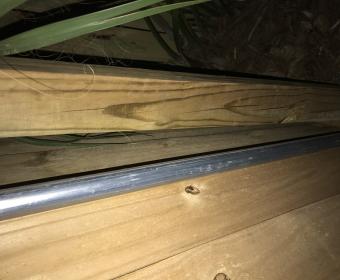 We ordered a shower door from Lowes. We picked the shower door up and when we received it, it was not the right door. When ordering, we verbally specified to the saleswoman that we wanted brushed stainless steel on the hardware. The order from Lowes was placed correctly to Dreamline for the DOOR SIZE AND BRAND but the FINISH was incorrectly ordered. Dreamline has rectified their side of this issue by replacing the door. However, they had to replace it with the polished chrome hardware because that is how the order was placed from Lowes. I tried to talk to representatives from Lowes about this. Their solution was for us to bring the entire door back to the store so they can reorder. We are not interested in waiting another four weeks for the shower door. All we want is replacement on the hardware which is much easier to transport back to the store than the entire door. They are refusing to contact Dreamline to see if they can simply purchase the hardware. They said is was ordered as a whole and must be reordered as a whole unit. The woman, Amanda, in plumbing at Lowes was extremely rude. I said, "lady, you are not listening to me". She said not to call her lady and hung up on me. This whole mistake in ordering the wrong finish was entirely Lowes fault and it is only appropriate they should correct this issue without severely inconveniencing the customer. The person that ordered this door for us no longer works at Lowes. I was told she was fired because she screwed up too many orders. (Amanda told me this before she hung up) This is unfortunate because I am sure there is a possibly she would remember us ordering this door and our conversation.

Judy Carol Zorn
from Little Rock, AR
June 4, 2019
Lowe's
Attn: Robert A. Niblock, CEO
1000 Lowes Blvd.
Mooresville, North Carolina 28117
Re: COMPLAINT - JUDY CAROL ZORN vs. Lowe's, 4330 East McCain Boulevard, North Little Rock, AR 72117
Installation Department
Mr. Niblock,
First, SEE ATTACHED PICTURES OF THE INSIDE / OUTSIDE VIEW OF WHERE THE FRENCH DOOR IS TO BE INSTALLED. I have other pictures of the rest of my rooms in my home but I was unable to attach them as there was not enough space. But I wanted you to see them so you can see that my house is not UNINHABITABLE!
I want to tell you a little bit about myself. My name is Judy Carol Zorn. I live at 425 Sierra Madre Drive, North Little, Rock, Arkansas 72118. My home phone is 501-753-2524 and my cell is 501-920-9154. My parents purchased this home and moved in September 28, 1958. My home was built in April 1958. It is a one story, single family ranch style home. I never got married or had any children. My Mom passed away 05/10/01 and my Dad passed away 09/10/06. Then my boyfriend who was staying with me and helping me take care of my Dad passed away in my living room on 11/11/08. I lost all three in about a seven year time period. Now they are all gone and I am totally alone since I have no immediate family or close friends everything is on me to keep myself, auto or home running. I work for the state of Arkansas Insurance Department / Risk Management where I have been employed for six years. But I have been with the state of Arkansas for 18 years. But my income from the state is very minimal to say the least. I live pay check to pay check and God forbid if I have something happen and all of my dominos (so to speak) start falling. I have to make do with what I have until I can do something different. When I get any additional money after paying my bills I spend it on my home and get things updated & repaired as needed.
All of my life since I started working in 1984 I have lived pay check to pay check. Back in September 2018 (I think it was) I started the process of refinancing my home to alleviate my credit card bills and lower my finance charge on my mortgage that my parents took out in 1993. In November 2018 I paid off all of my credit cards. One of which was Lowe's. At that time I paid 1,507.44 to Lowe's to pay off my account.
I have been a Lowe's customer ever since this store opened way back when. Over the past years I have spent thousands of dollars at this store. I purchased my Whirlpool gas range ($888.81) & my Whirlpool refrigerator ($1,410) from that store a few years ago from Steven Jacobs who was my sales person. He is and was FANTASTIC! Then in May 2015 I purchased a set of French doors ($1,800 approximately) that goes from my kitchen onto my patio from Enrique Iglesias in millwork. He also is FANTASTIC! I will say that I just LOVE my French doors.
In 2016 I think it was I had a Pella storm door (approximately $500) installed by Lowe's on the south side of my home where my carport was that is now my den. Then in 2017 or 2018 I purchased a beautiful Hunter ceiling fan (approximately $125) from Lowe's. Now, this is just some of my more expensive purchases that I have made at Lowe's over the years. Not to mention the small things that I purchase there frequently. For example, air filters, plants, potting soil, light bulbs, etc. Everything in my home just about is from Lowe's.
Like I said I had my home refinanced last fall. With the remaining money after paying off all of my credit cards I am planning on using that money to do some updates to my home. I need / want a backsplash in my kitchen (as I have never had one) and what is there now is a faux back splash that I painted on. I need new kitchen counter tops, interior doors, floors and my .25 acre lot landscaped since it's so hilly that I have to have it mowed and it costs me $100 every time my lawn man shows up. If it was landscaped the way I want it then I probably could maintain it myself or it would at least not cost me $100 all the time.
So, now to the real problem. In my carport / den there is / was an old sliding glass patio door. I can't tell you how bad I hate those types of doors. That's why I had Lowe's install the French doors on my back patio. The one in my carport / den has not locked / unlocked properly in years. I thought this fall I would have it replaced and another set of French doors put on the front of my home.
On May 10, 2019 my lawn man (Quinton Jackson) called me as I was driving home from work and he said he had some bad news. He said he had accidentally broken the stationary part of my sliding glass patio door on the front of my home in my carport / den while he was weed-eating. I was not real happy to say the least. I got home and he had swept up most of the glass. I was just sick about this because like I said I was going to get the door replaced in the fall. But now the fall had apparently arrived a little sooner than I expected.
I started calling all the glass repair shops and they wanted up to $450 to replace that one sheet of glass. I was thinking to myself that would be stupid to pay that when in a few months I was going to order from Lowe's my 2nd set of French doors. So, that night after my yard man left I had a friend and her boyfriend come over and he had cut a piece of plywood to fit and screwed it to the metal frame of my old sliding glass patio door. Which is not really safe in my neighborhood and plus there is about a ½" gap on the right side where he could not install screws because it would break the other part of the glass door. So, now my air conditioning is going outside and the hot air is coming in.
The next day on 05/11/19 I went to Lowe's and told Enrique Iglesias that I wanted to go ahead and order those ¾ glass French doors now since my lawn man (Quinton Jackson) broke my sliding glass patio door. Enrique said I would have to pay $35 and they would send someone out to my home to do the measurements. I paid the $35 on 05/11/19. I did not hear from anyone at Lowe's regarding the measurements for days. Then on 05/20/19 Robert Criswell showed up at 4:45 p.m. to measure my exterior area where I want these French doors installed at the top of my drive way. Since this fall I wanted to go ahead and get my interior doors replaced I told Robert to go ahead and measure all of my interior doors as well. That way I would not have to pay another $35 to have anyone come back out and measure again. So, he came in my home and measured all of my interior doors as well. Let me say that I had spent all day Saturday 5/18/19 and Sunday 05/19/19 cleaning my home as I always do on weekends and especially if I am having guests. I worked on my home from 7 a.m. to 6 p.m. both days. It was spotless in my book. I am OCD when it comes to everything being put up and in its place. I never have stuff scattered all over my home. My clothes are always hung up, shoes put up and dishes put up. I never have dirty dishes in my home.
On Wednesday 05/2219 I think it was a woman named Jillian from Lowe's called and left me a message on my phone that Robert Criswell said that he could not install these doors on my home because my home is UNINHABITABLE! So, I immediately called her back to see what the heck she or he was talking about. Because I was furious to say the least! How dare anyone say that about my home? After I had spent 12 hours cleaning it the day before. I have had lots of people in my home (electricians, plumbers, friends, and a lady from Metro Appliances & More - about installing my backsplash & counters in my kitchen). And not one of them said anything about my home being UNINHABITABLE! Jillian said that she did not know and that is just what Robert had told her. Since I had his number because his wife Melissa Criswell had called me to set up the appointment I called her numerous times and left messages to see what was going on. But she did not call me back until Tuesday 05/28/19. I asked her what they meant by my home is UNINHABITABLE. She said that is not what they said and that Jillian misunderstood. And that they had not contacted me back because they had been on vacation for the Memorial holiday. Melissa told me that they didn't know that Robert was so allergic to cats. And, that when he left my home he had to go have an allergy shot. I told her I was sorry but that was not really my problem. That since I was purchasing the door from Lowe's I expected Lowe's to install it. I told her for him to wear a mask. I would even give him one to wear. Plus, he would not be inside my home installing the door. It was to be installed outside because of it being an out swing door due to my floor's configuration because it was a carport it has a 3" + drop and so the door would not open in. She said well they would have to talk to Robert's doctor and see what he said. I said well, then if Robert can't come in my home due to my dog and cats then he should not be doing that type of work. Because I know I am not the only person on the planet that has pets. I said well if he can't do the job then get me someone else.
At this time I spoke to a Matt and he told me I could bring back my $35 receipt for installation measurements to the customer service counter and get a refund since they could not install my door. Or that they could refund my money to the credit card I used. I said ok then refund my credit card since you just are refusing to do my installation. Well, I never got the $35 refund.
So, I waited a few more days and no one contacted me. I then called Lowe's back and spoke with Dennis. I told him how furious I was about all of this and that if Lowe's did not install my doors that I was going to call Channel 7 and speak with Jason Pederson at 7 On Your Side. Because I have never been so humiliated, disgusted, frustrated (or any other adjective / adverb you want to use). When I told Dennis this his reply was don't threaten me." I said, "I am not threating you. I need Lowe's to do their job." Then I went to Lowe's and had a discussion with Enrique and told him that since I was purchasing another French door from them AGAIN I expected them to install it and to find me someone else. He said a guy named Frank would be contacting me to come measure my door way AGAIN! Frank showed up at 9 a.m. Saturday 06/01/19. Because I knew he was coming I got up at 5 a.m. that day and started cleaning my "zoo" again. I vacuumed, mopped not only with Lysol & Mr. Clean but I re-mopped my entire home with bleach. Plus, I dusted and washed everything again. Now mind you I had done this same thing the first time when Robert came out and I spent 12 hours cleaning my home.
Well, when Frank came last Saturday 06/01/19 I did not let him in the rest of my home. I had my dog & cats in there and so I shut the old carport door. The only room he was in was my carport / den. He measured everything from the outside. He said he would have to see inside to see about the door jamb? So, I took him through my south door and I had just mopped the floors and they were still a little wet. The floor in my carport / den is currently just bare concrete. It looks like it has cancer on it because after my previous boyfriend who died and I took up the indoor / outdoor carpet that was there we stained the concrete. But it did not work so we went back and painted it. Now, that has been over ten years ago and it has all pretty much wore off. I would like to have some terra cotta Moroccan lantern tiles installed when I find a place that has them and can install them for me.
After Frank left on Saturday 06/01/19 I had errands to run. But while I was out Enrique called me and said that he had the measurements and I could come in and order my doors, finally! Now mind you this is 06/01/19 and my door was broken on 05/10/19. That is nearly three weeks I had been waiting. So, on 06/01/19 I paid Lowe's approximately $2,200 for these French doors. Then yesterday I got another phone call from Enrique and he said that Frank needed $75 more for an up charge. I asked Enrique why and he said he didn't really know. I said well call Frank and find out and call me back. A few minutes later Enrique called me back and said Frank said it was because my home stunk too badly. I am very hurt about this! Yes, I have a small little dog (Dachshund / Border collie) and 4 cats. But I know I am not the only person on the planet that has pets. I noticed on the work order when I was up there Saturday 06/01/19 and paid Enrique for my doors that Frank had written or someone had written up the side that they could not install any interior doors for me because my home was too bad due to the stink.
Enrique wanted me to come back up there last night and pay that $75. But I did not go because one all of this drama over these doors have made me very sick to my stomach. So, I did not go up there last night. But yesterday afternoon I called the 1-800 number listed on the Lowe's corporate website and I spoke to a woman named Robin. I told her my situation and how humiliated and upset I am. Robin profusely apologized for how I have been being treated. She said she would have the store manager (James White) at this Lowe's on McCain in North Little Rock call me today.
I am still waiting on his call. But I don't feel I should have to pay any more money for them to install my doors. I have paid all I want to pay. My home is not and never has been UNINHABITABLE as they say it is. I do not have any mice, rats, roaches nothing. I am an EXPERT when it comes to decorating and knowing what goes with what and where. I watch HGTV 24/7/365 plus I read all types of articles on decorating. All of my wood furniture pieces for the most part are solid oak or birch. All of my bathroom floors and sinks are marble. My furniture is the best that I can afford right now. Just about everything in my home is new. So, how someone could say this about me and my home is unfathomable.
I feel that since I have been treated so badly and for no reason I want an apology from all of those installers and managers. Because this is all totally uncalled for.
Please contact me at your earliest convenience regarding this matter because I am a very displeased customer right now and I have always given Lowe's a 15 on a scale of 1 – 10. But now, as far as the installation / manager employees they get a "0". I will not be recommending Lowe's to anyone until this matter is resolved.
Thank You,
Judy Carol Zorn
425 Sierra Madre Drive
North Little Rock, Arkansas 72118
501-753-2524 (home)
501-920-9154 (cell)
jczorn@live.com

Sandra Williams
from Riverhead, NY
I purchased blinds custom blinds. There are unresolved issues with the measurements and manufacturing of the blinds. The blinds were cut too large for the windows, they actually cover approximately two inches of the wall. There were three blinds made to cover a patio door (side by side installation) and the blinds are made of fabric and the fabric doesn't line up when the blinds are lowered.
I was very specific with the installer when he came to measure for the blinds as to the width, and he assured me that they would come from the same batch, ergo, there would be no issues with them line-up.
I called Lowes numerous times, including the day of the installation (approximately 1 month ago), to date the blinds have not been corrected. I've been told several times that they were waiting to here back from the installer. My recommendation is to move on, clearly the installer is nonresposnvie. I would like this issue to be addressed and resolved immediately!

Ronda Cantrell
from Guyton, GA
I purchased PERGO MAX Handscraped Manor Hickory flooring Product number 636287 from Lowes. The flooring got a wet spill and it ruined my floor. I am very dissatisfied with this product. Is there any recourse to my problem. Can I expect Lowe's to stand by this product that they sold to me or am I just out in the cold? Please respond to my complaint asap. I am now having to replace this garbage. I will never again use PERGO brand products.

James Clark and Montreal Newkirk
from Leesburg, GA
We hired Lowe's to replace our fence in December 2017 and our neighbor just had his fence replaced last week, it was discovered that our fence with gate was put up with no foundation, the the fence have pulled the pole. Th3 screws ar3 pulled out and we have difficulties opening and closing the gate, I am extremely frustrated and upset with the contractors you sent our to do our fence.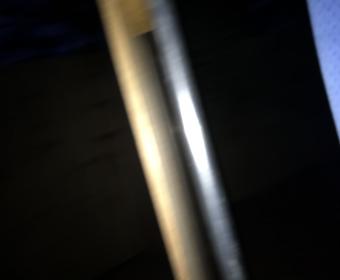 Thanks for your feedback!
Sorry. Please try again later!