Lowes
Lowes Complaints Continued... (Page 4)
932+ reviews added so far. Upset? Call Lowes corporate: 1-800-445-6937

John wolf
from Seattle, WA
I live next door in a subdivision neighborhood I don't believe it's commercially zoned over here but many apartment buildings and every night woke up from parking lot cleaners tonight they had to wait for the hot rodder kids to leave which it took until 1 in the morning I don't know if you give them permission to do burnouts and ruin the pavement but it's Extremely Loud Kiss revving their engines and intentionally making them backfire this is not the first time every weekend it seems like every couple weeks extra cars show up for a rally Gathering driving down the highway like a drag strip doing burnouts in your parking lot maybe you should put up some gates to stop this from happening between that and the semi trucks loading and unloading at all hours there's absolutely no peace and quiet in this neighborhood and it's all Lowe's so close to calling my lawyer and filing complaint officially against this company 240th Pacific Highway South Kent Washington 98032 I have been complaining for 6 months to no avail if something doesn't happen immediately you will be hearing from my lawyer

Michael Eberhardt
from Dallas, TX
Over the several months, including today (Feb. 23, 2019), I have ordered over $10,000 of materials, appliances, flooring, etc as I renovated a home in Arkansas. I live in Dallas and thoroughly enjoy the customer service I receive at your stores in Dallas. Your store in Hot Springs, Arkansas however is nothing but a terrible experience. Abysmal! Screwed up orders, failed deliveries, failed carpet installations, horrible phone service. You name it and it is terrible there.! Today they dropped my calls (as usual), took forever to take a simple order and could not process my $20 discount coupon. Shut that store down. It is an embarrassment to your reputation. Mike Eberhardt 972-567-0029

Tina Hall
from Cleveland, OH
Good morning, Im emailing you due to the huge headache and damage our local Bellefontaine store has caused.
I ordered a GE refrigerator, the delivery men dropped it off and left it sitting in middle of kitchen floor without measuring it, it did not and would not fit. So the fridge (picture included) sat in the middle of my kitchen blocking off the dining room for 7 days until they could bring us another one. Meanwhile not using it since its an exchange and not having a refrigerator again. Called and ordered another one but now this size I needed wasn't in stock and theres a $85.80 price difference forcing me to the store to pay that amount, so we go to a different brand. We get that Whirlpool delivered finally and guess what? It makes a god awful rattling sound and the delivery guys tried for a good hour to find out why. They managed to shove a piece of Styrofoam underneath it to stop the noise temporarily. Than back on the phone with lowes to reorder another. Im clearly buying another brand, That one was fine. So now im dealing with all these charges on my cc, I call again, manager tells me there is cash at the store for my refund. Go to pick it up (20 mins away) and its very short. I left it at the store. The two charges on my cc are
$$1,468.22
$85.80
The envelope had $1,350. Than after everything had settled with the fridge deliveries I get a knock on the door yesterday and its lowes. They asked what fridge they are picking up?!?! No fridge to pick up. My kitchen floor and trim is destroyed from all this. The managers were very nice and helpful and I hate to cause problems for anyone but at the same time..... Im just done with this! Id like my cc adjusted (not cash) and see what we can do for the damage on my floor and trim.
Thank you for your time
TIna Hall
586.222.9710
5527 State route 273 w
Belle Center oh 43310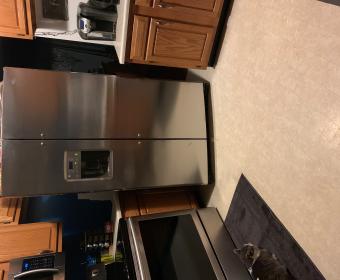 Well, we tried today to purchase a refrigerator from Lowes in Lexington VA. The refrigerator we wanted to buy was out of stock in the store and we were told that it would be from 14 to 21 days which was fine. We were told to complete the purchase, we could pay at the front registers. There were three people trying to complete a cash, not credit or debit card transaction. We gave them our information and our cell phone numbers and we kept getting told that our phone numbers ( we gave them two correct cell phone numbers) were connected to other customers. We told them we had no issues with our phones but they could not get the refrigerator ordered and therefore we couldn't pay for it. After over 30 minutes of standing there trying to make a CASH purchase of over a thousand dollars, we could not. We told the front customer service staff to forget it and left the store. I am at a loss as to why in the world that three Lowes employees could not order a refrigerator and take payment. We took the day off to do this and now we are home with no refrigerator and a bitter taste in our mouth. I don't know if we will ever again try to purchase appliances from Lowes. We were thinking about buying a new washer and dryer as well as a stove to match this refrigerator. We may not be the biggest customers Lowes has but we are certainly two disgruntled prospective buyers...Sincerely Stephen R. Clark and Patricia B. Clark 540-290-6440. 806 N Rockbridge Ave. Covington, VA 24426

Hello,
We purchased flooring around May 2017 and recently experienced a leak from our toilet related to the installation.
After consulting with two professional plumbers we were informed the wax ring was not replaced when re-installing the toilet. The two plumbers went on to let us know this is standard when replacing a toilet and we paid an additional fee to have this done. When customer service was contacted we were told the local store would provide a resolution to the issue. The local store manager (Hanford store), Garret was incredibly rude and condescending. He did not provide a resolution or even consider one. He let us know that we were outside of our warranty and there is no way to prove the plumber did not replace the wax ring that caused the leak. I then reached out to David from installations and he would not return my call or speak to me. He insisted another staff member, Sam (female) discuss the issue with me and I had to explain the issue to her from the beginning. She was professional but still very dismissive and unfortunately did not provide any resolution either. Whether this becomes a legal matter could have been avoided with better communication and management skills. We have done business with other Lowe's stores in Fresno and Clovis CA and have never had such an awful experience. Locally we are not the first customers that have had negative interactions with this man. When customers are avoiding shopping at one location due to the management it should be concerning. I am sure to a company of your maginitude one complaint is not alarming however for corporate to say we should be provided with a resolution and have the local store manager be aggressive and dissmissive was very upsetting. I personally am still hoping for a resolution as this situation has caused not only a major disruption to our home but also the stress level has taken a physical toll.

Ordered 3 sets of railings 5 posts and an extra set of in line brackets. Posts came delivered to my house, railings sent to store for pickup, wrong brackets delivered to my house. This was all on the same order. When I called customer service as to why half my order was delivered to the store they had no idea. Now the right brackets have been ordered and are being sent to the store, they cannot ship them to my house, like they shipped the first set. Confused? so am I. Tried calling the main headquarters for Lowe's that was a joke, there's only so much time to wait on hold.

Melody A. Kiley
from Shelby, NC
I have used internet sales for garden supplies about 4 times. Of all of them only 1 was faster than if I collected the items myself. I am a 72 year old women and hauling bags of fertilizer is not easy. On February 14 I placed an order. The next day the email was there saying it was ready. I went to Customer Service and got my paperwork. The gal at the desk called over to the Garden Dept. to tell them I was coming and that my order was in isle 1. When I got to the Garden Dept. the guy at the register knew nothing about it and received no phone call and worst of all my order was not there. Either someone lied about getting it ready or it was put back on the shelf.
The guy at the register calls CC and listens for 5 min on how I need to go over their to get my paperwork all the wild holding it in his hand. He has worked that department for about 2 years and didn't know what the paperwork looked like? No one relayed the message about me coming to pick up my order?
I told them I would go the Aldi across the parking lot and expected my order to be ready when I got back. About 30 minutes later I returned and it was ready but then had to wait for someone to load it in my car. All total it took about 1 hour to get my merchandise. This is totally unacceptable. I went to complain the the manager but he was not there.
Anyone wanting quick service should stay away from ordering online!

Ordered refrigerator, cooktop, wall oven, hood vent, sink, faucet, dishwasher on 1-21-2019. February 4, 2019 Lowe's called to tell me order was in. Went and picked up hood vent, sink and faucet. Lady got on computer and saw my order and marked onff everything I picked up and verified all my appliances were there. Day after I pick up three of my items, sales lady calls me to make sure I did not get my refrigerator , that it was still there. I said no I have not had Lowe's deliver it yet. At this point all my appliances were at Lowe's ready to be delivered. My contractor and I go to Lowe's to pick up my cooktop February 12 and made arrangements to have my appliances delivered Monday February 18. Yesterday morning at 7:50 am I received a call saying my appliances were not in and would not be delivered today. Called back they said nothing they could do. Called back again and talked to guy in appliances and he went back and found my wall oven and dishwasher but no refrigerator there ,that sales lady called to verify it was there. My contractor went and picked up my wall oven and dishwasher and they tell him only wall oven was there. My house was ready for all appliances to come yesterday I missed work for this delivery. Very disappointed. I have been lied and I feel like my appliances were taken by someone else since everything was in store and gone on delivery date except wall oven. Very disheartening the way I have been treated and lied to.

I placed an on-line order..[because of previous bad experiences trying to get in-store assistance]. I was notified that my order was ready at the "pick up" area. I went to the store to that area.. there was no one there. I pushed the "request for assistance" button. The announcement came out SEVERAL times.. after 20 minutes I asked an employee walking around, if there was NO ONE working in that department, he went over and did a phone page.. I was told to go to customer [lack of] service, where the young man there informed the that.. " Sorry, that's NOT my department." At that point I was so angry I left the store WITHOUT my items.
This isn't my first bad experience with your company, but I can assure you, that once I DO get my order.. it will be the LAST.
KENNETH CASE

Thomas Hughes
from Cape Coral, FL
On June 27,2018 I signed a contract with Lowes to install a 6 ft high green vinyl fence along the street in front of my house in Southborough, Massachusetts.. The work was to start on July 20, 2018 and be completed by October 20, 2018. The installation was started by mid July but unfinished because one post was the wrong design. When the crew never returned by mid August, I started calling Lowes and visiting the store in order to get the job finished. Throughout September and October, I continued to contact Lowes but the fence remained unfinished.
I live in Florida during the winter. Before leaving for Florida in late October, I secured the uninstalled fence sections in my locked garage. On December 11, 2018 Lowes sent me a bill for $6,793.33, the balance due on the fence less $100. ( total job cost $10,340 - a deposit of $3,446.67 was paid on June 27, 2018). I complained to corporate headquarters and they have told me they will not complete the fence install until I pay $6,793.33 in spite of the fact that they did no finish the fence installation for 5 months before I left for Florida.
When the Lowes salesman sold the fence I was told the green color of the fence was permeated throughout the vinyl material. That was a lie because the fence material is white painted green on the finish.
I agreed to pay Lowes the balance of the fence job when the installation is completed however, they want to be paid prior to finishing the job.

My husband and I ordered carpet from Lowes with free installation, when the installers came to install the carpet in our basement they had the correct carpet but it was the wrong color. So, after the installers left we came to the conclusion that the customer service person who placed the order for us typed in the wrong color. The color swatch that we wanted was located above the color that ended up being ordered. At this point we were slightly annoyed but hey things happen and mistakes get made, no big deal. Today we went into Lowes located in Washington, PA to get everything sorted out and get the correct carpet ordered. Once we got back to the flooring department desk we were approached by a very nice and helpful gentleman who explained that the associate who works in the flooring department wasn't there yet today and that he was just a delivery associate but if he could help us he could (this was at about 10:30am). So, we then explained our situation and he promptly said that he was just going to call a manager for us to speak with because he didn't know how to even begin to help us. At this point we were fine with everything, then after a very lengthy phone call with the manager he got off the phone and said he was looking for someone named Ron and that he would be right back. He came back after a few minutes and explained that he couldn't find Ron and that the associate was coming in in 20 minutes and that we would have to wait for him because the manager didn't want to come help us. We thanked the associate for his help and we just looked at each other in complete shock and disgust. Seriously? The manager couldn't be bothered to come help us fix the situation which was an error on Lowe's part in the first place! My husband is a store manager for a local grocery store chain and could not believe that was the response we got. The manager expected us to wait for 20 minutes for the associate to come in who was working in that department instead of coming right away and helping us out with something they messed up in the first place. Absolutely unacceptable! We went with Lowes because their price was great and they were offering free installation. Lesson learned there. After this problem is fixed we will pay the extra money for a company who can actually help their customers. We weren't even really upset about the mix up because like I said, mistakes happen. We just wanted it fixed and we ended up wasting about 30 minutes waiting for someone to do that. Unbelievable.

Me and my husband visited your Lowes store locate at 770 Daniel Ellis Dr James Island SC 29412 Store #0661 on Feb 16, 2019 around 9:30 am. My husband went to the restroom and it was so dirty and smelled so bad that he could not use it. I thought he was over exaggerating so I went in to see. I was astonished at the filth and smell I have used and seen many public restrooms but this was the worst. How can you expect your customers to use this restroom or take their children in there. If the health department done an inspection they would close it down. Pure shame you allow your restrooms to look like this.

I just recently purchased 1300.00 dollars worth of vinyl plank flooring and after driving all the way home we found several boxes were so damaged that the flooring was chipped bent or cracked so we couldnt use it some boxes were even taped shut we were unaware because they loaded the boxes for us I really needed the floor done in a short time frame now I have been set back due to having to purchase more flooring. Very upset with how I found things when I went to lay the floor!

Remodel on both bathrooms in condo. Starts out great with rep in the store as we think we have someone who is knowledgeable and responsive. That was October 2018... now to February 11, 2019...first bathroom is 70% complete-forgot to order light fixtures, shower door (who would have thought that was a priority!!) and the bathroom cabinet, mirror and a toilet that is installed but with no lid and no water connection. Frequent attempts to get answers and no one calls you back. Oh..you can talk to Kianna in Indiana (or wherever she is). She can single-handedly ruin Lowes! I was offered the chance to have the 2nd bathroom renovated while we wait on the first. Well, that's a marvelous idea! We'll just go outside to go to the bathroom! Lowe's slogan should be "we understand your concerns, but frankly, we don't give a damn. LOUSY place to do business!!

I contracted Lowes to install a perimeter fence around my property in February of 2017 and was told I needed to go to the Village of Schaumburg and get a permit and codes to give to the installers which I did, I am now being ticketed by the Village because they are saying Lowes did not do the installation according to code and that I now have to have it corrected, I contacted Lowes and spoke with both Ashlin McFarland and Christian Luis, both product installation specialists??? They made me pay for the parts to have installer come out and fix, Which they did last Tuesday and once again completely ignored the codes WHICH WERE AGAIN GIVEN TO LOWES, when I again contacted Ashlin by email she responded by telling me that if I want to contact a lawyer I should let her know so she can direct me to Lowes legal, I have cancelled 2 projects I was going to have Lowes do at over 25000.00 and will be using another company, extremely poor customer service and treatment to a very loyal Lowes customer.

douglas kinnas
from Davenport, FL
On 02/06/2019, i was attempting to purchase an orchid with a friend who knows a lot about flowers. I came across one i liked and she said it was almost dead and to buy a live one. The one i liked cost $29.99. as i was bringing it see to if i could get a better price, an employee stopped and said, "oh, i forgot to mark that one down" Jennifer marked it half price. My friend and i agreed i should talk to a manager. Bryan came out and called Jennifer and asked her what to do. She stayed half, Bryan said whatever jennifer said goes. I asked who is the manager, Jennifer or Bryan? Jennifer said she's the boos in flowers. Bryan just nodded his head and said "Whatever she said goes" I then called corporate office because my friend said Lowes in Haines City, Florida DON'T CARE. I talked to Ashley and explained everything and she was going to talk to Bryan. While she was talking to Bryan another manager, which i found out latter, stopped to talk to my friend whom he knewn because he helped her with some kitchen apliances. Ashley came back to me and said " I can't help you because you were talking to another manager about the same thing " I wasn't, my friend was talking to him. Bryan also told Ashley the orchid was in the clearance rank. It wasn't. It is bad enough i am handicapped and a senior plus military and i couldn't get a near dead plant better then half price. I was so upset, i couldn't eat, sleep or leave my house for 2 days. All i wanted was my first orchid. If you could help me, i would eat, sleep and tell people about what Lowes has done. sincerely, and God bless, Douglas Kinnas 863-656-6463

My complaint is that we bought floors from Lowes and they had someone come install them.....Well the company that Lowes hired did not install them properly and now our floors ruined. They company that installed them came back and took them off and never came back!!! this has been over two months ago and my floors are falling apart Lowes sent this to their insurance dept to try and get resolved and I can tried to call them multiple times and also email mailed them multiple times. No one has ever helped us and no one has ever tried to help us. I have over $11,000 dollars worth of damage and no help! I don't see how Lowes would expect us to pay the bill when I have NO FLOORS!...This was at the store in Victoria TX. My phone number is 361-649-9102

We bought carpet from Lowe's. Big mistake. They took our $5000 grand easily but the rest has been hell. They lost our carpet and other excuses. We attempted to call them numerous times and were basically told they had no clue. Promised to call back on several occasions but never did. We had to call them. Then when the carpet finally gets here, as our house sits on market and can't be seen without carpet, we sit and wait after being told 8-10 am for installation. Nope nobody shows up once again we had to call. We have been trying to get our house sold and this has increased our stress unnecessarily. We were Lowe's customers faithfully. We will drive past Lowe's on our way to Home Depot from now on. Very disappointed in customer service

Dawn Neff
from Ann Arbor, MI
We have spent a great deal of money at Lowes in the last several months, buying carpet and vinyl flooring. The purchasing was easy and the installation went great, we were very happy. We decided to have our garage doors replaced as well. We had our choice of 3 different stores to purchase these at (Lowes, Home Depot, Menards), we choose Lowes because of the previous serves we received. We bought and paid in full two garage doors with installation back in September of 2018. Here we are 5 months later and we still do not have garage doors completely installed. We receive the run around for five months. We didn't start getting concerned until mid November when we hadn't heard from anyone at Lowe's. We stopped into the store a few times to check the progress and was given an apology and promise to find out what the issue was. In December we were told there was a mix up at the factory, they were unsure if we ordered one door or two, yet no one ever called us to verify. We had to initiate this process. January the problem was delivery to the installer. Finally the installer received the delivery and scheduled to come put our doors in. He worked one day on them, did not complete the installation, said he would return the following day to complete but never showed. It took several phone calls for him to finally get back to us on when he would complete the installation. His excuse was his truck broke down. Currently we have two garage doors that we can not use, which makes our garage useless since we can not get into it. In addition we are in the process of trying to sell our house. This is causing a delay in the selling process. It is now February and my doors are still not done. The installers current excuse is he hurt his back. This has been ongoing for five months. I am not impressed with the installation company ( Access Door Systems, Daryl is the installers name). The only actual help we have received was from Chris with AMAR who had made multiple attempts to contact the installer on our behave. I am tired of apologies, I want my doors installed. I have been apologized to for five months yet no one has seemed to do anything to take care of this matter. We will be needing new flooring for our new home when we move, this experience is making me consider another company to do business with. I know I am just one person's business but I deserve to be treated better.
I hope that you will see the extreme stress and frustration here and make this right.
Thank you,
Dawn Neff

We ordered a Refrigerator Item# 712177 (Order # 368601964,Invoice # 88755) from your Fayetteville, WV store, and was told our delivery date would be 2/6/19. Someone was to call us the night before to confirm delivery, no one call. When I spoke to someone today I was told the order was cancelled due to not having a refrigerator in stock. NO ONE called us or e-mailed us to tell us this. We have been without a refrigerator mow for four days.
My wife disapproves of Lowes due to past experiences purchasing over $10,000 worth of appliances from you. The only reason we turned to you was you could deliver sooner than anyone else. So much for that.
I want to know what you are going to do to make this good.

Dear Sir or Madam
I go to the lowes store in Americus GA
My wife went yesterday to get a thumb screw went to the desk to get help 3 times in a 15min period and nobody showed up she got upset and walked out . I went today to return somethings and the lady at the Regester acted as if i was bothering her to have to do the return and she was busy i will give her that about 5 people were walking around acting like they were busy and doing nothing and could not help her or me.So I can understand as to why you are closing a bunch of your stores. If there was a Home Depot closer I would shop there when one of there workers walk buy you they ask if they can help and that is what a costumer based buss. should be doing.
Gary W Langlois

thomas e williams
from Pawtucket, RI
i purchased a fan and light from lowes 3 or 4 years ago in north providence rhode island harbor breeze 331107 model l2p1 it stopped working some time ago I so I went back to lowes in north providence the man tried to help me but fan is discontinued so I called harbor breeze to find out fan is discontinued and not making anymore and there are know parts at all for light to be found but Cranston store has 4 light kits 331107 for sale I told manager that it was a discontinued fan with know parts to repair asked if she can help me in anyway she said know I am very unhappy with lowes I go shopping a lot at lowes but I think I will be shopping at homedepot they help and have more heart unhappy lowes custormer

Jerry Terramagra
from Lancaster, PA
We had new carpets installed on February 2nd, 2019. The installation went smoothly until we found out that the measurements were off by 98 square foot at a cost to us of approximately $441.00. We attempted to contact the installer and measurer that day; nothing. We contacted Lowes, Egg Harbor Twp., nothing. We went to Lowes in person and was told that we were the 4th people that day! TO COMPLAIN OF OVERCHARGING.
We were told to call back on Tuesday the 5th as no one could help us. we called a few minutes and no manager was available and were told to call back yet again.
We would like to have the credit of $441 immediately. We will have to consider purchasing at Lowes again. We have been faithful customers since 2004 and redid our home inside and out using Lowes.

I purchased a dryer, it had a mfg warranty of 12 months. I also bought a 3 year extended claim warranty. Now the unit has gone out in its 3rd year. They will not cover and says their 3 year extended warranty includes the manufacturers. They did not tell me this. Now my unit has broken and they will not cover it. I am done. No more Lowes for me.

In September 2018 I purchased a Husqvarna 3-bin bagger from store #2704 in Hamburg NY. The box was labeled for a 46"/48" mower. This led me to assume that this bagger fit both a 46" and a 48" mower deck. Upon opening the box it contained two lower chutes, one to fit a 46" mower deck and one to fit a 48" mower deck. I immediately contacted Husqvarna and went back and forth with them via the telephone and e-mails. Finally yesterday 2-4-19, I was told that the matter had to be settled with Lowe's. I went back to store #2704 and was told that the bagger was sold as a
"kit" and that's just the way it was. My argument here is why would anyone buy equipment with parts one will never use. So now i have a lower chute that only fits a 46" mower deck. This is nothing short of ripping off the consumer by Husqvarna and Lowe's if you stand behind the "kit" explanation. What i am saying to you is that i paid for something that i did not want nor can i use. In short, i would like a refund for the extra part and i will be glad to return to whoever and wherever youl deem. Thank you for your cooperation concerning this matter. Mike

Brittany Walton
from Atlanta, GA
To whom it may concern:
Currently I have been waiting for over a month for them to complete my kitchen. It has been a very big inconvenience especially having 7 people living in my house. The youngest is two months old! I feel like we have been more than patience with the process and frankly feel like we have been taking advantage. I can not even express my frustration. When will it be done!

michael slomkowski
from Gibsonia, PA
i called to have my 6 month old stove serviced. I had called due to chips on the cook top. i was told that cosmetic damage would not be covered and i asked who determines if it is cosmetic or not and i was told the service technician would. i asked for clarification that if if it was determined it was cosmetic would I be charged a service fee and I was told no. The service man just left my home and told me it was cosmetic and that I would be charged a service call over $100.00. When I made the service call and asked for clarification, I was told this would not be the case. I was told incorrectly by the service representative and I believe I was on a recorded line and would like someone to listen to the recorded phone call. I can not be held responsible for something I was told. Please call me at 724-265-1441. I put my faith in Lowe's when I bought my appliances and have been a loyal customer and expect Lowes's to correct this error.

Susan sayer
from Orlando, FL
Will never do business again with this company why do people have to wait for a part on a dryer a week is ridiculous especially when the dryer is 16 months old have done a lot of business with this company a few months ago had sliding glass replaced awful job I do have pictures as soon as my account is paid off I'll do my business with Home Depot I should of listened to people any we have to lose a day of work because they won't come at 4 terrible company

I do not usually do online ratings but I was not able to access the customer survey. I had THE worse shopping experience at your Aberdeen NC store today.
This constructive criticism will probably be dismissed just like my visit at Lowe's today but here are my comments anyway.
I entered the store and asked a gentleman (Ron) in the hardware section if he could help me find staples for a staple gun I had previously bought there. He pointed me at the end of the isle, as I saw him do to the CONTRACTOR before me, who also asked him for help.
Please know it was that contractor who actually helped me find the correct staples for my staple gun. You should also know that that patron was unable to locate his needs. He was just as frustrated as I was, so good luck on getting that business back as well….How your staff could blow off a man whose living it is to purchase his supplies in your store is beyond me!! I also needed a chain and another gentleman sitting behind a computer rolled his eyes at me as he pointed me to isle 11!! There were staff all over the store and no one offered assistance. I then went to the blind section where I waited for the sales woman to finish ordering something for another customer already there. I waited, and waited, and not once did she address me and acknowledge my existence even to tell me she would be right with me. I finally left. As I waited in line (note there were only two cashiers checking out a line of customers), four staff members chatted at the door and just stared at us. Again I listened to other customers complaining about your lack of customer service!!
You won't have to worry about any more comments from this buyer. I will most certainly drive out of my way just to go to Ace Hardware where I'll have everyone in the store asking to help me! This was so frustrating that I discussed it with the manager on duty who just softly said he was sorry.
SEE YA Sorry!! I'm headed to Ace Hardware or will order online from Home Depot!!

In mid December, we went in to our midtown Lowes and spoke with Rene about carpeting needs. We paid for Lowes to come out and measure so we would know what we were looking at for costs. The fee was $45 which we were told we would get back if we followed through ordering through Lowes. I met the individual (not a Lowes person but a subcontractor) who did the measurement and said he'd have the numbers to Rene in two days. From there, Rene was to contact me right away. We expressed to Rene that this was going in a rental and time was of the essence. He stated that installation was 2 weeks out once we made a decision. Rene never contacted us. It wasn't until January 4th that we got a message from him and that was a voicemail stating he had the information (for some time) and that I was to come in to the store to get it. It wasn't until January 8th that I was able to get a hold of Rene. I asked about the square footage, etc., and what the breakdown was by room (we told him from the start that we wanted the bedrooms separated from the living room/stairs/landing as they weren't in too bad of shape and we may have to keep them as they were. He told me that's not how it worked and that it was all together. Basically, I was crap out of luck. After a lengthy conversation, I asked to speak to his supervisor (it was clear he didn't care). He hemmed and hawed but finally said her name is Vicki. I asked that he have her call me. He claimed she wasn't in the store that day (January 8). It is now January 28, 2019, and there has never been a call, an email, a letter, or anything else from anyone from Lowes, including Rene or Vicki. I am so ticked, I could spit nails. Our project timeline is so messed up that we've lost a month now. That means another month, and in two days, another month with no carpet and no rent money coming in! What a crappy store. Crappy employees. It's clear it was fine for Rene to take our money and expect us to go away. If I could, I'd leave a negative star rating!

randy bohannon
from Alabaster, AL
I went to lowes alabaster location Saturday night around 7:30pm 1/26/2019, I was trying to get a house key remade because the one they made did not work.i ranged the customer help button several times and no one came ,,I asked a cashier to page someone, and still no one came , I went to the front desk and ask for some one to be paged again and still no help,, then the first cashier I asked came out in the ailses and said they sent every one home at 7pm 1/26/2019, and to me, not in a nice way, by this time two other customers were waiting to get keys also. I waiting 20 min. and ask to speak to a manager, the front desk lady called 3 or 4 times and she said they would not call back,, this lady was very nice in her help, the store was not very crowed at all,, so I see no reason not to have gotten any help, and why would all help be sent home home on a Saturday night, at seven when they close at I think 9pm. im a very un happy customer,,,

joseph p Zanotto
from Leechburg, PA
Purchased Delta faucet on line. item was at my store. When I picked it up the box was not secured in anyway & appeared to have been opened. When I got home everything in the box was in disarray..& item was in pieces. I attempted to use it but a part was missing. So I drove another 30 miles round trip & secured another one which I opened at the store to find that it was packed perfectly & in one piece. There where at least 3 on their shelf, SO WHY WOULD LOWES GIVE AN ITEM IN THIS CONDITION & NOT ONE THAT WAS UNOPENED.. Apparently you have a thief in the store or someone stupid enough to give out an opened box that was already paid for that was opened. 60 miles & wasted time on the job. NOT GOOD BUSINESS . As far as I'm concerned lowes owes me a $50 gift certificate. My purchase today was at HOME DEPOT This the 2nd time I got screwed by lowes. Last time I had to drive to rt 8 lowes to pick up flooring that was suppose to be delivered, & still was charged for shipping.which was delayed like the the rest of my second order. lowes, pitts. mills

Rosemarie Hebert
from Andrews, NC
In May of 2018 I sat and spoke to Heather Largent at the Murphy NC store about a remodeling job for my new home. I wanted the kitchen, lower bath and master bath remodeled. The total came to $30720.79 which I had to pay ALL upfront before the job would start. I was told it would be approximately 6-8 weeks before starting the work. Also when they start the job no one will leave until it is finished and done to the homeowners approval. Since it was Lowe's I trusted them so I agreed to the job expecting it to be started in 6-8 weeks and completed in 4-6 weeks. We are now into 2019 and my job is still not finished and still no end insight. When I call to talk to either Samatha Brown or Heather Largent the date keeps getting moved and of course it's always someone else's fault. The workmen have actually walk off my job and took the tools to go and start a new job while in the middle of mine that wasn't even close to being completed. Since I am limited in how many words I can type for this complaint I'm not able to go into all the horrible details of what I've been going thru with your company. I will never step foot into your store again I HATE your company and I will drive the 20 minutes to go to Home Depo. I want financial compensation for all I've gone through with your incompetent company. Please feel free to send me an email with a phone number and I will contact you with ALL the details of what I am still going thru. I would like for this email to go to your CEO Mr. Robert A. Niblock or whomever is now your CEO. Thank You, Rosemarie Hebert

John
from West Palm Beach, FL
Went to pick up a kobalt stool. It said it was on isle 59 at the store. There was no isle 59 at the stoor. I looked around unable to find it. Went to customer service. The 2 employees were dicussing what time they get off and talking on their cell phones. Finally they told me it was on isle 17. It was not. No one in the store seemed too urgent about anything. I finally ask if someone could locate this product. The called for mgmt. In total I was at this store an hour to pick up one item. Everyone I spoke to seemed bothered by me trying to locate an item. I never saw employees seem less interested or slow in my life. This may explain why the parking lot was empty at 2:00 in the afternoon. I will never shop here again. Get some mgmt and employees who care. Horrible experience. This was in West palm beach, Fl., on okeechobee blvd.

Rebecca King
from Johnson City, TN
Purchased a extended 5 year protection plan for a dishwasher we bought at Lowes. When we bought this protection plan we were told everything is covered. The tines on the racks are coming thru the plastic covers and scratching my dishes. After reading the protection plan it says normal wear and tear are covered, but when I called the service dept. they now say, we don't cover the racks. What part of "we cover everything" don't I understand? As far as I'm concerned, this is a total rip-off! In the future I will not buy anything from Lowe's again and will express my dissatisfaction to anyone who asks! What I waste of money! It probably cost the same amount to replace the racks, should have said no to the extended plan.

James Fletcher
from Honolulu, HI
On December 21, 2018, I placed an on-line order for a Modular Outdoor Kitchen Center, model 463246418. We have been looking at the local store display model listed for $1199.00 for several months where the store representative informed me the item would have to be ordered as there were none in their store inventory. My wife finally decided to purchase a unit as a Christmas gift for me making an the on-line purchase. We were happy to discover the modular was priced at $899.99 on-line so we made the purchased with delivery.
I subsequently received an email stating the delivery would be on Friday, January 18, 2019, between 0800 am - 0800 pm. On Monday, January 14, 2019, I called the Kahului Store where a representative confirmed the item was in stock and delivery to my residence would be on Friday, the 18th. I made myself available on the 18th for the entire day, actually performing outdoor chores at my home as so not to miss the delivery. At about 1 pm there was no delivery so I checked my phone and found I had missed two calls. Both calls had no voice messages I called the number and left a message as no one answered. I then called the Kahului Store where a representative said the delivery was scheduled for the afternoon run, the second delivery for the day. I requested to speak to a manager and was connected to a female supervisor, Unfortunately i did not get her name. She said that due to the size of the item, a flat bed would have to be used to deliver the kitchen modular. The morning run delivery personnel were not back yet after the morning deliveries. I informed the supervisor it would be better customer relations if they could inform their customers about these delivery schedules so their customer wouldn't waste their entire day just waiting around. The supervisor said they are not sure about the deliveries until the morning they arrive for work. I find this highly unusual as deliveries are normally scheduled days in advance and not just that day. The supervisor also mentioned the delivery personnel will call within a 2 hour window of the delivery. Being it was about 1:30 pm. I asked the supervisor I could expect the delivery until sometime after 3 pm which she confirmed. I even joked with my wife that the store would probably make us the last run of the day because I complained.
I waited, and waited, and waited - 4 pm, 5 pm, 6 pm, and still no delivery. I also remembered the confirmation delivery email said the hours of delivery was between 8 am - 8 pm. Now it was about 7 pm and getting dark so I called the store and spoke to a supervisor. A male named Kevin said their delivery personnel had called me twice during the morning with no response. The delivery people also drove to my residence and left a note on my door. I told Kevin that I didn't receive any calls from them as there were no messages. I further told Kevin I called the store in the afternoon where a manager said my item would be delivered in the afternoon. I also told him I was home all day where no one came by. My driveway is enclosed by a metal gate with a security camera along with my dog. There was nothing showing a delivery truck stopping at my home recorded on my video camera. My dog wasn't alerted, and no one could have entered my property walking up to my front door and leaving a note. Kevin said he could not do anything to help my situation and the modular kitchen would be deliver next Wednesday, January 23, 2019. I told Kevin that was unacceptable and his explanation made no sense. He said his records show delivery was attempted in the morning but when I called the store at 1:30 pm, another supervisor said it would be delivered in the afternoon second run which never happened.
Frustrated as I was, I drove to the Kahului Store on Saturday morning, January 19, 2019, and picked up the Kitchen modular myself. I have always heard horror stories about our local Lowes Store and now I believe them. I will not shop at the Lowes store here unless they are my last resort. Please respond to me with your findings because I truly felt I was not provided the decent customer service. Even though I was able to take advantage of the on-line price I don't feel that should have made any difference in the service I received. I also see the price for the same unit is now $1399.00.

Brenda Bellamy
from Atlanta, GA
I purchased a Samsung dishwasher on December 26, 2018 from the Lowe's Kingsport TN Store #2773. I paid to have it installed and was told the
installer would call me to set up an installation date. The appliance was in stock and things should have gone smoothly but they did not. The
installer called me and set up a date of January 9, 2019, two weeks from the purchase date. On January 9 the installer came and brought the
dishwasher, installed it and found it to be defective. The water would not pump out properly. He immediately called the store and they told him they
had three in stock and would hold one for him. Due to the volume of paperwork and the store of policy of not letting him take the defective one out
and replacing it right away he had to leave it. The installer called and set up a date of January 17 (a week later to install the new one). On January
17 the store called and said there was a misunderstanding and the installer came to pick up the new one, there wasn't one. I went to the store and
was told it would be 3 to 5 days before one could be ordered from the Winston-Salem warehouse. After encouraging the salesperson to try to find
one a little closer, he called the Johnson City TN location and they had one they were going to send down. This was on Thursday and today is
Monday and I have heard nothing. I have been washing dishes for two weeks with a new defective dishwasher sitting in my kitchen. The store has no concern for my problem. I hate to complain but this is not good business.

Robert Grandchamp
from New York, NY
In May of 2018 we purchased an HVAC system thru Lowes, they contracted with Willard Heating and Air in Dallas, TX. We have been having issues with the system since installation. Now on the coldest day of the year its not working. Called service, they want to charge 189.00 to come out. It's not even a year old yet. Willard is terrible and its a shame that Lowes is associated with them. We are now sitting and waiting for someone to come out. So much for spending 15000.00 dollars thinking we would get good service going thru Lowes.

Larry Ridenour
from Kent, OH
I am almost 70 years old and I have a pace maker with a defibrillator and I shop at this location all the time. I went in this morning to buy ten 40 lb bags of pellets and approached an employee named Jeremy, who was talking on his cell phone which sounded like a personal call who wouldn't help me. Another associate (female, texting on her phone) didn't want to help me either. Said she didn't know where they were . I got upset and told both of them I wanted them to load them for me. They both copped an attitude and just threw the bags in my truck and walked off. Where I work, no cell phones are allowed during working hours. The two were extremely rude toward me and as a customer, this is completely not acceptable!

Jane Wree
from Lakeland, FL
They lied to me and told me no pesticides were used on the milkweed. They said they looked so good as they just got them in that day. All 20 of my monarch caterpillars died after crawling on those plants. They fell off into the dirt in the pot. I'm livid!!!!!

Stephen Doar
from Columbia, SC
Sorry but its not a complaint. I want to thank Lowes for saving me 1500$ on custom sliding glass door. We had three subcontract quotes at almost twice the amount we spent having Lowes measure , order and install a 8' sliding glass door. I would give 5 stars but the stores these days have skeleton crews working the stores and I walked out three times waiting for someone to help at the door section of the store. Still it was worth it in the long run. TY again.

Charles & Debbie Patton
from Morganton, NC
To Whom Ever,
The refrigerator had an extended warranty purchased when we bought it in Nov. 2014. The refrigerator was delivered on Dec. 3, 2014. The Model no. is: WRB322DMBB00 & the serial no. is: K44014440. We noticed that the refrigerator section wasn't cooling on Jan.7, 2019. My wife contacted our local Lowe's Home Improvement of Morganton, N.C. about it not working. They first said that they couldn't find the purchase record and that they didn't have a repair man to fix appliances. My wife called the next day (Jan. 8) and ask for the Appliance Dept. and they couldn't find the record either of the purchase, but gave her the 1-800 number to Service Center. They then contacted a local appliance repair service center. The service center DID find where we had purchased the refrigerator and the extended warranty. We have had to put all our refrigerator items in ice coolers and keep ice changed periodically so our food wouldn't go bad. It has been a week since the refrigerator stopped working. A service technician came today, but he told my wife that it would be another 24 to 48 hours before he would get an approval to proceed with the repairs. Mean while, we're still having to keep ice on what food we have that hasn't gone to the bad. I just wonder if you (reading this) would be pleased with the slow response to fix your refrigerator should yours stop working and under warranty.
I have purchased all kinds of building materials, tools, all kinds of appliances, yard & garden materials, etc. My wife & I are very disappointed in how slow it has been to get anything done on this refrigerator. It is very disheartening when it seems that NO ONE CARES about getting this fixed Quickly. To me this is like having your heat to go out in the dead of winter and you're left setting in the cold. Here again, you can't go to the grocery store to buy the food you would really like to eat because you don't really have a good way to keep it. My wife & I are seriously considering looking else where to buying all items we need for home improvements or other appliances, etc. in the future. We will also be letting others we know about how slow you are to get appliances fixed under your warranties and taking care of your customers.
Disgruntled Customers,
Charles & Debbie Patton
Jan. 14, 2019

Ronald Santillana
from Modesto, CA
Regarding your manager that was very rude on handling returning merchandise and purchasing an additional merchandise to repair our leaking roof. First of all I am handicapped and in need of assistance to purchase merchandise. On January 11th I purchased two 5 gallon wet and patch roof seal and have my wife return one of the gallons on January 13th. In exchange they gave her a Lowe's credit card to use for future purposes. I went to Lancaster on January 14th to purchase more merchandise. The cashier, Mica, and the manager, Camille, would not help me use the Lowe's credit card unless my wife was here in Lancaster. Being handicapped I ask the assistant manager, Camille, to help me and I had my wife on FaceTime and my wife also sent a picture of her ID. I told the manager to talk to my wife, but she wouldn't do it. The manager told me that my wife has to be there in person. I think that isn't fair considering I have bought many merchandise from Lowe's. I shop at Lowe's for many many years and this is the worst I've been treated by your manager Camille. I asked the manager for her name and she covered her name tag and yelled at me when she was telling me her name. I am worried and I would love to continue shopping at Lowe's but this unfair experience left me to reconsider shop somewhere else. Please call or text me regarding this incident. 6618109231

lawrence egan
from Cape Coral, FL
upon purchasing 10.00+ order and requesting 10% discount,being 30% disabled veteran with va card with picture and service connected disability verification was denied a $1.00 discount because my telephone# was not correct, that I have had for thirty years. why with i.d. card in hand must I need to give further information to gain your offer of 10% off, offer. home depot asks no questions upon viewing i.d. this is not the first occurrence this happened. no longer will I shop lowes and I will close my credit account with your company. $1.00 really?

David Baldrey
from Gallatin, TN
I needed to purchase hardy board screws at my local Loews store in Gallatin Tn. First, I decided to check the hardware dept. for about 10 minutes with no luck. I looked around and there were no Loews employees to ask. I then decided to check in the area of the hardy board. Not knowing where the hardy board was located I wandered around some more. Still nobody to ask. I managed to stop a young man employee who walking by and he told me where they were. I needed to purchase a few more things, so then I walked around some more until i eventually stumbled upon what I needed. It seems big box home improvement just hate to hire employees.

Methuselah Shama
from Vienna, WV
To whom this may concern;
Re; Methuselah M Shama and Grace M Shama
Concerning Violations of our Civil Rights;
We the above named couple are coming back to you on the erroneous and false reporting of our credit rating.
To begin with about 10-12 years ago we had a Lowes credit card and were trying to trim our budget for retirement so we turned in the credit card. Last month or so we noticed a couple of leaks in our roof and so we called Lowes and a salesman came out and gave us a bid of a little over $17,000.00 to have our roof fixed. So naturally I went to the store I had already bought several thousand dollars' worth of stuff over the years to get a credit card to help with my repairs. Both I and my wife signed up for one and it was turned down in a matter of minutes and now here a week or so later we finally get a response why.
Now I only see 2 reasons why this would be as follows;
1. The first is because I am a veteran and I receive 80 % disability for the same and Lowes has put me as a risk of paying back my debt and in the process has lied and assaulted our character.
2. The second is, A few months back we applied for an Amazon card and received one in the mail. The only thing I bought was a hard drive because I didn't need anything else at the time. But on the first months bill there was a charge for something else. So we called Amazon and they took it off. The very next bill we got and that same charge was on it again. So I decided not to go through that every month so I cancelled the credit card which was issued with Synchrony Bank. They did not want us to get rid of the card and tried to get us to keep it but then I have bought from Amazon for over 15 years so kept the Amazon account but opted to continue as a pay as you go person and it has worked well.
However about a year ago I bought a newer car in Columbus Ohio and it was financed with Huntington Bank who said my credit score was well over 700 at the time. Just last month I talked to my banker here in WV and he offered to give me a better rate than Huntington was giving me on my car and I got a rate of 4% which was 2% less and several hundred dollars over the life of the loan.
Then last week or so I bought another used car in Marietta Ohio and my banker financed it for the same rate and I have a copy where this same Experian says my credit score dated on 12-21-18 is 757. Also on that same date TransUnion and Equifax reported close or similar scores.
But I get this letter where I have applied at Lowes and they say this same Experian is saying my score is 445. I'll send you a copy that I will present at our time in court if you wish so now then let me know.
But to beat all that right after we got that turn down from Lowes we went into Parkersburg WV to the Home Depot there and applied for their card and was immediately approved.
What you have done at Lowes is unlawful and illegal and if I don't receive a response from Lowes to these allegations legal action will follow.
I am a disabled American veteran and was happy to go and do my part. I am now 74 years old and have been a Pastor of a church for over 10 years and a member of the DAV.
What you are doing defrauding me as you are will not go unnoticed in this world.
Maybe you can shed some light to the judge and jury on how our scores dropped that much in that length of time without you using some sort of misaligned prejudices.
I respectfully submit this letter before I file legal action to give you time to repent of your evil ways. I will wait for 10 days before I file legal action for you to respond.
The book of Job says it like this:
Job 38: 1 Then the LORD answered Job out of the whirlwind, and said,
2 Who is this that darkeneth counsel by words without knowledge?
3 Gird up now thy loins like a man; for I will demand of thee, and answer thou me.
Methuselah Martus Shama

Keitha VanBlaricum
from Carmel, IN
I bought a new refrigerator 2 weeks ago, and told them exactly the delivery instructions. I planned the date on a Friday when my son would be available, but he was not home when they called. He lives in a house, I live in a mobile home 200 ft from the house. EXACT INSTRUCTIONS! ... when I talked with them upon purchase, and when they called my son.... go straight on the lane to the trailer/deck in the back... unload the refrigerator and take in the back door and set in the kitchen... my son would then place it. THEY DELIVERED THE REFRIGERATOR, LEFT IT ON MY SON'S DECK... OUT IN THE SNOW!... UNATTENDED!.... my son found it several hours later when he got home. He/family moved it to the garage, and I called Lowes the next morning to tell them NO! .. this is unacceptable and will not accept this appliance, to bring me a new one.
What kind of delivery person would do this?.... completely unacceptable. The appliances cost enough, and then would be awful to accept one left in the elements due to negligence. This was at Vincennes IN. They shoud be reprimanded or at the very least, given instructions on how to correctly give customer service!

Roy Covey
from Silverdale, WA
We contracted with Lowe's in Silverdale WA for a complete kitchen remodel. Part of the job is to remove two existing walls to open the space. We informed the Lowe's rep one wall was load bearing. No problem, we will install one or two posts to bear the weight he said. We were told there may be additional costs due to unforseen circumstances. There is a structure problem that needs corrected and we are "now" being told Lowe's will not fix it. We came to Lowe's because we trusted your name. As an Navy Veteran your word is your bond and at this point I don't think much of Lowe's word. Our project has started and now is on hold with no usable kitchen. Going to find the store manager today. We are requesting Lowe's corporate to assist in this project completion. Roy Covey 360.620.0547

Joe Plata
from Brownsville, TX
Ordered windows at lowes manufacturer is Pella, since the first wk. of December. The delivery date was changed 3 times, and finally delivered to your lowes store January 08th. Spoke with all levels of management during this incident.
After crossing this hurdle, Mr. Lucio, a contractor for lowes, was suppose to contact us, to arrange an installation date. "Freddy", in charge of installations for lowes called him numerous times, and finally made contact, informing Freddy that he would call us that same day, Tuesday, which was yesterday. Mr. Lucio, the contractor never made that call to us. I am getting very frustrated at this lack of professionalism, and want some accountability. I made 2 payments when waiting for the merchandise on my lowes card, and am making payments for this contractor to do his job. I am giving lowes one wk., to sort this out before I ask for a full refund. I feel this transaction is being carried out in bad faith.
My name, Joe Plata
jooopoo@yahoo.com
Tel# 9562039153

Joe Roger
from New York, NY
Would give 0 stars if it let me. After making an order online I did the survey. Before the survey I used to never get any soliciting. Since the survey I have gotten 14 phone calls from solicitors.
It's against the law to sell people's data. Ask Mark Zuckerberg! What your doing is illegal and you should be ashamed of yourselves.
After this I'm only shopping at Home Depot and Walmart. I will be following up to make sure your not leaking anybody else's information as well. I would attach the photo of my phone logs to show you but afraid you will leak my info. I am putting the word out on Twitter and other social media bc this is a big deal.

George Warren
from New Port Richey, FL
I went online to make sure the wrenches I wanted were available. I found the for $59.99 at the Port Richey Fl. store, but they were out. The chat service said I could order them for home delivery. I also noticed that the Tarpon Springs Fl. store had them but they were list at $89.99. I told the Lowe's chat person that I needed them for a job the next day, I really needed to go to a store and get them so I would have them in time. I asked if I could print out the add he and I were looking at and take it to the Tarpon store and get the $59.99 price. He said "Sure, we have a low price match guarantee. You will get the same price." I have been shopping at it was old.for many years. There was no reason to not believe him. So I drove to the Tarpon store with the print out of the ad and was told, no the add was old and the would not approve the lower price. I relayed all the info to them above and she still said no, it was old they could not honor it. WOW !! Today, I will go elsewhere and purchase the tolls I need for today. As I said, I have shopped here a long time. This could well be it for me and Lowes.

Paula Whittington
from Upper Marlboro, MD
Install a new roof, siding and kitchen. Roof continues to leak. Never stopped. Taking forever to get this attended to. Took gutters off the house and a the downspouts. This flooded the basement and cannot get any attention to this matter. The new roof has been leaking since the install and a mess is in the yard on the roof and nails all around. Need the leak repaired, the basement repaired and the mess cleaned up
Contractor refuses to address the issue. Calls it condensation. A buck full of condensation.
Paula Whittington 1 313-5802470

Waldemar Berlinski
from Lockport, IL
I wanted to file a complaint for service in one of Lowes stores ( Arlington Hts IL.)
On October 27, I bought the range online on your website..
I was waiting so long for this range.
Finally (19 of December) I received my order # 358261735.
This gas range should have self cleaning oven and there is no feature like that.
I sent an email ( several) to the local store asking how we will solve this problem. I proposed that if they have a different model - no important brand, if it was black and had a self cleaning oven, then they can just exchange - of course for the same price for which I bought.
I had a big problem communicating with the local store.
With the help of Lowe's Customer Care finally, today (09 January), they took the stove to the store. They should take it yesterday, I waited for them all day, but they failed to get there because they were going to wrong addresses. When they finally came ,they
were rude and aggressive.
I am still expecting reimbursement for everything that has happened.
If you like to hear a conversation, I can send you recordings all the time when your employees know that the conversation has been recorded.
If they were working for me, I would immediately fired them.
Now I know why I'm not shopping in your store and this will not continue with the service like this.

mr summers
from Augusta, GA
WE wanted storm doors for are house we went to Lowes. we payed 300.00 per door they charger me 450 per door to install them they are not even square the rub as they close We have called Lowes a number of times but no one have came out to fix's them

Walter Rice for Mother Thelma Rice
from Birmingham, AL
Went to Lowe's Fultondale back in mid October. After 4 visits I was able to purchase a garage door on sale (sales ended on 10/31)Dove Overhead Doors came out on 11/06/18, measured the door. Said it would take 3 weeks. Start calling 4th week. Kept getting the run around. One excuse after the other. It is now 2 months later, No door as of Janurary/08/2019, was told last week "installer will call on Jan. 7th with door ready to be installed" not true!!! Was told today by Lowe's install team "door was order yesterday, will have in warehouse on Jan. 17.2019 but will not know the install date".
Are all your customer treated this way. My order # is 84020320. I have neighbors who I know have used Lowe's as their home improvement source. I will confer with them to see did they get this kind of service for installations here in this revitalizing Norwood and North Birmingham area. I will not think twice in the future because of this experience.

Gloria Farre
from Cape Coral, FL
We purchased a refrigerator at Lowes on NE Pine Island Road location on 11/19/18 for $699.00 and as part of the promotion for this product it came with a free ice maker. Delivery was set for one week from the date of purchase but they called and cancelled stating that the refrigerator was not available. One week later they called and left me a voicemail letting me know when the refrigerator would be delivered. I tried calling the phone number back but it was not accepting calls. I called the store and advised them that I was out of town and we had to reschedule but they still send out the refrigerator. By the time they actually delivered this item it was almost three weeks later and the ice maker was not included. I went to Lowes and spoke to Casper from that department. I advised him that the delivery person told me the refrigerator was a floor model and he gave me a refund of $56.00. I also told him the ice maker was not included and he promised to look into it and get back to me the next day which he did. Casper told me he called the Sarasota store and had located an ice maker and if I could wait one more week it would be sent out to me. this was more than 2 weeks ago and still no ice maker.
My daughter brought a town house and could not move in until the refrigerator was delivered because she has two small children and this was a critical appliance to have. I know that this store does not have a store manager and am very disappointed that things are not going well. For the past 13 years I have been a faithful customer of Lowe's and have purchased ALL my appliances and when it came time to upgrade the windows in our home did so through Lowes.
I would appreciate someone reaching out to me with a solution to our problem. I work for a major hospital in this same area and clearly understand that customer satisfaction is critical to the survival of every business. As a customer I am definitely not satisfied with the service Lowe's has provided. My experience has been very poor.
Gloria Farre
233 NW 15th street,
Cape Coral , Florida, 33993
Tel: 239 989 2314 - cell

Christopher Peets
from Redding, CA
I purchased a ceiling fan from Lows, cost $120.00, I wanted 60' blades, as the one I have were 44'', I took the origional fan down and installed the new one, only to have it move a couple times and stop. I checked everything and it was not going to work. I had to take it down and drive back to Redding. I live in Anderson. So now I've got a hole with wires hanging from my ceiling, and a couple hours time with checking everything, removing, and install, and now gas and driving time, then having to put together a bunch of blades, then hang the new fan. Lowes gave me my money back, and I went to get a replacement fan. No more fans like it. There were cheaper ones, but the blades were like the one I originally took down. The only ones that matched, were $19.00 more. I assumed Lowes would give me that fan as a up grade for the same price. Manager said sorry but no. Were standing in check out with a bathroom celling fan, and a light globe we liked for another project. We took our money and left the other items with the cashier. Not long ago we bought out stainless side by side form Lowes and our new dish washer as well. To just be told no, was a slap in the face, I assure you, no one from our family will bother stopping there again. sorry this is so long but It's late and I'm still pissed off
Sincerely
Christopher and Britney Peets
effectou812@yahoo.com

KRISTI WOOD
from Germantown, MD
I AM WRITING THIS COMPLAINT DUE TO THE UNACCEPTABLE SITUATION MY 84 YEAR OLD AUNT IN MOBILE, ALABAMA (MRS. MONA PORTER) HAS GONE THROUGH.
ON THE OTHER HAND I LIVE IN ARIZONA AND I AM IN CONTACT WITH HER ON A REGULAR BASIS. HER WATER HEATER QUIT WORKNG BEFORE CHRISTMAS. SHE WENT TO YOUR MOBILE, ALABAMA STORE TO BEGIN THE PROCESS THAT LOWES HAS IN PLACE; WHICH I FIND TOTALLY UNACCEPTABLE. HAVING A CONTRACTOR COME OUT TO MEASURE THE HEATER, THEN GO BACK TO LOWES AND GIVE THEM THE WORKSHEET THAT THE CONTRACTED PLUMBER GAVE TO HER. PAY LOWES AND THEN SIT AND WAIT AGAIN. WHEN THE MAN CAME THIS PAST SATURDAY AND INSTALLED IT HE NEVER WAITED TO SEE IF IT WAS BEGINNNG TO WORK. HE LEFT SAYING THAT SHE SHOULD HAVE HOT WATER IN ABOUT 3 HOURS. WELL THAT DIDN'T HAPPEN. IT DIDN'T WORK.IT NEVER GOT HOT.
SHE WANT BACK TO LOWES THIS PAST WEEKEND AND WAS TOLD THAT THERE WERE NO MANAGEMENT IN THE STORE ON WEEKENDS. SO SHE WENT HOME AND CALLED YOUR CORPORATE OFFICE AND SPOKE WITH A LADY NAMED MERCEDES. SHE STATED THAT A REPAIR MAN WOULD BE AT HER HOME TODAY BY 11:00 AM. HE CAME AND SAID IT WASN'T THE HEATER THAT IT WAS AN ELECTRICAL ISSUE; HE THAT HE ISN'T AN ELECTRICIAN AND LEFT.
KEEP IN MIND THIS UNACCEPTABLE RUN AROUND IS BEING DONE TO AN 84 YEAR OLD WOMAN HAS BEEN WITHOUT HOT WATER GOING ON THREE (3) WEEKS.
POINT-IN-CASE HAD THE FIRST PLUMBER THAT CAME OUT HAD WAITED TO MAKE SURE THE HEATER WAS WORKING ALL OF THE CONFUSION AND FRUSTRATION SHE HAS BEEN THROUGH COULD HAVE BEEN AVOIDED. TODAY SHE CALLED YOUR CORPORATE OFFICE AND SPOKE WITH MERCEDES AND SHE SAID IF THE WATER HEATER THAT WAS EXCHANGED OUT THIS PAST SATURDAY HADN'T BEEN DESTROYED THEY COULD HAVE COME AND EXCHANGE IT AND PUT THE OLD ONE BACK IN AND TAKE THE ONE THAT WAS INSTALLED. BUT NO, THIS IS JUST MONDAY AND SHE WAS TOLD THAT THE WATER HEATER THAT WAS REMOVED THIS PAST SATURDAY HAD BEEN DESTROYED. WHICH WE DON'T BELIEVE.
SO NEARLY $800.00 LATER SHE SITS ALONE WITH NOT HOT WATER...
WHEN MY AUNT TOLD ME THAT SHE HAD CONTACTED LOWES TO START THE PROCESS I TOLD HER I HOPE THEIR SERVICE IS BETTER THEN THE LOWES IN BULLHEAD, AZ. THIS PAST SUMMER MY HUSBAND OPENED AN $8000.00 LOWES CREDIT CARD.THE FIRST TIME HE WENT TO USE IT HE COULD NOT GET ANYONE TO HELP HIM. HE RETURNED HOME AND CANCALLED THE CARD. WE ACTUALLY GO BY LOWES TO HOME DEPOT NOW WHEN WE ARE IN NEED OF MATERIALS. WE WILL NEVER SHOP LOWES AGAIN. THIS IS AFTER PRIOR YEARS OF HAVNG PURCHASED FOR (4) MAJOR APPLIANCES FROM LOWES: STOVE, MIRCOWAVE, DISHWASHER AND REFRIGERATOR. OH YES, AND TWO WATER HEATERS THAT MY HUSBAND INSTALLED...
SO I'M NOT SURPRISED! MY HOPE WAS THAT SHE WOULD HAVE RECIEVED SUPERIOR CUSTOMER SERVICE. WHAT SHE RECEIVED WAS A TOTAL DISREGARD FOR HER SITUATION. A TOTAL DISREGARD FOR THIS SWEET 84 YEAR OLD WOMAN...
SO LOWES HAS MADE A NAME FOR THEMSELVES. IT IS ONE OF NO CUSTOMER SERVICE. IT IS ONE OF MAKING A "BUCK" AND TO HELL WITH THE CUSTOMER...
IT SEEMS THAT LOWES OWES MRS. PORTER SOME TYPE OF CONSIDRATION GIVEN THIS TOTALLY UNACCEPTABLE SITUATION.
I/WE APPRECIATE YOUR REVIEW AND REPLY TO THE EVENT THAT LEAD UP TO THIS MESSAGE...

Garry Dickey
from Germantown, MD
I have a kobalt 80volt chainsaw with a 5 year warranty that had a broken washer on the chain sprocket and called kobalt about it and was told since that part was not listed anymore to take it back to Lowes for a replacement. We drove the 30 miles one way to lowes and of course took everything that came with it and was told they would not replace it because it was bought a little over 2 years ago but has a five year warranty and we were told by Kobalt to return it for a replacement then why would they not just replace it. The manager sent word to the return desk he or she would be glad to sell us another one. Is it your policy to not stand behind a products warranty? Or was it just that the store did not want to deal with it. Please respond to this email so I can decide weather to voice my opinion of Lowes on social media. I have been a good customer for many years and loyal to Lowes over home depot but if I hear nothing from this I may have to start doing business with Home Depot. Below is my name and address.
Garry Dickey
197 Bingham Rd
Madisonville Tn. 37354
ps the store was Athens, Tn. 37303

Carol A Busche
from Olympia, WA
I was unable to bring back Christmas lights that did not work until a few days after Christmas. This would have been the 3rd time I had to take lights back as they would not work after a few days. I was told that they couldn't take them back after the 25th of Dec. I could not believe that. The clerk said that there was a sign up. I never saw any sign stating that and that is not what the receipt says. The clerk was very nice about it as it was not her fault. That is a ridiculous policy. It was not my fault the lights didn't work. I had only had them 2 weeks total and they didn't work before that time. I will no longer shop at Lowe's even though it's right down the street unless an emergency. I can certainly see why they are closing stores if this is the type of policy they have.
Unhappy customer

david l tipton
from Morehead City, NC
Dave <ncdave28570@yahoo.com>
To:investorrelations@Lowes.com
Jan 4 at 10:20 AM
UPDATE : TODAY is Sunday Jan 6, 2019'
Orig. delivery date was Dec. 27th, 2018' , we were given three dates for delivery. I have zero toleration for missed delivery appointment times, and yes I have been a customer for well over 30 years at your establishment and you can bet i'm giving your place lots of P.R., At this point i would normally tell you to remove my Lowes account, but surely the other lowes, other than Morehead Lowes could not be as bad. The present order is just $700 plus. If this store #0622 Morehead city manager was on my staff he would be on the express road out of the organization , to who ever could tolerate this individual, it might sound harsh, but just think, we have three days of waiting for your misdeeds, time we will never recover in life, hope you fare better than what i have in mind.
To Lowe's Companies Inc. Dec 30 at 5:52 PM
Hello :
Hi David Tipton here, and yes this is not a congratulations letter, On 12/22 Sat. we placed our wood delivery order, and was told it would be delivered on Thur 12/27,
On Thur after waiting all day, No delivery, no incoming phone call from Lowes , wife called and was told they were running late , will deliver on Friday 12/28,
On Friday 12/28 , waiting again, No delivery and No incoming call from Lowes, wife called
On Saturday 12/29 waiting all day again, Nothing at all
On Sunday , Nothing, and it is now dark out. Let me ask You , do you think there is a management problem at this store #0619, Morehead City, NC.
It appears I have had my time wasted from 12/27/018' to now 1/7/019'.
Just for info sake, Our building history, has been with Lowe's Corp for over 30 years. Our 3400 s.q. house was built by us, from your Lowe's contractor dept. in Jacksonville. In the 90's, re up-graded in 016' & 017' and yes we are talking many thousands , yes, you can pull up our history from the 80's to present . Also to add to this enlightening story, we had a friend fly into town, to help me re-build our arbor project this week end,( at present I am 72, and help is a necessity at certain times) and yes, he is now back on the plane to his home. I do not enjoy writing this letter,, but I felt it was necessary to notify anyone in Top management, to stop this from happening to someone else. At present, it is time to end our customer delivery relationship, (forever) , (when ever) this last wood load arrives, except, for store carry out we can make do with Guy C Lee Lumber maybe we will meet new delivery friends that can be counted on to deliver when they say they will.
Hope this helps some one, or mgt. or the new CEO's info data base
Thank you for your time (at least you didn't get your time wasted for one week) or more yet to come
David L. Tipton
It has now been over a week , Jan. 4th, 2019 (Nothing- , does anyone run this #0619 store)

Diane
from Bridgewater, MA
Hello. My husband and I are currently renovating our kitchen. We are loyal Lowes customers and have recently spent over $4000.00 there. On the bottom of one of our receipts was a spend $50 get $10 off coupon. So on one of our frequent trips there we decided to redeem it. At first it would not go through even though we were spending over $300.00. So the cashier had someone over ride it and she said we were all set. Once outside I checked my receipt and the $10 had not come off. My husband was upset so went back in and the same woman who overrode it in the first place said "oh yea, that won't work because you used your Lowes charge card. First, why weren't we told this at the beginning of the transaction and second, the store would actually try to discourage people from using their card? We easily could have used another card. This makes no sense to us. Just had to let you know we were disappointed and frustated. Thank you. Diane Parris

Karen O'Connor
from Germantown, MD
After just last month paying off a $16,000
Promotional within the 18 month period for flooring and other items , I went to my Lowe's in Kingston NY to buy shelving and a floor covering pad etc.
when I was checking out I noticed the price of the rug/pad the cashier rang up was different than the price shown where the item was on the shelf . I mentioned it to her and her response was that "I need to go back and take a picture of the price
And come back and show it to her" ???
Really??? Me the customer needs to do this?? Meantime I have this huge cart with a heavy shelf unit on it. What is happening to customer service. ?
And then she hands me the receipt and asked me to fill out a survey??
I have spent over $24,000 . Dollars in Lowe's in the past 18 months on my new home build. I'm questioning myself if I'm ever coming back to this store.
My transaction # 34250232 on 12-19-18

Karen O'Connor
from Germantown, MD
After just last month paying off a $16,000
Promotional within the 18 month period for flooring and other items , I went to my Lowe's in Kingston NY to buy shelving and a floor covering pad etc.
when I was checking out I noticed the price of the rug/pad the cashier rang up was different than the price shown where the item was on the shelf . I mentioned it to her and her response was that "I need to go back and take a picture of the price
And come back and show it to her" ???
Really??? Me the customer needs to do this?? Meantime I have this huge cart with a heavy shelf unit on it. What is happening to customer service. ?
And then she hands me the receipt and asked me to fill out a survey??
I have spent over $24,000 . Dollars in Lowe's in the past 18 months on my new home build. I'm questioning myself if I'm ever coming back to this store.
My transaction # 34250232 on 12-19-18

James W Robinson
from Trenton, NJ
Sought to purchase a ceiling fixture at West Windsor, NJ store on 10/22/2018 at about 5:30 PM. Located one we wanted to purchase and with an installation contract. No one in electrical department or apparently anywhere else in the store. Found an associate finally in another department. He was very polite but said he did not know how to write up a sale with installation. After about 10 minutes he returned with another associate who claimed to know how to do it. She filled out papers and we finally checked out of the store an hour after we entered. We waited about 3 weeks to hear from the electrician. Upon investigation discovered associate had written wrong phone number on order for contractor. He showed up a week or so later, did some measurements, and promised a prompt return. A couple of weeks later 2 supposed electricians showed up and partially installed the fixture. They said the box showed evidence of having been opened and was missing some needed parts. They left the partial installation on a 12 foot ceiling, with parts scattered throughout the house, and took the box which they destroyed. After waiting again, we gave up and returned to the store on 12/14/2018 to seek a refund. The refund person did not want to issue a refund until we furnished the box and all the parts. After debating for 30 minutes, we finally got our refund. I have been a small shareholder in Lowe's for many years and a shopper at other Lowe's stores. I know this is not the way Lowe's wants customers treated!

Dawnelle Weaver
from Germantown, MD
I went to Lowe's in Martinsburg, WV on 12-12-2018 an ordered a pressure tank. I have called when I was told it would be delivered to my home an they knew nothing. I went in an still nobody knew anything an no managers would talk to me. I went back on 12-27-2018 an still nothing. An a customer service lady called for the managers Crystal & Max an both refused to come talk to me. Finally I was told that the manager Crystal said nothing she can do an can't refund me. Well thank goodness their was a very nice older lady that understood an refunded an I still reordered it again. An it was suppose to be there no later than 1-3-2019. I went in on the 2nd an Maggie helped me an really looked for it. Than said it would be in on tomorrow which was the 3rd. I called an nothing again. I called again today 1-4-2019. An I was told might be in on the 7th. I never had such bad service. This has been a really big inconvenience and stressful time. I would be so thankful if I could please get some information an discount for all this. My number 304-261-0431

Went to lowe;s today never in my life have I seen employees so rude and disrespect, every one I ask for help said that is not my department so I ask can you call some one over here that works in this department, as I still wait I said to the cashier is anyone working today, she replied I will try to call some one for you,wellAnd here it was thinking first time in lowe;s as I was still waiting did not still get any help so sad I had to leave and go to home depo.. VERY BAD EXPERINCE.

Joseph Phoebus
from Raleigh, NC
Today I went to the Lowes store located at Orange Park, Florida.
I have a home project to be completed. I went to the contractor counter and greeted your service rep with "Good Morning, Happy New Year" She responded with a similar greeting. I started to asks the location of foundation blocks. She then stop me cold and responded "You need to talk to him" and walked off. saying something under her breath.The individual she pointed to, was named Joe. He had a disappointing look on his face with the handling of my question. Joe did assist me with my question.
After thinking more on the customer service from her. I decided to take my business to Home Depot. I did not look for her name tag, but I am sure I will not use this store or any other location for sometime.
I have been a faithful customer with your organization for many years. If I can give a half star I would.
Very Disappointed Customer.

John Ball
from Palm Bay, FL
I just spent over 5 hours trying to try to purchase a new counter depth 17.5 Cu Ft Samsung Refrigerator from the Cagan Crossings Store in Clermont, Fl. There was no one I was able to contact there who knew what they were doing and could not get anyone, including the operator to answer the phones when I retried to contact them the Appliance Department, I ordered the new Fridge online (because the lady at the store told me I could not order my Fridge by phone), got a confirmation and order number via email. Today the lady from that department called and said she was going to cancel my order because she only had the floor model left and could not sell me that one. the phone call dropped and there was no answer when I tried to call back several times. I then called the Haines City store and was able to contact a Man named Mitch at the Professional Services Dept. He was helpful and went back to the storage area himself to verify that there was one in stock at that store. He called me back and said he had one for me and told me I should call and cancel my order with the other store first before buying that one he had in stock.
I then attempted to contact the Cagan Crossing store again that proved to be another hour of time before. finally reached customer service and a man there cancelled the other order for me,
I I then got hold of Nevile who worked in Mitch's Department, in the Haines City store. and even though he didn't work in the Appliance Dept helped me reorder the Fridge he had in stock and then said he was going back and put a sold and will pick u tag on my new fridge and I could come get bit when I wanted to. He then manually sent me a copy of the invoice to my email confirming the sale. He is a cfedit to you operations. As for the Cagan Crossing store, I will never shop there again, They are ill trained, are destroying your customer relations and obviously too lZY TO EVEN ANSWER THE PHONES! Respectfully, John Ball 804 694-6899

Charles Polarek
from Cicero, IL
Went to the store to buy installation for our house. My wife went and starting talking to a customer service person there named bob in ref. the best to get for between 2x4's. The person was not very nice at all. Very rude and condescending. I can see why Menards next door is doing so well. I wanted to leave but my wife said "lets go thru with the purchase". So we did. This took place on December 29th in the morning.

charles w harvey iv
from Jacksonville, FL
We bought a dishwasher last Dec.. We just found out that's when warranty started,it wasn't delivered until Jan. 2018. The Kitchen aid washer has a problem and Kitchen Aid will not cover unless we can prove deliver date. I called lowes and they couldn't find delivery date in your records.Your system only works to find delivery date by knowing the Date it was delivered. Customer service has to go over day by day with your name to find day. The store in St.Augustine only keeps records for 6 months of delivery. Because of this Kitchen Aid service is $ 98.00 plus parts since I can't prove a deliver date that started Warranty. We have spent a lot money at Lowes , customer service should be much better, that is why we stopped buying at Home Depot. With all the new computer stuff you records should be Better and easier to find answers for a good customer.
Thank You
Charles W Harvey IV

Randall Butler
from Arlington, VA
Loaded cart full of lumber, was told your saw has been broken for some weeks now, I needed few pieces cut to size, left cart in isle went to home depot, their saw works. lowes Sanford nc please fix your saw.

Scott Casuto
from Cincinnati (Central Business District), OH
Bought a refrigerator from store. Item that was delivered has broken pieces in it. Pieces were returned to store for replacement. while at store, we came to realize that we recieved the "floor model" of the unit after paying for a "new" unit. Store verified the erroneous transaction and offered me price reduction. I accepted the reduction, but that does not excuse the fraudulent activity.

Michelle L Randall
from Warren, ME
I had a family member perform a return without a receipt due to my hospitalization. Upon my release I went to use the card the return had been filed on and I was refused to make the purchase of my desire. The clerk tried to explain the policy and I rebutted the effort The issue is the person that did the return is now passed away. I enjoy business with Lowe's > I am sure this is not the only event that someone may experience in reference to this policy.

Thomas Navatier
from Lehighton, PA
On 12/21/2018 I purchased a Samsung Duo range from your Lehighton Pa. store. I cant say enough about your sales woman. She was very helpful. The range was in stock so I took the range with me, no delivery. I asked the sales woman what to do with the old range and she instructed me to leave it in the rear by their trailer where other discarded appliances are. So I went home, installed the new range and then discarded the old range as I was instructed. after unloading the old range I had some dirt on my hands so I washed them off with some bottled water that I had in the truck. Then I heard something, turned around and here comes a woman from your storage area yelling at me telling me that I need to pay for that. I told her I that I purchased a new one and was only doing what I was instructed. She was very rude and had an attitude. Then she accused me of Peeing on her concrete and that they had cameras. Not sure but when she saw me washing my hands she must have thought I was doing something else. I shop there often and no customer deserves to be treated like that. I was so upset that I went back and complained about this woman to the store customer service. I paid a lot for the new range and would have had no problem paying another 25 dollars to discard the old one. This confrontation with this employee has left me very upset and will not shop there again as long as this woman works there. Thomas Navatier

Willie McKoy
from Fayetteville, NC
Ordered appliances in October and they still have not been installed! This has been a nightmare!

Jack Grumet
from Savannah, GA
Purchased carpet at Lowe's,Abercorn st. Savannah, Georgia September 28 2018. Installed on 8 November 20181 of 2 bedrooms did not have enough carpet. I told measuring man that I would pay extra not to have a seam in hallway. On 14 November 2018 installers came with wrong color. 30 November 2018 installed 2nd room of carpet. I asked installer about thresholds and he said he did not have them. Came back on 19 November with dark material when I told meaure Man man I wanted same light color as old ones. Other big problem....carpet cut short by this installer, even though I informed him that I ordered thresholds to be installed. I was told that someone from Keller installers would call to come and check on this! I have corporate offices to no avail. My next step is the consumer help line at a Savannah TV station after Christmas holiday. BTW I lived with the contents of the room in my bathroom, dining room and living room for over 3 week! I have purchased many appliances and fixtures and installations from this location with out a problem. This treatment is shameful

Teresa Goodman
from Atlanta (North Brookhaven), GA
I placed a large order for windows in April 2017 (costing over $21,000.00). I was told the installation would be in June. Over the past 6 months, there have been numerous delays and problems. There are still 5 windows and a sliding door that are not installed. These were scheduled for install on Dec. 21st. I just received a call from Lowes stating that these would not be installed until Jan. 15th. I have scheduled vacations/ and work around this project! This is the worse purchase I have ever made. I have not been offered any type of compensation for this inconvenience- I was billed for the entire project in April- yet Lowes has failed to complete this project within a reasonable time. This is very poor customer service and unacceptable.

Craig Sears
from Walden, NY
My G E dishwasher, purchased about two yrs. ago with a three yr. extended warranty plan, has stopped working. I caledl lowe's for warranty service. They were helpful and set up an appointment with C & E appliance service, out of Conn., about 80 miles away. After waiting about 10 days for the service rep,, he was a no call, no show. C & E appliance service does not answer their phone and thus far has not returned my call, after leaving a message with them. I have since read many reviews on this service company and the reviews are generally horrible. Now the holidays are upon us and our dishwasher will sit idly by, because the company that you contracted with for service repairs is worthless. Therefore my extended warranty, that I paid good money for, must also be worthless!! If C & E appliance service is my only option thru lowes extended service plan, then please refund the fees that I paid on my three appliances / three yr. service plan and I will find a more reputable appliance service co.

Steve and Barbara Carney
from Plainfield, NJ
Having our kitchen remodeled. Have had numerous problems and the biggest issue is NO ONE returns phone calls. Wrong size cabinets were ordered for the island setting the project back 4 weeks. Project was paid in full at the end of May, did not start until September 10th. The back splash was installed incorrectly with the wrong pattern. Contractor was given wrong plans. Still waiting 3 weeks later to have back splash fixed and NO ONE has contacted us. Incorrect spice rack was ordered, still waiting for correct ones to be delivered, 3 weeks later. Still waiting for additional hardware for cabinets, 3 weeks later. We are now over 3 months since the project started and still not finished.
We used the store in Hackettstown, NJ. Lowe's employees assigned to the project NEVER get back to us. Very poor customer service considering the cost of the project plus we purchased all new appliances from Lowe's.

Jack White
from San Mateo (Central San Mateo), CA
I purchased and paid for in full a new Pella garage door at store # 1176 in Decatur AL on the 23rd of October 2018, Project #559933343. I was told there would be a considerable wait and agreed it was necessary. My local Lowe's called me early in December and said my door would be in on the 14th and they would call me on the 17th or 18th to arrange for the installation.I haven't gotten any calls and when I call the store (256-301-0652) I either do not get ANY answer, or my call is diverted to another number that never answers. After a very long wait while the phone just rings and rings. I get cut off and a busy signal ensues.
I would really like to talk to anyone in installation services about scheduling the installation so I can be available when they arrive.
I realize it is the Christmas season and everyone is busy, but can't someone, anyone, at least answer the phone?
Jack White
256-350-8072

Peggy Golden
from Tifton, GA
I moved to Tifton so I could shop locally and our local Lowe's has the worst service in tools. I tried to buy a tool box for my husband. Had to go to the store twice and took 2 hours to find out they could not even find merchandise I wanted. It said they had 3 in computer but no one could find in store. Finally went out of town to get my gift. The employees were terrible.

Doug Brom
from Birmingham, AL
Still waiting on delivery ordered three weeks ago. Store can tell me nothing. No calls, no communication at all.

Gilbert DeLeon
from Dallas, TX
In November 10,2018. We purchase a washer and dryer and two pedestals. The sales lady told us that the delivery would be on November 26. It didn't come in. I called Lowes . The sales lady told that it hadn't came in. She told that the washer and dryer were on back order. Then I got a call from a delivery man, he said they would deliver the washer and dryer on tuesday Dec2. We waited for them and they never came. I called the manager. He gave me the round around. I called the next day. I talk to a manager, he said that he had the appliance there. They deliver them Friday. Now we are still waiting for the two pedestals. I went to Lowes and talk to a manager. He told that the pedestals were on back order.Today is December 16. We still are waiting. We paying for 2 pedestals that we don't have. This my trans# 14886664. We needs answers. When are we supposed to get this pedestals. This is the Lowes Home Center address where we purchased the appliances. 7843IH 35S. Phone#210-334-3150. Thank You
Mr. Gilbert DeLeon

Leticia Lopez
from Denton, TX
On 12/15/2018 I was expecting a delivery for a stove microwave, dishwasher and refrigerator. Delivery was 11 am to 1pm. at 115 pm called Lowes in denton tx asking where my items were. manager said he would call.. I called back 15 minutes later, manager said what they haven't called you (NO) manager- let me call them. 20 minutes later I get a call from driver Zackery he said we are on Coronado, krum. he said will be there soon, I gave the cross streets to my home and stated in denton. well I look up Coronado in Krum. No such street. I spoke to Zackery again and ask where and when are you coming. he stated we are in valley view. I said what.. you said you were on your way to my house. I spoke to another manager from lowes since the previous manager went home. she said that they left a ticket saying they missed me on Coronado street in denton tx. how could that be since I gave them the cross street and they had the address to my house because I told the first manager the delivery address 3001 Weston dr. that ticket was before 1 pm drop off. they later said they were never on coronado st in denton. when I first made the order for the 4- appliances' the seller asked if I wanted the items set up. I asked don't they set them up? he said well for them to set them up you must purchase the hardware. I said ok go for it, throw them in. when the delivery guy brought the items he wanted me to sign off. I asked aren't you going to install the appliances. he said no that it stated I did not want anything installed. again I said "what" by this time I was very mad. not only did the items arrived at around 430 pm (arrival time 11 am to 1pm) the contractor sat there doing nothing for almost 3 hours. they were installing the floors in the house. They lied about not being in denton, saying that they were in krum. (when the, we missed you ticket was in denton Coronado st, I contacted the person that lives there and yes I have pictures of the note and the dings) to not setting up my appliances. To finally dinging the refrigerator 3-times and the stove (corner glass part) I usually have good services with your company but this was the worse and no one was calling me back to talk to me. they can't say they had the old number because I gave the number to the sales person the to the delivery person because Zackery called me back finally. I am so upset that no one talk to each other leaving the customer hanging... Yes I'm very very very upset. but no one called back at all

Donna Novak
from White Marsh, MD
My husband and I were in search of a double wall oven and cooktop for our kitchen. We went to our neighborhood store in Frederick, MD, over the Veterans day weekend promotion. We had to schedule a contractor to come out to do measurements. The contractor came to our home on Tuesday,Nov 20th, 10 days past our store visit. The gentleman advised that as long as the appliances are available they would be installed by Dec 18th, since one of their team members were going on vacation out of the country until the end of January. He also advised that we should hear from Lowes with their costs and recommendations by that Friday. That Lowes would have the info by Friday morning. As.per my experience with this store, we of course heard nothing! Sunday, Nov 25th my husband and I went to the store to inquire as to whether the detail info was received. The salesman popped open his drawer and there it was, no one bothered to notify us. We paid $70 to have this completed and they didn't offer the customer service that we should have received, nor did they apologize for their lack of customer service. At this time, we placed our order for the two appliances. I advised the salesman of the contractor time crunch prior to ordering. As he was inputting the wall oven, he stated that's good. Then he imputed the cooktop and hesitated , turned to us and said, it appears that we won't be able to get this item until Dec 10th. I asked if this would be enough time for the contractor to do the install, it should was his response. So we continued on with the order.
On Dec 9th my husband, happened to be in the store and stopped by the service desk to inquire about the status of our order. The woman at the desk looked up the info and told my husband it was coming in tomorrow Dec 10th as scheduled. Again, no customer service, i called the store on Tuesday the 11th to see the status. I spoke to a very snippy, inpatient salesperson who looked up the info and told me that the items were sitting in their DC and would not arrive until the 18th, no apology offered, just a sarcastic nothing we can do about it. I tried to explain to him that this was ridiculous, he talked over me until I asked him to stop talking and listen to me! I explained that these appliances will not be able to be installed until the end of January or early February due to the contractor going out if town. This was unacceptable since we started this in early November. He stated if the installer can't get to you, its not our fault. I told him had i known how,I would be treated I wouldn't have placed the order with Lowes that I am considering canceling. He said well then cancel!
After thinking about the total lack of customer service I received moonTuesday morrning, on Tuesday evening I called the supervisor and explained my dilemma. He looked into the contractor info and also advised that both appliances were on the truck to be delivered on Thursday. He also told me to check in with him the next night,that he would make a note to himself to update me if there were any changes! Guess what! Haven't heard a word since. I called him the next evening, he was out on break, I left a message for him to return my call. He did not! I spoke to someone else who looked up the info and was told the cooktop was in the store but the wall oven was on the truck for a delivery on Friday,Dec 14th.
Last night I had to call yet again to check the status and spoke to the first person who actually tried to help and was very conscientious about customer service! Her name is Brenda!
I explained my situation to her and my dissatisfaction with the way I was being treated as a customer. She looked into everything and contacted your CPO department as well to see about the install,since obviously the current contractor won't be able to do it in a timely manner. Brenda found out that the wall oven was still sitting in North Carolina stuck because of the recent snowfall and that at the earliest it would arrive on Dec 20th. She also advised that upon speaking with your CPO that I would have to wait for the current contractor to return because they completed the detail and no one else would work with another company's measurements.
Bottom line, I sit here in limbo! This is completely horrible customer service! The time to deliver my order, ridiculous, especially since I was never advised the oven would be a problem! After all the time, it will have taken over two almost three months to have these appliances!
Good customer service would have been the salesperson who probably earned a commission, or even the department supervisor,who promised he would take the time to watch and advise me, call me to give me the info that the wall oven was not expected until Dec 20th! I am the customer and should not have to continue to do the legwork!
The next thing that is upsetting to me is deal to receive the discount for using my Lowes card, I need to pay the charges for these items by December 20th otherwise I will not get the discount and will have to pay interest! So, now I am expected to pay for items, that I do not have, not sure when or if will receive them, or if they are installed correctly or even work properly! Tell me when us the last time you paid for something that you didn't receive or know for sure if you are going to receive!

gerald kruk
from Guntersville, AL
Why should it take 21/2 months to get a new appliance from lowe's and they promise you a delivery date. Then they keep on changing it and saying it is in the warehouse and it will be delivered on a certain date. Then they call and say it's not here yet and we need to change the delivery date. I think they tell you what you want to here and promise you a lot of BS.
The holidays are here and I'm stuck without my frige and alot of lies from Lowe's

Ellen Bouchard
from High Point, NC
My daughter ordered new appliances for us for Christmas. We were told to have every appliance out of kitchen. Thursday, Dec. 6th they were taken out. New appliances tom be delivered Dec. 11th. Daughter was notified that they could not deliver until Dec. 18th. She called and talked to a lady who said she would call her back in 15 minutes......it has been 7 days and that 15 minutes has not come yet...we are having cabinets and counter tops installed and they wanted appliances in before they started! The way it stands now...Lowe's is saying they can not be delivered until the 18th. We have been without oven and cook top stove, dish washer, range hood, will be 14 days and we are two senior citizens...Sandwiches have been a little to much! Is this the way to treat customers especially since everything has been paid for? Poor customer service when the lady said she would call back in 15 minutes! Lowe's were to install appliances when they were delivered....is this going to be a problem too! They have been paid to pick up appliances also! Is this going to be a problem too!

Roger lee Werner
from Louisville, OH
the last three trips to my local lowes store in alliance ohio were very disaspointing

I truly dislike Lowe's for many reasons such as being profiled having my bags checked at the door after I paid for my items been harassed by employees been made fun of my employees for what I was wearing but that's not what I'm complaining about this time. My complaint is that my debit card does not work at any Lowe's anywhere in my state of Colorado but for some reason I have never had another problem anywhere else with the same exact card it's really a nuisance when you're a contractor and you have to either remember to stop by an ATM to draw out cash before going to the store or finding a Home Depot close by. But in all honesty I would much rather go to Home Depot. I never would a Lowes

Audrey Vargas
from Suzhou, JS
Hello Please I would like to let you know in the last two months I have purchased a washer, dryer , and stove for my house in Idaho , and a refrigerator, and stove for my house in San Jose. Stove Order number 361491733. Recently your delivery service made a delivery to my house in San Jose. They were supposed to deliver 12/12 between 2:30 pm and 6:pm, so I made arrangements for my daughter to be at the house, the delivery service called at 11:56 am and told me they were done early and coming over, I informed them that I did not have anyone at the house and they said they would have to come at another time, I called a friend and he said he would come, so I called them back and told them he would be there in 20 minutes. The driver stated he had one drop off and then would come to my house to deliver the stove. Two hours later I called and he said he forgot and his shift was over. My friend left, then he called me back and said my house was on his way back and he would come by. By this time I did not have anyone at the house and he dropped the stove off in my front yard and ruined part of my new lawn. The stove was supposed to be installed and the old one was suppose to be removed which did not happen. They are planning on coming back on Saturday the 15th to pick up the old stove, but I need them to take the new one into the house, unpack it, and install it. This was purchased online from store number 775 Ridder Park Dr, San Jose, CA 95131. Please review and advise.
Mind you I am on business travel in China and had to do this at 3:00 am to 4:00 am my time in china. Not very pleasant. Phone 408-314-1574

Charlie
from Port Angeles, WA
I went to Lowes to look for a Welder for a Christmas present for My Son and found one on the web site that I liked so on the 2 of December I paid almost $1000.00 the Welder and I was told it would be here December the 5th which was Great. I called on the 7 to check on it and was told it wasn't in. BUT they would call the supplier and find out when and get back to me. between then and now I was told there were six calls to Lowes but no return calls to me . Today December the 12 I talked to Carlee in customer care and She called back and said She called and Left a message and would send a follow up Email to them. She Called Back and said Bad News it is out of stock and wont be here until mid February. At least a reply. I called back to see if I could up Grade to a Larger Welder. Lowes doesn't want to help I was given the Phone number to the Company that Makes the Welder and told to call myself and cut Lowes out of the Middle . I used my Lowes Credit card to Purchase the welder and Have made one payment already and by the time the Welder Might get here I'll make two to three more payments on a Christmas Present I can't get. I Hope Home Depot has time for Me Tomorrow . No wonder everyone is shopping on Line and Not in Stores.

Ed Hughes
from Germantown, MD
I purchased a Kobalt 1-1/2 PVC cutter several years ago with a lifetime warranty. I tried to replace it today at Lowes in Marion, OH., where I was told that the tool is no longer available and there was nothing they could do about it. Customer services suggested that I contact Kobalt directly. Tried that but now I find out that Kobalt is not a company, just a brand for Lowes. How can I get this replaced? The PVC cutter number is 361945. I was willing to take another cutter but they could not swap it out? The tip of the blade is broken. If you can send me another blade, I will fix it myself.

Lisa Castanhinha
from Fountain Hill, PA
Zero stars for today. I am extremely upset with the customer service from two associates at the Lowe's Easton, Pa store. I was in the store an hour ago with my adult son to purchase an over the range microwave. Product # 848355. First off they did not have the item. We kindly asked if we could pay for it and pick up in another store. "Ron" the associate who works in appliance was rude and acted like he had no desire to help in any way. He reluctantly called the Phillipsburg store in NJ and was told they had one left. We agreed to pay and pick up in that store but then he told me his computer was "slow", and I had to go up to customer service to do the transaction. Hannah who was also not helpful, acted like she did not know how to do her job nor did she want to. She was able to pull up my temporary credit card, but then said we had to go all the way back to the store to purchase with "Ron" who now had other customers. After a wait, he rolled his eyes at us and started the transaction to purchase, then stopped and said "nope you're going to have to purchase in store" stating that he did not have all my credit information and he could he call the Phillipsburg store to ask them to hold the item. I feel he was discriminating against us because we our of ethnic background and/ or that we are military veterans. His rudeness is unacceptable. He made sure that we were not going to be able to purchase this fairly simple item. I shop at Lowe's often due to the fact that I have recently purchased a home and two of my sons also have purchased a home this year which I have been helping them with items. Both my son and I went to this Lowes over our lunch break and it turned out to be a giant waste of time. More importantly we left the store feeling discriminated against. Is this the type of people Lowe's employees? Sad. I'm embarrassed that I am a " My Lowe's member. Doubt I will be back for a very long time,if ever!

Betty Whitfield
from Washington D.C. (Downtown), DC
Good morning,
Up to now I have been completely satisfied with the customer service and products I have gotten from Lowes however a recent problem has popped up that if not resolved to my satisfaction will create bad will to the point I may never shop at Lowes again.
I contracted with Lowes store #0655 to install full face overlay kitchen and bath cabinets along with quarts counter tops. The sales rep Christopher Huling assured me that since they were measuring for the cabinets they would be responsible for any problems that would arise. There have been several cabinet sizing issues that arose and Lowes has corrected them however one still remains to be resolved. The 36" cabinet above the fridge is going to require a 3 inch spacer which is far too much and will be an eye sore and evidence the cabinets were just thrown on the wall. Conversation with Mr. Huling conveyed this was done because it was a full face overlay. If this is indeed a true statement then I contend Lowes should have ordered and installed a 39" cabinet and installed a spacer of a more reasonable size, perhaps .5 to .75 inches. This would have been easy enough to do since the end of the cabinets do not butt up to a wall. I have requested for the 36" to be replaced with the 39" and the cabinet installer stated there was enough room to install the 39" however the manager at store 0655 has refused my request. In addition Dustin who was assigned to keep me updated on my installation has also refused my request.
I hired Lowes to do the installation for them to assume the responsibility and liability that the cabinets would be installed professionally and correctly however they are stating I would have to purchase the new cabinet at $244.34.
I have spent nearly $19,000 with Lowes in the last 2 years and Lowes has been my primary source for home improvement items. So I can't believe the Lowes manager would be willing to create a dissatisfied customer by refusing to replace a cabinet that only equates to 1.5% of my total spending with Lowes for the last 2 years. I have just recently purchased my house and I have plans that will include new flooring, windows and a patio in addition to other things. I have $2,000 worth of products (range, faucets, sinks etc) to be installed with the new kitchen that I haven't even unpacked yet and I am giving serious consideration to having them returned and purchase replacement/new products elsewhere.
Please understand my issue does not lie with Christopher, Dustin or the cabinet installers and they have been very courteous and pleasant to deal with but solely with the denial of the one cabinet issue that currently is being discussed. And as I stated above, that cabinet replacement represents less than two percent of my total purchases in the last 2 years so I am at a loss as to the reasoning behind the decision.
Please be kind enough to reach out and give me a quick response. Your attention to this matter is greatly appreciated.

I called your store on Chandler Blvd in Chandler to check and see if you had a certain item. I was transferred to the plumbing department and was told to hold. I was on hold for 12 minutes. I hung up because I thought he forgot about me and he did not come back in between. I had to keep checking to see if he hung up on me because there is no hold music or any type of recording letting me know that i was still on the line. I called back a second time and was hung up on before i could finish my sentence, asking for plumbing. I called back again, to ask for plumbing. i was put on hold for 5 minutes, and the phone must have rang again on her end, i asked for plumbing again and was hung up on. I called to speak with the store manager. After holding for 10 minutes, i was told that they did not know where the store manager was as they were not picking up. They asked if they could transfer me to one of the assistant managers. I said yes. The phone rang and one of the regular representatives picked up. I think they transferred me to the wrong desk/department. I asked if he was an assistant manager and he said he would transfer me to one. This is very disappointing and frustrating trying to speak to someone to assist me on an item and being hung up on several times. Extremely poor customer service.

Betty Whitfield
from Washington D.C. (Downtown), DC
Good morning,
Up to now I have been completely satisfied with the customer service and products I have gotten from Lowes however a recent problem has popped up that if not resolved to my satisfaction will create bad will to the point I may never shop at Lowes again.
I contracted with Lowes store #0655 to install full face overlay kitchen and bath cabinets along with quarts counter tops. The sales rep Christopher Huling assured me that since they were measuring for the cabinets they would be responsible for any problems that would arise. There have been several cabinet sizing issues that arose and Lowes has corrected them however one still remains to be resolved. The 36" cabinet above the fridge is going to require a 3 inch spacer which in my opinion is far too much and will be an eye sore and evidence the cabinets were just thrown on the wall. Conversation with Mr. Huling conveyed this was done because it was a full face overlay. If this is indeed a true statement then I contend Lowes should have ordered and installed a 39" cabinet and installed a spacer of a more reasonable size, perhaps .5 to .75 inches. This would have been easy enough to do since the end of the cabinets do not butt up to a wall. I have requested for the 36" to be replaced with the 39" and the cabinet installer stated there was enough room to install the 39" however the manager at store 0655 has refused my request. In addition Dustin who was assigned to keep me updated on my installation has also refused my request.
I hired Lowes to do the installation for them to assume the responsibility and liability that the cabinets would be installed professionally and correctly however they are stating I would have to purchase the new cabinet at $244.34.
I have spent nearly $19,000 with Lowes in the last 2 years and Lowes has been my primary source for home improvement items. So I can't believe the Lowes manager would be willing to create a dissatisfied customer by refusing to replace a cabinet that only equates to 1.5% of my total spending with Lowes for the last 2 years. I have just recently purchased my house and I have plans that will include new flooring, windows and a patio in addition to other things. I have $2,000 worth of products (range, faucets, sinks etc) to be installed with the new kitchen that I haven't even unpacked yet and I am giving serious consideration to having them returned and purchase replacement/new products elsewhere.
Please understand my issue does not lie with Christopher, Dustin or the cabinet installers and they have been very courteous and pleasant to deal with but solely with the denial of the one cabinet issue that currently is being discussed. And as I stated above, that cabinet replacement represents less than two percent of my total purchases in the last 2 years so I am at a loss as to the reasoning behind the decision.
Please be kind enough to reach out and give me a quick response. Your attention to this matter is greatly appreciated.

Gary Holt
from Longview, WA
The lowes store in Longview wa. 98632 is in dire need of training. The employee in pluming did not know nor could he figure out how to order a faucet. The employee at the customer service desk did not know to do it either. My question is why don't they know how, secondly why is it that they hardly ever have anything what you want or need in the store, unstocked items, empty shelves, so why even shop at store anymore, why not just but online, its quick, easy and much less of a headache than shopping at lowes. Employess hang out in groups, if your having problems employees run in the other direction. If you are thinking of shutting down the stoire in longview just go ahead for it does not help me in anything I do or need. and the employees and contractors leave plenty to be desired, note back fence that was installed bad job done by lowes contractor. so I have stopped doing business there at this store in longview wa 98632, on Ocean beach. Just thought you would want to know why people are not shopping there, poor service so just as well to shut it down. I find myself shopping more online cause its easier and less stressful and they have what you need and want without the stress !!!!!!!!!!!!!

Gary Holt
from Longview, WA
I have had nothing but trouble at the Longview wa lowes store, after 2 years I go back into the store shopping for a faucet- Pfister Clairmont Polished chrome 1 handle pull. Model number GT534-cmc, Item number 89238. The guy back in plumbing could not figure out how to bring it up or order it. The guy up at the customer service desk did not know how to order it either, so there is a severe learning and training problem at this store. Second question is are you going to shut this store down for it would be a great place to start cause they do not know how to do much nor do they carry what you want or need. Retail is going down hill fast in this part of the world. Nothing in stock, empty shelves and poor service. Online my friend . buy online who needs a store anyway !!!!!!!

Joel Barkve
from Tallahassee, FL
What a waste of time Lowe's executive resolution team is. Look this up, your contractors can do anything they want up to and including not doing anything right and you Marvin Ellison think it ok. What the heck, we got your money and we are not living with the sloppy conditions we left your kitchen in this year and through the holidays. I bet you we're proud to serve thanksgiving dinner with your family in a kitchen that was fuctional. Who care about the little guy.
You should replace the cabinet, would have been done long before now but you continue to kick down the road now blaming the supplier. Do you not accept any responsibility? No since of urgency? No respect for you customer? Good Grief. I bet you won't be sending a survey on the satisfaction of this project.
Hope you have a Marry Christmas. Speaking of Christmas, WWJD? Oh wait, he was a carpenter and would have done it right to begin with. You are really something else.
Thank you,
Joel Barkve
210-238-9219
On Dec 7, 2018, at 12:09 PM, <Exec.CustService@lowes.com> <Exec.CustService@lowes.com> wrote:
Good morning, Joel.
I wanted to let you know we are still waiting to hear back from the vendor on an ETA for your cabinet skins. I'll keep checking on this and will let you know once I have an ETA. I'll follow up with you no later than Friday, December 14, 2018.
If I can be of further assistance in the meantime, please do not hesitate to call me directly at (866) 284-8989 ext. 6587666. You can also respond to this email execustservice@lowes.com. You may also contact us by mailing your correspondence to Lowe's Companies, Mail Code RSN6, 1605 Curtis Bridge Rd., Wilkesboro, North Carolina 28697.
Thank you,
Christopher
Lowe's Executive Customer Relations

Store 0588. Approached 7-8 associates. Trying to locate an item. All just said go here and pointed. I had several items in my buggy to purchase. Everyplace a went that they told me to go I was unable to find the product. One associate said "it's out front". I was like where? "Idk, but it's there". Stopped at the customer service center. 3 associates setting there. Ask one who told me no it's not out front but in lawn and garden. As I walked away I heard her tell the other ladies. " I pretty sure we don't have that anymore." So sent on a false hunt knowingly. I arrive and item not there. I ask another associate bout the product. He said it's out front somewhere probably by lumber. I make it from one side of the store to the other. I find it. Yayy. I ask a associate if he knows the grade of silica in the product or could he look it up for me. I need a specific kind. Idk how to do that sorry. So I'm upset by this point so I left you store after probably stepping on every square foot of it. Empty handed mind you. I left my buggy full of items as well. I'm very disappointed in the service I received. In this area we live in service is what keeps people coming back. I did drive 45 minutes to Home Depot and purchased my items. I know I'm not a big spender but I have purchased a lot at that store in flooring,Appliances,bathroom fixtures and riding mowers along with miscellaneous stuff. With that service I may just drive the distance to get treated someone.

Hello,
I would like to say my husband and I visit Lowes for our home improvements. This time we are thinking of going elsewhere. We had visited your store Niles Mi for carpet and got a quote. My husband returned to Lowes and guys came to house for measurements. To our surprise the quote was more due to Lowes employee not knowing how the carpet is laid. (coming from the Lowes guys who measured) It was Monday the 13th when the measure crew came to the house. Two days later my husband gets a message to call back for final price for carpet install. Later that afternoon he calls and is told from the same employee who he has been working with that he would have to call him back that he was busy. Now here it is Monday the 20th and we still haven't heard from Lowes. I would have thought service would have been better. I'm not sure the quality of employees Lowes chooses to hire is up to par with other competitors.

This is the worst Lowes that I have ever been in . I went in to buy lumber there was people standing around on the phones at the cash registers while customers was waiting to be checked out the store was nasty not cleaned up materials laying in the floors , I watched one cashier walk outside and use her phone instead of helping check people out . This happen two days in a row so it was not a one time thing . I will not go back to this Lowes I will drive to Spartanburg or Hendersonville just to go to Homedepot from now on if this is what I have to deal with. This is the store in Boiling springs South carolina.

Called corporate office about labor my husband and I did on removal of a fence, before installation of a vinyl fence costing over five thousand dollars. Was hoping to get some kind of re-imbursement of the 650 dollars charged, because we removed half of it. I was told I signed a contract, and pretty much nothing could be done. The corporate office was to get back to me the same day or the day after, but nobody does their job, therefore I have yet to hear from anyone. Doesn't surprise me. They are just hoping I will go away, so I guess you got what you wanted because I will be going away to another place of business for my home improvement needs. I would have thought you would want to make your customers happy so they will come back, but once again I was wrong. Have a nice day!

I PURCHASED a natural gas room heater from LOWE'S over two years ago, took it back right after I purchased it and got a new one. I called the factory but there phones don't answer give you directions to different web. sites. I spent $300.00 on this room heater. It was a 32,000 but heater. I finally got an answer via e-mail told me sounds like thermocouple is bad and they don't have any, factory is out also. Don't know when they will get them in. I know the weather has broke, I would like to get resolved before next year. If there is anything you can do for me I would appreciate it
THANK YOU
TOM MCGIVERN.

We placed an online order for LASKO 22" box fans and when came to pick up, they were the wrong item. Lowes Associate did reorder the LASKO 22" box fans but cost was higher and when they came in, they were again the wrong item. It takes a lot of time and gas for us to go to your Lowes in North Charleston SC, we live 1 hour away. To travel that distance and then be wrong item twice, is not acceptable in any way. I asked to speak with store manager but waited over 30 minutes and was a no show. I left and most probably will not be visiting this store again...EVER. Very poor customer service!!!!

I wrote a check for over ,11k to have a vinyl fence install, your store has cash my check and I still have no fence, all i have gotten is the run around, i have ask LOWES to either assign to another contractor or give me my money back so I can find another company. i work hard for my money and deserve better than this.
i know 11k is not a lot to a corporation like lowes, but i worked hard for it. I will never again use LOWES.
-------------------------------------------------------------------------------------------------------------------------------------------------------------- Below is notes I sent to lowes.
Re: 1122 Weston Fence
Mon, May 6, 2019 4:24 pm
ryw626 (ryw626@aol.com)
To:bill.a.white + 1 more Details
Have not heard from the contractor, UNACCEPTABLE is an understatement.
-----Original Message-----
From: White, Bill - William <bill.a.white@lowes.com>
To: RYW626@aol.com <RYW626@aol.com>
Cc: Garrido, Amilkar - Amilkar F <amilkar.f.garrido@store.lowes.com>
Sent: Fri, May 3, 2019 6:39 pm
Subject: 1122 Weston Fence
Mr. Weston,
Thank you for time this evening discussing the delay in getting your fence installed. As I indicated, we are waiting to get a gate lock from the manufacturer. This has yet to come in. You have asked that installation be started on the fence, with the latch being put on when it comes in. I have requested the installer to get in touch with you to get an installation date.
Thank you,
Bill White
Project Coordinator Exteriors
Ph # (317) 675-4848
Fax # (855) 358-0422
Bill.A.White@lowes.com
General Office Phone: 877-505-4923
Lowe's Companies, Inc.
NOTICE: All information in and attached to the e-mails below may be proprietary, confidential, privileged and otherwise protected from improper or erroneous disclosure. If you are not the sender's intended recipient, you are not authorized to intercept, read, print, retain, copy, forward, or disseminate this message. If you have erroneously received this communication, please notify the sender immediately by phone (704-758-1000) or by e-mail and destroy all copies of this message electronic, paper, or otherwise. By transmitting documents via this email:

donnie swan
from Louisville, KY
I prepaid & ordered blinds to be installed 6 weeks ago. I was told that it would take 4 weeks maximum for them to come in & my installation to be set up. no one at the store level can tell me anything about the order , other then to blame the vendor. the sales people are untrained, short staffed, & useless. the managers are hiding somewhere & not responding to pages. wth is lowes doing?? I want my blinds!!! either compensate me for my trouble or cancel the order & refund the measurement fee & the cost of the blinds. this is no way to do business!!!

I'm a 68 year old service connected disable veteran, I also own an operate a small ranch. I have been a Lowe's customer since the Texarkana store was opened. On Sunday May 5 I went to the Texarkana store to pickup fencing materials to complete a fencing project. During checkout I informed the clerk I wanted my Veterns discount the store offered an I also wanted farm tax exemption on the items. The clerk, his supervisor and several more employees told me I couldn't get two discounts on the items, I stated that the farm tax was not a discount from the store, but a agriculture exemption that I could use because of farming and ranching operations. I told them just the week prior that I had purchased over $500.00 of paint to paint my shop, an had no problem. Your employees told me I was all wrong that they never did that and very disrespectful insinuated that I was lying. After being insulted an feeling very disrespected an feeling Lowe's really don't care about their customers or veterans, I ask them if they were going to let $15.00 of taxes run a old customer off that had been a deviated customer for many years. My wife an I have been planning some home improvements, just a few days prior we had Shawn in roofing to plan a roofing job approx. $9600.00 for us, also Shawn had an appointment to meet with us an plan for vinyl siding. They seemed not to believe me when I told them this, an that I told your employees I was going to cancel the order and find a place that showed more respect to their customers. I believe I qualify for your stores veterans discount of 10% and the state agriculture exemption tax, if I am wrong, please forgive me, I mean not to cause any problems to anyone. Sincerely Ray Haddock

We special ordered blinds on April 13, 2019 and was given an estimated transit time of 14 days (note: NOT 14 business days). The last tracking says delivery will take place May 8th, 2019, 25 days transit time. Please understand, the employee at Lowes in Redmond (Pattie #4330) has provided good customer service, but the transportation assurance we were given has been far from accurate.

order and had laminated flooring installed. Lowes ordered the wrong Quarter Round that goes around the edge of the floor. Lowes want me to pay for the new Quarter Round which is $280.00. I paid $163.36 for the wrong one that they order. I said I would pay for the difference between the amount but they want me to pay the full $280.00. It was not my fault that they ordered the wrong product, in fact what they order is wood and had to be painted. I would like for Lowes to settle this matter immediately. It has been over a month with not results. I paid a total of $5073.36 for the complete floor.

My name is Latricia Williams and I will never shop at Lowe's Home Improvement again!!! I was recently in the Langhorne, PA. store and received extremely rude and insulting customer service. I was shopping in the bath department getting ideas for remodelling my master bathroom. I needed some help and guidance, but wasn't ready to buy anything that day. I pressed the need help button by their desk. A man by the name of Unis came over and said abrubtly, "What do you want?" Right from the get go he gave me attitude. I told him I wanted to get some ideas and advice on my bath remodel. He asked me if I was looking to purchase anything today. I told him no and that I wasn't at that stage yet. He threw a couple of pamphlets at me and said here. I told him I wanted to get pricing and some pictures of different designs. He said he couldn't do that. I also told him I was on a budget. He didn't want to hear that it seemed. He then mumbled quickly under his breath, ghetto nigger. I said what did you just say? He said nothing. I told him to go to hell and that I was going over to Home Depot where I would be appreciated and valued as a customer. They would help me regardless how much I spend. He said, "Do what you need to do." I walked out. I was so angry I wanted to slap him. I didn't know that Lowe's hires racist people to work in their stores. I was thinking about notifying the NAACP regarding this matter. I'm thinking about letting the entire African-American community to boycott Lowe's and only patronize Home Depot where customer service is better.

I BOUGHT CARPET FOR MY BOAT AND GLUE. THIS IS WHAT LOWES RECOMMAND. WE PUT IT DOWN JAN. 2018. THE FIRST TIME WE WENT OUT AND RAIN ON IT. IT WAS A NITE MARE. IT STARTED COMING UP. WE ARE NOT PLEASED WITH THIS. WE HAVE MANY MANY HOURS PUTING THE CARPET. WHAT CAN LOWES HELP WTH THESE? I HAVE SHOP WITH LOWES FOR MANY YEARS. THANKS I KNOW YOU WILL DO THE RIGHT THING. ANNELL BROWN FROM CARTERSVILLE Ga.

Ordered 5-2-19 internet 100 bags of Scott brown bark chips with preen. My internet Order confimation said the chips would be delivered today May 5th. Delivery from your Commerce MI Lowe's store. Order number 375099006 invoice 73815. As of today I have NOT RECEIVED ANY EMAIL UPDATE ON MY ORDER DELIVERY. I DID CALL LOWES S COMMERCE STORE YESTERDAY was on phone for a long time to confirm today's delivery.....Finally I was advised that my bark chips would be delivered today MAY 5TH between 8 and noon. However I DID NOT RECEIVE A CONFIRMATION CALL LAST NIGHT FROM QUERIES. HAVING NOT RECEIVED QUERRIES NIGHT BEFORE TENTATIVE DELIVERY TIME PHONE CALL TODAY I WAS WORRIED ABOUT THE SCHEDULED DELVIERY. Today I am here waiting or my deliever of 100 bags of chips. Need to be here to open gate and most important tell the delievery folks where to put the pallets. I called Commerce to verify delivery and was again told that the chips were on their delivery schedule. AS IT IS CLOSE TO NOON END OF TIME FOR SUNDAY DELEVERIES, I JUST CALLED AGAIN YOUR COMMERCE STORE. i was transferred to Commerce Delivery department. I was told by Pete (Delivery Department) that on Sundays BARK CHIP PALLETS ARE NOT DELIVERED AS FLAT BEDS TRUCKS DELIVER BARK CHIP PALLETS WHICH ARE NEVER EVER SCHEDULED for Sundays. Pete apologized. Pete did not know WHY I WAS TOLD REPEATEDLY MY ORDER WOULD BE ARRIVING TODAY. I BELIEVE MY CREDIT CARD SHOULD BE REFUNDED THE DELIVERY CHARGE OF $59.00. I was put on hold often for long periods of time. Transferred often back to the store operator to begin again my delivery inquiry. Gvien several times erroneus delivery information. SPENT THE ENTIRE MORNING WAITING FOR A DELIVERY THAT PETE SAID IS NOT SCHEDULED FOR TODAY AS FLAT BEDS ARE NEVER EVER SCHEDULED FOR SUNDAY. PLEASE HONOR MY REQUEST TO REIMBURSE ME FOR THIS VERY TIME CONSUMING SUNDAY non DELIIVERY. Pete said I should call him 7 am tomorrow and he could give me a time frame when to be home for the bark chips. Thanking you in advance for honoring my DELIVERY CHARGE request. You have my phone number on file with the Confirmation Email of May 2nd, Order number 375099006 if you need to call me for more information. Off i go out to kill my weeds before spreading the chips. .KEEPING MY FINGERS AND TOES CROSSED THAT THE PALLET ARE DELIEVERED TOMORROW ON THE FLAT BED. HAVE A NICE DAY. THANK YOU VERY MUCH.

Sheila Harding
from Douglas, GA
I'm very saddened by the lack of care and knowledge in your outdoor gardening center in Milledgeville, Ga. Although most are trying hard to help, there is not enough people to help customers and to take care of flowers. Distoressed plants they are clogging the isles. It appears too many were ordered at once instead of staggering orders. The workers are left to deal with the mess. This is a management issue to me.

Larry Batie
from Marshfield, WI
I purchased a riding lawnmower from your Fultondale, AL store on May 02, 2019 and they delivered it on May 03, 2019.
The mower stop working before I could finish half of my yard.
Now I have to wait several days to get it resolved. I am highly disappointed with your product and service.
A disappointed faithful customer.
Larry Batie

I bought this room heater on 11-24-16. And returned it on 11-28-16 and exchanged it for another unit of same size. The first year and the second year and now this year nothing but troubles. I could not get a hold your factory outlet, they don't answer their phones any more, I tried to reach out to them by Email. And all they could tell me is that I needed a new thermocouple and they were out of stock even at the factory. I don't know if you can do anything to help me but I'm out $300.00 dollars on this Thermablaster Heater. I noticed you don't handle these heaters anymore. It was a 32000 btu furnace. THANK YOU FOR YOUR Time..

I had a scheduled delivery for this morning. They did not show up, call or e-mail. I called the local store in Auburn where I placed the order. Their automated answering service kept taking me in loops. I select delivery option, it rings and rings then go back to main menu. I called the 800 #, she checked and called the Auburn store, then told me they will call you right back and let you know. This was 45 minutes ago and still no idea. I wasted most of my day just waiting. This is a very bad experience. I have lots of things to do. They were very specific on early morning delivery. Well what happened. I am not sure if I will ever go back to Lowe's especially Auburn branch. Home Depot is only few miles from here. I am still waiting. Why do they even have a delivery dedicated option when we call and no body is there? What kind of training do they give their employees. Its up in the air, I don't know if anybody will even read my complaint.

Kyle Reese
from Poughkeepsie, NY
Lowes doesn't stand behind their products or installations after they get their money. All the employees do is socialize. The managers are incompetent and have no product Knowledge or customer service skills. No one says hi or even acknowledges you, it actually seems like they run away when they see you. Their deliveries are never right or on time and their products are subpar at best. I will never shop there again.

The Havertown store is the worst customer service I have ever witnessed, the Garden section is staffed with just 2 check-out positions while there are long lines of customers left to waiting to be checked out, there are 2 other check -out positions empty and could be used to service the long line of customers. Home Depot has 4 check-out positions that are used to get customers thru and checked-out. Whats the matter with this Manager cant he run a store more efficiently....please RSVP this complaint....

purchase water heater Oct 19, 2013 - warranty on tank says good for 6 years which would bring us to Otober 19, 2029 - Called manufacturer, they told me warranty begins when the unit was made not purchased, so I am out of warranty according to them. This is the 2nd water heater we bought from Lowes, the first one was purchased a couple days before the last. had to take that one back because it was leaking - now this one is leaking.
I call Lowes, only to get the run around, wanting receipt number, date of purchase, and more questions, and then they tell me I would have to go . thru the manufacturer. tried that......Seems they are anxious to make the sale, but when the customer needs help, it is never in our favor. guess that is the price we pay for buying at your big box stores. I have been a loyal Lowes customer for years, but this episode is pulling me away quickly. I expected more from our neighborhood Lowes.

CHARLES B JENKINS
from Slidell, LA
Placed an online order Saturday night. I will not go into the myriad of phone calls I have placed, the time spent on hold, the number of calls that went without anyone picking up the phone (including your customer service line), and the misinformation that I received from your employees. Bottom line is my order has bounced between 2 stores, neither seem to want to deliver the product to my house even though I paid the delivery fee. I just cancelled order number 374503723. This is not the first issue I have had with your store in Slidell with regards to extremely poor service, actually rude service. I will leave my number for anyone who cares. This is a first for me, having been in retail all my life I certainly understand that retail can be very difficult and it is hard on store level employees, BUT! We are the life blood of your Company and should be treated fairly and with respect, certainly when we have done nothing to offend. You have just lost a customer to Home Depot...……….Brad Jenkins 214-675-6954.

Jeff Bogin
from McLean, VA
I put an order in for delivery to the hotel to be delivered on 5/1/19. The store calls and says tat the driver called out sick and they cannot deliver anyone's orders. So nobody gets their orders because Lowes cannot find a way to get it done for their customers. The lady then tell me that I can come and pick up my order. The reason I paid $80 for delivery and asked for it today is because I have a project I have to finish up and I don't have a pickup truck to come and get it or else I might have come and picked it up the day before. Seems as though Lowes would have something in place in case these things happen other then telling their customers OH WELL OUR DRIVER CALLED OUT. 407-497-8549

I purchased carpet and wood flooring from Lowes for my second floor. As a result of banging on my second floor there were many nail pops on my first floor ceiling. To fix the nail pops and paint the ceiling it would cost $600. Lowes REFUSED to pay for repair and painting of my ceiling. They suggested that they would provide the paint for the ceiling but that was it.
The flooring manager at the time indicated that he would reimburse me for the painting. However, after following up with the Installation Manager, he indicated that the store Manager would not honor the reimbursement. The Installation Manager then indicated he would follow up and get back to me. He NEVER got back with me. I called again and asked to speak with the Store Manager directly, however, she was on leave at the time. I spoke with an Assistant Manager and explained everything. She said she would speak with the interim Store Manager and get back with me. AGAIN - she NEVER got back with me.
I am extremely frustrated with the inadequate customer care and lack of communication from this company.
All I am asking for is to paint my ceiling which was fine before this process began.

I purchased a grill Sunday April 29th at 2pm, I was told I could pick it up Monday by noon. That was fine I told them I would be there at 5pm Monday. When I ask for the grill I was told they did not have one, she couldn't seem to find anything or anyone that knew anything including the manager Juan. The lady dragged a floor display out asked if I wanted it ,it was very scratched up .She said for full price I said no ill take my money back please and I'm not going to shop there don't need poor service like that really bad training. Manager should have stepped up.

We were shopping your Carrollton TX location this past Saturday. We were going to purchase many items until we arrived at the check out line. The Store has 30 plus customers standing in line waiting to be checked out. The Store had 2 registers opened. Several employees were walking around but would never made eye contact with the customers. I ask management if more registers could be opened to avoid the long wait in checking out. I was told...its been like this the entire day. No additional registers were opened, therefore, we left the basket of items we were going to purchase standing in the isle and drove to Home Depot. Home Depot had several customers as well with no waiting. Several registers opened along with Self Check Out..
Your managers at the Carrollton location on George Bush and Old Denton could care less..
Thank You,
DBrown

First and foremost I have always shopped at home depot. Because Lowes was having a better sale on retaining walls I decided to start shopping at Lowe's instead. I orded the block with no trouble. The store employee said the delivery company would deliver the block on Sunday. I thought that was unusual but fine with me. I waited all day Sunday and no delivery. I called. No one in the store knew what the problem was. They gave me a number for the delivery company. I waited 30 minutes and called. The number had been disconnected. I called the store this morning. After being connected to 4 different departments and NOBODY answering I went back to the operator who looked up my order and said my delivery had been rescheduled for Tomorrow. I asked why no had not been notified. She said they would call me tonight. We shall see. I know I am small potatoes to you guys but I do still have several hundred dollars of stuff to order. Can't anyone just say what they are gonna do and DO IT????

Awilda Gonzalez
from Covington, GA
On 4/18/2019 I order three picnic tables for an event on 4/27/19. I paid for the table to be assemble, $30.00. I was told to go on Saturday to pick up. I paid someone with a truck to pick up. The worker at Lowes informed him that they could not find the order. We wait and on Friday April 26,2019 he want to pick up and the order was not ready. I called and spoke with Ms. Nikita (very professional), she could not find the order but she spoke with a manager and assured me that the table will be ready for 4/27 they day of the event. I told her we will pick it up on the 4/28 since I did not have a way a transportation. I hired again the person to pick up the tables for Monday April 29. 2019. The person showed up at Lowes located in Conyers, NO PICNIC TABLES. Finally they found two and could not find the keys to take the locks off the table. My worker left.
What is going on with Lowes Conyers?

I decided to use Lowe's for my kitchen cabinets and have them installed by Lowe's as well. So I started this process on or before March 22 2019 and paid for everything as well at the Newburgh NY Store. Janice who is no longer employed by Lowe's was the one who helped me (which took over 2 Hrs to do because of the new system no one knew how to do.). I purchased the Allen and Roth kitchen cabinets (luxury). On 3/30/2019 I was called by Janice and Advised that she forgot to collect a $300.00 home delivery charge and if I could come in and pay for it. So without hesitation about an hour later I showed up to the store and was going to pay for it. When I seen her she was busy with another customer and said she wasn't able to get the paperwork done and she would call me back. On 3/31/2019 Sunday she called me and said I was all set. I didn't call her back until the following day which was April 1 and paid for it then. A few days past and I looked on the Allen and Roth website to review my order and when I couldn't find it I called them. To my surprise I learned that the cabinets where just ordered on 4/2/2019 and won't be shipped out until 4/26/2019!!! Now mind you I don't have a kitchen or a sink. The entire kitchen has been gutted. So that meant my entire order was held up for two weeks because of a $300.00 shipping charge that wasn't collect because of Lowe's. So now I wait until I get a call from the trucking company on 4/27/2019 that they are going to deliver my cabinets on 4/1/2019. Ok great about time. I call Lowe's install department advise them so I won't have a delay to have them installed because I still need to have my counter top done as well. I spoke with a representative and he said he would contact the installers and get back to me. Well the day came and went and didn't hear from anyone so the following day I called and spoke with someone again but this time I was told that Torrie was the person handling my install and she would call me back and she did. I spoke with her on that day 3/28/2019 and she told me she spoke with the contractor who is going on vacation. I explained everything that I just typed to her she said she would reach out to them again. A short time latter the contractor called me back and said the soonest they can install the cabinets is on 4/10/2019 when they return from vacation. At this point that just won't work so I called Torrie back at (317) 675-4081 and told her what just happened she said she would try and get another installer to install the cabinets. Just before the end of that day she did call me back and said she didn't forget about me and is working on it. So I waited till noon the following day and when I didn't hear from her I called and left a message. Another 4 Hrs pass and still nothing so I left another message. As of this e mail being typed and sent I still haven't heard a thing.
I guess Lowe's really doesn't care about the little man. My purchase wasn't big enough I guess. And to think I need all new appliances and a counter top. At this point being a loyal Lowe's customer counts for nothing and is really disheartening. I am so lost for words and completely besides myself. what can be done to rectify this? I knew I should have been hesitant from the get go when it took about a week to have the contractor come out and measure for the cabinets a total debacle from the start.
Feel free to contact me at 845-554-7898 if you need any further information.
Dan Tarantino

Juanarosario
from Philadelphia, PA

we went to lowes to buy a floor for our house the person who took care of us larry marshall sold us the wrong type underlayment for the vinyl floor we pick he sold us underlayment for pergo floor we perchest the floor march 15 2019 paid 714.95 do to the wrong underlayment if we put furniture and move it there is already a dent on the floor lowes will not give us any money back today april 28 2019 we purchest a second floor for the house went with something cheaper 240.00cause we still have to paid for the first one can yah help us ty lowes home center east Roosevelt blvd.

I'm terribly upset, I've shopped with Lowes for over 25 years just about on a daily based. I was in Lowes in wise va my hometown store and they had a generic generator on clearance. I came home, my truck was full of multch and also to talk to my wife. We talked no later than 10 min and I called Lowes back we live 20 25 min from the store and I had a previous engagement so when I called I first spoke to John In lawn and garden l told him I would like to purchase the generator with a credit card. He gave me the numbers to use when I spoke to customer service. I spoke to a young lady and explained I like to purchase the generator and pay for it on a credit card. She said she could not take a credit card over the phone. I than asked her if she could put a hold on it until the following day (Sunday) she asked for my name and said she would have John put a hold on the generator. Well when I came in to pay for it John had sold it that morning I talked to the store manager (josh) I think and very rudely he said there was nothing that could be done they don't hold clearance items. Had I been told that I could have made special arrangements to go in and pay for the generator. I really think Lowes owes me a 22kw generator for the clearance price of $2,484.62
Thank you I will be awaiting to here from you
Billy J Hogg Sr

justin franks
from Huntingdon, PA
To whom it may concern.
My name is Justin Franks of 8123 Shively Rd, Huntingdon PA 16652(814)599-6320. I am writing my complaint today about store #0446, Altoona PA Lowes.
My reason for writing it that on three different occasions to this store I have been mislead. On the first time, it was the beginning of April 2019. I drove up to the store which is a 55 minute drive from my house in Huntingdon to order Cabinets. Earlier in the day I had spoken to a custom service agent and was transferred back to that department. An appointment was made for that evening at 6 o'clock. We drove up to find that the person we were to meet with had left for the day and no one called to notify me.
Then again on April 25th I had called and made an appointment to order Countertops for my cabinets that I ended up ordering from lowes. The departments custom service agent advised that there would be someone available until closing that night. We again drove up to find no one in the countertop department. After expressing my sheer disappointment with a manager they were able to pull a man from plumbing with knowledge of countertops to help us. While we were there we chose a flooring we liked. We talked to "brad" in flooring and he adviced that since we had our car to come back up Tomorrow(27th of April) and pick it up. I drove back up to lowes to find that the flooring I wanted was only special order and there was none available. Again another wasted trip!!
I am writing this letter to tell you that a few years ago I had the same problems at this same store and told myself I would never go back and would advice everyone of the same. I am a Christian and believe in forgiveness so I told myself id give it another go with my recent home purchase with the remodeling it needs. I guess I was wrong and the fact is that some things never change!
I opened a lowed credit card and spend over 10,000 this past month at your store. I wished now looking back id of taken my business elsewhere.

I received your new flyer on April 25th. You have on sale a Sliding glass door with blinds inside. Model #'s 331806 and 331813. I checked at my Lowes in Hamburg NY and it said they were out of them. I then proceeded to check others store and all of them were out. How can this be. Isn't this FALSE ADVERTISING? When I opened up a chat with someone on line, he proceeded to tell to go to the store and see if they would be willing to order one. He then proceeded to IGNORE me and kept coming back saying I will be right with you. As the minutes ticked by, I would get another message saying I am sorry but I will be right with you. Then minutes ticked by and another showed up. I am really turned off about the flyer you put out and the lack of customer attention I got. I find it hard to believe that a day after the flyer came out that you sold out in a day. I took screen shots off my phone from my discussions with the customer service person of yours and the flyer and I am sending it to the AG.

Despite the sales representative's comment …"I must have bought my mower many years ago..." I bought it in Stafford VA's Lowes I believe within in the last 5 years; It's a John Deere 21" cut self-propelled push mower. It runs great but needs a replacement blade. According to another sales rep, the only Deere blades stocked are for riding lawn mowers! However that should no be a problem I thought as there are universal blades that should fit. There are, you just don't sell them! I went to Home Depot and bought a blade there.

1. According to Lowe's manager, asking an employee to hold a cart full of merchandise for a few minutes so a customer can go get a wallet is standard for Lowe's. I asked for this consideration, was told that it would be held. Came back in a few minutes and the cart and contents was gone. So I had to start shopping all over.
2. At check out I purchased several items along with several bags of yard soil to be picked up in a drive-thru service area. The check out was cumbersome as there was not any listing source of soil products or pricing available. A printed product should have been clearly placed at the check out counter. Later I was told by a manager this information had been on display, but it sure wasn't when I checked out. The cashier couldn't find the printout either. When the store manager was asked about why someone hadn't reported the printout was missing there was not a reasonable answer. When asked why there weren't more copies available for clerks to put up, there was not a reasonable answer.
3. When going through the drive thru area to pick up the soil products the attendee noted that the products had not been available for several days. Asked if there was a substitute and the answer was "NO", there was not anything that could be provided as a substitute. When asked why I was allowed to purchase the soil products the attendee did not have an answer.
4. Went to customer service and explained the situation and asked to address this with a manager. Discussed this whole situation. Asked the store manager why the soil product was sold? He informed me the soil vendor had failed to deliver the product. When asked why the product was still being sold, he noted there had been an effort to remove product from the electronic sales tools that are used, but that not anyone would and that nothing had been done otherwise to remove the product from the sales options at check out. WHY?
When asked why the attendees didn't have authority to provide a suitable alternative to avoid ill feelings and address the Lowe's shortfalls, the manager said that is not how things work. And, that this is a time of year of significant theft of product. Mind you, I made the effort to make a purchase in good faith without seeing the product in the fenced area.
The manager offered to provide a refund which was the least he could do. He offered to provide a 20% discount when the product arrived. I informed him that I would not be visiting Lowe's for a long time.
Now tell me WHY would I should do business in Lowe's in the future? Lowe's has a lot of things to correct to ensure good business practices are implemented and followed providing good customer service.
You do not have authorization from me to share my contact information or send other messages or mailings or solicitations, except in response to this Lowe's failure.

I purchased 8 can's of paint spending over $300. Two of your sales reps sold me the product with the expectation I was going to get 50
% of the total purchase of the paint. I was explained at the register that it was a "buy one get one free" sort of rebate. When I filled in the rebate information online and read my receipt closely I couldn't quite understand the wording on the rebate. When I finally received the rebate it was half of the amount I expected. I received a check for only $75.96. I went to the store I purchase the paint at and was told to call the on the receipt but guess what, the only number on the receipt was the local store I had just been at. I spent 45 minutes trying to reach the correct department and a real human to talk to. I was told that it was half the amount of the 2nd can of paint. The customer service rep just apologized and offered nothing else than, "is there anything else I can help you with". I feel this rebate is falsely advertised. The sales reps do not explain rebates correctly and the call centers are horrible. I feel it's intentional in order to frustrate the customer and discourage them from following up with their complaint or situation. I have been a loyal customer since Lowes opened up in my area many years ago and sadly, I am very discouraged from shopping at your stores in the future. I have a large family and circle of friends who will surely here about this experience.

Robin Scott Andresss
from Phoenix, AZ
We ordered a security door from Lowes on Thunderbird in Phoenix, AZ. At store person came to take measurements. We specified the door we wanted by pointing to the door style we already had in another location. We specified the door knobs we wanted. When we picked up the door knobs they were not what we requested. We easily changed them. It took many weeks for the security doors to arrive. We were told they would come one week but it was the next week. We scheduled the installation. The installer had problems with an earlier installation and never notified us we would not be installed that day. We rescheduled. When the installer arrived, it was not the door we had ordered. We were told we could refuse and it would take weeks to get the order redone. That was not an option for us so we had the doors installed. Not happy. Will not trust Lowe's again. Will inform friends of our experience.

After years of shopping at lowes I have made my last purchase. I will not support a company that does not live up to their word. And further more I will let others know of my opinion. I believe your rebate program is definitely a scam.

Donna Prowell
from Roseburg, OR
I ordered online a trash compactor on April 7, 2019. I have called the Roseburg Oregon store numerous times regarding when they will get it. I was finally told April 22 2019. It still has not been delivered to the Roseburg store and when I contacted them again today, I was told it could be up to 7 more days. Meanwhile, we have a gaping hole in our kitchen, company over for Easter....not a good look. I am very disappointed in Lowes. I would hesitate to order anything online again and would not recommend that my friends and family do either.
Donna Prowell
541-679-8613.

Seth Benator
from Atlanta, GA
Things not done right
1) Lack of doing mitered waterfall edges for entire bath
2) bath extends into shower an extra inch beyond the notch in vicostone
3) shower door transition vertical was specifically removed and should never have been produced and definitely not installed. Need it removed and refunded.
4) shower seat was ordered as half bullnose edge and inexplicably changed without our authorization to eased edge.
5) Response from lowes was that the person on site had permission to make all said changes. Only the client was also an AIA architect and was in charge of everything. The contractor was there to let in and point to the right area and all design decisions were to be made by client (us). However when we said this they said we gave permission for the person on site to make decisions. We asked when we did this and they could not find the form that said that. We later found out (and have a copy of) the form we were supposed to sign that would have given this permission. Had we seen and signed that form, we would have realized that Lowe's had no intention of working with us from a distance, that we had to be on site or else they would assume this. However our contractor did not have the knowledge and in fact, when asked about things specifically deferred to us. yet we were never called or contacted at the time or after.
6) According to the contract we signed, the installation is not complete until the client approves it by signing a COC - certificate of completion form. We never signed it and when we asked for a copy we were shown a form that was signed by the INSTALLER saying it was not signed. So if we did not sign that it was installed correctly, and we complained about the installation, this should not have been considered a proper installation.
Remediation: We want the problems above fixed or be refunded for the full amount we paid for these services that were not performed right.

I bought a dishwasher and they told me even wrote in my paper work that it would be delivered and installed said we would be receiving a call in a day or two to set up install appointment three days later the day before it was to be installed we called the number on paper work and they told us they didn't even have the unit yet but when we purchased they asked us if we was taking it with is or delivery the service line person who was a total butt hole said the sales person shouldn't have told us a date or wrote it on the paperwork they acted like they didn't care at all so I asked to speak with a manager on the service line and it was the same he didn't give a fu_k to so I asked for a refund and am waiting on a call to get my money back will never repeat never buy anything from lowes again thanks for nothing the whole thought of sales is to be honest with the customer not tell them what it takes to get the money then treat them like crap later

I purchased a Maytag Washer and Dryer on 4/5/19. I was told they could be delivered on April 24. I never received a phone call stating otherwise. I called the morning of 4/24 and inquired about my delivery. After being jacked around I finally got what I thought was the delivery department. He stated it wouldn't arrive in the store until 4/26 and would be delivered. I explained that I planned my schedule this week around this delivery. I was originally told it could be delivered on the 21st. That was not able to fit within my schedule as it was a Sunday and it was Easter Sunday.
He then stated that he had no control over the vendor and when it gets shipped and it wasn't shipped until 4/19. Now my question is why would they tell you it would arrive in the store on the 19th and schedule delivery if it wasn't shipped until the 19th. And how can they tell me it will be delivered on the 26th before 4 if it isn't in the store and by their own words have no control over when it will get there.
So then I called back and asked to talk to manager of the store and after finishing my complaint he said mam I just talked to you about this, he never once referred to me as being the manager. He then said I am working on this and you will get your appliances on Friday. I can do nothing more than apologize for things that are out of my control.
Needless to say I am sorry just doesn't get it. I told him I would be contacting corporate and his reply was mam you can do that but all they will do is refer back to me to take care of this. All I am saying is a simple phone call keeping me aware of the situation would have been sufficient. I get the feeling that my appliances were given to someone else that would have caused them to lose a sale and then mine were resent on the 19th.
I am very busy and have a tight schedule, my time is just as valuable as your employees and I would hope they are trained to understand this. As I have rearranged my schedule once again to accommodate LOwes and it should be the other way around or at least communicate as to why the delay.
Whatever happened this is poor service and I quit shopping at Home Depot for this very same reason. Big box stores may not be the answer, you may be less expensive but local businesses do know how to take care of their customers.
Have a nice day.
Betty McCracken
559-960-9869

I placed online purchase order # 371427574 that was completed on 3/25/2019. When the items were delivered to my condominium in Renton, WA we discovered that the 20.4 cu-ft. refrigerator [Item #: 852902] was too tall. I contacted the Renton store and asked that the refrigerator be returned to the store and replaced with a shorter 18-cu ft. refrigerator [Item #: 852888]. On 3/27/2019 the refrigerators were swapped out.
My first concern is that I have not received a $656.10 refund for the returned 20.4 cu-ft, refrigerator.
Second, the replacement refrigerator arrived with a dent in the door. I contacted Lowes Renton who indicated they had a replacement door in stock, but could not deliver it for more than one week. With Lowes Renton's agreement my agent returned the dented door and picked up the new door. The transaction cost me over $100.00 to conclude.
On an early contact with Lowes Renton, they promised a discount for the dented refrigerator but I did not receive that! I have contacted Lowes Renton on multiple occasions and to date have only been told that they are waiting for information from their own pickup and delivery department.
I have been a customer of Lowes for many years and have never experienced such a poor response on issues. I don't complain much because until this issue, there have been no concerns for otherwise exception service from Lowes.
I am requesting your assistance to investigate and resolve the concerns that I have. I will be satisfied with the refund as noted and also a discount on the damaged item.
Your assistance is appreciated.
Herbert A. Stewart
herbstew@msn.com
937-546-9139 (cell)

you have cut workers and hours so much my 67 year old wife had to help load cinder blocks and large bags of garden soil at the summersville wv store. I think that is disgraceful. I never thought lowes would be that low. I will take my business elsewhere. I have always enjoyed going to lowes.

Nancy Beach
from Vero Beach, FL
2 roofing jobs , started Nov 2017 . Jobs were both very poor craftsmanship . I just made my last payment of a 20,000$ charge. The roofs are still not right . I've spoken to cooperate 3 times and they say they will call back and never do . I'm very displeased with the job s.
This will be the second summer I will be trying to get them to correct things. They never vented the one roof, the water has run down the side of the house due to miss rehanging of the gutters now for 18 months . The front porch ices up after replacing the the front roof. The list goes on and on.

Michael Ellis
from Spokane, WA
Gentlemen:
Today I was shopping at your Lowes store, 5204 Sprague Avenue Spokane WA and was serviced by salesperson named Jeff in the garden department.
After buying large quantity of garden supplies and loading it into my truck I noticed that the salesperson had mistakenly charged me for things I did not buy, about a $90 overcharge. I returned to the salesperson and pointed out the error and what transpired was most discouraging:
1. The salesperson refused to acknowledge the overcharge and did nothing to rectify the situation, instead standing helpless and smirking at me the entire time. He said that I would have to unload the truck and bring everything back in the store, which I refused to do, he the laughed in my face. Let me be very clear: your salesperson laughed in my face and stood there smirking at me without providing any assistance at all.
2. I asked for a supervisor, which he refused to do, I had to go and find a supervisor myself.
3. The supervisor was quite helpful, checked the contents in my truck, and acknowledged the mistake and refunded the overcharge. All the while the original salesperson was smirking and laughing at me.
Everyone makes mistakes, that is not the issue, but when one of your salespersons does make a mistake then they should make a decent effort to correct it and treat your customer with respect. This salesperson was rude, insolent, disrespectful, and completely incompetent. I have shopped at this Lowes for years and never experienced such a situation. You need to do something about this else other customers will be treated in a similar disrespectful manner.
Michael Ellis

Dennis Todd, SR
from Cambridge, MD
I am a licensed contractor/electrician and frequently shop at Lowes' in Seaford, DE & Salisbury, MD. This evening 4/23/19, I shopped at Lowe's in Seaford, DE. I could not get checked out with my items - all self check outs were down[red lights flashing] @7:00 pm. I asked the clerk standing at the doorway if she could check me out she said "NO"! So I put my items down and walked out of the store, I can shop at Home Depot and by the way I have never had an issue like this before at Home Depot nor have I had any issues previously at Lowe's like this happen.

As much as I want to like this store they just keep getting worst. Have to do a complete remodel of an apartment so figured I would try them once again. I wanted to start with carpet price so here we go, once there it was very apparent I was a bother to the sales person, explained what I wanted after heming and hawing she decided to help but just enough they will call me well guess what bought in at home depot this AM.
Everytime I go ito the store I always get someone with an attitude won't go back.

mrs. B
from Bay Shore, NY
Purchased Magtag washer and dryer from Lowes about 3 years ago. Needed servicing on both, was covered by extended warrenty I wisely bought. Made appointment through lowes for a company called Mr. Appliance. I had to take the day off from work as they could not give me a time frame (morning or afternoon) until that morning at 9:00 am. After calling at 9:00 was told they would be there by 11:30. An hour later, the service person showed up. Was also told they would call before arriving. That didn't happen, he just showed up.Service person came, found the problem and told me the parts would be ordered. 3 weeks later, I still had not heard from them. Called one day and was told they would call me back. They never did. Called again 2 days later, was put on hold while they called parts dept. Rep got back on phone and said no one in parts dept was picking up. Was told she would call be back.She did not. So this morning I had to call Lowes who then called Mr Appliance and now finally they said part would be in 3 days. (I think never ordered the parts to begin with). Now back to trying to schedule appt for them to come. Well, they only work Mon - Fri 9:00 to 5:00. So once again, I am forced to lose another days pay waiting for them. Was told the computer does the scheduling so I won't even know a time frame until after 9:00 that morning as to when they would come. Lesson learned: NEVER BUY APPLIANCES THROUGH LOWES. Extremely disgusted customer.
Thanks for your feedback!
Sorry. Please try again later!