Lowes
Lowes Complaints Continued... (Page 7)
932+ reviews added so far. Upset? Call Lowes corporate: 1-800-445-6937

LLYRAH RETES
from Killeen, TX
I ordered a door and a screen door from LOWES on or about 20 April 18. I was told since the door had to be ordered was going to take about 30 days. Well, I receive a call that the doors were going to be installed on 1 June 18 between 0800 and 12:00. I don't go to work that day waiting for them, and it is 11:00 AM and still waiting for LOWES, no phone call, no follow about the installation. So, I decided to call them at 11:00 am and they told me that they were picking up the material and were on the way to my house. It is almost 1:00 PM when they called my husband to let him know that the door frame was never ordered and it needed to be ordered. I called them several times that Friday. Go to Lowes and spoke to Angi, a supervisor at Lowes in Killeen, Texas, WS Young location, which I had already spoke to her that Friday as well. When I saw her in person, she said that she didn't know who's fault was it and since the department was not working, she was going to call me Monday to let me know. Today is Thursday and I haven't heard from LOWES or Angi or anyone from LOWES about my door and I paid $2.300.00 for the doors upfront. I am a Soldier and currently in the field. I called LOWES today again to speak to Angi's supervisor and apparently he was busy with another customer. I left my phone number and my contact information and it is night time and never heard from LOWES. At this point, I want my money back for the disaster they have made. Who do I need to contact for this. I can't go over there for the next two weeks because I am stuck in the field, thank you

Michael Corley
from Louisville, OH
ordered a garage door installed 4/28n supposed to be done 5/23 still weighting, no answers from lowes, salesman's email doesn't
exist, no calls returned

Pat Robinson
from Pioneer, CA
I don't appreciate being snapped at and disrespected by the Customer Service Supervisor, Emie. Also noted, she was very intimidating to other staff.
I bought some hat hooks for $1.98 but when I got home and took a good look at my receipt, I saw I was charged $1. more per item. I called the store and the NICE person on the line said to bring back one of the hooks plus the receipt and they'll look at it. I did and the NOT NICE supervisor snapped at me and said the label on the box was for the hooks next to it and I should read the code after we showed her a phone photo of the box. Uhhh, not my job and was not my mistake to label the wrong box. She denied any compensation which was only $10. The point is, not the money, but the mistake someone made in labeling and her nasty attitude. Fortunately, other staff called the manager for me and they also promised to label the box correctly. I live in a small, rural area and I'm glad Lowes built here in Jackson, Ca. but this employee, Emie, could be lethal to your business and I'm sure this is not how you want customers to be treated. I'd like the manager to know that he has a cashier named Misty who knows her job and knows customer service.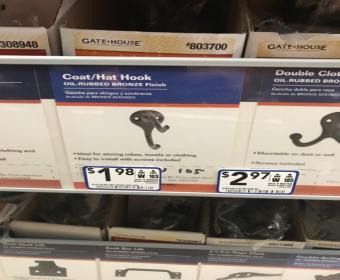 F. J. Dunham
from La Porte, TX
On 5/25/2018 I purchased 2 solar Deck Lights, 2 Fabreze Aerosols, 1 Air Wick & 2 Mold Control for a total of $58.30. At the bottom of the receipt was an "offer" to come back May31-June 3 and 'GET $10 OFF YOUR IN-STORE $50 PRODUCT PURCHASE (BEFORE TAXES). Today, June 2, I returned to the same store and purchased some hardware items, 2 items from the garden department, and another Mold Control. The total was in excess of $64. I handed the 5/25 receipt to the cashier and drew his attention to the "offer" statement. He was unfamiliar with the "offer", scanned the bar code on the bottom of the receipt and the total did not change He contacted his Supervisor who came to the check-out and explained the situation. The Supervisor was also unfamiliar with the "offer" and rescanned the receipt with the same no discount result. The Supervisor studied the receipt and the items purchased today and advised me that because I purchased the Mold Control on 5/25, it was not eligible for a discount today. I reread the "offer" statement on the 5/25 receipt and could not see such a statement in the "EXCLUDES" paragraph. My protest was ignored and since a number of irritated customers were lined up behind, I said "sorry", not going to complete the transaction. I have been a Lowe's customer for many years and find this appalling. Home Depot is across the street and I complete my purchase there and will be doing the same in the future.

Sandra Hawthorne
from Shreveport, LA
Your app isn't worth a dime. I wanted some termite shields they were listed on your app for .43 each on the app it said there was 6 in my store. Went to store they were not there plus there were shields there they were still bungled together for 25 in a bundle . Was told that was wrong they were 4.69 each on for the whole bundle. There were 4 bundles there on the shelf. They would not honor this nor anything online if it was a different price called you guys and was told I needed to read your terms online because you don't have to honor anything if it's different in store. So sad you used to be a friendly place to shop not anymore I have deleted anything that pertains to Lowe's. Went to home depot told them about the bundles you had and they honored that same setup for the 469 price. I will never shop at Lowe's again. I am now a home depot customer for life.

Cecilia Carpenter
from Clovis, NM
First of all you probably will not see or read this so it is probably a waist or war bonds but if I make my complaint know to enough people then maybe some other older couple will not end up in the same boat.
On May 22, 2018, I purchased $5041.29 in hardwood flooring for my home and paid the $65.00 for home delivery, ( I figured that home delivery meant delivery to my home inside) well this morning, June the 1st, I received my order, it was left in my drive way and I was told that if I wanted it in the house it would be $2.00 per box and there are 67 boxes, I am 68 years old and my husband is 76 there is no way we could carry 67, 45 lb. boxes from my driveway into the house, we were lucky we had a friend that came and helped us, this is something that we should have been told from the get go and not surprised with also I feel that if you pay for home delivery that means in your home not your driveway. Also, 3 boxes were damaged by the fork lift, I was told that they would take care of it right away, 3 hours later I am still waiting. I am so upset over everything that I have full intentions of letting everyone I know about this situation, if you can not pick it up it doesn't pay to have it delivered, buy it some where else and verify what they mean by home delivery.
my sales # is S1781BR3 1820916
Thank you
Cecilia Carpenter

John M. Long
from Parkersburg, WV
Went to Lowe's store in Wheeling WV yesterday to purchase a new grill. I found a wood pellet Fed grill that I wanted to purchase but couldn't find anyone in the area to assist me. I then went to the customer service desk and asked them for assistance in getting a grill. I was told they would send someone. I went back to the area where the grills were and waited for 20 minutes for assistance. No one came to help. I then went back to the customer service desk and told them they had lost a sale because of lack of service. The lady at the customer service desk said that was fine with her.
I have never been treated this bad at any store I have made purchases from. I will not shop at Lowe's again.

Dee clydesdale
from Homestead, PA
On Friday, May 11..After my lowes new gas stove was installed I needed to go to the cellar where I then smelled gas. Immediately I called lowes at the waterfront, Munhall pa. to ask them to have the installers return to fix the problem. Your main number folks had no idea what to do or how to contact the installers. I spoke to at least 6 different people at the main number. One told me to shut off the main gas line to the house then several putting me on hold to hanging up on me. Finally after repeated phone calls over an hour someone did connect me to the right number. Installers were great...they returned and tightened up the gas valve. Bottom line your front desk people are not well trained. This could have been a catistropic event had I walked out of my house for the afternoon! I can be reached at 412-414-3521.

norris baudoin
from Abbeville, LA
bought some peach, pears and apple trees at the ABBEVILLE,LA. store 3 years in a row. last years purchase all died, I went to the store with one peach tree and all the information tickets that was on the tree. Lowes name was on the ticket that show that the tree was bought there. They refuse to honor the guarantee . Needless to say I was pissed. threw the paper work down at the desk went to my truck and threw the tree down in front of the flower shed. I will never purchase anything from LOWES again , told my kids if I ever caught them at a LOWES I would dis- own them. The trees are only $22.95 which is nothing, it just the way that I was treated that hurt. hope the person that gave the order as not to assist me goes to hell ..............
norris baudoin
11201 RUE LEBEOUF
ABBEVILLE, LA, 70510

Joe Khadige
from Broadview Heights, OH
On 5/10/2018, I visited the Lowes store located in Brooklyn Ohio. Arrived at 8:30 pm and proceeded to shop until close- purchased material and items in excess of $975.00. At the register, following the cashier's ringing of the items, I asked her to look up my accounts (2) using my id and phone number. It took the cashier over 20 minutes to pull up my account because of the shut down of all of the registers- moreover, she and the manager were only able to pull out one of my accounts, but not the other account that I wanted to use in an effort to apply the promotion of 6 months same as cash. So after 2 hrs , I was not able to purchase the items using my preferred account- I have waisted 2 hours of my time along with having to pay my 2 helpers for assistance with the shopping.
My company of 55 rentals have mainly done business with Home Depot- and I started to shift to Lowes in the past a couple of months given my past experience when I constructed my home. I am deeply disappointed with the service and begs me to ask- why did I waist my time. What even more disappointing, no one even tried to resolve the issue when I decided to return all of the items. Perhaps, the registers should remain open until your last cutomer cashs out. Thank you. Joe Khadige- 216-310-3445.

A. Majeed Bhat
from Frankford, DE
I bought a Briggs and Stratton 922EXD snow blower with four year extended warranty from Lowe's. The very first time I used it it leaked oil from the back and oil seems to get into the carburetor as it is tipped back to inspect the auger.The same problem persists in spite of multiple "repairs". I have returned it to the store multiple times and they have not repaired the problem and do not give me an explanation as to what is wrong with it. There explanation is that carburetor is "guncked up" I had to return it once half hour after I picked it up from store. As I was driving home, it leaked oil from the back and ruined carpet in the back of my van. The lowe's staff placed it in the back of my Van. The Lowe's has refuse to replace it as promised in the extended warranty.

Diane Fine
from Northport, NY
On February 28, 2018 I ordered carpeting for my living room. The carpet was delivered and installed in a timely manner, however, the installers noticed and pointed out a visible defect in the product. They then sent someone over to take photos and agreed that it needed to be replace. Fearful that the defect would appear again if I re ordered the same product, I returned to the store in early March and ordered a different carpet that was the same price. I waited to hear back about delivery and when that never happened, I found out they had no record of my order. I then went back and re ordered the new carpet. Well it is now May and still no word. My husband and I returned to the store on Saturday April 28 and spoke with Jennifer- a manager. She assured us we would hear from the installers on Monday April 30th. No surprise that we have not heard. Jennifer and others at the Commack store have not been helpful and we need to resolve this asap. My entire living room has been taken apart for over two months now. This is unacceptable. I will be waiting for your response to resolve this matter.

I get sick and tired of Lowe's being a bilingual store! Mexican signs everywhere! This is the USA our language is English. 20 years ago everything was In English! If the illegals don't want to learn our language they don't want to assimilate, if they don't want to assimilate they do not want to pledge their allegiance to our country.
So why is Lowe's pissing on our country and making things easier for un-American illegals?
Make the Constitution and America great again!

MARY LYNN HILL
from Longview, TX
NO CUSTOMER SERVICE! I went to the Lowe's in Marshall, TX today for potting mix and fertilizer. Another customer helped me to get the bag of potting mix on my cart. I had to wrangle the fertilizer myself. When I got to the check out, I had to ask twice for the cashier to call for help to carry my purchases out & load in my truck. When/if she called, nobody ever showed up to help. I saw no less than 15 employees standing around chatting. I've worked in customer service long enough to know that the customer always comes first. I don't care if your assigned task is to clean toilets, if a customer needs assistance, you take care of your customer first. Everybody needs to realize that if you run off all your customers, you may work yourself out of a job. I don't know if all Lowe's stores are like this, but this is a habitual problem at the Marshall, TX store.
Also, there are two check out stands in the garden department, but normally only one is open. Usually the check out line is at least 6 or 7 deep. This is not acceptable! I and other customers have laid our potential purchases on the shelf and walked out. You may not be concerned about taking care of your customers, but I'm willing to bet that you don't like the idea of lost revenue.
Although this is the most convenient location for me, I WILL take my business elsewhere if the situation doesn't improve and I will also share my poor Lowe's experiences with other potential customers.
Hopefully This concern will be directed to a person in authority who can work to correct the lack of customer service at the Marshall, TX location.
Thank you for your attention to this matter.

Diana Porter
from Augusta, GA
This is a post from my husband. I bought the riding lawnmower online. It was delivered today. It is now scheduled to be picked up for a full refund on May 6th because of a $10 mulch kit! The problem: customer service personnel at both Evans, Ga and Augusta, Ga stores who do not know how to provide service! Here is my husband's experience. Neither stores seem to be in the least bit concerned that they've lost a $1000 sale - and a customer - because of a $10 part and their very poor service. What is worse - the delivery team was awesome. (We also bought a dryer. They were so good delivering and setting up my dryer. This is so sad. I love my Lowe's store of Evans. Can't believe they did this to him.: "Bought a Troy-Bilt riding lawn mower, on line thru the Lowe's of Evans, Ga store. It was delivered assembled, this morning (April 21st).
Upon inspection, it did not have the mulch kit that should be included, according to the Web site. The delivery person said he would call the store and have it waiting for me at customer service. The lady at customer service looked at the customer invoice, I handed her, and told me since it was delivered from the Bobby Jones store, I would have to go there. I went to the Bobby Jones store customer service desk and they directed me to the customer pick up desk. There was no mulch kit waiting. To make a long story short, after waiting twenty or so minutes, I went back to the customer service desk, to ask for a refund or exchange. Before I could get all of my request out of my mouth I was told I would have to go back to the Evans store. Tired of the run around, I went back to the Evans store and asked for a refund. I was told before I could get a refund the mower would have to be returned. I was then told the nearest pick up date was MAY 6TH!!! 15 DAYS!!! SOME CUSTOMER SERVICE!!!"

Terri Simao
from Cumberland, RI
My husband and I are doing a remodel. We have spent a lot of money at the North Attleboro Lowes over the years. 8 years ago we built a sunroom and bought all our Pella windows there. Tim who worked in that department at that was wonderful and helpful. We noticed the quality of customer service over the last few years has declined drastically. Good luck finding anyone willing or capable of helping. We were there this past week wanting to order a patio French door and a custom window. There was a women at the desk in that department keying in tickets. My husband and I stood there for over 5 minutes. Finally I asked her if there was anyone that could help us. She said she didn't work in that department and there was no one around or available that did work in that department.. But there she was ignoring us, never once engaging with us. It was obvious we were looking for assistance. I went to the customer service desk to complain about our lack of service. I asked the girl to have a store manager contact me. He/she never did! So we went to Home Depot where their customer service guy in windows and doors was knowledgeable and helpful. We ordered a window and French door on the spot, over a $2000.00 purchase. WE also ordered a stove at Lowes last week. It was delivered today 4/21. It was the floor model which we did not order. We paid full price and we expected a boxed brand new stove! To make matters worse one of the knobs for the burner was broken. WE are beyond disappointed. This is an inexcusable way to treat a loyal customer. Lowes is not the same dependable store we once shopped at. We have no choice but to take our business down the road to Home Depot. If you check our account you will see we were regular customers, but not anymore. We are so disappointed! It would be nice if someone responds to this situation. I would hate to think corporate is as uncaring or irresponsible as the store managers and employees.

Robert Yell
from Gallatin, TN
ON 4-20-18 at Lowes, 1301 Nashville Pike, Gallatin, TN. Shop there frequently. While standing in line at the garden center, 5 deep, a gentleman walked in from the front, walked up to the register in front of everyone, and the cashier, don't remember his name but was an older black man, proceeded to check him out. They were laughing and talking, obviously friends. The customer states ,"give me a discount," and the cashier states," bring me some wine". When it was finally my turn to check out, not a hello, how are you, thank you, NOTHING. POOR CUSTOMER SERVICE !!!!

Theresa Chamberlain
from Murphy, NC
The Lowes store in Murphy N.C. I ordered an overhead door to be pick up at the store May 2. Before that dated I gets a call from Garage Works that the garage door that I ordered from Lowes was ready to be delivered by Garage works. I had absolutely no idea to who this was calling so I calls Lowes and was told that it was to be at the store for pick up May 2. Gets another call to deliver the garage door to us from Garage Works to deliver it or they send it back told them deliver it to us and it was delivered. By the way very nice guy that delivered it very careful with handling the garage door. With that outfit in Murphy your store I would not be surprised to get a call May 2 that it is in for pick up. Here is the latest with that Lowes store I ordered a Roper washing machine that was on sale with free delivery on Tuesday April 17 it was to be delivered to me in Robbinsville on the 19th. I had hired someone to put it in and waited all day for a call from Lowes to when they would be here. It came 5 o'clock no washing machine let alone a phone call. Called Lowes got ahold of a manager I guess he was told that they deliver until 9o'clock nothing. Called Lowes this morning they are full of deliveries for today, so Saturday it is supposed to be delivered believe it when I see it. I do not think that this is called good business in satisfying your customers this one surely is not. I certainly will give it a lot of thought in dealing with Lowes in the future. I hope that someone has a good day!

roger hedden
from Abbeville, SC
We ordered new refrigerator. We were told it would be delivered today. I called the store and tried to find out what time to expect delivery. was told I would be given noticed before they arrived. I have other things to do this day and wanted a ball park figure as to when I needed to be home.
This was done so Lowes would not have me waiting all day for them to come. I am the customer, and was not wanting Lowes of Greenwood to
hurry up or put me ahead of someone else. I just wanted a small ball park figure of time. This guy in delivery was more interested in getting me off phone than trying to hear what I was asking.
And I hope this does not turn into an all day thing.
Home Depo is just up the damn road .

Bill Murdock
from Ventura, CA
Deceptive Advertising !
You say 20% off Kobolt items for Black Friday Sale. My complaint is with landscape rake #863584 but don't have any of them within 200 miles of my location but do have an identicle looking # 616351 for more than advertised item. On web-site you use same description and what could even be same picture ! Now I would say closest store was out but checked multiple stores in southern and central california and none has the listed item. So I must assume you/they never had any of the items available to us locally so I'm cosidering referring this matter to the district attorney office to look into it.
Note: I spent time talking with manager as well as customer service agent and they could only say item #s don't match and/or unavailible to ship or sale in our area as vender was out of stock. I have seen other companies try similar ruses and end up costing themselves $$$ in my area so I guess will wait and see. As for me I can always shop with others for best pricing - services and will still shop you as you are closest to one of my locations but Home Depot is only down the street as you guys usally are . It would have made more since to just not advertise this or offered to discount new item in place of this. I'm in business and know a bad reveiw can go a long way and $5-10 is not going to mean your selling at a loss. " Building Contractor"

William Morris
from Vero Beach, FL
I have been very vocal over the past few weeks acknowledging how promising the new employees at The Vero Beach location. They don't scatter like roaches, they actually stop and ask I customers need help. Management is also commended for starting to clean the place up a bit. The down side are some of these individuals who think by showing up justifies their income. The bold guy in the window/lumber area is one that really needs to be fixed or terminated. He does not know the product, how to look it up. In fact this same person about 3 weeks ago when his assistance was needed, " need to be quick", "I have 15 minutes left". I try to avoid but when you have minimum staff on hand and he is the only person. I either try one more time or walk out in frustration. Home Depot here come. I started my carpenter apprenticeship in 1970, I do have some knowledge and always willing to learn more due to new products. I have experienced others within your store but this guy needs to be retrained. You are losing sales!!! No doubt in my mind!!! Being from the Midwest I am under belief it is a lack of work ethic in Florida. Your choice, or continue losing sales. HGe is only one out of a hand full that need to go, if you can't see this? You have bigger problems to resolve and what I write means nothing.
William Morris

Chris Mullinax
from Knoxville, TN
Lowes' : Waynesville, nc and Murphy, NC respectively.
Remodeling home and went to Lowe's for supplies. The Murphy Lowe's employees told me that 5 gallon buckets of sheetrock mud was not sold at Lowe's anymore. We then went to flooring and picked out Pergo flooring we wanted but it wasn't in stock. When asked if it could be orders we waited on help, which eventually arrived, but no one could figure out how to order what we wanted and couldn't tell us when it would arrive! Attributing it to that Lowe's we went to Waynesville,NC. We found the sheetrock mud and ordered the flooring. We were told to pick up flooring today (4/12/18). Upon arriving we found that our flooring was not here and they didn't have an arrival time. The clerk was rude and I'm fed up. I've spent several thousand dollars on my remodel and can't seem to get solid service. We drove over an hour to pick up flooring that was supposed to be ready for pick up. I feel we are owed compensation. This was not my error, it was lowes.

duane collins
from Oklahoma City, OK
i ordered a shower door to be installed i have waited three weeks and nothing when i call about my order i get lied to it was to be here on the 4/9/18 i have called 5 times i had to change sales person to place my order the first sales person was very rude the manager was of no help did not want to hear what i had to say i was told my door would be in on the 9th 10th 11th 12th now i'm told it will be in the 16th i will wait till then if i don't get it then i want my money back so i can go to home depot i understand delay i don't understand you being rude to me and running me around i must say the next sales person i got was helpful and NICE his name is (Christopher Ollila) id 1452720 the store (2540)
not happy at all
Duane Collins

debra armstrong
from Freeport, FP
visited lowes 8050 west Oakland park blv on the 2/21/2018 items have not yet shipped to my address in Freeport grand Bahama,bahamas the address for lowes is 8050 west Oakland park blvd sunrise,fl 33351(ft Lauderdale) my contact # is 242 7271342 our work men are being held up as we are renovating our kitchen this is outrageous and frustrating who is going to pay compensation? to our contractor/

Lee Bolin
from St Louis, MO
I purchased a washing machine from Lowe's scratch and dent section. The machine was delivered to my house and installed. Yet the washer did not work what so ever. I don't mind a dent on the side, but purchasing a washing machine that cost over $600.00, and does not work, is a Joke. So Lowe's sent a man out to my house, just to see if indeed the washing machine did not work. He verified that it was broken, and then I was told that I need to purchase a brand new machine, in order for it to work?? So I ended up purchasing a brand new washing machine, and the sub contractor came out to my house with the new washer, and to install it. This is where the problem starts. First off, the man did not put on a pair of the booties, that cover his shoes, and ended up tracking mud all over my new carpet that I purchased from Lowe's about nine months ago. Next he needed to turn the water off. 95% of people would have simply turned off the water supply from the handles that are located behind the washer, but this guy shut off my entire water that goes into my house, from my well. So I had no water in my house. He then forgot what handle he used to turn the water off, and tells me that I don't have any water going into my house, because he was to stupid to remember which handle he used. Therefore, I had to call the well company, so they could come out and turn the correct handle on, to get water back into my house. That cost $125.00, and on the bill, it stated "checked out system, plumber left shut off valve turned off when he installed a washer". The plumber also asked if I had any additional light, as he could not see very well. I have plenty of lighting fixtures in my laundry room, but he needed more. I should have told him to go out to his truck and get himself a flashlight if he could not see. All I had was a halogen light, that gets very hot when you turn it on, so I also gave him a pair of vice grips, so he could move it around, without burning his hands. I am a 100% service connected, disabled veteran, and I was recovering from a bad fall that I had taken down my stairs, so while he was installing my washing machine, I was in my living room, laying down watching TV. When he was finished with the job, he told me that he was all done, then left my house. But before he left my house, he placed the halogen light, on top of a dresser that was located next to the washing machine, and he was to stupid to unplug the light, and placed it face down on the dresser. About 1/2 an hour later, I was about to leave my house, to go to the grocery store. But prior to leaving, I thought that I smelled smoke coming from my basement. So I go downstairs to investigate the order, and I discovered my dresser completely on fire, with the light still on, and still burning. Behind that dresser I have peg board, that I use to keep all my tools in order. Had that peg board ignited, it would have gone straight to the insulation that is in the laundry room. Had I not smelled the smoke, prior to leaving my house, my entire house would have been on fire. Luckily, I had a five gallon bucket full of water next to the dresser, as I had to get the water from my neighbor's house, because you only get one flush on the toilet, when you are on a well. I had taken photos of the burnt dresser, and a copy of the bill from the well company, and took it to the manager of your store, that is located in Chesterfield, MO. He told me that they would pay for the well company to turn my water back on. In addition, he gave me an extra $30.00 to purchase cleaning supplies, to clean the mud up that the plumber had tracked into my house. So he gave me $155.00 in cash, had me sign a piece of paper, and that was it. But once I got home, I was thinking about what happened, and like I said, I am disabled, so why in the heck should I be the one cleaning my carpet, even though your store gave me $30.00. Then there is the issue of the dresser, that is made out of cherry wood. Not some old crappy dresser, but one that used to be in my son's bedroom. That dresser is completely destroyed. Yet the manager said that I was the one in fault, as I gave him the halogen light, and I plugged it in for him. Pure common sense would have told him that after he was done using the light, that I allowed him to see, instead of making him go back out to his truck, then track more mud onto my new carpet. Any fool would know better to have left the light still burning, and place it on a wooden surface. So he should not have tired to place the blame on me, for giving him the light so he could see. When someone gives you something to use, common curtesy should have told him to turn the light off, by unplugging it, as the plug was located next to the water handles, that he should have used to turn off my water supply. Further more, with him trying to turn the correct handle back on, he must have used some force, because now I have a leak in one of the pipes, where it is sweated into one of the cut off valves. So the five gallon bucket is now being used to collect the water that is dripping out of the pipe. I never had a leak in that pipe, before he started screwing around with the shut off valve. So am I to assume that I have to pay to have a plumber come out, to fix the leak that he created? I did not notice this leak for several days, as I don't go down into my laundry room every day. I have been a good costumer for your store, as I purchase new granite counter tops for my kitchen, about two years ago. In addition, I also had new carpet installed in my entire lower level of my house. Yesterday, I just purchase new windows and a new patio door for my lower level, which cost me over $6,000.00. So I have spent a lot of money at your store, and I don't think that I should have to suffer from what this guy did to my dresser. I have photos of the damage, but it is on my cellphone, and I don't know how to transfer those photos onto my desktop computer, otherwise I would show you the damage. I also should not have to pay to have the leaking pipe repaired, as it was not leaking, prior to this guy trying to turn my water back on, after he forgot which one he used to cut my water off from my well. He caused the leak, so they should repair the leak.
Thank you,
Mr. Lee Bolin
leebolin1960@gmail.com
636-458-9252 (home phone)
1740 Wild Horse Creek Rd.
Wildwood, MO. 63005

Glenn Batten/Phyllis Batten
from Raleigh, NC
Purchased Washer/Dryer/Stove and Refrigerator on March 3rd, 2018 from the Lowes 106 Wilkes Lane, Hampstead NC. The Refrigerator and Stove were Whirlpool Brand and the refrigerator had to be ordered because they did not have a stainless steel one in stock. We were told that the refrigerator would be here no later than March 28th because we needed it before Easter. We received a call on Wednesday March 28th and said that it should be delivered to the Lowe's store on March 29th and they would deliver it on Saturday March 31st. My wife call today, March 30th to make sure everything was still on go for Saturday and she was told that the refrigerator did not come in and it would be at least 7-10 more days before it arrived and they could deliver it. My wife and I decided to cancel the order and to go elsewhere to purchase the refrigerator. I called the store and spoke to the Manager (Kenny) and expressed to him what had happened and he said that he was sorry but there was nothing he could do. I was not asking for any favors, but i felt like he would have said to come by the store and if I found something else that I like he would give me a 5-10% discount for my troubles. I am not asking for any discounts because I was paying the regular price for the one I ordered, but this just goes to show you that the Big Box stores only care about sales, no customer service after the fact. My plans are to have them come and pick up the Washer/Dryer and stove that they have already dropped off. I do not want to do business with companies like that, but on the other hand I wanted to buy from the local community.

Terrance O'Hara
from Oneonta, NY
I was purchasing a sump pump and the only one on the shelf (there were two on their inventory) was used and rusted, I asked customer service if they would discount the unit from the $217.00 purchase price. He was reluctant to sell me the unit for fear that it wouldn't work. He spotted two managers strolling thru the store and approached them and asked for their help. The two strolled over and eyeballed the unit and started expounding different scenarios that would have left the unit on the shelf. I'm not used to men wearing cologne to the point of making my eyes water. The subservient manager spoke up and asked what the purchase price was and was told $217.00 and he replied "we could sell it for $216.00" and smiled as he gazed at the superior manager. I said would that include installation and returning if it doesn't work? No response, just a smirk. Home Depot was very accommodating.

Charles Porter
from Gonzales, TX
On March 11, 2018 I purchased a patio Gazebo, item number 875051.It was to be delivered to the job site on March 25, 2018. I called twice to verify the delivery date because I wanted to make sure of the delivery on a Sunday and to be reassured of it's arrival. I scheduled with my customer to construct a concrete slab to mount this unit on and a total price for the coast of the Gazebo, material, construction a a concrete slab and total cost including the labor. My customer was satisfied with my service and price. My customer paid me in full for the work that has been done and the cost of the Gazebo. On the morning of March 25, 2018, your store called me and stated that they would not be delivering the Gazebo!!! The reason given was that they were out of stock. After several phone calls, a person, who was suppose to be the store manager, stated that there is nothing that he could do to help me with my problem that LOWE'S created!!!! My customer want their Gazebo installed as agreed or all of their payment returned!!! Why did it take 2 weeks for Lowe's to tell me that you did NOT have the Gazebo that my customer wanted and I paid for in advance???!!! I even asked the so called store manager to sell me his floor model and he told me it would be " to much trouble to dis-assemble it ". I am out $5,800. for my expenses to preform this service to my customer and it is " to much trouble " for Lowe's to help me solve a BIG PROBLEM that Lowe's created!!! You people do NOT want to help your customers!! " it is to much trouble" to fix a problem Lowe's is responsible for!!! Chuck Porter 713 898 0168

Melvin Perkins, Jr.
from Madison, MS
I was looking for an oil filter for my LA 135 John Deere riding mower. I saw the John Deere Easy Change 30-Second Oil Change System and I wasn't sure that it would work so I pressed the Chat button. I purchased this filter and it was not made for the LA 135 mower. Your representative Charles W. knowingly LIED to me.
The following is a record of your online chat.
General Info
Chat start time
March 28, 2018 11:59:45 AM GMT-06:00
Chat end time
March 28, 2018 12:11:25 PM GMT-06:00
Duration (actual chatting time)
00:11:40
Operator
Charles W.
Chat Transcript
Info: Thank you. An agent will be with you shortly to start your chat.
Info: All agents are currently assisting others. Your estimated wait time is 2 minutes and 15 seconds. Thank you for your patience.
Info: FOR YOUR PROTECTION: Please don't share confidential information, like credit card numbers or security codes, in this window. A separate secure form will be sent to collect this info, if needed to assist you with placing an order.
Want a copy of this chat emailed to you? Click on the (+) button below.
You're now chatting with Charles W..
Info:
Charles W.: Hi. This is Charles W. and I will be happy to help you.
Info: The chat transcript will be sent to: mperk47519@att.net at the end of your chat.
Melvin: is there an oil change kit for the John Deere LA135 mower at Lowe's Madison Miss
Charles W.: Hello Melvin, let me check for you
Charles W.: Allow me 1-3 minutes please
Melvin: ok
Charles W.: Thanks
Charles W.: Thank you for waiting, after checking we have one oil change system for this model available today CLICK HERE TO VIEW We offer store pickup with your order online today
Charles W.: let me know what you think
Melvin: I saw this before the chat, but it does not say for LA135
Charles W.: I checked with inventory and this item works for the model you provided with no problem
Melvin: thanks
Charles W.: You are welcome, would you like to purchase it with store pickup online?
Melvin: no I will just go get it
Melvin: bye
Charles W.: You can place your order online so we can reserve this before this is sold out, remember that customer can order it

Gennece Hampton
from Grovetown, GA
not completingGennece Hampton
P.O. Box 593 (325 S. Bell Street)
Harlem, Georgia, 30814
706-339-2799
gennece@aol.com
March 17, 2018
To Whom It May Concern:
I am writing very UPSET of my Samsung refrigerator icemaker installation. I purchased my product to be delivered on February 25, 2018 between the hours of 3-5 p.m., the installers came at 10:32 a.m. I was not home, therefore they returned the refrigerator to the store. When I got home before 3 p.m., there was a note stating they tried to call me because they were not supposed to come out that late on Sunday, but remember Lowes are the ones who set up the appointment. I called them and Shane one of your store managers told me they could not come back out the same day because they had no one to bring it back out. I told him I had medications that had to be refrigerated that is why I set the appointment time for them to the deliver. After everything said and done my refrigerator was delivered by Ryan one of the delivery guys with the icemaker but installment was not completed due to the clamp to connect the water line. I was told to come the store the following day in Evans, Georgia (706-868-4112) to pick up the part. The installation was supposed to be completed by Lowe's. The clamp was connected improperly, and the water line has been leaking underneath my sink. I called the store and spoke with Christina notifying them of the problem and she told me one of the appliance manager were on their way to my home to access the problem and she set another appointment on March 7, 2018. She also told me there was a conversation held earlier that day about my concern. But, as of this day March 17, 2018 no one has come to assist me or even called. Please also note, when the refrigerator was delivered it was dented on the right side and Ryan told me he would give me a $50.00 credit which I have not seen on my credit card.
I have water damage under my sink and the problem is still HERE.
UPSET CUSTOMER
Gennece Hampton

Tony Hill
from Fort Worth, TX
March 15th I purchased 29 boxes of 737996 Matrix flooring on transaction # 89145606 03-15-18 from store 0463. After paying invoice 11234 I waited in the loading area for 15 minutes waiting for assistance in loading, assistant never showed. Loaded all 29 boxes, I am 57 years old with a bad back but struggled to load. Drove 50 miles home to discover I purchased the wrong tile. Returned to store 0463 and went to customer service desk. Associate asked me to pull down to lumber arear, he would call them and then they would unload. Two employees came out, one on forklift and other walking. I asked if they were here to unload flooring, they told me no. Sales person R S0463SW1 came out and asked the same two if they would unload the flooring out of my truck and they told her no also, told her to call someone from flooring department to come out and unload since there was three of them. I did not have time to waste, I told the young lady that I do it myself. Unloaded flooring and took inside. Obtained my credit, then was going to get correct flooring wanted to talk to manager first., they paged him, no show. I left my name and phone number and asked for him to call me. Gary did call me, I informed of the situation, he apologized and asked if I knew names. Said he was sorry and asked if I would give them another chance. Will not have had other problems with this store in the past. I then drove to store 1965 in Lindale, purchased 48 boxes of flooring on invoice 95650 needed for same square feet. These guys are professional's, helped me all the way around, loaded, thanked me for my business and made me fell like a customer. This is Great Customer Service. In the past year I have redone my mothers house and also mine, spending close to $100,000.00 That might not be big for a company your size but that is HUGE for me. If you want to call me that is fine. My number is 903-530-5478

Randy Hetherington
from Key Largo, FL
Placed an order on line and requested that it be delivered. Called the store 4 times to find out when the order would be delivered. Each time I was put on hold by the order department for a extended amount of time (30 min +) and never got any information about my delivery. Tried calling and talking to the store operator and got the same treatment. If I could get someone to talk to I would cancel the order.

Glynn Stewart
from Tuscaloosa, AL
I purchased a refrigerator about a year ago. After it arrived I noticed the door was damaged. Called Lowes the next day and they said they would send me another one. After not hearing anything for almost two weeks I began calling. Never was able to make contact. The person I needed to talk to was always in a meeting and they would have her call me. This never happened. I finally got in my car and drove the 50 miles to Montgmery in order to finally talk to someone. This time was told my refrigerator was arriving that night and they would get it to me. 10 days later got a call wanting to know if I told the driver it was not a good day to deliver. I never talked to driver. Another week goes by and I finally get replacement refrigerator. Was told by delivery guys my refrigerator had been in warehouse for 4 weeks and driver had taken it for delivery once but was running late and took back to warehouse. Lowes apologized and said they would send me a gift card for my troubles. This never happened either. Now to the present. My refrigerator(still under warranty) is now frosting up on freezer side and doors are misaligned. Called Lowes on 2/23/18. Was told repairman would call within 3 days to schedule a date to repair refrigerator. DID NOT HAPPEN. Called back on 3/5/18 and was told I would be contacted on 3/6/18. DID NOT HAPPEN. Need to know if you have any intention of honoring warranty.

rick hunter
from Madison Heights, VA
appliance repair is ridiculous. Too many parties are involved in setting up an appointment that then gets changes and still NO ONE shows up or even offers a courtesy call! The telephone complaint line leaves you on hold forever before anyone answers .

Jerry Cobb
from Albertville, AL
We purchased a wall oven from Lowe's on 5 March 2018. We expected that delivery would be 2 or 3 days later but after a week went by, we went by Lowe's to see what the problem was because we knew the payment had already been cleared by Lowe's.
The salesman was good and tried to get information what the hold up was and told us we would receive a call the next day which we did; however, the installers told us it would be another week before they would deliver. That is 2 weeks and a day after we made the purchase. They are now scheduled to deliver on March 20th. If we had known it was going to be that long, we would have purchased elsewhere. We have bought several appliances from Lowe's over the years with satisfactory service but we are not happy with this one.

David Cossu
from Walnut Creek, CA
Scheduled to repair faulty dryer which was originally scheduled was for tomorrow, was informed by Lake appliance repair company, could not honor time, was told by phone it would be the 21st, 8 days from today, and now this 2nd email from you, which is now March 27th to get our dryer repaired!. There was and continues to be clearly erroneous information provided by Lowe's, asked for supervisor, was referred to Samsung, spoke with them,, who earliest was Monday March 19th. In either case, suffice to say, this is completely unacceptable in a busy household, and reflects poorly on both Lowe's and Samsung. Based on this experience, I am unlikely to shop at Lowe' s in the future or purchase a Samsung product anywhere and anytime again. I will be in contact with the BBB next. I do not blame Lowes or Samsung for the mechanical failure of the item which is under warranty, but both companies poor customer service and complete disregard, and might I add incompetence for and in assisting your customers, is quite evident here.
Lowe's Repair Scheduled Notification / DAVID COSSU / 1-23599922757
Appointment Information
Date 3/14/2018
Time slot 12:00 PM - 04:00 PM
Service Provider Information
Business name WFCC - LAKE APPLIANCE REPAIR
Phone number (916) 985-3426
Product Information
Brand SAMSUNG
Type Electric Dryers
Model number DV45H7000EW

Steven Shaw
from Menifee, CA
I was trying to purchase some kitchen appliances and arrange delivery from the Hemet, California Lowes. There were some issues that needed to be discussed. I called the store and initially tried to speak to an associate in the appropriate dept. After many attempts with the phone never being answered and disconnected, I called, asked for and spoke to a manager, named Jennifer. She was very helpful and answered my questions. At some point I had more questions and called back to speak to her. She was unavailable. I was connected to another manager, Christina. To answer my question, Christina said she had to speak to an associate in the kitchen appliance dept, who had just left for lunch. Christina promised me that she would call me back in an hour when that associate had returned. After not hearing from Christina for approx. 3 hours, I called and was told that Christina had gone to lunch. I asked for and was connected, after much waiting to another manager, George. Even after explaining to George all the problems I had been having getting some answers about my prospective purchase, George was very, rude and dismissive. The final issue that I discussed with George was the installation contract for the appliance. I asked him how much it would be and he told me that I would have to speak to someone in the appliance dept. I reiterated how many attempts and how impossible it had been to contact that person. I suggested that, since he was in the store, he could just walk over there and get that information for me. I inquired if it was too far to walk and guess he didn't like the question, as the line went dead.
Is this the quality of customer care and service that Lowes prides itself on?
Steve Shaw
714-812-2628

jody novak
from Helena, MT
Hello, my name is Jody Novak and I am writing you to bring some safety concerns to your attention. I am an advocate for bulling in the work place and I am a mandatory reported. In the Helena office a new manager has recently been hired I only know her first name not her last. Her name is betsy. I got two issues I want to bring to your attention. first issue: bullying co-workers
I want to report her to the head office and reported her in our local store.
She is being unprofessional with the co-workers she works with. she yells and screams at them she does not ask co-workers to do things rather demands in a very unprofessional manner. She targets a multiple variety of co-workers and bullies them to get done what she wants. (concerning a specific employee here are some detailed examples: the employee was bringing up pellets to the front of the store and was yell at by betsy to not be bring anymore to the front of the store. *note: the employee knows his job and has worked for the company for 10 years and has done this specific job daily with no issues until she was hired*
another example this specific employee was going on break when she approached him and demanded him to go take returns to their proper stations. instead of letting him take his break as he was already in the break room. Betsy is pushing co-workers above their limit and causing retaliation.
I personally have witnessed and observed her behavior toward the coworkers in the work place and as a professional advocate and reporter I want you to know this is not a good situation for anyone.
issue two: not following labor laws
Betsy oversees making out employee's schedules and it has been brought to my attention by many different employees that she is scheduling them to close the store and open the next day. An example an employee mention to me that he must work from 7am - 11pm and had to be to work at 6am the next morning. due to safety precautions and the labor laws there is to be 8 hours between shifts in this type of industry. Which shows you that this manager Betsy is not following rules and regulation concerning both federal and state regulations.
I wanted to bring this to your attention and ask that action be taken in this matter asap. I would appreciate it. If you have any questions or concerns please contact me. thank you for your time.

Jon De Morales
from Kailua-Kona, HI
Purchased Char Broil Commercial Gas Grill (model # 463242715) from Kailua Kona Store three years ago. Grills and diffusers have deteriorated. Although there is an identical Gas Grill for sale on the floor the store employees told me that the parts are not available because the model is discontinued. The grills and diffusers in the floor model for sale are the exact dimensions as mine. There are numerous grills and diffuser parts on the shelves for sale, none of which are the dimensions I need. I cannot believe that Lowe's has discontinued a model and replacement parts while selling a new one on the floor without alerting the potential buyer that this is a discontinued model for which parts are not available. If these parts are still available I would like to know how to order them. Your internet site does not include the dimensions of the parts.

John ghenes
from Jolon, CA
To Whom it may Concern:
In 2014, I had Lowe's come to my house at 4952 Buck Tail Lane in Paso Robles California in order to give me a quote on fencing. Mellissa came out and took measurements of all that was required. I also stated I had two large dogs that would need to be protected and the fencing strong enough. I received the quote, which was fair. Mellissa said it was a three to four day job. Great. That was the timeline that I needed. KC Construction was the sub -contractor and the job when they thought it was complete was over a month. I complained to Lowe's about this length of time and the contractor showed up when a complaint was made. I have a gate put together with six foot panels. They left without placing cane bolts in either side of gate. Gate was held together by gate latch (only). KC Construction felt the job was complete. I complained, they came back to put in (1) cane bolt, NOT TWO! I complained and Lowe's office called yet nothing after that was done.
I put in a second cane bolt because of lack of anything from Lowe's to satisfy the issue. I have attached photo's of the straight crap job Lowe's did. Today, my dog ran through the gate because there was no wood inserted within plastic fence post to hold screws in.
All, I am beyond disgusted. I want this job fixed.
John Ghenes (COL, Retired)
8314442930

Randy Elliott
from Pagosa Springs, CO
I purchased a cargo trailer for over $2,000.00 at your lowes of Lakewood Washington on Sept 12th, 2017. Delivery was in the latter part of October, 2017. I was given the paperwork, along with the title and assumed i had all the necessary documents needed to register it into my name. I brought the trailer back to Blanco, New Mexico(near Farmington, New Mexico) for registration since this is where the trailer will be used. First, the title was never reassigned to me from the Lowe's of Lakewood, Wa store. Second, i was not given a sales receipt listing the VIN number and the purchase price. It is required by the Motor Vehicle Department here in Farmington, New Mexico. I have contacted Customer Care, Lowes of Lakewood, and Lowes of Farmington, all of which state they cannot help me with this problem any further. Without the necessary paperwork to register this trailer, it's of no use to me and IF I can get no satisfaction from this complaint then I apparently have a $2000.00 piece of junk sitting in my yard that i cannot legally use. SOMEONE has to be able to help with this situation. It's been ongoing for a few months now, so now, i have to pay a penalty if and when i do ever get the proper papers for registration. If you cannot help me with this situation, then i wish to return it to the local Lowes and be issued a refund check for the entire amount plus the interest i've paid since i charged it to my lowes credit card and have essentially paid it off. You can contact me via either email, or phone @ 505-419-1514

Robert & Mary Ann Hendrickson
from Scranton, PA
On October 21, 2017 we signed a contract with Lowes in Dickson City, PA for new runs and vinyl flooring. The order was in excess of $6000, which we paid for IN CASH, FULL PAYMENT. We were not in a hurry for the installation, however, it has been over four months now with nary a call from Lowes, except for the frequent calls I made to follow up. I just got off the phone with a representative, having been on hold for 25 minutes, who told me all of the materials were not in, and would not be in until February 19 (I assume, 2018). This has been going on for months now. I could have been getting interest on my $6000, which was a withdraw from my 401k.
I don't want to go through the exercise of selecting my flooring again, which is the only reason I'm putting up with this.
Please respond. I'm almost at the point of consulting a lawyer.

Lauren
from Louisville, KY
This is not a complaint!! I had a amazing person take care of what i needed I the store. His name was jack. He helped me fast and with a great attitude!! Thanks jack. This was at the store in aiken SC

Adam Klein
from The Bronx, NY
Ordered vinyl planks to be installed, store had 33 on hand, they couldn't find them and did nothing for over 6 days until I complained. Now delivery is screwed up. Do not use them!!!!!

James Pappas
from Coeur d'Alene, ID
This is a follow-up of a complaint that I filed on 2/3/18. The experience was at the CDA, Idaho Lowes, I also filed another complaint on 2/6/18 as well. Since then, on 6/8/18 I received several calls from both Lowes Corporate as well as the Lowes store.
One of the Managers at Lowes (Tanner) wanted me to come down today (2/9/18 , and make all this frustration up to me. I met Tanner this afternoon, and he both apolijized for all the hassles, and then really made it all up to me, and then some. I did want to be compensated, and he exceeded my expectations. I found him both genuine and very professional in the way he handled the situation. He also convinced me that the root of the problems were very adequately addrressed. I returned to the store a second time, and did more shopping. Overall, I am very pleased with Lowes and how the handled the issues.
Sincerely; James Pappas (208) 699-2801

James Pappas
from Coeur d'Alene, ID
About one week ago, at the Coeur D'Alene, Idaho Lowes, I was in the tool dept., and saw 2 boxes of stainless steel nails on the clearance rack with no price. I brought them to the customer service to get the clearance price. They looked it up, and gave me the full retail price. Again, I stated that it was on the clearance rack for some time, and it should be a reduced price. The woman called a short older man to customer service to solve the mystery. This fella gave me the full retail price, with the idiotic explanation that sometimes when an item is discontinued --- this is how they get rid of it?
Before I could respond, the customer service lady told him bluntly that his explanation made absolutely no sense. She took the words right out of my mouth. He then discounted about $10 off of the $62 price. I said no thanks and left in disgust.
About a week later, I walked in the store (last night) and right in front of the entrance is a rolling clearance cart. I grabbed a box of double spring door hinges that had a full size price sticker with a proper description of the item and a bar code. The price was $17.64 Per Case. I brought the box up to purchase and was told that the price is per hinge, not per case. I showed the huge price sticker that stated otherwise and objected. She then called for the same old guy, and I got the same old runaround. She called a manager named "Tyler" on the phone, and it was relayed to me that the price is actually $28 per hinge! He did not even bother to come up front, or even listen to the customer service lady try to explain what was happening. I told the customer service gal that I would be contacting someone about all this deception and unnecessary frustration. She told me that she would hold the product for me at customer service, and I left.
I returned this evening to discover that it was not put aside as she stated. In fact, it was right back on the clearance cart with a black magic marker line across the "Per Case" on the price sticker. Also, plastered on the side of this clearance cart in huge letters is "75% off the lowest price marked on this cart only". I grabbed a bunch of items, made my way to the register, only to discover that once again, I was decieved. I was told that the 75% only applied to certain items on the cart !
At this point, I was so discusted that I just gave up and left. That's 3 times in a row that my intelligence was rudely insulted, and I do not even believe that this level of deception is even legal. While I do not believe that this garbage was intentional, at some point I would have expected someone to make right on it at the very least. Instead, I recieved no apologies, and only a thorough demonstration of just how much these people do not even care. I have been a loyal customer for over 20 years, and it is a shame to see Lowes sink to this level.
Sincerely; James Pappas (208) 699-2801
This experience was at the CoeurD'Alene, Idaho Lowes.

Lawrence Hausch Jr.
from Crestline, OH
Found a product on line . after several attempts to locate a store in my area who carries it, I contacted my local store only to be told that it is not available in my area at all. I then contacted Lowes help line and spoke with a person named Nonno very helpful, but problem was not resolved. I was informed that this product is not available at all , but it is still listed on the web page. I am not a happy customer when I do extensive research and decision making on a product that I would like to have in my home.
The very least Lowes could have done was to offer me a similar product at the price listed of the price that was no longer available but still listed on the LOWES web page. .
The item in question was 47.75 " X 7.98' Emblossed Paintable Brick Hardboard Wall Panel at the cost of $2.52 each. The only way to find this product is to look up Red Brick Paneling which gives you an option to Red Or White. But as you can guess no option was even offered. What is this saying to your customer base? And why do you think your customer base is going to your competitor even if they have to pay a higher price. I wonder.
Sincerely ,
Lawrence J. Hausch Jr. 109 Water St. West Unity Ohio 43570 419-277-2499

Manuel vasquez
from Vacaville, CA
When to Lowe's at the vacaville California needed some supply to fix Windows. When to the cashier to ring Up my supply I am retired air force veteran told the cashier that,but she informed me that now I had to have a 244 form and I had to go to the information desk to get it Ok I was not aware of this and the middle of my purchase of $146. Worth of items and made me fill like I had to make my purchase without my discount I felt cheated and made me feel like I was trying to steal something this made me mad ,so I went to returns and go my money back,I talked to the manager and told him what happen and he apologized ,it would not been so bad if we vet know of this instead of finding out to late I feel embarrassed there was a note of this at the register but that to late ,no note in the entrances how a vet suppose to know? From now on I will shop at home depot I post this on Facebook to let other know what going on a Lowe's.

Juan Acevedo
from Deer Park, NY
Rude Female employee at the Kitchen Cabinet design center in Riverhead NY

Willie Thomas
from Apopka, FL
I have a contract for roof replacement, at the Zephyrhills, Fl. store which I paid for on 12-18-2017. I was told at that time that it would be about three weeks before I could get the work done. After four weeks of not hearing from them I called and was told that it was a week out, I called again yesterday and was told they would check into it and call me back. I'm still waiting on that call.

Norman Reasonover
from Richmond, VA
Let me start with this job took almost 15 months to complete (we signed the contract on 09/21/2016 and Richard completed on 12/18/2017), I understand that 12/26/2016 to 02/28/2017 I was on travel but no one was going to install windows and siding during that time. The no install date during my travel was made clear to the Lowes representative who came out to give us a quote.
The feelings of happiness of getting our house updated was destroyed and was replaced by the "what is the next head ache" we had to deal with.
I would rate the overall LOWES experience a D minus at best. I would not have another job done with Lowes that has Rico DiMattia or any of his crew / crews involved. I do believe a lot of the issues of labor was caused by internal strife between Rico and the people he hires that overflowed to our job. Not having a local project manager to talk to or to inspect a job is a huge detriment to Lowes. We feel some of the problems we had would not have occurred if there had been someone to check the progress of the job at the job site. We were left with the feeling that 'we (Lowes) got your money, so what'.
The first item to bring forward is communication, if I did not make the effort to call and find out what was going on with ordering of replacement I would not have been kept up to date. There are two instances where we spent all Saturday waiting for a delivery that never came. When I called I was told that the store had cancelled the delivery - the cancellation of the delivery was not as bad as the fact that no one picked up the phone and called. The same held true to trying to find out when the installer would be on site. I do not know about you but 10 am to 2 pm does not allow for much work to be completed.
I tried to call you on several days in a row only to have your answering machine answer and asked to leave a message, but it could not record due to the machine being full.
There is a problem with people taking measurements for doors - each time we had an issue, the door / door hole would be measured and the result was either a door too small or too large.
There is a problem somewhere between the shipping of items from the manufacturer to Lowes to the delivery to the customer. Several windows and sliding door had to be replaced due to the nail flanges being broken off and scratched. One sliding door came shipped 90 degrees from the way it should have been packaged.
There is a problem when there is product that has to be replaced that it takes three weeks (minimum) to get the replacement, then the rescheduling of workers back on site. You are looking on an average of 5 weeks if not longer to try and complete the job.
The manufacturer representative from Reliabilt (Atrium windows and doors); Rob Yonkers, came to our house for our windows and sliding door only to make promises he did not keep - that is a huge issue with me. The second item; the sliding door, came with a manufactured defect - a sag in the middle of the vinyl frame which was extremely obvious. Rob told me that the company knew that there were issues with the manufacturing of the sliding door, my question was why would you send out a defective product if you knew of the issue? Lowes did step up and replaced that sliding door.
After the siding was cut back for the installation of the windows there was an issue with that installer, because we did not know when they would be back we had to have the siding secured - the installer used ice shield and during their hap hazard installation of it damaged two or more of the windows. Plus it made our house look like some trailer trash lived there, I am not happy one bit over that.
The storm door prior to Richard was a nightmare, instead of telling us that the storm door was the wrong size, it was hacked up to try and make it fit. That process also damaged the interior door. When it was finished the storm door would barely open half way. I have pictures of this, plus Richard was sent out to provide Lowes a second opinion.
I took those pictures to Lowes - Pocomoke and showed them to Tracey Mason.
I would like to say that Tracey was quick to step up and helped to get our issue with the storm door and interior door resolved.
Richard did come out and was able to install the front door and storm door with out any issue that I am aware of. He was courteous and professional.
I have a log of the days and what transpired up to Richard the door / storm door installation.
I believe that Lowes should provide compensation (not store credit) for all of the issues that was caused by the poor communications, poor manufacturing of products and poor selection of contractors to perform the work. This does not touch the issue of all the time off from work that I had to take.
I got a response from customer care from a Joey D.(from LOWES customer care) who said they would be in contact no later than two days, that was 15 days ago. Only goes to show there is no customer care at LOWES customer care site.
Lowes ranked 1 star because You do not have negative stars.

Thomas mason
from Oxford, PA
Worst customer service experience ever sent unqualified technician to install a dishwasher Spent almost $1000 to buy and have a dishwasher installed but the technician couldn't do it so canced the order l will never shop Lowe's again

Richard Johancen
from Prescott Valley, AZ
I am a VET have hospital card as proof -- your people were offended when I asked for the same information as they were asking of me. Home Depot from now on and Ian sure you don't care

Ehab Tawadrous
from San Antonio, TX
Dear Sir / Madam
On November 10th, 2017 , I called Lowes to have my AC replaced. I got an appointment on 11/14/2017 with Lowes Representative to come to my home, and to give me his offer, his name is Scott Dail.
On 11/14/2017 at 1800, He came home along with Tran rep. Told me there is a 400 Lowes rebate on the deal to sign the contract, and I asked him what I need to do to submit for the rebate, he said, " I will do it myself, and you do not need to do anything, and it will take 6-8 weeks to be received". As a result I made the deal. On 11/24/2017, The AC was placed and has no issues since then.
On January 10th 2018, I called Scott Dail on his phone , left a message inquiring about the status of the rebate. He called me back informing me that, the rebate has been submitted and in the process and to give it couple weeks to received it.
I called him back on 01/23/2018 to check the status on his both numbers he provided me. They are 210-428-9278, and 210-764-8052. The first number mentioned has call restriction, and the second one is been disconnected. Thus I could not talk to him, So I texted him on the first number, and has no respond.
SO, I called customer service on 01/23/2018 talked to Reynold D. and he notified me that, he submitted a claim, provided me with the claim number as 1-19088630535, and will expect a call back in regarding that matter. And until today 01/26/2018, I have not received a call yet.
So, I called customer service again today 01/26/2018 at 0945 to ask about the status, talked to Rebecca W. she put me on hold for a while, then she notified me that, She reached the Manager on Duty for the location the purchase had been made from, and he will look into it and will call me today, and he has not called me.
At the end, I am very frustrated and disappointed because I chose Lowes with higher in price at least $1500 than other company, just because the Lowes's reputation, but what I am experiencing now is not Lowes, and if I have to escalate this issue to the court to get my money, I defiantly will. Just to be clear, what Scott Brian did, is win-win scam case, and unfortunately, I trusted him because he came under the name of Lowes.
I am looking forward to hear from you
Regards
Ehab Tawadrous
Phone number 210-931-3032
email; ehab.tawadrous@yahoo.com

Steve R
from Bentonville, AR
My wife and I were shopping at the north Bentonville Lowe's around 8:00 Friday night. there were very few customers in the store. After getting a number of items my wife had to ask the front desk person twice for some help in selecting some light bulbs. It took 10 to 15 minutes and no one came. We finally picked out a bulb we weren't sure of and went to check out. When checking out the clerk missed ringing up 3 items that he put in our basket. We had to point out to him that they were missed. this mistake would have cost your store about $35. Your staff out numbered the customers in the store by at least 2 to 1 and still we couldn't get waited on. Your service is seriously lacking.

1SG Retired Ronald Eugene Smith, US ARMY
from Killeen, TX
Today, 22 Jan 2018 I shopped at the Killeen Texas Lowes Blvd location for over the 100th time. When I showed my Retired Military ID Card I was told that until I apply for the 10% discount online I will not get the discount...So I guess our ID Card that we fought and defended this country for is no longer good enough for your Stores? I know its pretty easy to fill out the online request but that's not the complaint here... Your a profit company and I know that you are aware that every time a active duty or retired service member shops and is denied the discount you KNOW that's one of most likely Thousands of times at least that Full price was paid... IS IT THAT you hope for profit sake that most will just pay and not bother? How many Hundreds of Thousands of dollars are made by your company by denying the discount at check out until we sign up online, or better yet just don't bother? Why cant your policy be to go ahead and sign us up on the spot? Most that are told about this new change (Like me and Thousands others) were not aware of this change need the product and just pay,,, even if its just one time until we do sign up. Telling us at the check out and then denying the discount is not good business. You say you Support our Nations Military? Then stop doing everything you can to continue the discount while trying to say WE SUPPORT OUR MILITARY.. I would never tell your family and friends on a battlefield,, sorry until you sign up online for our protection I just cant defend your country and Life....

James Johnson
from Tampa, FL
Went to Lowes to buy a brass faucet... about one third of the inventory in that area was empty. They had no faucet in 3/4'' that I could use even temporarily. I went to Home Depot and all of their inventory was full. I had a choice of several different types. When asked for help at Lowes, I was sent to another department twice and then a third employee seeing that I was simply getting the run around came and confirmed that they not only didn't have any faucets on the shelves, but they had none in stock. Lowes in Zephyrhills sucks.

Amy Barnett
from Dayton, OH
I used to LOVE Lowe's. I wouldn't shop anywhere else for my home repair supplies. Now I can't think of too many reasons to go back for ANY of my big stuff!! I bought a storm door for a rental home on 12-8-2017. The guy was sent out to measure and, low and behold, came to my address instead of the one listed on the invoice. I had to wait another week for him to measure the door at the correct house. I was told that the door would be in the store within 1-2 weeks. After 3 weeks I called to find out the status because I never received a call from the installation people. They said that they checked with the store I used to shop at (Wilmington Pike in Bellbrook, OH) and the door wasn't in. I waited until after the holidays and on 1-8-2018 I called the store to find out when the door was expected. It had been sitting at the store since 12-23-2017. I was scheduled for installation on 1-14-2018 between 9-11 but that was canceled because there was a call for bad weather (which didn't start until 4:00 in the afternoon). My reschedule date was 1-18-2018 between 2:00-4:00. I took off work early to be there because no one else could. I sat in the driveway for over 1/2 an hour before heading home (just down the street, thank God). Over the next hour and a half I went down 2 more times and no one had shown up. At 3:50 I called the Lowe's installation number and spoke with a very nice gentleman (Jonathan). He checked for me and said that the installation company would try to reach the installer assigned to this area and that he would call me. I heard from the installer at 4:25 and he said that he'd had a flat tire this morning and was running behind. Maybe a phone call so I didn't have to take off work?! He was offended that I couldn't give him sympathy for a flat tire and that it was his first day. I find it bad policy to not call when you're not on time for an appointment!! This whole situation was terrible!!! I'm glad it happened with a storm door and not the flooring job I'm getting ready to do!!! I know where I won't be going for large purchases and jobs anymore. Sorry but I can't afford to spend this kind of time and money when the service is poor.

CANDACE TRACY
from Englewood, FL
I PURCHASED A BOSCH DISWASHER FROM THE PORT CHARLOTTE, FL STORE ON 12/22/2017. I RECEIVED THE DISHWASHER A WEEK LATER AS IT WAS DELIVERED BY THE PLUMBING CONTRACTOR THAT YOU HIRED. IT PROCEEDED TO TAKE THE DISHWASHER OUT OF THE BOX TO FIND THAT PARTS WERE TAKEN FROM THE BOX AND WERE MISSING IN MINE. HE HAD HIS OFFICE CALL THE LOWES STORE AND MAKE THE PARTS THAT WERE MISSING AVAILABLE TO ME FOR PICK UP SO HE COULD COME BACK TO INSTALL THE DISHWASHER. I PICKED UP THE PARTS LAST WEEK AND HE AGAIN CAME DOWN TO INSTALL THE DISHWASHER. LOWES HAD GIVEN ME THE INCORRECT PARTS (THEY WERE NOT EVEN FOR A BOSCH DISHWASHER)!!! SO HE HAD MADE A TRIP FOR NOTHING AGAIN AND I STILL DID NOT HAVE IT INSTALLED. YESTERDAY THE PLUMBER WENT IN PERSON TO THE LOWES AND AGAIN THEY DID NOT HAVE THE INSTALL KIT WHICH SHOULD HAVE BEEN WITH MY DISHWASHER, IN FACT THEY DID NOT KNOW WHAT AN INSTALL KIT WAS. THEY SAID THEY NEEDED TO ORDER AN ENTIRE NEW DISHWASHER TO GET THE PARTS I WAS MISSING. I AM EXTREMELY UPSET WITH LOWES AS IT HAS BEEN ALMOST A MONTH SINCE I ORDERED THE DISHWASHER. I HAVE BEEN CHARGED FOR THE DISHWASHER ON MY NEW LOWES ACCOUNT AND I WOULD LIKE THAT CHARGE CREDITED BACK TO MY ACCOUNT UNTIL MY DISHWASHER IS INSTALLED AND WORKING. I CAN'T BELIEVE THE SERVICE THAT LOWES APPLIANCE DEPT. SUPPLIES AND THE FACT THAT THEY DO NOT KNOW ABOUT THE APPLIANCES THEY SELL. THE PLUMMER THAT WAS TO INSTALL HAS GONE ABOVE AND BEYOND WHAT THEY WERE HIRED TO DO AND I HAVE NOTHING BUT PRAISES FOR THEIR COMPANY. I THINK I SHOULD BE COMPENSATED FOR THE INCONVENIENCE YOUR COMPANY HAS PUT ME THROUGH AND EXPECT TO HEAR FROM YOU AS TO THE STATUS OF MY ORDER AND CREDIT CARD CREDIT ASAP. (914) 474-7277 THANK YOU- CANDACE TRACY

Janet Davies
from Basking Ridge, NJ
I just posted the following on Facebook and someone suggested that I let Lowes Corporate know about this situation.
"Just wanted to let our Facebook friends to NEVER ORDER windows from LOWES.
August 30 we placed an order with Lowes to have 15 windows to be replaced. The windows came in at the end of October and were delivered to us on Nov. 2nd. The 2 installers came on Sat., Nov 4 and installed 10 of the windows. It turned out that the large pane for the living room window was broken. The garden window was also broken and the bathroom window opened the wrong way. After over 25 phone calls to the installers, the Project Manager and the Project Coordinator the windows still have not been installed. And to top it off our old windows that were replaced are still sitting on our front lawn. When I've call the Project Coordinator or the installers they tell me that they will check on the order and get back to me. Well, that has never happened.
We did get a call on Mon., Jan.8 and she told me that the windows were in. We set up a tentative installation date of Jan. 12, but the installers would call to confirm the date. Well guess what, it is now January 17th and we haven't heard one word from them. They are the worst company that we have ever done business with. So please DO NOT order any type of home improvements from Lowes."
I think that this is just so horrible and some type of restitution should be involved. I WAS going to order a new window for our downstairs living room and that kitchen. I think that replacing these two windows is little compensation for all the mistreatment we have been through by your company. We had to go through the holidays with the old windows on our front lawn, were promised phone calls and am STILL waiting for an installation date. Our Project Coordinator (Victoria Jones) was very difficult to reach and didn't return our calls. Our Project Manager ((Eric Glantz) didn't return my phone calls. I want this problem resolved as soon as possible.

Deatta Flota
from Centralia, IL
I hired Lowes of Mt Vernon, IL to come and install a door for me, the installer came out and looked it over and gave me an estimate on putting in a pre hung steel door and storm door, I agreed to the work. I told them we would be using the same dead bolt equipment as we have adt security and it was provided by them. He told me that was fine. He scheduled the job came out and hung the door, Not once did he call me to tell me that a strike plate was missing, I go out to check the door and find I can not lock the dead bolt as there is no strike plate and the lock does not match up with the wood. I called Lowes to set up for him to come out and finish the work. Lowes set up a work order for it. The installer (Stan) called and said he would be out on Monday to finish. He did not show and did not answer my calls, so I called Lowes to find out a time he would be there, Lowes stated between 9 and 12, I said that was fine, about 10 mins later I get a call and I am told that there should have never been a work order on this and that the installer cant afford to drive 110 miles to put in a strike plate and make sure the door locks. I was asked why I didn't have a strike plate there, I was never informed one was needed until after the fact. I was rudely talked to and then told the installer would call me, he did and said I got him in trouble with Lowes and that he would never be back out to my house ever. He also accused me of wanting something for free. I don't want any thing I only want the door done right, and had it been done right the first time we would not be having this problem. I think when a job is bid out they should tell you ever thing you need to finish the job, that is why they come out and look it over measure and tell you what is needed for it. If I knew how to install the door and what was needed I would not have had to hire Lowes to being with. I put this on my Lowes charge but feel at this time with the rudeness and incompetence of the employers I will pay this account off and then cut the card up and use Menards or Home depot from now on. I only wanted my door done right.
Thank you,
Sincerely
Dee Flota

denise williams
from Raeford, NC
contracted with Lowes to do a flooring installation. Once they got my payment in full, things went south. I have had to call Cristina Greene to get an estimate on several occasions. Once she finally gave me an estimate, she set up delivery of materials. She then told me to contact Legacy Flooring who was doing the install to be put on the installation schedule. Well after 2 days of going backwards and forwards with Legacy, I was finally put on schedule for this coming Tuesday December 19, 2017. Spoke to Johnathan @ Lowes offices who helped to get that done. Still have not heard from Cristina Greene on when the rest of my materials would be delivered to my home. Have been calling since Wednesday and today is Saturday to no avail. No one is answering the phone in flooring, nor has Cristina gotten back with me as she said she would on delivery of my shoe moldings. Piss poor customer service. Lowes is my favorite store (or was), until I encountered this. I will never deal with them on installation or prepayment of anything ever again. Took them no time whatsoever to charge my credit card, but when am I going to get service? Worst customer service of my life.

Kathy Hart
from Cassville, NJ
I will never buy another appliance at Lowe's again! Home depot is just as competitive and convenient.
My washing machine broke after 9 years,which was purchased at Lowe's along with the other 5 appliances.
I should have walked out when the salesman was rude and provided me no help at all. He said that it could be delivered the next day. That morning I the delivery was canceled because the pedestal was not available. Now delivery was promised the next day. The time slot was 3pm to 5pm. I lo work early and waited until after 5pm and call to see ww what the hold up was...I was told that the delivery was canceled and I never was contacted. I called to place a complaint and I was put on hold and cut off twice!
Finally the third day it was delivered.
Now I familiarize myself reading the book provided and tried to start a load....it was not working. After some time I realized that the man never turned the water on but he stated that he tested it and it was working. Now I had to move the machine and turn the water back on by myself!
Do you realize how heavy this Samsung front loader is?
This entire experience was a disaster from the start and I. felt that you should be informed.
As I said before, I will hesitate before shopping at Lowe's again!
Kathy Hart
31 Crater Lake Road
Howell, N.J. 07731

on Nov.18th, I ordered a refrigerator at your store in Loganville, GA. Told it would be delivered on Dec. 14th. Called on 14th to find out it was placed on back order until January. Received a call the evening of the 14th from the delivery department, informing me my refrigerator would be delivered on the following day sometime 2-4pm. As a result, I took a day off from work, emptied my old fridge, and waited for the delivery person. At 3:30 I called the delivery company and was informed that my order was not going to be delivered. I called the Loganville store and spoke with the store manager. He informed me that someone made a mistake on the delivery schedule and I just had to wait until January to get the refrigerator that I ordered in November. The only solution the store manager offered was a loaner fridge, which would involve me taking another day out of my schedule for a loaner fridge in addition to taking another day off for the replacement fridge. It seemed as if the store manager was out of touch with reality. As a result of Lowe's negligence, I lost a day of pay. Also, I purchased this item on my Lowe's account. I am paying interest on something that might arrive 2 months late, if at all.

john trimble
from Fresno, TX
I paid for a water heater on the cell phone, they had assured me that they had 3. Sent my plumber to Lowes to get it. They had none, so my guy still charged me 250 bucks, so how's that? Don't go there, and my friends will not either. They didn't even apologize and still charged me!
The staff was lazy and could care less, like I was bothering them.

zero stars..will NEVER shop there again! I arranged purchase and delivery of a washer/dryer and applied for a credit card solely to have 6 months same as cash..was directed to customer service to complete my purchase. It took a half hour of my time in appliances. But I was at customer service 2 hours. The order had not processed completely. All I had was a flimsey small paper receipt that I could have easily dropped showing I had 6k credit which I never requested. I had asked to lower the limit in appliances but he said customer service would have to do it.So they couldnt contact the man who had helped me in appliances..he was in stock room pulling items for other customers. I would say at best 10 employees were in store including cashiers. I couldn't leave with my credit in the air..and purchase in the sir. I couldnt even simply cancel the sale. Finally they had the sense to simply re-ring up all items and give another delivery date. They didnt know how to lower my credit limit and today upon calling to cancel my credit found that instead they had increased it to $13000.00 with me buying a home in just a few days wreaking havock to my credit! Then upon calling today after it taking 1 hour to wait in line to cancel my order yesterday..I was given a run around by your neverending automated phone responses. Then upon getting a human with poor english and upon telling her I wanted proof that my account was closed via email. She asked for my email which I gave and "then" was told the ptoof could only be mailed and she needed my address..I had to "prove" my address. I have a mailing and a physical. She almost hungbup on me for giving my po box first. Then I wanted to file a complaint and was directed to a complete automated system. NEVER AGAIN..AS LONG AS I LIVE!!!!!

Richard Jones
from Kalamazoo, MI
Bought Ceramic tile base board and adhesive from Lowes for tiling my kitchen. After a week adhesive the recommended is still not dry and tile is coming up. Will Not return phone call and store manager is always not there.

Leslie C Harrison / Wayne K Harrison
from Springfield, IL
We scheduled to have a deck built. The credit card information was incorrect. The wrong color was ordered. We were placed at end of line for installs once the correct color materials came in. The installer did not show and has been fired from contracting because he did not show for other jobs as well. A new installer was found. Install date is Dec4 - purchase was Aug 4 ! Materials were missing day of install. Installer did not have plans for deck. Additional pieces had to be ordered at Day 2 and then they ran out of materials on Day 3. Install completed on Dec 12. We spent over 6k for composite for the look and care and there are exposed areas from where the composite was cut to fit ! It looks horrible. Lincoln Logs look better. Through out this entire time customer service has been less than satisfactory - excuses, no follow up from the store level as well as the project manager side. I have additional details and I NEED and WANT to have my side heard and I need to know my options to have this fixed. I am tired of the lies. I am tired of not being treated like I don't matter. I have spent a lot of money in LOWES over the years and especially in the past 8 months and it may stop here. I am unable to reach a manager at the Dirksen Store in Springfield IL. I am unable to reach the General Manager at the Bloomington IL store. I am unable to reach the supervisor at the project center in Indiana. There are too many details to place in this limited format ! I need someone to contact me.

Nick Romas
from Latrobe, PA
Could you please tell me if customer service at the Latrobe pa. lowes is just for returns! Today I ask the employee working there if they had an item on stock in the store. Her matter of fact reply to me was and I quote " I cant do nothing without a item number" So if this is your policy please let me know not to waste my time asking customer service anything! I can say this isn't the first time this has happened to me. I thought she was rude and unprofessional ! So when I do go to your store I will make sure I know where the item is I'm looking for . Far be it for someone to be helpful.

susan pomerleau
from Gardiner, NY
I ordered a fridge on Nov 24 was told it would be here on Dec 2 between 9 and 11. I called the store did not have it in stock. But, did not tell me. I talked to louis from the newburgh ny store. He said they would pull one from the Kingston store and it would be here by 2. at 3 I called the trucking company. They said he canceled my order. it is no 4 and I can not get louis on the phone. I want to know why my order was canceled. I was here day waiting

Jason Burt
from Sandy, UT
Well I went to Lowe's around 7:30 PM to buy a Christmas tree. I guess maybe it must be close to closing time to experience displeasing service. There was a lady at the service desk and a whole bunch of employees standing in a group in front of the service registers. They immediately scattered off as soon as I was looking for a cash register to have someone help me. Since nobody was left to help me the lady at the service desk asked me, "Sir do you need help with your purchase?" At that point I thought she was going to get me checked out and help me. But instead she said, "There are some self check registers right ahead." Wow, talk about her stepping up for great service.

Margaret W. Kornegay
from Dudley, NC
Why is it that a cashier in Lowe's in Goldsboro told me that effective 1 Jan 2018 I will have to have a "My Lowe's Card" in order to receive a military discount?? Really , , , another credit card or more business on credit for Lowe's. Let me also say this particular cashier was not very nice about her comments - requiring that I get a card. My husband (retired Navy Captain - 0-6) served with honor for 23 and a half years. I can assure Lowe's that while we appreciate the discount it is not something we expect or a small gift to us, especially if it requires that we have a Lowe's credit card. I was a volunteer over the years at Marine Corps-Navy Relief and I saw what too. much credit did to the younger families. Besides my military ID - I always pay with my USAA issued Visa card. One credit card and the information to keep up with. Does this mean you won't be accepting a different credit card as payment??? What about cash payments?? This is very confusing and disturbing to me as a consumer. Also this cashier did not turn her light on at her station - we had to go to her and ask - are you checking out??
I look forward to your response, Thank you for your attention to this matter.
Margaret W. Kornegay

randy
from Castle Rock, CO
I purchased a washing machine less than a year ago, it has quit spinning out the load. Lowes sent out Best Service Company and that repairman said nothing wrong with machine. Very next load, did the same thing. Now Lowes wants to send out the same company 4 days from today. Lowes customer servicer supervisor, Steve, could not help. Or I should say, would not help me. This was the worse servicer I have ever received. Don't buy from Lowes, don't buy the warranty from Lowes. They take your money and will not help you. It is all the manufactures fault.

Chuck Farrell
from Augusta, GA
I am a United States Marine veteran that spends thousands of dollars at your store. I was there last night 11/22/17 went to use my military discount showed my VA medical card as proof that I am a veteran and was told by a vey young girl at the counter that she was not going to give me my discount as of January unless I get on the internet and filled out the info for a my Lowes card.
I don't want to go on the internet and jump through your hoops for a card that I don't want to carry, I have enough cards in my wallet. The fact that a little girl telling me that my service to my country that I gave blood for was NOT good enough for a discount unless I jump through your hoops is very rude and insulting. Why is the fact that I AM a veteran NOT good enough for you?
I asked to speak with the store Manager waited for 15 min. and then the assisting manager walked up, I asked where the store manager was she said he's not here? I asked for a call form the manager and district manager but as of yet nothing. If you are going to give a Military discount just give it to us ! don't make us have to jump for you we have done enough for you. ITS VERY RUDE!

Allan cooper
from Parkinson, QLD
Went into your Stockland Townsville store had catalogue in my hand stood around for 10 minutes and NOT one staff member came to approach me I buy 90% of My clothes from your stores thank you

Annette Billington
from Bloomington, IL
I bought $400 worth of glass backsplash at one store. Because that store didn't have enough I had go to a sister store to get th e rest. I paid
$9.33 at one and $10.98 at the other. I asked for the difference back to match the price. I was told "no".
I remodelled and did an add on
a few years ago. I used Lowe's materials exclusively then and was very pleased.
After this experience, I will not be utilizing Lowe's again.
Annette Billington
512 Frore r
Lincoln,Il
62656

Today, I went in the store in Hartsville, SC and the temperature was below 30 degrees & the cashier(young lady) was very nice but very cold at the same time. I think it's a bit too much to have workers outside making sales and risking their own health. There isn't any particular temperature it should be before they're place out there? If there isn't, the company should be ashame and I feel for the young lady.

Keith Schueler
from Dallas, TX
Within the last two years I've purchased all new Stainless Steel Appliances for my home and had my Master Bathroom Shower remolded along with my second Bathroom shower all Satisfactory to the "Customer". We started a project on my rental property that my Son and his Family Wife and Five Kids are living in, we are doing the Master Bathroom and the second Bathroom showers and Flooring. This project started approximately 4 weeks ago, first to go was the second Bathroom with the new shower door coming in Damaged and it took well over a week to get a new one everything else was fine.
(So much for customer service) The Master Bathroom was next and at the completion the Shower door would not close firmly so they adjusted it, BUT the Bigger issue is the POOR Tile Cut around the light that left the cut exposed after the light was installed. When they were called they came out and attempted to Caulk around the Light to cover the Cut! We called again and agreed with their recommendation and at their expense if a LED light would work when installed to cover the POOR Tile Cut then that would be acceptable BUT it only made it worse. We have been TWO WEEKS now trying to get this resolved! I'm giving this matter until this end of this week to be fixed Satisfactory to the "Customer".
Further more we have Flooring that we were planning to do five bedrooms and hallway right after the Holidays along with my Daughter's Master Shower at her home, Got News for you it won't be with LOWES based on this experience. My work has me traveling a lot and NO TIME to deal with something like this that I by the way am paying $14,000 for this particular Job.
Thanks
Keith Schueler
3137 Twilight Ct.
Middleburg, Florida 32068
904-318-8090

Stephen Patterson
from Spring, TX
You know in the old days when a store said they closed at 8:00pm you could bet they stayed open till 8:00pm. But today I fell that all the Big Boy's like Lowes and Walmart taking over now and running all the mom and pop stores out ,and the dishonesty that their is in the world it is SAD when you go to the Lowes store in Texas City, Texas at 7:05 on a Sunday evening and a lady come's out and said we are closed. The web site clearly said open on Sunday from 8:00 am till 8:00pm. But go figure for now a store can close when they want to. Sorry MOM and POP for they surely don't stand up to your standard's. Thank's Lowes but it will be Home Depoit for me NOW!!!!!!!!!

Nicole Orellana
from El Cajon, CA
10/5/2017-I went into the Lowes in Santee, CA and placed an order for a washer and dryer with my Lowes card. Associate asked me if I would like to purchase the pedestals that match but I declined for now. I was told my item would be at the store on 10/17 and would be scheduled for installation on 10/18.
10/8/2017- I check online for store availability for the pedestals they offered me. Says they have some available. I go back into the store and let an associate know that I just made a purchase for a new washer/dryer set and I would like to add on the pedestals that they originally offered me just three days before. The associate looks up the item and tells me that those pedestals for that washer and dryer, while they have one on display, have been discontinued. What?!
10/9/2017- I do some research at home, and I am able to find the pedestals available from JcPenny.com, $50 more than what they would have been at Lowes and no military discount. Disappointing, but considering I already made a $1400 purchase at Lowes for new appliances and Lowes has discontinued them, I am stuck making the purchase else where.
10/17/2017- Received automated message from DSI Logistics that my appliances would be delivered and installed the next day on 10/18 between 12:30-2:30pm.
10/18/2017- I receive a call at 10:54am from someone at the delivery call center saying "unfortunately the store pulled your order from todays delivery." Why? They did not know. I call Lowes in Santee and find out from an associate that the items still had not arrived and that they would look into it further and call me back.
10/25/2017- Still having not received a call back, I physically go into the store and speak to an associate face to face. They look it up and tell me that only the additional items (like water hose, etc) were received and that's why they pulled my order from delivery. Would of been nice to know since my husband missed a day of work to stay home. He then tells me now that the appliances will be available on 10/27 and to expect a call that same day to confirm a delivery time for the following day on 10/28.
10/27/2017- That evening I get an automated call confirming delivery for 10/28 between 10:00-12:00pm.
10/28/2017- Drivers haul up my dryer into the garage and tell me they have bad news. They show me the washer that they took off the truck and there is a very big visible dent in the front of it. He instructs me to call "Kim" at the Santee Lowes and let her know so they can arrange to deliver me a new one. The driver leaves the dryer in my garage to be installed another day/time whenever the washer is available. I call Kim and she apologizes and tells me that they should have inspected it closely before they left the store. She says she will call me "tomorrow or Monday" to arrange to have a new one sent out.
10/29/2017- Kim calls me back and lets me know that she is reordering me a new washer and will do what she can to expedite it. In the mean time, she offers to arrange to have the delivery guys deliver me the washer with the dent in it to use for the time being. She calls me later on that day again and lets me know she arranged delivery and installation for tomorrow 10/30 and to expect a confirmation call, however my replacement/new washer will not be available until November 28th! That same evening I receive an automated confirmation call saying the appliances will be delivered on Tuesday 10/31 between 10:00-12:00pm
10/31/2017- I receive a call around 9:00am from someone at the call center telling me she "just wants to make sure I got the message that they will not be delivering my order today." No, as a matter of fact I got a confirmation call the night before that they will be here between 10:00-12:00pm TODAY. What's going on? She instructs me to call the store for further information. I call the store and speak to a gentleman in appliances. He tells me that their delivery guys looked at the washer, determined they already attempted to deliver it back on 10/28 but it was damaged. So he tells me since it's damaged they did not pick up the item on their truck.....??? I told him Kim arranged to have the damaged item delivered to me today since the replacement/new washer would not be available until the end of November. "Let me make some calls to see what I can do and I'll call you back", he tells me. Fast forward three and a half hours later. I still have not received a call, so I call the store and follow up myself. I speak to a different associate in appliances, this time a lady, who puts me on hold and then comes back on the phone and tells me someone arranged yet another delivery for tomorrow 11/1 and to expect YET AGAIN, a confirmation call tonight. 8:50pm rolls around and I still have no received a confirmation call. So I call the Lowes in Santee and she tells me that they have until 9:00pm to call and confirm. Ten minutes later, no call.
11/1/2017- I get a voicemail from Karen saying apparently the delivery guys could not locate my dryer yesterday when they went to pick it up. A completely different story than what I was given yesterday. She asked that I call her back to arrange yet ANOTHER delivery since obviously they never came out yesterday. I call her back and she arranges a new delivery for tomorrow 11/2, and tells me we should be good to go since she put in the delivery request before 4:00pm unlike yesterday. But, that makes no sense since I spoke to an associate at 12:30p in the afternoon and they told me it was scheduled the next day. Anyways. I receive a confirmation call that evening confirming delivery for 11/2 between 10:30-12:30pm
11/2/2017- Delivery guys show up to deliver the washer. He asks me if the previous delivery guys checked to make sure the dryer works. I let him know they didn't plug it in or instal it. He says he only has an order to deliver and instal just the washer, but he was kind enough to do the dryer for me anyways.
This has been such a bad experience in terms of professionalism, communication and availability. While the employees and the delivery men were all kind and strived to be helpful (for the most part), this has not been a smooth transaction. It will be close to two months (estimated delivery of 11/28) I've had to wait now for these new appliances. This purchase in total was $1346.41 for washer, dryer, haul away of old appliances (two), delivery (free) and installation with 0% APR if paid in full within 18 months. I do not know how they go about the transaction to reorder the new appliance, etc, but I am really hoping now my promotional price does not get touched since she was doing a refund on the washer and reordering it after the fact. I also told the associate I was no longer having them haul my old ones since we found a new home for them. I was told she would refund me the $15x2.
Lowes has always been our number one choice for our home improvements because of the quality, value and military/veteran appreciation. I really hope that if you value your customers, you will take the time to contact me and help shed some light on what can be done to make this right.
Kindly,
Nicole Orellana
11448 Bridle Path Ln
Lakeside, CA 92040
760-485-4857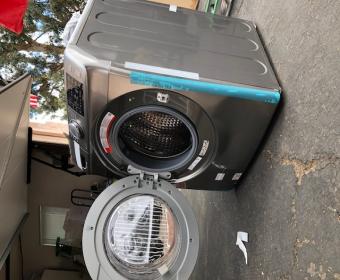 Joe Egenlauf
from Nappanee, IN
Lowes extended warranty is terrible, absolutely no help at all. I purchased a Maytag Washer and Dryer, purchased the 5 year extended warranty. 90 days later machine does not work. Called Lowes warranty dept. on 10.20 17. Lowes told me it would take up to 5 business days for service, and would contact me once service had been scheduled. I did not hear back from Lowes at all to let me know service was scheduled. I called back on 10/25 and spoke with Michael who told me they had scheduled service for 11-01-2017. I informed Michael that if they should cancel or not show up for any reason I will take the unit back to Lowes to be replaced. Michael assured my service had been scheduled.11/1 I took a day off work for service. At 4:30 pm I called Lowes Warranty Dept.Customer Service, spoke with Jasmine to inform them no one had arrived to repair my maytag washing machine, after being on hold for 40 minutes Jasmine informed me that service was scheduled with BoB's Appliance out of Southbend, IN. I was then transferred to Whirlpool. I spoke with Jackie at Whirlpool who informed me they had received no notification for service from Lowes for any service request. Jackie with Whirlpool also contacted Bobs Appliance while I was on the phone and BoB's Appliance had received no service order to service my Maytag Washing Machine. I called Lowes back and spoke with Tasha, had to explain once again the situation and asked to speak to a supervisor. After being on hold for another 30 to 40 minutes I skope with supervisor McKenzie. I explained yet again to McKenzie how Lowes Cust. Serv. had told me service was scheduled, that I had taken a day off to be home for the service call and found out from Whirlpool and BoB's Appliance that neither them had any of my information and service had never been scheduled. I explained I called on 10/25 and was assured service was scheduled and also no one from Lowes Cust Serv. ever contacted me to provide the information regarding service, that I had to call back twice to get any information. McKenzie blamed Whirlpool, I informed McKenzie Lowes Cust.Serv. reps told me this was scheduled. She would not take any responsibility for the mistakes Lowers Cust.Serv. had made. I was told I need to contact Whirlpool. I explained I took this day off work, I had been to the laundry mat 4 times in the past 2 weeks, altogether this had cost me 300.00, and asked what did I pay for with the extended warranty. I was told The 5 year extended warranty is only good for 4 years . Very disappointed, Supervisor offered no remedy, Lowes customer service is terrible. Supervisor continued to blame Whirlpool even after I told her per Lowes Cust Srv. Dept this was scheduled for service and neither BoB's Appliance or Whirlpool had any of my information or work orders / requests for service which Lowes told me was scheduled. I asked McKenzie to speak with her boss and was told she was the escalation point of contact and there was no one else I could speak with. I am VERY DISAPPOINTED with the way this has been handled by Lowes. Supervisor refused to take any responsibility for their mistakes. If this is not addressed I will contact the BBB and file a complaint. I have been a Lowes consumer for many years and will think twice about shopping at Lowes in the future if at all. I have a family of 5, laundry accumulates quickly, and I am tired of having to take laundry to the laundry matt when I just purchased new units from Lowes. As I said this has now cost me an additional 300.00 on top of the purchase of the extended warranty and will again have to go back to the laundry matt. Frustrated and disappointed. Very poor service from Lowes Cust Serv.
Please respond soon or I will file complaint with BBB.
Joe Egenlauf
574-930-6696

Robert Perry
from Woonsocket, RI
First purchase with my new Lowes credit card and my order was scheduled for a two week delivery, to be picked up on Nov.1st; but it usually arrives earlier, and we will call you when it arrives so I was told. Today, Nov 2nd and I haven't heard anything yet so I called to make sure my order was in. I do have it scheduled to be installed today. I'm told it has not arrived yet. Really, why didn't anyone call me earlier in the week to let me know it wasn't going to be here? Are there no red flags when an order isn't arriving on time? Maybe someone should implement something so the customer can be notified when there will be a problem with their order and the customer will know that the company they purchase products from really cares? And where is my order? How do I feel about that; well, I'm emailing in a complaint, what do you think? What is going to happen to this complaint is another story? Will there be any customer satisfaction with this complaint. Where I work my customers are number 1 and I spoil them and they always come back. What's your solution for this dissatisfied customer? There so many options to where one can purchase items online; I have to ask myself why did I pick Lowes? Should I attempt to try another purchase from Lowes?
Not sure if I should thank you so;
Best Regards
Robert Perry

Carlo Parrotta
from New York, NY
I have purchased a storm Door on October 7,2017 at your store 0720,and I opted to have Lowes contractor to install it.
To begin I was never called to schedule the contractor and after several attempt I was able to have a schedule to just find out today that the contractor never got the information, on the meantime I am still out of a Storm door, after a month from my purchase, and no body knows any thing.
I have paid in part the door installation and it seems Lowes was quick to cash my money but yet not Eger to provide the service they promise me.
To be honest I usually chose Home Depot for all my purchases personal and business, but sometime I like to see if some thing is different with the competition, and I must to say YOU FAILED MISERABLY.
I REALLY HOPE SOME BODY READ THIS COMPLAIT AND DOES SOME THING.
Regards
Carlo Parrotta

timothy watkins
from Fort Myers, FL
I had a salesman from lowes come out on 10/16/2017 to measure and quote a chain link replacement job at the Country club I work for.As of Oct. 30th I had not heard back from salesman. I called the store that had set estimate up for me. After being switch around several times by phone ,I spoke to a lady who took my phone number asked me a few question and then dropped my call. She had my # but she never called me back. We have a business account ending in 2905. I certainly can switch all my buying to home depot if Lowes feels they don't need Olde Hickory's business.It's now Nov. 2nd.

BILLY KENDALL SMITH
from Summit, MS
NO ONE IS EVER AVAILABLE TO CHECK ON STORE ITEM ON THE PHONE---PUT ON HOLD--RINGS AND RINGS ONLY TO COME BACK TO OPERATOR AND REPEAT THE CYCLE. WHY CANNOT SOMEONE PICK UP THE PHONE AND FIND SOMEBODY. I ASKED TO SPEAK TO MANAGER AND SHE SAID SHE WAS HELPING OUT AT THE REGISTER AND COULD NOT HELP ME AT THAT TIME. SHE WOULD TAKE A NUMBER AND CALL ME BACK LATER---NOT ACCEPTABLE. WHAT IS WRONG WITH THIS STORE???????????I LOVE TO SHOP AT MY LOCAL LOWES BUT THE ATTITUDE SUCKS!!! MAYBE SOME UNDERCOVER SHOPPING BY MANAGEMENT WOULD REVEAL THE SEVERITY OF THE CUSTOMER SERVICE BEING GIVEN AT YOUR STORE!!!!!!!!!!!!!!!!!!!!!!!!!!!!!!!!!!!!!!!!!!!

Craig Geibel
from Costa Mesa, CA
I will NEVER purchase another major appliance from Lowe's again. Everyone was all smiles when we purchased a new hot water heat, washer and dryer in one day. That's where customer service ended and the problematic and often rude service and delivery with install began.
First we were charged install on the water heater to include an expansion tank clearly on the receipt. When the water heater was installed there wasn't any. I called and the service person was rude saying we needed to purchase one. Our salesman said it was supplied by the plumbers (installers). I said it certainly was included and paid for clearly on the receipt. He said he would call me back after he checked and when he did I was told the installers said there wasn't room for an expansion tank so a release valve was put on instead. Here's where the bull began. Release valves are standard with any water heater as I told the service person. This person started getting rude and demeaning saying we needed to purchase one from the store. I once again told him it is on the receipt, the salesman said Lowes did not sell expansion tanks that it came with the installers. I said once again when he denied us we were charged by the salesperson and told it was to be installed. He then said our county didn't require one and that's why none was installed! I had to tell him we paid for one and want it or a refund. He said he would call back. Shortly after the plumber installers showed up and put the expansion tank on. That's the first fishy story of this whole mess.
Problems were only beginning. After a week I got a call and was told the washer and dryer were to be delivered. I was told by the salesperson that we had to pay $35 extra over the $110 installation fee because this was gas to have an inspector check out the gas hookup and he would disconnect and reconnect the gas line and check it and I would get a call from him when the washer and dryer was delivered so the installers could remove and replace the machines. When the washer and dryer were delivered no one knew anything about this. No one called up until the next day when I had to call install sales again. This person was very rude and acted like he knew nothing about this. Again I had to explain the sale to him as told to my wife and me by the salesperson. He knew nothing of any inspector or inspection. Then the salesperson that sold us all of the above called and said the $35 was never paid that the checkout didn't add that and if I didn't come over and pay it he would get stuck with it. Soon after the installers showed up and put in the new washer and dryer. There wasn't any inspection. When they left the washer did not take in any water. I knew the water valves were in the on position. The washer and dryer were positioned in a way that I could not access the shutoff valves and only my wife could so they also need to be moved. My wife was very upset returning home from work and called and had to get a manager who questioned her about the water shutoff then said we would get a call the next day. This manager was quite a bit shocked that we were getting charged $35 for an inspection above the install cost and said no such charge was to be paid. By this time we have a lot of laundry to do with a load sitting in the washing machine.
Today I get a call from the same salesperson again asking what the problem is this time. He said he would send somebody out. I then asked why I owed $35 for an inspector that was never here. He tried telling me it was $110 install and $35 for an inspection. I again questioned where was an inspector it was hooked up by the installers that he said wouldn't be done. He gave me a lot of double talk about this added fee. Finally he said "well don't pay it then if you don't want" very nastily. I finally said that this seems like I am getting scammed here with a bogus charge and said I refuse to pay it anyway. Something is not quite right with that and should be investigated because I am guessing I am not the only one this has happened to. Late this morning I still had no idea when someone is coming out to fix or replace this washer and had to call back again. Again I got the run around and had again several rude people to deal with like this was my fault. Well you know what it is for dealing with Lowes. This type of customer service is totally unacceptable when spending that type of many. There can be a few hiccups, but this many and then to deal with rude people is beyond anything. The installers made some mistakes, but at least they were courteous.
So not just one but two instances we were charged for items and services conveniently ignored which seems very suspicious. How many times are others charged for extras that are nonexistent? Is this a common practice with Lowes? Then to have such a disorganized and incompetency from sales to installation is appalling. I was the customer. I paid for Lowes to take responsibility for delivery and installation. I should not have to continually call to orchestrate everything and monitor what should be a reputable store. What a mess.

Linda Frank
from Huntley, MT
Billings, Montana Lowes - I was in the store a couple of weeks ago looking for lights for our shop and one for the house (light with a fan). We wandered around the light section for probably 15 minutes and not once was there clerk in that department. I finally walked over to the appliance section and he called for someone to help (no one came), so he did the best he could to answer our questions.
Today my husband was back in the store to look for chimney/flu parts to install a wood burning stove. He talked to one associate that sent him to the garden center and the associate out there wouldn't even talk to my husband!! So he finally found another associate that sent him to where he thought he should be. It wasn't there. He asked another associate who said they probably didn't have what he needed. Probably! What kind of answer is that!!??
In the past we've always had good experiences but lately its been awful!! I can understand if the associate doesn't know the answer but to act like they don't care isn't acceptable. We have done a lot of business with Lowes over the last few years but it may be time to go to Ace Hardware. The Lowes customer service could take lessons from Ace.

Louis Padula
from Huntley, IL
Sir's
I have been a loyal Lowes customer since the store in Lake In The Hill Il. opened. Ordered home carpeting 10 years ago, Air condition,
Kitchen range, Kitchen sink & dishwasher. Flooring for the Kitchen, Bathroom. Entrance way. Interior paint. On And On....
But this experience redoing the whole home, re carpeting turned into a nightmare. The project was to be done in two phases. My wife and I are in our 60s and we need to move the furniture. 1st Living Rm. Dinning Rm. Hallway. One bed room. Start Oct10th and 2nd date Oct 25th. With 2 seams in the living room. The installers came and they were going to piece meal the living room together. ( 4 seams ) Unacceptable. I stopped the installation since I already talked to the installation company and they told me that 2 seams were needed. Long story short. There estimator was incorrect on the measurements. I even gave him a print of my home with all the measurements. He never used it. He took his own measurements. You must remember , all our furniture is on the deck covered with tarps. and in the basement. The installation company said they would reorder and install as soon as it came in. That was a Tuesday Oct 3rd. They called Wednesday Oct 4th, stating they could use the last two bedroom pieces to finish the 1st phase. And they would reorder the carpeting for phase two on Oct 25th. The instillation team came on Oct 6th and finished phase one. With my wife and I moving furniture as to be able for us to use the home during this project.
Now I receive a call on Oct 24th by the sales man from Lowes saying the carpet was not in. That's 14 days that had to order and ship. He and the carpet company didn't know what happened. I went to Lowe's on Oct 27. Friday. They stated that corporate got involved because they wanted a better price from the manufacture. The store informed me that they and the carpet company were out of the loop on tracking. At that time while I was at the store the sales man called the carpet company and it had just been delivered at there location. So we re scheduled for
Monday Oct 30th. The Installers were great. Same team as before. You must remember every time something changed my wife and I had to move furniture around. The actions of the instillation estimator , and that of Lowe's corporate stepping in and not allowing the sale's man or carpeting dispatcher to track the carpeting is unacceptable. They could not give me a update as to the disposition of the carpet.
I understand construction. I was in the trades for 46 years. This was a huge fowl up.
And I at this time would like Consideration for my in convince.
Response requested.
Louis Padula
lblackwel@msn.com
Cell 708.417 5684

Kevin Patel
from Sulphur Springs, TX
Purchase flooring materials and we having a problem with it no one try to help not Lowes or manufacture never buy anything from Lowes again

Vickie pilkins
from Bluefield, WV
We purchased a LG door inside door refrigerator In March and about 4 weeks after it started dumping all the ice out into floor it would do it everyday sometimes mo re than once reported the issue and eventually they replaced the door that helped until Sept and it started again. We reported it again and have been trying to get something done for 4 weeks. They have sent 2 servicemen 1 said it couldn't be fix and they wanted to send another why I don't know. This thing dumps in the middle of night during the day and you can't stop it till it empties and then the motor keeps running. We have been patient until now. I have a cat and it's stressing her and waking us up at night. We don't want our money back we just want to try another frig. (Same) tech said it was a problem inside frig. We are good Lowes customers and the frig is paid off and we have purchased a dishwasher recently and washer and drier in past and all our home improvement needs. I'm a manager myself and I understand there's steps but enough is enough. I love the refrigerator but I can't take much more. Lowes and LG needs to make this right or we are going to return it. Like I said we want to just try another one not get a refund and for you not to keep putting us off. When good customers that pay good money for items they expect those items not to give them problems but if they do they expect to get fast service to correct the problem. We feel because we have paid in full company is in not hurry to solve this problem. We would very much appreciated this problem being corrected asap.
Thanks in advance

Moses Marcelle
from Fresno, TX
In the past 3 weeks I have visited store # 3027, both times I have came in looking for an item, I could not find myself. I have ask a store employee to page someone and on both occasions I received no help. On other visit the employee had no knowledge of the item and could not help. It seems to me that when I enter this store I am on my own when it comes to finding assistants.

Karey Torres
from Fresno, CA
Purchased refrigerator to save food. Sales person said there was one in the back that still had warranty since that was important to us. She showed us the floor model and said the one in back was just like it but had some scratches and she gave us a discounted price. We purchased it site unseen and once home we found a partial (most was ripped off) document stuck to the top of the fridge that said "Problem Description: Not cooling enough" We assumed this had been repaired since we saw other similar documents on other refrigerators in store that showed this type of issue as well as how the problem was repaired. We plugged it in and it started cooling. We transferred our food to the new fridge 3 hours later and in the morning all frozen food was defrosted and temp was only at 60 degrees. I called Lowes and they scheduled repair for next week. Service was canceled twice before someone finally came out. Tech said it needed a dryer and ordered the part. Said it would be in in 6-7 days. Called Lowes and they provided a rental. Part was still not in over a week later so I called Lowes and was told that because the refrigerator has been services we can not buy warranty. Our 30 day return period is over in 4 days and we still do not have a working refrigerator and service company got rude when I asked why they didn't call me to let me know about the delay. I spoke to service company Saturday 10/14/17 and was told since it was the weekend she wouldn't know where the part was until Monday. No call back all week, so i called Thursday to be told it will be 6-8 weeks. We lost our food, I lost work due to having to be available for multiple service appt's that didn't even happen and We were misled that we could buy the warranty and that the only issue with the refrigerator was that it had scratches. We spent $863 on this refrigerator and so far it has cost us approx. $200 in food, 1 months time, and $300 in lost work. I could have just bought a brand new refrigerator for that price and now I still have to return this one since the 30 days return period will be over before it can be repaired. We have purchased all of our major appliances from Lowe's up until this point but I have lost faith in Lowe's and the people that provide service for Lowe's appliances. Attached is the document we found on top of the refrigerator after we got home.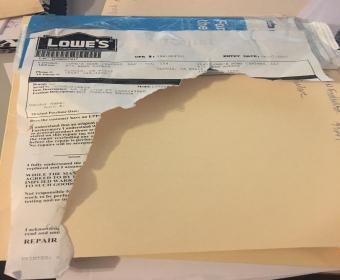 van and dalene kelly
from Phoenix, AZ
we ordered a refrigerator on line. it was scheduled for delivery today, 10/14/2017. originally we were told "some between 0800 and 1000 hours". We then received a confirmation call at 0730 hours this morning stating they would arrive in 10 minutes. By this time we were sure the refrigerator was on the truck and in the neighborhood. we proceeded to box up all our refrigerated items and cleaned up our old refrigerator for pick up. after all this communication we were then told that our refrigerator was not only not on the truck but was not going to available for quite some time. this experience makes us want to completely avoid doing any business whatsoever with this company. were I the manager of the local store I would be replacing the ordered refrigerator with an even higher priced one immediately to help prevent did-satisfied customers.

Norman Keasler
from Anderson, SC
I ordered 12 peices of vinyl siding to be delivered on Wednesday Oct.11. Today is Saturday Oct.14 no vinyl has been delivered. I have called the store several times,I get the answer , we do not have enough drivers. I will be looking for compensation for this problem. Free shipping and/or product. I has to send my workers home because of this. The store is on Clemson Blvd. in Anderson SC. Thanks

Christopher Alston
from Greensboro, NC
I purchase a troy-bilt backpack blower from the Lowes store located on Cone Blvd in Greensboro, NC about a year and a half ago. About a month ago it stopped working. I called the Lowes service advantage number and was told that it was still under warranty until 11-11-2017 and I needed to take it with my receipt to the Lowes where I made my purchase and they will send it out for repair. I took it there and the associate filled out some paperwork and told me it should be ready within 7 to 10 days. After about 3 weeks I decided to stop by the store to check on my blower. I was told that it was ready and they forgot to call me. I took it home and this morning I put gas in it and started it up. It ran for about 2 minutes and stopped. I returned to the Lowes and spoke with the manager Allen. He called a young lady Chole to the front to look at it. She asked me did I mix the oil and gas right? I explained to her that It was a 4 cycle and I did not need to mix the oil and gas. She stated that there is nothing that she could do for me and stormed off. I asked Allen did he hear how rude she was and he said that he didn't hear her although he was right in front of her. Allen then told me that it was under a manufactory warranty and there is nothing that they can do to help me but give me the troy-bilt number and I will have to contact them. I asked him could they just send it back out like they did last month to repair it and he told me that they tried to get it repaired once and could not repair it and I needed to deal with the company. He told me that they don't specialize in repairs, " WE JUST SELL THEM". So once you get the customer's money your concerned for the customers satisfaction is no longer important? In the past I have purchased mowers, hand blowers, weedeaters and a generator from this store and I have been happy with the product. Never again will I purchase any outdoor power equipment from Lowes. The rudeness of your employee and the lack of concern really amazes me. By the way, the troy-bilt customer service center rep told me because there was no service center near my home, that I needed to take my case number back to the store and have them send it out for repair. I explained to her that I would not be taking my blower back to that store and dealing with them. Having been in retail management for over 20 years, it is appalling to me that your manager was comfortable with a customer leaving the store unsatisfied. He really did not seem to want to fix the issue.

James buro
from Norristown, PA
The Oaks PA. Store is a disgrace. I have never had such terrible service. I have spent close to $13,0000.00 on kitchen renovations. No one ever answers the phone. They don,t tell you the truth about orders. The entire management team is a disgrace. People just seem to not care about helping anyone . You need to get some control over the pathetic customer service in that store

blwilsonbeat1@aol.com
from Prentiss, MS
Purchased over 3000 dollars appliances (Samsung) filed for rebate in early June. Here it is October 2 and all I get from rebate center "it's in process" they say I must wait 6-8 weeks, well it's been 4 months. Planned to use rebate to buy other remodel products, remodel is almost finished except back splash. Your rebate center is playing games. I will tell the world to avoid your stores rebates - unless they plan to wait for eternity. Shame on your company for such an apparent gimmick to get people to buy and then lie to them with any false hope!

Kathleen Gunter
from Moultrie, GA
To start with, it was my fault I forgot to pay for purchases in May. SYNCHONY called and I paid the bill on June 30. Today I get a bill with interest and late charges and the original amount of the purchase. What's up. How long does it take SYNCHRONY cash my check? That payment came in on the September statement. Please advise.
Acct#819024110836009 8

irina zhuravsky
from Plano, TX
10/1/2017 I made online order #340230590. Same day I pickup AC. When I got home, I found out it was an open box. Reefers was damaged,
no mount supplies. When i came back to the service desk, assistant manager told me :" You have to return AC, because we do not have another one ".
I am ordering a NEW AC for the same prize,what you wanted to sell - used one, I drove 30 miles (3 trips) to Lowes and back to home, i lost 3 hours of my time. IT IS BAD SERVICE, WE ARE LIKE A CUSTMERS NOT DESERVED IN AMERIKA

Zachary Parsons
from Fairmont, WV
Kitchen purchase and installation.
I have received very poor service and work during a kitchen installation job. I feel that the Lowe store and central production did no properly remedy all situations. I very precisely directed concerns about work quality from the start of the job and feel that my concerns were not taken seriously.
Also, after speaking with acquaintances regarding workmanship in my kitchen, I have concerns about the counter top installation (joint seam placement over dish washer), level/plumbn of cabinets, cracking caulk seams, and wiring integrity.
Furthermore, after asking that the initial contractor be removed from the job I received a hateful and unprofessional text message from the contractor. Lowe's did no properly address the behavior, in my opinion, leaving me feeling very unsafe and unhappy for some time after.
My kitchen job is not fully complete (finalizing a few appliance installations). As mentioned, I brought all of these issues to the attention of the central production office and my local store. I am filing this complaint due to my continued dissatisfaction with the process and product receive.
I feel as though did not receive the advertised Lowe's hassle-free service and quality. I also feel that I over-paid for the services received and that I should be monetarily compensated for the issues I've dealt with and sub-par final product.
I have multiple emails of communication with store personnel documenting all issues (with pictures) and would be happy to provide any information needed. The files are too large to attach and can email as necessary.
Zachary Parsons
1144 Avalon Road
Fairmont, WV 26554
Phone: 304.992.4005

VICKI ROSIA
from Mount Holly, NC
On Sun Feb 24th went to buy a blind that needed cut,machine broke down that day,she took my name and # was suppose to call me when fixed,went back on the 3rd not fixed,called today the 10th,machine was fixed a few days ago she was gonna check to see if it was cut if not she would cut it I said fine I'll be there within the hour,got there and was told they have an old machine it was still not cutting verticaly,so I got no call to tell me and now I still don't have a blind and I have to find a store that has a new machine that will cut verticaly, BS.This is the only home improvement store close to us,so we come here often.

john e. suchy
from Omaha, NE
ordered a washer on 3-5-19, said they deliver on saturday 3-9-19 they said they will call me, waited from 8am to 8pm no one called, my son called and someone said they did not put the washer on the truck , lowes said they screwed up and would put the washer on the truck on 3-10-19 and i would be first on the list to be delivered , again no one called on3-10-19, at 12 noon i called lowes they said they were checking into this, found out the washer was not on the truck, they finally delivered it about 3pm, what a JOKE, I lost 10 hours overtime on saturday and 6 hours overtime on sunday , I will now say bye to lowes, john

tami dunlevy
from Paducah, KY
On March 9 2019 I brought in a empty can of paint Sherwin W. Cooper Penny. I had previous purchased the same paint at the Paducah Ky location in the past week. I needed another gallon of Cooper Penny . The young man at the counter put in the skew number of the paint and said that he mixed it correctly. When I got I started painting on the wall when I noticed that the paint color was wrong. He had given me the wrong color. So I had to use my gas, my time not to mention repainting the area over just because of this mistake. I only have a short amount of time to do projects on weekends and I cant afford to waste time returning the wrong paint and waiting for them to remix it right. I feel that I should get a full refund for the paint purchased due to me having to paint over the darker paint that was given to me by mistake, Here is the receipt Info: Sales #S0465EH1 2463252 Trans# 22182979 03/9/2019
Store #0465 Terminal 27 Time 19:56:27 Item#535124

Last Thursday i was in the Lowe's Store on 40 in Silver Springs to bye a mower. I was looking at them for over 30 minutes then finally a associate showed up after another associate called them . I asked about the Craftsman that was on sale he said we do not have them in stock right now. I knew that was not true because I seen them in top stock. He said all we have right now is Troy-bilt. And we have 1out front that has been repaired which I will sale to you for 10%off. I said no thanks. Then I asked him what was that guys name that used to be here. He said Leo I said ok thanks. I miss seeing him there. He was very helpful. I heard that he left after 17 years do to medical reasons. And that the management did nothing for him. And they never called him up. And that Department looks terrible.So I went to the other store on the other side of town. And they where very helpful and knowledge knows what you need.

I was in the Lowe's Store on 40 in Silver Springs. Last Thursday and was going to buy a mower that was on sale. There was nobody around there in the morning. Then about 30 minutes later somebody finally showed up. I asked him about the craftsman that was on sale for $269. He said we do not have them in stock and trying to push the Troy boots out. I looked up to and seen them up there. He would not help and trying to push a use mower out front. That store has gone down in Seasonal Dept. since that one guy had to leave. I believe his name was Leo and I heard that after 17 years with Lowe's they did not do nothing for him. So I went across town to the other store and bought one they where more helpful and friendlier. I will not stop at that store again.

GERALD GILLAND
from Carrollton, GA
I received an email this am and an item was clearanced to be on sale until 3/13 2019 and called to see if one of the stores had the item. It was a Kobalt 80v cordless lawn mower and one of the stores did have the irem but would not honor the email .that said that the mower came with a charger and 2 batteries. I called corporate and they gave no help in that there was nothing they could do that the mower was now an upgrade and the cost would be a good bit higher. When you send an email and then check the flyer and both say mower with charger and two batteries and find out that the ones sold before did have a charger and two batteries included then I think why did Lowes even send the email. I have bought thousands of dollars of merchandise from Lowes but if I see an email from Lowes now it will be sent to junk. If they could not honor the one they sent me the email on they should have sent the upgrade. I have bought appliances from Lowes and hundreds of thousands of dollars worth of lumber and supplies for the company in building shopping centers and office parks and I bought all of the materials for the three houses that I keep in top notch shape that I own. I just completely remodeled 1 of them and every item came from Lowes. But in speaking with one of your stores they said that I should just go to Home Depot if I did not like the result. That seems like a good idea.

(lowes clarksville indiana) I have several complaints with the recent purchase of a Refrigerator,Range,Microwave and Dishwasher.First the range that was delivered had a large 2 in scratch on the front handle the first two people I talked to said no problem we will give you 10% off which I say no thanks that wont work so finally after talking to a manager a new range was delivered.The second complaint which cost me approximately 40.00 for the part which I had shipped overnight and approximately 100.00 to the contractor working by the hour waiting to see what Lowes and myself were going to do.The problem was with the dishwasher mount hook up which I have a granite counter top and ceramic tile which the contractor did not want to drill into because of very possible damage he said I needed side mounts.I then called Lowes and told customer service what i needed they then transferred me I believe to appliances where I was put on hold for over 20 minutes finally a person answer and I told her what I needed she then said she had other customers waiting and could not help me at that time so I ask for a manager.The manager came to the phone I told her what I needed a side mount for my dishwater to be installed keep in the mind the contractor is standing in my kitchen waiting and charging me for his time.The manager said they were really busy I then became upset and told her I had now been trying to get something done for over an hour after she saw I was getting very upset her or someone went to a computer and starting looking for a side mount for my dishwasher.After looking for what I needed she said we dont carry that side mount I said how do you sell the dishwashers with no side mounts there has to be other customers with granite counter top and ceramic tile that they dont want to drill into she say I dont know I can get the part but it could take up to 15 days I said that dont work I will try and get myself.I then called Frigidaire it took about 1/2 hour but found part and it was delivered next day for 40.00.I have purchased carpet for my house and other item and never had a problem but this purchased and installation was.
Mark C Shipley
5023034173
markshipley265@yahoo.com

On 27 Feb, I purchased a stackable washer & dryer. I was told that they were in stock and although the delivery date on the ticket was for March 5, to expect it before then. On March 5, I was told that the washer had arrived, but the dryer was not in and they had no idea when it would arrive. I called customer service, who had Zack, from my local store call me. He offered me a substitute, GE and assured me the size was the same as the Whirlpool brand. Today, when the delivery men arrived, they discovered it was NOT the same size and would not fit in my closet area. Needless to say, I was very upset and spoke with Zack again, He has reordered my original order but refused to help me further. I want a loaner stackable (small unit) delivered and set up for my use until my dryer comes in....whenever that is! He claims they have no loaners and the store model is inoperable. What poor customer service! How hard can it be to get a washer and dryer?!!

Tammy Pichoff
from Patterson, LA
I bought 5700.00 worth of merchandise and the local Lowes sold it and will not refund my purchase!!! More than Pissed!!!!

Doug Mcleese
from Venice, FL
Sarasota Fruitville store. Tried on two occasions to speak to your associate named Bob in lumber. First time he wasn't interested in my question. I was buying two shelf brackets and wanted to know if he had any pieces of scrap wood, I only needed a piece about 9"" long. Many time there a pieces in scrap bin that will work. Angrily he said we have nothing like that. I went over to the last aisle and found a piece of scrap that was perfect, just Bob walked by. I asked him what I had, he became very rude and upset. I told him he was just too miserable and I wouldn't deal with. Another associate said it was junk , no charge. Bob is not the person you want on the front lines as the face and voice of Lowe's.

DELIVERY NUMBER 369575042 Your delivery men ruined our new freezer. To get it in the house, they had to remove the door. They did not lean the door against anything, they stood it upright on my carport. It fell over forward, hitting a desk chair, then sliding off unto the concrete. It has a very obvious dent about face-high, plus lots of paint was scraped off the front corner of the door. It look like hell. We hate it. To spend that much money, only to have incompetent, untrained people damage it before our eyes. Our excitement for our new freezer was quelled quickly by the mangled trash that is now in our kitchen. Everyone who comes over can easily see the damage, and believe me, we will tell everyone we know whenever anyone mentions Lowe's again. ALSO, the lift gate on their truck did not work, they said it hadn't worked all day, so why were they making deliveries in a broken truck? This LOWES experience sucks all the way around. You have our money, and we have your damaged junk. Our new freezer needs a new door. AND YES, the delivery crew is very aware of the damage. All they could say was "we'll knock off 10%". It's been three days and they haven't refunded anything. Lowe's employs liars who damage appliances that they cannot afford themselves. And I have to wonder if it was because they don't like my skin color.

This not a complaint, but a question? In July 2017 my wife and I purchased a Samsung refrigerator, model RF28JBEDBSG at our local Lowe's store in Olathe, KS. At that time another couple also looking at refrigerators, said to us "Do not buy a Samsung refrigerator, because they are "junk"". We took their statement as just someone that had a bad experience. Since then I know why they made that statement. The ice maker in our unit has been worked on three times. As I am sure you are aware that their is a class action lawsuit filed against Samsung concerning the ice maker in many of their models.
My question to you is, "Why do you keep selling a product that has numerous know issues, without informing the buyer of the issues?" Lowe's Corporation, in my opinion is a very good company do do business with and has a reputation to protect.. Put a big "LEMON" sign on these units and let the consumer know about the the bad consequences that could happen if they purchase one of the Samsung units. Thanks for listening.
P.S. Please say "Hi" for me to Gaither Keener, Jr., Lowe's lawyer.

Charles m Laird
from Crisfield, MD
In 2016 we had pergo flooring installed, within a few months some of the boards started to bow upwards to the point where you could stub your toe. The flooring was discontinued so we were given the option to pick another flooring. We chose vinyl flooring and it Was installed September 2017, we love the flooring, in October 2018 a week after the warranty ran out we noticed in three places hall,family room,and dining area bubbling up. I went to Lowes talked to Mangement, within a couple days someone came and took pictures. Didn't hear anything for two weeks. Went back and talked to another manager had to explain it all again because he didn't know anything about it. Same thing,get back to in a couple days, three weeks nothing. All in all I saw 6 managers had to explain the same thing to each of them. We love the flooring and right now it is flat, but I just want it on the record if it happens again. All I want to know is if it is my floor or the flooring, if it's my floor I will fix it. I've had multiple moisture readings all negative. Lowes has always been my go to place when I need anything, roofing, flooring and everything in between, but this is the first time I've been dissatisfied with Lowes. Charles Laird.

J D Miller
from Palm Coast, FL
store 2241 may 3/2019. Items not priced correctly, and assistants manger philosphy that customers moved huge box bug kill is ridiclous. Your buy 1 item recieve one item free seems like a good idea, until you try to find the free item its no where to be found.
The sign above registers says if more than 3 in line will open a register . there was 6 of us. and after 10 minutes I went to customer to ask if another register could be opened. finally was after another 5 minutes. This lowes used to be a really good store. but now looks like ace or home depot may be a better option.

Timothy Arbagy
from Sarasota, FL
To department that handles complaints,
My name is Tim Arbagy and I purchased a sliding glass door from you about the 3rd of February. My friend and I picked up the door last weekend on 2-17-19. I had my installer come to put the door in yesterday, 3-2-19. The door was damaged when we unwrapped it and it appeared the band in the center of the door for shipping, made the frame bend severly on one end. (I have photos) with a curve on one side. We could not instal the door in that condition.
I called the Lowe's on Fruitville Rd in Sarasota Fl where I purchased it to let them know about the damage and how to expedite another one.
I called the store and told Ron the assistant manager and told him that I needed someone to be available when I arrive so we could handle this very quickly. He said that Barry would assist me when I arrived, which was within 10 minutes of my call. When I arrived, Barry was with customers and I asked him if they had told him I was coming and needed to get my problem resolved as quickly as possible. He said they had, but he was with customers right now and said he could assist me when he was finished with them.
I was not happy at all about how this situation was handled at all. I went to customer service and asked for the manager and they sent out Ron, who knew he had talked to me on the phone. I explained that because of your defective product, I now have a big hole in my wall and I just needed the door replaced and shipped to my home as quickly as possible. I also needed to by additional plywood that I did not need and Ron said he could only give me a 10% discount which I get anyway because I'm a veteran. Ron did I hope take care of the replacement and the delivery of the new door.
Ron also stated that there was no guarantee to expedite the door until calling the manufacturer on Monday, and he said there was still no guarantee it could be expedited. I was very upset for several reasons.
So I had to spend $23.00 more dollars on plywood and screws that I did not need. My initial cost from my installer to put the door in was $350.00 for the whole job. But because of the delay now and him having to return to finish the job, his fee went to $500.00.
So my question is, how is Lowe's going to reimburse me for the additional costs? This is over $150.00 I am now spending because no one at your store bothered to check the condition of the door when the door arrived. If the door was checked when it came in, there would be no issues right now other than a delay for the installation. Also now I had to put plywood to cover the hole in my wall, which makes my home vulnerable to a possible break in.
I have been a Lowe's customer for decades now and this is the first real issue I've had with your company. I just had a front door and windows installed by your company within the last few years. I would like someone to call me at 941-704-5782 before 9 am eastern or after 3 pm eastern time as quickly as possible to let me know how Lowe's can offset the costs now that I have occurred due to the negligence of not having the merchandise that was shipped to your store inspected to make sure there was no damage when it arrived.
I appreciate your help with this matter. I would like a phone call not a email response to this matter please. Also if you call and I cannot get to the phone, please leave a name and direct number to call you you back at.
Thank You.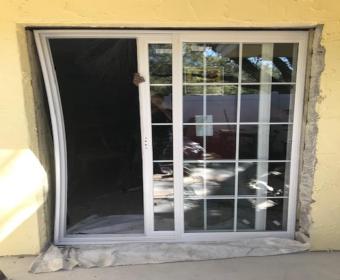 Letha Carpenter
from Houston, TX
I purchased whole house floor tile Lowe's #501. I was lied to & mislead. I trusted the salesman & Lowe's to stand behind there contract & word. Salesman assured me Lowe's with me from start to finish. My nightmare started with delivery curbside, accept or refused. Keller installation came late 1 person & 2 men crew 30 minutes later. Carol called Keller office because paper work different. I call Lowe's talk to Chelsea mgr. About what's going on. She put me on hold to find answers. Returned & said Lowe's do not remove vinyl because of asbestos. If home built in 1986 or after. I tried to explained, I purchase home in 1992 & I had replaced all floorings after 1992. When do the vinyl clause receeds contract. I talk to other companies & other peoples. They don't understand why this clause applies to me when all floorings been changed from original floors. Chelsea mgr pressure me to reschedule or let Keller start with carpet, knowing I would be charged once they touch my material. How deceiving is the people working & twisting the contract around. Chelsea refused to let me talk to Glenn the salesman. Chelsea is rude, misleading, heartless, & coming to work only for paycheck. People don't care anymore. I went & talk to another Company that will remove all floorings including vinyl. I called Lowe's customer service, I talk to Savannah, who said customer care support team will contact me in 24 hours. No one never called me. And this tile been here since February 12, 2019. Sorry Lowe's all over reviews. I BELIEVE EVERY REVIEW BECAUSE I HAVEN'T GOT TO 2nd STEP YET. DEALING WITH UNPROFESSIONAL PEOPLE.

Lowes Corporate Office
1000 Lowe's Blvd
Mooresville
NC 28117
cc: Lowes, 1350 Springdale Drive, Rock Hill SC
In 2016 I purchased a 3M 4WH-QSS-S01H Whole House Filtration System and had a plumber put it in. I don't have the receipt. In 2017 and 2018 I purchased and replaced the filter through Lowes, I have one receipt for one filter. 2019 I went to Lowes to purchase a replacement filter and there were none. I went home and attempted to find it online, and due to no success I contacted 3M they referred me to Filtrete Division the phone number is 800 388-3458 who informed me that that Whole House Filtration System 3M 4WH-QSS-S01H was manufactured expressly for Lowes and is no longer made. They informed me the Whole House Filter replacement unit part number is 4WH-QS-S01 and there was no other thing I could do but replace the whole system. I then called Lowes in Rock Hill and spoke with Mark who researched and called me back informing me that I needed to purchase the 4WH-QS-F01 filter through Amazon and that filter would work on the 3M 4WH-QSS-S01H I purchased it and had my plumber come to install it but it didn't fit. Now I called Flitrete and repeated this story and they again said to buy the WH-QS-SO1 and take up with Lowes the cost of replacement and installation. Summary I have purchased in 2016 and paid for the installation of the original 4WH-QSS-S01H (no invoice available for item or installation however made exclusively for Lowes), I have purchased the suggested replacement filter #4WH-QS-F01 at the price of $108.36 (from Amazon) and had a plumber come out to replace it $0.00 charged by Plumber because it did not fit. I purchased suggested equal product online as suggested by Filtrete the 4WH-QS-S01, UWrench-01, and Lubricant $122.47 plus labor to take off old system and replace with new system, Plumber fee will be $125.00. To be exact a total cost of $108.36 plus $122.47 and $125.00 will have been spent in regard to replacing your Whole House Filtration System 3M 4WH-QSS-S01H.
March 1, 2019 I went into your local store prior to the installation of my new replacement product to voice my complaint without my contractor having to stand by to hear this story. Doug Shirley helped me who in turn went to his supervisor Denise Torres. I have been offered a store credit in the amount of $88.00 for the original part. I have been offered a credit for the filter #4WH-QS-F01 once I bring it all in for proof?? Let me make it clear on one more thing I am disabled, I don't drive so I take an Uber for these visits to your store, however small these trips are costing me a minimum of $12.00 per trip. I am retired after a 30 year career in Procurement with the State so this is not the first time I have encountered such a problem but I can assure you that vendors typically refund their customers it being the right thing to do. This is such a small amount that such a large conglomerate would be looking at I am surprised I was not given better service at your local merchant. Please reply at your soonest convenience because you can be sure I will not sit around very long to hear from you, I will continue this process until I am satisfied with a refund of a minimum amount of $355.83. You can imagine the time and effort that has been given to this project, it is not even conceivable.
Laura Lawrence, 774 Cambridge Circle, Rock Hill SC. (907 227-2923)

A month ago I purchased patio and front entry door from Lowes at Serling, VA, schedule installation date was 3/1/2019. The installer called on the date of installation stated that the door is not deliver, I took a day off to be home for the installation. This is not acceptable to call in the day of installation stating the doors will not be installed. I would like my doors to be installed on weekend or I will cancel my order.
Agha
703-431-7158

February 28, 2019
To: The Offices of Mr. Marvin Ellison
Re: Complaint No. 1-27770684482
(See also: Claim # 30191887938-0001)
Dear Mr. Ellison:
I am writing to you in an effort to resolve an incident which began early last December and is continuing to this day. I'll try not to belabor all that has transpired but here are a few highlights:
On December 5th of last year, our new refrigerator bought at your store # 445 was delivered
to our home. After the Lowe's truck left, my wife and I noticed that our flooring had been
scuffed and gouged. We immediately called the store. Pleasantly, the next day, Lowe's
personnel came to take phones of the damage. After that, not much pleasant transpired.
Between the 6th of December until January 19th, the store delivery department
effectively stalled our efforts to move things forward. The two personnel involved in that department were Robin Sturkie and Matthew Corey: both whom failed to respond to repeated efforts for updates.
It wasn't until late January that I was able to connect with Assistant Store Manager Chad Collins who was able to jump start our claim. Stunned that the appropriate Lowe's personnel had yet to receive either the photos (taken on 12/6) or the original estimate, he was able to get the ball rolling. Our corporate contact was Tatum Walker who gave us our claim number (30191887938-0001). In the meantime, Jason Gillespie was designated as Lowe's insurance appraiser who visited us in early February and submitted his estimate to Ms. Walker.
On February 15th, Ms. Walker returned my call and stated that a decision should be reached the following week. However, despite two separate calls to her this week (2/25 and 2/27, Ms. Walker has not returned those calls.
Nearly 90 days have transpired since Lowe's was first notified of our complaint. It's time to get this issue resolved.
Regards,
Craig M. Miller
250 Windchime Way
Leland, NC 28451
Tele: (910) 769-2305
Email: meresdad2003@aol.com

I waited 45 minutes for someone just to answer the phone , not even being transferred... just to answer the initial phone call. Keith's response " sorry man , we're doing inventory ". It's 6 o clock in the afternoon and no one was there just to say " hold please " .... spent and I'm taking my business to Home Depot or Amazon. Just absolutely unacceptable. Hope y'all sort that out before it's too late. You already lost me.

After deciding to update kitchen went to local Lowe's. At first, salespeople were very helpful with any questions. We took in measurements but a contractor was sent out to remeasure. Had problems making them understand where the kitchen was to start as currently have an inland that was not going to be in the new kitchen. Went over and over the measurements with contractor and Lowes. Was assured the measurements were correct and the kitchen cabinets and new appliances would fit. Was also told that we needed a bracket for the top of the dishwasher for the new countertop. Now that the cabinets and appliances have been purchased no one seems to know anything about the bracket. Countertop folks say they will not install the countertop with out the bracket being at the house. Have been trying for days (3) to get the bracket and still no one can answer. It's frustrating enough doing this project but when the sales people leave you high and dry after getting paid WE WISH WE HAD NOT PAID FOR THIS.

We have tried to buy carpet and have installed, but can not get information from Lincolnton store so we can pay for carpet.
I have been on phone for 2 days trying to get answers. Keep getting put on hold and told different story every time I call.
Store manager David was no help. Ask him for his last name so when I call back make sure I get right person, he said he could give me his last name.
I can assure you we will never buy flooring from Lowe again!!!!

Bought a brand new washer, dryer and fridge and had delivered and installed for my son. After one use of the washer it quit working. Due to unforeseen circumstances I had to help him move, when we tried to move the washer after one use, it was full of water and the lid was locked shut. No laundry was in the washer. We pulled away from the wall and it looks like water had run down the whole back side getting everything inside wet and causing the washer to not work. LOWES INSTALLED THE WASHER!!! NOT US!!!! The said they would not return it because we had extended warranty, extended warranty does not want to repair because says faulty installation. I am stuck with a washer that was used once and no one wants to take responsibility for the installation or repair. I will not purchase from lowes again. WE were very pro Lowes and only shopped there because of their pro Military stance. BUT NEVER AGAIN, if this is how you treat your customers you will not get our business!! I have been on the phone every day for the past 2 weeks trying to get this resolved. WORST CUSTOMER SERVICE and lack of responsibility and acknowledging that their employees might have installed something and damaged it during installation.

My nightmare started on March 13th. I go to my local Lowes, Garners Ferry Rd. Cola. SC. After shopping for a range, I found what I wanted but not in the color I needed. The salesperson was helpful and recommended that I go home, go online, find exactly what I wanted and order it from there. The reason he said was because the system would find me exactly what I wanted within my local range. Since his store is one of the larger locations, his delivery was already backed up and he said that sometimes one of the other stores delivery time might be a lot shorter. He said the system would find the item in my area. That made sense to me and that is what I went home and did. And just like he said, one of the other locations in my area had it and I assumed would deliver it soon. In fact, I got a CONFIRMATION EMAIL, with my SPECIFIC DELIVERY DATE and from the store it was coming from. GREAT, I thought. The first delivery date I waited all day for it to be delivered at almost the last hour I called the store it was supposed to be coming from only to be told NO....it hasn't been ordered yet. Wait...I ordered it online and paid for it. What do you mean you have to order it? She then tells me that 'she tried to leave me a message to see I still wanted it but my mailbox was full.' Again, what do you mean? I ordered it, I paid for it, Lowes has my money, I THOUGHT I ORDERED IT!! And YOU SENT ME A DELIVERY DATE AND TIME THAT I SHOULD EXPECT IT TO BE DELIVERED! Why should I expect that I'm going to get a call to 'confirm I want my item' when I have already ordered it and paid for you....YES!! I WANT IT.
I let this situation go.....I did CONFIRM with the Orangeburg location that I wanted to the stove and once again, got a NEW EMAIL, NEW DELIVERY DATE AND TIME and I waited. Now we are at the SECOND time that I waiting ALL DAY for a stove to be delivered that DID NOT COME.
I then called the corporate office. A very nice girl did her best to help me. She looked into the system, could not figure out why this was happening to me. She saw that the Orangeburg store had the stove, gave me the confirmation email for delivery and could not herself understand why it wasn't being delivered. She went into action sending out ALERTS, EMAILS etc., flagging them as ISSUES and told me that within 24 hours I would get a phone call from someone in Management at the Orangeburg store. That phone call never came. HOWEVER, once again.....I get ANOTHER, we are at #3 now.....CONFIRMATION, DELIVERY DATE AND TIME email and once again, I waited for my range to be delivered. Something told me that I CAN'T TRUST LOWE'S OR THEIR SYSTEMS so instead of waiting ALL DAY like I did the previous two times, I called Corporate AGAIN just to be sure my that range would be delivered today.
To my shock, amazement and disappointment I GOT THE SAME STORY ONCE AGAIN. She did her best to help me, called the Orangeburg store to see if she could get to the bottom of this and I was basically told once again......'it could take 3-10 days before they could get a range ordered and then the delivery time would be scheduled'...…...I WAS GIVEN THREE DELIVERY DATES.
I have now been without a range since March 14th. I cook for my family. We don't eat out like many families do. However, we have been forced to or make do the best we can. Are we going hungry, no? But I have ordered a range and paid for it, had three delivery days scheduled and I'm still being told it isn't even ordered.
Your system if very broken. While it may not matter to you, my family always buys appliances from Lowe's. This experience has left me with a very bad taste in my mouth and since I have always worked in the service business and even own my own business of 22 years, this level of customer service is enough to make me walk away. The Orangeburg employee didn't impress me as having a sense of urgency to help me, in fact, in one conversation she said that she was 'covering her butt' to make sure I wanted the range before she ordered it. The other two girls I spoke to with corporate were very nice, tried their best to be helpful but they were just following 'steps' and I could tell that their hands were tied in helping me and they could not do anything to truly help me. So here I am, with no resolution, same song and dance, Lowe's has my money but feel no real need go any further to make things right for me. Although she was very sweet, I knew that I was going to have to go through the same 'song and dance'. It was at this point that I was DONE. She expedited a refund for me which I will have to wait additional days to hit my account.
Customer service is very important to me. If all of these mishaps could be understood, then I'd certainly have more patience. But, you tell me, would you? None of it makes sense, none of it. I place orders online ALL THE TIME, I don't then have to sit and wait for the business to call me to 'make sure I want the order' meanwhile, taking my money in the process. To say I'm livid is an understatement because now, I will have to WASTE more days to go out and purchase another stove. Believe me when I say that I WILL NOT be back.

Attached find one picture of the products that are the subject of this of this correspondence and the sales receipt for their purchase. Note, there are three different products involved in the product mislabeling issue. The picture shows the three products dumped side by side. The contents of the three bags are exactly the same. I have used these products for several years and am very familiar with their definition, texture, color, and contents of each of the products in question. In this transaction I purchased a total of 12 bags of the products. Each of the 12 bags contained the top soil and not the humus or manure as labeled on 8 of the bags. I am calling this to your attention because this is not an isolated incident. It is, however, the first time all the bags contained the same product. In the summer of 2018 I had received one or two bags from a single pallet that were similarly mislabeled so much so that I started to opening the corner of all the bags I was purchasing to determine what was inside (Not commingled). This issue makes it very unlikely that I will not continue to purchase this product , and will surely warn other potential customers about the problem. Sorry about the shadows in the picture but when I dumped the bags to start mixing them, I was not expecting to take this photo. The slight color variance in the pile is caused by the different moisture content of the bags.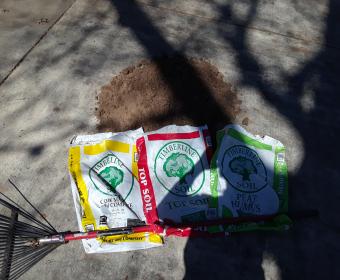 Went to your Gainesville Ga store to buy trim to Finish my bathroon renovation. Found everything I needed except one piece of outside corner trim you only sold 14" or maybe 16' pieces, that would not fit in my car so I needed it cut in half. The employee there said no they couldn't because the saw was to rough, so I then went to customer service to get an answer. They told me the same. I asked why they couldn't just change the blade after all you do sell fine cut blades. The same answer was no. I put everything back and left and I shall not ever return nor any member of my family. I called Lowes in Cornelia Ga and they told me sure they could handle my need. This is not the first problem I had with this store but it will be my last after all I spend over 25,000.00 in you Cornelia store for a renovation several years ago. You really should close the Gainesville Ga store or consider starting over with the entire staff.
Regards, Dalwin Smith Ret TSGT USAF.

Went to buy a mower at bee cave Tx store that was marked 1,700.00 when they came out to help me they said it was the wrong mower it was the one next to the one that I wanted they discounted the wrong mower but both a retail of 2,999.00 they should have sold me the one I wanted I won't be going back that's for sure

Robert Nicholas
from Nederland, TX
I go to the Port Arthur Lowe's at least twice a week, but if there were a Homedepot within 10 miles of my home - I'd never set foot in that store again. When I go to P.A. Lowe's, employees never ask if they can help me. When I ask for help it's like I'm bothering them. They all seem like they have the red ass and don't want to be there much less want to help a customer. I'm sure there are a few employees who really value their jobs and want to be helpful, but the vast majority don't even know how to spell customer service.

samuel jones
from Lincoln, TX
I ordered a roughneck storage shed online, Was in Bryan Texas store 907
My order number 369347133 invoice number is 94033 order date 2/23/2019
ITEM # 961392
I called this morning and spoke to pick up counter, The employee assured me my order was there but some detergent my wife ordered was not and that the detergent was credited back to card. I explained to the employee I had to drive over an hour to get there, He assured me my order was there!!!!
When I got to the store the girl at the pick up desk got on the phone and told me they were having trouble finding my order but they would pull another and have it ready for me,We did the paper work the young lady verified my drivers license, and asked That I go to the garden department and they would load me.
I went to the garden center the employee's were very helpful but could not find order, An employee told me to go back to the pick up desk and Tony the manager would get me a shed similar to what I ordered.
I went back up to the service desk and Tony the manager was there the girl asked me to sign for my refund( I didn't want to but I did)
I asked the manager Tony what I was told in back and that I had driven over an hour to get there to pick up shed.
Tony the manager said wasn't his problem and he couldn't give me what he didn't have.
LOWES NEEDS TO RE-ELVALUATE MANAGERS AS TONY WAS NOT FRIENDLY OR DIDNT EVEN TRY TO MAKE IT RIGHT.

John wolf
from Seattle, WA
I live next door in a subdivision neighborhood I don't believe it's commercially zoned over here but many apartment buildings and every night woke up from parking lot cleaners tonight they had to wait for the hot rodder kids to leave which it took until 1 in the morning I don't know if you give them permission to do burnouts and ruin the pavement but it's Extremely Loud Kiss revving their engines and intentionally making them backfire this is not the first time every weekend it seems like every couple weeks extra cars show up for a rally Gathering driving down the highway like a drag strip doing burnouts in your parking lot maybe you should put up some gates to stop this from happening between that and the semi trucks loading and unloading at all hours there's absolutely no peace and quiet in this neighborhood and it's all Lowe's so close to calling my lawyer and filing complaint officially against this company 240th Pacific Highway South Kent Washington 98032 I have been complaining for 6 months to no avail if something doesn't happen immediately you will be hearing from my lawyer

Michael Eberhardt
from Dallas, TX
Over the several months, including today (Feb. 23, 2019), I have ordered over $10,000 of materials, appliances, flooring, etc as I renovated a home in Arkansas. I live in Dallas and thoroughly enjoy the customer service I receive at your stores in Dallas. Your store in Hot Springs, Arkansas however is nothing but a terrible experience. Abysmal! Screwed up orders, failed deliveries, failed carpet installations, horrible phone service. You name it and it is terrible there.! Today they dropped my calls (as usual), took forever to take a simple order and could not process my $20 discount coupon. Shut that store down. It is an embarrassment to your reputation. Mike Eberhardt 972-567-0029

Tina Hall
from Cleveland, OH
Good morning, Im emailing you due to the huge headache and damage our local Bellefontaine store has caused.
I ordered a GE refrigerator, the delivery men dropped it off and left it sitting in middle of kitchen floor without measuring it, it did not and would not fit. So the fridge (picture included) sat in the middle of my kitchen blocking off the dining room for 7 days until they could bring us another one. Meanwhile not using it since its an exchange and not having a refrigerator again. Called and ordered another one but now this size I needed wasn't in stock and theres a $85.80 price difference forcing me to the store to pay that amount, so we go to a different brand. We get that Whirlpool delivered finally and guess what? It makes a god awful rattling sound and the delivery guys tried for a good hour to find out why. They managed to shove a piece of Styrofoam underneath it to stop the noise temporarily. Than back on the phone with lowes to reorder another. Im clearly buying another brand, That one was fine. So now im dealing with all these charges on my cc, I call again, manager tells me there is cash at the store for my refund. Go to pick it up (20 mins away) and its very short. I left it at the store. The two charges on my cc are
$$1,468.22
$85.80
The envelope had $1,350. Than after everything had settled with the fridge deliveries I get a knock on the door yesterday and its lowes. They asked what fridge they are picking up?!?! No fridge to pick up. My kitchen floor and trim is destroyed from all this. The managers were very nice and helpful and I hate to cause problems for anyone but at the same time..... Im just done with this! Id like my cc adjusted (not cash) and see what we can do for the damage on my floor and trim.
Thank you for your time
TIna Hall
586.222.9710
5527 State route 273 w
Belle Center oh 43310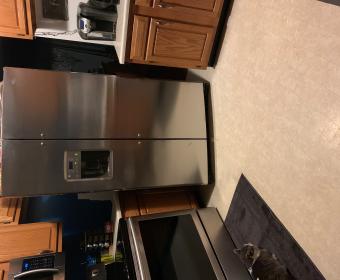 Well, we tried today to purchase a refrigerator from Lowes in Lexington VA. The refrigerator we wanted to buy was out of stock in the store and we were told that it would be from 14 to 21 days which was fine. We were told to complete the purchase, we could pay at the front registers. There were three people trying to complete a cash, not credit or debit card transaction. We gave them our information and our cell phone numbers and we kept getting told that our phone numbers ( we gave them two correct cell phone numbers) were connected to other customers. We told them we had no issues with our phones but they could not get the refrigerator ordered and therefore we couldn't pay for it. After over 30 minutes of standing there trying to make a CASH purchase of over a thousand dollars, we could not. We told the front customer service staff to forget it and left the store. I am at a loss as to why in the world that three Lowes employees could not order a refrigerator and take payment. We took the day off to do this and now we are home with no refrigerator and a bitter taste in our mouth. I don't know if we will ever again try to purchase appliances from Lowes. We were thinking about buying a new washer and dryer as well as a stove to match this refrigerator. We may not be the biggest customers Lowes has but we are certainly two disgruntled prospective buyers...Sincerely Stephen R. Clark and Patricia B. Clark 540-290-6440. 806 N Rockbridge Ave. Covington, VA 24426

Hello,
We purchased flooring around May 2017 and recently experienced a leak from our toilet related to the installation.
After consulting with two professional plumbers we were informed the wax ring was not replaced when re-installing the toilet. The two plumbers went on to let us know this is standard when replacing a toilet and we paid an additional fee to have this done. When customer service was contacted we were told the local store would provide a resolution to the issue. The local store manager (Hanford store), Garret was incredibly rude and condescending. He did not provide a resolution or even consider one. He let us know that we were outside of our warranty and there is no way to prove the plumber did not replace the wax ring that caused the leak. I then reached out to David from installations and he would not return my call or speak to me. He insisted another staff member, Sam (female) discuss the issue with me and I had to explain the issue to her from the beginning. She was professional but still very dismissive and unfortunately did not provide any resolution either. Whether this becomes a legal matter could have been avoided with better communication and management skills. We have done business with other Lowe's stores in Fresno and Clovis CA and have never had such an awful experience. Locally we are not the first customers that have had negative interactions with this man. When customers are avoiding shopping at one location due to the management it should be concerning. I am sure to a company of your maginitude one complaint is not alarming however for corporate to say we should be provided with a resolution and have the local store manager be aggressive and dissmissive was very upsetting. I personally am still hoping for a resolution as this situation has caused not only a major disruption to our home but also the stress level has taken a physical toll.

Ordered 3 sets of railings 5 posts and an extra set of in line brackets. Posts came delivered to my house, railings sent to store for pickup, wrong brackets delivered to my house. This was all on the same order. When I called customer service as to why half my order was delivered to the store they had no idea. Now the right brackets have been ordered and are being sent to the store, they cannot ship them to my house, like they shipped the first set. Confused? so am I. Tried calling the main headquarters for Lowe's that was a joke, there's only so much time to wait on hold.

Melody A. Kiley
from Shelby, NC
I have used internet sales for garden supplies about 4 times. Of all of them only 1 was faster than if I collected the items myself. I am a 72 year old women and hauling bags of fertilizer is not easy. On February 14 I placed an order. The next day the email was there saying it was ready. I went to Customer Service and got my paperwork. The gal at the desk called over to the Garden Dept. to tell them I was coming and that my order was in isle 1. When I got to the Garden Dept. the guy at the register knew nothing about it and received no phone call and worst of all my order was not there. Either someone lied about getting it ready or it was put back on the shelf.
The guy at the register calls CC and listens for 5 min on how I need to go over their to get my paperwork all the wild holding it in his hand. He has worked that department for about 2 years and didn't know what the paperwork looked like? No one relayed the message about me coming to pick up my order?
I told them I would go the Aldi across the parking lot and expected my order to be ready when I got back. About 30 minutes later I returned and it was ready but then had to wait for someone to load it in my car. All total it took about 1 hour to get my merchandise. This is totally unacceptable. I went to complain the the manager but he was not there.
Anyone wanting quick service should stay away from ordering online!

Ordered refrigerator, cooktop, wall oven, hood vent, sink, faucet, dishwasher on 1-21-2019. February 4, 2019 Lowe's called to tell me order was in. Went and picked up hood vent, sink and faucet. Lady got on computer and saw my order and marked onff everything I picked up and verified all my appliances were there. Day after I pick up three of my items, sales lady calls me to make sure I did not get my refrigerator , that it was still there. I said no I have not had Lowe's deliver it yet. At this point all my appliances were at Lowe's ready to be delivered. My contractor and I go to Lowe's to pick up my cooktop February 12 and made arrangements to have my appliances delivered Monday February 18. Yesterday morning at 7:50 am I received a call saying my appliances were not in and would not be delivered today. Called back they said nothing they could do. Called back again and talked to guy in appliances and he went back and found my wall oven and dishwasher but no refrigerator there ,that sales lady called to verify it was there. My contractor went and picked up my wall oven and dishwasher and they tell him only wall oven was there. My house was ready for all appliances to come yesterday I missed work for this delivery. Very disappointed. I have been lied and I feel like my appliances were taken by someone else since everything was in store and gone on delivery date except wall oven. Very disheartening the way I have been treated and lied to.

I placed an on-line order..[because of previous bad experiences trying to get in-store assistance]. I was notified that my order was ready at the "pick up" area. I went to the store to that area.. there was no one there. I pushed the "request for assistance" button. The announcement came out SEVERAL times.. after 20 minutes I asked an employee walking around, if there was NO ONE working in that department, he went over and did a phone page.. I was told to go to customer [lack of] service, where the young man there informed the that.. " Sorry, that's NOT my department." At that point I was so angry I left the store WITHOUT my items.
This isn't my first bad experience with your company, but I can assure you, that once I DO get my order.. it will be the LAST.
KENNETH CASE

Thomas Hughes
from Cape Coral, FL
On June 27,2018 I signed a contract with Lowes to install a 6 ft high green vinyl fence along the street in front of my house in Southborough, Massachusetts.. The work was to start on July 20, 2018 and be completed by October 20, 2018. The installation was started by mid July but unfinished because one post was the wrong design. When the crew never returned by mid August, I started calling Lowes and visiting the store in order to get the job finished. Throughout September and October, I continued to contact Lowes but the fence remained unfinished.
I live in Florida during the winter. Before leaving for Florida in late October, I secured the uninstalled fence sections in my locked garage. On December 11, 2018 Lowes sent me a bill for $6,793.33, the balance due on the fence less $100. ( total job cost $10,340 - a deposit of $3,446.67 was paid on June 27, 2018). I complained to corporate headquarters and they have told me they will not complete the fence install until I pay $6,793.33 in spite of the fact that they did no finish the fence installation for 5 months before I left for Florida.
When the Lowes salesman sold the fence I was told the green color of the fence was permeated throughout the vinyl material. That was a lie because the fence material is white painted green on the finish.
I agreed to pay Lowes the balance of the fence job when the installation is completed however, they want to be paid prior to finishing the job.

My husband and I ordered carpet from Lowes with free installation, when the installers came to install the carpet in our basement they had the correct carpet but it was the wrong color. So, after the installers left we came to the conclusion that the customer service person who placed the order for us typed in the wrong color. The color swatch that we wanted was located above the color that ended up being ordered. At this point we were slightly annoyed but hey things happen and mistakes get made, no big deal. Today we went into Lowes located in Washington, PA to get everything sorted out and get the correct carpet ordered. Once we got back to the flooring department desk we were approached by a very nice and helpful gentleman who explained that the associate who works in the flooring department wasn't there yet today and that he was just a delivery associate but if he could help us he could (this was at about 10:30am). So, we then explained our situation and he promptly said that he was just going to call a manager for us to speak with because he didn't know how to even begin to help us. At this point we were fine with everything, then after a very lengthy phone call with the manager he got off the phone and said he was looking for someone named Ron and that he would be right back. He came back after a few minutes and explained that he couldn't find Ron and that the associate was coming in in 20 minutes and that we would have to wait for him because the manager didn't want to come help us. We thanked the associate for his help and we just looked at each other in complete shock and disgust. Seriously? The manager couldn't be bothered to come help us fix the situation which was an error on Lowe's part in the first place! My husband is a store manager for a local grocery store chain and could not believe that was the response we got. The manager expected us to wait for 20 minutes for the associate to come in who was working in that department instead of coming right away and helping us out with something they messed up in the first place. Absolutely unacceptable! We went with Lowes because their price was great and they were offering free installation. Lesson learned there. After this problem is fixed we will pay the extra money for a company who can actually help their customers. We weren't even really upset about the mix up because like I said, mistakes happen. We just wanted it fixed and we ended up wasting about 30 minutes waiting for someone to do that. Unbelievable.

Me and my husband visited your Lowes store locate at 770 Daniel Ellis Dr James Island SC 29412 Store #0661 on Feb 16, 2019 around 9:30 am. My husband went to the restroom and it was so dirty and smelled so bad that he could not use it. I thought he was over exaggerating so I went in to see. I was astonished at the filth and smell I have used and seen many public restrooms but this was the worst. How can you expect your customers to use this restroom or take their children in there. If the health department done an inspection they would close it down. Pure shame you allow your restrooms to look like this.

I just recently purchased 1300.00 dollars worth of vinyl plank flooring and after driving all the way home we found several boxes were so damaged that the flooring was chipped bent or cracked so we couldnt use it some boxes were even taped shut we were unaware because they loaded the boxes for us I really needed the floor done in a short time frame now I have been set back due to having to purchase more flooring. Very upset with how I found things when I went to lay the floor!

Remodel on both bathrooms in condo. Starts out great with rep in the store as we think we have someone who is knowledgeable and responsive. That was October 2018... now to February 11, 2019...first bathroom is 70% complete-forgot to order light fixtures, shower door (who would have thought that was a priority!!) and the bathroom cabinet, mirror and a toilet that is installed but with no lid and no water connection. Frequent attempts to get answers and no one calls you back. Oh..you can talk to Kianna in Indiana (or wherever she is). She can single-handedly ruin Lowes! I was offered the chance to have the 2nd bathroom renovated while we wait on the first. Well, that's a marvelous idea! We'll just go outside to go to the bathroom! Lowe's slogan should be "we understand your concerns, but frankly, we don't give a damn. LOUSY place to do business!!

I contracted Lowes to install a perimeter fence around my property in February of 2017 and was told I needed to go to the Village of Schaumburg and get a permit and codes to give to the installers which I did, I am now being ticketed by the Village because they are saying Lowes did not do the installation according to code and that I now have to have it corrected, I contacted Lowes and spoke with both Ashlin McFarland and Christian Luis, both product installation specialists??? They made me pay for the parts to have installer come out and fix, Which they did last Tuesday and once again completely ignored the codes WHICH WERE AGAIN GIVEN TO LOWES, when I again contacted Ashlin by email she responded by telling me that if I want to contact a lawyer I should let her know so she can direct me to Lowes legal, I have cancelled 2 projects I was going to have Lowes do at over 25000.00 and will be using another company, extremely poor customer service and treatment to a very loyal Lowes customer.

douglas kinnas
from Davenport, FL
On 02/06/2019, i was attempting to purchase an orchid with a friend who knows a lot about flowers. I came across one i liked and she said it was almost dead and to buy a live one. The one i liked cost $29.99. as i was bringing it see to if i could get a better price, an employee stopped and said, "oh, i forgot to mark that one down" Jennifer marked it half price. My friend and i agreed i should talk to a manager. Bryan came out and called Jennifer and asked her what to do. She stayed half, Bryan said whatever jennifer said goes. I asked who is the manager, Jennifer or Bryan? Jennifer said she's the boos in flowers. Bryan just nodded his head and said "Whatever she said goes" I then called corporate office because my friend said Lowes in Haines City, Florida DON'T CARE. I talked to Ashley and explained everything and she was going to talk to Bryan. While she was talking to Bryan another manager, which i found out latter, stopped to talk to my friend whom he knewn because he helped her with some kitchen apliances. Ashley came back to me and said " I can't help you because you were talking to another manager about the same thing " I wasn't, my friend was talking to him. Bryan also told Ashley the orchid was in the clearance rank. It wasn't. It is bad enough i am handicapped and a senior plus military and i couldn't get a near dead plant better then half price. I was so upset, i couldn't eat, sleep or leave my house for 2 days. All i wanted was my first orchid. If you could help me, i would eat, sleep and tell people about what Lowes has done. sincerely, and God bless, Douglas Kinnas 863-656-6463

My complaint is that we bought floors from Lowes and they had someone come install them.....Well the company that Lowes hired did not install them properly and now our floors ruined. They company that installed them came back and took them off and never came back!!! this has been over two months ago and my floors are falling apart Lowes sent this to their insurance dept to try and get resolved and I can tried to call them multiple times and also email mailed them multiple times. No one has ever helped us and no one has ever tried to help us. I have over $11,000 dollars worth of damage and no help! I don't see how Lowes would expect us to pay the bill when I have NO FLOORS!...This was at the store in Victoria TX. My phone number is 361-649-9102

We bought carpet from Lowe's. Big mistake. They took our $5000 grand easily but the rest has been hell. They lost our carpet and other excuses. We attempted to call them numerous times and were basically told they had no clue. Promised to call back on several occasions but never did. We had to call them. Then when the carpet finally gets here, as our house sits on market and can't be seen without carpet, we sit and wait after being told 8-10 am for installation. Nope nobody shows up once again we had to call. We have been trying to get our house sold and this has increased our stress unnecessarily. We were Lowe's customers faithfully. We will drive past Lowe's on our way to Home Depot from now on. Very disappointed in customer service

Dawn Neff
from Ann Arbor, MI
We have spent a great deal of money at Lowes in the last several months, buying carpet and vinyl flooring. The purchasing was easy and the installation went great, we were very happy. We decided to have our garage doors replaced as well. We had our choice of 3 different stores to purchase these at (Lowes, Home Depot, Menards), we choose Lowes because of the previous serves we received. We bought and paid in full two garage doors with installation back in September of 2018. Here we are 5 months later and we still do not have garage doors completely installed. We receive the run around for five months. We didn't start getting concerned until mid November when we hadn't heard from anyone at Lowe's. We stopped into the store a few times to check the progress and was given an apology and promise to find out what the issue was. In December we were told there was a mix up at the factory, they were unsure if we ordered one door or two, yet no one ever called us to verify. We had to initiate this process. January the problem was delivery to the installer. Finally the installer received the delivery and scheduled to come put our doors in. He worked one day on them, did not complete the installation, said he would return the following day to complete but never showed. It took several phone calls for him to finally get back to us on when he would complete the installation. His excuse was his truck broke down. Currently we have two garage doors that we can not use, which makes our garage useless since we can not get into it. In addition we are in the process of trying to sell our house. This is causing a delay in the selling process. It is now February and my doors are still not done. The installers current excuse is he hurt his back. This has been ongoing for five months. I am not impressed with the installation company ( Access Door Systems, Daryl is the installers name). The only actual help we have received was from Chris with AMAR who had made multiple attempts to contact the installer on our behave. I am tired of apologies, I want my doors installed. I have been apologized to for five months yet no one has seemed to do anything to take care of this matter. We will be needing new flooring for our new home when we move, this experience is making me consider another company to do business with. I know I am just one person's business but I deserve to be treated better.
I hope that you will see the extreme stress and frustration here and make this right.
Thank you,
Dawn Neff

We ordered a Refrigerator Item# 712177 (Order # 368601964,Invoice # 88755) from your Fayetteville, WV store, and was told our delivery date would be 2/6/19. Someone was to call us the night before to confirm delivery, no one call. When I spoke to someone today I was told the order was cancelled due to not having a refrigerator in stock. NO ONE called us or e-mailed us to tell us this. We have been without a refrigerator mow for four days.
My wife disapproves of Lowes due to past experiences purchasing over $10,000 worth of appliances from you. The only reason we turned to you was you could deliver sooner than anyone else. So much for that.
I want to know what you are going to do to make this good.

Dear Sir or Madam
I go to the lowes store in Americus GA
My wife went yesterday to get a thumb screw went to the desk to get help 3 times in a 15min period and nobody showed up she got upset and walked out . I went today to return somethings and the lady at the Regester acted as if i was bothering her to have to do the return and she was busy i will give her that about 5 people were walking around acting like they were busy and doing nothing and could not help her or me.So I can understand as to why you are closing a bunch of your stores. If there was a Home Depot closer I would shop there when one of there workers walk buy you they ask if they can help and that is what a costumer based buss. should be doing.
Gary W Langlois
Thanks for your feedback!
Sorry. Please try again later!