Google
Google Complaints Continued... (Page 2)
323+ reviews added so far. Upset? Call Google corporate: 650-253-0000

The Shamus Group LLC/Keith Kirby
I m a private investigator who had a previous client that came to my office after a bad situation with a prior
private investigator. My clients son placed a negative review using one of the mothers email addresses regarding the services of the prior investigator.
Unfortunately he inadvertently placed the negative review on The Shamus Group LLC. I brought this to the attention of my client.
She agreed to remove the negative review but could not figure out how to do so. After several attempts, my client couldn't figure out how to redact the negative review her son posted and she posted a second review explaining the prior negative review posted by her son.
Unfortunately that doesn't change things unless perspective clients read the review.
My request is for Google to remove the negative review accidentally posted by her son.

The change you made to google on my cell phones makes google searches 100% useless. The info I search doesn't even show up at all. It's ridiculous. I don't want an ad and I don't want Facebook links when I'm looking for a website. Really frustrating. I'll find a new way to search . I'm disgusted.

I have been unable to add a new tablet to Google Play so I set up a new account using another email address instead of my googlemail one and filled in the forms as requested but I never received the promised code to enable the account and when I went to enter the verification code from the email sent to my gmail.co.uk account and clicked the Didn't get the code? It just suggested using a different email address. This leads me to believe that Google are trying to force users to only use their email addresses so they can track them for financial gain. I have virtually stopped using Google products as they are too in your face and just wish that companies like Apowersoft would let you download directly from their site instead of pandering to the great God Google.
.

Address complaint. I use Lift to get around and every time I call for a Lift it takes them to the mall & not my street address. I have to talk to them and tell them how to get to my address. Is there anyway I could correct this?

I want to file a complaint angainst the app war robots. I recently got a new phone and downloaded it and all my progress was lost. I have attempted to contact their support and no one will answer my request and I have spent hundreds of dollars on that game. I want to know what can be done since you have it on google play and they are not helping the customers.

Google keeps calling wanting us to update our business with them, we don't have a business and inherited this phone number from a company that went bankrupt 5 years ago and we were continually getting calls from google, 2 times today. We are a retired couple and have never had a business. This is blatant harassment and I want them to stop calling our phone number.

Need to sort ye flash out I'm getting headaches, I'm suing if it doesn't change x

I have turned off the location service on my phone as I feel it is an invasion of my reasonable privacy.
However,the device continually keeps asking me about this service,wanting to turn it back on,usually in a 15-20 minute time frame.
This constant and and continuous harassment has not only stopped videos from playing,it over rides any and all functions on my phone.
Basically,No means No,and I feel that since my phone service provider seems to be able to locate my phone for any and all purposes,including browser and application data delivery,that it isn't necessary for the Google platform to continually harass me to turn on the location for its own purposes.

cameron Craig
from Arbutus, MD
When i use google news I can find indescribable amounts of info on donald trump . However when it comes to science and or topics not related to trump i am left with just a scant view of anything beyond. I just wish your platform for news was more broadly versed for people and not so subject to the ebb and flow of society

I receive daily harassing phone calls from services trying to force me to update my business account. I've been cussed out, hung up on and literally called every day. This is extreme harassment and even though I've asked repeatedly it wont stop. I have no use for google and nothing good to say about them

Eric John Cole
from Faber, VA
l am sick and tired of fights being 3/4 through music cutting and stupid rectangle asking if l want to listen still. Pretty GDF'ing ridiculous
l like google l like youtube chrome etc.Also password saving...

Christopher Bowers
from Waycross, GA
I created a google my business account and went live with my business website on Friday, April 12th, 2019. My status is pending but it says I'm verified. It's been more than three days and I'm told it's a technical problem on googles end. The customer support lady barely speaks English and I cannot get a straight answer.

COLLEEN HAREWOOD
from Orlando, FL
All morning I keep getting e-mail that some one is trying to access my account. I called Google 1-888-856-5469 and spoke to one of the Indian rep who told me that some one in Mexico or Germany is trying to access my account and I have to pay a one time fee for Google to stop the person . Because I said I don't think I needed to pay for Google to stop people from accessing my account the Rep said that Google cannot help me and Hung up. I need some one to get in contact wit me.

Google repeatedly calls my office about updating company information. When I tell them the owner is in Beaumont they immediately hang up on me. I pushed 7 to be removed from the call line, 20 minutes later, another phone call. I decided to push 1, they had me hold, AFTER CALLING MY OFFICE, NOT ME CALLING THEM, for over 5 minutes. When I asked the female to answer the question,"you called me, why was I put on hold for over 5 minutes? She then hung up on me. I can only assume Google has been hacked and people are stealing information on people. Please correct this.

Bransford Shoemake
from Chelsea, OK
I have attempted to contact Google through various means with no success. A negative post was made concerning my law practice from either a fictional person or someone I do not know and have never represented. It is DAMAGING MY BUSINESS! We have tried for TWO WEEKS to talk to someone about this...we have flagged the negative post and followed the instructions given us by your on-line postings. NOTHING HAS WORKED. I need someone to call me before I take some other action.

I have complain about Google pay. I make a payment through your application to ola money for rs 388/on28/03/2019 .but till 11/04/2019 amount not credited in benificery account but debited from bank. I raised a complain but still not any action taken by you. And no replay given to me. It's very poor service.
I am not aspect this type of service from GREAT GOOGLE.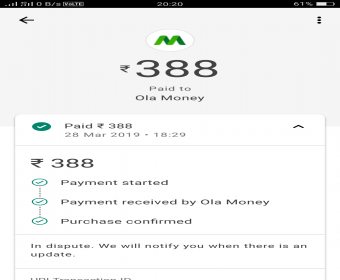 Marina Tucker
from Fairfax, VA
Was on the line with NEST customer service for over 5 hours concerning a defective NEST. They kept passing the buck. Each time they told me I'd have to hold for 2-3 minutes it was 30-40 minutes . Spoke with 7 different agents who asked me the same questions each time. Was on 2 different "chats" while I was on hold and was disconnected each time. Each chat person asked me the same questions 2-3 times during the chat. Clearly their tactic is to wear people down so they give up .

Russ Houle
from Washington D.C., DC
When are you going to update your street view? I have tried to use it on places over 8 years old and it is unavailable.

I am the owner of a large Childcare Centre and someone called Ben Fletcher has desicrated my web site and also posted reviews detrimental to my business. I need this stopped immediately. There is other businesses this guy has hacked! My business is Tiny Tots Childcare Centre. Please respond ASAP as I'm getting complaints from my patrons!

Muhammad Yaseen
from Islamabad, IS
I am unable to reset my password as I forgot my password and now I am trying to reset but google can't verify that this account belongs to me
I have received otp on my personal number but it's not so helpful for me

Noel Bell
from Livonia, MI
Someone posted online that I have HPV and Herpes
If you google my name
It appears on Cheaters
I can get no response from them

Robert w cowdrey
from Woonsocket, RI
On my brand new Windows 10 computer I'm having issues with Google Chrome it takes a long time to open up I tried uninstall it and reinstall it it still does the same thing this is the first time this has happened on any computer I ever had it always open fast I tried it on somebody else's computer if she still did the same thing is your wig we can get this fixed cuz I like Google Chrome

I am really tired of the adds every time i open my phone. I am sick of the adds you have ruined the Internet.

jeff banes const.
from Olney, IL
I will be fileing a lawsuit . I have been called over 180 times this year. 3 months. I have recorded these last calles from 618-690-1669. I told her and you please stop calling you r ruining my business I have no other option but to retain a lawyer. this is proof of notice thank you! jeff banes

Worst customer service!!!! There representative not located in the USA and all they know it's to lied and i never got the right answer only Read me the policy (Google change there policy when ever they want.....)

Mark c Jasper
from Coshocton, OH
I have purchased a product from Buy Factory Direct Have had no luck getting product repaired Lots of E mails also returned product as per instructions still getting runaround Going on 2 months Any help PLEASE

Jean Coffey
from Naples, FL
I do not want to see the advertisements every time I open my email. Please stop them.
Thank you

Two days ago I was informed by a representative from Google in Chesterfield. Oh that I would be receiving $3000 refund but would have to return $800 back before I could cash check. Two $800 attempts were made without success and now they will not return my 1600 until I resolve matter plus I can't cash check. This is all thru Google!! I need help

Chris Pilos
from Bradenton, FL
My right to privacy has been violated google has stored and kept personal photos from my phone, stored on their cloud without my permission as well as all websites I'v visited, YouTube videos, watch history, locations, texts, phone calls, email etc google has literally been monitoring everyone who own's a smartphone by collecting all the above information even after I have went to their site and was shocked at all the data they had been keeping on their servers that I thought private

David Charles
from Hounslow, ENG
I own a company's & google has excepted an advertisement for another company with exactly the same name as mine, in the same area, with a different telephone number.
I have spoken to Comanies House & this company does not exist.
I have also spoken to a few people in google customer service but I keep being told that there is nothing that they can do about it.
Why is google accepting advertisements for non existent companies & why can't they remove them when they find out.

When you buy a Google product you expect a permium devices and also premium service. Too bad reality learned me something else. Bought a Pixel 2 XL last year and noticed that the USB-C port seems to be semi-broken. I couldnt get a headphone to work on the audiojackconverter. No problem, bought a bluethooth headset. A month further my device started to shut down when i plugged a charging cable. Checked the internet and see this is a common problem with the usb-c port more people having, even with the newer Pixel 3. So, a factory fault. Contacted Google to get a RMA like 5 weeks ago but still have no solution. Premium service? Not even close. Next time ill buy a Asian phone because the service is waaaaaaay beter.

paul warren
from Los Angeles, CA
lost service to broadcast service in la Mirada CA wed. day at 550pm, almost Monday and no service repair this is unsatisfactory this is not first time this has happened.

I have a small business and I keep getting calls telling me my google listing is not right. They want me to pay them hundreds of dollars to "fix" my listing. I have spoken with someone in the past regarding this and I never really understood why people are wanting to charge me to "fix" something that your lady told me was NOT wrong! I have kept a list of numbers, names and dates that they have "harassed" me.
Today I have received two calls and no one there. They play the message to press 1 to talk to someone, but it hung up on me.
I am going to my local law enforcement to see if I can file a compliant with the names and numbers I have.
Of course I cannot call the number back as it says it is not a working number.
Why are they trying to get hundreds of dollars from me in your name??
Connie

Jan Steven Kryski
from Trail, BC
My complaint lie3s with your Google Play App. Mainly "Jackpot Giant Casino". I have made a lot of purchases here and the games don't always work. This past weekend there were no tourneys and no jackpots, there entire system was not what I payed for. The games are slow and then they are fast and sometimes they actually appear to work. My stop button is held hostage by the developer. They are really are terrible games and when you have payed to play it is like you have been deceived robbed whatever you what to call it.. it is not fair nor reasonable.

Nancy House
from Glasgow, SCT
You have taken money from my bank without my authority, can you tell me why, I am a 70 year old pensioner and can't afford anybody stealing from my account

graham mayo
from Hatfield, ENG
I'm being stopped from using facebook is the discrimination. Could I take this to court or are you above the LAW

CLYDE C JOHNSON
from West Bloomfield, MI
Why will Google not forward a note to my legislators which is in opposition to gun control bills coming up ?? After several tries, all I get is "Google will not forward". All three of the legislators should know my position and it is not up to Google to monitor that position.

thomas k mahon
from Atwater, CA
I got a phone call from a google rep about a MAHONY ENTERPRISES in Manteca ca ....and apparently they are using my phone number on there web site. I don't know what kind of fraud they are involved in....but please remove my phone number from that web site.....thank you....let me know when you get that done ...ok

Paula
from Corpus Christi, TX
I HATE google! I have been begging them to fix my account! I cannot log into my account to correct information, respond to my reviews, and remove pictures that have nothing to do with my business!! I have been told google will call me back and they never do! Now when I call, they ask for my number in case we get disconnected. Then they look at my file and hang up on me! No one calls back after we are disconnected! I am so pissed! What kind of psycho business holds my business account HOSTAGE! It's been 5 years IT'S WAY PAST TIME TO FIX MY ACCOUNT AND GIVE ME ACCESS!!! THIS IS INSANE!!

Greg Noel
from Ormond Beach, FL
I live in Holly Hill, Florida and have had no Google mail service for five days now. I attempted to go to my internet service provider as I was able to do in the past but I am no longer able to see emails using that service. I have critical information I am waiting for and I don't know if senders are in fact having the same problems using Google mail at their end. HELP

Me and my family took a picture on my camera to capture the new year, I inserted the sd card into my computer and imported the files to my laptop, next I wanted to gmail everybody in the picture so that they could have it too, but whenever I tried to sign in it would glitch back and make me sign in again, if it didn't do that then it would say that there was an error and they did not know what the error was. After trying numerous emails for almost an hour, I am disappointed that I wasted my time on this.

Jitendra pathak
from Bengaluru, KA
My account balance debit 29 mobile not recharge

Mohan
from Gurgaon (Sector 18), HR
Dual touch issue with pixel 2xl phone, they couldn't resolve it in 2 months .. I'm disappointed with Google support, i Wish i could get refund for that n take their phone back.

Nik Ann Markel
from Houston, TX
On Sunday December 23 Rd attempted to get free apps from your Google play store, message said device not compatible,went online got avast antivirus, been hacked for 3 days, terminally ill awaiting double lung transplant, your employee whom used this email between 9-11 pm , sent message demand that I get from store where was refused,he took my antivirus off & did several harassing incidents.I feel violated, tried store again, rejected me. Further investigation,you no longer carry avast antivirus. Please email me immediately. I am livid and violated

Elizabeth Rankin
from Newark, NJ
On Oct. 26th 2018 My son attempted to sign onto UTUBE to watch the Red Sox play in the World series. He got a message that his credit card was denied. I did not care about watching because I enjoy listening to it on the radio. Because of him I tried to get the game through UTUBE. The results probably because neither of us is proficient on the computer was that we were not able to play it on the TV. I canceled the services within the allotted time so I thought it was over. Over the course of the next month Google with drew $240.00 from my bank through my PayPay account. PayPay attempted to help settle this with you but recently sent me notice that my complaint was denied. So here I am asking you to please return my money I am 69 and on a fixed income and have no idea what google service I am paying for. I have no gaming at my apartment and beyond that I cant imagine anything that I would invest $240.00. Honestly my bank account is very low and I am concerned about Christmas and making it to my next Social Security check at the end of the month. Please help me figure this out. for all I know you may take another $80.00 and overdraw my account costing me even more money. Please Help.

Nathan Hefty
from Washington D.C., DC
What ever new update has been done for google is awful. I have to click at least three to even forty times (yes I counted) to get one simple task done that should take one click. For example, it now takes two clicks to select videos and many more clicks to put my curser where I want it to go on Google docs. Also, I can no longer simply drag an image on to a google doc without it opening the images linked site, nor will it allow me to change the photo's size;I can only move it around. Lastly, when I click to pause videos they will either go to full screen, pause then immediately unpause, or they will require me to use the key board to achieve this function.

Norman Miller
from Hudson, OH
The engine of my 2012 Sorento blew up mid May of 2018 and the Burton Ohio dealership keeps pushing out the engine replacement delivery date. The original date was October 5th and the latest that I was told is December 26th. It has been over 7 months now and no one there seems to have the clout to get an engine for our vehicle. We are very unhappy and ready to contact News 5 in Cleveland Ohio to help us get this resolved. Please help!

JoAnn Schurmann
from Memphis, TN
It's very simple, I didn't realize it would take an act of G-D to get help with a simple issue: deleting 2 email accounts I'm not using. To begin with I did a search, found the directions; only I do not have a Ph.D so I was unable to take care of it on my own. So, I decide to use the chat option. HUGE MISTAKE!!! First I go back and forth with this person, about the accounts I want to delete; thinking I'm speaking with an "email" expert; NOPE!! After going back-n-forth for about 10 minutes, she says is there anything else you'd like me to tell the email expert. REALLY!! I was under the impression I was already speaking with one. Now, comes the real shocker, she sends me to a page where its requesting $9.99 before I can get an answer or any real help with what I wanted to do. Short of a cure for my MS there is no way I would pay to get an answer. You all must think extremely highly of your answers. I've pretty much decided, short of the earth moving and alerting to hell having frozen over, those 2 email accounts: Gardenqueen1958 and beachsidecreativequilting, will remain open. The sad thing is, this reminds me of the joke: How many Google Email Experts does it take to delete an email account? Answer, wish I had one. Still waiting to have accounts deleted. Finally, it I could give a score lower than one, I would. TTFN

joseph day
from Newark, NJ
My business does not show up on Google maps under the business category it is in , like it did when i first open the account. i had made several attempts to have this fixed, and the csr personnel do not listen and give me false information. All they try to do is sell ads and do not listen to anything I am talking about. I would just like my listing issue corrected.
Have feedback for Google?
Thanks for your feedback!
Sorry. Please try again later!