Holiday Inn
Contact Holiday Inn Corporate
Toll free phone number: 1-800-621-0555
---
Holiday Inn is a subsidiary of Intercontinental Hotel Group and has 2649 locations in the United States, Europe, Middle East, Africa and Asia. The IHG recorded revenues in 2015 as 1.8billionUSD.
Holiday Inn Guest Relations may be reached at 1-800-621-0555. To reach Holiday Inn online you can contact IHG here. You may write to IHG CEO, Richard Solomons by addressing your envelop with IGH Corporate Headquarters, 3 Ravinia Drive, Suite 100, Atlanta, GA 30346-2149, USA. The corporate office phone number is 770-604-2000.
Holiday Inn Club Vacations, Resorts, Hotels & Suites are called "your host from coast to coast". Founded in Memphis, TN in 1954, IHG owns Hotel Indigo, Staybridge, Crown Plaza and Candlewoods Suites. Social presence for Holiday Inn is found on Facebook and Twitter.
Holiday Inn Contact Information
Report complaints to corporate and get satisfaction
Holiday Inn headquarters address

3 Ravinia Drive, Suite 100, Atlanta, GA 30346

Company website

1-800 phone number

1-800-621-0555

Support email address

contactus@holidayinn.com

Better Business Bureau rating

A+

Customer service hours

24 hours a day
Browse reviews of other Hotels
Top Holiday Inn Complaints
Browse more than 148 reviews submitted so far

Jeremiah Roehrig
from Defiance, OH
We booked a room at Louisville northeast on chamberlain dr. Tye pool was broken and no breakfast as advertised the time of reservation. The breakfast was a carry out bag and pool was closed both days. The staff and hotel were great but i feel i paid for these two amenities and they were not available. I would like a refund as i had family down tye road who stayed at a hotel with both pool and breakfast available
Thank you
Jeremiah Roehrig

I used to travel weekly and stayed at Holiday Inn quite often, but this stay was the WORST one yet.
There is NOT a boat ramp that the guests can use as advertised online. We called the hotel before booking and asked if we can park with a jet ski and if we can use the boat ramp and we were told "yes". In addition, when we arrived at the hotel, we were handed a map showing the boat ramp. However, when we went to the boat ramp, we were told the ramp was privately owned and we could not use it for staying at the Holiday Inn. So I called the hotel and spoke to the manager, Rick. The manager informed me that the boat ramp is a separate entity and I will have to call the dock master for details. I then informed him that we specifically called the hotel before booking and we were told that we could park with our jet ski and we could use the boat ramp. However, the he kept on saying "I don't know what was said or the context" even though I told him what was said. I was basically accused of being a liar. I then informed him the only reason we booked the hotel was because of the boat ramp; and we took off work and drove 6 hours one way to get there; and at that point, we had been driving around for over an hour trying to find a boat ramp. I was being told again the boat ramp was a separate entity and I will have to call the dock master; he stated again "I do not know what was said and the context when you called". His only remedy was for us to depart early. The entire conversation went around and around in circles. This was the WORST customer service we experienced at any hotel. There was no professionalism or curtesy towards the customers. The overall hospitality from Management to Security was very unpleasant and unprofessional. Not to say that the bathroom exhaust fan fell on top of our friend's head while she was in the bathroom. The hotel is very RUN DOWN and there were CODE VIOLATIONS throughout the facility.

Thomas Davide
from Grand Island, NY
For 9 years I traveled the northeast and used my holiday inn gold elite membership whenever I could. I had over 59,218 points that as a gold elite member should never expire. Due to my retirement in 2017, I no longer travel and I found out today while attempting to book a room using my points that Holiday Inn changed my status to just plus membership in 2018 . By changing my status meant that i use or lose my points after one year. Sure enough, when I went to book my points for vacation today, I was informed my new balance is 0. They expired my points in 2019 without the courtesy of an email; letter in mail; or a call informing me that 1) my membership status had changed and 2) that my points would expire at end of that year (2019) . Is that the way Holiday in treats their loyal customers of over 9 years traveling?
Disappointed in Buffalo New York

Katie Cazassa
from Charleston, WV
Our room is literally covered in ants. They are on the walls, end table, bed, and carpet! I complained to the front desk about this problem and was only given a can of ant spray and a 25% discount! I have kids in my room that are sleeping, I can't go and spray ant spray all over in there and there is so many that it isn't going to make much of a difference! Very disappointed and disgusted!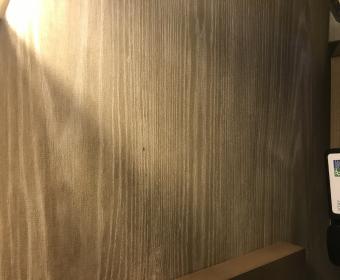 Janet L. Knick
from Anderson, IN
My husband and I stayed at the Holiday Inn Express in Austinburg on June 3, 2019. When we left, my husband did not see my jacket which was layng on the bed and failed to pick up my new, never worn sweat jacket. Two hours after departing, I realized that he had not brought my jacket. I immediately called the motel and the supervisor to whom my phone call was transferred stated "yes, we have your jacket - this happens a lot". I asked if they could send it to my home address and the response was yes, it would be sent by United Parcel. I repeated my home address and my phone number. When we arrived back home the end of June and the jacket had not arrived, I once again called the motel and was referred to the supervisor who said "yes, we have your jacket, but will need your credit card number in order to send it to you." So, now she has both my jacket and my credit card number. It is now July 20 and I still have not received my jacket. What kind of service is this? It certainly does not reflect what I expected and makes me wonder if I wish to book future stays at a Holiday Inn Express. As far as the facility otherwise, it was find. I hope you will impress on the employees the importance of follow-through on commitments and the importance of good customer service.
And, I would still like to get my jacket!! Thank you!

Terrible, my situation went unresolved.

On July 5, 2019 I had the opportunity to stay at your hotel in Bay City, MI at 3959 Traxler Court. I was awakened at approximately 3:00 a.m. with the chirping of the fire alarm. I called the front desk and he asked me if I could remove the battery, I am 73 years old and was not able to stand on the bd and do this task. The gentleman came up and was able to remove the battery and then had to leave the alarm hanging so it would not longer chirp. Then in the morning I wanted to go down for breakfast and the elevator was not working so I had to walk down for breakfast and back up after breakfast. The next hard part was walking down the three flights of stairs with my luggage which was not an easy task. They did credit my bill $30 which I though was very nice but I am writing to see if any further consideration can be made. My folio number is 119989 and my son-in-laws name is on the registration (he booked two rooms). I look forward to your response. Thank you.

Mary Schmidt
from Fort Worth, TX
My husband and I were traveling. We were tired . I used Booking.com.The web site stated that the Holiday inn was let friendly. I wrote on the request that we had a little dog. We get there and check in. My husband takes the dog for a walk. We get kicked out. My husband and I chonic health problems . The staff was rude. They didn't help us. We weren't in that room . I feel we were taken advantage of. We were charged four hundred dollars . It was highway robbery I may never stay at Holiday inn. Is this how you treat people, especially ones who are handicapped!

Worn wilder
from Chicago, IL
My wife made a reservation and she was age discrenimated against cause she looked younger than she is and the lady was extremely rude to her and we had a confirmation email to her email and confirmation number is 48465715 it was set for 285.98 the reservation was for the 15 to the 17

My credit card was charged multiple times. It took multiple phone calls to get a refund.

Darrell Jones
from Bedminster, NJ
Believe someone from Corperate should visit the Holiday Inn Express in Ada, Ok. I would not want a place in as bad of condition representing my name.. After waiting in lobby for an attendent at the desk, found out pool was closed for renovation, could have been inform of the when I was making my reservations. But to find out it has been closed for over a year and all the area is being used for is storage of furniture was something else. Then, I had resired a two room suite, checked in walk into a one room with two beds, back to the office to be told my room had been doubled book, then said "oh you were supposed to have gotten the room next you also". I know if I had not gone back down to complain they wouldn't of said anything and would relented it out. Maintenance on the place is going down so fast, while checking in had to wait while they unstop someone cammo, which I understand can happen, but happen in my room also close to bed time. I've stayed at this holiday inn before, but will no longer stay there again. I've always enjoyed the Holiday inn chain but now will have to reconsider my choices.
Thanks,
Darrell Jones
P.S. This complaint survive doesn't work either. Never receive an email to verify my email address so that my complain could be register. Then again maybe it does, maybe that's how your problems are answered.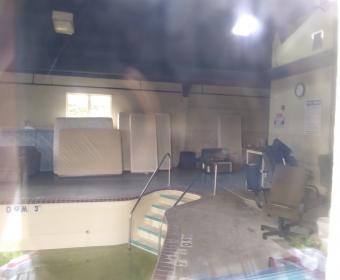 Linda Houle
from Dallas, TX
Checked in and got a room, couldn't open the door. Finally got in and the beds looked like someone sat and laid on them. Wet hand towel on the bathroom counter, dirty mat on the floor. Requested new room, the girl at the desk never said sorry or anything. Gave us another room which smelled so bad of damp musty odor, AC made terrible noise all night, bathroom had mold and pink scum in shower!!!! What a shit hole!! I have a sore throat today from breathing in that nasty smell. We will never ever stay at a Holiday Inn property!!! They need to fix this place!!!! I would request a refund but probably won't get one!!!

Chester Moore
from Fernandina Beach, FL
We arrived on Sunday, July 7, 2019, to our 2 bedroom suite.
After check-in we entered our room to find half the towel supply needed for a 2 bedroom.
The desk clerk never holds us we had to get towels from them when we needed them and did not expect there to be fewer than required.
So the next day we thought the maid would supply them when they cleaned the room but found out, the guest had to go and get our own towels. We were on 5th floor at the very end of the hall making the long walk back to the desk after just passing it, when we desperately needed a shower after swimming with the manatees. This was not just annoying it was poor customer service, to say the least.
I would like to list some of the issues we had with our Room 544
Some of the lamps were broken leaving dark rooms dark
The ice machine wouldn't turn off, therefore leaving mounds of ice to break apart each day
The kitchen had no drawers for silverware but plenty of silverware being stored in the dishwasher (how do you keep the clean from dirty ones)
The microwave was on a piece of wood that stuck out 10" into room, at my exact height, therefore hitting my head on its corner several times. They had the paper towel roll mounted behind the microwave to make it difficult to reach.The 2 showers were bad. The one wouldn't drain so we had to shower standing in 3" of dirty water
The other bathroom's shower head was filthy and blocked so there were only several holes leaving only some mist spraying thin streams of water towards the wall and the curtain. The first day leaving water all over the bathroom floor.
We stay at many holiday inns, (we are gold members, #415793948). We have never encountered such a filthy and unorganized room along with poor maid service.
We had invited guests with us and it was very embarrassing.
CWM

Believe someone from Corperate should visit the Holiday Inn Express in Ada, Ok. I would not want a place in as bad of condition representing my name.. After waiting in lobby for an attendent at the desk, found out pool was closed for renovation, could have been inform of the when I was making my reservations. But to find out it has been closed for over a year and all the area is being used for is storage of furniture was something else. Then, I had resired a two room suite, checked in walk into a one room with two beds, back to the office to be told my room had been doubled book, then said "oh you were supposed to have gotten the room next you also". I know if I had not gone back down to complain they wouldn't of said anything and would relented it out. Maintenance on the place is going down so fast, while checking in had to wait while they unstop someone cammo, which I understand can happen, but happen in my room also close to bed time. I've stayed at this holiday inn before, but will no longer stay there again. I've always enjoyed the Holiday inn chain but now will have to reconsider my choices.
Thanks,
Darrell Jones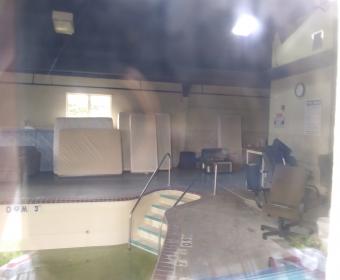 We went to Hershey Park to celebrate our daughter's 14th Birthday. It was 4th of July weekend. We booked the room two months in advance and bought our Park tickets. We drove 3.5 hours to get there. When we checked in, our toilet was clogged. Housekeeping brought us a plunger. Later that evening the toilet overflowed into the room leaking urine and fecal matter all over the floor. The Manager said there were no other rooms and no plumber on site. We desperately tried to find another room. At this point our Autistic son was having an anxiety attack. We were desperate to get out but might have no choice but to stay if no other rooms were available in the area. When I told the manager this, she called the police. We did find a room in the Hilton. As were packing the police arrived. This is the absolute WORST customer service I have ever seen. The staff was rude and completely unsympathetic to our situation. We will NEVER stay in another Holiday Inn EVER.

Suzanne Cachon
from Woodlane, NJ
The hotel room was dirty. The floor was not vacuumed my two boys found a dead spider on the floor there was hair still attached to the hair dryer and the tub looked like it was untouched. There were only two hand towels in the room. The bed smelled like someone sweat. The worst part was taking a cold shower. When I went to the front desk to let them know the answer given was sorry we are at full capacity nothing we can do. If your water heater can't handle full capacity then they shouldn't have full capacity. I have never gone to a hotel and experienced a cold shower. Do not charge the price you do for your rooms and not give at minimum warm showers. The front desk could have offered something off the price, tell me they will look into it but all I got was nothing we can do about it. Very poor customer service.

JESSE THOMAS
from Mesa, AZ
Made reservation in sept 2018, for a room in sept 2019, didnt receive a call or email so i call them, didnt have my reservation and hotel is sold out. The from desk wouldnt do anything for me, short of them apologize to me. Can i expect this service from now on. Being a priority club member, i spent many nights with Holiday inn.

Juanita
from Bedminster, NJ
We spent the night at one of the huntsville's locations we were always under the understanding that breakfast was included with our stay well we ended up having to pay $10 a person for breakfast there was not no coffee so apparently we had to pay for the coffee or you had to have the one that was in your room that was terrible but I don't believe that this was right I find it to be stayed at a lot of Holiday Inn Expresses and breakfast was always included if we knew we had to pay $10 a person we would have went out to eat because that breakfast definitely was not worth $10 a person considering my daughter had a bowl of oatmeal and a couple pieces of strawberries they had a funny taste to them the Grits were cold we could have lived with that but the fact is we most likely could have went out and had a good breakfast without having to pay $10 person we never were informed of they had waffles children didn't even get waffles this was the worst experience we've ever had makes me wonder if I ever want to stay at another one no breakfast whatsoever that that that was the clicker at at Holiday Inn Express that's the big deal a with with Holiday Inn Express the the great breakfast but I'll tell you you sure couldn't approved it by us and then the fact is we had to pay an extra it was 2174 two people so it cost us $43 we could have went and had steak for that price at least the Grits would have been hot when we checked in we were told breakfast was at 6 actually breakfast was at 7 but we couldn't even get coffee without having to pay for it I've never ever experienced terrible terrible at a hotel as as this one was not even a cup of coffee I had experience with my house flooding and had to stay at the Holiday Inn Express in Clanton Alabama it was fantastic breakfast was hot good but and I never paid a dime so for us to go to another Holiday Inn Express and ended up having to pay $10 a person for breakfast if this blows my mind my daughter she did the reservations I think she did it under I can't remember what the point is no matter what we should have been informed breakfast was going to cost us $10 each after paying $109 plus tax for a room to sleep I add that this this just still blows my mind here I just can't understand it I I really will think twice about ever booking again little on booking again with American Express

Dorothea/Horace Enow
from Temple, TX
My husband and I booked on the 07/06/2019 through the 07/09/2019. / We gave our ATM card for security and told the desk person
at the same time and several more times that we will pay cash when we check out. It was explained to us several times , that the card
will not be used by Holiday Inn if we want to pay cash. On the 9th of July we checked out and we paid , I have a receipt , $ 380.02 cents cash.
To my surprise , I found out when checking my account that My credit card ATM from Bank of America was also deducted on the 9th of July 2019.
Since then I went to my bank , who told me that Holiday Inn is not realizing the funds , and I talked to the managers of Holiday Inn now three times
and they give excuses . This is beginning now a hardship since ,today is the 13the of July and still nothing has moved on my bank Account . I believe I should have just gotten a check back for paying twice. I am now writing to your office, because this is getting a hardship on our end, looking for the amount of 380 dollars and visiting the bank and getting promises from the management of Holiday Inn that doesn't lead to nowhere. I am no asking you to look into this situation , that made our stay in the aftermath very difficult. This stay at the Holiday Inn was supposed to be a long needed , relaxed weekend for us and is now turning into a nightmare. Please help us to end this ugly situation by either cutting a check at the Inn or discussing this with the appropriate source to return our money to our checking account Thank you , Dorothea and Horace Enlow, 4801 Stone Pointe Drive, Temple, Texas

FWilson
from Olive Branch, MS
Holiday Inn Express Merriville IN, quoted me one price during the reservation of rooms for my family retreat but increased the price from $98 a night to $240 a night.. I was sent a confirmation with the room prices but Lisa Eylens refused to honor the reservation price first quoted..Very Poor Customer Service skills and Lies to customers and Will Change the name and Price on your reservation..Very Unprofessional.. They will tell you one thing and do another once you attempt to reserve your rooms.. BEWARE‼️

Diana Roberts
from D'Iberville, MS
I had made a reservation for 2 nights with Holiday Inn Express Broadmore in Lafayette Louisiana for July 12- July 14, 2019. I made this reservation to attend a local festival there in Lafayette Louisiana. Unfortunately the festival was canceled on July 11 at 5 pm due to Tropical Storm Barry. The state of Louisiana was placed in declaration of emergency. I live in Mississippi and also did not think it was a good idea to drive to state placed in a state of emergency. I attempted to cancel this reservation with the hotel and was told there was no cancellation policy. Was told to start with by Daphne there at the hotel that is was due to a went through a 3rd party. I spoke with Booking on 07/11/19 and 97/12/19 who agreed with the cancellation and even emailed the manager there by the name of Cindy to cancel and refund my money. Cindy refused and stated that since my room had been on hold for a month that she felt the $98.06 she charged me was valid. I called the customer complaint line for this hotel and spoke with assist on 06/12/19 who informed me that she could not override the local owner of the hotel there. I am letting you know that this is poor business policy at that hotel since I only canceled this room due to act of God and my event being canceled. The manager there and front desk have not been helpful at all and in fact very rude. I have been informed by other would be attendees to this event that their hotels and Air BNB's have refunded them with no problems. I again believe this is unfair to my as a customer and I have shared this experience with all my friends and others who would have attended this yearly event. So this hotel has lost not only myself but other potential customers and has also created a bad name for your company.
Thank You!

Nickolas Morgan
from Baton Rouge, LA
I've got 8 kids coming from Navarre Beach on Sunday back to Louisiana with a small hurrican coming in tried to rent 2 of your rooms in Mobile Alabama on our card but they refused because they all under 21 I'm just trying to take care of the kids don't understand I guess you and the law would ruther see them Dead on the enterstate

I have a Past Due invoice for $129.90 dated 3-26-19 from your franchise located at 901 S. Shary Rd. Mission, TX 78572 956-424-7788 I have mailed and called trying to collect and now I'm getting that they have a new owner and I have to find the old owner to collect. I don't understand how this bill is not being paid as we serviced Holiday Inn Express just as they asked. Is this typical of the way you change management because its very poorly monitored, as this location has the same manager who called us to do the service and he is very well aware of this Past Due Amount and the change over and he is the person who told me to go and find the old owner. I would like to be paid in full by July 18, 2019 if not sooner and I would like to hear back from you as well. My office number is 361-814-7200 ext 10
Thank you
Paula Kessler 7-11-19

Dear Holiday Inn Express,
I made a reservation for my 24-year-old daughter by phone at the Holiday Inn Express at Peachtree Corners / Norcross yesterday. My husband's company is represented by Corporate Lodging (CLC), and has been for more than ten years. We travel A LOT and often look for HIExpress locations because our experience has always been fantastic. The reservation was made, confirmation number given, and all was good. When my daughter showed up to check in with my CLC card, the agent (Maria Munez) wouldn't accept it because the card had my name on it - not hers. This has NEVER been a problem for us at any other HIExpress - again, my daughter is an adult with the same last name and same address as my husband and me. I spoke to Ms. Munez by phone and she told me I would have to drive my ID up to the hotel in order for the reservation to stand. I stated my objections (evening rush hour in Atlanta is exactly why we made the reservation in the first place), but I agreed to drive up in order to show her my license in order to comply with CLC procedures. I left immediately and arrived a little over an hour later. The traffic was not good, but I made the drive anyway in order to complete the check-in process.
When I walked into the lobby, I was informed by a very smug Ms. Munez that the reservation had been cancelled! I didn't really receive a clear answer when I asked her why she had cancelled it, only that the manager (who was not on the property) had agreed to cancelling it. I then asked if I could go ahead and make a new reservation, and I was informed that the hotel was now full. No more rooms. I was not at all happy about what had taken place as it seemed a sort of revenge strategy because I was upset about having to make the drive up there. When I asked for more information, Ms. Munez continued to repeat the same words "If you have any further questions or concerns, you can take them up with the manager." Of course, the manager was not there and talking to the manager in the morning would not help the present situation at all.
I continued to try and get an answer as to why she had cancelled the reservation when she knew I was driving up there. I was doing what she told me I needed to do! Again, she did not really respond to my question but continued to refer me to the manager. I then asked what the policy for cancelling a reservation is...she stated the hotel calls the customer before cancelling. This call did not happen for me. I did not get a call which I would have received on the drive up there. She stated she didn't have my phone number, so she couldn't make the call. She didn't have my number because when the reservation was made, I was not asked for my phone number as I usually am when I reserve rooms with HIExpress. She seemed so concerned about following CLC procedures to a ridiculous extent, but didn't follow HIExpress procedures when she decided to cancel my reservation! Her attempt to follow CLC procedures appears to be only because she was angry with me. Why else would she have cancelled my reservation? If she was such a stickler for doing things the right way, she would have 1) found my number (it must be in HIExpress records somewhere...), or 2) held the room until I arrived.
Obviously, I was not at all happy with this treatment. She offered NO assistance to me at all, and seemed genuinely happy to inform me that the reservation had been cancelled. I'm guessing she thought there might have been some kind of misrepresentation going on, but when I agreed to drive up there to remove any doubt, that should have been enough for her to AT LEAST hold the room until I arrived.
SHE created this problem by 1) not calling before she cancelled the room, 2) not holding the room until I arrived, and 3) offering no assistance or even empathy to my situation. Again, she seemed genuinely pleased to inform me of the cancellation. (Was there perhaps another room at another HIExpress nearby that she could have arranged for me?) She did not represent what I have come to appreciate as excellent customer service through HIExpress employees over the years. She also seemed incapable of understanding why I was so upset. I agreed to do what she said I had to do (drive up there with my ID), then she proceeded to cancel the room anyway. She was clearly trying to get back at me, and I know that that is NOT what HIExpress would consider exemplary customer service.
By the time I arrived, she had created a serious problem that she couldn't fix. Her hasty and vengeful actions which were perhaps compounded by what I can only attribute to a lack of experience resulted in a serious situation for me - her customer. In my 53 years of life, I have NEVER been treated like this. Never. And I certainly do not expect this kind of treatment from a HIExpress employee. She didn't apologize for what she had created by cancelling the reservation when she knew I was on the way, she was clearly angry with me for questioning repeatedly what she had done and why, and she seemed intent on somehow turning this into something I had done wrong instead of working to help the situation. She even went so far as to make a comment about not losing her job over me, and how I didn't want her to come out from behind that desk...? Not sure exactly what she meant by that, but it seems rather inappropriate.
Again, since she had cancelled the reservation and (apparently) given it to someone else, there wasn't a whole lot she could have done at that point, and she knew that. Instead of admitting she had made a mistake in acting so hastily, she became argumentative, defensive, sarcastic, snide, and combative. I admit wholeheartedly that I was upset as well, but I hope someone at your corporate offices can understand why. My reservation was cancelled FOR NO REASON! It was getting later, and I had the ridiculous task of finding another hotel room for my daughter!
Her behavior was simply inexcusable. She never should have cancelled the reservation when she KNEW I was on the way. At the very least, I should have received a phone call. Not having my phone number and not being able to follow HIExpress procedures for cancellation is another reason why she should have waited until I arrived. She should have known that! If you can't locate the customer's number, you don't cancel the room! Instead, she attempted to use not having my number as an excuse.
I simply cannot fathom why she cancelled the room. There is one thing I want to be very clear about, she can't say that she wasn't sure I would actually drive up there. When we hung up the phone, there was NO QUESTION that I was driving up there. I even made a comment about how long it would take me due to the traffic through Atlanta. She admitted while I was standing at her desk that she knew I was on the way. And the sarcastic and condescending tone when combined with the very satisfied look on her face when she informed me the reservation had been cancelled was enough evidence for me that she felt somehow empowered by taking the room away from me.
I was very upset last night, but after finding another room for my daughter (NOT at a HIExpress), I went back and forth on whether or not to even complain. But after thinking about it this morning, I do not want this experience to just go away. This predicament was inexcusable. Ms. Munez created a terrible situation - one that does not reflect HIExpress' commitment to their customers. She was really rude to my daughter and myself (clearly made up her mind that we were criminals), and she showed absolutely NO empathy. My daughter is a professional athlete, and I'm a teacher! We are not criminals! If a two-time teacher-of-the-year has an issue with an employee, I promise you, it's something to look into.
Overall, this experience has not changed my opinion of HIExpress because we have had so many amazing and wonderful experiences with this hotel chain. The hotels are often located in the perfect spot, they are reasonably priced, of course many locations accept Corporate Lodging, and the employees are wonderfully qualified and trained in the art of customer service. Ironically, one of my survey responses about my very positive experiences at at least one of your locations was actually posted on the HIExpress website a couple of years ago! I have expectations when it comes to customer service, but I am not unreasonable. I do not expect a reservation with a confirmation number to simply be cancelled. I don't think that's too much to ask for.
Unfortunately, this was NOT my experience at this particular location. I'm disappointed in Ms. Munez but not in HIExpress. This would not have happened at another location. I'm sure of it. I would strongly suggest that Ms. Munez receive additional training on how to handle a situation like this in the future. A patient and common-sense approach (simply waiting for me to arrive) would have been a much more reasonable and professional approach. She needs training - not everyone who has some kind of issue with their reservation is a criminal.
I would appreciate a response at your earliest convenience.
Thank you for "listening".
Margaret (Peggy) Davenport
100 Brookfield Court
Tyrone, GA 30290
bdavenport@numail.org
Confirmation #: 27667176

Latasha Champion
from Louisville, KY
My name is Latasha Champion,I stayed at your Covington, Kentucky location, July 3rd - July 7th, 2019. Upon checking in, I asked the clerk to let my daughter get her bank card from the car. I was asked to step aside for the next guest which I did. The guest behind me wanted information on restaurants in the area. The clerk spent 10 mins. helping that customer with dining options, while I waited to be checked in. I was told at that time that one of the three rooms I reserved had been changed from a king to a double room to accommodate another guest. My reservation was made two weeks prior to my check in. The next morning when we went to breakfast the server was very rude when she asked for our meal tickets, her attitude did not change the entire time we were there. My daughter then noticed charges to her bank account from the hotel. We were told our charges were $804.00. The night manager Joshua told me that the $239.00 charges were just hold on the account. The day we checked out we had bills for $337.00 for each room. When I asked the assistant manager Gabe, for an explanation or to speak to the manager that was there he told me that there was not a manager there at the time and that they would have to deal with it because he could not figure it out. We checked out on Sunday and are still trying to figure out what our charges are. I have stayed at Holiday Inn in the past and I have always enjoyed my stay, I have never had to complain, but this was a horrible stay and it made my trip miserable as well. I will not stay at this location again and it has made me leery about other locations as well. I hope that the issues I had at the Covington location are not true of your other hotels.

Linda Singleton
from Dallas, TX
Hotel took my medicine from my room and upon bringing attention to the desk clerk he stated his manager said they checked with the housekeeper and housekeeper denied taking the medicine. He did not take any information nor did he apologize and when I told him I would not be back, he indicated that was alright. I think he may have been the one to come in and took my medicine.
Never would I ever go to this hotel again. I'm in the process of filing a police report.

CODY L WEST
from Houston, TX
WE CHECKED IN FOR MY BIRTHDAY AT THE HILL COUNTRY RESORT IN CANYON LAKE, TX. THE ROOM WAS FILTHY. THE TOILETS HAD POOPS SPLATTER IN BOTH ROOMS. THE TUB WAS JETTED AND THE JETS ARE BROWN AND BLACK. THE PULL OUT BED WAS BROWN EVERYWHERE. WHEN WE PULLED THE BED OUT A BLACK LIQUID SUBSTANCE CAME OUT ONTO THE FLOOR AND SPLASHED ALL OVER MY DAUGHTER WHO WAS SITTING IN THE CHAIR RIGHT NEXT TO THE COUCH BED. WE CALLED THE FRONT OFFICE AND MENTIONED EVERYTHING THAT WAS WRONG WITH THE NASTY ROOM AND THEY SAID THEY WOULD SEND HOUSE KEEPING (WHICH THEY NEVER DID) OR TRY AND GET US ANOTHER ROOM AND WOULD CALL US BACK. WE NEVER GOT A CALL BACK. WE WENT TO CHECK OUT OF OUR ROOM AND THEY SAID A MANAGER WOULD GET WITH US. I GET THAT THE ROOMS ARE NOT UPDATED. I DIDN'T EXPECT THEM FOR BE FOR $400 BUCKS FOR THE STAY. BUT THE ROOM SHOULD AT LEAST BE CLEAN. MY DAUGHTER HAD TO SLEEP IN BED WITH US WHILE WE WERE THERE BECAUSE I WOULDN'T LET MY WORST ENEMY SLEEP ON THE PULL OUT BED. I HAVE ATTACHED SOME PICTURES OF THE ROOM BELOW.

Kathleen Salter
from Lake Charles, LA
Our rooms were not cleaned, and no clean towels Saturday evening. Our daughter booked the room under her name, but was paid by my husbands credit card. Got back to room Saturday night late, after being at softball tournament, room was not clean and no clean towels. This is horrible for customer service. Husband had to go get towels and wash clothes. Night shift gentlemen was very nice at front desk. Housekeeping is not doing their job very well. Our room number was 518. Maybe the 5 th floor was too high, or she just got tired. But for paying customer to go down at 11:00pm to get towels is poor business. Told the gentlemen when we left, that it was unacceptable. Lady came out to talk to me, she as nice. Told her that housekeeping needs to be supervised closer to make sure all rooms are cleaned and fresh towels. My husband name is William Salter and his card was charged full price. Never will stay at this hotel again. Worst experience
Buy more towels, wash clothes, or monitor housekeeping employees.
Floor was also very dirty near the elevator, near check out.

Desiree page
from Grand Rapids, MI
First my family reserved a number of rooms for our family reunion. The reservations was made before October of 2018. In June 2019 , the 28 and 29, upon arrival no rooms were available, the pool was going to be closed. YOUR desk clerk sent most of the family to The Crown Hotel. The ones that stayed was given rooms. The water wouldn't stay hot, the toilet kept stopping up, our key card had to keep being recharged plus 2 times maintenance had to charge battery on the door. Just not satisfied at all, even at a discount rate because it was a group. This Holiday Inn and Express is in downtown Detroit on Washington Blvd. Never in my travels have I ever been so very displeased. We should have gotten 2 nights for the price of one night because of the faults not of our, but your management. If a block of rooms were reserved we expected to all be able to stay at same Hotel but adequate accommodation. Call manager, Sherry Taylor, she never called any of us back. This was very unprofessional. Very disappointed with this Holiday Inn and Express. Rate at a score in negative.
Sincerely Ms. Desiree Page
Tuscumbia, Alabama
256-349-3738

Gloria D. Wilson
from Southfield, MI
I gave the Desk Agent 2 cards,(my mistake) one to charge my room one for the $25 hold. The agent charged both cards. They said they reversed it,my visa company stated they did not. I've asked them to please have the charges removed, no one is taking responsibility for their mistake. One person was to fax a letter to the visa credit card company, she did but left off pertinent information. I called again this morning the person who made that error is off. Mind you this has been going on since Tuesday June 25th 2019, today is Saturday the 29th. I have been inconvenienced and according to visa this could go on for 10 days. Not only was I stressed about my brother's illness the reason I was there for a hospital procedure on Wednesday I have added stress. Because of this. AND NOT ONE PERSON HAS APOLOGIZED FOR THIS HORRENDOUS ERROR!!!! How disappointing. I have gone to Holiday Inns for years and have never been treated so horribly... It's obvious the people at this location does not care about my card being in limbo for 2 weeks and surely Holiday Inn doesn't because of the money this company has. But I am a senior and I do not have money! I live from social security check to social security check. I don't have assets, 401K's etc.

Shaquinta Platt
from Washington D.C., DC
Poor customer service. We were notified the pool was out of order after we checked in and told that we would not be refunded because we entered our room but we could check out the following day. Call 1-800# and was sent back to the front desk that we were complaining about and hung up on 3 times. I will NEVER stay at another holiday inn and will encourage all family and friends to do the same.

Frederick Porter
from Miami, FL
Worst place to stay if you are a family of color. My family moved to florida from out of town and booked this hotel. We needed it for 3 weeks until our apartment was ready. Our family was of 5 people so we paid for a larger room. On our third day we asked that they do not service the room because the baby was asleep and did not want to rouse her. They daid fine and did not service the room that day. The next day I was in the shower and a worker by the name of Dee Rodriguez knocked on the doir and my 15 year old answered. She said to her "we have to service the room everday at 12 or you all have to get out". I was shocked by this and confronted her after my daughter told me about this. She then repeated what she said so I told her I will have to report her. I reported her to the general manager Ahmed and he said he will take care of it which I doubt he did. Fast forward 3 days later we get a phone call from Ahmed and he says our family is too big to stay there and we have to check out the next day. Worse experience ever.

Lucy Radon
from Kansas City, KS
Room not ready at the time of check inn. Everybody was extremely slow and rude. After long flight we had to wait for 1h. And the representative was saying she is sorry but she didn't do anything to help. Very poor customer service. Horrible

Robert Kirby
from Kissimmee, FL
I wish for this correspondence to be forwarded to Customer Relations:
I wish to pass along a company that maintains a rental office at your 5750 TG Lee Blvd Holiday Inn Hotel. I am not one to read reviews and pass immediate judgement on a hotel, restaurant or rental service. I tend to try the experience myself and then pass long a good or bad comment.... which is is as much as anybody can do.
I'm not gonna air my laundry out on Hoilday Inn's clothes line but I will pass along one thing or more or less-a word to the wise; you would wise to terminate the rental space to operate the agency out of your hotel at that address.
Their business practices are not in keeping with excellent customer relations that Holiday Inn has lived by since I took my first hockey road trip to Clarenville, NL. There is something morally and operationally wrong with Value Car Rental business practices and the way they are treating people who have paid them their hard earned money is unacceptable in 2019.
I will say this, Value Car Rental are operating in a trillion dollar tourist FLA zone and are taking advantage of innocent families who have worked to build a wonderful vacation experience on a simple thing like a flight delay. Read their policy and see for yourself. I ask you, could Holiday Inn live by these things- I think not.
I am attaching the experience through Google Reviews that many more have had and given all these people who will never rent from them again, I suspect your hotel, if it hasn't already.
Here is an old adage - "you are judged by the company you keep".
https://www.google.ca/search?q=value+car+rental&ie=UTF-8&oe=UTF-8&hl=en-...
If you wish to discuss this further, it would be my pleasure to discuss in further detail.
Regards,
Robert Kirby
709-690-3339

Melissa miloshevsky
from Washington D.C., DC
First of all this was my first experience in ocean city Maryland and we decided to go to Holiday Inn Saturday June 15th for the air show. We waited in line for over an hour and then when they finally open the pool. They open the pool to the guests and they decide after the fact that if you do not have a wristband you have to get one. Then they go and say that we can not sit at the chairs or go in the pool. We spoke to someone over the phone and they told us the pool and the deck is open up to the guests. Now we got told it wasn't. Then a guy who was getting wristbands and handing them out to everyone on the deck. Absolutely nonsense! Poor management. I'm not from around this area! We drove 3 hours away for us to hear that. It was a waste of time. My first experience here sucks now!! I am really not happy! So hope corporate can help in this action. New manager at the holiday inn in ocean city Maryland on the beach. So I will not be coming here

Julia M Dunham
from Carmel, IN
Josephine Vigil is based out of Utah. She is an employee of yours. I have a restraining order against her. She is stalking me through my mothers neighbors in Carmel, Indiana. Please contact Chief Barlow of The Carmel Indiana Police Department. I have complained to that department about her. She is a mistress of my husband Bill Dunham and she is a problem.

Melissa Aiken
from Chicago, IL
Upon checking into the Holiday Inn Express at College Park MD, there were dead gnats all over the bathroom countertops. We noticed ants in the room and another bug. We were told at check-in there were no other rooms available even though I requested a lower level room and we were on the top floor. The bathroom shower drain was filled with black mold and mildew. I killed a bug in my BED. The following night I killed another bug in my BED (ant). I contacted the front desk and was offered no remedy other than a manager would call me "in the morning". The manager did not call the next day. I contacted IHG and later that afternoon, then the manager finally called. I was told I could change rooms but would not have a suite (which I was paying for) and would not receive a lower rate for a smaller room-- and declined initially. However, after ordering food it was swarmed by ants-- I have photographs. My food went to waste as it was covered in ants. I had to kill and clean up dozens of ants. I called the front desk and requested the room change. We changed rooms and the new room also had dead gnat on the bathroom counter. We checked out the next morning and was told the manager would call me to make the situation right. The manager never called-- I had to call the hotel the following day to speak to the GM. I have wasted so much time on this issue and it put an incredible damper on our vacation!
Another complaint is that my daughter went to purchase ice cream at the front desk and was charged $7.00 although the posted sign indicates the ice cream is $4.00. This is a deceptive and misleading trade practice in violation of Maryland commercial law section 13-301 (unfair or deceptive trade practices). I have video of the incorrect price posting and the hotel staff confirming the price is $4.00 and then backtracking and telling me it is $7.00 after I explained my daughter was charged $7.00.
The general manager has offered $250.00 off my total bill of $977.00. I find this insulting as I requested 2 nights be comped. I should not have to pay ANYTHING for a hotel I could not sleep, shower, or eat comfortably in. I certainly hope Holiday Inn Express will reconsider their $250.00 offer and make this right.
Please contact me at melissa.aiken@live.com 414-430-4089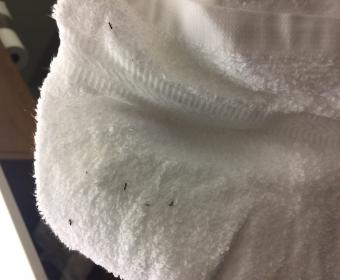 Maria masuhr
from Ponte Vedra, FL
Hello,
The staff was very polite & courteous . When I arrived & went up to my room the lady handing out the tv pamphlets just walked right into the room while I was changing. She was not aware that I had checked in. The pillow covers had black spots on them that appeared to look stained almost like mold. The bathroom towels had the same black spots on them. All of this I did not see until I had to use them. The tub also appeared dirty. For the price of this room I would expect un stained linens & better privacy. I mentioned it to the front desk & that I even took pictures all she said she would let housekeeping know. Again at this price I will rethink staying at the location.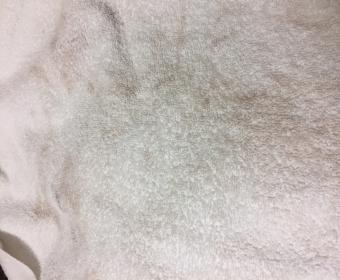 Kathleen Brandon
from Philadelphia, PA
I just recently stayed at the Belle Vernon, PA Holiday inn. The staff was nice, however the elevator was broken and we were on the 3rd floor. I just recently had vein surgery, have a bad knee and have lymphedema (extreme swelling, that (edema) leaks out of my legs. So walking 3 flights of stairs is not the easiest thing. The gal tried to put me on the 1st floor. But they were booked. The manager gave me 25% off. Which was nice bit I feel it should be more. I called the corporate office and the guy said he can't do anything. I said that is very sad.
Pretty sure that will be the last time I stay at the Holiday Inn. I would have thought at least one night free for incomvience, especially when you are paying about $100 a night.

Mary Paradis
from Bennettsville, SC
After my husband had been bicycling 10 1/2 hrs in the pouring rain raising donations for the National Children's Cancer Research Fund, he needed to get his clothes washed and dried for the next days journey off 100 miles.There were a single set of a washer and dryer then a stacked set. I washed and dried a set in the singles. When the wash was done the dryer was not. I put the wash in the other dryer in the stacked set. I proceeded to add my quarters when I realized there were two separate slots and I had put my change in the one for the washer instead of the dryer. When I went to the desk I was told they couldn't refund me. I told her all she had to do was look at the machine to see that I had put money in as it registers the total but she said she could only break a couple fillers worth of change again for me. Seriously! You can refund for a machine that is on your premises and shows that you put the money in. Some one gets the money out of the machines so she could be refunded. Then there was a smoke alarm going off for about 10 minutes. I finally called the front desk to tell someone. The alarm continued for about another 10 minutes before someone stopped it! The room was right next door to ours. I assume someone was smoking, but had there been a real issue sir took way too long to resolve. Lastly I was just going to overlook it when I thought it was my only issue, but when I entered our room the bathroom floor had muddy shoe prints on it. I had no real complaint about the facility. It is a nice hotel and all the staff other than the night shift women were very hospitable. I think they should rethink their no refund policy on the washer and dryers. It's better to refund $1.50 or $2.00 then loose a patron! I have photos if you want of the amount I entered into the machine and the mud on the floor.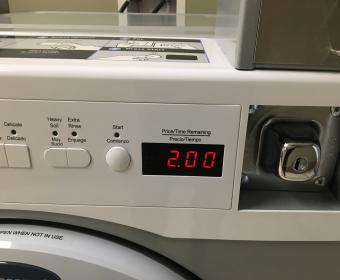 1.Room had an odor
2. shower curtain was dirty, had blood on it and also was torn.
3. Telephone didn't work, maintenance had to go find a cord cause the one in my room didn't work and had to work on the outlet cause it still wasn't working
I felt like I rented a motel instead of a hotel. This is unacceptable. I drove over 20 hours to get here and I expected much more especially when you are a well known brand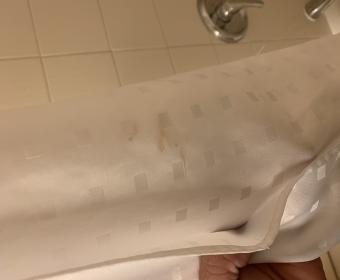 Frank Barela
from Las Vegas, NV
When we arrived to our location, My wife and I did some grocery shopping. As we were putting our groceries away. We noticed some ants that were crawling around. We wiped counters down again. We went to the cupboard and the plates were filled with dead ants. We notified staff and hours later someone from maintenance came to our room. My children (ages 5-13) were in room and their grandparents were watching them for my wife and I were having dinner. The staff proceeded to spray some sort of liquid in the room where the kids were. I got a phone call from my daughter stating my youngest was gagging and finally threw up. I told my children to open the sliding door and get out for a bit while we returned to the room. I spoke to one of the staff to get a SDS sheet of the chemicals that were used. It's been 24 hours and NOT ONE PERSON IN YOUR EMPLOY HAS PRODUCED ONE. I believe it's a federal law that anyone can get a copy of this sheet. With the amount of money that I have spent to give my family a vacation and for this establishment to be so 1. Careless 2. Disrespectful 3. Unprofessional it's very disturbing that a request to gain information on chemicals that made a child feel sick feel on deaf ears! This place should not have any right to claim they are "Family Oriented".

Stephanie Shubert
from West Lafayette, IN
I stayed at the holiday inn Express indy airport on March 17th for one night and was charged for 2 nights and even though I never signed anything or reserved a room for the second night they charged me anyways. I contacted them and have been trying for months to get it taken care of. They sent me to customer service who gave me a case number and said someone would call me back and when I called back they said I had to contact the hotel that charged me. It's been ridiculous.

Checked in at 4:00 today. My husbands card was declined, but mine worked, same account by the way. He used his card before we arrived and after we checked in. I commented on how cute the IHG rewards basket was, because we are members, but was never offered anything. Got our things to our room and went across the parking lot to Main Event. Came back and was looking for a Diet Coke or Pepsi to use to mix a drink with, but there was only a diet Dr Pepper in the pantry. No vending machines anywhere, so my husband went next door to Hilton. My mother, however, wanted a Dr Pepper, so grabbed one our of the pantry. She took it to the front desk and the same guy that checked us in told her it would be $3.00. I asked if it could be our IHG gift, and he said no, your husband chose points instead. Well, my husbands card was declined, I checked us in, and there was never an option, and we weren't awarded points.
When in the room, we tried to chewing for out international flight, but couldn't get the WiFi to work on any of our devices. I called the front desk and the same guy answered and said it's not working, it's a problem with the internet company, and there's nothing they can do about it.
So, I guess on the return trip we will stay at the Hilton. My husband said they were awesome to him there.

H. Matthew Casey
from Weatherford, TX
Dear Mr. White,
It is with regret that I write this letter.
I had reservations at Holiday Inn Marina Hotel 26-28 April to attend the Knights of Columbus convention. Unfortunately, I suffered a severe injury where I broke my back the 2nd week of April. On 18 April I called to cancel my reservation since it was obvious I would not be able to attend the convention. My wife has a recording of the conversation with the representative that I spoke with. It is clear in the recording that she understood I called to cancel my reservation. I don't know what went wrong in the process to cause it to not be canceled and frankly that is not problem. I don't know what y'all's procedures are nor should I be expected to ensure that they are followed. In the recording it is clear that the rep had all my information and knew I was calling to cancel my reservation.
However, I noticed that on 29 April I was charged by "Holiday Inn Corpus Christi" $146.05. I called some time ago in an attempt to resolve this, but the Holiday Inn representative never called me back as promised. I called again on 6 Jun and eventually spoke to Mr. Belle Tohnya. Apparently he believed I was lying to him about canceling my reservation and refused to give me the benefit of the doubt or to accept that an error was made by Holiday Inn. He refused to refund my money. I made it clear to him that I could prove I had called to cancel my reservation but that didn't matter to him. It should. My concern is that if he treats me this way, I can rest assured that he treats other customers the same way. The difference between me and other customers is that they may not be able to prove their case, whereas I can. I feel for those other customers who are taken advantage of by narrow minded management. It's a poor reflection on Holiday Inn and, frankly, a poor reflection on you as upper management sets the tone for the subordinates to follow, and thus the overall corporate environment. I hope his actions are not reflective of you values and ethics.
Under the circumstances, I would expect the manager to use some discretion and customer courtesy and give the customer/me the benefit of the doubt. Otherwise your managers are nothing more than robots. Further, since I called to cancel my reservation well outside the window of not being eligible for a refund, by refusing to refund my money Holiday Inn is stealing my money. Is Holiday Inn in such a bad position that it is necessary to steal from customers?
Holiday Inn shouldn't put me in a situation where I feel it's worth my time (and yours) writing to you; but Holiday Inn has done just that because a lower level manager couldn't handle this matter any other way. Holiday Inn shouldn't put me in a position where I have to sort through phone records to prove I called to cancel my reservation; but Holiday Inn has done just that. Holiday Inn shouldn't put my wife in a position where she has to spend hours searching for a deleted file to recover of an audio recording she made of me actually speaking to the Holiday Inn representative who took my call to cancel my reservation; but Holiday Inn has done just that. Holiday Inn shouldn't put me in a situation where I have to go to outside sources to contest a fraudulent 'no-show' charge; but Holiday Inn has done just that.
And for what? Less than $150. It's plum ridiculous. Clearly I am very dissatisfied with Mr. Belle Tohnya as a manager. He's been over promoted. His decision has caused me to waste much time. How many other times has his decision making led to others wasting their time, including yours? Regardless, I hope he is not representative of all your managers.
Regretfully disgusted,
Matt Casey

Sam smith
from Kansas City, MO
For nearly $200 a night you think the staff could kill a false fire alarm-
After 3 wake ups and a call we're assured is done-
Following the next three and a visit now at 1:30am, we're advised everything's fine and to go back to our rooms-
Appreciate the hospitality and the lousy nights rest Holiday Inn!

Sandy Richardson
from New Iberia, LA
I accidentally booked a hotel in Mexico instead of Laredo TX.
NO ONE
COULD HELP !! I need someone who speaks English to call me ASAP!!!

Cindy jones
from Anaheim, CA
My company book the hotel and they didn't let my coworker to check I did not have no problem checking in yesterday I think it wrong that they have my coworker waiting to get into a room

Let me start out saying that I had stayed there 3 years prior to my recent stay and loved it, also my aunt use to work there, I would of rated it a 5* then, but as of last week I will never stay at another holiday inn and I will tell everyone possible my experience, I checked myself and my 87 year old mother into 2 rooms, she had longer sat down in the chair in the room and had a bed bug crawling on her arm!!!!! The manager was very rude and disrespectful and handle this situation so wrong, all we wanted was a refund for the 2 rooms as we wanted to leave and go to another motel room, don't forget we were only in the room 10 minutes but not only rude we didn't get a refund!!!!! ... don't stay here.....

Rhonda Hall
from Suitland, MD
I had two reservations at the Aruba location, the 1st arriving Wednesday, May 22nd thru Sunday May 26th, and the 2nd reservation was for 1 additional night Monday, May 27th departing May 28th. When I checked in I was advised that I would be charged for both reservations along with a $250 deposit for the 1st reservation & a $50 deposit for the 2nd reservation. I was not only charged for both reservations totaling $1483.54. I was charged an additional 1233.54 (for a room that no one could explain to me) and a additional $250 deposit totaling $3267.08. I was unaware of all these charges being held on my card until I was off the property at a restaurant and my card declined on Friday, May 24th. I returned to the hotel and spoke with the Evening Manager, Avtar and was told that he would have to have the Day Manager investigate. Because I was there visiting for a special event, it was difficult speaking with the Day Manager, Carlos, until my last day. I was offered breakfast for 2 prior to checking out of the hotel. I was extremely irritated because I was inconvenienced for a few days until my bank release the additional funds that was being held. I believe more should have been done to accommodate me for the error made on the part of the front desk staff checking me in.
Have feedback for Holiday Inn?
Thanks for your feedback!
Sorry. Please try again later!