Hampton Inn
Contact Hampton Inn Corporate
Toll free phone number: 1-800-HAMPTON
---
With more than 2,000 locations worlwide, the Hampton Inn by Hilton is one of the largest chains of hotels in the world. If you have a complaint about Hampton Inn customer service, the phone number is 1-800-HAMPTON. You can press "1" for English or "2" for Spanish, and then "0" to speak with a live person. Hours of operation are Monday-Friday from 8am-6pm EST.
If you need immediate support, you can contact Hampton on social media by asking a question through Facebook or Twitter. The support teams are available there 24/7 and will usually reply quickly to your request. There are several options to contact the Hampton Inn corporate office with your feedback, starting with their headquarters address at 7930 Jones Branch Drive, McLean, Virginia 22102, USA. The corporate office number is 1-703-883-1000.
The company also has a Recent Stay Feedback form for you to submit complaints online. Common issues include billing problems, discrimination, food & beverage, honors program, housekeeping, cleanliness, insects, maintenance, and reservations.
Hampton Inn Contact Information
Report complaints to corporate and get satisfaction
Hampton Inn headquarters address

7930 Jones Branch Drive
McLean
VA 22102

Company website

1-800 phone number

1-800-HAMPTON

Support email address

feedback@hamptoninn.hilton.com

Better Business Bureau rating

A

Customer service hours

8am-6pm EST, 5 days a week
Browse reviews of other Hotels
Top Hampton Inn Complaints
Browse more than 419 reviews submitted so far

I made an advanced reservation at Hampton Inn. On the day of arrival a snow storm had closed the major interstate highway (I-80) forcing me to cancel my reservation. I asked for a refund and was told "no refunds". I tried to explain that due to conditions beyond my control (snow storm), I had to cancel my reservation and requested a refund. The "advanced reservation" department was extremely rude, unhelpful and could care less about my situation. I asked if the $158 dollars could be used towards a future reservation at Hampton Inn. I was told "no, that's not possible". I am out $158 dollars. I will never stay at Hampton Inn. I am going to recommend that that no one from my place of employment (1,500 employees) ever stay at Hampton Inn as well.

Definitely not a complaint!! I called Hampton Inn in Park City Utah and Melissa answered the phone! I was trying to find a way to send something special to my mom who was staying their because I knew I wasn't going to get to see her for Mother's Day. Melissa was apologetic and let me know that there were not any florists or gift shops around Park City but then she did something I would never have expected... She volunteered to make her a little gift basket and deliver it to her room for me!!! This meant the world to me since this is the first time that I will not get to see my mom on Mothers Day and it was really bothering me! Thank you so much Melissa and Hampton Inn for going above and beyond!

Lena Scott
from Clayton, NC
My sister and I, who are both in our early 70's, were traveling to Virginia Monday, June 2nd. We stopped at the Hampton Inn in Gretna, Va. As usual we checked our beds and found what looked like small red ticks. (later identified as spider mites). I also had wiped the counter with a towel and it came back covered in makeup. We went back to the desk and they assigned us to another room. We walked in the door and the first thing we saw was the bathroom sink that looked as tho someone had spit tobacco juice in the sink.
There was a dirty towel on the counter and the room was covered in dust. They gave us a room on the 4th floor and said we had the whole floor to ourselves. We left our cart in the hallway and went in to check the beds. AGAIN we found spider mites and what we later identified as a stink bug in the hem of the sheet. I now wish I had taken pictures but I did place the bugs in a Kleenex and took it to the young lady at the counter. She said the bugs were heat bugs. Sorry, but I like to sleep alone. I hope something can be done before some other family has to experience this. We had to travel another hour to get a place to sleep.

My Company spends allot of money with Hampton all over the world. We have a range of 200 to 1000 employee's monthly staying a various hotels. I do not want to give my full name but I am still a Guest here and will be looking for a different hotel as soon as I can. Here is my complaint. Since when do your staff have the right to call me on my personal phone to get my information? I am a married woman for 15 years 4 great kids and a husband I adore. You have a new guy I have never seen before, I believe his name is Anthony ("or by him I can call him Tony") I get several calls asking me if I need anything? This should be done on he room phone not my personal phone that I give to your hotel. When I was checking into the hotel, I felt very uncomfortable doing so when he was standing there. He wear's these dark glasses and I can not see his eye's, so I can imagine what it is he is looking at. I am full figured woman and his comments are really starting to offend me.
I got a call from him this evening and wanted to know if "I am lonely" would I like to go have a late dinner with him when he get's off work. I explained to him that I was married, and happy, he said to me on my phone" well I am dating someone too, but what they don't know won't hurt them, ("Meaning my husband and his whatever". I am not really happy with his service and i do not think this guy should be allowed to work for such a awesome company such as your's. Again I am afraid to give you my full name because as long as he works here at this hotel I am afraid a repercussion will happen to either my vehicle parked in your lot or while I am sleeping in my room I have to put the saddle lock on because I am afraid he can walk in on me when I am in the shower, or even sleeping. This is not what your customer's want to go through at your hotel.
Since 45% of my Employer is Women who travel most we expect to feel safe, not like some guy wants to try something on us. I am not into Employer's firing people. But this guy needs to go. I looked at our records and the multi billion dollar company I work for has spent in the last two months alone was over 26,000.00 through out the US. I do not want to get this with the Law involved because some of our women who comes to this exact location will get hurt some how. You have a live ticking time bomb here, and who is to say that this man can hurt one of us and nobody will know. Would you want to stay at this hotel? If this matter does not get taken care of I will have no choice but to get a lawyer and start a Lawsuit against Hampton Inn for Sexual Harassment and stalking.
My company will support us in our decision. I advised my company about this and they suggested writing you instead first to know my discomfort. I just now got a text from your Employee the same Employee just now as I was writing this this time the text read. It's 11:30 and I am off work now, I am able to stick around and come to your room to give you a back rub if you want, you looked tired. I know with my style I can make you feel all good inside by the time I leave." What do you think text me back and i will wait here for you, all you have to do is look out your window and that will tell me you agree on it." I am going to bring this to my Company and see if they want us to cancel all rooms and go to a different hotel. I am telling you this, this man will be a liability to Hampton if he remains Employed Here.

John McGoldrick
from Okatie, SC
I was overcharged a $100 for a 1 week stay at the aforesaid LI hotel. A 209.24 credit provided its manager Bruce for 2 unsatisfactory days when there was no housekeeping services provided was not given. Efforts to resolve the matter with its manager Bruce were futile. I made a AAA reservation listed under the Hampton Inn website and received a special additional discount for paying-in-full in advance for a non-refundable, non cancellable reservation. The entire cost would be forfeited if we arrived late and no credit if checked-out early. The reservation did not reflect the standard 10% discounts of AAA, AARP, Seniors, Military, Honors or 5% retired PO.
In NC I receive the AAA and retired po courtesies. Bruce provided an official receipt documenting the $100 discrepancy and Suzanne wrote on a sheet of paper the amount due for 2 day credit and the confirmation # which would appear from its AAA travel agent. Bruce was refusing to accept accountability claiming AAA got the money. He called spoke to his agent and handed the phone to me The correct price on the bill documents I was overcharged by its AAA agent who is in effect stealing from both of us. The bottom line is Hampton Inn allows AAA travel to represent it and as such is responsible for its deficiencies. and mis feasances. "You have to get the money from the other guy" is a response often used by collaborators Last sentence on my receipt states I may have to present our membership card to get the AAA discount.

Check in hampton alexandria old town south virginia the room had stink begs in room call ed front desk they send up a guy to spraay during the night I had to get up and kill some of the bugs too late to move to another room plus driving all day I exped the general manager to call. Its 4 days pass no reply

We had 2 rooms booked with Hampton Inn Jan.11th, 2012 at Hampton Inn in Savannah, Ga.confirmation no. 111125481380. Our guests cancelled on us Jan. 4th..We called the hotel to try to cancel that one room and was told we could not because we had booked online..so my husband understood that situation and asked to change that room for Sat. night so we could show our two granddaughters around Savannah the next day, as we were their on business for the Fruit and Vegetable Conference at the convention center...we were told that they could not do that, the company we booked with was unwilling to do this for us and Hampton Inn in Savannah was unwilling..my question is....
Why could we not have stayed another night...Hampton Inn was paid for the Friday night regardless of who we booked with & the room was NOT used..I don't understand why the room was not interchangeable for the next night, if they had a vacant room...please explain..We stayed at this hotel last year during the conference and were pleased but this experience has been difficult to understand...

We were extremely disappointed with our stay at the Hampton Inn at Tarpons Inn, Florida. We had to ask to change our first room because of the smell of cigarette smoke in the room. The staff was very accommodating and changed our room. We were not happy with our second room because it was 1) dirty; 2) wall paper was peeling off the wall; 3) coffee machine dirty; 4) upholstery on the chair was stained and dirty; 5) mold on the ice machine; 6) broken tile; 7) no hot water at lavatory sink; 8) disable bar was broken; and 9) bad lighting in bathroom. I took pictures evidencing the aforementioned conditions. I am a Hilton Honors Award member and never stayed at a Hampton Inn where I encountered these conditions. Please do not hesitate to contact me.

Tara hero
from Dallas, TX
Was unaware of current room cleaning guidelines due to virus. My father asked about room getting cleaned and manager over staff started to get rude with him then manager told my dad in front of other customers "he didn't have to be rude"! No reason as an employee to speak like that to a current guest especially in front of other guests!

Marta sanches
from Tampa, FL
Reservations were made in advance for 2 rooms and only had one ready upon arrival...receptionist at front deck was ride and arguing with children at the pool...cops were in the lobby due to unprofessionalism dealings between between receptionists and mother of children...the trash cans were over flowing in trash cans in lobby and pool area...my son slipped in entrance to the building entering the building from pool due to floor being wet for lack of available towels at pool...and lastly drugs were being rolled up and smoked at pool in front of my 4 children

Ellesse Williams
from San Francisco, CA
The room was not clean well they did not care hair left on the wall in bathroom leftover food in the fridge and nothing done about it bad business I want a refund my food spoiled because I did not put anything in the fridge due to leftover food mine stayed out over night and spoiled it was 33$ I would like for Hilton to pay me back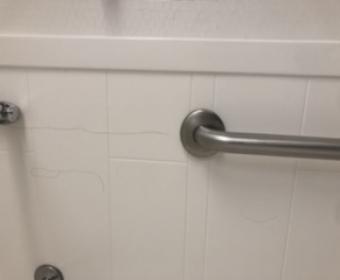 Eddie bigler
from Charlton, MA
Would just love to know how an employee and inwood wv location can be late basically everyday and still have a job

Joseph Carrello
from Hempstead, NY
On 4/11/20 I stayed at the Hampton Inn at 26 River Street in Cortland N.Y. . I called the front the desk on the morning of my stay to book my room. Upon my arrival at the hotel I walked into the lobby which was completely surrounded by tarps and plastic sheeting because the entire lobby was being renovated. It was very loud and dusty due to the construction that was taking place. After driving for four hours this was a very unpleasant surprise. I drove to Cortland to see my son who is a junior at Cortland University. I am a police officer in the New York City area and was looking to spend a quiet night in your hotel . I told the desk clerk that the machinery was quite loud and she responded that I wouldn't hear it on the third floor. When I went to my room I went to the ice machine which was broken. I then read a sign that said to get ice on the first floor. Upon arriving in the lobby I was advised that the ice machine on the first floor had been removed the day before. I had to leave the hotel to get ice at a local convenience store.Obviously there wasn't a real breakfast so we received a muffin and a bottle of water in the dusty lobby for breakfast. I should have been advised by the clerk that there was major construction going on when I called that morning so I could have chosen from many other hotels in the area.

Jasmine Duncan
from Gainesville, FL
I'm concerned about your employees. Why aren't they wearing masks? It's not only for their protection but for your guests also.
I recently stayed with a friend at the downtown location in Gainesville, Fl. No one was wearing masks. Also most people working through this Panademic are getting Hazard pay. What are you doing to help and protect your Employees who are standing with you?
WalMart, Circle K and many other companies are providing masks and extra pay.
This virus is possibly going to be around thru August.
Do something now before anymore people get exposed due to greed and negligence.

Donna Kaufmann
from Orlando, FL
Hampton Inn on 3182 Hendersonville Hwy had rooms left when I arrived 9pm on 4/14/20. However she refused to allow me to have room due to I was from out of town. She said only state workers are to have the rooms. Stated it was a state order!
That was a lie because I meet others staying there that was not a state workers including the woman in lobby talking to me in front of your counter employee.
I stated at the Ramada Inn because there was no state order for hotels to only allow state workers to rent rooms.
Im going to put this in social media. Your customer service has dropped to a very low level no matter where I travel.

J. Cappadona
from Boca Pointe, FL
Dog friendly BUT dogs are allowed throughout the hotel.
Being allergic my first choice is a dog free hotel but I have stayed at other dog friendly hotels that only allow dogs on a specific floor. Never again will I stay at a Hampton with this policy. Bath was updated but the room was not. Couch should be thrown out.

William Beale
from Dale City, VA
Am visiting the Hampton Inn in Dumfries, Va. You have a senoir manager a white lady here who is very rude to customers service and projects a racist image. I came to check on the rates during the World shut down stage. She is charging me 112 plus dollars a night. No Excuses here?? This woman needs to be removed from her office and post. Am a veteran also and in the service industry myself. Unsatisfactory the lowest score I can give and I will not recommend any of my members to visit this location.

Edward Corriveau
from Gilmanton, NH
On 3/18/2020 we were traveling through PA on the interstate and needed to make a reservation.We called your 800 number and requested a room in Harrisburgh PA on the highway which was pet friendly. Your associate, as we later discovered, set us up with a room in Mechanicsburgh, 20 miles from the highway. This was not acceptable, so we called your customer service and we were treated badly. Instead of understanding our plight, we were told we would lose our payment even though all we needed was to have our reservation switched to our original requested location. Very frustrating, so we called Mechanicsburgh Hampton Inn and spoke to Mike. He understood completely and went to the trouble of finding us an appropriate room just south of Harrisburgh in Carlisle PA. He handled the requested change professionally and went out of his way to handle it for us.

Lora Bigcraft
from Jackson, MI
I stayed at the Hampton Mission Viejo, Ca on Nov 10 and 11 for a wedding. I reserved and paid for 2 rooms for each night. $257.04 each. The hotel billed me for three additional rooms at $128.52 each ($385.56). When I called, then emailed to explain that these were not my reservations, that I was there and I paid for the rooms I reserved (reservation # 85113776) the manager said there was nothing she could do, that I made the reservations and she can not credit my account. I still have the email confirmation for the two rooms I reserved, nothing further was received about additional rooms. I did not make these reservations and I am very disappointed with the abrupt brush off I received. I have reported the charges to my credit card company as fraudulent so I won't be out the money, but it makes me think twice about using Hamptons services in the future. Trying to rectify this situation has been time consuming and frustrating. It has turned the memory of a beautiful visit and wedding into a pain in the neck.
Very disappointed!

Beth Gaudette
from Charlotte, NC
I am pretty sure that sending this email will amount to nothing but I just had to make one last effort to express how incredibly frustrated my experience so far has been.
I am staying at the Hampton Inn Charlotte University Place for a week-long training. Two weeks ago my boss and I called the hotel to make my reservation. That phone call took over 30 minutes and both my boss and I basically had to scream over the phone for the person on the other end to be able to hear us. I am not sure if it was a poor connection or why that happened. We had to repeat and spell out information many times and that also happened when we had to provide the card information. Despite these issues, the women over the phone said the confirmation was booked and everything is fine.
Yesterday when I called just to double-check my reservation I was told there was no record of a reservation. The individual at the front desk said I need to provide a confirmation number but neither my boss nor I ever received one. When I explained I did not have one the front desk representative said that there was no way he could actually help me. So I booked a room myself online yesterday and used the company card my boss gave me in case any issues arise. All of that was fine and I actually received my confirmation number.
Today when I get to the hotel to check-in I give the company card I made the reservation with and it was declined and the front desk attendant said there was nothing he could do to use that card. In order to to keep my room I had to give my personal credit card. I do not have the option of staying here or not this is where I need to be for work. When I tried to express my frustrations with the front desk attendant he completely ignored me and did not even apologize at all. When I asked where the training would be held he did not even know the answer to that question.
I just called the customer service number and explained all of this to a customer service individual and there were very nice and apologized. She expressed that she could not help me without an honors number. I did not have my Hilton honors number, I just had to find it in my email now. I honestly should have paused to find the number but I am so frustrated that it has made me upset and I could not talk to the individual on the phone.
I am sure all of this seems like small issues. However, I have talked to four individuals to try to be able to book a room and none of them could help me. It is unfortunate that it has been so difficult to stay at this hotel. I wish that instead of being brushed aside someone would have been able to offer me some assistance.

Robert Monk
from Madison, GA
The Hampton Inn, Daytona Beach Shores is a time bomb waiting to explode when someone gets killed due to the lack of parking. This property, per the front desk employee, has 110 rooms and 110 parking places. At least 1/4 of the total parking is across the street. The street is South Atlantic Blvd. (Highway A1A) where the routine traffic is heavy; VERY HEAVY during vacation season. Not lighted, no crosswalk...NOTHING for safety. Also, people with handicap parking permits and/or Diamond status with Hilton park across the street due to parking shortages. PLEASE DO SOMETHING ABOUT PARKING BEFORE IT IS TOO LATE!
Thank you...
Bob Monk

James Dehnke
from Savage, MN
To Whom it may concern,
We had a terrible stay at the Hampton Lincoln IL location, and I've tried contacting the General Manager Damon Priddy 3 times via phone (left voice mail with no return calls), as well as sent the following email on 7/10 with no response:
Mr. Priddy,
After 3 voicemail messages I am contacting you via this email regarding an issue my family experienced while staying at the Hampton Inn – Lincoln location during the nights
of 5/31 & 6/1 (2 rooms for 2 nights).
Upon making reservations, my wife was not informed of the fact your 3rd floor allowed for smoking rooms. Unfortunately, we have a couple of kids in our family who have negative reactions to second hand smoke. We certainly would have made alternative arrangements if we knew we'd be subjected to cigarette smoke.
On our first night we smelt a faint order and were able to "blow if off" as someone breaking the rules. It was on the 2nd night upon returning to the room at approximately 9:30pm where we noticed the strong stench of both cigarette and cigar smoke. The smell permeated both of our rooms! Only after calling the front desk to complain we were made aware of the 3rd floor smoking rooms to our disbelief.
The front desk person indicated they had no spare rooms on 1st or 2nd floor. She also indicated she was the only one of staff and was not even able to send anyone up to our floor to check it out. I actually went down to the front desk and waiting patiently to talk to the attendant (while she talked personally to some acquaintances for 20 minutes), and was only able to "interrupt" when she fielded another call about the smoking on 3rd floor. FYI – I went back downstairs later and the attendant was speaking with the same two lady acquaintances and ignored my presence.
Initially I was seeking compensation for one night stay for 2 rooms due the severe conditions and negative reactions we experienced Saturday night. However, at this point due to the inconveniences of attempting to resolve this issue I am seeking compensation for the entire stay (approximately $600).
Regards,
Jim & Susanne Dehnke
Cell: 952-454-2073 (Jim)

Tony Hackler
from Oxford, MS
I am and have been a Hilton Honor's member for many years. I was recently in Milford, CT for work on June 4, 2019 which during this time I stayed at the Hampton Inn in Milford. After checking out on June 5, 2019, I later found out after leaving the left my prescription reading glasses on the night stand. I immediately contact the hotel to informed them that I had left my glasses and if there was anyway that they could sent to me. I was informed that my glasses could be sent to be via FedEx and that this was something that they do frequently. I was informed that my credit card number on file would be used for the charge and the glasses would also be sent to the address which the hotel had on file. I agreed. I called back later in the day to obtain a tracking number and was informed that housekeeping had located my glasses and that they were packaged and ready to be shipped out. Five business days later, my glasses had not arrived, so I reached out to the hotel. I was informed they did not have a tracking number and they were working with FedEx to locate my glasses. After speaking with several teams members and being passed around, I decided to leave a message for the upper management at this location. Three messages were left for the management but no one from the management team reached out to me. Over forty days later, on July 11, 2019, I was informed by a staff member who had been the most helpful during this process that management was unable to do anything about my missing glasses but they would offer me points for a free night stay at any location. The money which I paid for my glasses exceeds the amount to stay at any Hampton Inn property so the offer is basically a insult and a band aid to get a loyal customer to go away. I have always held Hampton Inn in the highest regards but after this experience, my opinion has definitely changed for the worse. A huge thanks to the one team member who put forth his best effort to assist and resolve this matter.

Adrienne Alliston
from Dallas, TX
I stayed at this location for one night on 7/5. We were told the rate would be $139 flat plus $14 for the parking garage. The pending charge on my credit card was $185, so my boyfriend went down to the desk to inquire and we were assured that once the charge cleared it would be for the right amount. The payment did end up clearing, but the charge was for over $170. We have called back MULTIPLE times and are always told the manager that was there that night is not working, there is no manager working, or placed on extended holds. Adjusting the rate and giving us the refund after YOUR ERROR seems like a pretty simple operation and should not require us to call back day after day. Today we finally got the original manager, Sam, on the phone and she said she would get it taken care of tonight. At this point I would like the entire room charge refunded because this is the most ridiculous thing i have ever experienced. I never got a bill or anything to sign either. Please make this right.

Nicole Haynes
from Chicago, IL
Hello, I have been trying for the last two weeks to reserve a block of rooms at the Hampton Inn in Morehead, KY (500 Hampton) for my company SRG Global's Business conference taking place in the area. I have been told to call back due to vacation without any additional contact given. I tried using your online portal, reservation counter and received very little help with no response. I again called the hotel directly today and was told again to call back because the sales rep is too busy. Once again, no additional contact was given nor did they take any of my information. I didn't realize when trying to reserve up to 30 rooms for a week was such poor business for a company and it was my responsibility to chase a hotel for service.

Jennifer J Longo
from Westerville, OH
I stayed at Hampton Inn in Bellevue, TN on July 10-11, 2019 in Room 411. I woke up at 4:00 am to go to a Brides Across America event in Nashville, TN with my daughters. I found a bed bug on my sheet. We killed it with a baby wipe and blood spurted out of it. I had a linear bite trail down my right thigh. My future son-in-law took it down to the front desk. No one appeared to be on duty, except a breakfast worker named John. He took the bug and wipe and gave me the General Manager's card, Tim Parker, and told me to call back later to speak with him. I did and he seemed not to take the issue seriously. He only told me he would investigate and call me later. I did not hear from him until Saturday, July 13 in a voicemail. He told me to call him back, which I have twice, and I have yet to speak with him. I took pictures of the bug and my bites. I have been issued no apologies or offer to comp my room for the night. The whole ordeal with the bug has been incredibly frustrating and inconvenient as I have had to take many precautions in fear of bringing the bugs into my home. I feel Mr. Parker is trying to cover up the fact that there were bugs in that room.

Richard James
from Alexandria, VA
I would like to know how could someone using my name an address check into and stay for 10 days at the Hampton Inn located in Casper, Wyoming. I live here in Alexandria Va, and have never been to Wyoming, the Hampton Inn's that I stay are all located in Virginia. Why didn't the hotel attendance ask to see identification. This very troubling because this individual is using my name and address to stay at Hampton Inn. Please look into this complaint and contact me with the resolve.
Arrival: 7/1/2019, Departure: 7/11/2019, Cashier ID: SREEB, Room No:102KX10, HH # 62432009 BLUE,
Folio/No/Che 495355 B
Thank you,
Richard James
703-851-2024

Todd Kimery
from Memphis, TN
I am a Hilton Diamond Member and have been traveling on official government business for almost 10 years and I am very loyal to Hilton properties. Earlier this week I had a reservation for multiple nights at the Hampton Inn located in Sault Sainte Marie, MI. Upon arrival the general manager, Khaled Eldisoulky, ask me for my travel orders. In all my years with the government I have never been ask for them and I do not know anyone else who has either. I respect the fact and understand that he has the right ask so I did provided them. However, he then told me that since my family was with me he would not honor my government rate even though I was on official government orders. Never have I been told this! Never has anyone that I work with in the government been told this and we all travel with family frequently! Not yelling or making a scene, I expressed my frustration and told him I was going to call the Hilton corporate line. While I was in the parking lot on the phone, he CANCELLED my reservation. The representative I was on the phone with called him and he told her the room has already been book. This is the only Hilton property within 80 miles so I was forced to stay with another company. This type of hospitality is not what I expect from any Hilton property. I am a 100% disabled, combat veteran and still serve my country by continuing to working for the government. I have conditions that sometimes require my family to be with me on travel and we do not appreciate the fact that Mr. Eldisoulky denied the government rate to make more money since the hotel was booked full. Please fill free to respond to my email or call me at 870-703-9438.
Thank you,
Todd Kimery

Steve withe
from Henderson, NC
Panthiera Hawkins called me and kids slow nigga and something need to done about that

1. Were not given the room we were promised, we are elderly 70's and 80's. and Handicapped. Were promised a two bed, handicapped romm and suite and willing to pay the fee. But it was so much bluster on the part of the person making reservations. Given one bed in the room,
2. Not enough safety features to be ADA approved room...…..toilet so low, risk fall trying to get on the facility and get off, no bars for assistance.
3. Trapped in elevator two was our oldest member and she easily could have had a heart attack. She called and was told assistance on its way, it wasn't, she was on her personal cell phone and not answering the phone at the desk. I heard her yelling as I went looking for her. We beat on the door until it opened, manager next day gave me number to call, which has not responded. Property is New Iberia- Spanish Town Blvd.

Malcolm Stadtlander
from Shreveport, LA
My complaint is about the whole experience we had at the Hampton Inn at 2300 Carlisle NE, Albuquerque, NM. First let me say that my wife and I stay at Hamptons, almost exclusively. On our recent trip, we stayed at 2 or 3 other Hamptons prior to our stay in Albuquerque. When we arrive at the particular Hampton hotel in a city we are visiting, we both say, "It sure is good to be home." This was definitely not the case at the Albuquerque Hampton where we stayed for five nights. This was a most disturbing and frustrating stay. The hotel was going through a complete renovation, and we were inconvenienced everyday of our stay......Water being shut off; air conditioning not working properly; elevator not working to get to the only operating ice machine on the 4th Floor (We were on the 1st floor), only to find that it was out of ice; having to go outside and walk all around the hotel in order to get to the lobby; dealing with construction debris and dust. We were on vacation, and it felt like we were involved in a full blown construction project. This hotel should have been shut down while these renovations were being done. I tried to speak with the hotel manager before I left on Saturday, but there was not one available. A nice young man did offer to credit me 5,000 Hilton Honors points, as that was his limit for complaint compensation. I called the hotel manager on Monday or Tuesday and he referred me to a person named Felicia. I left a message, and I have not been contacted back. This is why I have chosen to speak with the Corporate office about this bad experience. I have been assigned Case No. 30456447. Hopefully you will see fit to grant some sort of compensation for the room rate we paid, or at the least award me additional Hilton Honors points. I made some price comparisons of lesser quality hotels in the area, and have found a range of $37.40/night to $59.00/night. I would think somewhere in the middle would seem appropriate. I have never made a complaint against Hampton, and hopefully this will be the last time I ever feel compelled to complain. Thanks for listening, Malcolm Stadtlander

Jill Walker
from Pomona, CA
During check out i was told my $200 deposit was not being returned due to a "haze" in the room. "Not cigarettes but possibly a vape". It took me only a second to realize I had an aromatherapy unit plugged in that emits a fragrance when plugged in and went to retrieve it from my car and show them its just aromatherapy not "haze or nicotine". When the 2 employees came to the desk i tried to let them see how it works. The female who says she is GM was very rude and made me feel as if I had violated something and refused to be shown that their assumption of vape smoke was wrong & wouldnt listen to a thing I had to say or allow me to show her the aromatherspy machine. I know the stale smell of cigs can cause a day of decontamination of a room. However vape or steam does not leave any damage and if anything does linger its pleasant. Being told the room will have to be vacant and not rented for 24 hrs is nonsense. This was so unfair and unexpected it has caused a chain of negative events like our car sitting in the shop ready to be worked on but we had to wait since we were short on the cost due to our stsy and deposit. So we are on foot stuck while trying to figure out what to do. This is not a reason to hold our $ and I feel discriminated against and humiliated. Therebis no policy of no candles or aromatherapy units. Please let me come pick up the our money so we can get our car fixed get home and back to our lives. We already lost.2 days of work due to our car battery needing replacement. Thank you

John Crowder
from Leland, NC
I am very upset about the business practices of Hampton In --and your on-line reservation practices
Its about the third party site regarding reservations--I was mislead in making a reservation thinking it was Hampton on line but it was Expedia--then after they charged me --the motel fee an extra $65 was added on the total charge for some type of convenience fee-that I didn't know anything about
-I do want to advise you that this practice is "bait and switch" and is illegal for them to do this in my opinion. .It is very misleading and should not be tolerated by the Hilton corporation
I am the state manager for a company and I travel all over NC and Va and am a Hilton Honors member--needless to say this is very frustrating to me!!
On top of this I contacted the Motel manager in Edenton NC and asked if I could just get a receipt -- just a statement about it being paid or Paid out--and she refused to give it to me stating that this is their policy for third party payees--
Again I am very disappointed with the actions and apparently the manager seemed not to want to try to fix this
I would like have a call from corporate -
Our corporation does a substantial business with Hilton and would think that you should look at this concern more seriously
booking ref number is 2155472
John Crowder

Margaret Cole
from New York, NY
Asked at the desk where I could find a vending machine with Coke since none were available on my floor. Went to the vending machine on first floor and most of the contents were loaded backwards so I couldn't tell what was available. It's such a stupid thing to screw up. You can tell at a glance that it's wrong. When I told the woman at the desk her response was "Yea, I don't know who did that." I like Hampton Inns but I'm also an IHG honors member. The little things matter if you actually care about customer satisfaction.

Mark Sadakierski
from Rutland, VT
Had reservations for a 1 bedroom king suite for two nights. I the past we would arrive early but later we find it easier for us and staff to come between 4 and 5 pm. We arrived at Hampton inn in Saco at 5:30, went to check in and was there is a problem with the room we cant have it, its a maintenance issue and that there are putting us in a room with two queen beds. I told them that wouldn't work we have a daughter with us. They informed me that we could us the suite that night but tomorrow we couldn't was it due to maintenance. It was late I agreed to this thinking I could handle it in the morning and I informed them I would need two rooms. The next morning we packed everything and loaded up our jeep wrangler which we were looking forward to leaving the top down with beautiful memorial day weekend weather. Turned in our keys and us informed that they had a room for us, a two queen bed room, I asked is there a second room with a joining door. She said we don't have a second available. I informed her we need that second. Not knowing want was the outcome we elected to keep the jeep loaded, plus my family was all loaded and ready to go. Early afternoon received a voicemail saying that the room key that they gave is knot going to work and found us two a joining rooms. When I went to the basically check in again I final was able to talk to a manager, Robin, she apologize that the room was overbooked, I said it was overbooked she said yes. I told her was informed it was a maintenance issue and she apologized again for the lie and she will handle that. I did a little thinking and said if I had these reservations for almost a month in advance and if I was the last one to reserve that type room why is these the first time I'm hearing this, shouldn't you have called like 3 weeks ago. They informed me its not who reserved first, its who checks in the first, and there informed me they tried to call me house and left a message about the MAINTENANCE issue, when we got home we played that message we call us on the day we were arriving at 4:30 in the afternoon and the message said a MAINTENANCE issue. We also had 4 more messages though our stay about this whole issue. Now i'm with the manager checking in and she informed that im getting 10,000 bonus points, still don't know if I received those yet and she reduced my room rate from $137 to $119,$18 lower, for that first night and she giving us the two rooms at a rate $109 a night for each room. I'm doing the math in my head and I know that with tax I reserved the 1 bedroom king suite for $300 total with tax. She wants me to pay more for the rooms that we stayed in, she keeps telling me that don't forget i gave you 10,000 points, which I believe is around $20 in value, I keep my composure and asked if this sound fare, two frontend employees behind are shaking there heads no, after talking bit she gave us one room $65 with tax, getting tired I agree and got the room keys. After the vacation i refigured with tax we still paid more than the original booking, by $30. The morning we were checking out i went to the front desk, the same front desk person from the day before when i was talking to the manager, one of the ladies shanking her head no, and asked her about a late check out, she informed me that noon time is no charge, 1 pm would be a $20 charge and 2 pm would be a 1/2 day rate charge. i informed her that we would take a noon time check out. Just blown away of her response and she knew who i was. We been to this hotel in the past at least 2 times a year for 4 to 5 nights at a time, Lately we stay at Homewood suites at least 4 times a year, but i don't see us ever staying at this hotel ever again. We check in on May 24 2019 and check out on May 26 2019. We have a problem trusting this hotel considering this hotel can LIE so easily to there customers and then try to get more money out of then when the hotel is at fault. I will be reaching out to the local better business bureau. I don't know how give this hotel a on-line rating but if i did it would be very low.

Jayne wallace
from Bedminster, NJ
Why would anyone design a handi cap room to be the farthest from the elevator and on 3 rd floor, this is inconvenient for both parties those assisting and the handicap person plus evacuation would be a night mare...reconsider your next design. The room can still be rented to non HANDICAPPED....give this a 1 star

Complete Mobile Dentistry
from Baraboo, WI
Hampton Inn & Suites Pocatello
151 Vista Drive
Pocatello, Idaho, 83201
208-233-8200(phone
We staff dental professionals for military events for deployment Readiness all over the US. We work with Logistics Health Incorporated. We reserved rooms at the above location at the government rate but the rate was changed. I called after receiving the folios to inquire and spoke to Brooke the front office manager and was advised we were scamming the system and that the staff needed to have a government id. I explained that we staff dental professionals for military events but they themselves are not government employees. Brooke stated that she noted the reservations that if they did not provide the id to change the rate. We only booked as we were given the government rat and if we could not get the government rate we would have made alternative reservations else ware. We submit over 1 million dollars in reimbursements every year and use Hilton around the US. The reservations are in the staffs name but the rooms are paid with our corporate card. (On a side note we have had to change our card 5 times in the last year due to fraud and having to send our full card information via fax for a pre-authoriztion. This practice really needs to be changed to avoid fraud.) We continually have issues with staff at hotels not putting the rooms and folios in the staffs name and they end up putting them in our owners name even with explicit instructions from our staffing department. Then after staff check out they are not able to change the folios and we then are not able to be reimbursed by the Government as they require the folio to be in the staffs name. Our staffing department has been made aware of these issues and have been directed to NOT book Hilton (Hampton) unless absolutely necessary. I am extremely dissatisfied with the tone and verbiage of the staff at this location, I look forward to a response from you about this matter. Thank you!

Hannah stamps
from Atlanta, GA
My husband an I stayed in you helen location around Memorial Day. Our room was DISGUSTING! I payed A LOT to stay in a room with a bug on the pillow stains on the sheets and mud smeared on the bathroom door ( had someone shut that door to mop the floor they would have seen that and wiped it off I assume the floors weren't clean either) also there was hair in the bathtub and the counter tops had not needs wiped down! there was old food in the freezer from a previous customer.. your hotel staff did bring new sheets and a new pillow but we then had to make our own bed! I payed to make my OWN bed! I've attached a few of the nasty things from the room.

Melody Johnson
from Atlanta, GA
Please find below an email from your "General Manager" Kerri Guinn in Gulfport, Mississippi. I would not call this great Customer Service and not sure why such an email would be allowed to be sent to one of your customers. I was asked to review a stay and when I did, this is the email I received. Does she send an email like this to everyone who does not have a great stay? I'm sure every hotel has an issue every once in a while with something. My stay was actually not bad, just the check in part. The front desk clerk, to our surprise, informed us at the time of check-in we had a walk in shower, she even indicated on our room keys which room it was. Hence our displease at check-in. Then this came...…..
I am not expecting a reply, just thought you should see the email.
Dear Melody Johnson:
I am the General Manager of the Hampton Inn where you recently stayed an am absolutely baffled as to why you are upset with us. I received a message via you/Emily Burton on 4/23 requesting handicap room with a roll in shower and interconnecting due to the husband's handicap issues. I responded back the next day explaining that both rooms are booked as queens and we DO NOT have a roll in shower 2 queens room in this hotel, we only have 2 rooms that exist in this hotel and they are both Kings beds only with roll in showers so what would be your preference? The response back by YOU was 2 queens with no roll in shower is fine so that is exactly the way I left your reservations per your request.
Apparently you must have forgotten this conversation and to bash our hotel about this is completely unacceptable behavior as I tried to accommodate your needs.
I have copied and attached the below conversation that STILL exists on the booking.com website under your reservation to show the times you emailed and I responded back to show that this was done per YOUR request.
I believe that we absolutely did a fantastic job by trying to accommodate your specific needs from the very beginning. I will apologize to Karen who checked you in and tried to help you further for your awful comment about having a competent clerk at check in. Please go back and review your request via email with me.
Again, I have attached it below your convenience and to refresh your memory.
Conversation With Guest
Apr 23, 2019, 07:33:29
I want to request check-in at 18:00 - 19:00. Is this okay?
This request has been confirmed. Settings.
My husband is handicapped, please make sure we have handicap accessible bathroom with walk in shower. If possible please have the two room interconnecting.
Apr 23, 2019, 08:37:08
We have roll in shower rooms with a King bed only. There are only 2 in the hotel. Your reservation is booked for 2 queens handicapped. We do have those rooms available, however, they do not have the roll in shower option. What would be your primary choice? A king room with roll in shower or a room with 2 queens but no roll in shower?
Delivered
Apr 24, 2019, 06:44:45
Re: You have a message from Hampton Inn & Suites Gulfport 2 queens but no roll in shower is fine. Thank you for your response. Melody Johnson

No stars. My husband and I stay at Hampton Inns often. We stayed at the Hampton Inn on Race Street in Philadelphia between May 24 and 28. Worst run Hampton Inn we have ever stayed in. Unfriendly and untrained desk. Woman running food area was the best person in the hotel. Wonderful woman, but you gave her terrible choices of food. Awful breakfast. They put us on a floor with a whole team of middle school kids even though they had our reservation well in advance. The television offered almost nothing but the cheapest commercial channels. No HBO, Showtime, etc. You didn't even have PBS which I find inexcusable.

Hello we stayed in your Oregon, OH location and the room hadn't been cleaned at all. Food on the carpet hair in the shower refrigerator wasn't clean desk weren't wiped off nothing was clean. We let the staff know on the way out showed them pictures. And was told that that wasn't the first complaint about the cleaning on that floor. I was told to email the pictures to the manager and they would get back with me I didn't and I haven't heard back from anyone. For $185 dollars i expected alot cleaner room. I hope to hear from you as I can't get a response from the management at the hotel

On Sat May 25th, 2019 we experienced very poor customer Service with your evening shift desk clerks. We left our room early in the morning, and did not leave a do not disturb sign on the door or anything, and on returning to the room later in the day discovered our room was not cleaned or anything. No fresh towels either. After contacting the front desk, they advised us there was no manager available until Monday and there was nothing they could do. And if we wanted clean towels, we could come down to the desk and pick them up ourselves. The clerks on duty had the attitude that they could care less. Is this the way your organization treats their guests? Completely unsatisfactory!

my husband and I stayed at one of your facilities in Key Largo Fl on3/28/2019.I was charged an additional $51.39. The rate was $313.88.
I HAVE CALLED THERE AT LEAST 10 TIMES, SPOKE TO Tia 3 times, she assured me that the money would be released by your financial institution. THIS HAS NOT HAPPENED. PLEASE I WOULD APPRECIATE YOUR GETTING MY MONEY BACK TO ME. We are on social security and really need the money. WE SAVED FOR A YEAR SO WE COULD GO TO KEY WEST ON VACATION.
Thank You for your prompt attention to this matter
Mr. William Moore
themooresretired@yahoo.com

I stayed at a Hampton Inn in the month of April. The hotel took money from my mother's card and from my card. I wrote in about and I called about. My mother wrote in and also called. We spoke to a Carla Cole for over an hour and she ASSURED us that the money would be put back on my card in 5 business days, 7 at the most. That was well over 3 weeks ago and still no refund. I have sent email to Carla Cole to inquire about the and still no reply.
It is very upsetting to know that one, Hampton Inn steals from its guests and two when caught in the theft, Hampton Inn does abosultly nothing to correct their error. I am going to report you to the BBB. This is theft plain and simple.

Stayed at this Inn and was sent to four different rooms until we got the right room 119. Paid in advance and my credit card was charged for a prior room that we were sent to. Had to wait till the end of our cruise to get my receipt and was told my room had not been paid for. Had to call my credit card Capital One and they stated I had already had it paid and it was posted. My brother was blind and we had to keep going to room after room. Found out that the problem was with a employee named Patrick. Our group arrived at different times and our rooms were not ready. The total of 5 rooms were reserved prior to our arrival. Patrick they said did not list who was going to the different five rooms and that was what caused the problem for all of us and the employees. Was a terrible experience for all of us.

Rating - 1 to 5
-10!!!
Dalton GA Hampton Inn is the worst property we have ever stayed at! To say it's a dump is an understatement! Never did we expect an old converted hotel that has less an inviting environment to spend a night after a 12 hours drive.
We would not even step into the old tub/shower! Carpet looked like it was dirty.
Elevator dirty...had we not been so tired we would have left! Didn't even want to think about eating in the place.
This standard is NOT what we expect from Hampton!
Disappointed.
3 people said the same as we were going to our room they never thought this is what they expected.
I paid by credit card and should never have paid for this night. We did stop at the desk last evening on way to dinner to say what a shock this was. Girl at desk seemed shocked...said, "oh"...
Disappointed!!!
Victoria Maione
21512 Carlton Dr.
Cassopolis, MI 49031
574-850-5437

First I would like to say I visited Milwaukee, WI on May 16-23 2019. My husband and I were not satisfied with our stay, Unfortunately, we were booked at the wrong location and we were not able to change it due to hotel policy. We also feel that anything associated with your corporation should be top quality because we have stayed at various Wyndham hotels. Hopefully in the future your company will upgrade this hotel immediately. Our service person was very pleasant and she offered quality service each day during our visit. My husband, who is a Korean War Veteran and disabled, appreciated the service as well. Last but not least the stay was ok, considering the unnecessary noise outside our room window each night.

We stayed in Room 317, Sunday, 05/19/20 through Tuesday, 05/21/20, at the Hampton Inn in Galveston, Texas. Very clean, but, we had a couple of problems. Our rooms were booked under the name of Pam Pickrell (Honors Member), but we paid for the room. We had a couple of problems with our room.
1. We had trouble flushing the toilet. We had to remove the tank lid, jiggle the float, and then it might flush! Sometimes it took us 3 flushes before it would work. I told the lady at the desk on Monday morning and was assured they would have someone look at it. When I stay at a Hampton Inn, I do not expect to have to worry about the toilet flushing. It was never fixed because it never worked correctly.
2. The television had lines across a portion of the screen and we could only see a portion of the picture. I also told the lady at the desk about that and was also assured they would have someone look at it also. It also never was fixed and we only saw a portion of any program we watched.

Hampton Inn, 101 East Jefferson St., Louisville, KY stay at this hotel on Friday, May 17, 2019, Jason, staff, check me and my daughter in.( A week before I got to the hotel, I spoke to Mr. Bailey regarding my confirmation number, just to be should everything was ok. I give him my full name, he could not find me in the system. I asked him do you need my confirmation number and he found my name under the confirmation number in the system. I told him good thing i am calling before i get there. I read what i kind of room I had put in...king with studio. After confirmed my room I hanged up.) I try giving Jason the paper that I printed off the computer with the amount for the room and king bed with studio. He would not take it. It have the price of $322.68. jason said, that was the wrong price he charge me $334.68). When my daughter and I got to the room it was not what I asked. The room was not like it was online. There was king bed with studio with no wet bar, there was a refrigator. My daughter call the front desk and told Jason how we were disappointed with room and it was not room that I am supposed to get. Jason told us to come back to the front desk. when we get there jason was going. (Jason was avoiding me). Erin took care of me and my daughter. She said I had the wrong room, the king bed with studio supposed to be the Bride and Groom's room.( room were changed} without me knowing it. I asked her was there anymore rooms available on the 6th floor with the rest of family member under Muff's groom and the Bride Apratrp ( last name). Erin gave me a 2 full size bed it was okay. something was wrong with toilet when you flashed it and the water in the bathtub would not go down. contienential breakfast was terrible they ran out food that Saturday. We stay at the hotel until Sunday, May 19, 2019.as we were leaving I notice they charge for parking $10.00 and should not had. I told the Jason myself and other family rode together but he charged anyway. Jason had already charged my sister's Marilyn credit card parking space for each day to stay was $10.00 a day. Mr.Bailey also told me it would be $6.00 to park at the Hampton parking lot. That was taking care at the front desk before the staff person $10.00 off my bill. the total balance was $324.68. On Monday, May 20, 2019 I notice on my checking account the Hampton inn took two payment out of my account on the same day of $322.68 and $324.68. plus an overdraft of $29.00 that I shouldn't have gotten, because the hotel took two payment out of my checking account. On this same day I called the hotel and spoke to Ryan, front desk..I told him what have happen "he said no problems". I told him that include with the overdraft fee also. Again, he said no problem. i ask him to send me verification that he reinbursement me. He said, he will send me an e-mail he ask for my e-mail address. I gave it to him. I hanged up. i expected to see an e-mail that same day...He did not send me anything. Next day I check my e-mail, from Ryan, and check my checking account I saw the refund of $322.68, but not the $29.00 overdraft fee. On Tuesday I call Hampton Inn and Ryan was not listening to me and i ask to speak to Manager, Erin. She could not help me regarding my overdraft fee of $29.00 either. I was getting frustrate and disappoint, I told Erin you had no problem of taking money out of checking account twice and leaving me with an overdraft $29.00 fee. This was not my problem that you took two payments out and made my account overdraft. I told her i need to talk to someone else, she said there is "General Manager, Mindy and she is going to tell me the same thing that I said". I told her I was going to contact headquarters and Attorney General.
That was

I had a reservations on May 4.2019. At 4017 Jackpot Rd.Grove City. 43123 at 7430168830684
And I did not get to stay and the room was not ready at 3 the desk clerk said I had to wait for 15 minutes and the room was not ready. So we was waiting for
And this lady came through and
The black lady said she would check on it.. Then the white woman came and said that the room was a single room. I told that we reserve double and I would not have placed a reservation unless
You had a double for my family
And we had drove from Louisville to Ohio I check with AAA and I.was suppose to get a discount. When the white lady said cannot.but
4 stay in a room....I said do you have any rooms on the second floor ..she said no...this is not the front clerk that I gave my drive license.too and my credit card
She had gave me the key card so when the white woman came everything changed
I told my family we could not stay and told them to cancel my reservation. Travelocity said they listed as a no show...Patrice Morgan 470.875.4977. I do not want my credit card charged that all.
Have feedback for Hampton Inn?
Thanks for your feedback!
Sorry. Please try again later!