Lowes
Lowes Complaints Continued... (Page 10)
932+ reviews added so far. Upset? Call Lowes corporate: 1-800-445-6937

Purchased a Whirlpool Gold Series dishwasher on 01-02-2013. Delivered and installed on 01-09-2013by Blue Water, contractor for Lowe's Portage, IN. When I thought the installation was near completion, I asked the installer, Frank, if installation was almost cvomplete, he said it was done. The dishwasher protruded from the cabinet, with large gaps on both sides. I said that that was not acceptable. He said that the hole in the tile for the water line would show if the machine were moved back into the recess. I said that would be acceptable. He then said that the board across the rear of the opening was the problem.
The old washer cleared the board, and the design change on newer washers caused the washer to strike the board, preventing it from going further. He called his superior, who told him he could not remove it. The board is apparently glued to the outside panel. On 01-10-2013 I visited the Portage store and detailed my problem to Briana, who relayed it to her manager, who told her that nothing could be done, and my $125.00 installation charge would not be refunded.
Since I have purchased several dishwashers, electric ranges, clothes washers and dryers from Lowe's, always installed and operating without problem, I felt that Lowe's would be responsive to my complaint, because:
1. If a design change caused this problem with older washers, the installer should be cognizant of that problem.
2. The board could be easily removed by an installer using a Dremel-type of tool.
3. Had the installer notified me prior to installlation that the board needed to be removed for the dishwasher to fit properly.
Now I will still require his services, at additional costs, to insure the installation is done properly. I felt it was incumbent upon me to relay this complaint to Lowe's, due to my long and satisfactory experience with your company. I would appreciate your ressponse in this matter. Although I am displeased with this installation, I must say that your sales people, Briana, and the installer, Frank. all conducted themselves professionally, and were extremely polite and pleasant to deal with.

been broke since dec 23 cant get it fixed till dec 30 i will not be buying one more thing from you people if you cant have people who can come sooner than that you need to close your doors i will make sure all i know never buy an appliance from your company i dont blame the guys you contract to do the work i blame you the company for the crappy stuff you sell to us who did use your store for so many things such as our stove our washer and now our washer …. thanks for the memories

I was redoing my sons bedroom so I went to lowes and got three gallons of paint,I am not a painter so I was telling the man what tipe of walls I have he told me what all I needed so I got everything he told meI would need.i painted it 3 days ago and now the paint is chipping of the wall I called the man and he told me I had to use primer under it ok he told me the first time the the primer was in the paint so I would not need anything else I am so mad I spent so much time and money on it for nothing

I purchased a troy built lawnmower @ 1300.00 June 1 0012. A bearing in the rear end came out of its place and the mower would not move backward/forward. The mower was returned to the Roanoke Rapids store for repair. I had to personally pay 32.10 so the service repair center would pick up the mower, fix it, and return it to the Roanoke Rapids store. My complaint is: since it was a factory defect and lowes stood behind the repair I don't feel like I should have to pay a service center to pick it up and return it. That should be another part of the business of keeping a satisfied customer. I could have carried it to the repair center and picked it up myself a whole lot cheaper. Other than that I am completely satisfied with everything else.

My 77 year old mom purchased tile from Lowes at the location off of Mansfield Rd in Shreveport, LA. Her first appointment was scheduled two weeks ago, then cancelled by the store. They setup another appointment for the following week, would you believe the manger over the tile/carpet section called an cancelled that appoint as well. I called to see what the hold up was and why they continued to cancel on my mom after she had paid all of her money. He became would, which in turned pissed me off. He said my mom did not have a installation appointment, which we knew was a lie. Also, even if she did not have an installation appointment, when you called to cancel each time, why didn't you tell her that.
No one in their right mind, should have a manager like that working for them. He was ignorant and his customer service was horrible. If this is the best Lowes can do, I will tell my entire family, which is a large one to go to Home Depot. Also, they complaint said they would called back in 24 hours, its been a whole week. Just a bunch of liars.

I have purchased several appliances from Lowes, I had no complaints until yesterday 20120210. I purchased a Bosch 500Vision series Washer and Dryer in 2009.
The pair worked fine until I had been noticing that the washer seems to make this noise when in the spin mode. At first I thought it was due to an unbalanced load but it seemed to only happen when washing large loads of clothes.
I purchased the extended warrenty just in case something went wrong . I made a call to the service center and they were very prompt in getting me scheduled for an appointment, when the technician arrived I began to explain to him what the washer was doing and what I had researched there was a possibility that the bearings were shot or the spider needed to be replaced ,after doing his analysis he was convinced that it was due to overloading.
his exact words were" you can only was 5 bath towels at a time". By this time I was furious because I didn't feel he really did a through analysis.. he called the Lowes service center and said the problem was due to overloading ..
I called Bosch and they said this model is capable of holding at least 10-12 bath towels at a time.. After talking to one of the service supervisors, If I wanted someone to come out because I wasn't satisfied with the findings of the first technician there would be a possibility that I would have to pay for the service call if the technician reported the same thing.
This to me was and is still unacceptable. I shouldn't have to constantly stand in front of my washer hoping that it doesn't shake/ dance away from the wall or that when the machine (tub) wobbles when doing a large load does more damage to the washer. Honestly if it was within the 90 return period I would have retuned it.

I recently got married to my wife and received gift cards to Lowe's to design our new kitchen. When we asked the designer what we needed to do, all he said was fill out the design brochure with measurements. We gladly complied to this and returned with the measurements. These measurements included the measurement of our appliances. He designed our kitchen and ordered it. After discounts and gift cards, we were left with about $3,200.
Four weeks later we received our cabinets. A few weeks later we got someone to install the cabinets, cheaper then what Lowe's would charge us. I gutted my kitchen; appliances, cabinets, floor and all. I installed a bran new hard wood floor and then got ready to install the new cabinets. My installer wanted to know why my fridge was 33′ wide and the over the fridge cabinet was 30′. This cabinet was supposed to be big enough for my fridge and few extra inches for a "standard size fridge", I was told by the designer. The designer said that he would order a 36″ over the fridge cabinet and replace three other cabinets now that they would stick out past the wall. He charged them to my lowes card and promised that the would come off later. I was told that he would put a rush on it for 7 to 10 days. 10 days later, no cabinets. Now told it would be three weeks. About the same time as a regular. Complained to the manager and he said that he didn't understand what the problem was and then told me that it was my fault because of my measurements. (?)
I complained to KraftMaid and the could care less.
After receiving my new set of 4 cabinets, I looked them over to find out the two out of four were correct. Two cabinets were shrunk in width and the lengthened in height. Time for another complaint. Now, these new cabinets take 5 weeks to come in. I'm told that they are customed maid in a shop by elves. (?) These two cabinets were charged to an in house Lowe's card. I am told that replacement's should be charged to an in house account.
Two and a half months later my kitchen is done and now I am over charged on my Lowe's card. Two managers and they can't figure out what the problem is after five days of working on the problem. I am told what he can take off the receipt, but that is it. He can not tell me how much the kitchen cabinets cost now and how much I owe after paying $900 to the Lowe's card.
Newton NJ Lowe's Store and Management sucks. The are retarded and don't know the left from right. You should at least know what is going on and have some sense of what is going on. I will respect what you can and can not do, but not that you are retarded and can't comprehend what the problem is. Fix the problem.
Lowe's Corportate Office just forward your emails and phone calls to the local store. Then the store manager respond's with "I don't understand and don't know what I should do."
When I tell my story to others, I am asked what the designers name is from Lowe's that desinged our cabinets. I tell them that his name is Russ and I get and oh "I have heard his name and this isn't the first time he has screwed up." This was heard from three people. One of these three people works fro KraftMaid. Other's just say that Newton NJ Lowe's screws up on cabinets all the time.
They have no back up plan for when they screw and believe that it is never them.

I had purchased a Husqvarna Chain saw Serial#577255810 at store# 2713 (now closed) on August 25/2011. I originally purchased it in the event of trees falling from hurricane Irene. There was no damage to my property, thus it sat on a shelf in my garage. This spring, I attempted to use it only to find that it didn't work (would start but would die out after a few minutes). I attempted to return it to the store of purchase (Lowes of Manchester) but the store had subsequently closed. I went to the Hookset store and it was also closed. I finally found a store open in New Hampshire (Lowes in Bedford) on March 23, 2012 but they would not except a return due to the period of time that had transpired. They did offer to send it out for service assuming it was under warrantee and I released it to them. They contacted me 2 weeks later and informed me there would be a $187 charge to fix it and that I "had tampered" with it (remember, this is a brand new chain saw). I declined the repair and asked for the customer complaint department. After 2 weeks of discussions back and forth, I received a call from Gail today stating that not only would they not replace or repair my chain saw, but it would cost me $55 to get it back (!). I informed Gail I am extremely upset to be treated so poorly by such a large retail operation, and would inform my friends, family, and employees of this unacceptable customer neglect. She was polite but dismissive felt completely abandoned.

I had purchased a Husqvarna Chain saw Serial#577255810 at store# 2713 (now closed) on August 25/2011. I originally purchased it in the event of trees falling from hurricane Irene. There was no damage to my property, thus it sat on a shelf in my garage. This spring, I attempted to use it only to find that it didn't work (would start but would die out after a few minutes). I attempted to return it to the store of purchase (Lowes of Manchester) but the store had subsequently closed. I returned it to Lowes in Bedford on March 23, 2012 but they would not except a return due to the period of time that had transpired. They did offer to send it out for service assuming it was under warantee and I released it to them. They contacted me 2 weeks later and informed me there would be a $187 charge to fix it and that I "had tampered" with it (remember, this is a brand new chain saw). I declined the repair and asked for the customer complaint department. After 2 weeks of cdiscussions back and forth, I recived a call from Gail today stating that not only would they not replace or repair my chain saw, but it would cost me $55 to get it back (!). I informed Gail I am extremely upset to be treated so poorly by such a large retail operation, and would inform my friends, family, and employees of this unexceptable customer neglect. She was polite but dismissive felt completely abandoned.

In March of 2011 we purchased 2 Larson storm doors for or lanai in or winter home in FL. We are snow birds and are only there during the months of Nov – April. The doors were special ordered due to the size. We were very happy with the doors UNTIL in rained during the first week of April. Normally, FL doesn't get very much rain during the winter mos. Subsequently, we never had witnessed much rain while we were here. We had a very rainy weekend and we were stuffing towels at the bottom of the doors to keep the water from coming in.
I went to Lowes and talked with some one in the door department and he suggested a new "sweep". We bought that but soon realized that didn't help as the water was running down the handle side and coming in from underneath. I went back to Lowes and talked to the person I was told who was in charge of installations. I was told the person who installed the doors no longer does installations for Lowes. I explained my problem as was told that my "warranty "expired in March. ( we are talking a matter of days here). I told her the brochure that was given to me said "we stand behind every installation". She said it was in my contract. 
I reminded her that the Lowes logo was on that brochure that said "we stand behind every installation" It didn't say say we stand behind every installation for a year!. She then said she would call one of their installers and have him to come out. After a 3-4 days and since I had the installers name I called the installer myself. He said he had been busy but we arranged for him to come out that afternoon. He looked at the door and said he didn't see a problem with the door or installation. The problem was the fact that the floor of the concrete lanai was such that in order for the problem to be solved the floor under the door needed to adjusted by putting something similar to "skim coat " under it. This would allow any water to flow right back out.
I asked him if he could do that. He said he would have to check with Lowes. I didn't hear from him so I called him. He told me Lowes didn't want him working on the concrete. I called the Lowes store and talked to Bob who is head of installation. Bob said that Lowe's does not do concrete work. My original doors had THRESHOLDS which were removed to install the new storm doors. Without thresholds, water can come into my lanai. If the original installer had pointed this out as a cause for a problem, or if the original installer had pointed out to me that water would come in at the time of installation, I would at least have been aware, but to remove the thresholds and then create a problem for me that Lowe's says is mine to repair, just doesn't make good business sense.
After years of doing business with Lowe's and spending thousands of dollars, I am more than just a little disappointed with Lowe's "it's not our problem" attitude. It is Lowe's problem because the problem didn't exist before new doors were installed. We live in Golf Lakes a mobile home park with 780 units a mile from Lowe's in Bradenton, FL. Trust me, we do share information in this park about the good, the bad, and the ugly. Home Depot is just blocks down the street from Lowe's and will become my new favorite place to shop without some resolution to this problem. The store is Lowe's #1813 in Bradenton, FL. The installation manager is Bob Reeve. We talked to Shannon at this store and the installer originally was a window and door specialist D'Ambrosio and more recently Brandon Risk assessed our problem.

I called the Lowe's store in Conroe, Texas about the largest BTU window air conditioner that is 110 volts. Through the automated phone service I was connected to the appliance department where NO one answered the phone for over 20 rings. I hung up, called back and and got an operator who was unable to answer my question because the informationis not on your computer, so she went looking for a person who could. After 17:22 minutes of music, I hung up and called back.
I was able to convince the person to walk over to the air conditioners and actually look at the box and tell me what the BTU size and voltage of the largest window unit in stock. Now, if you reply you are going to give me some cock and bull story about how customer service is always a priority and how you regret the terrible service I got and so on and so forth. But the absolute terrible thing is that your company will do nothing about it.
You will offer no training to your people on efficiency, you will not alter your computers to add the information and you will not install a human to answer the phones in a timely manner. So, by logic, your store and business is NOT about customer service at all, now is it?

I am disabled and on a fixed income. In November I bought a Whoorlpool Cabrio washer that with washer and extended warranty was over $700.00. I normally wait, as most of us do, to do laundry on a specific date. I usually have 10 to 11 loads at that time. I put the sheets in to wash and they would not spin out. I tried everything.
Now I have plates in my back and so does my wife so bending over and dealing with ringing wet clothes is not something we do if we can avoid it. She finally got them hand rung out enough to go in the dryer… We thought that maybe they had just been unballanced or something. The machine is about 5 months old.
Next morning I put on another load and again no matter what the load would not spin. This was Monday 4-16-2012. I called the service number at 12:30 according to thier notes. They said they could not get anyone out sooner than Wednesday or Thursday.
I told them it was urgent as the wet white towels would mildew and we did not feel we could deal with them to hand ring them like we did the sheets.We made the appointment for Wednesday and they stressed that we had to be available from 8 to 5 for the repair man. At 5:15 on Wednesday I called them back upset that no repair man showed and same customer service man said, I can't call Service Tech to find out why they did not come because they close at 4.
He said we would have to make another appointment and that there wasn't one available to Friday. I asked to speak to a supervisor and got the same story. They basiclly cold me it was my problem and they could not do anything about it. He said he would set me up for another appointment for Friday. So I hoped that maybe as the Service did not get to me Wednesday they would show up Thursday or call and I would be able to call back and cancel the friday. I waited all Thursday.
Nothing. Friday at 12:08 I called to find out when they would come. They told me I did not have a Friday appointment but that my complaint had been turned over to a suppervisor and that she could not schedule me for an appointment till Monday but with a diffrent company. I asked to speak to a supervisor and was put on hold several times, the call lasted over half an hour and I did not get to speak with anyone but the customer service clerk.

Two weeks ago I purchased a Maytag Washer from Lowe's. When the delivery men were unloading the washer from the truck The one guy leaned the washer back and water ran out. I wish I'd have told him not to bring it in my house and just take it back. That was a sure sign to me that it was previously used. but I let them set it up in my washroom anyway.
What a mistake that was. the first load I did went fine, after that, not so fine. apparently It was broke when they delivered it. and I think they knew it. I did not use it and had to go to the laundromat. Last tuesday morning before going to work I went back to lowe's right to appliances and the same salesman waited on me. I did an exchange for the maytag for a frigadare front load washer. which he said would be delivered this coming tuesday and they would pick up the maytag. the delivery date would have been tuesday march 27th.
On thursday the 22nd I called Lowe's and ask if it could be delivered on the 24th of march instead. The man that answered the phone said he would have to call me back in a couple minutes. An hour later I called lowe's again to see why he didn't call me back. another guy told me that I was first on delivery on Saturday Morning.
so this morning at 7:50am they called and said they would be here shortly. I questioned the guy about the washer coming with a pedistal and said about the one they would be picking up. he said he had no idea waht I was talking about. he said there was no pedistal and he knew nothing about picking up another one.
I told him you better find out what's going on before you get here because if you show up without my pedestal to the washer that I paid for you with be picking up the maytag and I will go elsewhere and buy a washer. he said I will call you right back. 20 minutes go by and I called the store to see what was going on. By this time I am so pissed off. this guy tells me he got it straighten out.
He's said he's talking to the delivery guy right now and he ask him what time he was bring it, and the whole time I can hear their conversation and it wasn't very nice. Then the guy tells me he said at around 11:45am. What the hell happened to first thing in the morning. I tell you one thing right now. this dam washer better be right. Iv'e never had this much trouble getting an appliance before. If this is the way Lowe's treats their customers you can be sure that I will never buy anything there again.
I pisses me off that I spent $40 dollars at the laundromat this past 10 days when If I would have got a washer that worked the first time, I would have been doing my wash at home. Very disappointed with Lowe's at this point.

We went to the lowes on Okeechobee Blvd, in West Palm Beach Fl this afternoon Store # 1962. Upon arriving we asked customer service fo help as we wanteed to buy an elctric tankless waterheater but had wuestions we were told they would have a sales person meet us in that depts we waited for 20 minutes and noone came. So we bought our water heater at home depot. While at your store we ordered wood fencing and posts to be delivered and charged $79.00 for delivery we live less than 3 miles away!
When we went to the garden center a gentlemen wrote up the item #'s for the post and the fencing and we asked about a post digger he said inside the store in isle # 27 we could not find the item when we asked another person inside the store she said go to the garden center. Again we bought the post digger at home depot!I would have preferred to buy all that we needed at one store but your employees made that impossible.

I purchased kitchen and dining room floor tile from Lowes and contracted with them for the installation. The tile was laid the wrong way and laid unevenly. I told them I wanted it taken out and reinstalled correctly. They refused to tear out the tile but said they would take out the uneven tiles and replace them. As they tore out the bad tiles they chipped the adjoining tiles. It has been over three months and the job is still not done, I have half my floor missing.
The backer board is damaged and broken down to the sub floor. There are more bad tiles that should still be torn out. I have no time of completion. I called the manager and asked for a refund. He said they are not in the business of doing free work and that I am not a professional floor installer so I don't know what I'm talking about. This job cost me over $5000.00. So much for the Lowes guarantee. I will never use Lowes for anything else again.

This is becoming the "Biggest Customer Service Improvement" in ALL stores these days. "Do you need help". The problem is…it's the biggest time wasting PR that has NOTHING to do with Customer Service. I needed to quickly pick up a couple sheets of sand paper at Lowe's the other day. I knew exactly where it was and how to get there. I was stopped no less then 5 times by employees asking me if I needed help. I don't have time to waste like these employees do. And then when I got to where the sand paper was I asked the person who worked in that department if they had any 200 grit or higher paper (none were on the shelves).
The IDIOT proceeded to hand me 180 grit. Seems that 3rd grade math is NOT a requirement to work at Lowe's. And it's NOT just Lowe's. Home Depot, Sears…They all think they are fooling the public by forcing their employees to "Ask if you need help" so it SEEMS like they are concerned about service. But for anyone with an IQ over 90….it's so obvious that Service hasn't increased..in fact it's DECREASED. Asking if you need help is not the same as actually providing the help. And asking people who Don't need help is just making their visit to the store extremely inconvenient. So much so I now DRED going to Lowe's or Home Depot.
And I know many many people who feel the same as I do. The IDIOT who thought of forcing their employees to Ask everyone customer they see if they need help should be fired for just plain stupidity.

On the Wednesday before Black Friday, my husband who is a Lowe's credit card holder and I went to the Lowe's store in North Little Rock, Arkansas for the purpose of buying a front loading washer and dryer. The sales' representative was Joe Montgomery. He told us that if we waited until Black Friday we could get 18 months interest free. Needless to say we came back on Black Friday. We ordered our washer and dryer. We were told that it would be delivered Dec. 5. We gave away our washer and dryer Saturday, Dec. 3. We called and went by Lowe's today and our washer and dryer are not in the system.
Human error is understandable, but when my husband spoke with the manager she exhibited a less than helpful attitude. I am a public servant, and all I ask is that customer care be foremost in the minds of those who too count on the public for their livlihood. All we want is what we ordered and at the price at which it was ordered.

I worked with the "kitchen designer" to assist me with my new, dream kitchen. I had a rough, sketch and I worked with the Lowe's employee to select the appropriate cabinetry. The next night I went back to the store, which is in Littleton, NH and about an hour from my house, to finalize the design. I told the "designer" that I wanted to add an end piece of cabinetry to the design, to not only complete my design but to take advantage of some sales incentives being offered at the time. The little drawing that is produced from these design layout sessions is poor and difficult to read. So I had to rely on the "expertise" of the Lowe's staff.
Now, I also purchased an oven, cooktop, refrigerator and exhaust unit as well from the store! About one month from placing this order, my cabinetry finally arrived from the KraftMaid factory. I worked with my contracor to put the cabinetry. My design included a kitchen island and after putting the cabinets together, I was ready to put the cooktop in and the oven. When I placed the 30″ cooktop in the 30″ base cabinet, the cooktop did not fit. I contacted KraftMaid and was told this should have been a 33″ base, not the 30″ that the Lowe's "designer" spec'd in.
This was on the eve of when my countertop, which I also purchased from Lowe's, was to templated, manufactured and then installed. This screw up by Lowe's has delayed my kitchen installation. When I contacted the "designer" at Lowes', she was unapolegetic for her mistakes and tried to "justify" her mistakes. The ass't manager I spoke with just booted the problem to his underling..the person who screwed up! The KraftMaid rep was of no help either. Meanwhile, I have not been able to eat at home. I am the one incurring all the expense and Lowes staff just wants to ignore me.
I understand mistakes but this arrogant attitude is too much!!

Lowes in Kailua,Kona Hawaii,had a sign saying they were hiring. I called the store and asked to speak to the Human Resource person. After trying to call 3 times, person was either not available or in an orientation meeting. I left my name and phone no. A message came on m email saying that I was not selected. I just wanted to try and get to be interviewed so that I could give a better history of myself and I would be able to give both character and job references. My previous employment does not show my full capabilities and I wanted a chance for an interview,which I feel that I can present my qualifications.
After leaving my phone no.and not getting a call back.I called back and spoke to Christine?,I explained to her about my applying online and was trying to find out the reason for being denied or whatever reason that I was not being considered, she took down my name and number and said she would go online,check on my application and call me right back!. This was in the morning,Friday Nov. 11,2011. Its Monday Nov.14 and no phone call yet. I have applied at Lowes once before and was not given an interview. I shop there often, and have dealt with people who were not as qualified as I am and the knowledge,that I have.
I've been in construction for over 25 years and have worked with many different contractors over the years. I'm a very good handyman and have never hired a plumber to do any work at my house. I worked as a general laborer in the Laborers Union, for 13 year,and 12years as a journeyman mason. I have done work in ceramic tile,painting,drywall,some basic carpentry, I am able to install ceiling fans, electrical wall plugs,but no major electrical work. I am applying for a stocking position, and have driven and operated all types of forklifts,including, Gradall. I am 59 years old,in excellent condition,don't smoke, don't drink, and will pass any drug test. I am writing this letter, just to try and get a fair shot at this position.

Lowes in Kailua,Kona Hawaii,had a sign saying they were hiring. I called the store and asked to speak to the Human Resource person. After trying to call 3 times, person was either not available or in an orientation meeting. I left my name and phone no. A message came on m email saying that I was not selected. I just wanted to try and get to be interviewed so that I could give a better history of myself and I would be able to give both character and job references. My previous employment does not show my full capabilities and I wanted a chance for an interview,which I feel that I can present my qualifications.
After leaving my phone no.and not getting a call back.I called back and spoke to Christine?,I explained to her about my applying online and was trying to find out the reason for being denied or whatever reason that I was not being considered, she took down my name and number and said she would go online,check on my application and call me right back!. This was in the morning,Friday Nov. 11,2011. Its Monday Nov.14 and no phone call yet. I have applied at Lowes once before and was not given an interview. I shop there often, and have dealt with people who were not as qualified as I am and the knowledge,that I have.
I've been in construction for over 25 years and have worked with many different contractors over the years. I'm a very good handyman and have never hired a plumber to do any work at my house. I worked as a general laborer in the Laborers Union, for 13 year,and 12years as a journeyman mason. I have done work in ceramic tile,painting,drywall,some basic carpentry, I am able to install ceiling fans, electrical wall plugs,but no major electrical work. I am applying for a stocking position, and have driven and operated all types of forklifts,including, Gradall. I am 59 years old,in excellent condition,don't smoke, don't drink, and will pass any drug test. I am writing this letter, just to try and get a fair shot at this position.

I live next door to a old couple that received a 101366-2200 psi power washer for christmas in dec-2010- that opent it up(new) for the first time last month to wash there house down. after reading all the directions and setiing up the unit they starte to use it(note it does work great)well the hose got caught under the base and the muffler and burn a small hole in it(NOTE THE MUFFLER HAS A PRTECTIVE GUARD ALL THE WAY AROUND EXCEPT FOR THR BOTTOM )-SO the wife of this couple(note:she is 72)-went back to the lowes in port huron michigan and told the manager about he stated that was there problem and charged her thrity dollars for the hose and walked away…i feel this is very POOR SERVIC.
I was surprise over all because i have shop there for years and never had a problem at all–and for a 30.oo dollar item and a 72 years old person i feel this manager could of taken a better approch to this matter.

Our service men go off and protect our country and Lowes will give some a discount and some not. MVA will put a blue V on your license for a 30.00 charge no less but Lowes will not honor this as a Military discount. You have to jump through hoops to get this V put on your license and the goverment collect this money but it's not good enough for Lowes. They have conditions on what kind of Military discount they will give. Who ever went and served our country didn't give us any conditions when they put their life on the line for us. If Lowes doesn't want to give a Military discount fine but don't ever tell this country who is worthy and who isn't when you are Honorably Discharged!!!! Shame on Lowes!!!!!

Just wondering…Why is Lowe's allowing a contractor to use Sherwin Williams paint to paint the outside of the store in Beaumont, Texas? How can they expect their customers to have confidence in the Valspar brand when they don't use it on their own building? How can they expect their employees to sell Valspar when the customers of that store are walking by buckets and buckets of paint marked Sherwin Williams? What a slap in the face for the folks in the paint department. I have no complaints about Valspar paint or the wonderful folks in the paint department of that store.
It just seems very strange that Lowe's doesn't have some sort of clause in their contracts with companies that do work on their buildings to use Lowe's products when possible. Also, why does the Lowe's website not have a place for customers to actually make complaints? Scared are they? Not really into customer service perhaps? What?

I purchased a refrigerator from one of your stores (#0482) back on 24 Oct 2009. I also purchased a 4 year extended warranty within. Back on the 14th of June 2011, the ice maker quite. I called the extended warranty number a filed a clime. As of this date the problem is still not repaired. I have records where I have contacted the warranty people and your executive support office. I was set up with an appointment date and time for them to out to repair the unit. When they contacted me to confirm the appoint, I was told that they could not come out then. This was because the appointment was set up VIA their web page and it was not current. I was told that it would have to be sometime the next week.
I call the warranty people back and provided them with this information. I requested another company to service my unit. I was never contacted by this company. Si I called them back and this time they gave Jim Whxxxxxx repair service, who I know of. This company contacted me, but took some time to come out to look at the unit. I was informed that on the 8th of July 2011 the parts were placed on order. I then was informed Mr. Whxxxxxx had received the parts on 13 July 2011. For over a week we talked his office asking when they would come out to replace the parts. We were told several times they would be there, but they never showed up. I contacted your executive support office and asked for their help. After I provided them with all of the information I had, I was told that they would get back with me using the corporate email address Exec.CustService@Lowes.com​. 
I waited until around 2pm on the 29th of July 2011 and tried to contact them back. But the phone number of 1-866-900-4750 is NOT a number for your executive support office, it belongs to another company. I found another number and called. I have since gotten rid of the refrigerator and bought another new one. In short sir I find that both your warrant service and your Executive support office are lacking in any support of good customer service!

good morning, i do not think this will do any good, but i will give it a shot! yesterday July 27th i went to lowes in meridian ms. i pulled myself and 2 employees off the job to go and get much needed tools for our profession. spent about and hour gathering items and looking at possible thing we wanted to do later like build a tool room with stainless steel cabinets. after picking out about $2000.00 worth of tools we proceeded to the check out counter. i told the lady before she started that this will be a tax exempt transaction since i have a government credit card.
she told me the transaction that i ask for could not be done due to the credit card computer for discounts and tax exempt was down. i was to say the least MAD. the next morning i called Tony, one of the store managers, and explained what had happened. he told me this system goes down all the time. you would think, since this is not the first time this has happened to me and others, this problem would be fixed. just plain bad business. the government spends alot of money at lowes in meridian ms, WHEN THEY CAN!
i would not be afraid to tell you, my next transaction if this happens again will not be at your store but instead Marvins. i plan to tell all my associates to do the same!!!

On Feb 14 2011 I purchase a stove, microwave and dishwasher. I also purchased an extended warranty for all of the appliances. In June we realized that the oven temp was lower than what the panel is reading. My husband called for service. On June 29th, Jerry from Fix-it-Now came to the house and told my husband that our new stove/oven needed a new mother board. He said it would be about 10 to 14 days before he would receive the part. The week of July 18-22 my husband called Lowes service SEVERAL times trying to find out when our oven would be fixed. He was finally PROMISED on the 22nd that a supervisor would call him on Monday the 25th.
We did not receive a call from a supervisor. I called Lowes repair AGAIN on Tuesday and spoke to a supervisor, Stephanie and she promised to call Jerry and get an update on the part. Today is the 27th and we still have not heard from ANYONE!!!!!!!

I was at the Bartow lowes, in florida yesterday. What a nice & friendly store. A employee named sue in hardware was so nice to me. She helped me with nails I needed for my roof but also help me with a drill i needed & the bits i would need. What a great help she was to me. Its nice to have a woman to help in these departments she did a great job. I will be back to see her for help, she even took me to flooring to get wood floor cleaner. I have never been treated so nice in a lowes store before. What a keeper she is. And thank you sue and Bartow LOWES, in Florida again. I will be back.

This moron who is tired of customers complaining about Lowe's hasn't acquired enough life experience to know that stores are supposed be fast with their customer service to show the customer that they appreciate an individual doing business with them. Anybody stupid enough to wait in a doctor's office longer than 15 minutes deserves what they get. ROBBED. We as consumers accept, far to easily, that being treated like we are nobody by a corporation is just the way it is. Open your mouths and SHOUT your dissatisfaction. Don't use the store anymore. Spend your money where you get what you want when you want it. Wake up people and start standing up for yourselves.

It has been 11 days and I still can get no answers as to if they can find someone to fix my washer I have been told 4 different times someone will call me and have had no one call me I had on person laugh at the problem and a manager named Cory emp # 156079 told me they will deal with it on their time as it is costing me about 150 dollars a week to get my families cloths done with no concern from lowes as to the service I paid for and they are not honoring in anyways…
Called Lowes's for service of the new washer, ok, will contact you in two days. Lowe's calls, they have found someone to service the washer, they will call in the next few days. After a week and no calls we contacted Lowe's again. We request that they find another service to come out, they kept my mother's tv for 3 months and the whole deal was unsatisfactory. Someone will contact us in two days and they will find another service place. Lowe's calls, guess what, they have talked and they will contact us in the next few days.??????
Oh they are the only ones in our area who can service the product. Well we drove to buy your product, you had no problem taking our money and now you can't service a brand new built in washer??? What is wrong here???

I purchase a refrigerator at the Lowes on military highway on April 22, 2011. The delivery was schedule for APRIL 26,2011. The warehouse manager call my wife and said that the refrigerator was damaged it had to dents on the side and did she want him to deliver it and she said yes and the warehouse say they will give you something off it because its damage. When I get home I go the store and talk to the manager and the manager say can not give you nothing off because we will send it back to the manufacturer and get another one. I said ok and the lady say we have to schedule to pick up that damage one and bring you another one.
The pick up was to b for April 27, 2011 and to deliver the new one on APRIL 28, 2011. Later that night the deliver people call and said they would be to the house at 7:00 am to pick up the damage one and bring out the new one the same time. On April 27,2011 they came to p[ick up the old one but didnot bring the new one.On april 28, 2011 they came to deliver the new one and one of the wheels was missing off. My wife ask themm to bring it back later and they know they waold have to do it the next day. My wife has stay home for 3days and still no refrigerator we only live 5 minutes from the store and they could not do that .
This was there fought not ours. So I had to take off work April 29, 200 to be home just to put a wheel on. Thats ridiculous. I should be given something for that you know. Thats bad business when its your fought you should try to correct it as soon as possible. Thoma Coffey

I work at lowe's, and I have a problem with people complaining about lowe's home improvement. Employees get sick, quit, get fired, take days off…but you need to get over it. Sometimes in life you are just going to have to wait. When you go to a Dr's appointment t and wait for 45 minutes, do you demand to speak to the chief of staff and demand they hire more doctors? I doubt it. Why should it be any different at a place like lowes? Other than that, if you're really concerned they don't have enough help, fill out an application and pitch in. People who are spoiled who obviously know everything could teach them a lot about how to run a business they have been running successfully for years. So shut up or help out. Sincerely, a lowe's employee tired of customer complaints.

I signed a contract w/Lowe's to redo my kitchen cabinets, I chose Kraftmaid Cabinets Top of the line. I requested a Light Oak Cabinet finish. I paid in advance to get order started. Received the cabinets finally at Lowe's 4wks. later. Upon opening the boxes W/ builder we found the cabinets a light oak, BUT the doors were a multiple of colors! When the second round of doors came in, the cabinet doors were 6″ to high! I finally took delivery of the correct doors from Lowe's and the colors are still a little off, but at this point I'm already done with this company. I will never recommend Kraftmaid's product to anyone! I feel like I wasted my money and my time!!

Linda Peek
from Schenectady, NY
My husband and I went to the Glenville, NY Lowe's on November 1, 2018 to get flooring for our home. Speaking to the salesperson there, we were assured that the laminate flooring we ordered on the day could and would be installed before Thanksgiving Day. On that day we were told we needed to take the paper work to the payout registers and pay one cent to complete this order. This we did. A delivery date for the flooring was set up at this time and we were told we would be contacted for delivery. Because we never heard from Lowe's about the delivery, we went to the store to find out what was going on. At that time we were told that the order had not even been pulled but would be delivered the next day. It was. That was two weeks ago. We were told the flooring needed to sit in the house for three days to acclimate to the temperature of the home and that we would hear from the installation people within three days for installing the floor. Well, never heard from installation people either. My husband called the store to find out when the install would take place and we were very rudely told "everybody wants it done by Thanksgiving" Finally, my husband obtained the phone number of the installation people and called them. (This was over a week after delivery) He was told at that time that the installation company had just received the paperwork and the install could not be done until December 4, 2018 (well past Thanksgiving Day). In the meantime, expecting the installation of the flooring to be done, my husband had ripped out all the old carpeting in our home and gotten rid of our old furniture. We had ordered new furniture to be delivered and needed to change delivery date on this also. So we have been sitting in our home with no carpet and no furniture and a pile of boxes (24 to be exact) of laminate flooring and molding and floor patch in the middle of our dining room. My husband called the installation company again and one of their installers came to our home to look at the floor (yesterday, November 26) and informed us that the flooring we purchased could not be installed because our home's floor was too uneven. He suggested that we change orders and get vinyl planking. We went to the store to look at the vinyl flooring and were told that would not work either. It was suggested that we either get a refund or put in carpeting. We looked at the carpeting and picked out what we wanted (because at this point I just want to put my house back together after all, now Christmas is on the way). We spoke to the manager at the store who very rudely said to get "his" product back to him and then we could order the carpeting and once the carpet was ordered, it would be another two weeks before it could be installed. Now, keep in mind that the 24 boxes of flooring was delivered in a truck and was put on our porch with a forklift. My husband very nicely helped the delivery man carry in the boxes. How did the manager think we were supposed to get 24 boxes of laminate flooring in our car and into the store? I made this point to the manager and he said he would have a pallet delivered to our home and my husband would have to carry out all the boxes of flooring, the 50 pound bag of leveler, the molding, etc. Really? I am so very disappointed with the level of customer service at this store and feel that we were treated very rudely.

Rickey Allen Underwood
from Trinity, NC
I contracted with Lowes to have a fence installed in my backyard on 9/6/2018 and it is STILL not completed as of today 11/25/2018. They will not return my phone calls, will not update me on status and just keep adding credit to my credit card. I find this type of customer unservice completely unprofessional and complacent. Currently, they have not contacted me in over 2 weeks.,
Retired US Navy disabled Veteran

dolores belas
from Palatka, FL
this problem was eventually resolved and the associate at the returns was very patient, I purchased a tankless hot water on my new cc it was defective and returned it on Saturday, they had to call credit department to get the money back they did I got another one which was also defective returned that gor a different model which was mislabeled and it came up to be 500.24 when according to shelf label and the associate in the hot water department said it was indeed the model that was 369 not the model That was 479 he also said if there was a problem to call him but after asking at least 4 TIMES they did not call him then TONITE I had to return thAt and because of your policy on credit cards they could not DO and even exchange and I Would have to wait for you to put the money back on my credit arid after I STARTED YELLING THEY CAME UP WITH A SOLUTION MAINLY A CUSTOMER CARD WHICH WAS LIKE A GIFT CARD I AM COMPLINING BECAUSE EVEN THOUGH THEY GOT THE PROBLEM FIXED I HAD TO YELL TO GT T DONE, THER WAS ALO THE SAME ISAUE WITH THE PRICE AND I DONT KNOW HOW MANY TIME I TOLD THEM ABOUT THAT ERROR, THEY FINALLY PUT JUST THE PRODUCT NUMBER IN THE REGISTER AND LOW AND BEHOLD THE RIGHT PRIE CAME UP. I DO NOT LIKE HAVING TO YELL AND I ESPECIALLY DONT LKE DIFFICULT RETURNS. BY CONTRAST I HAD TO RETURN SOME PARTS TO HOME DEPOT AND I WALKED IN GOT THE REFUND JUST LIKE THT AND WALKED OUT NO DRAMA The store in question was he Palatka store my email is doloresthebird@hotmail.com
ps as added note as soon as I pay this cc off it will be shreded

Lowe's Augusta Maine store- the guy who works in the department with storm doors. Extremely rude. Rolled his eyes while we were trying to look for something, sighed, made snide defensive remarks while we tried to describe what we were looking for. Tall, balding man, late 40s/50s maybe.

Rickey Underwood
from Trinity, NC
I contracted with Lowes to have a backyard fence installed on 9/6/18 and as of today 11/24/18 it is still not completed. I find this unsatisfactory and incompetent. I am a retired disabled Navy veteran who has always had a high respect for Lowes and their work for military veterans, however, in this instance I am very disappointed in Lowes and the subcontract installer. Synchrony bank just keeps adding money to my account and I have no receipts telling me how much materials or installation fees cost me. I have nit heard from Lowes in over two weeks. Thank you for looking into this complaint.
Respectfully,
Rickey A. Underwood, US Navy Retired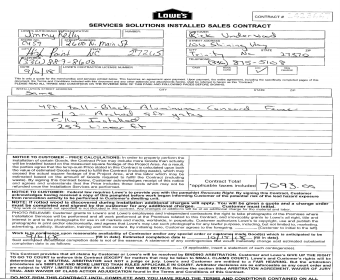 Eileen Pellini
from Allentown, PA
On 11/21 I was in your store to purchase Sherwin Williams paint. After waiting close to 25 minutes at the unmanned paint counter and after customer service paged the woman 3 times, no one appeared to help me. I then asked for a manager. They were paged twice and never appeared. I retired from Dow Chemicals and my largest account was Sherwin Williams. I am certain they would be extremely disappointed in the way Lowes represents their product line.

Karen Self
from San Mateo, CA
To whom it may concern,
I purchased a custom made French Patio Door from Lowe's San Bruno Ca in July 08,2018 for $6300.00
1st the sales associates that went to my house took 45 mins to find the French Patio door we wanted ( Jeld Wen)
2nd the door finally arrived Lowes San Bruno and Lowe's arranged the installation 08/27/18 , it went downhill from there, the installer Lowe's contracted was very rude he got frustrated cause he couldn't fit the door properly, 1st when the unit arrived Lowes - no one from Lowes check if the unit came in complete with lockset and handles, this was discovered after the contractor took off our old door and stacko the side wall 2nd the contractor blamed our floor was messed up, then later he told my husband "You bought a piece of SHIT door" then he start throwing stuff around my husband had to stop him and calm him before he breaks the door... 3rd they have to block the door with a piece of wood nailed it to the frame to secure ,so that no one can enter my house , I was dealing with Violet Tinoco, at first she was compassionate about the situation, I had to push your supplier to get the Lockset and handles sent ASAP..I had to push back my family vacation ...too make long story short it took several weeks to get the parts sent however they only sent the lock set not the handles so I have to wait another week finally your contractor sent another person from same company to install cause the 1st guy was very rude, well he didn't install the lockset and handles properly, very sloppy and scratched the volts , lockset and the door sidings , the door couldn't shot tight cause it's not aligned properly..so again I reached out to Lowes and Jeld Wen and sent photos to Jeld Wen to show what quality of a door I got and I told Violet that aside from the door being poor quality your contractor forced the install that messed it up more.. we plead our case to Lowes however i didnt get the customer service quality at all. finally Jeld Wen agreed to send a brand new door after the time I spent ... Finally the replacment door arrived Lowes couple weeks ago, I stressed to Lowes that I need this fixed before the Holiday cause now is November and I had pushed back several jobs from other contractors to lay the tiles and reno my fireplace , which cant be done not until this door is replace and installed properly... here's one more thing the replacement door arrive Lowes however Jeld Wen forgot to send the lockset and handles...so here I go again ... I reached out to Lowes last week and asked them to schedule that install asap, Violet said that she is trying to get another contractor to do the install several days pass I reached out to her then she said the contractor she wanted to use is not responding so she will send the inital contractor who did the install, she was just waiting for their call back last Friday or Monday latest, well today is Wednesday and I dont have any update , I texted the Branch Mgr of Lowes San Bruno ( Ben Martinez) but no response .. I always have to be the one chasing them down ( Violet and Ben) to get update
This is the worst experienced I've ever encountered , being in the customer service industry is this how Lowe's treat their customer ? i didnt purchase several hundred dollars worth of item, for God Sake I spent $6300.00 , I didnt get a $6300.00 door at all ..
I even invited Ben to my house for him to witness how messed up this door was and how did your installer forced it.
I order this beginning of July now almost end of November I still dont have the door that I paid for , but what I got is a defective door.
I need to get this replace properly and quickly. cause with this service failure I am paying for 2 mortagages I couldnt move in soon enough .
Why do I have to be the one to be proactive and try to get this fix, Lowes nor Jeld Wen simply just didn't show any Urgency nor being compasionate about the customers dilema . The contract I sign is with Lowes not Jeld Wen nor the contractor, so I hold Lowes accountable for all of these issues .
By the way, the sales person who sold me this door told me that Jeld Wen is the worst company to fit doors after the fact ,so why didn't he tell me this before I ordered this ?
I need to speak to someone higher than the local branch , I will also send a copy of this msg to your CEO .

Zbigniew Sarna
from New York, NY
Dear Lowes Executive Customer Service ! (Letter also emailed to Lowes Executive Customer Service)
I'm writing this letter to you seeking help with the fence built by Lowes, because my local Lowes (located in Rincon GA) where I placed the order to build the fence refused to help me, even though the fence is still under warranty.
Specifically the front gate, which has two doors, has issues. At the top of the gate the two wings are so close that there's a problem closing it, and the bottom has a big gap. The posts don't seem to be leveled properly, and the latches look like they are too short, not designed to hold heavy gate doors.
Yesterday I called Lowes at the Rincon location, and I described the problem as I did above. I was told that this was my fault because I waited too long with putting stain protection on. I told Lowes that the stain has nothing to do with the gate problem, around my town I see fences older than mine, changing colors (with no stain added) and because they were built properly, they have no issues with their gates like I do. The Lowes in Rincon just dismissed me without even sending anyone to take a look, which isn't right.
I spoke to an independent contractor who builds fences. He came, took a look, and told me that the gate isn't built properly, and that the stain has nothing to do with my issues with the gate. He will write a letter stating what the real reason for the problems with the gate is. When I receive this letter, and if Lowes continues to ignore me, I shall proceed to contact other agencies to investigate the problem.
I don't understand why I have to go this far to prove to Lowes that you guys are wrong by hiring a contractor with expertise in this field. Of course I expect that Lowes will reimburse these expenses, and also within two weeks of the date of this letter, contact me. Otherwise, as I mentioned above, I will turn to state and federal agencies for help.
Thank You so much for your attention to this issue.
P.S. Talking about the stain, I was told by Lowes and the contractor building the fence that I should wait at least 6-8 weeks before treating the fence. And the Lady I called from Lowes in Rincon blamed me for not painting the fence 4 weeks after it was built?
Sincerely,
Zbigniew Sarna
10 Farrington Cir
Guyton, GA 31312
908-705-5507

Eddie Hayes
from Pfafftown, NC
I had Lowes at 5901 University Parkway Winston Salem NC 27106 come out and measure a Master Bedroom/bath, Hall, and Eat in Kitchen. They had a Vendor come out to measure-Aarons Flooring. They guy told me someone would call me back to provide the results of the estimate. I went to Lowes today, 11/21/18 to inquire about the Estimate. I asked the Representative that I was there to get the Cost of the Project. I told him that 3 rooms were measure and I needed the estimate for each room. He gave the me estimate, but it was for the overall Project and square footage. Which was 667 Square foot. I asked him to recalculate with the break down of each room. The original quote was for all three rooms with using a 1.00 laminate. I was wanting a quote for the $2.99 Pergo Laminate flooring-but would need a quote for each room. The store representative didn't know how to do that, so he called someone else to assist. The lady that came back to help was very rude and short with me-like she didn't want to be bothered. I told her twice as to what I wanted. She rekeyed the info into the computer using the $2.99 Pergo that I had picked out, but didn't do it by each room. She printed out the estimated, then walked off. I again asked the Representative about getting the cost by each room. He advised that he didn't know if the computer could do that or not. He states that I should just go with the total amount that was given to me. I advised him that what I was requesting was not complicated and I needed it so could plan out my budget. I wouldn't be able to get all three rooms done at one time, but I wanted to get the Master Bedroom and Bath done. He said he would have to see if that could be done. I was so disappointed in the lack of service and hospitality offered by this store. Both Representatives behaved as if I were bothering them and was asking them to do something that was extremely difficult. The lady representative seemed very disturbed and unhelpful. Never once, did she as any clarifying questions or answer any of my questions. I have bought from Lowes quite regularly and have never had such a bad experience as this. I will look elsewhere for my Flooring as it seems that I can not get and Quality Service from your University Parkway Store. If you need any further specifics, you can reach me at 336-642-4158. My name is Eddie Hayes.

John LeBoeuf
from Hooksett, NH
First I would like to say the I ordered fence and installation in July , The woman that came over not only measured incorrectly , she wrote up the order for the wrong color , I had to email her to make sure that she ordered the right color. I paid over 5300.00 up front. Installers did not even start until Sept 17. As they got closer to finishing they realized they did not have enough fence material to finish the last section. Since then I have made inquiries as to when the last section would be. Last person that I talked to said that the material was to be delivered 10/26 . I have inquired again , still no answer. I will never order from Lowes again. This is ridiculous at how poor your customer service is . I want a resolution and some type of compensation for having to wait this long. I would like an answer As soon as possible! John F LeBoeuf

Dean Townley
from Lawrenceville, GA
Went into Lowe's Douglasville Ga to review and purchase carpet. Look at different carpet an associate came over to help, there was customer that was their before us so we told her to help them first while we looked.
After she had helped them she came to answer questions about the stain master / easy hair removal, she was not from the department she called too get someone else that could a another associate came back and was on the phone. Sounded like he was handling a customer complaint.We waited until he was off the phone, got right back on the phone still working on the complaint. Waited about twenty minutes then hung up the phone and grabbed a cell phone and got on it just like we were not their. I ask the associate were the manger was come to find out the man who ignored us was the manager.
When he found I was aggravated he hung up the phone
I have owned my own business for over 20 years I would not stand for one of managers to ignore a customer at the store over a phone call.
We were looking for 750 feet of stain master with pad

SID LIUFAU
from Las Vegas, NV
My complaint is regarding the item (TROYBUILT 3100 PSI Pressure Washer) I bought this item as I have oil stains in my drive way for over $300 3/2018. 8/2018 not even 6 months yet my pressure had fallen inoperable. 10/10/2018 finally able to take it to Lowes and have it repaired. On the order form it indicates am I willing to agree to pay $125 dollars to get it fixed I stated no because it should fall under warrantee. When I took it in I was told per the person that rang me up to give it about two weeks as it has to be sent out to be repaired. finally when I am expecting it to be back I was given a call and told the issue with this pressure washer is not covered under warrantee. That in order for them to repair the PW I would need to agree to pay $140. I seemed to have gone incircles for another two weeks with the vendor party. a month has past and I am still getting the run around being told is not a manufacture issue. I stated I have the extended warrantee and why is it not covered and yet I am told per Lowes and the repair party who it is with is inn charge. I have never heard of this repair shop is in charge. I asked to talk to supervisors the multiple times I called Lowes to follow up with my PW. Finally after 30 days of my understanding n patience not to mention decades of being a faithful customer of Lowes I have had enough trying to figure this issue out. Nov 7th I contacted the vendor and agreed to pay to get it repaired. Weeks following I have contacted the repair party direct line and spoke with Joe the supervisor. Its funny how it turns out they are not in charged they only repair as I was told differently that they are in charged. The old game of pass the blame. Joe stated they are waiting for the manufacturing part and do not have a date locked in that it could take a while. Today 11/19/2018 another two weeks has past and I fill I am still getting the run-around of not having my PW. Lowes has done nothing from personnel to management to rectify my bad experiences except to state to me that it is out of their hands. I contacted Lowes and supposedly talk by phone to the store supervisor. she indicated she contacted Joe and that he would be calling me to see if I still want my PW returned unrepaired with understanding of the liabilities. I stated you know Joe will call and say to me that I will need to go through Lowes to get my PW returned again the repeating case of pass the blame. This experience has really placed Lowes at a all-time low in my mind as a loyal customer. I hope this can be resolved and I hope upper management can see what is going on and at the least rectify my nightmare with a new replacement PW. respectfully Sid

Dawn C. Lani
from Manahawkin, NJ
On 09/17/2018 went to lowers in Manahawkin NJ 08050 and ordered a Maytag refrigerator MF12269frw. At the time the sales people were so unfriendly and acted completely bored with my order. Delivery people were excellent, after taking old refrigerator out they set up the new one and after unwrapping it the handle for the bottom freezer was broken. After talking to the installers he suggested to contact Lowes and have them order handle, already lost a day of work for this. Called appliances department and was promised a call back, never happened. Call two more times no call back finally went in. Sales women said she will put the order in and call when it arrives. Never got a call went into to see if a came in and salesmen John C. looked it up and it was never ordered. After three more week went back in 11/18/2018 three sales people standing together checked computer and were totally disinterested and said "They are closed today we will call them and call you". Not an apology a smile just a to bad in my face. Went there to get my handle and order dryer and washer. Needless to say I went to Home Depot for my items. Terrible customer service. My # is 609-312-1300 which my order is under. Sears never thought they go out of business and look at then now!!!!!

Anne Gerlach
from Sedalia, CO
While I was in your store, there were dogs barking, growling and at least one unsanitary "accident ." Your dog friendly policy will prevent me from shopping there again.

james hicks
from Loretto, TN
When i made a purchase on a new washer i went to the to the Lowes website to fill out the customer survey. After finishing the survey about the poor service of Lowes i thought i would receive a comment from you ( since i was highly dissatisfied). But i guess that the customer survey you want me to give is just to make me think Lowes really cares about what customer satisfation.

William D. Kernazitskas
from Norfolk, VA
Contracted with Lowe's in Dec 2016 for a kitchen remodeling job. Promised a 30-day completion after cabinets arrived. A year later, in Nov of 2017, with the job about 80% complete the installation contractor walked off the job. Lowe's corporate management advised we wait a week or two for installer to "cool off." In December 2017 we were advised that installation contractor would not return, were offered $5,000 to complete the work, and told to hire our own remodeling contractor. We informed Lowe's that we expected them to honor their contract and complete the work.
In January 2018 we hired a lawyer to pursue "binding arbitration" as required by the contract. Lowe's corporate management has refused multiple attempts by our lawyer to comply with the contract. They refuse to make arrangements to complete the work or comply with the binding arbitration portions of the contract.
We are now forced to pursue civil action to get Lowe's to comply.
A 30-day job is about to start its third year with no end in sight. We have appliances whose warranty has expired that have yet to be installed! My wife's father passed away in February of this year. He was our guest at Thanksgiving each year. We had hoped to have him here this year to resume the family tradition. And now that tradition too is lost.
Lowe's is not an honest place to do business and has no heart.

Justina McClane
from Anna, TX
We purchase a new Refridgerator and it was to be delivered last Saturday (11/3/18). Sat morning the store called and stated they could not find it but would call back when they did. NOTHING. I called around 2:00 and they said they were still looking for it. Really? How do you lose a fridge. They finally called late that afternoon and said they did not find it but would keep looking and try and deliver it on Sunday. Sunday comes, no call, nothing. We go to the store and they cannot explain anything, just say they could not find it, did not know if it was sold to someone else or even delivered. This is insulting because I know they have to know what happened to the fridge. The lady said she would order a new one on Monday and put our name on it. Really, was the first one not ordered with our name on it. She said she would up date us on Monday. Monday comes, no phone call. I finally call and am told it was reordered and should be in by Fri (11/16/18) and they would call to set up delivery. Thursday comes and we get a call from the delivery guy saying they would be at our home to deliver in the next two hours. WHAT? No call to schedule, nothing. Delivery guys said he just delivers and he apologized for we had been treated, said he would call the next day to set up delivery again. We shall see if it gets delivered today or if we even get a call. My husband has his own electrical business and he purchases a lot of material from Lowes but I think we will be shopping elsewhere. Our experience is less than desirable and rest assured I will tell everyone I know. Your customer service sucks and your employees are not properly trained. All it would have taken was communication, that's it but instead we got nothing. I am not usually a complainer but it's 2018 and there are plenty of other places to purchase the things you sell. Im sure this complaint is going to deaf ears and I guess that is the norm these days.

Larry Gobel
from The Villages, FL
My wife and I wanted to have a new kitchen backsplash installed. We went to Lowes on 9/21/2018, and picked out the tile we liked. We aslo paid $35.00 to have a detailed measurement performed at our house. We returned to the store on 9/24/2018, to pay for the needed materials, and labor, to complete our project. It was after this, that things got really messed up. Our tiles were ordered, but when they arrived, no one contacted us to report that they were in. We had come to the store to inquire about an installation date. We visited the store two more times, and called three times, but no one at the store could give us an answer, as to why the contractor had not contacted us to set a date. We are planning company for Thanksgiving, and thought we had allowed for plenty of time. We ended up getting another contractor, on our own, to complete the project, and we had it installed on 11/12/18. We cancelled the contract with the Lowes store # 3351, and were refunded our payment for the installation, minus the $35 we had paid for measurement. This whole scenario is rediculous. We live in The Villages, Fl, and let me say that bad service news travels extremely fast through the social media network here. I don't know what the problem was, but we should have at least gotten a phone call in return, for our numerous calls and visits. This is a very poor situation, one we never experienced with Home Depot, here. I'm not sure what you can do, but we are very upset that this situation was not resolved by Lowes, and we were left to fend for ourselves.

Terry Brooks
from Hampton, VA
I purchased a LG refrigerator from Lowes in 2016. The LG refrigerator cooling system stop cooling within 2 years of the purchase. The cooling system has a 7 year warranty on parts and labor. But Lowes refuses to honor the warranty that was sold with the refrigerator, or help get the refrigerator repaired. LG did have one of their service employees install a new compressor, but the refrigerator still doesn't work. Last time I buy a LG or a appliance from Lowes...

martin garille
from Cape Coral, FL
i purchased a sink/vanity.This began in early august when i ordered a detail for sink. After waiting several weeks I got a call from the installer and he came out and inspected old sink and said the new sink would fit.By then it was mid september.I went to lowes and ordered /paid for sink.they said sink must be special ordered.Several weeks later i got a call from lowes .Sink was in and i would be receiving a call from the plumber to set installation date.I reminded lowes that the order included faucets and a trap and to be sure all the parts were there.The plumber called and set an installation date.FInally.The day of installation i got a call from lowes.My order was incomplete and would not happen that day.They had to order the trap Several weeks later lowes called .Parts were in and i could expect a call from plumber,which happened and he set a new installation date.Plumber arrived right on time with new sink.I guess no one at lowes had bothered to inspect the new sink .It had a chip on top.It was broken.Plumber returned the sink.I got a call from lowes.they said they had re ordered the new sink and it would arrive on nov 11 and i could expect a call for installation.It is nov 13 and i am still waiting.

Stacey Womer
from Fayetteville, NC
I purchased a gas stove. I asked the associate if the gas stove came with all the parts to install the stove on my own and she said yes. I was trying to save money on installation fee. If all the parts came with my stove, I could do it on my own. What she failed to tell me is that the stove that I purchased is designed for natural gas hook up, not propane hook up. She did NOT know the stove that she was selling me contained the natural gas hook up. When I got it home, and hooked up my stove, the overwhelming smell of gas went through my house. I went back to Lowes and not the appliance person, who referred me to a young male who was sitting in the cabinet dept., but I had to coax a retired female to help me find a part because the guy I was directed, per your appliance employee, to ask who was also working in cabinets was to busy on his phone talking to his friends about YouTube videos. Got the part, hooked it up, gas everywhere. Had to call gas company, emergency call and expense. The stove I purchased was natural gas, not propane. The gas company did not convert, they red tagged my appliance and told me to call Lowes back. How do you have people working in these areas that do not know the potential problems a consumer may face when installing one of your products. Had she told me that the stove I purchased was universal but came only hooked up for natural gas I would have made arrangements for my gas company to come out and do the install. NOW I AM STUCK WITH AN EMERGENCY CALL OUT FEE AND AN ADDITIONAL FEE TO CONVERT THE STOVE FROM NATURAL GAS TO PROPANE!!! All the money I have invested in Lowes for the past three years upgrading my property with your products and consistently being let down by employees who don't know anything about the products, this one I am not letting go because I could have easily blown me, my family and myself up over an untrained employee and another employee who was too busy on their cell phone talking about youtube videos. I am therefore requesting a phone call about my situation and for Lowes to pay my emergency call out fee to include all fees to install my stove properly. Thank you in advance, Stacey Womer 910-263-3540

jefferey zelazny
from Germantown, OH
bought a fence they installed the wrong kind....2 months and the bottom sags...been almost 6 weeks and nothing....alway wait and ill check on it...ill never buy a thing from lowes...there customer service is the worse!!!!!!!!!!!! must of spoke to 7 different people...ill call you right back...what a joke!! call corporate and still nothing....what is a person todo......passed pissed.....

Barbara Williams
from Browns Mills, NJ
I have a stove and the glass top cracked and after a month of calling Lowes and talking to several different customer services reps, each with a different story, I was told the stove would be replaced and when that didn't happen I am now told that the crack is not covered under the extra protection plan I bought, and they will not fix or replace the stove. Now I have to go and buy a new stove. It will not be from Lowes.

Leta Wilson
from Bowling Green, KY
I special ordered a bathtub from Lowe's for a bathroom that I am having remodeled. The bathtub came in damaged so I got another model from the store in stock. I ordered this for easy access for my mother to get in and out. The new bathtub
I got from the store I am having to have bars installed. They are telling me I have to pay an extra $500.00 to installed them. I am sorry but that should not be at my cost. When I ordered it the guy Andrew knew why I was ordering it for my mother so if would be easy for her to get in and out.

Vicente Hernandez
from El Paso, TX
In short, on October 19 I was told that a set of hinges had to be ordered to fix the door on GE stove I bought at Lowe's. I've been on the phone with several people from Lowe's and am getting the round around. It's been 20 days and nobody has done anything to fix my problem. I don't know why it is taking Lowe's so long to send a set of door hinges.
Vicente Hernandez
6040 E. Yandell Dr.
El Paso, Texas 79905
915 778-3908

David Watkins
from Atlanta, GA
Hello,
1. I had Lowe's install windows in my house a couple of years ago. One double window has developed a leak and the rain is coming into the house around the window. I want to know if the warranty covers a repair. I believe it does, so I need someone to come and look at it.
2. This one is also important: I off the windows before the deadline for paying interest. That was well over a year ago, and my credit report still shows a $2,000+ balance on the account. How long does it take Lowe's to report a paid off account? These kinds of things affect people's credit ratings and do not foster good customer relations. Please have someone contact me about this. Thank you. David Watkins 678-873-2296

Ellen Farro
from Mount Airy, MD
I purchased a Samsung Refrigerator Freezer and since then Lowes has had to send someone out numerous times to fix the ice maker. It was completely replaced a few months ago. Again it has stopped working. The protection plan that I kept paying for has expired. Why do I have to pay to fix something that has been a lemon from day one. I realize the problem is with Samsung but I bought it from Lowes and I would expect them to stand behind what they sell. Apparently not. At this point I am sick and tired of the entire thing and will start saving up to replace the entire refrigerator. Be assured I will NOT purchase it from Lowe's. I will never buy anything from Lowe's again. In fact I will never walk inside a Lowe's again.
Done in Maryland,
Ellen Farro
4293 Molesworth Terrace
Mt. Airy, MD 21771
301-512-3097

ANDRE PERRIN
from Rosedale, NY
I ordered a door over 5 months ago, and still haven't received it. The customer service is terrible, they have no answers.

Arthur Wanderlingh
from South Windsor, CT
On Tuesday 10/30/18 I contacted Pro Service Dept.at Manchester, Ct. store by phone. I asked about installation of a recently Lowe's purchased garage door opener & repair of a squeaking door. I paid, by credit card, $35 for someone to come out & evaluate the project. I was also told that if I had Lowe's do the job the $35 would be credited to the final bill. I was told that I would be called to set up an appointment within 48 hrs. When I didn't hear from anyone I called on Thursday & was told by the manager that they are really busy &I wouldn't hear from anybody soon. If I didn't hear back by Monday (10/5)I was to call back the dept.. Yet, they charged my card immediately. Why does it take days to make a simple appointment? I find this "customer unfriendly" at a minimum. I have been a long time customer having spent thousands of dollars over the years. What can be done to correct this awful experience? I expect, at a minimum, to have received a the call within 48 hrs. As it stands, I have no idea when it will happen.
Thanks.

Tim Gillis
from Dundalk, MD
I called on a Saturday morning however I had also called during the week. I had placed an order for an exterior storm door with store #631 back in September (order actually didn't get placed until early October as it took 3 weeks from mid-September to 1st week in October for someone to come measure the door which was located only 10 miles away from the store). The store let me know the other day that the door is in -- -has been in for a couple of weeks -- I am trying to get the installation done before it gets cold as my current door is broken but Lowe's has very poor customer service. After being on hold 40 mins. someone decided to hang up on me and since calling back again, I've been on hold for 2 hours!!! That's ridiculous. Now it's past 2 hours and still on hold and I have no idea when I am getting my storm door installed. I guess Lowe's will call when we get snow on the ground.

Jeffrey Mott
from Webster, NY
I made a purchase at store #1581 Terminal 15 on 10/24/18 at 10:54:14 for the Total of 1,128.77 I used my Visa card " ONE " time. The next day my bank statement showed two transactions. One for 1,157.43 and 56.34 that's two transactions after I left the store. Is this a criminal matter I do believe so, At no time did I give prior consent to anyone to add amounts debited from my account ( After the fact ) I'm very familiar with the consumer protection laws. I am very interested in knowing the individual that took it a pond themselves to run my numbers twice seeing I had the card in my wallet when I left the store. After the Fact. And increasing the total payout. Am I upset?? Yes very much so. If your not condoning this type of thievery than I would suggest someone take a look into whats going on here. Surely I'm going to.
Thank you Jeffrey Mott

Daphne Davis
from Birmingham, AL
I visited the Lowes in Homewood Alabama on 10/24/2018 around 11:00 trying to purchase the life like werewolf. The display was all that was left so the sales associate found me one in Adamsville Alabama. I contacted the store directly and paid for the item # 1026560. I asked a friend of mine to pick this up for me and so he went to the Adamsville store around 3:00. He called me and said that the item was not flagged as sold and sold to someone else. A clerk spoke to me and said she was sorry and would refund my money along with giving me a $25.00 gift card. She mentioned they had looked around in other areas and did not see one. I immediately started calling Lowes in many areas and found the werewolf in Northport, Tuscaloosa. They said they would not and could not take an order over the phone nor hold the item for two days until I could get there. I explained my situation on what had occurred, but that was no help. I contacted a manger from the Lowes of Adamsville (same day around 4:00) to see if he could get it shipped to this store and he inquired on what had happened to me and I explained. He took my name and number. As of 10/25/2018 at 1:20 I have not heard from any store manager or anyone from Lowes. I searched for werewolves over the internet and saw that Home Depot had one. I called the 280 store because I was showing one was in stock and they actually did not have any in stock, but this sales associate found me one and had it shipped to a store close to me. I went in and picked up this item around lunch time today. Now that is customer service. I am very displeased of how the situation was handled at Lowes, but luckily Home Depot was able to pick up what you (Lowes) was lacking – Customer Service!

Bill and Stephanie Ginther
from Cameron, NC
On June 13, 2017, Lynda Lombard from the S. E. Greensboro Lowe's came out to our house to access and get measurements for a new shower. I emailed her the shower information that I choose on that same day. She did not place the order until 6/28/17. We paid a total of $3590.89 for the shower and installation- invoice # is 1469116. From the very beginning, we have had nothing but issues.
7/26/17- email sent to find out when the shower would be installed, the same date shower was delivered to house.
7/28/17-install completed
8/15/17- contacted Lynda stating that the shower was leaking
8/30/17- Contractor was sent back out to investigate. Found that the door was leaking
9/11/17-Nikki Montgomery- Project Manager said that a part needed to be ordered for repairs
9/13/17- Part received-called and emailed Nikki and Lynda to let them know
9/19/17- called Customer Care Department because I had not heard anything from Nikki or Lynda
10/2/17-Still no response- emailed Nikki and Lynda again
10/27/17- emailed Lynda again about shower door issues-
11/1/17- New doors and sides installed
In July 2018, I started smelling a mildew odor in the bathroom
Contacted Lynda
7/26/18- General Contractor came out to inspect and found the shower had been leaking and needed to be replaced
9/21/18- new shower arrived on my porch
10/2018- made an appointment for installation of new shower
10/23/18- General Contractor came out to demo and install new shower. Upon demolition the crew found that the base pan was the problematic area. Installation halted, they then called their boss which came out to evaluate. Wayne stated it appeared to be a default in the design and that the new shower base was identical. He could install, however the same issue would occur. He called Lynda to report his finding. He stated that she would be calling us.
10/24/18- I email Lynda to find out what the game plan was going to be. She emailed back and stated that she sent info to Stefanie Blevins at CPO and asked what the next steps would be. Lynda called me around 2:45 today and states that she had heard back from Stefanie and was told that we would be getting a refund. We could go over on Saturday and pick out new shower.
We called Customer care at Corporate office. Spoke with David in the install complaints department, David stated that some showers just leak. Told him that was ridiculous and that people do not purchase showers that leak and cause mold in the home. Asked to speak to a Supervisor. Was transferred to a Barry. Barry stated that they have done everything they could do. He did not design the shower and was not responsible for upgrades or any additional cost and that Lowes did everything they were supposed to do. I Stated that they need have their supplier (Kohler) cover any additional expenses due to the numerous inconveniences this has brought to your customer. Once again he stated this is all he could do. I then when I was going to get my refund, that I needed to know a day. I also asked him when they were going to get the showers off my porch. He was not able to give me that information and made note to have Stefanie by end of day 10/26/18 to give me that information.
We have been without a shower at least 6 months out of the past year. We did not purchase this product from Kohler, we purchased from Lowes, because of the business that we have experienced with Lowes since 2010. This has been a very bad experience for us, and we would like to hear how you are going to hold onto a valued customer.
I am attaching pictures of the current state of our shower. As you can see in the picture, there is a heater in place to dry out and kill the mold that has began to grow. Also a picture of the showers that are on my front porch waiting to be picked up.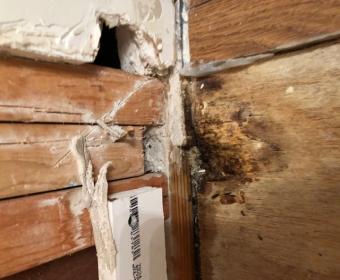 margaret m McGee
from Bethel Park, PA
I purchased a railing on July23 2018 to be installed on my front porch!!from Lowes on Baptist Road in Pittsburgh!!!! It is now October 24th and still do not have an installation date!!!Have contacted the store and customer service and am tired of the apokigies!!! I was suppose to get a new surface on this front pporch whih was ordered in june but can not be installed until the railing is installed and now because of the lateness ofthis my surface has to be delayed till spring!! I am very very disappointed with Lowes suppose to be a reliable store!!Dont think I will ever recommend this store also the railing parts have been sitting inmy driveway for two weeks when they were delivered!!! VERY POOR SERVICE!!

Lowe's made a clear error regarding my eligibility for certain rebates. The rebate department responded like automatons and refused to think it through.
The store manager in Medford had no such limitations. He understood the situation immediately and rectified the situation within moments.
Thank you Daniel!

We purchased a new toilet about 3 weeks ago and paid for installation. It started running 24/7 and when I called Lowes store where we purchased it, the person at the customer service desk started telling me to open the tank and fix it myself. I am a 70 year old men (my husband is overseas for a month) and they expect ME to fix it. This is our master bath toilet and I have mobility issues and I had to turn the water off to this toilet. I now have to go down the hall to another bathroom half asleep at night if I need facilities....this is unacceptable. We also had previous problems when we contacted Lowes for a repair to a refrigerator purchased there. They sent out a repair man who charged us over $200 and never fixed the refrigerator. Wish I could give Lowes service a zero star rating. I think we will be taking our business elsewhere in future.

Juanita Barger
from Robbins, TN
I had a complaint about an issue on oct. 18 2018 in Lafollette, tn. the manager Billy called and resolved the issue. thank you very much I appreciate the understanding. a faithful customer James and Juanita Barger

I contacted Lowe's to remodel a Condo I purchased in February of this year. My initial contact with the designer was wonderful. Jeanette was very helpful, talented, and listened to what I wanted. I went ahead and paid the $40,000.00 plus to complete a job I was told would be completed by June 15th of this year. It is now October 23rd and Lowe's has only worked for 1 day, and only part of that day. I pre-paid to take advantage of a 10% discount for all supplies and labor. I have paid thousands of dollars in rent I shouldn't have had to pay. I feel very taken advantage of and question the honesty of Lowe's. I saw a news report of a family that is going through a similar situation. My next step is to contact that same news station, however I would like to give Lowe's a chance to make this right in a timely manner. I am waiting to have a call returned from my project manager, but have not heard from her.
I wouldn't expect Lowe's to take advantage of me but feel as if that it is exactly what is happening.
Lee H Moore
South Tampa, FL

Robert W Givens
from Dover, DE
I had an appointment with Rosa Mandujano on Oct. 23 at 9a.m.The purpose of the meeting was to get an estimate for a new roof. It is now 10:30 a.m. I have called lowes 800 number twice and no one seems to be able to tell me anything. I was given Rosa's phone number. She is not answering her phone. Finally I contacted your customer service dept. The lady i spoke with contacted your store in Camden, De. She returned my call and said someone from there would be contacting me. Have not heard from anyone yet. At this point I am not sure why I bother to make this complaint. If your are not interested in my business not sure you will be concerned with my complaint. If you care to contact me my number is 1-302-653-5274

Juanita Barger
from Robbins, TN
Oct.18 2;30 P.M. while shopping at Lowes in Lafollette,tn. a sale sign on 42 gal. trash bags was posted for $11.95.when we went through line they rang up at $14.95 when my husband said they had a sign for $11.95 the cashier asked where the sign was, when he turned around it had been changed. She got really hateful with him. Jim told her just to put everything back. I went back in to see if the sign was still there I had seen, as I went through the door the cashier that waited on Jim and 2 more were laughing at the way she told him off. the sign I had seen was still there. I asked her to go with me so I could show her and told her I didn't appreciate her laughing at my husband She just peeled the sign off no apology or anything. We appreciate Jims' veterans discount but not the treatment he received, we drive 40 miles Jim is not well and is 78 years old. I called and complained was suppose to hear back within 24 to 48 house so far nothing phone number 423 319 7170

Verena Albertin
from Leesburg, VA
KITCHEN CABINETS INSTALLATION
On April 6, 1918, the cabinets were delivered to my house.
April 10, 11, 12 : Installation worked on but not completed; also, the Mocha Glaze quality was not acceptable.
They were replaced, but with the wrong color.
The same wrong color was sent a second time.
When the correct doors were delivered, one of the corner double door was missing.
The towel rack under the sink was not installed.
Then in addition the connection to the water for the backyard was cut off.
When the old cabinets were taken out, a leak of the faucet that feeds the water to the backyard was discovered.
The technician promised to come back and finish the job, including the connection to the water faucet in the backyard.
That did not happen. I had no water in the kitchen for about a month.
Lowe's then asked the company who had installed the countertop to connect the water.
They did that but did not include the connection to the backyard.
(Fortunately, we had a wet summer. I didn't have to water much after the planting was finished)
Since my return from summer vacations in July, August and September, I have called the Project Coordinator, Terry Vogt, several times to let her know, that I am now home.
She tells me that the installer will call me. He does not, and I'm told to be patient.

Kim Bangert
from Bozeman, MT
These appliances were ordered and paid for JULY 2018.
Does it take that long to get appliances? Was the hood fan paid for and not ordered or was that refunded also along with under counter lights?
(following are emails last I heard from Lowes)
From Kim Bangert
Would like appliances, stove, frig, dishwasher, hood fan and under counter lighting delivered.
Williams, Cynthia - Cynthia J
Mon, Oct 15, 3:50 PM (7 days ago)
We can set up the appliances for delivery the hood fan was not ordered and the under counter lighting was returned and refunded. I will give your information to the appliance team to be taken care of.
Cynde Williams
Install sales manager
Lowe's Store 0319 Billings, MT
406-655-9317

Dick Kelly and Janet Convertini
from Phoenix, AZ
We bought a new but dented and scratched fridge at a Lowe's in Surprise, AZ., we did get a great discount, but were rudely told that we couldn't get a Military Discount which we normally get, we understand that it is your Policy not to give another discount on a discount, and that is okay, except not a 'Thank You for your Service', but a rude no you don't get a 2nd discount, you are already getting a big discount, The delivery men were amazing, but they had to leave the fridge because we had to trim 1/4" off a cabinet, later we found that the divider for the top freezer drawer was broken and were missing a few other small parts. Called the store and again was rudely told that they couldn't help us with parts because of our discount that we were on our own finding the parts that we needed.....we understand you have policies, but the rude employees we do not accept, and we most likely will do our shopping at Home Depot from now on.....
Dick Kelly and Janet Convertini

Darryl steagall
from Los Angeles, CA
Went into Lowe's store in clovis ca. Yesterday to purchase a newage garage storage system at about $1500.00. I asked if she could give me a 10 percent discount a she stated she would have to check with the manager AUDREY. The manager stated no. The lady printed a quote and I walked up to the office where Audrey was and I mentioned that Home Depot always gives a discount to my boss because he is a veteran which I'm not. She stated I could get 5 percent if I opened a Lowe's credit card. I don't need a credit card !!!!! By the way I was sent to three departments before I got to the department that said she could order it for me. Shelving,, mill work,, & home decor. So off to Home Depot I will go even if I get no discount I will order from them. No flexibility, don't give a crap attitude about making a customer happy, and employees not knowing who orders what will send me elsewhere every time.

Gary Prutsos
from Long Beach, CA
I went I to the store on Bellflower to purchase a wall oven. The oven was on sale and they said it was a good idea to pay a service to come out and measure to make sure it fits. I said fine but the sale ends in 4 days do I get the sale price if it takes longer to measure the space. The associate said yes. I had problems getting the outside service to call back for an appt. So I went in today 2 days after the sale was over to cancel the service but I still wanted the oven. The appliance mgr said I could get a refund on the service but he could not get the sale price anymore for me to purchase the oven. If I would have known that I would have purchased it in the first place. I don't think that is a fair business practice. Please email or call me. 760)927-0334.

Allen Jones
from Birmingham, AL
Smooth Surface 5-Element Self-cleaning Slide-In Single-fan Electric Range (Stainless Steel) (Common: 30-in; Actual 29.875-in)
Item #: 804174 | Model #: WEE745H0FS
$1,099.00
Complaint - Stove is 3 days old and the oven doesn't work, called Whirlpool and a service tech was sent out - seems it's a bad fan sensor that needs replacing on a BRAND NEW STOVE - said it take a week or so to get the part for the oven that's never worked right out of the shipping box.

Leslie James Reynolds
from Winder, GA
Lowe's is ADVERTISING a pressure washer on your website: Troy-Bilt XP 3100-PSI 2.7-GPM Cold Water Gas Pressure Washer CARB Item
# 753004. for 50% off price of $199.99. Good deal, right! Not according to you its not!
Sales item is good thru 11/2/18! I Want to buy it and told you NO LONGER HAVE THIS ITEM??? Your internal folks I spoke to said its a discontinued item, and no longer available? Here is my beef..... if the item is no longer being sold at the store, why then do you promote the advertisement???
I find this deceptive and does NOT promote good will. Very upset about this.
I have been a valued Lowe's customer for many years and have never ran into this type of behavior! Here is my thoughts; if you had limited supplies of this product tell us in the advertisement. If the item is being discontinued store wide, tell us in the advertisement!! I would then understand that if I saw the ad and wanted to buy it but was too late to act on placing the order I would be out of luck and I would understand.. my loss, right!
I feel that the Lowe's of old would not do this. I can see Home Depot doing something like this, but never Lowe's.
Jim Reynolds
706-410-3884

Claudia Greene
from Orangeburg, SC
I was utterly frustrated during a shopping experience at the Orangeburg Lowes store on October 15. I went in to purchase a trimmer. I asked for assistance three times over a 20-30 min period and was never given the help I needed despite calls across the store by three different customer service employees. Needless to say, I left the store without the intended purchase. I guess, , selling to customers is definitely not top prior at this Lowes store; neither is customer treatment!

Being treated as if your a shoplifter when you arent. Refunds for returned items should not be put on a "gift" card. If they are you must prove who you are and allow Lowes to take down all the information they please from your drivers licenses, which they demand from you and will not honor the refund unless you produce it.

cheryll anderson
from Brighton, CO
Owner of apartment building ordered a refrigerator and toilet to be delivered from Glenwood Springs store to Rifle, Co on Saturday, October 13th, 2018. Received call on the 12th that it would be delivered between 7 and 9 am. I am the manager of apartments. I got up at 6:30 to be ready for delivery. I also have to go to work usually at 9 am. Made arrangements with my job to be possibly late because of delivery. Got a call from driver at 7:45a,m, that they would not be here until 10-12. Called the store manager, he did not apologize and said we could reschedule the date. Are you freaking kidding me. He also said he would contact driver and let me know... still no call. What the hell kind of service are you people running here? YOU made the confirmation call. People schedule their lives around your deliveries, then you change the horse in the middle of the race???? This is so RUDE, INCONSIDERATE< AND WRONG ON SO MANY LEVELS!!!! Going social media with this..... HOPE YOU HAVE TO WAIT TILL WHENEVER FOR YOUR PAYCHECKS!!!!!!!! have a great day, thanks for ruining mine!
Thanks for your feedback!
Sorry. Please try again later!