Vodacom
Vodacom Complaints Continued... (Page 2)
643+ reviews added so far. Upset? Call Vodacom corporate: +27-8211

Frik Prinsloo
from Johannesburg, GT
Vodacom, you criminal basterds
My email address was canceled yesterday after 20 years in use just because I do not want to reniew my contract. (You criminal company will not bully me into a contract)
I am for years now on pre-paid because of you absolutely bad and incompetent service.
082 619 9012 are cancelled and made available for contract users only. This is what one of your criminal employees, Selina told me over the phone today.. You are a typical criminal rasist, coward british company that targeted the Afrikaans Boere in South Africa. You will not use you criminal tactics, same as with Yvonne Rossouw 20 March 2017 where you decided to change agreements and contracts as you like.
I will begin as network to expose you as criminals. Watch the media.

Adele Opperman
from Cape Town, WC
You have debit my bank account with R1086.48. I phone 114 to ask why and complain. Now all of the sudden I am in a arrear of over R2000. Really I don't know where the hell you get this because my debit orders go off every month. I down grated my contract a month ago were the consultant over the phone told me I will be paying less from this month and now I am Paying more. I want my money back immediately not next month now. This is fraudulent and I am not going to take this. Because of your miscalculations my debit orders did not go off and I have to suffer the consequence's. I am very disappointed and at this point I feel like cancelling my contract. Where do you get off telling me I am in arrear. I have never been so insulted in my life, and for the record please train your consultants so that they don't give incorrect information or accusations if they don't understand the system or how to read a dam statement

I bought airtime at 01.11 this morninv for r110 which was deducted by vodacom but it shows nothing on my balance.Phoned vodacom at 14.52 today and lady said there is no ref.nr for me i must go to my bank.I think this is pathetic unless this is the sop of vodacom.

regardt steyn
from Klerksdorp, NW
i upgraded November on a business contract to a Samsung note 9
the phone started having problems charging and they advised me not to let the phone die before i charge it(which is sort of impossible because i dont have a desk job)
it shut off again and would not restart so i took it in,they sent it for repairs under warranty,they replaced my screen which there was nothing wrong with. sent it back again for same problem, problem is still there but now they have managed to break my bottom speaker which distorts now and my charging port doesn't work all the time
such an expensive phone should be replaced by now its unacceptable that the repair center at potch doesn't have the knowledge
REGARDT STEYN
071 483 0597
REGARDTCSTEYN@GMAIL.COM

Mariana Pollard
from Randburg, GT
I will not even give the experience at all but the system does not allow me to cancel the first star.
My cell no is 082 374 7874 and up to April 2019, my payment was R 1 062.69 p.m.
Ojn 10 April 2019, I went to the store in Bayside Centre to upgrade the one line 060 528 3209 which was due for upgrade.
I informed the salesperson, Claudio, that I cannot pay more than R 1 200.00 per month for both phones and that he should show us phones within that range.
He suggested the A9 (at R899.00) and when I queried the price, he said i can do an early downgrade on my phone to a total of R299.00 which will then bring the total for 2 x new handsets and contracts to R1 200.00. He said that i could only do the downgrade in May 2019.
I asked him to make sure about the facts as i will not be able to take the A9 if his calculations is incorrect or if i will have to pay a penalty fee for the downgrade of my phone.
Claudio assured me there will be no additional fees and i then signed the contract for the A9, on condition I would return to Vodacom in May to downgrade my phone.
On my return to Vodacom in May, i spoke to another salesperson who, to my shock, informed me that Claudio did not give me the correct information and that if i downgrade my number, i will still have to pay R412,28 handset fee until the expiry of my contract in October 2019.
On confronting Claudio, he admitted giving me the incorrect information as he is still in training and thought the info was correct.
When i requested to speak to the Branch Manager, Remelia, she conveniently was not available. i returned to the Bayside branch the next day but the manager was still not available.
I wanted to cancel the contract for the A9 as i cannot afford it, but was denied the opportunity and was referred to Thermaine in the Tygervalley branch.
Thermaine was never available and in spite of many requests for her to return my calls, she never made contact.
On 20 May, a Michelle called me from 060 464 1097 to tell me she is looking into the matter and will call me back soon.
Two weeks went by, without any contact from anybody in Vodacom. I then called the Tygervalley office again, but was told by Michelle that she never speaks to customers and she could not assist and once again Thermaine was not avaiable.
I called the Bayside Branch and was told that the manager, Remelia, does not work for the company anymore.
I managed to speak to Colleen at CRM - after a few calls from her, i was told that Claudio told her the Vodacom system was down and therefor he gave the incorrect quotation.
I asked who will be held accountable for this as i NEVER would have signed the contract for the A9 if i had the correct information, she said i must take it up with Claudio, the incompetent salesman.
When i asked to speak to a Vodacom manager with sufficient authority to solve this problem, she said that Thermaine is the only person, but she is not available and therefor i can make a civil case against Claudio.
i am furious as i was told that i can cap my account at R 1 200.00 per month - this was a lie - and none of the Vodacom staff is prepared to assist me.
i fail to understand that a company like Vodacom does not expect staff and managers to be held accountable when THEY were lying and that you allow incompetent staff is allowed to deal with customers and sign contracts.
IS THIS PERHAPS THE NEW NORM AT VODACOM THAT STAFF MISLEAD AND LIE TO CUSTOMERS, SIGN CONTRACTS TO GET THE HIGHEST COMMISSION AND THAT NOBODY IS PREPARED TO ASSIST THE CUSTOMER!!!!!!!!!

Daryn Foxon here. l am from mid illovo kzn. My complaint is that the tower near me is not working and vodacom is doing nothing about it!! Not only that the light on top of the tower is not working. Last wednesday night, there was a helicopter that was flying around, a police helicopter, all ican say is that i am thankful that the helicopter did not fly into the tower!! if it had done so i would have gotten hold of the media and told them that i complained to you guys on numerous occasions and you guys sat back and did nothing about it!!!!! and if you continue to ignore us, i will then definitely get hold of the media!! not only that the tower does not work properly, the coms comes and goes all the time, and we all have contracts with u guys, we are paying customers. Vodacom trust me on one thing if you do not sort out the problem now, i will approach the media!! i am sure you have heard of wendy knowler (east coast radio consumer watch), and i will get hold of the mercury and the natal witness regarding the safety hazard for low flying aircraft!!! Try me i dare You!!!!
regards Daryn

The increase on my monthly premium so far I don't understand what are there for from 388,58 to 398,99.

Mrs F. Hattingh
from Sandton, GT
Dont know who to turn to anymore. Have contacted vodacom insurance as well as customer care numerous times. i cancelled my insurance on 2 of my phones due to bad experiences with vodacom in April already still i get billed insurance fees. Each time i talk to an agent they tell me the problem is sorted. This morning i opened my invoice for June and guess what my insurance again has been deducted on the 2 numbers that i cancelled in April already. I want this sorted out and my premiums paid back.

Jennifer de Jager
from San Mateo, CA
Hi. I cancelled my subscription for 0826522835 last month. Spoke to Simpiwe who said it would cease at the end of May. However I have just been billed for the subscription of R751.75 but no airtime was added to my phone. I cancelled as where I live there is no Vodacom service most of the time and I am left with no communication. Please sort this out immediately. I am tired of paying for a service that I do not get. I have 2 routers which are still active but preferably would like to cancel everything as I can never use my data as there is seldom signal.
Request urgent attention. I cannot phone customer care as have NO signal!
Jennifer de Jager
0826522835

Asanda Kupiso
from Johannesburg, GT
I have cancelled my contract on Saturday 01/06/2019 and i have requested a paid up letter. The consultant that was helping me on Saturday confirmed i will only be able to get the paid up letter on Monday 03/06/2019 and he will cancel the contract on his side and escalate my request of paid up letter to the legal department.
I called today 03/06/2019, Nhlanhla told me the contract was not cancelled on Saturday i must call the customer care and Lerato from the customer care also checked and confirmed the same she put me through to the cancellation department as i needed to speak to the manager of the department. Lizwi answered the phone and he told me the Manager is in a meeting and i asked for the Managers email address he told me NO he cannot provide me with email address.

ANN VIEIRA
from Pretoria, GT
Good afternoon
I am writing to you very annoyed at the service I received from your call centre. I have tried twice this morning and unfortunately I was put through to cancellations and spoke to NTHABISENG who politely just put me back to the call centre without even listening to what I had to say.
On Friday a lady phoned me and explained a data contract to me that is R199 per month and after I asked many questions one being if the data can be transferred to my grandsons tablets and my daughters cell phones she said YES. She also told me that now they will have enough data to phone. I AGREED TO THE CONTRACT ON CONDITION MY CURRENT 2 gig portable wifi is cancelled. She said I can do that if I phone 082111. I then contacted Cellucity at Baywest in Port Elizabeth and spoke to my contact lady there that assists with all my contract. I WAS TOLD THAT I CANNOT TRANSFER THE DATA TO ANY OTHER CELL PHONED.
I IMMEDIATELY PHONED YOUR CANCELLATION DEPARTMENT TO CANCEL THE CONTRACT. I RECEIVED AN SMS THAT READS:
"Good day. Cancellation not done, as the new activation is not active yet."
The gentleman that I spoke to said that he put through the cancellation to happen immediately.
PLEASE NOTE THAT THIS CONTRACT WAS CANCELLED IMMEDIATELY AS THE INFORMATION WAS INCORRECT WHICH IS FRAUD. CONFIRM IMMEDIATELY TO MY CELL 0823438003 AND TO MY EMAIL ADDRESS THAT THIS CONTRACT IS INDEED CANCELLED
Regards

I am canselling our rooter upgrade and new rooter contract
Waiting a week for delivery from RAM
AND NOW I AM INFORM IT IS SENDING BACK TO VODACOM
YOUR SERVICE SUCKS

mabongile mathambeka
from Johannesburg, GT
ive bieng calling vodacom from feb till yeatsrday i dont get any help regarding my contract, i had 2 contract with vodacom one ended then i cancelled it and the other one i requested a premature cancellation they send me the letter with the amount that i have to pay, ive paid then send them my id copy and the form as requested then they didnt debit the last debit on the 25th of feb, then the following month they debited i thought its was the last debit then april they debited money for 2months when i called they check and promise to refund me and cancell the contract for 0793046404 that dint happen untill i reversed the amount, i called them again yeaterday they promised to check on my account and call me back they didnt
im requsting my account to be checked from last year september becouse thats when this started
please help you can contact me on 0730250593

SEDUMO MAQEKENE
from Pretoria, GT
Good day
It is with great unhappiness to send this mail.
My Vodacom contract 0614115823 ended yesterday and Vodacom consultant "Lina Sathekge (VD) satlin@vodadealers.co.za" assisted me to convert number to prepaid
And RICA it immediately and I tested it there.
To my surprise that isn't working today and I called 135 and I was transferred left and right till at contract department.
I never get a bad experience like that, from both agent Nosipho Nqezo who kept me holding on line for more than 30 minutes and believe she was drunk as I repeated ID more than 5 times getting it wrong.
Then she said she cant help then she called her very rude supervisor Yanga kokstad.
Yanga said cant help me as he cant locate my number on their system which was strange to me, I gave him ALL possible info to trace it like my ID 7901275540088 and my number 0614115823 and he just insisting
That my number have never been Vodacom contract and therefore cannot assist even when I at least ask him to call Lina or send her a mail since she confirmed my number is RICAed.
The call was around 10H30 till after 00h00 this is really bad as this is my also standby phone number and I cant receive calls on it.
I was about to check which contract I can get but after this service I will never even recommend Vodacom to anyone. And this will go to media including hello peter as I am stressful with no calls.
Kindly assist with this urgently or transfer to complaint department.

nelavs@mweb.co.za
from Johannesburg, GT
I have done an upgrade on both my numbers linked to my account. 0795226336 + 0762217074
the store did not have a handset for the one number upgrade 0762217074 and said data promotion for additional 1gb per month on no's
YET only 350mb received today on both numbers and for some weird reason the 0762217074 that i have to pay over R400pm is exactly the simple same package loaded as my 0795226336 R139pm for the special WHY WOULD YOU CHARGE ME 4 TIMES MORE FOR LESS THOUGH
WHERE IS YOUR SPECIAL AND ALSO WHY DID MY DATA AND VOICE MINUTES ON BOTH NUMBERS NOT CARRY OVER FROM MARCH TO APRIL ETC. i have been asking for a month now and begging for a statement and on your app it keeps saying not available.
WHAT IS GOING ON .
FIX MY NUMBERS IMMEDIATELY
YOU CAN NOT STEAL FROM ME AND CHARGE ME ALMOST R600 ON MY ACCOUNT FOR DATA I CAN BUY FOR R12....

I have cancelled my vodacom contract, but I am still being billed. The call centre agent assured me that my contract has been cancelled. I even called the insurance department to cancel my insurance contract as well and I was told that my insurance contract has also been cancelled. To my surprise I am still being debited. I was promised a promotional package for R89pm which includes 2GB worth of data and R125 worth of airtime. This didn't materialise either. Poor service.

Reynier van Tonder
from Pretoria, GT
I have been overseas for two weeks and vodacom activated my credit limit bar. Five lines blocked. I lodged a dispute about the data usage and requested the limit to be raised to at least be able to use the lines. Funny that data usage peak abnormally high when free wifi was available in all hotels and my mobile data was only active for very short period during the days. They cannot/refuse to provide me with detail on the usage. Will only investigate after 3 June after account has been settled. Lines are opened for a few hours and blocked again. Ongoing since 21 May 2019. No business will invoice a customer without been able to prove what the invoice is for. Vodacom is obviously different.
One contract expired and I cancelled it. Next 4 will follow soon.
I have visited vodacom dealership 4 times. Customer care numerous times. Can't escalate the problem.
Can anyone help?

i have assigned to get contract services for data bundle on the 18-03-2019 nothing was done or confirmed with me that did i receive the goods with no luck nothing was done to show difference on my starter park, i than continued as normal with the sim card i had given them my details,now am expected to pay for services that was not delivered as agreed.
what concerns me most is that the consultants i spoken to did not give me contacts to call if i have any further delays or complications and i checked for the numbers that called me which was 013 101 0401 which just went to no answer switch board.
Now my SIM Card is blocked because i reversed the debit order hence i saw no service delivery that leads me to want to lay a complaint or just open a case for this.i also thought ALL OF THIS CONTRACT SET UP IS FRAUD

Viola Golden
from Johannesburg, GT
On 29 April the reward department from Vodacom contacted me and offered me a data package contract, informing me that I could transfer data from this line to my other existing data lines aslong as they were Vodacom contract data lines. Based on this offer which I confirmed more than once, whilst on speaker phone in the presence of two of my contract users, I accepted the offer. Only to discover after activation, that I could not transfer any daya to my other data contract numbers! I queried this with Vodacom on several occassions with several different consultants. I requested the recording of the specific tekephonic conversation which is a verbal contract based on the facts in the convetsation. Instead of granting me a recording of the conversation, which is my legal right, I was simply advised to cancel the contract. I refused this as I want what was offered to me by Vodacom. The last Vodacom consultant contacted me on 20 May, ensuring me that Vodacom would have a meeting in this regard and get back to me by 24 May.... I am still waiting. Kerry (Vodacom consultant) why is Vodacom declining from granting me a copy of the telephonic conversation??? You yourself refered to what was said 1 minute and 2 minutes into the call... so Vodacom does have the recording.... I want the recording of that call which was just over 17 minutes long,where the facts are evidential. I have been an excellent paying client of Vodacom for many years and I request Vodacom to compensate me and resolve my issue. Vodacom, leading cellular network provider.... really? This is my second complaint on an unresolved issue... a month later....

I have been a loyal Vodacom customer for about 25+ yrs
.
I am now a pensioner and have to contain my monthly expresses tightly, so the last time I renewed my contract, I made it clear that I be given a contract with a fixed monthly payment amount that would not escalate at all, with a top up facility if I needed it.
The Vodacom sales agent that assisted me at the time of my last contract renewal assured me that my monthly installments would be fixed and would not increase with even one cent throughout the duration of my current contract term
From 25 Apr 2019 my monthly bill has suddenly increased by R10.41 pm month. I called their customer care line this afternoon to query this and their reply was extremely cold and non caring Their CSC agent said that an sms was sent stating that they were upping all contract holders bills in accordance with the clause 5.8 in their contract that allow them to do this when ever they wish to do so, and that was that nothing could be done for me I should just accept that, end of story
I find this absurd and a rip off as their sales agent didn't inform me of the 5.8 clause when entering my renewed cell phone contract with them.
If they had warned me at the time of me renewing my contract, I could then have made an informed decision to accept this clause'es consequences or choose to move to another cell phone provider
My warning to anyone that I from now on come in contact with (or be it via social media) is to alert them regards Vodacoms clause 5.8 giving them the right to increase contract holders monthly billing as the like or might feel fit without giving any valid reason doing so.

Elizabeth Blain
from Boksburg, GT
0826524385 I have been trying to cancel this phone for a month now with no help from any of your staff. I was told the phone was now under Elite Mobile after a number of calls backwards and forwards getting nowhere a kind lady at Elite Mobile told me it was actually with El Tel. I was never advised of this and I was never contacted to invoke a contract. This phone will be 5 years old this year. I no longer need it and insist that is is cancelled with immediate effect. I wish to invoke Section 24 of the contracts policy. Your staff are not at all helpful. I have contacted a lawyer and she informs me I can give 20 days notice which I am doing now.

I booked my Samsaung Note 2 in repair at Secunda Voda 4U, on 10 February 2019.. It was then sent to Nelspruit for repair and I was quoted plus minus R4500 to get the "Charging Block" fixed. I told Secunda Voda 4U as well as Nelspruit Repair Centre that I have insurance on the phone and they confirmed that they are able to fix the phone at the above cost.
Repair Centre at Nelspruit sent it back to Secunda. I called the Insurance who confirmed that approval was granted to fix the phone.....................so the phone was sent back to Nelspruit. The repair centre came back saying they do not have spares for such an old phone.
Two weeks ago, I went to Voda world in an last attempt to get.............better "customer care"...which I did. They showed me a A30 phone and I would have to pay in plus minus...R1500 should I take that phone.
Friday 24 May 2019, I went back to Secunda Voda 4u...choose a phone (A30) and was told to wait for an Technician Report from Nelspruit.
needless to say......I AM STILL WAITING FOR VODA 4U TO CALL ME!!!. Whilst in the shop, I tried to put a Simcard into the phone (which was still working 10 Feb 2019) and was informed that the Simcard reader is now also broken............which was never the case before.
What can I do????
Would I be able to get my insurance money back?

Abrahm Mashiane
from Benoni, GT
my prepaid number ..0607612360 has been ported without my approval or concern,i have received a text msg late last night to say vodacom has approved porting of my number,and now as it is my fone can't even access any network wich i'm eventualy loosing out of calls.

Elize Theunissen, ID 5202250177083, Telephone number: 082452 8232
Iordered an upgrade now at least three weeks ago.
The phone was delivered with the incorrect ID number and therefor the courier service took it back.
After ENDLESS call centre calls I started sending e-mails.
I STILL DO NOT HAVE MY PHONE!!
Below are copies of correspondence with Vodacom. I have not heard another word!
Right at the beginning I was sent this e-mail:
Hello Elize,
We have received your request for a new deal and your reference number is RC0P4Q
A Call Centre agent will contact you within 24 hours to complete your new deal request.
If you don't hear from us within the next 24 hours, please call 08217844, FREE from a Vodacom cellphone.
The Vodacom Online team
Vodacom
I have never received a reference number.
When I asked I was told to use my cell phone number, which is 0824528232
Speedy service would be appreciated!
From: CUSTOMER CARE DOCUMENTS [mailto:documents@vodacom.co.za]
Sent: Friday, May 17, 2019 12:00 PM
To: elize.1may10@gmail.com
Subject: EC-1R4P-2X1XV4 Change of ID number on Vodacom Records
Good DayThank you for your e-mail communication received.If you wish to be serviced via email please add your Service Request Reference Number in the email subject line.We look forward to further communication with you.Kind regardsVodacom Customer Care (082 135).
-----Original Message-----
From:Elize Theunissen;
To:Document;
Cc:
Subject:Change of ID number on Vodacom Records
Attached is a copy of my ID Document.
A system error on your side has resulted in my ID on your records to be incorrect.
I have been a Vodacom client for probably more than 20 years and have had multiple contract renewals and upgrades.
I have just processed an upgrade with your call centre.
The new phone was brought for delivery yesterday. However the ID on the delivery note did not correspond with my ID number, resulting in the courier company, RAM, leaving with the phone.
I have been on the phone trying to rectify this. I was put through to multiple centres and agents.
Yesterday Luyanda supplied me with a number to phone (082 178 44) - no help!!
I was then told to phone 082135 - no help!
Finally Mbali assisted me and said I should send a copy of my ID to the above address.
She also advised me that this matter will be attended to within 1 to 7 working days!!
On rating the service levels I entered 0 and confirmed that multiple times.
YOUR CUSTOMER SERVICE IS ATROCIOUS!!!!!!
Elize Theunissen
082 452 8232
ID: 520225 0177 083

Mrs MM Kruger. Cell nr: 0826181757. ID 7202100001085
Vodacom called me and said that thy will save me money if i changed my sons contract witch is on my name. when i got my first invoice i saw that my contract was now R300 someting. I asked that thy must change it back to the way it was, because i am not prepared to pay that amount for a child's phone. My bill came to R1235.43 this month. It is unacceptable. When this contract is finished i am taking it away from vodacom. And i am telling all my friends and family not to support vodacom.

Hi
I'm a very dissatisfied customer as vodacom recently billed me for a service I did not subscribe for. I have a contract with vodacom I pay R759 all of a sudden my bill is R969. 01 they added a service u choose flexi rental without my authority please refund me for as I did not authorize this instruction on my contract I'm very angry and I need an investigation to be done the person who loaded the service to be punished accordingly as this has inconvenienced me. I believe the person done this on purpose to get sales they must be punished for this and I need vodacom to call me or I'll cancel this bloody contract.
Regards

When I want to upgrade I was told to pay in, I pay my account every month to vodacom.
First I had problem with the Insurance with vodacom, now on my upgrade. I want to cancel my contract with vodacom, how can i go about this. I'm really not happy with the service i get from vodacom.
Kind Regards.
Bedelia Noble.

Barry Smith
from Durban, NL
I have on 2 occasions been contacted by Vodacom agents offering me data deals. The first was SIM only, which I accepted and was told that I would receive the SIM within 3 - 5 days. It never happened. Recently got offered the same deal, but with a router, which I accepted, but never received. Contacted Vodacom customer to make enquiry, but they can't tel me why it was canceled, or who canceled it. Shocking service, Telkom here I come!

Godfrey Lesenyo
from Johannesburg, GT
Please process my vodacom account and stop your MBD consultant to harass me, there's sufficient funds in banking account with the following details:
Capitec bank
Acc holder: Godfrey Diteko Lesenyo
Branch: 470010
Acc No: 1214959782
Branch name: Kimberley
Thanks

LISA HALL
from Sandton, GT
I signed a 24 month Top Up Contract earlier this year. To my knowlegde I am supposed to pay a fixed amount (and I also ask the assistant this about 10 times) for the duration of the 24 months. This month, I noticed that Vodacom debited my account with more than usual. I called the call centre only to be told that there has been a price increase. I SIGNED A CONTRACT FOR 24 MONTHS, surely they cannot do this. If they can breach our contract then so can I. I was never even informed about a price increase. Please advise because I am also of the impression that this is a breach of the National Creidt Act.

Nela
from Johannesburg, GT
Vodacom did not carry over my call minutes or sms 's
When I phoned the agent said it was still there just showing as 2 different sets but yet I did not get it
Stole all my money paid for that
So either refund me months of premium or give me m minutes back on BOTH nubers on my account 0795226336 and 0762217074
When I mail the beat around the bush not answering my question at all

Dreadful Customer Experience with Vodacom
I spoke to a Vodacom agent called Phindiswa Rakotosi...I needed guidance on the steps or process to be followed to get my phone activated after delivery. She seemed very irritated by my questions, was very sarcastic curt and dismissive on the call.
The more questions I asked about, the more she seemed to be irritated, this was evident in her tone and how she spoke over me multiple times.
This agent does not care about her customers and how she makes them feel.
What was even more appalling was when the Team Leader called me back and he seemed to not be interested in acknowledging my feelings or the experience I had on the call. According to him, there was nothing wrong with the call and the agent's conduct. He kept on reiterating that she did what was required to do, which to activate the phone.
I cannot be part of an organisation that does not care about it's customers and the poor manner in which their staff members interact with customers.
I have decided to cancel my contract with Vodacom...the bad experience was a motivating factor that they do not care about their business!!!

Hi there
I'm very upset as to the services I have received , being a loyal customer for now 20 years and my business contracts are 6 years strong.
I want to make this as short as possible. I was offer an upgrade on my account I collected my phone and tab and was advised that , there is a special offer on a Samsung cover of R500. I told the store I collect it from ( Bluff Vodacom DURBAN) I would go to the store nearest to me in Durban Central Old fort Road.
On arrival to the store I spoke to a member of staff and they where unsure of the promo , I asked to speak to talk to the manager .
She was very rude off the set and said that the promo is finished . I told her to please double-check as the bluff store has it. She refused to. Even after I called the store and confirmed the promo was on, she snubbed me and didn't want to take my phone.
I then drove all the way back to the Bluff and purchased the cover .
I then called to speak to her , I left 3 messages and no call back I got her on the 4th call.
She just said to me she made a mistake and I must come in after I told her that I had gone all the way to the bluff, She says there's nothing she can do about it .
I said that I am going to complain about the service and the ladies words where " Ya Go Head "
Now seriously is this how a customer shud be treated .
I am honestly thinking about changing my service provider as this behavior was unacceptable and more so I have wasted to much of my time and money , ever after telling the lady to double check.
The Managers name is Aaliyah Mohammed from the Old Fort Road Branch.
Please note I have all the phone calls recorded .
And can prove what I said in detail .
I really need a response as to what has happened and how vodacom is going to deal with this manager, its not acceptable for staff to treat loyal and a R 5000.00 per month customer that way .
I would accept a proper apology from this manage and the fact that I have wasted my time and petrol running around unnecessary .
Regards
Mishal Nana
MAS NANA DRY CLEANERS
0737566589

poor service up until today I am still waiting for my upgrade Vodacom sends to every department except helping me with my upgrade, wasting time and money contacting the call centre not helpful at all, pathetic.
Vodacom SP: Upgrade quotation 13080478 has been generated. Should you have any queries, please call 0821959.

Upon inquiring about a sim swap from my new contract number to my old number, the attendant at CG shop mall at Cape Gate insisted that I cancel my contract and start a new contract with my old number. I should think not. Please assist. My old number is 0825098234, the new number is 0609603554. My ID is 6404195030083. Account nr: 17560916. Please assist?

Jeandre
from Pretoria, GT
My phone went for repairs. Received sms on 13 may to say my phone is on its wAy to be collected on 20 may i wend to store my phone not there they told me wednesday but until know i stil not received my phone. This is more than 3 weeks.


To whom it may concern
I have just received a call from a Sam Dawood (Not certain if this is correct), from a Vodacom call center at which time I was asked to take out insurance for the 2 cellphones I have just gotten from Vodacom. I had asked the rep to call me back and to my surprise after asking some simple questions regarding the cellphone insurance, he became very disrespectful and refused to give me his managers number. To the point where he actually put the phone down as I was speaking. I am appalled by the manner in which I was handled today.
Coming from mtn I am completely disgusted as I have never been handled in this manner before in my life.

isaac@conclear.co.za 0792380375
from Pretoria, GT
in October 2018 I purchase a datta bundel for 12 months for 1gb per month on above number.
I have not received my one GB PER MONTH .Please check your records and rectify the complaint
as I have to purchase datta separately.

I have a serious problem with vodacom as the callers mislead us, I was told about a 30 Gb offering that will help reduce my two other contracts that I have , but to my surprise it has doubled my instalment I specifically asked the price on purpose knowing that I was recorded and today the price has increased instead of decreasing as they claimed.
I need to cancel this , I am not mad to take a SIM card and pay R300 without a phone or router, this is miss- selling

Lynn Rex
from Cape Town, WC
Vodacom creates problems but their consultants are not able to fix it. Ive been calling since the 1st April for minutes which was supposed to be part of my upgrade package on the 12th April 2019 the minutes was allocated but with a cost. I then logged a few more complaints which was just closed days later no explanation no communication nothing was done. Now I'm charged double for the minutes I need to pay 50% as the quote I received. To get them to reduce it its a hopeless case being transfered from upgrades to customers service its been going in circles don't know how vodacom can stil be in business with all those people unable to resolve any complaints. For 2.mnths

David
from Parktown North, GT
This is in relation to my premium been increased without notice.
I have called to complain about this before as my contract agreement was R340 a month. It then went up to R390+-, and the reason the agent gave me was that vat went up to 15%. So I tried to explain to him that 1% was R50, clearly Vodacom hires the right people. It took me over 5mins to try explain that a 1% increase does not equate to R50. After a good while he decided to go and confirm what the increase was about. When he got back to me he said it was to fund Vodacom to pay for marketing as well as better reception which in either case does not affect me. However I did leave it. Then I see this month it went up to R408! (not sure if vat increased again lol)
This now becomes alarming because I cannot trust Vodacom and take another contract with you as mine is due to expire this month.
If this is not resolved with proper explanation of my increases I will be sure to let a lot more people know about what you guys are doing.
It might seem as a small amount of money, but if you do it to more of your clients it could equate to millions a month.
Thank you, and I look forward to your response, all I am asking is to be transparent.

Julandi
from Pretoria, GT
Vodacom Standerton is the worst. I booked my devices in for repairs 12 days ago,never got a sms with a job nr and whrn I phone them,the technical guy is never there, I phoned for 3 days,left messages,and eventually got hold of him,only to tell me their system is off line and my devices have still not been booked

Sohana Mannie
from London, ENG
Dear Sir/Madam,
On the 30 April 19 I (Sohana Mannie, ID: 7711300174080) took out a new contract (076 613 1203) for my daughter (UChoose 230 PLUS 2GB Data monthly) on a Hauwei P30.
The conditions of taking the new contract was that, New deals advised that we should do a once-off pay-in of R8640 and thereafter we would only pay R230p.m for the 24months period plus we would get 2GB of data monthly over and above the R230pm.
The P30 was delivered on th 6 May 19 with invoice attached. On 1 May the R230 was debited of my account but on Friday the 17 May i looked at my online statement and now i am being charged R589pm and not the R230pm agreed telephonically. Also, i am not receiving my 2GB of monthly data as promised by new sales. I also need the banking details were i can pay the once-off R8640 so we can keep my monthly payment static at R230pm.
I have spoke to over 10 people these past 5 days going back and forth from one department to the next without any progress or resolution.
My request is for someone senior to please intervene and resolve my query soonest as i am not sure where to go from this point.
Kind Regards
Sohana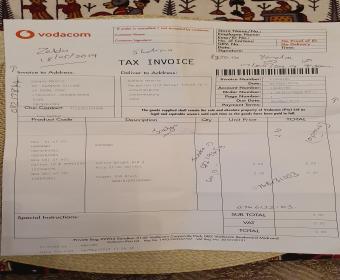 Phumela
from Johannesburg, GT
Ref number: 23868278. Agent Name: Kleinhansr. I applied for a new contract at Vodacom Clearwater Mall last Saturday 04 May 2019. This is for the 90GB data promotion. To this day no one has contacted me regarding the status of my application and I know for a fact I have a very good credit record and the monthly payment is negligible. I have attempted contacting your after sales department several times and been told application is in progress...how long must this go on for????

molebogeng from limpopo
from eManzimtoti, NL
poor services and unfair treatment
i was paying my insurance since 2014 when i started using the smart tab 2 with vodacom and it was insured with the 082 496 5808 number, 2016 i upgraded to sumsung j1 and continue with the insurance, the tablet got broken and i claimed it from cellsure they replaced it within turn around time. then on the 25 feb the tablet got lost and on 13 march i upgraded to sumsung j2 core, then when i claim the tablet they told me that i have to wait for the pending transaction of upgrade to be finalised, then i waited till the 1st april, i continued with the claim on the 4th april and they kept quite untill i called them on the 23 April 2019. i was assisted by Thobile and she told me that the insurance has been declined because i never told the insurer that i am giving the phone to my son.
i asked her that since i know that im am under cellsure and now i am surprised that you tell me that you are from finrite did you ever send me your terms and conditions regarding the claims, because what you are telling me i hear it for the first time when i upgrade i asked about the insurance and they never explain what you are telling me now, and why all along you were quite you waited for me to call and ask you about the progress is when you tell me that it was declined. she then asked me if she can cancell the insurance i said yes but before you cancell it let me ask you something, then i requested to talk to the supervisor she asked me why and i told her that i am not satisfied and she put me on hold for more that an hour and a half till they hang up on me.
to my surprise today on the 7th may when i check the progress i was told that the insurance is cancelled and there is no claim or despute reason being that i have requested the claim to be cancelled. i then requested the recording for that day and they told me that it will bw available within 3 days which is 72 hours. i am not happy with the manner the finrite is operating their consultant are so rude and emotional. i even told them that i was happy with the services hat was rendered by cellsure.

i have been recieving absured accounts from vodacom every 2-3 months with outstanding bills , i have not been in the country for 8 months there have not used my vodacom account . i will not pay account until this matter is sorted out , or elsi will seek legal advice

AYOB NAKOODA
from Durban, NL
Upgraded old contract got new phone Pinetown paid necessary costs but was never informed that this phone huawei p30 lite needed a nano sim. on saturday 4th May did a sim swap at a vodacom outlet in Chatsworth. up to now 7 may 2019 sim is not activated. called vodacom yesterday was told will be escalated. Called again today was given the same response email sent . i am on verge of cancelling contract with Vodacom and getting fone from rival company. Vodacom service stinks.
0721796753
phone no of contract : 0649077147

John Smith
from Cape Town, WC
My LTE service was fine for 18 months, with never less than 10 Mb download speed. Nearly 3 weeks ago it suddenly dropped to less than 4 Mb.
It is not a technical fault, as the signal locks on at 4G and shows good signal strength, and if I take the router 2 km up the road, it runs at 15 Mb ( normal )
I have spent ages reporting the problem and was given a ref number and told that it would be sorted out in 14 working days ( which over Easter is nearly 3 weeks ) It has been escalated, referred to Network and whatever countless times, and I have had promises that somebody would contact me with news, but nothing !
One mail said that they had tried several times to contact me with no luck ( I have 3 Vodacom numbers and nobody else has failed to reach me ), so that is bull.
Now I get an sms not on any of my phones, but on my router sms, which I noticed when I was checking the data left.
The sms tells me they have cancelled the original complaint as it has been resolved !!!!!
When I complained they told me they have raised a new reference number, which I suppose is to give them another 3 weeks to keep me in the dark.
I have been missing our favourite TV shows, ( and an f1 race ) all I want is my broadband back, and a refund for the 3 weeks it has been missing .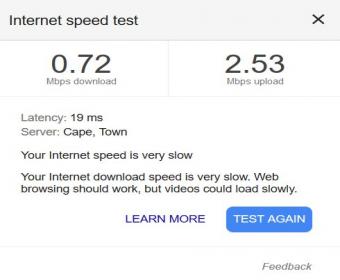 I have never come across such incompetency in my life from Vodacom. After being overseas, we have received a bill of R16000 plus from Vodacom when our data was switched off! The phone was then disconnected when we were overseas as they suspected "fraud" and now we have some spoken to innumerable persons there to get the phone reconnected to no avail. I am so frustrated with their lack of service, accountability and overall customer service that they should be reported to a consumer body for their lack of consumer care and fined heavily. They already charge exceptionally high data rates compared to global peers and they can be sure that I will cancel all of my contract with them at the soonest opportunity. Vodacom SUCKS!

Chatz connect
Address: Glasfit Building, N12 Main Reef Rd, Klerksdorp, 2572
Phone: 018 464 3922
We bought a Hauwei wifi modem in Jan 2019 on contract at the above shop. When we tried to use the item, we were told that the modem does not work without 4G, which was not available in our area. We immediately contacted the shop. They said we could return the item, and they would send through a cancellation. We handed in the item within 30 days to the shop. We are still paying the monthly premium without any service. The cancellation is not done and the shop keeps the item. We phone the shop constantly with no feedback. They keep on saying they will phone back or transfer the contract etc. but nothing happens.

Elizabeth Gertruida Halgryn
I've upgraded on line on 16 April 2019 on number 0826197171. The handset Huawai P30 lite Peacock blue was ordered and RAM Couriers wanted to deliver the handset on 25 April. They unfortunately could not complete the delivery due to wrong ID Nr information received from Vodacom. I called since 25 April until last week 2 May to try and rectify this problem. My ID was issued in 2007 and I did SEVERAL upgrades with my ID without any problems. Now all of a sudden my ID of 20 years ago pops up and Vodacom use it???
Today, 6 May 2019 RAM once again wanted to deliver the handset, THE ID WAS STILL WRONG! and the handset was taken back.
****I ALSO ORDERED A PEACOCK BLUE HANDSET, THE HANDSET THE COURIER HAD WAS BLACK?
Vodacom what is going on? I am really disappointed with your oblivious behaviour and also agents who promised to give feedback and NEVER DO SO? This is really unacceptable for me to not be able to conclude this upgrade deal and a simple ID problem can't be sorted out??? PLEASE I AM NOT GOING TO SPEND 3 HOURS AGAIN TALKING TO SEVERAL AGENTS THAT SURELY DO NOT WANT TO ASSIST.
MRS ELIZABETH GERTRUIDA HALGRYN
PRIMARY CONTACT NR: 082 879 7473
UPGRADE NR: 082 619 7171
CORRECT ID NR: (ENCLOSED) 6606040101089
WRONG ID NR ON VODACOM SYSTEM ALL OF A SUDDEN: 6606040101006

Sibonakaliso MTHEMBU
from Randburg, GT
I'm not happy about this rule that make me use 60 minutes of my 3 days minutes during night shift. Vodacom steal what i paid for instead of lettingvme use their night shitf first then my minutes. This thing is hurting and I wish it can be changed.

Good day,
I went on Friday to apply for a Vodacom contract at Westgate shopping centre.
I was told it was declined because I have to many lines. They took my paper work in and sent it through for approval as I only have the wifi from Vodacom. I was told it will take 1 to 4 hours to get it processed and be told if I can get the contract.
This morning i went back, still not done. I was told 1 to 2 hours still. 3:30 I get a call my signature not right, I go re sign, another 1-4 hours. The acquisitions department Inocentia and Putselemg are really not doing their jobs. I should have been informed this morning already.
I am canceling and paying out 2 contracts with cell c tomorrow to move over to Vodacom. But I really am not sure about the customer service here.
Your kind assistance with regards to this would be appreciated. Should my number below be unavailable as I am canceling tomorrow, I can be contacted on 0823227332 which is my brother's number.
I have tried many platforms to get assistance but Vodacom customer service does not seem to exist.
Kind regards
Marilyn Dullmaier
0844845676

Ilse Kerry
from Johannesburg, GT
I am now trying another platform to complain on - as the Vodacom Messenger NOT Hello Peter is working.
1. I purchased a Huawei T5 tablet on a contract through Vodacom. I work through North Cape Mall Vodacom as the service is EXTREMELY good and efficient.
2. I received the tablet end of January
3. Two weeks later the tablet started to freeze up and no touch function is working
4. We took the tablet in to Vodacom 4U store in Greenstone. We handed the tablet in with the box, on which we were informed that they don't need the box and that we must remove the tablet from the BodyGlove cover. So the tablet was left in the thin styrofoam wrap. PLEASE note this tablet is still under warranty.
5. No booking/reference number was given - just a slip from the invoice printer with handwritten number and name. My details was taken down (specifying my cellphone number) - but in a similar way (written down on an invoice printer paper (please note these papers are thermal).
6. One week after, I phoned the cellphone and even send a message - no response. I subsequently phoned the landline, where the lady said she will request this consultant to phone me back - no response. 5 days after that, I phoned again - they will look for the tablet.
7. My husband then went into the shop to take in a cellphone (also still om warranty), on which he was told that it will take 2 weeks for the phone to go in for repairs. He then requested the tablet back, on which they could not find the tablet or any reference that it has gone in for repairs. I then phoned, and the consultant told me that he thought it went in - but will get back to me (still waiting). I phoned again last week, and finally a type of manager confirmed that he has been trying to get hold of me - that is after I left my phone numbers after each time I phoned AND it was on the small invoice paper. He then told me he needs the IMEI number and a receipt? I sent that through the following morning before 12, specifically requesting some sort of feedback. Again......still waiting. My sons' e-textbooks are on the tablet, and I need it back before the school starts.
8. Decided to go to the 4U shop in Greenstone to enquire regarding the tablet. Tablet was returned from the repairs and nothing was done. No diagnosis or finding even written for the store to advise us? When was the tablet returned? When would we have been informed regarding anything? AND yet again - the wrong contact number on the documentation?
9. the tablet was returned to the 4U shop in Vodacom, as I did not send through my receipt. A receipt that I will gather can be drawn off their system. I then contacted North Cape Mall Vodacom (which give EXCELLENT service) and he then sent through the receipt. I sent it through to the menlynadmin address that was supplied, but apparently it was never received. YET, the tablet was returned. On Monday, 25 March, I (finally) received a sms with a Repair Job No ( ********** 9) and was contacted by the manager of 4U Greenstone to confirm that the tablet will be sent in that same day. On Wednesday, 3 April, I received a phonecall and subsequent sms to confirm that the tablet has been received by ALI-SOM Repairs. This means the tablet was "somewhere" more over a week. That same day, 3 April, I received an sms to confirm that the tablet has been sent to the Advance Repair Centre for a higher level repair. Today, 9 April, I receive a sms to confirm that the tablet was received at the Advanced Repair Centre and warranty repair will take 5-7 days? This tablet has been with Vodacom for over 6 weeks for repair? I have been charged for 2 months' subscription - yet I dont have a tablet. This tablet has my son's textbooks on them (as explained before) - I now have to purchase all the hard copies as he needs to prepare for the exams?
10. Finally we were sms'ed to phone Vodacom Repairs to accept or reject the quote??????? This was quite a suprise - as the tablet is still under warranty. We were informed that the screen "lifted", not scrated or cracked, lifted - and it will cost us R2600 to fix the screen. Can anyone more senior from Vodacom please contact me to confirm why the warranty doesn't cover the "lifted" screen? What does the warranty cover then? The tablet was placed into a Bodyglove cover the moment we received it (thus all corners were protected) - the screen did not have 1 scratch on it - yet the screen has lifted?
11. On request on how a screen lifts and why is it not fixed under the warranty - the agent confirmed she doesnt know. No report sent through?
The screen was 100% in tact when handed to the Vodacom 4 U store? No scratch!!! The tablet has been in Vodacoms' posession for close to 8 weeks? Being sent back and forth from shops to repair centre.
12. I then logged a complaint on Facebook messenger - on 17 April (for Repair #12986259). An escalation number was provided (EC-1R1X-30WHB3).
13. Subsequently I followed up on 24 April - repairs team contacted me on Friday, 26 April. They confirmed that they are waiting response from the manufacturer and will provide feedback by either Friday, 26 April OR latest 29 April.
14. I followed up later that same day (26 April) as I received a sms to confirm that as we did not accept the quote - the tablet was returned to the shop. When I requested why are there 2 different messages - I was informed that they will confirm what is happening and did I ask the consultant that phoned me where the tablet is?
15. I again followed up on Tuesday, 30 April (on FB - just to be phoned by a Denise to confirm that I will just have to wait until they get feedback.
This is TERRIBLE customer service. We did not even have the tablet 1 month --- and it was in a BodyGlove cover for the full time. Even when we took the tablet in, the consultant checked and saw that there was not damage AND confirmed that it might be a software problem?

mogachandran govindsamy govender
from Durban, NL
my last upgrade was in august 2014.
I did not upgrade in 2016.
my phone was stolen in 2018. I then upgraded to a new phone.
I was informed that I should have been treated as a pay as you go client.
I was also informed that my smart s subscription for the years that I did not upgrade will be credited into my account.
numerous calls to date has not resulted in any credits into my account.
cell no. 0824134100
acc. no. I0292666-7

Nicole Leigh Roodt-Hilligenn
from Alberton, GT
I called in at 09:30 on the 03rd of May 2019 to cancel my policy as we are emigrating. I had the rudest consultant that told me it was not his problem and that I should have called in sooner. He couldn't give me an amount to pay in to cancel the contract, and that it was too bad. He then just hung up the phone after keeping mute for a while. . . . .Is this the type of service you extend to clients after years of support? Never not paid a premium? I want to take this a whole lot further than just here. How do I escalate this?

maserame ntsoelikane
from Pretoria, GT
whenever I attempt to purchase whatsapp ticket I constantly have insufficient amount though my amount is sufficient for the product and when I restart my fone the 1c should always dissapear somehow which now makes my amount insufficient to purchase the product.goodbye vodacom I am moving to telkom I am so done with your incopetemce

i took my phone for repairs in March at vodacom eastgate and till today i have not recieved my phone , they then sent a message from repairs saying my phone was still going to be sent back without being fixed because apparently they where trying to get ahold of me and they could not when i called they said they will be sending it back and that its the Insurance fault.When i called the insurance and told them they called vodacom and and they said they will be giving it to the consultant to process again and they will call me which they didnt i had to call back and they said my phone was ready for collection when i went to the store yesterday it was not there and they were telling me its still at the repairs and they didnt know why

Hein van Tonder
from Randburg, GT
What is the problem with Vodacom service in Robertson, Western Cape? More than a week of intermittent service experienced!

David C Smith
from Cape Town, WC
Fault reference 1-34328794051356 has NOT been resolved!
Again this morning "No Service". Hundreds of Vodacom customers in our area (Robertson, Ashton, McGregor, Bonnievals have "NO SERVICE" off and on and off again for the last 5 (FIVE) days. As a paying customer I DEMAND that Vodacom take serious steps towards resolving this ongoing problem once and for all.
Please take note that I hereby give notice of my intention to log a complaint with ICASA. A copy of this complaint WILL be included!

David
from Johannesburg, GT
Hi my complaint is with regards to my contract premiums. Initially when I took my contract it was on r340, it then went up to r390. When I called to query they said they increased it because vat went up to 15%, obviously he couldn't do math, after calculating it for him because he insisted it was right he then came back and said it was to cover marketing cost and better signal, which does not affect me however I let it slide. It's now gone up to r408 without any communication, if I don't receive a refund and adjusted premiums to what I initially signed up for, I will take this further. My contract is ending, how do I trust u to renew it, and it's not going to happen, and I will be sure to notify as many people as possible as to what happened to my premiums to make them aware and use another service provider. You are A bunch of thieves as far as I am concerned!

My network is verry slow now for the past 2 weeks fix this I can do nothing!!!!!!!!! My youtube is so shitty just because of your network. If this problem doesnt get solved im switching back to mtn. Fix your shit Vodacom. You tel the people you are the leading network in SA but right now you are the shittyest one. Fix your fucking shit!!!

In February I did an upgrade on my data contract which included a laptop. I specifically told the consultant I want a silver laptop and not a black one. I said this more than twice but to my greatest surprise a black laptop was delivered to my address. I then called the Vodacom customer care (as if they care) center and told their stupid consultant that I do not want the black laptop and they must cancel the upgrade and fetch their laptop.
They have never fetched the laptop and my calls to get them to fetch the laptop are never recorded according to their consultants each time I call. They have debited my account with the upgrade fees and for the new contract that they are FORCING me into. I'm not getting any help from their customer care consultants. THEY STILL HAVE NOT FETCHED THEIR BLACK LAPTOP AND SEEMINGLY THEY WILL CONTINUE DEBITING MY ACCOUNT ON A MONTHLY BASIS.

I had a contract SIM and I paid my out standing account of R884 last year but now I can't XDS say that you never send them a letter to say it's paid. Know tell me if I paid this from my bank . Way can't you send them a letter to say it's paid?

Andrew
from Johannesburg, GT
I am so disappointed with the service received from you guys. I actually called inquiring about the router which was on promotion and we agreed about everything. So nou whn its time to receive my parcel i only got the sim card and i called in trying to lodge a complaint, i was advised that the router special ended long time ago and there isn't much that they can do to assist. I needed that router so that it can assit me with my assignments as i will be writing in June, but no now am delayed. I feel like i wasn't treated fairly as your valued customer.
Regards
Andrew
0765133921

ST McLean
from Somerset West, WC
....no service.............weekend off whole day...on from early evening...then off next day...same story........and now today when i need to make EFT payments....NO FRIGGING SERVICE AGAIN!!!!!!!!!!!!!!!!!!!!! DO I GET A REBATE FOR THE TIME I HAD TO PAY FOR BUT GOT NO SERVICE!!!MAYBE IT IS TIME THAT I START CANCELLING MY CONTRACTS PIECE BY PIECE AND GO TO A UNIT THAT WORKS....BECAUSE MTN AND CELL C WERE UP AND RUNNING!!!!!!!!
ROBERTSON AREA - WESTERN CAPE

I bought 7 GB of data yesterday and they have added the amount of rand value to my bill, but i have still not recieved my 7GB of data?
I want to know what is the next step as i will not be paying for it when the monthly bill comes.
As you can see from the first image i have bought 7 GB of data yesterday.
The second image is the amount of data i have and that is only the data i had to buy again this morning.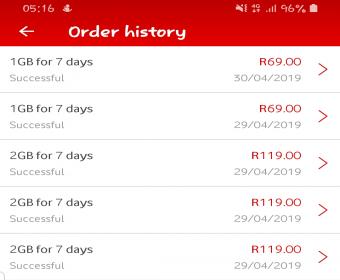 I took out a upgrade at the Vodecomshop in Greenstone shop noL93. Went to the shop and a sales person by the name of Ricarda attended to us, did the necessary documentation, and then was told that we had to pay 150 to swop information from my Huawei to the new Samsung A30, which i think is a cheek seen we are have a contract with Vodecom, Ricarda gave us wrong information to download from one phone to the other, and forgot to give a sim swop. I went back on Monday to speak to the manager and asked why we had shoddy service by Ricarda, and why do they charge R150, the so called manager, refused to cooperate with me and my husband, she had an attitude, and should be not working in an eviroment like that, I asked for her name and she refused, I also wanted the owner of the shops number she aslo refused, she told me to get out of the shop and called security, Far as i am concerned I dont need to be bullied by inefficent staff, and that women needs to be dealt with. Very unsastified customer.
Rochelle Fisher 083-6401234

Francinah.Obakeng Modingwane
from Cape Town, WC
Fraud was done under my name because a vodacom consultant failed to verify if its me, an upgrade of 2 phones in different places was done under my name using a fake id,names,id number is me but the picture is not me,that unknown person took Hauwei P20 and S10,one was upgraded in Roodepoort and the other one at the Glen shopping center,this is torturing me as i dnt understand how the consultant didnt see that the id copies are not the same,the application form also is not valid no adress,no email just name and surname even initials im F.O the person was writing F.M even the signature,i am really not going to pay for something i dont even own,need your help ASAP,i even feel like is an inside job.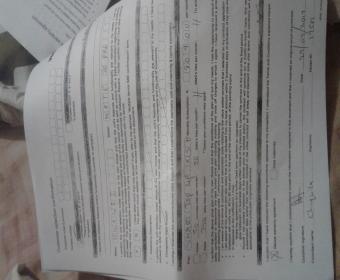 Nishlan Samujh
from Johannesburg, GT
Customers seem to be just numbers, no system in Vodacom sitting in a store at mall of Africa, one qualified person to deal with issues, no appropriate queuing system

Applied telephoniclly for a new contract for two routers. Informed that my application failed due to negative information from Experian. I contacted them no negative information on my record and no query on their side from Vodacom. Contacted Vodacom again the only comment I received again I cannot be assisted and there is nothing Vodacom can do to assist with the new contract. Where to now?

Noel Pillay
from Johannesburg, GT
My wife purchased a phone, iPhone XS on contract from Vodacom Shop at Clearwater Mall on 1 March 2019. She did take out a comprehensive insurance on the phone.
The sim card that was used on the phone was a pre-paid sim card which was linked to the device and to the insurance. On the 10th of March 2019 the phone was stolen and it was reported to the Hillbrow Police Station.
I then went to the Vodacom Shop to submiit a claim.
The Insurance Co. did not honour the claim because they say that there is a "cooling off" period for 3 months because now it becomes a pre-paid device because of the pre-paid sim card but the device was taken on contract. I was not told any of this at the time of purchase and the documents that i signed for insurance did not say anything about the" cooling off" period. The moment the pre-paid sim card was put in, I should have been notified about the cooling of period but was not told any of this.
I made several visits to the store to try and resolve this matter but to no avail. The store also acknowledges that there is no such clause in their documents.
The manager at the store, Mr Nlompho Segoapa tried his best to assist me, but he has to wait for management for answers.
And I also like to point out that we have been customers with Vodacom for over 10 years and its sad that we have to go through this.

Richard
from Cape Town, WC
Vodacom is as bad as Telkom, absolutely useless service.

morning i called around feb 2019 to cancel my other vodacom contract on the 0721719959 number the consultant that assisted me ms tshabalala n said ive been a loyal customer of vodacom for long.she said im gonna see a decrease on my next month statement which is march month on my debit on my 0793167005 number.it was decreased the next month.she never explain that it was an upgrade ive been calling your call center ever since been taken from tower to post.three weeks ago been told it has been processed but when i call the 135 custumer care still getting an sms saying my upgrade is 2021 may.the other consultants listen to the recordings of that day they fully agree with me that it was a fraudulant upgrate
thank you for your assistance in advance
naphtally thebeitsile Erasmus

Good day, please can you sort out the signal strength in Brackenhurst, Albert on, Kalkoentjie road, as I cannot download anything, even Facebook battles, it is now beyond a joke, please assist urgently.
Thank you.

I was contacted by a salesperson and was offered a new sim card because I am such a good client. I told the person I am not interested but he kept on telling me about the benefits. He assured me that my cell nr would not change etc,etc. When I went down to the Vodacom office for help they warned me that my nr is going to change and that the sim is only for data. I think your sales people is misleading the clients and it is the second time this happens and I think it is time to rapport Vodacom to the consumers board. The Invoice nr K1467453 Pin 5114 PUK 72533267 is cancelled today 25/04/2019 by your consultant Tasha an Afrikaans speaking girl. Please confirm the cancellation.

Tefo Kabi
from Sandton, GT
This started yesterday when i call Call center. They send me to pillar to post i dont know what is their problem, all i want is explanation on my account of which they are not able to respond.I have asked them to put through Account dept but it seem so difficult to do so.This is not the first time. 0820789640

Three weeks ago i have taken a Vodacom Wifi Contract from Bluff Towers retail store, till date i have been complaining about the poor reception,
Nothing has been done, only me calling in to complain & messages sent from vodacom stating that their busy with my complain.
It is now rather frustrating that I have to pay for something that does not even work, which is totally unfair.
something needs to be done as soon as possible as i would not want to cancel the contract due to me experiencing worse service from TELKOM.
A booster was mentioned on one of the calls i had with Raees Khan from Retail store.
Thanking you in advance.
Regards

Hello, I need to get a status update as to when SR190419-378087 will be addressed by Vodacom Tech Support, please.

Mr Rajendra Govender
from Durban, NL
Three weeks ago i have taken a Vodacom Wifi Contract from Bluff Towers retail store, till date i have been complaining about the poor reception,
Nothing has been done, only me calling in to complain & messages sent from vodacom stating that their busy with my complain.
It is now rather frustrating that I have to pay for something that does not even work, which is totally unfair.
something needs to be done as soon as possible as i would not want to cancel the contract due to me experiencing worse service from TELKOM.
A booster was mentioned on one of the calls i had with Raees Khan from Retail store.
Thanking you in advance.
Regards

Louwrie Gerber
from Sandton, GT
Hi Vodacom
It is with utmost disappointment that I must send in a complaint. I have been at Vodacom for approximately 10 years, but I am seriously considering going to another network provider after this happened.
I am going to sum up the order of events on a numbered basis to let you understand the order of events better.
Order of Events:
1. Booked in my phone on March 19th, 2019 at Highveld Mall Vodacom Repairs, with job number 12982545. Was told it would be fixed in 3-5 working days.
2. Sent to advanced repair centre on 30 March 2019 ( 11 days after booking it in at Vodacom) I was told then it would take 5-7 working days.
3. Was received @ advanced repair centre on 2 April.
4. 4 April it was received at Vodacom Highveld Mall. It was not repaired, the screen was sticking out half way on the phone. The attendant said he would escalate the case with his superiors.
5. Booked in AGAIN on 9 April with job number 13002145. This was 5 days after it came back from the advanced repair shop.
6. Received @ advanced repair centre on 10 April
7. 12 April dispatched from advanced repair centre.
8. Went to Vodacom on 15 April. Was told the technician broke it even more, but the parts have been ordered to fix it. Was told that it would be fixed on Wednesday 17 April
9. On Wednesday 17 April when I got there I was told that they haven't fixed my phone yet it would be fixed on Tuesday 23 April (36 days after I booked it in the first time!!!!)
10. Then Tuesday 23 April they said it would be there the next day.
I stayed at Vodacom since getting my 1st phone because of good service, but now I can't say that Vodacom's service is nearly as good as it must be. I am insisting that Vodacom give me another phone (Samsung J6 - Same phone I booked in, or even a better phone), because it was broken even more in the hands of Vodacom. If I don't get attention from this letter I am going to be forced to escalate my concern to head office.
I look forward hearing from you.
Kind Regards
Louwrie Gerber 23 April 2019

Hi,
I have been a Vodacom customer for as long as I can remember (more than 20 years). I have NEVER fails to pay my account to my memory, however I probably did pay a couple of days or one day late some time ago. It is simple if you don't pay your account the service provider terminates your service. My service was never terminated. I erectly applied for credit for a financial institution and was horrified to find out that Vodacom have black listed me for not paying my account. I would like to have details of the event according to Vodacom and after long standing relationship would like to hear the view from Vodacom that would justify black listing me?
Regards
Peter

vincent mlalazi
from Johannesburg, GT
I got robbed of my cellphone ,I went to a Vodacom shop and submitted the documents ,after two days I called the insurance department 0821952.the first consultant told me that she cant see my documents on the system,,i called the Vodacom shop and spoke to the consultant that helped me and she told me that she did email all the paper work ,I called the insurance again and I was told that my claim has been approved and I have to pay R618.I THEN WENT TO VODACOM SHOP TO COLLECT THE PHONE WHEN I GOT THERE I WAS TOLD THAT MY CLAIM IS NOT APPROVED .I told the consultant to call the insurance then she said their offices are closed ,,I was so disappointed on this bad standard service .up to now I don't have a phone ,,I wont recommend Vodacom to anybody .

Johann Van Jaarsveld Pro7 Consulting
from Johannesburg, GT
After upgrading my Phone I have done 3 sim swops now and Vodacom is unable to get the Sim activated / provisioned on the network. Now the 3rd day.

MUSAWENKOSI HADEBE
from Durban, NL
Two weeks back I called your customer service regarding an outstanding balance of R55 on my advance, which is supposed to be cleared as I paid on the 23rd of March when I paid my monthly bill as it was added on it. To this day I have not received an assistance , instead I received two sms stating the has been resolved which is not true. I don't know how many I have called for assistance but all I get is these ref no: 1-3431 7992221307 and 1-3432 0392999562. What irritate me the mostly this is not the first time I have the problem with you. So I think you might as well disable my access to your airtime advance as it clearly no use to me. My number is 0662209289 should you wish to call but only if you have resolved my query, otherwise don't bother.

In June/July 2018 I took out a contract with Vodacom for a wifi router. In March 2019 I moved to the UK. knowing that I could no longer use the data on it, we put the contract in my moms name. This in itself was extremely difficult and frustrating. after Vodacom confirmed that the transfer from my name to my moms was successful and that I had nothing left to pay, I am still getting emails from vodacom stating that I have outstanding amounts - which is impossible might I add -. needless to say Vodacom has been a nightmare to deal with.

Patricia Maisela
from Pretoria, GT
i went to vodacom Melyn to upgrade and open a new contract. i filled in the forms for the new contract with p smart 2019 then i changed the phone to p20 lite. The consultant told me that they don't have p20 lite in stock, i opted to wait for their stock. after a week i asked them if they can't get the p20 lite from other surrounding stores. They said they couldn't get them. I personally called vodacom Kolonade and the cell phones (p20 lite) were available. I then cancelled the contracts with menlyn because they were not willing to get the cell phones for me. I then upgraded 0760903909 and open a new contract for 0797882687 at Kolonade. Each cell phones (p20 lite) were R289.00 per month. With their additional costs they were R319.00 each excluding insurances. vodacom debited R230.00 for the new contract. End of the month they then debited R4679.73 on 29/03/2019. I've been taken back and forth from 30/03/2019 for my refund with no success. i want my money back and the service that i received is unacceptable. I called vodacom three times with no success. My last call reference is 1-3422985408707

NO service for FOUR MONTHS.
I recently moved and had an existing contract for fibre internet. I began the process of relocating by sending in the needed details on 14 JANUARY 2019. As we heard no response we made numerous phone calls and was told on 18 February 2019 that our relocation process has ONLY then been started. Eventually the outsourced company installed our line on 1 MARCH 2019. AS OF THEN we have NOT been able to get our line configured by Vodacom. We have made more than 60 phone calls to Vodacom, including to a Business Operations Specialist called PRECIOUS SKOSANA, who up until now has not replied to my previous 4 emails I have sent her. The last contact we had from Vodacom was with her on 4 April in which she informed me that is a technical issue and that she did me a favour by escalating it to a "Stephan" who is to fix the issue and a "Kim" who is to activate/configure once it is fixed. She gave me a number for this "Kim" but after hundreds of attempts all calls have been declined by her.
Once again we have phoned and emailed but no one replies or can help us configure this line!
HOW CAN I HAVE BEEN PAYING FOR A SERVICE FOR 4 MOTHS WITHOUT IT WORKING??

Ramotitswe
from Johannesburg, GT
I can't receive calls anymore on my number 0720946514. I tried calling 135 but no one is answering the phone. They say I will get sms chatting Link but the sms says' something went wrong, try later' they don't give option to talk to consultant anymore. Can you please allow me to access the consultant? I am not comfortable with chatting, it's inconvenience for me.

Wayne Visser
from Cape Town, WC
I canceled my Vodacom account in 2016 after the 2 years contract.. In May 2017 Vodacom started charging my closed account,with out my consent.. No statement or contact was made from Vodacom. In October 2017 a debt collector start to harass me regarding outstanding payments. After long hours and lots of wasted airtime and having to take a days leave to Vist Vodacom no one could assist me.. I eventually got help were the agent showed me for some reason the account was reactive 5 months after it was closed.. I sent this to the debt collector who said they will setyle this with their client Vodacom... 3 months later and still ongoing another debt collector is harassing me with the same issue... Again I request a proper statement.. Still nothing.. I sent them all the paper work still nothing.. Everyday a agent harrasses me everyday I revive threatening sms.. I whish you as Vodacom could sort out this issue it is from your side as some hasnt done there job propply and I am now being harrassed over nothing.. Please assist.. This is very frustrating. Regard Wayne 0836388048. I'd 7204215267080

Bought a new Huawei phone on 03/03/2019 and also pay for tempered screen that was not in stock, 6 weeks later still no stock, excuses from your sales men Mr. Nathan from Wingtip branch Tel. 0124922905 Very bad service from Vodacom

David Hopkins
from Johannesburg, GT
Total lack of urgency and customer care to restore my fibre WiFi/internet MAC 14A51A42569F. Fault reported to voda fibre on monday 8 April and after daily follow ups eventually Vuma were contacted on Friday 12 April. Vuma then quickly restored the line. Voda fibre need to learn from Vuma about excellent customer service. This same situation is the second time within one month with voda fibre. Totally unacceptable and very unprofessional. Please reply. Thank you

Matlhodi Madiseng
from Pretoria, GT
i bought WhstApp Bundle for the 30 days. I am not receiving whatsApp messages nor can I send messages. I only have access to my messages after I have bought nternet data. I find this very disturbing and unacceotable. My MB balance has been 848.73 for the passed five days. it is up to the 6th of May 2019.
Regards
Mme Matlhodi Madiseng
082 456 0209

maswanganyi T.R
from Cape Town, WC
An ugrade was done in 2016 using my name and only to find out that a phone was delivered at Kingsway clinic Gauteng whereas i stay in limpopo.I never requested an upgrade and was never consulted until i found a statement for a monthly payment of R1100 .I reported the case to the complaints office,Vodacom forensic and submitted affidavit but i am not getting help.
I lodged a case with Scorpion until last year when they inform me that the case is closed.
All of a sudden i am getting calls and threats from vodacom demanding payments.As i write this complaint i have forwarded all the affidavit and specimen of signatures to vodacom@vvm.co.za ref:14031432 today as they requested them again.
How on earth must i pay for something that i don't have.
Kindly assist me because this case is affecting my credit record.

I up graded my wifes tablet, they told me it will be here Thusday , then I had to call them on Friday. They had a lot of atories. Again to day I had to call them a d had to compete with staff menbers screaming and laughing so loud I could not hear the person on the other side. Not cool at all.

Millie
from Cape Town, WC
Vodacom customer service Garden Route Mall is a disgrace. We have been waiting for a cellphone upgrade for almost 2 weeks now and still nothing. No one has contacted us with regards to an update. When they were called the woman couldn't evens say who was the lady that sent in our order for a new phone. Really vodacom is this the service a faithful long time customer gets? I really do not recommend anyone going to vodacom garden route mall... customer service leaves a bad taste in ones mouth!

I have taken out a contract at Vodacom Ceres South Africa for R199/two years. Not one month into the contract cost is jacked up without any notice, to which I would have objected. Now Mr T Felix who sold me the contract refuse to get back to me. How is this acceptable or even legal. A cost was agreed to, set for two years. How can Vodacom now steal extra money?

Uluande Marais
from Cape Town, WC
My phone was send for repairs 16 March
Got it back 1 week later with deep scratches on screen that wasn't damaged when it was send in.
Sonerset west vodacom centre escalated this and up to now no phone or feedback.
They do not return calls

Samantha Landman
from Mokopane, LP
Me and my Fiance baught TWO NEW Samasung A20 at Vodacom Lephalale on 29-06-2019 he had his phone less than 4 days , we experienced problems with the phone and took it back to our Vodacom Shop in Lepahalale . Today marks day 16 that the phone is sent back and forth from the Vodacom Shop to the Repair Shop in Pietersburg, On your OBF /In Store Failure Pre - Screen Verification Declaration forms you say that a maximum of 14 calender days but today is day 16.
I'm FED UP with VODACOM and this will DEFINITELY be my LAST purchase with you!
PLEASE DO NOT HESITATE TO CONTACT ME
079 985 1712

Tania
from Johannesburg, GT
My FIBRE service broke down during May 2019 and I was without my fibre line for 5 days. Vodacom eventually sent someone out
To repair, but when he left, my VOIP was not working – I phoned the agent back, Shaun (0827975857), who advised me to send a screen shot of my MAC Address – he never came back to me – I had to log a call and only after a further 5 days, my line was repaired.
Just to receive a bill on 10 June to advise me that I was billed for having my Telkom line ported AGAIN – R199 – I've had my VOIP line for 2 years, my fibreService broke down, you repaired it, but now I'm having to pay a further cost because the agent did not attend to my service when he was here? Why must I boot the bill to port my line again whilst I've paid to have it ported when my service was installed in September 2017???
SR190610-480945 - query logged on 10 June - today is 16 July - STILL no feedback
Tania 082 330 2168

Siphiwe
from Johannesburg, GT
I upgraded online bought an HP laptop now i can't login it gives an error message that says "smart hard disk error" i went to vodacom shop in benoni lakeside the told me that they don't fix laptops i must call Platinum warranty i did that they said sent an email that i must send proof of purchase/tax invoice/delivery note/till slip the person that sent an email was Lu-nique April then i've sent the tax invoice they rejected the invoice saying they don't want a monthly invoice second time i sent a delivery note still April rejected it I called Vodacom finance they sent me a quote invoice as it got I forwarded it to April still it was rejected. i went to the shop to request a till slip or proof of purchase they told me unfortunately i bought the item online they can't assist me with anything they can't even organize the platinum warranty since they're working in partners just to log a job card to them to come and collect the laptop for repair now i'm sitting with thing that is not working but they are deducting every month what kind of a service you are rendering to your clients

Good day since 8am this morning I have being trying to blacklist my cell phone that I was robbed off. I phone the 135 number I phone 111 I phone 124. I am from Port Elizabeth and I even phone the following numbers of the stores
041 3630696,041 3633079,041 363 4308 no one answered so frustrating very very bad service all I wanted to do is blacklist my phone

Good day I called the upgrade department to find out when I was due for a upgrade the guy told me 2 of my contract can upgrade now and so I did the upgrade... He then told me end off may I'm still gonna pay for the two old contracts but end of June I'm paying only the 2 new contracts now the billing me for 4 phones the 2 old ones and then the 2 new ones.... I was miss informed during the upgrade time.... I logged a call 10 june then a lady phoned me back and said the problem was on vodacom site they will correct the account but since then I only logging calls with no outcome... If they told me I would pay for 4 phone I would not have done the upgrade PLEASE HELP CAUSE VODACOM CUSTOMER CARE DON'T WANNA HELP

I have been dealing with Delene Williams from your branch in the Gateway Mall. I have since escalated my query to the Branch Manager Dinesh Narain who seems even less interested in my query. I signed up for fibre at home, which has already been installed, and a package of 225g for my office. Neither of them are yet operational and I keep getting the same answer from your Delene and Dinesh, ''it's a technical problem.'' I have been a loyal member of Vodacom for close on 15 years but this really seems to mean nothing.
I would be most grateful if I could gets someone to assist, and if not I may as well close all my business with Vodacom.

Since January we have sent some documentation through Vodacom Savannah Mall Polokwane to get the vodacom contract phone unblacklisted its now 15/07/2019 and nothing has happened, time and again the documentation has been sent to several people, and this has to stop either you get the phone unblacklisted or the necessary steps to the ombudsman will be taken, this is not acceptable, the poorest service again from vodacom.
Get this matter settled before wednesday.
The number to be unblacklisted is 0662326169
MR JCHB Nieuwoudt
Id number 6804035052084
079 819 2860
Thank you
Inform me when this is sorted before Wednesday.

Thalita
from Johannesburg, GT
My attempts to upgrade now the 3rd time every time there has to be a profile check and every time the person tells me that I must wait!!!!!!!!!!!!!! How long will it take?????????

Theodore Momberg
from Secunda, MP
As an vodacom red client im very dissapointed, my account was in arrears which i have paid now. the new month subscription is now been added before they can reconnect the servicse, but the new amount is only due on the 29th july.
This is my bussiness phone and vodacom nows this but they treat you like shit, Ive been with you guys for almost 20 years and this is the treatment, need my phone to be connected asap
0824506058
Mr T. Momberg

Natasha le Roux
from Bothaville, FS
After numerous numerous and numerous phone calls to the upgrades and cancellations department, still no upgrade.
Over 4 weeks now and I still don't have my new phone as promised. Hence the reason why I wanted to cancel in the first place.
I've kept being sent from pillar to post to just get an answer and every time they move the goalposts.
I just need to know when my new iPhone XR will be delivered.
0833206822
N le Roux

Gustav Jonk
from Thohoyandou, LP
There were an illegal upgrade more than a month back and with the help of a super person we booked refs and we got the matter send to the fraud department. They on their turn as useless as they are that the credit will be added to my wife's vodacom account After it was stated to them to pay it to her bank account, also that it was never updated on the system by no one only a mail stating they will credit the account.They have transferred me from fraud department to accounts to you know what every time an empty promise. Wonderfully i get an Ref number every time that someone just closes the next day and the the notes (wrong department). To be truthfully we were no one day forward than the month and a half ago. To make this short this is pathetic service from everyone at vodacom, the only one trying is the person at the vodacom shop with limited resources to his disposal. Please return to me with also the CEO details, i want to give him all the Persons i had to talk to that cant do their work. Maybe with them less Vodacom can be a better service provider
My Wife tell Number where the fraud occurred 27662587149 ref numbers EC-1R92-3VQ0KS ------ 1-34328858098 ----1-34161915255118
TO NAME a few.
Below is the correspondence from Morne Raas giving great support to get this solved and he really needs some pat on the shoulder for great work
Good day Sir please see below and find attaché
Thank you
From: Morne Raas (VD) [mailto:morne.raas@vodadealers.co.za]
Sent: 08 July 2019 02:53 PM
To: jonkt@fshealth.gov.za
Subject: FW: EC-1R7J-2KOAGI fraudulent contract
Good day Ma'am
Please see Below
Thank you
From: srm@vodacom.co.za [mailto:srm@vodacom.co.za]
Sent: 20 June 2019 01:28 PM
To: Morne Raas (VD)
Subject: RE: EC-1R7J-2KOAGI fraudulent contract
Good day
The upgrade reversal has already been pocessed for 27662587149 and credit processed.
Regards
-----Original Message-----
From: Morne Raas (VD)
Sent: Wed Jun 19 09:26:59 GMT+0200 2019
To: Fraud Analysis Fraud Analysis Approvers Fraud Refund Box fraudrat Fraud Disputes
Subject: fraudulent contract
Good day
Can you please assist; a fraudulent contract was open on the customer's account on the following number 0662587149
Can you please investigate and cancel the contract
Thank you

Caryll Allworth
from Johannesburg, GT
Vodacom lost/dropped my data and airtime 9 July. Contacted customer service - reported no network?? 10 July was told to go check sim card, did a sim swop, when it was "activated" 11 July no data no airtime still. Vodacom store submitted a tech request ref: 1-34374903360793. My cell was synchronised and had network but still no data no air time. Called customer service ref: 1-34374954156426 and was told this could take 3 - days. Your records does show that I still have a large data amount and airtime. 14 July and still nothing!!!! This is unacceptable that Vodacom takes this long to reinstate my data and airtime. Am appalled as to the service delivery to sort out YOUR PROBLEM YOU CAUSED!!! I would really appreciate it if this could be rectified asap

Edwell Khumalo
from Johannesburg, GT
I have been using Vodacom for more than 15 years, but the service that I got after taking up your contract is beyond unprofessional and not acceptable. I have recently ( more or less two months ago) taken the sim card only contract with you but via mondo deals. When I took this contract the terms and condition were read for me during the signing up stage and which I accepted them . I remember asking the consultant from mondo about any changes that will take place because of this contract and he told me that nothing will change except the fact that I will what i have signed for and R 249 be debited on the 20th of each, but the rest will remain the same. I have later learned that I am not longer earning talking points, I called Vodacom to inquire about this , and I was told the contract sims do not earn points of which it is understable, but the problem was when I asked about the points that I have earned before taking the contract and I was told that I have forfeited them, that is when my nightmare started. I told them that I was not told about this when I took this contract and that I want my points back , I had more than 1000 points when i took this contract if I was told that I am going to lose them I was going to redeem them before taking any contract. I was informed by Vodacom Customer Service ( The name of the consultant : Angel) that they will lodge an investigation into this matter and will come back to me, after that she would call me and ask if I have not been called about this matter and would tell her that No unless if I might have missed their call, two weeks ago I got a call from Vodacom asking about the service that I got , as I was trying to figure out about which service is she referring to , the phone cut and later on I got an sms saying that my query has been closed. I then initiated on Friday about the progress of my query it was indeed confirmed that it has been closed, I nearly fainted from the disbelief, how could a big company like Vodacom close a query like that , the lady failed to tell it was closed, she said they did not put any rationale why it was closed, she then told me that I must contact mondo about this, I told her that Mondo referred me to Vodacom. This whole situation is tiring , I'm being sent from pillar to post with nothing concrete coming out of this. I still maintain that I need my points back , to earn 1000 points one must have spent more or less R10000.00, so please guys let us do the right thing.

I had my cell phone repaired for water damage +/- 4 months ago ....quoted me over R2000 to fix . I have now realized
that the blue tooth has not been working since repair , have now re-submitted phone to have this fixed ...they
now told me ....blue tooth not working due to water damage ...this means it was not properly fixed in the first place .
they are now quoting me R4900 to have this fixed
Not sure why I have to pay twice , they did not fixed my phone first time around
Antoinette
cell phone
082 92 888 38

john JN matimbi
from Johannesburg, GT
hi, i have been using my vodacom number for more than 10years on prepaid then i took a data package which a consultant had called me and advised it was for 12 months. after 12months complete i thought my contract is over as no one had explained the terms fully that i need to send a letter of cancellation even thou i was told term is only 12months. my number would get blocked and reinstated after this 12months until my number was deleted and i was advised it is not possible to get the number back. its been a year having to explain to clients as to why i have a whatsapp number different from my current number :-(. now to my surprise my number exsists again assisgned to someone else but i had been told there is no way to ever get this number back . Vodacom has really failed us as we luv the Company but the service we receive is very bad. i am sure my number could have been assisgned back to me even if they had advised for a extra cost i would have paid as i have lost alot of clients and i now want my number back as this lady has been using my number for a few weeks now. please assist and give me back my number

Tinus
from Johannesburg, GT
How can my airtime that I pay for every month expire? Vodacom is stealing my money!!!!!!!!!!!! I want my money refunded onto my cell phone airtime account.

Ntswaki
from Johannesburg, GT
I have 3 contract with vodacom, the complain that i have is going to take me the whole day to type,i have experience a very bad service,calling every day trying to get help with my query ,i have going pillar to post for the past 3 day up until today without anyone helping me promised to be called,asking to speak to the manager hopping to get help i was the managers are in the meeting they will call me back.the thing is i have been using vodacom for a very longtime to experience such a service,is hurting so much to pay the account every month but when u need help everyone is telling different stories.all i need is to get help as much as i pay every month please.

I regret the day I renewed my Vodacom cell phone contract. Vodacom has phoned me every day, up to 4 times per day, while I am on rounds, seeing my patients or in theatre. Always trying to sell ANOTHER data bundle, another contract...How do I cancel my contract to avoid this harassment and telemarketing?

I performed an upgrade on my 3G on the first week of July 2019, I confirmed this upgrade with Lebo from the upgrades department at Vodacom.
I had not heard anything from anyone at Vodacom until I had to call in and follow up on my upgrade this morning, only to be told that there is no stock available.
No one has advised me of this in 2 weeks. I have been waiting for delivery which was promised to me between Monday and Tuesday this week.
This is simply very poor service to say the absolute least. I have been a customer with Vodacom for 25 years and to be treated in this manner, just promotes that I cancel everything and anything to do with Vodacom. I asked to speak to a supervisor twice and both times I was placed on hold for no less than 4 minutes at a time. This is poor ethic and absolute no regard to a customer who has supported Vodacom for this long.
I would like for this matter to be escalated and I would like to know what Vodacom is prepared to do with regards to my now cancelled order.

vutivi amanda's
from Pretoria, GT
I have taken that phone to 2 Vodafone stores and they told me anything related to that, As when I called Vodacom they tried to refresh my network and they said my network its fine I must take that phone to any nearest Vodafone store. I took it to Elim Vodafone and they even inspected it and confirm with the divisional manager that the condition of my phone it is still on a good stake, they said the issue it was connection and its where they referred me to savannah Vodafone hence I'm using that phone for work purpose's. I even used my transport to take it to savannah not minding at all and they also done inspection as well and I stated my situation to them either that I'm using it for work purpose its where they had to assist with a loan phone.
So it really shows that if you consider that phone as a bend one, it's a factory fault as I bought it like that and you really made it clear that you sold me a damage goods as you have a measure ring tape to measure it. If you can check that picture how could I bend a phone at first place, the phone that I'm paying lot of money for it since I bought it.it was supposed to have physical damage or broken screen or smashed at all to show it that I have broken it, so I won't be liable for that.
How convenient the network problem related to the phone to be bend, as I have been using that phone like that.im so disappointed with the service I got from Vodacom since I have using this network for sometime now.im hereby taking a decision to cancel my contract with immediate effect and I will rather switch network to mtn, cell c or Telkom mobile. I will have a new contract with one of those network providers, as a south African citizen I'm also aware of my consumer rights.
im sooo diaspointed.
thanks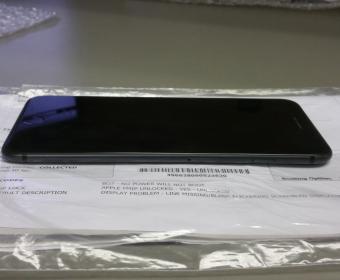 I have applied for the installation of a fibre line to my home. Upon arrival of the technicians to do the installation I was informed that this would not be possible as there is already an installation at this address and that the infrastructure does not not make allowance for an additional line to be installed at the same residential adress. The technician said that he would find out if there is a way in which this could be done and would give us feedback (which still needs to happen. My wife was contacted and an appointment made for the technician to come to our house (almost 2 weeks ago) to discuss what could be done. Still wating for the arrival of this technician.
I have since been in conatact wtih the Vodacom Fibre Department on four occasions (3rd July, 4th July, 8th July and 10th July 2019) with promisses that this would be escalated with absolutely no-one getting back to me.
i have also been told that there is no way for me to contact anybody telephonically to discuss my problem, personally, I don't believe this to be true.
The SR No. for my querie is 190624-511939
My order for the installation was done online and approved. Ref No. SO190610-673130 / Rev: 1 and i would now like to cancell this order and do not know how to go about it. Please assist.
My Mobile No. is 0823306677 if anyone can find the time to spaek to me.

stephen
from Johannesburg, GT
i spoke to petuguhle and was able to assist me when i was doing a follow up on behalf of my fiance and i spoke to the other today and that guy helped me also now Aubry is telling he cant help me and was being very rude so rude i was irritated that i had to drop the phone on him i hope vodacom will do something about this your consultants in the after sales are very rude

Renee Protruck Marketing
from Cape Town, WC
I have been without fibre almost 24 hours - cant work no internet and voip phones cant work - why is no-one getting back to me - I am losing business - tv cant work why switch to new technology if VODACOM KEEPS PASSING THE BUCK?
SR 190709/541790

M de Lange
from Cape Town, WC
I always think its best to try and solve any situation. But the poor service at Vodacom is getting on my nerves. In April i wanted to downgrade my package from Red Premium to half of what the cost was now. A month later i get an sms still with the high fee and the same package, so i phone. Spoke to a consultant she listened to my frustration and made sure it is solved and the migration is loaded. Guess what? THEY did not do it!!!!! Month 3 at my costs. I phoned today, explained everything, just to be told that "remember mam your credit record can be effected:! i was not ammused at all, imagine being at fault and then saying that to me. Intellegent? I was really fed up. I phoned again and was put through to a team leader, do you know that he repeated 3 times to me of what my issue was. I ended up telling him he is not listening and i will search another way in communication. ive been 22 years with Vodacom?

Karen Collison
from Paarl, WC
I have contacted Vodacom to downgrade my package as I have NOT been using my minutes, Data and sms', I have had a work phone for the last year now and needed to downgrade as I was NOT using the Vodacom contract and was losing money. I was downgraded with the assistance of the very nice lady, however I found out now, my original contract was due to be renewed end Dec 2019 now that the downgrade was done I have been pushed back 2 years again until upgrade time. Also I have noticed ALL my data, Minutes and sms' have fallen away due to the downgrade. I was NOT informed on the fact that my upgrade time was moving out 2 years and I was NOT informed of losing my Date, minutes and sms'. I have logged several calls with Vodacom and each time I get an sms to say the issue has been resolved without anyone speaking to me.. I even logged a ticket to advise I wanted a manager to call me as this is unacceptable and I requested the TICKET NOT be CLOSED, yet once again I received a message that the ticket was resolved. When I call 082 111 I don't get through tot he correct persons or the phone cuts out, this is UNACCPTABLE. I am about to take this further if Vodacom does not FIX this issue. this is POOR customer service!! If you are NOT able to get hold of me on my cell as I am in and out of meetings then please email me so that I can respond via email and please SEND ME A CONTACT NUMBER THAT WORKS.
i also received a message to say the loss of data, mins and sms' has been correct but its NOT been
See my reference numbers:
1-34240738506773
1-34240738506773
1-34281546966516
1-34281546966516
1-34371755437810
1-34371368287423
Karen
082 449 7240

Mashudu Mokatse
from Johannesburg, GT
I bought a 3G Data Bundle on the 4th of July for R299 and to my surprise on Sunday evening I forfeited all my data bundle, I buy my data using my standard bank account or buying it online so I used the method of repeat purchase and it never gave me the option of buy 30 days Bundle or 5 day bundles, what I found very strange its that Vodacom is ripping of its customers why on earth you sell the bundle for 5days on a price of 30 days bundle. I can be happy should Vodacom return my bundles as I never bought Data bundles for 5days but I bought for 30 days as I always do. I have written to Hello Peter yesterday and you replied that someone will give me a call which it haven't happened and my next move its to write to the consumer goods and services OMBUD . I can be contacted at 0827572644 for further information

Motlatso Constance Rasehlapa
from Pretoria, GT
I took a contrant with Vodacom last year march(2018).The account i took was for 2 simcards with 150 airtime each that i was supposed to pay 260 per month.i had lost one of the simcards in the house after few months and then i did simswab after 5 to 6 months coz my contract says the airtime expires in 6 months.When i did simswab,3 months airtime was gone.i then called their customer helpline whom i had to ask them to terminate the contract because they are not delivering the services as per agreement.
They then gave me 6 months airtime of which i called them back to reverse the 3 months airtime as i only owed me 3 months and not 6 months.The consultants must have not understood my grievances and told me that its fine.end of the month boom my bill went up with almost 20 rands coz it was now 279 pee month.i ignored it but tgen last month i bought 5 gig data bundles with about 412 rands airtime that i had in my account.
the transaction didnt go through coz i had 00mb and the airtime was still the same,i then bought 12 rands worth minutes.i eventually attempted to buy 3 gig data bundles coz my airtime was nolonger enough for 5 gig.
Again the transaction didnt go through,i tried to buy again and also it didnt go through.i called their consultants and they said that from their side i had data bundles.A month later i got a bill saying that i have to pay 1250.30 rands coz i bought the data bundles as recurring and not once off.i told them to pay take away the airtime i had in that account to pay off the debt as i wont have money to pay off the debt coz i didnt even agree to it.My contract with Vodacom says i only get the monthly airtime that i get from them and no additional services im gonna get that would push my invoice up but they impose them on people just to push their sales up.They debited my money which left my other financial commitments to be in errors.They say i have agreed to the new terms and when i advice them to send me a new signed copy of the agreement they refused coz they dont have.i never agreed to anything like that.im going to pay off the debt for the raining months and ran away,i will never look back and will try other networks coz vodacom services sucks.Dont even try to take an account with them unless if u are prepared to endure this bad service.i will also advice every i know never ever to try and take account with this company.

Jacky
from Kempton Park, GT
I lost my phone at the mall, two days later I received a message that it was found in Alexander. I then received a call from someone who said they got my number from Vodacom shop asking for my Id number, I refused to divulge such to a stranger. The phone was handed to a Vodacom employee who told me I was rude, I should be grateful because they are doing me a favour by returning my phone. Is that allowed? Is the Protection of Personal Information Act 4 of 2013 in agreement with this?

D.H.H. Strydom-Fivaz
from Welkom, FS
I ordered a cellphone body glove, waited 1 week for arrival. Just to realize it is the wrong size. I suggest they keep my money and order the correct size. Another week pass by. When I asked them what is going on they told me they wait for stock. I asked them to refund me then, so that I can go and buy one somewhere else. I told her I need the money then she said she must put is back on my debit card just to find out I must wait at least 48 hours for my money that I already waited 2 weeks for service. Now I must wait another week just to get my money back because now it is weekend so the transaction will only reflect on Monday. I will be lucky if I receive my money by Tuesday. This is rubbish and I am very upset about the service from the shop and customer care overall.

Just realised I was subscribed to Hunky dory as well as Stylix which have been both chowing up my airtime
When I tried to reach Vodacom by fone to quiry this and possibly as for refund, I was referred to a Chatbot , which could not assist me

Goodboy Gumede
from Durban, NL
Goo day
I can't send an sms to the short sms code. And I've been feported this to you but i never get any help
My number
0826268020

musawenkosi jewel ximba
from Johannesburg, GT
i will never recommend someone to take cellphone contract with Vodacom network .I took contract phone in December 2018 we agreed that I will pay R120 p/m now end up paying almost R500 every month when I try to contact customer service no one able to help me or clarify what a problem .THIS IS SO ANNOYING.....

Petrus de Beer
from Pretoria, GT
Good day,
To whom it my concern.
I recieved a call from a Lady with the surname Nido SL 02 from Mondo a Vodacom reward and support company. She explained to me that she can see that I am using up to 6GB data per phone monthly that will cost me R747....per phone per month. She carried on explaining that because I am a customer with Vodacom for a very long time now that I qualify for a special reward of 20GB of data that will cost me only R199.00 per month. She explained that she wil send me a sim card with 20GB on that I can simply insert into one of my phone and I can transfer 10GB to the one phone and 10GB to the other phone. I asked her a couple of qeustions and excepeted the 20GB deal. I also explained to her that my Laptop that I had with Vodacom was stolen and that I need to go to Vodacom shop in Waterfall Mall to sort out the insurances claim that I submitted in February 2019. She then told me that she can also help with that and that she would contact Vodacom for me and stop the contract of the stolen laptop. She also explained to me that she can also add a laptop HP 15 top of the range with a wrouter, simcard and 5GB of data with the 20GB data in one deel. I excepted the deel as explained to me above.
The day that I recieved the package I was very disappointed because it was a very cheep HP laptop and deffinatly not top of the range like she explained. I also tried to upload the 10GB of data the way she explained to me. I could not get the data to me transfered to my phone. After I called Vodacom customer care I was informed by them that I was not explained that it will cost me R20 aditional for ever 1GB that I will tranfer to my phones. It was also explained to me that I can only transfer the 20GB between the 26th and the last day of each month. I was very upset about the news and called Mondo reward support group immediately to cancel the deal because I was mislead into a deal. After speaking to one of Mondo customer care agents he assured me that I deffenatly will not pay the R20 additional fee for every 1GB of data that I transfer because it is a special reward for clients that is very long with Vodacom. He admitted that I should have been told of the fact that I can only uplaod the 20GB data between the 26th and the last day of each month. He also explained that I have one month in witch I have to use the data after I have uploaded it to my phones. I cancelled the deal. On the same day I explained to my son what happened. He told me that the laptop is a very slow and cheep type of HP and that it was deffinatly not a top of the range HP. In compareson to my stolen HP Pivilion that I had with Vodacom before. When I told my son that I cancelled the deal with Mondo he told me that I am going to be blocked from all my upgrades and deals with Vodacom because I have cancelled a deal with them. I told him, surely Vodacom cant block me if their agents lied to me and did not tell me all they should have told me. He said to me Vodacom dont care about that. I phoned the cotomer care again and the confirmed that I will be blocked if I canceled a deal with them. I called Mondo and cancel the cancellation I made earlier on. On the 26th June 2019 I tried to upload the 10GB of data to each phone like I have been explaine. After numerous attempts I called customer care again and explained to them that I recieve this massage after every time that I try to upload the 20GB of data. "THE NUMBER THAT YOU TRY TO LINK IS NOT COMPATABLE TO YOUR PAYMENT PLAN". They explaine to me that I will not be able to transfer the 20GB of data to any of my phones and that I was mislead and not explaine properly. Apparently, precharged data can not be transfered at all. Although I have found some different explenation between the agent of Vodacom as well beacause the on agent told me that I would only be able to transfer data between contract to contract phone or between topup to topup contract phones. I will not be able to transfer between contract and topup contract phones. I am really so confused and so very dissapointed in Vodacom for allowing this poor service by Mondo and misleading me into deals and the want to block me from my upgrade deals for six months for poor explinations from their agent or support groups like Mondo. I can really not except this poor explination and this deal because non of it was what was explained to me. I got lame excuses like the deal came throug so fast that the agents did not have all the information and facts before they started to cell the deals that why I was not explained corectly from the begining. If Vodacom blocks me for this, that will end my days with them.
Thank you.
Petrus de Beer
0824663381
0716863791

Adrio
from Johannesburg, GT
Write a review
Customer Service from Jaydee at Laikside Mall
Adrio K | 28 Jun 2019, 15:45
Good day, I have a very very big Complaint, the incident happened at Vodashop Laikside Mall. I was in a armed robbery, and all my devices was stolen. My insurance company's requested of me to get statements that show all the devices along with each ones number. So I came to Vodashop Laikside Mall. I got to Beauty at counter 5, when I told her what I wanted she said its to much work and while im sitting at her desk,, she started selling phone covers to other clients that came ling after me. I knew that customer service doesn't mean anything for her as she is scared if she helps me she is going to lose sales. I asked her is there anyone in the back office that then would get me my information, she said she will go find out. So the second treasurer came to me from the back office, he didnt even introduce him self, so I started to talk. I asked him what I need from them, he said that he is not prepared to do that as it will take 4 hours and said I must go to Vodaworld. Vodaworld is on the other side of the world from me, If I wanted to do It at Vodaworld I would have gone there from the start. So I replayed to him and asked him, "aren't I the customer and you the staff and you whant to tell me straight to my face that you arw not going to help me because it is going to take you 4 hours to get me my documentation. I spoke to kabelo at Vodacom and complained. I asked the guy twice what his name was he looked me in the eyes turned around and walked back into the office, so I asked one of the staff for his name. His name is Jaydee. When I left the store I luckily took a photo of the store inside. He then called me on my cellphone and said the reason that he refused to help me is because the store is extremely busy. Shows you how he lies I can't believe that he is employed by Vodacom not to even mention he has to work with people. I am attaching the foto of the store when I was there, pls you can decide for yourself if It was busy. But never the less how do you refuse to help a client, then eknor them and turn your back on them and walk away. I want action to be taken by Vodacom against this guy that treated me like utter **** and I await to hear what action was taken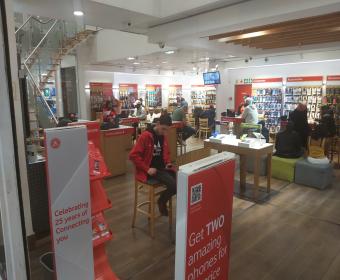 Tried to report a fraudulent address/client. After 2 calls to Collections Dept. on a 011 number, totalling 17 minutes, I was passed around from one to another, repeated the story endlessly.Eventually they took the details and said I shouldn't get more mail and the phone was put down in my ear. No thanks. No gratitude. Epic fail Vodacom. So much for doing the 'right thing". So angry for wasting my hard earned money, and time!!

kapil maharaj
from Durban, NL
I have been a loyal Vodacom customer for several years, this has been by far the worst experience ever since signing my first contract years ago. 4 weeks ago I did a upgrade and also took a new line, and was offered a good deal on both, the problem began when I received the handsets which were the iPhone 6s model which I was unhappy with and returned. Here is were it gets frustrating it has been 4weeks now I do not have both devices as Vodacom has received them from me, I have spoken to 6 different call centre agents Leandre, Bianca sesekani , phelisa, moja ,sepiso, Louisa and a said manager by the name of Phillip who I have a cellphone number for and still awaiting a resolution, I have been calling into the customer care centre so often I have now been blocked from using the service, so everyday that im asked to call in im being billed for. All im asking for is for the devices that were issued to be changed but after the extremely poor service and total disregard to a loyal customer I kindly request cancellation for my contract. Please assist. regards Kapil Maharaj

Claudia Mac Millan
from Thohoyandou, LP
I have currently been to the Vodacom bluff store for an upgrade on a tab ESamsung. On taking the device home it was seen that the data was not switching on.I then called the customer call centre and the y mentioned the system was down. Two days later the data was still not working. I called again ,they had a whole lot of stories to tell and said the would phone back in ten minutes, which never happened. I then took the Tablet back to the bluff vodocom shop. The battled for over an hour trying different settings ,swopping sim cards from phones, and eventuly said no this device must go in for repairs, which is a brand new device .I have contacted the shop bluff on numerouis occasions and poor repsonse given.I then visited the Vodacom shop and spoke to one of the managers there. But he cannot give me any clarity on the device. I have taken this upgrade out over a month ago and don't have the device .My patience is running out, why in the hell should I pay for something I have not had for the past month .There should be a new device replacement without any hiccups .Please investigate this matter and advise.The may terminate the contract if this will solve the problem. I would never ever advise any person to take out a contract with Vodacom after such bad service.
Contact details 0836083051

Ledge
from Johannesburg, GT
Good day
I am Mr Daschner cell number 0825605956
I got my note 8 in november 2017 amd it got stolen in desember 2017 and i was paying screen insurance on my contract i went to lakeside mall amd spoketo the lady that upgraded my contract to ask them if the screen protection will covermyold phone S6 edge plus and she told yes. Because i didnt have the Note 8 anymore. So i kept on paying the insurance from that time. Now they dont want to pay forthe S6edge plus screen. So i payed the screen insurance for almost 2 years for a phone that i didnt have anymore. So if they dont want to pay that i want all the payments that i payed for nothing back or else i will cancel all my contracts with vodacom. Thank you

Francois Kruger
from Cape Town, WC
At the end of my contract, and departure for contract work overseas, I ended my contract, and PAID TO KEEP MY LIFELONG NUMBER. However, 4 months later, on my return, I find out Vodacom has killed that number in their infinite wisdom. MY ONLINE LIFE IS OVER. Ongoing online busines, banking, account etc. are a total mess. I WANT THAT NUMBER BACK. NOW. Contact me on 060 830 1145

Virgelia Govender
from Johannesburg, GT
I took my phone in for repairs on the 7 May and to date I have still not received my phone, insurance claim was approved, I did not get feedback from anyone at the branch nor anyone from vodacom regarding my phone, after a million calls, visits to the store and hellopeter compliments, I was advise to pay the access fee and collect my phone, I went to then do so and then was advise the access fee had to be paid before the repair center releases it, was promised my phone in 2 working days but still nothing the vodacom lenasia branch has not contacted me once, I have to be calling and wasting money and time inquiring..I still don't have my phone..I am so done with vodacom I'm cutting all ties with vodacom once my contract is up...I'm disgusted at the service received from vodacom lenasia, repair center and hellopeter vodacom.... It is ridiculous

Esme van der Merwe
from Benoni, GT
My compliant is 'n upgraded to a new Samsung A50 about a month ago (did not use it that month). About a week ago I decided it is time to use the new phone. Installed smart switch on the new phone and started downloading all my stuff from my current device to the new one. After a couple of moments it came up with a blue screen saying downloading and if it there you need to hard start your device. Which I did that same error message kept popping up. Took it to Clearwater Mall and the Tech gives had it for a night to try and help me the next day it was still not fixed and there was scratches on the back of my brand new phone which was not there when I handed in my phone. I told the lady that the scratches was not there when I gave it to them the previous day. Got a sms yesterday from Vodacom Repairs Fourways to say the cost for repair is R253? My question is why do I need to pay this. Oh and the techs at Clearwater mall made me wait for 30 minutes (they did not say at first how long the repair will take) I then asked they said maybe 2 hours maybe six hours but the never gave me the option to either wait for the phone or leave. They sat talking to each other. I am very unhappy with this whole situation. I paid my R150 when I got the brand new phone and now I need to pay R253 more?? and have a phone with scratches on it!!!! Is this fair? Your feedback awaited.

Lourens du toit
from Johannesburg, GT
Poor service try to sort out a accound have phoned wit refrence numbers no return calles after promise about 8 emails no response previous contrack stil go of account have new one for more than a year with u bad service realy. Was promissed wil be called in 3 days stil wayting nou one month later cel 0662264911

A L Samuels
from Johannesburg, GT
Vodacom does not even deserve 1 star.
I have a very trying time with this incompetent company with regards to phone insurance. I was quoted wrong and then a week later quoted double and the manager could not explain the first quote. Eventually my phone was repaired through warranty but lost alot of info.
I have tried to cancel the insurance on that previous phone, but to no avail, even after customer care called me a week ago, they said they would get them to call me, I am still waiting!!!.
So sorry I signed a another contract, should have moved over to a more capable network.

Michelle
from Johannesburg, GT
Data keeps running out - 1GB in 30 minutes whilst I was not using my phone. Customer Care keeps telling me that I have to go to settings and switch off date usage for certain apps. I mostly use data for Whatsapp, Mail and Safari - in that time I did not use either of these apps.

A W Medway
from Pretoria, GT
The service from Ram Couriers is pathetic. My order number is K1567226. Ram phoned on Thursday 13 and the driver asked for directions which he was given. He did not seem to have a GPS. The phone was not delivered. On Friday we phoned RAM and they said they could not deliver Thursday as we were not available. This wasn't true. On Friday they did not deliver and said the driver had forgotten to pick up the parcel! I spoke to Samira at Vodacom and she sent a strong email to Ram for them to deliver on Saturday as we are leaving for overseas on Tuesday and Monday is a holiday. I had a call from Ram that they would ask for the delivery to be urgently delivered on Saturday. Now Ram informs me today that it will only be delivered on Tuesday morning. This will not give us enough time to configure the phone before we leave. Pathetic service!!! Tony Medway

Jan hendrik de jager
from Pretoria, GT
Hi it all started on 3june when i phoned vodacom it told me im in arears.i have made a payment of R930 next day i phoned again still in arears after speaking to 3 divrent consultants and sending them my proof of payment nothing was done then on the 5june a lady helped me to fix problem problem was R24 sms send to me was for R918.37 thats why i was in arears ok then it was fixed then i upgraded two of my numbers and told the agent that i can not recieve upgrades as im working on divrend sites and that my wife wil recieve on my behalf so i did all paper work and proof of resident id's and stil im waiting for parcels thy never updated delivery info

JT Burger
from Pretoria, GT
Paid up my contract CASH with vodacom at the Kolonade branch about 2 years ago. Got a phone call last week from Vodacom"s collections department stating that I owe R600 on my contract. Have emailed all documents to Vodacom, with open, read & authentication reports. WITH NO RESPONSE. Thank you Vodacom for your wonderful great service.

Diako
from Johannesburg, GT
Why is my line deleted, according to Vodafone I have not used this line for over 6 months but records show this line has been active. I activated roaming last week successfully but Vodacom has no record of that. Just to get a hold of Vodacom I had to call 10 times and the email the consultant gave to me to launch a complaint does not even work. Over the years Vodacom s service has become horrible.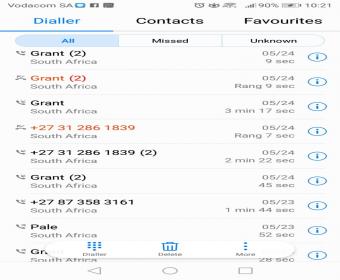 kay rahn
from Melbourne, VIC
082 340 3052 Good day WITHOUT PREJUDICE - NOTICE OF INTENTION TO COMMENCE ACTION IN TERMS OF SECTION 29(1) OF THE SMALL CLAIMS COURT ACT
Good day
Please refer to the correspondence between me and the vodashop in Rosebank Mall. Contact Grace to get copies.
Vodacom has failed to carry out its obligations in terms of the contracts and has caused me damages.
Unless the issues set out in the email are resolved and payment of the damages is made, summons will be issued against you without further notice, costs to your account, together with interest at the prescribed rate of interest.
Yours faithfully,
KAY RAHN
+614444 558 848
082 340 3052
Good day,
NOTICE OF INTENTION TO COMMENCE ACTION IN TERMS OF SECTION 29(1) OF THE SMALL CLAIMS COURT ACT
WITHOUT PREJUDICE
Please see the below email. I have posted a copy to
Mr. Shameel Aziz Joosub
82 Vodacom Boulevard
1687
Midrand
South Africa
Unless your customer care department and or the Vodahop can resolve the issues set out in the email, and make payment of the damages, summons will be issued against you and the Vodashop without further notice, costs to your account, together with interest at the prescribed rate of interest.
The lady from the vodashop is by the name of Grace. Please give me her full name and the name of the company that operates the Vodashop in the Rosebank Mall together with the registered address and postal address.
Yours faithfully,
KAY RAHN
0444 558 848 (+61)
From: Kay Rahn [mailto:rahnkay@gmail.com]
Sent: 13 June 2019 12:05 AM
To: 'Vodacom Shop Rosebank Mall BO (VD)' <vodacomshop.rosebankmall@vodadealers.co.za>
Subject: RE: 082 340 3052
NOTICE OF INTENTION TO COMMENCE ACTION IN TERMS OF SECTION 29(1) OF THE SMALL CLAIMS COURT ACT
Good day
WITHOUT PREJUDICE
You have not addressed all the issues
1. What is the name of your company that owns the Vodashop in Rosebank
2. Is the Vodashop in Rosebank a franchise or is it directly owned by Vodacom
3. What is the name of the director of your company. The CEO.
4. Why am I receiving three invoices from Vodacom
5. Why has Vodacom refused to unblock my phone
6. What is the email address of the CEO of Vodacom
7. Kindly email a copy of the signed contract
Vodacom Rosebank Mall has caused me serious financial damages and continues to do so.
I have suffered damages in my business because clients are unable to phone me on my cell phone.
Vodacom has been unable to fulfil its obligations to me in terms of the contract.
Unless the situation is put right with immediate effect, and payment is made to me by not later than 15th July, 2019, summons will be issued against you without further notice, costs to your account, together with interest at the prescribed rate of interest.
Yours faithfully,
KAY RAHN
082 340 3052
From: Vodacom Shop Rosebank Mall BO (VD) [mailto:vodacomshop.rosebankmall@vodadealers.co.za]
Sent: 12 June 2019 02:49 PM
To: Kay Rahn <rahnkay@gmail.com>
Subject: RE: 082 340 3052
Good day Kay
Your raoming was indeed activated , and we also spoke to to our support and customer services on 082 135 , and they confirmed Roaming its active , when you land you were supposed to switch on the phone so that it can pick up the strongest network , but unfortunately we cant see anything wrong when you roaming out of the county , I logged service requests and theres nothing much they can help with . You may contact our call centre Kay on 082 135 for more info . We did our best on ourside ,,
Regards
Vodacomshop Rosebank

Andre Visagei
from Johannesburg, GT
I am complaining about the internet service of Vodacom in Prieska, NC. I have a data contract with Vodacom. Since February 2019 we have experienced bad internet connection. Internet speed varies. Most of the day the internet speed is so slow that we cannot access the internet. It seems that there isn't a problem with the signal but with the data rate exchange. Upload and download speed is extremely slow; it hardly exists.
We are in Prieska 8850, Northern Cape.
Would you please attend to the complaint asap?
Account number: IO24170-5.
Have feedback for Vodacom?
Thanks for your feedback!
Sorry. Please try again later!