Vodacom
Vodacom Complaints Continued... (Page 3)
643+ reviews added so far. Upset? Call Vodacom corporate: +27-8211

Hi there.I have a signal problem in Brakpan central area and if it goes on I have no choise but to cancel my contract.Vodacom keep sending me promotion messages but they can not sort out the signal problem.The way I see it is that vodacom is money driven and not customer driven.So please stop sending me crab and sort out the signal.I can not live with emergency calls only.

Why should I pay for my calling line id or network synchronization every month R9.50. This is not far.

Sindi Mnguni
from Johannesburg, GT
I need to do a pre-paid sim swap, went to Vodacom Maponya mall and spoke to Kgomotso Ngakane (I hope she gave me her correct name as she was not wearing a name badge). She refused to assist me with a sim swap as she was demanding proof of address. This is not my first sim swap and I have never been asked for the POA unless if the number is a on contract. Can I have assistance on this urgently as I am closer to Maponya mall at the moment and do not need the unnecessary delay. I can be contacted on 0825008383 for now, I will await feedback from you.

I asked for fiber relocation it's been 2 months now no service has been delivered and I have been billed for a service I'm not using .
Vodacom does not provide good service next step in taking them to consumer complains because they are holding me from going to another provider as they keep debting money from my account without proving the service .

Hayleigh van Rooyen
from Cape Town, WC
I am utterly disappointed in the service received by vodacom. They negatively impacted my credit rating even though I I have paid up and settled my account. I requested a settlement letter from them today 11/04/2019 and was advised by their disrespectful employees that I will have to wait for 14 working days. I HAVE BEEN WAITING FOR A MONTH NOW! I know my complaint here will not be attended to as they have no consideration for their customers

Madelane de Bruyn
from Pretoria, GT
In 2016 I have upgraded my contract with Vodacom. A contract was signed with a certain amount agreed. When the first payment went off, Vodacom took over R500 extra that was not agreed upon. This carried on for months before it was rectified but no credit was passed to my account. A few months down the line I phone in to Vodacom to find out about how to increase my minutes per month. The sales lady sold me that day extra minutes for an extra R160 to my account. After that the next payment went off over R1200, again Vodacom took extra that was not agreed. The sales person in the branch assisted and trying to solve this issue once again. I struggled to get assistance from Vodacom as a whole and had to phone in to the consultant and head office often to find out what is happening and why are the issues not solved. No one of Vodacom bothered to phone me back. I have spend so much money on air time to try and solved this. I went as far as the CEO Client Liaison, she advised me that my "special" was superseded as i have requested more minutes. No one told me anything about a special and that my account is now over R1200. Again I contacted the consultant with a new issue, he confirmed this is not the case and he will solve it. for a few months in 2017 the consultant advised me to not pay my account as there is a credit. off coarse I listened to him as he knows better. Because of this the to the records of Vodacom shows i owe Vodacom over R4000. In the mean-time this consultant left the branch and still assisted me not informing me that he is no longer there. with a lot of frustration as I do not get service from him I contact his manager to find out he has left, this was in February 2019. I eventually got to close my account as it has expired in January 2019. But I cannot take out a new contract with any service provider before this is not solved. the manager from the branch where i initially upgraded is trying to assist me with another consultant. vodacom has established a credit of about R3600 was noted on my account but never passed. No one is getting back to me regarding this. I have been without being able to phone out on my phone even though i could still get incoming calls. since Tuesday that is not true any longer. Vodacom has scrapped my number without any notice or approval and no one can get hold of me. I still have not received any feedback on why this has happens and when it will be fixed.
We are in 2019 STILL NO SERVICE and STILL THE ISSUE IS NOT RESOLVED
I have been a client for over 10 years, but this was definitely my last contract I will ever renew with Vodacom. I will most definitely not refer any of my friend or family to Vodacom.
I have never received such distasteful unhelpful no service before. Shocking.
Vodacom will definable not be the leading service provider for long.

K Clifford
from Johannesburg, GT
WHY does Vodacom feel it necessary to send out an SMS at 2:30 IN THE MORNING to tell me that my "anytime data" has expired, especially when I dont have anytime bundles but do have air time available ? No message at that time of the night should be sent by a cell phone service provider, as there is no service they provide that is of such importance that it cannot wait until the morning.

Andre Cloete
from Cape Town, WC
Vodacom deducted and extra R900 from my account. I logged a complaint and Vodacom acknowledge that they made an mistake. I asked that they pay they money back into my bank account, witch they didn't do. Because of this mistake, I have missed an account payment on another account and now I have to pay interest. I am not happy with your service anymore vodacom

Teresa Jansen van Vuuren
from Sandton, GT
Good day
I purchased a R33 sms bundle on my cellphone on the 5th of April 2019, and although the R33 was deducted from my airtime and I received a confirmation sms stating that I purchased an sms bundle, the smses are not showing on my balances, and everytime I send an sms it is deducted from my airtime.
I tried the whole day (9 April) to contact customer care, just to be told that due to a high number of calls experienced I must call back later - TO NO AVAIL, since I still have not been helped regarding this issue. It is also not the first time this has happened - the previous time I just bought another bundle, but this is getting rediculous. I cannot pay for a service I do not get. As a long time Vodacom client, this is not the kind of service I expect from my cellphone service provider.
Had three emails from Customer Care but issue still not resolved. Re: Vodacom Customer Care Reply - Authentication Response Ref: 0008~2ZHD

Anelize Venter
from Johannesburg, GT
What does it help to complain, nothing gets done about the complaints

Mirko Giorgiutti
from Pretoria, GT
In October last year year I was moved from my Smart s package to another which I disputed as the consultant did not give correct information over the telephone , Vodacom confirmed my dispute once listening to the conversation and they reverted me back to my old package but the dates where never reversed , the last upgrade I did was in May 2017 and should surely come to an end in May this year.
I have visited the Vodacom store in Kolonade who indicated they cannot help.
I have visited Vodaworld who indicated they cannot help I was given an e-mail to send the information to still no joy
I have logged three calls over the past months to Vodacom
the following calls have been logged
1-34299044456111
1-34302993596520
1-34313017788390
How does anyone get any type of feedback on how to handle this situation it is really frustrating that there is no where to get assistance from such a large organisation.

Simbulele
from Cape Town, WC
Good day,
I was robbed last night my contact phone and it was not insured, I want a new phone as i was treated unfairly regarding insurance.
I upgraded with Vodacom recently, After receiving my phone i tried several times to contact the insurance department to insure my phone, but i was told by the customer care consultants that there were having difficulties transferring to the insurance department. I was given an email by one of the consultants to email the insurance department, which i did on the 2nd of April 2019 but i was never contacted or received any reply to my email. i called again and i spoke to someone who claimed she worked for the insurance department and she promised to email me insurance documents, she also failed me cause i have not received anything. I called this morning and i was given to email address form someone who claimed to be a manager to forward the email that i sent to the insurance department and again i was failed because i was given 2 wrong email addresses. I called again and i was told that the last time i spoke with Vodacom consultants was yesterday when i reported my phone missing,which is a lie. I have attached the email that i sent on the 2nd.
I can be contacted via my Email or 0825427362 form 08 :00 am til 17:00

I ordered a tablet online on the 27th March 2019... The tablet I ordered was a Samsung Galaxy A7. On Monday the 1st of April a Samsung Galaxy A6 was delivered.Today when I checked to set up the tablet I checked that it was the incorrect one. I am pissed of at the fact that people are so incompetent in doing their job a 100%.. Is this the exceptional service that you guys advertise for??? Charging a customer for an expensive item but sending a cheaper version??? I want the item that I ordered. I called Vodacom now and as usual there is no help...I want someone who is capable of sorting this out to contact me....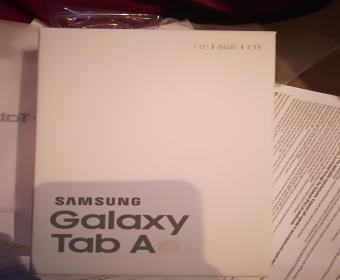 Jason arendse
from Cape Town, WC
Hi , im a vodacom user , the level of service you provide to clients really sucks , the fact that you are one of the leading networks in africa ,but cant resolve small issues , is really frustrating.I dont know how you appoint and train your employees but thats also part of the problem , I have an Iphone , on that phone I have insurance, the charging block broke and I had to log a claim for it to be repared , as if you could we live in beaufort west ,small town in the karoo and you only have a vodacom chat here , so I asked the lady thats wrong there , what I need to apply for the claim and she said nothing , just a contact number ,I went to do the claim and suddenly I needed a copy of my id ,im a very easy person so I went back and provided her with it the following week , as Im also a employed person that cant sit in a vodacom store all day , my phone was away for 3 weeks , and your mosselbay repair what eva , couldnt fix my phone , then we logged a claim for a new on , your employees also taking there time to do so , its a week and a half later and my claim was approved after calling the department verious times , myself coz the assistant from your employees here is very poor and I dont give a fuck attitude,I need to get my new phone and once again your chat store here doesnt have stock ,and the one lady working here needs to order and thats also time consuming as I am waiting 5 days already since last week friday that the claim was approved .And now the lady here cant get the phone and just alot of bullshit that ive heard before . This is not how you do business and this will be my last contract at vodacom , once it is done

Feziwe
from Cape Town, WC
Vodacom sales agent phoned me on the 20.03.19 offering me a cheaper wifi data plan than the one I was currently paying and he advised that the new contract would replace the old one, but I received an invoice this month and they billed me for the old and new data plan.

On the 12 February 2019 I call the upgrade department and chat with a gentlemen Mr Kashrut, where I explained to him that we have
A serious problem with the Vodacom network in Nigel, and that I want to cancelled my data contract and go over to Telkom, because Telkom have
A special on for 20 GB of data day time, and 10 GB of data night time and a Huawei router per month for R 199.00, I explained briefly about the problem and bad coverage in our area, where he convinced me to stay with Vodacom and help me with the same package and a Huawei router, but the data will be 20 GB day time and 20 GB night time, where he log a request to the back office to get information from the network
department that there is a problem in our area, to migrate my account, because I still have 5 months left to upgrade my contract.
On the 20 Feb 2019 I called in again where I received this ref number 1-3429205118440, and the call centre say they still busy with the process.
On the 11 March 2019, I called again because it was already over the cut-off time so solve the problem, and speak to the network department
Mr Judo where he admitted that there is a problem and that Vodacom is working on the coverage in our area in Nigel, where he wright a report and put it on the account so the solution expert can process the request, where I received this ref number 1-34302365313981.
On the 13 March 2019 I call the customer centre, and insist to speak to a team leader, where I talk to Mr Kia and he explained to me that he will look in on the request, and waiting on the recording to listen what was promesses to me, where I received this ref number 1-34303342754301.
And up to now I still waiting on any feedback at all, i would love to stay at Vodacom, as per verbal promises, I still waiting, and nothing is happened.

My contract ended in January 2019. I contacted the call centre in February to cancel the contract.
I was advised that the contract is cancelled and there would be no more deductions.
Since then Vodacom has been deducting every month.
Now, who do I go to to get service?????

Charmaine Gomes
from Pretoria, GT
Received a portable WIFI router on 4 March 2019.
it does not work and i have been trying to phone from my Vodacom phone and no answers or just pathetic voice recordings since then....
i want to know how i can proceed to cancel this as i have been debited for something that has not worked since the 4/3
i cannot be penalised and will not accept any costs or anything. Total waste of time
really shocking and considering i have 4 contracts with Vodacom
Charmaine Gomes

Andrew Nicholetts
from Johannesburg, GT
Hi
To rate you as a one is far to good for you spineless sharks, who go against their promises to customers. I entered into an arrangement which one of your people at your accounts department. to have the full balance paid by the 20th of April 2019. Surprise surprise, vodacom goes against there word and disconnects my phone. I have been trying all day now to resolve this with no joy. Please can you get someone to contact me, preferably your CEO.
Thank you
Andrew Nicholetts
0825728427

Pieter
from Somerset West, WC
Good day.
I have recently purchased a USB charger from your branch at Waterstone Mall, Somerset West, Western Cape.
I could see that the package was opened and the item used.
I ask the sales lady for a sealed package.
she told me that I should not "worry" if the product does not function satisfactorily i must return it with the receipt and she will replace it with a new charger.
The product charges intermittently and I returned it after two days.
It was the same sale lady and she said she would just check with her manager.
The manager refused to replace the item and said that she checked it and it worked on her car.
The matter of the fact was that I was given inaccurate and false insurance that the item will be replaced if I am not satisfied. and had to wait so that the manager could test the device - notwithstanding that I complained and were told it would be replaced.
It was such a degrading experience I will never ever buy something from a Vodashop again.
It was the most unprofessional shopping experience that I ever had.

BRANDON GELDENHUYS
from Lyttelton, GT
I,
BRANDON GELDENHUYS
(ID: 950824 5161 081)
declare as follows:
1.
During June 2018 my cellphone contract with account number I4 525535-4 expired and I had an option to upgrade my phone and in the process renew my contract.
2.
I was telephonically contacted by a marketing person from Vodacom, providing me with the option of upgrading my phone telephonically.
3.
The phone I upgraded to, a Samsung S9 Plus, was delivered via courier to me.
4.
Upon delivery I noticed that the tamper seal of the box was broken and the Samsung cellphone was pink.
5.
I immediately contacted Vodacom and informed them. The marketing person I spoke to from Vodacom informed that a Courier will collect the phone from me and that they will reverse the upgrade and cancel my contract within seven (7) working days. I was also informed that I had to go into a Vodacom store to open a new contract.
6.
The pink Samsun S9 Plus was collected by the Courier 2 days after I reported the situation to Vodacom.
7.
I went to my nearest Vodacom store and requested to open a new contract but I was informed that the contract was in fact not cancelled.
8.
I explained to the representative of Vodacom at the Vodacom store the background as set out above.
9.
I was assured by the representative of the Vodacom store that they will escalate the matter to get it resolved.
10.
Since visiting the Vodacom store and after being informed that the contract was in fact not cancelled, I spoke to various people from Vodacom to try and resolve the matter.
11.
I contacted the Head Office of Vodacom, went into the nearest Vodacom store and spoke to various Vodacom representatives including cancellation managers and every time I am assured by them that the matter will be escalated and resolved.
12.
However it has been almost a year and I receive phone calls from Vodacom on a daily basis and the matter remains unresolved.

Delano Lambert
from Cape Town, WC
Hi
Would like to complain against a consultant that I spoke to on 18:49 on 5th April 2019.
She was very rude as I wanted to speak to a manager to direct me to another consultant that he/she might think could resolve my query as the African authenticity female (not being racist please I am just trying to be more specific) could not assist me and wanted to give me a number to a department that has to change my number again etc . She clearly just wanted to get done with the call.
Also she put me on hold for quite some time while I was still busy speaking to her she cut the cut on hold .
I would like some feedback on this call and also the recording of this call please.
If I don't get any of that I will then take this complaint further thanks.
Regards .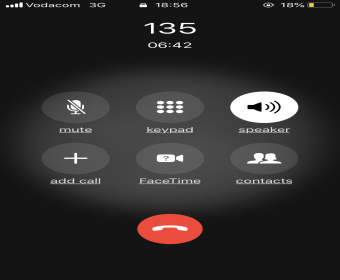 Melene we Villiers
from Johannesburg, GT
I am very cross with vodacom customer care because there is no feed back or help. On upgrading I was given the wrong details and looked like a fool cause I was told 0822925927 is R199 per month but was in the end charged R289 and I asked why to the upgrade dept. Could not explain why, eventually calling after 3 times I was told an insurance was on that cell number, how uncalled for. I have been trying to get through to the insurance dept and there is no answer or goes dead, this is very unprofessional. I then try to get through to customer care and it's stated that my calls have exceeded for the month the calls will be billed on calling vodacom. I have paid vodacom R2700.00 monthly not a small amount and get NO SERVICE OR HELP. I have come to a dicision that if a CEO from vodacom does not call me on 0726957068 I will cancel vodacom of immediate effect and vodacom wants to take matters further I will NOT take this as I will take this matter further on how I have been treated.

Call the call center regarding my router which now show I have a balance of 4Gb from the 10gb that I receive every month on the 1st ,I hardly use my mobile router and do not understand how I consumed 6gb in 4day ,my issue was not resolved and was told "simphiwe "who works in the solutions dep would assist the call was transferred to her and the was no response,I tried calling in several times and I was not assisted till now .Service was very poor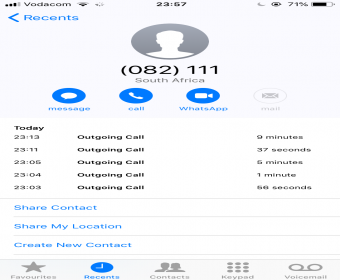 Helena Henning
from Randburg, GT
Phoned by your sales dept. offered me 2 routers as an upgrade on 2 of my lines. Did not tell me they came separately. Received 1 box thought they contained both. Got a call from Ram to do delivery, thought I had both, and they cancelled. Realised then only had one. Contacted Ram within 30minutes, told me can't do anything contact you. I did and was sent from one dept to next then eventually told contact of 5 working days, which I did and was then told promotion ended and now R229 instead of R149. Sent me to outside Vodacom who told me they can not help, have not the same promotions. Phoned again this morning and cancelled because they have already deducted the R330.00. Will refund R150. Upset because I wanted the router. After all these years with you thank you for not service

I gave upgraded my old labtop contract with old big sim card in that red and white vodacom device.
I received the new tablet with a small sim ....put it in the tablet...but no sevice I phoned to have it activated. But was told only the end of the month !!!!
Why I have already a contract with you why cant the new sim not work ??
Cant they do a sim swob ?? i want to keep the old number

Marlon GESWINT
from Pretoria, GT
On 12 February 2019, I spoke to Mr M Galawe, a Vodacom consultation, he inquired as to whether i wanted to subscribe to a new Vodacom package. He indicated that the package would include the following 100 minutes, R165 airtime and 10 gig for the first 6 months and thereafter 2 gig per month for the remainder of the contract. I asked him repeatedly whether this package was available including the 100 min and he confirmed it. Based on what he explained I then signed up to the package. When the new package was activated the 100 min was omitted. For more than a month I am following up with Vodacom on the minutes and the service has been extremely poor. The initial ref no was 1-34298417345645. I was told that the IT Service Desk was reviewing the recorded conversation between Mr Galawe and I to establish whether he indeed indicated that the package would include 100 min. Last Thursday I spoke to Christina, a Team Leader, she indicated that she or Maria would revert to me on Friday. Another week has passed and still no feedback from Vodacom.
Going forward I will never take another contract with Vodacom. The service is unprofessional and there is a level of arrogancy which is concerning. It would be appreciated if this matter can be resolved. All I am requesting is that Vodacom make good on what was promised to me based on my initial conversation with Mr Galawe.
Kind regards
Marlon Geswint
Chief of Staff: Ministry of Finance
0646551027

Thivern Pillay
from Johannesburg, GT
I submitted a relocation form on the 12th of Feb, for my fiber to be moved to new home on the 25th March.
I contacted vodacom fiber everyday since then over 10 calls.
I keep hearing excuses about why my fiber isnt been installed and yet I must pay for the service when I am not using it.
Vodacom fiber is completely useless and I will move my 2 phone contracts and fiber to another provider.
I cannot believe the lack of service I am receiving.

Steven Fanyana Nkosi
from Sasolburg, FS
Good day,
I hereby request that you investigate an issue of my data constantly getting depleted from cell number 082 461 3294. I frequently call Vodacom customer care complaining about this issue. Every time I'm told to check and restrict apps running in the background which I did.
This did not help as the data depletion continued. I called Vodacom customer care again and they advised me to visit Vodacom store to get my cell checked by the technician and I did so. The technician did not discovery any app that consumes so much data.
On the 1st April 2019 morning I checked my data using *111# and noticed that I had zero data, and thereafter called Vodacom customer care to investigate this matter. This matter was then referred to a technician and was promised that the technician will respond within 24 hours to update me.
The reference number for this is A2-FF8D-250255, instead I received an SMS on the 2nd April 2019 at 09:24 from Vodacom stating that my data is being transferred to a contract cell number 078 379 5814 and that I've been gifted 1GB data as a once-off gift gesture of goodwill. However I was not happy with this resolution and called Vodacom customer care the same day to investigate this further because as far as I know, data is not transferable and I fail to understand this. I was given a reference number A2-FF8Z-6JK2CP at 13:42 and told a technician will call me within 24 hours. At 14:00 I went to work underground.
When I tried to use my cell on the 3rd April in the morning, I noticed that I had no network coverage. I switched my cell off and restarted it, but still had no coverage. I couldn't follow up on this issue immediately as I drove from eMbalenhle to a work seminar Boksburg that started at 07:00. During our break I called Vodacom customer care 09:00 using my company cell no. 079 523 9677 and every time the machine asked if my call was regarding another phone and to enter that number, as soon after entering my number 082 461 3294, the machine would tell me that the customer car number is currently busy and that I should try later. I kept on receiving this massage for a number of times. I ultimately came through to customer care at 10:41 after reaching it via the business support enquiries. I told them of my problem and was told that somebody conducted a sim swap on my number the previous day around 14:00.
I informed that Vodacom assistant that I did not do a sim swap on this number, enquired about my balance and was told it was still in order as no calls have been conducted on this number yet. I had + 1,75GB, and + R258,00 on the 2nd April 2019 around 13:50. This assistant told me to go to the nearest Vodacom shop to do a sim swap. She did not block this number to prevent it from being used. I discovered this after being advised by my manager to check if my bank details have not been tempered with as some people are defrauded by these sim swap scams. When I called Vodacom customer care at 14:00 was told that I'm left with + R135.00, 735MB and that it has been flagged to prevent any person to contact customer care.
I suspect that the person doing this scam works inside Vodacom. Since I called Vodacom to resolve the dada matter, the problem escalate instead of being resolved.
I therefore request that Vodacom resolve this matter urgently and reimburse me with all that I had lost through Vodacom which is my airtime, points accumulated and further investigate my data being depleted as this started from last year.
Please view this in a very serious manner to resolve it as I won't let this matter go until it's resolved. If needs me to engage attorneys to solve it, I'll so.

Leon Krüger
from Johannesburg, GT
The number of dropped calls that I have been experiencing in the last week is poor by any measure. It is incredibly frustrating when this happen when one has just reached a consultant at a call center after waiting on the line for 10 minutes and then your call is dropped. Vodacom is certainly not providing me a reliable mobile phone service.

Louis van Heerden
from Welkom, FS
Good day
There has been fraud on the number 072 604 8638 in Sept 2018.
This used to be a data contract I owned up until beginning of Sept 2018.
With lengthy discussions, this has been resolved, or I thought so…
In November 2018, December 2018 and January 2019, Vodacom has been taking money from my account via debit order for n contract that I no longer have since Sept 2018, due to the fraud that took place.
I have been calling and trying Vodacom to reverse this and they kept saying the contract has not been cancelled yet, how can it not be cancelled after the fraud???
I request that Vodacom pay back my outstanding funds taken from my account R543.00 (R181.00 x 3) as this was taken from my account incorrectly without any reason
I hope I hear from you soon

Martha Sophia Smith
from Kimberley, NC
I changed my banking details to another bank and went to the Vodacom offices in KImberley three times.(Vodacom offices in the Daimond Pavillion mall in Kimberley) . The necessary paper work was done to change to debit order to another bank. It is confirmed that they changed my banking details for my debit order, but is not done after 4 months.
Extra banking costs of R114 is charged by the bank because I do not bank with Standard Bank anymore.
I am going to send the debit order back and will changer to another service provider when my contract expired.

Holger Reichel
from Durban, NL
Signed up for a new data contract with vodacom online. in October. Then was charged R2500 extra for the device which was not explained or indicated in the advertisement nor in the subsequent telephonic finalization. Contacted upgrade department several times and forwarded invoice.Initially in December?January I go a few responses then it was all quiet. Phoned again in February and was asked to resubmit invoice for wrong billing. No response ever since.
Very disappointed and very close top cancelling all debit orders in favor of vodacom

irene visagie
from Cape Town, WC
Although I do have several contracts with you, I bought a Samsung Galaxy J2 cash at your Sanlam Bellville branch. There was a misunderstanding between me and the sales lady regarding the amount(I have ask for a cheap phone ). After 2 minutes leaving the shop I receive my SMS from the bank and was shocked , went back to the shop and explain that I misunderstood her and cannot afford the phone, I ask her if she can pls cancel the deal and refund me, without any success. According to the branch manager it is not their policy.
I call your 082 135 number at two different stages where they confirm that I do qualify for the 7 days return.
The phone is still in the box , brand new, not used or even touched.
The purchase result in my home loan debit order being rejected due to insufficient funds.
I am a Vodacom costumer for a long time and did not expect this type of services.
Will you pls advise what I need to do to be refunded.

What on earth did I just hear from your call centre agent, you know 3 weeks back I suspected my talking points were disappearing, now today I check my detailed balance and I see I have 281 points , I have had this simcard for more than 4years thinking I'm soon going to buy a phone and add more cash to the points, now I hear that every year and 4 months Vodacom forfeits unused points, if I can recall I had over 480 talking points, and 3 weeks back had 360 something and now 281 less than a month later, that is more than 80 points gone in 3 weeks
, DO YOU GUYS REMEMBER HOW HARD IT IS TO GET THOSE 80 POINTS, let me remind you, when I recharge with R12, I get 1 FLIPPIN POINT, NOT 10 BUT 1, you know howmany R12 air times I'd have to buy to get back those 80 points, YES 80 R12 air times, that's R900 plus worth of airtime I'd have to buy, and you guys just took it like you give 10 points per recharge ..... How the hell will I get a phone like this..... and how come you don't mention this to your customers so that we don't waste time accumulating points....this is fraud, I'm so pissed right now, I'm changing both my number to MTN, and thank GOD I never took the data contract I applied for with you guys, don't even call me about it anymore, I'M MOVING TO MY WIFES NETWORK, MTN, I'M FED UP WITH YOU GUYS AND UNLESS YOU CAN REIMBURSE ME THOSE 200 + POINTS YOU STOLE FROM ME, don't even bother replying, I'm doing a simswap before end of this week, kekgathetse ..... goodbye Vodacom....

Llewellyn
from George, WC
Mrs HM Julyan
Cel: 082 422 8018
Repair Nr. 12964469
Good day, hope you can be of assistance with this urgent matter for my mother in law's celphone, as we dont get feedback frim Vodacare gardenroute, spoke to Michelle, Meagan and left messages for Wernigh but no response yet since last week,
I use to work for vodacom regional customer care in 2006, and since I left Ive been with Cell C, so have not dealt much with them again.
My mother in law been a client of them since 1996 got an upgrade but phone was faulty, send it for repairs and got a huge bill for damages. Now the problem is, she has not used it yet, not even her sim was in phone yet. When i inserted sim, as she is old I always assist, the phone did not recognize sim.
When I worked at vodacom we could see if the phone has been used with a sim on the system. And my other question, why was phone not tested? According to me phone must be unboxed, tested with clients sims etc? That was not done, its not like it was delivered? She went in to a vodacom shop! Now Ive been phoning the local vodacare (George, Westerncape) and no assistance and empty promisses I will be called back, still waiting
Official business reply
Dear Customer,
Thank you for making us aware of your complaint.
Kindly be advised that a consultant will make contact with you in due course to assist with your query.
***Please note*** Beware of phishing scams.
Vodacom will not contact you via Whatsapp to request your personal details
Regards,
Vodacom Consumer Website Team
Official business reply
Dear Llewellyn
Thank you for taking my call. As per our telephonic conversation, I have advised accordingly with regards to your query.
We apologize for the inconvenience and the service experienced.
Have a great day further.
Vodacom Consumer Website Team
llewellyn-van-der-poel:
See message i recieved, but still no feedback from vodacom? How can it be closed but its not resolved Dear Vodacom Customer. Your service ticket with reference number EC-1RY7-2JQ9ZT has been closed. Thank you Vodacom.
llewellyn-van-der-poel:
I have spoken to the store manager Wernigh more than a week ago who promised to call me back when he recieves the faulty phone back the next day, but still nothing. I called yesterday and left messages but he still has not called back. I dont understand, what is the hold up? According to the consumer act, they had to test the phone before it left the shop. This was not done, as you can clearly see on systems. So just replace the phone. What is the hold up?
Kind Regards
Llewellyn van der Poel
064 398 2299
Sent from my Huawei Mobile

Eleanor Kuhn
from Johannesburg, GT
I have requested for a contract to be cancelled on the 31st of Jan 2019 and for the number to be converted to pre-paid I email Vodacom daily without getting any response from them and the reason for emailing it that I have even less luck with calling them.

maralyn burger
from Cape Town, WC
Vodacom assistants do not deliver the service that they promise.
Terrible service

Detlef Jutersonke
from Pretoria, GT
I am trying to reach out to Vidacom via calling 082 135 or trying to find an email adres that works.
The reception in our area is becoming increasingly poorer and no one seems to be able to assist.
I need a direct contact if possible to manage this problem as our entire community is affected and considering an alternative provider.
Area affected is north of Pretoria in Vastfontein close to the Rooiwal Waste Water Works.
Please advise.

I0143884-6
Account number above. I have fraudulent numbers on my account. I sent an affidavit to Vodacom regarding this and is since then handed over to various law firms with an amount outstanding on my account. The amount outstanding is the amount outstanding is the amount of the fraudulent numbers added to my account. I have all the documents and after many emails to the law firms still no credit. Can you please assist and do the credit that we can PLEASE settle this.
Files cannot be loaded onto this page. Please contact me on the above email to send the supporting documents

I upgraded my contract this was done on the 16th of March 2019 then on the 19 of March I received a call to confirm my address I gave out my work address then the consultant said to me the phone would be delivered on Friday 22nd so I changed that as I was on leave I changed my work address to my home address . Friday came and there was no phone . Saturday I called Vodacom AGAIN to do a follow up and changed my address to my work one as I did not get my phone on Friday I person I spoke to confirmed that the address was changed but guess what that was NEVER DONE!!!!!!!!!!!!!!!!!!!!!!!!!!!!!!!!!!!!!!!!!!!
Today the 27/03/2019 still no phone I called Vodacom and my address was never changed
I must say I regret taking the upgrade phone with them I have received nothing but poor Service

John Strang
from Johannesburg, GT
SR190323-321208 - Fibre installation
I had fibre installed at my house on Friday and a Vodacom WIF Router was delivered also on Friday.
Since then I have been waiting for Vodacom to configure my modem and switch me on. It is now nearly 72 hours since the installation and no connection has been done.
I believe the SLA is 24 – 48 hours. Vodacom is in breach of this SLA, yet no one at your call centre seems to be able to rectify this, besides sending an escalation email, which clearly makes no difference!
I have made numerous calls to your call centre (at least six calls) and still nothing has been done.
The post sales service from Vodacom is shocking and practically non existent.
Regards
John Strang 078 456 1452

Waded van den Heever
from Randburg, GT
Goodday i just want to file a complaint about account that had to be closed in 2015. I stopoed my debitorder as they didnt stop subtracting money last year and i am still receiving nonstop calls frim legal after sending how many emails to different people. The amount they want is now R900 and was R700 of sine i stopped my debitorder. They didnt adhere to my cancellation of contract after the 2 years in 2015

Anelize Venter
from Johannesburg, GT
As a customer for more than 10 years and paying over R2000 p/m for bad service and false documents, I signed 24 month contacts and gets billed for 28 months. I have 3 contracts to prove this currently. I have been trying to log my complaint via customer care consultants, which put me thought to billing department, spoken to numerous consultants. Three different stories, one - Prudence whom I called at 082 1940 said she saw what I meant and it will be rectified within 48 hours, this was last week Wednesday (20 March 2019), this week, a whole week later I call back and I am told it is correct, my specific nr 071 612 1028 I got 06/12/2017, which means if I signed a 24 month contract, starting 31/12/2019 the contract must end 31/12/2019, when I call and even use your voice services it gives me a contract end date of 14/03/2020, that is a 28 month contract. Then also on 079 299 5698 HUAWEI P8 LITE phone received and contract signed 12/03/2018 - contract end date 31/05/2020, that is a 26 month period. Last query, I bought a Acer Laptop on number 079 514 7592 on 04/05/2016 which is a 3 year contract, contract end date is 31/05/2019, which is correct, I want to upgrade and take a new laptop on the same number, but I am told its not due for an upgrade. I have so many times told so many people that I have no issues with Vodacom, but it seems I am proving myself wrong in this case. I am furious and very unhappy with Vodacom and all consultants who promised to assist but did nothing or just told me I am wrong

Fikile Nkonyane
from Johannesburg, GT
Good day I would like to complain about a staff member called Gladys who works at Sandton city, I have applied for a contract phone last year, she did not disclosed all information I asked for a top up, she gave me an open contract and now she is denying everything, the manager intervened but nothing is being done R8000 was deducted from my account this morning, I am now in debt which gives me a bad credit please assist.

Simon mathebula
from Cape Town, WC
Vodacom recycle my number while its Active on a defaulted contract and now im not able to be assisted to reclaim it, i have a week now my number have not been working thou payment have been made to the contract with Vodacom.

Retha Hechter
from Johannesburg, GT
Complain 1: 076 422 0656 : Lost Cellphone 17 March, called to block cellphone and sim. Consultant offered to assist to upgrade cellphone and arrange a sim swop. Monday 18 March upgrade consultant returned call and assist to upgrade to Huawei P20 lite, promised delivery Tuesday 19 March. I requested the consultant that they must call me upon delivery. Tuesday the consultant called back and said they do not have stock, so why do they upgrade on something they do not have stock on. We then chose a Huawei Y8. Delivery of phone and sim was promised for Wednesday 20 March. No delivery received Wednesday of Thursday. Friday 22 March I called again vodacom and RAM. In the process between calling vodacom and RAM all the time I used up all my airtime, which might not be an issue to you, but for me every sent counts. So RAM promised delivery Friday 22 March, again I asked to be called upon arrival. Apparently the driver did went to deliver and called the stolen no. No answer at the gate and obviously also no answer on the stolen number and no delivery. Friday afternoon I called RAM again. They then said they do not do deliveries on Saterdays but we must call the warehouse early Saterday and request to collect. Saterday just after eight I called RAM and they then said if we wanted delivery on Saterday we were seppose to request it Friday, I can not collect from the warehouse. So why do the one person tell me to call to collect and then other person tell me I am not allowed to collect. Service received from Vodacom and RAM is up to shit.
Monday morning again I called to find out what was going on, parcel was not scheduled for delivery. I complained and the person said he will send an email to the manager. After 12 I again called to find out what was going on, parcel still wasn't send out for delivery, I again complained. Parcel/cellphone was delivered just after 14.00, only the cellphone and no sim card!!!!
I called Vodacom again, they said the will have to send it again urgently. After work I went to vodacom shop to assist me with a sim swop, they could not assist me as there was an open sim swop on my account. We tried calling vodacom contracts department again, once again no answer after we holded on like forever.
Today Tuesday 26 March I again called vodacom to assist me, being transfered from one person to another without any success. I requested for the sim to be cancelled as I can not wait again another week. Do not know it it has been done. Consultant said she will send an email. Vodacom consultants are only friendy and helpfull when they want to make a sale, the rest of the time no one was helpfull or friendy at all. I will not recommend vodacom especially online service to anyony.
Complain 2: 082 815 0447: Vodacom calcentre contact me to upgrade as I wanted to cancell this contract. The consultant then told me I can proceed to upgrade and just have 1gig date for R50 a month and when I am ready I can upgrade the mobile. Monday 25 March when I was at vodacom shop, the consultant informed me that they lied to me, the contract has been upgraded and I can not upgrade to get a mobile on this contract. Once again vodacom consultants are lying to make sales telephonically. I want to cancell this contract, will get a new contract from another supplier who is willing to provide service.
I will be taking this up with Hallo Peter and everywhere possible on the internet, as I am very unhappy with the service received from Vodacom and RAM. Both companies service suck.

Puseletso
from Johannesburg, GT
I went to Vodacom Vaal Mall, Vanderbijlpark this morning, 25 March 2019 for a sim swap. The manager referred me to Mathapelo who requested cell phone number which I gave to her and asked for 5 last dialed numbers then I requested to call my Sister in law to remind me of other numbers called but her phone took me to voicemail. Then Mathapelo's cellphone rang and she took a call without apologising to me. The call was written "hubby". She sat over the phone until I stood up and left. After few minutes, I went back to request her name and surname and colleagues just gave me her name only "Mathapelo". Then requested to see the manager in charge and was told he left the shop, to my surprise he came out of his office. I then related my story to him how Mathapelo treated me. While I was talking to the manager, Mathapelo confronted me that she answered her husband calling because I was on phone as wel, mhhhl. I then asked them about Good Customer Service if it is practised in thier store and the manager couldnt answer me. Mathapelo was so brave to tell me in front of her manager that my enquiry was not vodacom related, I then asked her if that was the reason that made her to stay on private call whilst she was busy assisting me? Still the manager couldnt call her to order. Mathapelo then said I mustn't bring by problems to them and left me right there without apologising for her bad behaviour. I told the manager that I am going to report the matter at Head office n he said I should go ahead as the Head Office is going to take the matter back to him. I didnt understand what he was referring to cause it was crystal clear that he can't manage his staff as Mathapelo spoke as she pleases in front of him and he didnt say anything to call her to order. Most of our youth are unemployed while others are employed to answer thier private calls instead of recruiting clients to Vodacom. I know there must be someone out there, "highly qualified youth" with good customer care skills who can be hired to replace such a "dont care Mathapelo" person. Lucky her that she is hired to answer her private calls. Mxm poor South Africa

I took out a laptop and rooter contract which came to an end towards end of 2018 . In January I requested at an agency to terminate the contract as I saw it was still going off monthly. The cancellation was never lodged and the amount of R455 kept on going of. End of Feb 2019 I phoned cancellation dept. And the lady told me she had cancelled the contract as I asked her to . my ref no given was 1/34280438057602. Ive received my March account to see yet again that ive been charged again R455 for laptop/rooter . I phoned just to be told that she had cancelled the upgrade not the contract as i specifically asked!! I was told i must pay it again this month but herewith my new ref no. 1/3423958776. I truly don't know if I can trust that I won't yet be billed again next month . Its very unfair to have to pay for something you have cancelled due to vodacom employers not doing thete job !! I will definitely not recommend vodacom to acquaintances and I wont be renewing my contract . Ivebeen a client for many years . Im truly upset by poor service.

Fatima Grobler
from Johannesburg, GT
We have been experiencing major problems with Vodacom reception in Yeoville.
We are situated at 43 Raleigh Street Yeoville, Supa Saver. The business has been taking enormous loses due to our speed point machines not being able to operate due to the network issue. We only use Vodacom. Our phones have no reception and we have to rely on whatsapp calls. This is the most frustrating situation to be in.
Our company has 20 Vodacom RED VIP + contracts, most of them are on Platinum.
I have on numerous occasions complained about the network issues from Vodacom in this area but it seems to me that it has just fallen on deaf ears.
I therefore have no option but to once again ask for urgent assistance or we will have no other alternative but to cancel all the contracts and move to a more reliable Service Provider that will at least take some action.
We sell airtime through Blue Label. I will personally make sure that I stop all Vodacom sales until the Vodacom network/Reception is rectified in Yeoville. Our business has lost huge amounts of revenue due to this with customers leaving full trolleys behind because the speed point machines do not have network.
Vodacom, if you have anyone that has some time to attend to this and would like to keep our business please contact me.

nyiko beauty mavunda
from Pretoria, GT
vodacom withdrawn money from my account on 1 march nd 1 february for the parcel dat i returned i dnt understand why i want my money back i cnt pay for things dat i ddnt accept please cancel your debit order

Rawk
from Johannesburg, GT
REF - SR190226-270411
Please be advised that i am extremely disappointed with the service received from Vodacom. So much so that if I do not have a reply to my query within 24 hours then I request Vodacom to remove the Fibre installation at my residence and I will seek Fibre at a reputable company that actually cares for their customers and is able to give feedback. My ONT unit was installed by SADV on 26 February 2019. Since then i have made several phone calls on 0821904 and each time I am told exactly the same story "I will escalate the matter to Project Management and let them know you are not satisfied". Really, can no one in Vodacom actually tell me the progress of delivering a simple router. I have a few contracts with Vodacom but this service i have received has made up my mind to cancel all my contracts at the end of their terms.
Please can a competent and caring employee who actually would like to help a customer call me on 0835708382 and advise me on the progress or inform me of the date Vodacom will be removing the Fibre installation from my premises.

Karen Raw
from Randburg, GT
REF - SR190226-270411
Please be advised that i am extremely disappointed with the service received from Vodacom. So much so that if i do not have a reply to my query within 24 hours then i request Vodacom to remove the Fibre installation at my residence and i will seek Fibre at a reputable company that actually cares for their customers and is able to give feedback. My ONT unit was installed by SADV on 26 February 2019. Since then i have made several phone calls on 0821904 and each time i am told exactly the same story "I will escalate the matter to Project Management and let them know you are not satisfied". Really, can no one in Vodacom actually tell me the progress of delivering a simple router. I have a few contracts with Vodacom but this service i have received has made up my mind to cancel all my contract at the end of their terms.
Please can a competent and caring employee who actually would like to help a customer call me on 0835708382 and advise me on the progress or inform me of the date Vodacom will be removing the Fibre installation from my premises.

Darran Myers
from Durban, NL
in 2010 I took over a phone and simcard from my fiance Sandra Louise de Jonge. 082 553 1858 For 9 years I had this phone and number. In 2017 our relationship came to an end. She requested huge amounts of money from me and when I realized I overpaid I stop funding her demands. By that time I fully paid all her monthly invoices for the phone and number and the number was now a pay as you go. Yet on 5 March 2019 she blocked the sim claiming falsely and fraudulently that the phone and sim was lost or stolen. Giving her access to all my banking / passwords and clients by doing a sim swop. Vodacom did not take actions against her for fraudulently claiming the phone was lost or stolen in order to do malicious damage to my business and myself even though I spend hours with Vodacom with all the proof - including my fb of 2010 where the number appears on MY PROFILE right through to 2019. Even though Mrs De Jonge was the client on record clients should not be allowed to get away with malicious actions and false allegations. She purely did a sim swop to be malicious which is clear as the sim card - 2 weeks later - is still not in use. I am still a Vodacom customer but unhappy with the way this matter has been handled.

I received a broadband router 2 days ago and I called in to activate but call center was unable to assist they said I must go to the vodacom store. I get to the store in Alberton new market they send to another store by technician, then they say they can't help and send me back, I wait for 20 min for someone to help then only they say call vodacom, spoke to the team leader and he said the store must help. I must f... Frustrated because nobody knows how to activate and connect the internet and getting pushed from pillar to post. Angel Sitwala at the Alberton store had no patience and refused to speak to the call center. I am very upset because I canceled c cell thinking vodacom is a better option but clearly not worst service experienced in my life. I was so fed up and left everything at the store because I cannot take something that nobody at Vodacom knows wat is happening. Quick to deliver but don't work. I'm disgusted in your service

Nadine Peffer
from Johannesburg, GT
i have asked them to repair my Cell Phone for the last month - the agents-some of them- at the Eastgate repair centre are incompetent adults who, im not sure how they got employed. No comunication within the department takes place and its up to the customer to follow up on the status of the repair. i have now decided to take my network elsewhere where im sure i will be appreciated more.
i have read up on the amounts of complaints that Vodacom customers have ants i can sympothize with them. I agree 100% with them and they have lost a ifetime customer.

Mrs Glyn Pereira
from Cape Town, WC
Due for an upgrade,and been a loyal client for many years. Upgrade sorted on line,and waited for my new phone and 2 "Rewards" of 10 Gigs for R99 x 2 offers. What does Ram Couriers deliver? Only a simcard. No device.
Devastated I phone in to almost every Vodacom help number,only to find that the blue Samsung Galaxy A7 is unavailable. Only gold is available.
Why was there so much hype about seamless upgrading,and no delivery? Why didn't one of the upgrade team members get back to me about not having stock? I am so angry right now.
So I have decided to ditch all 3 of my Vodacom contracts,and take my business elsewhere.
Such shoddy business ethics will not endear Vodacom to anyone. To be sure, I for one will advise anyone who asks,to never trust Vodacom, do not believe the sales hype, they cannot deliver what they promise.

i just called vodacom on the 12th of march 2019 with regards to my data that had been used by vodacom all whilst i do have a whatsapp ticket that sometimes does not read.one of your consultants said i would be refunded and vodacom never got back to me,Its the 13th of march and i expect my 100 mega to be reimbursed

Regarding phone number: 064 655 6584
In February I phoned to see how much airtime I had left. It showed R 200. I made 1 call of more than 6 minutes. Afterwards I made another call. After a little while the phone just cut off and I could not make any calls.
I want to be given a detailed list of the calls to see how it is possible that R 200 airtime just disappeared. I want an adjustment as soon as possible as I already gave notice to cancel the contract end of March 2019.

Dianne Oelofse
from Pretoria, GT
I WOULD LIKE TO COMPLAIN ABOUT THE WIFI ROUTER. I GOT THE CONTRACT LAST MONDAY. I USED IT FOR 2 DAYS (A FEW DAYS IT WOULDNT EVEN WORK), THEN THEY TELL ME THAT I HAVE 0 GIGS LEFT (I GOT THE 10 GIG DAY & 10 GIG NIGHT DEAL), I WENT TO THE STORE THEY COULD NOT HELP, I THEN PHONED HELPLINE AND THEY SAID THAT IT WAS INCORRECTLY TAKEN OFF, THEY WILL CREDIT ME WITH 4 GIGS. I STILL DO NOT KNOW HOW I USED 5 GIGS IN THOSE FEW DAYS. I WISH TO CANCEL THIS AS I DO NOT SEE WHY I HAVE TO MONITOR MY USAGE EVERY MINUTE OF THE DAY! THE LADY AT THE CALL CENTRE SAID I HAD 14 DAYS TO CANCEL MY CONTRACT - THEY WONT LET ME CANCEL IT NOW!

Corina Da Silva
from Johannesburg, GT
Dear Sir/Madam
My patience is now exhausted, I have been trying to claim for a Router and Cell phone since the +- 21st of January 2019. cell Number 0824916233
I was highjacked on the 14/01/2019, the very same day I cancelled my router and cell phone SIM cards.
I managed to get the SIM replaced by Wednesday the 16/02/2019 and that was it.
Trying to get through to Vodacom insurance department is an absolute nightmare, the phone number provide doesn't work or you get no response.
Going through the Vodacom Customer Care as much as they try, it still a nightmare.
During these last couple of weeks, I have managed to speak to your call centre agents and I was quite vocal with my complaint, at times they have tried to assist me, but quite frankly it out of their hands.
To cut a long story short, at one stage I actually got an authorization to go and collect my phone and router with following reference :
Phone: NES 140962
Router : VCI 184 856
I then go through to the Vodacom shop at Bedford Centre, to collect the phones, the very nice lady at the counter tried to call the insurance team to confirm again she tried for over 15mins with no success this was a Friday afternoon, it was agreed that
Agent and the Vodacom Shop in Bedford Centre would call the insurance on Saturday morning , and now they told her that I need to get a claim form from your Insurance department.
Again I tried to call you insurance department on a couple of occasion again with no success, so I phone your customer care line again. Your agents tried to assist me but with no successes as an alternative he suggested I go through to the Vodacom shop to collect Vodacom Insurance Claim form.
This form was submitted last week Friday, (see attached) I haven't received an acknowledgement and again they don't answer their phones. Friday your agent tried to put me through to the insurance department I waited on the line for over 30mins.
I can't sit on the phone everyday for so long without getting any feedback . I am still waiting for a supervisor to call me back since Friday
I am lost for words, I have been a Vodacom customer for over 20 years and this is the service we are getting.
Your assistance in this regard will be greatly appreciated.
Kind Regards
Corina Da Silva

Viren Gharib
from Johannesburg, GT
I have requested a paid up letter to be sent to Tracy.gharib@marsh.com and it still has not been sent.
They told me it would be sent within 24 hours.....Im still waiting a week later. Please can it be sent urgently as It is holding up my
bond application. Account was in arrears in December but it was paid up, it showing as paid on your side, but credit bureau its showing as outstanding.
Thanks

Ellinah Sithole
from Sandton, GT
I recently started using the Vodacom WhatsApp ticket and it has now been more then three times that my WhatsApp stops working but I can access my internet with no problem which only means that there is something wrong with the WhatsApp ticket. I have called Vodacom twice and the second time I called I was told that I should buy data that's not a WhatsApp ticket if I want to use WhatsApp. I don't agree with this because if you are experiencing problems with your WhatsApp ticket I should not have to pay extra out of my pocket to purchase more data after I already spend R35.00 on a WhatsApp ticket. It becomes very difficult for me as this is my main source of communication with my friends and family as well as my college e.t.c
Thank you for reading my complaint I hope this problem gets fixed soon

Glenda Conradie
from Cape Town, WC
My Son took over my contract. At the end of February the amount owing was debit from my account and my son's account.
I called in and lodge a complaint, received notification the matter was resolved. I reversed the amount taken off on my account
Now I received notification, vodacom Notification 14114981-9 my account is in arrears.
Speaking to 3 consultants who confirmed the amount owing was taken off my son's account, transferred trice and not helped why am I receiving this notification.
If this matter is not resolved 100%, Im taking it further.
I await your further feedback

I took out a data contract with Vodacom in February. A couple of days later I received a sms from my bank that there were a debit order returned from Vodacom and I am paying R100 for the returned debit order. After a couple of phone calls to Vodacom a consultant confirmed that my debit order date have been rectified and that the payment will go off on my salary date, also that the unpaid amount will be deducted the coming Monday. The next day I received a sms from Vodacom that I am liable for a payment (now the amount increase by a R100). Again i phoned Vodacom and they refer me to another consultant. I explained that the problem was supposed to be sorted when I phoned the first time and that the early deduction on my bank account was not my mistake and I can not be held responsible for the returned debit order. This was again ignored by the consultant an she suggested that a log a complaint. I need this to be sorted out TODAY. I am a loyal customer of Vodacom and have never been treated like this!!!!!!!!!!!
Contact me on 0760588291

wayne
from Johannesburg, GT
Waiting since 5 Feb 2019 to cancel my insurance no one was helping me I did sent mails and no answers
please call me
082 757 2064

Lorette Charlynne Pieterse
from Cape Town, WC
I have cancelled my debit order on 15/02/2019 and I paid via EFT on 15/02/2019 (including the penalty fee) to Vodacom. On 25/02/2019 I paid my account via eft (R663.58), however on 26/02/2019 a demand payment went through to Vodacom again for R663.58. This means I paid twice for my Vodacom account this month. I have been struggling since 26/02/2019 to get someone to assist me with a refund back into my bank account. I got told to send an email to pop@vodacom.co.za with my proof of payment attached, when I called two days later they told me I had to email a bank statement to pop@vodacom.co.za, I then spoke to someone in accounts yesterday who told me they haven't received my requests and that I had to email all the information again to molebogeng.monaisa@vcontractor.co.za, I did so. Today I called again and again spoke to a consultant, had to re explain the entire situation to which she argued with me and said Vodacom doesn't owe me the amount that I am claiming. I then spoke to a manager Ashwin Abrahams, he asked me to email him all the info, which I did to ashwin.abrahams@vcontractor.co.za and that he will reply to my email and make sure it gets sorted out. Until now I haven't heard back from him either. It has been 7 days now since I logged this complaint and to date nothing has been sorted. I understand it takes 7 to 14 days for refunds, but without anybody confirming receipt of my query, how can the refund be done? I am sooooooooooo upset with Vodacom. Hubby and I will both be cancelling ALL our Vodacom subscriptions because we have had no joy and are not happy with the Vodacom services. I have basically been given the run around with the consultants, I have send numerous emails to different people and made numerous calls to actually get in touch with the correct person and still nobody has assisted me. I need this refund to be paid back into my bank account. Not only was some of your consultants rude and unprofessional but they were not able to resolve my query. This is the LAST I will try and reach Vodacom, if I do not get my payment back or any sort of feedback, I will not pay for my contract any longer and will join a different provider, I do not care about you taking back the phone, I already have a spare phone at home that I can use. And as for the laptop and data that I wanted to buy, I will now rather get that from FNB or MTN but I will NEVER AGAIN do business with Vodacom. I wish someone would pull all those recordings from when I called Vodacom, that way you would be able to see how many times I called, who I spoke to, what kind of service I received, and maybe then Vodacom can make adjustments to once again be the best in the business, but until they make changes, I want nothing from Vodacom. Nothing. You can actually call me and I will once more explain my issue, but I am not even counting on that. 079 340 3893

Camille Naidoo
from Johannesburg, GT
Pathetic service from Vodacom as usual! My upgrade was done online and Ram couriers delivered the phone to my work without and notice and I didn't have the relevant docs at hand. I called to change the address on Monday and everything was finalised when I called today they said they have still not updated the address and not sure when delivery will occur. PATHETIC

khalil kader
from Cape Town, WC
To manement
Hi this is K. Kader i am a customer at your canal walk store. I had a incedent with my phone i took it in on the 11/2/19 for repairs and it was told to me that the phone is beyond repairs and they will submit a claim with the insurance wiich is with vodacom and aperantly the device was discontinued and uptill today my problem is not resolved due to the fact that vodacom change there insurers and now they want to replace me with cheaper phone and i have to pay a higher excess. If someone can please look into this matter with great urgency it will be highly apreciated thank you. The no. Iis 0823768396.
Looking forward on your responce
K. Kader
0823768396

Sarah Molale
from Johannesburg, GT
I have a cell phone contract with Vodacom and I've taken insurance for the phone with Vodacom. Recently my phone broke I took it in for repairing and now they fixed the phone but now the insurance is giving problems with the claim and I pay my contract every month (insurance included).I am very unhappy with the service that I have received,I can't even have my phone back because of the problems with the insurance claim and it has been fixed already. It is unacceptable really.

David Moshabe
from Johannesburg, GT
kindly note that I applied for fibre in December and was promised to have an interim router which was delivered 2 months ago and till today I cannot connect and I have been phoning daily but still nothing. this is totally unacceptable as I have been having a contract with Vodacom for the past ten years now. I really feel let down. SO181116-527184, SO190226-595303

Tryphina Hlabathi
from Johannesburg, GT
I called Vodacom repairs centre to find out about my claim. A certain lady by the name of Dersia Molefe, if that is her correct name was rude to me. She shouted at and yelled at me, she hung up whilst I was still explaining myself. I called again she answered and hung up again. I phoned and a certain lady by the name of Adele, answered, she said it is unfortunate that the lady is a manager. I am not sure if the manager has a right to treat customers the way she did.

Hendrik van Gass
from Rustenburg, NW
Vodacom increased one of my contracts tariffs after the 24 month initial contract expired. I treid this morning to stop that contract. The person helping me was more interested in upgrade the contract than helping me cancel it. Please let an Afrikaans speaking person phone me and help me. I am a vodacom client for the past 24 years in it is the worse service I got in this 24 years. The number of the contract in question is 27646575213.

Mbali
from Johannesburg, GT
I used to really love Vodacom but for the past few days I really my network is reaLlysfaen bad and when I call them I never get any assistance or my call doesn't even go throu. . . This service provider is starting to be useless cause am missing important calls, am even thinking of porting to 8ta or other services providers cause I really can't. ..
Am very disappointed in Vodacom.

My airtime got missing then I decided to call the consultant didn't treat me right she was just rude I ended up loosing it vodacom you have worst consultants ever,I will using Telkom I am tired of you rude consultants.the rude consultant that I spoke to is thobile.

Wasilah Paulsen
from Johannesburg, GT
I have signed a Vodacom fibre contract SO181128-535094 in November 2018. On the 22 January 2019 Vumatel came to install the ONT Box. Since then I have waited for Vodacom to deliver and install the router. I have called the help desk many times and was given a SR 190123-201764. After calling the helpdesk over 12 times I have finally been informed that the router was delivered to a Company Roland Networking Consulting in Kwazulu Natal, There has obviously been a mix up as I am in Florida Park Roodepoort Gauteng. Even with this error picked up, till today I have STILL no router. Every time I call in I am promised that this will be escalated and some manager will call back to resolve this issue, but that call NEVER comes .
I have received emails to rate your service as this contract is complete. … How is that possible??
To crown it all I have already been invoiced! INV no VB/1715718. R 1122.87
I sent a mail on the 20 February to cancel this contract SR190220-257873. I have not heard anything from Vodacom regarding my cancellation request. I have requested my bank to reverse the debit order, but my cellphone bill is on the same Invoice. I don't want my cellphone cut off because that will be another mission to sort out
I am so annoyed , frustrated and disappointed in the service by Vodacom , I have many times told the help desk that I work from home and need the Internet urgently, but nobody seems to give a damn
PLEASE can someone just confirm cancellation so I can go to another service provider.

Louise Blom
from Midrand, GT
I get calls from Vodacom every few days for my upgrade. Why should I upgrade with one of the most well know company in South Africa.
1. Don't tell me that the no signal with load shedding as the towers are connected to the electrical grid, BUT MTN, Cell C and Telkom is fully operational. What is Vodacom not doing for their customers. I get kicked of the network and after load shedding I have to reboot my phone so that I can get back on the network. After checking my settings and my phone should automatically choose Vodacom.
2. Give me one reason I should stay with Vodacom when I was happy to give you 5 star review in the past with customer service, but now you're not even on the charts.
3. Not even talking about the roll-over of data charges that was planned.
4. I pay Vodacom a lot of money EVERY MONTH... So Vodacom step up to the plate and give us the service that we are used to.
I can not see myself upgrading my contract after many years with Vodacom if this become a permanent problem.

I have signed up for a black Friday deal in November 2018 for fiber for 599 a month.. The sales person assured me that we will have free wifi access until life has been installed and running at our premises. We were then further advised that the installation will be at the end of December 2018. Towards the end of December 2018 on calling Vodacom we were told that installation will only happen on the 1st January and upon questioning that being a public holiday it was further discovered that fiber cable must still be laid in our area. In January 2019 we received a bill from Vodacom for 1250 and upon queering this it was reduced to 599 but on further persistence about free wifi until fiber is life and active we were told that Vodacom does not provide free wifi for longer than one month. That pissed us off as we were told specifically that we will enjoy free wifi trough an interim router until fiber installation. Needless to say that now being in the middle of January 2019 and still no fiber installation. We then cancelled the whole deal and advised Vodacom that we will not pay any charges due to there in capability to resolve this matter.
Every time we called to follow up a different person tells us a different story. One of it was that after discovering that cables was indeed laid in our are that our matter was escalated for further action with the fiber department who will call us to set up installation. Well January drew to and end and still we have not heard back from this "fiber department". On numerous occasions we were told that our mater has been "escalated" . I honestly don't know what this word "escalate" means to Vodacom as nothing gets done accept we received another bill for an amount of 599 which we refused to pay and upon calling to esquire about this we were told that the matter has been erased."Erased", another fancy term used yet by another different person and yet we still received these bills. Upon further discovery we were told at one pint that there is two accounts against my name but being very apologetic about it Vodacom assured us that it will be "erased" also.Guess what, today 26th February 2019 I received yet another bill from Vodacom advising me that my account is in areas.
Every time I called Vodacom to follow up I am being referred to this so called "fiber department" who this matter has been "escalated" to and they will call me to resolve the issue but up to today I have not yet received any call or feedback on all my queries from the "fiber department"
I have threatened to expose Vodacom on social media because the lack of professionalism in this matter and I am very adamant to do this as every time I received negative feed back from them referring me to another department of theirs while receiving invoices which I have not signed up for.
I have cancelled this deal in the beginning of January already and as there is no fiber installed at my premises I accept Vodacom to cancel all charges raised in this matter and forward me an apology for handling this matter. I have also asked them to collect the interim router from me as it is not in use since January but it seems that Vodacom and this so called "fiber department " is not interested in my plight and just ignore my complaints and follow up mails.

Seema Singh
from Johannesburg, GT
To whom it may concern
I have been with Vodacom for years and I really have had no major issues with you hence I have remained loyal to the brand. In fact, I'm up for an upgrade soon and I intend on staying with you however after talking to your consultants today, I almost reconsidered this. I called Vodacom last week to inform them that I will be travelling from the 20th to the 24th out of the country and needed to activate roaming. They advised that I wont be able to use my data bundles (please check your recordings). I was aware of this anyway so at the airport on the 20th, I bought data of 1 GB for R149 which I knew I could use when I return to SA on the 24th. If you look at my user history, 1 GB lasts me for the month as I usually only use WhatsApp, I don't generally download a lot. I also have unlimited wifi at home so I don't require my mobile data. I got back on the 24th at around 5 and I was at home. I got back to work on today and I get a text saying my data is so I bought another 1 GB but I decided to call Vodacom because there is no way I would have used 1 GB in a few hours. When I called, your 1st consultant (I don't have a name) but it was a female working around 6:30 told me that it shows that I used the 1st GB, I told her that its nonsense since I was not even in the country. She was extremely rude and dismissive and passed me through your solutions department. I spoke to someone named Sizwe and when I told him that I was out of the country so I didn't even have access to data and I returned in the evening on the 24th. He interrupts me to inform me I made a call at 5;35 which is not the evening but the afternoon so basically implying that I was lying and he felt the need to educate me about the few hours difference between afternoon and evening. I went on to say yes, I arrived late afternoon/evening and made a calls but what does that have to do with finishing 1 GB of data. I even sent WhatsApp texts to inform family I arrived, does that use 1 GB of data? Nonetheless, he refunded the money but I made it clear that its not about the money anymore but rather the absolutely poor service and the principle. I have never taken time off sitting in my office typing up such a negative mail. I also happen to train a consumer care department to handle technical complaints so this is why I thought it necessary to complain about these consultants in particular. Please check my balance and usage. I use a lot of airtime for work and business so a couple 100 rands wont set me back. It was the principle and the 20 questions and the implication that I am a liar. I cant attach my ticket because this site doesn't support pdf but if you provide me with an email address, I can send you my actual itinerary, boarding pass for Sizwe to analyse the difference between late afternoon and early evening flights. I don't want him to lose his job but please at least train him and the young lady better.

Jenny Beresford
from Saint Lucia, NL
Vodacom is ducting money from cell number 0604122203 every single day even though all apps have been discontinued this phone is only used to make calls and send messages.

slindile ndlovu
from Durban, NL
Hi....why am i still listed on a bad judgement system while I'm still paying my account please try to update my status on ur payroll system...it has put me in a lot of stress because I'm paying my account...try by all means to have this matter resolved S.A.P

Tel no 066 274 4394 Account number 17300814-1
I was approached by Elite Mobile and persuaded to take a contract on a Huawei Y3 @ R99 pm.
we agreed that the debit order would run on the 15th of the month. As this did not happen on 15 Aug I expected the 1st d/o to run on 15th Sept. On 31st Aug an amount was debited to my acc of R217.86. Not knowing what it was for I had it reversed. Next d/o went off for R317.85
and because I did not expect that amount it bounced. I was not told of other fees and even the emailed statement I received from Elite Mobile reflected R99 monthly cost and no once off costs. From then till now I have been trying to cancel this contract as I was misled.
7 Oct spoke to to Zinkewe(?) who said they had to request the recording of the conversation.
I made several calls again to no avail.
15 Jan 19 told "still working on it"
17 Jan 19 told "still waiting for recording"
01 Feb 19 again- waiting
11 Feb 19 spoke to Cynthia who apologized profusely and said this contract would be cancelled and courier sent to fetch the device.
On the same day RAM couriers called to say they were on their way to fetch it. I rushed home to get it but when our offices closed, the courier had not yet arrived. I had a call at about 6pm from the couriers which I missed unfortunately.
13 Feb 19 called again and spoke to Kabelo who said it had been handed to legal but he would again request recording!
14 Feb 19 spoke to Mondley who assured me that by 11am on the 15th someone would call me. Today is the 22 Feb and I cannot even get to speak to Kabelo or Mondley. Keep getting cut off or put on hold for long periods. PLEASE CAN SOMEONE ASSIST ME?!

Sue Govender
from Sandton, GT
I am now at a stage where I don't know what to do anymore with regards to a Vodacom account of mine. I have been fighting a battle with Vodacom from November 2018 till to date.
I did an upgrade on my cellphone – in November 2018 at the Vodacom shop in Mall of Africa, the biggest mistake ever as I should have just cancelled it and go somewhere else. I have to cellphone accounts, both on my name- reference number XXXX and reference number YYYY and it was separate accounts for years. At the time of the upgrade a person call John did the upgrade, he then took the initiative to do a transfer from my name to my name, how this is possible only Vodacom knows. The only thing to be changed was my address and my surname as I got married. The marriage certificate with proof of address had to be loaded on my account according to him. During this upgrade he also decided to combine the accounts to reference number YYYY not telling me a thing. I continues making payments on both the accounts using the reference numbers I have been using for years. On the account YYYY a payment of R918 gets paid every month as it is a top up phone. On account XXX the following payment were made from November 2018.
November 2018 R3592
December 2018 R2000
January 2019 R2700
Total R8292.
From December 2018 Vodacom kept locking my line saying my account is in arrears by R8292. So both my lines are locked and I have to phone in, explain the situation to them, requesting to update the payments to the account as no one told me that the reference numbers have been changed. I will then be on the line for hours being transferred from the customer services to the accounts department. I will send the proof of payments like they request with the details as per the person to pop@vodacom.co.za. The lines will then be unlocked and promises are made that they will update the payments. The next day I will have the same problem and have to phone again going through the same process. This has been going on from December 2018. Feel free to please go look at all the call updates and listen to the calls to feel my frustration. I was told to go to the Vodacom store where I did they upgrade, this is after weeks of fighting to get this updated. Vodacom Mall of Africa as I suspected did nothing as they can't do anything the accounts department needs to rectify the problem I was desperate sitting there for hours, speaking to a consultant and the manager and they promised they will also follow up and assist. As usual no one got back to me, I called the next day asking for an update and the manager got very arrogant telling me they can't do anything. So we carried on to call to unlock the lines every day maybe twice, every second day etc. On the 15th my line got locked again and I was in tears begging Vodacom to assist me as I don't know where to go to , to sort this out. A consultant assisted me and I thought I am getting somewhere as she could hear my frustration…. I thought its sorted once and for all as she gave me her manager's email address to send the proof of payment. Today is the 21st and my account is still not updated. When you call and speak to a consultant you get send from one department to another, then they will tell you, your account XXXXis R4000 in credit….????? Explain this please..
I cannot do this any longer… This is my final and last attempt to get this sorted out… if I don't get any assistance from here I will have to get legal advice and take this to social media. I have done my part for long enough… attached are some of the emails… if I have to add all the mails your mailbox will be flooded, to name everyone will take my days to compile that is why I am asking to refer back to the calls if they even got the calls or the notes on my account.
How do you do the transfer an account from yourself to yourself? How do you sort this out?

I have filed an insurance claim on the 9th Feb 19, to date I have not had a response and the worse part there's no response from 0821952. Even in vodacom service centres they cannot help. This is ridiculous and absurd to say the least.

Melissa
from Johannesburg, GT
Dear Vodacom CEO
I am an extremely upset client.
We have decided to take out vodacom fiber with you and the router was installed on the 2nd February 2018. We were told that the rougher takes 24 to 48 hours to configure on it's own. Unfortunately this was a lie and it was not configured. Your calls are recorded and you are welcome to listen in on how many lies we were told, how many times our query has been escalated and how we never got any feedback when told we would. We have called Vodacom on 0821904 every day since. It is the 19th February 2019 and we are still told that they can not get a hold of the back office and they can not do anything about our query. It's up to back office and not them. This is completely unacceptable on so many levels. How do you run a business in this manner and how do you allow this to happen after so many attempts to give you the benefit of the doubt. I called in again this morning and and I was told that it was sent to the incorrect department to configure then I was told to wait 3 hours for this to be done. I called again at 20.15pm today and get told that there is no progress in the query and no feedback. I have asked for this to be cancelled with immediate effect and your technicians must make sure that they are at my house by close of business tomorrow 20th February 2019 to collect your router and remove it from my premises. Should this not be done I will throw this device away and i will not be held liable for this...
I will post this complaint on every platform that I possibly can just to ensure that I save as many people from making the same mistake that I did. We will also be cancelling all our Vodacom contracts as well and will not be held liable for this as well.
Reference number SR1920202-222080
Reference for cancellation SR190219-257049
Regards
Extremely irate client

I did an upgrade during December 2018 that was wrongly done by the consultant. On the 31st of December 2018 I went in again and another consultant corrected by contract request.
Just to find out last week that VODACOM decided themselves to change my contract back to the wrong one (without obtaining my permission for this!!!).
And all the Vodacom personnel say is that I must wait because there is nothing they can do about it.

Theo du Plooy
from Randburg, GT
I have been a Vodacom client since ±1997 and previously reported to them that we do not have access to the Vodacom network on the farm. As expected they did nothing about it.
The attached KMZ file (Google Earth) shows the positions of the two farms and four towers in the area.
Currently I must use a pay as you go MTN phone to have communication on the farm. It is really irritating that Vodacom cannot supply access to their network of which I have been part of since 1997. How do they think I must run my business without having access to data and normal communication?
At this stage I am seriously considering canalling my four Vodacom contracts and use either MTN or Cell C.
Is it possible for you to assist?
Thank you in advance.
Yours Faithfully
Theo du Plooy

I have been trying to get my fibre installed into my house. Finally it was installed, but it's been 6 days and I can still not access the router or get the password from any of the incompetent call centre agents sot that I can at least log onto it. We call in every day and every day nothing gets done.
I logged a complaint with them on the 10th January for installation and everything and have a reference number: SR190110-178807, but yet they still feel that it is ok to give me the run around and tell me lies about it being escalated every day! This is nonsense man vodacom. I am a paying customer and when you want your money I don't tell you to wait 2 days! Just switch on my fibre already! It cannot be that hard!

Terence Carlo
from Johannesburg, GT
This is happening every time I purchase a whatsapp bundle . On many occasions I had sms'es. I had whatsapp bundle. At the same time I also had available balance. But why does Vodacom deduct airtime from my available balance when I have sufficient data on in my whatsapp bundle.
Even when I purchase data Vodacom gives you free data for the same amount but it has no value. You talk for a few minutes and that R30 or R50 last just for a few minutes.
Your 60 minutes calls to all network is also a ridiculous. If I buy 60 minutes to all network at 8 pm at night and just talk for 10 minutes then I forfeit the balance at 23h59 that same night. Why can't Vodacom extent the period at until the next day. The customer is always losing out.
Extent your power hour at least up to the next day and more consumers will be satisfied.

Jaco Esterhuizen
from Durban, NL
Applied for FTTH on 09/01/2019.
I phone the Customer Services line twice to confirm an installation date.
Both time I was told that my query would be escalated and someone would phone me back today is 28/01/2019 still no reply or Fiber.

Alicia
from Cape Town, WC
Your online services is terrible, I have made a online upgrade on Monday 21/01/2019 @ 15:25pm and was told the confirmation department would call me. Im still waiting for them to contact me in order for me to confirm my order. I have called a couple of times and was told they are back logged or their system is offline or the didn't have my phones in store or the would call me back and no one has. I was sent a message stating that my order has been processed, but how????? If no one has still not contacted me with regards to my order and its Friday 25/01/2019??????

Estelle
from New Germany, NL
My husbands phone is not activated and use the phone for business purpose i have phoned on the 12th of January and again on the 14th January
I received an email from you people to say it is escalated . It seems that the technicians don't care that we are losing money surely it cannot take 5 days to activate a number. I don't think that is good service at all

Ben Human
from Cape Town, WC
I had Fraud on my Cell I try to contact Vodacom but no luck
First I went to the Vodacom Shop they supply me with the number I must phone the first time I did get trough and they ask me to mail them with the complain and the affidavit what I done but it's seems that it's the wrong email so I phone again but no luck the fraud happened already in Oct but no luck to get Vodacom to help me

DT Kitchenbrand
from Pretoria, GT
Hi Madame/Sir,
Please cancel my contract on 082 783 8298 the contract expires the end February 2019, This will also take place on all my Vodacom Contracts as and when they expire I will no Longer have anything to do with a company that has now over booked my account with between R3500.00 and R4000.00 for 3 months since August 2018. I have logged this complaint a week ago and this is pathetic as your philosophy clearly states that all queries will be resolved within 24 Hours. Note That each time I contacted Vodacom with the above mentioned I was promised that would not happen again, which was in itself misleading information, I will be sending all my queries, corrections of accounts and correspondence to the Ombudsman and to the SA Consumers Complaints. Also note I WILL Default on this month's payment and will only pay the amount minus the over charge of R3500.00, please send me Vodacom's Bank account Details. in which I can pay this amount at the end of January 2019. See Ref No. 1-34271815928274 (Samu). Note no one person has called me back WRT this matter, only 1 call was made to me after I sent an SMS stating that my query was not resolved and she said I must wait another 24 hours which was on Thursday. I kindly also request that all Tape recordings be pulled and made available to me, I have recorded some of my calls with your personnel and will also send these to the above mentioned. I trust that you will ensure that this matter does not have to go further and that the extra charges are removed from my Invoice by the 18th January 2018. Vodacom has put me under a huge amount of stress WRT the large account and I hold Vodacom accountable for this. I have once again made a call13:23 and was on the line for 21 min. The Lady informed that a credit was made against my account but could not see what was the amount. last month your people called 3 times the same day of the query and the next morning I received notification that it was corrected. I was also then for the 2nd time PROMISED that it would not occur again, obviously this was also not the truth, also NOTE: My WIFI has been switched off since my last conversation on the 9th of December 2019, so please tell me how data is used when it is switched off?????????/

The customer service is useless and rude. Vodacom lowered our profile for no reason (right when we were supposed to upgrade) and said it was because we didn't pay our bills (which we did, every month. We never skipped a payment) They said the profile will be back up to a high profile in 3 months, which is now, when we called they were rude and said there's nothing they can do and the profile is still low.

Robyn Ford
from Johannesburg, GT
Good day,
I am writing this email as a last resort regarding the installation of my fibre: SO181124-531926 and SO180920-494846 (previously).
I have on numerous and countless occassions, since our infrastructure was installed in November of 2018, tried to make an appointment for the installation. I was even once called by your scheduling department and an appointment was made for the 07th December 2018 at 1pm. I took a day off work and waited, and waited, and waited. Your technician's and scheduling department did not even have the decency to call to apologise or reschedule. Just a day of work wasted for nothing.
I have logged a complaint on Hello Peter on the 03rd December 2018, I just get a generic response. The call centre agent that called me couldn't even assist with my problem and told me straight that I can just cancel the contract. Is this how you treat customers?
I have also lodged this same complaint on your facebook page, tagged it on your twitter account and even received a response back from your facebook account stating that it will be looked into and no answer on any of these platforms.
I called again today and your call centre agent told me to wait on the line and then just cut me off! I can't get to speak to a manager. I am starting to believe that your scheduling department is a myth.
My query has been escalated for over 2 months now and there is no resolution in site.
I no longer am interested in the interim access that you are providing me with as it is only a capped amount of data and the fibre is to be and unlimited package. We run our small businesses from home and this internet is really an issue.
As per the terms of lodging a complaint as set out by ICASA and also the Consumer Protection Act I would appreciate if you could acknowledge this complaint and issue me with a reference number. Also a resolution should be reached within 14 working days. If not I will have no option but to take this matter further.
Kind regards
Robyn L Ford
082 842 3465

Madelein Roberts
from Cape Town, WC
My son's phone was stolen and I requested a sim swop to be done. The staff at Vodacom Greenacres was very helpful and tried to assist, HOWEVER I have been to the shop 4 times to do a sim swop and after the 4th attempt the sim card is still not active. I have only used Vodacom as my product provider and had my contract for my cell phone, my children's cell phones and tablets for many years. However it is now 2 months that my son is not able to use his phone, because the sim swop can not be done!!!!!
When I asked for a new number on the exiting contract the staff informed me that it can not be done. I would have to take an additional contract with the current contract. This is not acceptable. I NEED THIS SWIM SWOP TO BE DONE AND FINALIZED ASAP. My cell number for you to view all the products I have with Vodacom 082 410 8513.

Riva van Zyl
from Johannesburg, GT
I did an upgrade in 2016
My number is 084 666 0727
According to the system I am only able to upgrade again in November of 2020
Sorry, you can't upgrade just yet.
You will be able to upgrade from 27 November 2020
I have been to the store in Cresta JHB several times and every time is told to come back in 7 - 10 days
The store manager advised that I should be able to upgrade in March 2019
It is now January 2019 and still NOTHING has been done or rectified
I have spoken to Hlobisile at Upgrades who inturn forwarded me to katekani
I also spoke to Vuyo at the accounts department trying to get this issue sorted out - Who then advised that Accounts cannot do anything and promptly put me back to Upgrades - It is pretty pointless if NOBODY knows how to fix my account
Please can I have feedback as how you intend rectifying this situation
You can reach me on 084 666 0727
My ID is 6607270058080

Beulah Esua
from Cape Town, WC
My sim got stuck in my new phone and I needed a technician's assistance in this regard. I visited the Golden Acre branch, Cape Town and was advised by the agents there that I needed to go to either the Waterfront of Century City for assistance from a technician. I then went to the Waterfront after work (15h30) and on arrival was directed to two "technicians". On explaining my dilemma, I was unprofessionally informed by both the woman and man sitting at the desk that they cannot assist me with my problem, I needed to go to Century City and they could not understand why the agents at Golden Acre branch referred me to them. On voicing my disappointment they just shrugged their shoulders and said they could not assist me, not even trying. I then asked the male agent his name and he refused to give to me wanting to know why I wanted to know his name as he was not going to tell me what his name was. I then became quite perturbed at his unprofessional attitude and requested to speak to a manager as his responses lingered heavily towards being rude.
The manager (Mark) of the branch then came to me after quite a while and when I explained my concerns he apologised but the agent (whose name I then determined was Taureeg) continued being his "rude" self. The manager then offered to look at the phone which I then refused to do as I was not impressed with the service at such a supposedly "high level international" branch of Vodacom.
I personally would wish that Taureeg apologises for his unprofessional behaviour and don't believe that he should be working in such a high profile environment, where tourists also walk in for assistance.
Kind Regards
Beulah Esau
0795161200

Walter Robert Botha
from Durban, NL
Dear Sir / Madam
I cancelled my cell phone insurance on the 9 May 2019 for R79.33 . When I phoned the accounts department on 4 June to confirm the payment for June , I was told it will be R459.66. ( It is confirmed on the Vodacom app. ) I then received the latest statement for June stating that the payment will be R 623.99. I am still being charged for the insurance at R 79.33. When I phoned the accounts department again on 10 June they confirmed that the amount is in fact R 623.99 to be paid on 1 July 2019. They said it is the last insurance payment for June , but I already cancelled it on the 9 May.
Why does the Vodacom app. give me a credit amount of R 79.33 for the insurance for June , and the statement for June charges me a debit of R79.33 for insurance. Please investigate and notify me accordingly .
Please see attached files for proof etc.
Your assistance regarding this matter will be greatly appreciated.
Kind regards
Mr. W.R.Botha
6702265118088
0822629590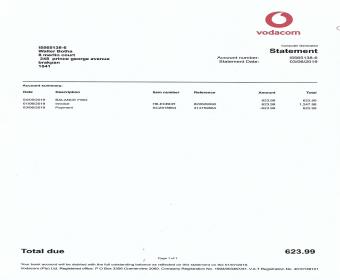 Tobias Bechtel
from Cape Town, WC
I bought a 100Mb once-off data bundle while my existing data credit of 250Mb was still valid until midnight. This should have given me a 350Mb data credit, valid for another month. Next day I had only 100Mb data left, the 250 Mb have disappeared. Explanation by the Vodacom help center: I should have bought another 250Mb data to qualify for a rollover of my old data. Disguised theft - daylight robbery by Vodacom!

Katlego
from Johannesburg, GT
In the month of May 2019, I phone Vodacom Customer Care to change my billing address to read as my street address because my PO Box address is no longer in use. The consultant guaranteed me that the address has been changed, on request for her to resend the May billing in order for me to see the changes, she advised that she will not be able to do that, however my June billing will reflect the changes as requested.
June 2019, I received my billing and none of the changes I requested to be made in May had been made. My billing came with my PO Box address. I phoned Vodacom Customer Care this morning to address the matter and to be told by the consultant that she can't tell me what the previous consultant did or did not do, which was not my worry. I was looking to make the necessary changes and to receive my June billing with my street address as promised. Needless to say, the call was ended by me requesting for the accounts department, perhaps they would be of better help. Lindiwe at the accounts department was a lot better than her colleague. She managed to confirm that these changes were not made and had to log a call. Which will only be resolved in 24Hrs or up to 3 Days, however I requested the changes a week ago.
It is a pity that this has lead to me having to raise a complaint. However I find it unfair that I pay my bill on time, but when Vodacom has to do ONE thing, it always takes me phoning in more than once going back and forth with the team.

Vaughn
from Johannesburg, GT
Please contact Vaughn Marran@gmail. Com or 0824954498. Spent in excecess of 4 hours .. I have 2 days left to decide to cancel a loyal contract since 1996.
Vodacom have some awesome reps.
But drawing out the investigation is now fraudulent. Tomorrow is the end of the CPA cooling off period. Too much to say. All my calls are recorded.
Should my matters not be resolved by tomorrow, I hereby give a formal notice to cancel my contract upgrade.
Vaughn Marra
6205175046084
Mobile since 1996. 0924954498

Cassiem Mabika
from Randburg, GT
I had a 24 months contract with Vodacom from 2016 December to 2018 December.i phoned to ask that at the end of my contract i was 2 change to prepaid. January 2019 my namber was blocked from receiving or making calls,i called to ask why my number was blocked,they open my line to receive calls only,i couldn't make calls though i had airtime and data i couldn't use it,my concern is that Vodacom has blacklisted me for refusing to extend my contract with them.I requested that Vodacom send me the recordings that i gave consent to Vodacom to extend my contract but to date i have not receive anything. Concerned customer!

Norman Featherstone
from Cape Town, WC
All I can say is that all round Vodacoms service is pathetic
1. Store personnel not interested in assisting customers
2. 082135 given by store to assist with complaints does not help
I feel that once this cash conglomerate has one in their clutches and taking your money, they do not care anymore

MELVIN HARMSE
from Malmesbury, WC
Hello Vodacom
hiermee my ontevrede kliente diens wat ek van Vodacom Malmesbury ontvang het, my ticket van 11/06/2019 en tyd is 13:22. twee dames help een klient en waarvan ek net langs hul toonbank sit en wag. daar was geen oog kontak vir +-25 minute gewees nie. eers toe blanke dame en man in kom word daar onmiddelik oogkontak gemaak en word aan hull genoem dat hulle kan sit sy is nou daar. ek wat net langs hulle sit was daar geen oogkontak of enige groet gewees nie, as kleur nog 'n grens is by vodacom moet die twee blanke peroneel aangespreek word. hulle optrede is afgryslik en on verskoonbaar.
as vodacom klient is hierdie optrede onaavaarbaar en verlang ek dat die nodige regstelling gedoen word en apologie aan my gedoen word.
groete
Mnr M Harmse
022 4879400

Arnold Pretorius
from Cape Town, WC
Good day.
I upgraded my daughters phone (under my name) to an advertised apple i-phone more than 2 weeks ago. I was told that it can only be delivered. I supplied a delivery address and my contact no to confirm delivery time and date. Up to date no delivery has been made and upon enquiring about the status of delivery I have been informed that the delivery has been cancelled due to no one being available at the delivery address. This is not true as nobody has phoned me to confirm delivery and I am still waiting.
When can I expect delivery of the phone?
Arnlod Pretorius

Quintun Yzel
from Johannesburg, GT
I went to the Vodacom store on the 3rd of June 2019, a consultant helped me to order a Lenovo Ideapad for me, he was not certain when the laptop will arrive and I left my contact details with him.
I contacted your upgrade department on the same day, they helped me to order a Mecer Xpression as it was the only one available. The person that helped me said that I will receive the item in 4 days and never read the terms and conditions to me.
On Thursday last week the consultant phoned me and informed me that he received the laptop, whereby I declined the offer even though he also said that he will still give it to me on the old price before the increase.
To date, I did not receive any call from your offices, nor to confirm, and also not getting professional help with my upgrade
Another person then became rude when I told her regarding the 4 days that was given to me, and said it was 3 – 7 working days to receive the upgrade.
I'm just getting an answer the whole time that the confirmation department need to phone me. I was also informed during the weekend that they're not at work and that I must phone again on Monday
I phoned on Monday and was given the answer again that they cannot put me through as they need to phone me.
Today is the 7th working day, and did not hear from your department yet. I want this resolved

Good day to you
I am trying to get to somebody to check and advice me on network covarage
* Your Kilmorna Tower
* On the N4
* BUT
* Away from the N4
* Towards the valley of Weltevreden
* More specific
* Kalmoesfontein
What we cannot understand
* There is CellC receiption, and very good too
* BUt zero Vodacom, which does not make sense.
We are moving there shortly but our Vodacom connetcion is a serious hassle for us.
Sorry, it does not help to say:
* There are toooooo many trees
* Because of CellC that works there
*And we know that CellC uses your towers.
Kindly assist us, as we cannot change our provider for only there
* We deal with one of your Coprporate clients
* Sappi Forests
* Moving to a Sappi house - Kalmoesfontein nr 5
Would be appreciated.
Best regards.
Amelia
082 430 6223

Neil Quantrill
from Modderfontein, GT
Good morning Vodacom.
I have had about enough of the horrible service I received from you.
We did an upgrade on our business name, was in April, and was told that it would convert to the new package 1 may 2019, it never happened, so we contacted the store, they told us 1 June, but again no allocation of the new package, again, called the store, on their system they have confirmed its was fine, and was told that by the 7th that it would have been fixed.
Again nothing, I have sent emails to VBSADMIN and SGAVIP, they could/would not help saying the store is at fault. They say Vodacom is at fault. So where to from here.
If this is how a business gets treated, then I would rather Cancel the upgrade and go to a service provider that gives what they promise.
Awaiting a response from the Guys in charge!
I have spoken to the store, they have sent me the upgrade paperwork and the deal-sheet for this deal: Quote number: 13071434, Sales Order number: SO190430-644547 Deal sheet: CUNS101349. I do not know if this has been processed but my upgrade date is in 2021, so my term has been extended, and i have nothing but the same package it was on. I need a resolution by day-end today or you can reverse the upgrade and cancel the line once it is due for cancellation. I am a small consumer but a loud one at that! Emails sent with the following ref numbers: EC-1R63-1D3D85 and EC-1R3B-2IZ1G1. SGAVIP: EC-1R63-1D4GXX and the person who responded was Sindi Masango, also no help!

sivuyile eddie ngemntu
from Centurion, GT
just want to know what is it that i owe that you guys keep on appearing on my pay slip.My id 8008055833086 and my contact is 0739242814.I m very hurting because i have been calling your custor care number with no help.

Howard.Voight
from Johannesburg, GT
Vodacom suspended their cellular service. Vodacom sent me mails which say 'mandatory account limit reached - subscriber soft locked'. I have been to our local vodacom store several times. I have also phoned vodacom to no avail. I have been without cellular service for the past 6 days. I have 3 contacts with Vodacom

Andre de Koker
from Johannesburg, GT
My Cellphone Number: 082 496 5600
I am a customer of Vodacom for many years.
I have done my previous upgrades at the Horizon View Shopping Centre and normally without any issues.
This time it was the most unpleasant and embarrassing ever. My contact is due for an upgrade om 23 June 2019, or that is what i thought.
I have spoken to Daniel at the Horizon View Outlet on 06/06/2019 (09H45) telephone number 011-7661201 and he confirmed that all is in order and that I can upgrade to a Samsung S10 and that my monthly premium will be R 948-99.
He then advised that he will order the phone and we agreed that I will come in on Saturday 08 June 2019 in order to finalize the upgrade.
Upon going to the shop on Saturday and ready to upgrade, the guy whos helped me in Daniels absence,as he was not working this Saturday, that there are still 3 instalments left on my current handset and should I then decided to take the S10, I then need to pay approximately R 1700 per month for 3 months in order to pay off my current handset. I cannot afford that - who can suddenly pay for 2.
Why was this not explained to me over the phone? How many clients are going to the outlets getting wool pulling over their eyes and wake up with a bang in the shop because now they must pay extra or cannot proceed with an upgrade,
The most embracing part of all was that I have promised my daughter that she can get my S8 on Saturday. You can only image the disappointment on her face when i told her that i could not proceed with an Upgrade because VODACOM is NOT telling their customers about fine print issues and rather Embrace them in a Shop where other customers are sitting next to you and looking at you as if you are a criminal because you still have not paid off your current hand set and now you want a new one.
I will then wait out till my contact expire and will then move away from Vodacom for good.
A very Unhappy Customer

Belinda Pretorius
from Johannesburg, GT
COMPLAINT – Belinda Pretorius
Good day Vodacom Team,
I herewith want to log a formal complaint in regards to an upgrade which I was sold under false pretenses which resulted in me in forfeiting 3.5gig of data which I accumulated on my previous contract for number 064 900 **** on my previous contract – WHICH I WANT BACK.
Before I get to my current complaint, I need to let you know that I will NEVER advise anyone to make use of Vodacom. Ten years later, and I always end up with some type of dispute upon wanting to cancel a contract or being conned into a new contract. In my opinion I wish my account could be flagged and all contracts automatically be cancelled upon expiry date with no mutual communication between Vodacom and myself – BUT there is always an agenda (hopefully a stupid client will forget to phone in and cancel the contract and will be tortured for another 2 years). I previously was also conned into contract re to laptops, which also was a loss.
I phoned Vodacom on the 15th of May 2019 wanting to confirm if my contract for 064 900 **** was definitely cancelled seeing that I have had bad experiences previously as to requests not being processed. The consultant who assisted me at the time informed me that he can offer me a better package seeing that I have been a long standing client. The offer was R65-00 air time and 500mb for R49-00 per month. I accepted it, NOT KNOWING THAT THE DATA WHICH I HAVE ACCUMULATED WILL BE LOST IN THE PROCESS. Now, let's get serious here for a minute or two, which person in his/her right mind will agree to get a contract of 500mb and R65-00 airtime knowing they will lose the accumulated data. Especially with Vodacom being so expensive in terms of data. We all know by now that Telkom offers much better deals and cheaper rates.
Then, about two weeks before the call of 15th May 2019 I did speak to another consultant who informed me that when my contract expire, I will not forfeit my data seeing that it was already paid for.
Now, the latter consultant should have explained to me that I will not forfeit my data, but should I renew my contract I will forfeit the data – CLIENT MISINFORMED.
Then, when the new contract was activated I lost 3.5gig and got my 500mg and NO AIRTIME.
This is to inform you that I want my 3.5gigs back which I accumulated with my previous contract. As you most probably know, or not surprisingly do not know, a client has the right to be informed correctly and not communicated half the truth for a cheap sale. If the consultant I spoke to communicated the exact consequence of ACCEPTING the new contract, which he was supposed to do, I WOULD HAVE LIKE ANY NORMAL PERSON DECLINED THE OFFER.
The new contract has already been cancelled but I still want my data back. I am willing and going to escalate this matter should I not be compensated. I have been lied too and conned and I simply cannot accept this. In terms of my other contracts I also herewith request that all my other contracts be flagged for definite termination of contracts at end of contract seeing that I really do not want to deal with Vodacom anymore. I pay my account religiously every month, but unfortunately for me only get headaches in return.
I shall await your feedback but must inform you that my request is not negotiable, I will escalate this matter should I not receive my 3.5gigs.
Sincere regards
Belinda Pretorius

Leonie Reyneke
from Johannesburg, GT
I cancelled my insurance two months ago on my router, but yet again you have billed me for it.
I have e-mailed and phoned, why can you not do your job properly.
You quick to sign people up for contract but not efficient enough to cancel any thing.
Bad service

Puseletso
from Johannesburg, GT
I called your customer service to query why my invoice is constantly incorrect. T I spoke to a lady of Mapaseka who was very rude and did not care about my query. I will not be paying any of my invoices until I get a clarity from Vodacom.

Karen koegelenberg
from Pretoria, GT
What is wrong with your signals in wierdapark region. It is so frustrating. Many complaints even my neighbours. I dont understand because cell c and mtn signals are fine. Just vodacom are a none cervice. I am so close to cancle my contrack with vodacom.

Jeanette Mazambi
from Randburg, GT
While calling the customer service line in regards to my contract and, I was transferred several times and all consultants were rude, especially one that said his name is "Direct" of which I think is not true, and hung up the phone in my ear. I've been trying to understand why my contract was renewed and no one explained to me. Incompetent, rude consultants are most likely the reason why I will no longer use vodacom and never recommend it to anyone anymore. I believe they are there to help vodacom customers. Its either you provide proper training to your rude consultants or I'm really done with vodacom.

Peter Holt
from Johannesburg, GT
I phoned in a complaint about connectivity and bandwidth about 4 weeks ago. Received an SMS that the problem had been sorted out. What was sorted out I do not know. I still have poor connectivity and very slow up and down load times. Very close to changing service provider.

Funmilayo Babatunde oluremi
from Johannesburg, GT
Hi,I have been using vodacom line for year n decided to apply for a contract line last sunday n I have been called almost everyday for additional documents which I always provide for them,Wednesday I was called saying my application is approved n got message,Today when I got to waterfall mall rustenburg,I was told my contract is no longer approved,who does that to customers,I am so disappointed in vodacom,I am even thinking of changing my line to another network provider.

ELAINE DEVERNEUIL
from Johannesburg, GT
Good Day,
I keep getting messages that a prescription for games will be renewed automatically on my phone.
I do not play games on my phone.
I do not want to download any aps or anything exept for Vodacom normal free updates.
I am getting billed for items that I do not want.
This is a business phone and we do not want games etc on our phones.
Our phones are used for phoning, sms and whatsup only.
We have been using Vodacom for many years and do not want to be forced to cancell our prescription because of extra unnecessary expense that we did not want in the first place.
We have been to a Vodacom shop for help, but it seems that we still have the same problem
Regards,
Elaine Deverneuil
MINI PRINTERS
0825676775
And
Johan van der Westhuizen
0825676779

Rensche Jacibs
from Pretoria, GT
This is an ripoff from vodacom, 5G data gone. I had 5G data left exp at 8/6/2019 time 23:59, at 00:10 8/06/2019 got an message that you have run out of data, please explain to me how is it possible an full day to early for the data to expire. This data should have exp at midnight 8/06/2019. Not an day before. Abd this is not the first time that this has happend

Pragasen Munien
from Cape Town, WC
Cell ********** 245, I tried doing an upgrade online, after 10 calls and agents forgetting to close the order, I get an upgrade done for R299pm, this includes a huwei P30 lite with R175 min and 2gig data. The contract supposed to start on 30 May 2019. It is now one week into June 2019 and only received the R175 min BUT no 2gig data. This to me is a breach of contract. Therefore I phoned vodacom on Tuesday 4 June 2019 and requested a cancellation or reversal of the contract without any charges because Vodacom breached the contract. Agent Bongani assisted and advised that they will collect the device from the same address delivered to, I am still waiting, despite 5 calls. Last call Innocentia promised to speak to Bongani and call me back, still waiting. What a pathetic service, would like to cancel all of my contracts with this pathetic company. Pragasen Munien ********** .

They won't let me cancel an expired contract. The call center cancels my calls, promises to call me back, but never does.
The updrade departments keeps calling even though I said I want to cancel.

Deon van zyl
from Johannesburg, GT
Hi... Not Happy at all!
May 2017 i was due for upgrade,i first went on the vodacom app for upgrade,a lady called me... and said there was only Samsung S7 available,so i said,ill rather go to vodacom shop,she then dropped the call.i went to Vall mall vodacom shop vanderbijlpark.took the Samsung S8 with Gear 3 Frontier. and a few days later i recieved the Handset(This one im using now) & about +- 2/3 months later they called me to go collect my Gear 3 frontier! so the agreement of contract was signed on May 2017. now i went to upgrade they say i can upgrade but need to pay this handset up until october 2019,they say thats when i got this contract.i went home got slips i recieved with this handset took it back to them to show them it was on may 2017. and stil the same storie. from the date signed on contract as upon agreed to...i already have this handset 24months. if the sales people failed to submit the contract same day,not my fault,its actually fraud. its signed may 2017 but its shows october 2017 when it shows on the system.that was to agreed on by us. My mother have allot of contracts with vodacom...and after this we are not happy with the situation and customer care we got from them. This number is 0827740277. account holder charmaine van zyl
0827767519
thankyou

Fredah
from Johannesburg, GT
Ref 1-34348510523181 closed without resolution. All you need to know about my dissatisfaction is on this reference number submitted.
Vodacom services is deteriorating, becoming worse and worse everyday.
You failing to resolve the above stated ref complaint yet you busy sending me messages reminding me that my contract is coming to an end. my intention is to cancel the contract as it ends and my other 3 contracts as and when they come to an end as you have clearly proved that you are unable to handle complaints'.
If you want to stay relevant in the market, you better start pulling up your socks on customer service. judging by the complaints on this page, you definitely has serious issues

Ricardo Witbooi
from Cape Town, WC
Good day,
I am truly disgusted by the service i have been receiving from Vodacom. I have been a loyal client for so long and im so dissipointed, i actually feel like cutting all ties you and moving to another network really.
I initially submitted a claim 06/05/2019, the form was sent to simoneM@finrite.co.za. Since then i have sent numerous follow up requests to no avail. No feedback has been received since.
Then i went on your website and submitted a claim there as well, and still nothing.
PLEASE KNOW AND BE AWARE THAT YOUR SERVICES ARE BEYOND PATHETIC.
I am requesting this matter be escalated as urgent please, and i await a call or email with the feedback soonest.
Contact holder: Ricardo Witbooi
Contact no:
Email: WitbooRP@eskom.co.za

CJU Groenewald
from Johannesburg, GT
I have cancelled my contract with Vodacom more than 2 years ago.
I have paid the settlement well in time and I have send all the information to them as required. I did so via fax and e-mail.
I did request feedback from them which I never received.
Now I have received a final letter of demand and I will like to take Vodacom CEO to court so that he can explain to me how something like this can happen.
I have resend the information they keep on requesting about 64 times.
I have proof that they did receive the e-mail and it was delivered correctly.
I have all the logs from the e-mail server proofing this statement.
I just do not know what to do anymore since it looks like these people handling this case cannot read or do not understand what they read.
I did contact my Lawyer "Wilhelm Mundt" and I'm following now different roads.
I have noticed that I cannot upload PDF files on this either.
Regards
Neels Groenewald

I wanted to cancel the contract... I phoned vodacom for a quotation they gave me all info how to settle my bill... When I paid they sent the money to vodacom individual vodacom which was the wrong account... So now I've been trying to get help from accounts department to locate the money into the right account... They asked me to send proof of payment which I did but still I didn't get help... Wheneva I call they always put me on hold... I don't get help that I need... So now I just need to get someone to help me to resolve this issue... Because I have money that is deposited to the wrong accounts... I'm pissed off I don't wanna lie your service is not good at all because it's money that we talking about...

Lorran Dramat
from Somerset West, WC
Good day
Sales lady called from VODACOM sold a data contract to me and supplied incorrect information
I do not want the contract please cancel the order 1-34351094815625+1
Dated 3 JUne 2019
Thank you
my contact number 082 4318549

Abdool Essa
from Sandton, GT
ABSOLUTELY ROTTEN SERVICE, TO SAY THE FLIPPING LEAST!
Totally unprofessional consultants, some of them desperately need to see a Psychiatrist, REALLY.
On a chat with one of vodacom's consultants, a person who calls herself Wendy, simply TERMINATED the Chat! Because I was taking vodacom to task, for having cancelled my NEW DATA-PORTABLE ROUTER contract, before the device was delivered to me! CAN YOU GET A LOAD OF THAT!
It is my CANDID opinion that vodacom's staff, ALL OF THEM, require URGENT PSYCHIATRIC HELP, including the CEO! And I am certainly NOT JOKING!
Abdool Essa
North Beach
Durban
Kwazulu Natal.

GARY APRIL
from Cape Town, WC
I went into the vodacom promenade branch to check something on my contract.I was given a number and told to have a seat and a consultant will attend to me. I was seated for about two minutes and a consultant opposite me was done with her customer.She got up from her seat and went to join her colleagues at the front door, leaving me waiting. Another customer then walked in and was given a number and told to have a seat and a consultant would be with him shortly. He was seated opposite another consultant that just finished with a customer and she then proceeded to call this customer forward to attend to him. I then asked the staff standing at the front door why is that customer being attended to before me when i was in the store before him and obviously the number i was given is before his as well. One of the ladies told the consultant that i was there before him and she proceeded to tell them something which i did not hear. I then continued to ask them why is he being assisted before me when i've been sitting there for a few minutes waiting to be helped. The staff just stood there and didnt say a word or apologise or even come forward to attend to me. I then decided to get up and left the store without being helped. This was absolutely pathetic customer service etiquette, the complete opposite of the excellent service i receive at the canal walk branch. I had my reservations about going into that promenade branch but because i was in the mall i decided to go in. This bad experience proved me right about that branch bad service levels. I demand that the branch manager contact me to apologise even though he wasnt there. My contact number is 0737938051

Melissa
from Johannesburg, GT
Good Day
I would like to log a complain not sure who to mail or speak to.
On Sunday the 2 June I called the fibre helpdesk 4 times
Monday 3 June twice
Today 5 June 5 times already
We need the sim card to be activated this is really bad service my father and I have been with Vodacom for over 20 years each and I am very disappointed need this to be resolved by COB today
Kind regards

I purchased a Samsung A30 phone on 10.05.2019 from your Bluff branch in Durban. I hardly used the phone but the battery did not even last a day. I took the phone in on 24.05.2019 to have it looked at and was told it needed to be send away for repairs. On 30.05.2019 I received a sms from the repair center saying my phone has been repaired and send back.
Monday, 03.06.2019, after receiving no feedback from Vodacom, I phoned them and enquired about my phone. They said they will follow up and later I was informed that my phone is still at the repair center as according to the system the phone is "out of warranty" and they require payment before the phone will be send back to me. The store did say they will sort it out, it is now the 5th and again no feedback received on progress.. My unhappiness is however:
1) a brand new phone giving problems within 2 weeks
2) the system saying it is out of warranty. Was I then sold an old phone?
3) delay in getting my phone back due to this discrepancy.
4) Poor communication from Vodacom
I would appreciate this matter be resolved as this is unacceptable.

Mrs V Murugan
from Johannesburg, GT
I took a contract with Vodacom at the Chatsworth branch, Account no 1407850019 in Durban KZN. I have insurance for it and when my phone fell and the screen cracked I sent it in for repairson 21 April 2019 I was not contacted with regards to its progress. When i phoned them to query on its status after 15 working days they told me to contact them after 21 working days. When i called them after 21 working days i was told that my phone was returned un-repaired and they could not give me a definite answer why i was not contacted with a quote or why my phone was returned un-repaired. I then sent an email to the manager on 29 May 2019 complaining that I was dissatified with their customer service and advised him on my complaint. The manager Sachin Ramlall replied 30 May 2019 and advised that he will check on this matter and get back to me 31 May 2019. however I have received no feedback from him to date even though i sent him an email again 03-06-2019 advising him that if i dont get a response from him I will contact complaints at Vodacom.i am paying for a cell phone that i no longer have.

Frik Prinsloo
from Johannesburg, GT
Vodacom, you criminal basterds
My email address was canceled yesterday after 20 years in use just because I do not want to reniew my contract. (You criminal company will not bully me into a contract)
I am for years now on pre-paid because of you absolutely bad and incompetent service.
082 619 9012 are cancelled and made available for contract users only. This is what one of your criminal employees, Selina told me over the phone today.. You are a typical criminal rasist, coward british company that targeted the Afrikaans Boere in South Africa. You will not use you criminal tactics, same as with Yvonne Rossouw 20 March 2017 where you decided to change agreements and contracts as you like.
I will begin as network to expose you as criminals. Watch the media.

Adele Opperman
from Cape Town, WC
You have debit my bank account with R1086.48. I phone 114 to ask why and complain. Now all of the sudden I am in a arrear of over R2000. Really I don't know where the hell you get this because my debit orders go off every month. I down grated my contract a month ago were the consultant over the phone told me I will be paying less from this month and now I am Paying more. I want my money back immediately not next month now. This is fraudulent and I am not going to take this. Because of your miscalculations my debit orders did not go off and I have to suffer the consequence's. I am very disappointed and at this point I feel like cancelling my contract. Where do you get off telling me I am in arrear. I have never been so insulted in my life, and for the record please train your consultants so that they don't give incorrect information or accusations if they don't understand the system or how to read a dam statement

I bought airtime at 01.11 this morninv for r110 which was deducted by vodacom but it shows nothing on my balance.Phoned vodacom at 14.52 today and lady said there is no ref.nr for me i must go to my bank.I think this is pathetic unless this is the sop of vodacom.

regardt steyn
from Klerksdorp, NW
i upgraded November on a business contract to a Samsung note 9
the phone started having problems charging and they advised me not to let the phone die before i charge it(which is sort of impossible because i dont have a desk job)
it shut off again and would not restart so i took it in,they sent it for repairs under warranty,they replaced my screen which there was nothing wrong with. sent it back again for same problem, problem is still there but now they have managed to break my bottom speaker which distorts now and my charging port doesn't work all the time
such an expensive phone should be replaced by now its unacceptable that the repair center at potch doesn't have the knowledge
REGARDT STEYN
071 483 0597
REGARDTCSTEYN@GMAIL.COM

Mariana Pollard
from Randburg, GT
I will not even give the experience at all but the system does not allow me to cancel the first star.
My cell no is 082 374 7874 and up to April 2019, my payment was R 1 062.69 p.m.
Ojn 10 April 2019, I went to the store in Bayside Centre to upgrade the one line 060 528 3209 which was due for upgrade.
I informed the salesperson, Claudio, that I cannot pay more than R 1 200.00 per month for both phones and that he should show us phones within that range.
He suggested the A9 (at R899.00) and when I queried the price, he said i can do an early downgrade on my phone to a total of R299.00 which will then bring the total for 2 x new handsets and contracts to R1 200.00. He said that i could only do the downgrade in May 2019.
I asked him to make sure about the facts as i will not be able to take the A9 if his calculations is incorrect or if i will have to pay a penalty fee for the downgrade of my phone.
Claudio assured me there will be no additional fees and i then signed the contract for the A9, on condition I would return to Vodacom in May to downgrade my phone.
On my return to Vodacom in May, i spoke to another salesperson who, to my shock, informed me that Claudio did not give me the correct information and that if i downgrade my number, i will still have to pay R412,28 handset fee until the expiry of my contract in October 2019.
On confronting Claudio, he admitted giving me the incorrect information as he is still in training and thought the info was correct.
When i requested to speak to the Branch Manager, Remelia, she conveniently was not available. i returned to the Bayside branch the next day but the manager was still not available.
I wanted to cancel the contract for the A9 as i cannot afford it, but was denied the opportunity and was referred to Thermaine in the Tygervalley branch.
Thermaine was never available and in spite of many requests for her to return my calls, she never made contact.
On 20 May, a Michelle called me from 060 464 1097 to tell me she is looking into the matter and will call me back soon.
Two weeks went by, without any contact from anybody in Vodacom. I then called the Tygervalley office again, but was told by Michelle that she never speaks to customers and she could not assist and once again Thermaine was not avaiable.
I called the Bayside Branch and was told that the manager, Remelia, does not work for the company anymore.
I managed to speak to Colleen at CRM - after a few calls from her, i was told that Claudio told her the Vodacom system was down and therefor he gave the incorrect quotation.
I asked who will be held accountable for this as i NEVER would have signed the contract for the A9 if i had the correct information, she said i must take it up with Claudio, the incompetent salesman.
When i asked to speak to a Vodacom manager with sufficient authority to solve this problem, she said that Thermaine is the only person, but she is not available and therefor i can make a civil case against Claudio.
i am furious as i was told that i can cap my account at R 1 200.00 per month - this was a lie - and none of the Vodacom staff is prepared to assist me.
i fail to understand that a company like Vodacom does not expect staff and managers to be held accountable when THEY were lying and that you allow incompetent staff is allowed to deal with customers and sign contracts.
IS THIS PERHAPS THE NEW NORM AT VODACOM THAT STAFF MISLEAD AND LIE TO CUSTOMERS, SIGN CONTRACTS TO GET THE HIGHEST COMMISSION AND THAT NOBODY IS PREPARED TO ASSIST THE CUSTOMER!!!!!!!!!

Daryn Foxon here. l am from mid illovo kzn. My complaint is that the tower near me is not working and vodacom is doing nothing about it!! Not only that the light on top of the tower is not working. Last wednesday night, there was a helicopter that was flying around, a police helicopter, all ican say is that i am thankful that the helicopter did not fly into the tower!! if it had done so i would have gotten hold of the media and told them that i complained to you guys on numerous occasions and you guys sat back and did nothing about it!!!!! and if you continue to ignore us, i will then definitely get hold of the media!! not only that the tower does not work properly, the coms comes and goes all the time, and we all have contracts with u guys, we are paying customers. Vodacom trust me on one thing if you do not sort out the problem now, i will approach the media!! i am sure you have heard of wendy knowler (east coast radio consumer watch), and i will get hold of the mercury and the natal witness regarding the safety hazard for low flying aircraft!!! Try me i dare You!!!!
regards Daryn

The increase on my monthly premium so far I don't understand what are there for from 388,58 to 398,99.

Mrs F. Hattingh
from Sandton, GT
Dont know who to turn to anymore. Have contacted vodacom insurance as well as customer care numerous times. i cancelled my insurance on 2 of my phones due to bad experiences with vodacom in April already still i get billed insurance fees. Each time i talk to an agent they tell me the problem is sorted. This morning i opened my invoice for June and guess what my insurance again has been deducted on the 2 numbers that i cancelled in April already. I want this sorted out and my premiums paid back.

Jennifer de Jager
from San Mateo, CA
Hi. I cancelled my subscription for 0826522835 last month. Spoke to Simpiwe who said it would cease at the end of May. However I have just been billed for the subscription of R751.75 but no airtime was added to my phone. I cancelled as where I live there is no Vodacom service most of the time and I am left with no communication. Please sort this out immediately. I am tired of paying for a service that I do not get. I have 2 routers which are still active but preferably would like to cancel everything as I can never use my data as there is seldom signal.
Request urgent attention. I cannot phone customer care as have NO signal!
Jennifer de Jager
0826522835

Asanda Kupiso
from Johannesburg, GT
I have cancelled my contract on Saturday 01/06/2019 and i have requested a paid up letter. The consultant that was helping me on Saturday confirmed i will only be able to get the paid up letter on Monday 03/06/2019 and he will cancel the contract on his side and escalate my request of paid up letter to the legal department.
I called today 03/06/2019, Nhlanhla told me the contract was not cancelled on Saturday i must call the customer care and Lerato from the customer care also checked and confirmed the same she put me through to the cancellation department as i needed to speak to the manager of the department. Lizwi answered the phone and he told me the Manager is in a meeting and i asked for the Managers email address he told me NO he cannot provide me with email address.

ANN VIEIRA
from Pretoria, GT
Good afternoon
I am writing to you very annoyed at the service I received from your call centre. I have tried twice this morning and unfortunately I was put through to cancellations and spoke to NTHABISENG who politely just put me back to the call centre without even listening to what I had to say.
On Friday a lady phoned me and explained a data contract to me that is R199 per month and after I asked many questions one being if the data can be transferred to my grandsons tablets and my daughters cell phones she said YES. She also told me that now they will have enough data to phone. I AGREED TO THE CONTRACT ON CONDITION MY CURRENT 2 gig portable wifi is cancelled. She said I can do that if I phone 082111. I then contacted Cellucity at Baywest in Port Elizabeth and spoke to my contact lady there that assists with all my contract. I WAS TOLD THAT I CANNOT TRANSFER THE DATA TO ANY OTHER CELL PHONED.
I IMMEDIATELY PHONED YOUR CANCELLATION DEPARTMENT TO CANCEL THE CONTRACT. I RECEIVED AN SMS THAT READS:
"Good day. Cancellation not done, as the new activation is not active yet."
The gentleman that I spoke to said that he put through the cancellation to happen immediately.
PLEASE NOTE THAT THIS CONTRACT WAS CANCELLED IMMEDIATELY AS THE INFORMATION WAS INCORRECT WHICH IS FRAUD. CONFIRM IMMEDIATELY TO MY CELL 0823438003 AND TO MY EMAIL ADDRESS THAT THIS CONTRACT IS INDEED CANCELLED
Regards

I am canselling our rooter upgrade and new rooter contract
Waiting a week for delivery from RAM
AND NOW I AM INFORM IT IS SENDING BACK TO VODACOM
YOUR SERVICE SUCKS

mabongile mathambeka
from Johannesburg, GT
ive bieng calling vodacom from feb till yeatsrday i dont get any help regarding my contract, i had 2 contract with vodacom one ended then i cancelled it and the other one i requested a premature cancellation they send me the letter with the amount that i have to pay, ive paid then send them my id copy and the form as requested then they didnt debit the last debit on the 25th of feb, then the following month they debited i thought its was the last debit then april they debited money for 2months when i called they check and promise to refund me and cancell the contract for 0793046404 that dint happen untill i reversed the amount, i called them again yeaterday they promised to check on my account and call me back they didnt
im requsting my account to be checked from last year september becouse thats when this started
please help you can contact me on 0730250593

SEDUMO MAQEKENE
from Pretoria, GT
Good day
It is with great unhappiness to send this mail.
My Vodacom contract 0614115823 ended yesterday and Vodacom consultant "Lina Sathekge (VD) satlin@vodadealers.co.za" assisted me to convert number to prepaid
And RICA it immediately and I tested it there.
To my surprise that isn't working today and I called 135 and I was transferred left and right till at contract department.
I never get a bad experience like that, from both agent Nosipho Nqezo who kept me holding on line for more than 30 minutes and believe she was drunk as I repeated ID more than 5 times getting it wrong.
Then she said she cant help then she called her very rude supervisor Yanga kokstad.
Yanga said cant help me as he cant locate my number on their system which was strange to me, I gave him ALL possible info to trace it like my ID 7901275540088 and my number 0614115823 and he just insisting
That my number have never been Vodacom contract and therefore cannot assist even when I at least ask him to call Lina or send her a mail since she confirmed my number is RICAed.
The call was around 10H30 till after 00h00 this is really bad as this is my also standby phone number and I cant receive calls on it.
I was about to check which contract I can get but after this service I will never even recommend Vodacom to anyone. And this will go to media including hello peter as I am stressful with no calls.
Kindly assist with this urgently or transfer to complaint department.
Have feedback for Vodacom?
Thanks for your feedback!
Sorry. Please try again later!