Walmart
Walmart Complaints Continued... (Page 2)
1302+ reviews added so far. Upset? Call Walmart corporate: 1-800-WALMART

I purchased a comforter from Walmart.com $57.49 on Friday 5/17/19.
It won't be delivered until 5/23/19.
Today I got an email from Walmart that the price dropped to $24 . So I contacted Walmart for the price adjustment. I was told that the item came from another vendor and Walmart won't adjust the price. When I order and pay my Walmart credit card I expect Walmart to honor the adjustment. If I wanted to deal with another company I would have gone to their website. I use Walmart trusting the integrity of the company.

I visited store #577 on Friday and again about 1 month ago to buy diapers for my granddaughter. On both occasions I am now being stopped at the door on my way out because the box of diapers are not in a bag, now you imagine putting a big box of diapers in a bag, but mostly you don't have bags to fit over them. Really so now your going to treat all of your customers as thieves because your large bulky items that DO NOT FIT INTO BAGS are thieves..... Its discouraging when I have to frequent this Walmart many times because I have to struggle to go to the mall or other places to buy items for my 15 month old grandbaby plus my 2 kids and husband and I. I suggest that if you dont want stuff not in a bag then you need to stop selling these items and put your stores to stuff that will only fit in a bag. Its very upsetting when people are starring at you like youve done something wrong and you have like 5 other bags in your cart plus a box of diapers and a potty chair. ( LARGE ITEMS) it's really disgusting of THE NOT SO GREAT WALMART TO TREAT THERE CUSTOMERS THAT WAY WHEN THERES NOT MANY PLACES TO SHOP AT. So I think you need to fix this issue with me now that this has happened to me now twice and I am almost sure if I go buy another bulky item that this will happen again. Fix your stupidity and don't blame me if your employees can't do their job correctly and catch thieves. Don't treat me as a thief when I have stood in your rediculous line because you won't hire people to work the registers and expect people to work for free by doing the self check out. So fix it, your not so happy customer......

I called to Walmart (1825 Rockbridge RD, Stone mountain Ga 30087) I asked to be transfer to the meat dept. I was left on hold for about 5mins, then call drop. I called back spoke to a African American women, I ask to be transfer back to the meat dept. She stated she couldn't transfer to that dept. She asked me how can she help, I ask her did you have the case of whiting, she stated I just left from over there and there is not no whiting today. To me that was very odd, I went a step further and use you Walmart app, that stated you all have whiting fish in stock, so surely I took the drive to the location, and discovered there was over 6 boxes of whiting fish. She straight up lied. I use a gift card that was giving to the school for us to by items we needed for the kids picnic on this past Friday. I used $73.34, which left a balance of $26.66. I went to you your Centerville store and the card decline. I'm like I know there should be $26.66 remaining on the card. I went to customer service, where it was discovered someone use my gift card. I had to pay out of my personal money, because you all have fraud. I was told to notify the Rockbridge store. I called and spoke to Timothy he advise me that I have to go back to the store where the card came from, however I live 1hr away from this store. He also told me that you all are aware there is a scam going on. With that been said, I don't feel like I shouldn't have to commute the other Walmart which is off of Peachtree industrial, to get my money back. I have been dealing with this since Friday, what a inconvenience.

Razvan Petre
from Québec, QC
Hi,
I have made an online order on the Walmart website with the option "Pick-up in store" on 13th of May. I have received the notification that it was delivered on 15th of May but the store is telling that they don't have it, not even after several days. The store is telling me to call Walmart Canada, Walmart Canada is telling me to contact the store. This is the worst experience I've ever had.
Regards,
Razvan

Large Holiday order from Walmart.com was received damaged and defective. Returned in person with store manager. Promo codes were received to make up for AWFUL experience. Final code did NOT work. Upon questioning with on-line chat my account was deactivated. Call center supervisors created new account for me so promo code could be applied. The new account was also closed. Tried a third time with supervisors instruction and assistance. Third account closed. All returns were accepted as an item cannot be returned without being accepted. Walmart has a return policy, yet they penalize a customer for using it. Items ordered from Walmart.com ALWAYS arrive with problems. Boxes, bags burst when thrown from whatever delivery service. Items inside boxes defective and damaged. You can NOT shop Walmart.com with confidence. I suggest Amazon as they appreciate their customers.

This is the second shipment that has been damaged in shipping. First it was almond milk not properly packaged and 2 half gallons leaked out completely before it got to me. This time I have 2 bags of flour torn and all over the box, and I am missing 5 pounds of sugar! I am in a very small town and have transportation issues now so I can't even get to the nearest Walmart, which is 16 miles away. I guess I quit ordering from them and start ordering from Target

This is a consumer complaint.
Yesterday, while shopping at the Grants Pass, Oregon Walmart, I was walking down an isle to get some Tums for my sick husband. While pushing my basket down the isle, an above cameo was filming me, and snapped pictures of me. I was not stealing, nor was I near any products, yet I could hear the camera click and two bright lights flashed off in my eyes. That is not acceptable and feel very violated by Walmart's tactics to invade my privacy as a customer and to take away my personal space and right to shop in peace.
I am appalled at their intrusion of privacy at my shopping trip of 5/6/19. In the past, I worked for attorneys and a Police Department and have never stolen a thing from Walmart!
When I called to complain, my call was given to an Assistant Manager, who said no pictures were taken and denied it happened. Then she said, apparently the camera was just "rebooting".. I do not agree.

I shopped 5/5 at store # 02955. I bought 2 outdoor chair cushions. I paid for them, with a basket of other groceries through the self-serve check-out. After scanning them, I placed them on the bottom of the cart while I scanned the rest of my items. Apparently on my way out of the store they must have slid off the bottom rack. They were lightweight and the material was kind of slick. After driving about 8 miles home and unloading groceries I realized I did not have the cushions. I have tried to call customer service 7 times in the past 24 hours. Either I get no answer at all when I call the store phone number, or if someone does answer they transfer me to Customer Service and then no one answers there. I let it ring and ring and ring. I would like to know if anyone turned in the two cushions. Of note, this Walmart store (133rd State Line, KCMO) has steadily gone downhill , in my opinion. It is the closest one to my home and I shop there on a weekly basis, but I am now willing to pay a little more to simply cross the road and give my business to Target and hopefully receive better customer service. These c/s issues arise and there is no one to address them. If you don't care, you'll soon find there will be many less customers to care for.

Daughter had a tire fixed and 12 hours later it's flat try to get it off lug nuts start breaking off. Call wal mart and he has no answers as to how I'm getting this tire off. So now I'm having to pay a mechanic to get it to his shop and get the tire off. On the 2 remaining lug nuts. Should also mention that it was already missing 1 lug nut before the tire was fixed. Found this out on paperwork. And when we tried to get the tire off.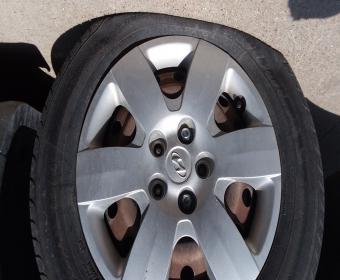 antoinette merlino 757-345-2376
MY COMPLAINT IS ,HOW RUDE AND INSULTING THE MANAGER IS AND 2 OF THE EMPLOYERSARE. 2 TO 3 WEEKS AGO I HAD AN ISSUE REGARDING A RETURN ON SLIPPERS. I KNOW THE RULES ABOUT HAVING A SLIP,. I';VE BEEN SHOPPING AT WALMART SINCE
2003.I MISPLACED MY SLIP I HAD THE ITEM IN FULL TACT .THE GIRL SAID NEW RULES, NOSLIP ALL YOU GET IS $3.00 REFUND AND
THE ITEM WAS $11.99 NOT ON SALE. THAT IS NOT POSTED ANYWHERE IN THE STORE,. FOR CUSTOMERS TO SEE.
SO I APPROACHED THE MANAGER AND HE WAS RUDE COULDNT UNDERSTAND HIM. AND WOULDNT HELP ME. AND SO HE WARNED
ALL CLERKS AT THE DESK,DO NOT REFUND $11.88 .THEN THIS SAT. WHEN I WENT SHOPPING 5/4/19 THERE WERE 2 CLERKS
ON GUARD. ONE WITH A 2 WAY PHONE AND ONE POSTED AT THE DOOR WATCHING ME LIKE I WAS A THIEF. I'M VERY INSULTED.
I RESENT THIS ATTUTIDE TOWARDS ME WATCHING ME LIKE I Was THIEF AND FOLLOWING ME. ANTOINETTE MERLINO

Kathryn Pullman
from Des Moines, IA
I purchase the majority of our groceries at our local Walmart Store located at 5101 SE 14th St in Des Moines, Iowa. Recently I have noticed that our store no longer carries the Rotella Bread that my family loves so much. I spoke with a Rotella employee at another store today (where they still sell Rotella Bread) and asked him what had happened. He said that he had heard that Walmart was going more nationwide with the merchandise that they carry. I personally believe in buying local. With stores all over the U.S., I would think that they would prefer to stock the shelves in each location with local products.
I would like to see the Rotella Bread back on the shelves at all of the Walmart store in Des Moines. As is since Walmart is not providing that choice at this time, I find myself going to other stores that do and that is an inconvenience for me, but worth it.
Please reconsider your decision to remove Rotella Bread from the selves by putting it back on your shelves.
Sincerely
Kathy Pullman
Des Moines Iowa

Rodney cochran
from Granite City, IL
the pharmacy in granite city would not fill a Doctors prescription saying I need to talk to the Doctor it is not the job of Walmart to pry in my wifes medical history I will talk to a lawyer about hippa rights and Walmart.

May 3, 2019. I took a unopened DVD BLACK complete First Season 31398 28380 to the Customer Service counter 1650 W. Maloney Av Gallup, NM 87301 505-722-2296.I did not have the receipt. The cashier said it was Item not found. I told them it came from their store.
I asked to talk to the manager. An Assiatant Manager Vilda, said it did not come from thier store and refused to listen.
In front of a store full of people, she basically called me a LIAR.
This is Gallup, NM, the store employees are Navajo, and I am a white women, and flet attacked. The manager took no time to help, but continued to embrass me in the store.
Right now, returning the DVD is not an issue, but the act of discrimination is!
The DVD did come from Walmart, for Gallup, NM is a small town and there is no other place to buy DVD's.
The assistant manager is rude, neglectful, prejudice, and not a people person, and cannot handle store situations.
Maybe I need to seek other legal advice...
Geneva C Davis
1801 W. Aztec
Gallup, NM 87301
505-870-8167.

Frank & Deloris Readnour
from Oakwood, IL
The gates you have installed is a pain in the you know what. You have added more self check out lanes and taken away full service. I hate this and so does every one I have talked to, I have gone to Walmart for years but I am seriously thinking of switching to Meijer in Danville, Illinois, Please do something to correct these problems. IT IS A MESS!!!!!!

OXFORD, MS
I WENT TO MY LOCAL WALMART STORE 00699 NEEDING TWO TIRES AND AN OIL CHANGE!
I WAS TOLD I COULD NOT BUY TIRES BECAUSE THEY HAD NO BALANCING WEIGHTS TO BALANCE MY NEW TIRES.
I SAID WELL CHANGE MY OIL THEN! I SPECIFICALLY TOLD THE WORKER THERE THAT I WANTED 10-W 30 OIL BEING MY CAR IS AN OLDER MODEL! THEY PUT 5-W-30 OIL INSTEAD. I TOLD THE WORKER TWO TIMES WANTED 10-W-30 OIL!
THE WORKER TOLD ME ALL 4 TIRES WERE BAD! THAT IS NOT TRUE MY 2 REAR TIRES WERE REPLACED AT MY LOCAL WAL MART 4 MONTHS AGO! THIS GUY DOES NOT SEEM TO KNOW WHAT HE IS DOING!
I WILL TAKE MY BUSINESS ELSWHERE FROM NOW ON!
NOT A GOOD EXPERIENCE IN OXFORD, MS.
ROY PITRE

we purchased a ATT sims card at your store in AZ we moved prior to using it lost our receipt only to find the sims card is no good...……...

robert d rupert
from Galesburg, IL
too long of line checking out..more cashiers please..thanks.

All of the self check out lines. If you have a cart full of goods the last thing you want to do is check yourself out. there are 4 lanes that are not self serve. you can wait in line up to 45 minutes to get checked out. I used to be a checker at Albertsons if I wanted to be a checker and get paid for it I would still be a checker. there is no incentive to self check, how about 10 to 15% off since you are not paying a checker or a bagger. I normally do all of my shopping at Walmart but have changed to WinCo as my time is valuable and I do not have time to check and bag a cartful of items. Sad

I bought some pork rids at your Ephrata wa store. they were so bad that they were rotten they stunk . I never buy meat and food from your wall mart again. you .need to clean up you meat dept .. .people do not have money to buy rotton products . I will tell people not by from wall mart

I checked out on 4/1/19 and 2 feet from the checkout at the door, I was stopped scanned my receipt and then He proceeded to take out 5 easter buckets that was 90% off 49 cents, counted them, took pictures of them, I could not believe what I was seeing, He told me that anything that is not in a bag is to be counted and pictures taken! I paid for these items and I feel that he did not have the right to touch my items, I am 76 years old and never in my life has this happen before, 49 cent buckets!!!!! Everyone I talked to I told them to make sure that every item they buy at walmart to put in a bag, even if they have to tape them around the item, What is going on with you people, I have shopped at walmart for years and this is a sad thing to happen.

I was in Walmart located on Annapolis Road, Lanham, MD and wanted to purchase a Xbox game for my grandson, I was informed that they only had one Key as they had lost the other one. Understandable I could wait until the key returned, but when the employee who had the key returned I still didn't get any service, actually Robert the CS Rep who informed me stated he wasn't going to help me when one of the cashiers said we were still waiting. I finally flagged down someone else and they retrieved the key and assisted me.
If the young man was having a bad day he should have clocked out and went home. I guess he got upset because I asked why we couldn't get the game again. However, this is no way to treat a customer. You need to train your customer service staff on effective customer service. If it had been him and he got treated poorly he would have had an issue. This should not be tolerated.

TO WHO IT MAY CONCERN:
Hi, my name is Angela. I went to the Walmart in Blytheville, Arkansas yesterday to purchase a $200 push mower that was back in Garden Center. I am highly upset about the whole ordeal. No associate was in the Garden Center and we waited in there for about an hour,still no associate around and there were more customers asking me why no associate was in the Garden Center. know but we had been waiting for an hour.I told them I didn't know and I went and asked a woman associate that was working the floor. She gave me a dirty look and called for an associate Name April, I went back to the Garden Center and waited believing she would be right there. We waited another 30 minutes and the associate never came to assist me. i went to the pharmacy center to ask them to call an associate to Garden center and that one has been called already but she never came to assist me. So, The lady in pharmacy paged that an associate is needed in the Garden center. Once again I go back and wait another 30 mins. Still no assistance from an associate .I go to the pharmacy once again and asked for an associate to give me assistance. She as well, gave me a dirty look this time but she did call for Garden Center Associate about 5 minutes after I went back to the Garden Center. Waited 30 minutes more and STILL no associate came to assist me. My little 65 year old mother was with me and she had to help me load the big heavy box that contained the mower because we got tired of waiting. Three hours Is too long to have to wait on an Associate. We didn't even have help loading it. This Walmart lacks well mannered Associates and has the poorest customer service reps that I have ever seen. I went through all of this just to buy a $200 mower that I desperately needed or I would have walked away. One upset customer! Thank you.

Paul E Klautsch
from Chicago, IL
We accidentally wrote a check on an account that was compromised and had to be closed. We realized it the next day and have been trying to repay what we owe. We have gone to the pharmacy and the store talked to managers who said just wait for a letter. We also contacted corp but no help. Now you send us to a collections agency. So now that you have done this we will never again use your stores for anything. We spend on average of 2-300 dollars a week there. What you did is just wrong. And on top of it trying to charge us an extra $30.00 to boot.

On April 6 of 2019 my grandson visited your Auto care center at the Walmart located at 7101 Cedar Springs Blvd., Louisville, KY 40291. He purchased motor oil and an oil filter from inside Walmart's and took it to the auto center for then the changes oil and filter. He was told by a technician name Marissa number 8509 that she was declining to change his oil and filter because the drain plug she claimed turned twice and was very hard to turn showing signs of cross threading. He brought his car to me and explain the situation and being an aircraft mechanic I told him I would help him. I purchased a new drain plug and brought home a 14 mm tap to re-thread the drain plug. From the comment the technician indicated on the service order I was prepared to remove this plug with an impact wrench. However a hand wrench was only needed because the plug was so loose I merely unscrewed it with my fingers. Within the service order it indicated an inspection had been done only for me to find out that I could actually remove the oil filter with my hand barely turning it. This should not have been missed within that inspection. Concern about the comments the technician made I made a visit to the Walmart Auto Care Center and asked to speak to the manager. The manager said his name was Jim and he was the assistant manager and hired to straighten out the mess with in the auto center. I explained to Jim the situation and he was very rude and continued to smoke his cigarette with another employee and the whole time I was talking to him they would smoke their cigarettes and constantly spit on the pavement. I explained to him that what the technician wrote down had to be a lie because she indicated the oil pan plug was cross threaded and there is no way she could have known that if she did not remove the plug. After observing several of the employees it was obvious they were trying to get the Walmart customers discouraged from having their oil changed. The rest of that week I make several trips back to the auto care Center only to be told and discouraged from getting my oil changed. On April 28 I did visit the Auto care center again with my personal vehicle and told them that I had my own oil that I purchased inside Walmart. I was told that they had changed their policy and they no longer would change oil that was purchased from inside the store. I told the technician that I seen an ad where they now carried mobile synthetic and if that was the case for $44.95 I would take the oil back that I purchased and it would be cheaper for me. But I was told they did not have 0W 40 oil so I was out of luck. What would have happened is your shop would put the wrong oil in my truck with no doubt. Your employees are discouraging customers if they feel like they cannot make a lot of money on them. I have been in business for more than 40 years and this is the worst business practice I think I have ever seen. Upper management needs to look into this practice. I am also going to file a complaint with the Better Business Bureau. Walmart is a big company and I am just shocked that you would conduct business this way. I have attached the service order and a picture of the drain plug.

I utilize the Chattanooga Walmart on Greenway drive for extensive purchases within all facets of my life. Store is very complete and rarely do I not find what I am looking for. Unfortunately the bathrooms are not monitored very closely and whenever I can the men's room it frequently smells foul and the waste container for s overflowing. There are some nice associates working there but I have noticed their tenure is usually limited, yet the rude associates seem to remain. Some very nice and very capable associates that in some cases have been there a long time have been fired. I noticed this trend off fast turnover gaining speed after the last store manager(Alan Curtis)quit. He was very capable and very nice, it's anybody's guess why he left. The management team that replaced him are inferior.
But the main reason I am writing is that upon entering your store today, many hundreds of dollars worth of plants had toppled over because of the wind, had obviously been there sometime. And upon closer inspection all these plants, as well as the rest on display we're dieing for extensive periods of time due to be ok ack of water. I have seen t he is before at t hi us store. It posts a terrible WE DON'T CARE IMAGE, totally opposite of the messages of a positive nature on Walmart TV commercials. I spoke to three mangers who all acted arrogant and indignant, and when I left the store 45 minutes later the poor plants were still spilled out into the entrance driveway, many withered from lack of water and proper care. As discussed said, it represents a store wide attitude of not caring about the reputation of the store or how their behavior translates amongst the customers.

You corporate policy now of checking any unbagged items, even when there are may other bagged items in the cart is insulting. It assumes that ALL your customers are potential thieves. Tonight I went to the Supercenter on Westport Rd. in Louisville, KY. I had a few large items that the checker did not bag. As a result I was stopped at the door and scanned on those items. I told the woman at the door that I objected to the policy. She said that it was corporate policy. Therefore I am filing this complaint and telling you that this is a one strike and your out deal. I have done this with another box chain here. Now I will here. I will not go back to this or any other of your stores unless or until I find out that this policy has been revoked. It treats all your customers as thieves. It is VERY INSULTING since I spend a lot of money a year there. You won't miss mine anyway.
James H. Stahr
Louisville, KY

Price mis-marked green peppers on bin .88/lb instead of each. Produce manager told me let the cashier know. While dealing with cashier on register 5 the cashier on register 4 was very rude and inserted herself in the conversation. My decision was easy then decline purchase. This all occurred about 5:25 pm today.

I went to Walmart to purchase Bod body spray, it is now kept in a locked display case and I understand that and appreciate that they had to do that b/c people end up using it and then the next person doesn't get a full bottle. There was a button to push for customer service and I ended up pushing it 3 times, so when no one came I went to the front of the store to customer service and asked if they could get someone to come open the case. The girl paged someone over the loud speaker to help so I went back and waited for someone to come and when no one did I pushed the button again and in a bit a gentleman worker came over and told me they had been looking for the key and no one has it so basically I couldn't buy the product. I told him that isn't right and went back up front and asked for a manager and this gentleman was one. He called to another lady worker who was probably a supervisor and she then found the lady clocking in and asked her for the key. She didn't seem too concerned and left toward the back of the store and the supervisor lady told me come on, we'll go back and wait. When we got back to the case she was talking on the radio with the 1st gentleman and he told her there was no key and that he had already told me that. In my mind that's not an acceptable answer!!!! She apologized and said hopefully they could get more keys and that she and some others would get one. For an organization as large as yours that's poor customer service.....no one has a key???? That took probably a half hour of my time.....not acceptable.....

I complained about the Harlequin Series Books being taken from Walmart Humboldt Tn and found out it was not true . I sincerely apologize. Thank you.

Charles Amaral
from Fall River, MA
O i will use a Hundred words. I was in your Fall River store around 4.30 today doing some shopping, as i was walking down one of the main isle's i slipped on a Broken Egg sitting in the middle of the floor twisting my lower back then catching my balance with no one in site but i'm sure it's on one of your countless cameras in the Grocery Section. After it happened i left my shopping cart over it so no one else would do the same wile i looked for help. So here is the help i received, told one worker who told me o i'm not on the clock anymore and quickly walked away. Then i told a second worker who was a so called greeter and told him about the Broken egg i slipped on and he told me he could not walk to were the broken egg was located but when he seen that it was in eye site of him he grabbed a cone and marked it after i removed my shopping cart. All the wile i can already feel the twink in my right lower back as i was checking out so i told my story to the cashier who asked me if i would like to make a report and i said yes. So then one of your so called Managers came out to meet me and i told him what had happened. Well he told me he seen the broken egg and it was being cleaned up. (Never even asked if i was OK or what my name was.) Right now i can feel the pain in my back and i'm just dealing with it until the morning. If it is still hurting i'm going to the Hospital and strait to a Lawyer. Who leaves a broken Egg unattended as this was? I want you to take a look at the Video i know you have to see just how long this Broken Egg was left unattended in the middle of the floor. I was told by one of your own workers if something like this is spotted they are suppose to stay with the object to warn the public until it's cleaned up. If i'm still in pain in the morning i promise you won't be hearing from me again it will be my Lawyer you're talking to. Made sure it was cleaned up on the spot before i could even have a chance to take a Picture. Unbelievable Neglect.

I went to Walmart in pace florida today to get oil changed. after reading my receipt about service, it said tires checked 35 lbs in each tire, my car has the tire pressure for each tire on speed dial. 3 tires had 35 lbs, but 1 tire had 38 lbs. so I checked when I got home and I know they did not check it. also got to checking other things and know they did not change my oil filter. so I will not be going back. bad service.

On April 1st I paid for 2 Better Homes And Gardens 3 person Glider to be delivered by April9th, it wasnt and Walmart kept telling me to wait it's coming. Later they reordered and dropped shipping charges and only 1 glider was delivered 2 weeks later in a damaged taped up box with pieces missing and frame twisted and bent, driver said they didnt recieve 2. I called Walmart they insisted both were delivered and I needed to file a police report. I made several calls, online chats to Walmart and asked that they call delivery and confirm 1 was delivered, they would not do it. I had to call Pilot delivery service and they went above and beyond to contact Walmart. I still have not been refunded and have a pile of junk sitting in my yard . Walmart has had my money for weeks and caused severe stress over this situation.
Customer service is horrid. And I dont appreciate speaking to someone in the Phillipines that I can't understand.
I asked 2 be refunded for both pieces .
This was a large purchase of ove $700 dollars .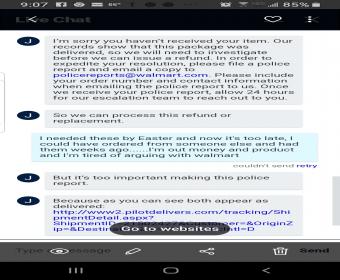 I spend a lot in Walmart I used to work for wal mart we never told a customer there wrong and the customer has to prove that the sign is there and boxes of this is there 50% off the price with the easter waited up at self service for about ten minutes then went for this person and was told the same thing and then had to show her I did ask for a manager but they gave me this person I am really thinking hard on this one I do not like to be told I am wrong this is the store in huntersvlle I can barely read the reciept transaction number is 5504 1712 1492 2367 5724 the manager at this store is james dick I also shop at the one in Denver,nc they are always helpful and nice guess the way I look at it is if travel longer distance just get treatment I expect as a customer even though this one is close to me I spend a lot in Walmart I also do stuff on line

There is an express checkout lane clearly marked 20 items or less. On numerous occasions at the Walmart in Eastland TX I have gotten stuck behind customers with full carts. Today at 9:45 I had 11 items. The customer in front of me besides 5 garden purchases had at least 45 additional items. Her total was 67.xx. When I asked the cashier she told me they are not allowed to turn them away from their line. The lady behind me in line also had an overflowing basket. If it isn't an express lane then take the stupid sign down!!
Very annoying especially when there were 2 other checkouts open. Just one more reason I hate shopping at this Walmart. Maybe management needs to retrained in what express lane 20 items or less, means.
Seriously considering driving an additional 20 miles to shop in Breckenridge from now on. On the many occasions I have shopped in Breckenridge they always have registers open. What a shame this store in Eastland is so bad. Even some of the cashiers have complained.

Rick Garrett
from Louisville, KY
Visited sporting goods department in Lawrenceburg Ky store On Easter Sunday. Was looking for food plot seed for wildlife planting on my farm. This is the time of year (spring) for planting. Not during the hunting season which is the time of year you guys tend to carry seed. (not real smart) I normally have all my planting done by this time but wanted a little extra seed for some bare spots. Tractor Supply was closed for the holiday or I would never have paid your store the visit. Our visit was at approx.1:00pm I told the lady in sporting goods what I needed and she acted like I was insane! THIS TIME OF YEAR WE SELL FISHING EQUIPMENT AND FISHING LICENSES NOT STUFF FOR HUNTING. IF THAT WAS A PROBLEM CALL HEADQUARTERS. My wife and I looked for our self and actually found two bags of seed. this employee was very rude in my opinion. I have been hunting and fishing all over north and south America and run my own hunting camp here in Kentucky. I buy seed from you guys some times in the fall and normally store it for spring planting because you tend to be a little less costly than outdoor stores. I do not need lectures from associates on the proper time of year it is. And as a side note it is spring Turkey hunting season here in Ky.

On 1-24-I9, I got a Walmart Gift Card off the display rack in Corinth MS. I paid $0.75 for the card and put $500 on it. The following day I couldnt use the card. It% was invalid with a zero balance. The card security was breached PRIOR to my purchase. The balance was withdrawn MINUTES AFTER purchase. I need my money . I have talked with local Walmart management many times without reeolving this issue. The card was basically hacked prior to purchase. I need my money refunded, PLEASE HELP.!!

On 1-24-I9, I got a Walmart Gift Card off the display rack in Corinth MS. I paid $0.75 for the card and put $500 on it. The following day I couldnt use the card. It% was invalid with a zero balance. The card security was breached PRIOR to my purchase. The balance was withdrawn MINUTES AFTER purchase. I need my money . I have talked with local Walmart management many times without reeolving this issue. The card was basically hacked prior to purchase. I need my money refunded, PLEASE HELP.!!

Hello from El Paso, TX., the most Western city in the great state of Texas.
I live in N.E. El Paso, where your nearest Supercenter for most of my consumer needs is located on Dyer Street; store # 05947.
It is very frustrating not to be able to communicate with deli, bakery or floor personnel when your associates are only required to speak Spanish.
I am an American English-speaking senior.
Having to wait until someone can be found who can understand my questions/orders, (deli/bakery) is oblivious. I feel very inconsequential as your customer.
El Paso is a border community. Most employees in our City and County government are bi-lingual. This is important so they can serve our English and Spanish speaking population.
Our business community as a whole employ English speaking staff.
I do not know how your employment interviews are conducted, or what your expectations are of future employees, but, as long as I pay the IRS, local sales taxes and property taxes in U.S dollars, I should be able to use English to conduct business in America.
I will recognize Spanish as the national language as soon as Mexico reclaims Texas.

James M Montagne
from Biddeford, ME
Left Iphone in parking lot in Walmart cubicle for those waiting for bus or taxi.[ Walmart 04005 ] Realized when almost home that phone was forgotten on bus, called walmart on out of country phone through Skype and am still on hold for customer service. Initiated call at 4:38 PM EST and am still listening to elevator music, time now 5:44 PM 4/22/2019. People have cut in 4 times to inquire what I am on hold for and to no avail customer service " is very busy". When left store customers were quite sparse. Spend thousands a year on Amazon prime and figured to share a little business with Walmart to see how it goes and am disappointed with the dawdling service. Before getting incapacitated had small business that did well by satisfying my customers. Sincerely, James M Montagne @ mikemontagne2@yahoo.com

Ann lustan
from Sun City Center, FL
Bad service and ride people. All self check registers and one with a cashier. I went to the one with the cashier and she puts out her closed sign. I do not use self checkers because I do not work for you. Then I went to the service counter she ringing up a customer with about 20 items. She yelled to me that she won't ring up more than 5 items, I had 12 . I let her know that I was not going to self check and that she was ringing up more than 10 items for the person ahead of me. She agreed to ring me up and told me not to bring more than 5 items in the future. Do you call this customer service? Your company is losing thousands a day with your self checkouts. People are bragging what they got for nothing in the parking lot. Bad way to do business.

I purchased a large bag of Great Value frozen Whiting fish Thursday, April 18. I cooked some of it yesterday but it is no good. I contacted your University Heights store this morning and was told that I could not get a refund or store credit for the bad fish because I opened the bag. This is an unfair policy and I would like an $11.28 refund on fish that is not consumable. How is any customer suppose to determine good frozen fish from bad frozen fish just by looking at it. It is impossible!!!

Ruth Olson
from New London, WI
Bought new tires less than a month ago, one keeps loosing air, went back to get it checked, the man was very rude. No, I did not have road hazard, was never offered it. Said it would cost ten dollars for you to fix it. Now if he would have said, if it is more than the seal it would cost me, but he just said, I didn't get road hazard so it would cost me to get it fixed. It wasn't the money so much as the way it was presented to me. I left, will go else where to get it fixed, and if it is just a bad seal (your fault), I will be sending another complaint. Thank you

My husband returned a product. Cashier did a convoluted transaction so he did not realize that not only was the money not refunded, he was overcharged for the product that he purchased in return. I called the Epping NH store to complain and spoke with the assistant manager John. He felt it was reasonable to ask me to drive back the 90 miles roundtrip to get my refund. I offered to scan and email him the receipts but I was told I could only get refunded if I went back to that store. I called headquarters and spoke with Brenen employee#1252106 who insisted he was a manager, but when I questioned if managers worked weekends he eventually admitted he was a supervisor and not a manager. He also stated that headquarters could not issue me a refund, send me a gift card or do anything to help. He said I had to drive the 90 miles. I asked if he would be willing to do that to correct a Walmart associate error and he said that his opinion did not matter. He refused to answer the question. Please be very wary when shopping Walmart as their customer service is pitiful. Too bad you don't have negative starts because 1 star is being way too generous.

I waited 25 minutes for a consult on a prescription. The pharmacist's only excuse was "I forgot you were here".

Jane Pappas
from Atlanta, GA
I have sent three e-mails to your fraud department because two 50.00 gift cards purchased with cash for my husband's and daughter's birthdays were maxed out a week before they received them. I went to the store where they were purchased and was told nothing could be done for me at the store level. The phone number I was given had no options for human contact. I finally managed to reach a Customer Service representative who gave me information for contacting the fraud unit. As of today, I haven't heard from them, even though the e-mail said it would take three days. It has been over a month since my first local contact and I am extremely disappointed that WalMart doesn't seem to care about me or my situation.

linton poullard
from Lake Charles, LA
About my complaint of things being moved at Walmart so much you cannot find things , because they are being move so much , if you did not move things so much , people could get in and out and shop , more efficient , people with health problems that can not get around to good would not have to look for things and be in other customer way , and you would sell more , people shop for less when they have to look for the same thing in a different place all the time , they get a bad attitude and shop for less , due to the fact they are tired , from work or going to work and they have to look for things , moving things that often , hurts your sales , people buy less , because they get tired hunting for things in the Grocery section , the man that came up with this suggestion , does not shop , and is causing Walmart to lose a lot of money , look at the money you could make if people could find things and not get fustrate while shopping .

Greetings,
I recently (4-16-2019) went to the Walmart Super Center in Defiance, Ohio to purchase a battery
for a 2015 Ford Escape. All advertisements regarding battery sales state that it includes
free installation of the purchased battery.
A Walmart representative at the desk of the Automotive Department stated that it
would be about a 40 minute wait before my vehicle could be serviced. He then took my phone
number so he could call me when the service was completed.
I browsed the store for about 30 minutes while waiting for my vehicle and then received a
call from the same representative and he informed me that the Automotive Department
COULD NOT install my battery due to the location of the battery in my vehicle.
I saw no such disclaimers anywhere in Walmart advertisement and wasted at least 30 minutes
waiting for my vehicle only to not get the service done.
Are your mechanics not properly trained and do you not believe in TRUTH IN ADVERTISING?
I should have asked for a refund on the battery and went else-where.
I could have installed the battery myself if I had the tools that these mechanics have available
to them.
What a waste of time and what a frustrating experience!
A response would be appreciated.
Bob

linton poullard
from Lake Charles, LA
In Lake Charles La. on highway 14 Walmart , for the last 14 years this Walmart , moves items so much in the grocery area , that every week you have to look for the same item , in and on a different isle , nothing stays in the same place over three weeks , so every time you go into the store , you have to hunt for the same items , you bought 2 weeks ago , that not good business , people spend most of there time looking for items , not buying , store is pack with people trying to find thing in the grocery section ..after looking and looking you get tired looking and leave and go to another store , and finish your shopping .

Patricia Wright
from Greenwood, DE
I ordered (order number 3571986*584246) $109.96 of clothing and 3 tops ($37.77) do not fit. I tried to return them to the store in Georgetown, Delaware and they said it was from a third party and I had t send them to them. I thought the person was typing out an address to send them but they were not it was just a slip telling me the same thing they said. I called customer service and they said they handled it and I would get an e-mail from the seller giving me the address to send them with in 24 hours. I waited 48 hours and still have not received anything. I called customer service again. After I explained the problem she said they were having problems and could I call back (why didn't she tell me that instead of after I explained? I am very good costumer of Walmart but if something isn't done that may change I want my money back. And people should be told about the third party deal before they order... Right now I am very upset with Walmart. I want something done.
Sincerely
Patricia Wright
(302)381*4430
P.S. I hope it does not take as long for this as the calls that were made.

I have contacted Walmart more than seven times to facilitate my "unsubscribe" ( any and all Walmart advertizing messages sent to me ) request and I have received no response. I and my family and friends will never shop Walmart until this problem is resolved.
Sincerely,
William Thibodeau
3245 Weigl rd.
Saginaw, Mich.
989-781-0204

Steven mccool
from Belleville, PA
Every time I go into this store there are no sani-wipes for cleaning cart handle. Often items needed are not available due to failure to restock. Then after all this frustration there are only 2-3 checkouts open with 4-6 people in each line and everyone is angry and complaining. You want my money but fail to provide reasonable service. Thank god for Target! Very disappointed long time customer.

Fred Mallaire
from Phoenix, AZ
Dear Sir,
My name is Fred Mallaire. On Saturday April 13th, 2019, I purchased what I thought was a Mariokart7 2DS game system with a box having serial number AW11472120 from the Walmart store # 2113 at 1607 W. Bethany Home Rd., Phoenix, Az. 85015.
On Sunday 04/14/19 my granddaughter opened the package for her birthday to find in lieu of the 2DS system a wire cutters wrapped in a Los Angeles times newspaper.
That same evening we immediately went to Walmart with the defective purchase. We spoke to an assistant manager with the name Margan or Margarita. She went back and reviewed the film and said that from when the box was received by Walmart to my purchase they could see that no one had tempered with it. So my wife and I knew we had been a victim of fraud and we decided not to purchase another 2DS for our Granddaughter at Walmart.
My wife and I went over to the Target store in the same mall complex. And we notice that the 2DS system boxes, there, are not sealed in a plastic wrap. The sales employee at the target said these units never come with their boxes wrapped in plastic. We explained what happened at WalMART. The Target employee said I would go back and see if the other boxes were wrapped in plastic at that Walmart for the boxes do not come like that, for I used to be a manager at game stop and I know how they are sent from the distribution Center and as you can see here at Target they are not wrapped in plastic. I said did it come from the factory this way? He said no, and added that the stealing of the 2DS had TO HAPPEN at the distribution center and perhaps Los Angeles, since the La paper was in the box with the wire cutters.
My wife and I went back to Walmart and noticed that none of the other boxes were wrapped in plastic. My wife asked the assistant manager, If she would please look on the video again to see if the box that she watched on film earlier from delivery acceptance at that Walmart to my purchase of it on 04/13/19 was wrapped in plastic and then seeing it wrapped in plastic as it should not be would confirm that it was received in a tampered condition. The Assistant manager said sorry I can't help you.
We walked away with the understanding that Target in lieu of Walmart cares about customers.
We know that we received a sealed box from the Walmart locked cabinet that did not have the actual game system inside. We purchased in good faith and if the manager would have just checked the film then they would have seen that it was wrapped in plastic unlike all the other system boxes in the locked cabinet.
We would appreciate if you would please make this right.
I have attached pictures of box, plastic wrap that box was wrapped in, wire cutters in lieu of game system that box contained and receipt.
Respectfully, Fred Mallaire at 602-361-6574, email: fred.mallaire@gmail.com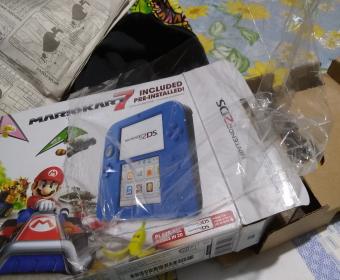 Jonathan Bradley
from Greenwood, MS
On April 13,2019. I, Jonathan Bradley was visiting the Greenwood Walmart Tire Department located in Greenwood,Ms. I informed employee Rosie Jackson that I needed to replace a tire that under warranty because I mistaken ran over bark wire causing the wire to rap around my entire putting a large hole and causing wire to come through the tire. Ms. Jackson began doing the paper work later. Another employee first name Rosie stated she (Jackson) were on her break. I asked Rosie could someone check me out because I had been waiting for approximately one hour. Rosie began to check me out informed me (Bradley) that I owe sixty plus dollars. I informed Rosie that the tire was under warranty. Ms.Jackson return from her break assume. She (Jackson) informed Rosie that wasn't correct paper work. Ms. Jackson look for the correct paper and couldn't relocate the paper work that when she departed to the back (Tire Shop). She return with two employee from the back. One tire worker gave (Jackson) a number from the tire rack. At this time (Jackson_ stated to me that I needed to get a tire alignment. I informed(Jackson) that I didn't need a alignment. I ran over some wires again showing her the hole in the tire. Ms. Jackson informed one of the employee to check the thread on both tires. The young informed her that my old tire thread about 6/32 and the new tire was 8/32. She informed him he didn't read my tire correctly. That when she stated 4/32. At this time she stated she could give me a credit of $14.00. and I would have to pay a credit of $47.00 . I informed her that the young man read the thread right the first but you change it. Again I showed her the big hole in the tire. She started hitting on the wall calling for Associate Manager Kimberly Mays. I seen Mrs. Mays looking through the Tire Shop door. Ms. Jackson departed the front area to the shop area and began talking to Mrs. Mays. Mrs. Mays and Ms. Jackson both re-enter the front desk area. Mrs. Mays began playing with a small child hugging on some customer and later on start typing something on the computer. At no time Mrs. Mays said anything to me. Ms. Jackson again stated I needed to get my rear end aliment. At this time my wife Linda Bradley informed (Jackson) to take the new tire off and put my old tire back on. At this time departed Greenwood,Ms. Walmart. This is the not the first time I have had problem with Greenwood Walmart. First time I lost my three of my hub cap because the weight were put on the outside causing the hug cap to not stay on. The manager stated I didn't informed the tire man to put the weight on the inside. I informed him the tire man seen the weight was on the inside before he put new tires on my vehicle and hug caps wasn't fitting correctly. The second time the tire man mess up 14 lugs on my car.The manager informed me to buy some more lugs and he would get his best work to replace them which he did.

anthony allen
from New Albany, IN
myself and my family go to Walmart everyday we probably spend $2000 a month in the clarkesville Indiana store but as of today that all stop I wouldn't shop at Walmart again if it was the only store on earth.I tried to return a plum tree I bought there it was supposed to have a 1 year warranty if it died I was supposed to be able to get another tree but because of some hag on a power trip they got me for $22 she would not swap out the trees because I had lost the receipt even though the tags were still hanging on the tree all she had to to was scan the bar code but no she insisted on a receipt I have return and swapped out stuff at lowes home depo and Walmart in the past without a receipt and did not have any problems what so ever.Will never shop Walmart again!!!!!!!!!!!!!

charles hine
from Mount Pleasant, MI
I can't find the products I'm used to buying. It seems like I get accustom to a product the stop stocking it.
I get to the checkout line and I have to wait for the cashier to stop chatting with the customer in front of
me. The lines are long enough to wait in, let alone waiting for cashiers to talk about their personal problems.
I can't even get a 1 serving can of peas. 1 liter bottle of diet coke. Vegetables are not very fresh....etc.

Jane Marbet
from Plymouth, MA
I spoke with Harvey from Chicago Illinois (call center) took my online order today. As it was a large order, I had called and spoken with someone both yesterday and the day before and had my shipping fees waived. Victoria gave A+ customer service as did Maley. Harvey from Chicago -took my order-hit my debit card for the full amount and then said no I am not going to waive your shipping fees and then HUNG UP ON ME despite it being documented as approved by a supervisor 2 days prior. During the course of my transaction he said he would finish my order as he would be going on break in 4 minutes. He is rude and was not authorized to take the full amount. This needs to be resolved. I am IRATE!

R Turner
from Fishers, IN
My Walmart online grocery account with Fishers, IN was flagged because of reporting too many honest facts about their flawed grocery delivery service and because I used too many promo codes. Apparently, they don't want you to be honest about their continual issues of out of stock items. They send you a survey and if you give them a low rating too often they don't want your business anymore. The flagging is determined by the grocery manager's discretion in an effort to prohibit you from ordering in the risk that the department will receive another bad review or customer service call. Instead of raising their standards to improve service they simple ban you as a customer. I placed15 or more phone calls including speaking with corporate and the only resolve was to open up a new account with a different email address. I received no apologies and most of the people I spoke via customer service, call centers, consumer dept. and even corporate acted as if their hand were tied. Many were downright rude!

Thomas Jacobsen
from New Port Richey, FL
I tried fo many times to call a store and your customer service line. Over an hour of my wasted time. I never gotto speak to a live person. The stores' lines just rang and rang on. HORRIBLE CUSTOMER SERVICE!!!

Robert Chisnall
from Little Rock, AR
I took two rims to the auto dept and bought 2 tires and have them mounted.
They put my tires on the machine and stopped and started on other customers that came in after me, to service their vehicles. One of them I knew and he wanted oil change and didn't have it scheduled. Finally after over 2 hours of waiting they had my tires ready. I paid and drove 25 miles to mount them. When I got them out of the truck one was flat. I aired it up to find the valve was leaking. I looked at my ticket and they charged me $3.00 for new valves for each tire. They did not put new valve but charged me $6.00 for them. I had to drive to wal mart in Forrest City Ar and pay $3.18 for a new valve. The wal mart in west Helena at is the one that I paid for something, not to mention the extra time and expense to go have one fixed again. The time on the ticket does show the accurate time I waited. My ticket service order 26588. I think the extra charges for the valves were done on purpose thinking I wouldn't know the difference. Wonder how many more times that has happened On 4-9-19. This is not the first bad experience I've had at this store. Most of your employees are rude and act as if it's a pain to wait on customers and I have never got a thank you for doing business. If they don't like their job they should find another.

I went to the Walmart in 1919 Davis St San Leandro, CA. This happened Monday 4/08/19. This Walmart in particular is always gives me extremely delayed service when the formula drawer to be opened. I went in and there was no bottom to called for assistance to open the formula cabinet. Both me and my husband are walking around asking ALL employees for the key. No one had it. After about 15 minutes we ask someone to make an announcement over they speaker, they did. 5 more minutes and no one came. I decided to go to the front and I encountered the CUSTOMER SERVICE MANAGER DANIELLE. I asked if she could send someone to formula bc no else could seem to help us and she just "ok." I replied frustrated, "It's been over 20 minutes," And she rudely answered "well the only thing I can do is call and you can wait." I walked about 10 feet away and watched her NOT MAKE THE CALL. I went over to her again and said "can you please call because I clearly saw that you didn't." She replied, "Well that's your fault because you walked the other way and now you're going to have to wait longer" I cannot believe this is the type of service I received from the Customer Service Manager. I am extremely applaud and hurt by the attitude of this employee. I shouldn't have to drive to the Walmart father from my house, I expect every Walmart to live up to the great customer service you claim to give your customers. I would like the district manger or store manager to contact me via email or phone. Yessika0@gmail.com or 510-696-0142.

I am writing this letter to clear my Wife Juliette,s good name also mine
Let me give you a picture of how it began .We were checking out at Walmart in Ajax Ontario and the Cashier asked my wife if she would
like to apply for a Wall Mart credit card and with my nod she agreed ...now the line behind us was long and people were not pleased about
this so she felt stressed as the people were grumbling...however she gave the information asked of her ..I was bagging our purchases while she
gave the information as understood .We got the card bearing my name by mail and called activating it being told that we must make the first purchase at Walmart which we did and another at a Pharmacy ...no problem at this time...the third purchase was declined ..I called the security
number that was given and was asked my name where I live date of birth credit cards and their numbers that I have and drivers licence number
and they said this is not correct and asked for me to fax a copy to them ….this is when I took objection...I would not send such a document by mail
ever ..considering the electronic fraud taking place, and beside this it may be against the Law.
We have never been made to feel as though we were scammers as at this time ! and we have never been refused a Credit card before! and we have a number of them in good standing some saying that we qualify for a Credit Increase if desired!...so we don't see why Walmart cannot validate our identity other ways and restore our good standing in the credit department.
We spend about 3-5K at Walmart every year using other Credit Cards ;we would like to continue business with Walmart and it is up to you if this
relationship continues
Sincerely
Neville & Juliette De Abreu

susan mack
from Killingworth, CT
Shopped at Walmart Cromwell CT. Store #02299. Spent over $500.00 with 2 carts of merchandise. Ref#90900040835 on 3/31/19 at 11:12am. Gave clerk $1.00 coupon. She entered $1000.00 in error. Had to empty entire 2 carts, unbag and rescan order. This took another 1/2 hour after waiting in line. No process to void coupon apparently after a manager tried. What a huge inconvenience with children. Almost aborted trip...Walmart needs more up to date computer system to keep loyal customers. I spend an awful lot at Walmart and was very unhappy with this experience.
Sincerely,
Susan Mack
3 Mario Drive
Higganum,Ct 06441

Our local Walmart in port Allen Louisiana is open 24 hours. Should I be able to call and talk to someone at 630 in the morning. Tried this morning from 6am to 630. No answer.

I don't mind self check out usually but.......today I had the worst experience ever! I arrived at the front of store to massive lines in all lines with a cart full of groceries only to find out that yes I had to check myself out and that the store has NO BAGS!!!! Their was a young girl very rudely handing out cheap plastic garbage bags that would barely hold anything heavier than a load of bread without breaking!!!! And since the bags were just laying there the scanner kicked off and had to wait for an employee to come type in code after every few items scanned because the scanner perceived us to be stealing because you couldn't balance the garbage bag in the correct place! Total lack of managerial presence during this catastrophe and total overall poor management! Thank goodness we have another option nearby in Murray, KY !!!! Will not return to the Paris,Tn. STOre! Hire a manager! This woman is never there! We are a rural area we need our store!

Susan Hiner
from Minerva, OH
Purchased 4 tires and had them put on my jeep almost 4 years ago. I bought road wear and have been satisfied with everything until this weekend. I hit something with my front drivers tire and my tire went almost totally flat. I have only put 29,000 miles on it since I bought the vehicle. I know tires wear and I didn't have a problem with paying for another one at all. My issue was the run a round with my nearest Walmart. I looked them up on line yesterday Sat, 4/6/19 saw their hours were until 7 pm. I called, couldn't get an appointment, must come in person. Was told they could cut off taking customers early so they wouldn't run out of time. I understand this. My husband took the tire off and we drove 35 mins and got there at 6pm. I was told they didn't have time because they were short on help. I wasn't real happy but understood, we shouldn't have gotten there so late. I looked up their hours for today, Sun, 4/7/19, open until 6 pm. We got there at 3pm and was told it would be a 3 hour wait by the same man as the day before. That would have made it closing time for them so why was he still taking customers if I was going to have a 3 hr wait which put it till 6 pm, closing time? Once again he said they were short on help. Not my problem, hire some help, bad manager or something. I was pretty hot this time and should be ashamed of myself for what I said. There were still 2 people in line behind me to talk to him so I'm guessing they didn't have a problem waiting 3 hrs. We drove another 35 miles to Canton, got waited on, the tire replaced, and had dinner out, then drove 45 mins to get home at 6:15. I'm guessing we'd still be down there waiting or would have been told at 6 pm, Oh sorry, it is now too late to do this tonight. You got some serious problem down there. Just needed to vent and apologize as I did use some nasty language at your business. I've had all 4 new tires put on both the last 2 vehicles I've purchased at Walmart and I just purchased another vehicle which I'll put new tires on soon I'm sure but I think I'd rather stay in town and give local merchants my business even it does cost me more after this frustration.

Nat Agensky
from Hallandale, FL
MY TV SAGA: I purchased a 50" Samsung LED TV from Walmart.com on Nov 2016, together with a 4-yr extended warranty. The TV lost its picture and sound in Feb 2019. Asurion, Walmart's Customer Care Team agreed to have the TV repaired at its depot. It was returned via UPS. Although it was now working, it was physically damaged, probably having been dropped in transit.
Asurion now decided to replace the damaged unit but instead of a Samsung, the choice was a Polaroid or a Sceptre---each retailing for much less than a Samsung. I complained to various supervisors at Walmart and Asurion that if I wanted a Polaroid or Sceptre, I would have bought one. "Too bad" was the reply and I was given 48 hrs to decide.
All this with an extended warranty! I chose a Polaroid with a picture that is not the greatest and a reputation that is even worse.

Kevin Jeppsen
from West Valley City, UT
I bought several things at the Brigham City, Utah store including a razor for 11.88. When I got home it wasn't in the bag. I took the recite back to the store and the cashier who helped me said to just go get another one and take it to the customer service desk. They wouldn't let me have it and said they can't do anything about it unless someone turns it in. So I am out a razor and travel to and from the store...I live 5 miles away. Very disappointed and hope this can be resolved.

annie stu
from St. Petersburg, FL
i had sent a complain on 4/5 when we got home,about 2 employees engaged in a very loud tone,seems the man was trying to calm a cashier down,you wouls thing,that they would go into a offics,the lady was talking so loud,waving arms just unreal,mean while people are looking because it was loud, she is off reg. and there are lines,come on ,then she is going to reg. and a employee walks buy she yells its ok i have been talking to micky,the employee said nothing to her unreal

Joe York
from Cementon, PA
The store in Whitehall, Pa. is by far the dirtiest store I have ever been in, it is a total disgrace. There is garbage, spills and partly eaten food containers everywhere. I just spent over 30 minutes trying to get assistance in the jewelry department along with six other customers. One was waiting so long he sat on the floor waiting for assistance.. I know a long haul truck driver who goes to Walmart before every trip and he once stated to me this was the dirtiest Walmart he had ever seen.

Rick Weitz
from Rochester, NY
Pertaining to Elm Ridge store, their is no...........................NO need to call me.
My business will all be done with Target. Thank you if you are able to help me.

daphne ayers
from Odenton, MD
Walmart customer service, I am a regular shopper at Walmart I tried to send e-mail to Customer Service so many times
clicking on different customer service links never got to send a message Want to return 2 items asap
Senior citizen What is the matter with Walmart. I want them to send me an e-mail explaining this and how to contact
Walmart via message I am hard of hearing

Howard Culver
from West Columbia, SC
I was in Vietnam 1969-1970 I took a lot of 35mm pictures. I had some of them developed (slides) by Walmart and they were very good. I decided to get some more done. I went back to Walmart and left them, I was told by the clerk that they would be ready after 5:30 3/29/19. I went back 3/31/19 to get them and was informed that they were not in yet. I was told to check back latter. I went back this AM 1000 and they still do not have them.?? My ticket no. was not checked? I told the girl working that counter my name three times. she went through a pile of envelopes and told me my order was not there. I was not told when to expect them to be in. These photos are not replaceable. My ticket No. is 487487. The store is at 1780 South Lake Drive Lexington SC 29073. I NEED YOUR HELP. THANKS.

Lionel Tatro
from Gainesville, FL
Four people waited over 20 minutes for someone to assist us in the jewelry area. I was the last in the group to arrive the over head page was sent out twice still no one came! I needed a watch battery the other wanted to purchase from in the counters. What a shame!!! Store number is #01081 manager Donald Chavis 2900 SW 42nd. Street my receipt ID# 7N5KLWCQ3VM

Erma Diallo
from DeSoto, TX
In December, 2018, I bought a Walmart gift care for $100 at the Walmart #3432 in Texas. I mailed it to my niece in Glendale, Arizona. When she went to use it at her local Walmart store, the cashier and manager confiscated it. They stated the computer directed them to do so, but gave no reason. Prior to going to the store, my niece had checked the balance and it showed $100. When I spoke with the store manager by phone, he confirmed they had taken card, but he did not know why. He gave me a phone number and email address, which I used to contact Walmart. It is now March, and I have received no response. The manager of my local Walmart stated this may be related to a gift card scam. All I want is to have my money refunded, since we were unable to use card. This is very frustrating!

Laura Norris
from Kingsport, TN
I live in Elizabethton, TN, but purchased several items at the Walmart in Boone, NC, last Sunday, March 24, 2019. Upon leaving, I asked the cashier if I had all my bags, and she said that I did. When I returned home to TN, I realized that one bag was missing, and looked on my receipt to see if I had been charged for that. When I saw that I had been charged, I called the store that same evening and asked if the bag had been retained. The lady I spoke with was very nice and told me that the bag had been located. She told me that I could bring my receipt and pick it up. I told her that I lived in TN, and that it would probably be a week before I could pick it up. She said that it was no problem, and that she would leave it up at the customer service desk for me with a note. Today, exactly a week later, I went to pick up my items, and a different lady at the customer service desk said that it wouldn't be there and that they restock merchandise like that. She said that shouldn't have told me that. I told her about the phone call, and she wasn't at all sympathetic or apologetic and said that I could have checked the bags myself before I left! She did give me a refund for what I said I was missing. Luckily for Walmart, I am a very honest person and told the truth! Since she was not very nice, I asked to speak with a manager. I told him that I had driven back from TN (1.5 hours each way) to retrieve the items. Here's when it got worse! The manager said that he couldn't do anything about it because "we ain't got no room to keep anything up here." It was only two items in one, small bag! I was blown away by his lack of professionalism and just walked away. Besides his unacceptable grammar, could he not have offered to go back and find those items for me that had been restocked? At no time did he offer to do that. While I could have done that myself, I just left the store. This store just lost the items I would have bought, in addition to the $100+ groceries I would have purchased while I was there. What a customer service nightmare! Walmart has layaway, but can't hold one paid bag for a customer until she can pick it up? I don't fault the original cashier, as I'm sure she thought she gave me all my bags. What I cannot understand is the lack of professionalism on the part of the customer service department and the manager on that shift. I have never had a bad experience at that store, and I am very frustrated by the experience.

IMLFORD DUBE
from Saco, ME
BIDDEFORD,ME. WALMART insensitive to people with disabilities. They have eliminated 7 disable parking spots by placing mulch and shrubs in the parking area for disabled. I complained to assistant manager to no avail, if not resolved I plan to post my complaint on facebbook.

Catherine N Hesselbacher
from Cody, WY
I live in Wyoming in heavy Grizzly Bear country and am a pro photographer. I am out in the mountains a lot by myself, so along with bear spray, wanted to carry a shotgun. I went to my Wallmart in Cody, WY to purchase a shotgun. I was talking to my HUSBAND on the phone, so I didn't answer the clerk right away when he asked me who the gun was for. So he called a manager to the back and made me feel like an absolute CRIMINAL! I am SO OFFENDED right now, I am furious. I do not so much as have a parking ticket on my record, but he REFUSED to sell me a gun because I was talking to my HUSBAND on the phone!!!! I spend at LEAST 200.00 per WEEK in your store, and yet I got treated like total dog crap!!!
NOT a happy consumer of Wallmart. I will go to ALBERTSONS from NOW ON!!!!!!

Walmart in Broomfield Colorado doesn't have enough electric carts my last visit I spent an hour and 40 minutes waiting for an electric cart I can't walk I need the help I'm here now I've been here another hour they say that their tour broke down tour to Noah's wedding to you know what a senior citizens need to be able to shop to I'm leaving your store now cuz I can't possibly shop here help the elderly they don't seem to care at this store and they're very rude to me

Every time I've picked up prescriptions at the Mount Dora, FL. pharmacy I've experienced a waiting line. Minimum - 7 minutes, longest to date - 34 minutes. Folks, that is a freaking SHAME! Corporate/store management should be appalled. Are you unaware of the fact that MOST of these people are the elderly and sick? Of all the lines in your stores, the pharmacy should be the shortest and smoothest. Not so much, I'm afraid. I was number eleven in line today (21 minutes) and counted seventeen folks in line on the way out (line went to the aisle end cap and headed off down the cross aisle) Is this REALLY how you want to be known for treating the sick and elderly in this nation??
To their credit, the two ladies on pickup were and have always been courteous, efficient, and friendly. I've always been underwhelmed by the four or five "specialists" behind them. Seem so "special" and "elite" - above it all. Regards, Roy Stup

S. Anderson
from Bedford, IN
I was treated rudely by an employee (named Virginia) in electronics in the Bedford, IN store. This was approximately 1:30pm on Wednesday, 3/27.
1) After unlocking a case for me to get a 11$ screen protector for a cell phone, she pointedly told me I would have to pay for it immediately in that department - even though I hadn't suggested otherwise. Normally, this wouldn't have been a problem for me. Today, it seemed purposely rude, because a moment before, she had just told a man that he did not have to immediately pay for his item she had just retrieved from the same case.
2) I needed 2 additional items from another locked case. She retrieved one of them for me, but she acted impatient the whole time. I needed the last item from the next case, but I noticed that a customer had been waiting at the register for at least 5 minutes. She apparently hadn't noticed them, so I told her that I still needed one item from the case, but that she should go ahead and help the customer that had been waiting. While I was waiting (at the case a few feet from the register) another customer walked up behind the first.
3) After she had helped the first customer that I had deferred to, instead of helping me with the last item I needed, she immediately asked the new customer what he needed and took him a few aisles over to talk to him. I felt this was not just terrible service, but outright disrespectful - especially after I had offered to wait while she helped the first customer.
4) After that, she walked back to the register to help someone else - again without even asking if I was ready!
As she saw me mad and leaving the area, she yelled at another employee who was just passing by and said, "Oh yeah, this guy needs help." I said that I no longer wanted help and didn't intend to buy anything after her bad service.
5) Instead of apologizing, she made excuses, telling her coworker (in front of other customers), "Oh yeah, he's been acting like he's gotta have his stuff first." That was entirely false - I even asked her to first go help the customer that had been waiting a long time! That was also incredibly unprofessional and rude to talk like that about a customer - in front of other customers, instead of providing pleasant and helpful service. She then tried to say that she didn't know that I was ready - even though I had told her that I knew what I needed when I asked her to help the FIRST customer. She knew I was waiting, but she didn't even ask if I was ready before she proceeded to help additional customers. She was rude, unapologetic, and acted like I was the problem. When I told her I would inform customer service, she just acted even more defiant and rude in front of other customers - not a good look for Walmart. I didn't buy those items or the items in my cart. I returned the 50$ cologne I had already paid for. Her terrible service & rudeness lost 170$ in sales today. I won't be back. Customers want help, not rude power-tripping attitude.

Yvonne Tefs
from Akron, OH
I would like to know why your stores do not have a stamp saying paid on it or some type of tape to attach to items that do not fit in bags ? I am sick of being stopped as I'm leaving the store asking for my sales receipt to prove I paid for the item even tho they watched me leave the register. This is very embarrassing not to mention it humiliates you as other shoppers are passing and looking at you as if you were a criminal ! I realize you have theft problems but that is a different problem and not one for your greeters stopping and saying Honey can I see your receipt and embarrassing a person. How hard could it be to furnish this at your registers to save your customers from going to other stores to shop that does do this ! This happens daily , there is no reason for it !

Tara Tidoni
from Los Angeles, CA
This morning I went into the Walmart location on Fallbrook at The Fallbrook mall in Woodland Hills California needing to make a return of two products that have been unopened not user tampered with with my original receipt and had the expectations based on your return policy and previous experience at Walmart stores doing returns that I would get my money back and be able to get a refund for the items I kept my receipt for it and didn't use. One item was vitamins totaled at $19.98 & muscle rub totaled at $7.97. I waited a total of 12 minutes before it was my turn to be helped I went to the register and the cashier who was there to help me Eileen was told halfway through the transaction to go on lunch so she said okay walked away clocked out and left so I was left there standing for another 5 minutes before any of the other three customer service employees that were standing there not doing anything would acknowledge me and start the transaction over again.
much to my shock and surprise I was denied a refund or exchange of any kind because my receipt had been folded up several times I'm sorry I keep a small pocketbook so I fold my receipts of tiny and file them away apparently Miriam the customer service rep that refused My Refund and The elusive customer service manager who would not come out of the office I was told "she's not going to tale to you and plus shes too busy handling some monies" or so it was relayed to me in a very condescending tone. I also had a bathing suit I had purchased a week prior for my daughter's birthday that was today and I realized I had gotten a size too small and I wanted to exchange it I did not have my receipt for that one but I don't do excessive returns at Walmart so I could have been able to do a return or so I understood from the policy that I read just that morning online, but lo and behold I was refused for that return as well. now I would understand if I had excessive returns or if I had even walked around the store prior to give me my return but I came directly from the front doors to the customer service desk I had my receipt I had my items on damaged I don't understand the problem and as far as I know I was completely entitled to a refund per your Walmart policy that's posted as of right now on the website. I don't know why I was humiliated by a customer service rep this morning in front of serveral other customers, I really don't understand the disdain that the customer service rep had for me considering her personality changed immediately when she started helping me as opposed to the lady that she was helping minutes before. I don't enjoy spending money for my 6 childrenand my husband and my pets add a company who doesn't value their customers and treat them as though they are the scum of the earth. I'm a professional woman middle-aged I don't have a bad attitude I'm a very Cherry person and I greeted her to such so I really don't understand and I'm humiliated embarrassed appalled upset and I completely disrespected and insulted. And not to mention now I'm out the money for those two items and the bathing suit that I was denied a return for. I had one of their complaint in the past that I brought up to the GM there and he didn't care about it I gave them the benefit of the doubt thinking it was just a bad day so I continue shopping and this makes me want to tell all my friends not to go to Walmart anymore cuz this is how you're going to be treated you have to worry about buying items cuz God forbid their mistake and you have to return them you'll just be humiliated in front of all the other customers and denied and you'll be out money. I hope that my complaint is taken seriously and that issue can be resolved and those employees are disciplined accordingly because this behavior is got to stop especially in economy like today you have to earn your customers not scare them away. I really thought Walmart had better values and instill better values and customer service skills in their employees but I'm sadly mistaken I highly doubt that this will be resolved I don't have much faith in it I'll be pretty shocked if it is , but one can hope.have a good day and thank you for your time.

Robert Leeds
from Dallas, TX
Ordered a television from walmart.com because they were out of stock at the nearest store, it all started when the woman working and electronics informed to me I could buy the TV at walmart.com since it was out of stock there and because it was out of stock she would give me a 10% off voucher which I could use on Walmart.com. well first thing, the voucher was not 10% it was only up to $20 and secondly the voucher was expired so I order my TV and after much confusion about when it was supposed to arrive it finally got to me in time for my birthday.
It was then that I found out that pilot the delivery company does not deliver anything be on the back of their truck so getting a 65 inch TV to the second floor apartment with only myself and my wife was not going to be very easy, but I did get the man to help me take it up there and gave him a $10 tip
But when I opened it and turned it on I saw that it was broke the screen was cracked straight down the middle and at the very top had a half moon almost look like someone kicked it
I immediately called Walmart and the Fiasco began, I was first told that no problem they would take care of it and get me out a new TV and also they sent me an email with a $20 off my next purchase at Walmart of $45 or more.
So then I get a US Post Office shipping label in my email so I am supposed to box this thing back up and take it to the post office? I called them back up and by the way every time I call I am talking to the call center in India and speaking with a different person so this person gets on the phone and I tell them there is no way I can take it back to the post office and explain the reason which was I am on the second floor and it would not even fit in my vehicle oh, I mean this is a 65 inch TV and I only have a small car.
So this man informs me that he will take care of it of course and that FedEx will be there the next day to pick it up at which time he offers me 10% off of the TV. He tells me that the TV will be there within 7 days. I get an e-mail verification about the replacement TV and the shipping date the new one will arrive, then immediately after I get another email stating the TV has shipped?! The next day comes and there is no FedEx I figured maybe they got busy and would be there the next morning so I waited until the next morning and still no FedEx at which point I call Walmart again and I am told they will have to call me back after they look into it oh, I never did get hey call me back what I did get was an email stating the TV WOULD ship after they verify that they received the broken one.
So of course I call Walmart again and I am talking to the call center in India and I am fed up with what they are doing so I tell them I want to speak to someone higher up than them so at first I am told there is no one higher up then then to which I said they're absolutely is somewhere then I am placed on hold and when she comes back she tells me that she will give me 10% off of the TV, again and will order it immediately so I am at a loss now and I say no I want to speak to someone above her I finally get an American woman I don't know where but she has no clue what is going on and when I tell her the situation about FedEx she cannot find anything so this takes about a 45-minute phone call to where she finally reschedules FedEx to come get the TV. So after I get off the phone with her I get an email stating my order has been cancelled saying the TV is out of stock and they have no idea when they will be getting any more in stock that is exactly what it said so being very angry now I call Walmart backup and I am speaking to the call center in Indy again and at first the woman tells me the TV is out of stock and cannot be ordered after me reading her the riot act for a minute or so she then asks me if I want her to reorder the TV and she will take 10% off of it, at this point it's all thoroughly ridiculous and I hang up and write a letter to Walmart to which I get a generic response stating they are sorry and the customers are their most important yada yada yada so anyway I get another email this one saying I am not going to be charged for the TV or something then I get an email after that stating they are going to refund my money so now they have $800 of my money tied up and according to the email it will take up to 223 billing Cycles to put the money back on our card. So now I cannot even go somewhere else and buy a TV so I'mma sit here and twiddle my thumbs trying to see my computer from across the room on my birthday in our new apartment.
I know many people probably exaggerated but I actually have all of the emails all of the correspondence and in fact I went to walmart.com and the TV that they cannot get it still being sold I even went through the whole buying process up until putting my actual credit card information in and clicking by and was told that it would be available April 3rd if I wanted to pick it up at a local store and it would be between April 3rd and 10th if I wanted it delivered.
That is my complaint Mickey Mouse just started running Walmart

A D Million
from Houston, TX
I shop mostly at the Livingston, Tex Walmart and recently I have tried unsuccessfully to use my Chase Debit Card. This card has worked at every other store but the last three times at Walmart it wont accept my card. the card is not that old and has been used at 3 different check outs at the Livingston store with the same results. Apparently the checkers do not pass this problem on or the management ignores it.

L Winter
from Arroyo Grande, CA
OMG went to the store to buy a few things and to my surprise the polish dogs I buy went up $3.00 that is outrageous. I was already upset that a case of the dog food went up $2.00. How are people supposed to live on a fixed income? I do a lot of price checking so I suppose I will be buying things somewhere else....

Robert Lee
from Knoxville, TN
I went in store 6777 clinton hwy.knoxville tn. 3-20-19 at app.19:30 pm. entered the main doors due to the lawn and garden doors closed.every time i have been to this store the doors were closed.even afternoons.So i go get the 4 things i needed and went to the front 10 check outs where i had came in.they are 10 of them at that entrance,only one was open.a lady in management walked by with 4 or 5 people in line ,looked and went on by,did not open another check out. i was in line 10 mins or more waiting.I should not have had to walk to the food section to check out. some people did.if all those check outs are not used take them out for more space. and then after i checked out i had to wait in a line going out due to a employee checking every thing in people had bought with there receipt.there were at least 6 in that line. I think some changes need made. or close this store down. I will try my best not to go back to this location again or Walmart at all.

Anthony
from Little Rock, AR
4350 Southwest Dr, Abilene, TX 79606
Profiling is a real big issue at this store I go to the store at least once a week this week I've been going at least every day for lunch in the morning before I go to work and I get harassed almost every time I go there followed around the store by the managers and I get questioned after I already purchased something . I'm African American I have a full-time job I'll bring in over 1500 a week I've been going to this Walmart for years and I have not seen it this bad I question myself every time about even going to that store or Walmart engine oil

I am a handicap person who must use the electric carts. Now Wytheville, Va. has put in all these self checkouts. How are handicapped people and the elderly supposed to be able to use these? I went to Wal-Mart for groceries because I could get other supplies there as well. It was a one stop shop but I will not be back if I have to try to check myself out!!!?????

Great Value white bread UPC 007874228644 I believe you have changed bakeries for this white round bread. Try a loaf. It tastes OK but is full of air holes. I have not had one loaf that is not full of air holes. It is impossible to make a PBJ or put mayonnaise on a slice of bread as the condiment
goes right thru. Please Please find a better bakery for this bread

I have been waiting for 15 mintues for customer service to help obtain a product that is locked behind glass door (Baby formula). I am a valued customer and i feel like im getting treated like a criminal. All items should be locked behind a glass door. Is this worlwide practice to lock walmart products behind glass doors and have the customer wait 15 minutes or more to custumer support? If so, i will take my business other places and encourage my friends and associates to shop other places where the customer is valvued.

I went into the Brunswick Wal-Mart super center on yesterday morning to get a set of tires. After waiting for 2 and a half hours, the tires were not properly put on my vehicle or were not the proper tire for the car. After, I complained and asked for the tires to be removed the young man put my original tires back on my car. This morning the tire pressure is off. My tires were not low when I went in there, so I believe that the mechanic did not put enough air in my tires. I am highly upset.

sh erry Newby
from Ithaca, NY
my name is Sherry Newby I am complaining about the way I have been treated by one of new pharmacist. She insinuated I was going to get hooked on the medications I was taking. She said I should not be ta in front of about 10 customers. then she says, she could'nt believe a doctor would prescribe lorazepam and subozone together. She looked at me with such disgust. I was just so taken back by her abrasive attitude. I am on meds for PTSD major anxiety issues and depression. I have been a customer at Walmart pharmacy for over 3 years. She also insinuated that I was getting medication from more then one doctor, I told her I have had the same doctor, Howard Silcoff, MD and have never had anyone other then him prescribe my meds in his care. I have never had a bad screening in the 3 yrs with my doctor. The next month it was worst. She refused to fill my med because she needed approval other then a email from my doctors direct computer. she has given me such anxiety issues over this and for what. I have been clean over 7 years and I am at the peck of my life. I am 55 and do not deserve to be treated as I have been. Deb has treated me so very good and the past pharmacists too. This is a situation I feel strongly discriminated against. may I say every time she needed these approvals, I had to go days without my meds. there is so much more to say about the two months that followed these. I was treated worst each month that passed, only by her. Please do not shove this under a pile of papers, I am very upset and need more then just her apology. Thank you for your prompt attention to this matter. I do not know her name. I know what she looks like, short curly gray hair with glasses. I will go there tomorrow and find out. The store is located in Ithaca, RTE #13, Elmira Road, 14850

BeverlyHendrickson
from Endicott, NY
I text your company 3 time with no success. all want a replacement for my Keurig coffee maker.it look like asurion is not going honor the RPL plan.I'am sending the plan no#060538821997.I do have a copy of the mail in card.It bought 6-21-17 so I know that's still cover.Thank you

theodore gregor
from Fort Worth, TX
We purchased a Sharp vacuum cleaner on 3.8.2019. When we brought it home and went to open the box it was closed with a single piece of tape. Also it showed where the flaps had been glued shut but now was open. I opened the box and took out the vacuum and the tank inside we dirty and not only that it was a canister for a Dirt Devil vacuum. When I tried to return it, with the receipt, the next day. the manager as much as called me a liar saying the boxes are all sealed when they get them. I was also told that if I wanted to be sure something was good in the store I should open the boxes before buying.
We did not want our money back we just wanted to return for another vacuum. Can you please help us

Mark Hale
from Buffalo, NY
I just received a recall on my medication I bought at my local Walmart in Olean,New York. I took it to the pharmacy for a replacement as described in the letter from the corporate office. After a more than 45 minute wait the Pharmascists told me it would cost $17.90 to replace my prescription. That cost was more than what I originally paid for the prescription. I have 2 sons that are both Pharmascists and they both said it should just be a swap. I drove 30 miles each way to get this and ended up leaving with nothing. Ever since the old Pharmascists manager (Tracy) has left the service level here has diminished. I would expect some sort of response as I am concerned If I keep taking the current medication there could be some serious side effects or illness.
Mark Hale
5 Sunburst Lane
Allegany,New York 14706
716-373-5275

Beverly A Hendrickson
from Endicott, NY
Hi.I texts your company on 3-11-19 about my Keurig coffee maker it stop working . I have a 2yr replacement plan on it,I bought at Walmart on 06-21-17 .they told me that would take 48hr .I text a copy of the receipt at that time.it has been 5 days now and no response. I hope to hear from you? My email is Bev13760@yahoo.com

Darlene Lopez
from Highland, IN
I was doing a search on bing.com for a Samsung TV model number mu6070 and this one came up first
https://www.walmart.com/ip/SAMSUNG-58-Class-4K-2160P-Ultra-HD-Smart-LED-...
When I click on it the price says $349 and Walmart # 565429971. It says price for in-store purchase only and in stock at Homewood Illinois.
I asked my husband if he can go and pick it up so he gets there and she will not give it to him for that price. The price is coming up $448. After doing some investigating I see that they also have another listing for the same model number and the Walmart # 572043830 is different .
https://www.walmart.com/ip/SAMSUNG-58-Class-4K-2160P-Ultra-HD-Smart-LED-...
I tried calling the store and it would ring and ring nobody would answer so I tried to call again and a woman answered so I ask to speak to a manager and was put on hold but nobody ever returned. I tried to go online to live help and the woman was not helping me at all. She told me I had to go into the store this whole time my husband is waiting at the store.
I call you on the toll-free number And I explained the situation to the woman giving her both of the Walmart numbers and all she could tell me was Walmart # 565429971 it does not exist. If it does not exist how come it is coming up in a search engine and how come I am looking at it right now?
I received a response from walmart.com online and they said that they would for sure have the store contact me within 48 hours. It's been longer than that and I have no contact so I emailed them back again and today another person emails me asking questions that have already been answered and offering me a $25 credit, really? Walmart sucks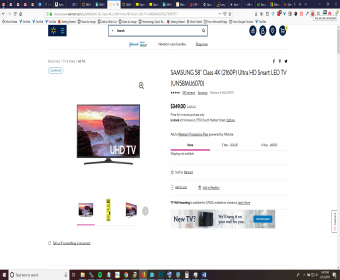 Lorna MacLachlan
from Jefferson City, MO
Walmart associates seldom know what they really do have in stock and what they do have, as far as certain products go they will not sell you without an all out argument about potential fraud. This is particularly true of Store #47, in Salem, Missouri

Daniel Morrison
from Redfield, IA
i give a rating of one only because i had to there no o. i place online order and wait for it when it didnt come i was told to wait long or cancel my order i ask how much longer emily said 2 or 3 days mite be more so if you cancel then you dont have to wait thats real smart service

Eliazar Santos
from Sparks, NV
Received rude & disrespectful service. I had formula to return that my 8mo. old was vomiting up and it upset his stomach. This was on Easter Sunday, right out of coming from church. I had a valid receipt from Walmart pay and the return was within 90 days of purchase. It's not the customer service associates fault. He was just working off his training & knowledge. However the team lead Jeanie just came up rude and unwilling to cooperate. She wouldn't let me speak to assistant member of management and wouldn't even give me the store number. She even lied to me on who the store manager was. Said his name was Ralph. I still continued to make purchases because we had to get some items. I had to find on my own after my purchase for the day with my wife and son. The store number is 3254 and the store manager is Steven. If she had just seeked to understand and tried what she could for an honest loyal customer. Instead of smashing someone down to make themselves feel superior. I just hope that she doesn't continue to treat customers rudely and make a better experience for the next customer.

Wanda Clayton
from Grand Rapids, MI
My order number is 3482193-942438 and I placed a large order that I had financed through Affirm for over $47830 dollars. I received all but of my items as I have been fighting with customer service making promises they can not keep. I talked to them a week ago and they said they could not send me the items , that they would have to do a cancellation for my items not received and issue me a refund. It has been over a week and my cancellation has been sitting there showing pending and never processed. When I called customer service to find out why my refund has not been completed, and they did not have an answer for me but my supervisor will look into this and it will take 24 to 48 hours as I was told a week ago the same thing.
This is poor customer service and did not care about me getting my products or money back. I am not happy with the way I was treated nor is my issue resolved. I work hard for my money and want my products or my money back for what I paid for.
I am looking forward to receiving a response on this.

william burgess
from El Dorado, AR
We buy frozen hash browns and we have to pick the peelings out and there isnt much left they are the patties shedded and seasoned we are very unhappy with them code # is 0 78742 28332 6 also we buy the greatvalue cut green beans which isnt as good as they use to be the code is 078742 36944 0 Thank you

Sharon Robert
from Welland, ON
I read that you can return within 90 days and I made a purchase just over a month ago and went to returned it and customer service refused I need receipt due to covid 19. What is the difference for return with or without receipt a purchase is a purchase.

Diann Miller
from Sikeston, MO
In a recent shopping trip to your Sikeston Missouri store, which is being remodeled. Store was relatively clean and organized considering. Hate the new look, so cold, clinical and unwelcoming.
Doesn't make for a pleasant and relaxing shopping trip if you feel like you are shopping in a hospital.

Terrance Youngblood
from Kentland, IN
If all Walmart and Sams clubs are going to self check only, and no product on the shelfs but pallets blocking ailes and nobody stocking then I will take my business to a store that has customer service. That is bullshit! If I wanted to be a checker I'd get a job being one!

Janine Gober
from San Antonio, TX
My spouse and I are disabled. Close to the entrance most of the spots were designated for your officers. There were a couple of wheelchair openings, van spots and only two for people who did not need a wheelchair. They were filled. However, at the far end of the store that remains locked, were quite a few handicapped spots. My husband and I still walk but just barely. We were left with the choice of going to the far end of the store or to the very back of the row. Please rearrange these disabled spots so that people like us who are still trying to be independent can do so. This was at Thousand Oaks and Nacogdoches in San Antonio Texas. Thank you!
Janine Gober
4906 La Barranca
San Antonio Tex
78233

Amelia Hooks
from North Augusta, SC
Common occurrence in the garden area of the Walmart on Knox Ave in North Augusta, SC. Was in the store yesterday to buy mulch. My receipt showed the purchase was made at 11:58 PM. The associate paged numerous times for help. No one came and I finally went to the customer service desk and asked for their help. The manager there was able to get someone. From the time I made the purchase until it was loaded was 25 MINUTES. I don't want to shop Lowe's for mulch but will be going there today and will pay more rather than go through what I went through yesterday. Last week when I purchased mulch at Walmart a customer had to load it for me. Please see what you can do to improve service in that area. The associate was very nice and did all she could to get someone to load my purchase.

reda bikhit
from Bayonne, NJ
an employee in bayonne walmart her name is Lieha , refused to refund the taxes on my product and ask me to leave the store or she will call the cops. i called online they said she has to refund the full amount include the taxes. but she refused. i asked for another person to help she said i am the only manager for walmart and no one will help, what she did is harassment.

Sharon Robert
from Welland, ON
Walmart Welland Ontario I purchase some mats at this store and went to return them and they refused
because did not have my receipt. The website says you can return things without receipt up to 3 months. I purchase them at the end of June and they refused to take them back without receipt. They say it is because of covid 19. What different does it make for returns without receipt when the website says you can return these items? This is really false advertising. I am very unhappy customer who might take most of her business elsewhere. Need to update your website
Thank you
Sharon Robert

Lilly
from Los Angeles, CA
On August 2nd I was standing in huge line to return a merchandise. They only had 2 cashier working. I asked an employee that was passing by if he can call the manager. He smiled and said "No". I asked "Why?". He said "I just can't". I asked for his name. He was hesitant. Started smiling. After a couple of seconds hesitating he said "Angel". I am not sure that it was his name. But I know that he is employed outside, moving shopping carts (he was wearing a lime west). He is a young Latino, very handsome, with undercut hairstyle, dark completion. THis kind of customer service is not expectable and unfortunately happens in this Rosemead, CA store a lot. In addition, their return line despite of 3 cashiers open is always super huge. Once way before COVID I stood in line to return something in summer for 1.5 hours. Employees just talk too much between themselves and with the customers. Because of this I prefer to drive to hacienda Heights store, which is always in order and their customer service is superb!. Returns take no more than 10 minutes. This is obviously because of the management.
Please address

demos young
from Mashpee, MA
Jan 2020 ordered Allswell hybrid QUEEN SIZE mattress Received King Size mattress PROBLEM OBVIOUS for 6 months repeated calls to customer servive for correction have availed zero results Allswell mattress is in living room blocking access Need resolution to this problem remove mattress from premises and money returned

Paul K Bublitz
from Wisconsin Dells, WI
I purchased a combination Hyper Tough Weed Trimmer and Blower last summer. I am in need of replacement string for the trimmer. The Model number of the trimmer is RD20GS10. The walmart number for the string is 550523605. My store is in Portage Wi. They don't stock it at all. I have contacted 10 others and they said the same thing. How can you sell a product and not have replacements for them???? I expect something done please. I am not going to go and buy another. I can't even order the spools online. They have to come from a store.. ?????
So I will let you decide whats going to happen.
Thank You

Theresa Thomas
from Rising Sun, MD
I had the worst experience yesterday at Walmart 5450 in North East MD when asking an associate named Michael for help. I was there with my 12yr old daughter. I have a broken foot and have a big cast on it so I was using one of the electric carts. The cart I was using kept stopping every couple feet. I saw an associate so I asked for assistance in getting another cart. His name was Michael. When I asked him if he could help me get another cart his response was "they are up front". I said I know that but I'm not sending my daughter up there by herself and I can't walk up there because I have a broken foot and a huge cast. His response again was "well they are up front". I said can you please get one for me. He huffed and left. I decided to just deal with the cart I had and went on because I was upset at how I was treated. A couple minutes later I was in another aisle and he rode up with a new one. He said well you know they stop if you get up because they have a weight sensor and I repeatedly told him I hadn't been getting up that my daughter was getting stuff off the shelf for me. He said "well here's another one" and got off it and looked at me and said "I'll take the other one up when you are done unloading to the new cart". I'm standing in the aisle trying to support myself with the cast on my foot and transfer my items from one cart to the other. He REFUSED to help me and just stood there and stared. When I was done transferring the items he just got on the cart and left. Not one word. I have never seen such poor customer service at this store. NEVER. I was so upset at the time or I would have found a manager and addressed it right then. My husband is employed at this WalMart and apparently this person has had other complaints. This Michael associate is a very poor representation of your company. Very displeased. My cell # is 443-350-5476. Thank you.

James Neville
from Los Angeles, CA
You've probably already heard this many times but I need to say something. I'm an OTR driver. I've been sitting here at the D.C. in Buckeye, AZ for 7 hours waiting to be unloaded. Why does it take so long. I get paid by the mile, not for sitting and waiting. If I try to complain to someone inside, I'll be here longer. This is not good living. Someone should try a little harder to appreciate the effort we put forth to serve you. I figure this will fall on deaf ears, but I have plenty of time. Thank you and have a wonderful day.

Jacqueline Scott
from Edmond, OK
my package never arrived I work from home and I see everyone arriving from my office window. Noone from Fedex came to my home. Tracking#169070413746 package was not delivered.

Yulanda Watkins
from Chicago, IL
Hi to whom it may concern,
I'm a regular shopper at Walmart in Rockwall Texas and other locations for several years. The treatment I've gotten while inside the store is so frightening due to being followed around by Walmart employee, managers and store security. I can't shop in peace this causes anxiety before going to Walmart and while shopping there. I feel harassed the entire time I'm inside the store. There's been several occasions after I've paid for my items with a cashier or self checkout to show my receipt with a door greeter as if I've stolen something. Walmart has camera's at the register and all around the store. I've witnessed the door greeter not check certain customers receipt without their items inside of bags and instead check different genders or different ethnic backgrounds.

Jeff akright
from Plainfield, IN
the auto center at the Delavan store is way under staffed.I've been waiting over two hours for an oil change and I was the second person in line when it opened at 7am. my vehicle still hasn't been touched. this is an unacceptable wait for a 20-30 minute job

Elsie NATAL
from Englewood, FL
I was given less pills instead of 90 it was 67 today is my last pill they owe me 23 pills, my doctor ordered 90. MY CHOELESTROL IS HIGH. ZIP CODE PHARMARY IS 34224

David Broussard
from Opelousas, LA
Have no idea if this will get read or if anything will be done about it after reading the comments on your corporate headquarters site. Anyway, here it is: My personal cell phone broke. I go to Walmart Supercenter in Opelousas, La. Store #543 to purchase another on 7/19/19 at approx. 5pm. BIG MISTAKE! I selected a phone and asked associate to see the phone, he told me he could not open it. Okay, I purchased the phone. Before I left the store grounds, I opened the packaging. What do you think was in there? A phone with a broken screen without any of the contents listed on the box. The phone in the box did not match the listed phone on the package! The box was also damaged! Went back in store to return phone or get refund. The male associate ask me for the contents listed on the box. Tried to explain there were no contents in the box. Associate turns investigator, accuses me of switching phones and refuses to exchange phone or provide refund! I ask for a Manager. Manager named Miranda shows up. Approached me with an attitude, totally rude and disrespectful!! She said I must have switched the phones. I know the person who may read this does not know me from Adam, but believe me, a thief or a crook I AM NOT!! Suggested that they view Walmart cameras and show me such outrageous accusations and offered them to search my vehicle. She said no! She chose not to give me another phone or return my money! Instead, manager of the year called the police because she said I was loud. She probably was right, in my opinion, so was she! I was upset with her response and attitude. I did nothing wrong so nothing happened. I left! I am disabled with back issues. I know $55.00 is nothing to a company whose net worth is 386 plus billion dollars and a Manager like Miranda who receives a competitive salary from Walmart. However, it is a lot to me! When on a fix income and everyday of your life is in pain, those 5,500 pennies are treasured. She was adamant about her wrongful accusations! The only person that got something stolen from them that day, was me! Well enjoy! because it will be the last red cent Walmart gets from me and all 138 (yes I counted, that is just how petty and thorough I am) of my loyal family and friends who live nearby along with the 5 that has business accounts!!!!! Miranda's poor judgment has just become your liability! #WEHAVEOPTIONS Awaiting your corporate response, I Remain
David Broussard
337-678-0018
337-692-9598

I want to check the status of a refund for order number 4491996-196764

Dear Sir's Ma'am
I'm now a rehire due to scheduling error and that's all that I was told. All information was from the DM office and Mgr. of store whom has left the store from my understanding. I was suppose to have had a call from the office around the holiday time and no reply in which I've called to cover most ends if not all sir's/ma'am. My position's are now probably closed due to the failing of? Please consider my applications as followed. Part Time still morning Morning til 2.30 or 3pm. I could probably do an on call for nights. I'm not sure on the travel time for nights. Would you all be so kind please to sign me up for classes as well I'm not really sure on where to go on web site. I got paid the very first time 8.25 I think I pissed her off she took to long to return the call after testing. What an punishment. I had to work my way up and the $15 was offered at another location after the 90day's. oook. Thank You
DebraGrosly. CSM/CSA/Door Greetr/Stocker/

Robert Collins
from Houston, TX
7-17-19@12pm-110pm, making me late from lunch.I came in to store 4139 in Bryan Texas to look for bicycle for my wife. I frequent due to location in proximity of my job sites. I work for Britt Rice Electric as a superintendent , managing installation of scope work to our major client TAMU. I am very fluent in the art of taking care of my customer as its important for long term customers in my field as well as yours.This turned into a 1hr event , due to the miss management bike department. I was lucky to find a representative by calling the front desk from the bike department because no one was to be found.. An older gentlemen after the page issued , I know face from the hunting department . The gentleman was older , but helpful and kind, yet lacking the training in this department never gave up trying to make me smile.90% of all bikes on the racks were miss labeled prices and types making this frustrating. The older man never gave up. Although throughout the process I kept asking , if a item is placed where a price is , that's the price customers should not have to call management to have bar codes read to them (very misleading). At this point I was uneasy buying a new bike because, I wasn't sure the price could change on the way to the register. So I opted with a used bike with a rusted chain, brake lines and disc brakes rust, along with paint, this bike had a yellow tag of $88.58. I was uncomfortable I just wanted get out because I was confused. I asked why the bikes where so organized, and the older with a smile , that guys so I cant answer that question. My wife asked for a comfortable seat so I walked to the bike isle with the helmets on the other side. While looking for new seat for my wife's comfort. I turned around and looked up , and saw blacked out mongoose listed as super T ( I thought this was a model type) and thought 58.68$ is a hell of bargain and I want that bike. The mongoose in question was on a rack by its self pretty straight forward I thought. So I went to find the nice old who had helped me earlier , he must have been filling in for someone else in a different because I could not find. I waited 6-8 minutes hoping a employee. This never happened , so I called front desk and asked for management to be sent to my area. 10-12 min no one had showed, I noticed short red headed lady walking with a taller black girl. I waved at as I needed , and they approached (still have not seen management). I aske d the two young women if this a model super t mongoose and the if the price as labeled. She did not scan (must known something of the disarray) quickly as she was roughly 5'11'' - 6' tall scanned (not the label of the single on the single labeled as super T 58.68$) Management still has not arrived. THE taller young lady informed me that the actual of this bike is not 58.68$, yet 200-250$. So again I pondered what to do. I looked at watch realized that I was already late for lunch , might as well see what the manager has to say. I began thinking that manager would understand and realize I've been taking through process that a customer should not experience. About a minute in from the two young ladies departing , wanting to not get involved as I asked a question ---IF A LABEL / OR ITEM IS MISSED PLACED AND OR IN WRONG AREA , THE TAGGED PRICE SHOWN IS THE COST OF THE ITEM ?- THE YOUNG WOMEN SAID I CAN GET A Manager, I replied have been waiting for when I flagged you two down. As they waked off short middle women walked around , I assumed she was the acting manager. She was very kind throughout our talk , and kept referring to the bike in question Mongoose whatever was not 58.68$ but 200-250 or something , I began to do ever want to come back to the store because no one owning the problem. I told her that in my line contracting for clients that the customer is always right , they entrust labels are correct and vested by management . I also stated that if mistake was made and costing the customer time he did not a lot for this process , which should 15 min , we are 45 min, and no solution. I said if one of employees made mistake , I own it , I would eat the cost and let the customer (who has opted used bike , to un organization of pricing. That I would do anything to make day and keep as a long term customer. She then that she would to go get the general manager of the Bart and that is dealing a situation , and could be a few more minutes. At this time I felt as though they were hoping I was going to leave because they were covering co-worker who was not there today, as the first old gentlemen told me earlier. I had no hope that any right was going to be done towards me as customer and thinking about how I never want to come to Walmart again. Walmart maybe convenient , yet lost ouch with customer base , and managing the long term customer relationship which is needed for successful business. Then I look up and Bart was walking with the middle age lady(with intent ) as the decision was already before he could hear me out. Bart approached with kind greeting , then informed that it is not Walmart's to own up to the mistake of the mislabeling of the bike(this is not true have spoke to many people in the area, who had completely different experiences , same store , ticket value was honored, and customer left happy, At his point I kept asking is this how you correct a over looked problem with all the labeling , hardship you have go through now what the price is. He stated and mistake was mad and he would 20$ of the bike , this was insulting to me , because I lost more than in pay , waiting for someone to make this right. He stated that he will sell the mongoose for the ticket price of 58.68$ because his employee made a mistake. I informed that I was customer this not a good way to handle , with the problems the customer had to go through to make sure he knew the actual price. This lead to believe that it is now the customer responsibility to ensure the price has been missed tagged. As I stated above , if did this to any of my clients at TAMU , I wouldn't have a JOB with Britt Rice electric. I gain sked are you going to honor the ticket price and let be on my way , he stated this is no longer in affect. I asked what I did to be mislead by pour quality control of a area in a building He owns responsibility too. He stated again 20$ was the max of the cost , I stated no you need to honor your price as Walmart has done the whole 38 years that I have been on this earth. He said no way and seemed he more pressing issues than my discomfort. I asked gain please honor the tag , take the time sort your area and hold someone else responsible and let be on my way. He gained replied with no. I asked are you sure you want to do this as I have taken pictures , and voice recordings of all conversations and that I would be following this up with a email, also posting on social media of the non sense you though at this Walmart. He said go ahead send the email , it does not got corporate it gets forwarded to me and that's where this will end. I then realized that, he was not going nothing for me , I looked at the used with all rust and thought ask it to be lowered , but I had no faith as I was being treated that this was my fault for coming to his store and expecting good outcome. I replied that I have taken pictures like I said earlier and recording this mistreatment of me , I also said I come all the time, and want to keep coming please sell the bike for the sticker, fix situation and move as management should when employees make a mistake,. This should never be presented in a manor of the customer is asking to much for the prices to be correct. This is why I use amazon lot of the time. I stated I was going even though he had control email and would never make it out of his hands. So I went and paid for the used bike I settled for because it was the best option I felt in the automotive section because that's where I park for convenience. I began to the man checking me out the situation , and he just shook his head in disgusted, I asked what the store was this location because I'm going file verbal, then email, but also hold all recordings and pictures until right is done by me. I feel as I should have been sold bike for the sticker price. I then went to my vehicle , asking my self what just happened , then thought that I need to look a number to call because I was afraid that he some how was going to delete and make this like no big , had to get back produce major problems . I looked up the customer complaint line in the parking before leaving , a said to my self I'm to get to the bottom of this. I called the number which was listed on the internet . Had short three minute wait , then soft women's voice came over the phone asking how may she of assistance , this was first anyone seemed concerned of my discomfort of the shopping , she did even not know my name yet. I let her know the current situation in all detail as listed above , she was not happy with my treatment during the shopping experience. She asked to verify store number and location , as well as Bart's name. She then put me on a short hold and came back two , to ensure that I would be taken care of , I let her that I would be willing to pay the 58.68$ and be on way , with nothing told to anyone of the experience I just endured. She then said she did not have the clearance to approve this change because she did not have the clearance. I said ok I understand pecking orders and others responsibilities in a large corporation. She then told that in 1-3 days either the tagged price will be honored hopefully but she did not for sure , but said I had every right to be upset because I had been mislead and could not get to a solution with onsite management. I thanked for her time as she was the best and knowledgeable help from Walmart during this now 1 hr. and 15 min(still late for work). So I then called the front desk and let Bart know that it had made its way to where needed to be in corporate and he was going to get a call to hopefully honor the price , I said if he honored the mistake and sold bike I would cancel and say thank you and the ticket price right now . He said he would for very arrogantly , I did reply to him and say I'm gonna get this correcting my favor , because in the line of business , the customer is the most important thing we have. I also told him again that as of 135pm 7-17-19...started the 72 hr counted before I published my agonizing and dragged process of purchasing a bike from Walmart store 4139, in Bryan Texas and the level of professionalism experienced. He seemed to have no care and said arrogantly will see what happens. I have waisted the entirety the rest trying manage a large installation of a faculty on the rellis campus BRE , installing for TAMU. This has taking more money than the total of the bike , as my attention is set on the experience an d sending hoping that Bart did not delete this before anyone could see other than, I have also copied cut and pasted this message incase Bart tries to delte as he said the eamils will stop with him. I would love to know the solution that a large corporation , of which in every city know is going to make this right. I make good living and have family did not go in looking for anything but to purchase a new bike for as a surprise, so we couldride this evening with our son together had no intrest abike for but when say tag I said that's I l buy , but I did not it was going to ruin the rest of my day, and I will wait to here from you all my phone number is 9795955768, and personal line is 9792556275. .

i called in ahead of time to inquire if I could bring my daughter's prescription in for butran (Melissa Lowe, d.o.b. 2/23/1987. I explained my lack of transportation, as well as limited funds. I was assured by a representative that they had one box and I should bring the prescription in. I sent my daughter via lyft to get the prescription and she was told they did not have it. Whomever the person I spoke to apparently was not there and I was told that she would be spoken to and "sorry for the inconvenience." This was not just an inconvenience. My daughter is in extreme pain 24 hours a day(she has a chronic spine condition that she has suffered with for 21 years now) and I don't appreciate the games being played. When I made the call, I should have been told that they did not have it!! this is such bad customer service not to mention the assaultive nature of the entire encounter! I am livid. I take care of my elderly mom as well as my daughter and this treatment turned an already difficult situation into something unbearable. These techs need to be accountable. Honestly, I don't expect any satisfactory response but needed you to know how patients are being treated. Address of Walmart 1436 dogwood Drive, Conyers, Ga 30013

william
from San Antonio, TX
called 1235. on hold for 28 minutes called back asked person in charge talked to mike 2 minutes later have automotive on phone. needed tires this is the closest store called other stores and answered within 2 minutes. so instore issue. please solve this issue because this is my store but having to go to different store is a inconvience and not right.

how come the price on the internet is different then in the store. this is just another version of bait swich

Richard Milner
from Dallas, TX
Bought my grandson a ride on 4-wheeler in January of 2018. It quit charging around th 1st of May.
I also purchased a warranty.
I called the number provided and followed instructions.
I got one letter back stating they need more info.
Sent the inf I thought they need.
This morning, I got a call need and they need model and seriial.
These foreign companies do no put a number that will stay on the product.
It is not visable on the outside. This information should be on the warranty for future reference.
I believe Walmart needs a local repair center to take care of warranty work.
The way it is now you want the customer to screw around will all the BS till they throw the product in the trash.
The world is turning into a throw away society. BS. I will try Target the next time.

Mario Fernandez
from Orlando, FL
Very similar situation to mine  has happened here to other customers there is a patron of corruption check other victim here :
https://www.facebook.com/208869909162258/posts/2194038087312087/
( This person bought laptop when arrived home there was another laptop inside the box when he talked to assistant manager he was threatened with call on him the police.Sound familiar? )
https://www.facebook.com/241837812505414/posts/2033200690035775/?sfnsn=m...
( This person was horrible suffered also horrible discriminaction for being transexual)
My case :
Assistant manager lie to the police to get client banned from his Walmart location!
Assistant manager Harold B (employee number 33780 ,) is negligence, rude ,lier , abuser of power angry person incapable of acts as manger ,he bully me & kicked me out from Walmart because I was making more sense than him in my argument about a product return ,he is unable to use logic or to have a civil conversation if you don't agree with him he will make up any lies to kick the client out of the store , two other employees told that is not the first time that he does that.
Yesterday I went today to Walmart since before yesterday I bought in company of my boyfriend a $140 dollar tv but when we arrived home we found out that  the box doesn't have the item that matches the tv description instead have Samsung TV  .I talked with the assistant manager Harold B (employee number 33780 , which from the beginning of our conversation he acted in a  homophobic way  asking me  in with rude tone if am gay ( he assumed that for the way I talking),that is no of his business I said and  also after he told me that 'his" employees don't make mistake,( talking about the wrong item selled or putting in the wrong boxes) I asked him  if they aren't human ,and I told him  we all human make mistakes, I talked in a very peacefully way  trying to change his initially rude way and  get over with this situation to get  my money back and be free to go home far a way from this angry person , but isntead he yelled me and told me : ." -You know what  you must go now ,call the Walmart number ,you must go! " I was so shocked that turned on my camera to have evidences & protection but instead of he calm down he acted defensively & more angry,he called the police and he made the police officer give me a fake reason for the warning of traspass that say "disturbance 'when I didn't do anythinh wrong & even  when I was asking him why he wanted me out of Walmart, he failed to give me any reason as the video shows ,my boyfriend was there also and  he witnessed everything .
Store located at 2500 S Kirkman RD Orlando Fl 32811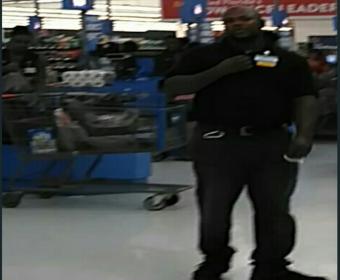 Darlene Smith
from Richmond, VA
Darlene Y. Smith
5711 Crenshaw Road Apt G
Richmond, VA 23227
Crystal Allen
Claims Management Incorporation
702 SW 8th St
Bentonville, AR 72716
July 16, 2019
Dear Ms. Crystal Allen,
The State of Virginia does not recognize my 2004 Escape truck as a semi-truck or trailer. A semi-truck requires a commercial driver license.
Wal-Mart indeed, provide private parking for their customers. I am expecting you to return my vehicle and "just compensation" for my inconvenience.
Sincerely yours,
Darlene Smith

Jeffrey McKenzie
from Miami, FL
I ordered a 65 inch TV 11 days ago, I received updates and correspondence verifying that my delivery date was July 15th. I called your delivery company on the 16th and they told me that it won't be delivered for another week that's complete b******* I paid my money I waited my time and the dates were verified for July 15th now your delivery company tells me I have to wait unacceptable. I will never order or recommend anything from Walmart again you people lost a good customer.

daniel duhaime
from Moose Creek, ON
Now another complaint about Walmart in Cornwall Ontario has been filed,I complained about being laughed at ,and given dirty looks ,and nothing was done!now another complaint was submitted at being mocked and laughed at ,making front page news ,of the freeholder in Cornwall!about senior citizens treated the same way!I suggest the ones involved should be given five hours of community service for bad behavior!

took my truck in to delta Colorado auto shop to get oil changed told the girl at the counter that if they counld not fill the truck up with 5-30 oil then don't do the oil change I would do it myself, she went ahead and filled it up with 5-20 witch she was told not to do itold her to drain it out and do what I requested she started getting really smart mouthed and acting like a total ass, in return I treated her back like she was acting . I requested a manger ,they shipped a manger back and asked what the problem was I told her all she could do is stand their with a smerky little grin on her face and acted like she didn't really care never been treated like that in any store before there for we will not go to that Walmart ever again poor way to treat customers my number is 970-964-8327 jerry

Peggy Payne
from North Garden, VA
I ordered 8 64oz. containers of veg juice, great value. and 3 of the container are really caved in so that they wont sit on the refrigerator. shelf.. I don't think they leak but I am very disappointed in the way everything was thrown in the box .I had zone perfect bars in the order and the juice was thrown on them messing up the boxes but I think the bars are ok just very unhappy the way I received my items. I like ordered and having items sent to me but not in the condition these came in. Do hope walmart will do a better job if there is another time.

I don't speak very well English. Yesterday 13jul2019, Walmart refuse to give to my husband the money send it with money gram from Romania how I was do it another time. nobody told him there is a problem with money gram, only was told that I am from Romania being an immigrant this is the problem. Trying to make an complaint online about "store experience", noticed the online complaint before submitting is block. trying several times. chatting with a costumer him refuse to provide me emails addresses and refuse to address the issue about the online complaint, forcing me to write that I don`t have a choice beside to contact FTC and attorney general, and DOJ, the chatting Walmart person suddenly disappear. I considering Walmart stolen my money, because no was any legal reason to refuse to give the money to my husband(history transaction are there, the amount was small, and no was raise other issue beside me being an immigrant from another country, they create me a prejudice also, the money was need it to pay a bill which cost me late fee. also Walmart betrayed costumers of they rights to making complains online, or in other ways in writing.

Deby Hammett
from Washington D.C., DC
On July 12th my husband I used the disabled carts provide by Walmart for seniors who have problems getting around the store. After we checked out and headed to our car an employee informed my husband and I (who each had a electric cart) that we could not take these carts to our car. I said both of us need the use of these carts she grabbed my cart said NO YOU CANT TAKE THEM OUT IF THE STORE!!) I kept going. My complaint is you allow walking people to take carts to their car...why am I descriminated to not take it to my car. This isn't the first time this has happened but it won't again since I will no longer go to a store that is so insensitive to the physically challenged. A complaint will also be filed with the American Disabilities Act. SHAME ON YOU WALMART!!!

Will be calling your 800 number also. We were just at your 2450 Allentown road store in Lima Ohio. We found a box of Legos that had a clearance tag of from 99.00 marked down to 60.00 which we thought was a good deal. When we checked out they ran up for 99.00. I let the first asst. manager Sara know what the price was then finally the manager Kari came up and she went with my husband back and the price had been changed from the clearance price of 60.00 back up to 99.00. I said to the assistant manager Sara the the tag had been changed back when she went back there by herself then when my husband went back with the manager Kari my husband said he could tell someone had pulled on the tag. After waiting for a 20 minutes for a manager to come up from I basically was called a liar to my face and in front of other customers waiting. I have never felt so insulted by someone at Wal-Mart and I shop there at least once a week. Neither manager thought this was no big deal. Very very disappointed to the point I will be shopping at Meijers. You know bad experiences feel the wildfires 10 more then a good experience.

Sharon S
from Waterford, MI
Grand Blanc MI store 03726. Last year I moved back to the area of Grand Blanc and I occasionally find myself at Walmart. On my first trip back to this store I was approached by Henrietta upon leaving. Wanting to check my receipt. I asked why, (only because I had watched several people leave before me and she had not checked theirs) and she explained that this was something new. OK. No big deal I shop at Sam's Club, I do this there as well.
Several times in the past year I have visited Walmart. Occasionally, I would be asked for my receipt. I began to observe that every time Henrietta was working as the Door Greeter, she would ask some people (those who were white) as other's were able to continue to exit and not be stopped. When exiting on one occasion I was asked to wait, which I did, so that Henrietta could check my receipt (but not the black family that was exiting after me). The family was not asked to wait and their receipt was not checked! Weird?! NOTE: She is the only one I have witnessed doing this. At times, after entering the store and finding Henrietta at the door, I have stood and watched her and who she stops and who she lets pass. I have also stopped to watch other "Door Greeters" and until today, I have never said anything.
Upon exiting this morning 07/12/2019 09:33 am I stopped and waited for Henrietta to finish whatever task she was dealing with. I could have just walked out. I gladly turned over my receipt and she scanned it and then proceeded to check 5 different items in my cart! I became upset when she pulled items out of the bottom of the cart, dumping my purchased groceries that were on top (breads, crushing the package) I found this totally uncalled for. If I would have known she was going to scan most all my groceries then I would not have used the U-Scan. I deal with the public on a daily basis. I get how a large store has big losses from shoplifters, frauds, scam etcetera causing this action of checking receipts.
What I do not understand and I do not appreciate being discriminated against and frankly humiliated in the presence of others.
I have not observed any signage at your store that requires me to stop and show my receipt. Please educate Henrietta so that your customers do not feel discriminated, humiliated or victimized. Once I purchase items from your store she had no right to damage and frankly rummage through them in such an unprofessional manner. Respectfully, Sharon


I brought a 50" flat screen television on line either Saturday 7/6 or Sunday 7/7/2019. Thought it was a great price $179.00 and was said to be delivered on Wednesday 7/10/2019. To my surprise when it was delivered upside down from UPS, and once taken out the box (to be set up) I/we noticed that the brand new television was broken from within the screen. There was no cracks on the outside of the screen (plastic seal still on TV) however the shatter part was in side of the television. Needless to say I was very upset & disappointed (waited all this time for delivery/to only received a broken television. Well their goes my husband "Birthday Gift" (yeah right) immediately I call the customers service line to report this terrible incident. The customer service rep. was excellent to speak with. However that just want not enough. Is their any compensation that you would be able to give me for my time. I would gladly appreciate it.
Wanting to still be a loyal customer of Walmart , however this was very disgraceful.
Erica Palmer/Philadelphia, PA

timothy morris
from Chicago, IL
I was banned from Wal-Mart by a store manager chris white over a rumor and not true . how can I get back in Walmart in butler mo

George Staudt
from Bradenton, FL
It is over 6 weeks now repair problem which is under a Walmart repair warranty that your TV repair staff has been working to resolve my TV receiver .My first returned receiver was deemed not worth repairing by your repair crew. The 2nd one, a brand new Samsung 32" was returned because of diminishing video. When are you people going to resolve this unfortunate delay and repair this 2nd failed receiver?

Paul K Bublitz
from Portage, WI
It is 8:30pm here in Portage WI. I just called and asked the person on the phone a question regarding an item in the Automotive Dept. She said that the automotive dept was closed.. Yes I know the shop is closed this was a question that an associate could have answered. All I needed to know was the name brands of oil filters on the shelf. I know that Fram was one I needed to know the other brand. Any associate could have put me on hold and went to that aisle and return with the answer to that simple question. Very poor customer relations. This is not the way you should handle this at all. I am very dissatisfied with this store. There is so much wrong it's unbelievable. Here are a couple more besides the one above. The power carts are not charged half the time. They are allowing them to be taken out into the parking lot and then they leave them in the sun and yes the battery goes dead. (They should NEVER leave the store. You have to walk inside to get then leave it where you found it plugged in. Merchandise left in the aisles where if you have a power cart you can't get through and no one is around so it sits there. This store needs lots of work and more staff that are not afraid to get the job done. 3 regular check outs open people standing in lines to checkout and the self checkouts are empty because no one wants them. You have people in yellow vests that can see people waiting in lines and no other lanes will open to assist with this. This is always a problem here.

patricia mcneill
from Nice, CA
I don't understand why it is so hard to buy or order sams diet caffeine free cola, from my local store. you will direct me to stores far away for pickup,Im not driving 40 miles for soda, i would like to purchase up to 6 twelve packs per month but it is never avaiable, so im forced to buy pepsi from my local safeway, not very good advertising for you, im sure you really care,

george trice
from Thomaston, GA
i like going to Walmart here in thomaston,ga but lately they're letting people bring dogs in the store that's not service dogs which i don't believe need to come in either but anyway people let the dogs sniff on the produce and some have did their business I've spoke to the manger but he not listening also i been in contact with the u.s agriculture plus getting a petition with 500 names so far to stop this practice on one occasion one lady dog growl at me and if i got bit i was going to sue her and walmart so if you can please do something about this police walmart the only store that does this beside the pets stores

Katherine Stanton
from Los Angeles, CA
I found the bathroom facilities at the Walmart on Pleasant Grove Rd in Rogers Ar was extremely nasty. The trash bin was overflowing. Toilet paper all over the floors. One of the stalls had toilet paper hanging to the floor from the toilet. I would have walked out without using the facility had I not needed to go and couldn't hold it. I did not feel comfortable using the sink to wash due to the conditions of the restroom. I did inform customer service but her reaction was not an urgent matter to her. I guess cleanliness is not important to her. You don't see this going on when the share holders are here. Unacceptable conditions.

Rick and Pamela Inosencio
from Baytown, TX
Baytown, TX store #194 at 4900 Garth Rd, Baytown, TX 77521. We have shopped at this store for along time. Each week the store is getting worse then the week before. It is never never stocked well and is always filthy. The associates for the most part are very rude. The associates that were good and helpful have been fired or let go. The tension in this store you can cut it with a knife, the associates seems to be very unhappy and the morale is very low. We will be going to your store at 8700 N Highway 146 Baytown, TX . store 2439. This store is well stocked and the associates seem to be happy, and helpful and the store is always clean.

Brad Yoder
from Santa Ana, CA
Arrived at the Gallup Walmart at 3:30 on Sunday 7 July, 2019.
The meat department was poorly stocked. Bread & Ice cream no graham crackers or chips in general where almost empty.
This is the third time within one week that this has been poorly stocked at just about any time of the day. Don't they stock at night like every other groceries store anywhere?

Guillermina Osoria
from Newark, NJ
Your Walmart Store on San Mateo Blv in Albuquerque, New Mexico, # 831, customer service department are disrespectful, discrimination against the color of your skin, treat everyone with no dignity. San Mateo Blvd has a high number of homelessness. Your employees at your customer service department to do your returns are not following the company policies. The employees including the service manager, Joyce, employees, William and Lina from money services are a disgrace to your organization.
Here is your mission and your staff don not follow the mission.
Your employees William did not know that I am A Hispanic Woman and was making false accusations about me in Spanish with his ciustomer service manager Jose. When I confronted him by telling him in Spanish that he was not being truthful about me he was shocked that I responded to him in Spanish. He automatically assumed that I didn't speak Spanish because of the color of my skin and my hair. This is unacceptable! Unethical and simply wrong. Walmart need to suffer the consequences for their action. I will be filing a law suit against Walmart. Sore #831.
Walmart policies is displayed in the store and state that if you are unsatisfied with their product you can returned the product with or without receipts within 90 days. This didn't happened at San Mateo Blvd Walmart #831, Albuquerque, New Mexico.
Here is their mission and this is not being honor at San Mateo Blvd Walmart# 831,
Walmart is committed to providing you superior customer service and a pleasant shopping experience. Walmart does not require a receipt to facilitate your return. My items were a pineapple, salad packed, a basil package all which ever bad or went bad in two days of purchased.
This is not honoring your policies.
Your managers, employees are making their own rules at store #831.
My rights as a consumer has been violated. I will be moving forward with further actions.
Have feedback for Walmart?
Thanks for your feedback!
Sorry. Please try again later!