Lowes
Lowes Complaints Continued... (Page 12)
932+ reviews added so far. Upset? Call Lowes corporate: 1-800-445-6937

lova yanero
from Morgantown, WV
My husband and I started the process on installing new flooring in our kitchen. We work with a gentleman for and hour at the beginning of July. He past us on to Mick in flooring at the Lowes in Clarksburg WV. He set up out apt for the estimator came to measure he came on 7.12.18. Both sales men told us about the installation special for flooring going on the month of July. We had pick out SMARTCORE Ultra 8-Piece 5.91-in x 48.03-in Woodford Oak Locking Luxury Commercial/Residential Vinyl Plank. Thinking that this would be cover under the special for installation. I wait ed over a week before I called to check on the estimate because no one had called me. I was looking at your website and it also, says Lowes will call to let you know when to come in and complete the process. At the time we were told that there was an installation special going on for the month of July. We I spoke to Mick on 7.26.18 he inform me that the special was over and it wasn't on the product we had pick out. Plus the special was over 7.20.18. This was the day he said that the estimate had been turn in, If we had know we would have sent that day to pay for the product and installation. But, again no one call us. Come to find out that the flooring we pick out was even what the installation special was on. Need less to say we both were very disappointed. I spoke to a manage to no avail. He really did give us any consolation as to why we were given the wrong information. I told him that Lowes offer very poor customer service. I know that my sale will not effect the profit of this large company. But, I thought you should know that your employees need to be better trained. I have saved for this flooring for 2yrs and after the price of the installation and flooring which equal about the same price 2200.00 I will have to continue to save. But, I will going going elsewhere for my business. To a company that cares about there customers enough to give them correct information on the product they sell.

Roy Shaul
from Bartow, FL
My wife and I asked about veterans discount and older gentleman told us we had to go to cust. service and show DD214 then just walked away and had a young lady named Sam to take care of us. Sam helped us and was very nice, this older man was rude and disrespectful. He acted like he was her boss but a poor example of a supervisor if that's what he was. I didn't get his name but he was a senior citizen. It surprised me because we have always been well treated at Lowe's. This gentleman is not an asset to your company in my opinion. Thank you, Roy and Sandy Shaul, Bartow, Fl. 12:15 PM 7/30/18

lynn edgerton
from Wilmington, NC
My husband and I went to Lowes on College Road in Wilmington NC today to purchase material to build a large deck on our home, so it was a large quantity of boards we were needing. We are in our 60's and my husband is actually disabled, so I asked the employee named Adam in lumber dept. for help. He helped load 4 boards but left when I asked him to help load the 60 some other boards we were needing without any explanation. So I rounded him up again and told him we still needed assistance but he totally ignored me again. I finally found someone else to help us. Needless to say I was very upset with the way Adam treated us. We actually started to just leave and go to Home Depot.

Larry Warren
from Cheyenne, WY
My order was made through Lowe's website (screenshot attached). I placed the order in good faith that Lowes would stand by the terms of ofer which includes shipping. I placed the order July 17. July 19 I was informed the order was delayed. I had no other information provided until I emailed Lowes requesting a status update on July 24. July 25 I was informed the order was cancelled due to "shipping issues". This is totally unacceptable and wonder if not false advertising. Mr Jerry Hoffman Assistant Store Manager for store0657 sent an email July 28 stating they couldn't ship parcels to Wyoming.
Lowe's offered the item and shipping method. Fulfill the order.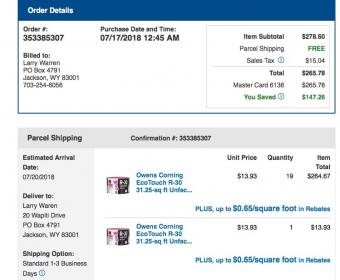 OLIVIA KELL
from Albuquerque, NM
lowe's in Union City Tennessee is the worse experience I have ever had with a Company! We paid over $4,000 for a tub and surround, over a month and a half, nothing has been completed. The people in the store do not care about much of anything. They keep sending me to someone else - I have talked to at least 7 people, and can't get any answers from anyone. I have documented all the problems in emails to Lowes, and called the District Manager with my complaints, but no one has called me - they just give me someone else's name and phone number. At this point, I'm talking directly to the contactors they hired, since I can't get Lowe's to fix any of the problems we have had for over a month and a half. We were promised a two day installation! UGH! I could have hired a handyman to finish this, without the excruciating pain of trying to get answers from Lowes. I'm at a point now that I'm talking directly to the contractor's they hired. Bottom line: DO NOT HIRE LOWES IN UNION CITY TENNESSEE TO DO ANY HOME IMPROVMENT INSTALLATIONS! SAVE YOUR MONEY AND HIRE A LOCAL PERSON TO DO IT FOR YOU!

Roberta L Davis
from Warner Robins, GA
My husband and I were in store no. 2478 Kathleen, Ga. We stopped there to get a swivel ball attachment for our shower. Once we got to the right department we asked a store employee named Jim where we could find it. He said he didn't know and that it may be on the next aisle over. End of discussion. Didn't bother to even try to help us. We went to customer service and explained to them what had just transpired. Shanitra was very kind and helpful to work on resolving this issue. Another employee Brittany who was a section manager but not sure which section went out of her way to look up what we needed and went and got it for us. She also said that Jim has be reprimanded for this other times and yet he still gets by with it. I don't want to see anyone lose their job but some of these people have be held more responsible for their actions and behavior toward customers.
I commend Brittany and Shanitra for their professionalism and kindness. They are an asset to that store.

Tonya Horton
from Holland Patent, NY
On July 25, 2018 around 5:30 p.m. my husband and children were at the Lowes Store on Erie Blvd in Rome, NY and while shopping and looking at an item a loose pallet fell from a higher shelf and struck my husband in the top right portion of his forehead causing immediate bleeding and a bump. An employee was summoned by my husband regarding the incident who was just like sorry and did nothing to help. My husband asked for a paper towel to put over his wound and was not given one. This employee in my opinion was a disgrace to the company and the unsecure pallet is just negligent behavior on the part of the person who put it on the shelf without insuring the it was secure!!

Richard Pursel
from Danville, PA
We have had several issues with a recent order from your store.
The order number is 352514644 this order is in my wife's name Gail Pursel.
First off we had problems with getting the delivery here, I had to call customer support and get their help. This should be noted somewhere on our account.
When the order did finally get here one bag of cement was ripped and the 2x4's were the worst I have ever seen. They actually still had the bark on them. I have included some pictures of the wood.
The big question that I have is we ordered these products from your Bloomsburg store and for some reason they shipped it from your Selinsgrove store. I ordered it from Bloomsburg for a very good reason. I do not like to do business with the Selinsgrove store it is all around not a very good store not very helpful and bad products.
This was totally unsatisfactory and unacceptable. In the future I will not order anything from Lowe's if it will be shipped from the Selinsgrove store.
Thank You,
Richard Pursel
570-275-6393
sugarfoot327@aol.com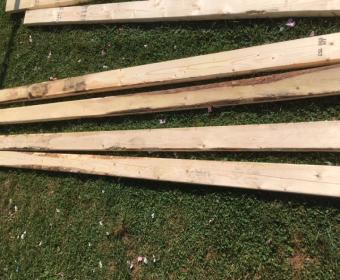 William Click
from Crossville, TN
The cowardly, unprincipled management of Lowes allows selfish individuals to park in what is clearly a no parking zone. Those parking like that are too lazy to park like the rest of us and it is a hazard. it obstructs visibility for drivers going through the parking area. (This is the east side of the building, in case anyone from Lowes reads this---which I doubt).
What about decency, concern for the safety of patrons of the store, and taking a leadership role and doing what is right?

John Wolfram
from Walnut Creek, CA
Lowe's installed a new door recently, but a 3"X2" section of the door was not stained. Contact with the local Concord store attempting to send stain to my home and attempts by myself with the manufacturer is bot getting results. The Install Manager in Concord is also not getting any cooperation from the manufacturer . Maybe we have to install a new door.
My phone number is 925-324-5385

Clementine Caudle-Wright
from Sterling, VA
SENIORS COMPLAINT. ONE AILING SENIOR.
I purchased and had a washer and dryer installed by Lowes. It was just discovered by SEARS Air Duct Cleaning on Friday, July 20, 2018 that the dryer was not connected to the outside vent (creating a possible fire hazard). I reported this finding to Lowes on Monday, July 23, 2018 and there has been no follow-up. The dryer works and this complaint is not about dryer but the hazardous improper installation/connection As seniors, we did not realize that the missed installation to the outside vent prevented the proper drying. WE THOUGHT WE HAD RECEIVED A LEMON. To dry, clothes requires 3 and 4 drying cycles to get slightly damp clothes.
SEARS DISCOVERED ON JULY 20, 2018 THAT THE DRYER AT 21325 FLATWOOD PLACE, STERLING, VA 20164 WAS NOT PROPERLY INSTALLED AND CONNECTED. THE DRYER WAS PURCHASED AND INSTALLED BY THE LOWES STORE.

Waited two weeks to get an installation date for carpeting.It is a rental unit and I explained ths critical. Now it will be 9 more days to get installed. This delay will cost me at least the month of August at $1650.00 monthly. Very disappointed in service !

ronald benoit
from Layton, UT
I do my shopping at the Clinton Utah lowes I have been a customer for over 15 years you were the first ones to honor Veterans yesterday my wife and myself went to Clinton lowes to purchase a new dryer the one we seen said on sale for 695.00 we looked for a sales rep we found a young man who said he worked there he came over to see what we had selected on top of the dryer was a card for a offer if you bought the washer and dryer you get 100 of we said we only wanted the dryer which the sign below it said 695.00 he said if you by both I said it says the dryer for 695.00 which at this time he went to the computer and said that the dryer was 999.00 I said no he keep on insiting that it was this price I said I would go to rc wileys he said go I then ask to see a manager she came over and I explained the situation and she agreed with me I have spent a great deal of money in your store and to be treated like this with your rude salesmen makes me think if I wont to deal with yous as home depot is only a couple miles away and since they have followed your lead and also offer vets 10% I might shop there

For almost a year I would use my business card to purchase materials. When I would return an item the system could not find my card info if I didn't have the receipt with me. They suggested I get there myLowes card. That's even a bigger joke. Sometimes when I use it the system will recognize it and other times it says the card doesn't exist. It's an absolute joke. It's been so frustrating I have decide to either shop with someone else at the other end of town when I'm working there or shop strictly at Home Depot. At least I never have a problem with a return. I will never set foot in another lowe's.

Nancy Jamison
from Sacramento, CA
Citrus heights CA Store. Bathroom counters ordered and installed. Counters cut too short. Deliveries not timely on more than one occasion with no calls from store. The worst customer service ever! Waiting for two bathrooms to be redone, counters removed again and correct sizes reinstalled. This is ridiculous...over two months delayed. I bought manufactured quartz and spend a great deal of $$$ with your business. I expect compensation for the difficulty I have experienced over the last two months.
Nancy Jamison
Citrus Heights Ca
9167150062

Rickey Warner
from Madison, MS
I purchased a Husqvana Zero Turn Mower from Lowes on Hwy 18 in Jackson, Mississippi. I bought the unit in 2016. When the mower was delivered, I was excited, tried to start the unit immediately after unloading it off the truck. The mower would not crank. I reported the issue to Lowes; they picked the mower up, serviced it, at least that is what they told me. They returned the mower to me. I used it one time tried to start the mower. The battery was dead. Lowes gave me a replacement battery. The mower still would not crank. Lowes referred me to a local repair shop-Revel Ace Hardware in Byram, MS. They told me, it needed a selenoid switch, what? I just purchased this mower. They said it would take quite a while to get this part, and it did. They picked the mower up in April 2018, it is now mid- July 2018. Oh yes, the selenoid switch came in, they attempted to fix the mower, but it didn't fix the issue. They said they would have to order another part and as soon as it arrives they would get in touch. In other words, don't call us, we'll call you.
The State of Mississippi has "lemon laws" and I am seeking a refund on this lawn mower because it has been in-shop for repairs more than it has been on my porperty in my back yard. Lowes store in Mississippi has been indignant and refuse to accept any responsibility for the lemon mower. The store Manager avows that this is between the manufacturer and me, but I am in disagreement. Lowes is a party to this contract, and if they want to maintain a respected reputation in the community; they should live up to their responsibility.
I trusted that I was purchasing a reliable machine from a reputable outlet chain; however, my experience has been one great big nightmare. I trust that lowes will honor its responsiblity and refund or replace the unit with a "new" mower, not a refurbished, recondition mower with a jacked-up price because that is what I feel I got out of the deal. Lowes must do right by it's customer or they will likely have a very short, uncertain future- just like Sears, an organization that has a history of mistreating and duping customers. This practice has pretty much put them completely out of business. I trust that Lowes will do the right thing.

Joy Foster
from Ithaca, NY
We ordered a whole stainless steel kitchen to be delivered, that came quick and delivery guys were great. Order came on a Fri. the dishwasher was dented in the front bottom of the door. We went to Cortland NY store on Sun. to look at display to make sure was not suppose to have a dent. We talked to a manager named Tommy and he was very helpful with getting this damaged dishwasher replaced. He called the warehouses and was told they didn't have any and didn't know when they'd have more. So he called next closest store to us Ithaca NY and they had 2 so he made arrangements to get it to Cortland NY store the next day GREAT! He talked to another manager in Ithaca named CHRIS, CHRIS became the problem. He didn't want to bring the DW to us the next day i couldn't hear the conservation from the phone but Cortland manager was arguing with Chris, sounded like Chris was being a real jerk, and Cortland manager told him to make sure DW is here tomorrow morning, and CHRIS hung up on him. So we left being told that Chris would be the manager on duty at Cortland on Mon. and that he'd call me as soon as it came in, they took my name , number and address. Tommy told us we didn't need to bring back the damaged DW that they would make arrangements for the truck to come pick it up. Tommy told us we could come pick up the DW on Mon. that would be the quickest way to get it. He was very helpful as he knew and understood how inconvenienced we have been. Tommy Assured us Chris would call. So now its Monday morning and somehow a Lowes delivery truck came with a replacement DW, i had the driver open the box to inspect it and i couldn't believe that the DW door was dented AGAIN in the same place. The driver took the 1st dented DW and left the 2nd dented DW till we decided what we wanted to do. So i knew the DW was coming from Ithaca so i wanted to see that one because we didn't buy a scratch and dent DW, we paid good money for these new appliances for our new house. So at 10am I called Cortland store and was told Chris was in a meeting and no one there knew anything about our DW? I called again around 11:30am was told same story in meeting. Each time leaving my name and number for Chris to call? Called a third time around 2:30 was told he was still in meeting, well, really a 5 hour meeting Chris must be important, NOT! He finally gets on phone and acts like whats the big deal the DW has been here since 8:15am he said, he said he didn't know my name to call, REALLY!!! So he says its here to come get it, they were too busy to deliver it. My husband who is a senior went to Cortland Lowes to pick up DW, where he meets this little cocky Chris person. Chris tells him he cant take the DW till he pays for it AGAIN! And then he tells him he cant take DW till the Warehouse people pick up the damaged DW from our home!!!!!! Told Chris this in not the arrangement we made the night before with manager Tommy! He said he didn't care about whatever Tommy said, this is the only way, his way or no way!!! Not sure who is manager over who or how long this ass Chris has been playing manager but he was totally inappropriate! I called to talk to Chris while my husband was still in store. Chris got on the phone very argumentative with his tone was yelling and wouldn't let me get a word in till I told him he needed to be quiet and LISTEN, I told him what Tommy had told us the night before that we could come pick up DW and make the arrangement for the truck to come pick up damaged DW. We already paid for appliances we didn't need to pay again. Chris was not even listening i could hear the phone being muffled like , and he kept saying, whatever, whatever, and i told him DON'T WHATEVER me! He wouldn't listen or understand how we have been inconvenienced big time, we received 2 damaged DW's, we had to make several trips to Cortland store, he said he didn't care and then said if you want to cancel your DW that would be fine. WTH kind of manager is this, to not listen or care in anyway. So since it was clear we wouldn't get our DW for like a week my husband came home again and we got the DW loaded in his truck and he returned to store AGAIN. No one would help him get it into store and of course CHRIS was no where to be found. Husband took the new DW that was there and left the damaged one, AND NO ONE helped or talked to him or did any kind of paperwork, they just watched him take it out of store!!!! We have spent thousands of our dollars building our new home and my husbands company spends thousands of dollars in this Cortland store and Chris knows this as he has seen my husband in there many many times. We are somewhat very put off by this "Cortland Hometown Store" pretty sure we will be looking elsewhere , if Cortland continues this kind of service with such a lowlife manager . I want you and Tommy and Chris to know. Tommy was great and very professional , CHRIS i cant even begin to express what an ass he is! I told Chris on phone for the way he treated us that i wouldn't just go away, i would be reporting him! Our names are Dan and Joy Foster, email: dansjoy2002@yahoo.com, phone number is 607-423-9662 our address is 302 Champlin Road, Groton NY 13073 Sincerely JOY FOSTER

Deborah McMillion
from Huntington, WV
I am writing to let you know about the poor customer service I received. On July 1st I ordered a dishwasher, refrigerator, washer and dryer and a range totalling approx. $4500.00. Not a lot for some people but for us it is. There was some mix up with the delivery dates and was decided to bring them on the 22nd of July. they showed up on the 18th and call later to inform me that they were there and I wasn't. I then learn that some of the items would be coming from Lewisburg and some from Beckley. On the 22nd I got a delivery of the range and dishwasher. We asked the delivery man and he said "not today" in broken english. I then called to find out the problem and was told that "Sterling" was down and they didn't know who was supposed to get what delivered. The girl at Lewisburg was very nice and assured me someone would call me the following day. This did not happen. I called back and the person said the refrigerator was not there and MAY be in on the truck Friday, the 27th. The third time I called Beckley and asked the question the girl said the problem was "Sterling" and that someone would call me when they got it all sorted and she hung up on me.
I have worked in retail my entire life and I find this very upsetting and totally unacceptable as I am sure you do, or should. I am trying to be understanding but there is NO excuse for rudeness. Your mistake not mine. I have spent $20000.00 with Lowes in the last 6 months but will certainly think hard before making any further purchases with you.

RONNIE R HUBBARD
from Wallace, NC
went to lowes in lewisburg wva to get some one to give me a price on a new kitchen cabinets to guy was on the phone and them was on computer then just got up and walked away just like iwas not there i left to see if any body else would help me they said somebody wasback there a women was but she was playing on the computer too nobody ever would help me ask like when i wanted to buy a generator you can not get any help all i can say is the people that work here are worthless thank you

Patricia A Coleman
from Hephzibah, GA
I have attached a email I sent to Ben in the Augusta, Ga Store on Friday 20 July, 2018 which pretty much spells out our situation. We have yet to get any response from Lowes via any means of communication to this situation. We need to find out where we stand, so can someone please call us (706) 799-1567 so we can resolve this issue.
Ben,
We've tried numerous times to speak with you or someone in reference to the fence that we received. Although we feel we specifically order a 6' spike top Providence fence with a 6X12' Gate to replace the 5' fence and 5X8' gate we presently have, we unfortunately signed a contract not verifying it indicating that we order a 5' fence. Our situation now is that we received the right gate and the wrong panels, of course which are not installed 1) because they don't match 2) the hardware received was incomplete 3) no concrete for installation was received. This material was received July 6, 2018 for a fence that was supposed to have been ordered and installed by March 1. We have tried to be patience with the process but it seems that Lowes is unable or unwilling to assist us in rectifying this problem.
What we would like is for Lowes to at least pick-up and credit back the 5X6' panels and line post so that we can move forward with our project by getting what we need from another source. So we would sincerely appreciate it if you or someone would at least call us back to discuss this with us.
Thank You,
Patricia Coleman
(706) 799-1567, (706)771-9447

Patricia Tucker
from Tampa, FL
We went to Lowes to return a faulty welding helmet. As soon as we walked in an alarm rang .Some employee pounted to the other entrance of the store and rudely asked if we had a reciept. Of course we produced our reciept.. This Lady employee treated us like we we common thieves and very rude as she said "oh im sure you do have a reciept". We asked if they might have a different helmet we could look at and the employee said. No we dont have any more like the one we purchased and before we could ask anything else he ever so rudely handed us a receiept and said our money would be refunded and we would have to leave the store. Still our money was never returned im trying to talk to someone above this manager at this lowes in lake city florida.I WILL NEVER SPEND ANOTHER NICKEL AT ANY LOWES IN ANY STATE. THANKS FOR THE HORRIBLE EXPERIENCE. LAKE CITY LOWES.I HOPE WHEN I FINISHI TODAY YOU GET TREATED THE WAY YOU TERATED ME AND MY FAMILY LIKE I SAID I WILL NEVER SHOP WITH YOU AGAIN

George Spicer Jr
from McAlester, OK
I live in McAlester, OK. To start off, We purchased a complete kitchen remodel from Lowes on 03/24/18. It is now 4 months later and we are still without a functioning kitchen. The cabinets have been installed with a process of not having some of the right parts and parts that were not ordered was sent. When the cabinets finally arrived, two months later, after the purchase, the installers did not realize it was a complete remodel, so they had to come back two days later to finish. The trim above the stove was not installed correctly and was hanging; trim on the opposite wall was poorly done and uneven in one place. We called our sales associate, Kay Chapman and provided her with pictures. On top of having to reorder the coffee cabinet (the original was the wrong size), she now had to reorder those parts also to repair the error of installation. The wrong color paint was ordered (black) instead of the color of the trim, so the cabinets still look horrible on the trim. The trim was redone with the same paint, so as I said, it still looks horrible and the coffee bar is still not correct. On the reorder we finally received the new paint, but we also had doors delivered to us, which we have no idea what they are for. She was supposed to be ordering a part to fix the coffee bar. I am upset, but can you imagine what my wife is going though trying to cook and clean dishes in the bathroom for 4 months. In her words, "THIS IS TOTALLY UNSANITARY!" And she is fed up. My wife complained to a manager week before last, and I received a call on 07/18/18 from the counter top department. They informed me that they called and found out our counter tops are now on back order and will not be in until August sometime. UNACCEPATBLE! Why wasn't this known sooner and relayed to us. They stated they will set us up with a temporary counter and install the sink so that my wife can use the kitchen. My concern is this will also take weeks to perform. There is nothing we can do but accept. I am humbly asking that your corporate office make sure the counter top is installed ASAP. Below is the amount we have spent with Lowes and it is going on 5 months without a kitchen. Thank you, George Spicer
Cabinets, counter, Labor: $9.000 (plus)
Kitchen Farm Sink, Delta Debonair SS Pullout: $511.37
Frigidaire Gallery 2 cu ft Built in microwave: $319.00 (plus tax)
Frigidaire Black/Stainless 27" Microwave Trim Kit: $129.00 (plus tax)
Backsplash: $687.88
Plus hundreds more on odds and ends. Please get our kitchen installed. Thank you.
Ms. Chapman should have pictures of the installing that had to be repaired. I do not have them on this computer to include but can mail them to you.

Martin Benning
from Oklahoma City, OK
It is unfortunately that I have to write this email. I love Lowe's and have spent countless thousands of dollars with you and choose Lowe's over Home Depot 9 out of 10 time generally. I was in your Edmond Oklahoma store at Covell and Kelly today 7/21/18 at about 5pm. I must tell you the young lady who checked me out was extremely rude. I have never logged a complaint with you before as my experience has always been very good. You generally have excessively outgoing and friendly people. I did not get her name as she was not wearing a name tag, but she had a black Rottweiler service dog with her. With this new face in my neighborhood Lowe's I will be going to Home Dept at least half of the time in the future. In the event that this young lady is there when I do go to Lowe's I will walk straight out the door and go to Home Depot. Just thought you should know. As a business owner myself I would certainly appreciate knowing.

Ashley Mallon
from Williamstown, NJ
I'd like to start out by saying you need to eliminate your slogan because it does not represent ANY division within the company. I placed an order online on 07/14. Was told my delivery date was 07/17. At the end of that day received a phone call stating there was an issue with delivery but would be delivered the following day 07/18. On 07/19 was told my order was delivered, as I was currently at my house I explained that it was not. The person on the phone then got extremely ignorant and said they'd look into it and call me back. The next day I called to check on the order since I never received a call back and they told me it was on the truck the day before and they don't know why it wasn't delivered. That person then told me the order is still on the truck and they would ask the driver when he returns at 12pm why it wasn't delivered. This time I did receive a return call at 12:30pm for him to tell me the order is still on the truck and he still doesn't know why it wasn't delivered as the driver left. Why my order couldn't have been delivered that day is a mystery. Either way he assured me it was going to be delivered 07/21 between the hours of 11:30am and 1:30pm. At 2:30pm on 07/21 I again called Customer Care which the first person acted like he was doing something to help but then put me on hold for 5 minutes for another person to pick up. That person said she called the driver(I believe that was complete BS) and said the driver was on his way to the store to pick up the order. Now this completely contradicts what I've been told for the past 3 days. She then begins to tell me for any other help on the matter or for answers about compensation for this issue I must speak with the store directly(more bs). I asked to be transferred to the store where the person working the service desk tried to help me but was unable to. That's when she transferred me to the delivery dept. but instead was placed onto a survey! It is now 3pm on 07/21, I have no answers, no clue where my order is and at this point want to close all my accounts personal and business with Lowes. This has been the worst experience I've ever had! And if I was able to take the lone star off the rating I would and make it a negative rating.

Paula carter
from Dallas, TX
This is my 3rd and last time I complain about Lowe's because as of today I won't buy there anymore. My husband n myself went in this afternoon for vinyl flooring and stood around for a bit and never saw an employee. He went all the way up front 3 times and all the way around the store and never found anybody to help. Me being a woman that handles things went to front mind you not seeing anybody to help, got to customer service and told them we had been waiting for over 20 minutes and needed help. The lady calls over the intercom that help was needed in vinyl. I get to the back and there is an employee standing there so I ask him was he our help and he said he don't know what I'm talking about. Then out help arrived and I was telling her the situation and he rudely says , we are short handed would you or anybody need a job here? Ha! My husband is a Supervisor at Citgo and surely don't need to work there! While the lady was cutting $400 worth of vinyl my husband goes to lumber and loads 2 more buggies with lumber n plywood n different thing to fix 2 room floors. We pay and he pulls our truck around and nobody is seen anywhere to load us as usual. He is a 61 yr old man that works in the plant in the heat and we spend all this money and HE HAS TO LOAD ALL OF IT IN OUR TRUCK. I have complained on rudeness and the lack of helping me as a woman loading my lumber and nothing ever gets done! I guess this is what kind of employees y'all hire and keep. I saw 3 other trucks loading themselves one lumber the other concrete. It happened this afternoon at the store in Sulphur La you can watch the videos and watch these men loading themselves. Shame shame Shame. I will be using Home Depot from now on and also putting this on social media! Tired of yalls BS!!!!!! Angry customer
Sent from my iPhone

MARGERET HUNT
from Port Arthur, TX
HI MY NAME IS MARGERET HUNT AND I AM A FORMER CUSTOMER THAT SHOPS AT THE LOWES 8383 Memorial Blvd, Port Arthur, TX 77640 . NORMALLLY I MIND MY OWN BUSINESS, BUT TO TODAY IM GOING TO SPEAK UP FOR ALL THE EMPLOYEES THAT WORK AT THAT STORE. I AM VERY DISSAPPOINTED AT MANGAEMENT AND HOW THEY TREAT AND TALK TO EMPLOYEES. WHAT I WITNESSED ON MULTIPLE OCCASIONS EMPLOYEES BEING YELLED AT FOR HELPING CUSTOMERS.LAST MONTH LEXIS WAS HELPING ME WITH BUYING A STOVE AND REFIDGEATOR AND ONE MANAGER CAME TO HER AND SAID LEXIS I NEED U IN TOOLS RIGHT NOW. LEXUS SAID I WILL BE THERE SOON AS I FINISH WITH THIS CUSTOMER. THE LADY SAID NO I NEED U OVER THERE NOW SOMEBODY ELSE CAN HELP HER, THIS NOT YOUR DEPARTMENT. ALL NASTY AND RUDE SO I SAID WELL MAAM YOUR A MANAGER CAN YOU HELP ME SHE WALKED OFF AND IGNORED ME AS IF I WASNT EVEN THERE. BUT TODAY WAS UNACCEPTABLE FOR ME. I WATCHED TWO MANAGERS PRETTY MUCH BULLY LEXIS, WHICH IS NOT RIGHT UNDER NO CIRCUMSTANCES. AND TO DO IT FRONT OF OTHER CUSTOMERS AND ASSOCIATES. I WATCHED THEM TALK TO HER LIKE SHE WAS A DOG, THEN TO THREATHEN SOMEONES JOB. I BEEN COMING IN LOWES FOR THE PAST YEAR DUE TO MY HOME BEING DAMAGED BY THE HURRICANE. ITS ALREADY HARD TO FIND HELP IN THE STORE BECAUSE ITS SO BUSY, BUT EVERY TIME I COME IN I CAN FIND LEXIS AND SHE HELPS ME FIND EVERYTHING I NEED. SO NOW WHEN I COME IN I ONLY ASK FOR HER. I HAVE SPENT THOUSANDS OF DOLLARS IN LOWES. AND DONT THINK I WILL BE BACK. IF THIS IS HOW YOU TREAT EMPLOYEES I WILL NOT BE SPENDING ANYMORE OF MY MONEY IN LOWES. SOMETHING HAS TO BE DONE. EVERYONE SHOULD BE TREATED WITH RESPECT

Catherine L. Russell
from Pamplico, SC
So very upset, purchase a gas stove and refrigerator on July 8th, deliver July 10th damage the stove, too much to type get more upset it July 19th, still don't have my replacement stove, excuse's and lies!!!!!!!!!

Carol Root
from Dallas, TX
I purchased a shadow box fence from my local Lowes (Charlotte, NC) in June 2018. Install date was scheduled for June 29, 2018. Well that day came and went and when I called Lowes I was advised they did not get the order from the "subcontractor" (aka the fence install co) in time and my fence product would not be delivered until Tuesday July the 3rd with the install date of Thursday July 5th. So the fence pieces get delivered on July 3rd. On July 5th the installer are a NO SHOW. I call and was advised there must have been a mix up and the fence installers got an extra day for the 4th of July holiday. Install now gets moved to Friday July 6,2018. Finally the fence crew shows up at 9am works till noon, takes a 2 hour lunch break, returns to my yard at 2pm. We then get a horrible thunder and lightening storm roll in at 4 pm and they leave (the weather is not their fault), the two man crew returns on Saturday at 9am, it is cloudy but not raining, they ring my doorbell at 10:30 am and tell me they are leaving for the day due to bad weather. Not raining, just cloudy out. 2 man crew shows up Sunday at 8:30 am works till 7 pm my fence is still not completed, they come back on Monday at 8:30 am with 3 men. They finally finish the job. I saw a lot of mistakes with the shadow box fence like the space between each picket were "eye balled" instead of being precisely measured and there were large gaps near the posts. I made my concerns to the workers who were more than angry with my non approval of the job. They fixed some of my complaints with haste. Still not satisfied with the install.
I call Lowes Customer service and the salesman as well as the owners of the fence install company came out to see the problems. They agreed with ME. Now I have been waiting since July 10 for the fence contractor to come back to me to "fix" the issues. I have been getting the run around about when the issues with my fence will be fixed to my satisfaction.
Yet Lowes charged my Lowes credit card and expect payment on time for the cruddy fence install. My next step is to right to Lowes Corporate about this situation to see if getting some higher ups involved will make these people move a little bit faster regarding my issues.

fred casteel
from Rogers, AR
ask for help and was told I am too busy right now ask another employee same response
as I was asking for manager another customer said to me" you having trouble getting help too"
I talked to Terry one of the managers on duty and was told that he would take care of it
but I suppose this is JUST the way the MANAGEMENT TEAM runs the store
like is said
apple don't far from tree
like manager like employee
never go back to this store

Candace Cook
from Edison, NJ
Good Afternoon = June 24 2018 I purchased a Top Mount Refridgerator/RT18M6213SR/Order-PO #76971662(51 Woodbridge Ctr Dr, Woodbridge NJ Store #1658) - Sales Associate explained 7/12 or 7/14 estimated delivery date to my residence- I called Customer Service 7/9/18 tt a "Foni" representative, told again 7/12 estimated delivery date and will be received 7/14, also if not received 7/12 then possible Sunday, 7/15 delivery date...….7/12 I called Lowes(Woodbridge NJ ), "prompt #5 for Applicance Dept, tt a Lisa, told "Refridgerator will be on Sun, 7/15 nite truck, should receive Mon, 7/16" .your delivery service, XPO Delivery calls my home phone @ 7:11am Saturday 7/14 stating "5p-7p" delivery, my husband gives his cell # for a "30 minute or less" phone call= NO Delivery, NO call from Lowes or XPO Delivery to explain.. Sunday 7/15 around 10:30a I called XPO Delivery..the "phone prompts" when utilized by me eventually "disconnected" my call, Called tt Lisa again in Store 1658- "Vendor excuse".. So much confusion still going on.....XPO Delivery called again Mon 7/16 evening, I put in my cell #- said between 5p-7p Tues 7/17...no call ever received...XPO Delivery Truck Tracker shows the refridgerator DELIVERED 7/18/18 AT 1AM!!! - I went to Store 1658, Terminal 14, Associate "Toni" @ 8:37:29 today 7/18/18 to "complain", computer showed no evidence where product is....I asked and got my credit card refund activated..I;m upset my existing fridge not broke, just old(16 yrs old)making strange noses. I did my part in good faith, truly wished Lowes did their part...very dissatisfied- I;m advising family, friends of this unnecessary experience and I still have no new refridgerator that I paid in full for. Candace Cook-28 York Dr #5A-Edison NJ 08817.

Samantha Bennett and Tami Bennett
from Modesto, CA
My wife and I purchased a washer and dryer with a sidekick pedestal and another regular pedestal. it cost over 3000.00. It was supposed to be delivered today July 17, 2018 between 01:30 pm and 03;30 pm. The delivery service never showed up. I stayed in and empty new house with nothing to do except wait for them to get there. They never called and said they would not deliver or give me a reason why they did not. We then call the store who put us in touch with the delivery co and they basically called us liars and said they were there and no one was home. That is a lie I arrived there at 01;30 pm and stayed there till 05:30 pm and they were very argumentative about it and not friendly at all. I cannot believe the service we are getting from this store and we are very sadden by this. Now they say they cannot deliver till Thursday and cannot even give us a time

BENNETT POWELL
from South Weymouth, MA
on MAY 25 I PURCHASED OVER $7000 OF APPLIANCES FOR MY CHURCH,APISON UNITED METHODIST, ALL PURCHASES WERE INCLUSIVE OF INSTALLATION. IT TOOK UNTIL EARLY JULY FOR THE STORE TO GET ALL THE APPLIANCES IN STOCK. THEN THE APPLIANCE INSTALLERS,EDWARDS ELECTRIC?, BEGAN WORK ON THURSDAY 7/12, THE JOB WAS TO COVER ANY MODIFICATIONS TO THE SURROUNDING CABINETRY. THE JOB WASN'T COMPLETED THAT DAY AS THEY HAD INDICATED, PROBABLY BECAUSE THEY DIDN'T START UNTIL THAT AFTERNON. GERALD ,INSTALLER, SAID THEY WOULD BE BACK NEXT DAY TO COMPLETE JOB.THEY NIETHER CAME BACK OR CONTACTED ME WITH ANY EXPLANATION. I CALLED THEM ON MON 7/16 AND WITHOUT ANY REASON FOR THE DELAY OR FIRM RETURN DATE. I WAS GIVEN A FLIMSY PROPOSED DATE, TUES OR WED. IT IS NOW TUES AFTERNOON AND I STILL HAVEN'T HEARD FROM THEM.
THERE ARE CABINETS AND DRAWERS STILL LAYING IN THE FLOOR, REFRIGERATOR HAS NOT BEEN PUT IN PLACE AND ICE MAKER IS NOT HOOKED UP. I WENT TO LOWE'S TO GET THIS WORK DONE IN ORDER TO AVOID THIS STANDARD CONTRACTOR SLAPSHOD, UNRELIABLE SERVICE.PRIOR TO THIS FIASCO I WAS PASSED AROUND FROM ONE LOWE'S PERSON TO ANOTHER, I THINK ABOUT 8. EACH ONE GAVE ME A VERY SINCERE PLEDGE TO TAKE CARE OF GETTING THE BALL ROLLING. THESE ASSURANCES PROVED TO BE UNTRUE. THEY WOULD PROMISE TO CONTACT ME THE FOLLOWING DAY, NONE OF THEM EVER DID SO. I REGRET THAT I DIDN'T KEEP MORE ACCURATE RECORDS BUT I NEVER THOUGHT THIS JOB WOULD DRAG ON FOR THIS LONG, BE PASSED AROUND, IGNORED AND FINALLY SET UP WITH AN UNRELIABLE INSTALLER. MY CHURCH HAS HAD AN ACCOUNT WITH LOWE''S SINCE 2006, NEEDLESE TO SAY WE WILL BE CANCELING THE ACCOUNT AND RECOMMENDING THAT ANYONE WANTING GOOD SERVICE DO THE SAME.

James Speroni
from Providence, RI
On Tuesday July 17 I attempted to purchase a Samsung 3 pack connect home Wi-Fi system for the advertised price of $99.99. After checking several local stores in my area, and unable to find it, I contacted Lowe's corporate. I spoke with a representative (Sierra) and informed her of my situation. She attempted to locate this item to no avail. I asked if there was something available along the lines of a rain check. She replied no there was nothing she could do. I then stated that the item should not be listed on line (although I realize it was a corporate move to outduel Amazon prime day) if it could not be purchased. Short of her contacting the IT department to remove this listing I was S>O>L>. As a homeowner I have been to Lowe's a lot. Based on this incident I can honestly say that I will no longer be a consumer. Same said for l my children (who each just bought a home) and as many friends and co-workers as I can pass along this to. Extremely disappointed.

paul bonner
from Chattanooga, TN
i ordered a refrigerator.they were supposed to deliver it on 07 17 2018 with a 2 hour delay they called the day before and it changed to a three hour delay.today they called and changed it to a 5 hour delay.they are making me miss an important meeting . it's a shame a big company like this one,can't plan any better than this.

PATRICIA A CONNER
from Winder, GA
I had a new ceramic floor put in back in April and paid 2392.75. As they were installing they said I needed new subfloor on part of the room. They quoted me $3646, which I thought was the total, not an additional. Also how can putting 16 sheets of plywood down cost 1.5 time the cost of the original installation including materials. I have been dealing with several managers on this but they have been blowing me off including Service Pro employees. I need someone to look into this and give me a breakdown on costs for the second charge as I feel I have been double charged. I understand an additional fee but not 1.5 times more. Service Pro made comments that were absolutely false. I need this resolved, it has been dragging on too long.
Thank you.

Jennifer Ector
from Douglasville, GA
I purchased a washer & dryer from Loew's in Douglasville, GA on 7/6/18. The store was unable to deliver appliances until on 6/16/18, On the morning of 7/16/18, received a call that the driver of the delivery truck was sick, so delivery would not take place. On 7/17/17 @ 0647, I received a call that only the washer would not be delivered because they could not find the dryer, REALLY???!!!. I was then told that dryer would have to located and delivered to the store on 6/18/19, thus the delivery of these appliances will be on Thursday 7/20/18. I understand that the truck driver was sick but the other foolishness is unacceptable.

Angela lamb
from Odessa, TX
We bought a washer from Love's in Odessa Texas or our mother who is dying and has two or three months left to live they delivered it out set it up and it did not work it all started malfunctioning we called day one got to talk to 5 different people then the We Care Center with no results this needs to be made right they're taking advantage of a 82 year old woman who's dying we need this washer they need to come get it and replace it we have been in the store I was there today talk to the assistant manager still nothing

j w gibbens
from Sikeston, MO
I purchased carpet plus installation on 5-22-18, it is scheduled to be installed on 7-24-18, four weeks is a long time to wait!

Raymond Stark
from House Springs, MO
I inquired about blinds and shutters for the interior of my home remodel project. I paid the $ 35 fee for the measurements to be taken by the installer. I asked about the $ 99 whole house installation special and was informed that since I only had 7 windows that the $ 99 would cover that.
At the time that I set up the measurement appointment I informed the sales clerk that I was interested in blinds and shutters. She was fully aware of this situation and even split the measurement ticket into two parts one for $ 35 for the blinds and $ ,01 for the shutters. After the discussion with the installer who was sent to do the measurements I decided I would go with the shutters for all 7 windows and not do any blinds When I tried to place the order for the 7 shutters I was informed that there would be an additional $ 400 over the cost of the shutters for the installation and that they would not honor their original agreement of the $ 99 installation charge because I was going with all shutters instead of a combination of shutters and blinds. The blinds were going to average about $ 50 per blind and the Large Shutter about $ 500 for a total of approximately $800. When I decided to go with all shutters the cost went up substantially, which I was willing to accept. I decided at the time of the Bait And Switch by the sales rep to not honor the $ 99 installation I told her to not order anything. I am greatly disappointed in the less than
honorable presentation and the last minute $ 400 raise in the price and in addition I am now out the $ 35 fee fir the measurement service which was to be credited back when I ordered the shutters.
This incident occurred over the last week at the Washington Mo. Lowes Store. The clerk involved was Mary Beth. The installer who took the measurements was Larry.
Disgustedly Yours,
Ray Stark 636 259 6511 223 E. Bellevue St. Pacific, MO 63069

mimi dean
from Pittsburgh, PA
ordered patio stepping stones at McCandless crossing lowes I lost my receipt got a phone call on july 5th 2018 telling me to come in for stones and now they have no record of me buying any such thing I was a good customer I know we are only talking about 40 dollars or so but its the point of them thinking I am trying to take advantage. well so at the end of year when your over this money who will get it? if I could I would return all I got from lowes thank you mrs m dean

Sally & Tim Houk
from Akron, OH
Re: Job 1397765 Lowe's Fairlawn 633 Fencing was installed on our property. The installers refused to take away the dirt that was extracted when digging the post holes. We were not told by the Lowe's sales rep that the dirt would not be taken away by the installers. We have an extremely large amount of dirt piled in our yard. The City of Fairlawn and our HOA will not tolerate this unsightly dirt pile. We need your assistance in immediately removing this dirt from our yard left behind by the installers. Sally & Tim Houk Phone: 330-670-1344

randall scofield
from Milledgeville, GA
I shopped at Lowe's in Miledgeville, Ga. on 07/07/2018 durning morning hours in several departments. Very few employees were noted, customers wandering around looking for help, as I was, but what few employees were available were all busy while customers were standing in line at some desks in different departments. Then I get to the checkout area and again there is long lines with only 2 cash registers open, plus return desk was staff. We need more train staff on the weekends, esp. on Saturdays.

Jimmy Scott
from Sylacauga, AL
ID 373250594193
I purchased a LG kitchen appliance package 7/5/2018. Delivery was late but I was not notified until I called the store 0594. Two of the four were delivered. It was the wrong brand and the refrigerator had a dent on the front door. I immediately went to the store after refusing delivery. The manager agreed the incorrect code was entered and offered to try and replace with what was left in inventory. I was okay with this until he said I would have to pay for the second package and I would not receive the $2445.61.00 until the second package was delivered. I had no confidence after not being notified delivery would be late and I did not want $5000.00 from my budget. I am 73 and receive Social Security. I asked the manager to call the driver and confirm I refused delivery. I asked for a refund of the $2500.00 and left the store. I buy all of my appliances and lawn mowers from Lowes but never again. I think I should receive the LG set for my receipt amount of $2445.61 but the sale is over.
I am very disappointed and not satisfied at all with the store. Is there anything the store can do to assist me with this problem?
Jimmy Scott
1901 Canoe Creek Road
Springville, Al 35146
205-613-8239

Deborah Miller
from Indianapolis, IN
Well I have to say that the Lowes in Beech Grove Indiana is about the poorest customer service i have ever encountered I ordered custom blinds and paid for them in cash not on credit or layaway or installments....cold hard earned cash it was a chunk of change for all the windows in my home....that was the first week in april...we are now in July...and the job is still not completed....after several attempts to get the right parts....and many calls to the store...where no one wants to take responsibility.....the installer even went to the store and called them after every failed parts attempt....lets see they brag about being Veteran Friendly....hey and they even give a discount to veterans...welllll this veteran family will never purchase anything from that store again...promises made none ever kept....this is not my first rodeo with them and poor customer service i purchased an extended warranty on my front load washer and dryer...it took 4 months to get the washer from leaking after damage to my wall which they say contact Samsung about....REALLYYYYY....incredible how they stay in business

In March of this year, I contacted Lowe's about remodeling my bathroom. I also met with Matt Tremblay and the contractor. On April 18, 2018, I went to Lowe's, picked out a new bathtub and surround and a new toilet. Later that month, I called the 1-800 number for Lowes and found out that my order was going to arrive on May 25. I text Matt Tremblay to find out why it was taking so long. On May 2, Matt told me that the new tub and walls should be at their store but the toilet should be here next week. I text Matt on May 10 and May 11 inquiring when the beginning date of the remodel would be. He responded to me on May 11 and advised me he was attempting to track down my toilet that he had called the vendor to see what the holdup was.
I text Matt on Friday, May 18 and Monday, May 22 inquiring about my toilet. He responded to me that he was trying to find a different toilet and material shortage was causing a major delay. And it would be July before I could receive it. I did not want to wait until July so I asked Matt if the toilet I picked out was not available. He replied no maam not in bone. I couldn't figure out why Matt waited a month to tell me. He advised he had found some other brands and was checking to make sure it fit. To keep this a little shorter, I never received that toilet or any other toilet he found, went to Lowe's and picked another toilet out - came in too long - and he had the measurements. Had to pick another toilet (I really wanted the first toilet but since Lowe's couldn't provide me something they had on the shelf had to settle for something else (less money for Lowe's).
There were other issues with my getting the money reimbursed for the difference in toilets. It seems that I was just dragged along and not told the truth about some things.
I talked with CeCe at Lowe's and she was very helpful. I requested a meeting with the manager and Matt and CeCe (she is over Matt). That was on Monday, July 9, 2018. She called me back that date and scheduled the meeting with everyone on July 11, 2018 at 10:30 a.m. I went to Lowe's at 10:30. CeCe and Matt came for the meeting. CeCe told me that some corporate men had came in and the manager would be here in a minute. I was there for 30 minutes and the manager never showed up. Never called me, NOTHING. Evidently, David Smith, Manager of the Ardmore Lowe's, doesn't care about his customers and if they are having trouble.
Well, it is July and I am just now getting the bathroom remodel. There are so many other events that happened but it is too long to tell.
I would like something done about the manager and how long it took to get my remodel done. Matt Tremblay gave me excuse after excuse and the manager doesn't even care. By the way, I spent over $5,000.00 at Lowe's - which will never happen again.
.
At 11:40 A.M. on July 12 - one day after meeting and after I told CeCe I was filing a complaint, the Assistant Manager called me wanting to know what he could do. I told him nothing - it was too late. He apologized for not making the meeting. I told him that it could have been rescheduled but they just decided now to show up.
And to top it all off, they are working on my bathroom and the surround piece is broken - just now finding that outl So, now I will have to wait for another piece to come in before I can get the bathroom finished. Lowe's tells me that it will be at least another 2 month before I can get another piece.
I will never deal with Lowe's again.

Kisha Saunders
from Chesapeake, VA
I went into Lowes store #2698 to purchase a washer and dryer on 7/11/2018 at 8:10 pm. I decided on the Samsung top loader and dryer on sale for $549 each. Ricky a sales rep was working with another customer and a young lady assisted me. This lady informed me that the sale was going off at midnight and I needed to purchase now. She later provided me with a note book piece of paper showing the item number, sale price, regular price and the 3 & 5 year protection plan and prices. The sales rep stated that I could go online to purchase this item until 11:59 on 7/11/2018. I left the store at 8:48 pm and the Franklin store closes at 9:00 pm. I went home and attempted to purchase the item on line however, the price showed $599.00 and not $549.00. Today, 7/12/2018 I contacted the Franklin store and spoke with John who pretty much indicated the sale ended when the store close and that is why the price was different. My reply was why is the price different online now (7/12/2018) from what it was last night at 9:17 pm. The online price is now $809.00. I requested to speak with a store manager. Bobby came on the phone and stated that I should have purchased the washer and he could have done a price refund or gotten an estimate which he would have had to honor. Bobby also stated that it is not the store rep's responsibility to give me an estimate without me asking for it. My concern is, I'm not a Lowe's employee and why didn't your store representative inform me of a price estimate that would have been honored for 30 days instead of writing information down on a piece of paper. Secondly, is it not a priority of Lowe's to provide good customer service. I shared the reason for not purchasing in the store I needed to get my credit card. Thirdly, this rep was informed that I wanted this to be delivered on Friday to which she replied any purchase made before 4:00 pm would guarantee next day delivery. That information alone would prompt her to give me a price estimate to return the next day. Basically, Bobby indicated that it is my fault because I didn't purchase the washer and dryer at the higher price to which he could have adjusted. Now the sale is off and there is nothing he can do. If this is how Lowe's practice I don't think I will be purchasing anything else from you. I want a washer and dryer at the price I was quoted in the store on last night at $549 each plus the 3 year protection plan for each. Can someone help me. Lastly, I have an online conversation with a Lowe's rep indicating there was a price glitch with the website. As I stated previously, how do I suppose to know it was a glitch. I feel as though Lowe's dropped the ball. I work hard for my money and to pay extra for something and banking on the store to reimbursement is not right. But, this is what Bobby suggested that I should have done.

Charles Thrift
from Forest City, NC
Please just call me at 828-289-7519, in reference to this complaint. Today is July 11, 2018 at 5:43pm. Thanks

Kevin T Coyne
from Port Ewen, NY
My complaint is in regards to work we wanted to have done that was left off our contract which is presently being fulfilled. We scheduled hardwood floors to be installed throughout our home with the exception of the Kitchen and bathrooms, all of which have tile floors. We recently had to bathrooms completely gutted and redone and another bath with the 3/4 of the bathroom being redone, all the work was exceptional. The hardwood floor installation started this past Monday, July 9th and so far is being completed exceptional as well. We've dealt with Lowe's for over 30 years whenever we were in the market for appliances, snowblowers, lawnmowers etc. I have no issues with any of that. My problem is we wanted the baseboard frames(not sure what they are called) all replaced as the hardwood floors were(are) being installed. We spoke to both the contractor and Lowe's home improvement rep(Jim Nagele(recently transferred to Florida Lowe's)). When we paid upfront for the floor installation we inquired about the baseboards and when told they were included in the floor installation contract. Yes, I should have checked the contract but didn't because we trusted that the baseboards were part of the contract. But we are now told they weren't. With each and every room having hardwood installed this is the perfect time to replace the baseboard but that's not happening. Apparently the contractor didn't want to do them although my wife and I wanted them to be? Not sure how our wants as customers are outweighed by what the contractor does or doesn't want to work on. We are extremely happy with all the work previously done by Lowe's but being lied to and trusting that our wishes/wants were to be met with this latest contract not sure we will continue to deal with Lowe's in the future. Very disappointed and disheartened by your employee who had no issues in collecting his commissions off of our contract(s) and then outright misleading us to believe we were going to get what we had requested. Floors should be done by end of week or early next week. Once complete our future home improvements will be with another company. Very very disappointed.

Donna Young
from Lancaster, SC
First I ordered $3500 worth of appliances I also ordered a 1500 lawn mower. I was told 2 hours before my appliances arrived that they had been discontinued. So then I had to reorder everything. I still haven't received my order and I tried for 2 days to set up installation and could not get anyone on the Phone. Still no install was made because they cant even find my order. Now my appliance's are suppose to be delivered on the 13th of July. I'm not even sure that's going to take place. Then we had a riding lawn mower delivered after a week of waiting and they forgot the key so had to go back to the store and now the pin that holds the deck on is missing. This has literally been the absolute worse shopping experience I have ever had in my life. I will never go In that store ever again for absolutely nothing . Store Number 3040 Indian Land South Carolina. But the online order got messed up also . So Never shop online either! Please train your employees and get some help in your stores and online. This is awful service. I need someone to have my appliances installed also on the 13 of July if my order does arrive on time. Please make that happen! Do something to help!!!!! Order Number 32019465 invoice number 93212

Ernie Caponetti & Teri Hoagland
from Lansdale, PA
My boyfriend & I purchased 4 appliances from your Hatfield, PA store & while we had a good experience w/ the sales person, the decent experience ends there! We're not sure if the FAIL was communication from the Hatfield store setting up & scheduling the delivery & installation w/ the outside contractors or if it was something else, but we were told in the store that all 4 appliances would be delivered on 7/11/18 & installed! Then we get a call from one installer last Fri to tell us that he would be coming on 7/11 to deliver & install JUST the microwave; however he showed up delivering both the dishwasher & the microwave--not a big deal but in the interim, last night on 7/10 my boyfriend called to find out what was going on w/ our delivery/install status since no one seems to know from the store to contractors what's going on. We were told that we would get a call back last night by 9:00p.m. to let us know exactly what was being delivered & installed, but never got that call!
This a.m. my boyfriend went to meet the installer & that guy showed up w/ the 2 appliances. Again, not a big deal; actually a nice surprise after all! We then got another call saying that there would be another delivery later today between 2-4 for 1 more appliance; however, we have NO CLUE what appliance that one is!
Our bone of contention is that through this whole process from purchase to delivery/install we were told so many conflicting things/dates/times! This is our 1st & LAST time buying appliances from Lowe's!!! Your company's lack of communication & handling of what should be a pretty simple & stream lined process was a NIGHTMARE!!!! Trying to get a hold of anyone in the appliance department of the store to speak to & coordinating the delivery to getting calls from multiple people telling us different things was NOT a good experience whatsoever!
My hope is that maybe Lowe's will train its sales people much better in communicating to their customers the exact process after a purchase for delivery & installation.
Thanks for your time.
Teri Hoagland
Thanks for your feedback!
Sorry. Please try again later!