Family Dollar
Family Dollar Complaints Continued... (Page 7)
608+ reviews added so far. Upset? Call Family Dollar corporate: 704-847-6961

I purchased a defective product and was told that I needed the bag it was in and all the hardware. I purchased a curtain rod and did not notice until hanging the rod that the other end was broken. I did not want my money back, just a swap The manager of the store stated she could Not resale the defective product without the original bag. Why would you want to resale any defective product to a customer? I will Never go back to Family Dollar, its cluttered anyways. I will continue shopping at Dollar General where the Customer happiness matters, and Zero clutter.

I started working for family dollar in Kansas city, mo. (homestore 1415) doing macro food resets. I passed my urinalysis , worked every day, on time, pretty much assured to be placed, and on the last day of the job was told some story about an incident I had created at store 1415, I hadn't been in the store since floating to different stores. Come to find out the management didn't want to place me because of my background check. 15 years ago I had a felony stealing charge, and 2 years ago a possession charge upon completion would have been dismissed. They could have been straight with me. I was so excited to start a new job, possibly career, .Family dollar lost one of the hardest workers ,dependable, and honest. I deserved this job, Atleast deserved to be told what was really going on. I would really like a chance at this job.

I was in the Slayton Family Dollar Store on December 8, 2013. I wrote a check for $13.20, to cover my purchase. The information on my check would not scan, so I offered them my credit card, which worked (the clerks were having problems with other customers and their scanner, so there were many people in the check-out line). The handed my check back to me, which I voided, and left the store. When I received my bank statement for December 2013, I had a charge of $54.57 from Family Dollar dated December 10, 2013, with the check number of the check that I had voided! I do not work in Slayton and was not in Slayton on that day.
I had my credit union send the charge back as "unauthorized". Yesterday, I received a letter from TRS Revocery Services, Inc. (a debt collection company), demanding that I pay them the $54.57, plus a $30 return check fee! I called the Family Dollar store this morning in Slayton and talked to the manager, Amanda Grogan, and she advised me to call the number on the debt collection number. This is not acceptable! Please advise as to what you can do to correct this problem. I can provide copies of my credit card invoice and bank statements upon request.

On September 17th around 4:00 PM I went into the local Family Dollar at Osceola AR. My purchase seeking was for some fall decorations at which I found. Why I was looking I found some summer lawn decor priced at 75% off. So I tryed to purchase several items. When I got to the cash register the discount was not honored because the check out person and manager did not know how to do the discount and did not care. They said they were to busy to figure it out. No worries will not be back as the rude6ness is much to much.

I live near this family dollar and I go to this one most often and every time I go its this same rude employee walking around with her cell phone to her head not greeting customers and when checking customers out still on her personal cell phone while conducting a transaction. I never see anyone wearing name tags I happen to go in and ask a manager what was the complaint line number and gave her a description of the person. I had complaints about and got the name Bonita. It upsets me that employees are walking around on personal phones and not being able to answer questions one may have or being in a check out line hearing all your employees personal buissness because shes on her personal phone while checking customers out.

I stop there after work at about 7 pm all the time. There is always workers in the store listening to their radios or talking on the phone or texting, when they are clearly supposed to be zoning or putting merchandise on the shelves. This particular store is a mess all the time.
I can barely get down the path. Sometimes they even block that whole area, so that the customer doesn't bother THEM while they are texting. Now, this is the first time I've made an official complaint, because what happened this evening has made me angry enough to do so.
I go to the register and ring the bell, and I could hear her complaining that a customer was there and that she couldn't get any work done. Then she comes around the corner, eventually, and is steadily talking on her phone in spanish. She continues talking non stop to the phone and never says a word to me. She didn't tell me the total, look at me, or tell me anything …..
I interrupted her by asking her name, and her managers name,so that I could do something about this. The address is 1403 Gentry, Tyler, TX.

i have gone to shop at the family dollar on northwest hwy 6313 for as long as it has been opened i enjoy it but lately there is a new cashier there by the name jennifer on her name tag this cashier can barely keep her eyes opened and she acts like she is on some kind of drug she should be a very big concern working with the public and money i feel uncomftorable with her checking me out someone needs to check into this concern and maybe do a drug test to find out if this employee should be working for your company just a concerned customer thank you

This family dollar store is always messy, even after a renovation boxes on floors, last time there was detergent drips on floors, no one took care of them I told the manager and she pretend that didn't hear. I went three hours later the mess was still on floors. Other complain the prices on deals are not always truth, fake deals. I went to family dollar last week, and asked to use the restroom. It's always out order and the cashier told me that, "no one going to use the restrooms."  Sorry i get very involved but I like the products and prices on this family dollar store and it's the closest on my neighborhood. I get very upset because still the same people are working on that store, and they don't care about us as customers.

Linda Sanford
from Williamston, MI
i was at the Laingsburg Michigan family dollar a short while ago. and had a great deal of difficulty again with your app for the smart coupons. I was told by staff that another shopper this evening had a problem too. I did however remain diligent and got on the app. I am very disturbed that the app did NOT offer the 180 sheet box of bounce that the sign beside it for smart coupon displayed. I needed the bounce and I would think with the discrepancy staff should have offered me the item even though the online app did not show it. The clerk could have done some kind of override. I do have my receipt.and I was charged 8.50 but with the advertised offer It should have been 4 dollars and something..its on that little sign.8.50 then a markdown to to like 6.50, and finally 4.50. Sounds like a misprint or something. Any way you look at it. I should not have been charged 8.50. I am in your store several times a week. i enjoy your staff there and the nice clean store. They are always working in there Just FYI. I hope you will take whatever action necessary to fix your app and make it more user friendly and also refund me per your advertisement. Just a few dollars but right is right and you know I'll end up spending it there. anyways... Thank you! Have a great night!! I was there just before 8:30 P.M..
Linda Sanford
lindasuesanford@gmail.com

Lois Appleberry
from Dayton, OH
I have a complaint about the Family Dollar store on West Third St. Dayton, Ohio. First of all the store is always dirty and cluttered. I was in line and a customer was in the isle and informed the cashier that there was a large roach on the floor in the second isle. The cashier told him not to be starting anything. He said know I'm serious, she was on her phone while ringing me up and not pleasant at all. She didn't welcome me to the store or say thank you. I just felt the people who work on this side of town doesn't care about their job, or the people who helps them maintain their jobs. The company doesn't care, because they keep sending these rude, unprofessional people to the store we patronize. I used to come in this store all of the time, but not so much any more. I would like a clean store, and nice pleasant cashiers where I spend my money. I hope corporate office will take a look at this job and get this store together, and not just care about getting the money.

sign was up for pepsi 4/$5 manager would not allow sale because she said it was over
store is a mess with stock on boat carts and I had to get my downy sheets out of a box that I had to open myself
I hate this store!
need new management that want to work!
937-615-6234 is my phone number

The family dollar is on my way to work every morning it's easy to pull off and get back in traffic but the store is never open on time employees and deliver people waiting to get in I get there about five minutes before 8 the person to open the door arrives 10-15 minutes later your employee either walks or rides a bus or dropped stands in the cold waiting I always buy my snacks and lunch stuff but for the last two weeks can not get in to do that I thought since I came threre everyday that I was a incovience to the person setting up but I most of the time pay with debit card so I don't have to wait to set the register up the store is located on maccorkle ave south Charleston WV sorry for complaining but I can't be late for work and you loose money for that day

on march 92019,i wen your store,wich by the way i go at least times week, the chashier wich she told me to ahead and report he, we had long argument,just beacuse i complain about the long line,mine you,i was not talking to her,this woman almost got out the cashier to berbaly abuse me, store#07136,228 nagle ave in nwe york,ny this happens on march 9 2019, i beg of you lookt the tape and you will see,what i am saying,the wa 13:07: the store is 228 nagle ave,ny.ny.I am a 77 year old woman the go to ur store at leats 3 to 4 times a week,since your is convenietly acroos from ,my please your staff to have respeck,i was not talking to her,everbody in the line was complaining,there was gentelman there ,that she also had and argument n sasaidhe was going to complain she said she did not care.

I BOUGHT A TRACKFONE CARD AT 111TH IN WORTH ILL STORE FOR $25.00 THE MAN REMEMBER ME I WENT BACK TO THE STORE TO TELL THEM THE PIN NUMBER THEY GAVE ME DIDNT GO THROUGH I AM VERY MAD I SHOULD BE GIVEN A REFUND I DONT LIKE TO PAY $25.00 AN NOT GET MY MINS THE STORE MANGER SAID I SHOULD CALL YOU AN TELL YOU THE PIN # THEY GAVE ME WONT GO THROUGH I LOSE $25.00 AN NO MINS ON MY PHONE THE PIN NUMBER THEY GAVE ME WAS 15488100009959549 I LIKE TO GET MY MINS OR MONEY BACK THANK YOU FOR YOUR TIME I SHOP THERE EVERY DAY SANDY TARPANOFF I WONT BE SHOPING THERE IF I DONT GET MY MINS A NEW PINE NUMBER THANK YOU

Jo Etta Allen
from Chicago, IL
I came into the Paris,Ky store on Main street on 3-9-19 @ 9:45 PM to purchase a yellow hostess cupcake. I was charged $1.15. I asked about price and was told they had gone up. I told her it was posted $1.00 but paid for it. On the way out I told her she needed to change the posted price. She yelled " No! God, it was 15 cents!" Then she falsely accused me of always starting something every time I came into the store which was a lie. I asked for a refund. She said that I didn't have to come back and even said she would call the police.

I went to the Terre Haute In store to make a purchase and the cashier which happened to be the manager was very rude to me. She was hateful when she said you can only use one coupon of these. I said im sorry I did almost the same transaction the other day she said well I will have to retrain my cashiers to read their coupons. I said I will take my coupons back and redo what I have in the cart. She took her hand across the counter and took my stuff and said no I said you cant use these coupons. She would not let me put stuff back and use what coupons I was able to and get other stuff that I had coupons for. I had planned to use the 10.00 of 50.00 and she would not let me.This was very embarrassing for me since my 8 yr. old grandson was with me and there was people behind me. I grabbed my purse to leave I was horrified it wasn't like I was a criminal and doing something wrong and that is how she treated me. When I was walking out I heard her say to the next customer sorry for your wait but some of these couponers just don't know how to read their coupons and try to get stuff they shouldn't. My 8 yr. old grandson looked at me and said she was mean to you grandma. That was the 3rd time I had ever been in the store. The first 2 times I used the digital coupons and the second time I used paper coupons from my inserts. I want to go back this week for laundry detergent but I am afraid to. I am afraid I will get the same mean lady and I am afraid she will embarrass me again. After we left the store we went to Subway for my grandson to eat lunch and he said grandma these people are nicer here than the store we just left. I said yes bubby they are. That is bad a child knew she was rude to me and she felt as if she was justified in doing that. I live in Paris Illinois and I drive 30 minutes to go to the store since we do not have one in Paris and I drove all that way for nothing since she would not let me buy what I needed. I had to go to Wal-Mart to get what I was going to get there. Not sure if I will be back and if I do go and see her I will turn around and leave.

Kathy Presley
from Rex, GA
I Went Into The Family Dollar Store About Four P.M. Today, When I Walked Into The Store No One Spoke To Me, A Lady Came In After Me And The Cashier Spoke To Her, She Said Hi How Are You Today? I Had Planned On Spending A Good Bit Of Money But After That Happened I Was Offended And Left, I Told The Cashier She Was Very Rude And Asked Her Why She Did'nt Speak To Me, SheJust Smiled And Laughed, I Am White And The Other Customer Was Black So I Was Very Offended, I WONT Go Back To Family Dollar Again, The Address Is 5960 Ga-42, Phone No. 770-954-8589... Thank You

William Fisher
from Reno, NV
I have went shop at the Family Dollar Store at Sparks, Nevada 2225 Oddie Blvd Sparks, Nevada 89431 store number 10399. I have called the two manager that have walked in the store many times and they was with an Lady that is Inventory the store items. I know the managers have heard me but did not want to see what I need, they just walk behind the counter and did not bay any attention to me. One manager's name is Dawn and when I went up to the counter and ask for help, I said I have called you two many times when you was walking in the front of the store and I have called for help, and the store is not very busissy. Dawn clames is is very busissy. the store is very durity and not clean, the store dose not have grocery carts to put food in when you go shopping at the store. Custormers have to cary the food in there hands and arems. The store is unsafy when you go walk down the isale's you have to move boxes to get from one place to an other.

Michaelle Gidley
from Bradford, OH
Since September when the new store manager took over the Orrville Ohio Family Dollar, there has been vast improvements. The store is clean, organized and shelves are stocked with product for the first time in years. It was getting to the point before September, my family and I were going to another Dollar store across town to shop, when Family Dollar is only a block from our home. It was that bad. Since the change in managment, the only drawback, with the exception of the manager and 1 or 2 other employee's, the rest of the employee's are rude, and far from courteous and helpful. They act annoyed to be bothered with customer questions or when asked for assistance. I thought it was just me, until other customer's noticed it and started to complain. My family and I and other customer's spend alot of money at this store and expect to be treated without saying, as we treat your employee's. With respect. Thank you.

Robin Barcus
from Thornville, OH
I was at store #08080, 3/2/19 there was only one employee working, the other went home sick. I would like to know and many more why your manager of that store wouldn't come in. The employee who was there was doing an excellent job trying to get people cashed out as quickly as she could. Yes, there was a line and we were very patience. The girl working looked very exhausted. Is this good for your stores? How about the safety of your employee? Yes, I understand that some stores are short handed but your manager shouldn't ask her employees to do something she isn't willing to do. Practicing work ethics like that makes people quit or not apply.
Thank you for your time.

I just left Family Dollar at Culver Ave. Utica N.Y. 13501. I am. 65 yr old disabled. I have been going there for20 yrs. I sprayed an air freshener to smell. All of a sudden this 7 ft. Tall man started to yell and embarrase. me. Followed me around store wanting to throw me out I was never so scared and shaken .Continuing to scream.The more I tried to calm him down the more he yelled.His name was David. Asst.mgr. Not to mention that the store was a messed iales were blocked. Its been like that lately alot.Also their are many people he treated like that.I was taught to respect your elders.I am a fun guy,never argumented. I have never been treated like that in my 'll ife. I hope it is investigated. Before noone wants to shop there. Thank You Ronald Yozzo my ph.3153683713. East Utica ny.13501

Linda Marie Vallery
from Paulina, LA
I walked into the store as I was walking they had about 2 shelves on the floor that I walked into stomping my right big toe I asked who's the Manager and the Lady on the register stated she was the Assistant I told her what had happened and she called the Manager and told her what happened and so I told her she said alright and went back to doing what she was doing the Assistant lady thought she was going to let me fill out some papers but after the Manager walked off the Assistant carried on checking customer's out it was very rude for Managers to ignore what I was saying u can look at the video and see what I'm saying is to be true. For a Manger to ignore a Paying Customer shouldn't be a Manger at all.i will not return to that store again . Thanks in Advance

Haven't shopped at your Hannibal, Mo location due to your manager. I didn't see her vehicle today when I pulled up, so I went in. Got to the check out and was talking to the customer in front of me as she was leaving and the manager proceeded to butt in the conversation and say I'm still waiting for you to pay me the money you owe me. I do not think this was very good customer service as she was on duty. She even proceeded to ask when I got payed and said she would be at my job that day I get played.

Customer
from Houston, TX
Dear Representative:
I am making a complaint regarding store # 11955. Seems as though every time I go to shop at this Family Dollar, boxes are blocking the isles in all of the back portion of the store. And this evening I went there to pick up a few items, the clerks were bagging customer's items in clear GARBAGE BAGS!! I think the manager or managers need to be retrained on how to manage a store!
Regards,
Customer.

These are Family Dollars with real issues and need immediate attention. They are not fit to be shopped in by decent folk (nor any other). I shop at Family Dollar and have been to several others, but the ones mentioned above fall well below the normal standards of ANY retail chain. I've also noticed the communities they're in. Are these customers less valuable because they're situated in the Black and Hispanic community? What is your bottom line other than stock market and shareholders' interest? I also noted that the sister & parent companies are set apart and are kept up very differently. I have on good authority, that there has been several complaints about your company. I am now going to launch a complaint with the BBB to see if we can get these matters resolved to the leaders of these communities satisfaction.

Mary Carney
from Boston, MA
Was at your store on Burnett Rd. In Springfield Ohio. And there were signs at every part of the store where there was home decor that had 40% off but the lady said it was only on certain things. Absolutely nothing I wanted to purchase was 40% off. If you are going to have a sign saying 40% off have something to purchase. I will never shop in your stores ever again the lady was very rude. False advertising is how I see it. So I'm sure you won't respond but just had to let you know. I will be letting everyone know how your ads work. They don't!!!!

I bought a Re-boost card for boost mobile added $85.00 but family dollar charges me $7.87 for surcharge and $6.15 for taxes so the total I had to pay was $99.02 why is that when boost mobile said that CA MTS tax rate should be 0%

Friday February 19,2019 at 8:30 am. I went into one of your stores to purchase a couple of things and I seen a doggie bone for what appeared to be $1.00 or $1.69 I walked to the register to check out my things but I asked for a price check on the bone and it ranged to $3.50 so I mentioned to her that usually the protocol was to honor the price I saw the bone for $1.00 or $1.50 and then she caught an attitude with me took all the other things I picked up to buy and threw it on the floor behind the register then I asked for a manager and she started yelling she was the manager and told me to get out her store.

Denise Smith
from Birmingham, AL
On 2/14/19 I was at the register. The lady checking me out name tag I believe was Keke. This lady was on her phone while checking me out. This is rude and unsafe when it comes to the use of my debit/credit card. It has been known for people to commit identity theft with the use of a cell phone. Please advise your employees that the use of a cell phone while at the register should not be used. This lady never acknowledged that I was there. She proceeded to checking me out and talking with her ear piece in. This makes Family Dollar in my opinion look really bad. Please to not make my complaint public, only fix the problem.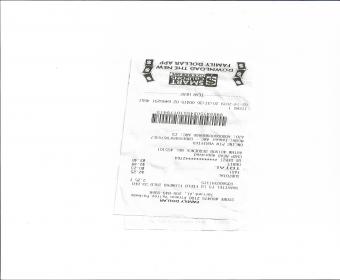 Peggy kelley
from West Hamlin, WV
Our local community family Dollar store is pilled up with water decor and spring products that is still sitting in the isles on carts unloaded. The store needs help . I love going to our local but would like the stuff unloads out of the boxes.

I went to your store on federal only because the web site said it was open to 10pm. i was just at Walmart and for got a coffee pot.stopped at your store and received the worst customer service in all my life. The cashier was aggressive in manner about closing at 930. I responded that i thought they you stayed open to 10pm. He told me that the store had been robbed and that the manager closes early. ok i can understand that i just needed to get the coffee pot. so stopped looking around for more things that caught my eye. he yelled again to me that it was closing at 930and said that if i was not up there i would not get to purchase anything. Mean while my friend had walked up and the cashier was busy complaining to the customer about needing to get out of there because he had someplace to be. he also stated to that customer that he was not going to wait around for me. mind you this all happened in about 10 minutes. i was not in the store for more then that. my purchase was rang up at 932pm. Another employee came to assist me in finding the coffee pot because the cashier told me that he didn't know it was back there someplace. i got the coffee pot and was headed to the front where he was ringing my friend. i was going to grab laundry soap on the way. just grab and go not stop and look. the cashier YELLED at me. He was aggressive in demeanor throwing his hand around a lot. when i told him that he had the worst customer service and asked for corp. number he said. look it up. asked for the managers number and he proceeded to tell me that manager does the same thing. i would hate to think that a company such as yours condones this behavior from managers. Ive managed rite aid, Walgreens, and pet co. Never in the 30 years have i ever come across behavior like this. i went to another location the day before and it was very clean and well put together. this store is obviously not on your DMs priority list. PLAN O GRAMS not done. EMPTY none tagged shelf's every place i looked. DIRTY and not well maintained. I'm sorry to be so harsh but as a customer i feel that something is horribly wrong with this location.My phone number is 303 829 0134. my name is Kimberly Bell. reciept info is. 02-14-2019 21:32 03112 01 6417563 5536, bar coded is 99031120155360179413

I went to the Family Dollar store on 1030 Chalkstone ave Providence with my Husband and kids to grab some Valentine's things for my kids to bring into school. Well when we arrived as we where walking in there was so much garbage bags in the entrance. We proceeded into getting what we needed by the time we went to the cash register there was no one there, one of the workers there said she will be right with me, the girl had to go to the back room. I waited about 5 minutes till she got back, as she was walking back she was speaking to another coworker about the usage of Marijuana and how there coworkers there do in front of the store etc., so she starts to scan my stuff as she was still talking to her coworker and mentioned that she was offered the position in being the store Manager and she refused it, she preferred to be the assistant manager and she also mentioned that if she was the Manager she would fire everyone there but there is a couple of coworkers that she like and would keep. So she also began to say how she would use the place to smoke marijuana in the back room, and the coworker she was speaking to also agreed and stressed how he is dying to smoke in the back room, also all she did was swear up a storm and also mentioning racist words... She also had a customer chime in on what she would of done if she was a manager, the conversation was very uncomfortable where it upset me so much since my kids was listening to this girl talk with those words and actions like she was on a street corner, my kids actually question what she was saying and I had to explain, there needs to be actions made in this store employees there have no respect for their customer.
Store is always a mess no one is ever working but talking and standing there... There needs to be better management, it's very sad it's a store I like going to grab stuff I need since they are right around the corner
Store # 2868

Thelma Davis
from Atlanta, GA
I pay for a green dot prepaid card .And it didn't work.It has a different number on the card from the receipt. Invalid. Went back to the store with my receipt within 10 minutes from buying card.And got a very misunderstanding about the card and why it's rung up wrong. The assistant manager was no help at all..Told me it was my fault..Ask for a refund. I couldn't get help from him. Why they took my money and refuse to help the situation. I paid for the card at the store.Store number is #00615.

Family dollar store in mission SD...one worker by the name of kristen Campbell..as I understand she is a supervisor manager and every time I go in there she has a bad attitude.when Maria leaves this lady has yelled at many other customers and kids as well.yells at her workers.slams things around.never helps when asked she just points and says down there.if she has to help someone look she stomps her feet and says sternly its right here maybe you should look up next time and walks away.she is the reason I go somewhere else to shop.I am not the only one who sees this and hears this lady.we do complain to the head manager but it seems to not go anywhere but there.its like the manager tells who complains and when I go back in the family dollar again I get treated more worse then before.this lady has no respect for elders and no respect for no-one else.I've seen her let her family not put up anything in the cart to be scanned and priced..hmmm..so they got away with some things.a lot of workers quit because of this one lady as well.look into family dollar store in mission SD..should be a suggestion box locked and only corporate should only take out the concerns..I won't go back to family dollar in mission SD.I will drive an hour to go shop at dollar General rather shop in mission again!!!

I went the family dollar store on Rossville blvd in Chattanooga Tenn and I was mistreated and she refused me service of a refund on a fan I purchased she said she couldn't do anything for me due to the return policy. So I read the return policy and it said unopened box can be refunded so since I make look like a liar she told me that she will not refund and put me out the store feeling like I was a two year old. It was the worst experience I ever had with family dollar. My name is Amanda Johnson 4234810374 I get messages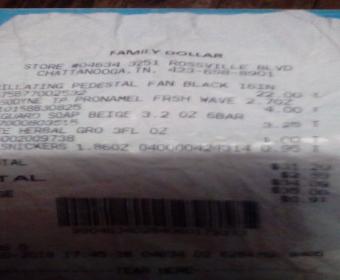 phillip cobb
from Greensboro, NC
I have call family dollar several times about returning item without receipt, the problem the client did not give me a receipt, she says she give receive receipt only 25% of customers, mgmt. told me to come back and help me, in she was personal call and rude. I have call 1800 number several times and let a mgs, my calls has not been returned. the incident happen on 16 jan 19, my phone number is 336-375-6554. I also filed a complaint on this site several times with a phone call. u stated item can be returned within 30 days, the problems I filed a complaint 27 days, y I have not have my call returned.

cathey elam
from Lakeland, FL
I Cathey Elam purchase a qeen size air Mattress yesterday on 2/9/19 and when i open the box on 2/10/19 there was no air pump . so i went to the Family Dollar store on the 2/10/19 to ask can they give me a air pump for the bed the manager ask me do i have the receipt i told her i don't have the receipt because i throw the bag away the receipt must have been in the bag. But i told the manager that i don't want a refund for $21.00 all i wanted was a air pump in which no air pump was in the box when i open it. this made the second time i bought something from the Family Dollar store and some parts was missing in the box.I bought a bathroom 4 shelf towel linen stand and some of the leg's and shelves was missing all i want is to get my air pump to blow up the bed to get my grandson off the hard tile floor. and the manager is giving me a hard time. i need some one to call me on this matter at this number 863-614-6641 so i can get a air pump for this queen air mattress to get my grandson to sleep on. the mattress is a queen size mattress large 58 inch. thank you and also the manager call around to another family Dollar store and they told her that i have to pay five dollar's for the pump. i'm not going to pay for a air pump when i paid for a air mattress for 21.00 dollars and a pump didn't come with it that mean i have already paid for a air pump when i purchase the air bed with out a air pump.

I was in family dollar last night. I came in around 9:40/9:45 & was never told "we will be closing soon when I walked in. After going down isle a customer service representative said we are closing in 5 min is said ok . Then a minute later she yelled we are closing in 3 min. Well by then my anxiety level caused me to eel extremely uncomfortable but I needed a gas bc I have no heat & I ask did they sell propane. The lady then said we are closing. I got to register at 10:04 and manager that wasn't on duty but I've had issues before with him when my money was stolen off register counter & another time they refused refund from prior purchase day before. Back to last night. They refused to ring me up & said we are closed you can't purchase. I'm so tired of the unprofessionalism and rude representatives from this store in knightdale. The manager of store was there but not working & he refused my service. This is the third & last time I will go there. I feel like I was descriminated because of my skin color. I had no heat in 20 degree weather when I was at register at 10:04. Not to mention the fact that she is yelling by minute which totally threw my Mind off. When are you going to get actual professional people that take care of their customers?

Store # 08768 2/5/19 @17:15 pm As I was walking into that store a man and woman in an electronic scooter chair we're trying to get out of the door area. As the woman in the chair was having problems manovering around the big metalsign that holds the fliers. And she had got stuck which slightly pend the man against the candy machines. And upon my entry I had to squeeze between this woman and the sign to open the next set of. Expressed to staff and manager this is a fire hassered and the state of this woman trying to get out of the doored area. Manger stated she didn't put it there and ask if they were okay. And proceed to do ignore the problem. I go to this store very regular, and never have seen the sign in this location. 1. This is a fire hazard 2. Clearly it's hard to get around to go in or out of the store so safety is in play now. All this woman had to do is move her scooter and my foot could of been ran over, or pend me in the area in her struggle trying to get out.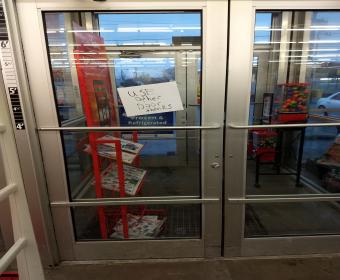 Linda Taylor
from Detroit, MI
Mckees rocks customer service is the worst. Rude clerks. And know one to report them to. So corporate is no better worst experience in the world. I send close to 400.00 a month guess they dont need it. Will never shop there again or will my friends so thats about a 1000.00 a month you guys just lost.

I was in the Warner Robins Georgia store on Houston road waiting at the counter for someone to check me out at 12:30 p.m. and a white lady that work in the store was standing in front of the door talking to someone and would not come over. I asked her could I be checked out and was told that the girl in the back that I saw stocking would wait on me. She kept hollering for her to come up. The lady that kept hollering wasn't doing anything but talking. After waiting about ten minutes I proceeded to walk out and she ask me was you paying with a card. I kept walking out the store. I don't think the girl in the back heard her. My point was why she couldn't wait on me because she was not doing anything but talking. I even asked her how long will I have to keep waiting and she kept holler for the girl to come up front. The lady she was talking to looked at me and said, I don't work here. That should have been a hint that she should have waite

Dianne Houser
from Atlanta, GA
store #00231
This is the second time that a for sale sign on your coke products was 4 for 4 dollars. The clerks do not take the signs down. And they say sale is over. You are suppose to sell the products for what the signs says.

J. Williamson
from Dallas, TX
I shop at this location at least two to three times a week and all the employees are always very nice, but today there was a cashier whom I have never seen working here. This employee name was David he has put a bad taste in my mouth about treating customers and watching what comes out your mouth. Family Dollar to me was a good place to shop but now I will think twice because I might run into David.
Well as he was ringing up my merchandise I asked him the price and there was a few items that was on Sale and I felt it was too high for the price so when I told him I did not want the items he got upset became rude, his face and body language show I hate waiting on customers like you.
So I said to him you act as though you don't want to wait on me, he then proceeded to say I just don't UNDERSTSND PEOPLE THAT PICK UP ITEMS AND THEN GET TO REGISTER AND CHANGE THEIR MINDS. I NEVER HAVE UNDERSTOOD THAT. I WAS IN SHOCK AND EMBARESS neither did he greet me with a Welcome to Family Dollar. Then he tried to be a butt hole when I said well let me check with Corporate on their policy about customer changing mind on a purchase he www and I told him I don't need your assistance.

1/31 marks the5th time my 2yro&5yro Autistic child& I were harassed+bullied. The same lady has scolded my son many times. The 1st time I politely informed her my SpNeedsChild was NOT "being bad" nor did I "needa parenting class" as she said, &to educate herself abt the many LernDisabilities u can't "see" like "down syndrome. She said she didn't know, I asked her if he wore a big yellow star to identify it, if that'd help. She obviously didn't know basic history reg. The Holocaust either... 2nd encounter, she yelled at both kids as if we we're old pals. I teach my children to respect elders, but to avoid evil people like her. 3rd encounter she stated she was sorry for the 1st encounter above and she was wrong. I accepted it, forgave her and then didn't see her again for quite a while. I honestly thought she was fired. As I was not the only customer voicing my concerns with her multiple mood swings+ uncontrolled outbursts. To my surprise she was back, but as I always do, I walked in smiling asking how she's been, she was cold, as though I had been the one who passed judgment + treated her w/hate+anger, rather than the other way around. I then thought maybe this lady is going through many hard things, maybe like my son, she too has things that I do not "see", I forgave her, trying to b understanding. Last week she again was very hostile, this time keeping what she said low, out of no where while people wait to pay, and walks away from everyone in line bcuz My kids and I. She looked right in my eyes, saying things under her breath, and not telling anyone anything and leaves us all there in line. Everyone looked shocked. I told the other customers I am not surprised at this point but am not coming back as she is dangerously unpredictable. But yesterday I needed a few items and couldn't pay gas togo across town, and went in for a few things. As I went my way I refused to acknowledge her, hoping it'd help, unfortunately as I turn the far left corner towards the laundry soap my daughter was 2 steps ahead of the cart and I said no no. And there Mrs jolly was with a man doing stock I think. Like always I had both kids and go past and look at the soap. As I looked for the coupon, my son who needs a hand stimulate to help calm him, and keep him focused, takes his little car, and puts in on the shelf edge directly IN FRONT OF ME, and drives it two feet. When he stopped the car he literally couldn't help himself and his left hand simply moved the bottle of fab. Softener back approx 3in. And b4 I could bring it to his attention Appropriately and AS I DEEMED FIT AS HIS MOTHER she screams at him from the corner isle where we passed her, and yells at me not to "let him do that". So this psychopath was LITERALLY WATCHING MY 5yro AUTISTIC CHILD like a HAWK watching prey, WAITING FOR ANYTHING AT ALL TO SNAP AT HIM ABOUT, FROM TEN FEET ACROSS THE STORE, without even taking a breath, or seeing if I was going to address it... Even though it was NOTHING AT ALL THAT NEEDED MY SCOLDING.... LET ALONE HERS. It hurt nothing. It hurt no one. It affected nothing at all. When I looked at her, the man standing with her looked at me, rolled his eyes as if she was OUT OF HER MIND and like I knew, HE ALSO KNEW SHE WAS JUST BEING HER REGULAR MISERABLE SELF, going at a helpless child. So I let her finally have my honest opinion of her, and remind her of all the things she has done to him, his sister, and I in this store, and the embarrassment did bother me before. But she should be ashamed of herself, and she should be who is embarrassed. Everyone has dealt with her at least once. But i have tried so hard, because my son.... Had taught me a great deal of patience and understanding. But enough us enough. This is no longer a woman having a bad day. I am genuinely concerned this woman is not taking her meds and is on a very thin line before really snapping and possibly hurting herself or GOD FORBID someone else, let alone a innocent child who doesn't understand why she's so mad at him. It's very sad, but very very infuriating too.... Something really needs to be done. This woman needs help.

I gave a very detailed complaint yesterday and have not received a response.

I just left the McDuff Ave. Family Dollar. I usually shop there weekly and spend on average 100. The last 4 times i have been there, no shopping carts were available. I am 65 years old and unable to carry that much merchandise. There were several carts in store but filled with stuff and not usuable. Two isles are totally blocked and not usuable.
I sought out the Manager to insure that she was aware. Manager Cici was very short and unprofessional. She replied "that people walk off with them and what did I expect her to do". I replied contact corporate and make sure they were aware. She replied " i don't care what you do" turned her back and started sticking shelves. This was a horrible experience in a dirty unkept store.
Please do something about this ongoing horror show.
Thank you,
Kevin McCarthy

Bev carter
from Greenfield, OH
Went to your store today with an add that stated 10.00 off comforter set. I also had a 5.00 off 25.00 purchase and and 15.00 off any comforter set. And I was told my 10.00 wasn't coming off. She stated several people had already purchased a bunch of them but denied my purshase with my digital coupons and the 10.00off as it states in the ad dated 12/31/2018 - 1/29/19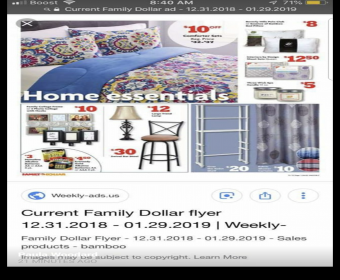 Kevin McCarthy
from Jacksonville, FL
I just left the McDuff Ave. Family Dollar. I usually shop there weekly and spend on average 100. The last 4 times i have been there, no shopping carts were available. I am 65 years old and unable to carry that much merchandise. There were several carts in store but filled with stuff and not usuable. Two isles are totally blocked and not usuable.
I sought out the Manager to insure that she was aware. Manager Cici was very short and unprofessional. She replied "that people walk off with them and what did I expect her to do". I replied contact corporate and make sure they were aware. She replied " i don't care what you do" turned her back and started sticking shelves. This was a horrible experience in a dirty unkept store.
Please do something about this ongoing horror show.
Thank you,
Kevin McCarthy

tanya wade
from New Orleans, LA
the location in New Orleans, La on 7300 Read blvd about 3:20 pm . we were in line along with 3 other ppl and one cashier was counting her drawer the other one walk to a room and never acknowledge not one customer. I put everything to the side and walk out. VERY POOR CUSTOMER SERVICE. NEVER WILL I AGAIN GO TO THIS LOCATIONS.
I just called for a Manager and I got interrogated by 2 employees on Jan 28,2018 @1:40pm

I understand there are rules and has to be guidelines to follow, but I have had my share of bad experiences at family dollar..and started shopping dollar general and other like stores. Heard of a good deal at family dollar, after losing most of my stuff and thought I would try it again coz I needed this deal. The comforter set deal. I go into family dollar..the $10 instant coupon signs still up, the $15 digital coupon...and they would not honor the $10 off coupon on the comforters ..2 different stores. And I'm sorry to say, that's just not fair!! Very poor business!!! The signs were still up, they should have HONORED it!!! That is something, I guess, f as miley dollar doesn't know...honor!
A very pissed customer in ohio!!!
Tammy
740.463.9518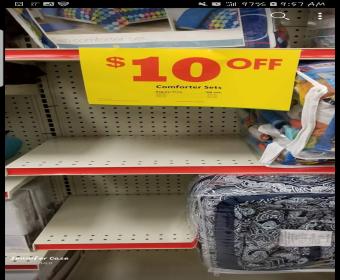 Laura Liles
from Fort Worth, TX
Money back guarantee was not honored at two stores on bagged cat food claiming there had been a "scam" going on.

Audrey Washington
from Detroit, MI
I feel it a disgrace to have a cashier wait on you wearing a hair rag scarf. I have been to all 3 stores located in pontiac michigan and everytime i go in there the cashier which are women look sad like they have just out of bed. Their demeanor is not upbeat. A very dry conversation hair scarf and hair rags should be eliminated. First appearance is everything. Please review your policy.

Tracy D Ward
from Ormond Beach, FL
My Complaint is , have been shopping Store at 780 Nova for months now and Parking lot trashy , bottles , paper goods left all over , lunch bag's etc. all over parking lot for long periods. There's no cleaning of lot what so ever ,only time it's picked up is when grass is mowed that's because it's a must for the mowers . This is bad sign for the business .We shouldn't have to be subjected to this mess, this is a business . My Wife and my self ,have been shopping Family Dollar Stores many years, recently moved to area .PLEASE ADDRESS THIS ,if not you will lost our business and group of HOA of our neighborhood

Sandra Lamont
from West Bloomfield, MI
I'm visiting a very sick family member In Ypsilanti Michigan I was in your family dollar store about three weeks ago and had a bad experience with the cashier at your store on Emerson the service Rd I purchased some items and the cashier who name is Alex he put the items I purchased in a bag that was to small and I asked for a larger one he said he could not do that the manager was right there and he said that they was not allowed to give their bag away I said to him that he was not giving me anything I paid for what I got all I want is a larger bag they did not give me one and asked for the number to the corporate office they said the number was on the receipt but it was not I call another store and they gave me the number to complaints I call and the prompt told me to press 4 to leave a message I left a message and it said someone will respond to me in 7-10 business days and no one have responded yet and as I was leaving the store Alex shouted to me don't come back I would like to hear from someone soon I can be reached @ 704/333/0777 my name isSandra Lamont Thanks and look forward to speaking to someone to get this matter resolved

Bill Peake
from Jonesborough, TN
Items on sale that said for digital coupons . Could not find items on phone that honored the digital coupon sales . For instance save 2 dollars on Tide using digital coupon , Friskies cat food save 2 dollars using digital coupon. When starting to check out ,I ask the clerk if the sale was correct since items did not show up in phone coupons . With an attitude , she stated she couldn't do anything about it . She did not offer to assist in any way . So with a buggy full of products about 70 dollars worth I walked out leaving clerk to return all products back to the shelves. Feeling good leaving that I had not been ripped off by a so called sale . Wondering however how many people had thought they were getting a sale. People that don't even has digital coupon service may have read the sign thinking they were getting a sale, not paying attention to how much they were actually being charged.
A Sale is a Sale , Digital coupon is a Digital coupon and False advertising is False Advertising. Thank you Bill and Debbie Peake

Patricia Torres Jahn
from Provo, UT
I went to the Provo Store Geneva and Center St. 84601. The Saturday before I purchased 135.00 worth of stuff. A shirt that I had purchased did not fit. I also purchased a phone head set that did not work. I believe it may have been defective I tried giving them the receipt. It had only been one day since the purchase.
They 2 ladies that were in the store were talking amounst them selfs did not address me so I politely interrupted them and let know that needed to return some items. They acted bothered by my presents. I showed them the receipt and they asked for the box that the headset came in. I walked behind them and graved a the same kind of head set in a new box. The lady claimed it was the wrong box but, there was only one head set available and it was the same one, the manager was just trying to start an argument with me. I then told her I had the box at home and she still continued to be very rude to me.
I then showed her the shirt that I had purchase with tag and the receipt. She then told me to go to the Orem store to return my items and to get out of her store. She stated that it was not her job to help me if she did not want to. Mind you the whole time it was here starting the argument. She was so hostel and rude. I asked her for he name and the number to cooperate. She refused to give me her name or your phone number. I called the Orem store and they instructed me to go online. I even told her that I t was going to report her and she stated very proudly that I was not the only one who has told her that before. I ask that she be let for causing me to have to deal with very unprofessional attitude.
Thank you
385 204 2821
PJahn

Angela Carr
from Indianapolis, IN
I used my debit card to pay my merchandise and it declined 3 times and the fourth time it was approved because I received a notification instantly to my phone and the employee said was declined but the money was taking off my card and I showed the employee proof my transactions she refused to help me and said she cant doing anything about it.morelss she told me "oh well take it as a loss" I need to know where my money is I want my money back. Thank for taking the time out and reading this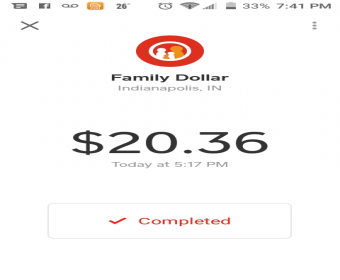 Cheryl Moore
from Houston, TX
I purchased a product from Carnegie Pa.Family dollar last week.It didn't work so I returned it today 1-17-19.I had the original store reciept which I paid with my debit card.Now they took my cash off my card at the moment I slide my card thur.So I brought it back today the manager refused to give me my cash back and made the female cashier who had no clue what she was doing put the return through as a credit back on my debit.They totally went against their own return policy with the male manager fighting with me about it while 6 people were in line behind me in agreement with me.So I called my bank and my cash for my return is still not on my debit card.U people stole money right in front of my face.I paid u cash from my debit card then refused to give the cash back to me even though I had the original reciept showing they took my cash.Thats theift on ur management and ur management teaching ur cashier how to rip the cash paying customers off.All I know is ur company has ripped me off $11.00.I have no respect for ur management at all anymore and will not return to Family Dollar again and neither will my family or friends.I want my cash back like ur policy says I deserve.Ur management and store employees need better education and better training.This is not the 1st time this has happened to me just the 1st time I've realized this store is stealing from me.As of 2:43pm my cash is still not on my bank card.
Have feedback for Family Dollar?
Thanks for your feedback!
Sorry. Please try again later!