Family Dollar
Family Dollar Complaints Continued... (Page 10)
615+ reviews added so far. Upset? Call Family Dollar corporate: 704-847-6961

Dean christiansen
from Troy, NY
Went to msin street wynsntskill,ny store, bought some daddy ray's fig bars, bought them home for the kids and a cope neighbor kids, they all complained didn't taste right, looked back at package to find exertion date was 12/14/17 7 months outdated, now I had just bought these 10 minutes earlier of course called store 12 times and associates to busy to answer. What kinda of quality control is that and also to sell food outdated that far.managers and workers need to be trained to identified outdated products and pull from shelves, it could mean someone getting sick or dying worse case.maybe need some undercover boss to go thru. Been a patron many years but really disapointed in this.I would like to hear back.
Sincerely dean christiansen
2 albert st
Troy,ny 12180
518 527 5882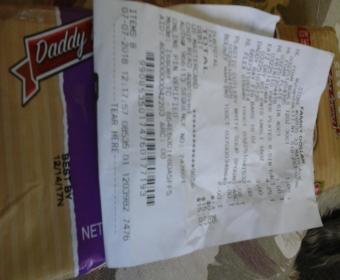 Vannessa Hyter
from Longview, TX
I am in Marshall,Texas 75670 I was in the store to take back some ear phones that was broken, your manager there has a smart mouth and was very rude. His is Jason I don't know his last name. The store number is102883 1113 E.Grand Ave. Marshall, Texas 75670 phone number 903-938-4145.

Sharon Jordan
from Leland, MS
First of the air conditioning has been out for a while. It's like walking into a store with the oven on and a smothering feeling which makes individuals feel bad. Last but not least as soon as you open the door to enter the store it smells like rotten dead rat. Is anybody responsible for taking care of this problem. Myself and family spend anywhere from 200.00 to 250.00 dollars in this particular store monthly. We refuse to continue enduring this. What if something happened to a customer from being overheated. The terrible odor is unhealthy and only God knows what kind of germs are in that store. Please please take care of this problem it is also very embarrassing.

Frances Feaster
from Montgomery, AL
The Family Dollar, store #00960, located at 2807 Lower Wetumpka Road, Montgomery, AL 36110, has a dumpster behind it. The dumpster isn't emptied on a regular basis and trash just piles up which causes flies, roaches and other vermin. Also, the dumpster needs to be in an enclosure so that the general public will not be able to bring their trash, old mattresses, furniture, etc. and dump it around the dumpster. I am a senior citizen and my house is directly behind the store and this is not only a health hazard but it is an eyesore. I have contacted the store but they just brush me off. The previous manager did attempt to handle the situation over the years but the new management just give me excuses. They told me the regional manager's first name is Amy and that is the only information they can give me. They won't give me her last name, a phone number or email address. I need this situation to be handled as soon as possible. Thank you for your time.

Christina Memmers
from Columbus, OH
I'm am a loyal customer at family Dollar store on 19 North arlington st. I spend probably 150-200 dollars every week we'll because of a altercation between myself and another customer that had nothing to do with me shopping at that store the so-called assistant manager I'm not sure what her name is was very rude to me and came up to me and told me that I was not allowed into the store because I so called talk to her best friend wrong so she Banned Me from the dollar store I don't understand how that's even possible she says she's assistant manager but she's very unprofessional she was calling me names on the way out the door telling me that I wasn't allowed in there and barisan me in front of customers I just think that it's really wrong not to mention it's a very very what's the word I'm looking for unprofessional it's like really get old Family Dollar Store there's no front doors and it's a bunch of little young kids that work in there who smoke weed right outside of the door sell weed out of there I know for a fact I just don't understand how this woman could tell me I'm not allowed in the store and like I said I spend a lot of money at this dollar store so if you could please contact me back my number is 3309061618 I would really like to speak with somebody regarding the situation so once again my number is 906-1618 330 area code thank you very much and have a blessed day I'll be looking forward to hearing from you thank you

john a livengood
from Concord, NC
I was overcharged $11.12,i called the store manager Sonya Davis (store#088846). I brought my printed ad ,sales slip and my phone with the app on it. She said it was my fault due to the coupons were not on my phone. I explained while shopping I added items to my chart. she reviewed my phone
which I felt was an invasion of my privacy. she acted as if she was judge and I was a defendant of a crime. I was offered $2.25 cent settlement.
The fact I was embarrassed at customer service desk.She said I had to between 2-3pmto meet with her.
I am disabled and it cost me more in feul for what she offered.

Sharon Perkins
from Rosedale, MD
Today I visited store number 07330. Let me just say that my visit was less than satisfying. I walked into the store with my 8 year old granddaughter and there was already an altercation taking place with a customer and cashier. He was clearly annoyed at the customer and the tone in which he spoke portrayed that. I am not sure what took place in the beginning so I cannot comment on that. Fast forward to my time to purchase my items. I went to the register the same gentleman that I heard speaking harshly to the lady as I walked in to the store was the cashier that helped me. He was very nice and helpful to me. However I realized the amount he told me my order was slightly higher than I expected. I did not question him because he had a long line behind me. Instead I decided to speak with the store manager. Her name tag read Brea. I explained to Brea that my purchase rang up $18.50 which I thought was a bit much for the items I was purchasing. I informed her that I noticed on the receipt the gain liquid detergent that I purchased rang at $9.95. I then told her that the tag on the shelf showed the price at $7.95 and she asked me to show her. I walked with her back to the area where the detergent was and showed her the tags on the shelf. She observed it and realized that there may have been a mistake however she asked me to follow her back up to the front where the registers are. When she went to do the return to give me the difference on the price she realized that the item is the incorrect size gain which promoted the price to ring at $9.95. I reminded her that she saw exactly what I saw. She asked me to hold on for a second and she then asked another coworker to walk her to the back. When she returned she went on about doing the return of the difference to the amount that I paid. She asked me to sign a document and then stated She will have to keep the original receipt. I asked her why because I need that receipt due to the fact that I had other items purchased on that same receipt. She stated I need it for my manager. I then asked her can I get a copy and she stated no because she needed the receipt to show her manager. She then stated I voided the transaction for YOU. Excuse me! How was this transaction void for me when the error lies with the store? I'm confused and rather taken back by her actions and verbiage .She then abruptly stated, never mind we're going to just do this so we can keep the day moving. She then took the said receipt and placed it in my purse: how disrespectful can one be. Some may not see this to be an issue however being that I am a manager and have been for 15 years I see the issue with this. There may have been an underlying issue that I am not aware. She could have been upset with the coworker that made the error in the first place and now realizes that more work that could've been avoided has to be done. However that is not the way you act towards or treat customers. She crossed the line in a couple areas. This should not be tolerated. I am not asking for anything more than just for you to train your associates one how they should deal with the public. I understand that this store location is not the best and the community can cause issues. However this is the second time that I have been in this store and witnessed inappropriate behavior . I cannot say that I will not go to this store in the future. However I will will make a conscious effort to shop elsewhere in the future. Thank you and have a great day.

Rebecca Smith
from Columbus, OH
WENT IN YOUR STORE AROUND 9:00 AM, WAS SHORT CHANGED $5, LATER THAT EVENING SENT MY SON TO STORE, HE WAS SHORT CHANGED $10, I WENT OVER AND ASK WHY BOTH OF US HAD BEEN SHORT CHANGE, GOT A DISRESPECTFUL ANSWER, WALK OUT THE STORE AND A LITTLE BOY WAS CRYING I ASK WHAT WAS WRONG, HE SAID TO MY SURPRISE, THEY DID NOT GIVE ME MY MOM'S $5 CHANGE, AND SHE IS MAD AT ME. WELL, IF HE IS SHORT CHANGING CUSTOMER'S, MAYBE HE IS SHORT CHANGING YOUR COMPANY, ALSO I LIVE ACROSS THE STREET FROM YOUR FAMILY DOLLAR, I SHOP THERE THREE TO FOR TIMES A DAY, I WILL NOT GIVE YOU ANYMORE OF MY BUISNEES , UNTIL YOU GET RID OF YOUR CRAPPY MANAGER, I HAVE HAD TO MANY PROBLEMS FROM HIM,TAKING MY BUSINESS ELSE WHERE.

Ralph Weekly
from Grand Rapids, MI
The cashier took a personal call concerning a problem about a 'leak in her sink' ,while all the time she had customer's in line waiting to be served!! THIS LADY HAS A VERY NASTY ATTITUDE AND IS VERY RUDE!! SHE WAS LEANING ALL OVER THE COUNTER AND JUST IGNORING HER CUSTOMER'S!! When I complained,,,she continued to talk on the phone and told me in a very unprofessional voice,,,'GO OVER THERE I'M CLOSED!!!! WE SHOP FOR JUST ABOUT EVERYTHING AT FAMILY DOLLAR AND SHE NEED'S TO GO!!! WE LOVE FAMILY DOLLAR,,,,BUT NOT HER SERVICE!! THANK-YOU!!

Al Morris
from Kalamazoo, MI
Today I came into the family dollar located in the1200 blk. Of Portage Rd., Kalamazoo mi. I purchasing two bottles of two liter coke as I do every week and returning three empty bottles of coke. The clerk Breanna I think was her name said she couldn't take the empties because there were drops of coke in the botttoms of the bottles. That was residual water drops since I had just washed out the bottles I explained that to her but she still refused to take them. I walked out not purchasing anything leaving the empty washed out bottles behind, your loss.
I walked across the street purchased my coke there and will continue to do that until the new shopping center a couple blocks away opens.So done with the long wait lines at this store and now this rediculous incident. I've spent a lot of money there, say goodbye to that. A few drops of diluted coke and a unreasonable clerk did this.

Loved the store. 1 employee was and is not nice at least to me. I did get up set when over a month ago I was trying to buy something to stop getting sick on the counter. She was rude and I said I will pay full price, I just need to try and leave without making a YUCK thing. She was more that rude...I said I will pay full price...I went to the ER soon after that. She is still not nice...she sings "God Word" every time I try and shop there. I Love Gods Word.... but being Hypocritical against shoppers... I will not shop there anymore even though I love all of the other employees. But is wasn't just me...she ran out a 45ish female when I was waiting for service. She said she would never shop there with that "Crap Out Loud". I will send this everywhere I can. I actually wanted to work for a company with your "quality", but apparently you really do care. About customer serves and loyalty....
INFO ON THE STORE>>>>>>>>>>
#08033 ….. 321 S. Bowen Rd. #821, Arlington, TX 76013 #817-804-0485. MGR, John Nobbles # 314-249-5516.....?????
Tried to call and say my issues...no response...
The not nice for an Employee to loudly shame customers with the HOLY BIBLE.... I love Gods Word....But if a customer doesn't like they are being treated does not give an employee to "Loudly" sing and miss quote the Bible... .
Not nice,,,,,, Not even... I recorded it when I went back in to just buy what I came in to do. Her YUCK response will go viral for ….We have enough on our plate....but not nice employees.....I will spend my money anywhere but there unless she is addressed.

Eufemia Herrera
from Newark, NJ
I was at family Dollar in Cuba New Mexico. On 6/2/2018
I always do my shopping their. Well on this day I was shopping
Went to the check out counter paid for my stuff.The cashier.
MR. Romero. Told me not to go back again. That shocked me
and.I was very surprised that he would say something like that.
It left me speechless.

Kimberly Klement
from Milwaukee, WI
I went to the Family Dollar by my house on 27th and National (Milwaukee,WI) Yesterday May 10,2018 and it was really busy. There was a line of about 10 customers at least.. I did have a backpack because I drove a moped from work. Only one person was behind the counter. No one asked for my backpack, there wasn't any rules written on the door when I first walked in that said I had to give my backpack to someone behind ingb the counter. I walked in the store, went directly to the batteries which were right in front of the registers, and I dug through my backpack that my purse was in to find batteries so I could match them to the right size batteries that I needed..... as I was matching the batteries, a young woman with tattooes on her face approached me aggressively and just blurted out rudely, Whats in my bag on the floor,.. which was clearly a mini cooler ( I am a construction worker) a mini cooler with shoulder straps... I know the store was busy, but there isn't justification on why she approached me like we were doing business in a back alley. I nudged the cooler with my foot because my hands were full and told her to look herself since she was being so rude.... She screams at me that I should of checked my bag at the door like it was common knowledge and I should "GET THE FUCK OUT CUZ SHE IS CALLING THE POLICE", I told her I didn't care and I was go to go check out. She continued to argue with me about staying and another employee came out, a African american male who put his arm in front of her and told her to calm down and she was being too aggressive to just leave me alone. He had to tell her at least 3x's to let me stay in the store. I told him I couldn't believe how she's acting.. I went to check out, as I paid for my batteries, I asked the cashier for corporate's number. The cashier asked the woman with the tattoo on her face and she responded by saying "NO" she wasn't going to give me the number, and she was the manager.

Georgann Dix
from Harper Woods, MI
Store waa to open at 9 am on 5 11 2018 at the famaily dollar store on E third street dayton ohio.45417. dayton There was 5 customers including myself waiting between 845 and 900 to go into the store. The employee shows up at 9 tell us it will be another 30 before he opens. The is totally unacceptable.. He should have been there at 830 and opened at 9am or open at 930am what are you going to do about it. That is lost revenue. I don't even want to go back.

Jose I. Olivera
from Haines City, FL
This lady that live 's in my house she's 72 years old when to the family dollar store in 1683 E. Hinson ave Haines City , Florida to get a case of water the only cart available the manager had it ,she ask him if she can bowerred the cart to carry a case of water she was going to buy to take to the car ,she told him she was sick, his answered was no. This lady had open hard surgery if he didn't want to give the cart away he could at least ask her what she needed help carrying is kind of sad for a manager to act so rude In this store that so many people like to go.

Lisa Sapp
from Columbus, GA
On Saturday April 21,2018 round 7:00 -8:00pm I walked in the store to purchase cleaning supplies and there was no carts or buggies. The store was nasty and dirty merchandise all over the floor down every isles.. So I had to carry my items in my arms. When I got to the counter I drop a bottle of detergent. The manager behind the counter in front of customer said you are paying for that very rudely. .. I told her that there was no carts and it was a accident. She said I don't care you are paying for it.... I left everything and walked out. Bainbridge Georgia 39817 store number 1132. The black manager was very Unprofessional. Lisa Sapp 229-220-7745

Sandra Greenwood
from Harrison, OH
Hello, my name is Sandra and i live and shop in Harrison, Ohio 45030. I choose to shop at your Family Dollar store because you generally have the products i use at a reasonable price, and also very much because i love the friendliness of the store manager that works there, she is helpful, kind and really goes that extra mile for her customers. However when she is not there, several times there is an older associate who has been dis-
courteous, nasty and down right rude to me, which i have brought to the attention of the store manager and the associate was given a warning i was told that i was not the only customer that complained about her. The reason for my complaint to corporate, is because on April 16th this very same associate saw me walking toward the front door and she rushed to lock both doors before i could enter. I then walked back to my car, seen the time was 8:53 pm so i called the store it rang until i got a recording.I only had a need for a few items that i could of purchased in the allotted amount of time. This upset me so much that i walked back up to the door and saw that associate standing at her register laughing with the other employee. I know the store closes the doors at 9:00 pm, not a minute before no excuses, depending on what you do,you may lose a lifetime customer, because Dollar General is just a block away. My mother owns her own dart store, my grandmother ran her little grocery store for years, and neither my mother nor my grandmother would of ever closed early, or locked out a customer. Sincerely, Sandra Greenwood

What a junky store, It was a MESS! The shelves were all in disarray. There were carts waiting to be unpacked sitting everywhere. I did find a card to purchase and waited in line and decided I was so disgusted with the look of the store, I walked out without purchasing it. It Needs a beauty makeover badly.

Virginia Wren
from Dallas, TX
6565 colquitt rd, Keithville, la 71047 : Very CONDESCENDING attitude. at the register, they ask me to enter my debit card 'number' 4-5 times, in front of nearby 4-5 customers: this is a regular occurrence. all their employees have a 'talk down attitude': I won't return. (It appears the few store shootings in Shreveport, la are family dollar stores: Is the problem their bad attitude.)

Billy Reed
from Youngsville, LA
I am not sure if she was the store manger or a cashier but she was very unprofessional and rude . You can tell she is friends with higher ups in the company because no one in there right mind would act like that .

Store #08177 541 Smith street Providence RI. I am tired of the management and the state of the store. Inventory left on the floor and not on the shelves. The floor is filthy and disgusting.Fire hazards are everywhere.Inventory is blocking some of the aisles. They never seem to be able to do cash transactions in the morning. Claiming they have no cash. They are very unprofessional, swearing at the customers, telling people that they need to run their cards again because supposedly the transaction didn't go through the first time. But I have been charged 2x on a number of occasions and had to basically get very loud and lower myself to their level to dispute the transaction. Once I was told that I had to wait for that employee to be there to put refund my money. I am not the only person this has happened to either.
The manager, Anna is rude, loud and has her boyfriend and his friends hang out there at night playing inappropriate music loudly, harassing the customers. There is the constant smell of marijuana in the store and really heavy towards the back of the store. The employees always look and act like they under the influence. The cold food case is not up to safe food holding temp, always half full with the inventory still in boxes on the floor. Employees screaming at each other about their scheduling and their duties.
It seems that because it is located in a low income area that a store should be allowed to operate this way and treat people this way.The people who work there are the most unprofessional, rude, slovenly employees I and the rest of this community have ever seen.
It has gotten to a point that the local news station wants to do an investigation about the dealings in this store.

Mary Landrum
from Chillicothe, OH
I went to Family Dollar yesterday March 28,2018 in Frankfort Ohio and made a purchase that came to $7.46 I give the cashier 2 dollar bills and I had $5.50 worth of quarters. He looked at me and said I can only take $4.00 in change per transaction we had too many poker players bringing cash in baggies and making purchases and it takes too much of our time so i can not take that change. For one thing this is not posted anywhere and he was very rude The man behind me bought $4.00 worth of quarters from me or I would have left and not made the purchase. I use to go to Dollar General quite a bit but I wont be going in there anymore. You need to give your workers some training on how to treat their customers. I don't know the man's name I was just too upset with him to see what it was. I won't be back

Susie wright Wright
from Miami, FL
Cashier,rude,didn't acknowledge my presence,I bought two RCA INDOOR ANTENNAS,COULDNT GET IT TO WORK PROPERLY,I PUT all items back in original box with and family dollar bag,she flatly told me noooo,no RECEIPT no returns.Store#11414
Address 1700 n.w. 183rd st.
POOR CUSTOMER SERVICE
Rating 0

Syreta Holiday
from Philadelphia, PA
I visited Family Dollar at 5807 Torresdale several times in which the employees give poor service, the cashiers eat while waiting on customers, also they are on their phones having personal conversations with headphones in their ears while ringing up merchandise and never give eye contact to customers, the shelves are hardly never stocks and the store is usually a mess, I never saw this behavior while shopping before, these employees need to be trained on professionalism.

Patsy Stoll
from Oklahoma City, OK
I would like to receive a phone call 580-678-0222/ I was told that the employee I had an issue with was Tamara H. At the store on 2nd Street in Lawton,OK . It was a very ugly scene and I called the store and talked to an assistant manager and apologized for losing control but will not stand for an employee to yell at and verbally assault me! I let my daughter in law make her purchase but mad none myself because the employee would not shut up and kept mouthing ugliness

To Whom It May Concern
This date February 17, 2018
visiting the Clayton, North Carolina 27520
Family Dollar Store on Hwy 70
I admit I'm not a regular customer at this particularly Family Dollar Store but If you wish to review your cameras on this date 2/17/2018 around 4:35 the service that I received was beyond believe. I'm not sure what the cashier (a man) what his problem was not to mention he never addressed me but the fact that he literally through my change on the counter and then threw the bag at me. Mind you I was not offended that he didn't want to speak but the attitude was disrespectful.
I know from watching your undercover boss that this would not be normal protocol for your employees. I believe this individual should be question about his representation of the Family Dollar Store values. I would never allow any of my employees to be so condescending to anyone.
Respectfully yours,
Elsie

Yolanda Whiteside
from Elgin, IL
I brought some pant legs for the family dollars in Rockford il on st Charles st and I was going wash them and it was vomited on the bottom of them andi was use the lotion and i broke out from it.

Quantana Mckinney
from Nashville, TN
the location I need to complain about is 836 Dickerson Pike Nashville tn 37207. This is the worst location in the entire chain. They are never open when they should be they ALWAYS have down registers and no change. They damage merchandise when restocking shelves. I purchased a sheet set from here and did notice that it was cut on one side. I got home which is 3 min from the store and I saw the cut I went right back to the store and they refused to exchange it. The cashiers re always rude and have inappropriate conversations loudly where customers and children can hear. today I went to the store at 1045AM and they were closed with a note on the door the computers were down(again). The store is almost never clean with boxes in the aisle way.

Cornell Tanksley
from Miami, FL
The Manager told one of the employees that I be stealing from out of the store and they never caught me nor can't prove that I was taking from the store. That store is the only one that is close to my house and I really will appreciate it you can fix the problem because that is the closest Family Dollar to my house

Patty Brown
from Birmingham, AL
I have a serious problem with your parking lot on Hwy 80 in PHENIX CITY Alabama there is a massive hole in your parking lot that I hit last night and it messed my tire up to the point now I've got to buy a new one because I understand this has happened to lots of people and y'all refuse to repair it.ThankGod the nice lady that worked there was getting off work at closing and her mother which works for the Sheriff's office would not leave me until it was fixed which had to call her dad which is also a sheriff and very wonderful family wouldn't leave me which was 3 hours later and 200.00 for a new tire.I think y'all should be responsible for the bill since I understand y'all have had many complaints about this I would be very satisfied just to hear back from someone are if I don't I will be following up with y'all Please get in touch with me my number is 334-468-4099.Thank you

Jordan Shuler
from Louisville, KY
I bought Omeprazole last night for my mother, it was not the right medicine. Today I went in and politely asked if I could switch for the right kind. Not only did the man non-chalantly say no, goodbye, when I asked him if there was a problem he told me, in front of All the other customers, "I'm not letting you return that, you probably STOLE them last night anyways!"
I have never been more embarrassed in my life. I told him he was not allowed to treat me like that and he advanced towards me in a threatening & intimidating manner that suggested physical altercation, literally Scaring me out of the store...

Glenda Gleaton
from Stone Mountain, GA
I tried to do a transaction with debit card and cash to purchase cigarettes and the cashier did not do this it was oa young man I stated to him before he had me to insert my debit card he argued with me and was very rude he said I did not ask him to do the transaction that way location of store is Lyndhurst Dr SW Atlanta ,GA I am a regular customer at this store and I have a pretty good idea of not returning to this because of this I have never had this problem at this before most of the store clerks are very friendly this young man is a new clerk

yehuwdiyth y. yisrael (being falsey accused by family dollar manger Carl)
from Miami, FL
Hi my name is Yehuwdiyth Y. Yisrael, and my twin sister, Abiygayil C. Yisrael, bluntly accused of stealing falsely; that is why I am filing a complaint, for being violated and for being falsely accused of doing things, like stealing at and from family dollar located at 8900 N.W. 7 avenue in Miami, FL, by manager Carl; to be exact on 2/6/2018 round about 9:00- 9:10am, I decided to go to family dollar to purchase two, or three things that I needed and when I entered the store on that day, that Moring up front in the area of the cash register where mgr. Carl was standing taking a customer, he openly presented to me the matter, stating that he was told by someone that when he was away for a week from the store that me, and my twin sister was doing some things in the store and that we are not longer welcome to family dollar at the location where he work at, because he automatically amused that I was guilty by saying that I and my sister is no longer can come here to this family dollar; so I was confused as to what he was talking about when mentioned it, this nightmare to me on that, to me it was an outrage, because we are a customer that been shopping there for a very, very long time and we are practically there every day, till they some of the workers there say that we, the twins is here each and every buying something and we come we always spent money and not still; so I was very hurt and very stressed behind this hurtful accusation that is not so; especially with no facts, or evidences that happened; so I feel that he ought to lose his job behind it, because it is not fair to me and my sister; at this moment I'm writing this report complaint I am still frustrated about this matter, it has made my pressure high, blood pressure that is and even my sister is disturb by this here, it has ruin our character and our good name and I strongly don't appreciate that at all; so what I did after leaving the store when he stated to me that I was not welcome to family dollars, I came back and address him, by saying that, I didn't appreciate him dealing with the matter in that way, because there is always a right way to help the situation by telling him, you should've have called me, or pulled me to the side and point me and my sister out on the video, or what not, showing to me that you had caught us on video stealing instead of just pre judging me, us like that and in that fashioned to be a criminal without any proof at all; I told him is wrong for doing that, because he didn't witness no such action for him self and so why did he take this false story on us to be the gospel; he replied and said that it is, because that someone, or people had say that they say us stealing things from the store and while one of us was outside on the phone communicating with each other on the phone planning and plotting our strategy to steal ; I quickly explain to him, that is absolutely not the case at all, because if it is one of us that is buying, or spending money then the other says outside until I am done buying, or spending for the both of us and vice versa and after I had brought to his attention that he was wrong to believe a customer, or a worker without proof is absurd and crazy; for that I have no mercy for him; then suggested for us to be welcome back to the store with no apologies, simply because he figured it out that he was in troubled then when I told him, he himself and or the person, or people who made the accusation better find and or present the videotape and or the proof of this incident that me and sister was guilty of this made-up accusation ; I then questioned him why? all of the sudden that we are welcomed and for what. he replied and said, cause I have talked to you and I looked at him in a crazy way, because he taught that he was talking to a fool, but I am not. I simply told him that I will filed a complaint and a that I will sue him, because he has ruin and stained our character in the eyes of many; that there is not something easy to forget, or to take light. for this matter here is definitely real serious me and no joke to neither one of us who is being accused of wrongful doing. so what I would like to be done about it, is for him to lose his job behind this real unprofessional action. if any questions feel free to contact me at 786-800-4099/ or 305-613-3014 and or at my email: yehuwdiythyisrael44@gmail.com. for we do matter and so do your business also; so I hope that you all sees it that way; that this is unfair to us both. God bless. yehuwdiyth/ Abiygayil Yisrael.

Missy Malacara
from Irving, TX
Family Dollar store # 07077 1826 rigsby avenue February 3 2018 13:56:24 went and bought milk and cereal for my kids and didn't bother to check the milk cause I go to that store everyday and to go home and serve my kids my lil ones enjoying there cereal then he started vomiting to find out the milk was expired,, aren't they supposed to keep updated on expired items especially the milk ,, so yes am returning the item

Brenda Williams
from Detroit, MI
Visit store 08423 , 14321 livernois Ave in Detroit, 1/31/2018 at 18:23:39, I decided I didn't want a pack of light bulbs the cashier was very rude, she call for someone to take it off , after she threw the light bulbs, I handed her my money and she gave my change to a child under10yrs old that was working behind the counter with her there was also two other children standing behind the cash register

Addie mccormack
from Ormond Beach, FL
I was in your Family Dollar left my wallet one of your employees found it returned it to the manager they both disappeared from the store they no longer work there they stole $920 through my ID and the trash out back please call me at area code 386-235-2871 sincerely addiemccormack

Jacqueline miller
from Media, PA
First of all I'd like to say that I shop at your stores for years and I probably shop at 20 different locations and I've never had a problem I went to the Darby store two days ago , I bought headphones they did not work I asked the girl the night before when I bought them if they did not work would 'l be able to bring them back she said yes if you bring them back within two weeks you can exchange them . When I came back the next day there was a different girl at the register and a manager there, a young girl named Tanisha I asked her if I could just exchange them for another pair that worked and I would add on a couple dollars to whatever it was, she said no we don't do that , I asked her if I could buy a different brand at the same exact price and she would'nt have to do the paperwork and she said no , we don't do that , I asked her so if I could buy a different headset the same exact brand and the same price and she said no we don't do refunds at all,!!! That's absurd I've never heard of that in my life I am 55 years old I have never ever heard of any store not letting you be able to exchange an item !! I had my receipt.. So I asked her your refund policy says that you can't take him back for a refund which was fine but I'm not able to exchange them for anything at all I'm not even allowed to exchange them for the same exact thing only a pair that worked , also I'd like to add , both of my children are managers at your stores in Alden and Lansdowne, they both are managers of your stores, and have been for a long time that's why I cannot believe the way I was treated in the Darby store, !!!! This happened on. January 25 th at one in the afternoon so whoever the manager in there on that day at one in the afternoon needs to be disciplined I'm not trying to hurt her , but she needs to learn how to treat people I just can't believe that out of all your stores she's the only ignorant person I've ever dealt with she was extremely rude she's been extremely rude, on several occasions!! She was very very ignorant for lack of a better word once again she's at the Derby location I Macdade Boulevarrd her name is Tanisha , but I would like a response from you or something because I was never treated so rudely in my life I could not believe it and like I said I have have shop there million times I've never had a problem with anything, or anybody, they have always been nice to me !!! please respond to my email or you can call me at 610-333-0934 , my name is Jacqueline Miller 200 walnut st, Darby, pa 19023 please be kind enough to respond to me, either phone, address or e-mail thank you for your time!

scott smith
from Philadelphia, PA
hi me and my wife visit your storte at broad and chelten ave here in phila 2 3 time a week there is always no bags no one at the register takes some time for some one to come to the register the floors are always cluttered the managers clothing are always dirty customers are complaining that,s no bag. this has been going on for some mouth. to day sat 27 of 2018 i almost taken a fall SINCERELY YOUR CUSTOMER AND NEIGHBORS THANK YOU

I was in your Cleveland TN store yesterday on Grove Ave . I was falsely accused of being a thief by store employees I had nothing on my person I stopped by the location to see if they carried DVd players the lady said no and when I left the store when she gave me my answer the lady and another employee brought me back in the store because the alarm went off I let her look in my purse and everything nothing was there I didn't even get a apology .I will never shop at family dollar again

Belinda Webb
from Charlotte, NC
I purchased a ball speaker meant to enhance the volume on my phone. It is no louder than my phone volume without the speaker. So I took it back with my receipt. I was told it's your policy on electronics not to refund but to only replace. I see no need to getting another speaker since this is just a cheap item with no results. I was not given an option to use the cost of the speaker toward something I could use.
What can be done about this issue. The store is located on Milton Road near Sharon Amity, 28215. I had the receipt when I went back. I emailed over a week ago with only an acknowledgement of the receipt of the email - NO resolution.
Belinda Webb
980-299-0346 home
704-998-9978 cell

Lora Wagner
from Greenfield, IN
1/10/18 10:45 am Sign said up to 50% off BLACK AND BROWN TAG I had 4 items, all kids clothing. 2 of which were BLACK TAG with a $6. price tag. BOTH RANG UP $6. I brought it to cashiers attention. SHE RUDELY POINTED TO THE UP TO PART of the sign. She said 3 times up to 50% off. I said OK IT'S TAKING NOTHING OFF THE PRICE. NOTHING NOT EVEN A DIME. She says she cant do anything about it. THAT IS FALSE ADVERTISING AND DECEPTIVE BUSINESS PRACTICE.
Store#10925 7835 Brookville Rd, Indianapolis Indiana 46239-2157
I am raising 3 grandkids and have to shop wisely. I have spent hundreds in your stores over the last year. So I left all 4 items
I WOULD PERSONALLY LIKE TO KNOW WHAT IS GOING TO BE DONE BEFORE I AM FORCED TO CONTACT FEDERAL TRADE COMMISION.
Thank you,
Lora Wagner 317-418-3023

Robin Royston
from Dover, DE
I went to Family Dollar today in Cheswald, DE 19036 1-7-2018 @ 3:50 p.m. I did my shopping and then went to the very friendly cashier. She rang up everything and gave her my coupons. She was fine until she got to the Colgate tooth paste and they cost $1.00 and my coupon was for $2.00 so she would not honor it. I told her to take it off. She had to get her assistant manager . Now, everything I bought I should not have owed anything and showed I owed $2.00. Then the Assistant Manager re-rang up everything and then put my coupons through and said I owed $11.00. The coupons I had from coupons.com were products that actually cost less then what I needed to pay. I understand that if they rang up for the price the merchandise was it not a problem and I would lose the difference because you do not refund the credit. But, the Assistant Manager was unprofessional and could care less. I told her to keep everything and walked out. I looked on line at your policy and she have taken my coupons. My friend who is a full time couponer never has issues where she live in Seaford, DE Thank you, Robin

kristina smith
from Atlanta, GA
12/15/17 Store # 02349 My daughter and her sister walked in. There was a man standing in front of my daughter (a male dressed as a woman) "He was not in uniform" (beige jeggings blonde hair and beige jacket). So my daughter asked was (he) in line or does he work there and the employee (Taylor) Responded for him and said yes and you mean "she" (with a attitude) and that individual (male) snapped his fingers at my daughter. (with an attitude). (Taylor) continued to say well are you woman or a man because I see a boob print in your sweater. My daughter is a minor (16). In no shape or form should a Grown woman approach my daughter and ask her what she is or her preference. especially when she simply asked a question because he was not in uniform. So of course she told me. I come to this store all the time and always have issues and when it comes to my children I should not have to come of to a store on my day off or resting to tell someone not to disrespect my child. (if you watch the camera) you'll see us (me and my children) talking to the ladies for hurting my daughters feelings. and the (Male dressed as a woman) walked up and approached me as if he wanted to fight or take it further. Being that he was considered a male and not a female. Taylor tried to justify why she said that to my daughter and never said sorry or pretty much anything until my Other daughter angrily told her why would you speak to a minor that way why are you not apologizing... Taylor continued to lie and change words around. and my other daughter who was with my daughter when it happened was like no that is not true... this is exactly what you said. (this is not the first time this has happened) that is why my daughters came because just the day before my daughter got overcharged for a item that was cheaper. and my other daughter got told that the way she dress is inappropriate (she is also a minor) These people are inappropriate, unprofessional and this has got to stop.

kristina smith
from Atlanta, GA
12/15/17 Store # 02349 My daughter and her sister walked in. There was a man standing in front of my daughter (a male dressed as a woman) "He was not in uniform" (beige jeggings blonde hair and beige jacket). So my daughter asked was (he) in line or does he work there and the employee (Taylor) Responded for him and said yes and you mean "she" (with a attitude) and that individual (male) snapped his fingers at my daughter. (with an attitude). (Taylor) continued to say well are you woman or a man because I see a boob print in your sweater. My daughter is a minor (16). In no shape or form should a Grown woman approach my daughter and ask her what she is or her preference. especially when she simply asked a question because he was not in uniform. So of course she told me. I come to this store all the time and always have issues and when it comes to my children I should not have to come of to a store on my day off or resting to tell someone not to disrespect my child. (if you watch the camera) you'll see us (me and my children) talking to the ladies for hurting my daughters feelings. and the (Male dressed as a woman) walked up and approached me as if he wanted to fight or take it further. Being that he was considered a male and not a female. Taylor tried to justify why she said that to my daughter and never said sorry or pretty much anything until my Other daughter angrily told her why would you speak to a minor that way why are you not apologizing... Taylor continued to lie and change words around. and my other daughter who was with my daughter when it happened was like no that is not true... this is exactly what you said. (this is not the first time this has happened) that is why my daughters came because just the day before my daughter got overcharged for a item that was cheaper. and my other daughter got told that the way she dress is inappropriate (she is also a minor) These people are inappropriate, unprofessional and this has got to stop.

Loraye Linville
from Charleston, WV
As I was waiting in the only open long line the lady in front of yelled out "we need help up here". The manager named Mark started yelling" who said that" over and over. I said "up here". He then verbally attacked me saying " I have listened to this shit all day and if you don't like it you can get the fuck out now. Really what you need is to get a real job. ". To which I replied " You shouldn't assume we don't have jobs.". He then said oh not you but you back to the same lady as he had previously insulted and finisher with you are old I know you don't work.". She then came back with "I am on disability". I knew what was comingn next , Mark completely lost it and said oh I see but you don't look disabled probably faking it for that gov check. At this point I defended the first customer by telling Mark you shouldn't call her old and you don't know her story. She then told him maybe hounded a new job. Mark then told her " Get their fuck out now". She started throwing stuff and he batted them back to her all the while threatening to call the police. He escorted her while calling her an old fat fuck who didn't look or act disabled to him. While Mark the Manager was ranting he stated I don't give a fuck they are shutting this store down in 2 weeks. Please don't put this guy at another store in any capacity that works with the public. My phone had died so I couldn't call the police but it would not have been on the customer. He was so close to grabbing the customer that if he had I would have told another to call the police now and most likely gotten way more involved. I am pretty sure none of this is in your training manual. Please address this situation soon as Mark is preety much at his end.

Debra Griffith Howard
from Milwaukee, WI
I went to the Family Dollar on 930 N.27th Street @ 9:40am, They had a sign on the door saying come back later Closed, Another Lady went there also & they told her they Only Had 1 Cashier , (Unacceptable ) This Store is located in Milwaukee, Wisconsin.

Takiyah K. Allen
from Albuquerque, NM
11-23-17 i stopped at the family dollar on wyoming and central near my job. I needed something to wear to family function due to forgetting my clothes at home. while looking i had to use the restroom and had held it as long as i could. I was refused and as i was leaving a hispanic male cashier started making sarcastic comments. I turned around and asked for a manager. As im explaining the situation this unprofessional rep starts yelling get out my store, get out my store. I turned around and let him know i wasnt speaking to him and then this incompetent "manager" says if he wants me to leave, i have go. Wow! Are you serious? This man still was making remarks on the intercom as i was leaving. This is totally uncalled for and needs to be addressed. Thank yo for your tiime.

Tina White
from Charleston, WV
On 11-12-17 approximately 11:00am. I was shopping in the 1500 Erie ave phila pa store, located at Erie Ave & O street. I made a purchase for $ 95 and some odd cents, as my bags were being packed i notice that they were extremely heavy. The young man packing the bags went to look for a cart without a pole so i would be able to my purchase to my carry. I openly stated that i felt it was somewhat ignorant to have packed the bags so heavy, one bag contained ( 3 - 4lb bags of sugar and to large tins of ground coffee) the cashier (Ebony) who was working at the time said who the fuck you calling ignorant , i stated i wasn't referring to no particular person i was committing on the packing of the bags being so heavy, she said i didn't pack the bag. I turned and said i didn't call anyone ignorant. She told me to get the fuck out her face before she smacks the shit out of me! She continued to be belligerent and proceed towards me in a hostile manner where another store associate had to step in front of he tor keep her from making any physical contact with me. I noticed the bags continuously being over packed by the cashier (Ebony) when instated that she was putting too much stuff into one bag she said so the fuck what! At this point i felt my best option was to ask four a refund to avoid any further conflict. I ask if i could just get a refund and the cashier said get the fuck out my lune your not getting no fucking refund, snatched my receipt out my hand and threw it on the next checkout isle. At this time someone had gotten the store manger who came and assessed the situation in a very professional manner asking that we both cease the back a forth comments. The store manager proceeds with the refund process and the cashier began placing the remaking bags of the purchase on the floor and began kicking them saying this her fucking trash too! While this incident from beging to end is taking place there are about 6 other customers in line waiting to make purchases who were subjected to the cashiers inappropriate as well as unprofessional conduct!! She neglected the customers as well as her duties as a cashier, by paying no attention to there needs and continuously displaying , abrupt , unprofessional and degrading conduct. I've never experienced such humiliation in a public places of business.whwre within reason the customer is always right. I felt i had the right for my purchase to be pack as i wished it to be without any hesitation or rebuttal!!! I benn patronizing this establishment since coming too the phila pa area and i continue to do so in the future. I feel the store camera needs to be looked at and the cashier reprimanded for her behavior!! Think You For Your Time And Consideration in this matter. P.S. my delayed response to the matter at hand is due to having the deaths in my family over the past 2 weeks! Again i thank you for you time! Have A Blessed Day To All !!!!!!

Michael A Kilgore
from Fishers, IN
I went to this Family Dollar Store and spent 87.00 . I went in the next day and was told I was not allowed in the store because a customer thought somebody that was with me the following night had stole something. The manager asked me in front of customers to leave the store, I have never been so pissed off in my entire life. I told her to look at the cameras. I called back the next day to see if they had looked at the cameras The manager hung up on me. I spent 87.00 that night and my 70 year old mother spent 30.00 My mother is the one they THINK stole. The only proof they have is this customer who said she saw my mom stick something in her purse. She does not know what..only SOMETHING. We spent over 100.00 have the receipts and this is the way we are treated. As I said your day manager asked me to leave the store in front of other customers on the words of an anonymous customer. The cameras will PROVE nothing was stole. I am going to contact an attorney if this situation is not corrected. I spent 87.00 and you treat me like some thief on the words of some customer that they won't say who it is. I am mad as hell this manager asked me to leave making me look like a thief when in reality my mother and I spent a 100.00 that night and have the receipts to prove it.I want that manager fired and I want compensated for the 87.00 I spent in a store I will NEVER frequent again. My demands are small compared to a discrimination suit. I am on disability and I feel I was discriminated against because of this fact. I expect to hear back something TODAY. As I said when I called back to see if the cameras had been observed yet( something a guilty person would not do) the manager HUNG UP ON ME AND I DID RECORD HER ACTON ON THE PHONE. YOU NEED TO GET RID OF HER. I SPEND APPROXIMATELY 200 A MONTH IN THAT STORE. NEVER AGAIN. SHE COST YOU A GOOD CUSTOMER. AND I WANT THIS SITUATION FIXED. SHE CALLS ME A THIEF WITH NO PROOF IN FRONT OF OTHER CUSTOMERS? CONTACT ME ASAP

Keith Evans
from Philadelphia, PA
On November 10, 2017 I went to store # 11978 to purchase 6 ( 2 Liter Pepsi products ) that were on sale if you bought 3 at a time it would only equal 3 Dollar per bottle. I carried 4 regular Pepsi and 2 Red Mountain Dew.to the cash reg. The clerk said it would be over 6 Dollar I mention that her add on the shelf said buy 3 would be 3 Dollar with a limit of 6. They said Red Mountain Dew was $ 1.80 per bottle I told her they were not and on the shelf they were $ 1. per bottle she walk down to the shelf saw the labels never appolgize that I was right and she didn't know the right price. Then she told the other young lady that was working that Red Mountain Dew was a dollar from shelf sticker price. I ask both of them if Red Mountain Dew was a Pepsi product they both said yes but still would not sell the 4 regular Pepsi and 2 Red Mountain Dew for $ 6 as your add said, I then ask for the store manger name and phone number that first refused then I ask for the District Manger name and phone number witch they refused. I final went and got 2 more regular Pepsi then they went by the add and charged me the correct price after the sale I bought the Red Mountain Dew and paid one dollar per bottle. On the back of my rect. the young lady wrote 1193 and name Katie who she said was the manger. Before leaving she said the other lady was the Manger ( I don't believe her ) I well be sending a hard copy of this Mr. Howard L. Levine both clerks told me to leave the store and threaten to call the police they laugh because I refused to pay more then 6 dollar on sale promotion items but yet both had to agree Mountain Dew was a pepsi product. Bar code on transactions 99119780199290174803 and transaction 99119780199300174803 the date was Friday November 10, 2017 time 20: 12: 44 and 20 : 12: 16 both of them were on there personal phone with face book and being very rude and unprofessional Thank you Keith Evans Keith75105@comcast.net
Have feedback for Family Dollar?
Thanks for your feedback!
Sorry. Please try again later!